The heel of Italy's boot, the region of Puglia is far less crowded than other parts of Italy, yet it has a lot to offer.
While not completely undiscovered by tourism, and indeed rather popular in the summer, Puglia is still a bit of a hidden gem in terms of Italian tourism.
You won't find the crowds of Venice, Cinque Terre, or Rome here – though you also will find plenty of beach-hoppers in the scorching summer months on Puglia's gorgeous stretch of coastline.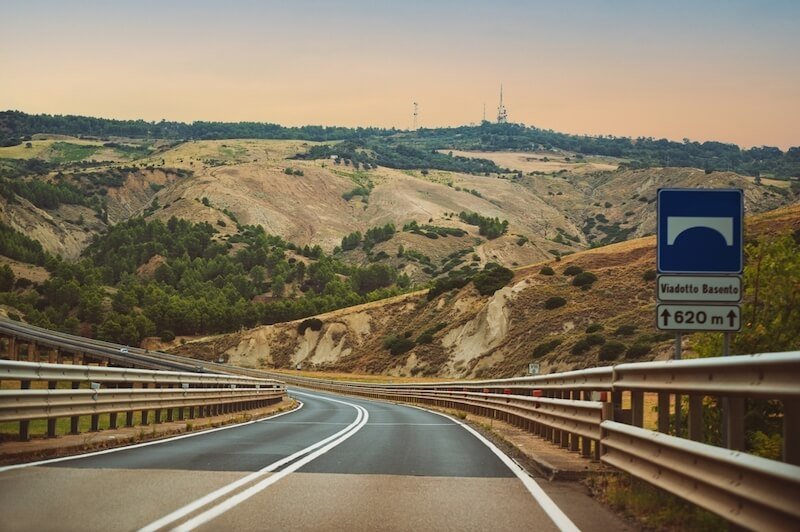 Note: This post contains affiliate links, which means I may receive a small commission if you purchase something through one of these links. Thank you for supporting the free content on this site! For more information on affiliate links and cookies, see my disclosure page for more details.
Plus, Puglia is one of the cheaper places in Italy!
While Puglia's coastline can be a bit busy, many of its most beautiful towns and cities are inland, offering a respite from the summer crowds in the small villages that feel a bit lost in time, like Locorotondo, Martina Franca, and Ostuni.
And while not part of Puglia proper, a trip to Matera in the Basilicata region is often paired with a Puglia trip and is well worth the detour.
While Puglia looks deceptively small on the map, there are quite a number of wonderful places to visit in Puglia, from coastal towns to vibrant cities to quiet hilltop villages.
The best way to get around is by rental car, because Puglia's transportation choices aren't quite as robust as other places in Italy.
I've included my favorite picks of Puglia (marked with an editor's choice demarkation) as well as asked several travel bloggers to suggest their favorite destinations in Puglia in order to create a more comprehensive list of places to visit in Puglia.
Mix and match at your preference to create your own perfect Puglia itinerary!
The Best Places to Visit in Puglia
Monopoli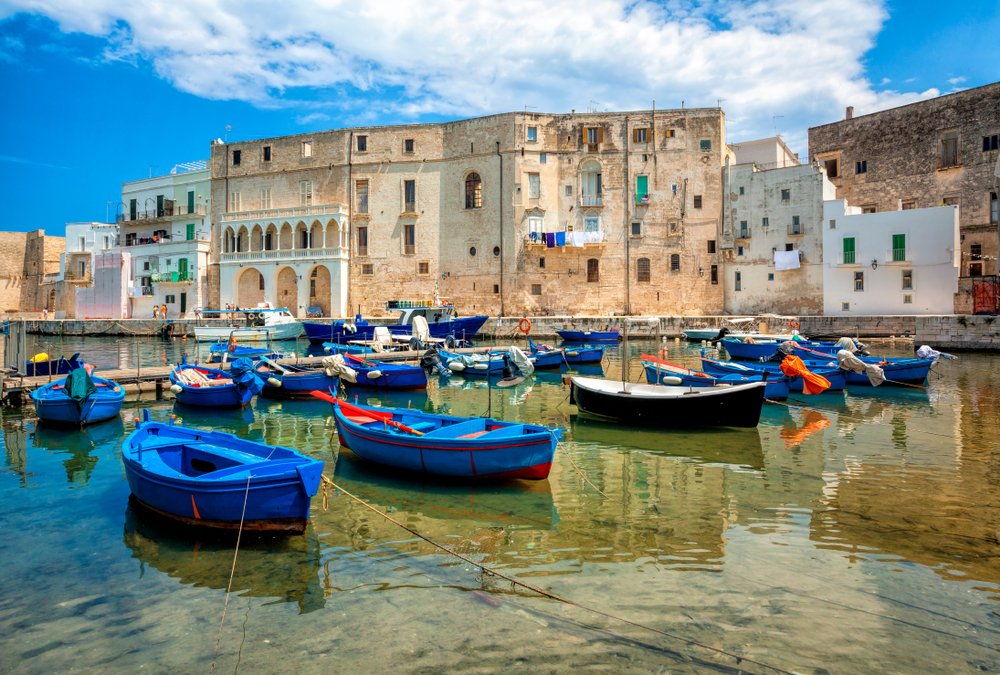 Editor's Choice
This beautiful city on the seaside perfectly combines both an old and new town with a stunning walled city set on a lovely patch of the coastline.
The old town of Monopoli is quiet and quaint, with beautiful historic buildings, tasty trattorias and restaurants, and lovely guesthouses and hotels. There is a lovely harbor area where you can watch the boats bob in the water, and a small stretch of rocky beach where people enjoy laying out in the sun nearly all year round.
Meanwhile, the new town section is vibrant and lively with tons of bars, shops, and restaurants clustered around the main plaza, with a youthful and fun vibe to this part of the city.
Monopoli perfectly combines the vibe of a modern Italian city with a historical center, creating a wonderful getaway in Puglia in a picturesque setting.
Bari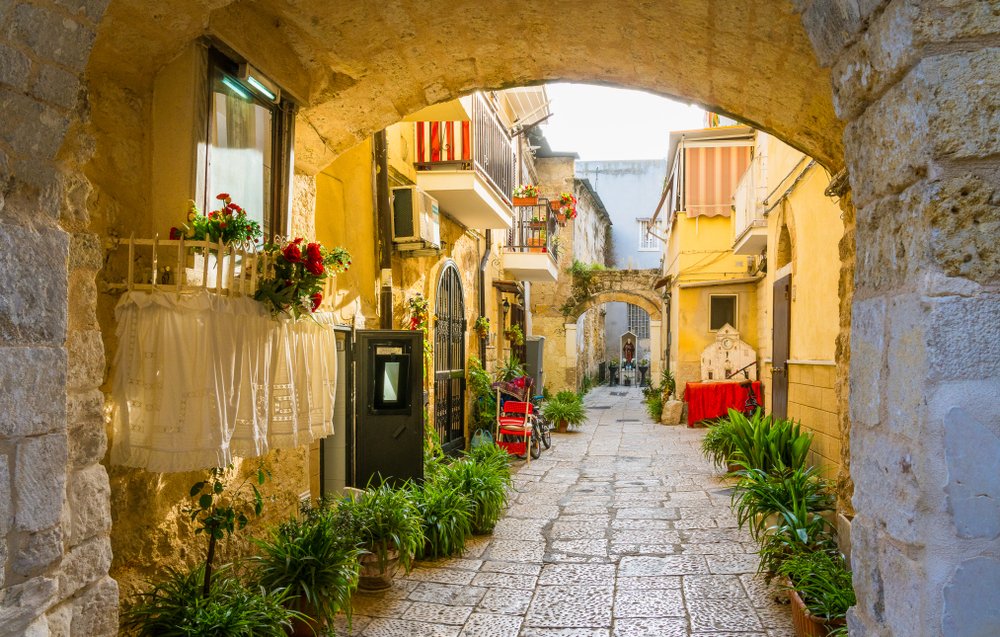 Editor's Choice
The capital city of the region and the start of many trips to Puglia due to its airport with plentiful flights to the rest of Europe, it's hard to miss Bari when you visit Puglia.
Bari is a large city with many sights worth seeing, but most tourists make a beeline for its old town, Barivecchia. You'll find the Basilica di San Nicola there, which dates back to the 11th century and the Castelo Svevo, a Norman-Swabian castle built in the 12th century.
But just wandering the streets of the old town without a purpose is well worth it, as you'll see often women rolling orecchiette – little ear-shaped pasta – by hand, as if something from another time.
Just outside of the labyrinthine old town, you'll find the modern area of Murat, laid out in a grid with plentiful shopping, restaurants, and bars to peruse and get a more comprehensive feel for what modern-day Bari is like for the hundreds of thousands of people who call this city home.
Savelletri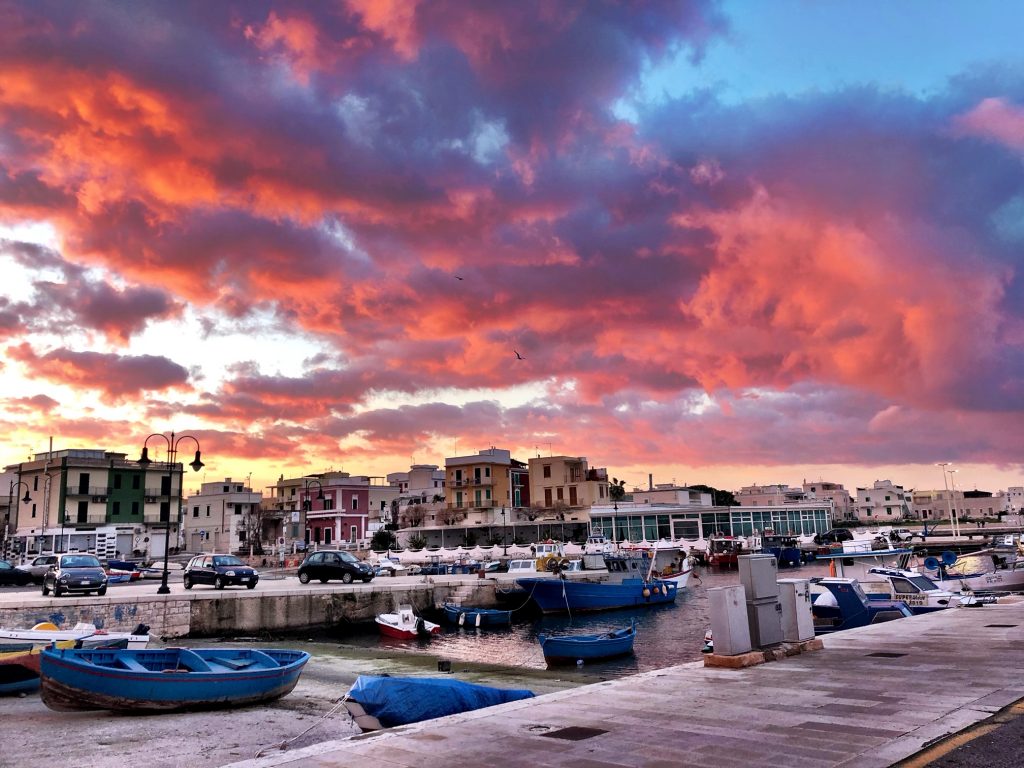 Contributed by Amanda O'Brien of The Boutique Adventurer
There are two main reasons to visit Savelletri in Puglia – sunsets and seafood. As these are two of my favorite things to find when I am traveling I had a fantastic time in Savelletri!
Savelletri is a seaside town in Puglia. Its closest major town is Fasano and it is about halfway between Bari and Brindisi. Savelletri has a public beach but is best known for its little fishing port. If you are staying somewhere with a kitchen head down with an icebox and grab a fresh catch from one of the local fishermen.
Even better, have lunch at one of Savelletri's seaside seafood restaurants! You won't have to travel far as there are about ten seafood restaurants clustered along the little fishing port. Il Veliero Savelletri has perhaps the most prime position on the port with both indoor and outdoor seating. Osteria del Porto is a couple of minutes' walk away and receives rave reviews from the locals.
My personal favorite was Momo Pescato e Cucinato where we enjoyed amazing spaghetti with local mussels and clams washed down with local organic wine.
Make your lunch a long one – or in the summer head to Quattro Creative Wine Bar for an early evening Aperol Spritz – to ensure you are in Savelletri for its amazing sunsets. Deep oranges and pinks are offset by the dark navy of the ocean and the fishing boats and little port provide the perfect foregrounds!
Gargano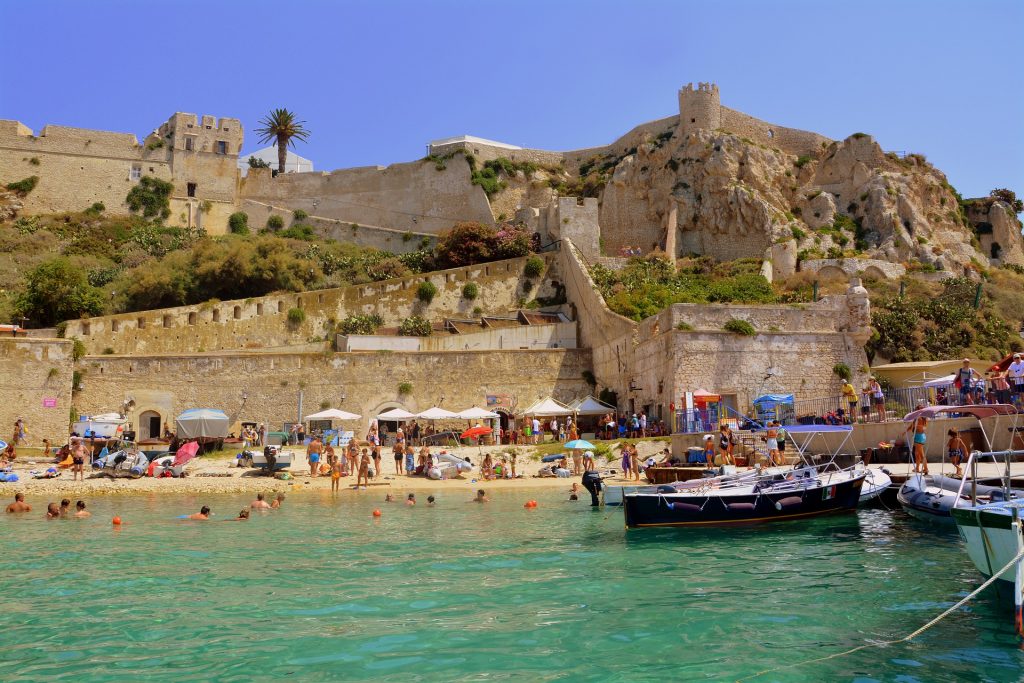 Contributed by Trijit Mallick from BudgetTravelBuff
Gargano is one of the most beautiful parts of the southern region of Puglia. If you are planning a trip to Gargano, you should know that there is a lot more to see here than just beautiful beaches and mountains. This popular Italian tourist destination is also known as the 'Spur of the Boot'.
From greener mountains with lush pine forests to beautiful coastline with limestone cliffs, sea caves and white sandy beaches, Gargano will not disappoint you at any season. The nearby airport is Bari Airport. You can reach to Gargano by train or bus. Take a train from Bari to San Severo station, then continue to Peschici on the Gargano line.
Here are a few of the best things to do in Gargano. The beautiful town of Vieste is the must-see place while visiting Gargano in Puglia region. This historic old town is perfect for strolling around with a stunning sea view. Enjoy a full day exploring the town and end with relaxing on the beaches.
If you are an adventure enthusiast, take a 30-minute drive from Vieste to Foresta Umbra. Explore the Gargano National Park taking any of the trails along with the coastline. This protected nature reserve is perfect for bird watching and some wild orchids.
Take a sea cave tour to Grottoes from Vieste to see the years old sea caves and grottoes. You cannot afford to miss this boat trip while visiting Gargano.
Keep your one day reserved for Tremiti Islands tour. Explore the castle-monastery and enjoy a seaside lunch in Isole Tremiti, Italy's only island in the Adriatic sea. You can also do swimming or snorkeling in the sea.
If you are planning for a trip to Gargano, I would highly recommend staying there at least 2 nights. You can stay in L'isola dei Sapori Boutique Hotel Restaurant which is located right by Lake Varano and an ideal hotel to stay with your family.
Molfetta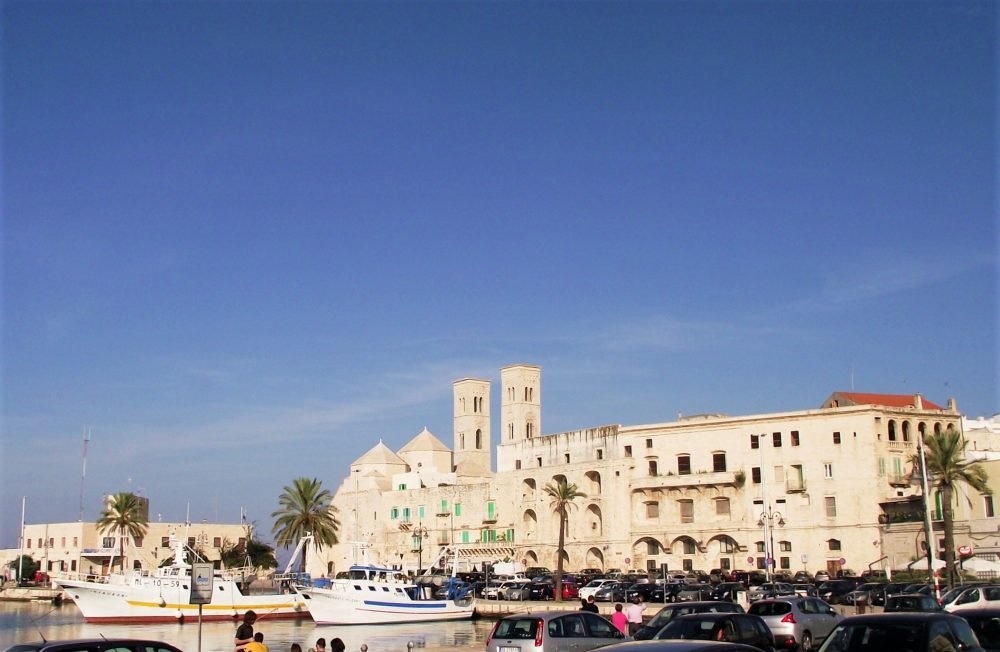 Contributed by Rohan Cahill-Fleury of Life With Less
Molfetta is a quiet little town on the coast of Puglia. As with much of this area, its main draws are its charming old town and coastal outlook. With the easy and cheap train system running through Bari and the surrounding towns it makes a great day trip or stop off on the way to other parts of the region. Because it's one of the lesser-known towns it's a great place to wander without other tourists around.
Molfetta has been around since the fourth century and has a quaint little, old town complete with balconies, stone archways, and watchtowers overlooking the ocean. Molfetta's old town sits right next to a picturesque little harbor. This is also the site of the local fish market which sells produce fresh off the boats. There are, as expected in Italy, several beautiful and historic churches in the town as well as an excellent selection of gelaterias, pizzerias, and delicatessens.
Just outside of Molfetta town is Pulo di Molfetta which is a huge sinkhole making way for an incredible network of caves. Some of them can be visited but others have been deemed unsafe because of mining and earthquake damage. There are plenty of great apartments and B&Bs available in Molfetta making it easy to use it as a base for a few days when exploring this gorgeous part of Puglia.
Martina Franca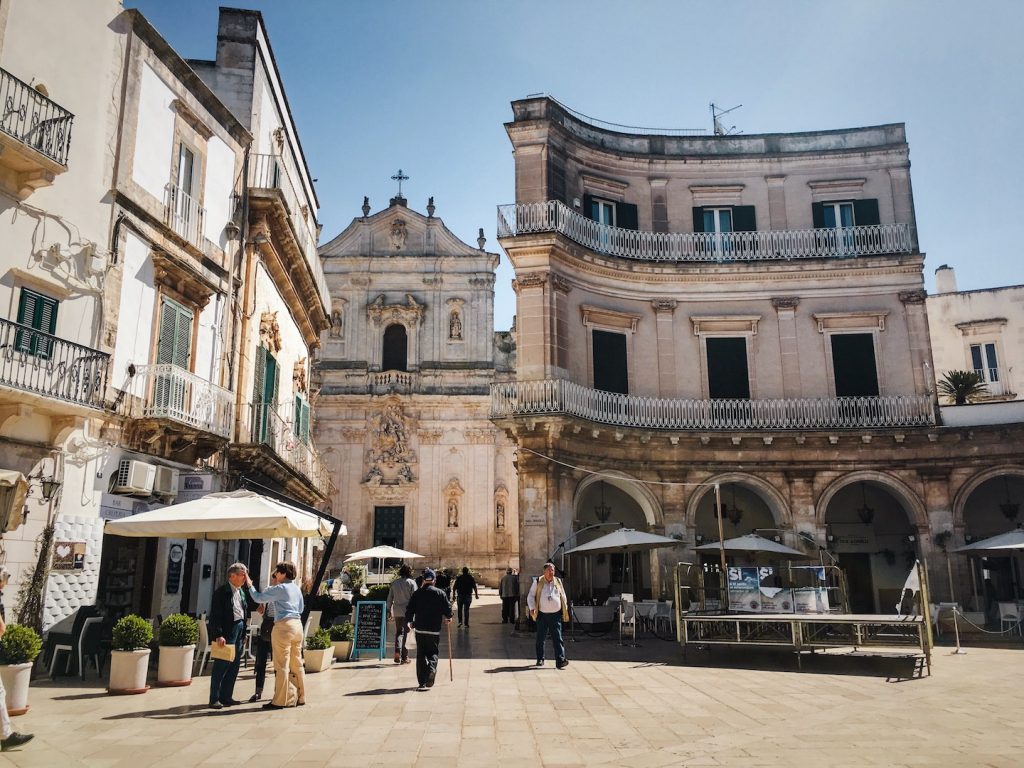 Contributed by Sabrina Brett of Moon & Honey Travel
Martina Franca is a disarmingly elegant town dating back to the 10th-century. With its polished stepstones and Juliet-like balconies, Martina's Baroque-style Centro Storico is a delightful place to spend a few hours or even a full day.
During your visit, head to the impressive Piazza Maria Immacolata for espresso, or just a good dose of people watching. Visit the 18th-century Basilica di San Martino. Tour L'Acropoli di Puglia to learn about the olive oil production in the Istria Valley. And spend the rest of your time exploring Martina's labyrinth of streets. When you're craving something to eat, go to La Pasteria, Gaonas, or Cibando.
If you're visiting in July or August, time your trip with the Festival della Valle d'Itria, Martina Franca's summer opera festival.
Located in the province of Taranto, it's easy to include Martina Franca in any Puglia itinerary. Consider stopping here on your way to or from Alberobello, Ostuni, or Locorotondo.
Discover more secret places to visit in this Italy travel guide.
Trani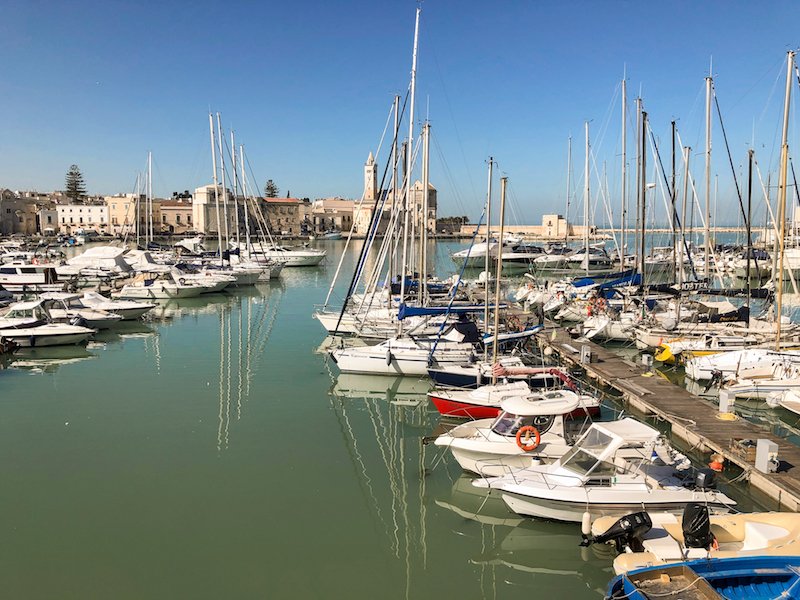 Contributed by Megan Starr of Megan & Aram
Trani is undoubtedly one of the best places to visit in Puglia, Italy. And while it is one of the best places to visit in the famed Southern Italy region, not many people actually know about the city of roughly 54,000 residents.
A short train ride away from Bari, Trani is known for a few notable sights, such as the Trani Cathedral built by Frederick II of Swabia in 1233 that sits on the calm and idyllic harbor and the Svevo Castle, a fortress that sits right on the sea that you're able to visit for an affordable price.
One of the best things to do in Trani is to head to Villa Comunale di Trani, a large park and promenade that hugs the seafront. The green spot is large and home to a few cafes and many locals taking a stroll with their dogs. Also inside of Villa Comunale di Trani, visitors will get to see several sculptures of famous Tranesi that are spread out within the park. It is a perfect way to connect with the city's history- from its role in the Crusades to its modern-day position in the south of Italy.
Trani is located a mere 40 kilometers from Bari and is a fantastic day trip from the city. In Trani, you can do everything from taking a stroll around Villa Comunale di Trani to enjoying a Moscato tour and more. It is also a prime place to indulge in figs, olives, and almonds and boasts some of the finest ingredients in the Puglia region. It is absolutely one of the best off-the-path places to go to in Puglia.
Polignano a Mare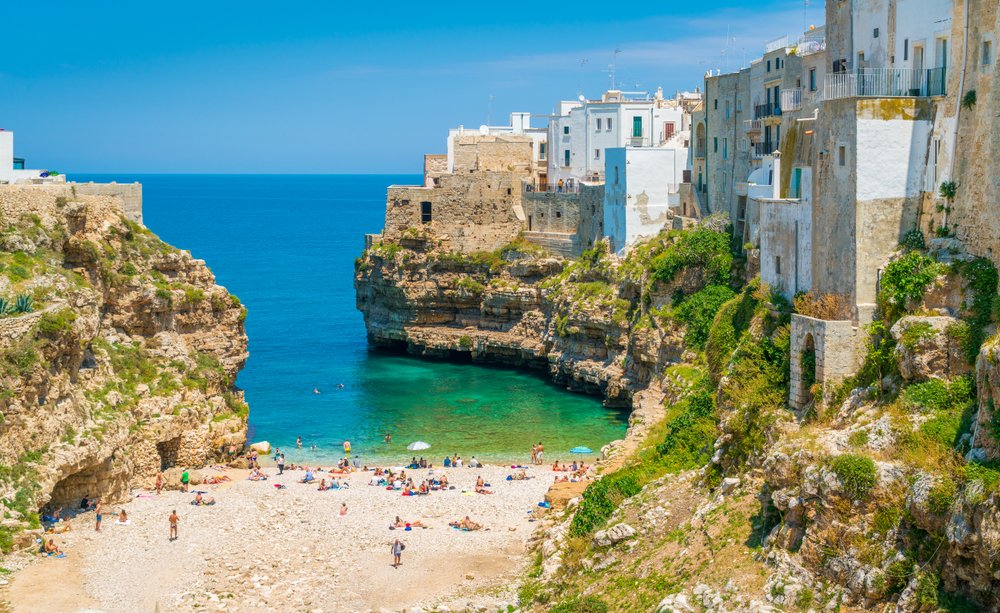 Editor's Choice
The picturesque seaside town of Polignano a Mare is known for its tiny strip of beach, Cala Porto, which is beautifully nestled between two cliffs, creating a 'secret beach' feel.
Unfortunately, the beach isn't so secret — this is one of the most popular places to visit in Puglia. But as you wander around the old town of Polignano a Mare, you'll see why this town has so much to offer.
While indeed quite popular with tourists, Polignano a Mare still manages to maintain an authentic feel, bursting with Southern Italian charm. Its old town streets are undeniably charming, and there are plentiful restaurants and cafes that beckon you to order an espresso and relax a while.
If you're the kind of person who likes to buy souvenirs when you travel, we found the best souvenirs of our trip in Polignano a Mare, which has gorgeous ceramics — for something unique, pick up a ceramic cactus paddle, which is symbolic of the region.
Santa Maria al Bagno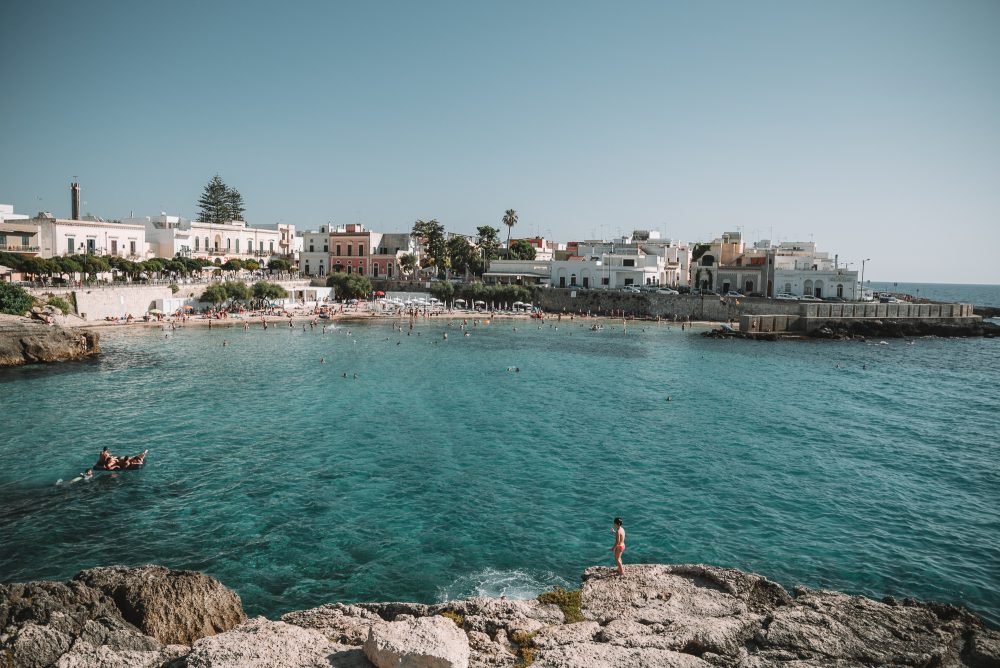 Contributed by Nadine Maffre of Le Long Weekend
Located between the better-known Puglia towns of Gallipoli and Lecce, Santa Maria al Bagno could be easily overlooked while touring Italy's heel.
But despite shying away from the limelight, it's a seaside town well worth spending time in. Stop in at Salsedine Beach Bar to sunbathe where the cool kids hang out, or head into the middle of town to jostle for space at the town's main beach. The petite cove gets busy with locals in the summer months, but in May and early June, there's plenty of space to shake out your towel.
The sheltered bay is one of the best places to swim in Puglia due to its unspoiled coastline and crystalline water. When you've worked up an appetite, simply head across the road to one of the trattorias that spill out onto the main square.
If it's not quite beach weather, or you're looking for more things to do, there are also plenty of natural and cultural attractions to keep you busy. Head into the Museum of Memory and Hospitality, which tells the stories of Holocaust survivors after the Second World War. Visit the Torre del Fiume which used to play a key role in protecting this coastal area, and explore the Porto Selvaggio reserve for walks in a protected forest.
Ostuni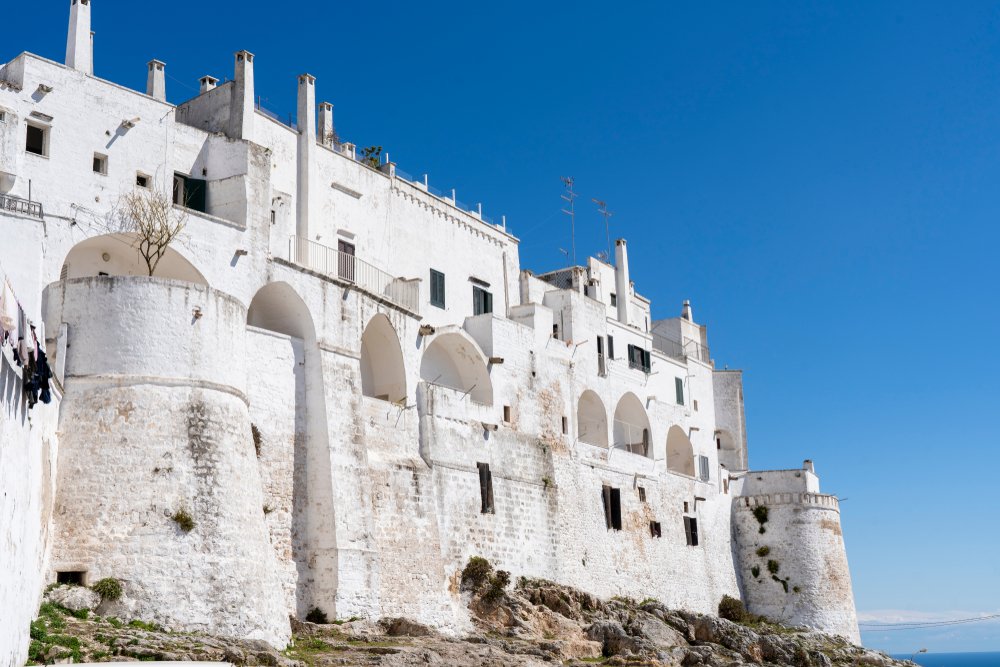 Editor's Choice
The picturesque white-washed city of Ostuni is one of the most beautiful places in Puglia, with both a lovely historic town and a more modern and lively new town with plenty going on to entertain you for an afternoon or even a longer stay.
The old town of Ostuni is repainted in white every two years to keep it looking fresh, and indeed, it almost gave me a bit of a Cycladic island vibe with its white walls and colorful doors and shutters. Its historic defensive walls separate the old town from the new and are an interesting place to wander around during your time in Ostuni.
We also found some of the most beautiful Italy souvenirs here and couldn't help shopping quite a bit while in Ostuni!
Meanwhile, the new town of Ostuni has some notable architecture worth seeing, centered around the Saint Oronzo column in Ostuni's main square, Piazza della Libertà.
The Ostuni Cathedral and the Ostuni Town Hall (which used to be a palace) are also must-sees for architecture lovers.
Lecce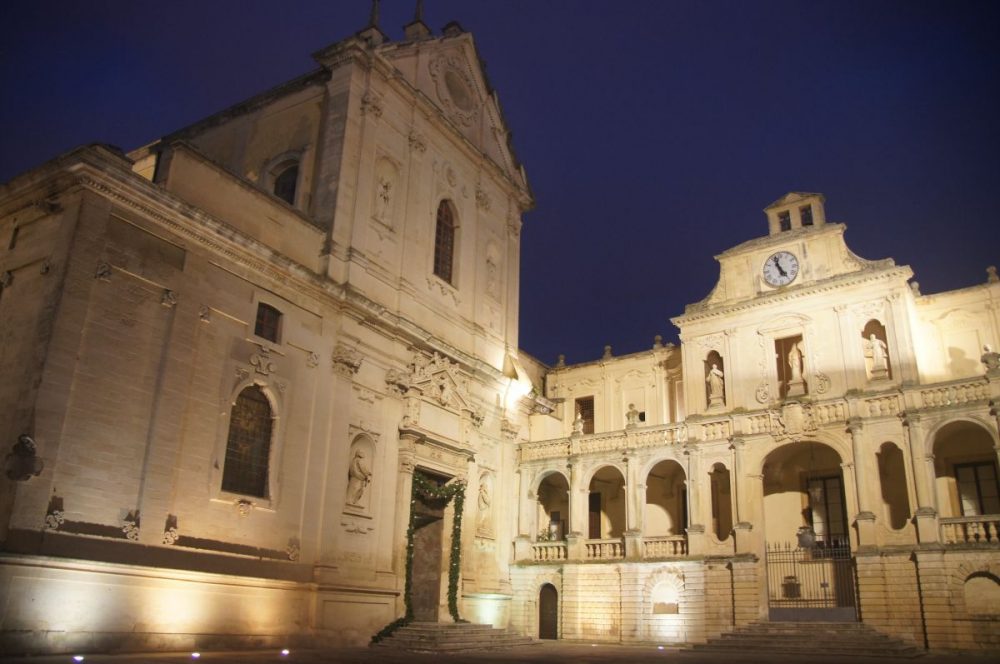 Contributed by Wendy Werneth of The Nomadic Vegan
Located in the far south of Puglia in what's known as the "heel" of Italy, Lecce is a beautiful historic city filled with ancient Roman ruins and ornate Baroque palaces and churches. It's often referred to as the "Florence of the South".
But while Lecce is arguably just as beautiful as Florence, the two cities look very different. Florence is the birthplace of the Renaissance, whereas Lecce is built in the extravagant Baroque style that became popular a century or two later.
And in fact, the specific type of Baroque architecture found in Lecce is so distinctive that it has been given a name of its own: barocco leccese, or Lecce Baroque. Some identifying features of barocco leccese to look for include twisted columns, floral motifs and wrought-iron balconies.
You'll find some of the best examples of this Baroque architecture among the buildings that line Via Palmieri. And of course, there are also the city's many churches, including the Church of Santa Croce and the Cathedral. The former is famous for its rose window, while the latter is quite unusual in that it has two ornately carved façades — one facing north and another facing east.
Be sure to try the delicious local cuisine while you're in Lecce too! A popular street food here is the stuffed bread roll known as the puccia, which is sold at specialty eateries (puccerie) all over town. And you can't fail to notice the orecchiette being served up at every restaurant in town. By far the most popular shape of pasta in these parts, orecchiette are made fresh with just semolina flour and water (no eggs), making them one of many vegan-friendly dishes in Puglian cuisine.
Alberobello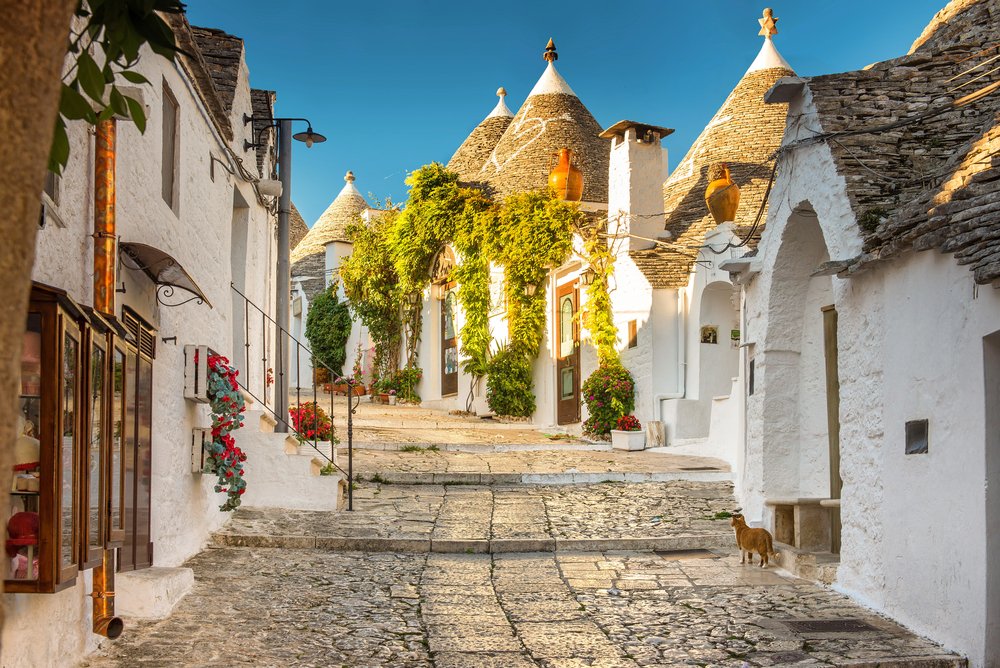 Editor's Choice
Famous for its trulli – traditional Apulian round huts with conical roofs, made of white-washed stone – the small town of Alberobello is a UNESCO World Heritage Site. The town has over a thousand trulli still beautifully preserved today, making it a must-see on virtually all Puglia itineraries.
… which inevitably means that it's a bit crowded with day trippers, especially during the peak season, but it's still such a unique place that I think it's well worth seeing, even sharing it with lots of other tourists.
Most of the trulli are clustered in Rione Monte, where they have been mostly converted into souvenir shops, selling typical Italian food products, ceramics, and works made out of olive wood amongst more typical mass-produced kitsch.
It's also well-worth exploring the more modern part of town, away from the trulli, where there are ample places to stop for a coffee and people watch.
If staying overnight, be sure to stay in a trullo (the singular form of trulli) — many have been converted into quite comfortable and unique hotels!
Torre a Mare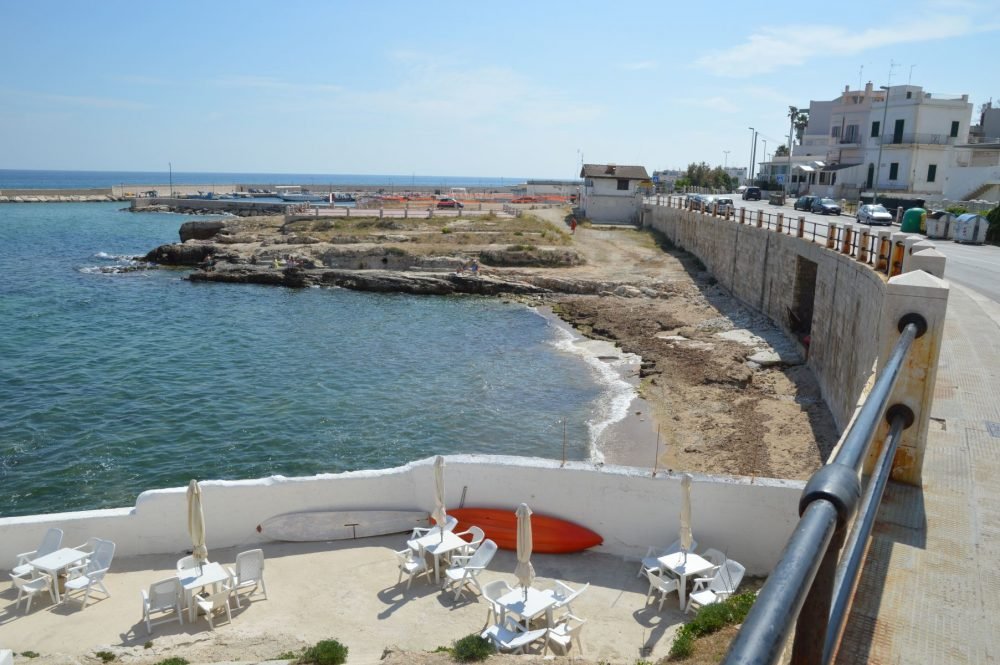 Contributed by Corina Preda of Another Milestone
Puglia is not such a popular destination compared to other places in Italy, but it gets more and more famous each year. Especially during summer, in Polignano a Mare, Alberobello, Bari, and other known towns you will meet crowds of tourists.
If you want to escape them and enjoy a day at the beach, try Torre a Mare. A former fisherman village, Torre a Mare took its name from the tower built to protect its residents from the attacks of barbarian ships, tower called Torre Pelosa (Hairy Tower).
Today, Torre a Mare is a seaside resort with only few attractions: the tower standing tall in the main square and the Fisherman's Monument. It has also a small port and some less-known beaches with a stony and steep entrance into the water.
In the morning you can enjoy a cup of coffee at one of the cafes on the shore, admiring the sea and the blue boats in port. In the afternoon go and visit Cala Scizzo, a small isolated beach, used by the locals. If you are lucky, it will be only yours!
Torre a Mare is not a must-see in Puglia, but it is a great option when you need time to relax and enjoy the seaside without being hassled.
Locorotondo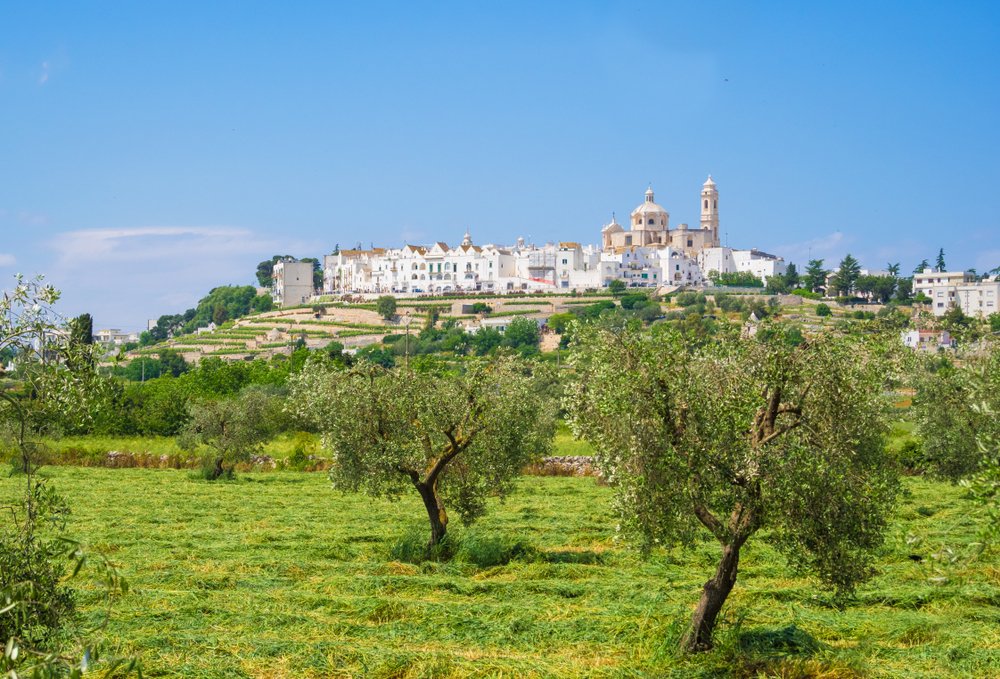 Editor's Choice
Not far from Alberobello but a world away from its tour buses and crowds, the small hilltop village of Locorotondo is one of the best off the beaten path places to visit in Puglia.
Its Centro Storico (old town) is picturesque and charming, with appealing shops, restaurants, and street scenes that encourage you to wander aimlessly for a while. Its churches are also well-worth popping your head into, which are quite impressive for such a small town.
It's also worth checking out the vista at the panorama point at Porta Napoli, just outside the Centro Storico, where you can marvel at the gorgeous olive-tree-studded landscape which surrounds the city.
Otranto
Contributed by Katerina and Maria of It's All Trip to Me
The sunny region of Puglia in Italy's deep south has no shortage of stunning seaside towns. Among them, Otranto stands out for many reasons.
The gateway to the East, as Otranto is often nicknamed, is one of the most fabulous holiday destinations in Puglia but also the perfect base from where to explore the most pristine beaches in the region. Otranto boasts a very well preserved historic center, complete with its own castle, as well as a superb beachfront promenade, the utterly romantic Lungomare degli Eroi.
Few places can compete with the easy-going ambiance of Otranto. Whether wandering around the Old Town's narrow alleys, watching the sunset from the Lungomare or spending endless lazy hours on the town's gorgeous beach, Otranto is sure to steal one's heart.
Apart from the charms of the town itself, though, Otranto also enjoys a superb location, close to a couple of the region's most spectacular points of interest. The almost surreal Bauxite Lake, this masterpiece of nature and human abandonment alike is just a 10 minute drive or a 30 minute hike from the center of Otranto.
Similarly, it only takes 15 minutes by car to get to Cape Otranto, Italy's easternmost point, in order to take in the beauty of the Punta Palascia Lighthouse and appreciate the tranquility of the surrounding area. There is no doubt that standing at that very point, facing the big blue sea and nothing but, one cannot escape the fate of eternally falling in love with the magic that is Otranto.
Margherita de Savoia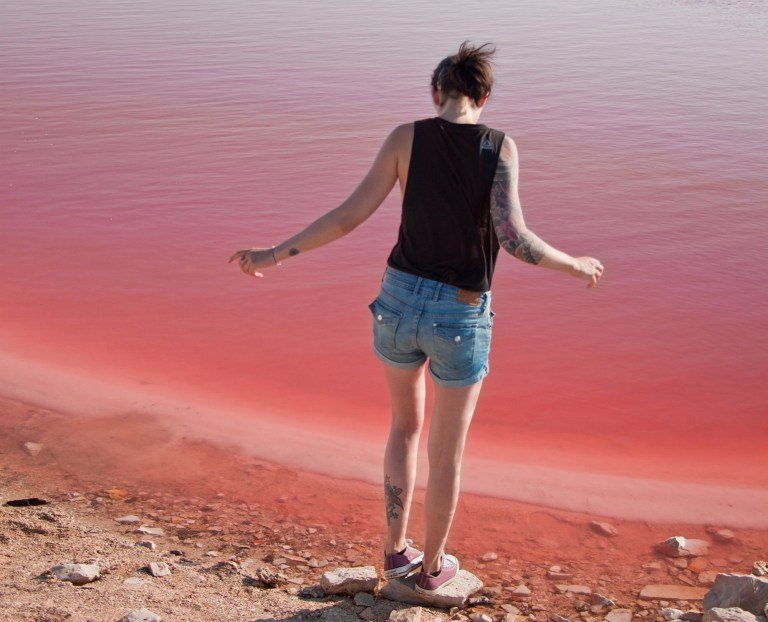 Contributed by Amélie Gagné of Mostly Amélie
Margherita di Savoia is likely not the first town that pops to mind when preparing a trip to Puglia, but let yourself be pleasantly surprised here. For lovers of nature, Margherita di Savoia is a little-known town on the Adriatic coast that has the largest salt flats in Europe (and the second biggest in the world). But brace yourself, they are bright pink!
A result of tiny brine shrimps who thrive and live in those salt basin, they also attract pink flamingos who feed on them. These shrimps are high in beta-carotene and the reason why those salt lakes – and flamingos – are pink. Is your mind blown yet?
This mineral-rich ecosystem attracts a lot of wildlife, and Margherita di Savoia is a prime location for birdwatching. You can book a visit with the local environmental conservation organization Legambiente for the salt flats, pink lakes, and bird watching. The best time to visit Margherita di Savoia is from June to August – this is when you'll have the best beach weather anyway.
Because yes, Margherita also has amazing beaches, too! Kilometers upon kilometers of them, more precisely. Most stretches in the town center are privately owned and you need to pay to get in or to rent a lounger, but this has the added benefit that you're never far from the next Aperol Spritz. For something a little less manicured, you can rent a bicycle and ride a few kilometers north to Fenicottero Rosa Beach. It's wilder and where all the locals hang. Do bring your own picnic though!
Pin This Guide to the Best Places to Visit in Puglia!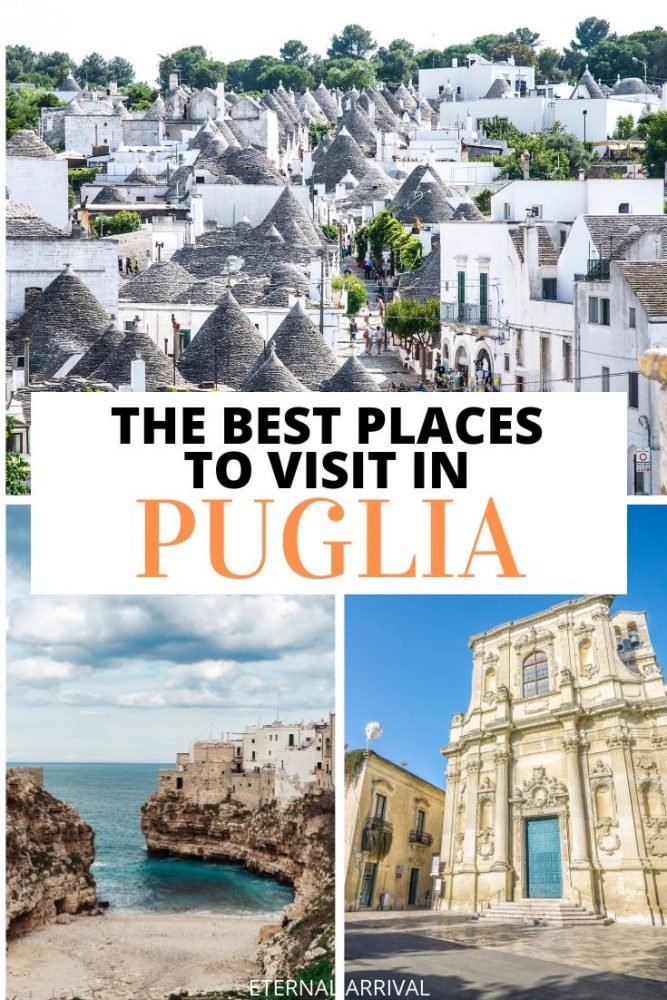 Allison Green is a former educator turned travel blogger. She holds a Masters in Teaching and a B.A. in English and Creative Writing. Her blog posts merge her educational background and her experience traveling to 60+ countries to encourage thoughtful travel experiences that both educate and entertain. She has been a speaker at the World Travel Writers Conference and her writing, photography, and podcasting work has appeared in National Geographic, CNN Arabic, CBC Canada, and Forbes, amongst others. Now based in the San Francisco Bay Area where she grew up, she has also lived in Prague, Sofia, and New York City.