The Teton Range stands tall over Grand Teton National Park in Wyoming.
Their recognizable formation is alluring to mountaineers, photographers, hikers, and road trippers alike.
We will be traveling across the park from south to north with stops at all of the best attractions!
Grab your camera, binoculars, and hiking gear, and get ready for an adventure you'll never forget – a memorable Grand Teton National Park road trip.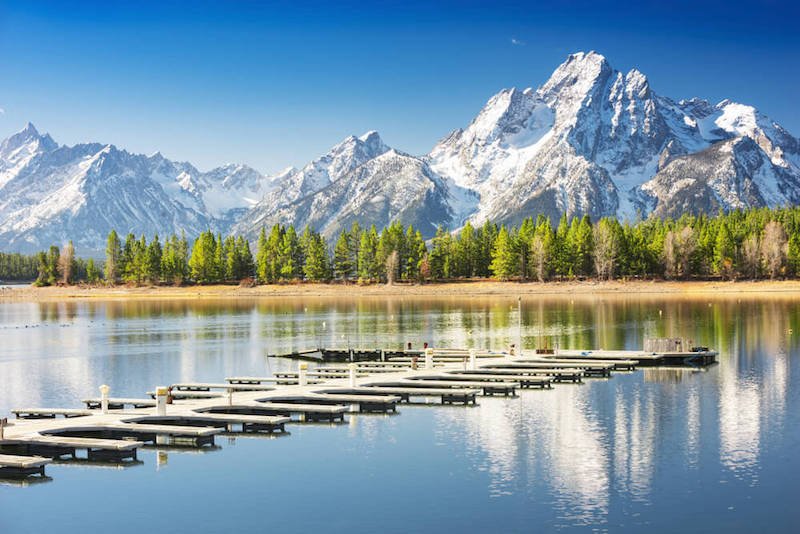 Note: This post contains affiliate links, which means I may receive a small commission if you purchase something through one of these links. Thank you for supporting the free content on this site! For more information on affiliate links and cookies, see my disclosure page for more details.
PLANNING FOR GRAND TETON AT A GLANCE:

When to Go: While winter in Grand Teton is beautiful, summer is when Grand Teton shines the most. It's also when it's at its most crowded, so get an early start, especially if you are following this itinerary which uses the Moose entrance (the most convenient, but also the most crowded!).

Where to Stay: There are so many places to stay in Jackson Hole area! I stayed at the Gros Ventre Campground right outside the Elk Refuge and Mormon Row and loved it. 

There are a few lodges in the park (Colter Bay Cabins, Jackson Lake Lodge, Jenny Lake Lodge) but they book up quickly, often 6 months in advance.

If the lodges are all booked up, there is usually plenty of availability in Jackson and Teton Village. I suggest Wyoming Inn (mid-range boutique), the Elk Country Inn (budget/mid-range), or the Teton Mountain Lodge & Spa (high-end luxury).

How to Get Around: A car is key for Grand Teton National Park; there is no shuttle, and without a car, you'd have to rely on tours. If you're renting a car, compare car rentals and prices from here. Alternately, you can rent an RV or campervan via RVShare and save on accommodations

Don't want to drive or plan? You can book a wildlife tour of Grand Teton, a Jeep tour with boat ride, or a two-day tour of both Grand Teton & Yellowstone.

3 Things Not to Forget to Pack: Binoculars are key for spotting wildlife like bears, elk, moose, and bison-- I suggest these Nikon binoculars. For hikes, you'll want a sturdy pair of hiking boots -- I love my Ahnu boots -- and some bear spray for safety reasons.

Know Before You Go: If you plan to visit multiple national parks in a year, the America the Beautiful Pass will save you a bundle! It costs $80 for an annual pass (for an entire vehicle traveling together) to all US national parks and federally managed site.  
How This Grand Teton Itinerary Works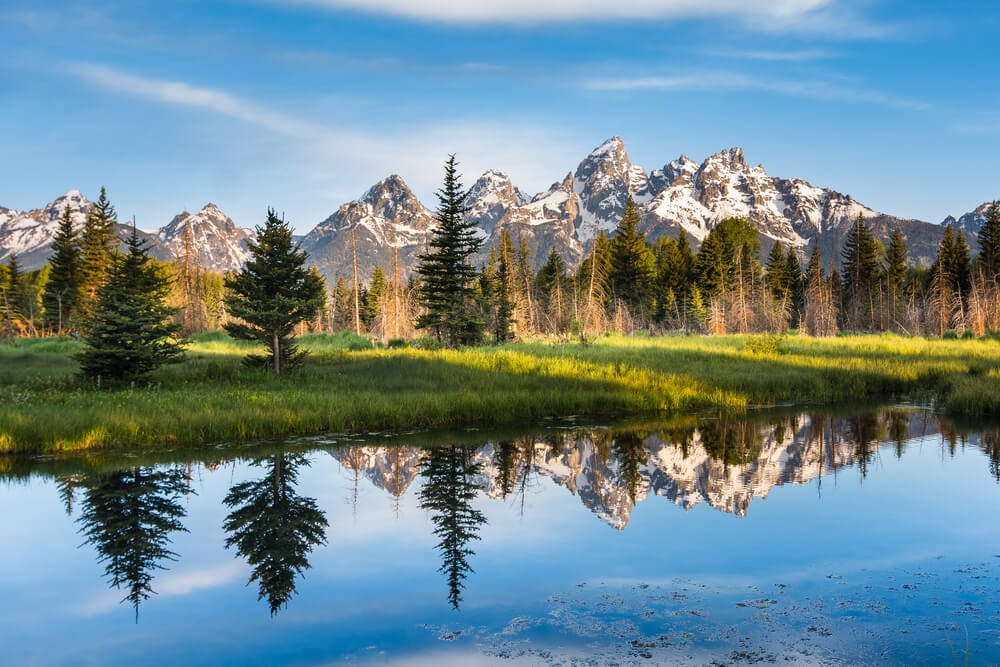 This is a self-guided itinerary that assumes you'll have access to your own car throughout the duration of your time in Grand Teton.
Road tripping Grand Teton is definitely the best way to experience the park at your own pace and maximize your time.
If you don't have a car, there is a free shuttle available. It connects Jackson, the Jackson Lake Lodge, Colter Bay Village, and the South Jenny Lake Visitor Center.
However, besides these stops, there is no shuttle service within the park. As a result, it'd be pretty hard to follow this itinerary, which is designed to be a Grand Teton road trip itinerary.
This itinerary for Grand Teton is best suited for people who want to see the best of Grand Teton National Park's main highlights, while also having time to hike and experience the beautiful wilderness of the region.
It affords opportunities for appreciating the area's wildlife while also seeing the natural wonders and highlights of the park.
However, since this itinerary just allows for 2 days in Grand Teton National Park, it's not going to be possible to see everything.
We've had to make a few omissions in order to have an itinerary that is reasonable, not stressful!
This Grand Teton itinerary will work best if you are staying in the park itself or in the nearby town of Jackson, WY or Teton Village, WY.
These destinations together (along with Hoback, Kelly, Moose, Moran Junction, and Wilson) make up the region of Jackson Hole, but Jackson and Teton Village have the most accommodation options.
Renting a Car for Grand Teton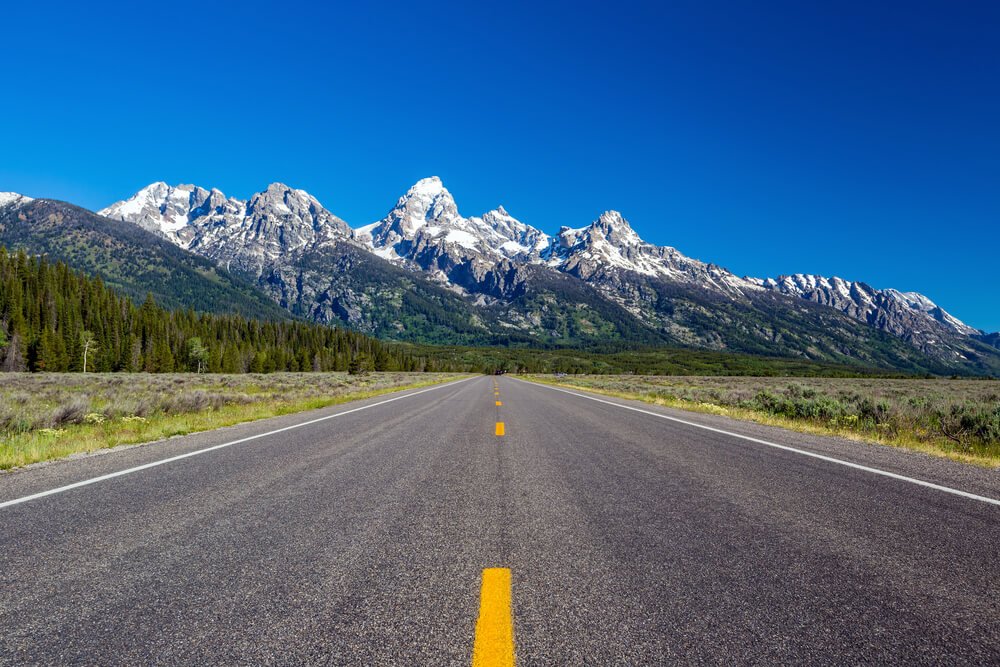 If you are driving to Wyoming in your own personal vehicle, you can disregard this section!
If you are flying into Grand Teton, you'll want to pick the Jackson Hole Airport (JAC).
This offers the easiest access to the park by a long shot. If you are also visiting Yellowstone first, you may want to look into flying into West Yellowstone or Bozeman-Yellowstone Airport.
In the peak season (summer), there are 15 destinations that service Jackson Hole directly, including but not limited to Los Angeles, New York City, Chicago, Denver, Salt Lake City, Dallas-Fort Worth, and more.
American, Delta, United, Alaska, and Frontier all service the airport, though Alaska and Frontier are only seasonal.
Therefore, I suggest renting a car from the Jackson Hole Airport.
Not sure where to get the best deal on your rental? I've rented cars dozens of times through various search engines and have settled on Discover Cars as the best car rental search aggregator – it sifts through dozens of trusted rental companies to find the cheapest price for your rental! Compare prices for your car rental here.
How to Do 2 Days in Grand Teton Without a Car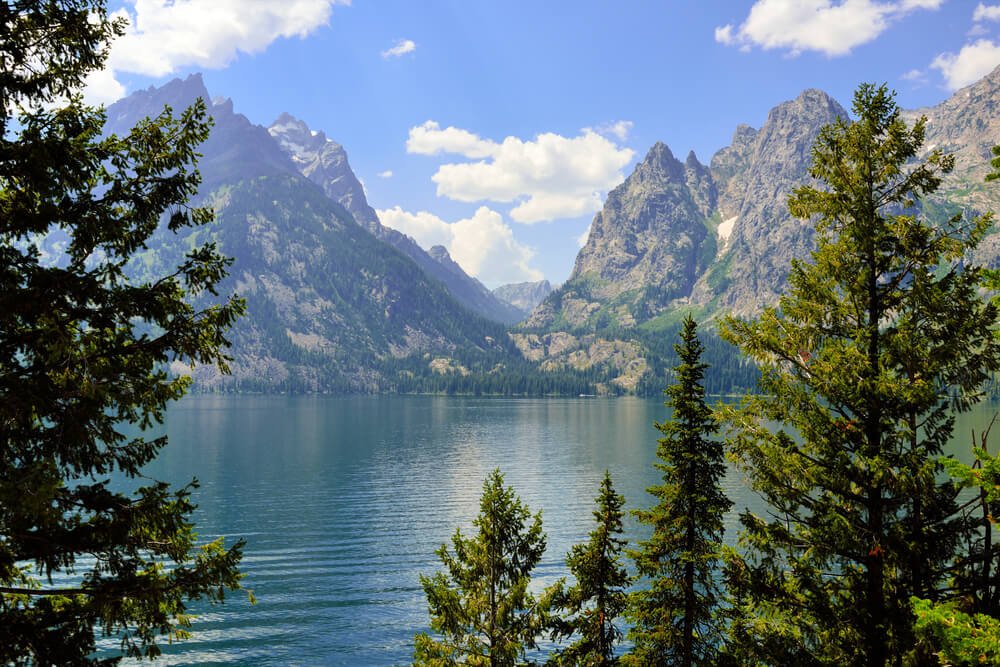 Honestly — it would be very tough!
While there is a shuttle between Jackson and 3 key park stops, it's not nearly enough to be able to handle this Grand Teton itinerary.
If you were to try to tackle this without a car, you'd end up fairly limited.
You could spend one day at Jenny Lake and hiking to Inspiration Point and the next day visiting Colter Bay Village and the area around Jackson Lake, including Christian Pond Loop.
However, you'd miss all the wonderful scenic overlooks in between, as well as the National Elk Refuge which is a true highlight of the park (well, technically just outside the park).
If you can't drive but you want to maximize what you can see inside Grand Teton in 2 days, the best option would be to go with a guided tour.
I'd recommend this full-day tour which includes stops at Antelope Flats, Mormon Row, Oxbow Bend, Pacific Creek, Jackson Lake, Signal Lake, and Jenny Lake, as well as a light breakfast and hearty picnic lunch.
The following day, you'll still have plenty of opportunities to enjoy the landscapes around Jackson Hole and the Grand Tetons.
You could enjoy all the fun things to do in the town of Jackson, enjoy a scenic flight over the Grand Tetons or even a sunrise hot air balloon ride, or take a day trip to Yellowstone's Lower Loop to see all the highlights of Yellowstone National Park in a single day!
Best Time of Year to Visit Grand Teton National Park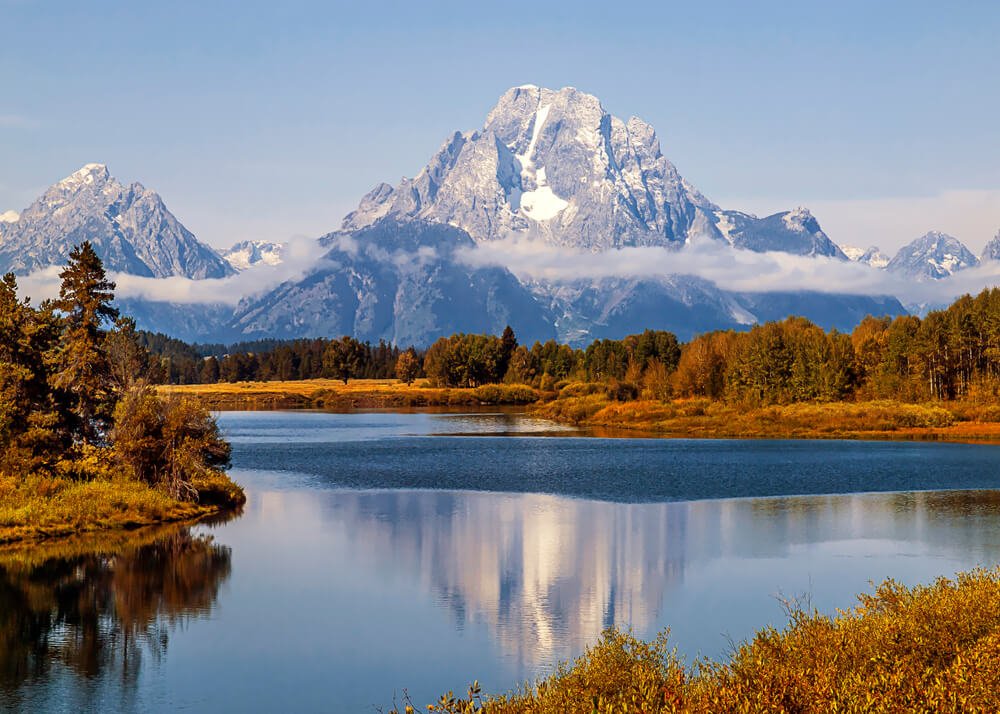 The peak hiking season in Grand Teton is quite short, mostly consisting of late spring, summer, and early fall.
If you are going to Grand Teton and hoping to hike without significant snow on the ground, you're best off if you wait until at least late June, and better yet going in July or August. However, note that crowds at that time will be at their peak then!
September is a delightful month to visit Grand Teton National Park: the crowds are far fewer, due to school resuming and families disappearing from the park, and the temperatures are still warm in the day but there's little risk of snow disrupting your plans.
The fall foliage is brilliant in September, generally from the middle of the month towards the end, and October usually has beautiful leaves as well, though the weather becomes colder and more unpredictable towards the end of the. month.
However, the fall foliage season does shift year to year, so this is not a guarantee, but end of September / beginning of October is generally the "safest" window for beautiful fall foliage.
However, winter in Grand Teton is not a no-go! The park is absolutely beautiful in the wintertime, with lots of great winter activities and landscapes to enjoy. You simply have to be prepared and know what to expect in terms of closures and access.
I have a guide to 30 things to know about visiting Grand Teton in winter that will help you plan a trip in the winter season.
Plus, unlike Yellowstone in winter which almost entirely shuts down to passenger vehicles and requiring the pricy booking of snow coaches and snowmobiles, much of Grand Teton National Park is still able to be visited in the winter independently, making it a great choice for the winter season.
Spring in Grand Teton is beautiful, with alpine wildflowers replacing the snow as its melts.
However, you can expect snow on the hiking trails until at least the end of May, making hiking more treacherous unless you are experienced and equipped for hiking in the snow.
What to Pack for Grand Teton National Park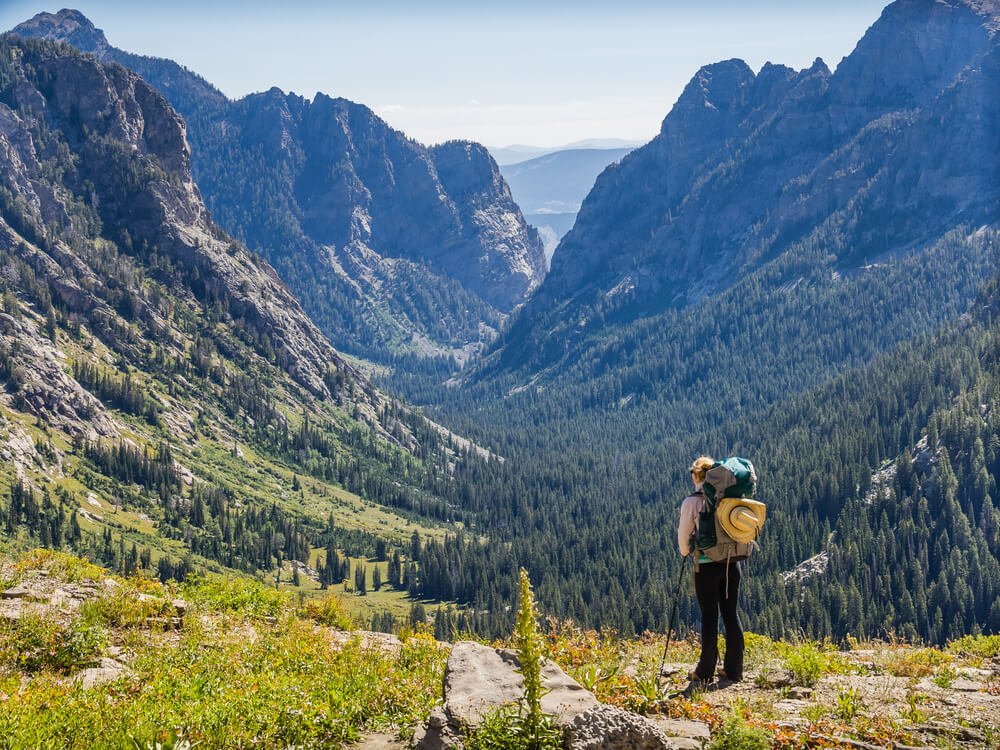 I have a full road trip packing list here, but here's the quick rundown.
Travel Guides: I have included so much information in this Grand Teton Itinerary that I believe will be helpful in your trip planning process but sometimes guide books provide more than I can fit in one piece! Combine my personal experiences with this Moon Yellowstone & Grand Teton guide and you'll be set for an adventure of a lifetime.
Layered Clothing: Even if you are visiting Grand Teton in the summer, due to the high elevation, it can get chilly at night so plan accordingly!
For summer or early fall, you'll want at least 2 shirts (synthetic or wool, long and/or short sleeve depending on the season), 2 pairs of leggings or pants, 2 pairs of shorts, 1 fleece outer layer, a waterproof jacket, a beanie, gloves, and 3 pairs of socks.
For winter, you'll skip the short sleeves and shorts and add in thermal layers, a parka, a scarf, waterproof pants, waterproof gloves, and snow boots.
Comfortable Footwear: Visiting the Grand Tetons is all about hiking! A sturdy pair of hiking boots with strong ankle support is really worth the investment. I love my Ahnu Sugarpine boots for women, and for men, I suggest the KEEN Durand boot.)
However, if you pick sneakers, make sure they have good traction and are comfortable enough for several 2-4 mile hikes over the course of this Grand Teton itinerary. Be sure your choice of footwear is waterproof if visiting any time there might be snow on the ground.
Sunscreen: At 6,500+ feet elevation for much of the park (such as Jenny Lake, Taggart Lake, etc. — you'll go higher on any mountain hikes!), it's easy to get sunburned, even if the weather seems cloudy. Trust me — I've learned this the hard way. Wear sunscreen every day, and ensure that you reapply it every few hours. I suggest this chemical-free organic sunscreen –especially if you plan on swimming, you don't want to be polluting the pristine lakes with chemical-filled sunscreen!
Sunhat: I recommend a lightweight but packable hat that has a strap, so that you can ensure it won't get blown off, never to be seen again, by a gust of wind. It's also handy because you can just wear it on your back when you don't feel like having it on your head (or for Instagram pics — no judgment).
Day pack: A lovely lightweight day pack is essential to have when in Grand Teton so you can easily put everything you need for a day out hiking in a place that is both easily accessible yet unobtrusive for active days out. I like this inexpensive and lightweight Osprey day pack, which has mesh panels on the back to allow for airflow (goodbye, sweaty backs!).
Snacks: None of these Grand Teton hikes are that strenuous, but I strongly recommend you always have some snacks on you when you hike, just in case you get hungry. You also may not want to waste time on your Grand Teton itinerary waiting for a sit-down lunch or heading to Moose or Jackson for a meal.
I suggest you make or pick up a picnic lunch on your way into the park, or have plenty of snacks for the day. I suggest things like protein bars (I love CLIF bars), nuts, or other high-density snacks that give you a lot of caloric energy for their weight!
Camera: I absolutely love my Sony A6000! It's a mirrorless camera, not a D-SLR, so it's lightweight and perfect for a high-quality camera that won't weigh your daypack down like a larger camera will. That's just the body: I also suggest bringing a zoom lens for wildlife and a wide-angle lens for landscapes, as the kit lens is OK, but nothing to write home about.
First aid kit: Don't let a little thing like blisters ruin your Grand Teton trip! I recommend always keeping a first aid kit like this HART Weekend First Aid kit in your daypack. It's lightweight and unobtrusive, but if you ever need it, you'll be glad to have it.
Headlamp (and extra batteries): If you want to do any sunrise or sunset hiking, I recommend bringing a headlamp like this Petzl headlamp.
Water filter bottle: While there are water fountains around Grand Teton, I still suggest having a water bottle with a filter so you can fill up anywhere there's a water source — like all the beautiful alpine lakes around you!
There are a wide variety of water filtration systems, but I personally have and love the GRAYL Geopress, which allows you to filter water from any source. It's perfect for filling up on a hike if you see water anywhere on the trail. It's compact and easy to use and filters out 99.99% of microplastics, viruses, bacteria, and other nasty particles, making water instantly safe to drink without plastic waste.
Where to Stay in Grand Teton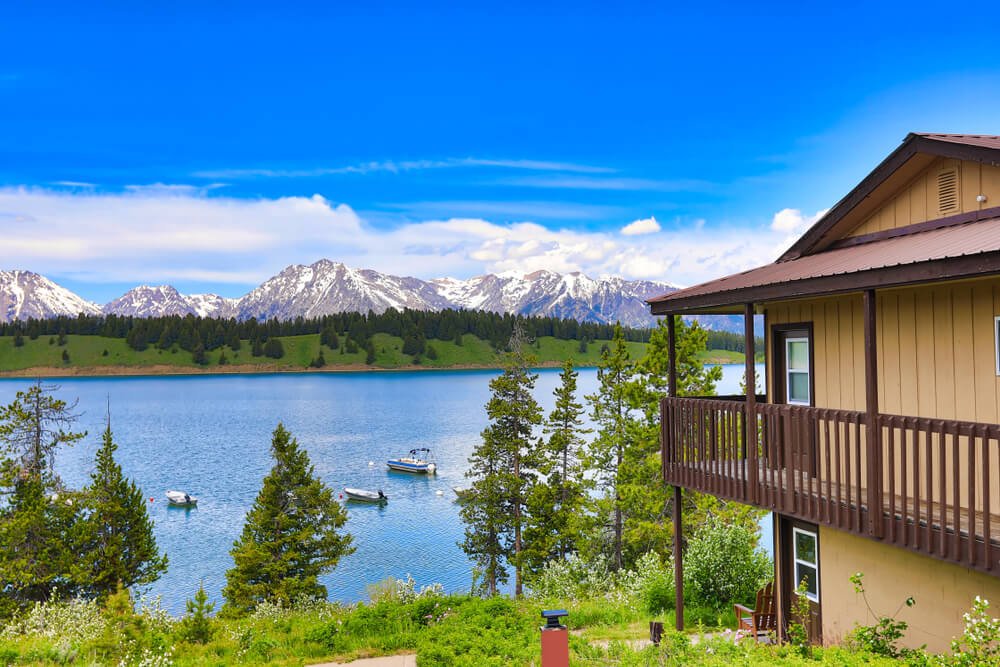 There are lots of options for where to stay when visiting Grand Teton on a road trip! If you're visiting in the summer, you can stay in the park… but you'll need to book way in advance!
For where to stay in the park itself, I recommend Jenny Lake Lodge. It has a beautiful location and they have cute rustic cottages, each with its own entrance, as well as an on-site bar and restaurant serving delicious meals, including a 5-course dinner every night.
>> Book your stay at Jenny Lake Lodge on Booking.com | Book it on Hotels.com
However, for most people, unless you plan extremely far ahead in advance, lodging within the park isn't that feasible. If you find yourself booked out of park lodging, I suggest staying in Jackson, WY or Teton Village, WY.
It's just a short drive and there's so much to do in Jackson any time of year (especially in winter!) that it's worth the extra drive time… especially since the road between Jackson and the Moose entrance of the park is one of the prettiest in the United States!
Jackson Hole Accommodations
BOUTIQUE | If you love a hotel with design that's packed with a punch of personality, I'd stay at the Wyoming Inn. This charming hotel is super cozy and rustic, with Western-inspired decoration on the interior: we're taking roaring fireplaces, woodsy colors with lots of natural light, rustic touches and design elements, and large, renovated rooms.
>> Check photos and reviews on Booking.com | Book it on Hotels.com
BUDGET | While Jackson isn't the biggest budget destination, if you're trying to save a few bucks on accommodations without sacrificing comfort, I'd suggest The Elk Country Inn. It's very highly reviewed and offers modern, clean rooms with plenty of space, just 4 blocks from the Town Square in Jackson.
>> Check photos and reviews on Booking.com | Book it on Hotels.com
LUXURY | While not technically in Jackson but rather in Teton Village, the beautiful Teton Mountain Lodge and Spa is an absolute stunner. The rooms each have their own fireplace, kitchen, and seating area, and the property has both indoor and outdoor heated pools and hot tubs, as well as a world-class massage and spa center perfect for some well-deserved R&R.
>> Check photos and reviews on Booking.com | Book it on Hotels.com
CABIN | The incredible views you get on the Grand Teton are why you should sleep at this beautiful cabin.
With large windows and a rustic but modern interior, you're guaranteed an amazing stay at this place while taking in beautiful mountains views from every room. The cabin has a large kitchen, sitting area, a dining area, and a number of bedrooms to accommodate even big groups. The best part is that it's near Teton River and Big Hole Mountains so you'll never run out of outdoor activities to do.
>> Check photos and reviews on Vrbo
Your Grand Teton Itinerary
Day 1 of Your Grand Teton Road Trip
This Grand Teton National Park road trip departs from Jackson, Wyoming.
A popular ski town in the winter, Jackson becomes the ultimate gateway town to the Tetons for summer road trips and recreation.
National Elk Refuge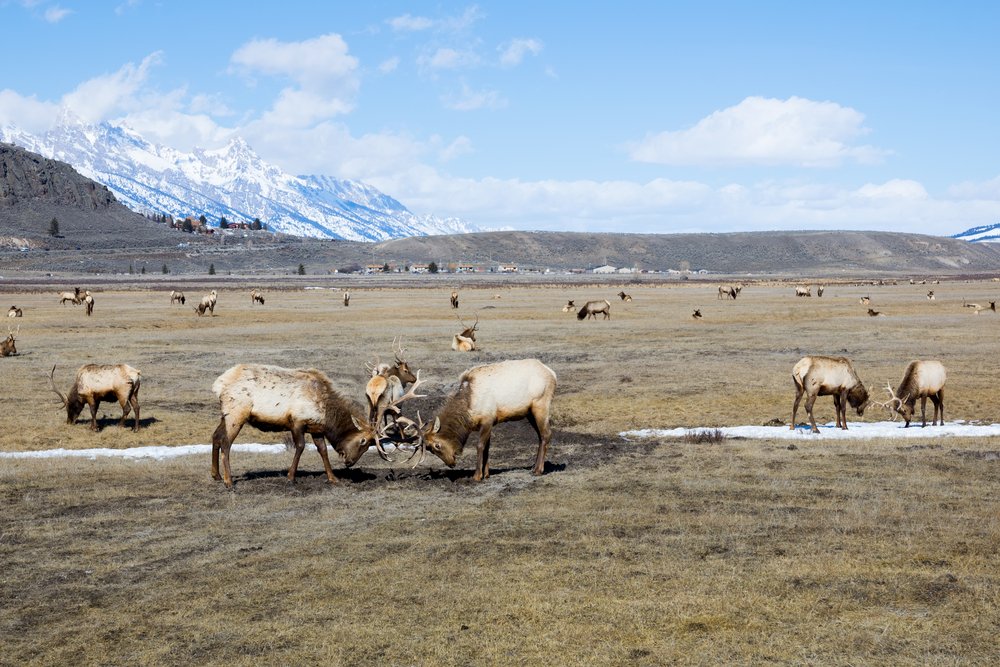 As you make your way north toward the Moose Entrance, the National Elk Refuge hugs the road to the right.
This area is home to one of the largest elk herds ever recorded! There is no fee to enter the refuge if you're interested in getting a closer look.
Stop and take some photos of these gorgeous elks and start to get pumped for the wildlife and scenery that await you once you enter the park proper!
Mormon Row Historic District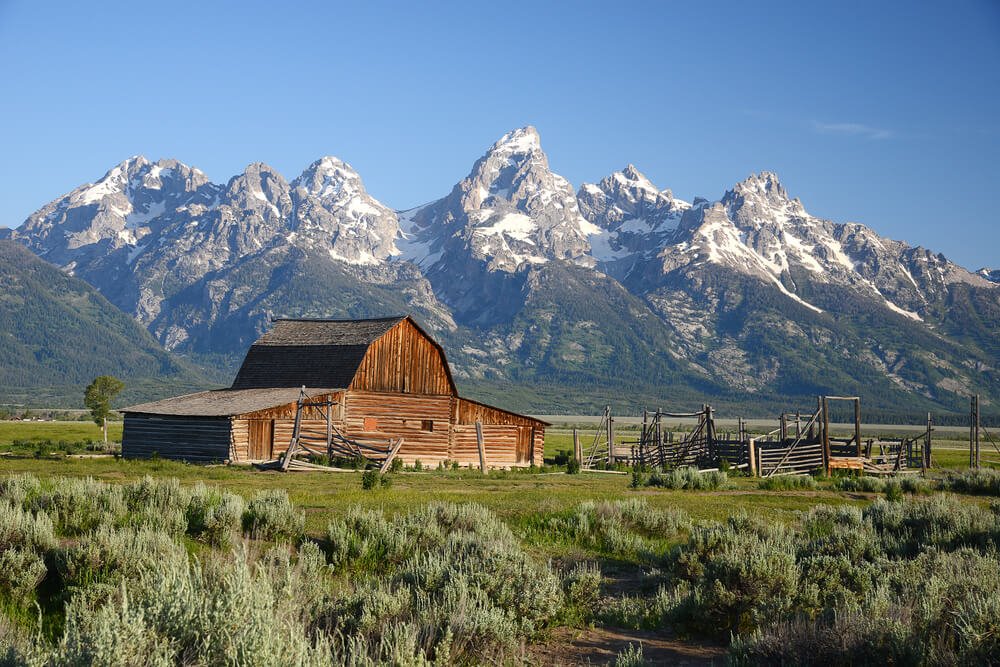 One of the first stops in the national park itself is the Mormon Row historic district located in the Gros Ventre section of the park.
This is likely one of the photos you've seen in all the travel guides (including this one!) to promote Grand Teton.
The view of the historic barns and homesteads from the 1800s, built by Mormon settlers, juxtaposed against the Teton Range are simply unforgettable.
Stop here to walk around and take some photos, but let's keep it moving: you have a full day itinerary ahead of you!
Moose Junction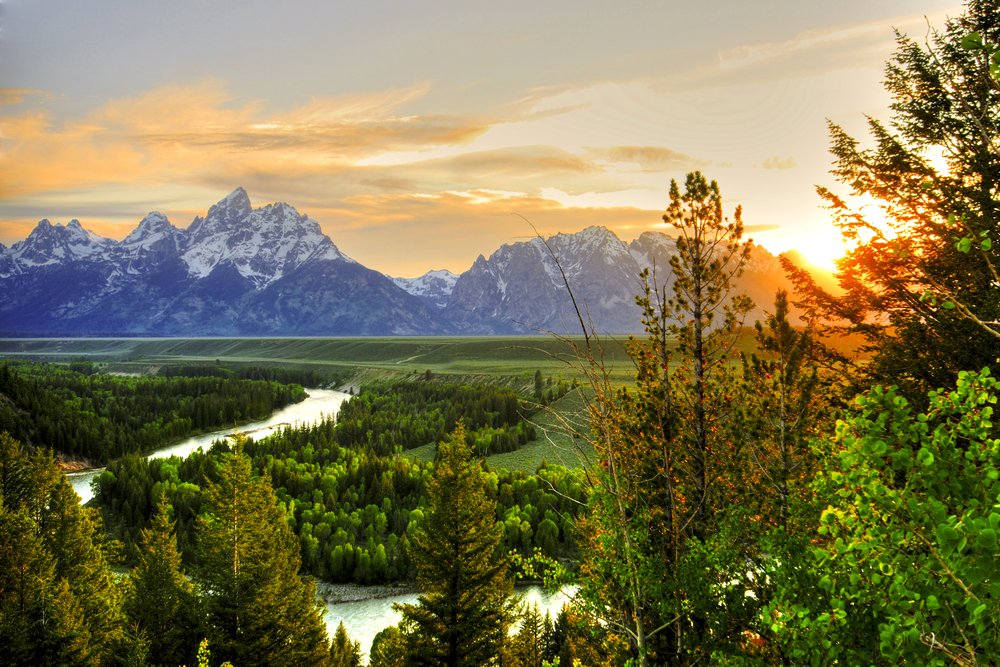 Welcome to the park! When you arrive at the Moose Junction, clearly marked, turn left onto Teton Park Road.
Soon after turning, you'll cross over the Snake River, the largest tributary to the Colombia River.
The Moose Visitor Center is located down a road on the left and is a great place to ask questions about the park.
Windy Point Turnout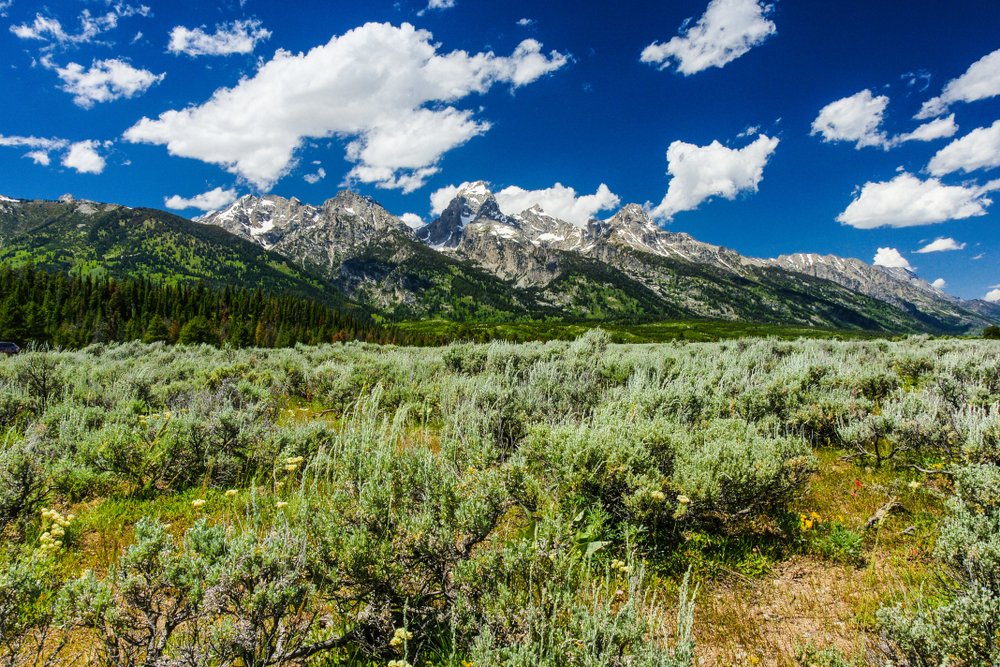 As you've probably noticed, there are no bad views in Grand Teton National Park!
If you're eager to get some early morning photos of the mountains, use the Windy Point Turnout soon after the Moose Entrance Station.
From here, you'll be able to see Grand Teton, Mount Owen, Middle Teton, and Teewinot Mountain in the distance.
Taggart Lake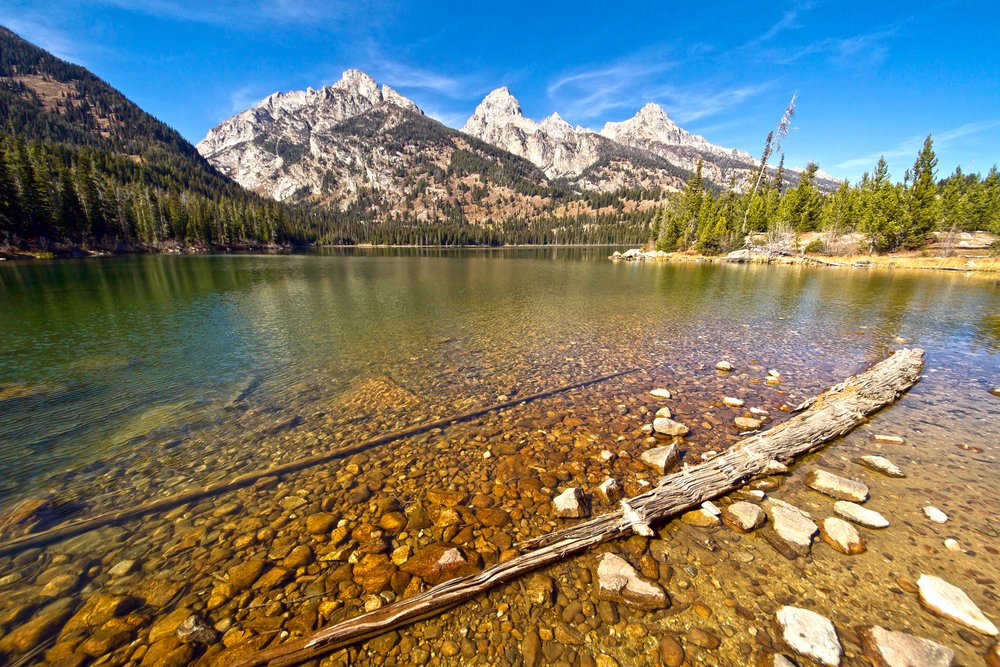 Time to get the blood flowing with a 3-mile short hike to Taggart Lake. Fair warning, the Taggart Lake Trailhead parking area fills up early in the day. Arriving in the morning will be worth it!
From the Taggart Lake Trailhead, head down the trail until you come to the loop junction. Take a right at the junction to stay on the Taggart Lake Trail.
A little farther down the trail, you'll cross a bridge over Taggart Creek. Check out that waterfall!
Not much farther now, Taggart Lake sits at the base of the Teton Range with the mighty peaks standing proudly in the background.
After completing your photo op and taking in some mountain air, continue back the way you came… or add an extra mile to your round-trip by taking Beaver Creek Trail back to the Taggart Creek Trailhead. Both paths lead back to your vehicle and onto the next adventure!
Jenny Lake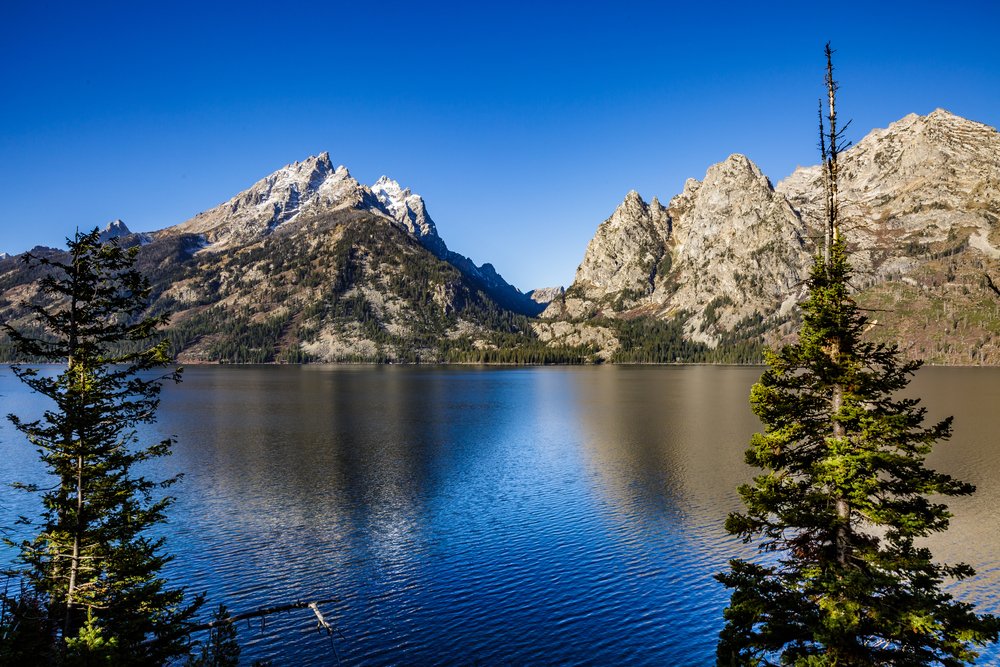 There is so much to do at Jenny Lake!
If the views weren't enough for you, there's also a visitor center, boat shuttles, camping, concessions, and amazing trail access.
All aboard! Park near the Jenny Lake Visitor Center and take the short trail towards the docks to catch the boat.
The boat shuttle runs every 15 minutes and there is a small fee for riding. Worth every penny!
Enjoy the ride until you hop off the boat ride on the west side of the lake at the base of the magnificent peaks.
The fun is just getting started. Any waterfall lovers here? From the dock, Hidden Falls is only a 2-mile round trip hike. This easy-to-access falls drops 100 feet!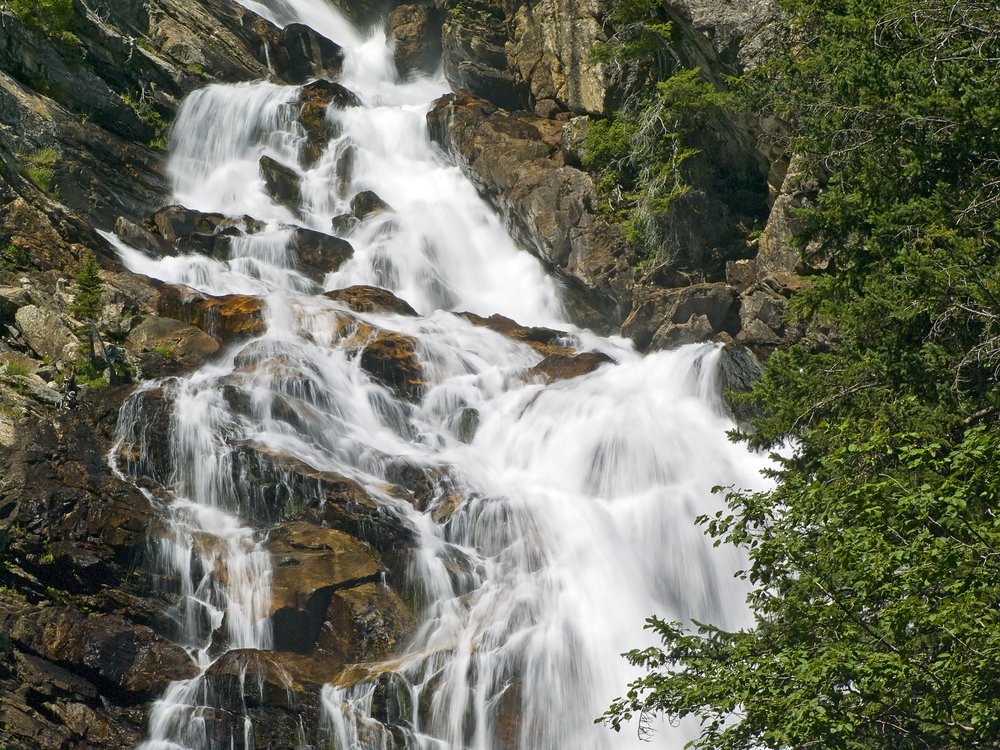 If you're looking to add in some more hiking miles and really want to earn that ice cream waiting for you at the Jenny Lake Store, forgo the return boat shuttle.
Instead, take the loop trail 4 miles along the southern half of the lake for prime wildlife and mountain viewing opportunities!
If you want to spend more time at Jenny Lake, there's also the Cascade Canyon area near the West Shore Boat Dock area, which is really beautiful and scenic.
A hike to Inspiration Point is also fairly easy from the West Shore Boat Dock, taking about 1.8 miles roundtrip and gaining about 500 feet.
Back at the parking area, it's time to refuel and relax by the rocky shore before hitting the road!
String Lake
Take the One Way South scenic road and don't forget to stop at the Cathedral Group Turnout for more breathtaking mountain views.
Not much farther down the road, you'll want to make a right to head to the String Lake Picnic Area.
Hot summer days and String Lake were meant for each other!
The picnic area at the crystal clear lake has an inviting sandy beach with plenty of room to set out chairs and towels for an afternoon swim.
If your legs aren't cooked from the day's hikes, there is an easy 4-mile loop trail that rounds the lake and offers additional views of the neighboring Leigh Lake. Keep your eyes peeled for wildlife as you make your way around the loop.
Day one ends back at the beaches of String Lake.
Insider Tip: Watch the sunset over the Teton Range from the Jenny Lake Overlook off of the One Way South scenic road, take a peek at the uninterrupted starry night sky and rest up for another exciting day.
Day 2 of Your Grand Teton Road Trip
Good morning road trippers! Ready to start this adventure-filled day?
The northern half of Grand Teton National Park awaits! Make your coffee to go because this mountain sunrise is going to be epic.
Mountain View Turnout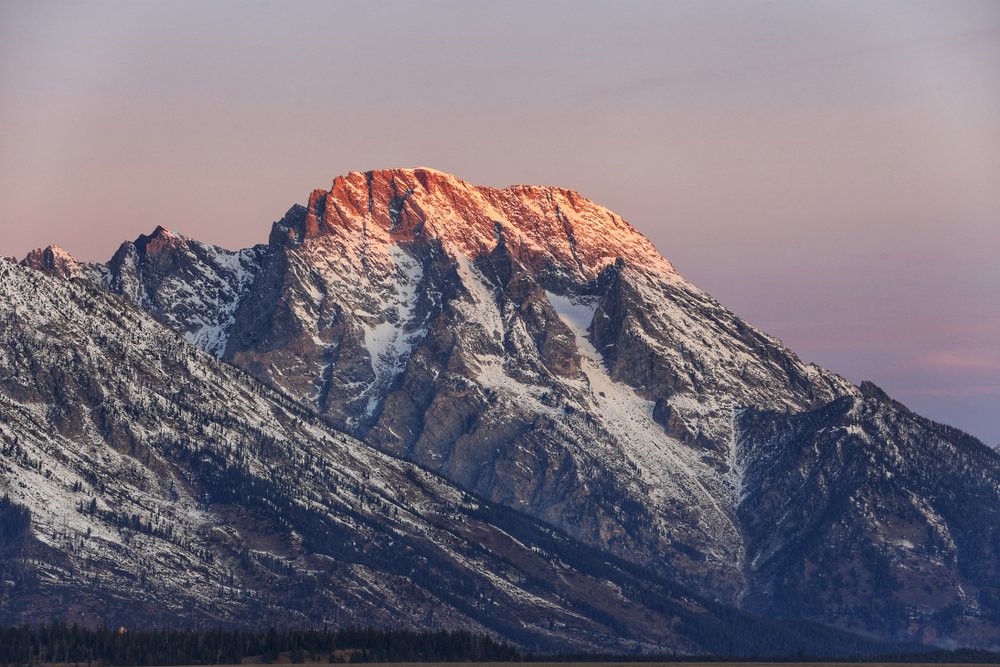 Just past the turn to head toward Sting Lake on the Teton Park Road, you'll find the Mountain View Turnout on the left.
Appropriately named, this viewpoint is a great spot to set up a tripod. Bring some camp chairs, blankets, and that hot coffee we talked about to watch the sunrise over the Teton Range.
Signal Mountain Road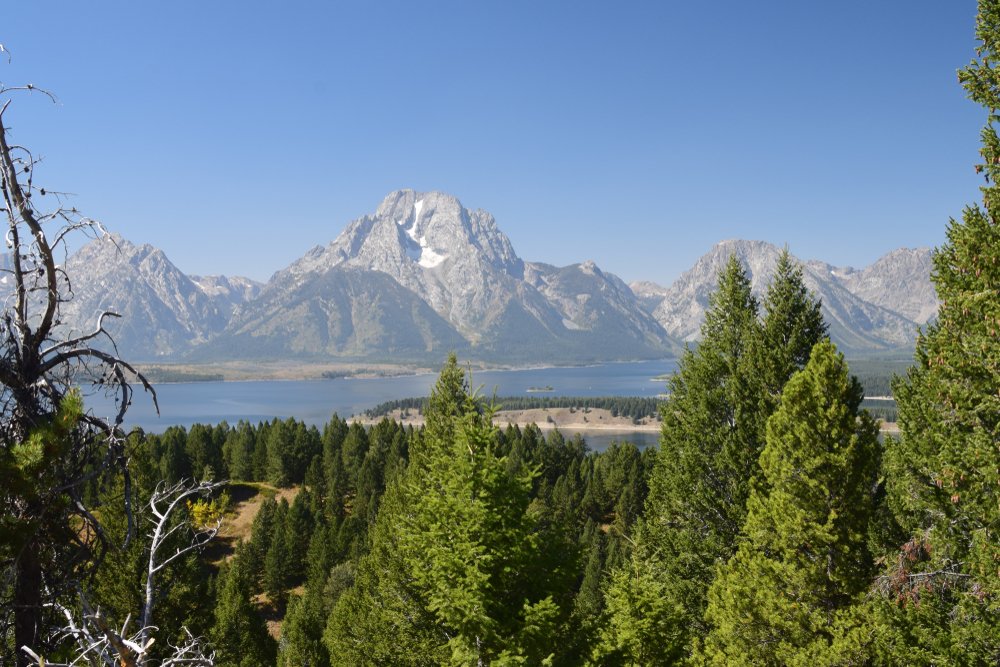 Soon after leaving the Mountain View Turnout, Jackson Lake begins to come into sight.
Sitting at 6,772 feet above sea level, this massive lake has a surface area of 4,750 acres!
Take the scenic drive up Signal Mountain Road to get a look at the lake from above via the Jackson Point Overlook.
Take this road slowly. There's no rush. The switchbacks become very tight at the top and require conservative speeds to travel safely.
Up for a longer hike? You can get to the Jackson Point Overlook on Signal Mountain on foot. The moderate 7-mile round trip hike is well worth the early morning incline.
For the sake of time, it may be worthwhile to opt for the scenic drive up to the viewpoint today, but if you're a quick hiker, you may want to make the hike!
Jackson Lake Dam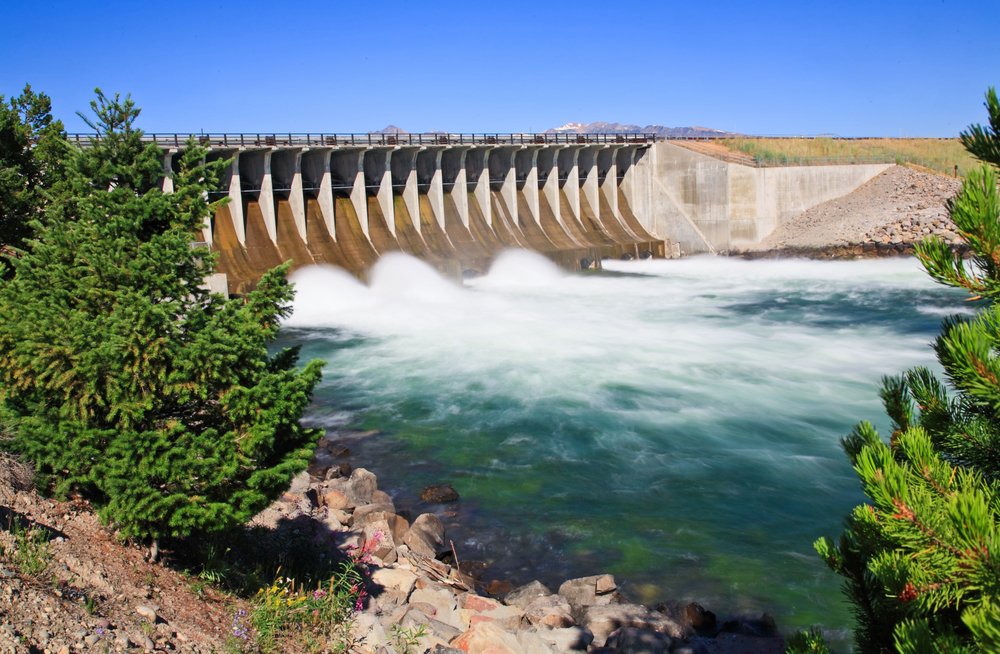 Just after passing over the Jackson Lake Dam, there is a road on the right leading down to a parking area next to the river.
Walk up the steps toward the sidewalk and make your way across the dam for awesome views of the Tetons over Jackson Lake.
Across the road, there are some paved interpretive trails along the lake that are fun and easy to explore.
The parking lot next to the Snake River at the dam's outflow is a popular spot to stop and cast a fly!
Christian Pond Loop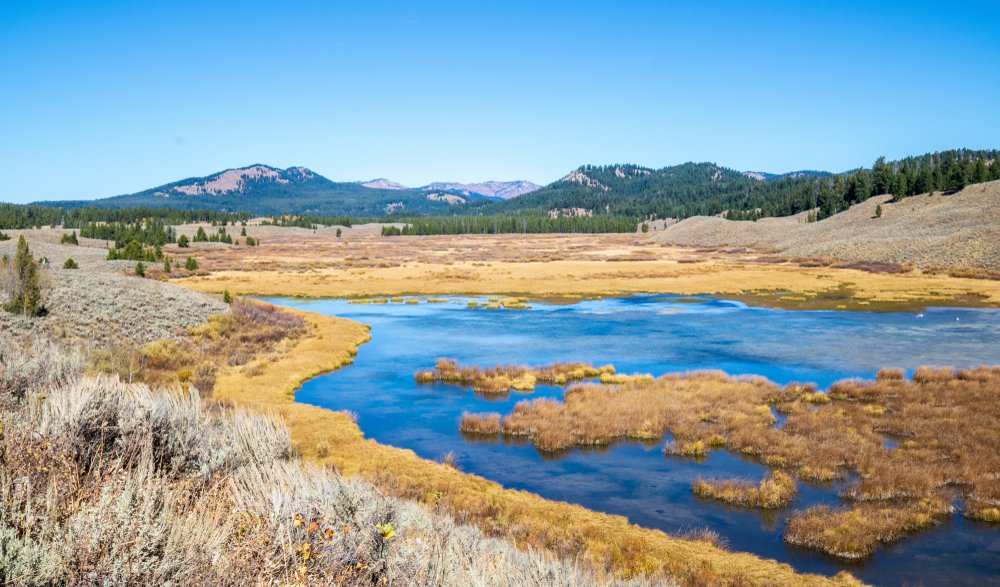 Wildflowers and wildlife wait for you along the Christian Pond Loop Trail!
This easy 3.5-mile hike departs from the trailhead parking next to the horse corrals at the Jackson Lake Lodge.
As you approach the pond, be on the lookout for moose and elk grazing as well as trumpeter swans gliding through the shallow water.
The trail leads to the shores of Emma Matilda Lake before looping back toward the trailhead. Take a little detour and hike along the lake's edge. Another great spot for wildlife viewing!
When you've taken it in all in, head back to the Christian Pond Loop and back to the parking area.
Colter Bay Village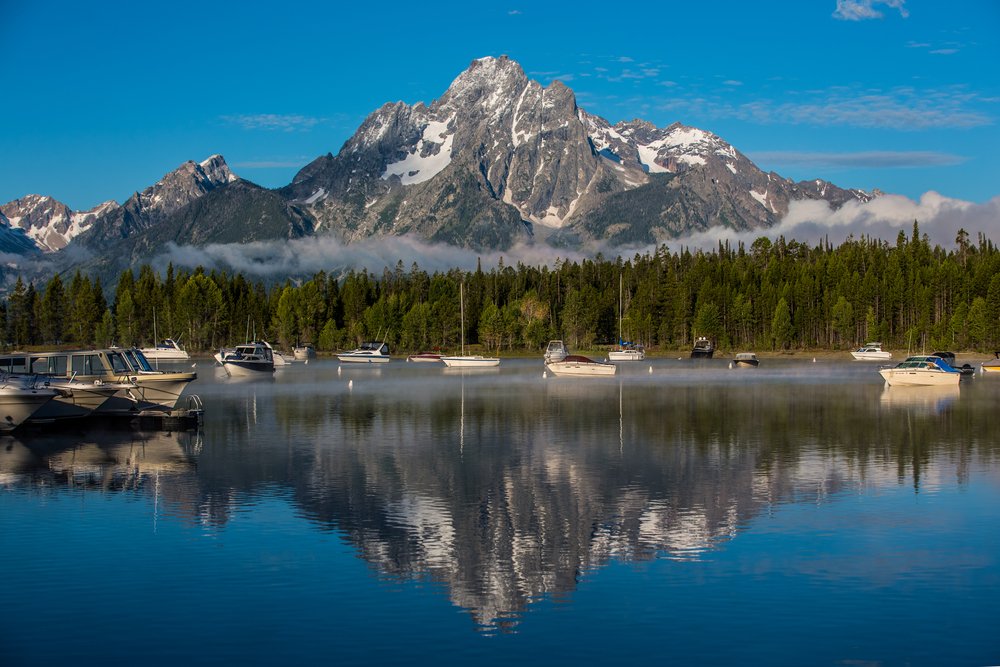 It's easy to spend a full day in the Colter Bay Village area, so we have narrowed it down to the best activities!
From the Colter Bay Visitor Center, take a leisurely hike along the Lakeshore Trail.
This 2-mile nature trail offers amazing views of Mount Moran behind Jackson Lake. The trail will bring you along the lake's astonishing shore. Don't forget the camera!
After your short hike, make your way over to the nearby Colter Bay Marina just in time for the Jackson Lake Scenic Lunch Cruise!
The boat will take you to the shore of Elk Island in the middle of the lake, where you can explore and enjoy a picnic-style lunch. There's nothing like the panoramic views from this scenic cruise.
Want to guide your own watercraft around the lake? You can also rent canoes and kayaks at the marina and explore the lake shores on your own time!
Paddling away from the high-use areas around Colter Bay provides great opportunities to catch a glimpse of wildlife along the water.
Lakeview Picnic Area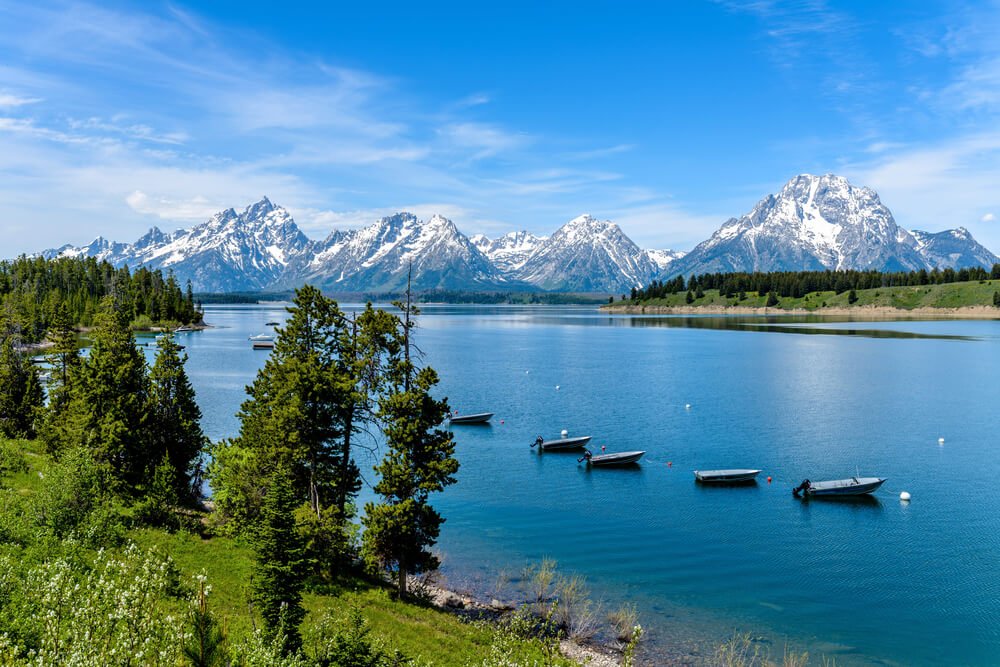 Take in one last good view of Jackson Lake at the Lakeview Picnic area on the northern part of the lake. From the picnic area, there is easy access to the lake's shore for photos.
Those who are feeling extra brave can jump in for an icy swim!
Your exciting two-day Grand Teton itinerary ends on the shore of Jackson Lake.
From here, continue north toward Yellowstone National Park, where we leave you to discover your next adventure!
Have More Time in Grand Teton?
While this itinerary will completely fill 2 days in Grand Teton, if you are tempted to add extra time — and you should be! — there is a number of ways you could spend more time in the park.
If you want to get more hiking in, consider a hike to Surprise Lake and Amphitheater Lake. This is a hard hike, numbering 10 miles roundtrip and 3,000 feet of elevation gain.
It is spectacular, though, so if you have the prowess for a hike of this difficulty, consider it! If not, I have a post on several other day hikes in Grand Teton that are a little easier.
Tired of hiking but want some outdoor adventure? You could go rafting on the Snake River with one of the many rafting outfitters that operate within the park.
This 7-mile float down the river is a low-intensity rafting trip with a guide that would make an awesome addition to your Grand Teton itinerary.

Don't forget travel insurance!
Travel insurance coverage helps you recoup your losses in case of emergency, accident, illness, or theft. I rely on SafetyWing for both my travel insurance and travel medical insurance, and it offers great rates and clear, easy-to-read coverage.
Emily is a freelance travel and outdoor recreation writer from Big Sky, Montana. Her adventurous spirit has led her to the high peaks of the Sierras and the largest wilderness areas in the lower 48. When she's not writing, Emily can be found backpacking, road tripping to outdoor destinations, climbing, or rowing whitewater.