Geneva is the start of many people's trips to Switzerland, due to its busy airport which often has a lot of great flight deals.
Not only that, Geneva's perfect location on the border of France and Switzerland means that you can do an abundance of great day trips from Geneva that bring you totally different cultural experiences.
The ease of access to France thanks to the Schengen area agreement means that a day trip to pop into one of the beautiful villages of Alsace is by no means difficult!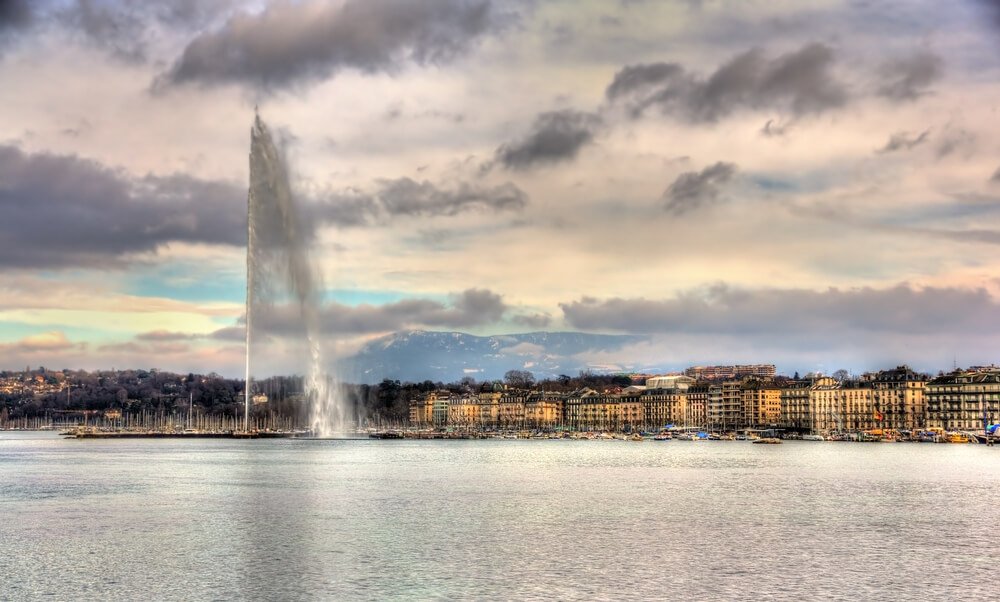 Note: This post contains affiliate links, which means I may receive a small commission if you purchase something through one of these links. Thank you for supporting the free content on this site! For more information on affiliate links and cookies, see my disclosure page for more details.
You won't even experience a proper border crossing, as there is no passport control between the Swiss and French borders due to the Schengen agreement.
You could certainly spend plenty of time exploring all the things to do in Geneva, such as touring the U.N. and world-class museums, checking out the Jet d'Eau, and taking a steamboat ride on Lac Leman.
With good reason, Geneva is one of the top places to visit in Switzerland for both its beauty and its culture, and it's full of great things to do.
However, you can also use it as a base for several beautiful day trips in Switzerland and France.
Here are 13 of my favorite Geneva day trip ideas to inspire your Switzerland itinerary and beyond!
Best Day Trips from Geneva
Montreux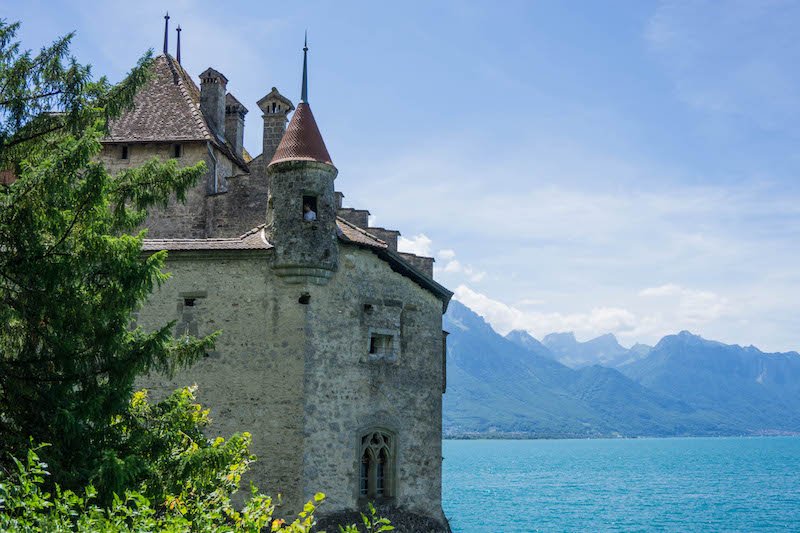 WHAT IS IT: One of my favorite towns in Switzerland, this lakeside gem that is home to the Montreux Jazz Fest each year is worth a visit no matter the time of year (and winter has its own delights!)
Whether you visit at the height of summer activity or in the peacefulness of winter, Montreux's lakeside setting surrounded by a ring of snow-capped mountains (no matter the time of year) is unbeatable.
WHAT TO DO: The town itself is gorgeous and home to several points of interest, the most obvious of which is Chateau de Chillon (Chillon Castle) a beautiful medieval castle that sits as a little island right on the bank of Lac Leman.
It's one of those places that I'm sure you've seen a million times on the internet. It's one of the most famous Swiss castles, and in a country known for its beautiful castles, that's truly saying something.
Besides the Chateau, which is well worth the day trip from Geneva just to see, you can also walk along the Montreux lakeside promenade.
Another great thing to do is check out the museum dedicated to Queen, which is in the studio where Freddie Mercury and the rest of his bandmates recorded several albums), or visit the nearby Chaplin's World museum dedicated to Charlie Chaplin (another famous Montreux ex-resident) in Corsier-sur-Vevey.
HOW TO GET THERE: The train will take you from Geneva to Montreux quite easily in about an hour and fifteen minutes.
There are also guided tours which include Montreux and other nearby sights as well, so you can tick a few things off your Swiss bucket list simultaneously.
Book your Montreux + Lavaux vineyards tour here, or your Montreux + glacier tour here!
Lausanne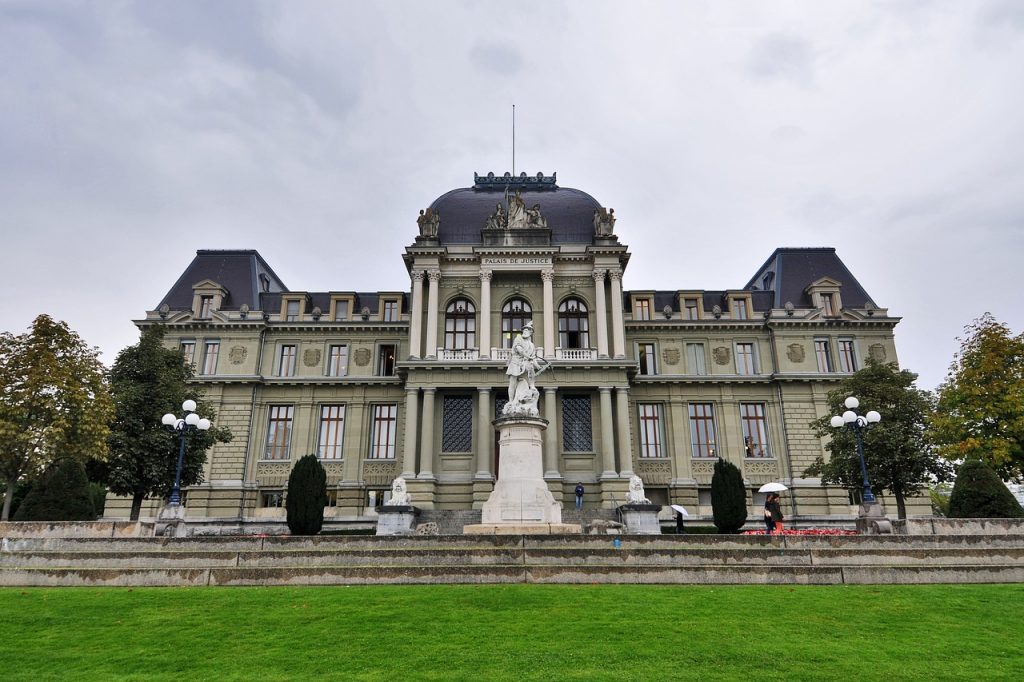 WHAT IS IT: One of the larger cities flanking Lac Leman (excepting Geneva, obviously), Lausanne is a must-visit city tour for fans of impressive architecture and well-curated museums.
It's also one of the easiest cities to visit on a day trip from Geneva due to frequent steamboat connections on the lake.
WHAT TO DO: Built on three steep hills, walking around Lausanne requires a decent bit of fitness (it offers stiff competition to San Francisco and Lisbon), but it's well worth it!
This city is beautiful everywhere you look. One of its most famous buildings is the Chateau d'Ouchy, a gorgeous multi-turreted, red-roofed castle in the heart of town.
For fans of museums, Lausanne won't let you down. Perhaps the strangest museum in all of Switzerland, you shouldn't miss the Collection de L'art Brut, which features art created by societal outcasts – prisoners, psychiatric patients, and the like – as the collector, Jean Dubuffet, became fascinated with the connection with madness and genius.
Somewhat patronizingly, he called this work "art brut" (naïve art). The collection numbers more than 50,000 pieces spread across four floors, and it's undoubtedly a fascinating place to while away a few hours. If you're a fan of weird travel: this is for you.
For people looking for a more typical museum, you won't want to miss the world-famous Olympic Museum which has not only modern artifacts from recent Olympics but even pieces dating back to the original ancient games.
It's also really interactive, making it a great place to bring children (the Collection de L'art Brut, maybe not so much!).
You'll also want to do a wander to the other side of town, on the other side of the train tracks, to see the beautiful Place de la Palud, the heart of Lausanne's Old Town.
Here, you'll see buildings like the city hall, the Instagrammable wooden Escaliers du Marché, the lovely Palais de Rumine (which hosts 5 museums in one building), and other historic towns.
HOW TO GET THERE: It's just 45 minutes by train from Geneva!
While it seems like the ferry would be a good option, it takes almost 4 hours each way – so it's hardly day trip material.
If you do want to take a boat ride one way from Lausanne, I suggest doing a combined bus and ferry tour like this one, which drops you off in Lausanne by bus, gives you some time to explore the city, and then ferries you back to Geneva on a scenic 4-hour boat cruise.
Lavaux Vineyards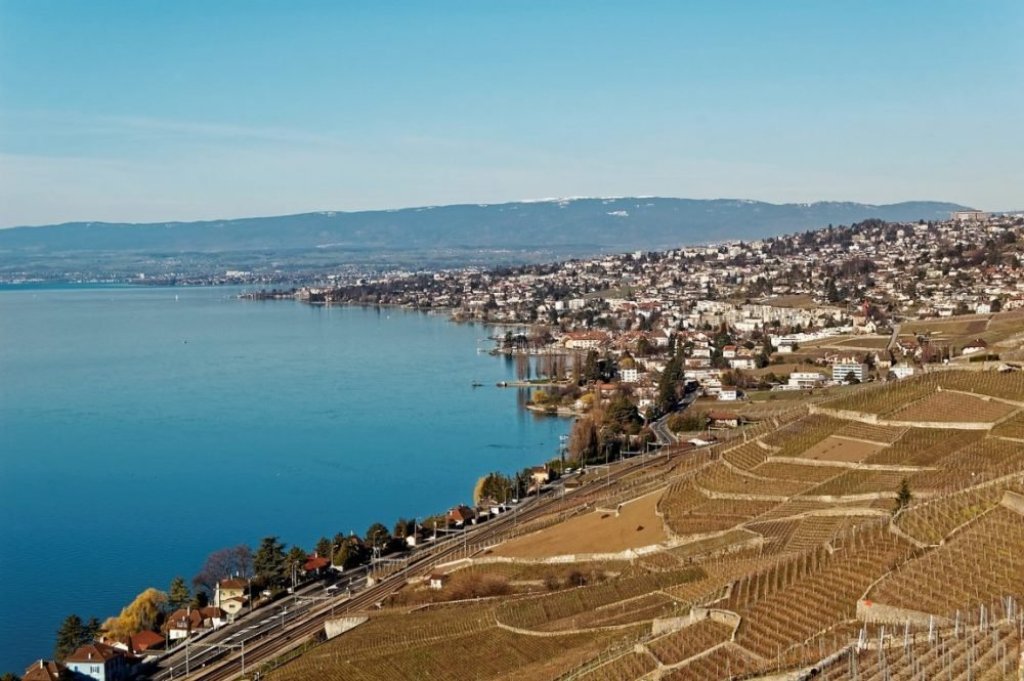 WHAT IS IT: If there's one thing I learned from my weeks in Switzerland, it's that Swiss wine is freaking delicious and it's really a shame that more of it doesn't get exported. Only some 5% of the wine ever makes it out of the country!
So while you're in Switzerland, you may as well take advantage of the ease with which you can find these delicious wines.
After all, who knows the next time you'll see Swiss wine at your local wine shop or on a restaurant's wine list?
Many of the best Swiss wines come from the area around Lake Geneva, particularly in the area of Lavaux – a region so famous and beloved for its wine that it's quite literally a UNESCO World Heritage Site!
The vines present date all the way back to the 11th century and were tended by monasteries (both Benedictine and Cistercian) which historically controlled the land around this area.
The Lavaux area covers 30 kilometers of land around Lake Geneva and produces some fabulous wines, so it's time to get tasting!
WHAT TO DO: Go wine-tasting, obviously! I don't recommend driving yourself from vineyard to vineyard for obvious reasons, so I'd suggest going on an organized wine tour of the region such as this one.
The tour lasts 4 hours and involves a wine tasting, but you'd have to get yourself to Montreux (1 hour by train) in order to do this excursion.
HOW TO GET THERE: Since I don't recommend going by car unless you have a designated driver (and even then – call the wineries you want ahead of time as most don't have tasting rooms open all the time), I'd suggest a wine tour like this one offered on Viator.
Alternately, you can pair it with a visit to Montreux and Vevey as part of a multi-stop tour like on this one (itinerary and details here).
Book your panoramic wine tasting tour in Lavaux or your tour of Montreux, Vevey, + Lavaux here.
Rochers de Naye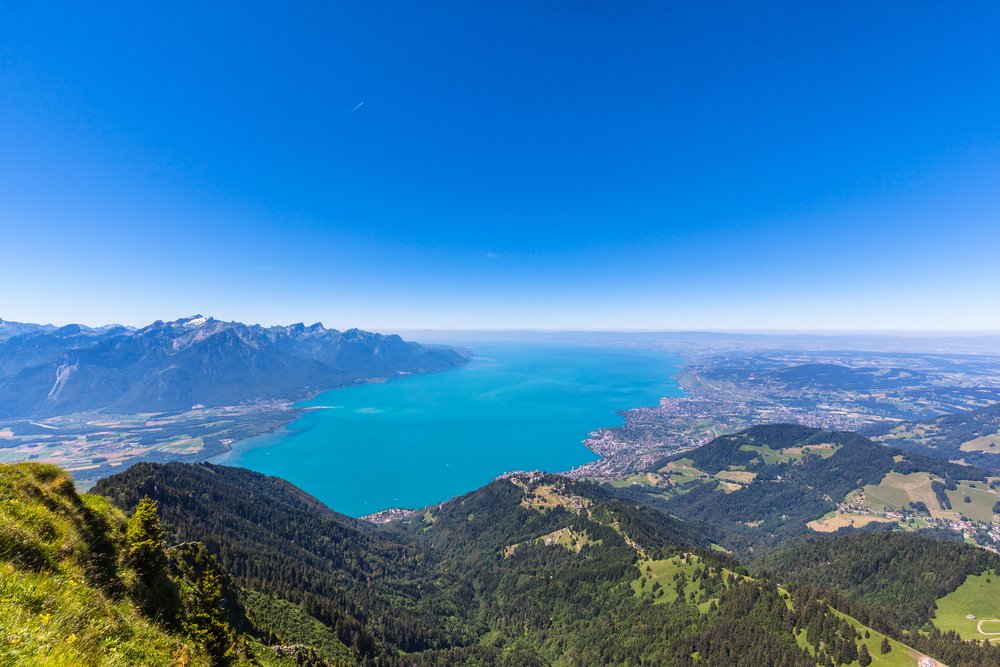 WHAT IS IT: Switzerland is famed for its scenic railways and one of the best railways in the Geneva area is up to the viewpoint at Rochers de Naye!
At an elevation of just over 2,000 meters, you'll get sweeping lake views and incredible hiking trails.
WHAT TO DO: The area around Rochers de Naye is mostly known for its aerial views and its hiking trails.
You may see lots of different kinds of flowers, depending on the season obviously, and you're likely to see some of the adorable marmot colonies who call this mountaintop home.
There is also a panoramic restaurant, Plein Roc, where you can eat with an incredible view!
HOW TO GET THERE: There is a cogwheel railway which runs from Montreux through to Glion and then to Caux to reach the summit.
The whole ride takes just about one hour from Montreux downtown, and you can buy tickets at the Montreux railway station.
Vevey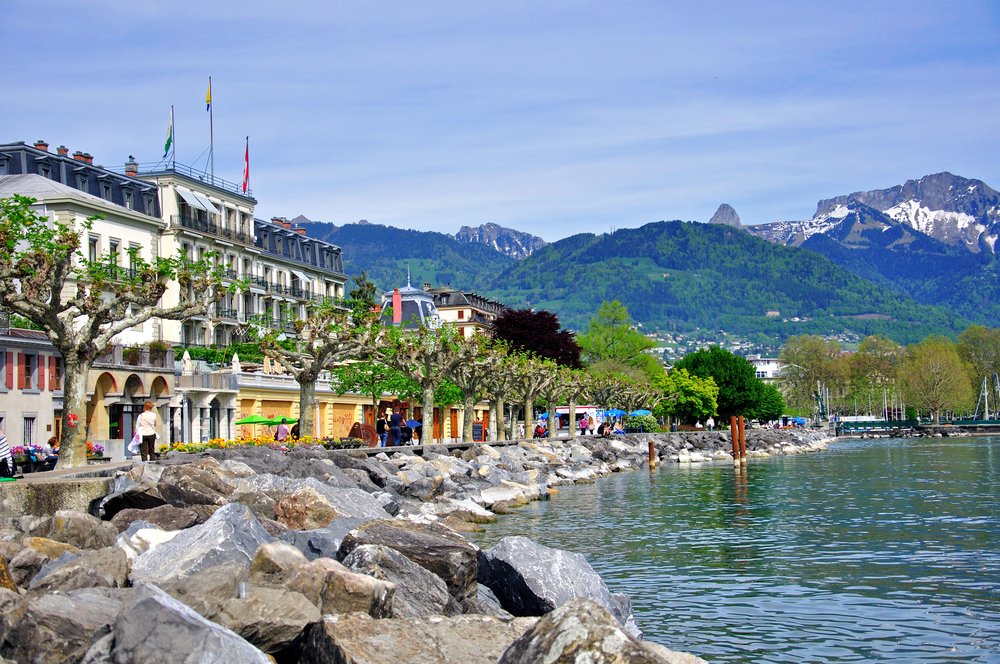 WHAT IS IT: An underrated town on the Swiss Riviera, a visit to Vevey is a great idea if you want to skip the crowds of Montreux or Lausanne, both of which are a little more popular with tourists.
While it doesn't have the same major attractions as either of the aforementioned cities, it is well worth a visit for its quaint charm and lakeside beauty.
WHAT TO DO: The most obvious answer is Chaplin's World, the Charlie Chaplin museum in his former home. It's the most famous attraction that Vevey claims, but it's a tiny bit out of town (though still easily walkable).
Other than that, there's a well-regarded photography museum, an odd food-themed museum called Alimentarium (in front, you'll see a puzzling fork statue stuck into the waters of Lac Leman).
There is also supposedly a Musée de l'Absurde, which I'm sure is exactly what it sounds like!
You can also walk a bit to Villa "Le Lac" Le Corbusier which is a minimalist-style house built by the famous Swiss architect in sync with the gorgeous lake surroundings.
HOW TO GET THERE: Located between Lausanne and Montreux, Vevey is an easy train ride away from Geneva, taking just about one hour.
If you want to see several of the places on this Geneva day trips guide in one go – Vevey, Montreux, and the vineyards of Lavaux, there are full-day tours of the Swiss Riviera that cover all three beautiful destinations in an easy, relaxed day trip.
Annecy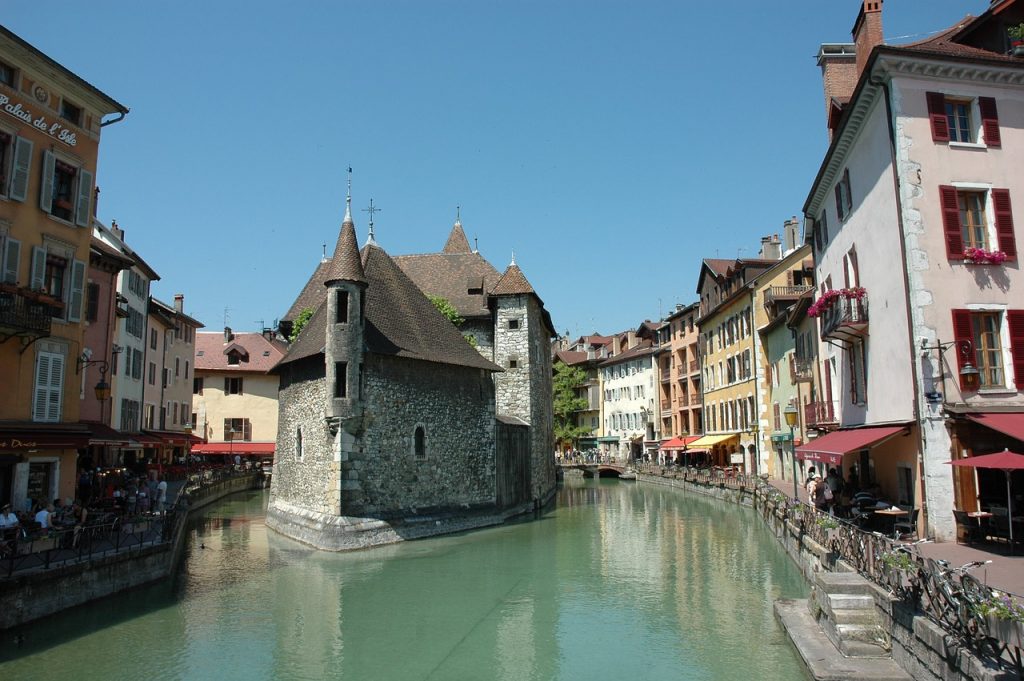 WHAT IS IT: If you're going to leave Switzerland for any day trip to France, I highly recommend it be Annecy and its canals and houses straight out of a fairy tale! Nicknamed "Venice of the Alps", its charming canals are a photographer's dream.
There's enough to do in the lakeside town of Annecy to give it a few days, but if you just have time to visit it on a day trip from Geneva, some planning (or guidance) can make your time well worth it.
WHAT TO DO: A few of the obvious things are to stroll around the Old Town (Vieille Ville) and admire the houses, getting those gorgeous photos of Annecy that everyone wants to leave with – especially the Palais de l'Isle, the quintessential Annecy snap.
There's also the Chateau d'Annecy which was a castle back in the 12th century and is part of the medieval town center, but it is now a museum welcoming tourists.
Finally, the English gardens of Jardins de l'Europe on the banks of the lake also merit a stroll or even a picnic, or a brisk walk on a winter day.
HOW TO GET THERE: To DIY it, you can get there by Flixbus from Geneva's Gare Routière Station.
Alternately, there are plenty of inexpensive day tours from Geneva which offer a little more structure if you prefer to have some context and guidance on your day trip.
This affordable option is only a half-day tour so you can explore Annecy and still get back to Geneva in time to rest up and have a lovely dinner and walk on the lake at night.
Chamonix & Mont Blanc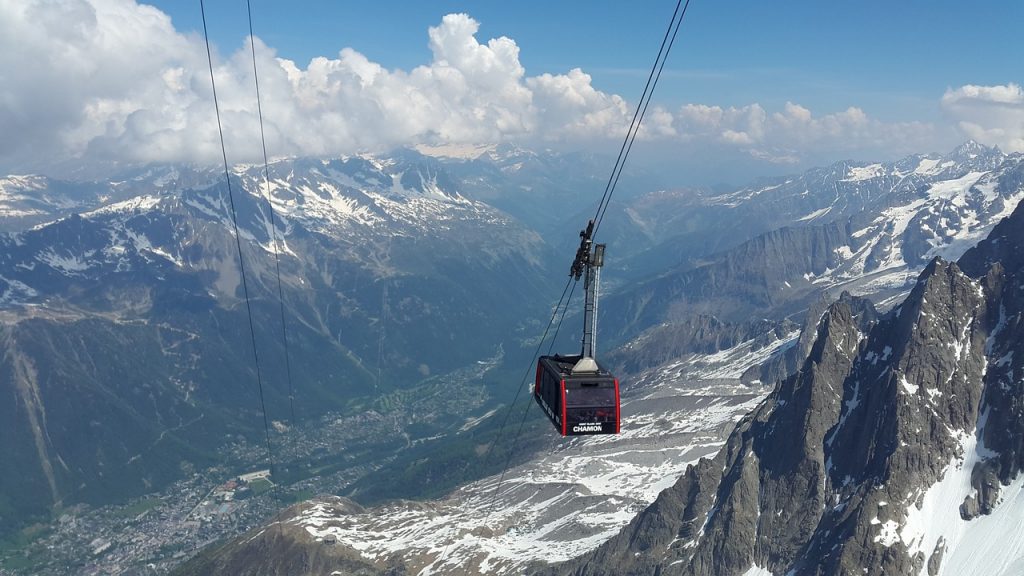 WHAT IS IT: Want to say you've seen Europe's highest mountain — well, west of Russia's Mount Elbrus? It's Mont Blanc in the French Alps.
It's the 11th highest in the world and while Switzerland's Matterhorn may have more instant recognizability, Mont Blanc is nearly a thousand feet taller (though it would take nearly a century more for the Matterhorn to be ascended, due to its technical difficulty).
While of course, climbing Mont Blanc itself is out of the question as a day trip from Geneva, you can visit the quaint ski resort town of Chamonix and admire Mont Blanc from there.
It's a perfect day trip, whether you visit in winter or in summer!
WHAT TO DO: Assuming you're just visiting on a day trip, a few suggestions would be to see the beautiful glacier Mer de Glace, the third-largest glacier in the Alps.
It is accessible via the Chemin de Fer du Montenvers railway just a 20-minute ride from Chamonix's center. Alternately, the cable car ride to Aiguille du Midi has incredible views over all of Chamonix.
You can also stroll the pedestrian pathway, Rue du Docteur Paccard, and sit in a café with gorgeous mountain views gorging on coffee and pastries.
Hikers can make the trip to the photo-perfect Lac Blanc at 2,352 meters above sea level, which can be reached after a strenuous 90-minute walk from the cable car at Flegere.
HOW TO GET THERE: It's quite easy to get to Chamonix via a Flixbus from Geneva's Gare Routière if you want to tour Chamonix independently. It takes about one hour to get between the two cities.
Alternately, you could go on a guided day trip which covers the cable car, the Montenvers railway, the glacier, and more with transfer included.
Check out this Chamonix + Mont Blanc + glacier tour or do this combined Annecy + Chamonix day trip!
Gruyères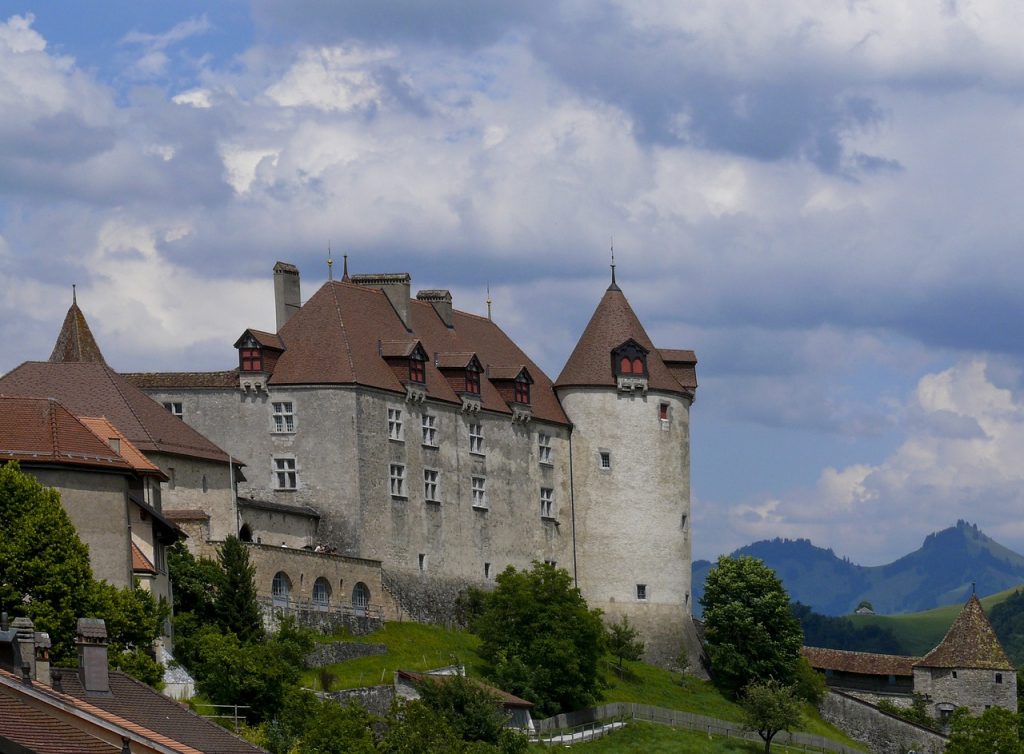 WHAT IS IT: If you're a big fan of cheese, making a pilgrimage to Gruyères – the namesake of one of the world's most delicious cheeses – is in order.
I mean, is there anything more prominent on any cheese-lovers bucket list?
WHAT TO DO: Besides overdose on lactose? Sights include the 13th-century Gruyères Castle, the medieval village architecture, the gorgeous Catholic Église Saint-Théodule, and the HR Giger Museum which is an art museum inside the castle.
If you go as part of a guided chocolate and cheese-themed tour to Gruyères, you can take the lovely Golden Train to make your commute part of the journey.
You'll get to visit a proper chocolate factory, learn to prepare Swiss fondue with the sound of real Swiss cowbells jangling behind you, and explore the sights of Gruyères village.
HOW TO GET THERE: The most indulgent way is definitely on the Gold Tour with chocolate and cheese tastings!
You can do the tour accompanied by a travel guide, either with the Gold train included (prices and availability here) or you can save a bit of money by swapping the luxe train for a bus ride (prices here). There are also private group tours.
Alternately, you can DIY a trip to Gruyères by going by public transportation, which takes 2 hours and involves taking two trains and then a bus.
However, if you do that, you won't have the option to do the chocolate factory visit or cheese tasting experience. You can visit Maison Cailler independently (learn more on their website here) but it'd be a bit tougher to time and manage.
For that reason, if budget is a concern, I'd recommend against DIYing it and picking a different Geneva day trip instead – there are plenty to choose from!
Évian-les-Bains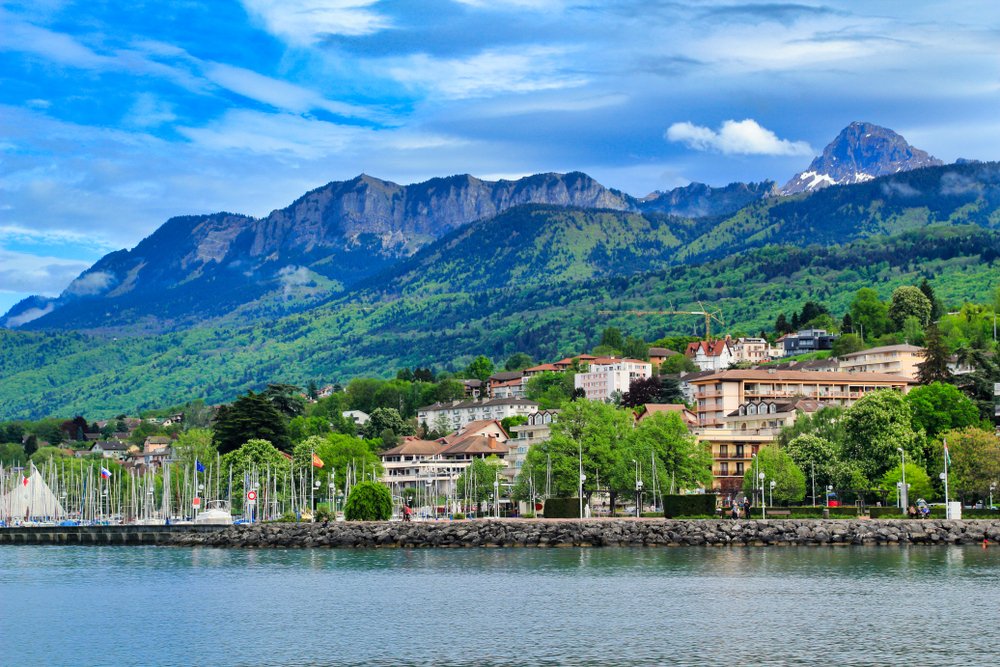 WHAT IS IT: Yes – this is the town of the famous Évian water!
it's famous for its mineral water springs (hence the "bains" in its name, which is French for "baths") and gorgeous lake setting on the other side of Lac Leman from Switzerland, a 35-minute ferry from Lausanne.
THINGS TO DO: Besides sampling the water from the local springs, there's a surprising amount of beauty to find around Évian!
Check out the art nouveau gorgeousness of the Cachat Pump Room, take the fin-de-siecle-era funicular up to the luxe Hotel Royal Evian, visit the Palais Lumiere, or check out the beautiful town hall.
HOW TO GET THERE: While you'd think you could easily go by train, the French and Swiss train connections really aren't so good. This is why Flixbus dominates the connections between Geneva and Annecy as well as Geneva and Chamonix and Mont Blanc.
Therefore, it's best to go Lausanne by train first (1 hour) and then get a ferry over, which takes about 35 minutes, about 2 hours total.
There's also a private group tour that also includes scenic Yvoire, which is a good deal for a group of 4 people or more, but it would be quite expensive for solo travelers or couples.
Glacier 3000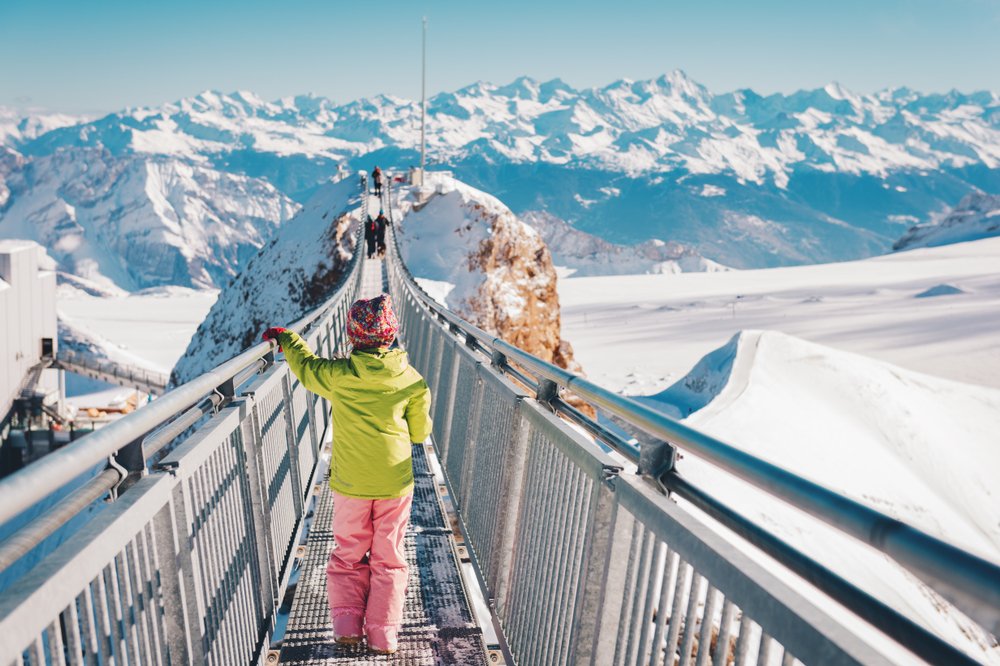 WHAT IS IT: The nearest glacier to Geneva.
If you only are visiting Geneva on your trip to Switzerland don't have time to make it to more impressive glaciers like Titlis and Gorner, make it this one! It's especially great for kids as it has a lot of activities to enjoy.
WHAT TO DO: A trip to the impressive Glacier 3000 is one of the most popular day trips from Geneva and is best done as part of a tour.
The trip starts with a transfer from Geneva, then takes you to the cute mountain village of Les Diablerets. From there, you can take a cable car up to a glacier.
At the glacier, there is a cool suspension bridge that connects two mountains, giving you impressive views of 20+ peaks over 4,000 meters — including the Matterhorn on a clear day!
Kids will love adding on various activities like a snow bus ride, Alpine coaster, and Peak Walk. As a bonus, you can tack on a visit to Montreux at the end of the trip.
HOW TO GET HERE: There are two tour options at different price points. For a budget-friendly way with fewer inclusions, check out this bus tour to the glacier.
For a more exciting, all-inclusive trip, check out the Gold Tour which has more inclusions such as the snow bus ride, the cable car, etc.
Book the glacier tour by bus or the Gold Tour with all the extras!
Bern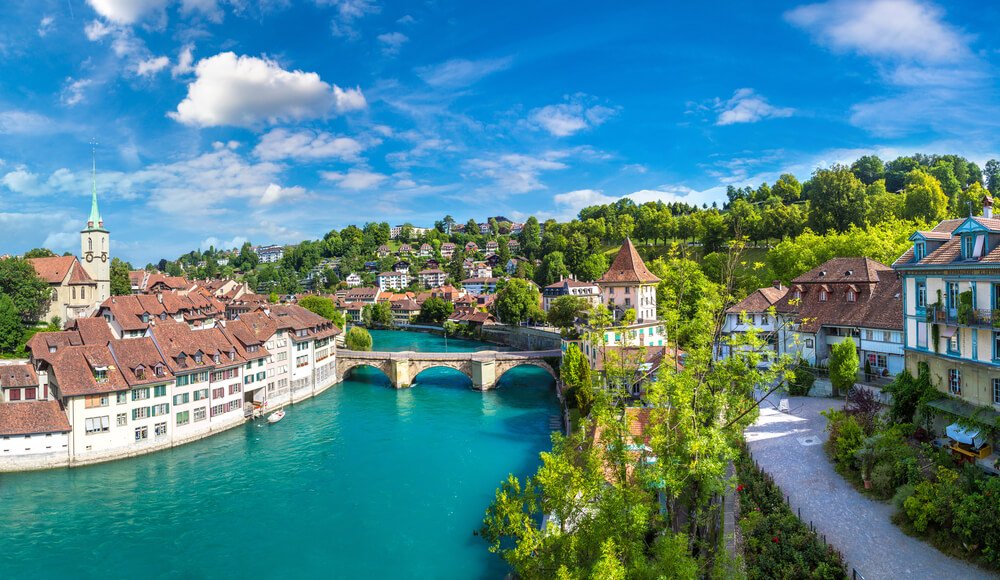 WHAT IS IT: The capital of Switzerland is also a downright beautiful place to visit, with the scenic Aare River running right through it in brilliant shades of turquoise.
Check out Bern to see the heart of Switzerland and how this country like no other merges the beauty of nature in with its cityscapes in a way that is hard to replicate elsewhere.
WHAT TO DO: Bern is a vibrant city with plenty to do! The most famous landmark in Bern is the Zytglogge, a medieval clock dating back to the 13th century which shows the centuries-old Swiss fascination with keeping time.
There also fantastic museums in Bern, such as the Einstein Museum and the Kunstmuseum (Museum of Fine Arts), and a scenic Old Town to explore.
HOW TO GET HERE: This is an easy day trip to DIY, with frequent trains connecting Geneva with the Swiss capital. The train takes about 2 hours and involves no connections.
Zürich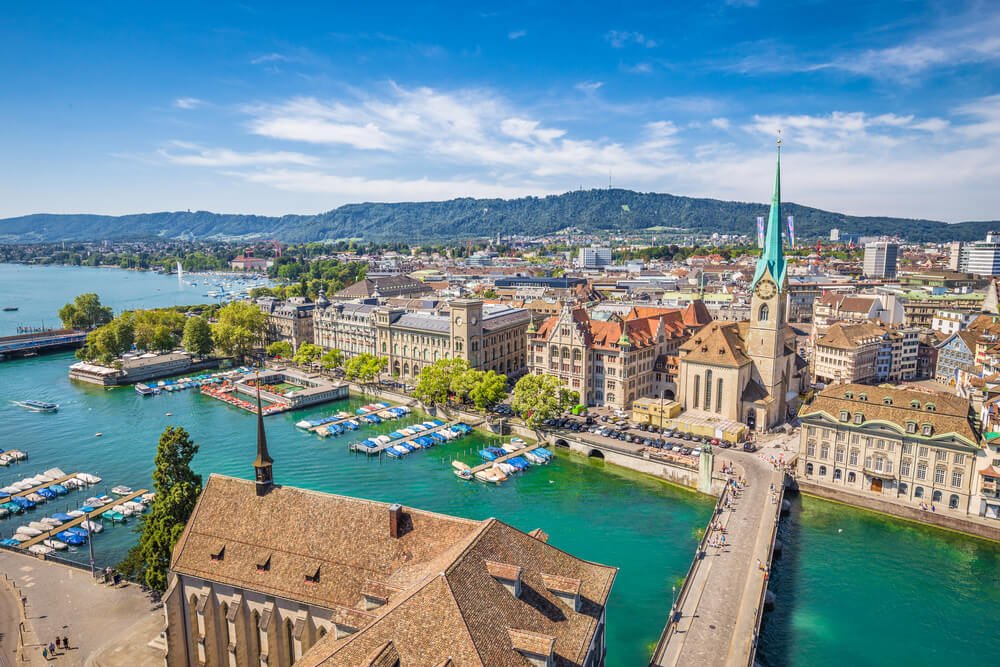 WHAT IS IT: The largest city in Switzerland, Zürich is also Switzerland's most multicultural city.
While Bern is the technical capital of Switzerland, Zürich is the county's cultural capital, and it feels the most contemporary and vibrant.
WHAT TO DO: There's so much to do in Zürich that it's worthy of a few days in and of itself, so if you were to visit on a day trip from Geneva, you'd have to make some serious decisions about what to prioritize and what to cut!
Whether it's window-shopping on the Banhofstrasse, checking out the medieval churches of the 11th and 12th centuries like Grossmünster and Fraumünster, or visiting the Swiss National Museum, you'll get lots of culture on a day trip to Zürich.
HOW TO GET HERE: Geneva and Zürich handle most of the flight traffic into Switzerland, and as a result, there are several direct trains between the two cities. The train takes about 2 hours and 40 minutes and is very scenic.
Due to the long train ride, it's not the first day trip I'd suggest, but it is quite doable!
More Switzerland Travel Resources
Need help planning your perfect Switzerland trip? I've written up this Switzerland itinerary for 10 days in the country.
Prefer to DIY your own itinerary? Start with this inspiration for the best places to visit in Switzerland.
I have a day trip guide to Interlaken as well if that's another city you'll visit on your trip to Switzerland.
Finally, be sure to check out this Switzerland packing list for all seasons and genders! It's your one-stop shop for everything you need to bring to Switzerland.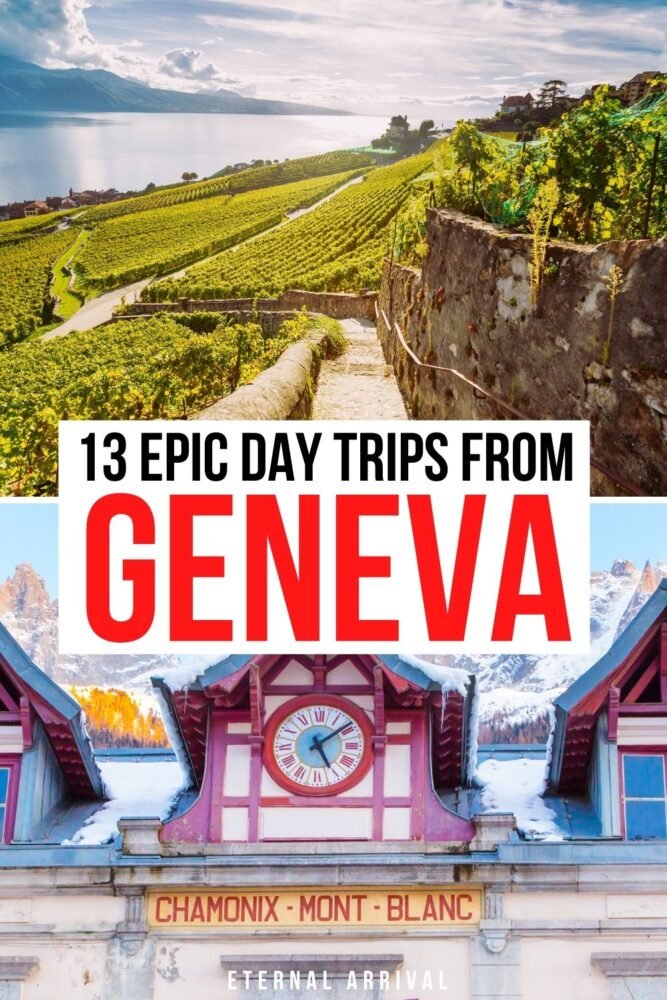 Allison Green is a former educator turned travel blogger. She holds a Masters in Teaching and a B.A. in English and Creative Writing. Her blog posts merge her educational background and her experience traveling to 70+ countries to encourage responsible, enriching travel. She has been a speaker at the World Travel Writers Conference and her writing, photography, and podcasting work has appeared in National Geographic, CNN Arabic, CBC Canada, and Forbes, amongst others. Now a full-time traveler, she has lived in Prague, Sofia, New York City, and the San Francisco Bay Area.