Packing for a trip to Bali is pretty easy, but having spent 6 weeks traveling on this gorgeous island, once in rainy season and once in dry season, I've got a few opinions on what you need to bring to Bali. The biggest variable when it comes to deciding what should be on your Bali packing list is the time of year. Being a tropical country, Bali doesn't have a summer or winter, but rather a wet and dry season.
From May to September, it is dry season, and you can expect gorgeous sunny skies and humid weather. My first trip to Bali was during dry season and it was some of the most perfect weather I've ever experienced in my life: humid without that feeling that you're steaming in your own skin the way I felt in Bangkok and Singapore, just a bit breezy, and barely a speck of rain. If you have the ability to travel to Bali any time of year, the dry season is definitely the best.
Most of the year, though, is the rainy season, from October to April roughly. Despite the name, the rainy season is actually still a pretty pleasant time of year to travel to Bali, so you shouldn't let that discourage you. In fact, my most recent monthlong trip to Bali was entirely in the rainy season. While there were a few all-day downpours, they were few in number. Generally, I found that mornings were generally really sunny, and there would be an epic rain or thunderstorm around 4 PM, usually clearing up by around 6 PM for a killer sunset.
So, by all means, definitely consider traveling to Bali during the rainy season, but I'd allow yourself more time and flexibility in your schedule to account for the rain. And be sure to pack properly for the weather.
Here's everything you need to know about what to pack for Bali: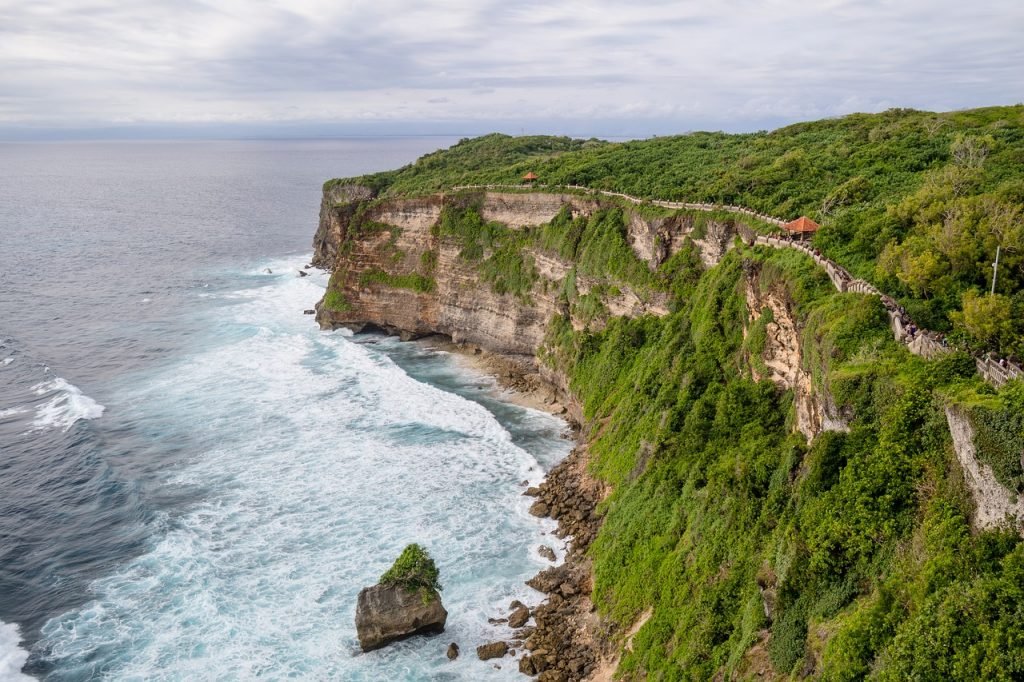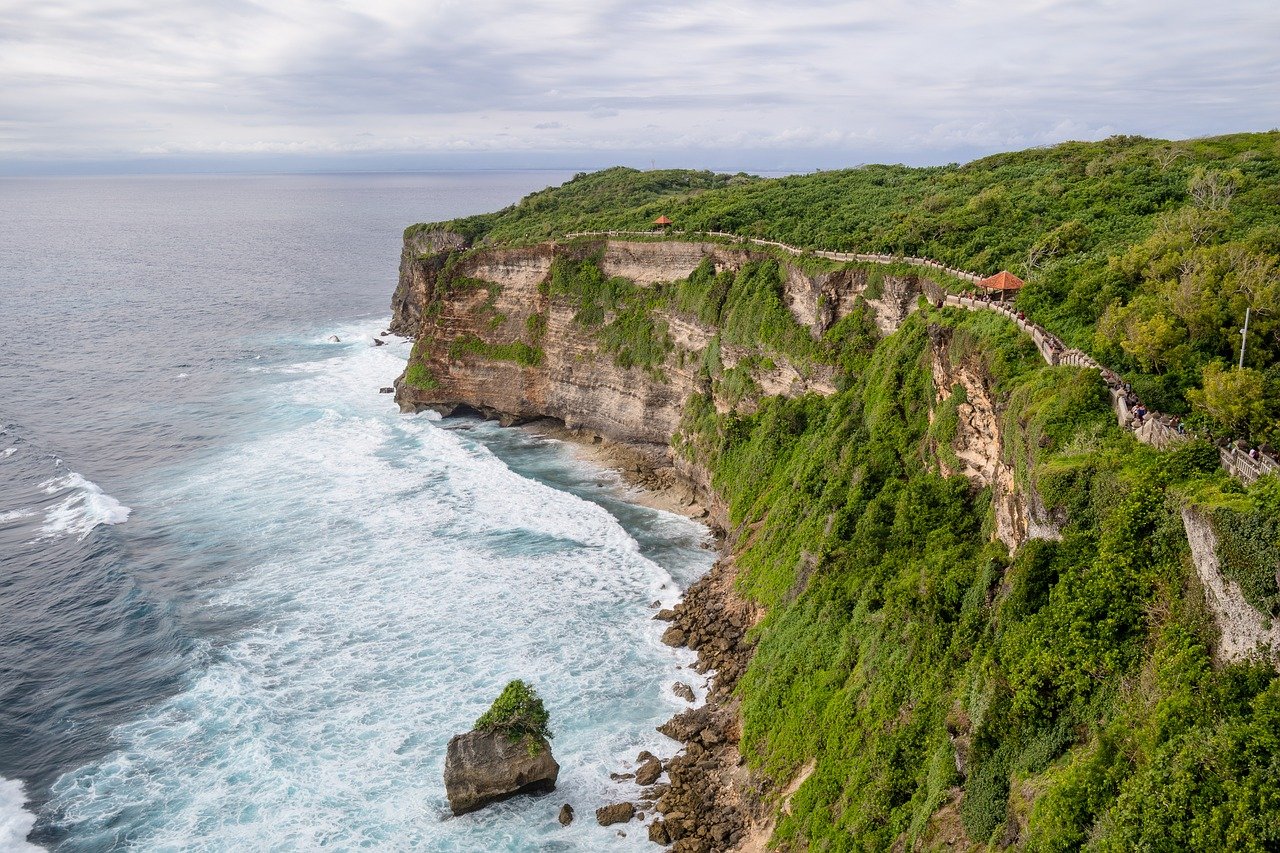 Note: This post contains affiliate links, which means I may receive a small commission if you purchase something through one of these links. Thank you for supporting the free content on this site! For more information on affiliate links and cookies, see my disclosure page for more details.
What to Pack Everything In
This is the most important part, in my opinion. If you are traveling through a few different parts of Bali you will likely prefer a well-designed travel backpack to a rolling suitcase, especially if you are planning any onward travel to places like the Gili Islands (highly recommended) or other islands of Indonesia. Sidewalks aren't common in Bali and if you have to move from one place to another, a suitcase can be annoying.
However, keep in mind that there really isn't much in the way of public transportation in Bali – everyone gets around in cabs or Ubers, or rents their own scooter for a portion of the trip. So, that said, if all you have is a rolling suitcase and you don't see using a backpack in the future, disregard my backpack recommendation and just bring your suitcase — you'll be okay.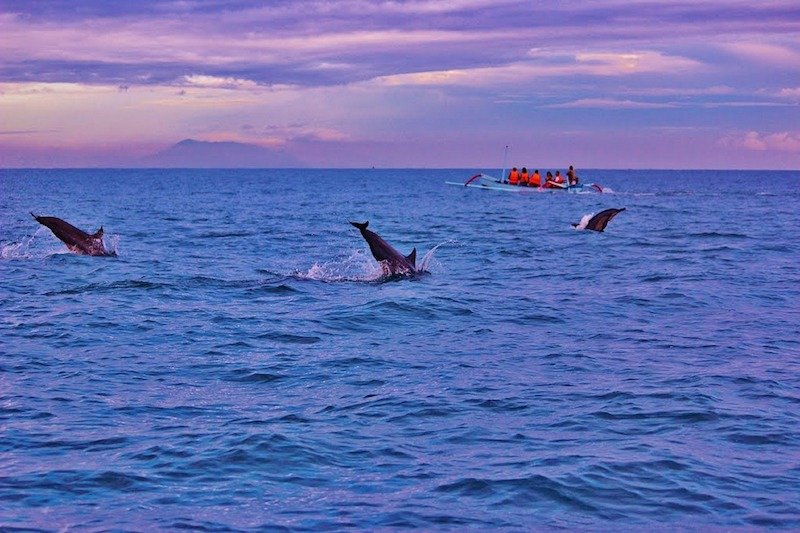 Travel Backpack (carry on size or check-in size): I always use my Tortuga Backpack (I have the Setout version) for carry-on travel, even when I travel long-term.
Packing Cubes: While you can go either with a backpack or rolling suitcase when packing for Bali, I do have strong opinions about packing cubes being 100% necessary. It helps you organize your clothing and makes opening your backpack or suitcase a little less terrifying. Pretty much any set of packing cubes will work: you just need ones with a rectangular shape and a zipper. I personally use these packing cubes and love them. If you must, some gallon size plastic Ziploc bags will have the same effect, but they will eventually rip and need to be thrown out and thus aren't very eco-friendly.
Laundry bag: I've never been anywhere where it's easier to do laundry than Bali. Seriously — laundry is about $1 per kilo. It's incredible. Laundromats are also everywhere, so if you think you'll want to wash your clothes during your Bali trip, I'd bring a laundry bag like this one from Kikkerland to make laundry day even easier.
Hanging Toiletry Bag: I carry a lot of cosmetics and toiletries when I travel and using a simple hanging toiletry bag is a huge help. This conveniently fits perfectly in the outer pocket of my Tortuga backpack so it's kind of meant to be. It has the perfect number of separators, organizers, and pockets without taking up any excess space. It's like Mary Poppins magic bag.
Backpack with locking zippers : While Bali is safe, it's not completely free from petty crime. I actually had my ATM card skimmed (more on this later — be sure to travel with a backup debit card if at all possible). While wearing a shoulder bag is probably the most secure option, it's just not comfortable if you carry a lot of stuff with you during the day like I do. If you plan on renting a scooter, you'll definitely want a travel backpack. I swear by PacSafe products and love their PacSafe Citysafe backpack. It's actually super, super cute and comfortable. It fits my 13″ Macbook laptop no problem with plenty of room for all my other electronics and daily needs. If you don't want to carry another small backpack, I recommend either a cross-body bag or a small handbag that you can carry securely and keep your daily items in.
Essential Things to Pack for Bali
Bali is set up well for tourism and as a result it usually won't be a catastrophe if something is missing from your Bali packing list. However, there are a few things that are difficult to get in Bali or with fewer options. These are the essentials that I want to highlight that you definitely shouldn't forget when you are planning what to pack for Bali.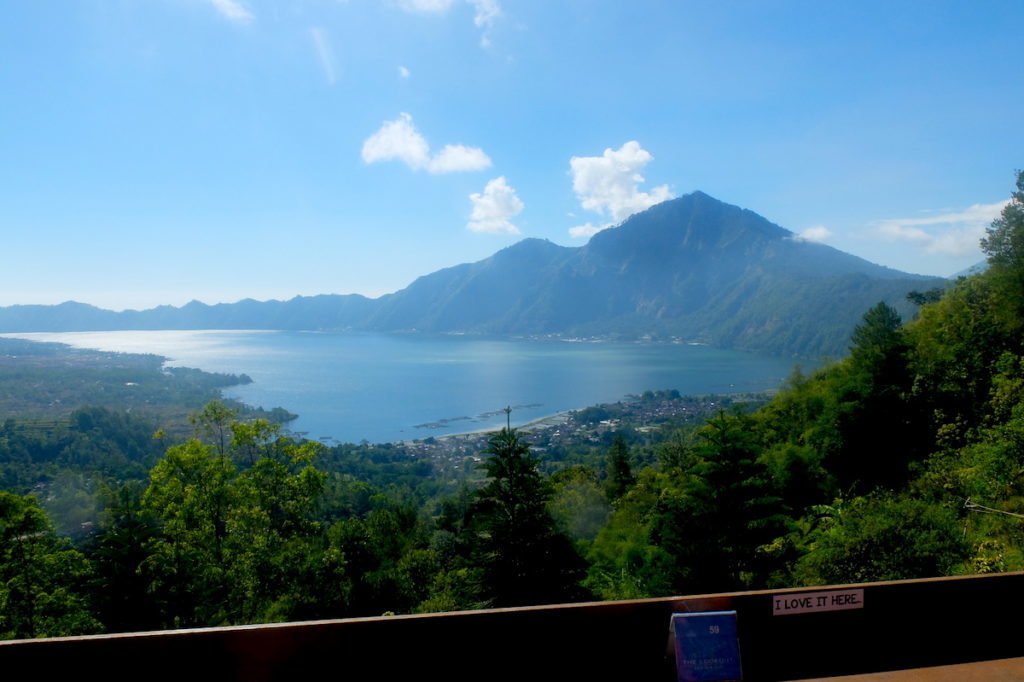 Travel insurance: OK, it's not technically something you pack for Bali but it's so important that it deserves the top place here. Bali is a safe country but it's not without its risks. Namely, lots of people choose to use scooters while they are in Bali and lots of people also choose to drink while they ride scooters. Put two and two together and you'll see why scooter accidents happen regularly in Bali. Virtually everyone I know who spent a significant chunk of time in Bali has crashed their scooter at one point. Don't be stupid – travel with insurance. I use World Nomads every time I travel, including in Bali. I recommend their Standard plan if you aren't planning to dive, but definitely make sure you choose the Explorer plan if you are going to be doing any SCUBA diving as the original plan doesn't include diving coverage. Get your free quote here.
Mosquito repellent: As a tropical country, Bali has lots of pesky mosquitos, especially in the rainy season. Dengue fever is a possibility in Bali and from people who have suffered it, it sounds absolutely miserable.. I usually carry a bottle of mosquito repellent with me (sometimes it's hard to get the strong stuff in Bali) and also some repellent wipes with me if I need to reapply on the go.
Water bottle with built-in filter: Bali tap water is not drinkable and needs to be filtered or boiled before drinking. Bali has huge problems with plastic pollution, which is destroying its beaches (and thus the tourism-dependent island's image) so please do not rely on water bottles during your Bali trip and instead pack a sustainable water solution. I used to carry a Water to Go bottle with me and never got sick on my travels in Bali. However, my filter broke and the water bottle now leaks so I am in the market for a new water bottle with filter – I have my eye on the Lifestraw variety which has rave reviews. You could also use a Steripen which is another option I am considering.
Reusable tote bags: Like many countries in the developing world, there is plastic everywhere in Bali and it's a huge problem for the island. Bring your own reusable tote so that you can signal to it and refuse plastic bags whenever possible. I keep one or two small ones in my larger bag and bring them with me daily, plus I use them as beach bags, separating shoes from clothes, etc.
Basic medicine: Most medicine is available in Bali but to be safe I always carry a mini medicine kit as the last thing you want to do when you are sick is drag yourself to the pharmacy and explain your ailments. I carry Pepto-Bismol for standard stomach troubles, Imodium as a nuclear option for diarrhea (i.e. you have to ride a bus for several hours), some sort of painkiller like ibuprofen for headaches and minor pains, and some sort of motion sickness tablets. Supplement with any prescription medicine you need. The Pepto-Bismol is especially important as Bali doesn't have great stomach medicine options – when I got sick last time all I could find was activated charcoal which is okay but not quite as effective.
Some cash in USD/euros/pounds and a back-up debit card: Unfortunately, card skimming scams at ATMs are incredibly common in Bali. It happened to me on my last trip. Also, on my first trip to Bali, I accidentally left my debit card in an ATM. This is because Bali ATMs give you your money first, then you have to tell them the transaction is over, and then retrieve your card. If you're not paying attention and are used to things being in a different order it's very easy to leave your card behind. I highly recommend having a secondary debit card – it was super helpful for me to have. If you don't have a back-up debit card then bring at least $100-200 in a common currency like USD, euros, or GBP in cash as a safety measure (which I recommend doing every time you travel, anyway). I don't mean to scare you off Bali but nearly every one I know who has spent some time on the island has had their card skimmed or lost at one point so be prepared.
What to Wear in Bali
Admittedly, this is a list for female travelers — dudes, sorry, but I trust you know how to dress yourselves in summer, so just follow that.
Bali is used to tourism, and while Balinese society is a bit conservative, they are used to tourists wearing pretty much whatever. You shouldn't feel uncomfortable in shorts, mini dresses, etc. though it's better to be wearing proper clothes and wandering around in just a bikini in restaurants and other establishments (though obviously that certainly happens, too). Be sure to bring comfortable travel shoes – this list has some of my favorites.
The only time you really should be mindful of what you wear is when visiting a Balinese temple. Cover your upper body with at least a short-sleeve shirt, and if you have any leggings or pants it is more polite to wear those. You will also have to put on a sarong regardless of what you are wearing / how covered up you are (sarongs are thought to keep bad energy in, away from the temple). Most popular temples will provide free sarongs to borrow but I recommend having one of your own just in case (plus they are a super handy travel item).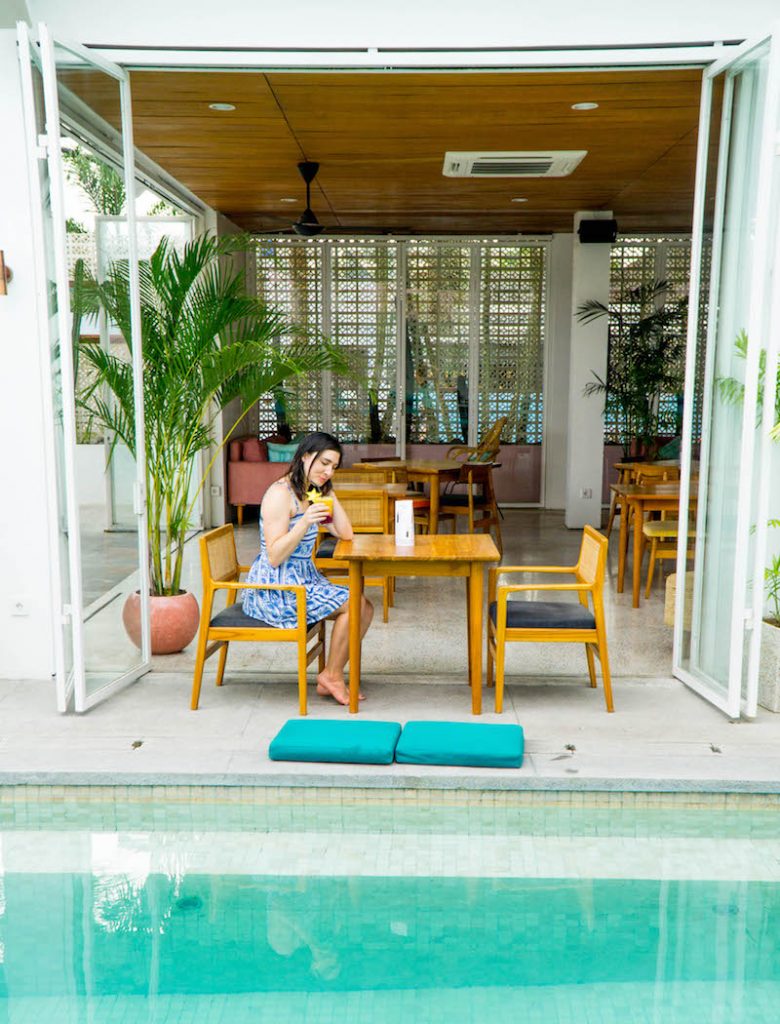 5 lightweight summer dresses: Or really, however many you can pack without being cramped or ridiculous.
5+ tees & tanks: The more neutral, the better. I suggest black, gray, and a few bright colors. Avoid white – it's not sweat-friendly.
1 pair loose pants: Pants can sometimes be more comfortable than
2 pairs shorts: I bring one pair of loose-fitting linen or silky shorts for those insanely hot days, and one pair of denim shorts.
1-3 skirts: I suggest bringing one black skirt and one printed skirt for flexibility. Personally I love having at least one midi-length skirt and prefer having two. The extra fabric around your legs traps some cool air, making you feel less hot, and I liked the additional coverage it gave me, especially when on scooters.

1 sarong: Necessary for temples and for life. I like this one.
1 pair sneakers: If you plan on getting active during your time in Bali. I usually wear a pair of black Nikes as I find they look cute even with my dresses and I'm all about options.
1 pair cute sandals: Having a cute and comfortable pair of sandals is key. I'm obsessed with my Birkenstocks and will never go back.
1 pair flip flops: Great fot beaches and days when you don't want to muck up your cute sandals.
1 rain jacket: Even if you don't plan on traveling in the rainy season, sometimes the weather has other plans. The rainy season in Bali is no joke and you will want a proper waterproof rain jacket. I love my Marmot rain jacket. If you plan on renting a scooter I recommend also buying a proper waterproof poncho as they will keep you much drier than a rain jacket.
1 cardigan: Usually not necessary given the weather in Bali but I like to have it for those occasions when you're in an over-air conditioned room or bus.
1-2 bras: I trust you're all big girls and you know what you need when it comes to bras. I personally brought 1 regular bra and 2 sports bras and switched between the them.
Exercise clothing: If you want to do yoga, etc. you'll want to bring
7+ pairs of underwear: The more underwear you bring, the longer you can go between washes. I don't recommend bringing stuff to do your laundry on the road – it's a waste of time and money. There are plenty of laundromats catering to backpackers in Nicaragua, plus you're supporting the local economy. If you really need to clean some clothes in a pinch, a bar of soap and hanging it somewhere
Bathing suit: You'll definitely want it, whether you're taking dips in the your epic Bali hotel pool, going to the beach, learning to surf (in which case I recommend bringing a rash guard too) or diving in Bali or the Gilis.
What to Pack for Bali Hostels
If you're staying in hotels or a private pool villa in Bali, you can skip this part, but there are a few specialized things you might want to bring in case you are staying in a hostel.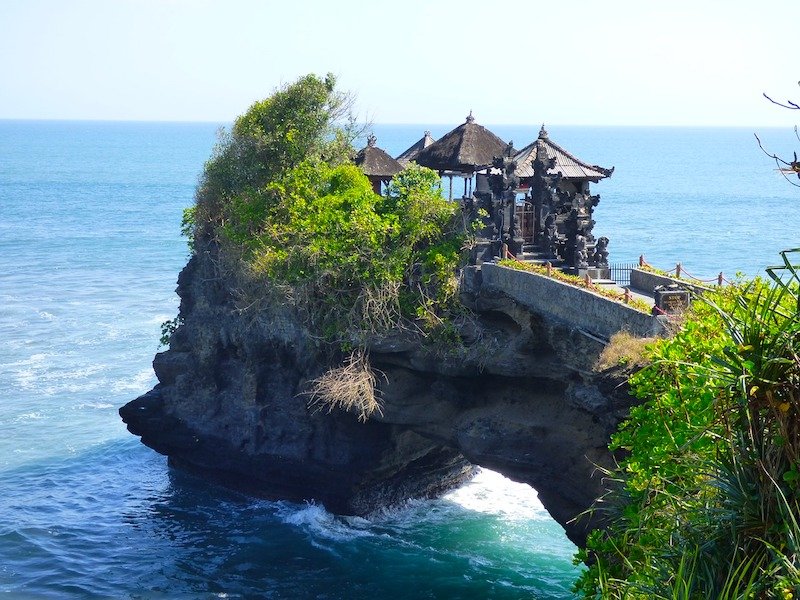 What Toiletries to Pack for Bali
Bali's pharmacies and beauty stores will have most of the things you want and need… but these are my essentials that I always pack from home.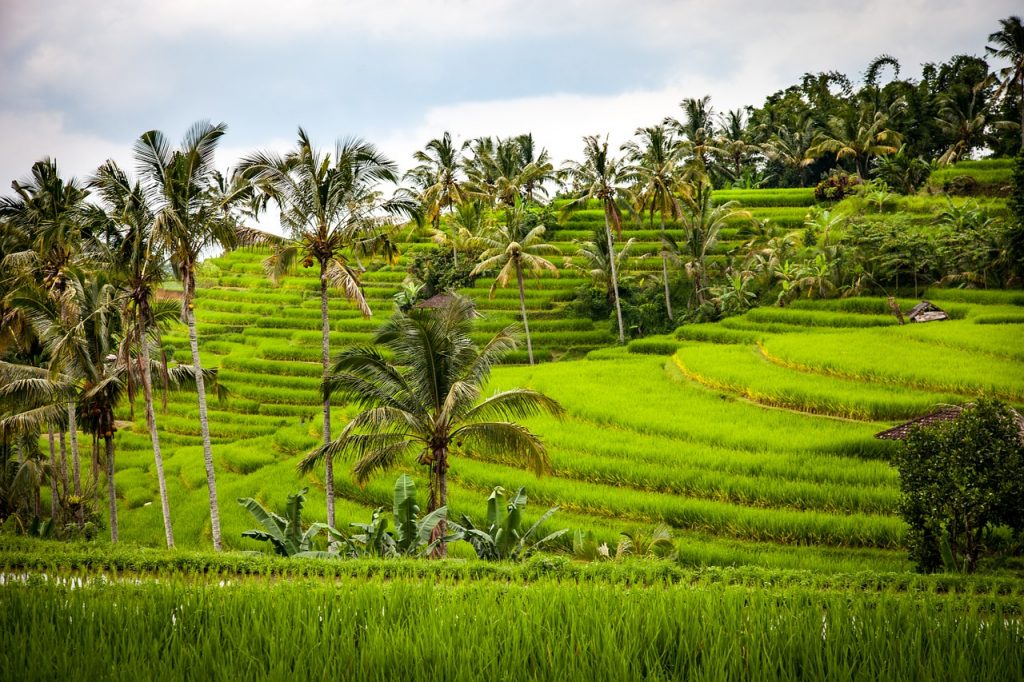 Hand sanitizer: If you're traveling off the beaten path, restrooms can be questionable, so having some hand sanitizer is always a good idea.
Kleenex packets: Like above — public restrooms may be lacking in the toilet paper department (especially if you encounter a squat toilet), so having some Kleenex in a portable sleeve is a nice choice.
LUSH solid shampoo: Life-changing. Just trust me. Buy online or in store from LUSH and you'll save serious money over Amazon.
Sunscreen: Bali is sunny as hell even in the rainy season. And you'll want to wear sunscreen, even on cloudy days, as damaging UV rays can permeate cloud cover and wreak havoc on your skin and age it prematurely. My skin is really sensitive on my face, so I use this fancy Japanese sunscreen to prevent facial acne, and I buy a more standard sunscreen for my body when I'm on the road.
Travel medications: I listed them above, but just to reiterate — stomach medicine, motion sickness pills, and some sort of painkiller are my standards.
What to Pack for Safety in Bali
Bali is a perfectly safe place, despite all the fear-mongering about the volcano that has happened in the media over the last year. Let me break it down for you: unless you are in the exclusion zone, which is a mere 12 kilometers — a tiny fraction of the island — you will not encounter any problems in Bali. And no hotels in the exclusion zone are operating, so it's kind of a moot point. I stayed in Sanur which is kind of close to Mount Agung and I never felt unsafe. Amed is even closer but it is outside the exclusion zone and safe for tourists as well.
Again, I recommend having travel insurance (especially for peace of mind regarding trip cancellation) – World Nomads is what I use – and just using common sense.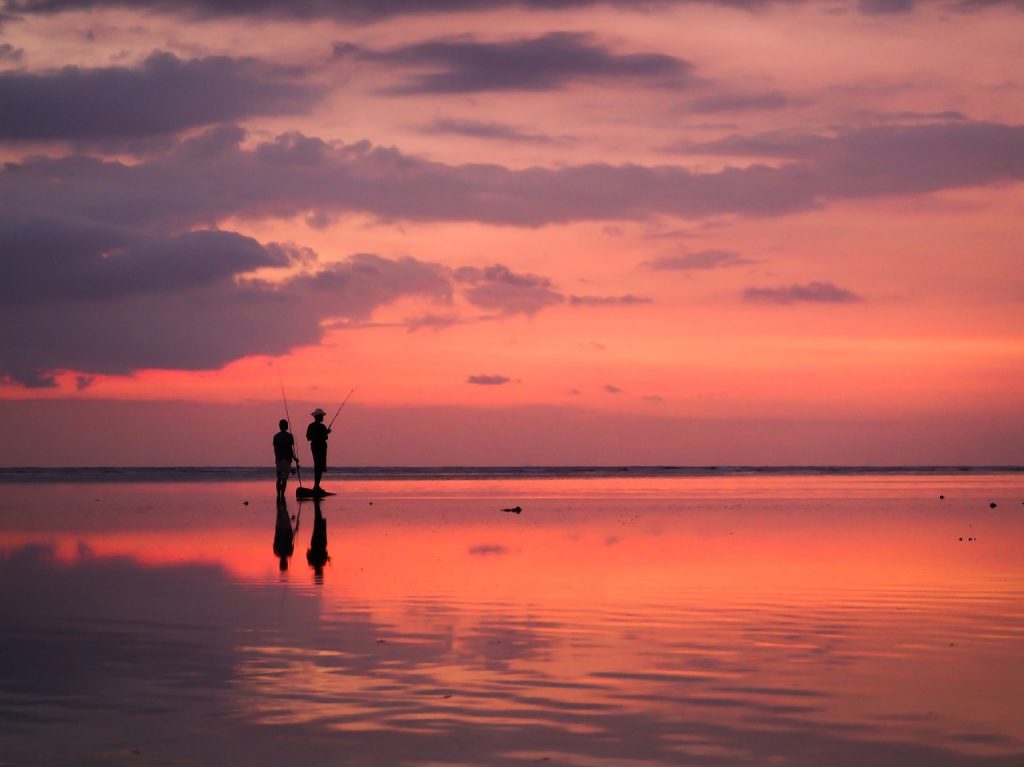 Combination locks: In Bali, you're probably at the greatest risk of theft from your fellow travelers. Prevent crimes of opportunity with simple measures like having a combination lock and keeping your valuables locked away. I always check hostels on Hostelworld to ensure they have lockers available because I travel with so many valuable electronics.
Daypack with locking zippers: Backpacks are easy targets — I wrote above about how much I love my PacSafe Citysafe backpack. After nearly being pickpocketing while wearing a different backpack in Vietnam, I now carry no other kind of daypack. Pickpocketing is less of a problem in Bali than in many other places in Southeast Asia but it's still good to be aware.
Don't bother with a money belt. Thieves know about them. You're better off carrying your wallet deep in a slash-proof backpack (like the one mentioned above) or in your day bag, tightly zipped.
Also, like I said before, before you travel to Bali I recommend having a second checking account and two debit cards if it's at all possible. Keep them in different spots in case you get pickpocketed. This way you won't be screwed while you wait for your bank to send you another card!

Electronics to Pack for Bali
There are really no special considerations when it comes to packing electronics for Bali. Bring whatever you're comfortable bringing. As a travel blogger, I bring my entire life with me on the road, which includes a laptop, camera, multiple lenses, smartphone, GoPro, and more. If I stay at hostels, I always make sure that I stay at hostels with lockers so that I can lock up my valuables. People who are more paranoid/responsible than I am may want to bring a portable safe for peace of mind. But I've never felt the need, personally.
Laptop, if necessary: I bring my Macbook Air everywhere since I need it for work, but other people may prefer a tablet or an inexpensive netbook. I work on the road so a user-friendly, lightweight laptop is a must.
Kindle Paperwhite: English-language bookstores are few and far between outside of expat-haven Granada. I love the Kindle Paperwhite because the screen is glare-free, making it easy to read at the beach or in direct sunlight.
Travel camera: I use a Sony A6000 because it's lightweight for a professional caliber camera, inexpensive, and a HUGE step up from a smartphone. You may want to replace this or add a GoPro too, especially good for adventure activities like rafting and diving (just check to see if you also need an underwater house for your GoPro if you dive, as many of the newer models are only good to 10m — not nearly enough for divers)
Portable charger: As an electronics-addict, I'm always running out of juice. Bring a portable charger to save yourself many headaches! Anker is a reliable brand and what I personally use.
Adaptor, if necessary: Bali uses the same plugs as Europe (non-UK), so if you're coming from the US, Australia, Canada, or the UK, or anywhere that uses non-EU plugs, you will need an adaptor.
***
Well, nearly 3,000 words later, I think I've finally exhausted all the things you need to pack for Bali. While this sounds like a lot, I was able to fit my entire Bali packing list into a 44L backpack (carry-on size) and daypack because I chose lightweight fabrics and packed carefully.
Is there anything I've forgotten? Is there anything else you're wondering if you should bring? Let me know in the comments!
Allison Green is a former educator turned travel blogger. She holds a Masters in Teaching and a B.A. in English and Creative Writing. Her blog posts merge her educational background and her experience traveling to 70+ countries to encourage responsible, enriching travel. She has been a speaker at the World Travel Writers Conference and her writing, photography, and podcasting work has appeared in National Geographic, CNN Arabic, CBC Canada, and Forbes, amongst others. Now a full-time traveler, she has lived in Prague, Sofia, New York City, and the San Francisco Bay Area.