We might associate Barcelona with sun, sea and sangría… but Barcelona is such a fantastic all-round city that visiting Barcelona in December isn't a bad idea at all!
You can still enjoy the vast majority of the city's delights, and you can also get a flavor of Catalonia's very particular Christmas festivities!
Even better, a visit to Barcelona in December means avoiding the hordes of visitors that stream into town in the summer – so many popular tourist attractions will be much less jam-packed.
This post was contributed by Leo McPartland, who was born in London but now resides in Barcelona working as an English teacher and freelance writer. Enjoy!
Weather in Barcelona in December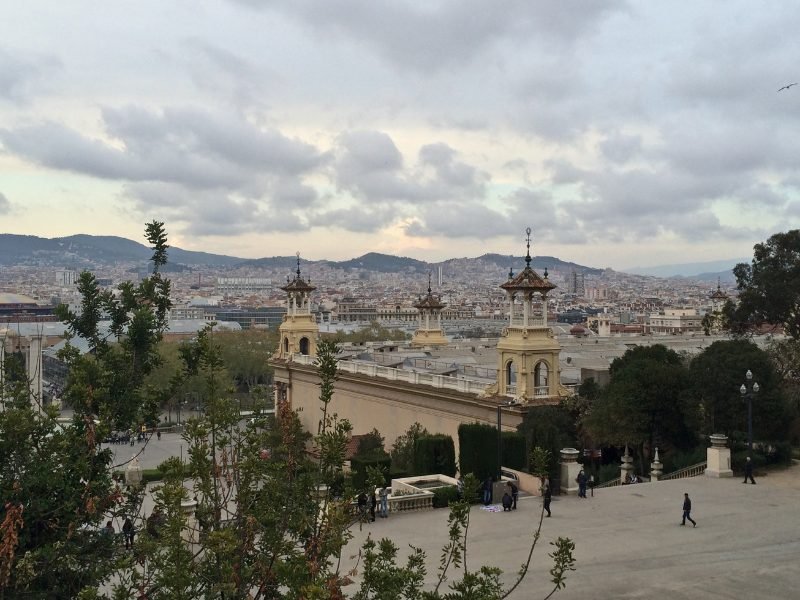 Note: This post contains affiliate links, which means I may receive a small commission if you purchase something through one of these links. Thank you for supporting the free content on this site! For more information on affiliate links and cookies, see my disclosure page for more details.
First things first, the weather report!
Unless you come from a particular tropical part of the world, winter in Barcelona should hold no terrors.
Indeed, for visitors coming from the northern half of the US, it is likely to be milder and a lot sunnier than home.
Average temperatures are in the 50s, and while it gets chilly at night, daytime highs can reach 65°.
Even better, Barcelona gets around 9 hours of daylight throughout the month.
Its slightly wonky timezone (it is to the west of the UK but is an hour ahead, which is like Chicago being an hour ahead of New York!) means that it gets dark later, around 5:30 PM, leaving you plenty of time to wander around.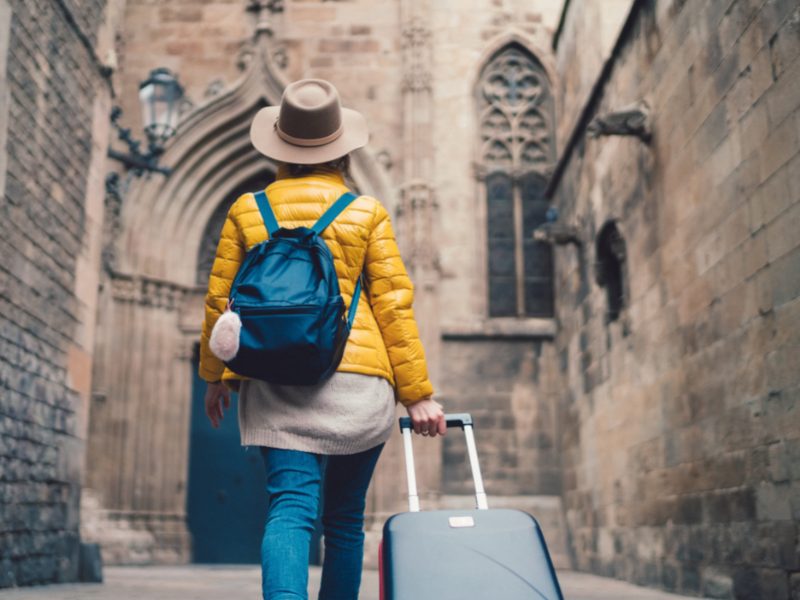 Rainfall in Barcelona is also very civilized: it rains rarely but heavily when it does.
That keeps the surrounding environs green and means that if it does rain during your vacation, it's likely to be a downfall on just one or two days, rather than a constant showery threat.
Indeed, December averages just five days of rain, and September and October actually get a lot more!
Evenings can be chilly, so if you plan to roam the streets after nightfall, you might want to bring a hat, scarf, and gloves.
That said, you rarely see people decked out in winter wear except on the coldest days.
All in all, you should definitely not fret about visiting Barcelona in December.
Simply pack a warm coat, and you'll be fine.
Outdoor Things to Do in Barcelona in December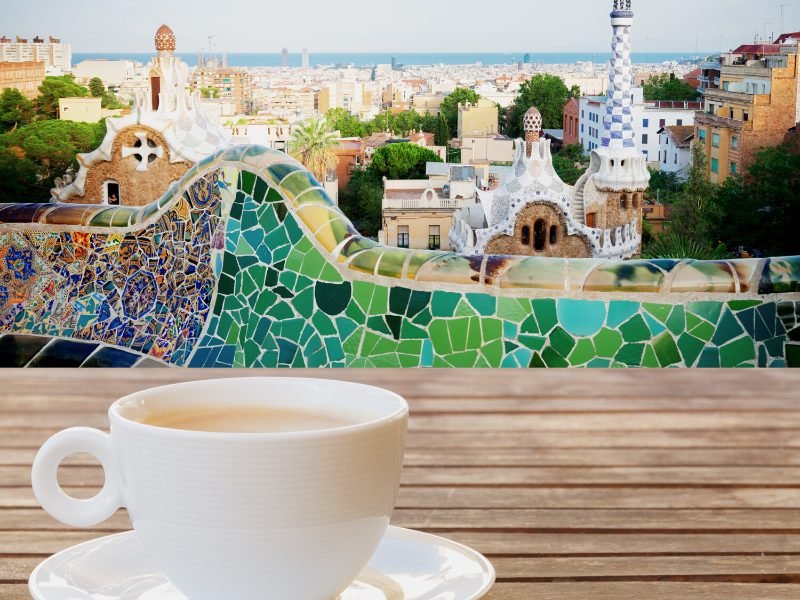 Barcelona is a wonderfully walkable city. Your best bet is to choose a starting point and follow your nose!
There is a never-ending array of cafés and bars on hand if you want to warm up in a heated room with a café con leche at hand.
And of course, Barcelona's architectural delights mean that you might want to spend as much time inside as outside anyway.
Check out the usually jam-packed Sagrada Familia both inside and out.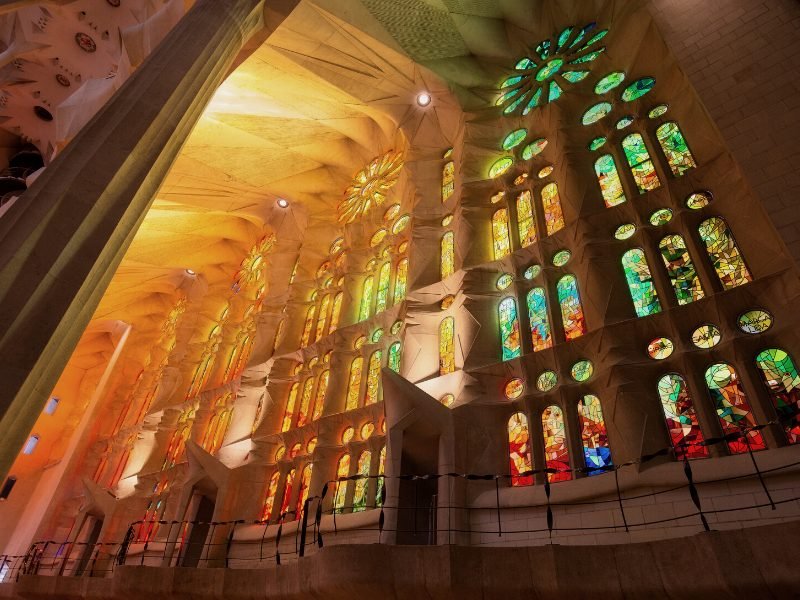 Where else to start but Sagrada Familia?
Even this time of year, I would always book tickets in advance if you want to take a tour inside.
Tours are pricey at around $30, so look before you book, but it's certainly worth it.
It's definitely not one of those buildings that's amazing from the outside and then a disappointment inside — in fact, the interior may be even more intruguing!
In December, there are all kinds of activities at the basilica, including ceremonial lightings of various towers, children's workshops and – if you want free entry! – Catholic mass.
Take a stroll down the gorgeous Passeig de Gràcia.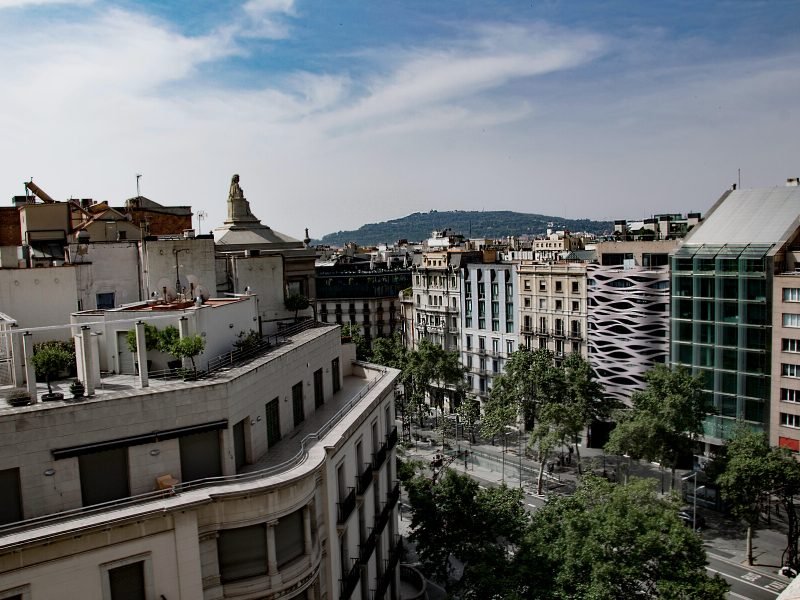 From Sagrada Familia, you can catch the blue line on the metro to Diagonal.
Once you get off the metro, walk down the uber-elegant Passeig de Gràcia, one of the prettiest streets in Barcelona.
This wide, expansive avenue is home to the likes of Cartier and Chanel (as well as more affordable outlets!), and it's given a festive boost with tasteful twinkling lights in December.
You will also find Gaudí's La Pedrera and Casa Battló along this avenue, two of his famous works.
The former's undulating curves are often decked out in merry decorations, while the latter's colorful tower is freshened up with funky lighting.
Explore La Rambla.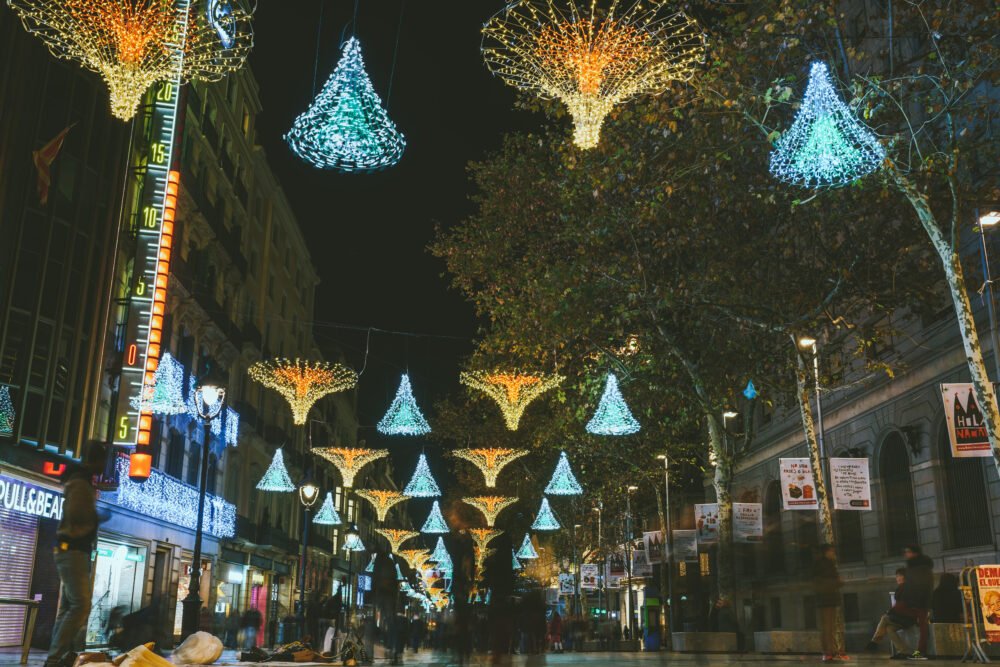 Heading downtown, Passeig de Gràcia will lead you to Plaça Catalunya, Barcelona's central square.
Crossing this square in turn takes you to La Rambla, where Christmas lights drape beautifully along the branches of the trees that flank both sides of the central promenade.
The Rambla offers delights in both directions: the more hip-and-happening El Raval is on the right, while Barri Gótic is on the left.
The best strategy is to follow whatever catches your eye and get happily lost – you can always find your way back to the main street!
The principal pleasure is soaking up the otherworldly atmosphere that imbues these side streets.
Take a walk on — yes — the beach!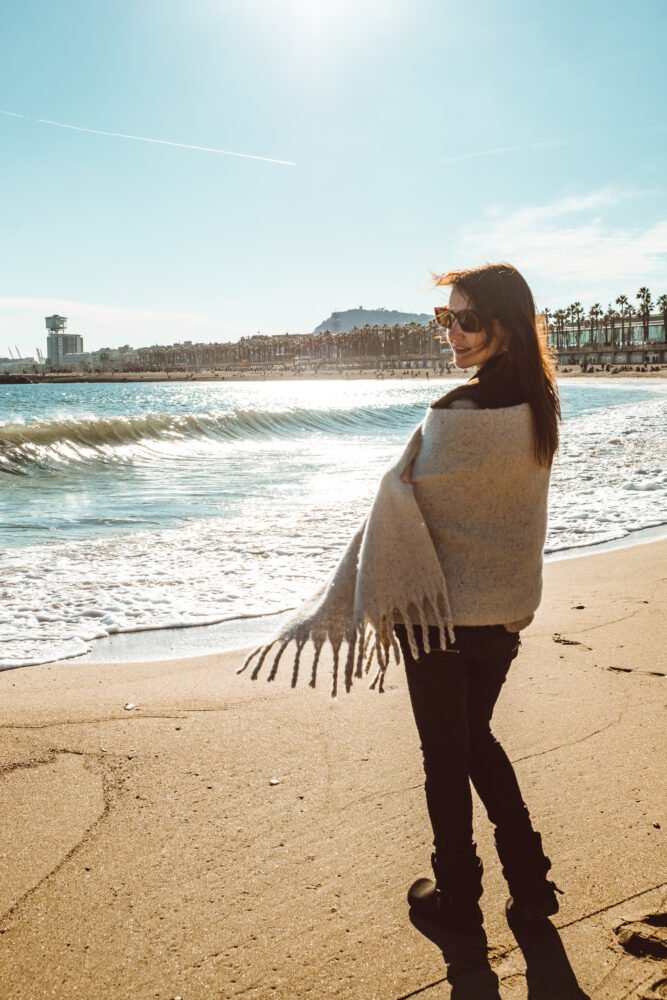 If the sun is shining (and it often is in Barcelona in December!), a walk along the beach is a must.
The seafront is busy at any time of year, but things feel a lot less frenetic than in the summer months.
Plus, the beach will have approximately a million fewer people sitting on it, meaning better photos, more peaceful walks along the shore, and an unencumbered ocean view.
The yellow line on the metro follows the beach, and your best bet is to go to Poblenou (a little further out) and walk back towards the city center.
Poblenou is a very attractive area in itself, and from the metro you can walk along the lovely, leafy Rambla de Poblenou, before passing through a small park to get to the beach.
From here, it's about a 45-minute stroll back toward town.
The very end of Barcelona's coastline is signposted by the iconic W Hotel, which makes for a gorgeous photo!
As you might imagine, there are truckloads of bars, restaurants, and cafés dotted along the way.
In particular, Ciutadella – the area between Poblenou and Barceloneta – is arguably one of the better-known areas for having a hearty paella, a perfect winter treat!
Indoor Things to Do in Barcelona in Winter
What to do if the weather does a number on your plans?
Well, apart from the obvious answer of touring Gaudí's masterpieces, there are a couple of other indoor attractions that I would recommend visiting in Barcelona in December.
Interact with the unique CosmoCaixa.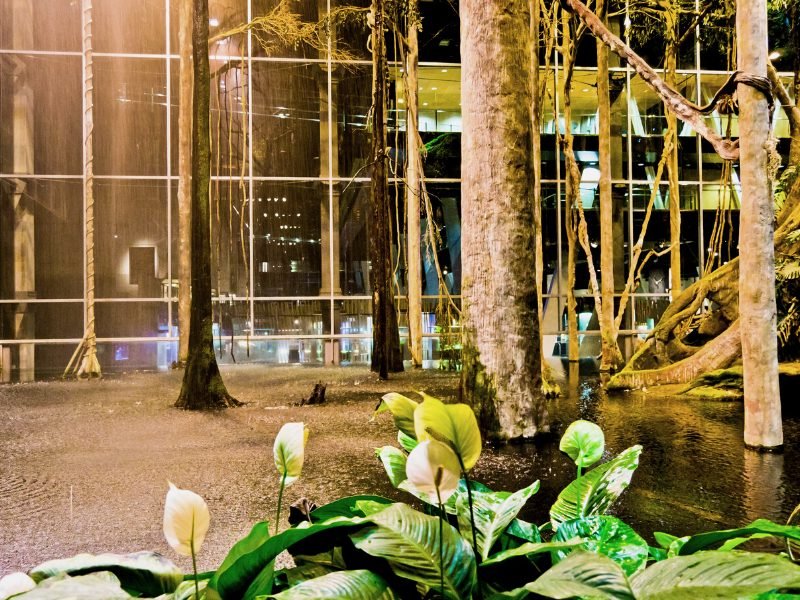 Barcelona's science museum has a curious level of fame: if you were born here, school trips to CosmoCaixa are almost a cliché, but its slightly out-of-the-way location means that tourists rarely visit it.
I cannot stress this enough: if you are remotely interested in science, this museum is utterly unmissable.
It's exactly what a museum should be, with interactivity turned up to ten!
Getting your head around scientific concepts might not be easy, but this is a place where you push buttons, pull levers, and touch sensors – and this old arts student loves it!
Another unique area is the Bosc Inundat, a kind of mini-forest slash aquarium where you will see snakes, capybaras and manta rays.
To get to CosmoCaixa, you take the FGC train (line 7) to Avinguda Tibidado from Plaça Catalunya, Provença or Gràcia.
It's a separate network from the metro, but the stations tend to be connected, and you can use the same ticket for both.
Explore the MNAC.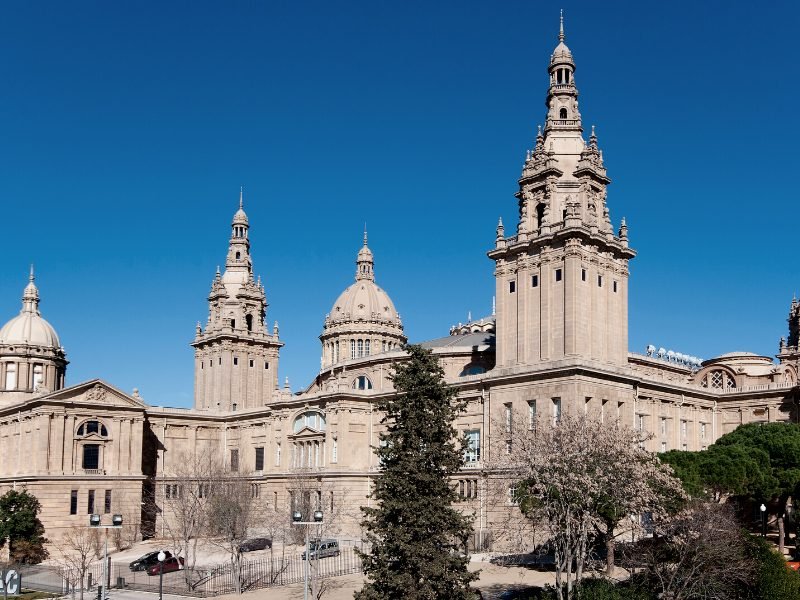 The National Museum of Catalan Art is a palatial building that sits at the foot of Monjuïc – the squat mountain that looms over Barcelona's coastline – and is worth visiting for its exterior alone!
Inside, the exhibitions are more of an intriguing history of Catalan works from the last 1000 years rather than a collection of masterpieces.
The selection of art can be overwhelming, but I'd recommend seeing the 12th-century sculptures of Christ – housed in recreations of Gothic churches.
These sculptures are intruguing and certainly worth seeing, and it's thematically appropriate for being in Barcelona for Christmas!
Holidays, Festivities, & Events in December in Barcelona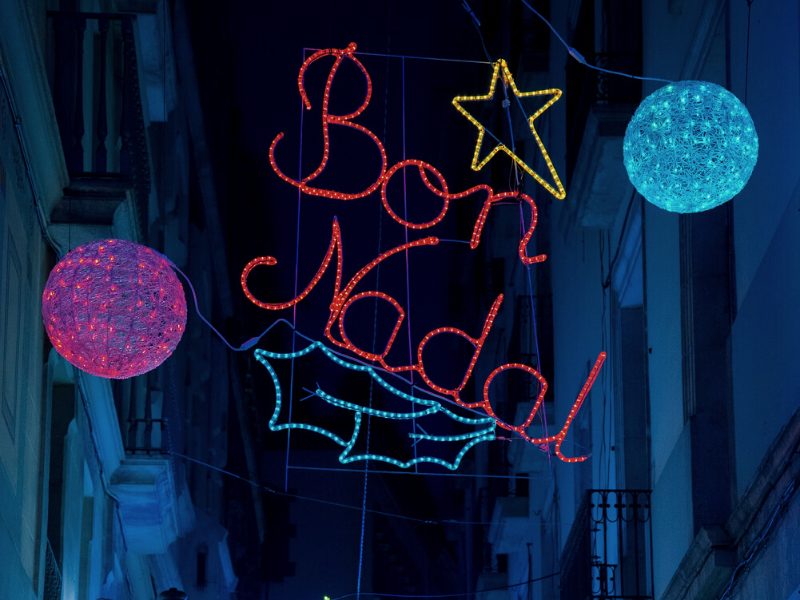 The holidays are different in every country, of course, and Barcelona is no different.
There are things – bonuses and inconveniences alike – to look out for: here are just a few of them!
Puente
Both December 6 and 8 are public holidays. As a result, December 7 often becomes a de facto day off (this extension of a holiday is called a puente, or "bridge", in Spanish).
This puente is sometimes dubbed the "súper puente" because locals figure if they have, say, Tuesday, Wednesday, and Thursday off, they might as well take off Monday and Friday too!
This is both good and bad for tourists. Good because that makes this week in December especially peaceful – foot traffic and especially road traffic are noticeably reduced.
However, some businesses follow suit, meaning you should always check that the places you want to visit are open, particularly restaurants and smaller mom-and-pop style spots.
Barcelona Christmas Traditions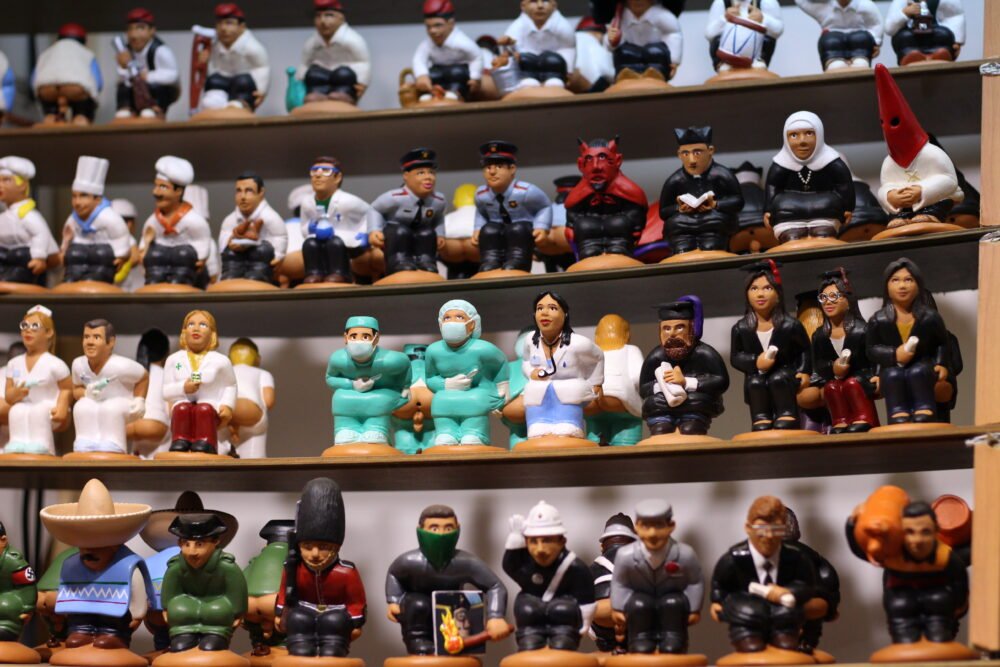 In a word, Catalan Christmas traditions are nuts!
While the average Catalan home is decked out with many recognizable elements – trees, tinsel, etc. – there are at least two elements that will make your head spin.
The first is the caganer. This is a small figurine, typically placed in the nativity scene within a few inches of baby Jesus… who is pooping.
That is not a typo — and if you speak Spanish, you may have already expected something vaguely scatalogical.
While there is a traditional version – a red-hooded fellow who looks not unlike a casteller – you can find all versions with all kinds of celebrities and political figures doing something that does not exactly scream "Merry Christmas"!
Caganers are on sale in any souvenir store in December, and the Christmas Market held near Barcelona Cathedral will also have some caganer stalls.
Talk about a souvenir to remember!
Similarly, the tió de nadal (the Christmas log) is surreally scatological.
These logs, painted with Mr. Hanky-style faces, have pride of place in any Catalan home.
Every day during the holiday, kids are encouraged to beat the log with a stick and ask it to poop sweets.
You can ask locals to explain — just don't expect to understand!
Christmas (the 24th through the 26th of December)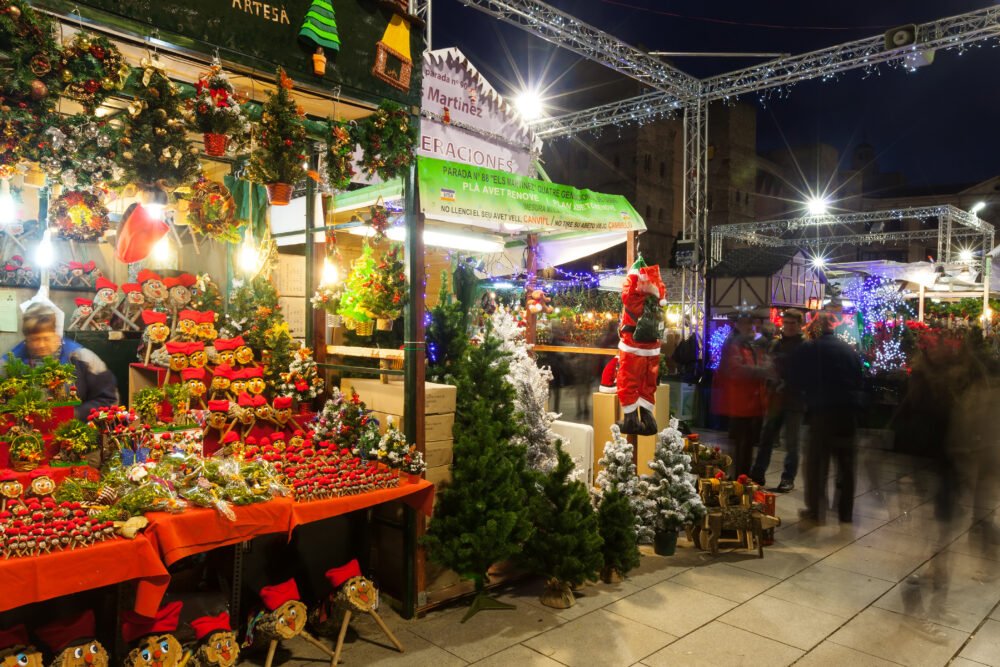 If you are in Barcelona for Christmas, bear in mind that Christmas is very much a family-oriented holiday.
Catalans typically have a family meal on the evening of December 24, a family meal in late afternoon on December 25, and a final family meal on December 26!
That means many shops, cafés, and restaurants may be closed during these days while families get together.
If you are down to sample Catalan Christmas culinary traditions and can find an open restaurant, I have a number of suggestions!
Definitely try escudella, a warming soup, made with pasta, vegetables, beans and meat that is eaten throughout winter.
On Christmas day, this meal is given a twist: the first course is the meat, beans and vegetables, and the second is the stock served with snail-shaped pasta: sopa de galets.
Both dishes can be found in local restaurants and are a regular part of Christmas set menus.
However, as in any city, choice is likely to be wider in the days leading up to Christmas than on Christmas day itself.
It's also important to note that both December 25 and 26 are public holidays, so there may be disruption to schedules during these days.
New Year's Eve in Barcelona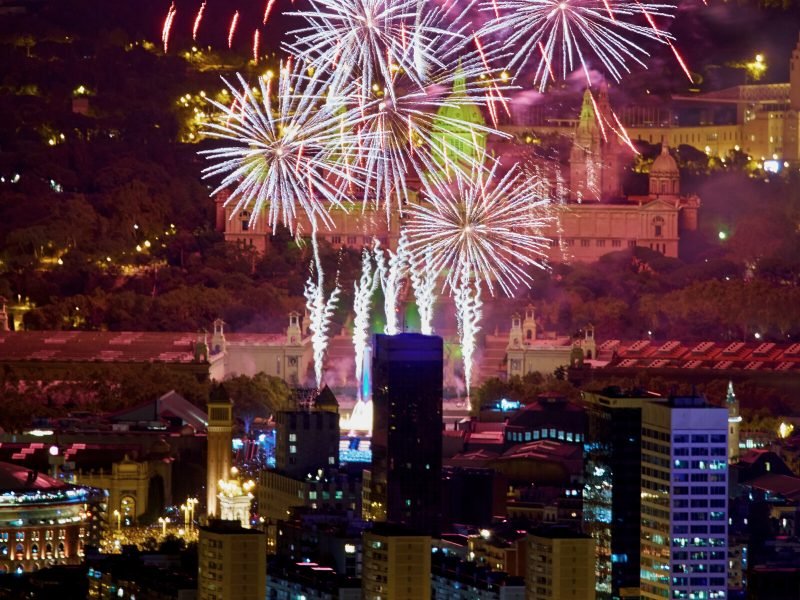 Ringing in the New Year in Barcelona has plenty to offer.
The city's official fireworks display is in front of the MNAC museum in Plaça España.
The Magic Fountain, which offers an old-timey light and music show throughout the year, starts its jets on NYE at 9:30 PM, and the fireworks blast off at — you guessed it — midnight.
If crowds don't appeal, many locals have access to their rooftops, so if you have a good vantage point, you can see smaller, competing displays firing up into the air all over the city.
Both the mountain range of Collserola and the ocean provide a picturesque background to the pyrotechnics!
If you are out to paint the town red for NYE, it's important to know that most locals celebrate at midnight with their family – eating 12 grapes as the clocks chime.
So, while touristy nightclubs might be rowdy from late evenings, those more favored by locals don't get going until quite a while after! As during the year, peak hours are 2 AM through 5 AM, so pace yourself!
January 6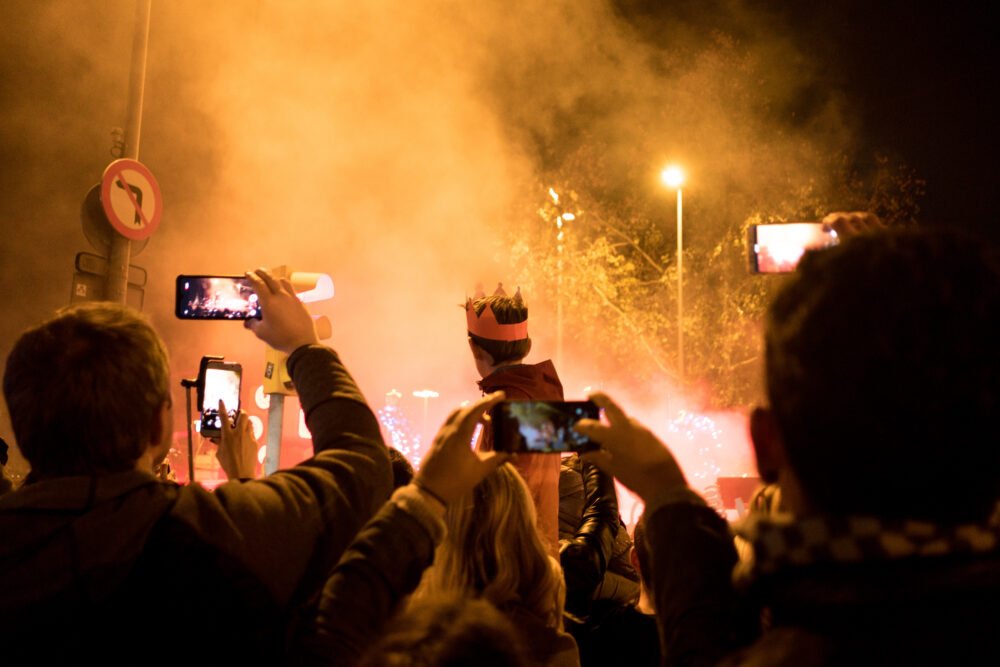 Finally, if your Barcelona December stay strays into January, January 6 (Día de Reyes) is actually the big Christmas celebration, traditionally speaking.
In recent years, December 25 has undoubtedly made inroads, with savvy kids arguing that getting their presents early means they can spend the whole holidays enjoying them.
However, not so long ago, it wasn't Santa but the three kings (wise men) who came bearing gifts – and on the Twelfth Day of Christmas, not the First!
The celebrations actually start the night before, as the kings parade through the city as part of the Cabalgata de Reyes.
Standing atop floats, the kings toss sweets to children. If you are traveling with young ones, they might find the kings a somewhat bemusing alternative to Santa, but the promise of candy is likely to make up for any cultural message lost in translation.
The float usually arrives in the city's Port Vell (the port close to Barceloneta and the Rambla) at 4 PM, and the procession begins two hours later.
It moves up Via Laietana to Plaça Catalunya before crossing town and ending up at the Magic Fountain.
January 6 is another family day, but if you want to join in the tradition, presents are opened in the morning and dessert at lunch is Tortell de Reis, similar in flavor to a Mardi Gras King Cake.
Careful when taking a bite! There are two hidden "prizes": a fava bean (which means YOU have to pay for the cake) and a wise man figurine – meaning you wear the paper crown sold with the cake!
Allison Green is a former educator turned travel blogger. She holds a Masters in Teaching and a B.A. in English and Creative Writing. Her blog posts merge her educational background and her experience traveling to 70+ countries to encourage responsible, enriching travel. She has been a speaker at the World Travel Writers Conference and her writing, photography, and podcasting work has appeared in National Geographic, CNN Arabic, CBC Canada, and Forbes, amongst others. Now a full-time traveler, she has lived in Prague, Sofia, New York City, and the San Francisco Bay Area.