Humpback whales singing, turquoise water lapping at beautiful white sand beaches, freshly-juiced fragrant pineapple…
These are just a few of the sights, smells, and sounds you'll find on the island of Moorea, French Polynesia's so-called "Magical Island".
Tahiti's sister island, Moorea is extremely easy to get to — there's no flight necessary, unlike if you stay at resorts in Bora Bora, so it's great if you want to save money and not deal with additional flights.
For a relatively small island, Moorea has a wide variety of accommodation options: you can opt to stay in a beachfront luxurious hotel, a traditional guest house, or even an overwater bungalow!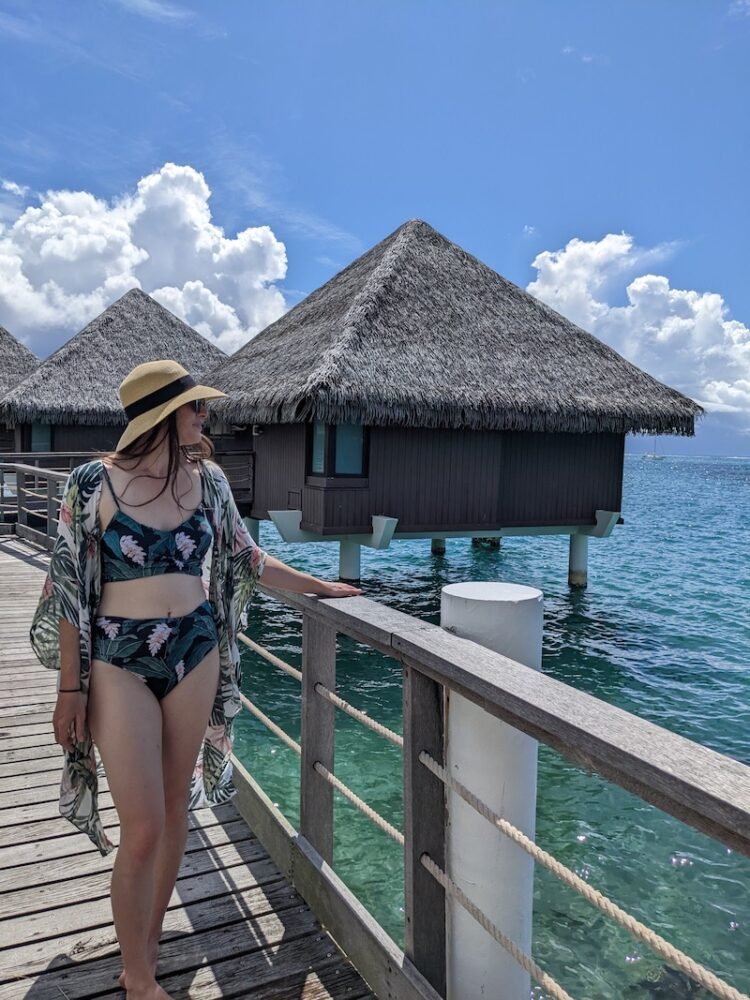 Note: This post contains affiliate links, which means I may receive a small commission if you purchase something through one of these links. Thank you for supporting the free content on this site! For more information on affiliate links and cookies, see my disclosure page for more details.
There's truly somewhere to stay in Moorea (and something to do!) for every type of traveler, on every type of budget… even hostels!
Sit back, grab a drink, and enjoy this Moorea hotel guide where I've done all the research for you!
Quick List of Where to Stay in Moorea & Average Prices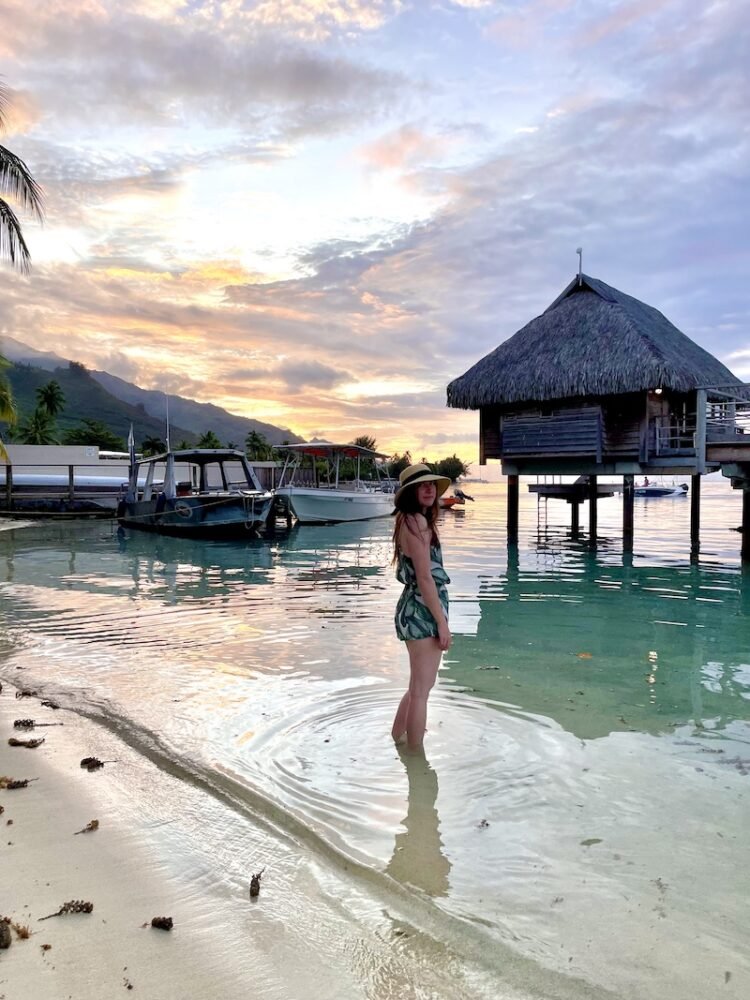 Where to Stay in Moorea on a Budget: Hostels & Guest houses
PainaPaopao Backpacker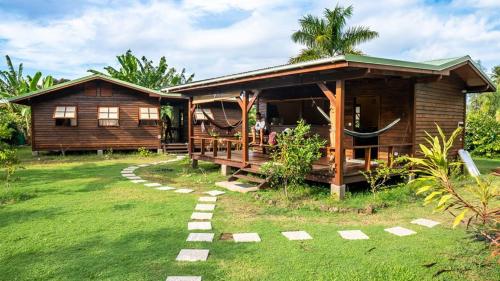 Price Range: Rooms start at $36 a night for a dorm bed and $91 a night for a private double
One of few hostel options on the island of Moorea, PainaPaopao Backpacker enjoys one of the best locations on the island, right between the two beautiful bays of Opunohu Bay and Cook's Bay.
It's a short walk to lovely public beaches like Public Beach Ta'ahiamanu and lots of restaurants nearby.
Since this is a hostel-style accommodation, the rooms are very no-frills: think basic rooms with mosquito nets and ceiling fans, no A/C.
The dorm offers a relatively high level of privacy (for a dorm) because each bed has a curtained off area, giving you some private space.
There is a shared kitchen and a shared bathroom on site, as well as a beautiful garden for guests to enjoy.
Fare Blue Lagoon View
Price Range: Rooms from $96 to $102 per night
This no-frills guesthouse is a great option for those on a budget looking to stay in a beautiful area of Moorea for a low cost.
Overlooking Motu Ahi on Moorea's east coast (with a view of Tahiti in the distance), this hotel is in a beautiful but remote area of Moorea.
Due to its isolated location with very few restaurant options around, I would only recommend it if you are also renting a car in Moorea.
The rooms are well-appointed but basic, with simple decor and en-suite bathrooms and terraces for every room.
It's a great traditional Polynesian fare (guesthouse) for an extremely affordable price, if you don't mind forgoing a few amenities to save some money on your Tahiti and Moorea trip cost.
Haere Mai I Te Fare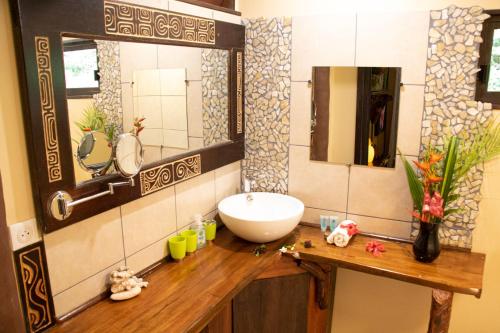 Price Range: Rooms start at $122 to $188 per night
One of the most charming guest houses on the island, Haere Mai I Te Fare is just over a mile from Temae Beach, one of the best free public beaches on the island and an excellent snorkeling spot in Moorea.
Its location in Teavaro makes it conveniently close to both the ferry and the airport, perfect if you have any early departures planned.
Its traditional Polynesian-style rooms are decorated beautifully with thatched detailing, gauzy canopy mosquito nets, and traditional Polynesian craftwork like tifaifai quilts and pillows.
The lush garden you can enjoy will make you feel like you're in a world of your own, and there's an on-site restaurant so you don't even have to leave this little paradise! You can add on a delicious breakfast for $23 per day.
It is, however, a little isolated so it's best visited if you have rented a car while in Moorea so you can access other areas, beaches, and dining and shopping options.
This is where we almost stayed before opting for Poerani Moorea below (we decided we wanted to be closer to Maharepa where we were doing our dives with Moorea Blue Diving!)
Poerani Moorea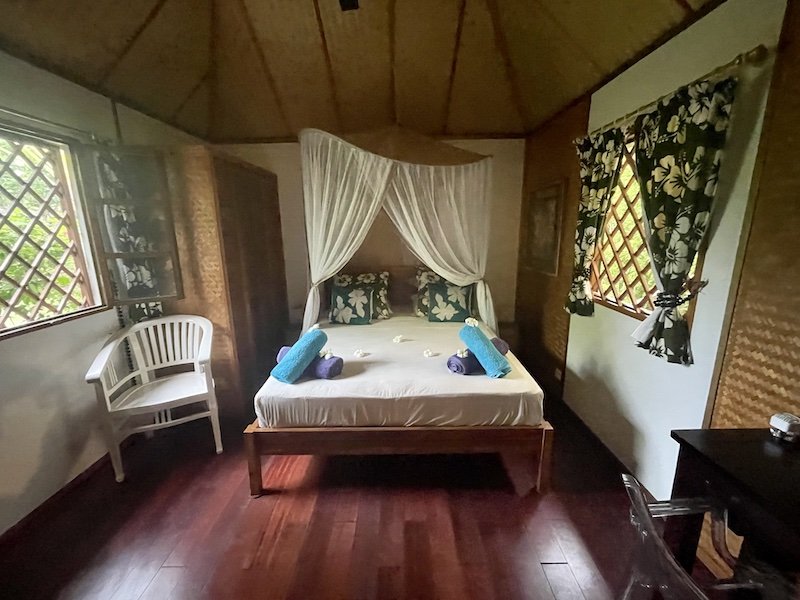 Price Range: Rooms start at $214 to $315 per night
This is where we opted to stay in Moorea: it offered excellent value for the money and we truly enjoyed our stay here.
The location just outside of Maharepa was great, as we were just a short 10-minute walk from all the great restaurants and boutiques the town center has to offer.
There was a beautiful communal garden area for all to enjoy, as well as free kayaks that we could use to explore the beautiful waters right in front of the property!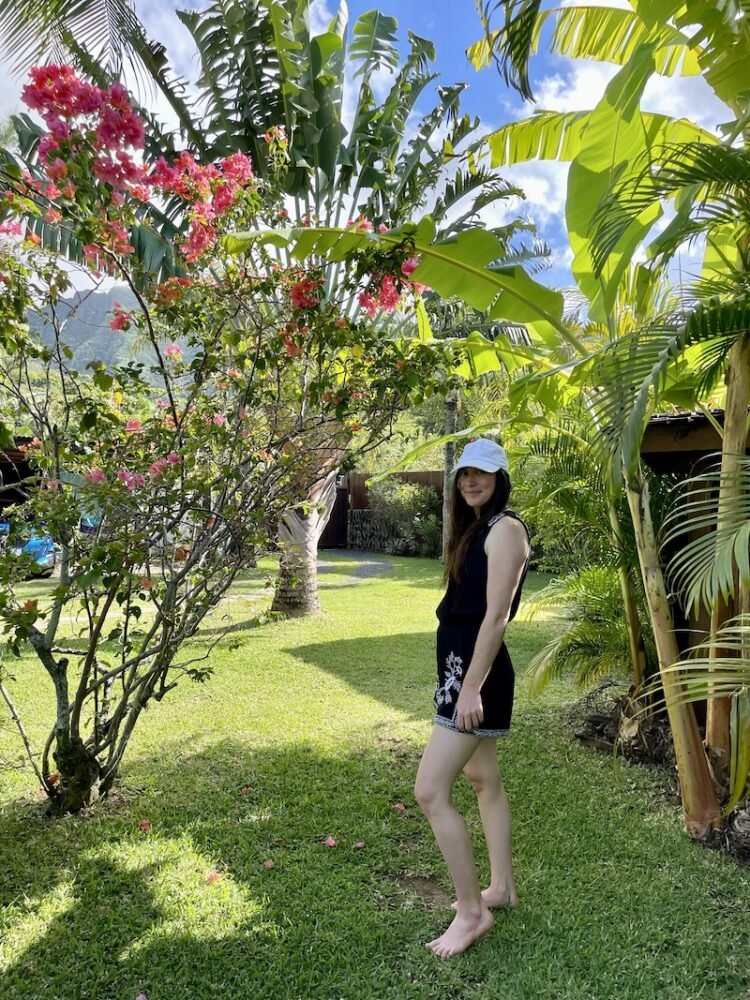 The bungalow was well-designed and spacious, with a beautiful bathroom, a well-equipped kitchenette (including a stove, fridge, microwave, and espresso maker), a private lounge area in the garden, and a lovely bedroom with A/C.
One thing to note is that only the bedroom is sealed off and air-conditioned, which meant that mosquitos were able to get into our living room and bathroom area.
It wasn't a big problem for me, but if you're extremely prone to mosquito bites and you're visiting in the rainy season, it may be troublesome for you!
(Be sure to follow my Tahiti & Moorea packing guide to see my recommendations for mosquito repelling!)
You can lessen the problem by staying in a beach bungalow vs. the garden bungalow, where there were far more mosquitos.
Still, I really enjoyed my stay at Poerani Moorea and would definitely come back again… just armed with plenty of mosquito repellent!
Where to Stay in Moorea for Luxury Resorts with Overwater Bungalows
I have a full post on the Moorea overwater bungalow options here, but I'll include a quick rundown below in case that helps you decide!
* Note that the Intercontinental Resort is permanently closed.
Hilton Moorea Lagoon Resort
Price Range: Garden bungalows from $537 per night and overwater bungalows from $838 per night
Located on the north side of the island, the Hilton Moorea Lagoon Resort is one of the best options for a Moorea resort, particularly if you are looking for an overwater bungalow!
Home to both a beautiful white beach and a stunning house coral reef, the Hilton Moorea Lagoon Resort is one of the best places for snorkeling on the entire island.
Of course, you can expect all the amenities of a typical luxury resort, like a tennis court, fitness center, on-site spa, several choices for on-site restaurants, etc.
Dining is where this resort really shines: you'll find several options, including an open-air restaurant (with stunning lagoon views!), a waterfront casual bar & grill, a sunset view bar (spectacular), and the coolest of all — an overwater eatery where you can enjoy a drink or a crepe with sharks swimming beneath you!
As with other Moorea resorts, you'll find a range of room types that aren't just overwater bungalows.
There are garden bungalows (both with and without private pools) for the cheapest option at the resort.
There are also lagoon view bungalows placed on beach, with private ladder to the lagoon.
And of course, there are your standard overwater bungalows connected by a boardwalk!
To be honest, the standard garden bungalows are fairly typical of hotel rooms you'd find anywhere, but the overwater bungalows are some of the most luxurious on Moorea!
We're talking bathrooms with clawfoot bathtubs (dreamy!) and seating areas with a glass panel where you can watch the marine world whizz by.
The reef in front of the Hilton is also excellent — you'll find rays, sharks, and all sorts of fish life in this vibrant underwater world.
Manava Beach Resort (formerly Moorea Pearl Resort)
Price Range: Standard rooms from $474 per night and overwater bungalows from $842 per night
This Polynesian-style resort is a fantastic option in Maharepa, in the heart of the most lively spot on the whole island.
While Manava does have everything you'd need and expect from a luxury hotel, it's also within easy walking distance of more than a dozen fantastic restaurants, including some of my personal favorites like Chez Keiki and Rudy's.
We ended up at Manava Beach Resort a lot because it's where Moorea Blue Diving (the dive shop we went with) was located, so we'd often grab a tea or enjoy the beach area after a dive.
Our little pit stops here were often the highlight of our Moorea itinerary (especially sunset here!)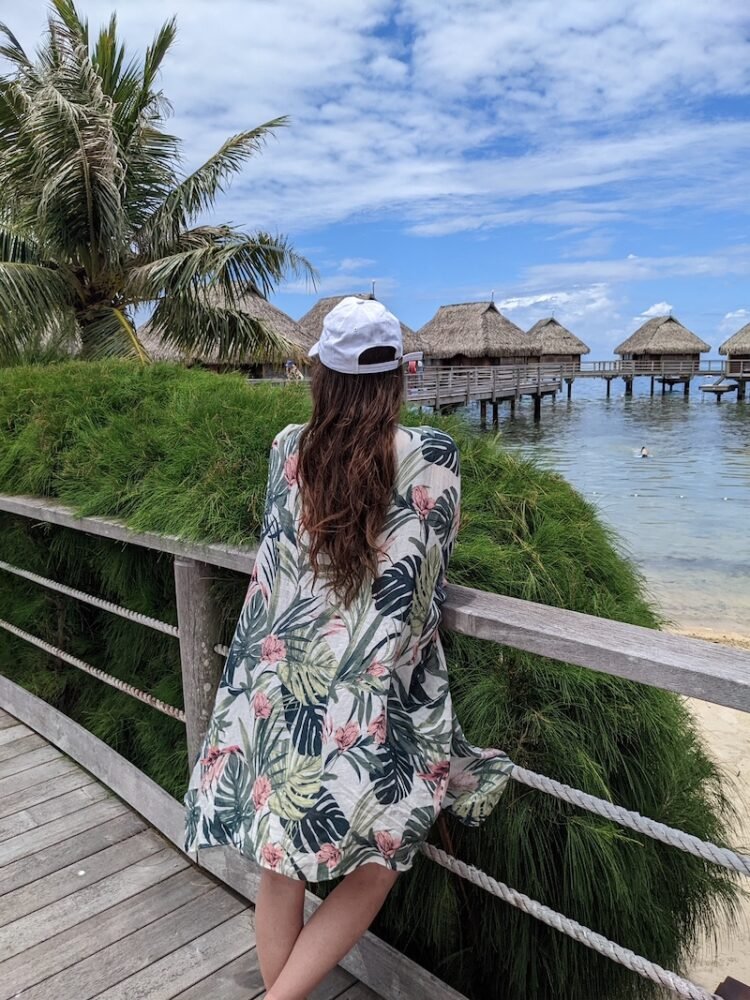 The infinity pool you'll see as you enter the resort is absolutely beautiful — the view of the pool seemingly melting into the ocean, with bungalows dotting the water's edge is truly spectacular.
You can easily rent kayaks or stand-up paddle boards to explore the calm lagoon area and its marine life nearby the resort.
The on-site restaurants are both excellent and a great way to while away some time or have a nice meal, but there are also many fantastic options to dine in the nearby area as I mentioned above.
There's also the on-site Manea Spa which offers massages and other wellness treatments for relatively reasonable prices for a resort.
There are a variety of room types: standard hotel-style double rooms, beachfront bungalows with a private plunge pool, and of course, the signature overwater bungalows!
The overwater bungalows are quite large at 515 square feet, either with lagoon or mountain views.
Each bungalow has a king bed, a bathroom with either a shower or tub, and sundecks that open directly to the lagoon.
The overwater bungalows have A/C, and there's a glass panel to see the sea life below you without even having to leave your room!
Sofitel Moorea Kia Ora Resort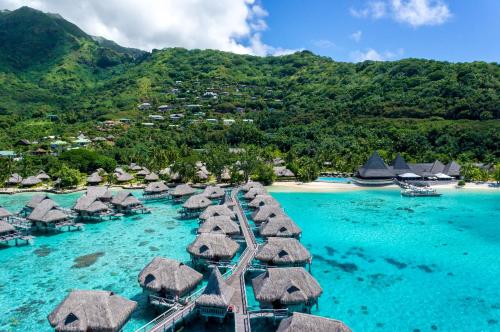 Price Range: Beach and garden bungalows from $645 per night and overwater bungalows from $836 per night
Home to one of the best coral gardens in all of Moorea and adjacent to spectacular Temae Beach, the Sofitel Beach Resort is an excellent choice for a resort with overwater bungalows on Moorea.
While we didn't stay at the Sofitel, we did explore the grounds after we visited Temae Beach for off-shore snorkeling (which was some of the best we experienced on the island!).
Since this is a protected marine area, the coral reef here is well-preserved and extremely abundant in sea life.
Undoubtedly, these overwater bungalows are located in one of the best locations in Moorea, thanks to the beautiful coral gardens and nature preserve that surround them.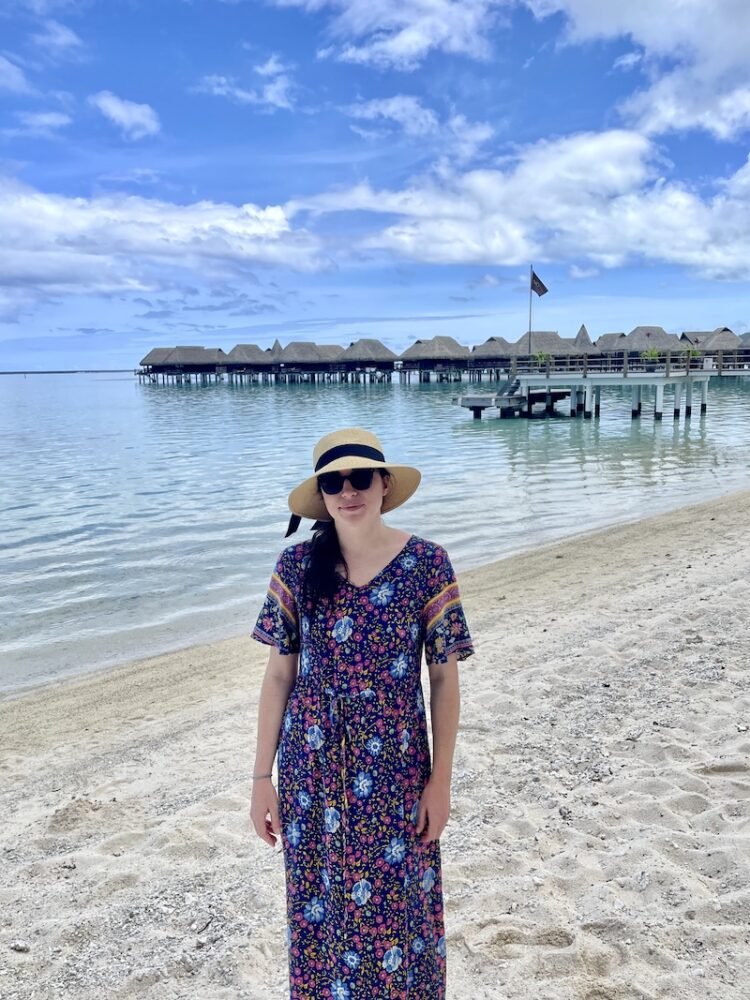 You can swim out to the coral gardens from the beach (if you have fins and snorkel gear).
Alternately, if you're staying in an overwater bungalow, you can simply descend from your own private ladder into the lagoon below!
Sofitel has quite a number of bungalows: 38 overwater bungalows to choose from as well as 60 beach and garden bungalows at a lower price point.
You can mix and match staying in an overwater bungalow and a beach or garden bungalow to offset the price if you just want to experience one night in an overwater bungalow!
Of course, there's also a luxurious outdoor pool — one that enjoys a beautiful view of Tahiti across the water!
In terms of dining, the resort offers two restaurants and two bars for a variety of food options, and you can also head out and explore nearby Maharepa for more dining options.
There are two sizes of overwater bungalows — luxury bungalows clocking in at nearly 900 square feet and superior bungalows at about 450 square feet.
The main difference is the size and location, as all bungalows have A/C, free WiFi, glass panels in the floor, direct water access from your private terrace, and complimentary minibar refills.
The bathrooms feature lovely rain showers but do not have bathtubs, so that's something to note if a bathtub is important to you!
Other Great Beach Resorts & Boutique Hotels
Linareva Moorea Beach Resort
Price Range: Rooms start at $174 to $375 per night
Located on the quiet west coast of the island of Moorea, Linareva Beach Resort is the perfect place to get away from it all.
With its prime beachfront location, you can enjoy all sorts activities departing from the hotel's own private jetty: the snorkeling right off the pier into the lagoon is absolutely fantastic!
You can also borrow bikes, canoes, and snorkeling gear for adventures in the area.
However, do note that this is one of the more remote areas of Moorea, so there are more limited restaurant options in this area compared to the more bustling area of Maharepa.
The rooms are stylish with traditional Polynesian elements: think thatch work, Polynesian-style painted tapestries, colorful pillows with pops of color adorning linen canopy beds with protective-yet-elegant mosquito nets above you.
Best of all, each room has its own private terrace with either a sea or garden view, perfect for taking in coffee or breakfast with a view of those ever-clear turquoise waters.
All rooms have A/C as well as their own cooking facilities, and breakfast is available for an additional $18/day charge.
Moorea Sunset Beach
Price Range: Rooms start at $283 to $366 per night
Located right near Plage des Tipaniers, a fantastic departure point for kayaking and snorkeling adventures, Moorea Sunset Beach is perhaps the best place for a mid-range place to stay in Moorea.
Its location is hard to beat: just 250 feet to the beach, it's also close to two small islets with a coral garden between them as well as the turquoise lagoon with its sandbank that is known for its blacktip reef shark and ray sightings!
It's also less than half a mile from Tiahura Beach, another one of the best beaches in Moorea and a fantastic place for snorkeling!
All rooms have A/C, dining areas and kitchenettes, and seating areas as well en-suite private bathrooms, so it's self-contained with all you'd need.
The rooms have a more modern, minimalist design: white linens and modern art prints, so it has less of that traditional Polynesian touch — something worth noting if that design style is important to you!
This isn't the most bustling area of Moorea — that honor belongs to Maharepa — but there are a number of restaurants within a half-mile radius that you can walk to and enjoy.
Some rooms even have their own terrace or balcony with a sea view — perfect for taking in those west coast Moorea sunsets!
They offer both garden bungalows and beachfront bungalows as well as garden suites, sleeping anywhere from four to six people, so it's a great option for larger groups and families.
Moorea Beach Lodge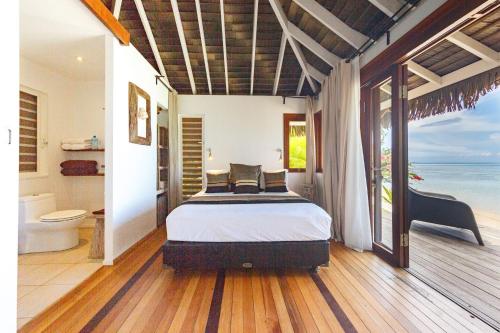 Price Range: Rooms start at $269 to $516 per night
Moorea Beach Lodge is a stunning boutique hotel that is easy to fall in love with and hard to leave!
Located on the west coast of Moorea, this remote part of Moorea enjoys some of the best sunsets and sees very few crowds.
Best of all, this property has its own private beach area
The rooms are ultra-modern, with high thatched ceilings with white beam elements, hardwood floors, and rustic yet refined interior design that fuses the Polynesian aesthetic with something more modern.
It's essentially the beach house of your dreams, with a view so perfect you could never dream it up.
Some rooms, like the Superior Bungalow, even have a private terrace leading right out onto perfect ocean views — the best place to enjoy a delicious breakfast full of tropical fruit and French pastries!
Free fat-tire bicycles are available to explore the area, perfect for biking on both sand and streets. Kayaks are also freely available.
There's a lovely beach front lounge area that all guests can use, perfect for taking in the sunset and getting some gorgeous photos.
Hotel Hibiscus
Price Range: Rooms start at $195 to $259 per night
Located in the Papetoai area not far from Tiahura Beach and Les Tipaniers Beach, Hotel Hibiscus is a cute and convenient place to stay in Moorea for people who want easy access to beaches and snorkeling.
Hotel Hibiscus is also unique for offering adorable tropical-style bungalow huts done in the traditional Polynesian fashion, each with a private terrace, kitchenette, and en-suite bathroom.
These bungalows are not overwater style but rather garden bungalows with traditional thatched roofs and interiors that reflect Polynesian interior design: wooden furnishings, floral details, and Polynesian textiles.
There's also an on-site restaurant, Le Sunset Restaurant, which has — you guessed it — spectacular sunset views, as well as a diverse menu featuring Polynesian, French, and Italian influences.
The location is pretty perfect, as there are several restaurants in the vicinity yet also plenty of white sand beaches and snorkel spots to depart from!
It also has its own swimming pool, which is a rarity for most hotels on Moorea with the exception of luxury resorts.
Moorea Island Beach Hotel
Price Range: Rooms start from $257 to $493 per night
Moorea Island Beach Hotel is another great mid-range choice for where to stay in Moorea.
Less than a 10-minute walk from the stunning white sands of Tiahura Beach (and lively snorkeling available right off the beach!), this 3-star hotel is located in Haapiti, a wonderful area of Moorea to stay in.
Home to its own private and quiet stretch of beach, white sand between your toes is never far from your room. Many of these rooms face the beach, some with sea views and some with balconies.
The room design is modern and beauty, with ample windows allowing in natural light, and clean furnishings with wood detail, lots of white minimalism, and the occasional bright pop of color to keep things feeling tropical.
The hotel knows its strength is in its prime location and views, so the rooms don't detract from that, but rather focus on the views.
Every room is its own little standalone bungalow: there are doubles sleeping two guests (great for couples) and family bungalows (great for families or two couples, as there are two queen-sized beds).
There's also great lounge areas with stunning sea views, including a deck with spacious couches where you can kick back with a book and admire the cerulean South Pacific sparkling in the sunlight.
There are complementary bikes and kayaks you can borrow to further explore this part of the island.
While there are several restaurants nearby, there is also a well-kept, fully-equipped kitchen for all guests to use if you prepare to cook meals on your own — great if you have allergies or dietary requirements that are hard to cater to.
Hôtel Fenua Mata'i'oa
Price Range: Rooms start at $359 per night to $627 per night
This beautiful Papetoi-area luxury hotel is just a short walk from Plage des Tipaniers.
This is an excellent departure point for snorkeling excursions to the islets (motus) and coral garden as well as the sand bank where you'll find countless reef sharks and rays.
This luxury resort doesn't offer overwater bungalows, but it makes up for that with its other luxury amenities, like a tropical garden, on-site restaurant and bar, outdoor hot tub, sun loungers, a library, and a sun terrace for all to enjoy.
The rooms are luxuriously furnished with designer decor that make you feel like royalty.
The decor is opulent and elegant, more of a French-style of decor rather than streamlined and modern decor you'll find in other Moorea hotels!
Plus, each room comes with its own private patio.
You can add a half-board option to your stay, so that you'll have both a continental breakfast and a 3-course dinner meal.
While there is no beach, you do have direct access to the lagoon so you can easily take a kayak to one of the motus to enjoy some quality sand-between-your-toes time!
Allison Green is a former educator turned travel blogger. She holds a Masters in Teaching and a B.A. in English and Creative Writing. Her blog posts merge her educational background and her experience traveling to 60+ countries to encourage thoughtful travel experiences that both educate and entertain. She has been a speaker at the World Travel Writers Conference and her writing, photography, and podcasting work has appeared in National Geographic, CNN Arabic, CBC Canada, and Forbes, amongst others. Now based in the San Francisco Bay Area where she grew up, she has also lived in Prague, Sofia, and New York City.