If you're trying to pick between Tahiti or Moorea, it's not an easy decision to make.
In fact, we couldn't decide so we just visited both!
The good news is that no matter which one you choose, you'll have a fantastic time: it's hard to go wrong with any of the islands of Tahiti, frankly.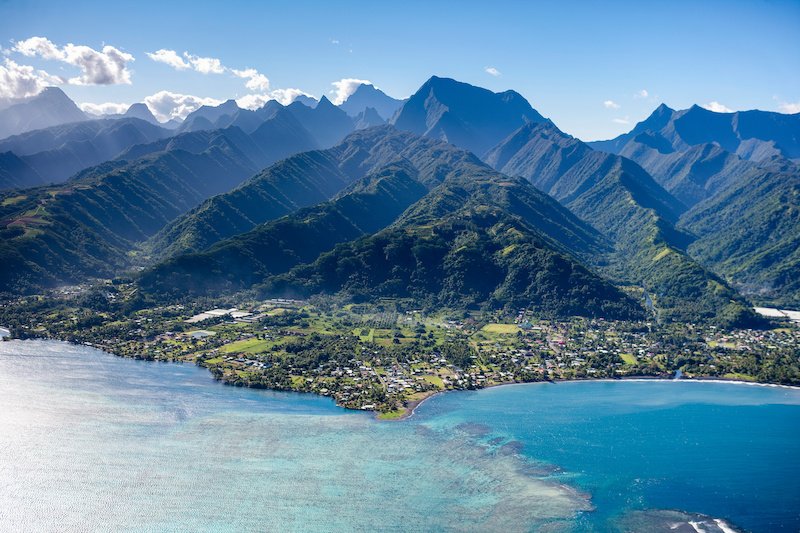 Note: This post contains affiliate links, which means I may receive a small commission if you purchase something through one of these links. Thank you for supporting the free content on this site! For more information on affiliate links and cookies, see my disclosure page for more details.
And since the two islands are just 30 minutes apart by ferry, it's quite easy to visit both in the same Tahiti itinerary.
That said, if you're on this page, it's likely because you need to pick between the two (maybe because you're also looking at other French Polynesian islands) — so I'm here to help you pick between Tahiti or Moorea, if you have to!
If that's the case, keep reading as I break down the benefits of Tahiti vs. Moorea, and vice versa.
Choose Tahiti for…
A Delicious Variety of Dining and Restaurants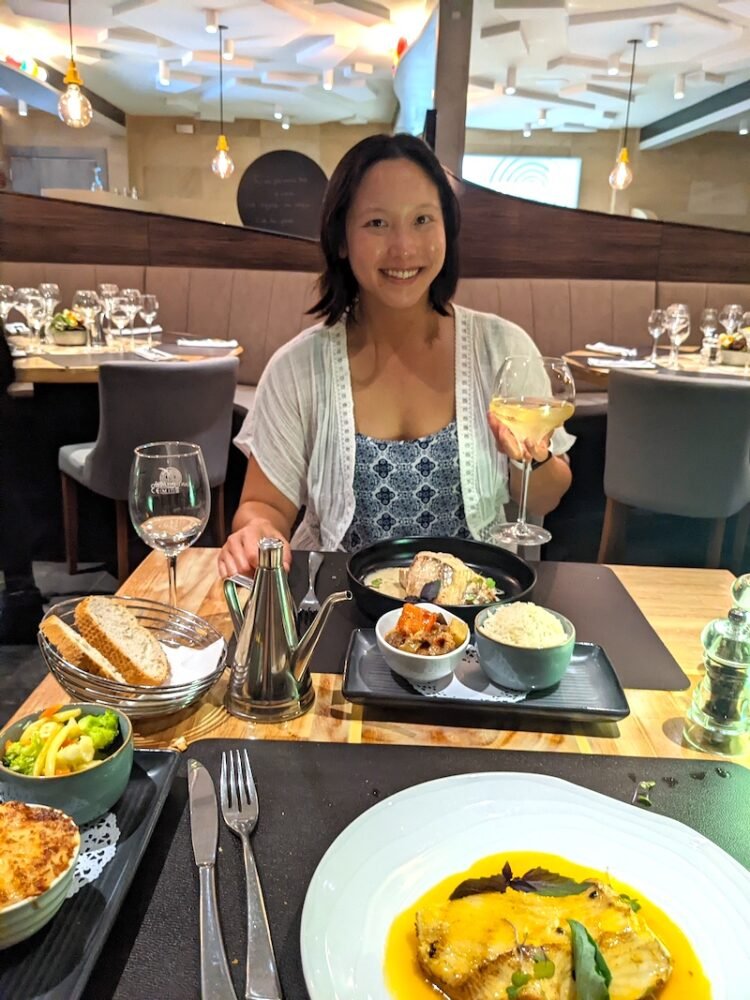 When it comes to Tahiti vs. Moorea, Tahiti wins on restaurants by a long shot.
While Moorea has a lot of great places to eat, the sheer number of restaurants on Tahiti is hard to beat.
Moorea's restaurant scene has less variety than Tahiti, and I often found myself seeing what seemed like the same menu over and over again after my 3rd day there.
On Moorea, nearly every menu is composed of a few different kinds of grilled fish, brochettes (skewers), with the exact same selection of four sides (rice, green beans, salad, or fries) and sauces (garlic butter, BBQ, teriyaki, or Roquefort).
It was exciting at first, but after a while, I have to admit sitting down to eat in Moorea started to feel a bit like Groundhog Day, whether I ate at a roulotte (food truck) or a restaurant!
On the other hand, Tahiti has way more variety when it comes to eating!
We enjoyed delicious Polynesian-Chinese food at Chez Mei that was a nice change of pace as well as tasty bento boxes and bao at Karaaji.
We also had two phenomenal more fancy restaurant meals, one at Le Manoa where I had some of the best lamb of my life and one at L'O A La Bouche where we enjoyed a phenomenal 3-course fine dining menu.
There were some great places to eat on Moorea (big shoutout to Chez Keiki, my favorite spot on the island!), but nothing that came close to Tahiti's options.
And since we spent 5 days on Tahiti, I really appreciated all the dining variety!
Beautiful Black Sand Beaches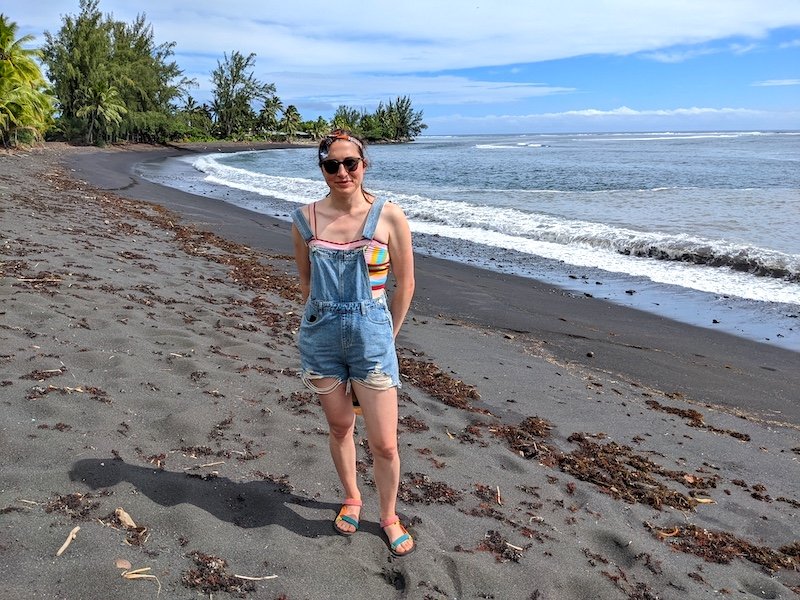 If you're intrigued by black sand beaches, maybe because you've never been on one before, then definitely opt for Tahiti vs. Moorea, because Moorea doesn't have any!
The black sand beaches of Tahiti are certainly visually stunning, showing off the island's volcanic origins beautifully.
However, I will say that unless you secure a spot in the shade, black sand beaches are better for looking at than lounging on… the blackness of the sand really absorbs all that mid-day heat and makes it really uncomfortable to walk on!
That said, the time around sunset is the perfect time to enjoy one of Tahiti's black sand beaches, since the sun cools off a bit and the black sand is a lot more tolerable.
In fact, having a sunset beach picnic at the black sand beach of Point Venus is one of my favorite things to do in Tahiti by a long shot!
More Developed Infrastructure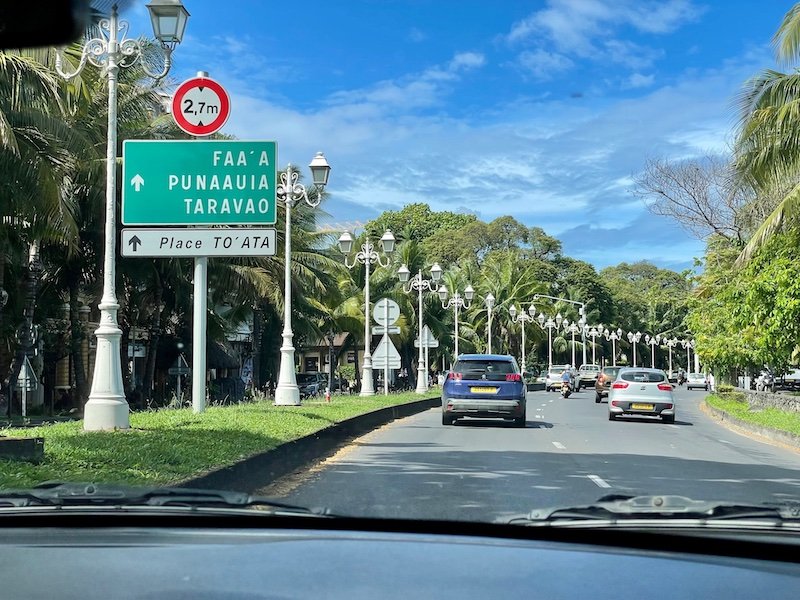 As the main island, Tahiti has more developed infrastructure both in terms of roads and internet connectivity.
That makes it epic for road trips — so definitely rent a car in Tahiti if you pick this island!
The road around the island is well-maintained and easy to navigate, and the Internet connectivity is far better on Tahiti (particularly Papeete) than Moorea, where I constantly struggled to get a connection.
If you need to work at all while you're on the islands, Tahiti is certainly better for that.
Waterfalls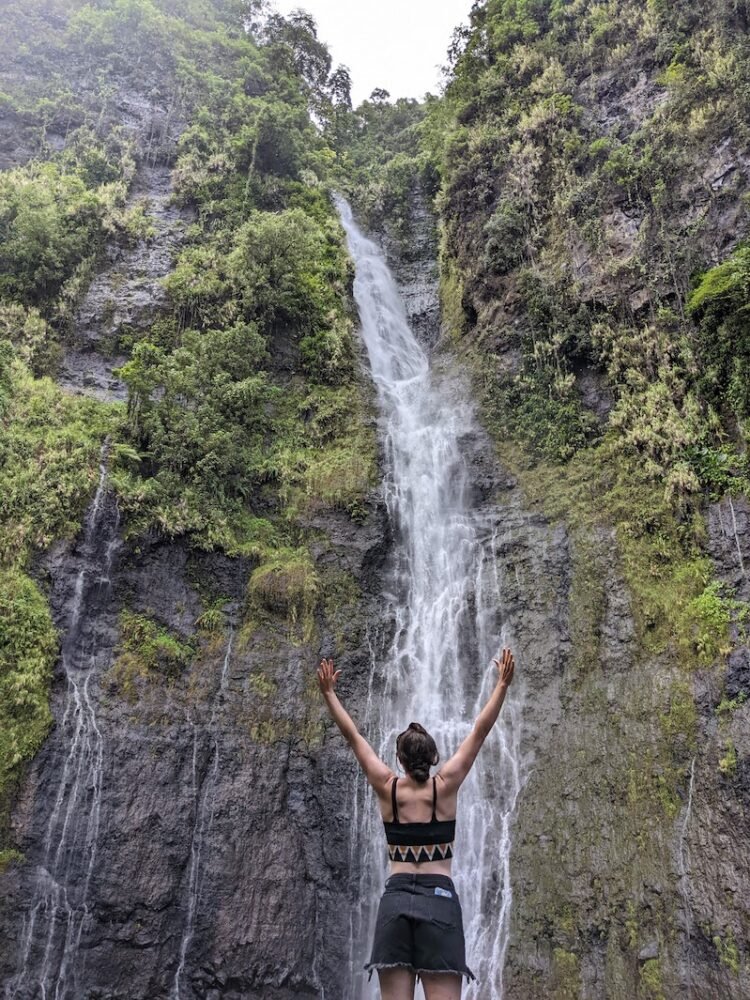 Tahiti has a number of stunning waterfalls that are easy to visit, and if you're the type to go chasing waterfalls, Tahiti will surely satisfy that urge!
My favorite waterfalls on the island are, far and away, the Fa'aruma'i Waterfalls.
This stunning set of three waterfalls are an easy hike through a lush forest… just bring lots of mosquito repellant (essential on any Tahiti packing list!), they are quite nasty around here!
You'll take a short 5-minute walk to one of the most spectacular, which thunders down water right in front of you, and you can take a photo in front of its base.
Then, about a 15-minute walk in the other direction, you'll see the other two waterfalls that make up this stunning trio.
There are also stunning waterfalls on Tahiti Iti as you make your way to Plage de Tautira at the end of the road.
I also loved the waterfall at Vaipahi Water Gardens, and there's a waterfall of sorts at the Grottoes of Maraa, where a sheet of water continually cascades over the open-mouthed face of a cave housing a turquoise pool of water!
Finally, there are also waterfalls along Tahiti's east side, like the Vaihi Waterfalls and the Pape'ana'ana Cascade but I didn't get the chance to visit either!
Surfing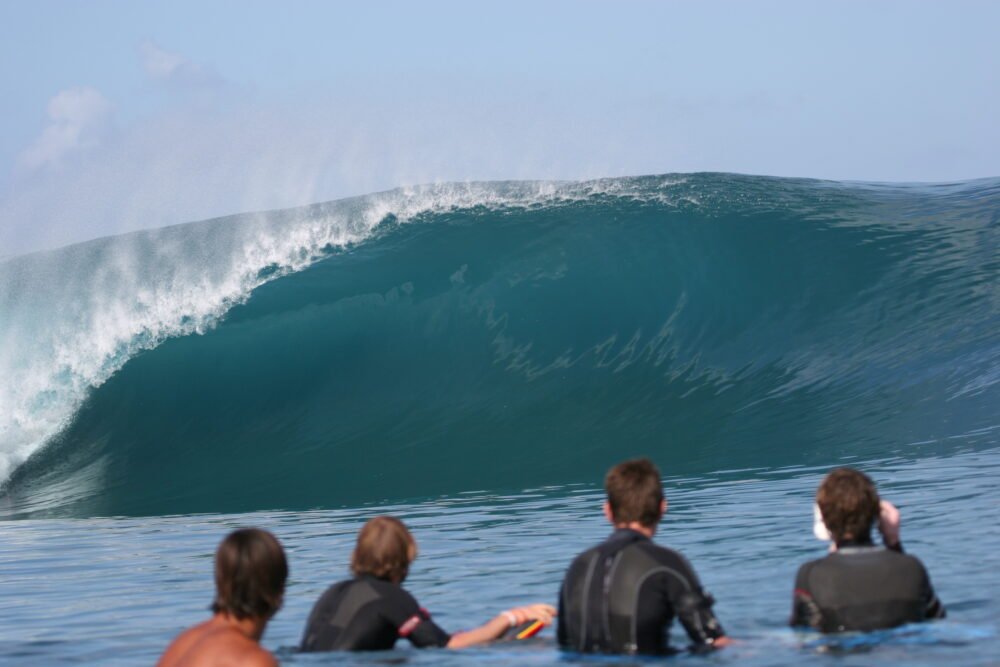 I'm not a surfer, so this wasn't a big factor for consideration when it came time to picking between Tahiti or Moorea, but if you do like surfing, then pick Tahiti!
Tahiti is known amongst surfers for its extremely powerful — and extremely dangerous! — waves at Teahupoo, some of the strongest in the world due to their unique positioning.
See, the waves break just above a coral reef, creating consistently perfect barrels… that are also very forceful and dangerous.
I don't recommend recreational surfers surf at Teahupoo, but you absolutely should go watch locals and experts give it a go!
If you're wanting to get in the water yourself, there are plenty of safer spots in Tahiti to try surfing or take surfing lessons.
The east side of Tahiti tends to have better surfing conditions and that's where I noticed a lot of locals surfing.
Choose Moorea for…
A Rural Island Paradise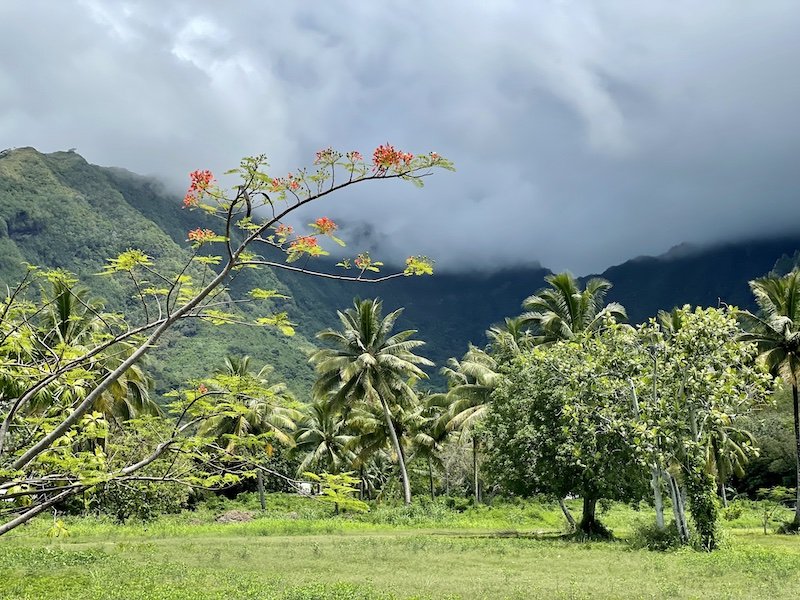 While Tahiti is a bit built up, Moorea is decidedly not. It has no large cities like Papeete, and it's liveliest spot is just a few shops on either side of the one road that circles the island.
Moorea is known for its agriculture — primarily, its deliciously sweet pineapple and other fruits as it is home to the Rotui factory, as well as vanilla farms.
As a result, the island is extremely lush and rural, and it feels a lot less commercialized and built-up than you'd expect French Polynesia would feel.
That said, Moorea is still quite large, so I definitely recommend having a car or e-bike to help you get around… we relied on getting around by foot and by taxi and we wouldn't repeat that on our next visit.
We spent 5 days in Moorea and it was just enough!
White Sand Beaches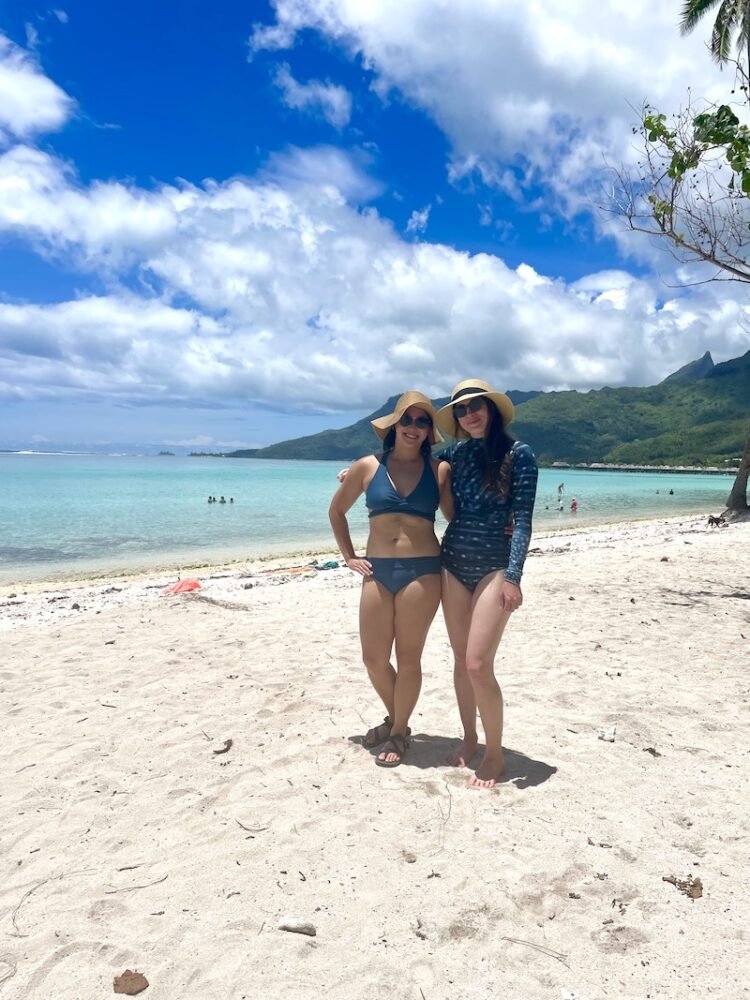 While Moorea doesn't have any black sand beaches, it does have a small handful of lovely white sand beaches — ones that are perfect for snorkeling as well!
I'll admit that Moorea doesn't have the white sand beaches you're likely thinking of when dreaming up French Polynesia and islands like Bora Bora.
The white sand is primarily made of broken-up coral, so it's more 'pebbly' mixed in with the sand, and it's not the most plush sand you'll ever feel.
That said, it's still spectacular and well worth spending your time on some of Moorea's beaches.
My favorite Moorea beach is Temae Beach, which also happens to have some of the best snorkeling on the island, but other good beaches include Ta'ahiamanu Beach overlooking Opunohu Bay and Tiahura Beach.
Its Beautiful Lagoon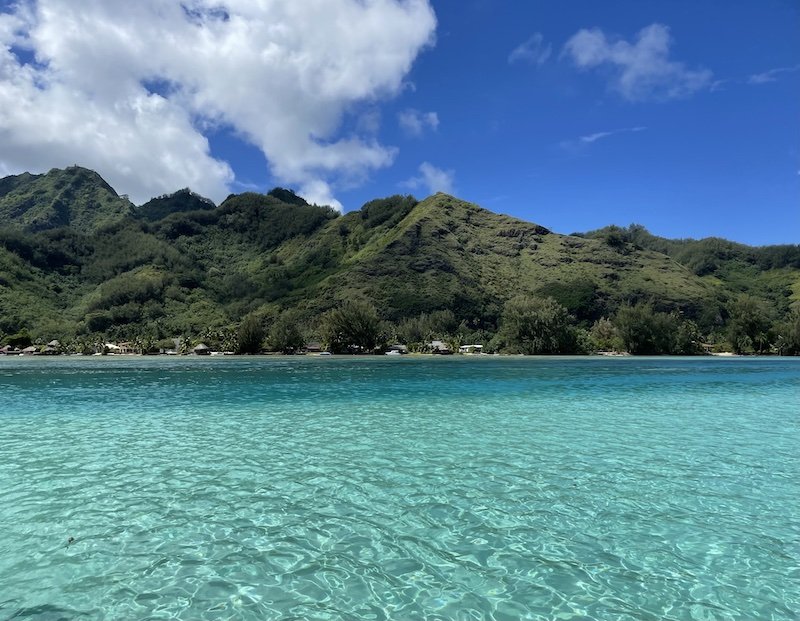 Moorea's lagoon has some of the most beautiful turquoise water I've ever seen. It's honestly unbelievable.
Best of all, you'll see countless blacktip reef sharks and pink whiprays (a kind of stingray) swimming in the crystal-clear waters.
The water is so clear you don't even need a snorkel to see them (but it helps!).
You can get here by taking a sailing or catamaran snorkeling tour or by renting a kayak from Les Tipaniers Beach, as the sandbank part where the lagoon starts is a little way out from shore.
While Tahiti has some pretty stretches of coastline, nothing compares to Moorea's lagoon, which is comparable in terms of water color and clarity to some of the more famous islands of French Polynesia like Bora Bora.
When it comes to Tahiti vs. Moorea on scenic lagoons… Moorea is the obvious winner!
More Overwater Bungalow Options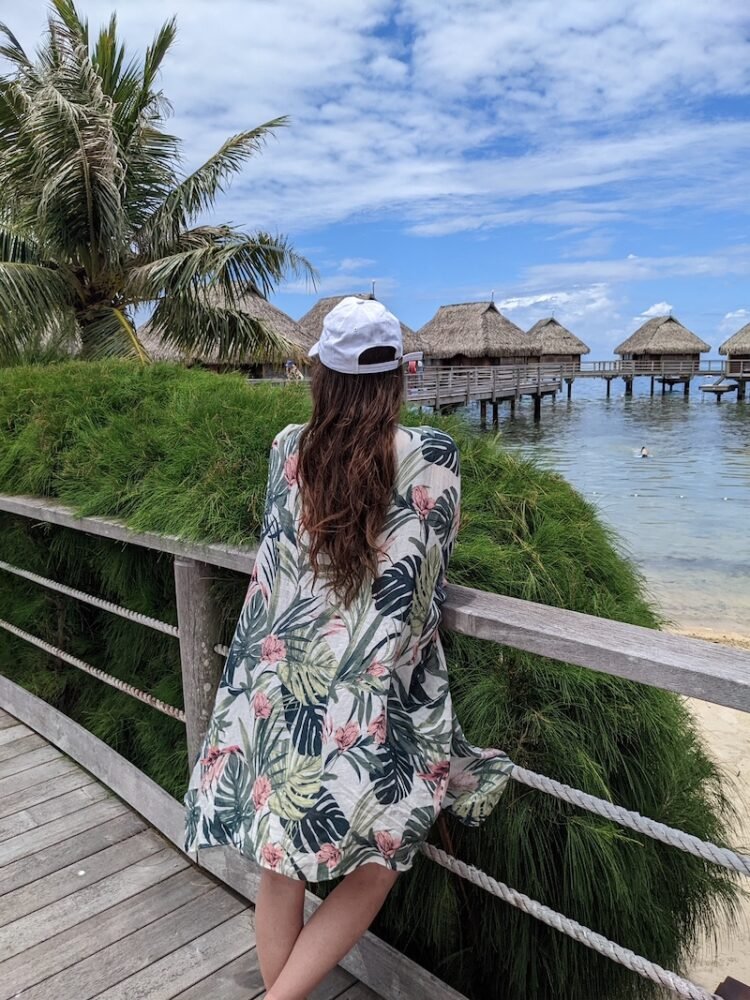 Tahiti only has one choice for overwater bungalows, at the Intercontinental Tahiti in Faa'a.
While this is certainly a great hotel, and I would have gladly stayed at an overwater bungalow there (wouldn't we all?), Moorea has three times as many options despite being a smaller island.
I detail all three of the overwater bungalows in Moorea in this guide, but suffice it to say you'll have plenty to choose from between the Sofitel, Manava Beach Resort, and the Hilton.
There's also plenty of other places to stay in Moorea if a resort isn't in your budget!
Choose Either Tahiti or Moorea for…
Snorkeling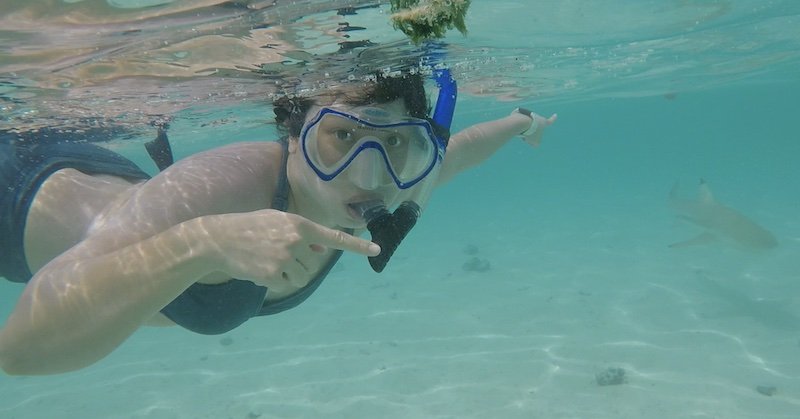 Both Tahiti and Moorea have incredible snorkeling, so if that's a priority for you, don't worry — you'll find great snorkel sites on both islands!
Moorea's most famous snorkel site is replete with reef sharks and rays, so if that's your primary motivation, Moorea's snorkeling may be better.
Meanwhile, Tahiti has a cool shipwreck that has turned into a coral garden, nicknamed the 'Aquarium' for its variety of life, so that may be a better alternative for you if you don't want to swim with tons of sharks and rays.
Both Tahiti and Moorea have really beautiful stretches of reef to snorkel in.
I loved the reef around Temae Beach, which is easy to access since it's part of a public beach.
I also loved the house reef at the Intercontinental in Tahiti, but that's only for guests, so I'm not sure how snorkeling is on other parts of the island.
Seeing Humpback Whales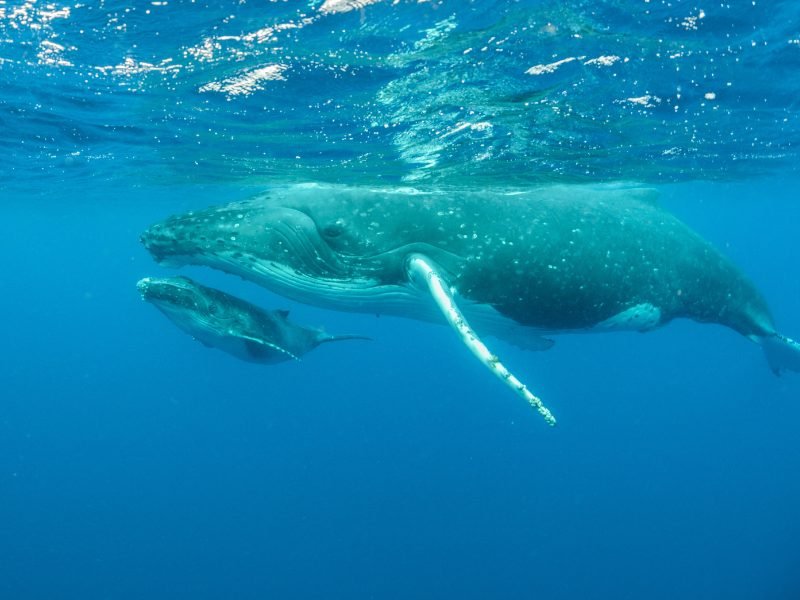 Both Tahiti and Moorea are prime spots for seeing (and snorkeling with!) humpback whales during the whale season (roughly July through the end of October).
One perk that Tahiti has over Moorea is that the whale season lasts just slightly longer.
The whales gather for their departure to new waters outside of Tahiti Iti (the southern peninsula part of Tahiti), so if you are visiting in late October or early November you have a better chance of seeing the whales on Tahiti.
However, during the rest of the whale season, you have just as good of a chance to get to snorkel with the humpback whales in Moorea as well as in Tahiti, so this is a draw between Tahiti vs. Moorea.
Scuba Diving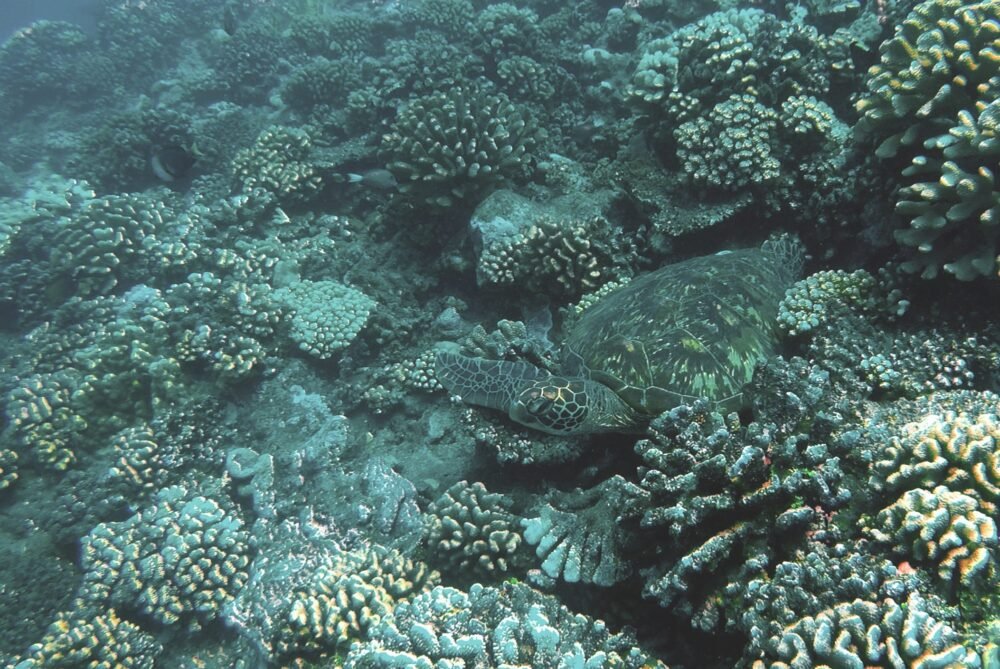 We dove in both Tahiti and Moorea and honestly — it's a draw between the two, I loved them both!
Moorea had some really cool dives, particularly the one where we got to see the coral formations expanding over the five 'fingers' of lava that had formed giant cliffs underwater!
We also were hoping to see the lemon sharks in Moorea, but we unfortunately weren't lucky enough to see them.
We did, however, see an unfathomable number of sea turtles (I stropped counting after 6).
Tahiti also had some really cool dives as well. I particularly liked the 'Source' dive spot, where we got to see an underwater spring blurring the water, making it look like an Impressionist painting as it shot out frosty-cold water.
There was also quite a current on this dive and we got the 'toilet bowl' effect, but if we had been a bit luckier with the current, we could have gone to a spot where there are frequently a lot of spotted eagle rays — one of my favorite things to see in the ocean!
I truly liked all the dives we did and can't really pick between Tahiti or Moorea here. Moorea sliiiightly edged out Tahiti for me, but only by a hair.
If you're diving, I promise you will like both…. but you really ought to go to Rangiroa or Fakarava, where I'm planning my next French Polynesia adventure this year!
Allison Green is a former educator turned travel blogger. She holds a Masters in Teaching and a B.A. in English and Creative Writing. Her blog posts merge her educational background and her experience traveling to 70+ countries to encourage responsible, enriching travel. She has been a speaker at the World Travel Writers Conference and her writing, photography, and podcasting work has appeared in National Geographic, CNN Arabic, CBC Canada, and Forbes, amongst others. Now a full-time traveler, she has lived in Prague, Sofia, New York City, and the San Francisco Bay Area.