If you're planning a trip to France this winter but are not in the mood for the cold, hectic energy of Paris, head south and visit the beautiful city of Toulouse in winter instead!
With its historic landmarks, renowned museums and delicious food, Toulouse in the wintertime offers a variety of indoor and outdoor activities that offer something for every traveler.
While Paris is famously referred to as the City of Lights, Toulouse is known as The Pink City, La Ville Rose, a name derived from the hue of Roman-era brickwoirk used in many of the city's landmarks.
Note: This post contains affiliate links, which means I may receive a small commission if you purchase something through one of these links. Thank you for supporting the free content on this site! For more information on affiliate links and cookies, see my disclosure page for more details.
When the sun rises in the mornings, it illuminates the city's architecture in soft shades of pink — absolutely stunning!
Its mild, southern winter makes Toulouse a perfect destination during cold weather seasons, especially as this formerly former hidden gem of France.
Often overlooked by tourists more focused on Paris, Bordeaux, and the Côte d'Azur, Toulouse is not so secret anymore — crowds can be a real bother in the summer (meaning that winter in Toulouse is certainly one of the best times to go!).
As one of the most historic cities in France, Toulouse is home to many museums, historic buildings and cathedrals which offer a variety of indoor activities perfect for cold weather!
Caught in the rain? You'll easily find refuge in one of many cafés, brasseries and restaurants, where delicious French Cuisine is served for a fraction of the Parisian prices.
Read on to discover our full guide of best things to do in Toulouse in the wintertime, including what to see, where to go, what to eat, and how to take full advantage of the city's love for the holiday season!
The Best Things to Do in Toulouse in Winter
Discover French cuisine culture at the central market.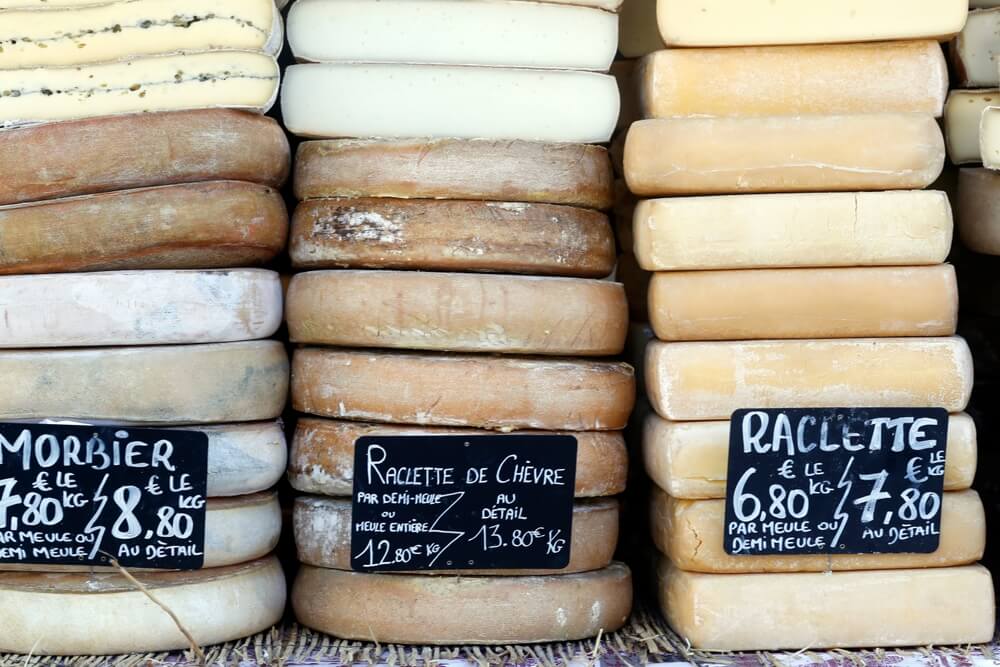 Le Marché Victor Hugo has been Toulouse's main market for more than 120 years.
Whether you're drawn into the indoor market to grocery shop like a local, or simply to enjoy a small meal or a drink in one of the excellent cafés or bars, you won't be disappointed.
Food is an essential part of French culture, and local markets are its truest features, in even the smallest villages.
If you visit just one market on your trip to Toulouse, the Marché Victor Hugo is highly recommended!
Intimidated by the prospect of navigating it on your own? There are guided food tours of the market like this one.
This 3.5-hour food tour is led by a local, showing you all the secrets of a working French market.
From tasting wines and cheeses to the city's best baguettes and unique regional specialties, this tour will give you a greater understanding of the Toulouse food scene.
Local specialities you'll try include chocolatines, delicious farm-to-counter foie gras, expertly crafted local cheeses, and exceptional charcuterie. You'll cap off the visit with a private wine tasting at a tonneau in the market!
Enjoy French wine and aperitifs.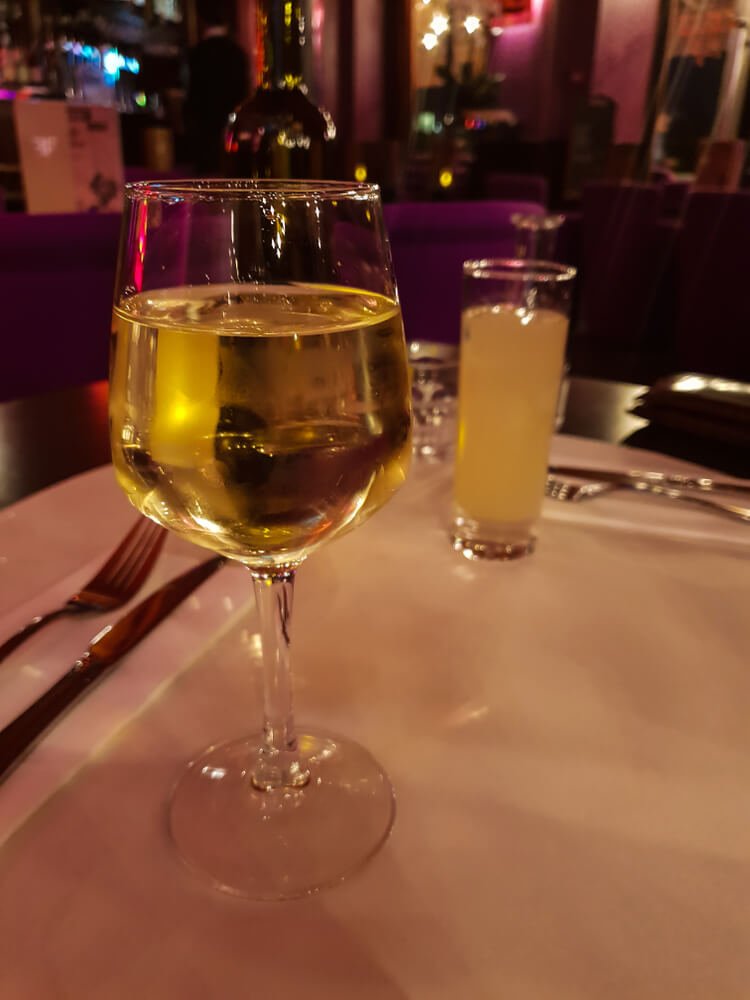 It's not a true French meal without an apéritif, a (usually alcohol-based) drink enjoyed before your meal.
And of course, that's followed by the digestif, enjoyed after the meal.
For your apéritif, head to the trendy Mama Shelter Hotel.
And if you're in the mood for a great drink after your meal, L'Apothicaire or DAda are both excellent.
You can also take an expert-led wine bar walking tour of Toulouse to help you get acquainted with the city's wine scene, which reflects the local viticulture of the surrounding area.
This tour explores the local apéro tradition of pre-dinner drinks with a 2.5-hour spin around Toulouse, trying three local wine bars and tasting the equivalent of three glasses of wine.
Don't expect boring wines here — you'll try unique regional varietals particular to Southwest France, like Braucol, Négrette, and Mauzac.
And of course, you'll pair everything with local charcuterie and cheese, because you're in France!
Admire stunning architecture of the Capitole.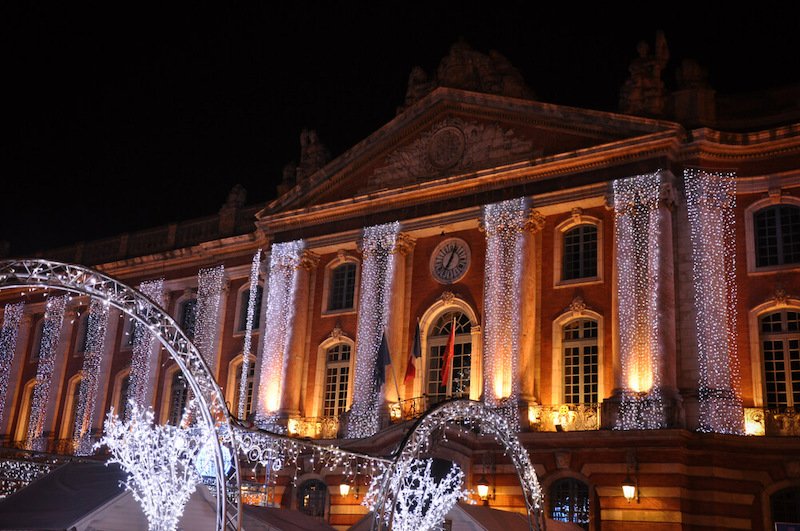 Construction of the city's main square and government center began in the 12th century.
As it was designed to serve as the consolidating government for the region's growing power, it's not a coincidence it was named after the Roman Capitol.
The emblematic building's façade is a masterpiece of neoclassical architecture starring the city's characteristic pink bricks.
Visitors can tour several opulent reception halls inside the Capitole featuring some of the finest artworks by Paul Gervais and Henri Martin.
As the Capitole is also the city's government center, you should check its opening hours before your visit.
The Place du Capitole, the former royal square in front of the town hall, hosts a variety of markets and events throughout the year, most famously during the festive season.
Bask in holiday spirit at the Place du Capitole Christmas Market.
Toulouse's Christmas Market is like a fairytale come to life!
Every year, in the month leading up to Christmas, the city's main square is transformed into a Christmas wonderland.
Wander around the many vendor chalets filled with unique, handcrafted Christmas goods while enjoying mulled wine.
Meander through the labyrinth of Christmas trees and you may even spot the city's very own Santa Claus.
Another fun highlight is the ice rink located in the heart of the Christmas Market.
There are ice skates available to rent and the price for admission is 5€ for 45 minutes.  
Take a day trip to Carcassonne.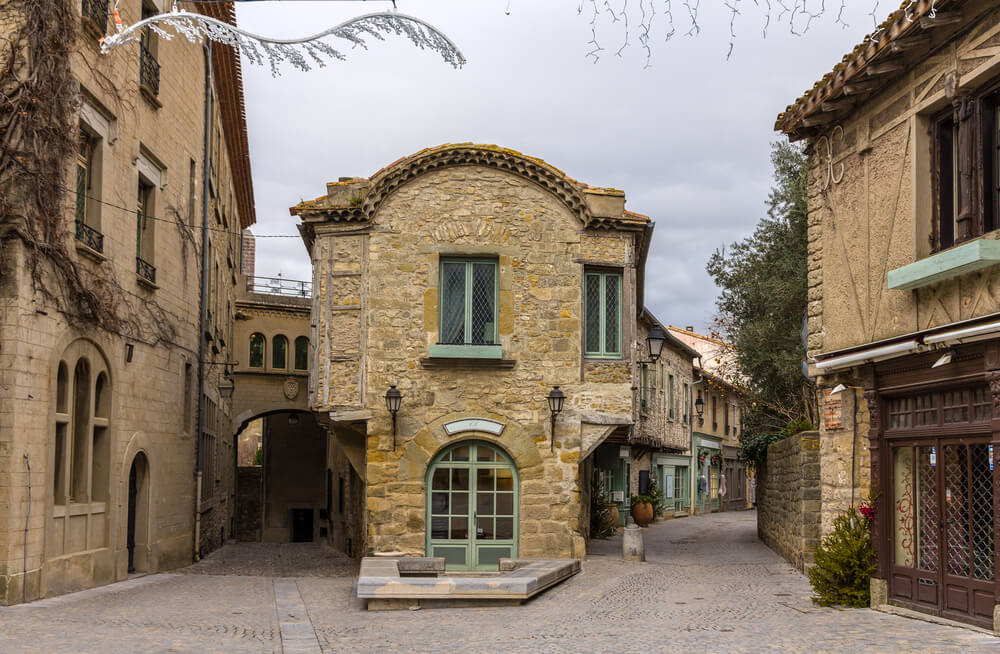 This fun day tour from Toulouse to the historic city of Carcassonne is the perfect way to spend a wintry day in Toulouse if you feel like you've exhausted the city's sights!
Step back in time as you explore renowned sites like the Cité de Carcassonne and the Saint Nazaire Basilica.
An easy one-hour drive from Toulouse, Carcassonne is a unique UNESCO-listed fortified city, home to sights like the Counts' Château and the iconic Ramparts.
This tour departs Toulouse at 9:30 AM and returns to Toulouse by 5:30 PM, just in time for a little bit of rest before dinner!
Become an astronaut at Cité de l'Espace.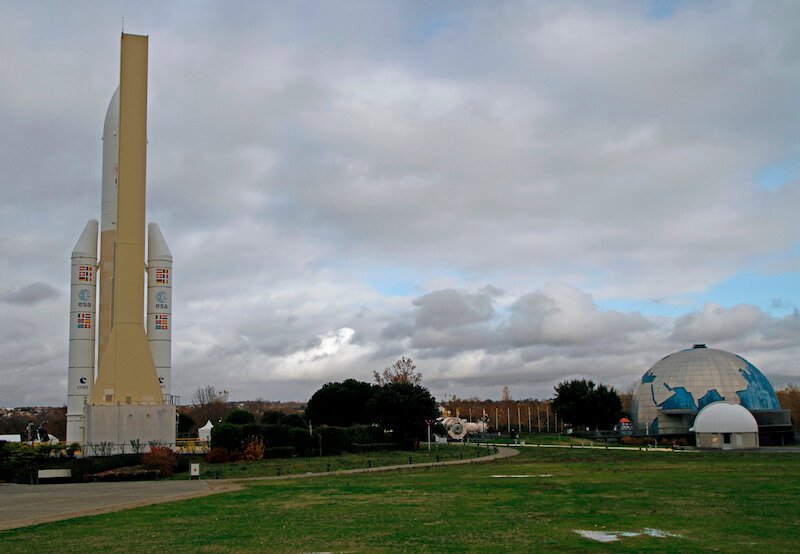 While you may not actually be able to lift off into space from the city's Space Museum, it's still an unforgettable experience that includes an outstanding planetarium.
You can easily spend a full day exploring the scientific wonders this museum has to offer. It's also a great indoor activity for children, if you are traveling with family.
The museum features original space travel engines and a rocket, along with fascinating overviews ofthe latest scientific discoveries.
An IMAX theater shows a variety of documentaries about space travel and exploration.
Keep an eye on the museum's website for special events hosted by the Cité de l'Espace!
Tickets are 23€ for adults, children and students pay a bit less.
Wander the Canal du Midi and River Garonne.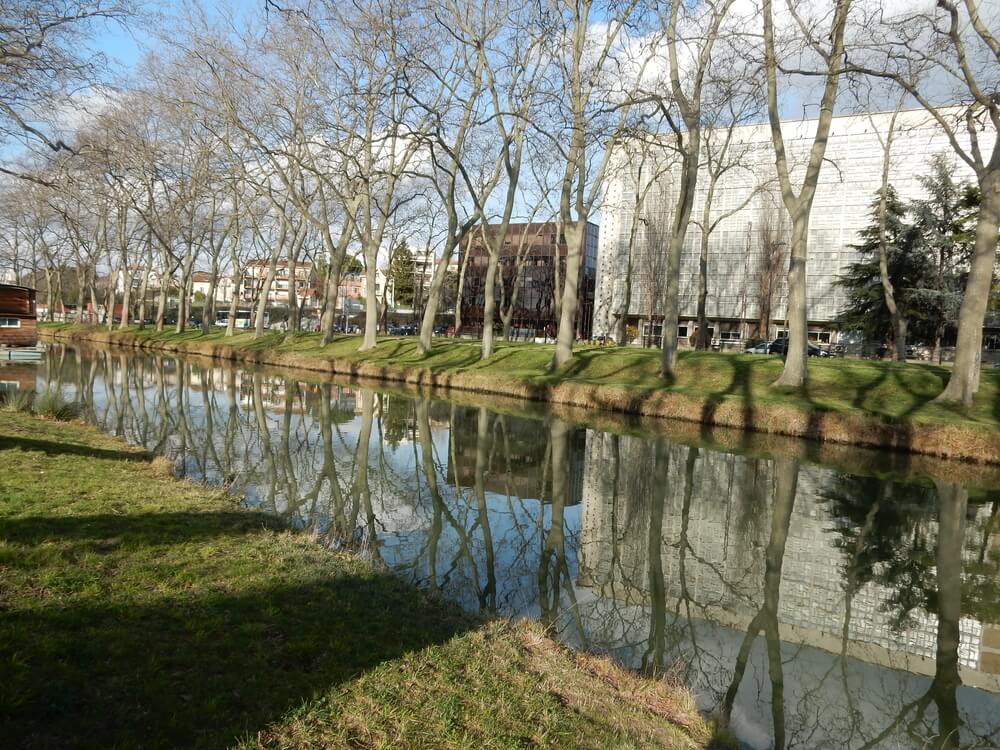 Winter weather in Toulouse is generally mild and ideal for long winter walks!
The Canal du Midi, which runs from the Mediterranean Sea to the Atlantic Ocean, was named a World Heritage Site by UNESCO in 1996 and is well worth a visit.
In Toulouse, the canal is framed by the Voie Verte, a green belt with walking and cycling trails that wind through the city, all the way to nearby villages in the beautiful surrounding area.
The river Garonne runs through the city itself, and its beautiful riverbank park is a favorite amongst locals and tourists alike for picnics or a strolls.
While the park is usually packed with people in the summer, wintertime finds it aa peaceful retreat of tranquility nestled in the heart of the buzzing city.
Treat yourself to a night at opera.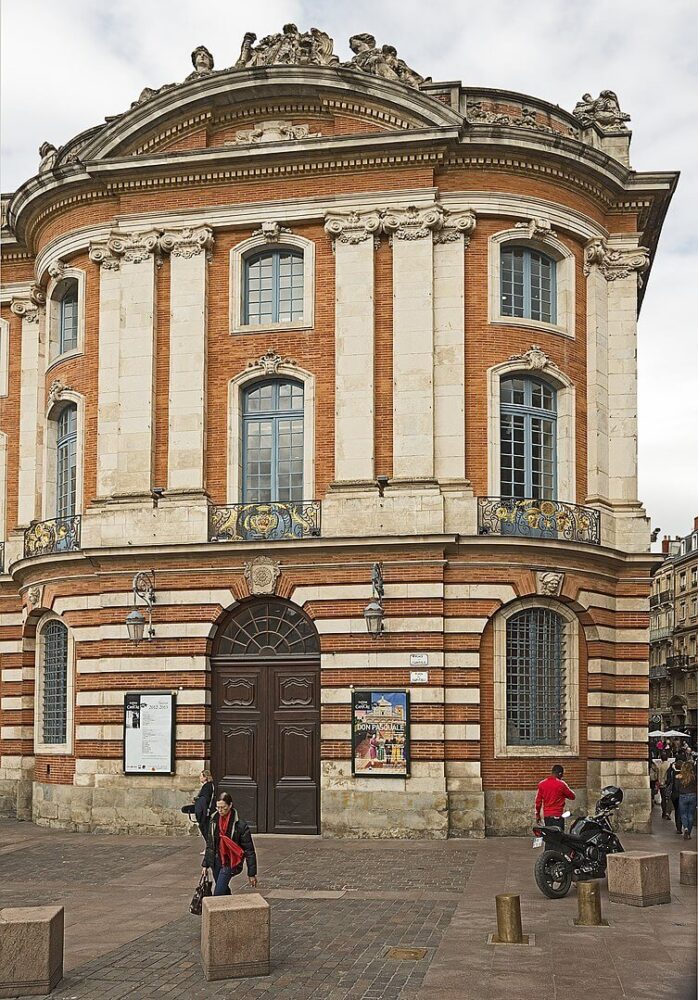 The aforementioned Capitole city center is also home to the prestigious Théâtre du Capitole, an opera house, ballet company and orchestra concert hall.
You don't have to be an opera connoisseur to enjoy a show at the Théâtre du Capitole, as their program offers a rich variety of classics, including Puccini operas and Romeo and Juliet ballet performances.
Check the theater's website for other special events, as there are often interesting artist talks, as well as seminars and workshops about the arts.
And during the winter holiday season, you can easily find themed concerts and shows.
Ticket prices range between 10€ and 120€, depending on the event and your seating preferences.
The stunning interior of the theater alone is well worth splurging for a special night out!
Experience the Southern French cuisine.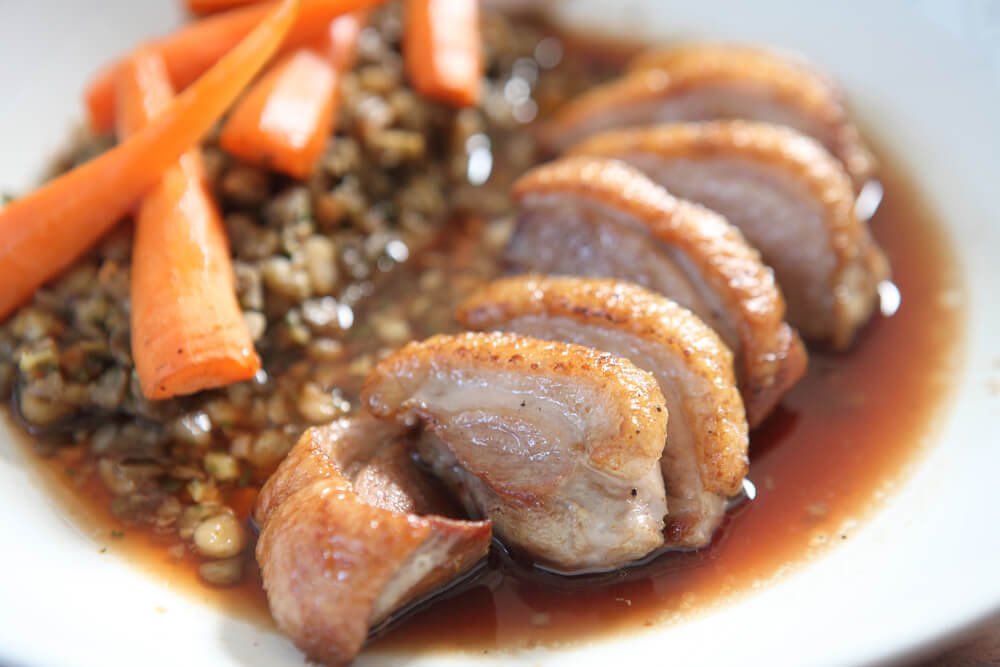 Even a true Parisian can't deny that some of the best French dishes come from the country's southern regions, particularly the southwest.
You may want to forget your healthy diet for a while, as the local cuisine is rich and often decadent.
If you try just one local dish, go for the confit de canard, duck cooked in fat for at least 2 hours and usually served with potatoes and garlic.
Magret de canard is duck breast cooked in butter, with meat that's slightly more tender, similar to roast beef.
Another iconic dish from this region is foie gras.
Served as a pâté or mousse, this duck or goose liver specialty has a buttery taste and is usually accompanied by bread as an entrée.
The dish is a French delicacy, though its production is controversial for animal welfare reasons.
Another dish very popular in rural areas of southwest France is cassoulet, a rich, meat-and-bean stew named after the traditional deep pot, or casserole dish, it is cooked in.
Trying to decide where to eat dinner on a frosty winter day in Toulouse? Here are our top picks:
For a traditional cassoulet, check out La Cave au Cassoulet, located on Rue des Peyrolières. The restaurant's unique decor and traditional cuisine make for a cozy experience.
If you're looking for more vegetarian options, La Faim des Haricots is the place for you. This trendy restaurant located not far from the Capitole offers a varied vegetarian buffet.
Le Genty Magre is a wonderful place to enjoy a good-quality meal. The chef made a name for himself by putting contemporary twists on classic French cuisine.
While not for the budget-conscious, Restaurant Michel Sarran is an incredible experience. This renowned, 2 Michelin-starred restaurant is easily the best in Toulouse. If you want to treat yourself to an exquisite meal, this is the place to go.
Immerse yourself in modern art at Les Abattoirs.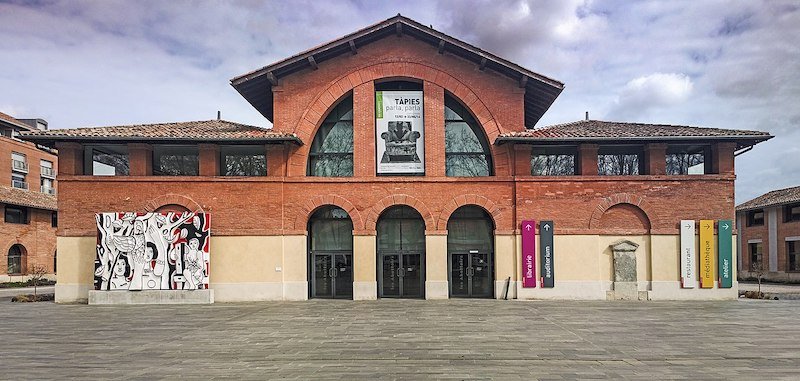 As the name suggests, this museum is located in a former industrial slaughterhouse, un abattoir, that was converted into an art center in the late 90s.
Its unusual architecture alone makes Les Abattoirs well worth a visit, but of course, the art is quite nice as well!
This museum is dedicated to modern art and contemporary art, featuring emerging new artists and well-known icons like Niki de Saint Phalle or Fernand Léger.
The museum's variety of exhibitions range from paintings to sculptures and photography.
The entry fee is currently set at 9€ with reduced prices for children, groups and students.
Check out the Nocturne des Abattoirs if you're in town on a Thursday – you'll get in for only 3€ after 6 p.m.
Learn about the regional language.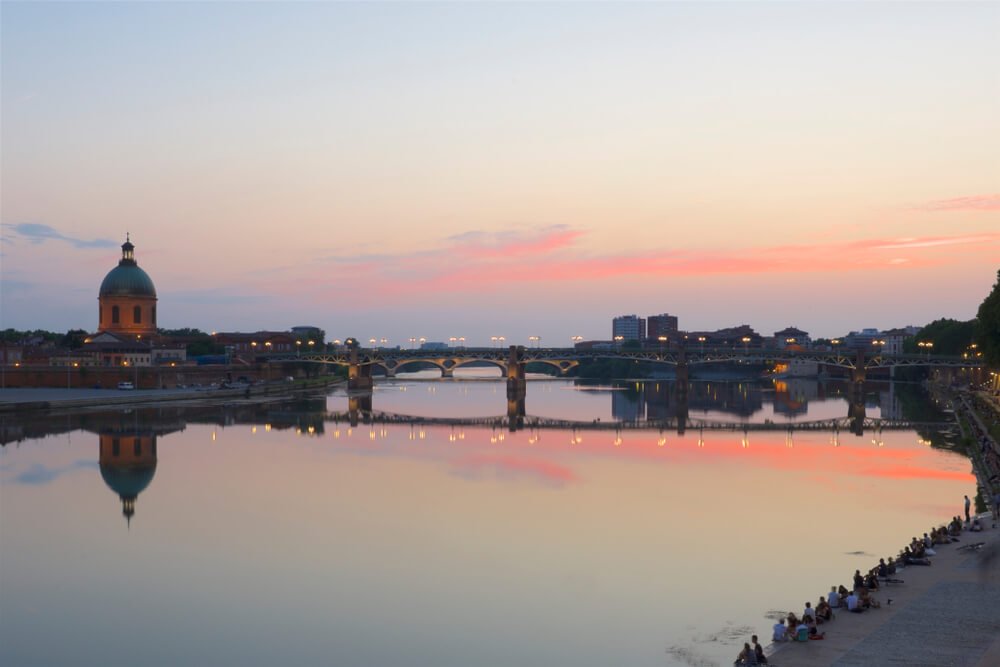 Not many people know that the Occitan language is spoken in Toulouse as it is throughout the south of France and Monaco, as well as in parts of Italy and Spain.
The number of native speakers of Occitan is so rapidly declining that UNESCO today includes Occitan on its list of endangered languages.
In order to preserve the region's linguistic heritage, many schools in the area offer courses in Occitan.
If you travel around southern France, you'll come across many signs indicating street and village names in both French and Occitan.
Why not learn a few words of Occitan on your trip to Toulouse?
Quick Language Tip: If you've ever ordered a pain au chocolat (chocolate bread) in the northern parts of France, don't try to do the same in Toulouse!
Here the pastry is exclusively called a chocolatine, and the locals take this distinction very seriously.
Warm up in Toulouse's oldest café, Le Bibent.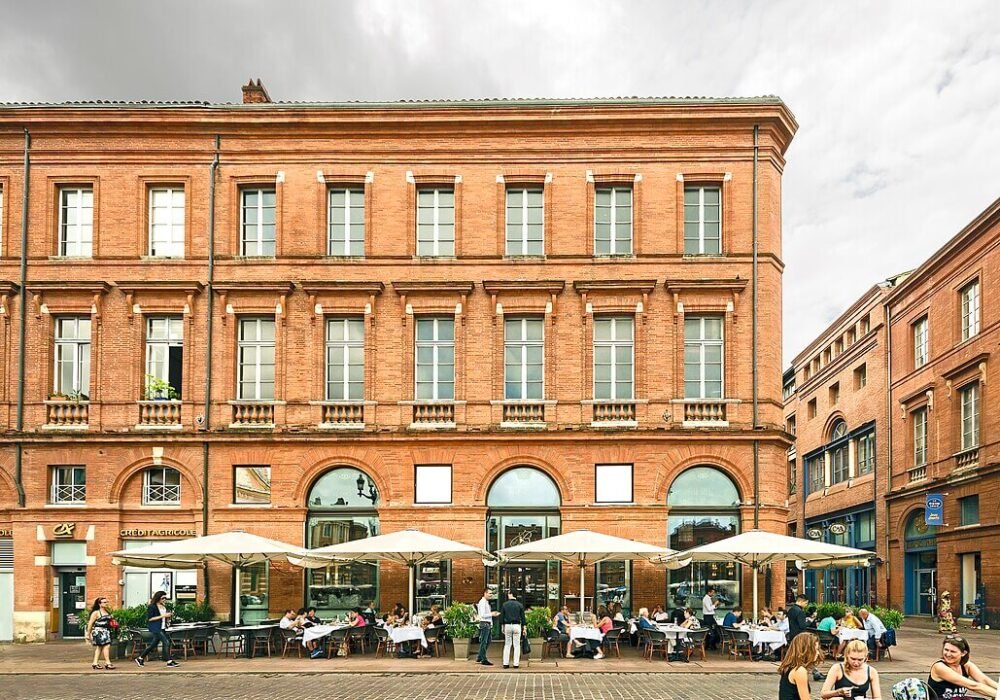 Ideally located at Place du Capitole, Le Bibent is the oldest café and brasserie in Toulouse.
Stop here for a delicious café au lait or a chocolat chaud (hot chocolate).
Opened in 1843, Le Bibent's decor is breathtaking, with both baroque and modern elements.
Linger for a while and imagine yourself traveling back in time to the Belle Epoque, surrounded by the artists, writers and painters who made Le Bibent a local legend.
Travel back in time through the Basilica of Saint-Sernin.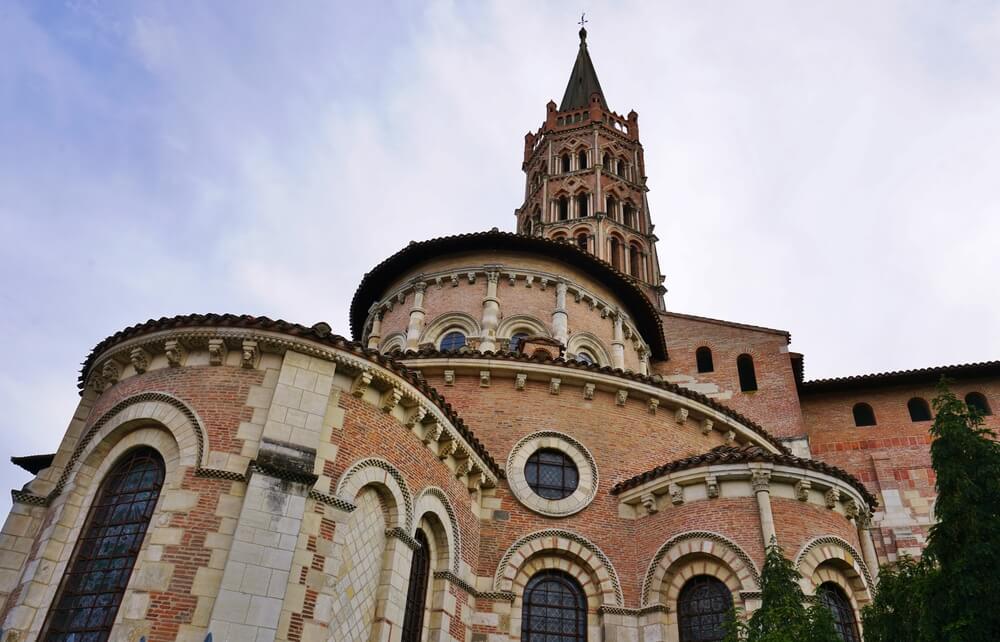 The most prominent church in Toulouse is one of the most well-preserved Romanesque edifices in the world, as well as being a UNESCO World Heritage Site.
Built between the 11th and 12th century, the architecture of this church is simply stunning. The church is also part of the Route of Santiago De Compostela, a network of Catholic pilgrimage routes.
If you're visiting on a sunny day, make sure to also stop at the Couvent des Jacobins, a Dominican monastery built in the 13th century, with a beautiful garden in the heart of this historic monument.
Come in from the cold for retail therapy.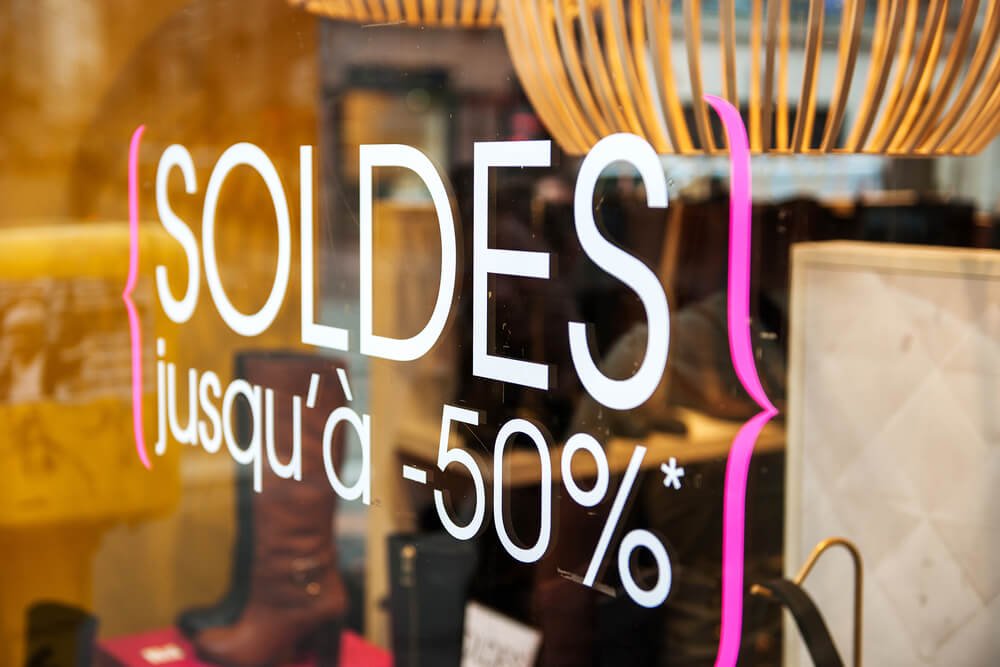 If you visit Toulouse in January, you'll find great deals everywhere!
Les Soldes, as this mega-sale is called in French, are almost a cultural institution in France, with every shop and every boutique offering great deals on their winter collections.
And Toulouse is a great city to shop until you drop!
The Rue Alsace-Lorraine is the main shopping street where you'll find all the high street brands.
Nearby, the Rue Croix-Baragnon is home to prestigious designers and luxury boutiques, while Galeries Lafayette is your destination for an eclectic mix of designer French accessories and all things beauty supply.
Where to Stay in Toulouse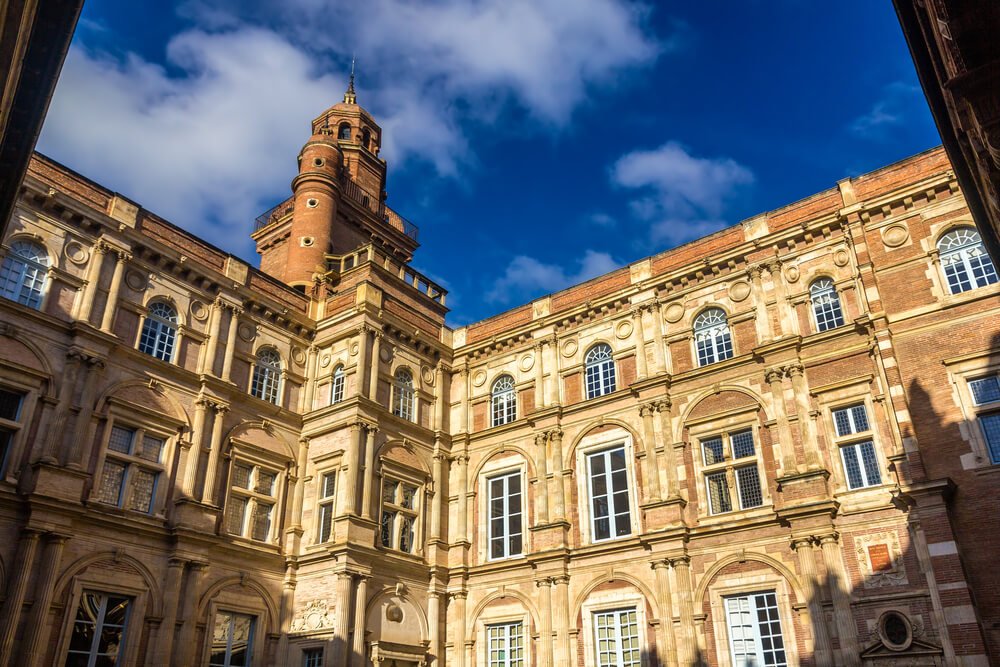 The Grand Hotel de l'Opera offers a luxurious sanctuary in the heart of Toulouse, with colorful, aesthetic rooms with tons of personality, right on the bustling Capitole Square.
Known for its refined aesthetic that blends historical charm with modern comfort, the hotel provides its guests with impeccable service, gorgeous rooms, and convenient access to the city right at your doorstep
The lovely four-star Boutique Hotel SOCLO has gorgeously designed rooms in charming pastel tones, modern bathrooms, and sumptuous daily breakfasts — all just a few blocks from the Garonne River.
The overall vibe is extremely elegant yet laid-back, exuding that classic Southern French charm everywhere, down to the L'Occitane bath products!
The laidback Hotel Wilson Square is a no-frills but well-reviewed hotel in the center of Toulouse, a 15-minute walk from the train station and 200 meters from Place du Capitole.
Its rooms aren't necessarily anything to write home about, but it's clean, convenient, and central!
Protect your travel investment!

Travel insurance coverage helps you recoup your losses in case of emergency, accident, illness, or theft.

I rely on SafetyWing for coverage when it comes to trip interruptions and cancellations as well as accidents and medical emergencies.

It offers great rates starting around $12/week with clear, easy-to-read coverage.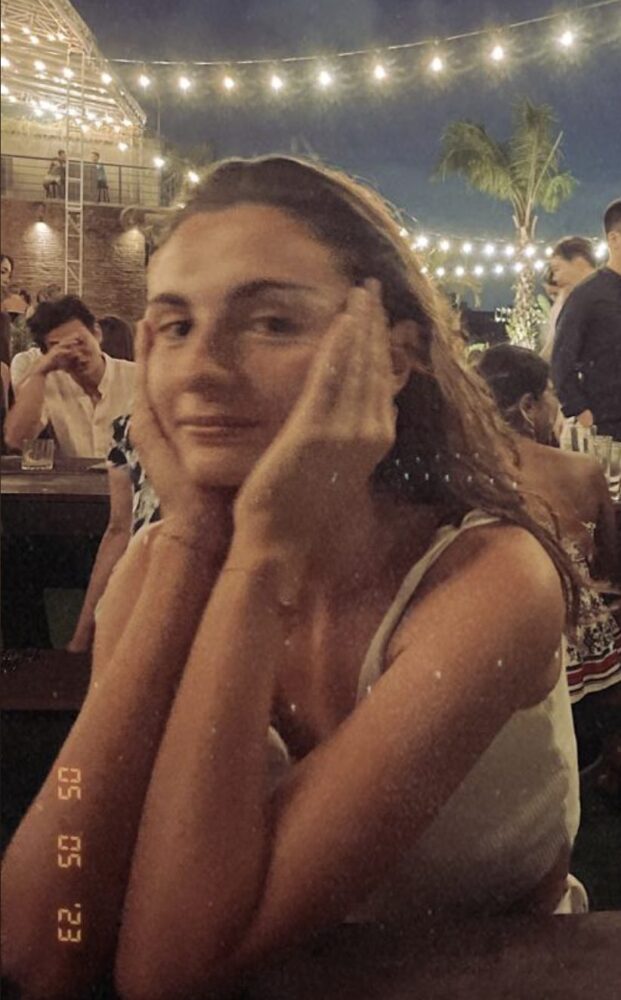 Anna is 20-something writer from France, currently living on the beautiful island of Bali. After earning a degree from Sorbonne Université in Paris, she spent a few years working in fashion before embarking on what was supposed to be a 1-year trip through Europe, North Africa and Asia — which ultimately turned into moving to Bali. Aside from traveling and writing, her passions include surfing, film photography, drinking unhealthy amounts of coffee, and reading through the night.