Colmar is possibly the most picturesque town in Alsace — a high distinction in a region that counts Riquewihr, Strasbourg, Kayserberg, Obernai, and Eguisheim amongst its neighbors.
With its half-timbered colorful houses, its labyrinth of alleyways, its canal, its artisan shops, not to mention its cute cafés and rustic eateries, Colmar really looks like a fairy-tale village straight out of a Disney movie!
For full transparency, visiting Colmar in winter is not warm — but that's probably no surprise here.
Note: This post contains affiliate links, which means I may receive a small commission if you purchase something through one of these links. Thank you for supporting the free content on this site! For more information on affiliate links and cookies, see my disclosure page for more details.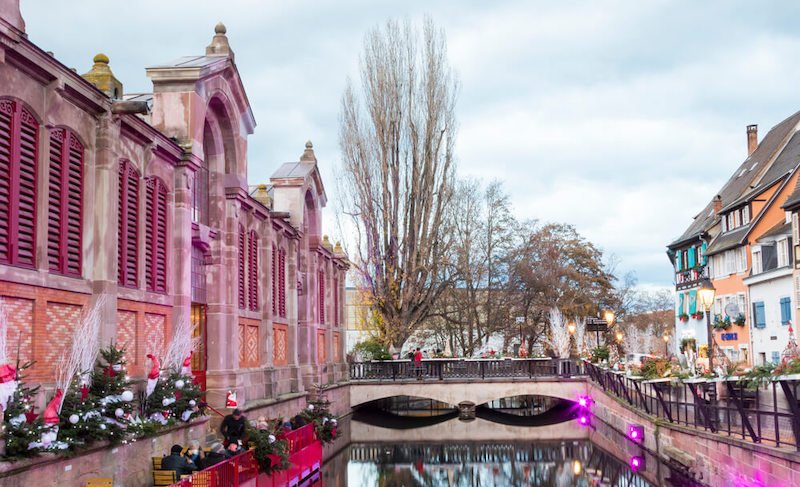 However, there is just something about Colmar that feels like a warm, cozy, comforting embrace — they've got the concept of hygge down, the same way Nordic capitals like Copenhagen, Stockholm, and Helsinki do.
And don't underestimate this town! There are actually a lot of things to do in Colmar in the winter, beyond just its Christmas market.
Sophisticated art galleries, delicious cuisine, culture, history, shopping, the Statue of Liberty … Wait, what ?
Read on to discover all the best activities to do in Colmar in winter!
Colmar in Winter: 17 of the Coziest Things to Do!
Explore the unique architecture (and the story it tells) in the Old Town.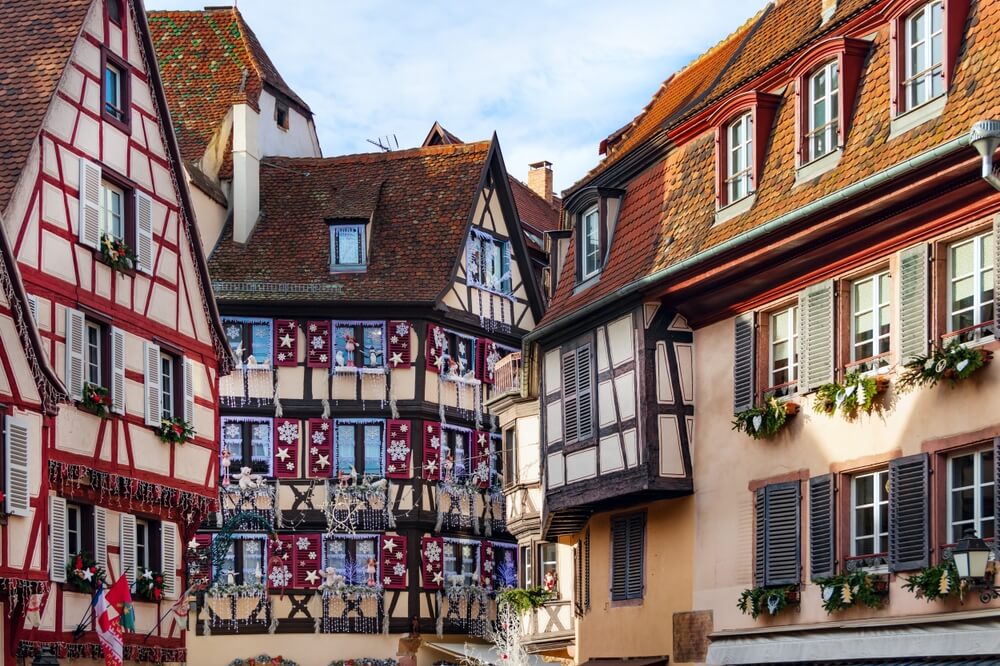 One reason that the look of Colmar and the Alsace region is so unique compared to the rest of France is that it has been subject to numerous territorial disputes between France and Germany.
The history of Alsace (and Lorraine as well) is a tumultuous one, marked by an ever-changing ruling and a struggle for identity.
Today, Alsace, and especially Colmar, boasts a unique fusion of German and French influences, with many locals speaking both languages.
The power struggles in Colmar's history have forged a prominent impact on the architecture, the cuisine, and the culture.
As you'll explore the Old Town of Colmar, called La Vieille Ville in French, you'll quickly notice the German influence in the structure of the many timber-framed houses and buildings.
But it's not all Germanic vibes: on the other hand, the squares and the overall layout carry that very distinctive French touch.
The half-timbered structures retrace their history all the way back to the medieval times, creating that dreamy fairytale mood that Colmar is famous for.
The Old Town features a variety of lively market squares, most prominently the Place de l'Ancienne Douane and Place de la Cathédrale.
Try the best of Alsatian cuisine.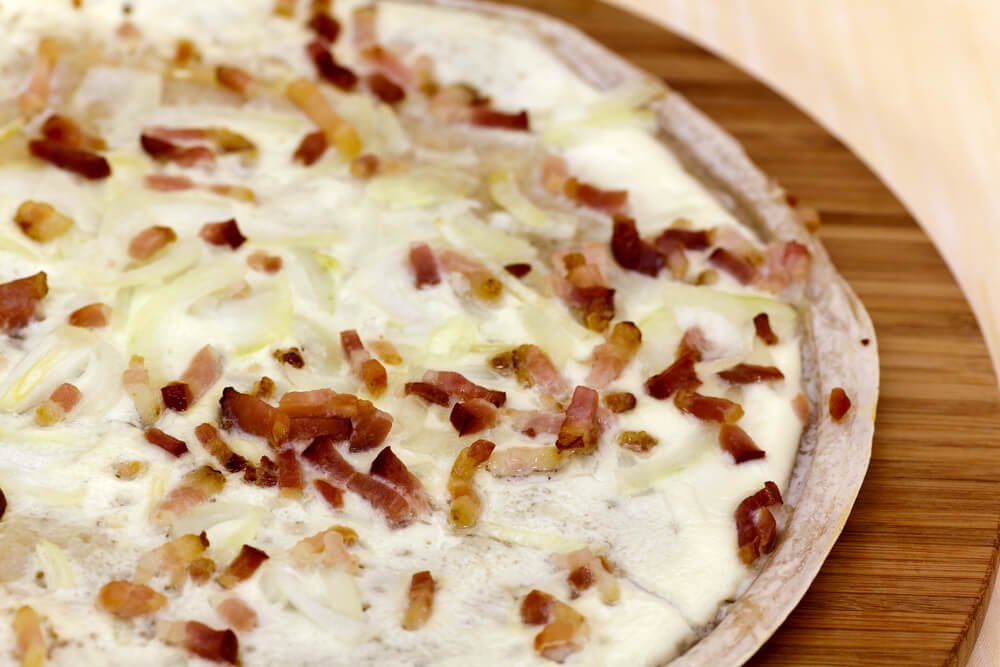 Arguably, the best thing to do in Colmar on a cold winter day is to indulge in some delicious Alsatian cuisine… all in the name of research, of course.
Just like its culture, traditions, and architecture, the cuisine in Alsace is a fusion of its influences: a mixture of pared-back, sophisticated French flavors and more hearty, rib-sticking German dishes.
Flammkuchen is probably the most famous dish in Alsace, and definitely worth a try when you're visiting Colmar (in any season, but it's especially satisfying in winter).
Called Tarte Flambée in French, it is similar to a pizza, with a thin, crispy dough and crust, topped with bacon, onions, and crème fraîche in its original version.
Want a spin on the classic? It also comes in delicious variations with mushrooms and different cheeses.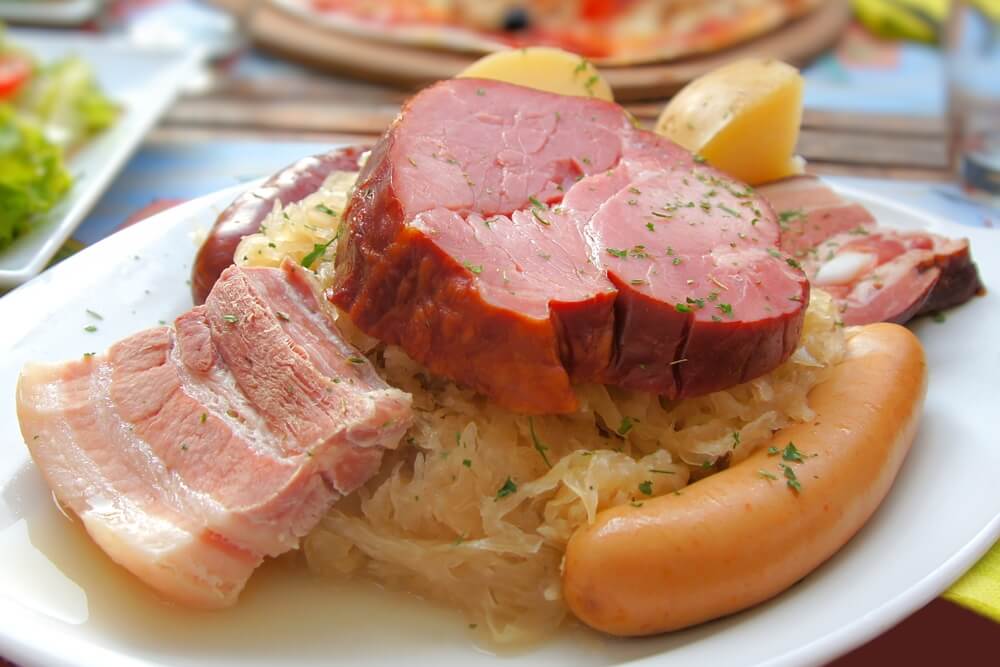 Sauerkraut, which is written as Choucroute in French, is widely used in Alsace and neighboring Germany.
It's basically a salty, fermented cabbage, which can be accompanied by all sorts of meat (sausage shines especially bright here) and is typically also served with potatoes.
Another thing you may want to try in Alsace that is lesser-known is Baeckeoffe, a traditional casserole with slow-cooked meat, marinated in spices, onions, and potatoes. Perfect to warm up on a cold day!
Eat some tasty Alsatian sweets.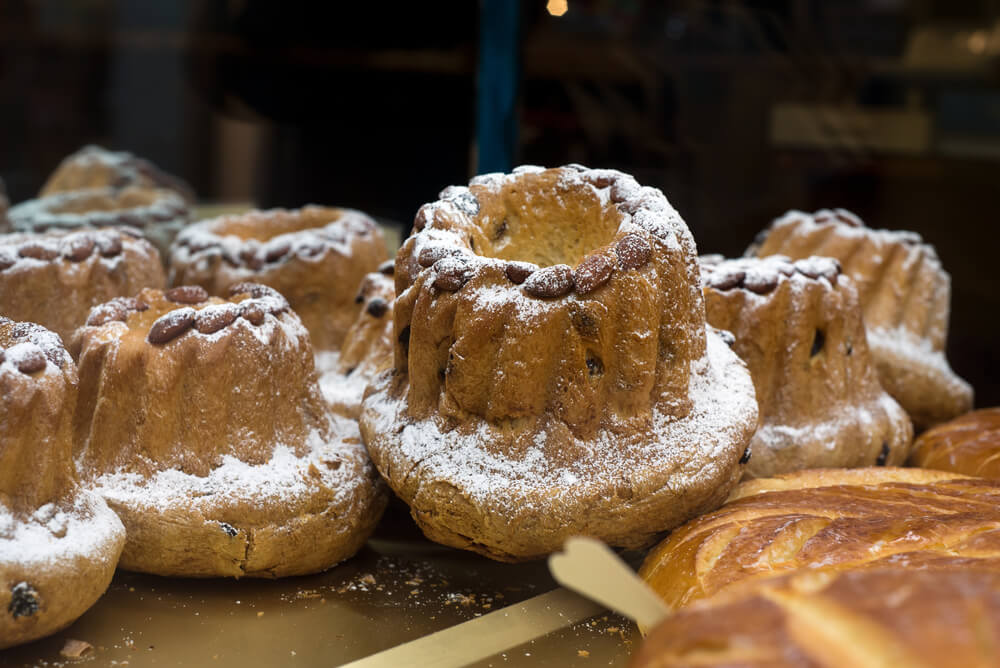 Got a sweet tooth? Kugelhupf is a typical Alsatian cake, baked in a special bundt-like mold which gives the cake its name.
Similar to French brioche, it has a soft texture, sometimes prepared hearty with raisins, and sometimes spiced up a little with some lemon zest and dusted in sugar.
Another treat, Bredele, are specifically made for the festive season in Alsace, similar to traditions in Germany, where they're called 'Plätzchen'.
Bredele are sweet biscuits or cookies, shaped in various forms, usually involving a lot of butter and sugar (like all the best cookies do!).
For even more sweet action, you can visit Choco Story Colmar, where you can visit the chocolate museum or even take a 45-minute chocolate-making class!
Go shopping at the Colmar Covered Market.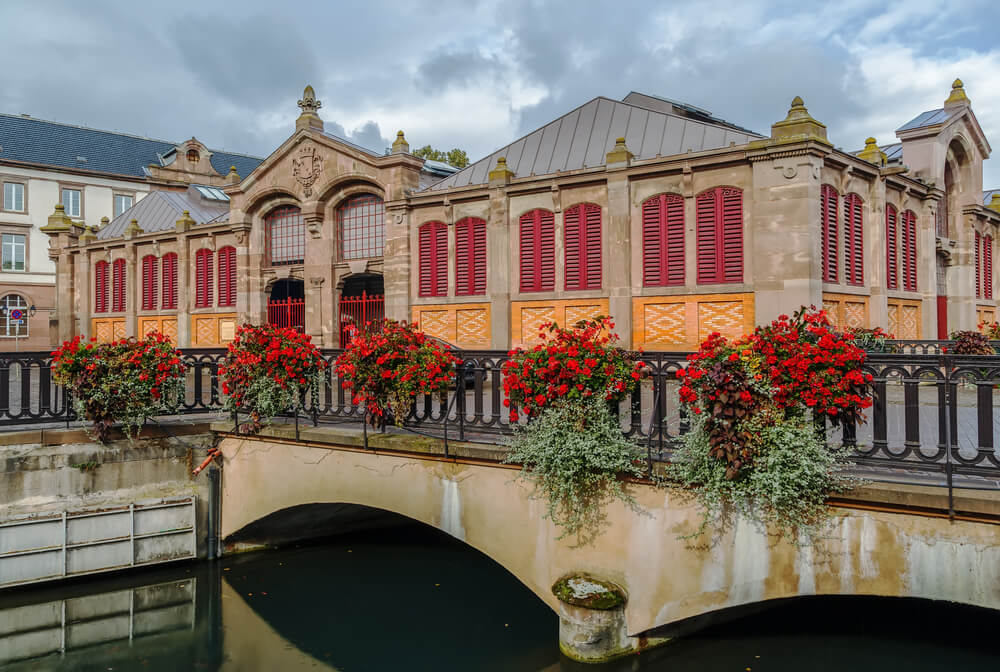 The Covered Market or Le Marché Couvert de Colmar is the heart and soul of Colmar's food scene. If you are a foodie, this is your paradise!
The market should be high on your list when visiting Colmar, especially in winter!
Whatever the weather is like, you can shop here all year round since the market is entirely covered from the outside elements.
The endless variety of vendors assemble the best of authentic Alsatian products, all locally sourced.
Curated by the artisanal traditions and expertise of the local farmers, this market is a great emblem of Colmar's heritage and culture.
Aside from the obvious shopping you can do, you can just as well come here to have breakfast, lunch, or a snack.
The market hall is lined with restaurants and bars, inviting locals and tourists to come for a drink or a meal.
Soak in the lively atmosphere, watch the locals go about their day, enjoy a coffee, do some shopping, try some new food — honestly, Colmar's market is always worth a pause.
Visit the stunning St. Martin's Church.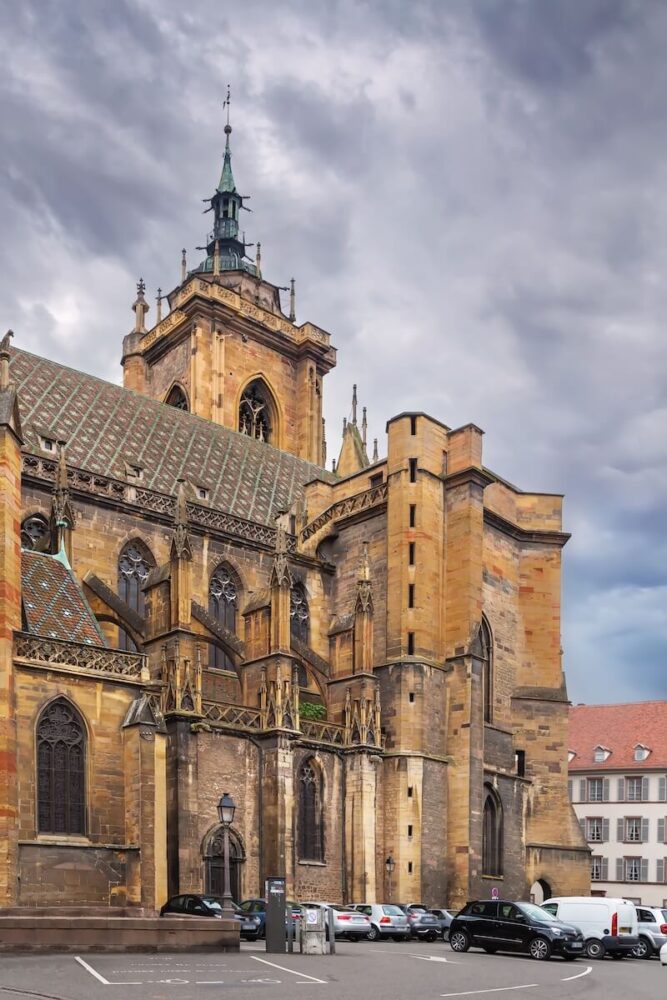 The stunning La Cathédrale Saint-Martin was originally built in the 13th and 14th century in the typical Gothic architecture of the time.
But in the 16th century, a fire destroyed parts of its structure, forcing consequential renovations and decades of restoration — creating a unique hybrid situation.
As you can see, the original built is still apparent today. From the outside, you can easily spot the typical arches and the sculptures adorning the cathedral, and the interior is rather impressive.
The Saint Martin Cathedral is well worth a quick visit, and lucky for your wallet, entry is free!
Wander around picture-perfect Little Venice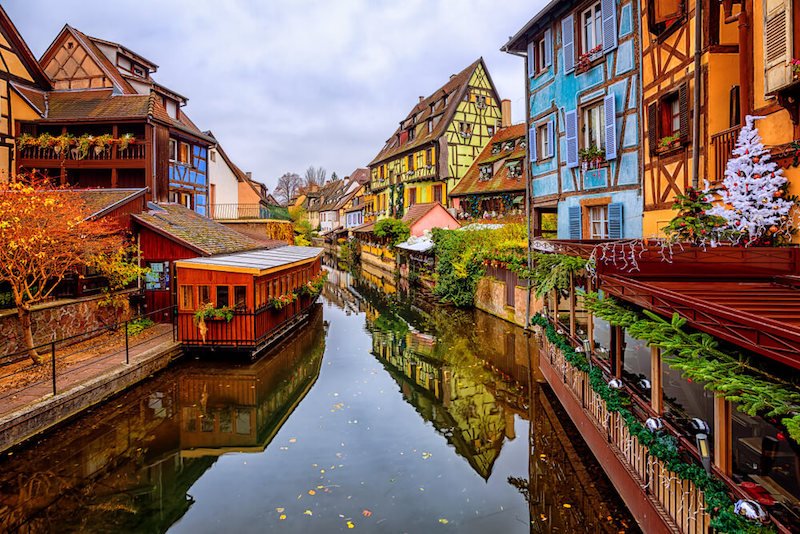 If you've ever Googled Colmar before, Little Venice is usually the top search result when it comes to images.
This is where all the typical features of Colmar are most prominent — and it's what makes the town feature so high on many people's list of the top French towns and villages!
With the crisscrossing canals and the colorful houses that date back to the Middle Ages, exploring Little Venice almost feels like walking through Cinderella's hometown!
You'll find an array of cozy cafés, bistrots and restaurants in this area. If it gets too cold, you can easily find a cute little coffee shop to hide from the chill outside!
It's also the most photogenic part of Colmar, so make sure to have your camera ready for an unstoppable number of Instagram snaps!
Get in the festive spirit at the Christmas Market.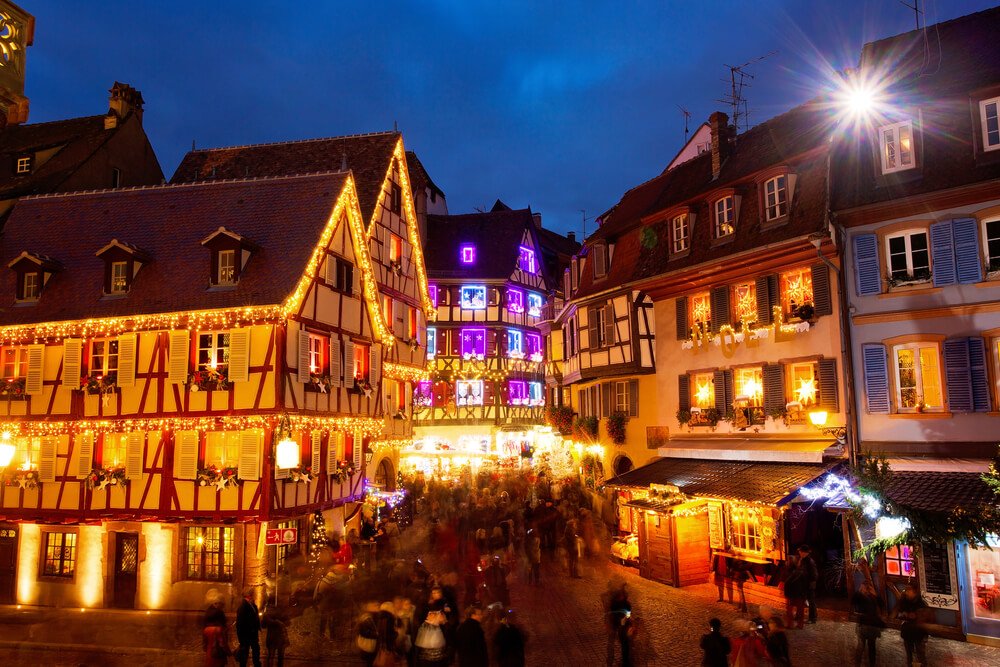 One of the perks of the German influence in Alsace is the amazing Christmas Markets.
You've probably heard of Strasbourg's Christmas Market (or read about in our guide to Strasbourg in winter), which is amongst the oldest and most important in Europe.
Colmar's actually has several Christmas markets, spread across mainly the Old Town and Little Venice areas.
This makes for a more intimate, authentic atmosphere, compared to the bigger markets in Alsace.
Colmar loves Christmas. It's a serious affair!
The Old Town is positively beaming (almost blinding) with festive lights and Christmas decorations, while a seemingly-infinite stream of vendors and chalets selling their wares line the streets.
Aside from the typical Christmas market shopping, you'll find delicious Alsatian street food specialities to warm your heart from the cold.
Don't miss the cookies, aromatic roasted almonds, and, of course, mulled wine (vin chaud in French, glühwein in German).
There is also usually an ice skating rink set up on Place Rapp at the end of November. Prices vary, but shouldn't exceed more than a few euros.
Explore more Christmas markets on a day tour (of three countries!).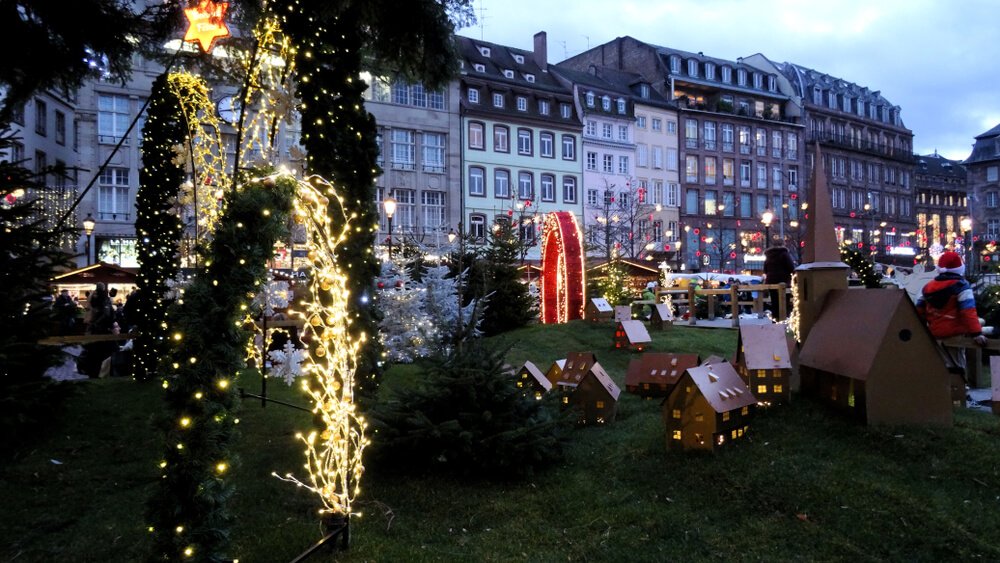 Not enough Christmas market action?
This international Christmas market tour will bring you to three different Christmas markets… in three different countries (great for country counters — I see you, I am you!)
Start by visiting the fortified town of Neuf-Brisach in France, also part of the Alsace region. It's a UNESCO site, plus its Christmas market is adorable!
You'll cross your first border of the day to head into Germany, where you'll visit the excellent Christmas market of Freiburg, a sight definitely worth seeing.
And then there's one final border to hop — Basel in Switzerland, where you'll see its dazzling Christmas market all lit up at night when it's at its most festive.
Three countries and three Christmas markets all in one easy day — that's what I call convenience!
Learn about the origins of the Statue of Liberty.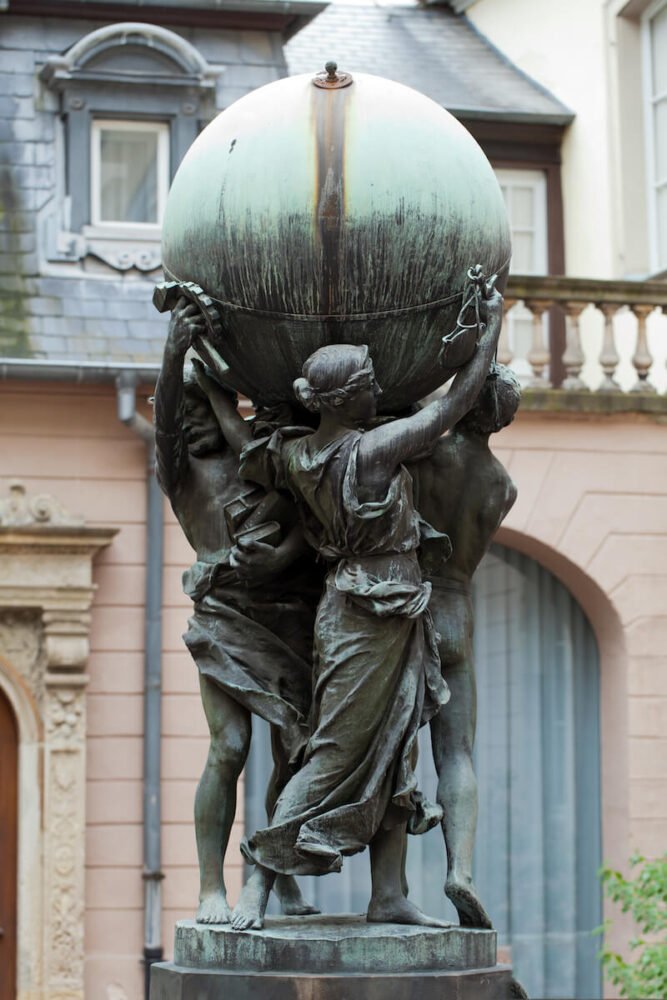 Did you know that New York's Statue of Liberty has its roots in Colmar?
In fact, Colmar is the birthplace of French sculptor Frédéric Auguste Bartholdi!
Bartholdi grew up in Alsace before moving to Paris to study.
He traveled to Egypt and Yemen, notably to pitch ideas for grand monuments at Port Said, all of which were declined — but that would later lead to his greater feats of architecture later in his life.
Eventually, in 1871, Bartholdi arrived in America and was quickly inspired.
The idea for the now-iconic New York monument was allegedly presented by a French historian (whose identity isn't really clear) as a celebration of the first 100 years of American Independence.
This was partly to serve as a symbol of French-American friendship (and let's be honest, probably partly a thumbing of the nose at England!).
Eventually, the copper statue was gifted to the United States by the people of France in 1886.
Bartholdi created the design of the statue, while Gustave Eiffel (who also designed the Eiffel Tower) built the structure.
In Colmar, you can visit the Bartholdi Museum, which retraces the life and work of the sculptor from Alsace, including his famous work Les grands Soutiens du monde from 1902, meaning "The Great Supporters of the World" in English.
Note that the museum is closed in January, so if you're visiting Colmar in January, it's a no-go.
That said, It's open from 1st February to 31st December. Entry is around €5.
Check out the Quartier des Tanneurs.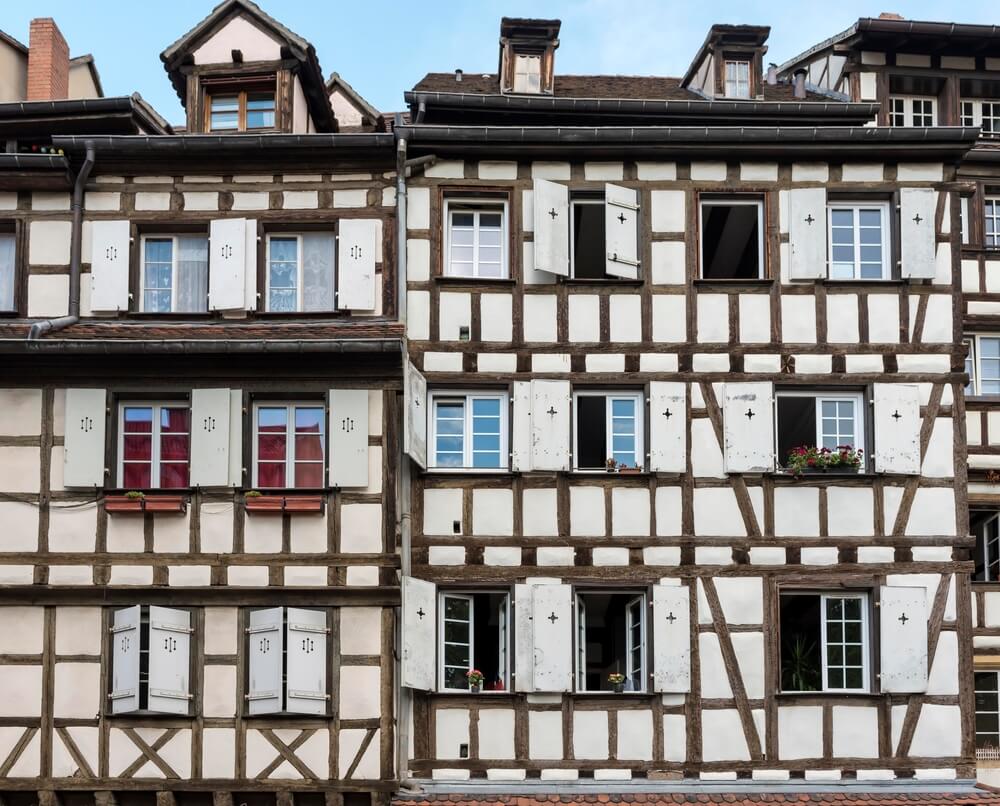 In past centuries, the town of Colmar, as well as Strasbourg, was an important hub for leather production and refinement.
The Quartier des Tanneurs is named after the leather artisans (tanners) who worked and lived here, laboriously dying and tanning leather for all sorts of pieces.
Today, the cobblestones and historic streets offer a glimpse into Colmar's past, preserving all its charm!
As you walk along the timbered houses, it's easy to imagine what life must have been like hundreds of years ago – minus the tourists, of course.
Le Quartier des Tanneurs spreads from Rue des Tanneurs to Place de l'Ancienne Douane and makes a lovely winter walk.
Stop at Koïfhus on Place de l'Ancienne Douane.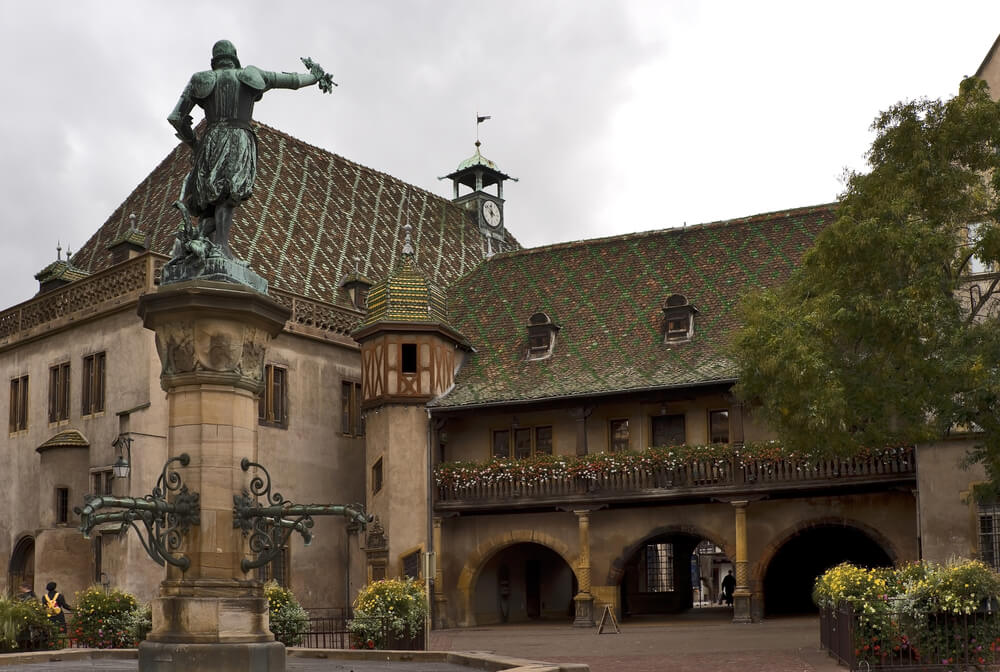 As you'll reach the very lively Place de l'Ancienne Douane, one landmark is bound to catch your eye: the Koïfhus, otherwise known as l'Ancienne Douane.
This area used to be the business center of Colmar, with this particular building serving as the Chamber of Commerce and Industry — well, up until 1930.
Prior to that, it was a meeting point for the deputies of Alsace, a warehouse, a bank, and home to the Magistrate.
Amongst its many purposes, Koïfhus was also used to handle customs (hence the word 'douane', which you may have noticed means 'customs' from visiting French airports!) — particularly as it enjoyed an ideal location at the junction of two main commerce streets.
Today, it is the oldest public building in Colmar and still used for various events and town meetings!
Its surrounding vibrant square is lined with cafés, restaurants, and shops, placing it at the center of Colmar's culture, and it's extra cozy in the wintertime.
Hide from the cold at Unterlinden Museum.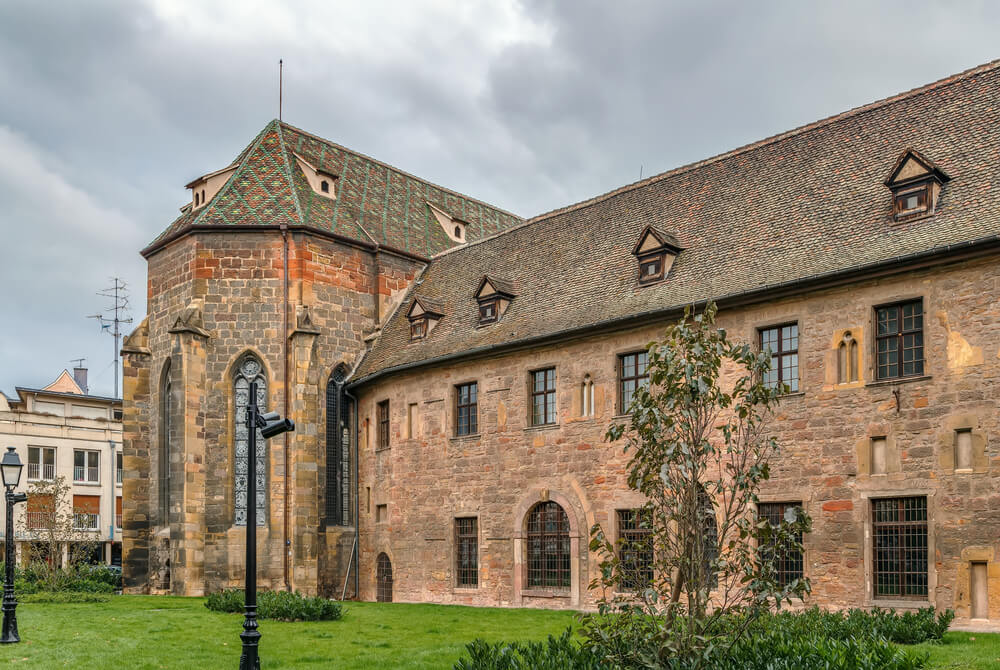 The Unterlinden Fine Art Museum is built within a beautiful Dominican convent in the heart of Colmar.
Important recent renovation words have included the addition of a secondary building, connected to the main entrance via a submarine gallery, that runs underneath the canal – which is pretty cool if I do say so myself!
This new gallery has three exhibition spaces, which means more room for the rather extensive permanent collection of the museum (a win win!).
For architecture geeks, you won't be disappointed: the museum combines Gothic and Renaissance styles, reflecting the structure's 13th-century roots as well as the subsequent renovations and modernization.
The Unterlinden features an impressive collection of art works from various eras. The most prominent piece is the Altarpiece of the Dominicans, an important work by the German artist Matthias Grünewald.
Completed in the late 15th century, the altarpiece was originally made for the Dominican Church, depicting a series of images from the Passion of Christ.
Unterlinden is also home to a myriad of archaeological and historical artifacts.
Combined with the masterful paintings, the Fine Art Museum pays homage to Colmar and Alsace, showing its multifaceted history through the lens of art.
Entry is €13 or €15 with an audio guide — it's definitely worth the extra two euros to have an understanding of what you're seeing, according to me.
Visit the Dominican Church of Colmar.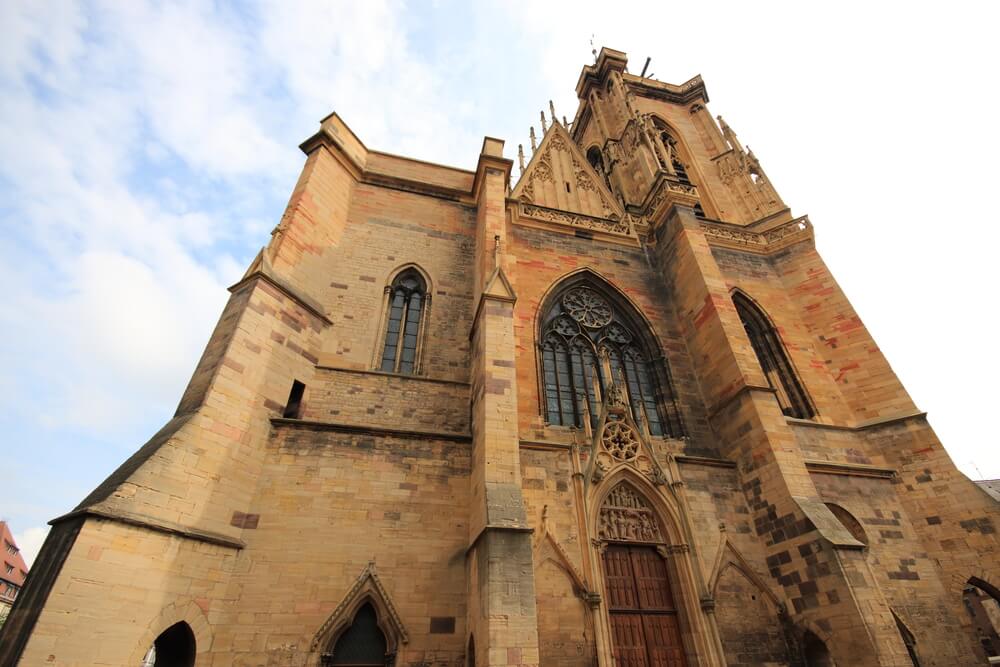 While the 15th century Altarpiece of the Dominicans is on display at the Unterlinden Museum, there's more to the history of this church than just that!
Other works of Grünewald are also exhibited in the Dominican Church of Colmar, another place worth a visit.
Besides that, it's also just a charming historic church that has a very different vibe than the other churches in Colmar.
And since the entry fee is a mere 2€, it'll hardly put a dent in your holiday spending.
Admire Little Venice from the river.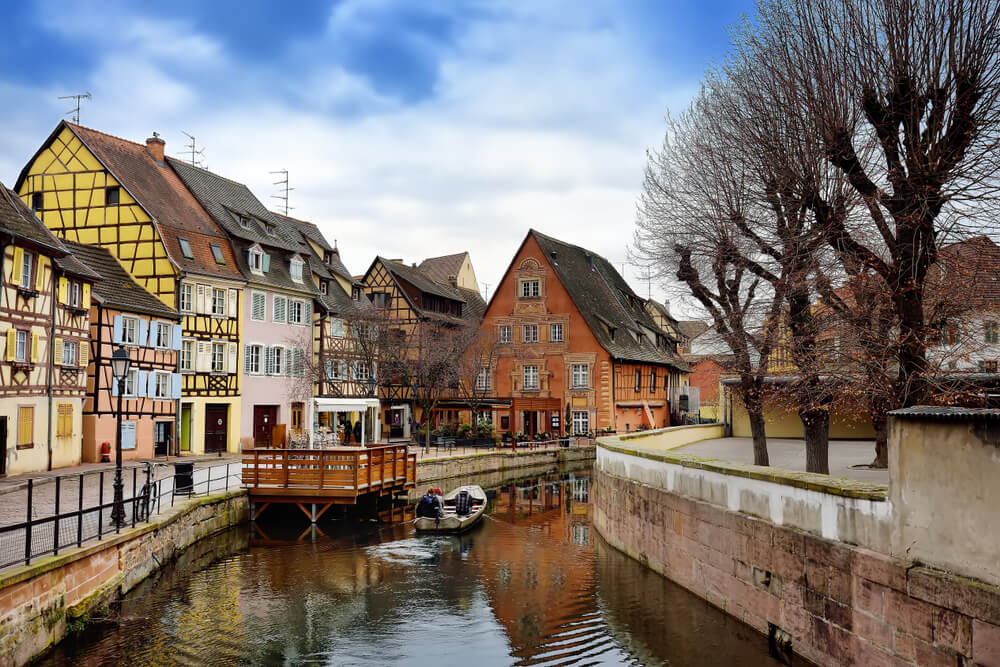 Little Venice would not be Little Venice without the obligatory canal cruises — after all, can you say you went to Venice if you didn't ride a gondola?
Traditionally called barques, the small boats take you on a short 25-minute cruise of the canal for about €10.
Don't worry about it being winter; the cruises run all year round. In fact, as a winter traveler, you get to skip the crowds!
However, the service is more limited in winter, so you'll have to check the schedules when you're there.
Highlights of a canal cruise include the Quai de la Poissonnerie and the gorgeous Turenne Bridge.
Rest assured, if it's too cold for a cruise, contrary to 'real Venice', you don't miss anything if you don't go.
You can easily explore Little Venice on foot, but if it's warm enough, this short ride is well worth the experience (just bundle up!).
Have fun at the Toy Museum.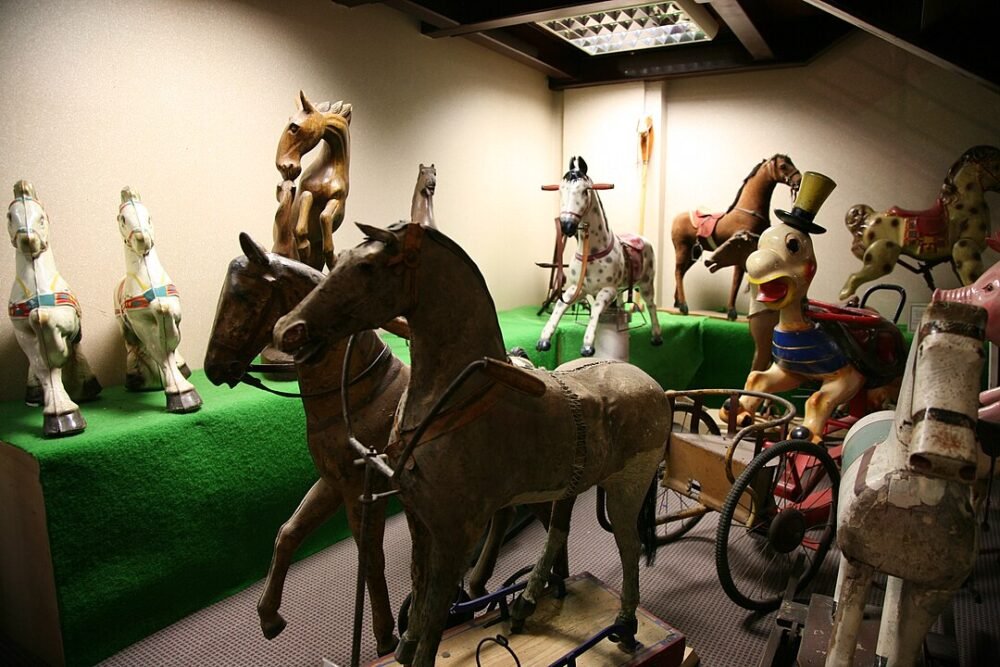 How else do we say it? Le Musée du Jouet is pure joy!
This museum features an extensive collection of toys dating from the 19th century to modern times.
Housed in a former cinema, giving it extra cool points, the museum is a great interlude away from the cold for kids and grown-ups alike.
The collection includes a variety of dolls, trains, battle games, different generations of robotic and mechanical toys — all very well-preserved throughout the ages!
This is a fun, unconventional way to learn about kids' lives in the past… and reminiscence about your own childhood with just the right amount of nostalgia!
Entry is around €6 for adults and free for young children.
Explore other towns of the Alsatian Wine Route.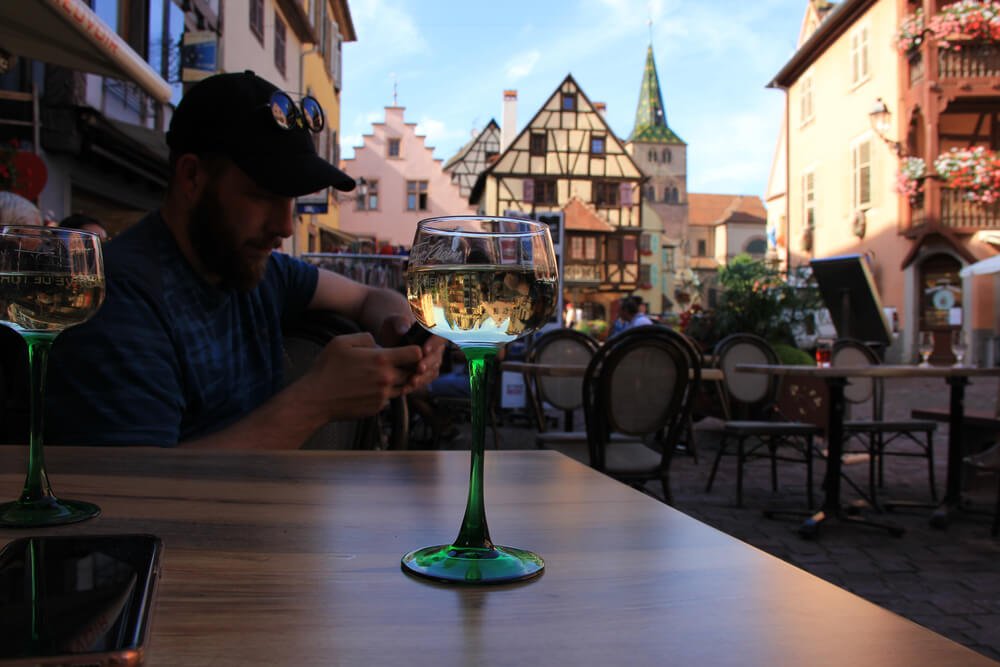 As mentioned above, Colmar isn't the only scenic town that's part of the Alsatian Wine Route — which also doubles as an epic list of Christmas markets worth visiting in December!
You could rent a car and explore parts of the Alsatian wine route independently,but then you can't sample the famous wines of the region so freely!
This tour brings you to two of the most beautiful towns in Alsace — Riquewihr and Hunawihr — as well as straight to a winemakers' cellar, when you can taste some of the best wines of the region.
With the option to taste up to six wines and visit two unique towns, this small group tour capped at eight people offers a great value for those who want to see a bit outside of Colmar but are limited on time, don't want to rent a car, or want to imbibe to their heart's content!
Take a day trip to the winter wonderland of Strasbourg.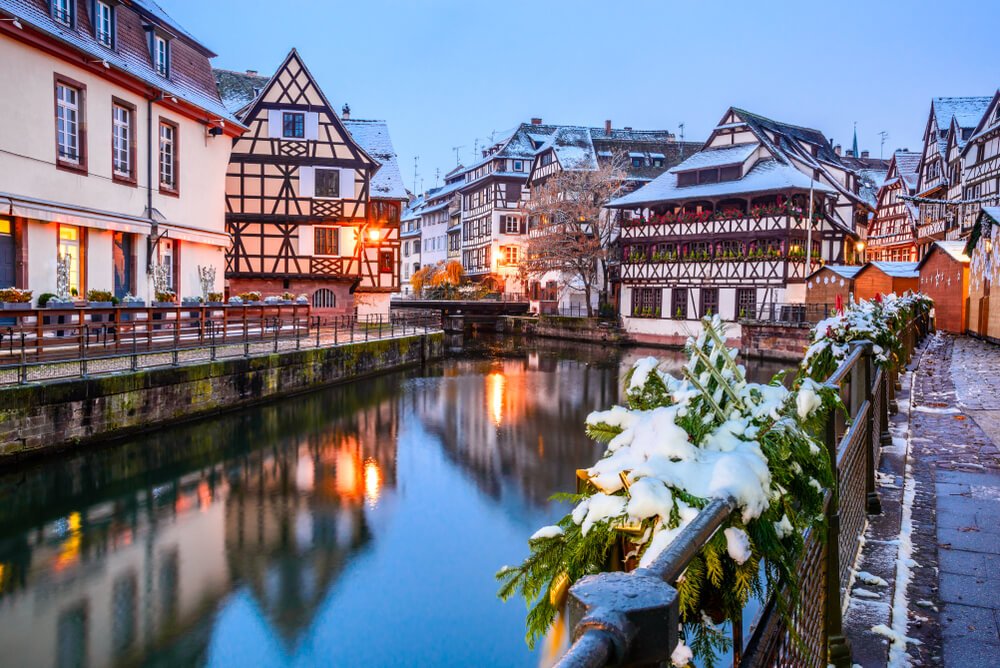 A mere 1-hour drive away from Colmar, Strasbourg is France's most European city.
The city is home to the European Parliament and an overall mini-cosmos of modern Europe!
With its international institutions, Strasbourg attracts visitors from all corners of the globe and is home to a growing cosmopolitan community.
You could easily spend a couple of days here, especially in winter, but it's also suitable as a day trip!
If you are coming to Strasbourg in December, make sure to check out the famous Christmas Markets.
In the heart of Strasbourg, the historic Petite France district is a UNESCO Site and a must-visit for any first-time visitor.
Strasbourg also has several museums, including the Fine Art Museum and the Contemporary Art Museum, which both rank amongst the best in France.
Similar to Colmar, Strasbourg's districts are crisscrossed by a series of little rivers, and cruises are offered all year round.
If your time is limited, such as if you're visiting from Colmar on a day trip, a river cruise is a great option to see all the major sites from the cozy comfort of the heated boat!
Where to Stay in Colmar in Winter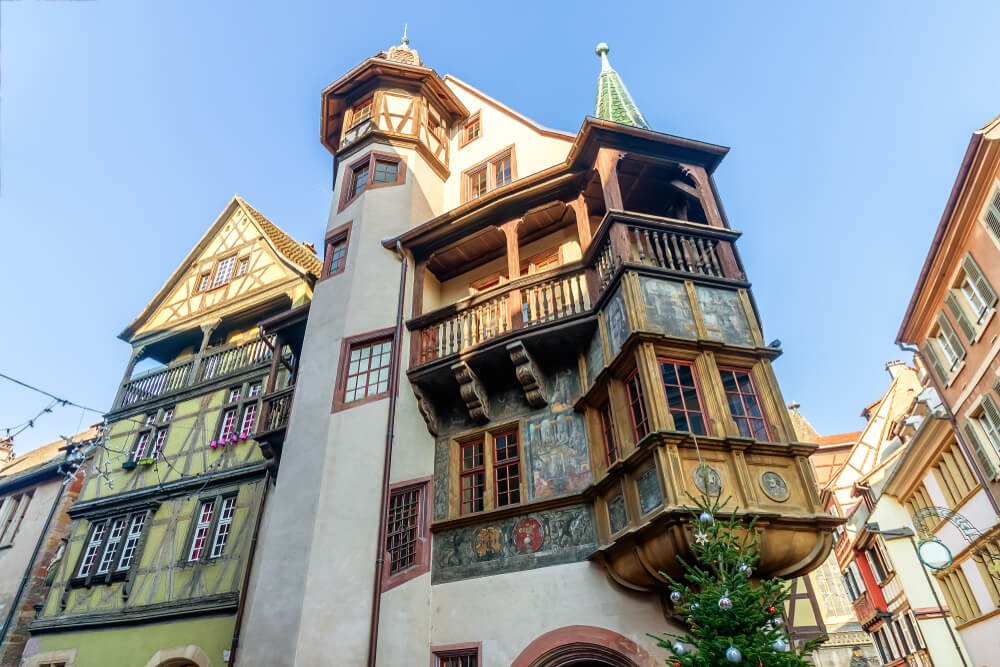 Luxury: Hotel Le Maréchal
Part of the city's original fortified walls, the 4-star Hotel Le Maréchal stands the test of time.
Right in Little Venice — like, literally set right on the canal — it's a short walk to the main Colmar Christmas Market in Place des Dominicains.
The tasty on-site restaurant, A l'Echevin, is a big hit for those seeking traditional Alsatian cuisine, too!
Mid-Range: Mercure Colmar Centre Unterlinden
The ultra-trendy Mercure located a two-minute walk from the Unterlinden Musuem is a great choice for something design-focused on a budget.
There's a daily breakfast available, a bar with Alsatian wines called Les Cepages, and you can also use their sauna.
It's about a 15-minute walk from Little Venice, but it's still in a convenient part of town with a lot of shops, restaurants, sights, and attractions.
Conveniently located a 10-minute walk from the train station on the edge of the Old Town, Hôtel Turenne isn't a bad option for those on a budget.
Its rooms are pretty spacious given the price and they're also rather bright, letting in the little winter sunlight there is for a fresh-feeling room.
Overall, it's not the most unique hotel you'll find, but the combination of price, location, and comfort make it a great budget choice.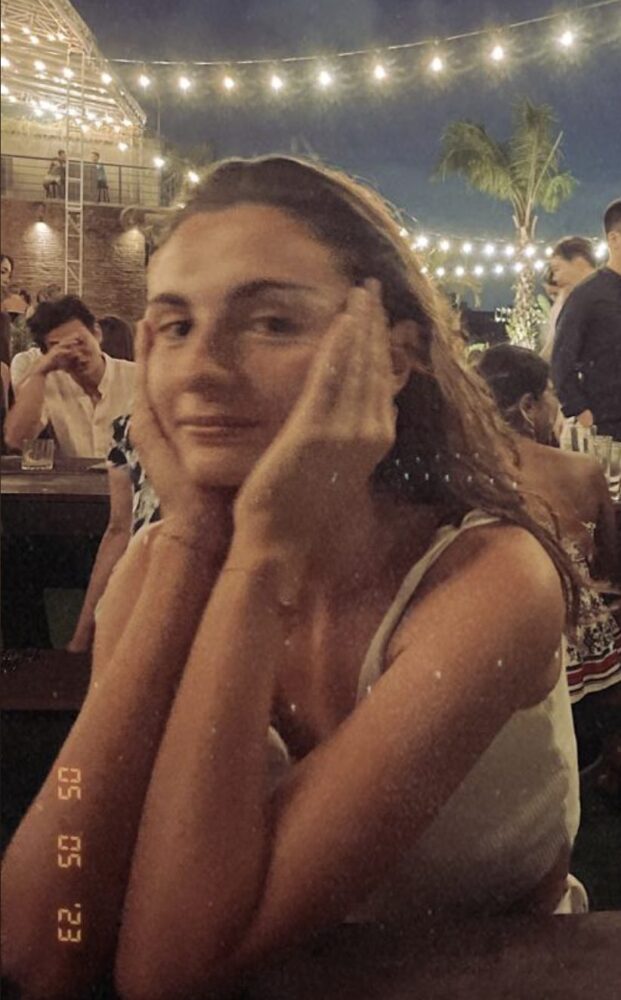 Anna is 20-something writer from France, currently living on the beautiful island of Bali. After earning a degree from Sorbonne Université in Paris, she spent a few years working in fashion before embarking on what was supposed to be a 1-year trip through Europe, North Africa and Asia — which ultimately turned into moving to Bali. Aside from traveling and writing, her passions include surfing, film photography, drinking unhealthy amounts of coffee, and reading through the night.