Tallinn is always a magical place. But in the winter, Tallinn looks even more like it was plucked from the pages of a fairytale.
Somehow, the city looks more striking against a muted, cloudy sky. 
Red roofs, candy-colored façades, spires reaching skywards in shades of green and silver, all against the backdrop of the Baltic Sea.
Simply put, Tallinn is what you dream of when you think of historic European cities.
In winter, the masses of tourists clear Tallinn's city center and it's somehow easier to see beyond the postcard-perfect streets into the modern, beating heart of a young and creative Estonia.
At the crossroads of Eastern Europe and the Nordics, Estonia manages to merge aspects of both without fitting solidly into either, something distinctly its own.
Without further ado, here are my favorite things to do in winter in Tallinn, compiled after I visited the city in partnership with Visit Estonia's Storyteller's Nest program.
Fall in love with Tallinn from above at its many viewpoints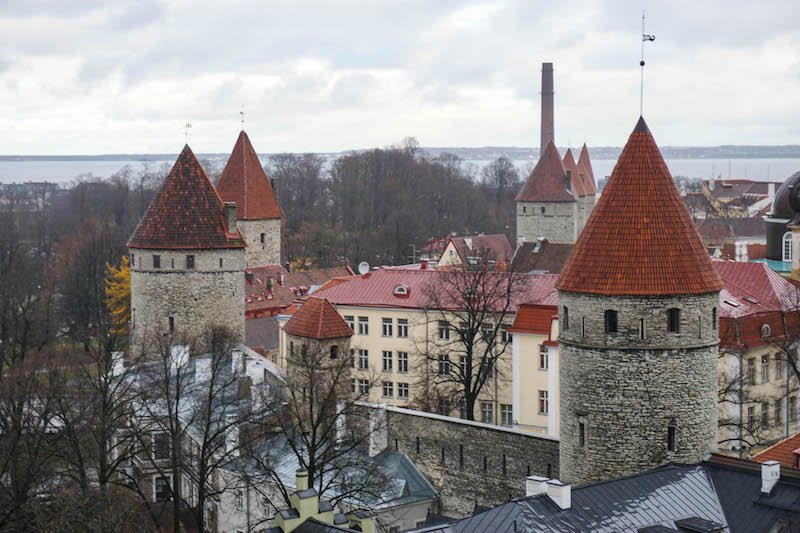 Note: This post contains affiliate links, which means I may receive a small commission if you purchase something through one of these links. Thank you for supporting the free content on this site! For more information on affiliate links and cookies, see my disclosure page for more details.
Want picture-perfect views over all of Tallinn? You won't want to miss checking out several of the incredible viewpoints around the city.
In particular, Toompea Hill is the place that offers the best views over the Old Town. There are a few different viewing platforms here with stellar views: my two favorites are Kohtuotsa and Piiskopi, each of which offers a slightly different angle of a wintry Tallinn cityscape.
For another fantastic view, don't miss the Tallinn TV Tower. It dates back to the Soviet fascination with massive TV towers as a show of strength (and control), and to this day it is the tallest building in Northern Europe. It offers fantastic views over the city from a different perspective – you can book fast-track tickets here.
Wander around a calm, nearly tourist-free Old Town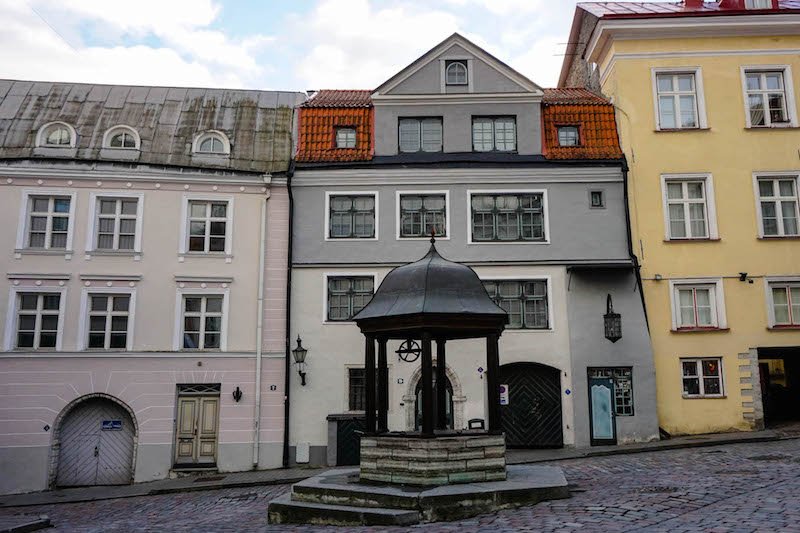 Most historic European Old Towns – even my beloved Prague, where I lived for six months and where my curiosity about the world turned into clinical wanderlust – are ridiculously crowded in the months leading up to Christmas.
But not so in Tallinn in winter! This charming medieval Old Town is miraculously sedate in the winter.
In fact, once you realize that won't be packed elbow-to-elbow in the narrow streets of the Old Town the way you would in summer, visiting Tallinn in winter starts to seem like a reasonable idea after all.
Want the guidance of a local to show you the best views and places in Tallinn and give you historical and cultural context? Book a private tour with a local which you can customize to your interests.
Sure, winter temperatures hover around or below 0 Celsius, and the sun sets around 3 PM.
But isn't it worth it to have a piece of this fairytale city all to yourself?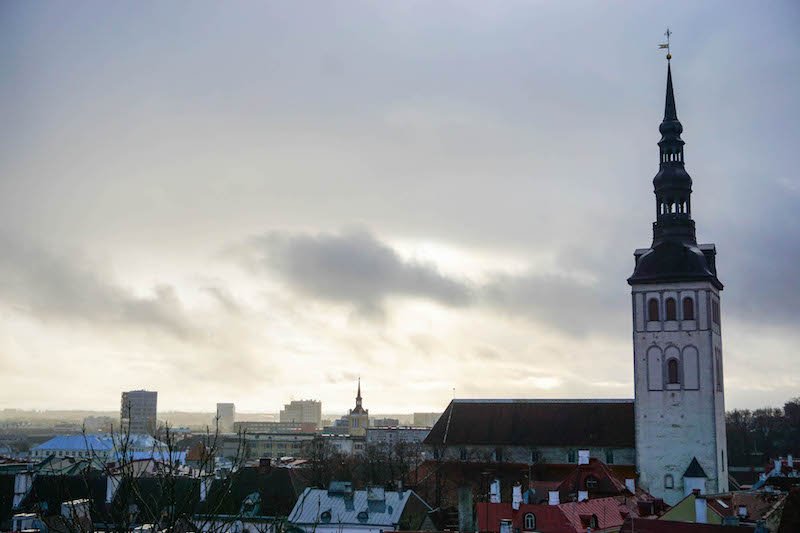 I'm an advocate of visiting Northern cities in the winter – an unpopular opinion, for sure – but bear with me. 
In the winter, Tallinn's Old Town becomes all the more beautiful. Dustings of snow cradle the rooftops if you're lucky (though we got unlucky and had a week of drizzly weather).
But I can't help but agree that snow or no snow, Tallinn is one of the most romantic places to spend winter in Europe.
Tip: If it's too cold to do sightseeing on foot, consider a hop-on hop-off bus tour instead.

This one has three different routes – the Red line serving the center, Kadriorg Palace & KUMU, and the area around Kalamaja, the Green line serving the TV tower, and the Blue Line serving the Estonian Open Air Museum – so it basically takes you everywhere you'd want to go in Tallinn in winter, and then some. Book yours online here.

For something more private and customizable, better suited for those with mobility limitations, you can also book a guided tour by private vehicle online here.
Spend time in a cozy Tallinn café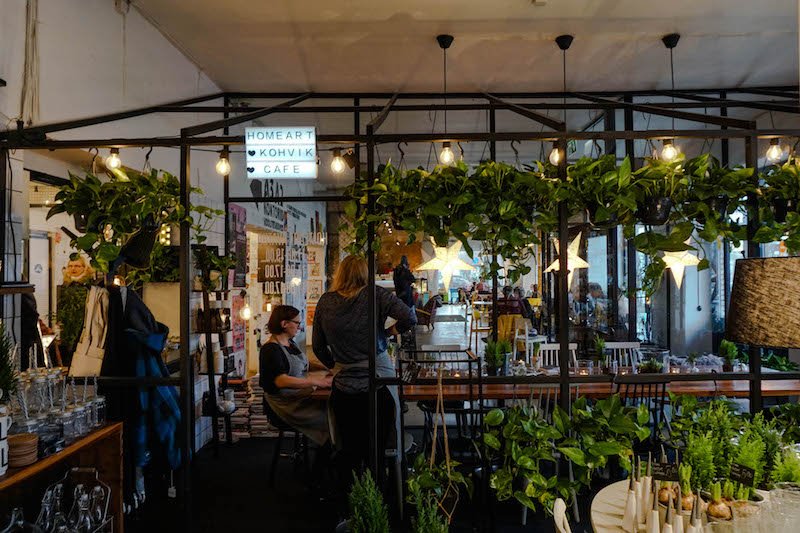 Tallinn in winter can occasionally be a bit bleak, with early sunsets, cold weather, and moody skies.
But there's one perk of that: a fantastic coffee shop is never far away.
The already-cozy cafés, with their Scandinavian-inspired design, seem even more snug and warm when you look outside and see snow-covered sidewalks!
Soft lighting, cozy pillows and throws and expertly pulled espresso from some of Tallinn's best coffee shops all beckon you to take a break from the Tallinn winter and warm up indoors.
My favorite coffee shop in Tallinn is Kohvik August, with its gorgeous streamlined decor, tasty brunch options, and delicious coffees served exactly the way you like it.
I also loved the coffee shops in Telliskivi Creative City – this one pictured above was part of a design shop, and it was a delightful place to escape from the cold for a bit!
Warm up with a steaming mug of glögg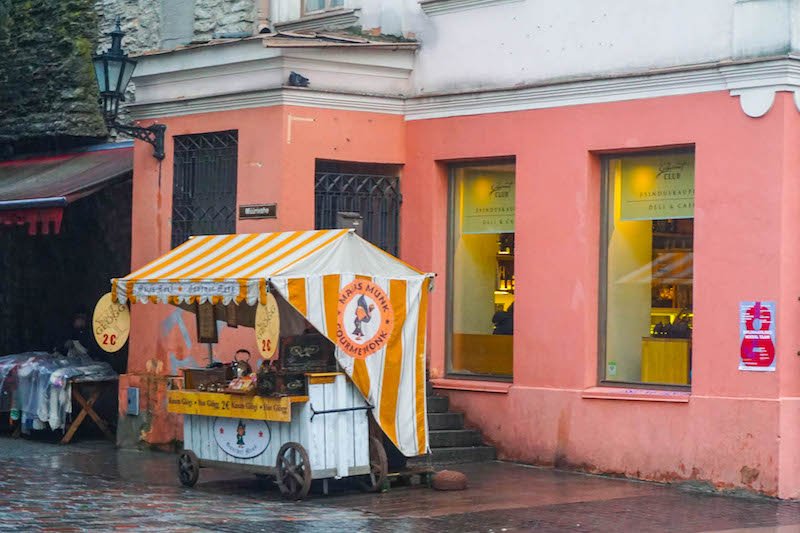 And if you get cold, a steaming cup of glögg (mulled red wine) will set you right, like a delicious warm hug from the inside out.
I decided when living in Prague in the winter that if a wine is served hot, it's basically a breakfast food and therefore perfectly fine to drink before noon. So take that as a license to glögg to your heart's content (I know I will).
Visit the adorable Tallinn Christmas Market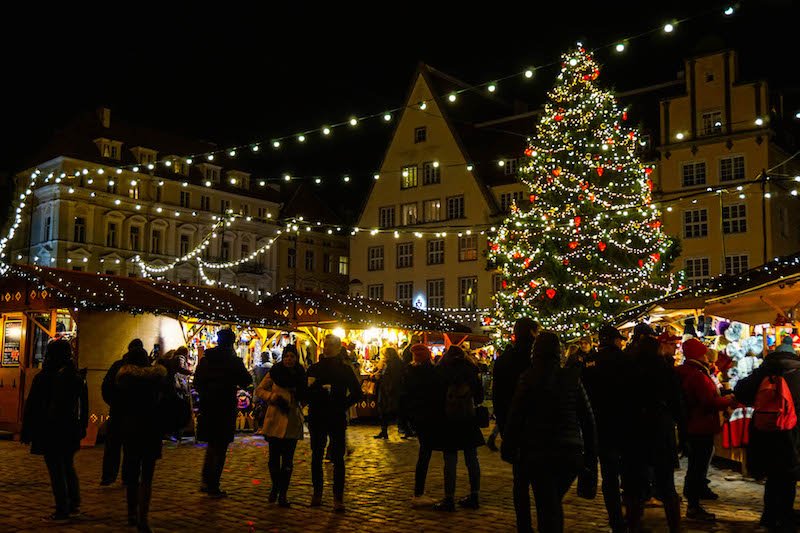 Starting in mid-November, Tallinn has an adorable Christmas market in the Town Hall Square that's definitely worth a visit.
I'll admit it here for the entire Internet to see – I'm a bit of a Christmas Grinch.
But the Tallinn Christmas market, with its enormous tree, cute wooden craft booths, piping hot fresh pancakes, and all the glögg you can drink is one of the coziest places in all of Tallinn.
Explore Kalamaja, Tallinn's hipster hub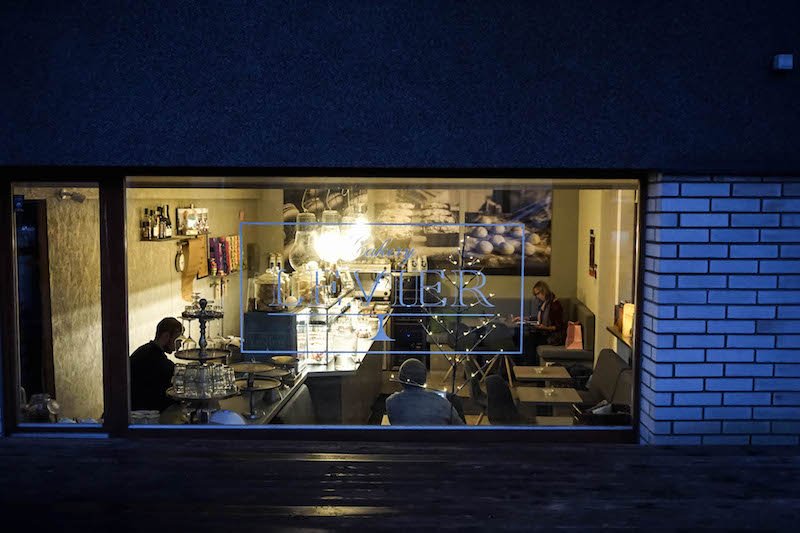 Breaking away from the Old Town, there's still plenty of things to do in Tallinn in winter.
The bustling hipster neighborhood of Kalamaja is full of hidden gems and liveliness even in the winter, with groups of friends chatting in restaurants and bars all over the neighborhood.
The area around Telliskivi Creative City is full of cafés and bakeries oozing hygge, that Danish buzzword that the world has simplified to mean "coziness."
Check out some of Tallinn's cool and quirky museums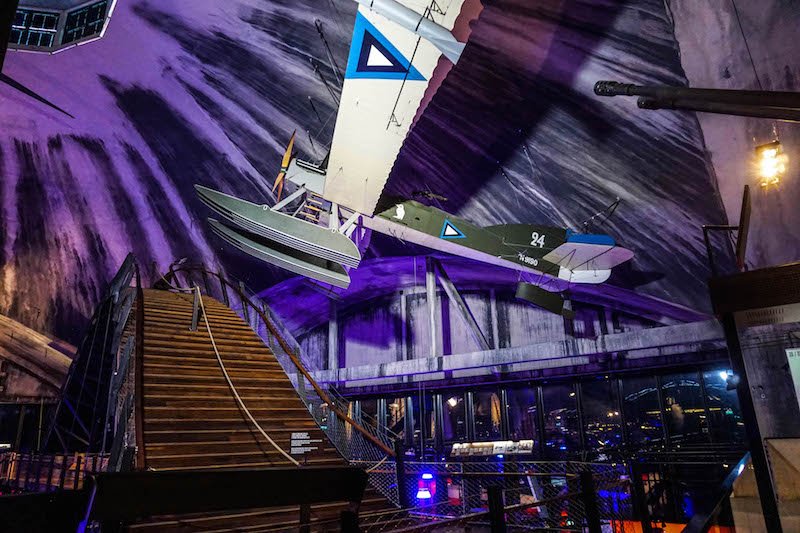 Despite my love for wintry destinations, I'm a Californian at heart and can't stay outdoors in the cold for long.
To cope with the winter, one of my favorite things to do when traveling in cold weather is to spend my time getting my nerd on, holed up in various local museums — the quirkier, the better.
Luckily for those who visit Tallinn in winter, the city has a ton of amazing museums to choose from.
The KGB Museum located in the Viru Hotel is my favorite — I'm a huge sucker for Soviet history, having studied 20th-century Russian history in college (which, plot twist, has proven to be one of the more relevant classes I took as an undergrad).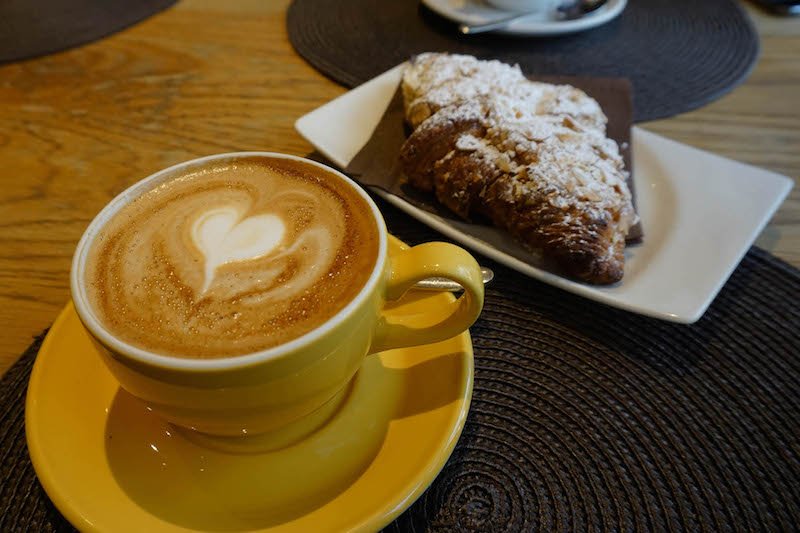 For people hipper than myself, check out the Kumu (Estonian Art Museum) just outside the city center in Kadriorg Park to get an idea of Estonian history and expression through centuries of art.
Bonus points for Kadriorg: I had the best pastry in all of Estonia at the nearby Gourmet Coffee, with a perfect flat white to boot.
Another favorite way to while away the Estonian winter is by visiting the Seaplane Harbor Museum.
The museum is located just outside of hipster Kalamaja and is housed within an old seaplane hangar, and before you roll your eyes at me for being the biggest nerd on the planet, is actually super awesome.
Check out Tallinn's nightlife scene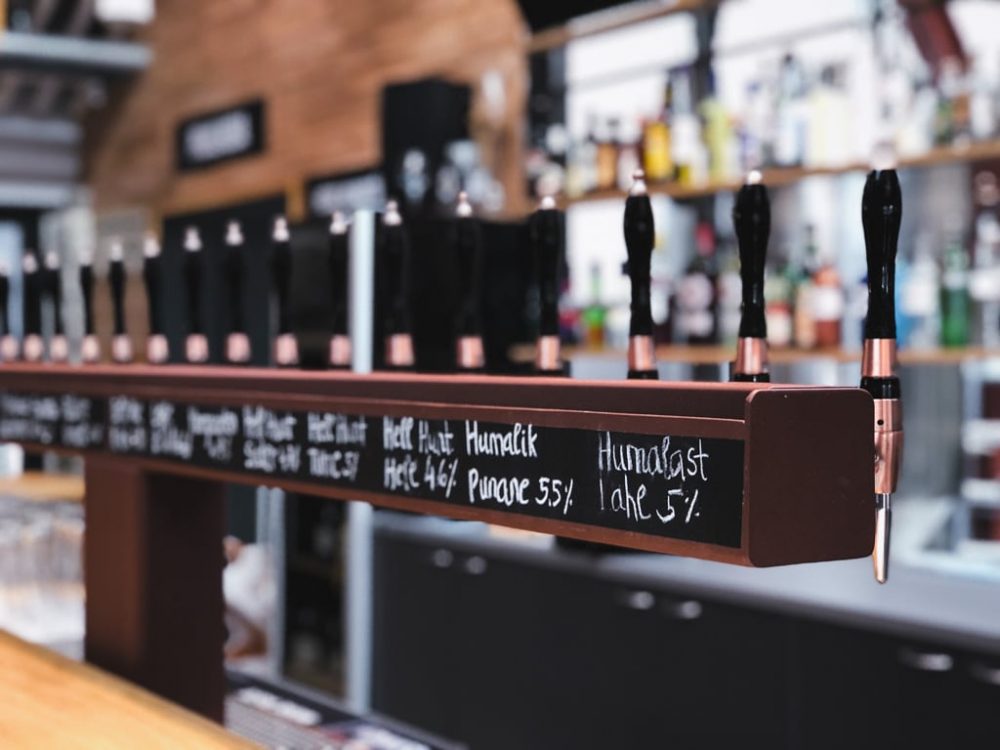 Even in winter, Tallinn's nightlife scene goes on, though admittedly it is more laid-back than in the summer.
Craft beer is a big deal in Estonia, and at night, you'll find lots of people enjoying Estonia's most creative new brews at hip bars around the city, especially in Kalamaja and Telliskivi area.
If you're a fan of craft beer, you'll want to check out my friend Megan's craft beer guide to the city!
Want to experience the nightlife scene in the hands of a local? Check out this Tallinn Old Town pub crawl!
Photograph the city in beautiful golden light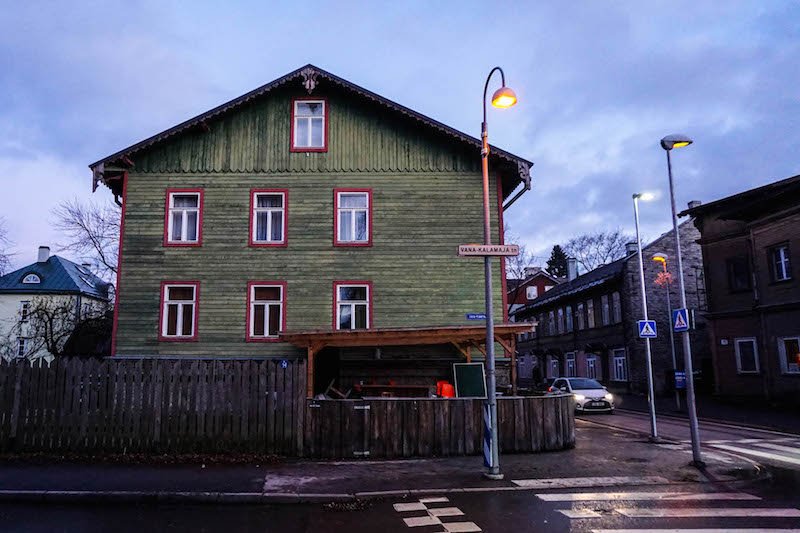 Even though the sun sets at 3:30, the joy of that is that afternoon golden hour seems to last that little extra bit longer, and the blue hour feels just a little bit brighter.
With only a few hours of daylight, you have to use your time wisely in the winter. 
You start approaching each day with a plan, relishing those few moments of sunshine and finding the beauty even in the liminal moments of twilight.
Eat and explore Balti Jaam, Tallinn's largest indoor market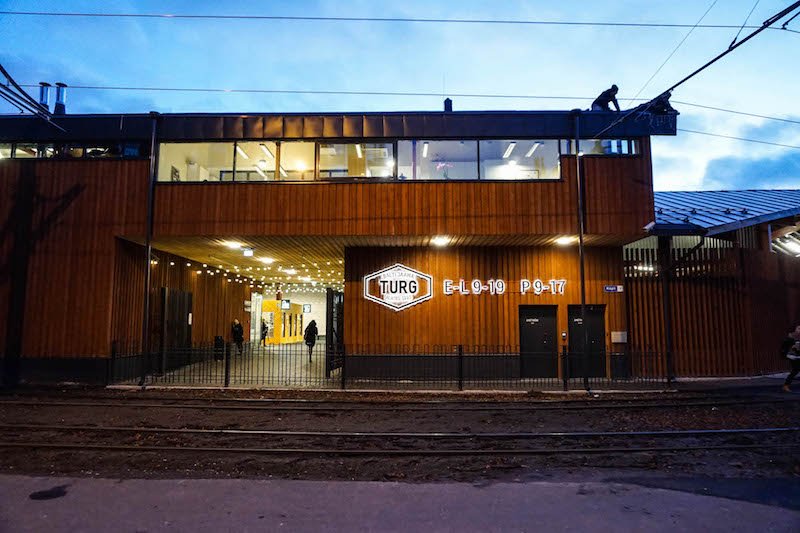 Balti Jaam Market used to be a Soviet-style greenmarket back when Estonia was part of the USSR.
Recently, it's taken on a vibrant new life of its own – one that likely would have been unthinkable three decades ago.
Delicious bao buns and other street food, funky dog-friendly bars, vegan vendors, and fresh organic produce: Balti Jaam Market is a hipster mini-mecca, and it's a sure sign of where Estonia is heading in the years to come.
As it's almost entirely indoors, it's a great way to while away an hour or two in Tallinn in winter to warm up and escape the cold!
Take a day trip to Helsinki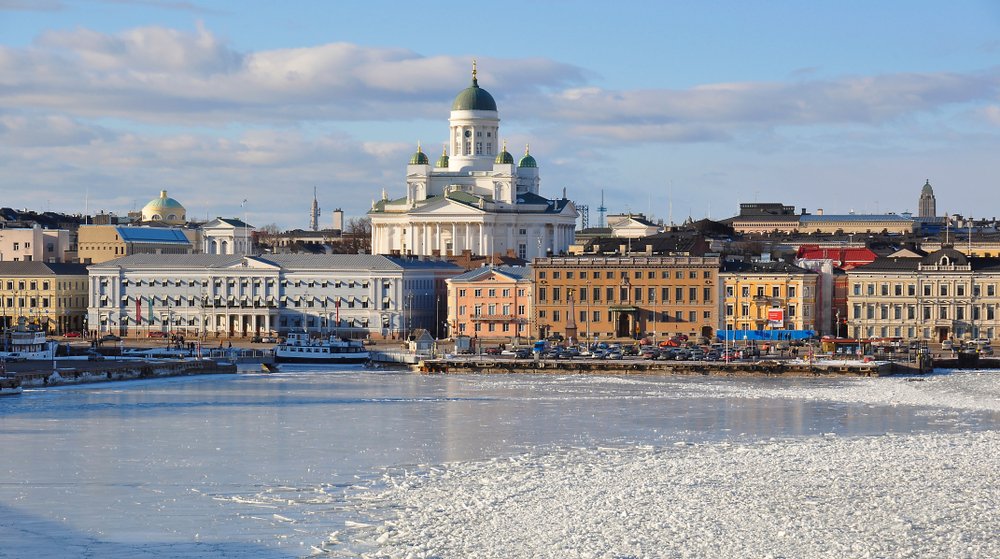 Normally done in reverse, if you're planning a trip to Tallinn and don't have Finland later on your itinerary, I strongly suggest doing a day trip to Helsinki.
Yes, these two capital cities are so close that it's a mere 2-hour ferry ride between them, making it an easy day trip.
Helsinki in winter is a fantastic destination in its own right, but if you don't have a few days to dedicate to Helsinki (or if budget is a concern), a day trip is a perfect middle ground.
Pro Tip: Helsinki is a small and compact city that's easily walkable, making it the perfect place for a DIY day trip. Book your return ferry tickets easily here!
If you just have one day to see Helsinki at your own pace, here's what I suggest.
See the modern Helsinki Cathedral, eat your way through its delicious covered market hall, visit Suomenlinna, check out a public sauna (and jump into the icy sea if you're brave), and marvel at the Christmas Markets if your trip lines up!
Where to Stay in Tallinn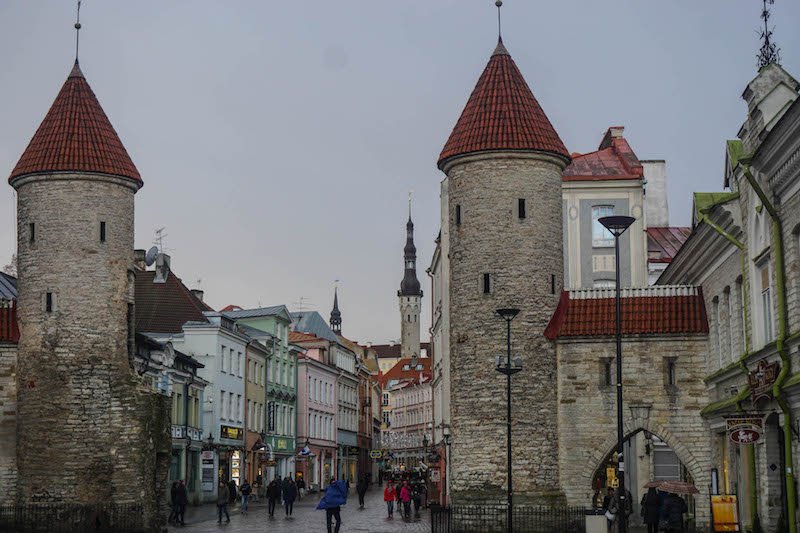 When I was in Tallinn, I was a guest at the Storytellers Nest, a dedicated blogger residence run by Visit Estonia near the Old Town that's not available to the public for rent.
So, I don't have a firsthand hotel recommendation, but I've culled the best-rated hotels and hostels in town, keeping location in mind, for three different budgets.
Budget (under $50 a night)
 Tallinn is a popular destination with backpackers along with the other Nordic capitals, so you won't have any trouble finding a hostel in Tallinn. 16eur – Fat Margaret's is one of the top choices for hostels, with dorm beds under $20 per night.
Private rooms are also available and offer a great deal for a central location just outside the Old Town and close to the port and Kalamaja. If I was traveling solo to Tallinn it'd be my top choice – it has access to a sauna and an indoor pool!
Mid-range / Boutique ($50-$150 a night)
 Tallinn is not an especially expensive city, though it is not exactly truly "cheap," either. You will have a lot of selection in the mid-range budget tier as this is where most hotels in Tallinn fall.
Design is really important in Estonia and so you'll find a range of excellent boutique hotels. One of the nicest boutique hotels is Taanilinna Hotel, which has beautiful rustic details, bright interiors with gorgeous light, wood-beamed ceilings, and cozy rooms. It's also right in the Old Town so the location can't be beat.
Luxury ($150+ a night)
Nestled in the heart of Tallinn's Old Town, Savoy Boutique Hotel is small but luxe.
The rooms feature gorgeous details, comfortable amenities like soft robes and welcome fruit, tasteful art deco designed rooms, and an in-house restaurant with rave reviews. 
Don't Forget About Travel Insurance!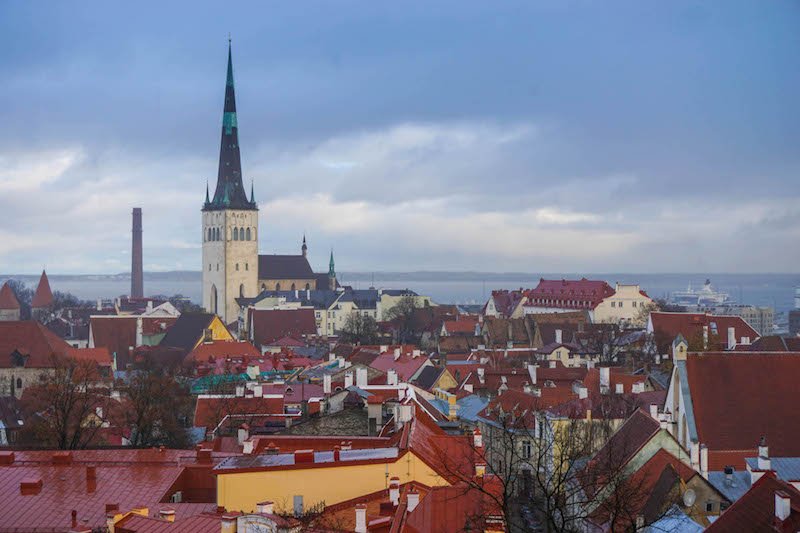 When planning any trip, especially a winter trip, be sure not to forget about travel insurance!
I use SafetyWing and its Nomad Insurance to insure all of my trips for its affordable rates and comprehensive coverage for all my travel needs.
When it comes to traveling in Europe in winter, with how unpredictable the weather can be, it's especially important for me to have coverage
SafetyWing's Nomad Insurance provides both travel insurance (coverage for trip delays, cancellations, interruptions — the likelihood of which increases in winter) and travel medical insurance (coverage for things like accidents, illnesses including Covid, etc. — also more likely in winter!).
Coverage is really affordable — for me, it costs roughly $11 USD for a week of coverage outside of the U.S., with a policy max of $250,000 after a deductible of $250. Not bad!
Allison Green is a former educator turned travel blogger. She holds a Masters in Teaching and a B.A. in English and Creative Writing. Her blog posts merge her educational background and her experience traveling to 60+ countries to encourage thoughtful travel experiences that both educate and entertain. She has been a speaker at the World Travel Writers Conference and her writing, photography, and podcasting work has appeared in National Geographic, CNN Arabic, CBC Canada, and Forbes, amongst others. Now based in the San Francisco Bay Area where she grew up, she has also lived in Prague, Sofia, and New York City.