Why is everyone raving about the outdoor adventure scene in New Zealand?
For starters, this smallish country in a faraway corner of the planet is a beacon of unspoiled nature drawing globetrotters in. Home of bungee, tandem paragliding, and all-things-extreme, you don't need to be an adrenaline-head to live a proper Kiwi adventure – enter New Zealand's hiking scene!
Hiking in New Zealand is an absolute joy. There are about a billion hikes -really… THAT many? Yup. It's possible to spend days at the time heading from hut to hut, connecting with nature without dangerous predators — which you'll totally appreciate if you are coming from Australia!
You'd see parents hiking with small kids, retirees that are way much fitter than you, and the occasional backpacker carrying a guitar to liven up the night.
Truth is, trekking in Aotearoa – New Zealand in Te Reo Maori language – is a wonderful experience you can adapt to your schedule, skill, and level of fitness.
For this guide to the top 13 New Zealand South Island hikes, I've curated a roundup of the most important and famous trails to take on.
You'll also find a few off-the-beaten-path ones, and a stack of info gathered during the 6 years I've been living in this stunning country.
But before we get crackin', lemme walk you through the basics of planning your trip…
How to Arrive in New Zealand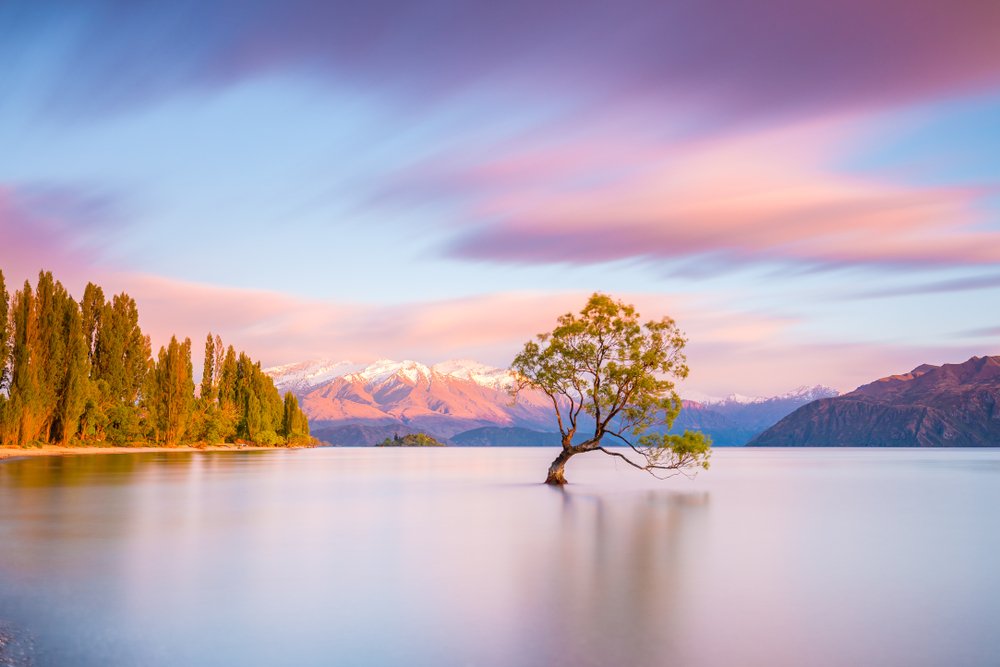 Note: This post contains affiliate links, which means I may receive a small commission if you purchase something through one of these links. Thank you for supporting the free content on this site! For more information on affiliate links and cookies, see my disclosure page for more details.
Kia ora, and welcome to Aotearoa! New Zealand is located in Oceania, in the South Pacific Ocean, 1800 kilometers east of Australia.
There are only 2 ways to get into the country: by plane or on a cruise ship from Sydney. If cruising's not your jam, then you'll have to fly in.
There are 6 international airports, 3 in the North Island and 3 in the South Island. Auckland is where most international arrivals land.
For the sake of this guide to the South Island hikes and treks, let's say that if you landed in Auckland first, then you could head to any airport from there. Christchurch and Queenstown airports are the main ones in the South Island.
Getting Around New Zealand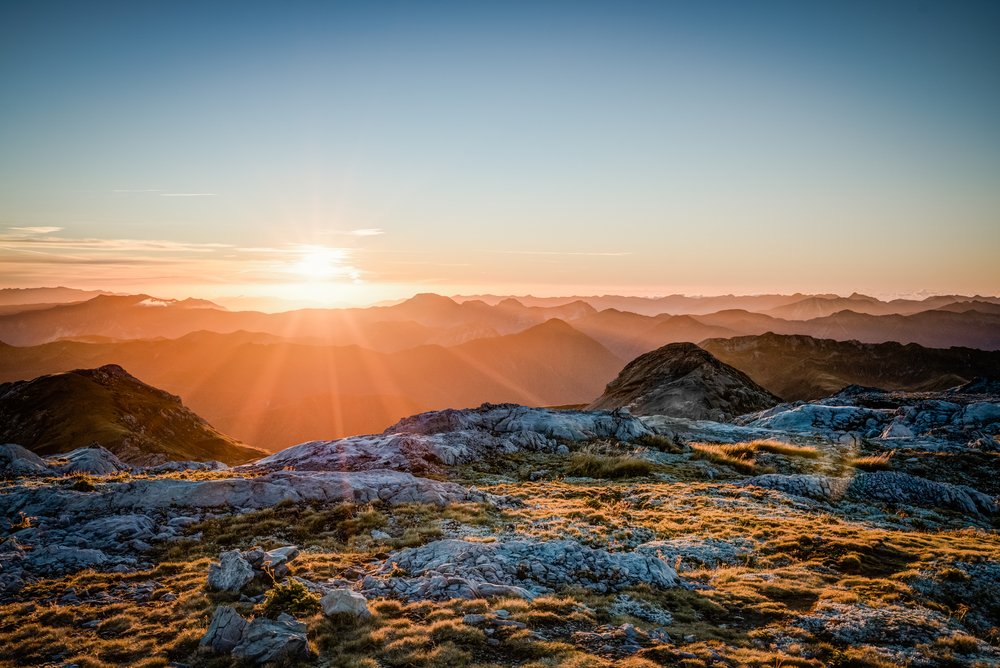 Honestly, there's not a whole lot of public transport to get around the country.
Most travelers either rent or buy a vehicle, book a hop-on hop-off tour, hitchhike, or join a rideshare Facebook group.
My bestie and I hitchhiked 512 kilometers this last summer along the South Island and can tell you it's easy, safe, and fun!
If you love train rides, get on the Kiwi Rail. This scenic train has 2 routes on the South Island. Sadly, there's only 1 route open for bookings at the moment, the TranzAlpine Great Journey. This half-day ride crosses Arthur's Pass connecting Christchurch with Greymouth.
Of course, you can also fly… but it can be expensive. Plus, short flights are terrible for the environment.
Planning Your Kiwi Adventure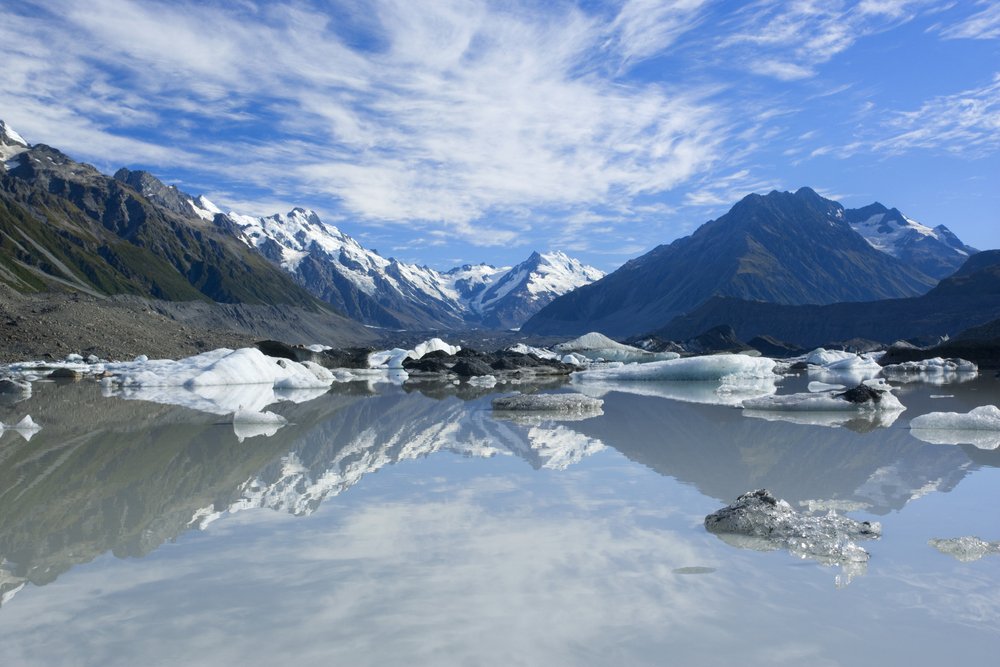 Up until not long ago, you could pretty much walk into the country with little to no requirements.
Under the current situation, and while borders are still closed, it's hard to guess what the future beholds once borders open again.
So for the sake of this roundup to the top hikes in New Zealand's South Island, let's focus on understanding how to organize a trip to Kiwiland. A few hints:
If you are going to focus on hiking New Zealand South Island, you need to learn a bit about the 10 Great Walks – more on this below.
You'll also need to research requirements for renting a car under an international driver's license and map out your itinerary to fit your hiking goals.
I'd suggest creating a Google Map with your points and hikes of interest. Add estimated driving times connecting each. New Zealand has a reputation for winding roads, so you must allow some extra time.
When a walk piques your interest, find out if it's a one-way or a loop. In many cases, one-way trails end up like… 400 km away from the starting point somehow, and you need to arrange a way back to your car.
You can freedom camp in many places. Ideally, if your car is not self-contained, you'd need to stay either at a Department of Conservation spot or a private campsite.
Currency in New Zealand
The country's currency is the New Zealand Dollar (NZD). It fluctuates, but 1 dollar is about 1.50 USD.
The great thing is you can pay with your card pretty much everywhere, even if it's only a few cents. You'd need cash for campsites and local markets, but that's pretty much it.
New Zealand is one of the safest countries in the world, so the chances of getting robbed are low!
What to Pack for a Hiking Trip to New Zealand?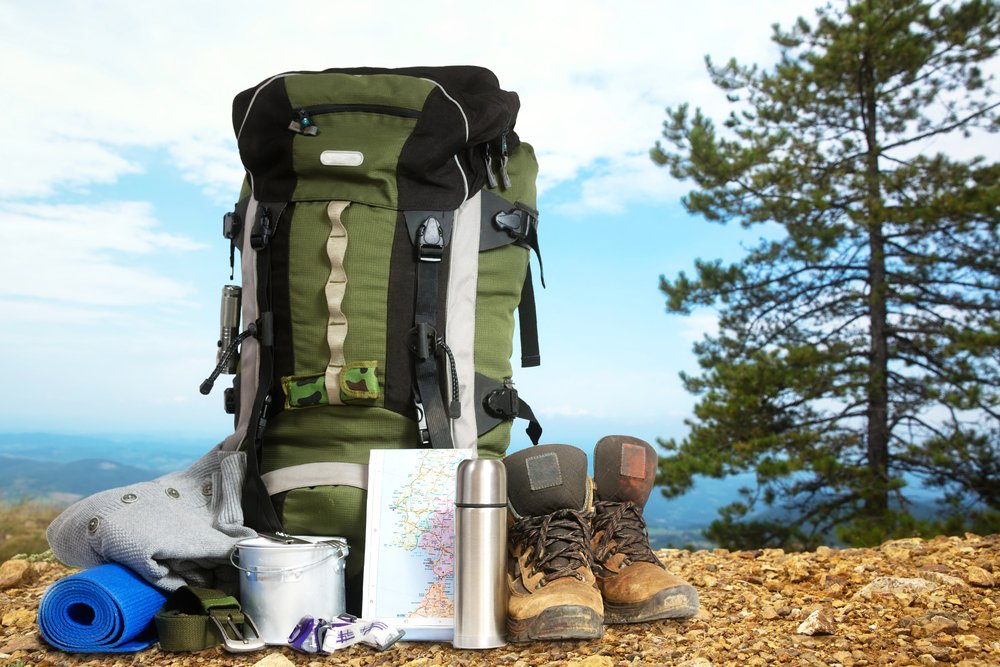 You'll use most of your gear, especially if you are planning for overnight or multi-day hikes. A great backpacking backpack and sturdy hiking boots are of the absolute essence. Keep in mind though, that you may not need a tent if you'll be staying in huts instead of campsites.
Weather in New Zealand can change fast, so plan accordingly and bring layers of clothing. All in all, I'd leave the fancy outfits at home, and pack just the outdoorsy stuff.
I'd suggest keeping your hiking and camping checklist handy. Go through it and focus on the gear that meets your hiking New Zealand South Island needs without overloading your backpack.
It can be challenging if you are not driving as you'd need to carry with you all the general travel essentials for your trip, plus your hiking gear. In this case, you may want to plan to leave stuff at your hostel and come back once you're done hiking. Or you can stick to day hikes, or read up about freedom camping in New Zealand.
Best Time of the Year to Visit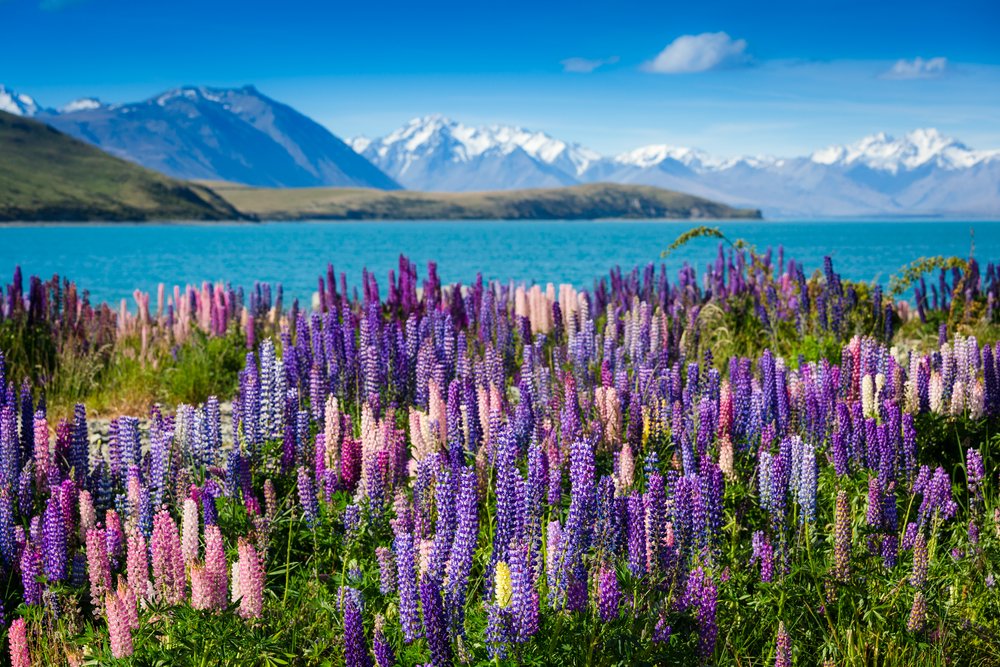 Sync your trip with the hiking season! Spring and summer are the 'official hiking' months, when you'll find all trails open and ready for you. Crowd-escapists!
Swing by around October – November. You'll enjoy fairly good weather without stepping into everyone's steps.
Also, know that the whole country goes on holiday for 2 weeks after Christmas, as it's the summer holiday and most companies shut down. So, between the 23rd of December to approximately the 9th of January, you'll come across local holiday-makers everywhere!
New Zealand is also a great place for winter and alpine hiking, but be mindful of your skills and don't take chances. Many trails are not recommended between June and September.
Still, even at the peak of the season, you need to check weather conditions before you hit the trails. Some trails close due to river floodings, wind conditions, and landslides. So, to avoid disappointment, stay flexible, and don't get hung up on that one you missed!
What are New Zealand's Great Walks?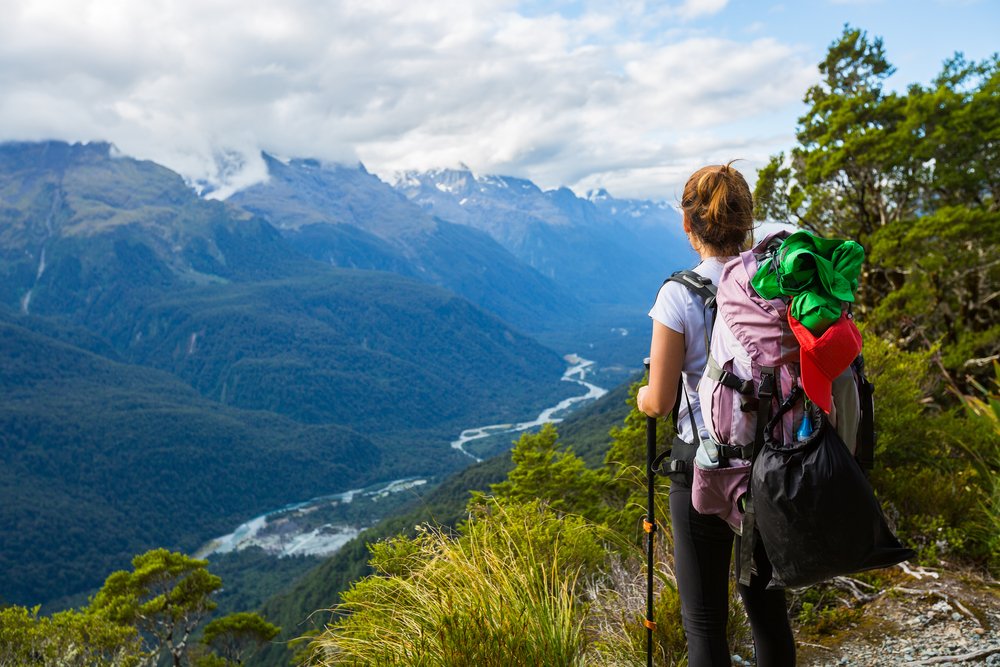 The Great Walks are 10 'premium' hikes scattered across the country.
There are 3 hikes on the North Island and 7 hikes on the South Island.
These New Zealand hikes are particularly stunning, correctly marked, and designed to cater to hikers of all levels. They can be done by sections during day hikes or be completed in full in about 3 to 6 days.
You'll find loops and one-ways. Alpine landscapes and estuary crossings. Wild deers, sandflies, and cheeky wekas trying to steal your food.
It's of the essence to organize these hikes with time and in detail as bookings are required, and spots fill fast!
In this roundup of South Island New Zealand hikes, you'll find quick summaries of each of the Great Walks located here. You'll also get the hang of other day hikes, plus overnight and multi-day trails that are just as beautiful and fun.
For the sake of geography, this roundup goes from north to south. Be my guest!
Bonus Tip: Check out this Google Map I created with all these South Island hikes marked!
The Best New Zealand South Island Hikes
1. Abel Tasman Coast Track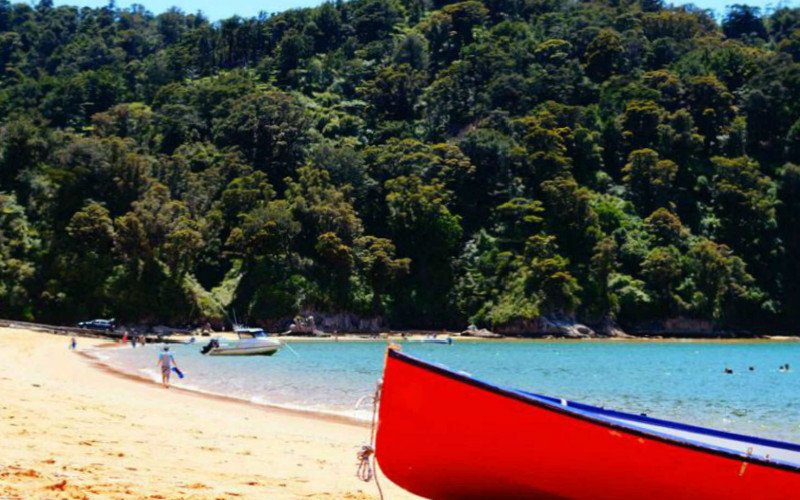 Welcome to THE MOST popular Great Walk in New Zealand!
Perched along the coastline of the Abel Tasman National Park, this hilly trail has sun, golden beaches, low-tide estuary crossings, and some serious summer vibes.
Type of walk: Great Walk, one-way.
Landscape: Hills, coastline, beaches.
Length and duration: 60 km – about 3 to 5 days in full.
Difficulty: The hike itself is easy but hilly. Prepare to go up and down, over and over.
Elevation gain: Nearly 200 m at its highest point. The hike starts at sea level.
Time of the year: Year-round.
What else:
Abel gets crowded over summer, but the great thing is you can go for a swim and maybe get lucky and see dolphins — cute!
There are many campsites and huts along the way, but you need to book about 2 months ahead (this is one of the most popular South Island hikes, after all!)
You can also kayak, do a day hike, or tour the Tasman Sea on a water taxi.
2. Queen Charlotte Track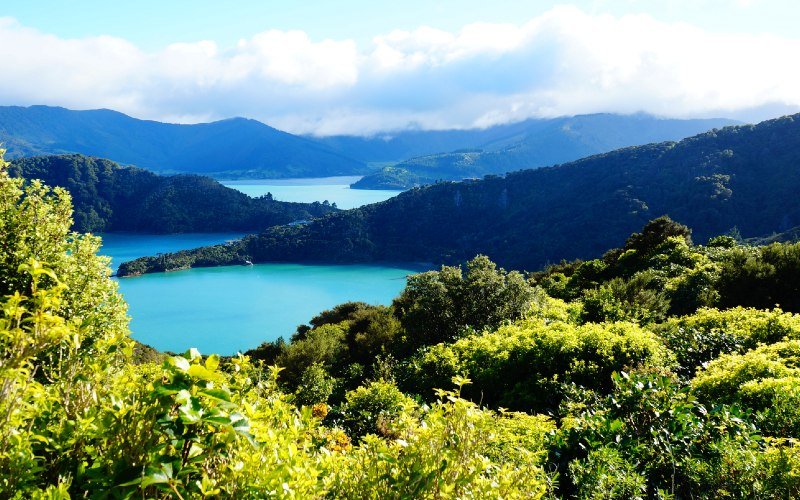 You'll find the Queen Charlotte Track on the top east of the South Island, just a quick water taxi ride from Picton.
This 70-km trail is a great alternative to the Abel Tasman as it presents similar scenery of beaches, emerald and blue waters, and stellar nights.
Type of walk: Multi-day. It may become an official Great Walk soon.
Landscape: Rolling hills, lush native forests, and beaches.
Length and duration: With 70 km, it's one of the longest single-track hikes in the country, and takes between 3 to 5 days.
Difficulty: Easy tramping trail, but with more sustained elevation gain than Abel Tasman.
Elevation gain: Nearly 500 m from sea level.
Time of the year: Year-round. I hiked it mid-September and experienced rain showers on most days.
What else:
If you'd rather not carry your backpack, you can book water taxis that take your heavy pack from spot to spot.
There are no DoC (Department of Conservation) huts. Only campsites with facilities and cooking shelters. However, there's also private accommodation available.
If you want to experience a fancy hike, this may be it! There are a lot of luxury villas and eco-resorts along the trail for a spot of 'glamping.'
This is an ideal hike to get into multi-day solo hiking.
3. Heaphy Track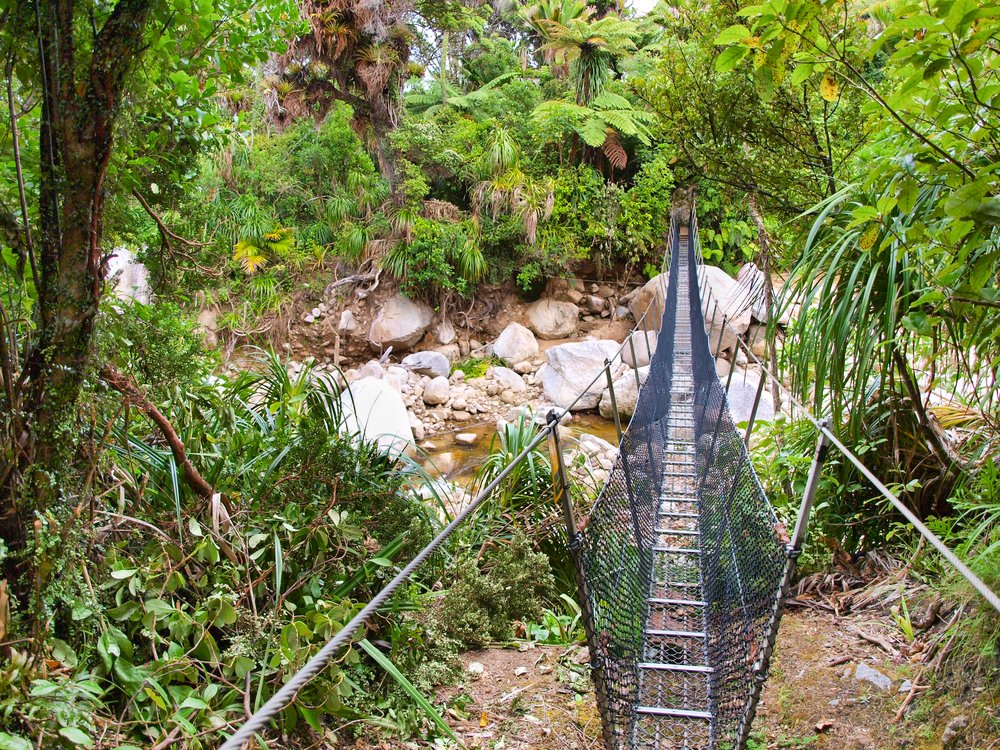 Picky hikers keen to traverse a wide variety of landscapes, this is for you!
At this point, we are still located on the top of New Zealand's South Island. You've seen Queen Charlotte on the east, Abel Tasman on the center, and now the Heaphy Track on the west. This Great Walk is tucked in Golden Bay, a region that's beyond stunning. Wide gold-sand beaches, silver waters reflecting the sun's sparks, and pretty much nothing else to do other than enjoying the fresh salty seaside air.
The Heaphy Track receives 4 times fewer visitors per year than Abel Tasman. However, this also means it's a bit more difficult to plan your itinerary.
This is due to the hike's ending point that's 400 km away from its beginning, and there are limited transport options.
Type of walk: Great Walk, one way.
Landscape: Changing views ranging from beech and rimu forest to tussock grasslands and beaches.
Length and duration: 78.4 km, spread throughout 4 to 6 days.
Difficulty: Moderate. It can be tiring as it's quite long and has a fair share of elevation gain.
Elevation gain: About 800 m if starting from Brown Hut, the northernmost point. If starting from the south, at Kōhaihai Shelter (sea level) then it's a 915 m altitude gain.
Time of the year: Year-round.
What else:
You'd need to arrange transport beforehand. You can book a car relocation service for NZD 395. Alternatively, arrange a car key swap with fellow hikers, book a shuttle bus from the nearest towns for NZD 170 return, or take a flight (not recommended if possible — go green!)
It's also possible to bike the Heaphy Track between May and November.
4. Paparoa Track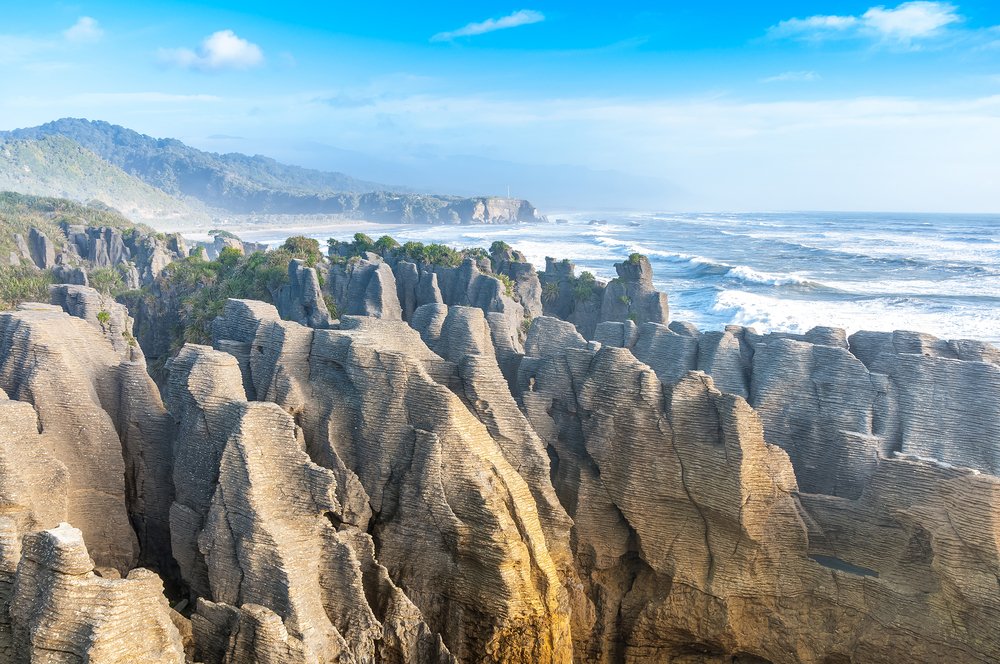 Meet New Zealand's newest Great Walk!
The Paparoa Track opened in 2019, after many years without adding any new trails to this 'exclusive' group of hikes.
The Paparoa Track showcases the magic of the Paparoa National Park, which is the most similar thing to Jurassic Park you could encounter in your life. Dark green rivers, steep cliffs, and moss-covered trees seemingly hanging from huge rocks.
The Paparoa Track can be hiked in any direction, but it's mainly designed to be walked from south to north. However, if you'd like to take your tramping itinerary to the next level, you could connect the hike with the Heaphy Track.
Note that the tracks are not connected per se. I'm suggesting this as an itinerary because you could do the Heaphy from north to south and then head to Punakaiki and hike the Paparoa Track from north to south. Bear with me, this will make sense if you check it on the map!
Type of walk: Great walk. One way.
Landscape: Karst limestone cliffs, river bridge crossings, alpine forest, gold-mining historic sites, and panoramic views of the South Island.
Length and duration: 55 km, 3 days.
Difficulty: Moderate.
Elevation gain: If starting from the Smoke-Ho car park, you'd go from 400 m elevation to 1190. Hikers beginning from the track's north end would start at sea level.
Time of the year: Year-round.
What else:
First Great Walk specifically designed for both bikers and walkers.
You must arrange transport or hire a shuttle service as the car parks at both ends of the trail are for day use only.
5. Welcome Flat Hut Track – via Copland Track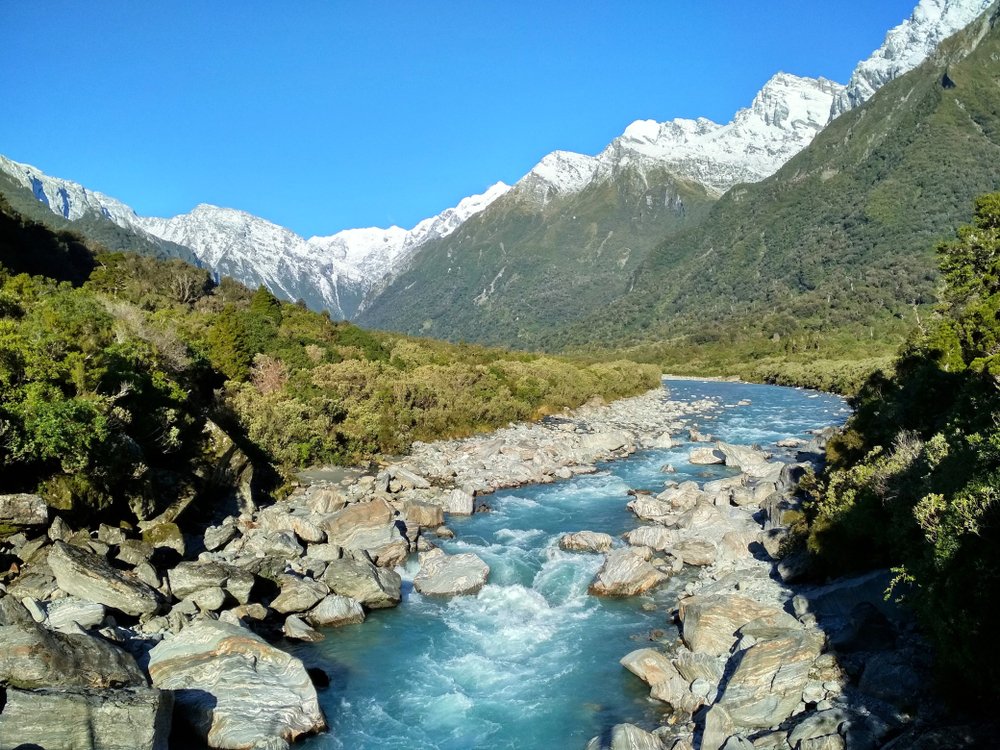 The Welcome Flat Hut Track is quite popular amongst folks already settled in the country, or living the camper life.
Located on the West Coast, the glacier region is sometimes neglected by travelers heading toward Queenstown and Fiordland. I don't blame them, QT is my fave!
But there's a lot to explore around the West Coast too, so I wanted to share this hike, even though it's a bit off-the-beaten-path.
Welcome Flat is part of the Copland Track, a multi-day trip that's suited for advanced hikers.
The best part? Once you reach the end of this section you'll encounter… natural hot springs! Simply awesome. The hike itself it's quite beautiful as you walk near the Copland River and get to enjoy snow-capped mountain views in the background.
Type of walk: Overnight hike. One way.
Landscape: River, valleys, mountains, hot springs — yay!
Length and duration: 18 km, one way. Done as an overnight hike in 6 to 7 hours.
Difficulty: More of a tramping trail, so it's a bit more challenging. You start by crossing a river on foot and then walk on tree roots and rocks.
Elevation gain: 440 m
Time of the year: Autumn and summer.
What else:
Know that it rains heavily on the West Coast, which means the track is sometimes closed due to flooding, even during the hiking season.
If attempting the track over winter, beware of icy conditions. It gets slippery, trust me!
Even though this is not a great walk, you still need to book a hut spot.
6. Roys Peak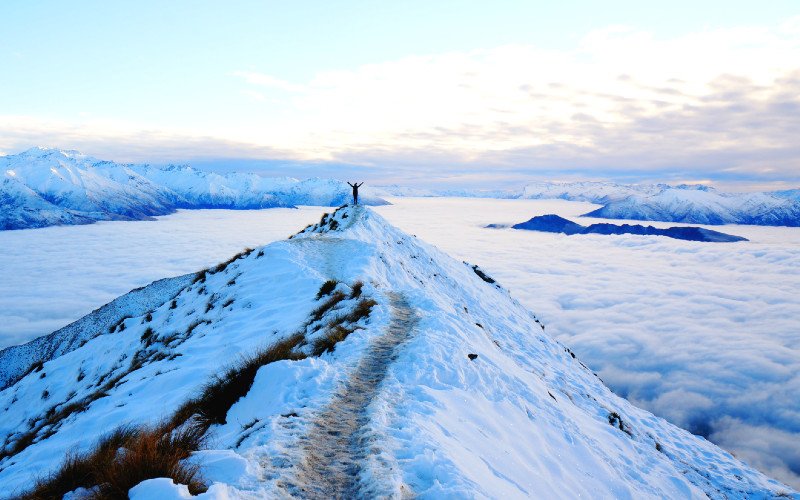 Roys Peak is one of New Zealand's busiest hikes, and it's known as the most 'Instagrammable' hike in the South Island.
You can indeed expect crowds and a full car park, but there are ways around it. The hike is beautiful and a treat for those keen to get more into hiking.
You gain altitude really fast, but you'll hike on a walking path, so it's very safe. Beware that getting down is harder than going up — you may end up with sore knees and black toenails!
Type of walk: Day hike. One way.
Landscape: Mountains and lake views.
Length and duration: 16 km return, usually done in 5 to 6 hours.
Difficulty: It depends on your level of fitness. It's an easy walking track but it's quite steep and, in the end, you sort of walk on a ridge. It's not dangerous, but you must be okay with going up, up, up!
Elevation gain: You'll gain exactly 1,228 m from the departing point.
Time of the year: Year-round. You'll need snow gear to go up over winter.
What else:
Access to this hike is very easy as it's located only 6 km from Wanaka.
Make a fresh start over night time and aim to summit at sunrise. It's not only an amazing experience, but you'll also beat the crowds. I did it just at the beginning of winter and got to enjoy the clearest night sky and impressive views. I couldn't see Lake Wanaka as it was covered by an inversion layer, but still…magic!
7. Mueller Hut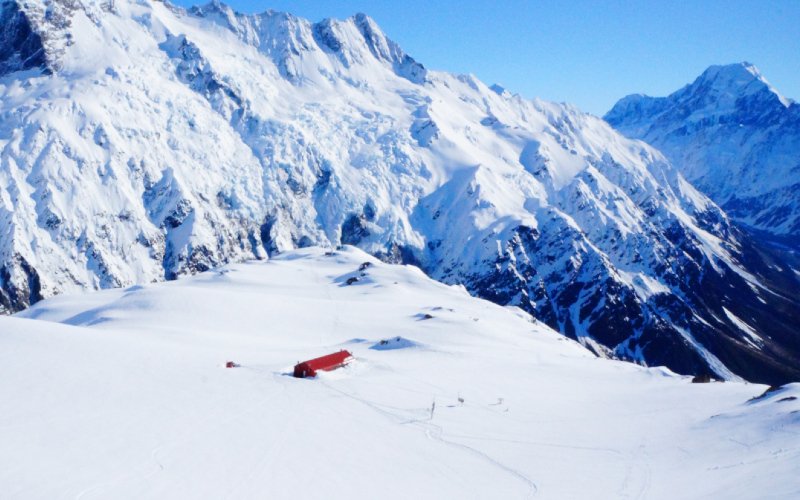 Want to head on a challenging but absolutely breathtaking track? Then welcome to Mueller Hut! Mueller Hut is located 'just' in front of Mt. Cook, the country's highest peak. I must say this is, personally, my absolute favorite place in the whole country.
When you reach the Aoraki/Mt Cook National Park you'll encounter a wee village with some hotels, a hostel, and camping sites. The Hooker Valley is overlooking the mountain range and provides dramatic alpine views.
I've chosen Mueller Hut for this roundup of the top hikes in New Zealand's South Island, but there are many short – and still superb – trails in the area. On your way from the beginning of the Mueller Hut Track, you'll find a half-way stop, Sealy Tarns, which can easily be made as a day hike.
Type of walk: Overnight. One way.
Landscape: This is a proper alpine adventure as you'll be facing Aoraki/Mt Cook, New Zealand's highest peak.
Length and duration: 5 km. It takes about 4/5 hours to hike up and roughly the same to go down.
Difficulty: Advanced.
Elevation gain: 1,052 m
Time of the year: Don't recommend it at the peak of winter. We did it early September and it was a total alpine adventure, with snow up to our knees.
What else:
Sealey Tarns is a great stop for day hikers. You'll get there after tackling a 2,200-steps stair going up the mountain. If you decide to keep heading to Mueller Hut you'll walk mostly on rocks.
Do not attempt to do this hike over winter if not with an expert guide.
You need to book from November to April. However, you always need to register at the I-site.
Note that, even over summer, weather conditions can change. So don't push it! We were about to hike up again this summer but we didn't because of strong winds.
8. Routeburn Track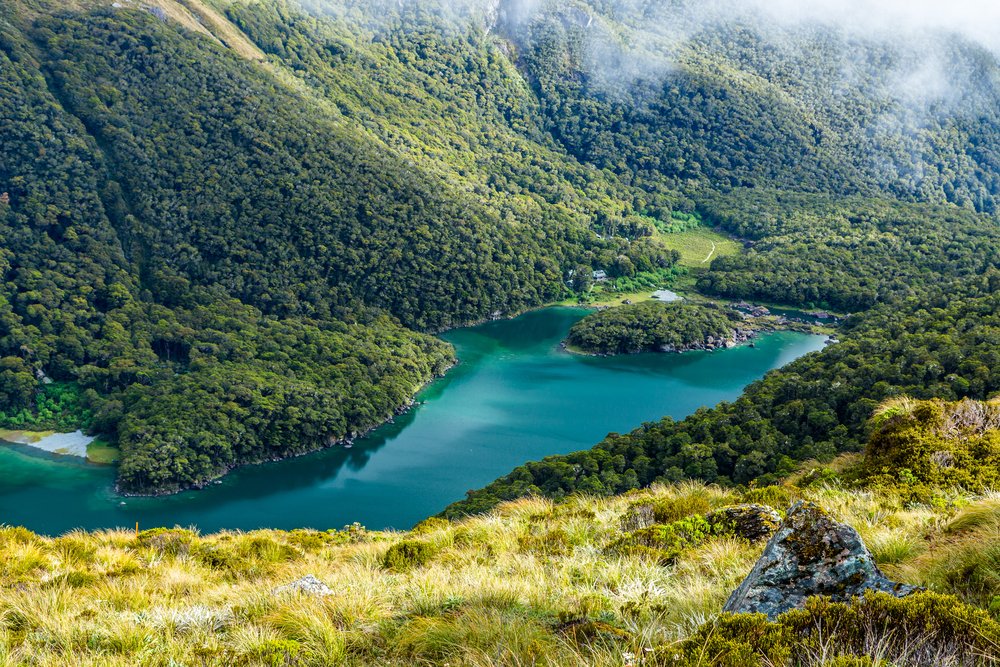 The Routeburn Track is New Zealand's second most popular Great Walk. The track starts at the Routeburn Shelter, only 24 km from the cute little town of Glenorchy, and ends on The Divide Shelter, on route SH94 to Milford Sound, 85 km from Te Anau.
Side note! Te Anau is the perfect base for eager hikers as it's just a few km away from the Kepler Track, and about a 1.5 hrs drive from the end of the Routeburn Track.
There's another track that I've listed below, the Greenstone and Caples, that can be connected with the Routeburn Track if you just can't stop hiking in New Zealand!
Type of walk: Great Walk. One Way.
Landscape: Subalpine, valleys, wetlands, native forests, and lakes.
Length and duration: 33 km, usually done in 2 to 4 days.
Difficulty: Moderate.
Elevation gain: 820 m
Time of the year: Hiking season -October to April.
What else:
This is one of the most expensive Great Walks if you visit over the hiking season. Keep in mind bookings are compulsory between October and April.
Some sections of the hike had to be shut down because of massive floods from last summer, so it's essential to check-in at the nearest information center.
Arrange or book transportation beforehand. My friend and I hitchhiked from The Divide to Te Anau, but we were waiting for nearly 30 minutes -we got there after 5 pm.
9. Greenstone and Caples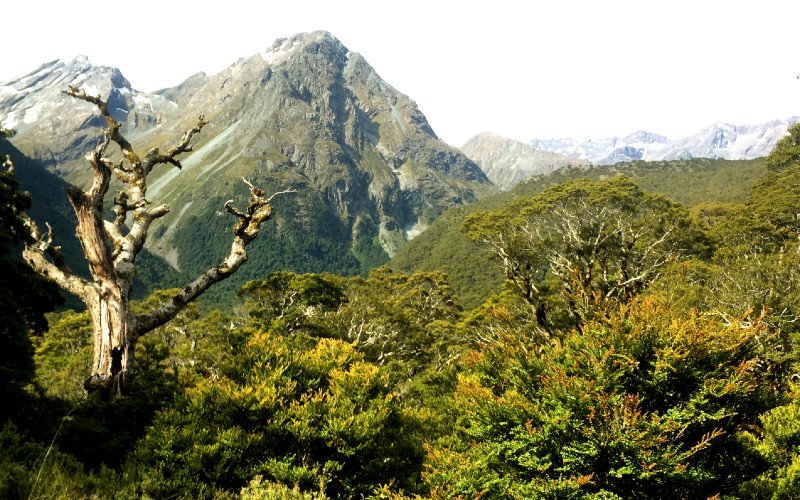 The Greenstone and Caples track is a fabulous alternative for hikers keen to head on a trail similar to the Routeburn Track, without the hassles and costs of a packed Great Walk.
This is a beautiful hike in the South Island where you'd be walking on valleys and wetlands before climbing up to McKellar Saddle to relish on its subalpine landscape.
There's a trick though! This hike is actually 2 hikes that connect to create a loop. You can tackle both and end at the starting point, the Greenstone Car Park. Alternatively, you can do the Caples, a section of the Greenstone, and then connect with the Routeburn for the last 2 hours of the trail -you'll finish at The Divide.
Type of walk: Can be hiked as a loop or a one way.
Landscape: Native forest, valley, wetlands, subalpine tussock grassland.
Length and duration: 38.5 km, 3 to 4 days.
Difficulty: Moderate. Long hiking days.
Elevation gain: With McKellar Saddle at the highest point (947 m), if starting from the Greenstone Car Park (477 m altitude), you'd gain nearly 500 m.
Time of the year: The track is open all year, but hiking over winter is not recommended.
What else:
You can drive and do the whole loop, or you can arrange transportation from Queenstown or Glenorchy.
We hitchhiked from Queenstown. Even though this is totally doable, the local road that connects Glenorchy with the beginning of the track barely sees any cars go by.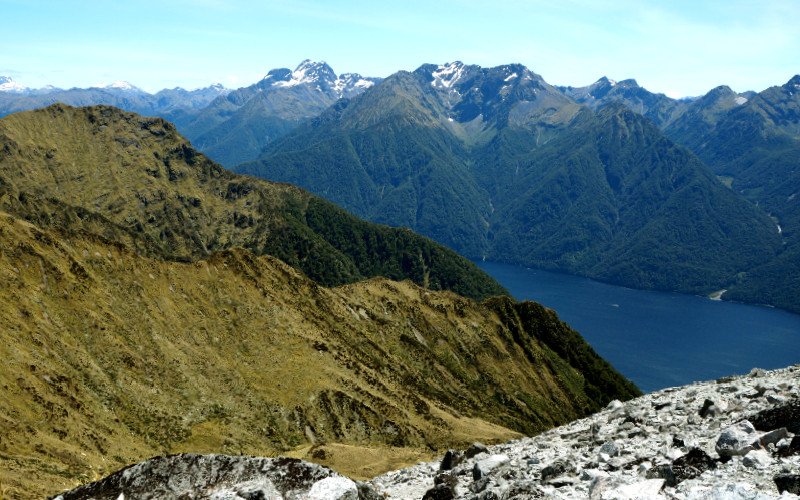 Get ready to sweat bullets and enjoy amazing views in equal doses on one of the nicest South Island walks! The first day of the Kepler Track is pretty much nothing but going up, but it's 100% worth it.
A detail that sets the Kepler apart is that it starts almost in town, only a few km away from Te Anau, and it's a loop. This means that you don't have to plan for transport — extra kudos for the Kepler!
That said, it's a stunning trail because it portrays a variety of landscapes as you walk by the Te Anau Lake, then enter native beech forest, and finally start walking on the mountain ridge as you get to the track's highest point.
Type of walk: Great walk, loop.
Landscape: Native beech forest, mountains, lakes, and all the ferns in the world.
Length and duration: 60 km, 3 to 4 days.
Difficulty: Moderate. I found it a bit more difficult as you walk on a ridge to reach Mt Luxmore Summit.
Elevation gain: Luxmore Saddle is the highest point at 1400 m. The lowest point is 178 m, so you'd climb almost 1200 m.
Time of the year: Hiking season (spring/summer)
What else:
Don't attempt to hike it over winter if you are not an expert.
As with all Great Walks, you need to book in advance!
I personally find that even though this is a Great Walk, it's a bit more challenging as on day 1 you'll be pretty much climbing all day.
11. Milford Track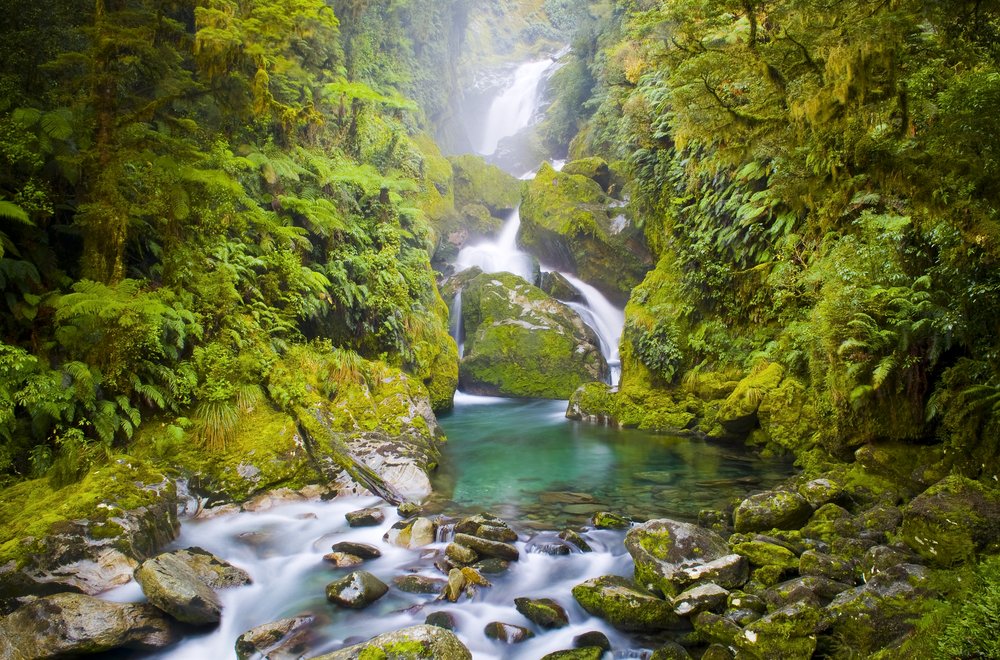 Nestled in the grand Fiordland National Park, this is a remote land of fiords, constant rains, mist, waterfalls, and deep, dark waters.
Out of all Great Walks, the Milford Track is, in a way, the most structured. It's not possible to camp, and hut booking needs to be made well in advance — like, as soon as they open!
It's also the most expensive of all Great Walks, with a hut stay for non-residents coming at NZD 70 — but note that this can change! Up until this year, the cost of the hut for foreigners was NZD 130.
Type of walk: Great walk. One way.
Landscape: Valleys, rainforest, waterfalls, and glow worms!
Length and duration: 53.5 km, 4 days.
Difficulty: Moderate.
Elevation gain: Highest point 1154 m. Lowest point 0 m. But as the hike can be done only in one direction, your initial elevation will be 250 m.
Time of the year: Hiking season.
What else:
A major flood destroyed some sections of the trail last summer. Keep an eye on booking changes and trail openings.
Getting in and out of the trail is a bit of an adventure on its own! You'll need to catch a boat from Te Anau Downs to get started and then can hop on a bus or take a short boat trip back to the Milford Sound Village.
The Milford Track can only be hiked in one direction!
12. Rakiura Track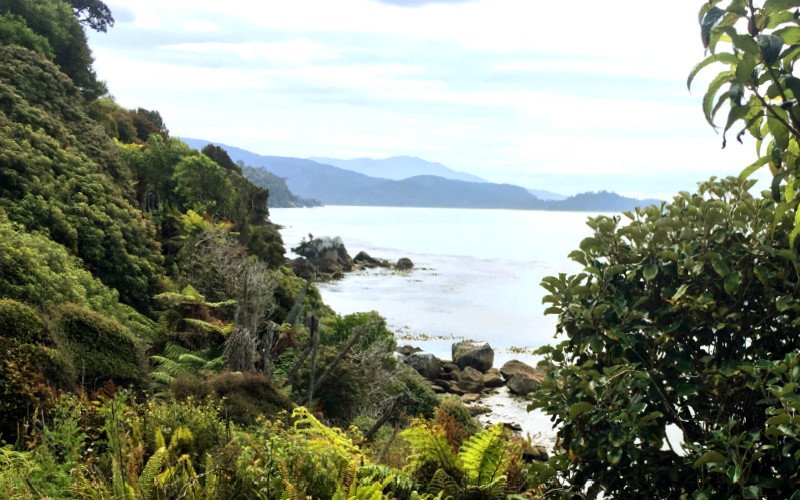 Finally, here's the southernmost hike on our roundup of the top hikes in New Zealand's South Island!
What gives the Rakiura Track a special place in my heart is how far south it is. Quite isolated and the least visited Great Walk -except for the Milford Track that has quite limited spots- this wee corner of the world is wild and lush.
It may not have the world-class beaches of the Abel Tasman or the alpine landscapes of the Kepler. But it's still stunning, short-ish, and a great hike for beginners.
Type of walk: Great Walk, loop.
Landscape: Coastline, inlet crossing, beaches, rivers.
Length and duration: 32 km, 2, or 3 days.
Difficulty: Easy -but muddy!
Elevation gain: 200 m
Time of the year: Year-round.
What else:
This Great Walk is cheap as chips! However, you need to make it to the cute and gorgeous Stewart Island first by taking a ferry from Bluff to Oban.
A visit to Stewart Island itself is a joy. The island is small, friendly, has a really cute town, and you can visit Ulva Island — a predator-free bird sanctuary — as a day trip.
13. Te Araroa Trail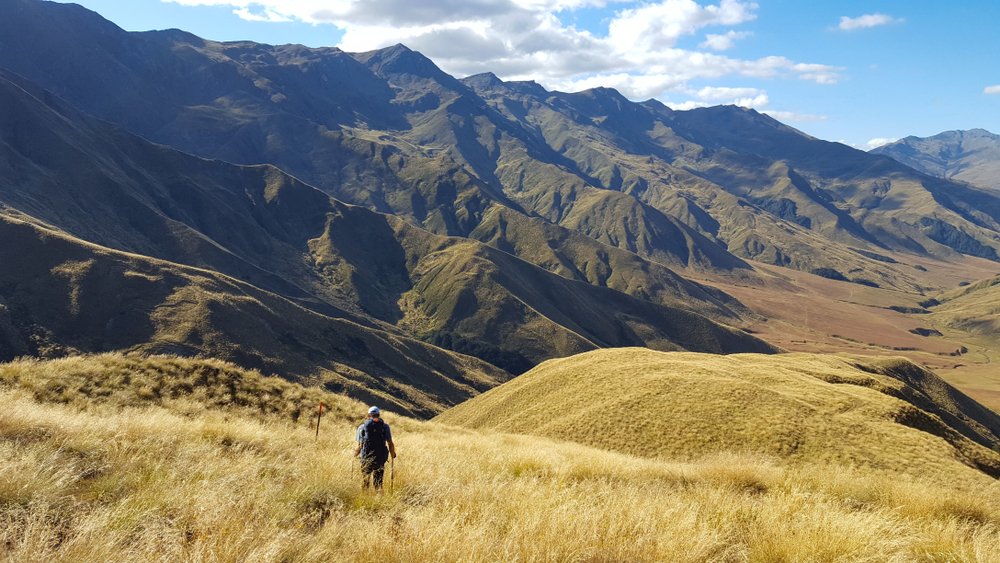 Well… this is something a bit different, but it felt right to finish this roundup with New Zealand's very own thru-hike.
The Te Araroa Trail is a 3000-km long route that begins in Cape Reinga, at the top of the North Island, and ends in Bluff, just before crossing to Stewart Island.
About 1,000 hikers take on the challenge every year, but many locals have become savvy section hikers. The trail goes through some famous hikes, like the Queen Charlotte Track, so pay attention to the signs as you may set foot on the Te Araroa without even knowing!
As a New Zealand resident, I love it when we are hiking and, just by chance, we find out we are doing – even if only a few km – the Te Araroa!
Type of walk: Thru-hike
Landscape: Coastline, mountains, towns, cities… everything!
Length and duration: 3000, from 4 to 5 months.
Difficulty: Moderate/difficult.
Elevation gain: 1925 m is the highest point of this cross-country trail network.
Time of the year: Spring/summer.
What else:
Final Thoughts on the Top Hikes in New Zealand's South Island Roundup
It's been such a joy to share all this information with you, my dear fellow hiking friends! As said before, plan with care and detail, and be aware of seasonality and weather conditions.
Make sure to be eco-aware, always follow the best 'No Trace' practices, and follow the trails' instructions. Hiking in New Zealand is an experience of a lifetime for both experts and beginners, so find the trail that suits you best!
Author Bio
Martina Grossi is a content creator and SEO specialist based in Christchurch, New Zealand. Originally from Argentina, 7 years ago she packed a suitcase and set on her first big trip.
After spending a year backpacking Europe and living in Denmark, she moved to New Zealand, fell in love with the country, and became a happy hiker, yogi, and travel blogger.
You can always find her sneaking into the kitchen to eat from the pan, passionately planning her own and everyone else's adventures, and drinking mate.
Pin This Guide to New Zealand South Island Hikes!
Allison Green is a former educator turned travel blogger. She holds a Masters in Teaching and a B.A. in English and Creative Writing. Her blog posts merge her educational background and her experience traveling to 60+ countries to encourage thoughtful travel experiences that both educate and entertain. She has been a speaker at the World Travel Writers Conference and her writing, photography, and podcasting work has appeared in National Geographic, CNN Arabic, CBC Canada, and Forbes, amongst others. Now based in the San Francisco Bay Area where she grew up, she has also lived in Prague, Sofia, and New York City.