Moab is one of the best places to base yourself when visiting Utah's national parks.
Whether you're road tripping the Southwest or sticking to a Utah road trip, no matter what, Moab simply must be on your Utah itinerary.
Its charming small town vibes combined with its proximity to two out of Utah's Mighty 5 make it a perfect place to call your home base for a few days while traveling Utah.
Frankly, hotels in Moab are absurdly expensive for the quality, even by American standards! These Moab Airbnbs are a better option for a great place to stay that won't break the bank.
Even better, each of these Airbnbs in Moab has its own unique character, making the place you stay a beloved part of your trip as well, more than just a roof over your head.
Here is a curated list of the best Airbnbs in Moab — which one would you choose?
Best Rental Home in Moab for Being Close to It All: Casa Moab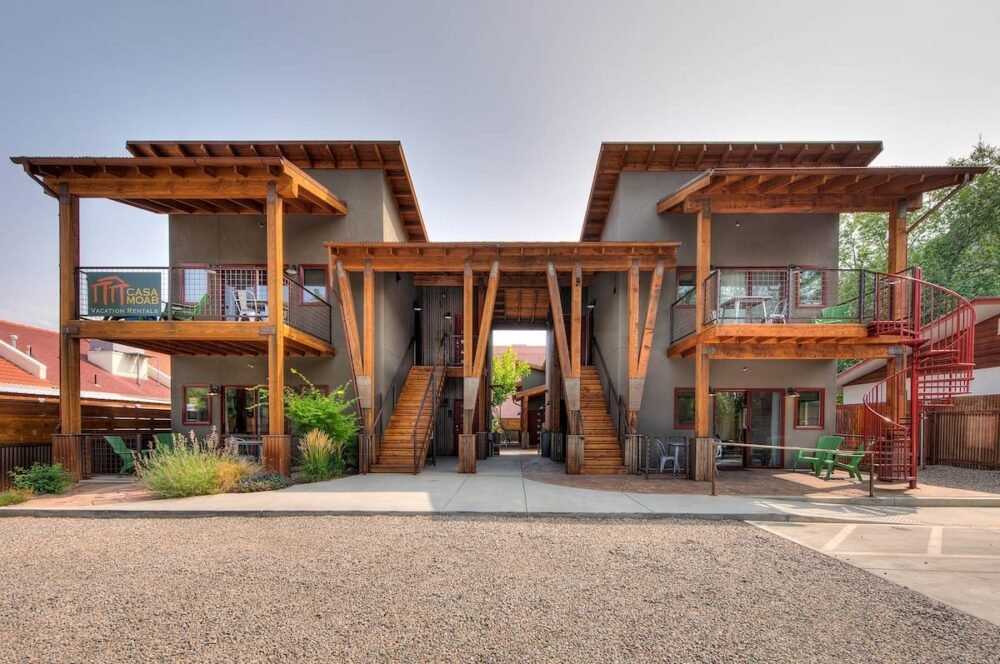 Note: This post contains affiliate links, which means I may receive a small commission if you purchase something through one of these links. Thank you for supporting the free content on this site! For more information on affiliate links and cookies, see my disclosure page for more details.
If you're looking for a resort near all the main happenings in Moab that also allows for a good night's sleep, Casa Moab offers the best of both worlds — it's located on a peaceful, unassuming street that's only a stone's throw from the bustle of Main Street!
Locations of interest in the vicinity include Slickrock Cinemas, the Moab Brewery, and Chile Pepper bike shop, as well as plenty of restaurants and shops for all your basic needs.
Casita #4 (there are 5 on the grounds, but #4 has the best decor in my opinion!) is located on the ground floor of Casa Moab, and it comes equipped with a state-of-the-art kitchen, smart TV with WiFi and cable, a spacious living area, and a cozy, luxurious bedroom.
However, the outdoor facilities are where Casa Moab really shines – between the outdoor sauna, large private deck, and fire pit table, Casa Moab makes for a great place to gather all your family and friends for an afternoon of fun and a delicious outdoor meal.
If, on the other hand, you'd prefer to have a peaceful evening to yourself, Casita #3 has you covered there, too – you can take full advantage of the elegant bathroom and its walk-in shower, and use all the hot water you want!
Best Home in Moab for Quirky Design: Moab Digs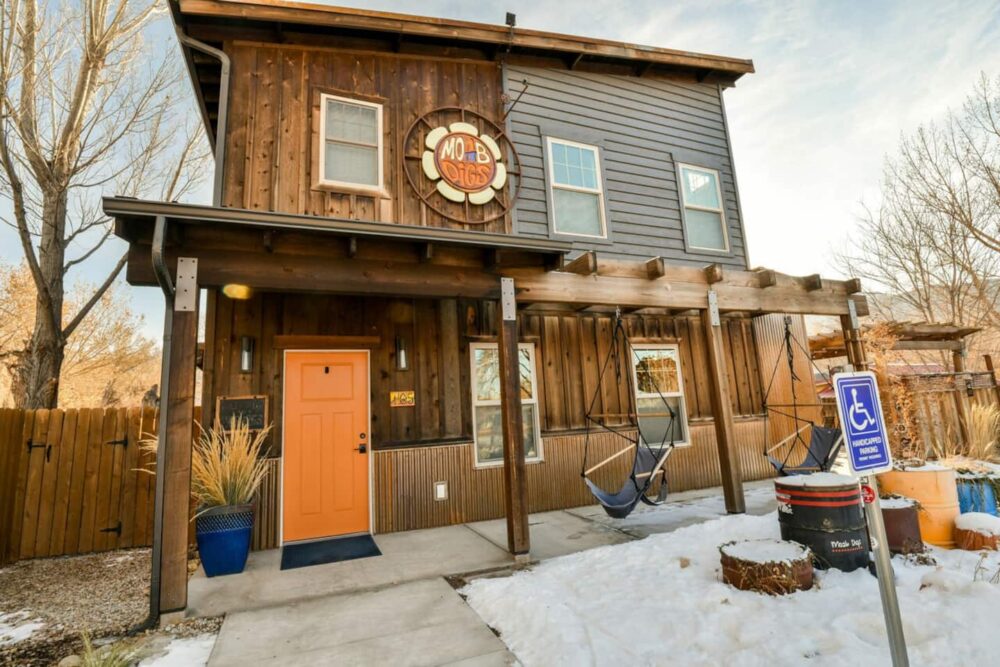 Moab Digs has everything one would ever need – its open floor design combines its kitchen, living room, and dining room into one cohesive unit, and the bedroom comes with a king-size bed and plenty of natural light.
What sets Moab Digs apart from other apartments, however, is its unique, industrial aesthetic. The interior is dominated by shades of gray, with the occasional wooden texture, as well as warm shades of red and blue on some of the furniture and paintings – this combination of colors creates the perfect balance of sleek and simple and gives the apartment a very homey ambient.
On top of having a living room balcony, Moab Digs also has 2 patios. In keeping with the unique look of the interior, the wooden design of the patios is beautifully accented by the surrounding greenery and decorative details.
One of the patios comes equipped with a barbecue grill and is more than spacious enough for larger gatherings, and the other is elevated, providing a great view of the neighborhood.
This stylish apartment is well worth the price of admission, but those who are looking to stay for 3 nights or more get a 30% discount! And frankly, we suggest at least 3 nights in Moab to see everything you want to see, anyway!
Best Moab Home for a Romantic Getaway: Wisteria Cottage at Cali Cochitta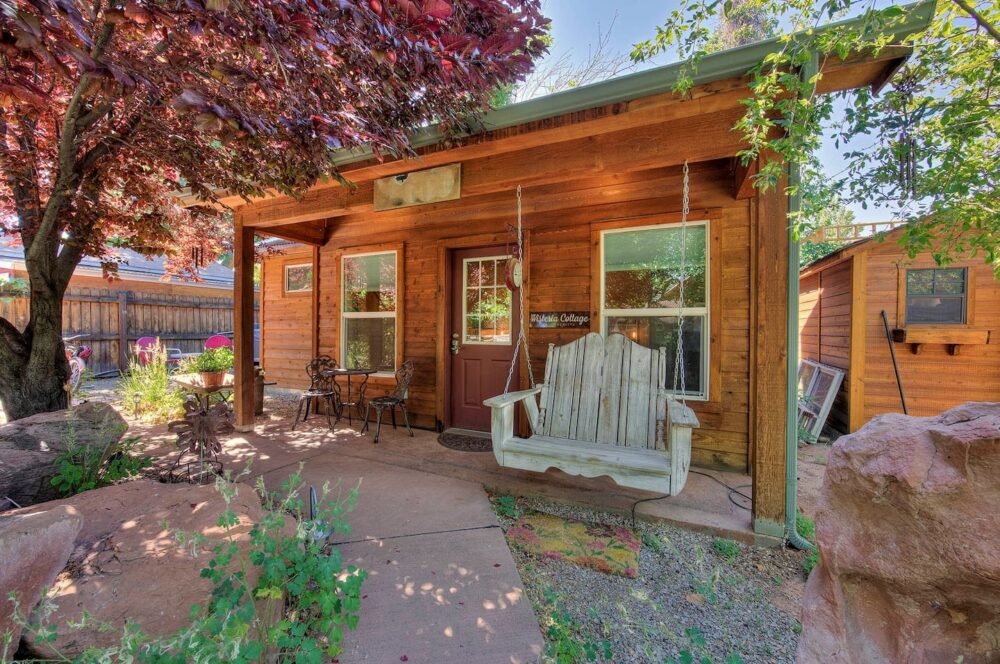 The Wisteria Cottage at Cali Cochitta is a beautiful choice for couples and lovers of rustic cottage designs and colorful gardens.
The cottage is conveniently located 2 blocks from Main St, and the inside comes equipped with a well-stocked kitchen, bathroom, and a beautifully designed bedroom with a king-size bed. Guests are also provided with a cruiser bike with which to explore the town, as well as secured bike storage.
The two main draws of the Airbnb in Moab, however, are the garden area and hot tub. The green-and-pink scenery is very easy on the eyes, and thanks to the trees and vines, there is ample shade to keep you cool even on the hottest of summer days.
On top of that, the hammocks are a great place to just sit back and unwind to the sounds of the stone water feature, another detail that adds to the dream-like ambient of the location.
The garden is shared with other Cali Cochitta guests, so it makes for a beautiful place to chat with others outside.
If you're in the market for a Moab Airbnb with an amazing view, a hot tub in pristine condition, and a beautiful interior, you'd be hard-pressed to find a better option than Wisteria Cottage, especially at this price point.
Best Moab Home for Couples on a Budget: Bogie's Bungalow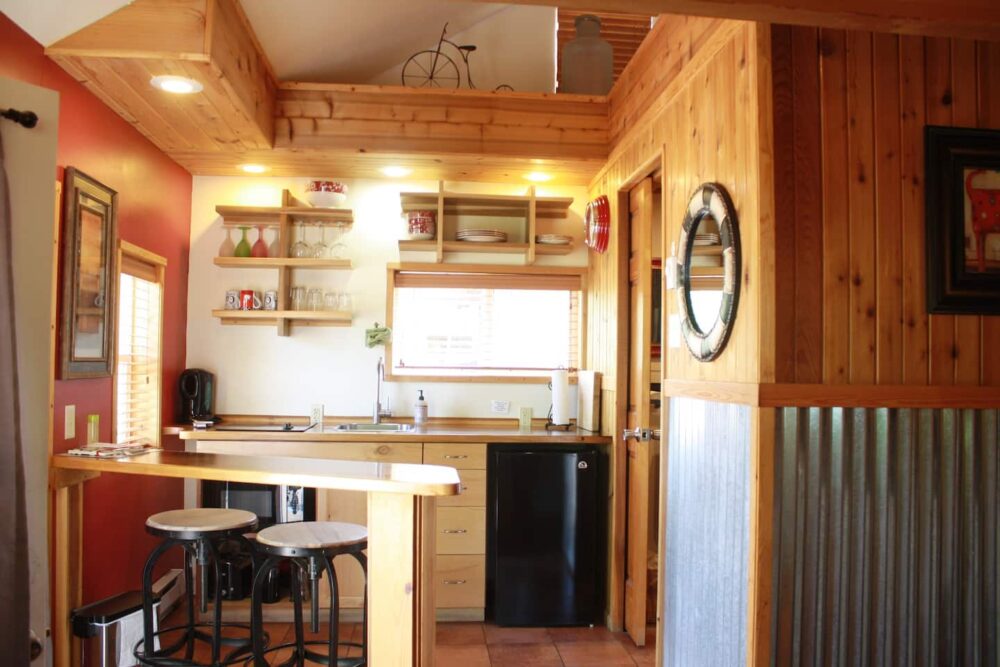 Located in downtown Moab, Bogie's Comfort Bungalow is an ideal getaway for a party of one or two looking for privacy on a budget.
The combination of the old-school wooden design, relaxing color scheme, and exposure to natural light gives the bungalow a distinct identity and a cozy atmosphere.
What's more, this Moab Airbnb is a great pick if you have a furry or feathered friend you wouldn't want to leave at home, as pets are permitted on the premises, for a small fee – you'll even receive a complimentary gift bag with food and other accouterments your pet might need!
On top of the rooms being spotless, the hosts are very environmentally conscious, and all the cleaning supplies used by their staff are organic.
The exterior of the cabin is every bit as impressive as the interior – the cabin comes with a private patio and a personal entrance.
Additionally, you'll have access to a communal hot tub and barbecue grill – although you do get the cabin all to yourself, it is one of four bungalows owned by 3 Dogs & a Moose Cottages, so the areas are shared by all the guests.
Best Airbnb for Outdoor Lovers: Red Rock Base Camp Teardrop Trailer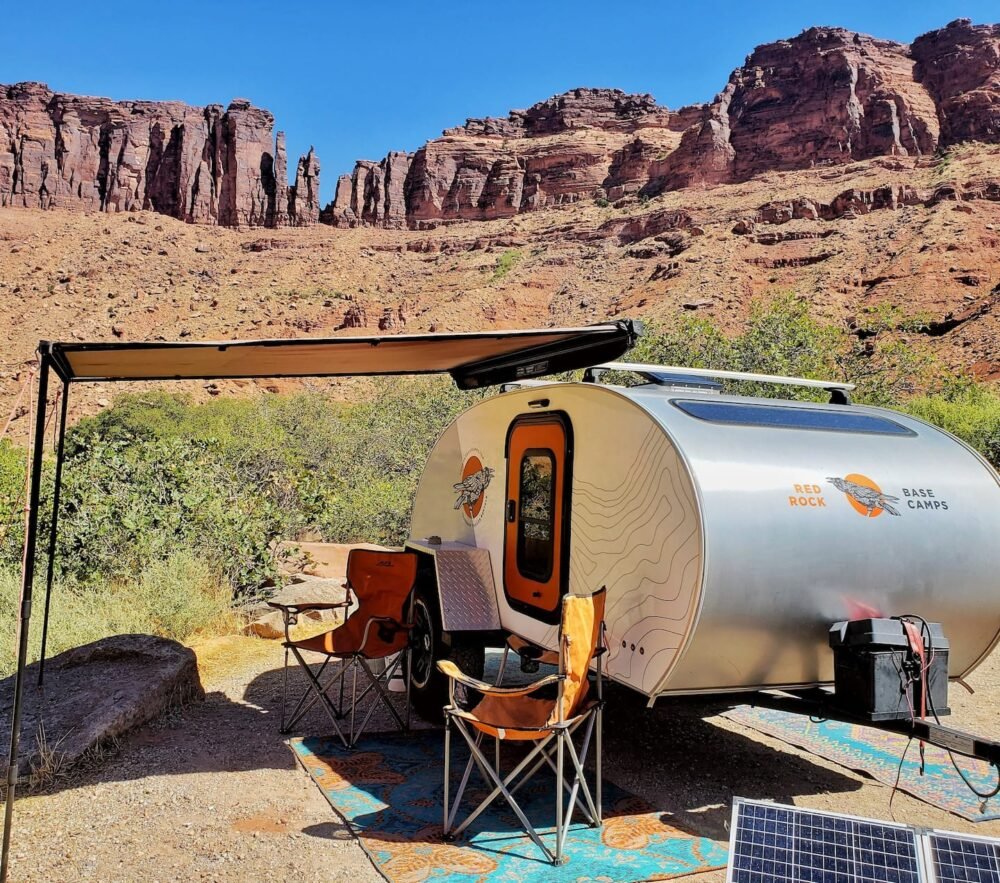 For those who want to connect with nature but are looking to avoid some of the inconveniences of conventional outdoor camping, Red Rock trailers provide you with everything you could wish for, and more.
For the great price of $90 a night and up, you get a cozy, furnished trailer, as well as a fully-equipped outdoor kitchen, to really take in the beauty of your campsite as you prepare your morning coffee!
What's more, the trailer is delivered to your campsite of choice (first-come-first-serve BLM site or otherwise), sparing you the hassle of having to arrange for transportation yourself.
The delivery fee varies depending on how far you are from town, but it's free if you're within a 10-mile radius of Moab. You can even bring your pet along with you, for only $35!
The trailers themselves come equipped with a cooler and 40 gallons of water, with the option of having your tanks refilled.
If you're worried about the cold desert nights, don't be – the combination of good insulation and propane heating is bound to keep you warm, whatever the temperature, and while the trailers themselves do not have showers, you can expect to find some at your campsite or in town.
Best Moab Airbnb for Large Groups: Scalatore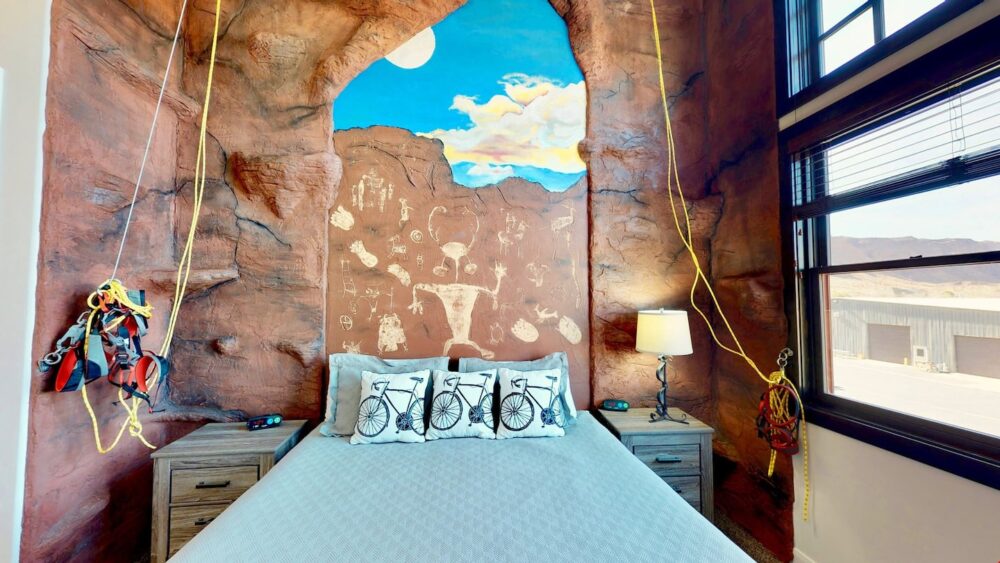 Scalatore is a condominium located on the top floor of La Dolce Vita Villas, and it's a rare example of a rental in a popular tourist area that's every bit as memorable as the local landmarks, if not more.
This unique condo, aptly named after the Italian word for "climber", has nearly 17-feet-tall ceilings and rock climbing walls in the master bedroom, making the interior an amazing place to practice and muster up some courage for the real thing.
Adding to the atmosphere of the bedroom is the 'headboard' of the bed – a custom-made, rocky-desert-themed art piece that gets you into the canyoneering spirit first thing in the morning.
If you still haven't had enough of the high altitudes come night time, the second bedroom has 3 elevated bunk beds that turn the simple act of getting in and out of bed into an adventure – there's even the option of sliding out of bed down a fireman pole (kids will love this, just be sure to supervise!)
Casting the unique concept aside, though, the living and kitchen areas are very cozy and well-furnished, and the second bathroom is a welcome addition, especially if you're taking full advantage of the space and visiting with a large group.
Additionally, Scalatore is located on Main Street, meaning this Moab Airbnb is incredibly close to every downtown locale you could possibly want to visit!
Best Moab Home for Design Lovers: Moab Flats #3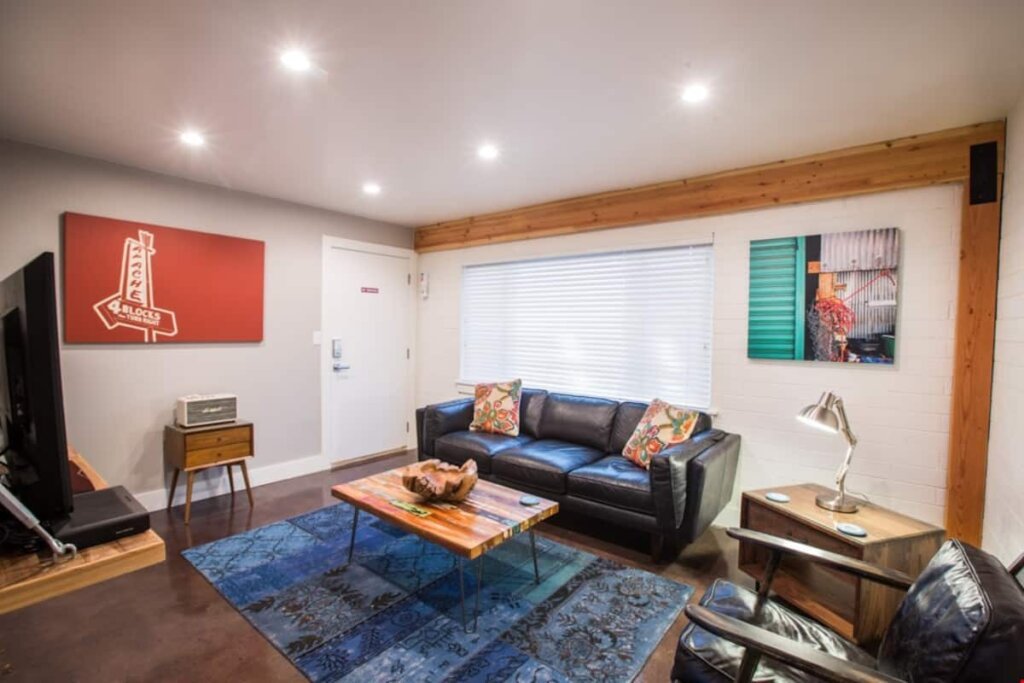 The best rentals are ones that look and feel like a proper home, and this suite really delivers in that department – every single detail feels like it belongs, from the stylish furniture to the red-and-orange-heavy art and décor.
The outdoor area is a great place to unwind after a long day of walking around – you can cook a meal on the barbecue grill, spend an evening chatting around the fire pit, or relax as you stargaze from the comfort of the community hot tub.
In terms of location, the condo is in the very center of Moab, so you'll have quick and easy access to quite a few stores and restaurants, and the fact that there's a block separating you from Main Street means that you'll still be able to get a fair bit of peace and quiet.
The Moab area is well-known for its bike trails, so cyclists will appreciate the access to bike storage and a repair station at Moab Flats.
Best Home in Moab for Peace and Quiet: Sunny Acres Cabin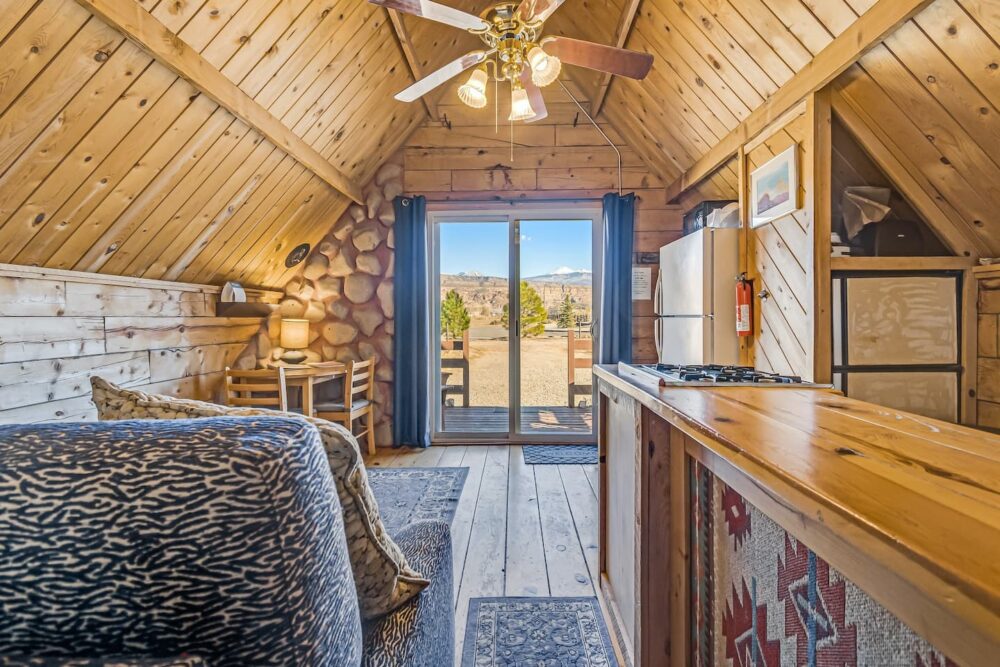 This charming cabin is the perfect retreat for couples who want to keep it simple and spend most of their time exploring the beautiful Moab area away from the crowds of Main Street.
It's worth noting that the lack of internet and TV means that this is somewhat of an off-grid location, so this is a great pick if you're trying to take a short break from looking at screens.
This is not to say, however, that the cabin is not well-furnished – despite its size, it manages to cover all the essentials, between the kitchenette, small bathroom, and sofa-bed.
This is a very welcoming Airbnb in Moab – the combination of a predominantly wooden interior, cozy furniture, and abundance of natural light never fail to make guests feel at home, and you can get a great view of the mountains from the patio.
Adding to the hominess is the fact that you can bring your dogs, and the exterior of the property makes for a great place for your pet to run around and play!
The cabin is very well-connected, and options for exploration in the area are plentiful – Moab's downtown area is just a short drive from the property, as are Arches National Park and Dead Horse Point State Park, two beautiful spots that offer some unforgettable sights.
Best Pet-Friendly Moab Home: Pioneer Cabin 2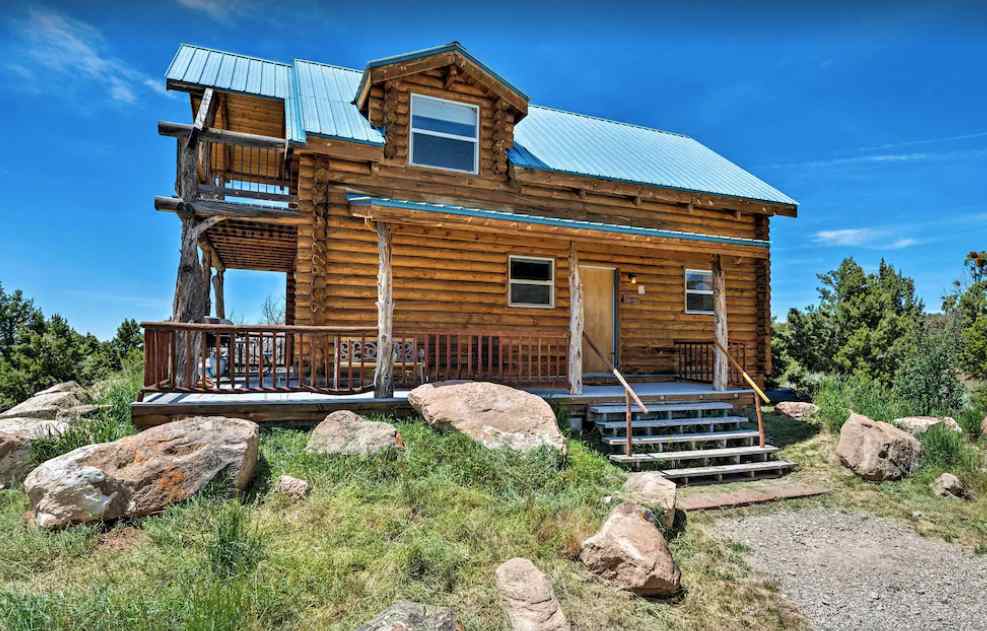 Pioneer Cabin 2 represents the authentic log cabin providing endless outdoor entertainment! The house features and lower decks, picnic tables, a gas grill, and fire pit. In addition, the home sits at 7,600 feet in elevation on the La Sal Mountain Range with views of 6 mountain peaks. The best part? Canyonlands and Arches national parks are just short drives away!
A cozy home featuring a well-appointed interior and all the necessary home comforts, perfect for families looking for a comfortable home base within a short drive from outdoor adventures.
Built with an open floor plan, authentic log walls, and rustic decor, the house offers ample seating, a fully equipped kitchen, and amenities such as a dishwasher, a washer & dryer, ceiling fans, complimentary toiletries, books & games, parking, and more.
The property is 32 miles from Balanced Rock and 36 miles from Delicate Arch.
Best Home in Moab for Tiny House Lovers: Kokopelli West Studio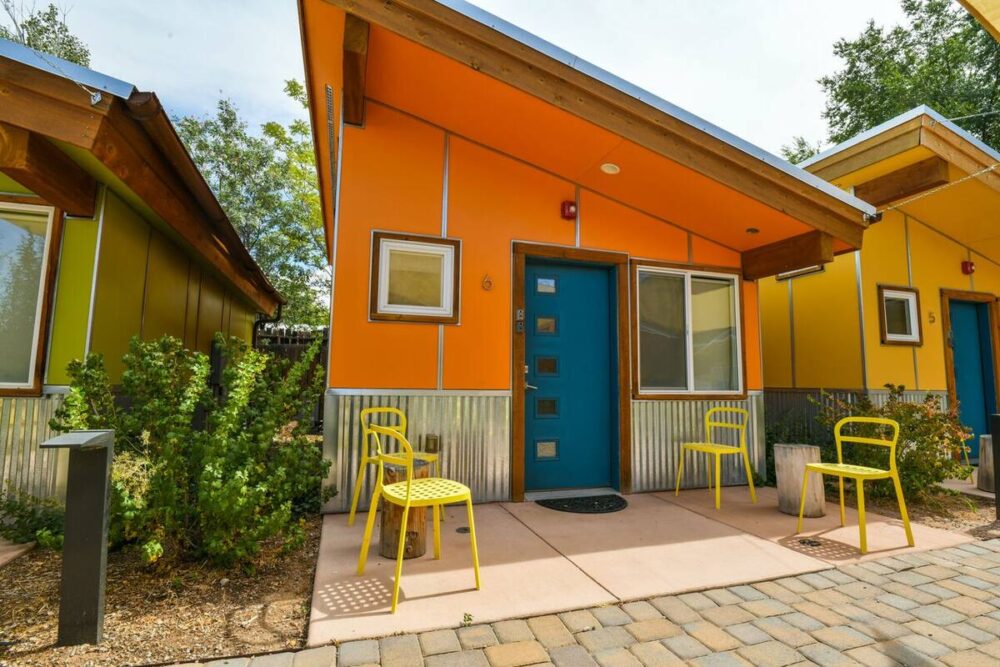 Kokopelli West #6 is ideal for a small group who would like to mingle with fellow Moab enthusiasts.
The property is made up of several tiny houses with a shared patio, where the members of this beautiful tight-knit community can get together and relax in the shade.
The interior of West #6 has everything you need – a studio with bedding and a view of the entire communal area, a well-stocked kitchenette, additional bunk beds, and plenty of windows to keep the place naturally bright.
The indoor space is very well-utilized, and you'll have more than enough room for everyone even if you come with a party of 4.
Outdoor amenities included in your say are plentiful – aside from enjoying the great you can take a dip in either the pool or hot tub, cook up a delicious barbecue lunch, or just sit back admire the view of the mountains from the patio with your fellow guests.
Also worth noting is the property's location – Arches National Park and Dead Horse Point State Park are a 10 and 40-minute drive away, respectively, and you'll be within walking distance of the nearest stores and restaurants.
Best Moab Home for Families on a Budget: Purple Sage Flats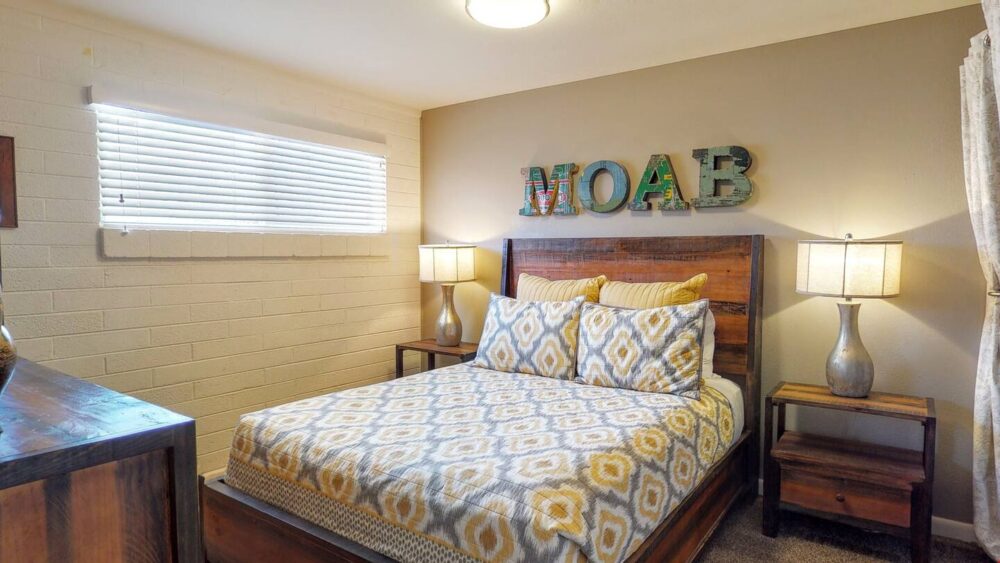 Purple Sage Flats is a lovely Airbnb in the heart of Moab that's sure to woo you with its elegance and coziness.
Everything about the interior, from the earthy color scheme of the furniture to the spaciousness and homey atmosphere of each individual room, makes it really easy to relax in this apartment.
Outside, you'll be able to enjoy the communal hot tub or whip up some barbecue and relax by the fire pit. This communal area is very easy on the eyes, due in no small part to the beautiful murals!
The key to a great vacation at a popular tourist town is finding a rental with a great location, and Purple Stage Flats' location is about as convenient as it could be.
The apartment itself is located on a peaceful street, yet is only a short walk from Main Street, giving it great connectivity to just about every spot of interest in the Moab area.
Another thing that's great about Purple Sage is that it has a total of 8 available rooms, which makes it a perfect place for a wedding, or just about any gathering involving a large group of people.
Best Cabin for Friends on a Budget: St Dane's Pinyon Pine Cabin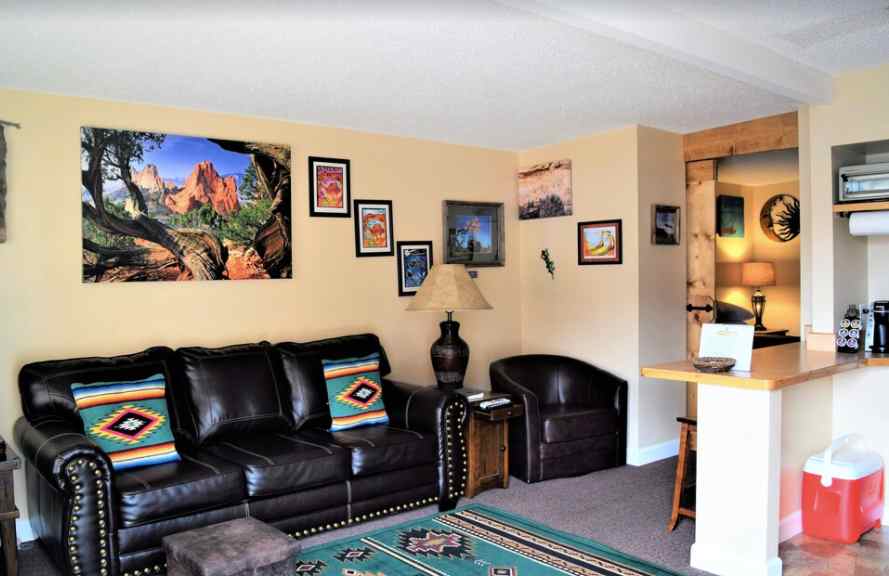 Anyone who's traveling on a budget or has a soft spot for comfy accommodation will appreciate this charming, affordable cabin.
This beautiful propert can easily sleep 4 people and still leave plenty of room for mobility.
The 420 sq ft cabin which provides panoramic views of the Moab Rim, Spanish Valley and The La Sal Mountains with access to the surrounding National & State Parks, La Sal Mountain loop road and Ken's Lake Recreation Area.
The cabin comes complete with a kitchenette, a small living area, and a sleeper sofa. Sleeping a total of 4 adults. The bathroom provides a tub with a shower and the cabin comes completely stocked with linens, towels & toiletries at guest check-in.
The Pinyon Pine Adobe Cabin has its own private entrance and parking, with additional parking for adventure equipment on the property. This cabin welcomes dogs with an extra nightly fee.
Best Home for Friends Trips: Cabin Overlooking Moab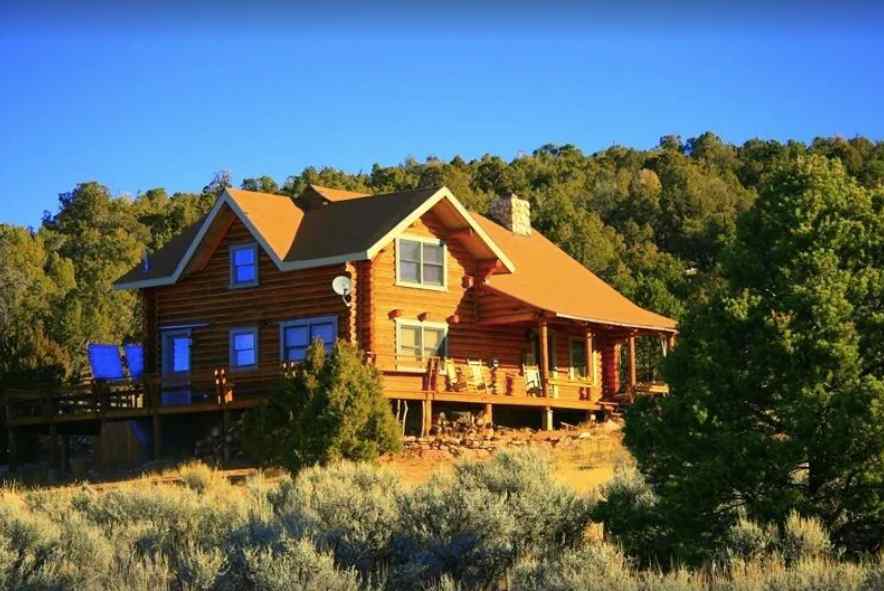 Cabin Overlooking Moab is a stylish cabin that can house 8 guests and has one of the most impressive views in the entire Moab area. 
The property is located off the Sand flats road on the Wilson Mesa at 7300 feet elevation, it's near the trailheads of Porcupine trail, Kokopelli trail, Slick Rock, and Finns N Things. Besides, the cabin is close to Moab's Famous off-roading and mountain biking locations, which include Arches National Park, Canyonlands, Warner Lake, La Sal mountain range, and Castle Valley.
This cabin features 1700 sq. feet of modern convenience but still a cabin with breathtaking views of the La Sal Mountains from one deck, the Moab rim from another, and Arches National Park from yet a third. The house is only13 miles from Moab and the Colorado River.
Best Moab Tent for Glamping: OK RV Glamping Tent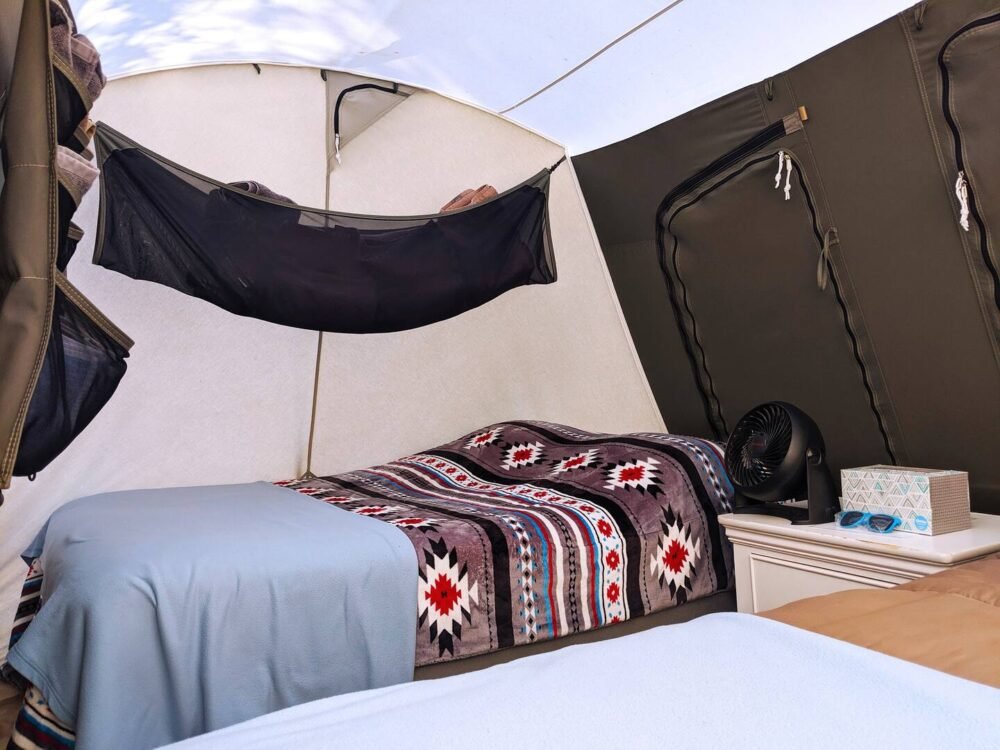 This cozy little tent in OK RV Park is a great place to book if you want to connect with nature without having to relinquish access to too many commodities.
The tent itself is little more than a place to spend the night after a long day of exploring Moab, and this is reflected in its minimal furnishings – two beds for 2 and some rudimentary seating.
The outdoor area is more in line with what you would expect a rental in this area to have, namely a private patio and a fire pit.
What makes OK RV Park stand out, however, is the community of campers – you can keep to yourself and enjoy your own little corner of the camp, or you can go to the shared patio by the park's office and get to know some of your fellow outdoorsmen.
Another selling point of the camp is how close it is to the national parks – you can drive to Canyonlands in about half an hour and to Arches in about 15 to 20 minutes.
Other Moab and Utah Resources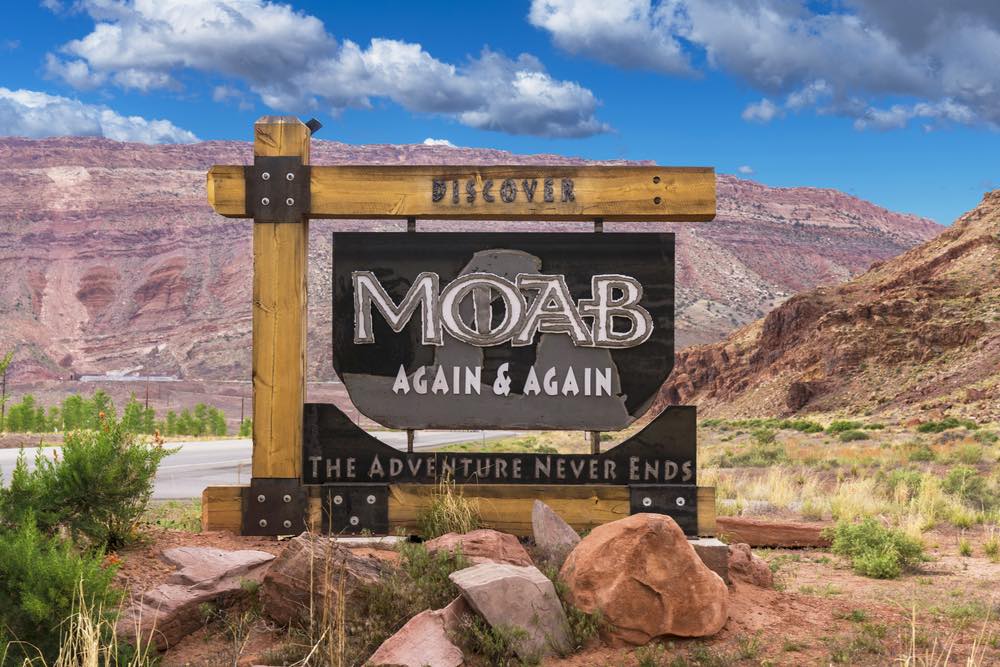 Want more content to help you plan the perfect trip to Moab? Here's some further reading that might help:
Pin This Guide to the Best Moab Airbnbs!
Allison Green is a former educator turned travel blogger. She holds a Masters in Teaching and a B.A. in English and Creative Writing. Her blog posts merge her educational background and her experience traveling to 60+ countries to encourage thoughtful travel experiences that both educate and entertain. She has been a speaker at the World Travel Writers Conference and her writing, photography, and podcasting work has appeared in National Geographic, CNN Arabic, CBC Canada, and Forbes, amongst others. Now based in the San Francisco Bay Area where she grew up, she has also lived in Prague, Sofia, and New York City.