One of the best parts about planning a trip to Morocco is getting to pick out the picture-perfect riads.
A riad is basically a family-run Moroccan guesthouse located in the old medinas, based around an open central courtyard with private rooms on a few floors.
It's a small and intimate experience, and it's one of the best ways to get in touch with Moroccan culture as a tourist.
Your riad hosts can make a huge difference in your stay – recommending guides, drivers, and off the beaten path spots where you won't get ripped off as a tourist.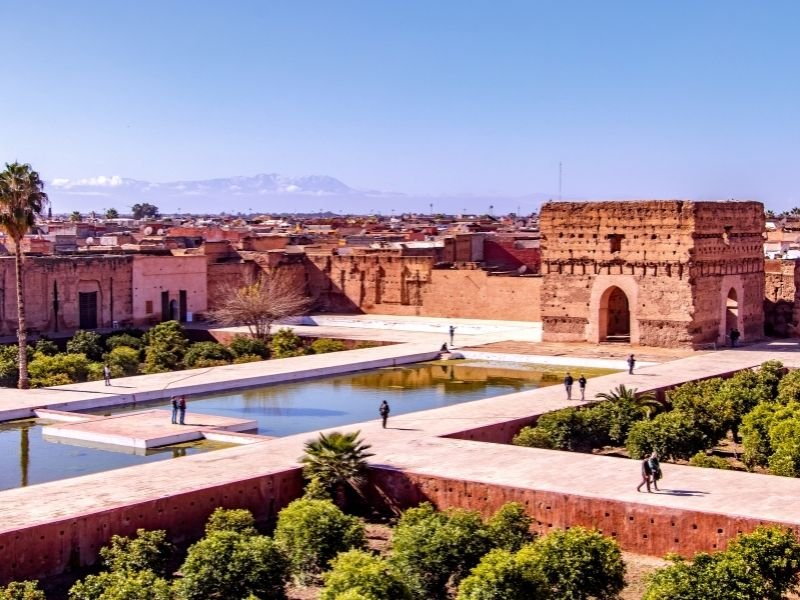 In the atmosphere of Marrakech, where scams are rampant and taking advantage of tourists is commonplace, a riad host is almost like a 'fixer' – solving problems, negotiating fair deals, and helping you navigate the more difficult aspects of Moroccan culture for outsiders.
The personal nature of your relationship with your riad host, who typically only has a handful of guests at one time (as a riad is much, much smaller than your traditional hotel) is one of the biggest reasons why I recommend staying in a riad in Marrakech.
There are many beautiful places to stay in Marrakech, from boutique to luxury hotels, but I think that riads are the best bet.
They're unique to Morocco, help you dive into the culture with the kind guidance of a local, and personalize your experience immensely.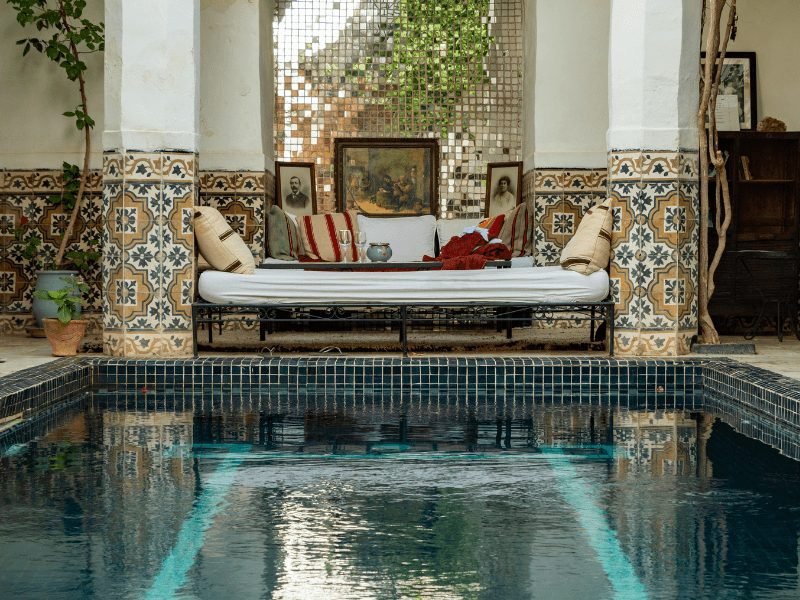 That's why I've narrowed down the best riads in Marrakech for all budgets (skipping over bigger luxury hotels) so you can spend more time planning other parts of your Morocco trip, like taking a trip to the Sahara desert or deciding what to wear.
I've picked 7 gorgeous and stylish Moroccan riads for each budget category for a total of 21 of the top riads in Marrakech.
For the purposes of this article, I've generally defined budget as being generally under $100 USD a night, mid-range as $100-200 USD a night, and luxury as $200+ USD per night.
However, keep in mind that prices do fluctuate depending on room type/size available, time of year, and other variables, so use the budget categories as a guide rather than as gospel.
You may see some hotels in the luxury category for as little as $100 a night in certain low seasons (mid-summer and the dead of winter, generally), so these are really loose guidelines, but they should be helpful in getting started.
Best Riads in Marrakech: Budget
Top Pick for A Marrakech Riad on a Budget: Riad Matham
For a gorgeous budget riad in Marrakech, I recommend Riad Matham.
The building is historic, dating back to the 16th century, when this traditional Moroccan house once belonged to a rich Berber family.
It has a plunge pool right in the heart of its quiet courtyard, blooming bougainvilleas and lush olive and palm trees.
There is also an in-house hammam with steam room that you can use, and massages can be booked at this Marakech riad for an affordable price.
The individual rooms feature traditional Moroccan home decor and soaring high ceilings (nearly 5 meters high!), and gorgeous architecture.
There's also shady roof terrace for you to enjoy a view of the medina from your own quiet oasis.
Despite all this, you'll be surprised by how affordable a touch of luxury can be in Morocco, as this is a great budget find!
Plus, let's talk about its great location.
This elegant riad is just a 10-minute walk away from Jemaa el Fna Square, and 3-minute short walk away from museums such as the Photography Museum.
Basically, this Marrakech riad is perfectly positioned in the medina so that everything is easily accessible on foot.
The riad is quite intimate, with two beautiful rooms and four suites, all attended by kind hosts and friendly staff who make you feel like family.
Just 800 meters away from Djemaa El Fna, Marrakesh's main square, Riad la Parenthèse is tucked away from the chaos of the crowds in a quiet side street.
With a gorgeous interior courtyard with a small plunge pool, Riad la Parenthèse is one of the best riads in Marrakech to stay in on a budget, especially if you don't want to sacrifice comfort or style.
Your stay includes a complimentary breakfast every morning, and home-cooked local dishes are available in the evening upon request.
There's also a sun deck with loungers on the rooftop!
You get the traditional Marrakech riad vibe with authentic local furniture and design elements.
The rooms are decorated with modern design meets Moroccan details, inspired by the souks that surround the riad.
The rooms range from small to medium in size, but all are air-conditioned.
Each has a small seating area to enjoy and a private bathroom with either a bath or shower.
It's hard to find a better riad in Marrakech for the price (and nearly-perfect ratings)!
Color & Culture on a Budget: Color Safrà
For a budget yet gorgeously designed riad in the heart of the medina, Color Safrà is a fabulous choice.
It's located 400 meters from Madrassa Ben Youssef and 600 meters from Djemaa El Fna, so it's truly in the heart of Marrakech.
Despite that, guests praise it for its quiet and calm in the heart of the city, so you can rest assured that you'll have a peaceful night's sleep here.
This traditional Marrakech riad is typical of what you'll see all throughout Morocco.
You'll see tiled floors, gorgeous details crafted by local artisans, open courtyard, and plenty of greenery to refresh the eyes and give you that oasis of calm feeling.
There's a shaded large terrace on the roof for relaxing; however, note that there's no plunge pool.
If you are visiting Marrakech in the summer you may want to opt for a place with a small pool, as temperatures can soar up to 115 F / 45 C!
Rooms do have A/C though, as well as a ceiling fan, so you can stay cool despite the scorching temperatures.
Check out prices, availability, reviews, and more photos here!
Personality & Traditional Charm: Dar Daoud
A mere 300 meters from Djemaa El Fna, Dar Daoud is right in the heart of the Marrakech action and it's a great choice to stay for your first time in Marrakech!
There's a rooftop lounge area to relax in though keep in mind that Dar Daoud doesn't have a pool area so if that is important to you, you may want to find a different riad in Marrakech.
With white walls with blue accents, the colors remind me of Santorini, creating a gorgeous calm aesthetic throughout the whole riad.
The rooms are compact but have the basics of what you need.
The rooms all have seating areas, air conditioning, a wardrobe for your clothing and belongings, and private bathrooms (except for the single room).
Guests rave about the hospitality of the host, Bader – nearly every review mentions him and how helpful he was!
Check out prices, availability, reviews, and more photos here!
The Lushest Hostel You've Seen: Equity Point
This gorgeous and sumptuous Marrakech accommodation is actually a combination of hostel and riad.
Yes, Equity Point offers a bit of luxury even for backpackers and solo travelers on a budget!
You'll find a variety of room options here, from private twin and double rooms to beds in 4, 6, and 8 bed dorms.
That said – the decor definitely doesn't look like your average backpacker hostel!
It'd be a great place to stay for solo travelers, especially solo female travelers.
I sure found Marrakech an intimidating place to navigate alone, and a hostel would have been a great way to find people to explore it with.
With a gorgeous pool to enjoy on warm days and a rooftop terrace with a bar, there are plenty of common areas to mingle and meet fellow travelers.
The rooms are beautifully decorated, whether private or dorm, and give you that traditional Marrakech riad feel (but with a hostel pricetag!).
This gorgeous, unique boutique riad has serious design vibes and is surprisingly inexpensive given its beauty – Riad Laly is on the cheaper side of this price range!
Each room is different, but the interior design is on point everywhere. Some rooms have decorative doors as headboards, gorgeous Moroccan lamps which cast intriguing shadow patterns everywhere, beautiful throw pillows – you get the idea.
There are plenty of common spaces to enjoy, including a rooftop terrace where you can eat their delicious (included) breakfast each morning.
It's 400 meters from Djemaa El Fna and easy walking distance to virtually all that's of interest in downtown Marrakech.
If visiting in summer, note that there is A/C (with additional charge) but no pool.
Check out prices, availability, reviews, and more photos here!
An Oasis Amongst Orange Trees: Riad Al Nour
With an orange-tree shaded courtyard adorned with traditional Moroccan tiled floor and woven carpets, Riad Al Nour is your picture-perfect, colorful oasis from the chaotic Marrakech medina.
There are plenty of communal lounge areas to sit and enjoy the tranquility of the riad and its beautiful design.
The rooftop terrace is a wonderful place to relax, with a gorgeous panorama of the Atlas Mountains which surround Marrakech!
Rooms have quite a bit of personality, with lots of color livening up the traditional Moroccan decor, and lovely tiled bathrooms that recall a hammam.
Air conditioning is available in all of the rooms, but there is no pool on site, so keep that in mind if visiting in the summer!
Check out prices, reviews, availability, and more photos here!
Best Riads in Marrakech: Mid-Range
Top Pick for Understated, Affordable Luxury: Riad Adika
With a gorgeously Insta-worthy plunge pool at the heart of its open courtyard, Riad Adika is a wonderful place to relax and unwind when the souks get to be too much.
The riad's design is minimalist yet beautiful: white walls, intricately detailed wooden doors and details, leather and wood accents, and a turquoise pool at the heart of it all. There is a hammam on site, and massages are available upon request
There's a chic rooftop area to relax in, with benches with throw pillows and plenty of shade to relax beneath on hot days as well as sun loungers if you fancy tanning a bit.
At night, the rooftop turns into a romantic candlelit terrace where you can enjoy tagines and other traditional Moroccan dishes from the riad's kitchen.
The rooms are unique for a riad, brightly lit with plenty of light streaming in, enhanced by the white walls and high ceilings.
Traditional details like woven rugs and Moroccan lanterns add to the romantic atmosphere of the rooms.
Check out prices, availability, reviews, and more photos here!
For a gorgeous luxury riad in Marrakech without a crazy price tag, I strongly recommend the beautiful Les Sources Berbères Riad & Spa.
Welcoming you with the scent of jasmine when you arrive, this quiet Marrakech riad feels like a hidden gem away from the hectic medina.
It has a plunge pool to dip in on hot days, and a rooftop terrace with a hot tub for cooler nights, plenty of seating areas in the courtyard, and a communal lounge.
This is a wonderful and spacious feeling riad where you can feel like you're having your own private moments, or chatting with fellow guests should you feel more social.
Every room at Les Sources Berbères has A/C and traditional yet understated Moroccan decor, with a seating area to spread out and relax in and a private bathroom designed with traditional tiling in each room.
There's a hammam on site with a traditional Turkish steam bath and massages available for an additional charge. A delicious and free breakfast is included in your stay, with homemade jams and bread that guests rave about.
With a gorgeous courtyard centered around a large pool for guests to enjoy, the Riad & Spa Le Secret de Zoraida is a fantastic escape from the noises of Marrakech.
With a lovely sunny rooftop where you can unwind (and a hot tub to enjoy on cooler nights) and plenty of cozy nooks to relax in with a book or a cup of Moroccan mint tea, there's a lot to love about this mid-range Marrakech riad.
The rooms are decorated to the nines – not for people on the minimalist side of the spectrum, but better suited for those who want to live out their Moroccan royalty fantasy.
The bathrooms are insanely luxurious with bathtubs adorned with rose petals on request.
There's a hammam on site where you can enjoy a traditional Moroccan scrub and massage for an additional charge.
Beautifully Understated & Tasteful Luxury: Riad Magda & Spa
For a cozy and comfortable riad in Marrakech that offers affordable luxury, take a look at Riad Magda.
First up, it's extremely spacious, with a beautiful pool that gets even more beautiful when it's all lit up at night, with Moroccan lamplight casting beautiful shadows everywhere.
But beyond just the pool, there's plenty of places in Riad Magda to relax and enjoy the break from the medina buzz.
The rooms are large and well-designed, simple yet elegant, with plenty of seating room to spread out your belongings and still relax in a large, comfortable bed away from it all.
The rooms are romantically lit, not too bright or dark (as many riads can be due to the lack of outdoor windows, which helps with noise reduction but doesn't add much in the way of light)
There's a gorgeous hammam and spa on site where you can relax and get the traditional Moroccan scrub treatment – basically, an hour of intensive scrubbing and rubbing that is equal parts painful and relaxing, but ultimately leaving you feeling baby-soft afterwards.
If you want a more traditionally relaxing experience, skip the scrub and head straight for a massage table!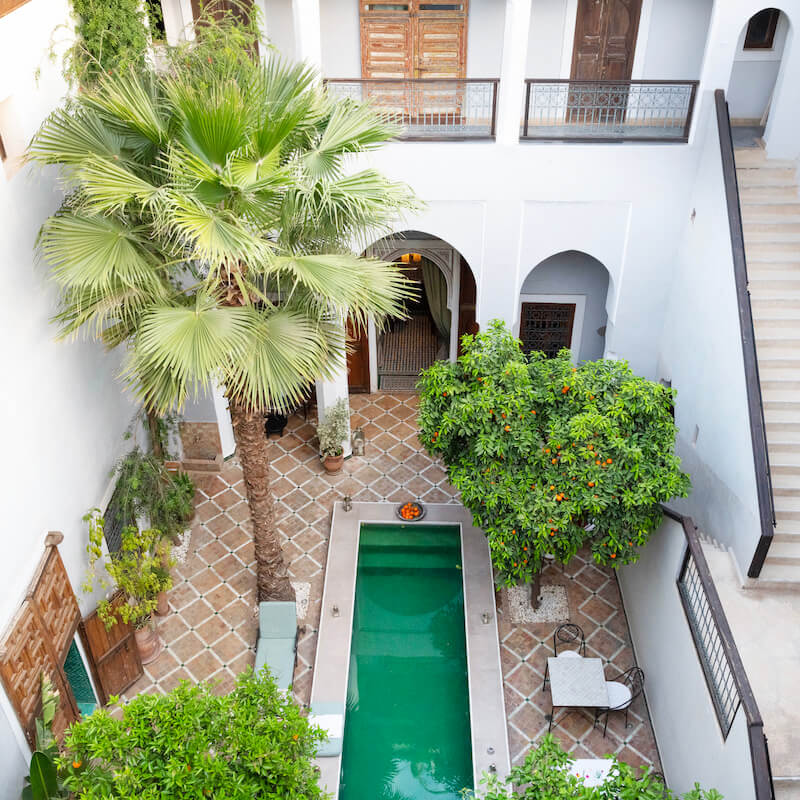 With a lovely aesthetic, the eco-friendly Riad Le Rihani is a great choice for one of the best Marrakech riads to stay in!
Also, it's one of the most stylish and Instagrammable riads in Marrakech on this list — you've probably already seen photos of that pool!
From the moment you arrive and are welcomed with traditional Moroccan pastries and mint tea, you'll feel at home.
Centered around an outdoor pool, there's also a rooftop terrace where you can relax in a canopy bed, a hotel library, a fireplace area, and a hammam offering a handful of different massage treatments.
Each room has its own individual personality, stylishly decorated with a luxe yet relaxed Moroccan aesthetic.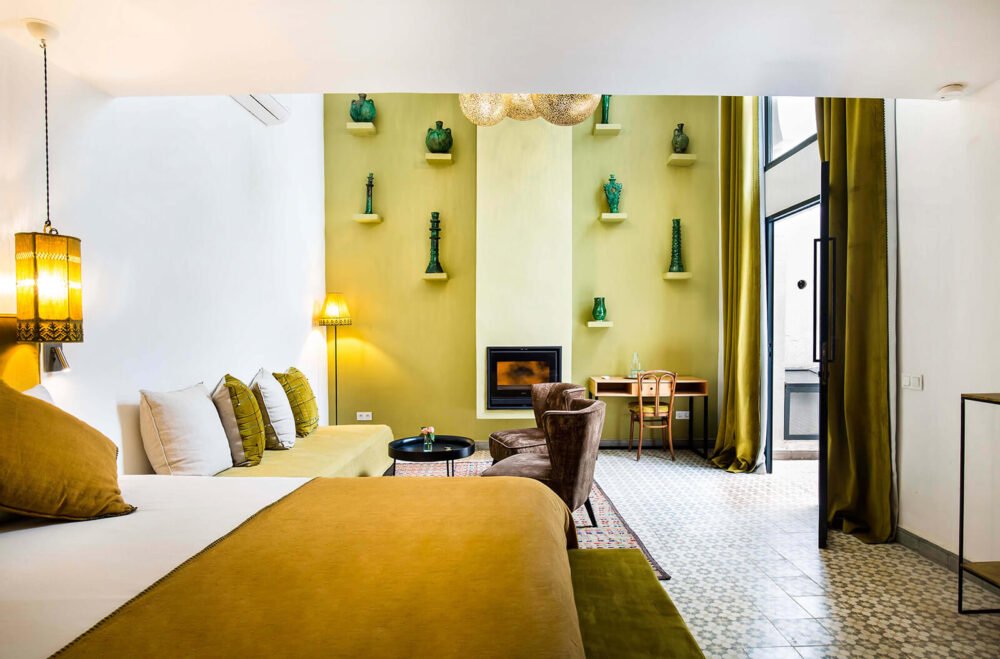 In terms of rooms, there are everything from double rooms to suites to larger 4-person family suites if you want or need more space.
Since many riads in Marrakech can be a little on the cramped side, the spaciousness of Riad Le Rihani is a huge plus.
For couples or for families, it's a fantastic place to stay in Marrakech.
Modern Style & Instagrammability: BCK Art Riad
If you're looking for one of the more Instagrammable riads in Marrakech – this is it!
BCK Art Riad is literally designed to be photographed – from the gorgeous pool to the plush Berber rugs to the colorful floor pillows, it's an interior design dream.
The in-house hammam is just as beautiful, with Moroccan lanterns lighting the dim spa room in a smattering of shadow and light.
There are so many nooks and crannies of this designer riad to relax in, and there's colorful art on the walls to add vibrancy and a modern touch to the more traditional Moroccan elements.
The rooms are decorated in a more modern style, with quirky wall art, white linens, and exposed wood elements, perfect for someone who prefers a little more of a streamlined look rather than over-the-top glamor.
BCK Art Riad is a little more away from Djemaa El Fna than others – about 1 kilometer away – but this means it's a little extra tucked away from the noise.
With white and turquoise tiles, plenty of greenery, and a gorgeous plunge pool in the courtyard, L'Oriental Medina Riad & Spa is a wonderful relaxing riad in Marrakech.
It's located away from the crowds of Djemaa El Fna but just a 15-minute walk away, offering the best of both worlds. It's close to other tourist favorites like Ben Youssef Madrasa and several of Morocco's best museums.
Like many riads it can be a bit hard to find, but once you arrive, a sense of calm and isolation envelops you.
The riad also has a rooftop deck to relax on with loungers and shaded areas, where it is also possible to dine at night (or you can eat by the pool).
There's an on-site hammam and spa if you want to relax or get a massage during your stay in Marrakech.
Rooms are affordably priced for the quality and comfort level and very colorful, full of traditional detailing inspired by the souks surrounding the area.
Breakfast is included in the price and is a generous Moroccan spread of fresh bread, jams, fruit, juices, and more.
Best Riads in Marrakech: Luxury
Top Pick for the Best Luxury Riad: Almaha Marrakech
With an enormous pool surrounded by white stone archways and wispy curtains and a cascade of greenery coming from the second floor, Almaha Marrakech is like something out of a dream.
Relax by the pool by day or enjoy the scenic rooftop at night, with carpets on the floor and lit up by lantern light: everything here screams photogenic glamor, making it my top pick for the most luxurious riad in Marrakech.
Oh, and if the giant courtyard pool isn't enough, there's also a whole 'nother one tucked away down a quiet set of stairs where you can also relax more privately on some sun chairs.
There's almost perhaps one of the most gorgeous hammams in a riad in Marrakech, with gorgeous Islamic tilework, massage tables for further relaxation, and steam rooms and sauna available.
To speak of the rooms themselves, they are extremely large, bright, and spacious, great for a longer stay in Marrakech.
Rooms have seating areas, fireplaces, enormous beds, and furnishings made of simple yet elegant wooden traditional Moroccan craftsmanship with white walls: basically, my dream home.
For the price and quality, this is one of the best luxury riads in Marrakech.
With a private pool at the heart of its courtyard, gorgeous white walls with rich wood detailing, plenty of archways, greenery, and nooks to relax in, Riad Melhoun & Spa is heaven.
This is a gorgeous and luxurious place to get away from the business of Marrakech and enjoy a traditional riad with all the amenities.
It has all the luxury riad spoilings: a lovely sun terrace to relax on, a pool to take a dip in, and a hammam/spa to unwind in!
Each room has a different name and a different vibe or personality – from a traditional four-poster bed with canopy to a more playful flower-print bed with bright pink pillows.
Every room has unique photography on the walls that showcases the beauty of Marrakech.
It's located a 3-minute walk away from both Bahia Palace and El Badi Palace, so it's in one of the best areas to stay in Marrakech.
Understated Luxury & Attention to Detail: Riad Omri
This traditionally designed Marrakech riad has a gorgeous, restrained beauty to it.
Many riads in Marrakech go a bit over the top in terms of the decor but at Riad Omri, less is more.
Detail and quality is the name of the game here and you'll find both aplenty.
You can relax by the pool in summer or read a book by the fireplace in the lounge in the cooler months.
A traditional breakfast can be had at the poolside every day, included in the room price.
The rooms have an airy and spacious feel with lots of bright light, and the Moroccan furnishings are well-chosen and artfully crafted.
There's also a lovely hammam and spa center on site for guests to enjoy!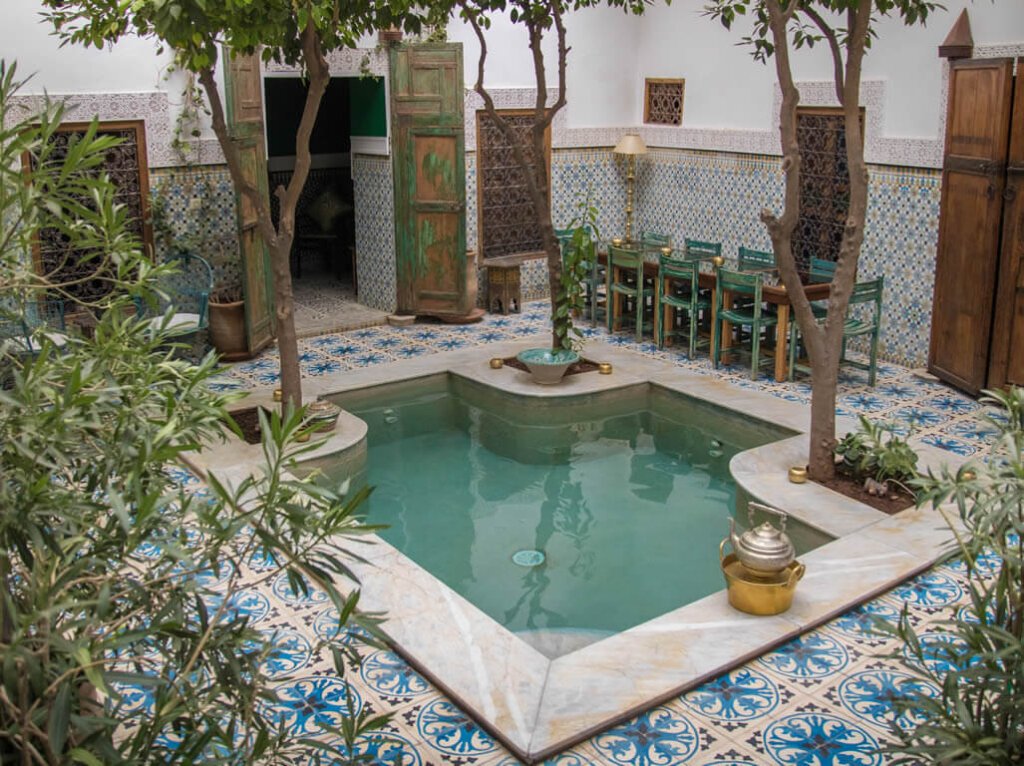 The courtyard at Riad Yamina 52 is basically a garden which the entire riad is built around!
There's a lovely dip pool in the middle of everything so you can fresh after a hot day out exploring the medina.
There's also a gorgeous cradle of trees above it, shielding the pool (and your skin!) from the sun.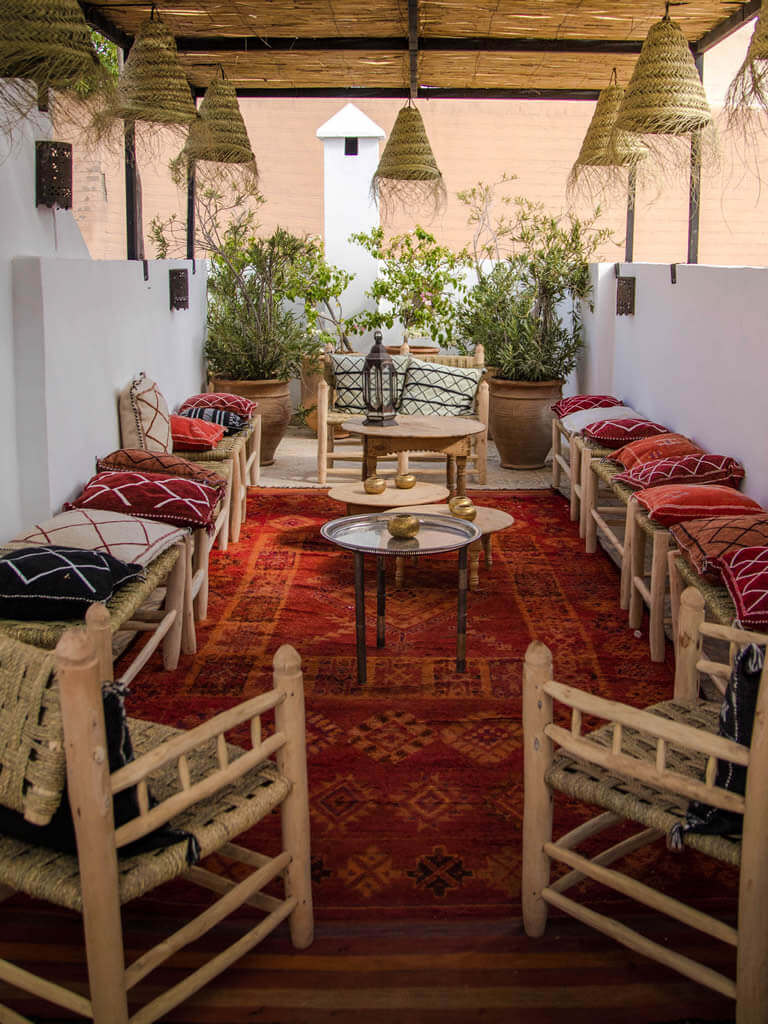 There's also a rooftop terrace to enjoy a shady mid-day break from exploring Marrakech when you want some peace and quiet.
The rooms are pretty much a Morocco-inspired Pinterest board come to life: beautiful rugs, traditional lanterns, wooden furniture, colorful textiles.
There are a variety of rooms at a range of price points, from surprisingly affordable doubles to more luxurious suites.
Truly looking like a palace more than a hotel, Riad Dar Essalam is an amazing place to stay in Marrakech for travelers who want extra.
The only word to properly describe this riad is majestic, even over the top.
Some of the rooms look straight-up fit for a sultan: we're talking stained glass in the ceilings, fireplaces, intricate canopies adorning four-poster beds, Moroccan rugs and throw pillows everywhere.
Others are a little more simply done, so peruse each room when making your booking to ensure you pick something that suits your personal style.
The interior of the riad is beginning to be photographed at nearly every angle, with gorgeous colorful tilework in all the communal areas.
It's almost like staying in a madrassa (Islamic school) turned hotel!
However, a few things to note: there is no on-site pool or hammam, so if these are deal-breakers for you, this is not the hotel.
However, if you're planning on visiting in a cooler month when you won't need a pool and are happy to check out a hammam elsewhere, this works great!
Unfussy Glamor & Beauty: Ryad Dyor
For luxury for less, check out Ryad Dyor. This gorgeous central Marrakech riad has a plunge pool and hammam on site for the ultimate relaxation.
At night, the courtyard gets an even more magical look with lanterns and candles surrounding the pool area, begging you to relax and unwind poolside after a long day exploring Marrakech and its surroundings.
The design of this riad is understated beauty at its finest: white walls broken up with pops of color and intricate detail.
From beautifully embroidered pillows on a bench inviting you to relax, traditional leather poufs to sit on, wood elements, intricate Moroccan tilework, this Marrakech riad screams tasteful luxury, whereas some other riads can be a little over-the-top in their design.
The rooms are large, extremely spacious, and a beautiful mix between modern and traditional Moroccan elements.
The rooms are really bright and airy (again, not always easily found in Marrakech riads!) with soaringly high ceilings and tasteful decoration.
The en-suite bathrooms are simply beautiful, with either a relaxing bathtub or shower. Basic double rooms are affordably priced; for a little more luxury, opt for a suite which are larger and more comfortable.
There's a hammam and massage center on site, with both an indoor and outdoor pool, sauna, solarium, and steam room available.
The riad is slightly larger than others, as it's a combination of two family-owned riads which have been blended together; the original property dates back centuries and the walls are over 300 years old!
A Perfect Wellness Getaway: Bliss Riad
For a boutique riad in Marrakech where design is king, check out the beautifully-designed Bliss Riad.
It's a great place to go for a wellness getaway!
Not only is there the typical plunge pool and steam room that you'd expect from a luxury riad in Marrakech, but you can also take yoga classes, indulge in mani-pedis, get hair treatments or waxes, etc. – it's basically a riad meets full-service spa all-in-one.
There's a library on site where you can pick a book and relax in one of the many reading nooks the riad offers, or you can relax on the sun terrace and enjoy the views over the medina rooftops.
A lovely staff, delicious dinners, and beautifully-designed rooms all get a special shoutout from guests.
One thing to note is that sound carries quite a bit in the riad, so be prepared with some earplugs and to conduct yourself quietly during the evening hours.
FAQs About Marrakech Riads
What is the difference between a riad and a hotel?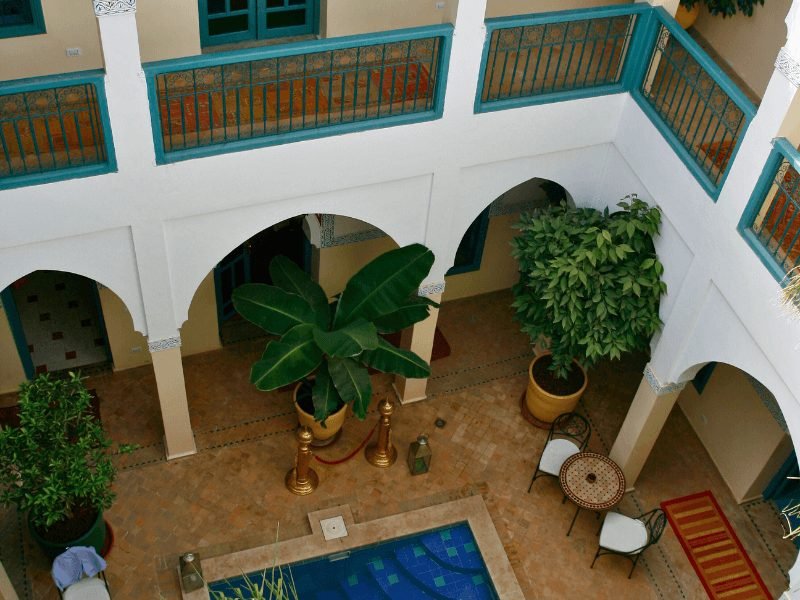 Riads are converted traditional houses that once belonged to a local family (though it still often stays in their hands) and is now a guesthouse.
Riads are typically small — usually less than 10 guest rooms — and pay close attention to their guests: like a boutique hotel, but even smaller!
Hotels are often owned by larger, foreign companies and have more rooms but less individualized attention.
How much does it cost to stay in a riad in Marrakech?
This entirely depends on where you're staying (and when)!
A basic riad can be as low as $30 USD per night in low season.
An ultra-luxury riad like La Mamounia (which is too booked-up for me to bother listing!) can start at $550 per night — pretty standard for a luxury hotel.
What amenities are typically offered in riads in Marrakech?
Virtually every Marrakech riad will have a courtyard and rooftop terrace with nice decorations, and they'll typically offer free breakfast and other meals for a cost.
More luxurious riads will have a plunge pool in the courtyard and more shared lounge spaces, like a library, fireplace room, tea room, etc.
The creme-de-la-creme riads will have an on-site hammam offering massages, beauty treatments, and steam rooms, etc.
Are riads in Marrakech centrally located?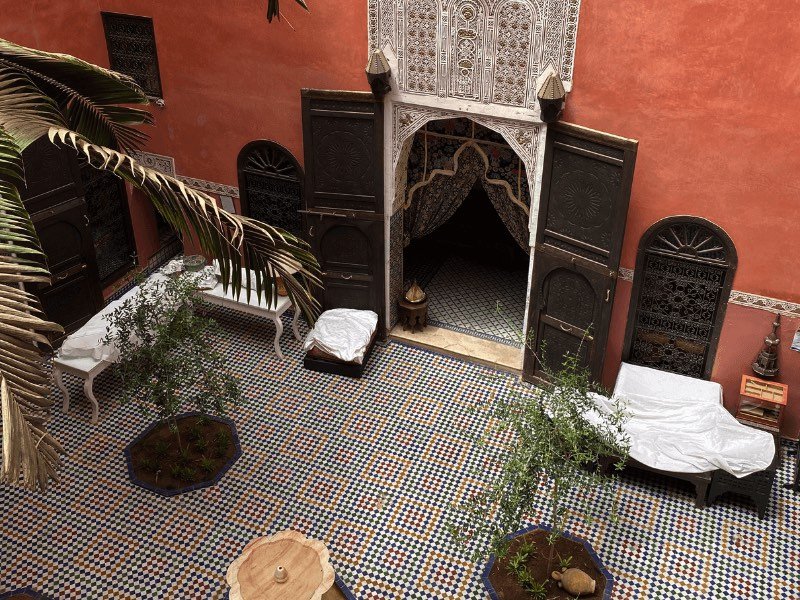 Yes – virtually every riad is in Marrakech's Medina (historic center). Every riad on this list is, at least.
That said, it can be hard to navigate Marrakech's alleyways, so you may want your guide to write out some directions for you that include waypoints and visual cues for directions, because Google Maps is not your friend in Marrakech.
Are riads in Marrakech family-friendly?
Generally, yes! While there may be the occasional adults-only riad, they'll specify that clearly while booking.
None of these riads are adults-only, and all are suited for families.
Just be aware of things like a courtyard pool, rooftop terrace, etc. can present a danger to younger kiddos if unattended.
Are riads in Marrakech suitable for solo travelers?
Absolutely! Marrakech riads are suitable for all kinds of travelers.
As a solo traveler in Marrakech and Fes, I was happy to have the kind guidance of my riad owners, who took me under their wing and gave me lots of assistance.
What is the best time of year to visit Marrakech and stay in a riad?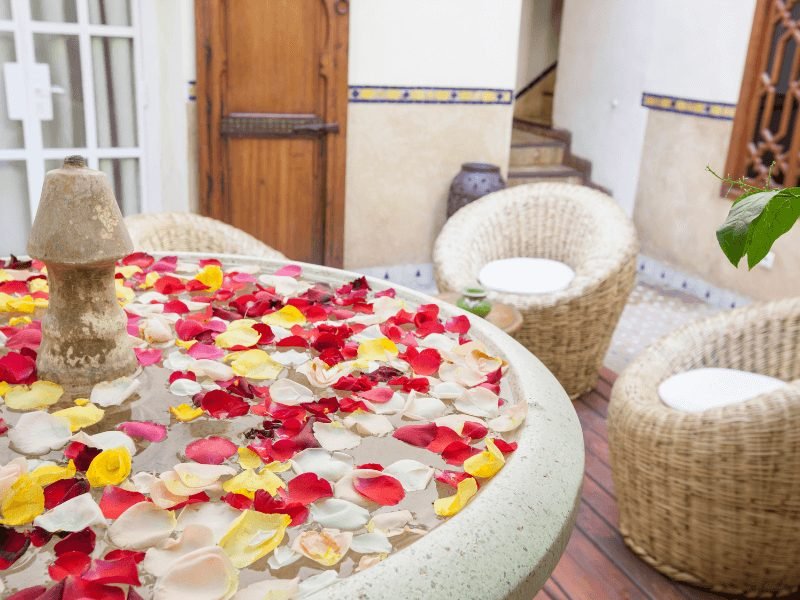 I visited Marrakech in July and generally don't recommend it if you can avoid it.
While all my riads had air conditioned rooms, it was still so hot everywhere else — it hit 115°F or 46°C while I was there!
The best times of year would be the period from March-May and September-November, before the coldest months of the year.
Remember, Marrakech has a desert climate, which means that its winters are surprisingly cold, reaching lows of 45°F (7°C) overnight.
Virtually all riads should be climate-controlled for both summer and winter, but it may be too chilly to enjoy some of the riads' amenities, like plunge pools and rooftop terraces, in the heart of winter.
More Morocco Travel Resources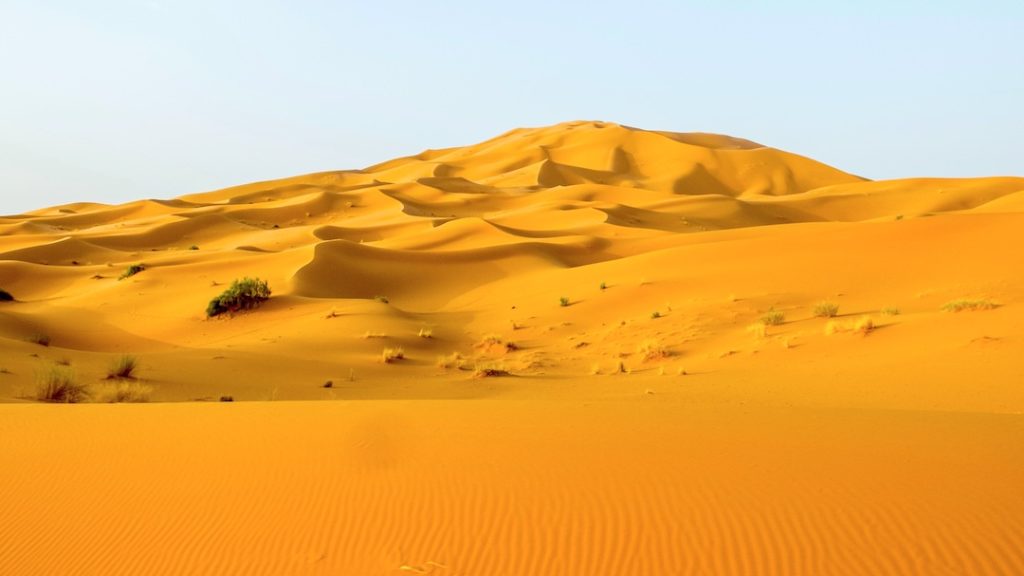 I've written quite a bit to help you plan the perfect trip to Morocco! First, start with my Morocco travel planning checklist – it walks you through every step of the planning process.
Next, check out my Morocco packing list with specific advice for what women should wear in Morocco.
Since you're reading this article, I'm assuming you're visiting Marrakech – so here's a guide to spending 3 days in Marrakech with recommended tours and outings!
If you want to visit the Sahara Desert, check out my 15 things to know before you go post as well as this post between choosing between Zagora and Merzouga.
Finally, I have an extremely detailed Morocco itinerary for 10 days!