Home to dreamy white-sand beaches, turquoise waters that rival the Caribbean Sea, adorable seaside villages, and exclusive clubs and restaurants, Sardinia is a dream summer destination that everyone should visit once in their lives.
What better way to explore this wonderful island than on a Sardinia road trip?
Once you rent a car and start driving along the dramatic coast of Sardinia, you'll find cheerful small towns and postcard-perfect beaches that will make you never want to leave.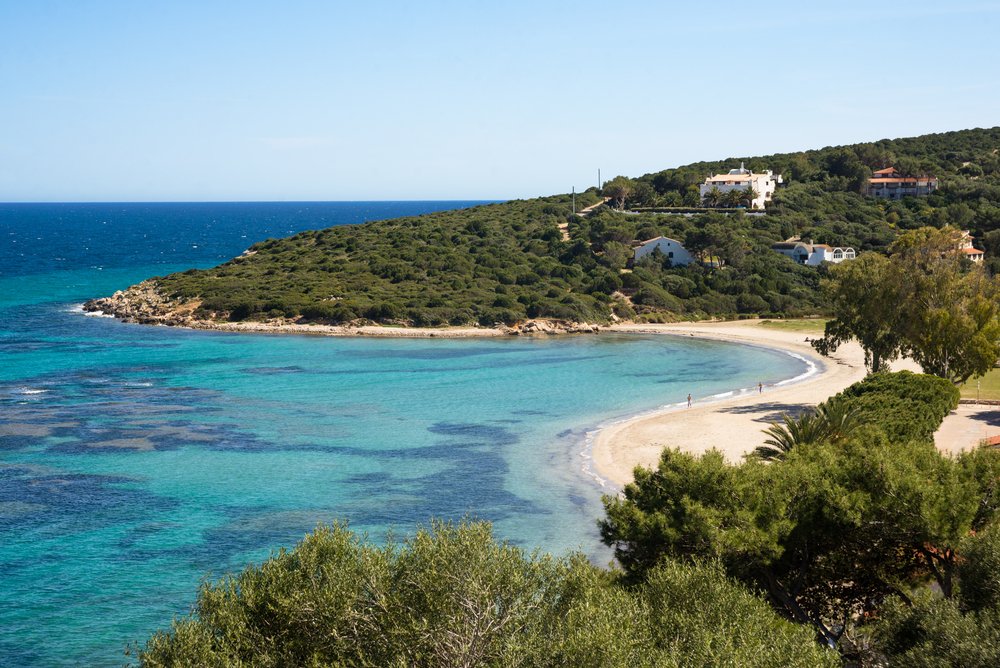 Note: This post contains affiliate links, which means I may receive a small commission if you purchase something through one of these links. Thank you for supporting the free content on this site! For more information on affiliate links and cookies, see my disclosure page for more details.
Planning a Sardinia itinerary can be a bit overwhelming — I mean, where should you go when literally everywhere is beautiful?
I'm here to help — I lived in Italy for 15 years and count Sardinia as one of my favorite places in the country.
Give or take a day, here's a 7-day Sardinia road trip itinerary that will give you a sensible (and stunning) route through the island's best sights.
From off-the-beaten-track villages to the most popular resort towns, smaller islands off the Sardinian coast, and spectacular beaches with crystalline waters, there's so much to see and do.
So, let's dive in… literally. Those waters are calling your name!
What to Know Before Planning a Sardinia Road Trip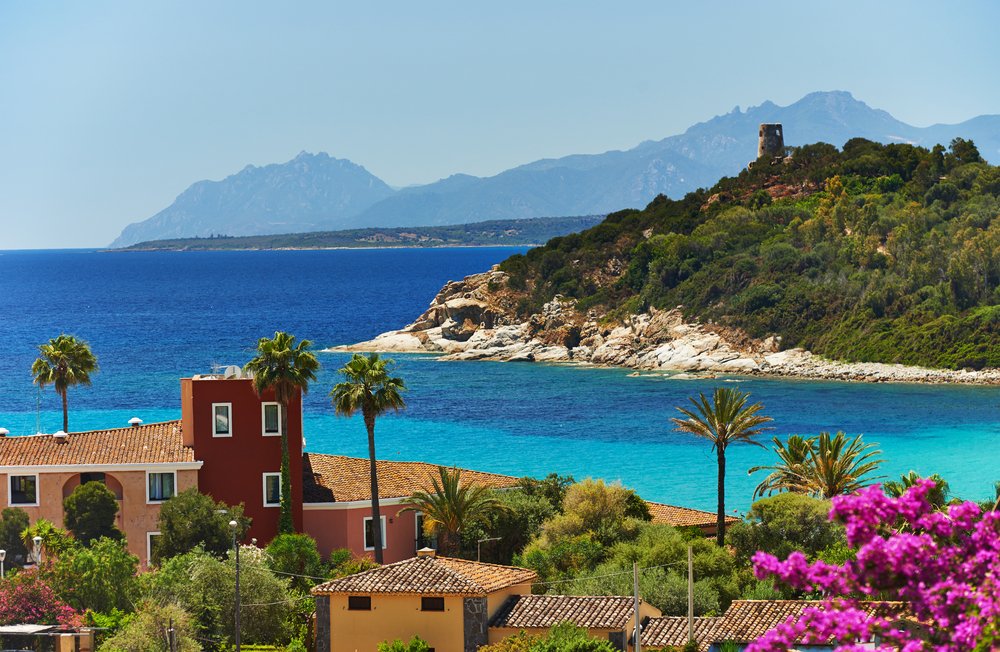 Before getting into the details of this road trip itinerary around Sardinia, let's go over a few things you should know when planning your trip.
Just a little bit of pre-planning will ensure your Sardinia road trip goes off without a hitch.
When to Road Trip Sardinia?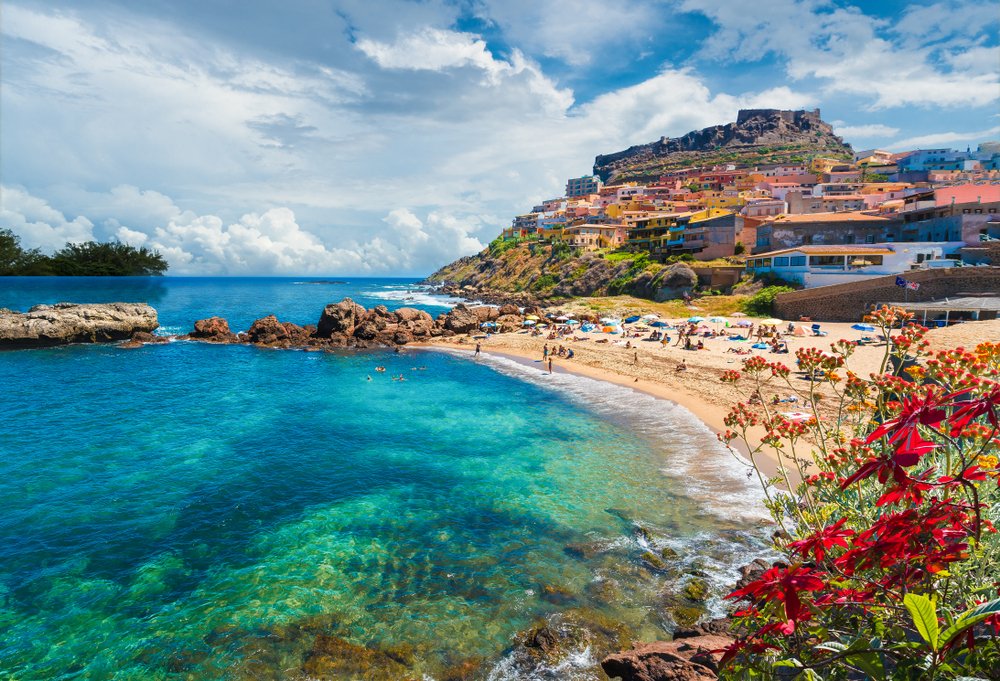 As you might imagine for a Mediterranean island paradise, the best season to explore Sardinia is summer.
The sun is shining, the water is just refreshing enough to escape the heat, and the beach bars and clubs are open for the season.
However, you should also be aware that July and August can be super crowded, with schools closed and most people taking time off from work.
If you're not a fan of packed beaches and restaurants and long lines for attractions, you're better off better avoiding these months.
But what's a good work-around if you still want summer weather?
June and September are good months to enjoy great weather with slightly smaller crowds, especially the first half of June and the second half of September.
Don't expect empty beaches, but you'll definitely have a little more breathing room, especially during the weekdays.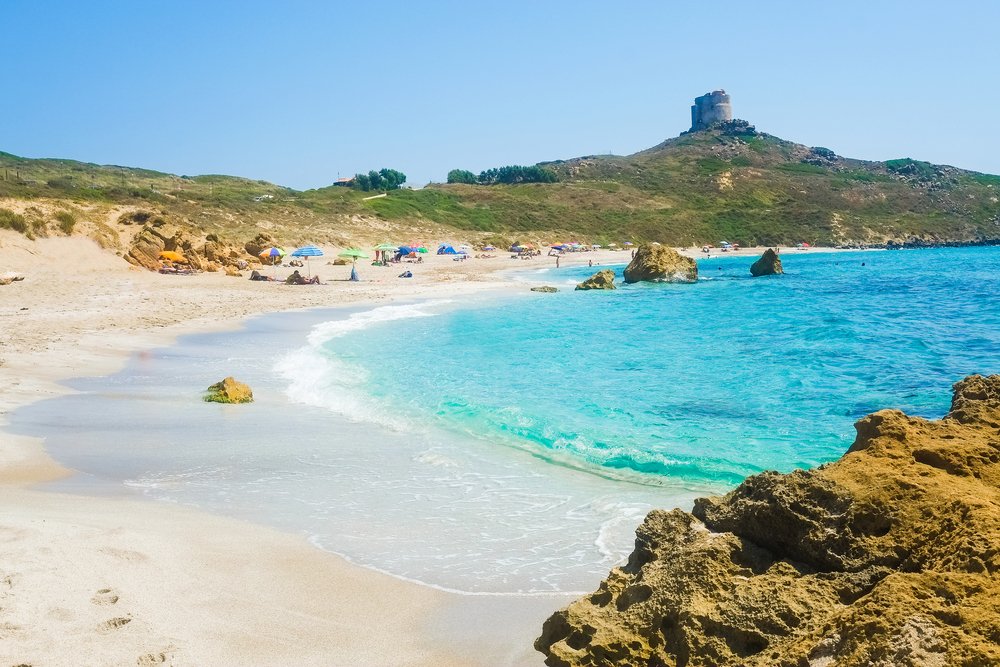 If you really want to make sure you won't have to deal with crowds, you could even plan your road trip for the month of May.
The weather is already beautifully warm, without the sticky summer heat, and people are still working or studying, so the only busy times may be the weekends.
Let's be real: a road trip around Sardinia in winter doesn't really make much sense since the most important attractions on the island are the beaches and gorgeous coastal walks.
If you ask me, the earliest suitable month for a road trip would be April and the latest, October.
Driving in Sardinia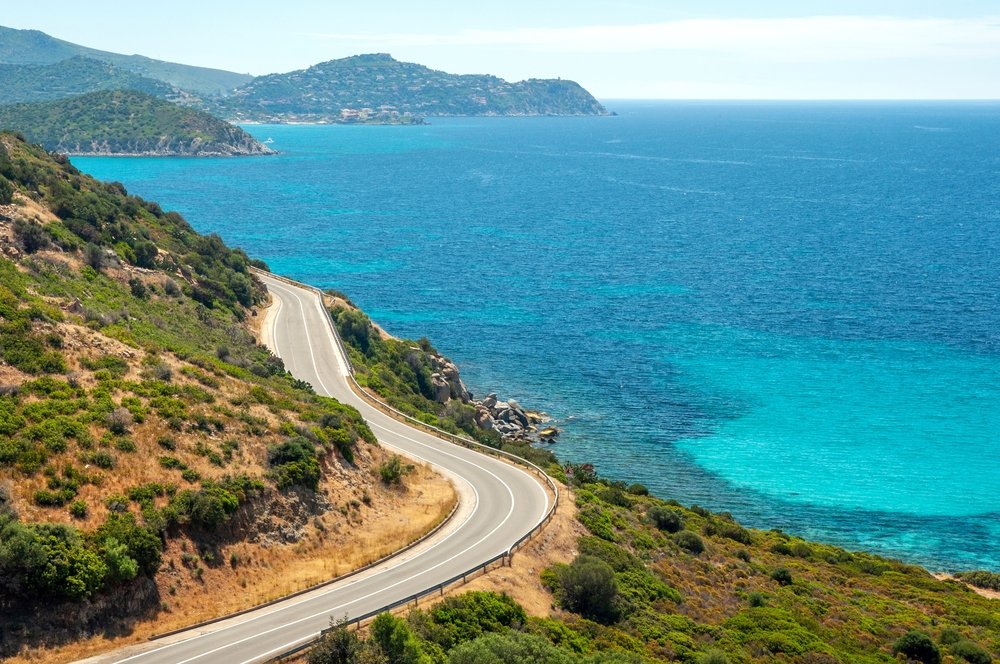 Unlike in many big cities in mainland Italy, driving around Sardinia is pretty chill. You just need to ensure you have an international driving permit (IDP), and you're good to go.
The roads are pretty smooth for most of the island, except for the smaller islands, where you may encounter dirt roads that get a bit bumpier.
If you visit during the peak season, expect to find traffic, especially on the northern coast, the most popular area in Sardinia.
Luckily, though,the traffic is likely to be the biggest issue and you won't find any other difficulties driving around.
Finally, be aware that Sardinia has no highways. On the downside, this means you'll need to drive slower and may encounter more traffic, but on the bright side, you won't have to pay road tolls.
How Many Days for a Sardinia Road Trip?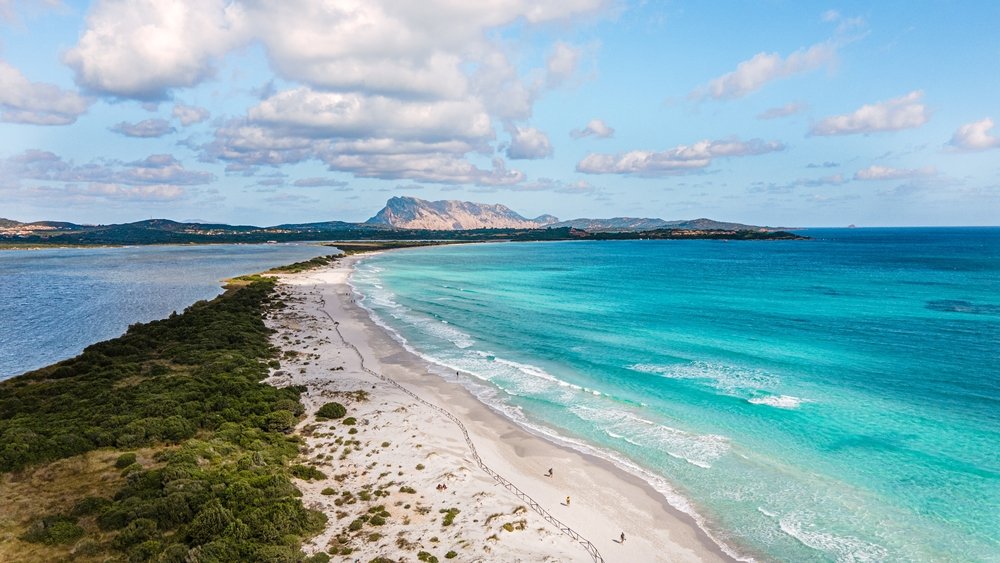 The island is pretty big so if you wanted to really explore it all, you'd need at least a month, and even then, there'd be more to see.
But, unless you're blessed with unlimited time to travel, you probably only have a couple of weeks of vacation to plan your trip.
Don't worry, though! I'm happy to report that even if that's the case, you can still make it work.
The most popular area to explore in Sardinia is the northern coast, home to the famous stretch called Costa Smeralda, resort towns, and wonderful beaches.
While this also means the area can get crowded, it's absolutely still worth exploring. You just won't find the same landscapes, crystalline waters, and dreamy beaches in the south, except for a few special spots.
You can explore most of the island's northern part, as well as a few inland and southern cities in roughly one week.
The itinerary below takes eight days, with the possibility of skipping a few steps if you only have six or seven days in Sardinia instead.
Anything less than six days would mean rushing through without really taking time to enjoy your trip, and where's the fun in that?
Where to Begin a Sardinia Road Trip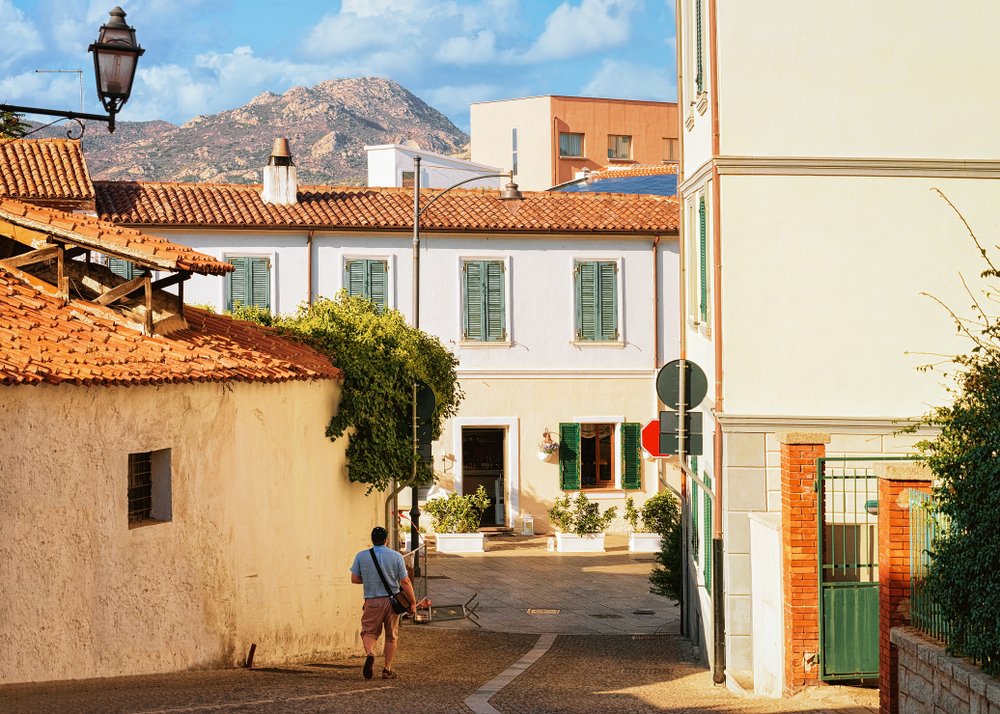 Given that the main area to explore is the north, starting the trip in Olbia or Alghero probably makes more sense, especially since the two cities are both served by international airports.
However, the main airport on the island is near Cagliari, in the very south of Sardinia.
Most people arrive on the island here (and rent their car here), so this will be your departure and arrival place for this itinerary.
If you choose to start your vacation directly from the north, you can easily adapt the itinerary since most of the places we included are in the northern half of the island.
When it comes to booking a car rental, I always pick Discover Cars when renting cars in Italy to search for the best deal.
Not only do they show you the best rates, they also offer some of the cheapest full-coverage insurance (around $7/day, typically).
🚗 Best Sardinia Rental Car Prices: Discover Cars

This search engine not only looks at the typical rental car agencies (which can be $$$), it also looks at local, small Sardinian agencies that may offer better deals. Their pricing is straightforward (no bait-and-switches) and they offer free cancellation if you need it.

➜ Check rental prices in Sardinia with Discover Cars here!
Without further ado, here is a day-by-day Sardinia itinerary to explore this wonderful island on a memorable road trip.
Day 1 of Your Sardinia Itinerary: Drive from Cagliari to Alghero
Explore the lively capital city of Cagliari.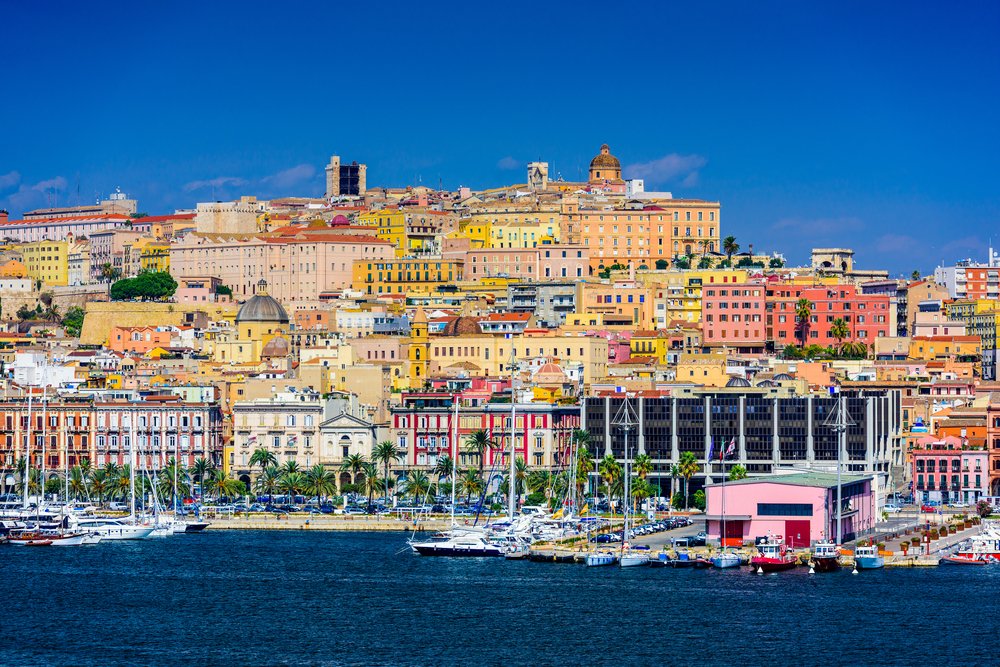 Start your Sardinia road trip from Cagliari, where you can spend the morning exploring the historical town before driving north.
Cagliari is the capital of Sardinia and features a lovely historical center. While you could easily spend a couple of days exploring the city and visiting its museums, you can see the main sights in just a few hours, which means more time exploring the rest of the island.
Visit the beautiful 13th-century Duomo di Cagliari, pass by the imposing Bastion Saint Remy, and climb to the top of the medieval Torre dell'Elefante for sweeping city views.
Before leaving, stroll around the lively Piazza Yenne and be sure to have lunch at one of the nearby restaurants. The small restaurant S'Istrìa is great for delicious traditional dishes.
Make a little detour to Bosa.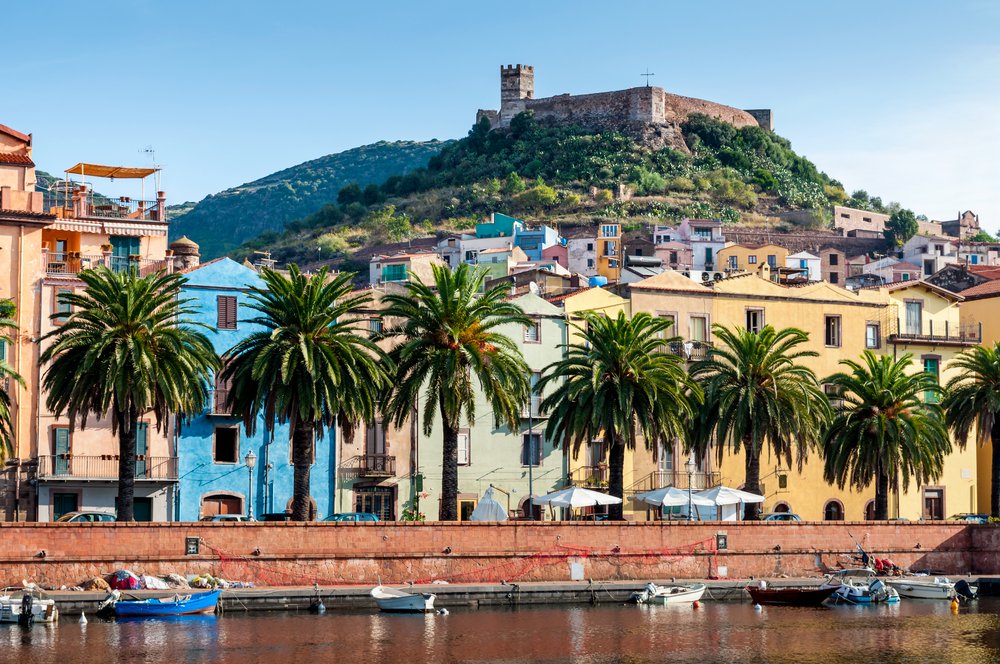 When you're ready to get on the road from Cagliari, start driving north towards Alghero.
After roughly an hour and a half of driving, you'll reach the town of Macomer, where you can take a quick detour towards Bosa.
A colorful hilltop town on the Temo River, Bosa is considered one of the most beautiful Sardinian towns.
Spend some time exploring the historical center of Bosa, then climb to the Castle of Serravalle to enjoy a gorgeous panoramic view.
You can visit the castle or spend some time admiring the view from the panoramic terrace. For another lovely scenic view of Bosa, drive along the Strada Statale 129 on the opposite riverbank.
Make your way to Alghero.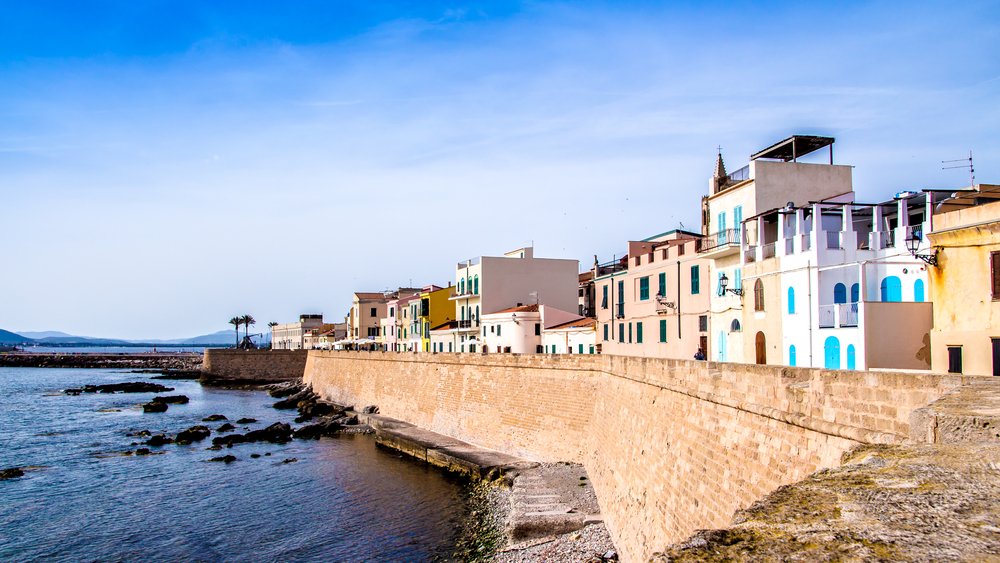 From Bosa, you'll need to drive roughly one hour to reach Alghero.
Famous for its Catalan heritage, Alghero is a beautiful city with a lovely old town encircled by old defensive walls.
Spend the afternoon exploring the historical center with the gorgeous Catalan-Gothic Alghero Cathedral, the many defensive towers, and the lively squares and alleys.
Before sunset, climb the cathedral's bell tower for a beautiful view of the city and harbor area.
For dinner, sample traditional Sardinian dishes at Trattoria Lo Romanì or L'Incontro Restaurant.
You can spend one or two nights in Alghero. If you plan on spending only one night, aim to arrive early to give yourself a little more time to explore the city.
If you stay for a second night, you can take advantage of the second day to explore the beautiful surroundings of Alghero, which we'll cover on day two.
If you only have 7 days in Sardinia, skip this next day or abbreviate it and condense it into Day 3.
Day 2 of Your Sardinia Itinerary: Alghero and Capo Caccia
Start your day by going to Capo Caccia.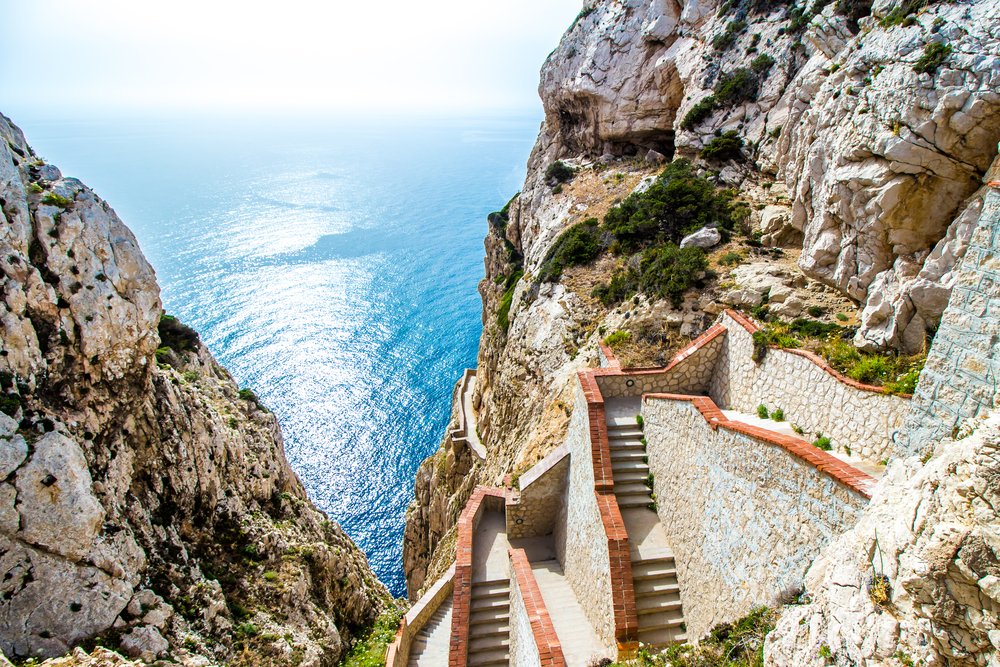 If you choose to spend a second day in Alghero, there are plenty of activities to try and wonderful places to see.
Start your day by heading to Neptune's Grotto, a marine cave in Capo Caccia, roughly 30 minutes from Alghero.
You have two options to visit the caves. Drive to Capo Caccia and descend the many steps of the impressive Escala del Cabirol or catch a boat from Alghero.
(Heads up! If you choose to drive there, you have to book your visit online.)
As an alternative, you can take one of the many boats departing regularly from the port of Alghero and sailing straight to the cave if you don't want to deal with all those steps (or if your mobility needs make that not possible).
Although the many steps to access the caves may be intimidating, driving to Neptune's Grotto will allow you to see other scenic spots around Capo Caccia, in the Regional Natural Park of Porto Conte.
Explore the Porto Conte area.
Once you're there, hit the hiking trails to discover beautiful viewpoints and tiny coves with crystalline waters.
Check out Cala Dragunara, stop by Belvedere Foradada to admire the view of Isola Foradada, and hike to Torre de la Penya.
You can easily spend half a day exploring the natural park, so bring some snacks or pack a lunch.
If you'd rather have lunch in the area, you can find a few restaurants near Cala Tramariglio and Spiaggia di Mugoni.
If you're not sure where to eat, La Nuvola and Le Ninfe are both good options.
Hike or enjoy some beach time before exploring the archaeological area.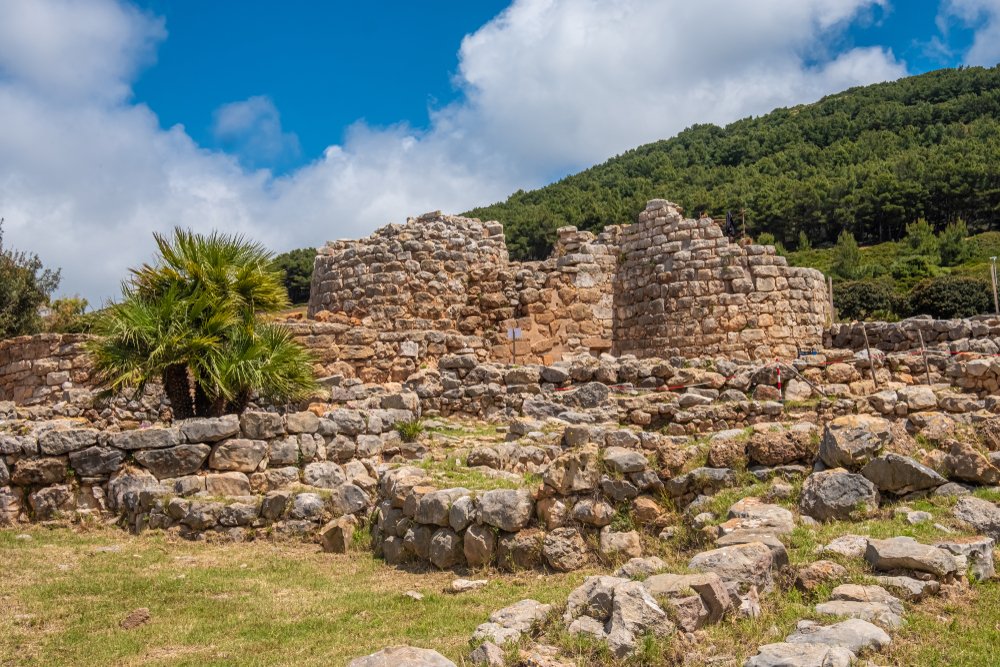 Before heading back to Alghero, you can explore the hiking trails and gorgeous beaches near Torre del Llatzeret.
If you want to spend a few hours at the beach, Platja del Llatzeret and Le Bombarde are both sandy beaches with lovely turquoise water.
One last attraction to check out in the area is the archaeological site known as Nuraghe Palmavera.
Sardinia is full of Nuragic settlements dating back to the Bronze Age, and this fascinating trip back in time is located only 15 minutes from Alghero's center.
Have dinner and spend the night in Alghero.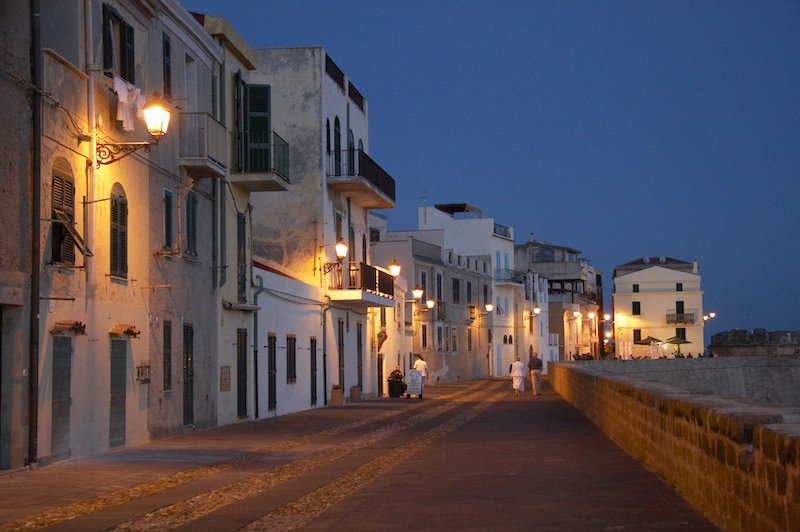 Back in Alghero, enjoy delicious seafood at Ristorante Il Cenacolo 2 or Terra Bistrot.
After dinner, wander around Alghero's charming old town to enjoy the lovely views by night.
Day 3 of Your Sardinia Itinerary: Sassari and Stintino
Head to the beautiful city of Sassari.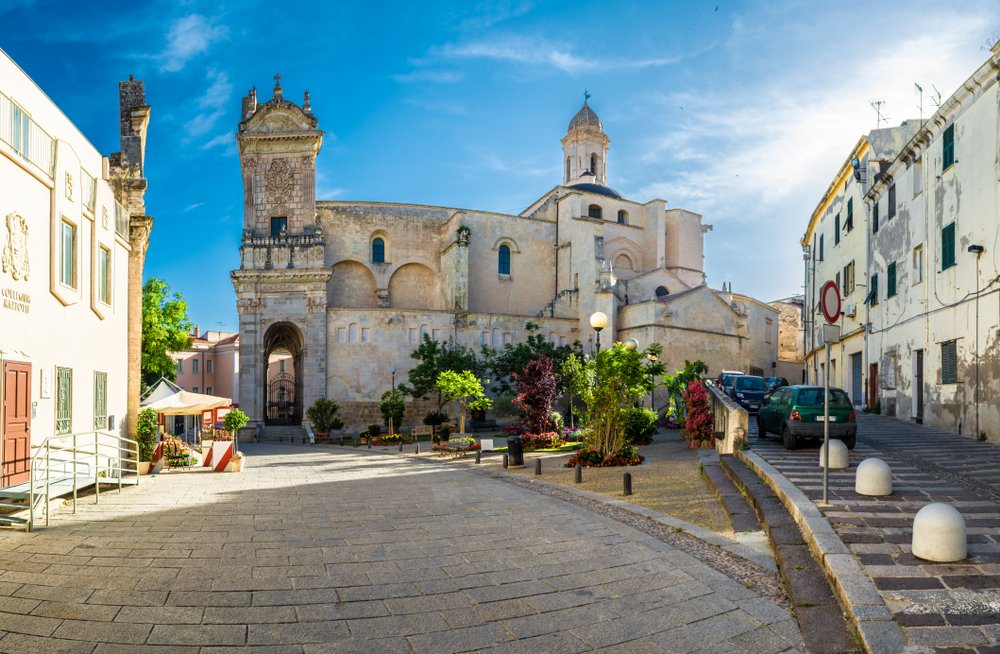 Day three of your Sardinia road trip starts off back on the road, driving from Alghero to the nearby city of Sassari, just over half an hour away.
Sassari is the second-largest city in Sardinia by population as well as one of the oldest, so it's rich in historical landmarks, museums, and art galleries.
Spend a few hours in Sassari to explore the old town, and visit the Saint Nicholas Cathedral, the Ducal Palace, and the Church of Saint Mary of Bethlehem.
If you want to stay in town for lunch, Il Vecchio Mulino is a cozy place for traditional (and delicious!) Sardinian dishes.
Head to the tip of Sardinia, Stintino.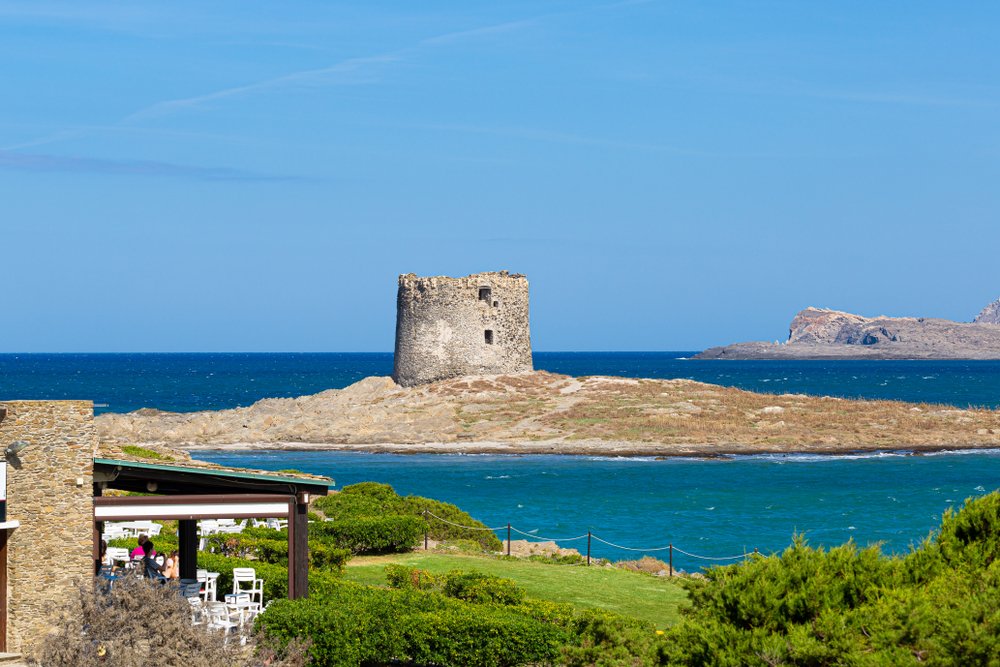 After exploring Sassari, keep driving towards the northernmost tip of Sardinia, to the coastal town of Stintino.
This area is known for its enchanting beaches, the most famous ones being La Pelosa and the smaller La Pelosetta.
The beaches face the small Isola della Pelosa, with its iconic 16th-century tower, and the larger Isola Piana.
Along the eastern coast, from Stintino to Capo Falcone at the northernmost tip of the island, you'll find several wonderful little beaches and coves, any of which would make a wonderful spot to stop off and enjoy the sunshine.
Caletta di La Pelosa, Spiaggia del Gabbiano, and Spiaggia Punta Negra are all great spots for sunbathing, swimming, and snorkeling in stunningly beautiful turquoise waters.
Pick a beach to spend a relaxing afternoon, or drive along the coast and check out the gorgeous views and hidden coves.
The western coast is rocky and has no beaches, but it offers several impressive scenic points, especially for sunsets over the beautiful Mediterranean.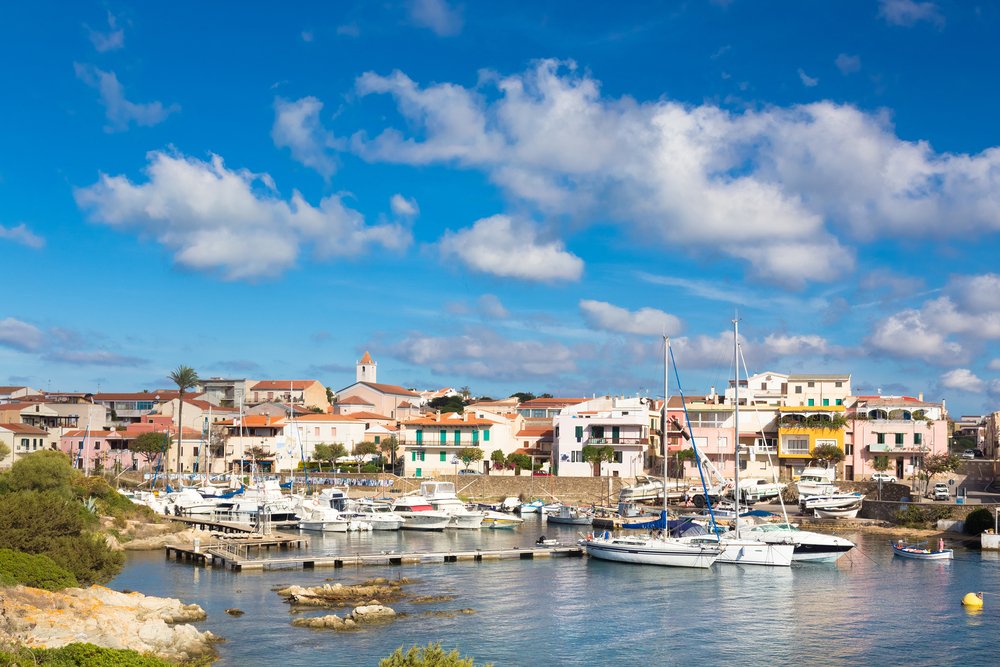 After exploring the natural landscapes around Stintino, head to the small town for dinner.
Try the seafood at Trattoria Opera Viva or Ristorante Lina di S.Maddau.
Once you've had a delicious meal, spend the night in Stintino and rest up, because tomorrow's an early start!
Day 4 of Your Sardinia Itinerary: Asinara National Park
Catch a ferry to Asinara National Park.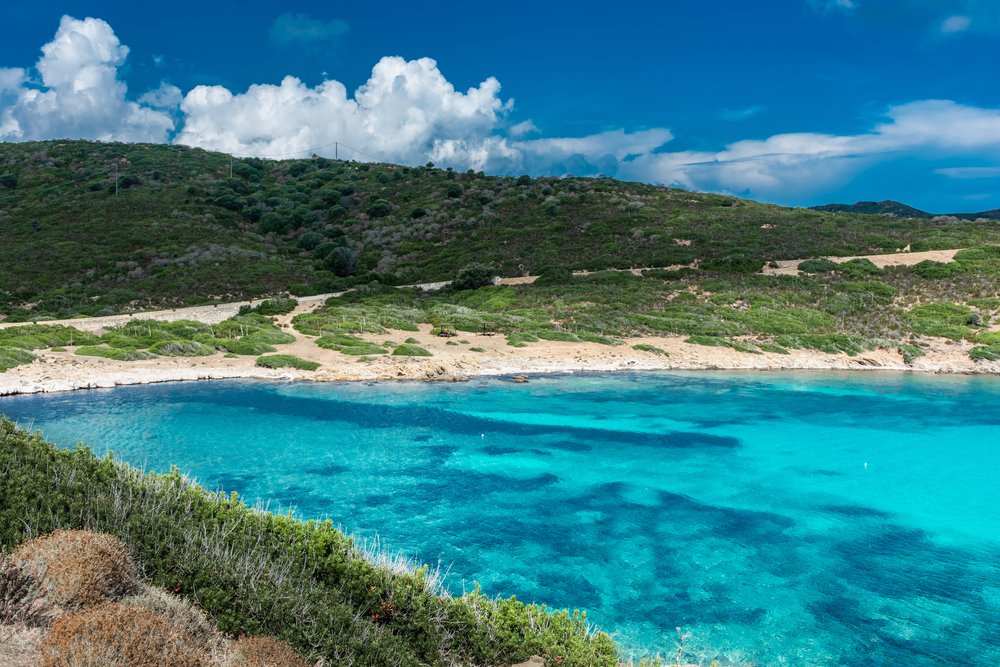 Start your day as early as possible by heading to the port to catch a ferry to Asinara National Park.
This is an optional step on your Sardinia road trip but totally worth including in the itinerary if you have enough time.
If you only have seven days in Sardinia, you can choose between Day 2 and 4 of the itinerary, depending on what is more appealing to you.
Asinara is a smaller island just off the northwestern coast tip of Sardinia, entirely occupied by the Asinara National Park established in 1998.
In past lives, the island, also known as Devil's Island (Isola del Diavolo), has served as a quarantine location, a prison for war prisoners during World War I, and a prison for mafia members and extremists during the period of the political turmoil of the 1960s and 1970s.
Not exactly the most peaceful of histories — but it's quite scenic now.
Legend has it that the island was initially called Herculis Insula by Ancient Romans because they believed the Greek hero had created it.
According to the tale, Hercules grabbed the tip of the northwestern peninsula and pulled until he detached a small part.
As he took hold of the piece of land, Hercules squeezed it until he created a narrowing in the middle of the island.
Legends and history aside, Asinara as it stands now is a wonderful destination for a day trip from Porto Torres.
Boasting dramatic cliffs, gorgeous white sand beaches, and unbelievably turquoise waters, this is a must-see for beach, sailing, and snorkeling enthusiasts.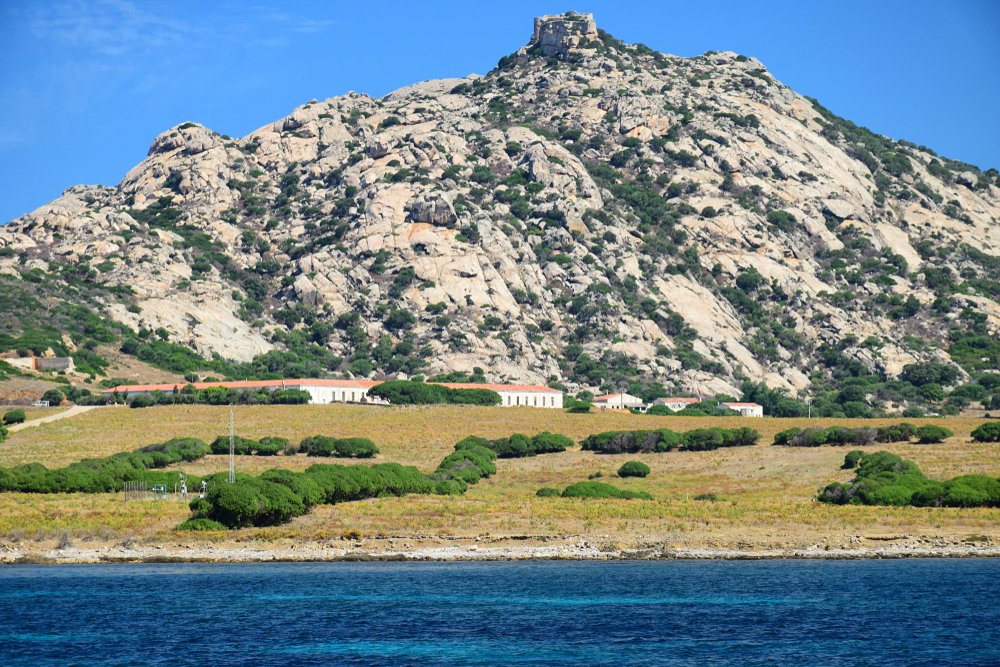 Catch the ferry from Stintino to the tiny port of Fornelli, at the island's southern extremity. The ferry ride takes less than half an hour, and there are multiple daily departures.
Plan to spend the entire day exploring the island, so plan ahead and bring a picnic lunch with you!
There are only two places to eat on the island, both in Cala d'Oliva. If you choose to have lunch there, La Locanda del Parco Asinara is your best choice.
There are many ways to explore the island of Asinara, including walking, renting a bike or small electric car, or using the public transportation available from July to September.
Alternatively, you can join a sailing tour of the island.
No matter how you explore the island, don't miss the charming little hamlet Cala d'Oliva, the harbor of Cala Reale, the gorgeous beaches of Cala Sabina and Cala Sant'Andrea, and the stunning views from Fortezza del Castellaccio.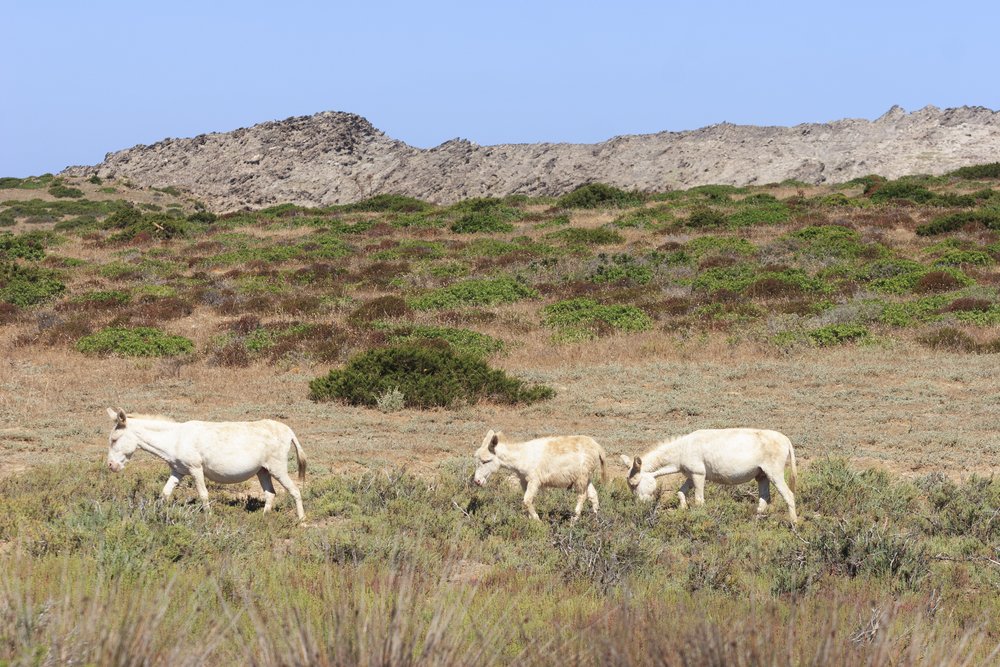 On the island, you'll also get to see the adorable albino donkeys, which supposedly gave the island its current name. (The Italian word for donkey is asino.)
There are some non-albino donkeys too, but the white donkeys are what makes the island famous!
Once you've explored the Asinara National Park, head back to Stintino. Here, you have two options. Either stay a second night in Stintino or drive half an hour to Porto Torres.
If you choose the latter, have dinner at Ristorante Pizzeria San Gavino, then enjoy a stroll around the small town before settling in for the night.
Day 5 of Your Sardinia Itinerary: Costa Paradiso
Start the day by driving to Castelsardo.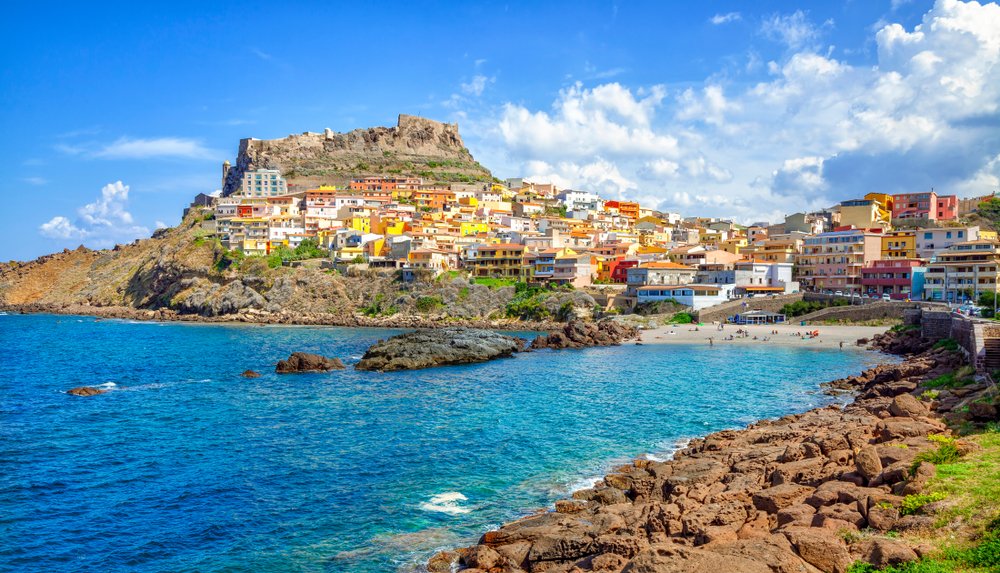 Your fifth day of this road trip around Sardinia is dedicated to exploring most of the island's northern coast.
From Porto Torres, drive east along the coast toward your first stop of the day, the lovely coastal town of Castelsardo.
The picturesque Castelsardo is built on a small promontory topped by the medieval Castello dei Doria.
To enjoy a gorgeous view of the town, go to Torre di Frigiano, near the harbor.
After that, head into the old town to wander around and explore for a couple of hours.
Visit the castle and the Cathedral of Saint Anthony Abbott and explore the many alleys and stairways. Head to Parco Lu Grannadu to enjoy beautiful coastal views.
If you're starting to feel hungry, try the seafood dishes at Il Cormorano for a delightful lunch.
Move on to Costa Paradiso.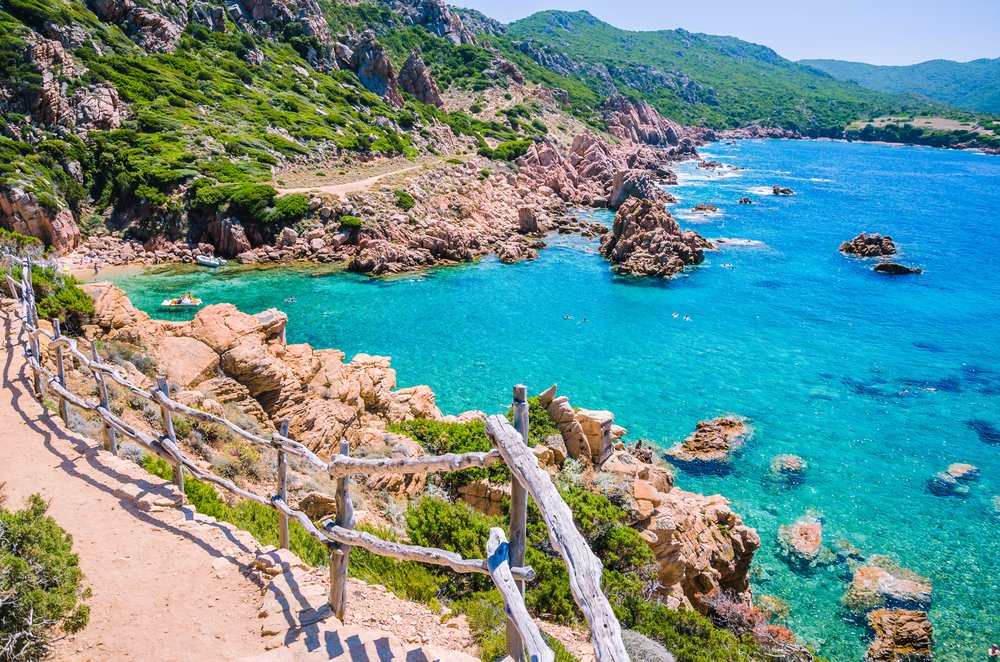 Once you're done exploring, get back in the car and drive for about one hour to Costa Paradiso.
The name of this small village, which translates to Paradise Coast, is evocative of the natural beauty of this whole area, with stunning little beaches and impressive rock formations.
The best way to enjoy this area is to relax on one of the many beautiful beaches, swim in the crystalline waters, and maybe even go snorkeling to admire the underwater scenery.
Some of the most beautiful beaches around Costa Paradiso are Spiaggia di Cala li Cossi, Cala Sarraina, and Tinnari.
Spend a few hours at any of these before driving to another scenic location, Capo Testa.
Admire the beauty of Capo Testa and Palau.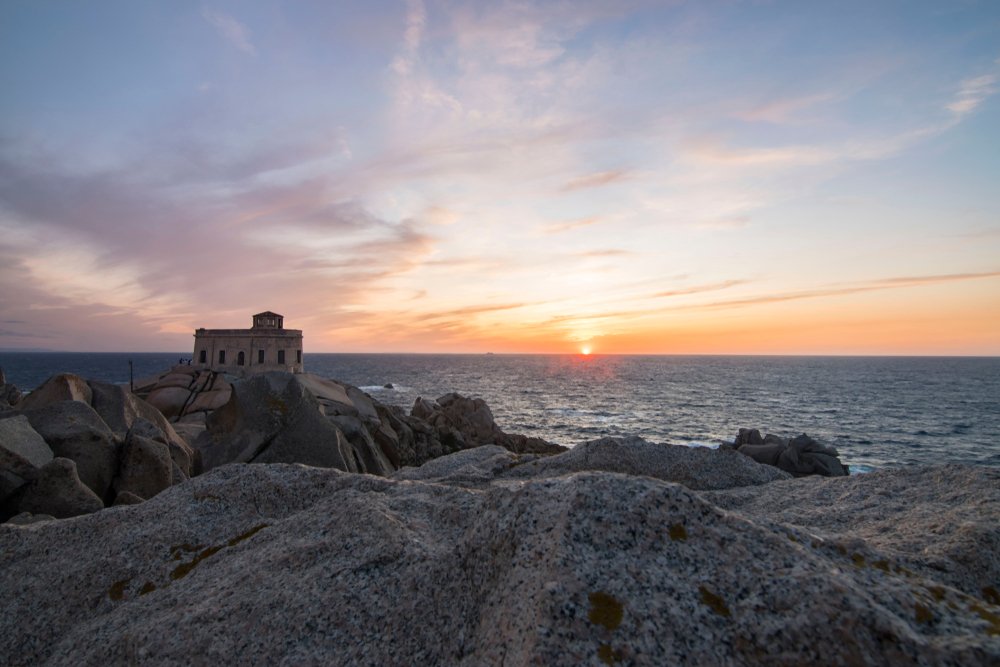 A small peninsula connected to the main island by a narrow strip of land, Capo Testa boasts impressive panoramic views, cool rock formations, and lovely walking paths around the lighthouse.
This area is perfect for unforgettable sunset views, so take in the sunset here before moving on to our final stop.
Wrap up your day by driving to Palau, where you can have dinner and spend the night.
The harbor area of Palau has many great restaurants, so you won't have a hard time finding a spot for dinner.
Il Ghiottone and Il Kalamaro are among the most popular restaurants for pasta dishes and seafood.
Day 6 of Your Sardinia Itinerary: La Maddalena
Take a day trip to La Maddelena.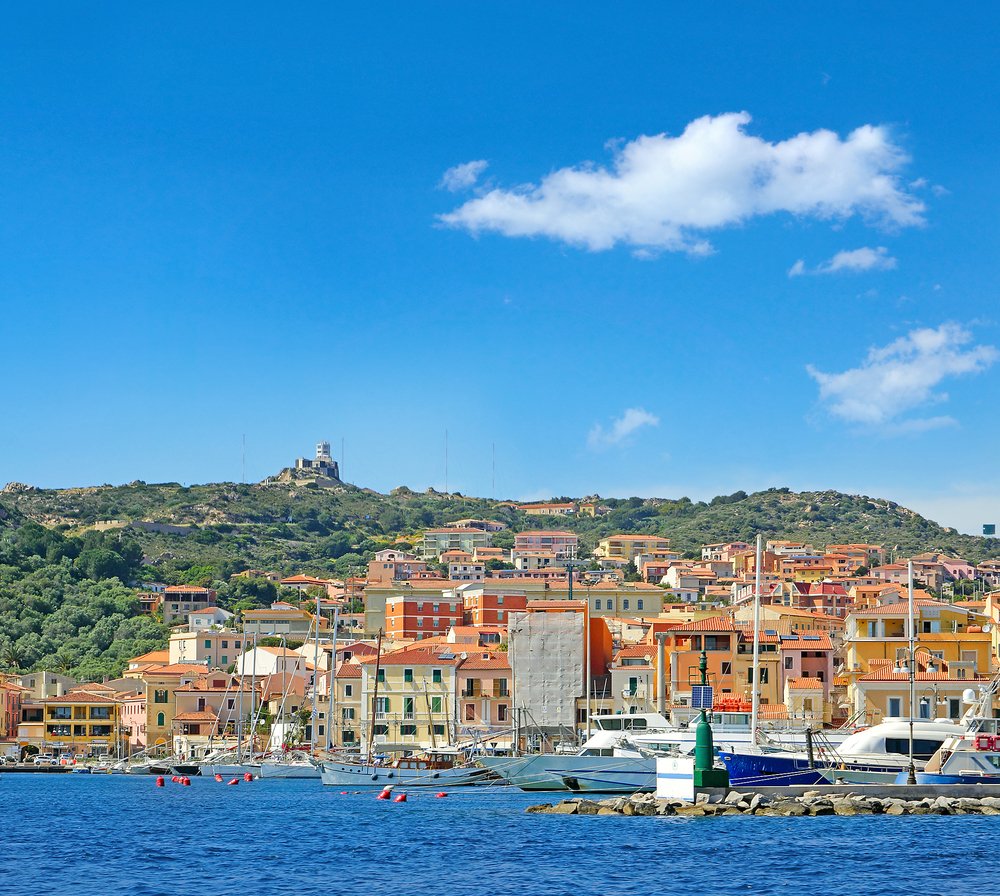 On day six, you can enjoy another optional day trip to the La Maddalena archipelago, easily accessible by ferry from Palau.
If you're short on time and can't fit everything in, you can choose between Asinara Island and La Maddalena.
The ferry ride only lasts 15 minutes, so you'll arrive in no time at all and have a full day to explore the gorgeous islands.
The port is in the small town of La Maddalena, so you can start by strolling along the charming Via Amendola.
This is also where you can join boat tours around the island if you'd rather enjoy its beauty from the waves.
Unlike Asinara, La Maddalena is connected to Palau by large ferries that allow you to board your car if you wish to do so.
While public transportation is available around the island during the summer months, driving by car will allow you to see much more.
As you may imagine, La Maddalena is better known for its spectacular beaches and natural landscapes.
Start driving clockwise along the coast from La Maddalena town to pass by Spiaggia di Punta Tegge, Cala Francese, Spiaggia di Bassa Trinita, Spiaggia dello Strangolato, Spiaggia del Cardellino, and Spiaggia di Cala Spalmatore.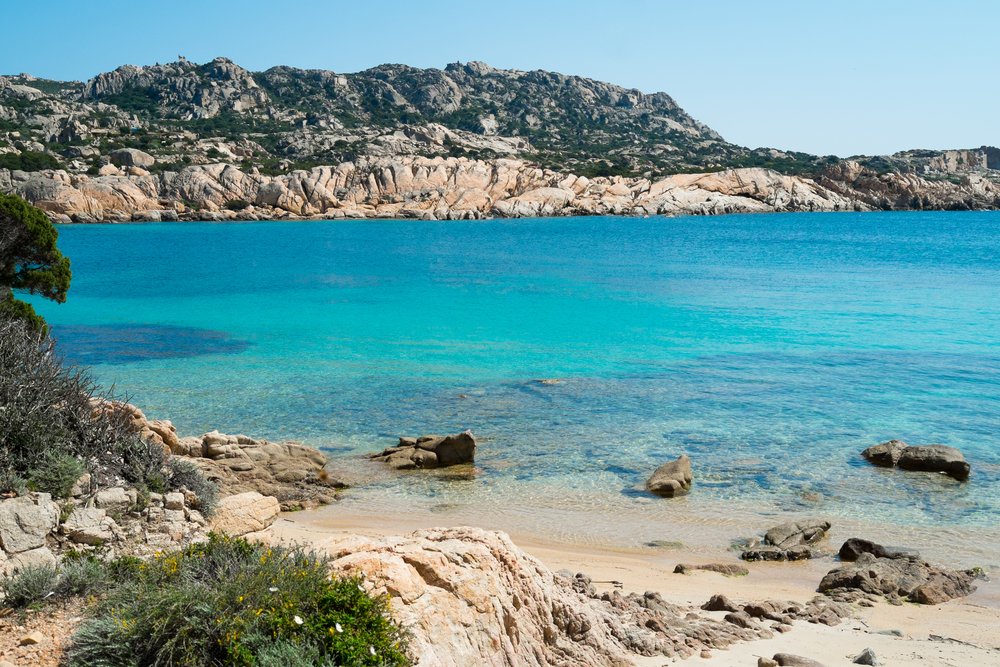 To the southeast, cross the bridge to Isola Giardinelli (another island in the archipleago) and check out Spiaggia Testa del Polpo and Spiaggia Giardinelli.
Note that most restaurants on the island are in the town of La Maddalena proper, so have lunch before exploring the rest of the island or pack some food if you'd rather spend the day at the beach.
I recommend Ristorante Caprera and Ristorante Anima Lunga: both are great options for a delicious lunch in La Maddalena.
Depending on how much time you have and whether you prefer driving to various spots or settling in for a day at one beach, you can also cross to the nearby Caprera Island, connected to La Maddalena by the Caprera bridge.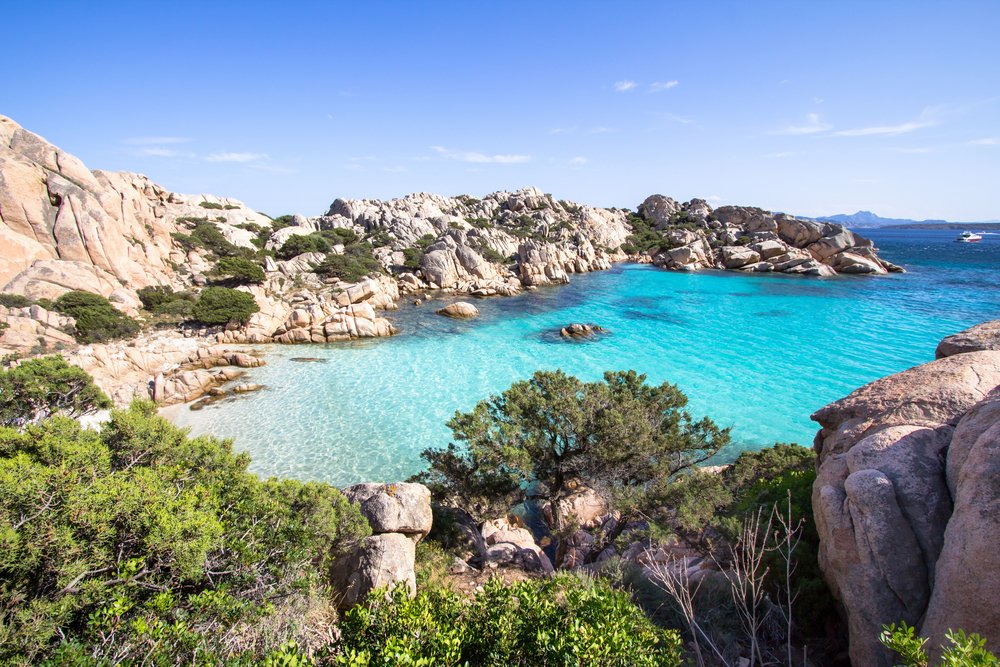 One of my favorite spots is in the northern part of Caprera, where you can park your car and walk to Cala Napoletana and Spiaggia di Punta Crucitta.
After spending a whole day exploring La Maddalena, go back to Palau.
You can spend a second night here or drive ahead to Porto Cervo, only half an hour away.
Day 7 of Your Sardinia Itinerary: Porto Cervo and Costa Smeralda
Start the day exploring Porto Cervo.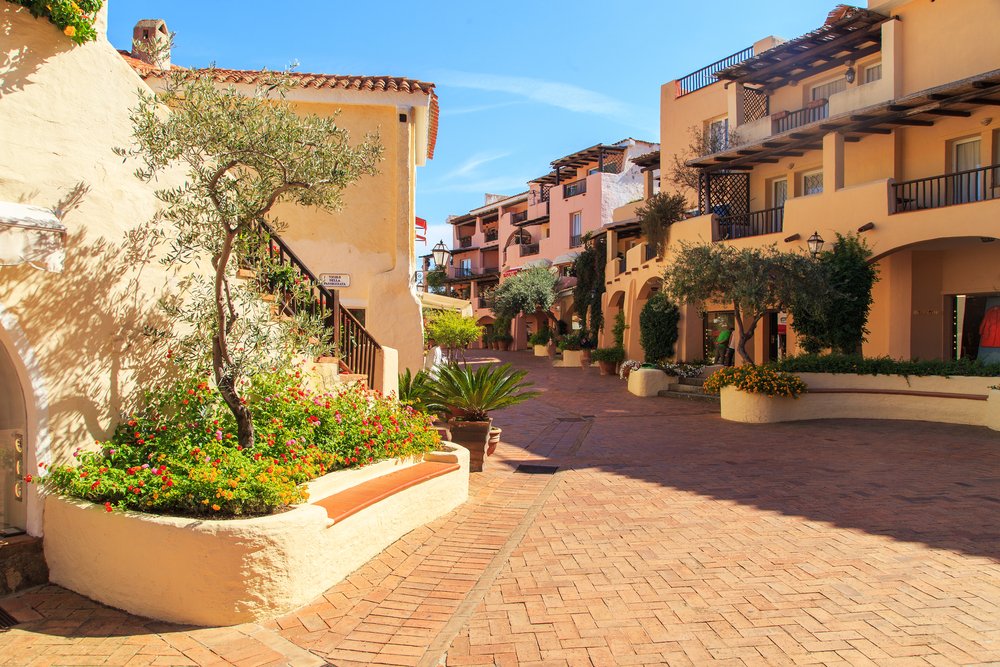 Located along the famous Costa Smeralda, Porto Cervo is better known as the party hotspot in Sardinia, with exclusive clubs like Billionaire or Just Cavalli.
However, there's much more to discover along the coast near Porto Cervo, so even if you're not on the guest list, you can still enjoy this area.
Pack your lunch and head to the first spot for the day, Baja Sardinia, just a 10-minute drive from Porto Cervo.
Belvedere Baja Sardinia will reward you with gorgeous coastal views, while Spiaggia Tre Monti is a lovely sandy beach where you can spend a few hours sunbathing.
From the main beach of Baja Sardinia, take the panoramic walk to Batteria Battistoni, a former military battery.
If you didn't pack lunch, grab something in Baja Sardinia before driving to Capo Ferro to enjoy more breathtaking coastal views.
Explore the old lighthouse and enjoy some beach time.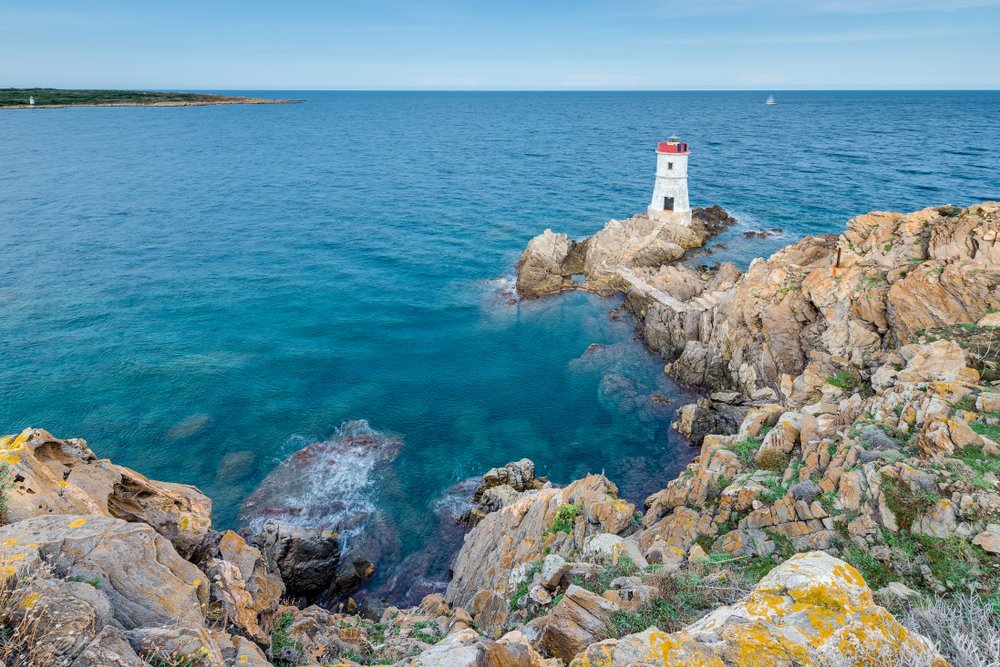 Check out the old Capo Ferro Lighthouse and stop by Spiaggia Cala Granu to swim in the turquoise water.
You can spend the rest of the afternoon at one of the beaches south of Porto Cervo.
Spiaggia del Grande Pevero is the most famous in the area and while it absolutely lives up to the hype, it can get quite crowded during peak season.
Further south, Capriccioli is another area filled with wonderful beaches, although these tend to be packed in summer as well. For a more secluded beach, head to Cala Liccia to really relax.
In the evening, drive back to Porto Cervo, where you can have dinner and check out one of the many clubs if you're in the mood for a party.
The shopping mall Promenade du Port has many restaurants serving delicious food, like Elit Promenade Cafè or Cibò.
Day 8 of Your Sardinia Itinerary: Nuoro and Villasimius
Make your way back, stopping in Nuoro.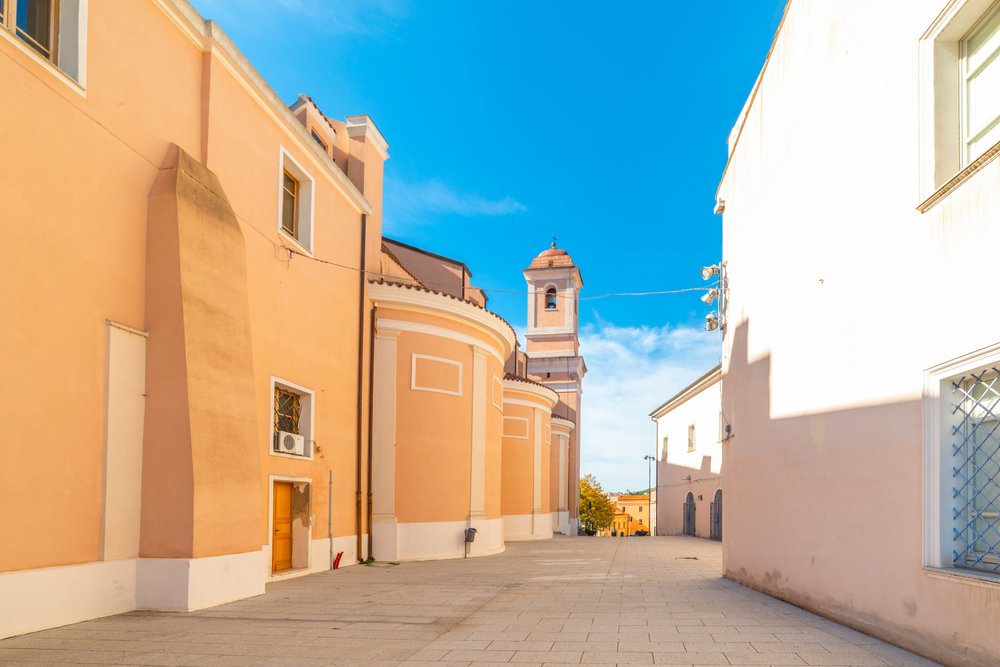 On the last day of your road trip around Sardinia, you'll be driving back south toward Cagliari.
Along the way is the city of Nuoro, one of the largest in Sardinia, where you can stop off to explore and stretch your legs.
The city is also known as the "Sardinian Athens" due to its cultural and historical importance.
But just before reaching Nuoro, you can visit one of the most impressive archaeological sites in Sardinia, the Complesso Nuragico e Nuraghe di Noddule.
The site is a meaningful testimony of the prehistoric settlements all over Sardinia, featuring multiple nuraghe, the striking ancient megalithic edifices scattered all across the island.
After admiring the nuraghe, head to Nuoro for a lunch break. Sample delicious Sardinian street food at Panelentu or enjoy a hearty meal at Il Rifugio.
After you finish eating, take a bit of time to just wander around the city center for a while before hopping back in the car to drive south.
Make one final stop in Villasimius.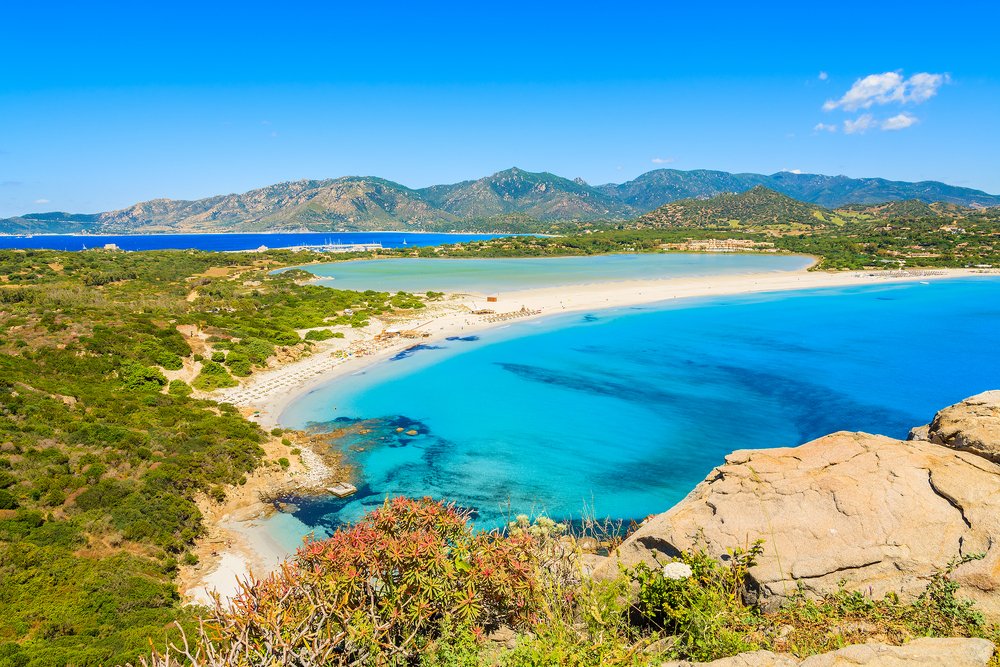 From Nuoro, you can either drive straight to Cagliari, where you can leave your rental car and end your road trip, or have one last stop in Villasimius to spend the night before going back to Cagliari.
Villasimius is one of the most popular beach destinations near Cagliari, worth seeing if you have enough time.
The town is less than one hour from Cagliari, so it's an easy stop to add on the way back.
If you stop here, check out Spiaggia di Punta Molentis and Spiaggia di Porto Giunco.
If you're up for a short hike, explore the trails around Capo Carbonara.
Back in Cagliari, leave your car and spend any time you have left exploring the city!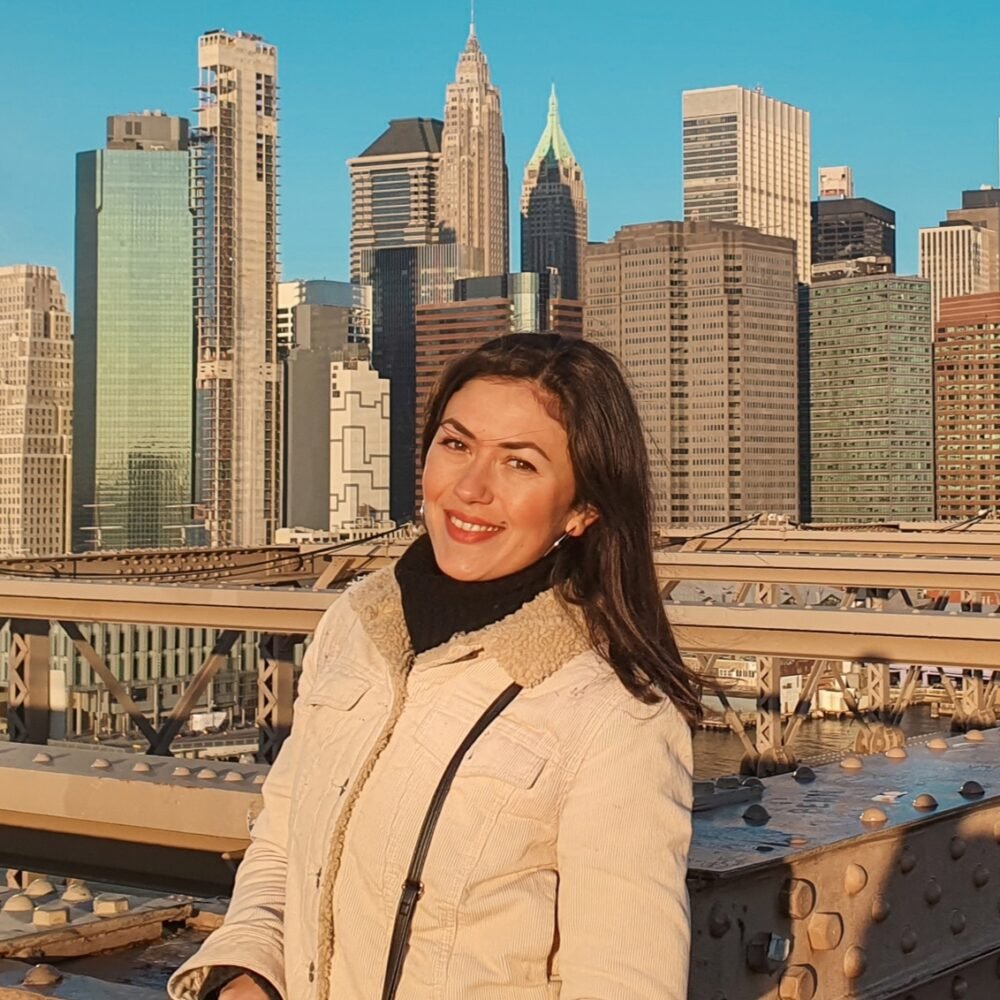 Roxana is a Romanian-born freelance travel writer who has lived in Italy for over 15 years. She has a Master's in Journalism and a Bachelor's in Film Studies. Her mission is to find hidden gems, even in the most popular travel destinations, and to inspire people to explore new places and cultures with the same curiosity! When she is not traveling, writing, or planning her next trip, she is either binge-watching TV shows or reading books.