With its beautiful architecture, stunning squares, historic museums, and of course, iconic canals and gondola rides through them, Italy's most unique city deserves several days at least to properly explore. 
However, if you plan on spending a long time in the city or have already visited Venice in the past, it's also worth considering a few day trips from Venice to explore all this region has to offer.
After all, Venice is close to other major Italian cities, all easily reached for an easy Venice day trip!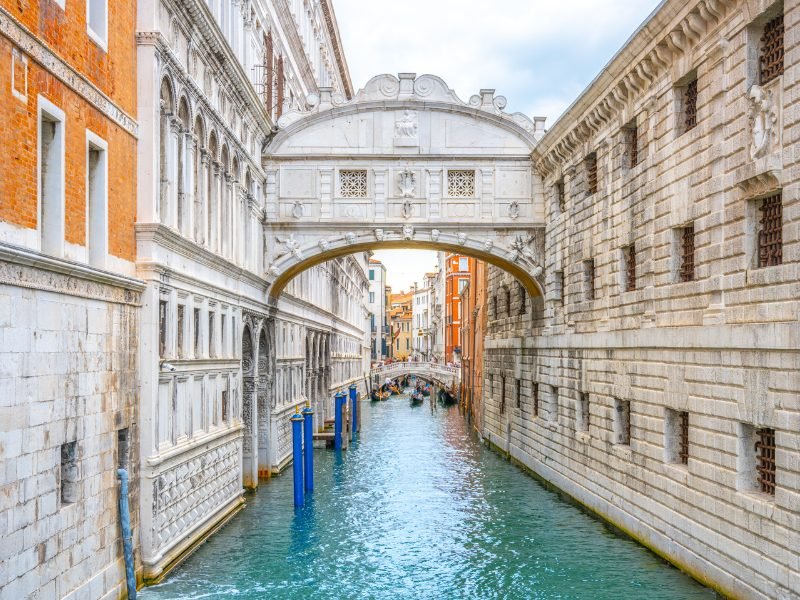 In addition to nearby places in the city's Veneto region, you can easily reach the Emilia-Romagna region and other regions like Friuli Venezia Giulia, Trentino-Alto Adige, and Lombardy.
Depending on the length of your stay in Venice and your appetite for travel, you can plan excursions as close as a half-hour train ride or up to two or three hours away (and you have more flexibility if you have rented a car!)
If you have more than three days in Venice, I suggest spending the rest of your time exploring the region around it, since you've probably already seen all of the key Venice landmarks.
Here are the best places you can visit on a day trip from Venice, either on your own or on a guided tour.
Getting Around for THese Venice Day Trips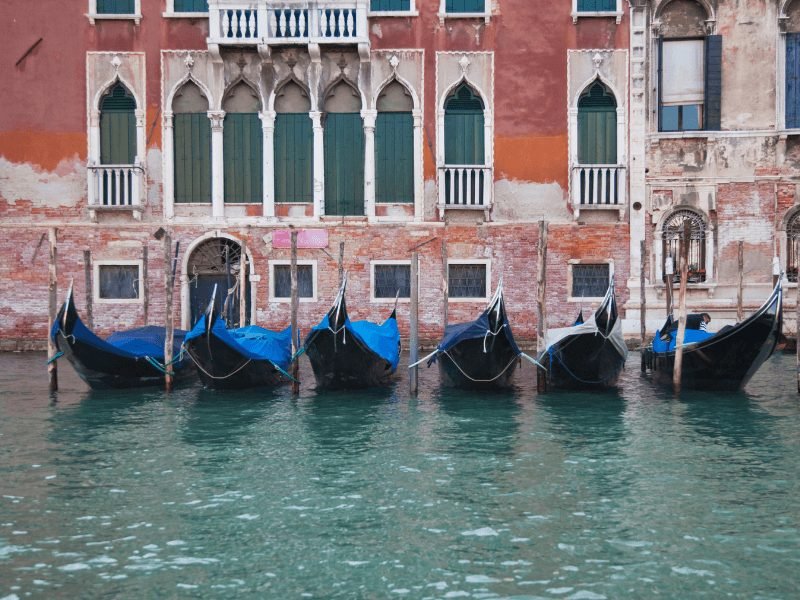 Venice is not a very car-friendly city, so we've chosen day trips from Venice that can be accessed by train or by an easy guided tour.
I wouldn't suggest renting a car until you are ready to leave the city of Venice; you have to park outside of the main city and then take boat taxis into the city, which is not very convenient.
If you are ready to move on from Venice onto somewhere else in Italy or plan to road trip, that's when renting a car makes sense.
If you do rent a car, I suggest Discover Cars — search from the airport to find the best prices!
The Best Day Trips from Venice
Burano
The beautiful little island of Burano is just over an hour away from Venice by Vaporetto, or public ferry boat.
Burano is famous for its colorful houses along narrow canals – it's an Instagram dream, so don't be surprised to see a lot of camera-toting travelers here!
Of course, the beauty of the houses' vivid colors is also practical. The local weather tends toward dense fog, so families painted their houses in different bright colors to help fishermen spot them more easily in the mist.
Burano is the perfect place for Instagram-worthy pictures or for simply wandering and discovering little village squares and canals connected by charming bridges.
Stop in for a delicious lunch at one of the restaurants on Via Baldassarre Galuppi, check out the town's lone Church of Saint Martin Bishop with its leaning bell tower, and maybe even pay a visit to the Lace Museum.
Padua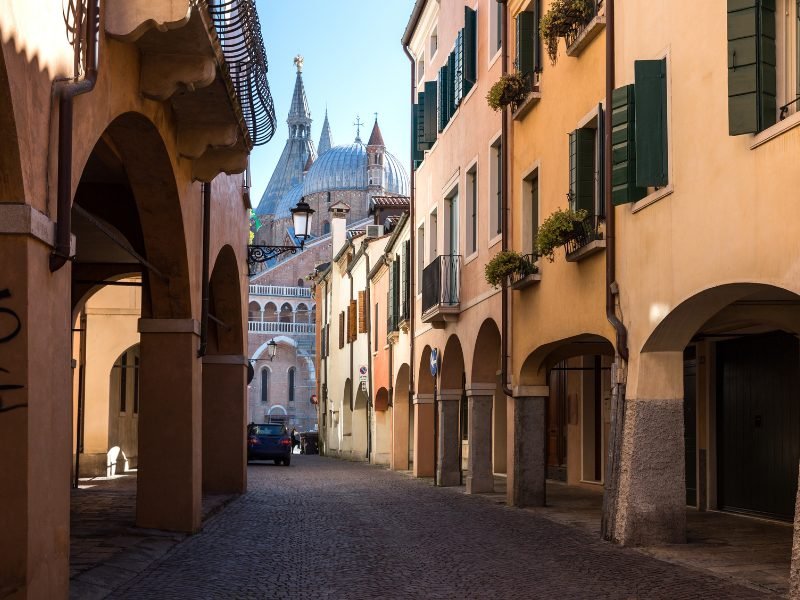 Just hop on a train from Venice's Santa Lucia station, and in less than half an hour, you'll be in Padua ("Padova" in Italian).
The city has a charming historic center, as well as museums and gorgeous landmarks you can visit on a day trip.
Start your visit off by exploring the massive Prato della Valle square and admiring the beautiful setting, surrounded by a canal lined with beautiful sculptures.
Afterwards, pay a visit to the University of Padua Botanical Garden, the oldest academic garden in the world.
Not far from there, check out the Byzantine Basilica of St. Anthony and its accompanying museum.
Other landmarks worth visiting are the Abbey of Santa Giustina, the Padua Cathedral, Piazza dei Signori, and the medieval Palazzo della Ragione.
If you make your way to the Giardini dell'Arena gardens, you can also visit the Scrovegni Chapel and admire the impressive 14th-century frescoes by Giotto.
Prosecco Region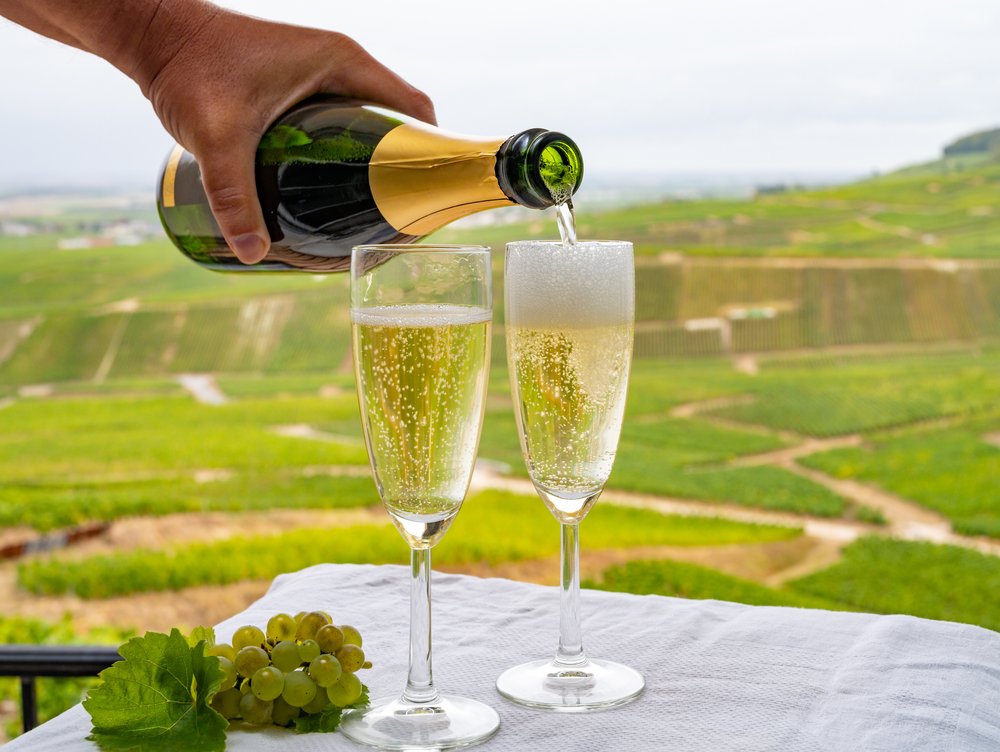 You've probably heard of (or enjoyed a few glasses of) the Italian sparkling wine called Prosecco, but did you know the name is derived from a specific region?
The Prosecco region Veneto and Friuli Venezia Giulia, and it's the perfect place to explore on a day trip while tasting delicious local wine.
If you don't want to rent a car (and for a wine tasting, who could blame you?), check out one of the many organized wine day tours from Venice like this 6-hour Prosecco Wine Tasting Tour.
You'll learn all about how Prosecco is made and enjoy a fantastic lunch paired with great wine, all while taking in the natural beauty of the stunning landscape!
Dolomites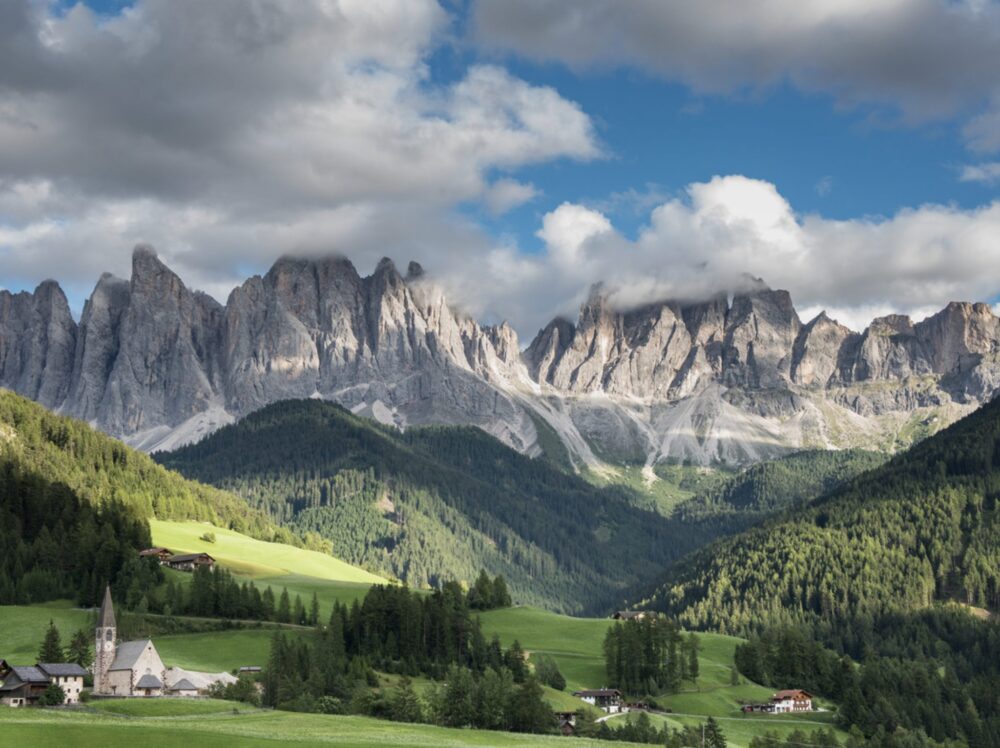 For a break from the city buzz, head to the Dolomites for some of the most breathtaking mountains you'll ever see.
A UNESCO World Heritage Site since 2009, the Dolomites will reward you with scenic views, fresh air, and charming villages.
If you're visiting Venice in winter, the mountains will be beautifully capped in snow, whereas in the summer, you'll see stunning green landscapes everywhere you look.
While the Dolomites is a region so vast and beautiful I've written a full 7-day road trip itinerary for it, it's still worth visiting if you only have a day.
If you only have time for a day trip, join a guided full-day one like this Cortina and Dolomites Mountains Day Tour.
The tours usually stop at Misurina Lake, where you can view the striking Tre Cime di Lavaredo ("three peaks of Lavaredo"), the picturesque ski town of Cortina d'Ampezzo, and the gorgeous Auronzo Lake.
You'll have enough free time to explore Cortina, plus the option of enjoying a truly delicious lunch in a traditional restaurant.
Treviso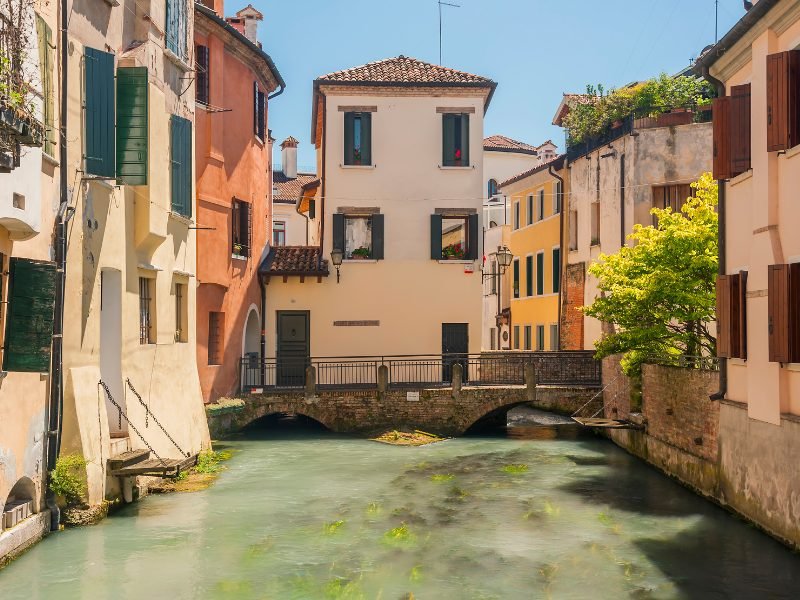 Treviso, just over half an hour away from Venezia Santa Lucia, makes for another incredible day trip destination from Venice.
In the city's historic center, discover the charming main square of Piazza dei Signori as well as the, um, iconic Fontana delle Tette ("Fountain of Tits" – you'll see why it's named that when you go!).
Visit the imposing Treviso Cathedral to admire works by Renaissance artists such as Titian and Bordone, and explore the crypt housing the tombs of former bishops.
If you'd like to add another church to the itinerary, visit the impressive Church of Saint Nicolò, which dates back to the 1200s and is adorned with beautiful frescoes.
To learn more about the history of Treviso and admire even more beautiful frescoes and local archeological artifacts, visit the Civic Museums of Treviso, located in a former medieval convent.
Vicenza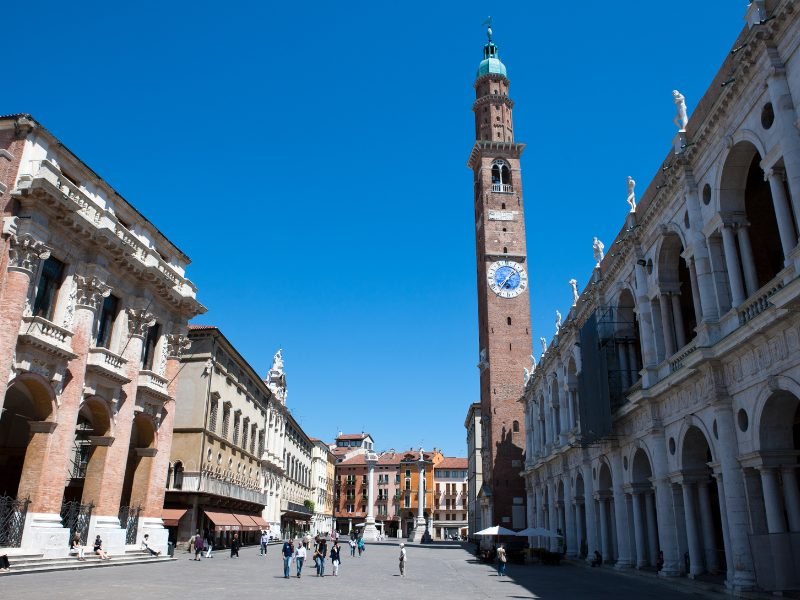 Only 45 minutes away by train, Vicenza is another beautiful city perfect for a quick Venice day trip.
Vicenza is famous for its Palladian architecture, a 16th-century style made famous by and named for architect Andrea Palladio, who designed 23 buildings in the city.
In 1994, the City of Vicenza and the Palladian Villas of the Veneto became a UNESCO World Heritage Site.
Piazza dei Signori is the main city square and it's home to magnificent buildings, such as the impressive Loggia del Capitaniato and the Palladian Basilica.
Here's a bit of dark history for you: the tower attached to the Basilica is called Torre del Tormento because it was a place for torturous punishment during medieval times.
Other Palladian buildings worth checking out are Palazzo Barbaran da Porto (now an art museum), Palazzo Thiene, and Palazzo Chiericati, which is home to a municipal art gallery with works ranging from the 13th to 20th century.
Verona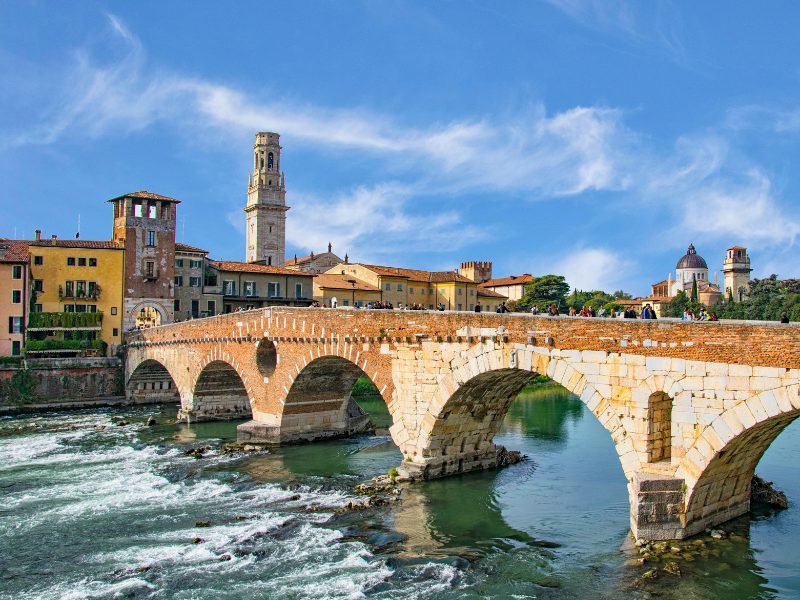 One of the best day trips from Venice is to Verona, one of Italy's most romantic cities.
Of course, more than anything, Verona is perhaps best known as the setting of William Shakespeare's Romeo and Juliet.
While the Capuleti House (or "Juliet's house") is a must-see, there is so much more to discover in the city than just this, which admittedly can be a bit of a tourist trap.
Rather than focus just on the Romeo and Juliet history, it's better to go a little further back history-wise: back to the Romans, rather.
The stunning Verona Arena is impressively well-preserved, a Roman amphitheater to rival the Colosseum. Best of all, it still hosts opera performances to this day!
Want a spot to relax and people-watch? Head to Piazza delle Erbe. This picturesque square is surrounded by lovely cafés and restaurants perfect for lunch, coffee, or even a mid-day aperitivo.
Make sure to explore more of the Città Antica (historic center) to enjoy more beautiful landmarks of Verona.
For a spectacular panoramic view of Verona, climb to the top of St. Peter's Hill or save your energy by taking the cable car up (we won't tell).
While you're up there, explore the hiking area and maybe pay a visit to the Castel San Pietro fortress and its overlooking terraces for some even more striking views.
To get to Verona from Venice, catch a train at Venezia Santa Lucia for a ride that takes around an hour and a half.
Ferrara
Ferrara is a city in the Emilia Romagna region, just over an hour away from Venice by train.
The highlight of the city is the 14th-century Castello Estense, a fascinating and historic castle.
Here, you can visit beautifully well preserved rooms housing works of art and artifacts, check out the dungeons, and gaze out from the watchtower, Torre dei Leoni.
Ferrara is also famous for the ornate Cathedral of Ferrara with its marble façade, and the nearby Cathedral's Museum, which houses sculptures, paintings, and tapestries that used to adorn the cathedral.
If you're up for another museum visit, check out the Renaissance-era Palazzo Diamanti, which houses the National Gallery of Art of Ferrara as well as temporary exhibitions.
Be sure to look ahead to see what's on display during your trip!
Other places worth visiting are the Cimitero Monumentale della Certosa, a former monastery converted into a public monumental cemetery, and Palazzo Schifanoia, which displays beautiful frescoes.
For lunch, check out the trattorias along the charming Via delle Volte and enjoy some delicious local food.
Udine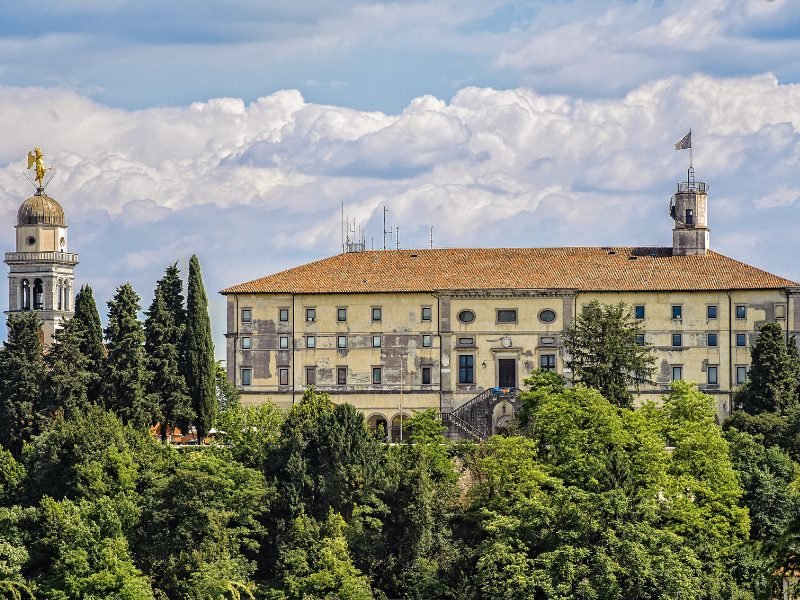 Located northeast of Venice in the Friuli-Venezia Giulia region, Udine is mostly famous for its hilltop castle with sweeping views of the city.
However, the castle is just the start of everything Udine has to offer!
The city is also home to an archaeological museum, a museum of ancient art, and a photography museum, among others.
Other museums in the city include the Ethnographic Museum of Friuli, the Museo Diocesano e Gallerie del Tiepolo, and Casa Cavazzini, the city's museum of modern and contemporary Art .
Apart from visiting the castle and countless museums, you can wander around the historic center, visit the Romanesque-Gothic Udine Cathedral with frescoes by Tiepolo, and stop for lunch in the charming Piazza Giacomo Matteotti.
To reach Udine, catch a regional train from Venezia Santa Lucia. The trip by train takes around two hours and departs roughly every hour.
Trieste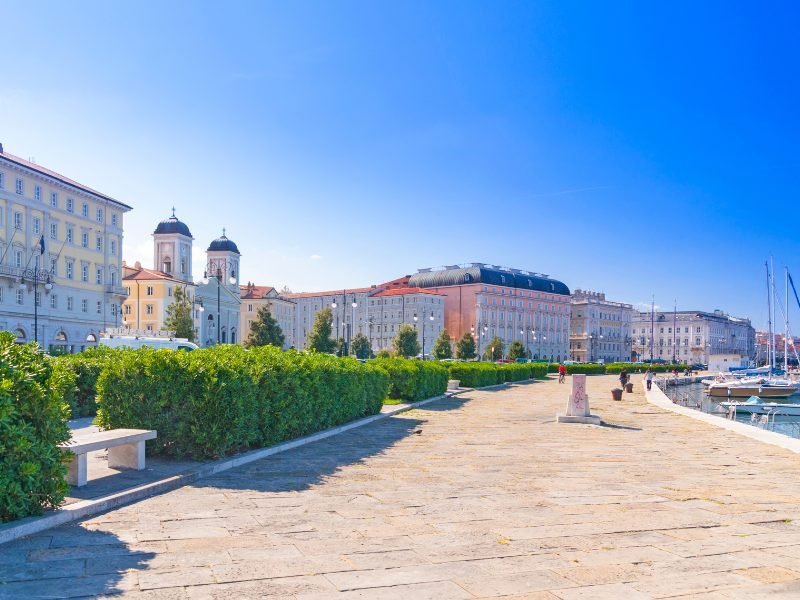 Close to the Slovenian border, Trieste is a port city and the capital of Friuli-Venezia Giulia.
The seaside city is home to beautiful churches, a medieval fortress, Roman ruins, gorgeous villas, and great museums.
Best of all, it's not far at all – you can reach Trieste in just two hours by train from Venice.
To discover the city's ancient Roman heritage, visit the 1st-century Roman Theatre of Trieste and check out the Arco di Riccardo, an ancient archway of contested origins. Regardless of who built it, the Arco is still truly a sight to behold!
Jumping forward through history, check out some artifacts from medieval times by paying a visit to Castello San Giusto, where you can admire the collection of historical weapons and artifacts on display.
On a sunny afternoon, stroll along the Canal Grande di Trieste and the Molo Audace pier to admire the gorgeous scenery.
For yet another unconventional museum, visit the Revoltella Museum featuring 19th-century rooms and a beautiful art collection.
Finally, don't forget to pay a visit to the Cattedrale di San Giusto Martire and the Serbian Orthodox Church of Saint Spyridon.
If you have extra time, plan a visit to the spectacular Habsburg Castle Miramare just north of Trieste.
Valpolicella & Amarone Region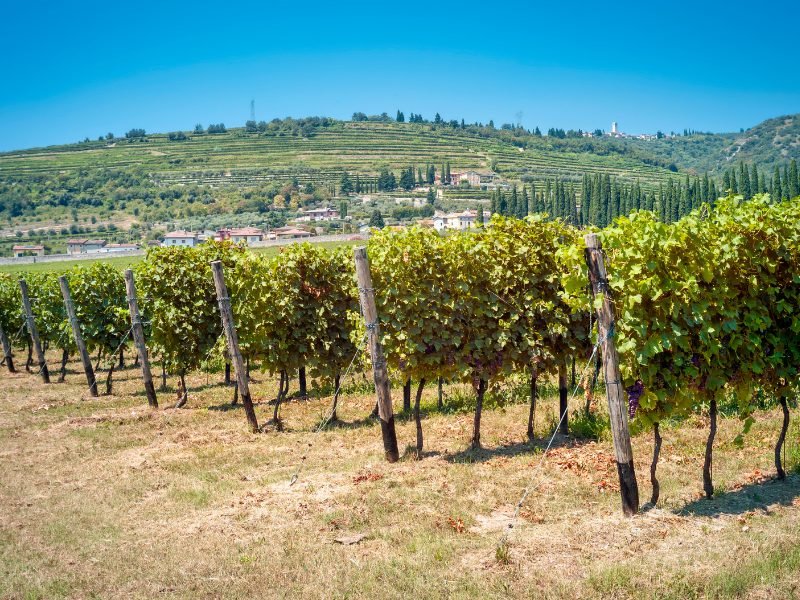 If you're a fan of big, bold red wines, taking a day trip to the Valpolicella area of the Veneto wine region is a must.
This day tour includes transportation from Venice to some prestigious wineries where the delicious Amarone — one of the world's top red wines for a reason — is grown, vinified, and bottled.
It also includes all your Amarone tastings as well as samples of other wines made from the Corvina grapes that didn't quite make the cut to become Amarone… but are still delicious!
Amarone is distinct for the process it goes through before being vinified, where the grapes are partially dried, creating an almost raisin-like density of flavor.
These powerful wines can age for decades — so why not go on a day tour from Venice, taste a few, and bring back a bottle for your cellar?
Trento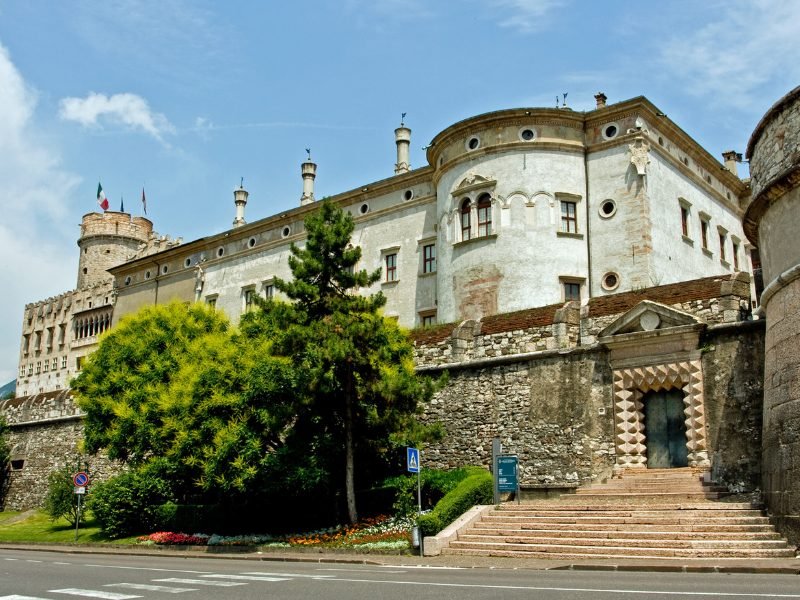 Built along the Adige River, Trento is a city in the Trentino-Alto Adige region, roughly two and a half hours from Venice.
The city's most important landmark is the spectacular Buonconsiglio Castle, which offers stunning views of the city and houses an incredible collection of paintings, sculptures, and frescoes.
Many of the city's landmarks are located around the main square, Piazza del Duomo.
Here, you can admire the beautiful Fontana del Nettuno ("Fountain of Neptune") and visit the imposing Romanesque Cathedral of San Vigilio.
Before you leave, be sure to check out the Tridentine Diocesan Museum inside the city's former town hall, Palazzo Pretorio.
Enjoy a stroll along the river or in the Giardini Pubblici, where you might stop for a traditional hearty lunch or the beloved local pastry, apple strudel.
Rovereto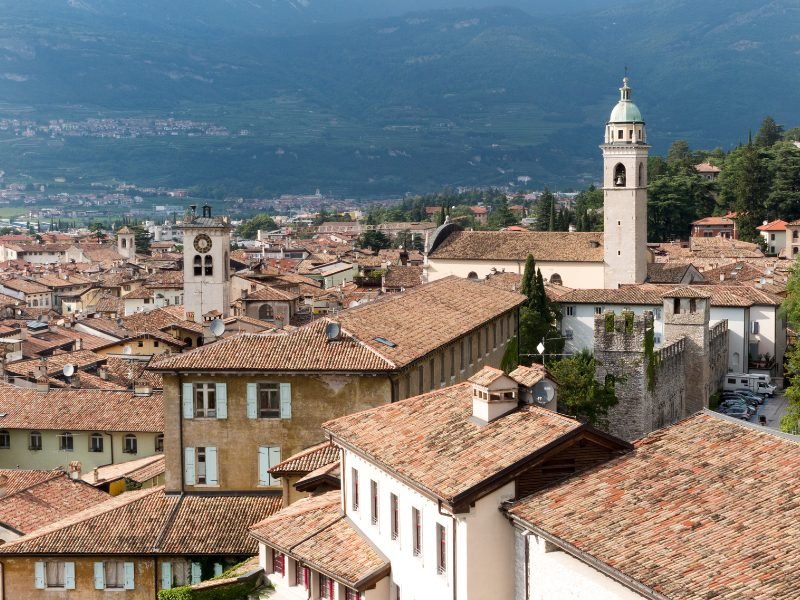 Just south of Trento, Rovereto is a small city with rich history and several museums and landmarks dedicated to the First World War.
Rovereto is great for a day trip for more than just its beautiful historic center and museums.
While you visit, you can also enjoy spectacular natural landscapes (and learn some history, too!).
Don't miss the Campana dei Caduti, a war memorial set on a hilltop with a panoramic view of the mountains behind you.
Another worthwhile sight is the Castle of Rovereto, built in the 13th century. While the castle itself is beautiful, its sweeping views of the city's surroundings really take the cake.
For a deeper dive into the local history, especially that of the Great War (much of which was fought in this region), it's also home to a museum dedicated to the First World War, Museo Storico Italiano della Guerra.
Lake Garda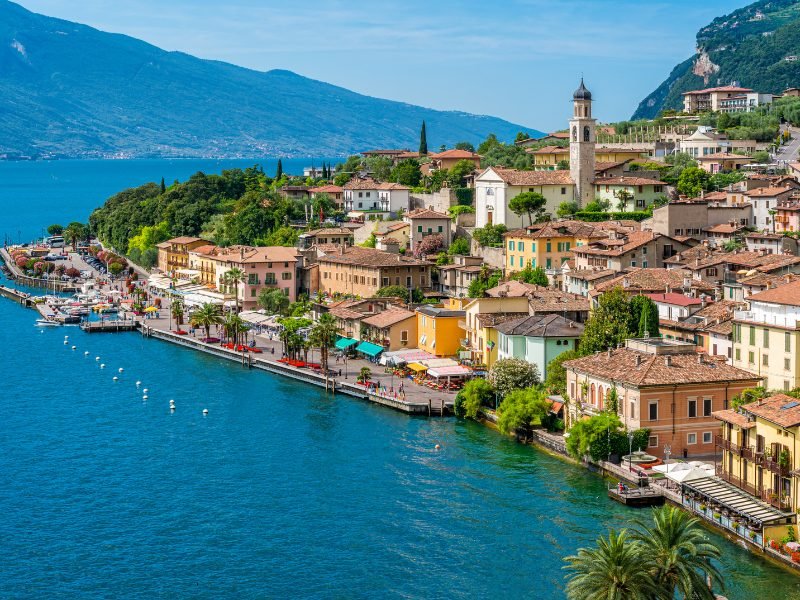 While in Venice, it's easy to enjoy a day trip to the dazzlingly clear Lake Garda, on the border of the nearby regions of Veneto and Lombardy.
Lesser known than Italy's Lake Como, Lake Garda still has all you'd want in any Italian lakeside escape, but with far fewer crowds.
The lakeshore is dotted with picturesque towns, gorgeous castles, and sumptuous villas.
From the popular town of Sirmione to picturesque Malcesine and charming Riva del Garda, there are countless hidden gems all around the lake, just waiting for you to discover them.
For a day trip from Venice, your best bet is to catch a train to Peschiera del Garda; it takes about 90 minutes to get there.
After exploring the little resort town, you can catch a bus that goes to Sirmione in just 20 minutes.
Aside from being a charming little town set on a narrow sliver of land that extends into the lake, Sirmione is the departure point for many boat tours, where you can get a better look at the gorgeous natural scenery.
This 4-hour Historic Castle Cruise with Wine Tasting is a great option to discover the lake.
You'll see the Lazise Castle, Villa Canossa, and Scaligero Castle, plus you'll stop for a wine tasting in Bardolino to round out your perfect Venice day trip!
Bassano del Grappa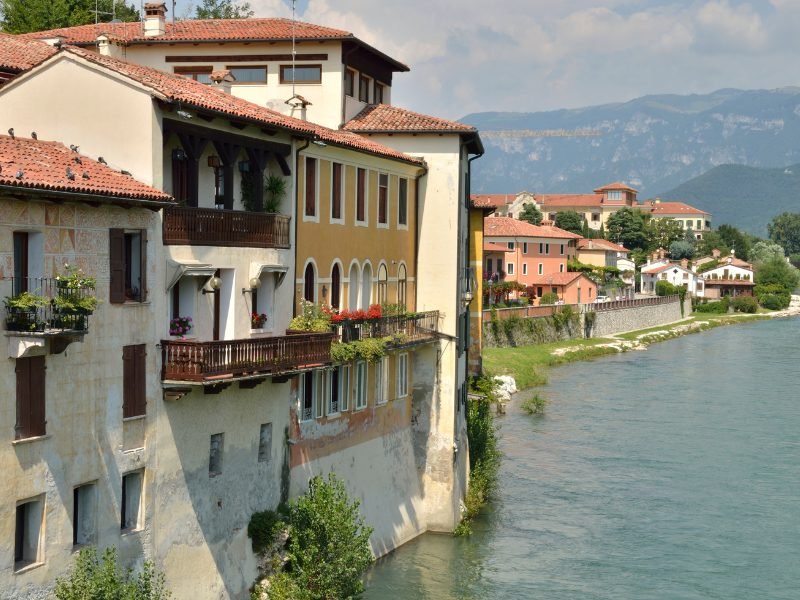 Located about an hour's train ride from Venice, Bassano del Grappa is well known for a charming 13th-century wooden bridge that spans the River Brenta.
The bridge is also known as Ponte degli Alpini, because it was crossed by Italian troops known as the Alpini mountain infantry as they traveled to defend the Seven Municipalities during World War I.
The bridge has been rebuilt several times over the centuries, following multiple destructions, but it maintains its old-time charm and offers beautiful river views.
After crossing the iconic bridge, explore the historic center and plan a visit to Castello degli Ezzelini and at least one of the museums in town.
If you need a recommendation, I personally suggest the Poli Grappa Museum dedicated to Italian spirits, the Museo Civico di Bassano, or Museo degli Alpini.
Bologna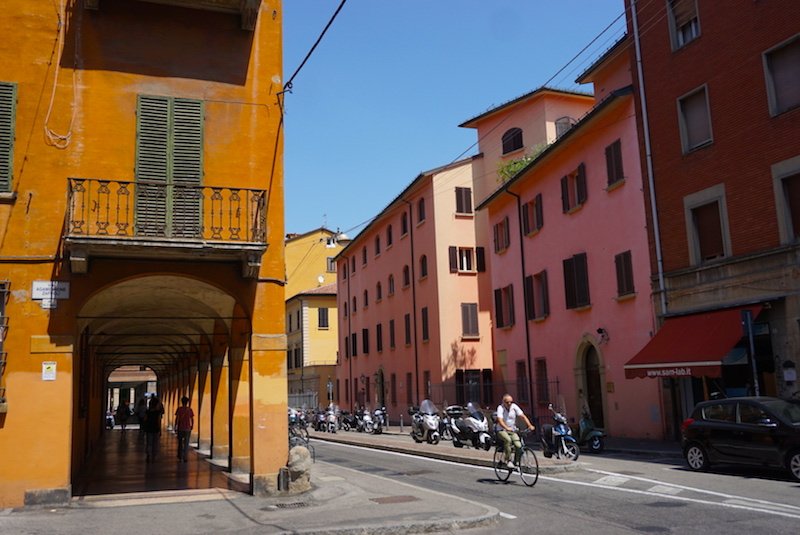 Just over two hours from Venice, Bologna is the capital of Emilia-Romagna but better yet, it's one of the best cities for tasty local Bolognese food!
While you may think of 'bolognese' when you think of Bologna, the familiar-to-us pasta sauce is actually nothing like the traditional meat sauce here!
Known in Italian as ragù, true Bolognese meat sauce is made with heartier (but still small) pieces of meat rather than finely minced meat. This creates a more tasty meat sauce.
Trying tagliatelle or lasagna with ragù is practically a requirement for visiting the city. But of course, there's more to just food to enjoy in Bologna.
The city is chock-full of amazing landmarks, beautiful squares, impressive churches, and many towers you can climb to enjoy panoramic views.
Choose between the "Two Towers" or Due Torri (Torre degli Asinelli and Torre Garisenda) or Torre dei Prendiparte, and make your way to the top to admire the beautiful cityscape from up high.
Stroll around Piazza Maggiore, check out the Fountain of Neptune in the nearby square, and visit the Basilica of San Domenico and Cattedrale Metropolitana di San Pietro.
One day is enough to enjoy the main sights, but you'll want to get there early to have a full day to explore! If you can manage it, two days in Bologna is even better.
Ravenna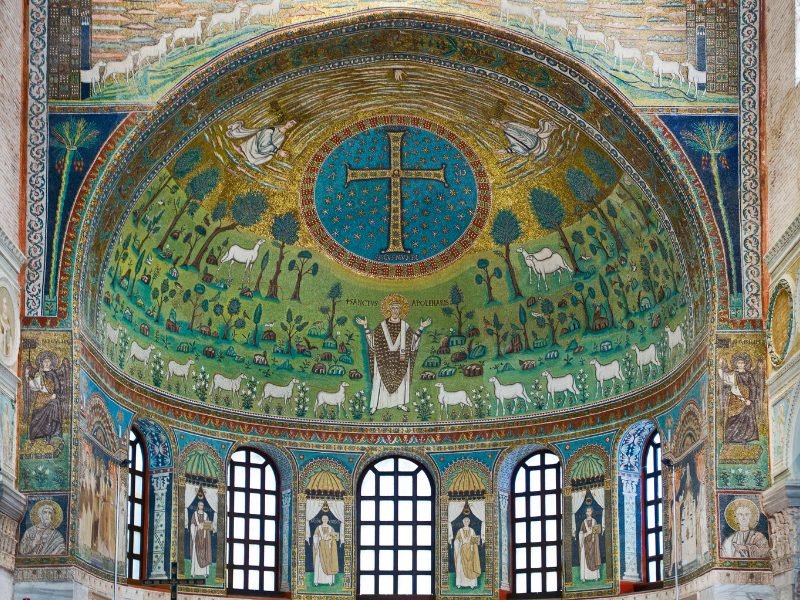 Last but not least, Ravenna is famous for its 5th and 6th-century mosaics dating back to when the city served as the administrative center of the Byzantine government in Italy.
The spectacular mosaics are reason enough alone to plan a day trip to Ravenna!
For some of the most impressive mosaics, visit the Mausoleum of Galla Placidia, the Basilica of San Vitale, the Basilica of Sant'Apollinare Nuovo, and the Arian Baptistry.
Other must-see sights in the city are the Gothic Mausoleum of Theodoric and the tomb of Dante Alighieri, the Divine Comedy poet who died in Ravenna in 1321.
Though it might be a bit of a stretch to fit it into a day trip itinerary, the huge amusement park Mirabilandia is just outside Ravenna's city center.
You can get to Ravenna from Venice in a little over two hours by train, with one change in Ferrara.
Where to Stay in Venice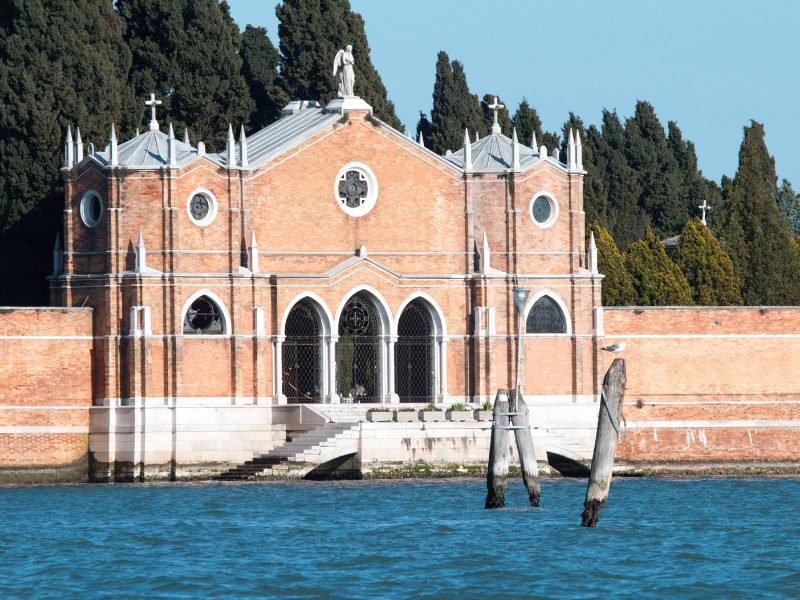 San Marco: For a convenient hotel in the heart of Venice, check out The Carlton overlooking the gorgeous Grand Canal. Enjoy its rooftop cocktail bar and its spacious rooms decorated with local artisan wares like Murano glass lamps.
Dorsoduro: Away from the hecticness of central Venice's main attractions but still in a lively neighborhood with plenty to do, Dorsoduro is a great bet. Ca Bea has charming and comfortable rooms at a great price.