I grew up in the San Francisco Bay Area, and one thing that blew me away even growing up was the shocking diversity of day trips and weekend getaways from San Francisco.
In just a 3-hour drive of the city, I could be in mountains, by pristine lakes, in historic towns, in a hippie beach town… all of that just within arm's reach.
With the current state of the world, many people are thinking of traveling closer to home, and so I've gathered this list of amazing weekend and overnight trips from San Francisco, from Santa Cruz to Mendocino, that will surely scratch your travel itch while keeping you close to home.
Here are just a few phenomenal suggestions for where to go on a weekend getaway from San Francisco.
Best Weekend Getaways from San Francisco Bay Area
Napa Valley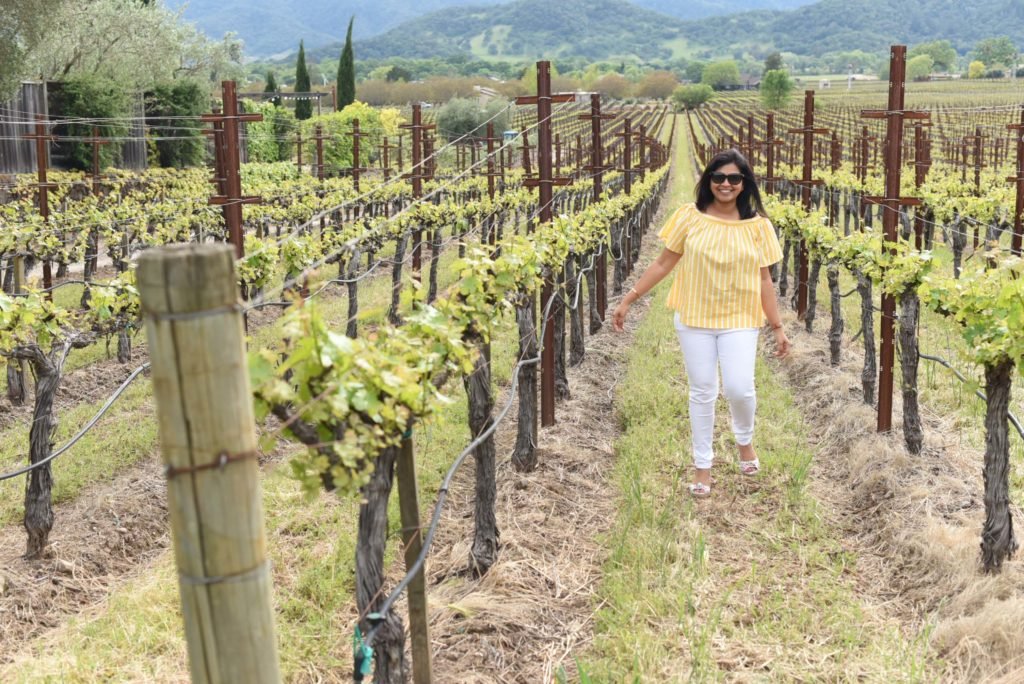 Note: This post contains affiliate links, which means I may receive a small commission if you purchase something through one of these links. Thank you for supporting the free content on this site! For more information on affiliate links and cookies, see my disclosure page for more details.
Contributed by Priya Vin from Outside Suburbia
Napa is the quintessential weekend getaway from SF. With over 500 wineries in the region, the wine country of Napa is a lovely place for an overnight or weekend trip from San Francisco.
It makes for a nice California road trip with views of rolling hills, farms and wineries.
The Wine Country is not just about wineries, there are many upscale restaurants to try – don't miss brunch at Auberge.
Plan to stop a few tasting rooms: Benziger Family Winery, Stags Leap, and Francis Ford Coppola Winery are three that I highly recommend visiting. Benziger Family Winery is a little further away but worth the drive.
The winery has cute animals and practices biodynamic farming, and they have third party certification for their green farming practices.
Their award-winning tour is considered one of the top 10 in the nation!
Book one of their 45 minutes Biodynamic Tram Tour. After the tour, you get to taste some of the delicious wines and buy olive oils in the Tasting Room.
Allocate some time to wander around downtown Napa or Yountville to admire all the art. Or take the Napa Valley Wine Train!
The route takes you on 36-mile round trip journey that lasts three hours.
You will be treated to a scrumptious meal and spectacular scenery of the famed agricultural preserve of Napa Valley.
Even if you don't drink wine, Napa is the perfect place to relax and unwind in the country, go on hikes and road trips.
There is a lot to do in Napa Valley during your weekend getaway from San Francisco.
Half Moon Bay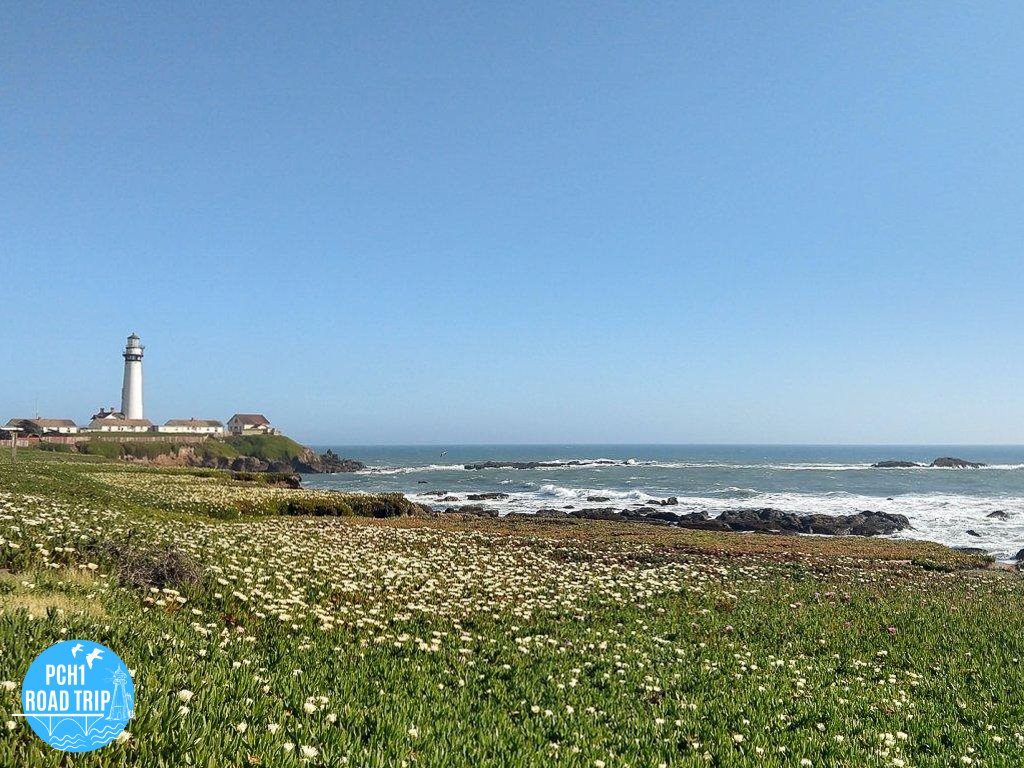 Contributed by Kay of PCH1 Road Trip
For a perfect weekend trip from San Francisco or elsewhere in the Bay Area, consider a visit to Half Moon Bay.
This charming city by the coast is just about 32 miles south of San Francisco and makes a perfect scenic drive down California's Highway 1.
From San Francisco city proper, set aside an hour to reach Half Moon Bay. Along the way, you are treated to beautiful views of the Pacific Ocean and orchards full of citrus trees.
There are many things to do in Half Moon Bay and the city is perfect to spend a relaxing day.
Take a stroll along Main Street and check out the historic buildings, Northeast style Victorian houses, and boutique stores. Shop for one of a kind clothes and antiques.
Half Moon Bay also has many excellent restaurants; our favorite is Sam's Chowder House.
They have delicious chowder soup and fresh buttery lobster rolls!
Another great stop is the Half Moon Bay Distillery which has great craft liquors.
The photogenic Pigeon Point Lighthouse is also a must-visit attraction.
Then it is time to enjoy Half Moon Bay's outdoor attractions. The city is famous for its soft sand beaches and the surf.
The beaches are spread out over a four-mile area and form the famous crescent shape, which gives the community its name.
The most popular beaches include Half Moon Bay State Beach, Miramar Beach, Naples Beach, and Francis Beach. All the beaches can be easily accessed via Highway 1.
Apart from swimming and sunning, other outdoor activities in Half Moon Bay include beachcombing, looking for tide pool creatures, hiking along the coastal trail, and whale watching cruises.
Santa Rosa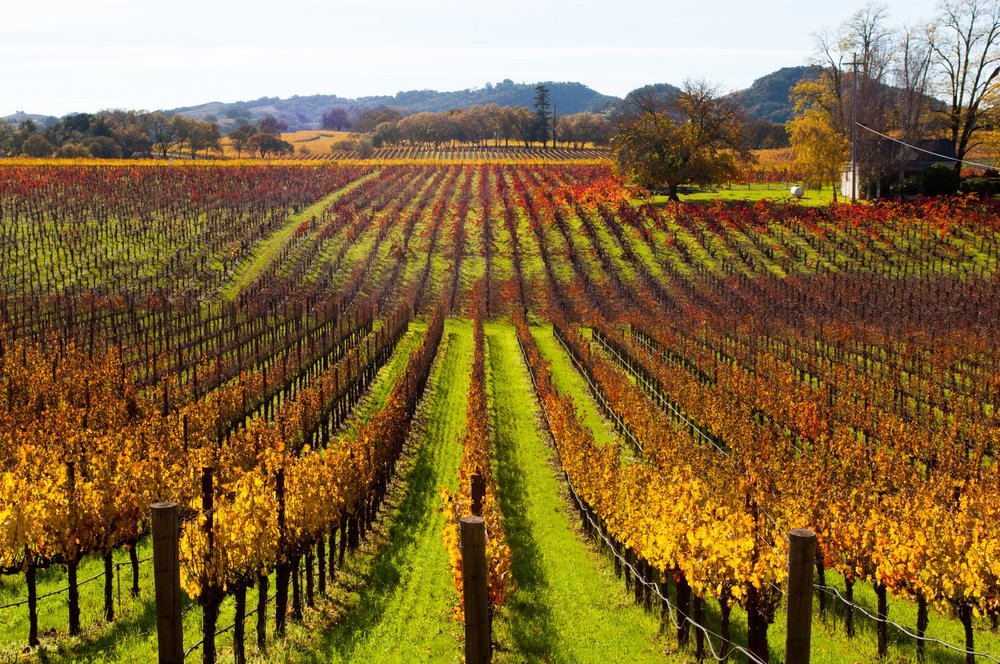 Contributed by Daria of The Discovery Nut
Located in the heart of Sonoma County's wine country, Santa Rosa is a perfect weekend getaway from San Francisco.
While Sonoma might not be as popular with tourists as the famous Napa Valley, it offers top-notch wineries and delicious local produce minus all the crowds.
If you are looking for local restaurants and shops, there's no better place to start your trip than the historic Railroad Square, which is considered Santa Rosa's Old Town.
The city sits along the California railway which played a significant part in its history. To this day, downtown Santa Rosa has any historic buildings, bars, and pubs where locals like to hang out.
One of the best things to do in Santa Rosa is zip-lining among the coastal Redwoods.
Sonoma County is home to the tallest trees in the world, which can grow as tall as 250 feet!
Head to the redwood forest of the Pacific Coast not far from Santa Rosa for some zip-lining experience.
And finally, check out one of many wineries in Sonoma County!
The area offers a good mix of wineries that cater to adults and families, where you can even bring your own picnic, and enjoy the nice atmosphere.
Some of the best wineries near Santa Rosa are Paradise Ridge that overlooks the Russian River Valley from atop the rolling hills.
Just a few are: Pellegrini that is accessible via a gorgeous drive through 70 acres of vineyards, and St. Francis, located in Sonoma Valley.
After spending your day in the Santa Rosa area, it's time to grab a bite. Head to Cozy Plum at 1899 Mendocino Avenue in Santa Rosa that offers mouth-watering vegan food.
If you ever thought that plant-based food is boring, this place will prove you wrong with its delicious options!
Santa Rosa is just one of many cool weekend trips from San Francisco. If you have more time, take a day trip to South Lake Tahoe for some fun kayaking, camping, and hiking.
Yosemite National Park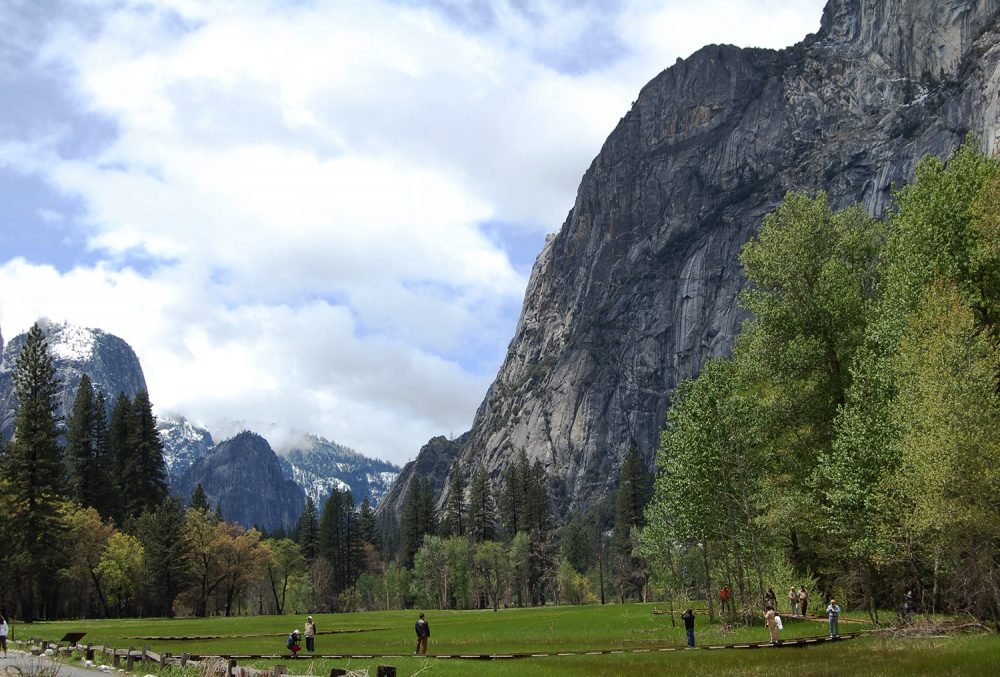 Contributed by Constance of The Adventures of Panda Bear
Yosemite National Park is one of the most popular national parks to visit as a weekend trip from San Francisco due to its close distance from San Francisco, its amazing granite rock formations, and gushing waterfalls.
You can easily spend a day in Yosemite National Park seeing all of those things!
Start by exploring Yosemite Valley, from here you'll get beautiful views all around of Half Dome, El Capitan, and Yosemite Falls.
There is a short 1 mile loop that gets you to the base of Lower Yosemite Falls.
However if you're in the mood for a longer hike, you can hike to the top of the Lower Yosemite Falls or even all the way up to the top of Upper Yosemite Falls.
If you're down for a more strenuous hike, take the Mist Trail up to the base of Half Dome, or you can also climb up Half Dome (if you get a permit).
The Mist Trail takes you up a climb of 4,800 feet in elevation on a well-trod but potentially slippery granite trail passing by Vernal Falls and Nevada Falls on the way.
If you are able to climb Half Dome, be sure to bring climbing gloves, you'll need the grip to hold onto the cables that traverse the side of the rock!
For snacks to take on your hike, check out the Village Store.
The shop has ready-to-eat food great for the trail such as granola bars, sandwiches, and more.
If you're aching to sit down for some grub, the Village Grill offers casual American fare with open outdoor seating if the weather permits.
The Yosemite Valley is absolutely gorgeous and it's well worth the visit, especially when you're visiting San Francisco.
Santa Cruz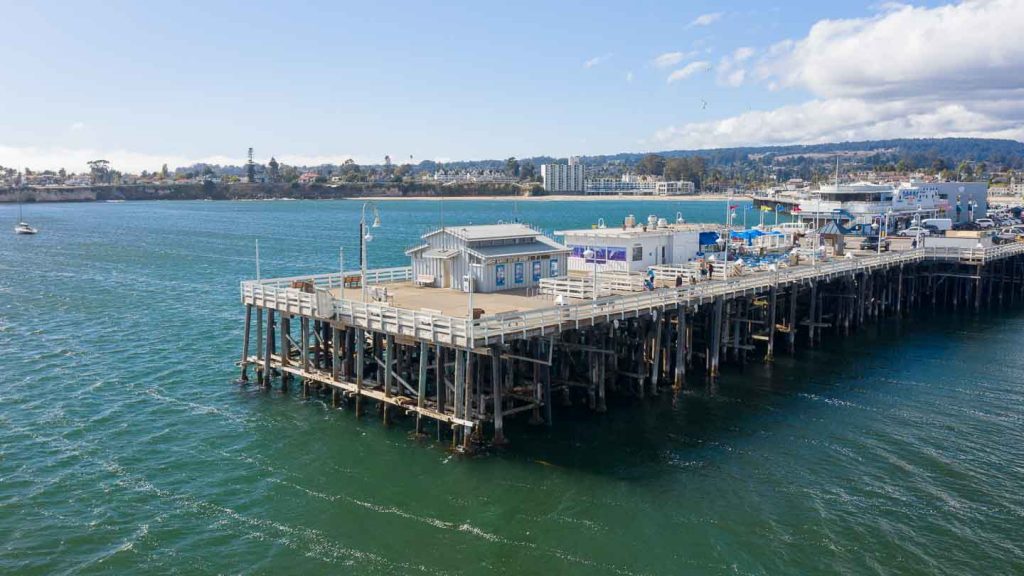 Contributed by Hannah of Getting Stamped
Just over an hour's drive from San Francisco, Santa Cruz is an ideal overnight trip.
Santa Cruz is said to be one of the most beautiful beach towns in California, full of the perfect balance of adventure and relaxation.
One of the first stops to make in Santa Cruz is Natural Bridges State Beach.
Best known for its unique and incredible rock formation on the coast, the state beach is also home to tide pools full of wildlife, like sea stars and crabs. Lighthouse Field State Beach is another great spot to check out.
The Santa Cruz Beach Boardwalk is another attraction to check out.
Explore California's oldest amusement park with thrilling rides or step down to the beach for an afternoon of relaxation and water sports.
Santa Cruz is also home to over 70 different wineries and taste rooms, so wine tasting is a must on your weekend getaway.
For vineyard views, Ridge Vineyards or Beauregard Vineyards are great options.
When looking for the best eats in Santa Cruz, make sure to check out the Santa Cruz Wharf.
Choose from dozens of fun bars and gourmet restaurants with amazing views of the ocean.
Another great place to check out is Abbott Square Market, which is filled with restaurants and cute cafes.
Tuolomne County (Gold Country)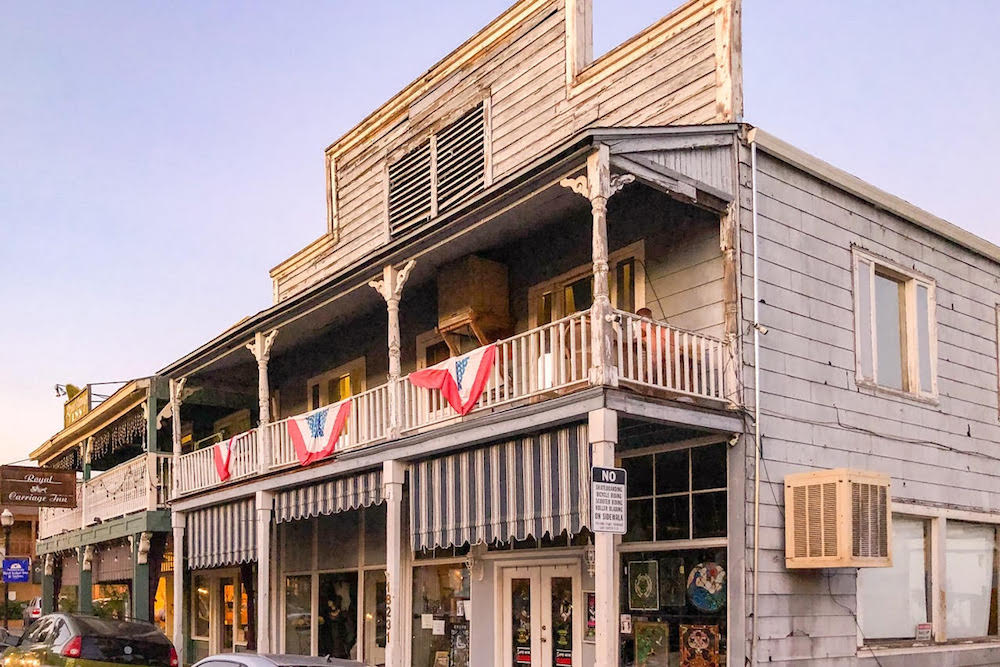 Contributed by Teresa of Brogan Abroad
Located two and half hours from San Francisco, Tuolumne County offers something for everyone, making it the perfect getaway from San Francisco.
Over half of Yosemite National Park is within Tuolumne County, and together with the High Sierra they offer plenty of outdoor activities.
Gold Country has a lot to offer too, and is the perfect place to learn about the history of the Gold Rush era.
Columbia is the best-preserved Gold Rush town in California, and it's the perfect place to start exploring the area.
It's now a State Historic Park and here you can find the state's largest collection of structures of the period.
Don't miss Nelson's Columbia Candy Kitchen for some homemade marshmallows, and St Charles Saloon for their famous pickle pizza – yes, you read that right… pickle pizza!
Another town worth a visit is Jamestown, the very first spot where gold was found in 1849.
Several of the buildings here date back to the 1870s and 1880s, including The Historic National Hotel.
The hotel was once a speakeasy, a brothel, and a gambling parlor and it is famously haunted.
Jamestown is also famous for being the filming location of countless Wild West films such as Unforgiven, Back To The Future III, and Lassie.
You can see some of the props used for these films at the Railroad 1897 State Historic Park, in the edge of town, where you can also take a ride on an original steam locomotive.
If you enjoy a glass (or three) of wine, Jamestown has two fantastic places where you can enjoy a tasting.
Gianelli Vineyards Tasting Room specializes in Italian grapes, and Inner Sanctum Cellars has award-winning wines produced with locally grown grapes.
You may need to stay with the ghost at The National Hotel after you finish the tastings though!
Livermore Valley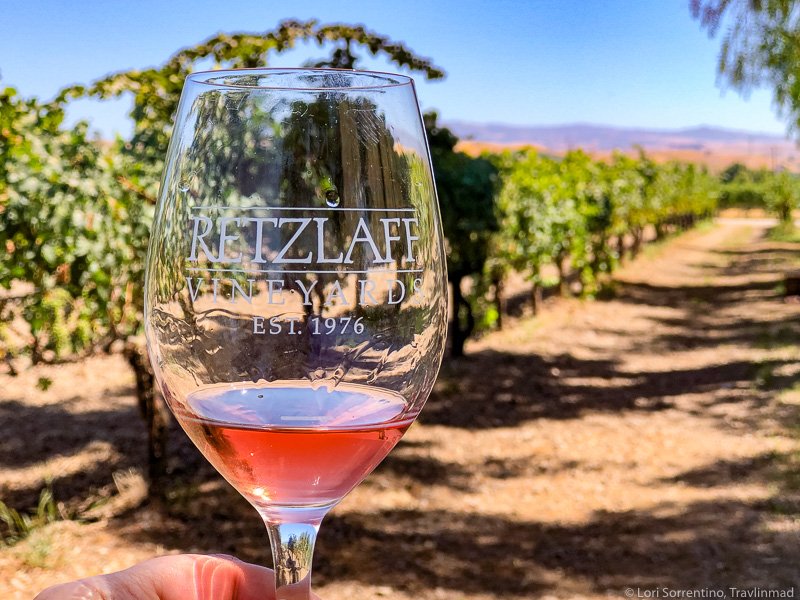 Contributed by Lori of Travlinmad
Just 35 miles from the San Francisco Bay Area is the Livermore Valley, a relatively undiscovered wine country gem awaits.
Not only does Livermore have outstanding restaurants, outdoor activities like cycling, hiking Mt. Diablo, horseback riding, it also has tasting the famous Livermore Valley wines.
The Livermore Valley has over 50 wineries, 23 craft breweries, and a small craft distillery called Sidewinder Spirits that specializes in vintage cocktails and crafting excellent spirits — definitely worth a visit and tasting.
For amazing (and award-winning) wines, two of our favorites were Retzlaff Vineyards and Murietta's Well.
Most of the local wineries are small and family-owned, allowing visitors the opportunity to chat with many of the winemakers.
But what's truly unique about the Livermore Valley when it comes to wine tasting is how close the wineries are in proximity — close enough that biking or walking will easily bring you to up to 8 local wineries.
Pedego, the local electric bike rental company, runs wine-tasting tours by bike, or you can rent one on your own for your own leisurely winery tour. If you'd rather not bike or drive, take the Livermore Wine Trolley to get around.
History lovers will enjoy exploring one of the area's historical landmarks and earliest vineyards — Ravenswood Historical Site, which offers free public tours.
Also worth a visit is the Duarte Garage & Lincoln Highway Museum built in 1915, which feature unique antique automobiles and vintage firetrucks.
With over 150 restaurants in the area, finding dining choices for everyone is never a problem.
Movies lovers should check out Bridges in Danville, the restaurant made famous in Robin Williams' comedy Mrs. Doubtfire.
For next-level tasting menus and wine pairings, don't miss Sabio on Main in nearby Pleasanton.
Plan a trip around the Livermore Valley Harvest Wine Celebration held on Labor Day Sunday or the Livermore Downtown Street Fest, the area's premier annual festival.

Carmel-By-The-Sea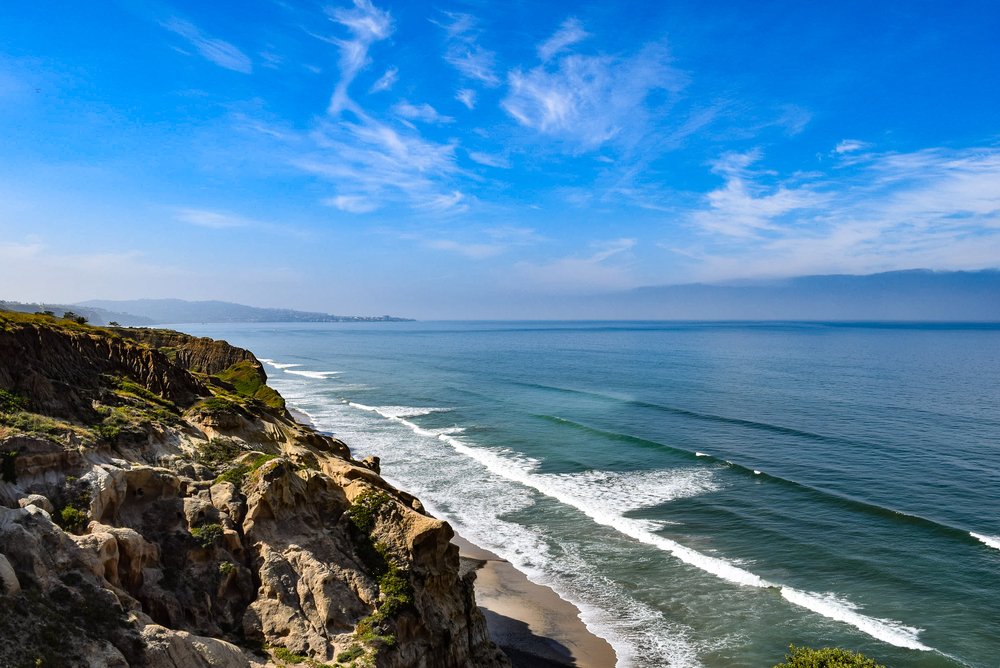 Contributed by Gwen of Healthy Travel Mom
Located on the coast just two hours south of San Francisco is the little town of Carmel-by-the-Sea.
Carmel-by-the-Sea is a quaint, European-style village nestled above a beautiful beach where everything is within walking distance.
With its cobblestone streets, whimsical architecture, hidden courtyards. and ubiquitous flowers and cypress trees, the best word to describe Carmel is charming.
But that does not mean there isn't plenty to do! Carmel is home to numerous art galleries, boutiques, spas, restaurants, wine tasting rooms and even several theaters.
But perhaps the most popular activity in Carmel is the beach!
With its soft white sand and crashing waves, Carmel Beach is one of the most beautiful beaches in all of California, and you can walk there from just about anywhere is Carmel.
Plus, it's a beautiful dog-friendly beach!
There is also a Scenic Bluff Path that meanders through cypress trees and landscaped gardens to Carmel Point.
Walk along the jagged coastline from Carmel Beach to Carmel River Beach with views from famed Pebble Beach to Point Lobos.
Speaking of incredible views, one thing you absolutely must do when visiting Carmel is the 17-Mile Drive.
For a $10 entrance fee (worth every penny and refundable if you stop for lunch!) you can spend an hour or hour driving the most beautiful coastline in the world and stopping at more than a dozen photo opps and points of interest between Carmel and Monterey.
The 17-Mile Drive is home to the Lone Cypress, a beautiful Cypress tree that has braved the elements for more than 250 years from its spot jutting from the rocks against the Pacific Ocean.
Avila Beach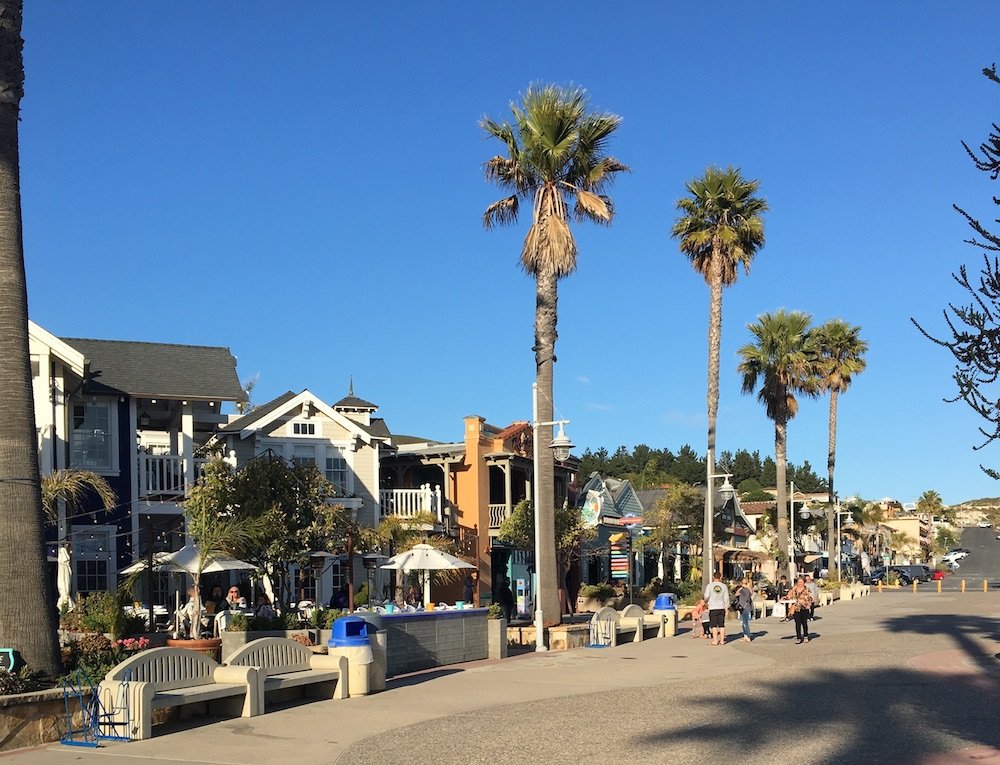 Contributed by Gina of Evergreen and Salt
Avila Beach is an off-the-radar central coast California beach town that often gets overlooked for more well-known locales like Santa Barbara or Pismo Beach.
But if you're both a beach lover and wine connoisseur, you don't want to miss out on all the beautiful and fun things to do in Avila Beach!
Located just 15 minutes south of San Luis Obispo, Avila Beach is right on the perimeter of Central Coast California wine country and it shows!
Numerous wine tasting rooms are located in the small downtown area of Avila Beach, just steps from the ocean.
Sip a glass of wine before taking a walk down the wide expanse of sand before heading to a local cafe for some ice cream or a seafood restaurant for local delicacies.
Peloton Cellars is a charming tasting room that is airy and bright, serving up some excellent Cabernets and Pinots from the nearby wine region.
A quick walk away Alapay Cellars Tasting Room, another fun place to wine taste at thanks to its beachy decor.
For dinner, check out the seafood entrees at Custom House, which also has gorgeous views.
A quick drive from the downtown area will take you to Avila Beach's Port San Luis Pier, where more eateries worth checking out await.
Check out the Mersea's Seafood Restaurant located right on the pier and Fat Cats Cafe across from the pier that has a delicious breakfast.
The pier itself is lovely to walk around, with the chance to see sea lions frolicking around below.
A short drive past the pier is Point San Luis Lighthouse, which is open to visitors who wish to take a guided tour of the unique lighthouse.
San Luis Obispo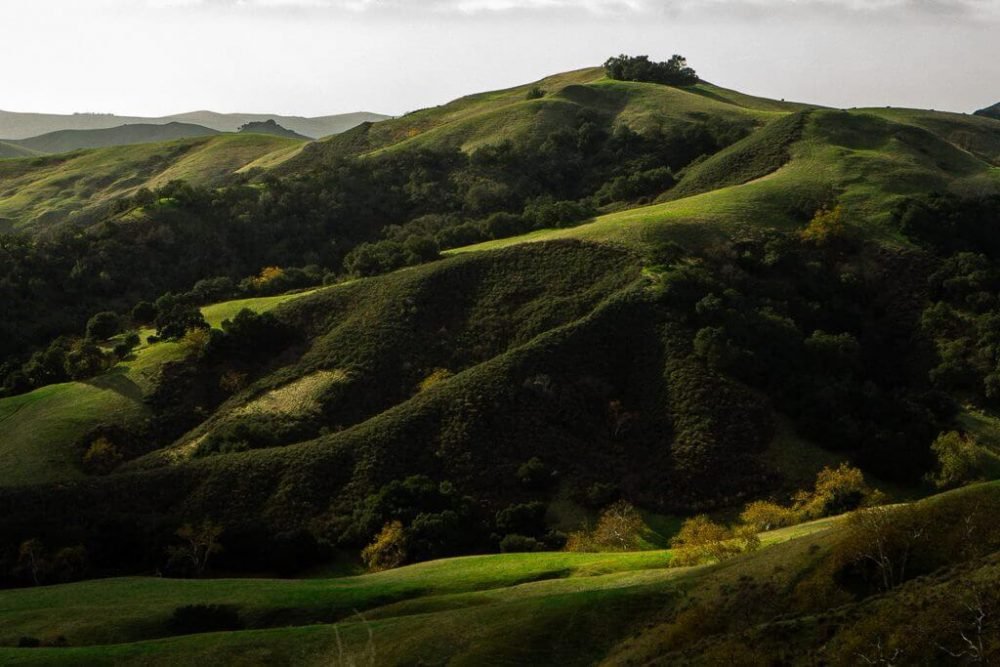 Contributed by Megan of Bobo & Chichi
One of the best places to visit in Central California on an overnight trip from San Francisco is San Luis Obispo, also known by its nickname SLO.
San Luis Obispo offers some gorgeous California coastal views from your car with tons of places to pull over and stop off and take some photos.
Enjoy some of the most dramatic California coastline all to yourself as well as being located in the heart of Central California's wine country.
One attraction not to be missed is touring the famous Hearst Castle in San Simeon. This former home to media mogul William Hearst was a playground for Hollywood stars in the 1920s.
The home itself is incredible to tour but what makes it even more interesting are the stories of celebrity guests from yesteryear to go along with this lavish home.
Other cool attractions include wine tasting through Paso Robles and SLO Valley, the Guadalupe Nipomo San Dunes, the small beach town of Pismo Beach, and the dramatic coastline at Morro Bay.
And the most iconic place to stay is the eclectic Madonna Inn with its over the top themed rooms from pink glitter to a caveman room built around rocks and boulders!
Lake Tahoe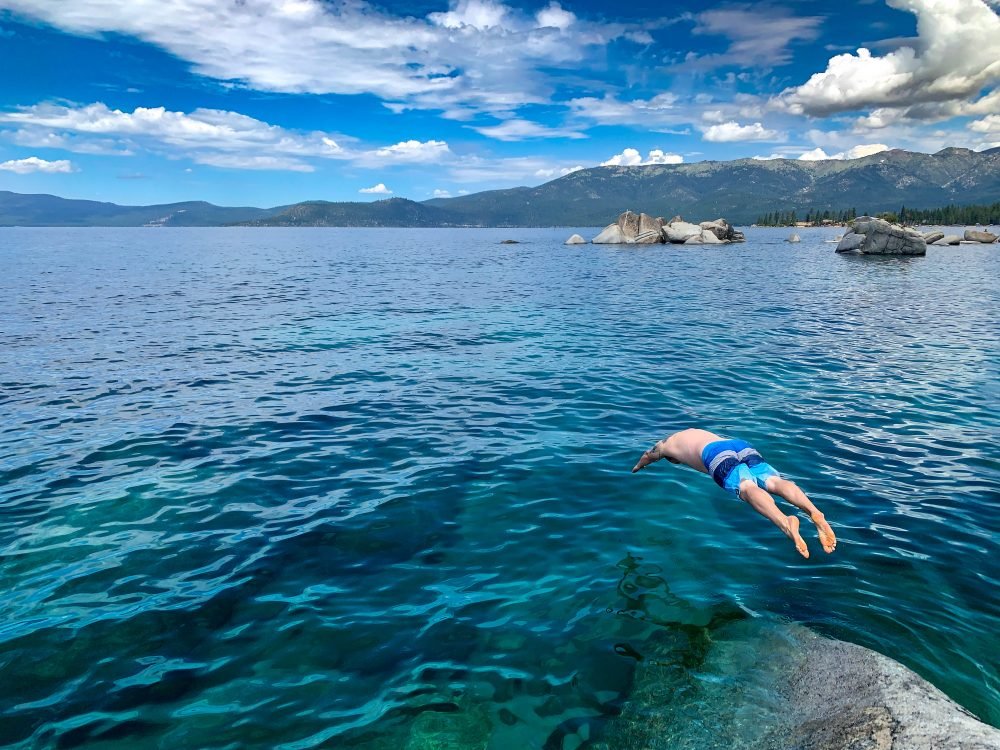 Contributed by Meg Atteberry of Fox in the Forest
If you're looking for an adventure-filled city-break from San Francisco, look no further than Lake Tahoe.
Straddling the state line between Nevada and California, this gem-colored mountain lake offers up epic mountain beauty.
Located just over 3 hours from downtown San Francisco, you'll find yourself in another world.
One incredible way to enjoy the scenery is to head out on one of the best hiking trails in Lake Tahoe.
Hikes in the Desolation Wilderness, along with the simple, 20-minute hike to Cave Rock are a few local favorites.
Avid hikers can take on the Tahoe Rim Trail, a 165-mile thru-hike that skirts the rim of the lake.
If you don't like to hike there's still plenty to do, from scenic drives, to casino nights!
Those who need to be in the heart of the action stay in the bustling South Lake.
Complete with high-rise casinos and a solid nightlife, you'll have plenty of entertainment right at your fingertips.
If you're seeking solitude, stay at the more local Tahoe City or Incline Village, along the northern shore.
Here you'll find much more of a small mountain town feel, perfect for relaxing in nature.
Either way, no stop to Lake Tahoe is complete without snagging a delicious rotisserie style burrito at T's.
This cash-only hot spot is perfect for a satisfying post-hike snack, or grab one to-go for a day at the beach.
You'll love Lake Tahoe so much, you might want to stay more than just one night.
However, if you're just looking for a quick San Francisco getaway, you can't beat the glittering shores of Lake Tahoe.
Mount Shasta and Lassen National Forest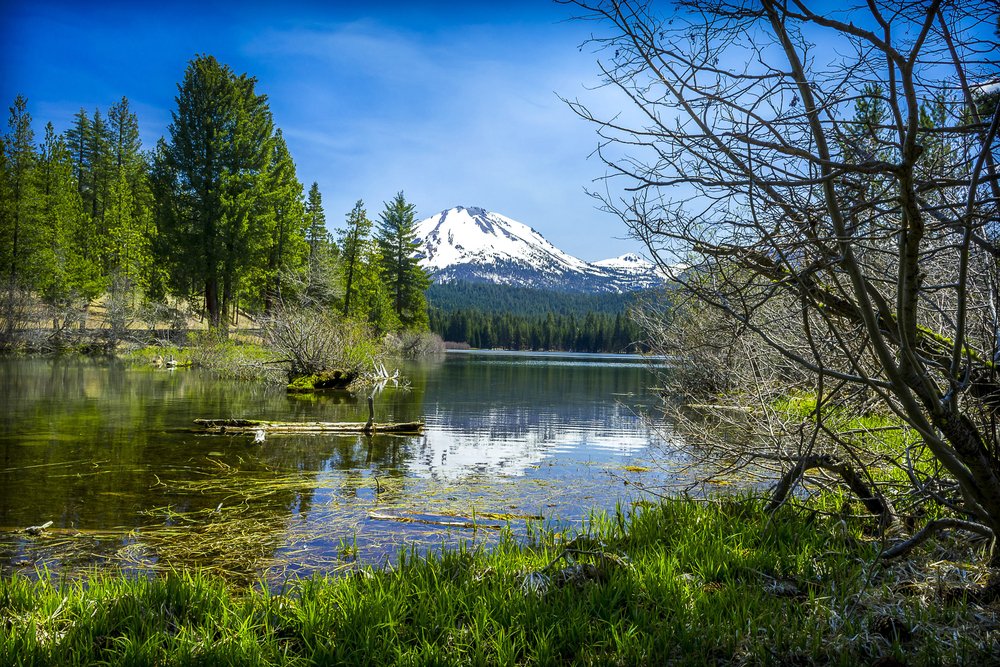 Contributed by Skye Class of Skye Travels
When asked about National Parks around San Francisco, most people think of Yosemite or the Sierras, but another option is to head up north to the Shasta and Lassen National Forests.
These national parks span over 4,000 square miles, so there's plenty to do.
In Lassen, I'd highly recommend the Lassen Volcanic National Park with its sulfur flats (plug your nose) and plethra of geysers.
These are one of the few sulfur springs in the US (along with Yellowstone) and are really fun to explore…if you can get over the smell of million-year-old eggs.
Another great option is the Lake Shasta Caverns. After a cruise across the lake, delve into the limestone caves to see just creative and beautiful nature can be.
The cruise might be a little dated, but the 250 million-year-old caves only get better with age.
Finally, there's Mt. Shasta, the fifth-highest peak in California – over 14,000 feet.
There are dozens of hikes to choose from, ranging anywhere from 15 minutes to 4 hours (depending on your pace).
For those more adventurous, hit the slopes at the Mt. Shasta Ski Park on the southern side of the mountain for skiing in the winter or mountain biking in the summer.
If you're looking for a bite to eat, you'll probably end up in Redding.
As a lover of Thai food, I'd recommend Janya's Thai Cuisine, a hole-in-the-wall serving some mean curries.
Healdsburg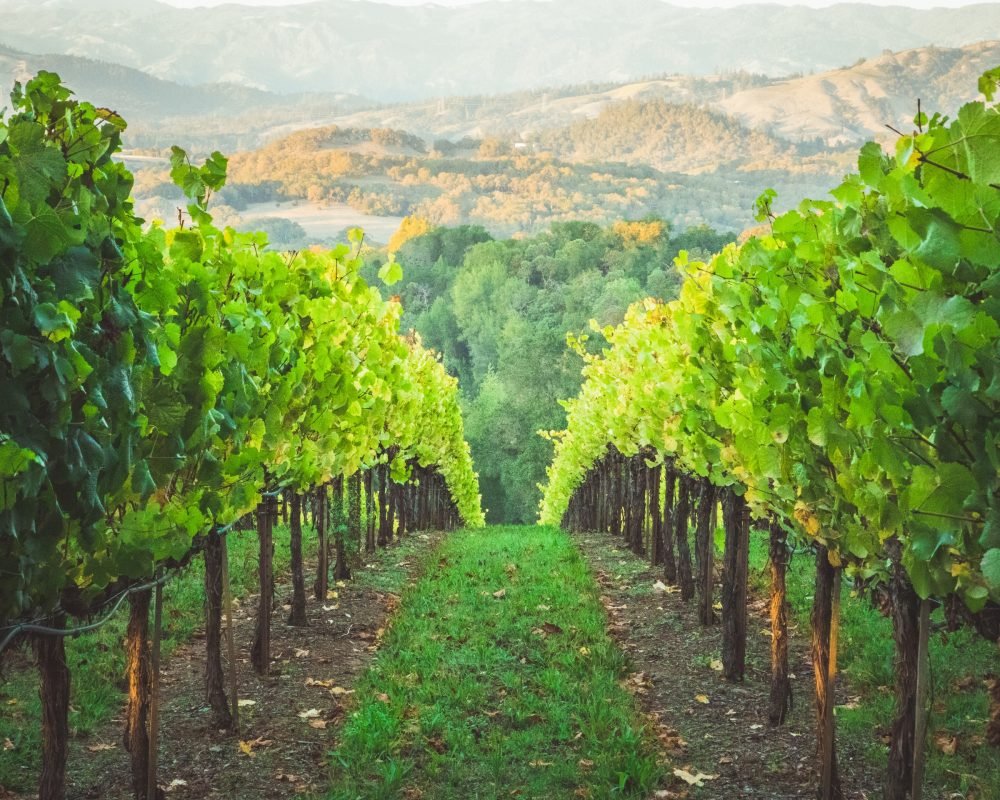 Contributed by Jenifer of The Evolista
Healdsburg is a quaint and charming small town in Sonoma that makes a perfect weekend getaway.
A 90-minute drive from San Francisco puts you front and center for the best Northern California has to offer, making it an excellent weekend getaway from San Francisco.
One of the biggest draws to the area is definitely the wine. You could spend multiple days wine tasting and visiting vineyards.
Seghesio Family Vineyards, Gustafson Family Vineyards, and Jordan Vineyard & Winery are three of the best. But there really are so many to choose from, you can't go wrong.
If you love outdoor adventure, take a half or full-day, self-guided rafting trip through vineyards and redwoods.
This part of the Russian River has incredible wildlife and you can pack a picnic lunch into your inflatable canoe.
If you want to stick closer to the historic Healdsburg square, rent bikes and enjoy a leisurely cruise around town.
It's a great chance to sneak in a little shopping at one of the many boutiques.
A trip to Healdsburg wouldn't be complete without experiencing the culinary genius of chef Charlie Palmer at Dry Creek Kitchen, one of the best Healdsburg restaurants.
The farm to table gourmet fare is paired with delicious wines for a most memorable evening.
Breakfast at The Parish Cafe is straight out of Louisiana with Beignets and Breakfast Po' Boys.
If you can make time for a picnic during your weekend in Healdsburg, grab sandwiches from super popular Dry Creek General Store, but get there early to avoid the long line.
Healdsburg is a great place to get outside of San Francisco to enjoy the fresh air and wine country vistas. Enjoy!
Paso Robles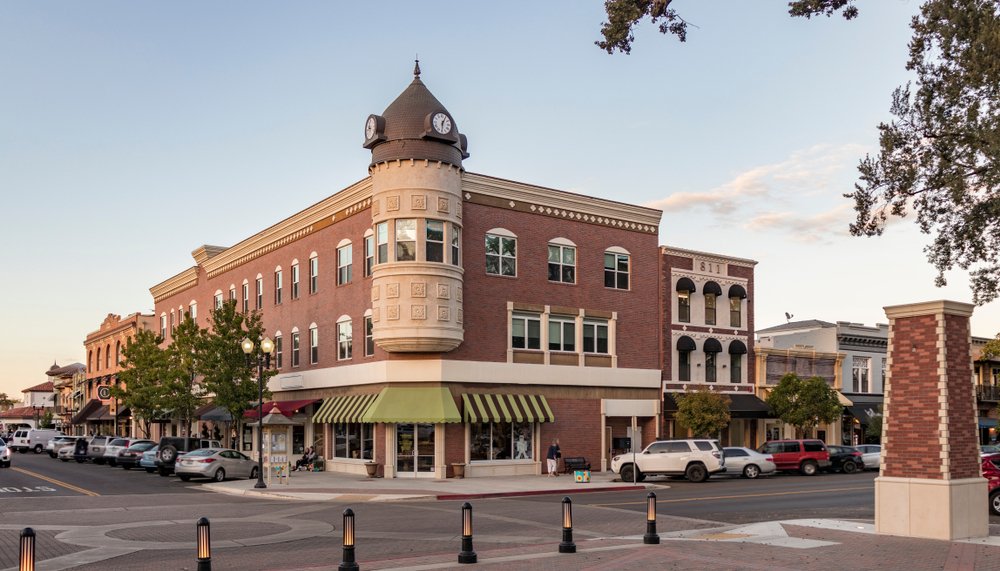 Contributed by Stefania of Every Steph
Paso Robles is the perfect destination for a weekend getaway from San Francisco if you're looking for peace, stunning landscapes, hip restaurants and boutiques, and of course, plenty of wineries.
In fact, Paso Robles is a wonderful alternative to the wine country of Napa and Sonoma.
Some of the best wineries in Paso Robles to check out are Eberle Winery, Sculpterra Winery and Sculpture Garden and, if you're looking for something super traditional, Tobin James that resembles an old saloon.
You can go for wine tastings and a tour of the properties!
But what if you're not into wine? No worries.
I lived in Paso Robles in 2007 as an exchange student at the local high school, and of course, the wineries weren't an option!
There are quite a few other things to do in Paso Robles, including walking around charming Paso Robles Downtown, visit an oil producer, and relax at the hot springs.
And if you have some extra time, there are plenty of great destinations on the Central Coast of California that are just 30 minutes to one hour away.
Looking for some restaurant suggestions? For sophisticated comfort food, head to The Hatch, while for a hearty, traditional small-town breakfast choose Joe's Place.
Monterey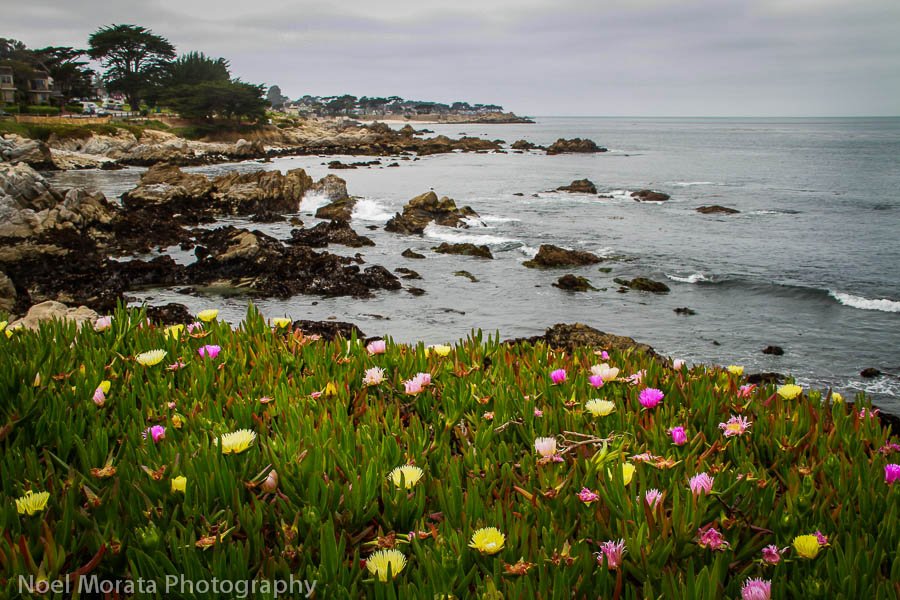 Contributed by Noel Morata of Travel Photo Discovery
If you are considering an overnight getaway from San Francisco, check out the fabulous central coast region of Monterey County and Monterey city.
This historic Colonial Spanish city has wonderful historic attractions, the fantastic Monterey Fisherman's Wharf to explore and close-by the famous Monterey Cannery Row district.
Adjoining the cannery is the world reknowned Monterey Aquarium, one of the best and leading aquariums and educational centers in the world.
For outdoor enthusiasts, the coastlines have connected trails that are fantastic for walking, running or biking and the waters are perfect for kayaking, sailing, surfing and even diving in the amazing kelp and coral beds undersea.
Monterey also has some lovely outdoor parks and areas to visit including Carmel, Carmel Valley wineries, Big Sur, and beautiful Point Lobos Reserve, a stunning state park worth visiting.
You'll enjoy visiting the Monterey area as an easy weekend getaway from San Francisco, and checking out all the fun things to do in the coastal areas of the county.
Monterey is also home to a great California Marriott hotel so it can be a great choice if you need to use up some points!
Muir Woods & Marin County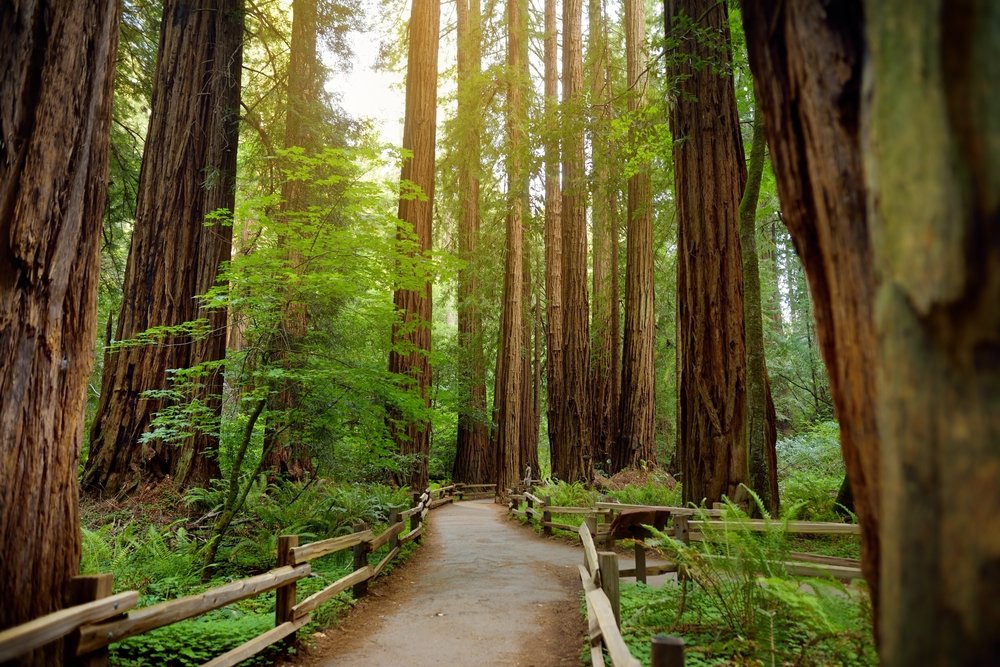 Contributed by Skye Class of SkyeTravels
You don't have to drive far from San Francisco to find some truly fantastic scenery. Just across the Golden Gate Bridge is Marin County – the Beverly Hills of the Bay Area.
I was blessed to once have a house in Greenbrae, just south of San Rafael (Marin County's capital).
While my favorite pastime was walking along the Corte Madera Creek, I was just a stone's throw away from the legendary Muir Woods.
These woods are the closest redwoods to San Francisco (only about half an hour, depending on traffic).
If you're into architecture, consider visiting the Marin County Civic Center just north of San Rafael. It was designed by Frank Lloyd Wright with his very unique and natural style.
For a more romantic option, head out to Stinton Beach on the coast for a sunset walk on the sand.
The views in this area are comparable to what you'd find down south in Big Sur.
Finally, head up to Mount Tamalpais, the highest point in Marin County, for its panoramic views.
While this might be a good overnight destination from San Francisco, you'll be hard-pressed to scratch the surface of activities here within a day or two.
Marin County is the center of the nation's organic farming movement, and you'll find plenty of amazing farm-to-table restaurants.
I'd recommend Farmshop in Larkspur Landing (where you can get a ferry down to the Ferry Plaza Farmer's Market in San Francisco).
Go for one of their puffy, wood-fired pizzas, and don't leave without trying their avocado hummus.
Marin County is a great choice for an overnight trip from San Francisco, and one of my favorite parts of the PCH too.
Humboldt Redwoods State Park
Contributed by Elaine & David of Show Them The Globe
Located just 3 hours north of San Francisco, the Humboldt Redwoods State Park is one of the best places in the USA to see the giant redwood trees in the world and is a perfect overnight trip from San Francisco.
The park is perfect for viewing the redwoods by car and the designated 32-mile drive known as the Avenue of the Giants is one of the most popular places to visit in the park.
This stretch of road cuts through a dense portion of the forest and offers incredible views of the giant redwoods.
The road trip through the grove is very peaceful with multiple pull-ins to stop and hike among the trees.
One of the best stops on the avenue is the Founders Grove Nature Trail where the Dyerville Giant lies.
The Dyerville Giant was a huge 200-year-old redwood that fell in 1991 and was believed to be the tallest tree in the park before its demise.
Two of the best places in the area to eat are located on the avenue itself. The Redwood Palace is fantastic seafood and steakhouse.
For a quick-bite, visitors should check out the Chimney Tree Grill near the southern entrance to the Avenue of the Giants.
A trip to the Avenue of the Giants is not complete without seeing the famous Shine drive-thru tree in Myers Flat.
For $10 visitors can drive their car through an old hollowed out redwood and pose for photos.
Allison Green is a former educator turned travel blogger. She holds a Masters in Teaching and a B.A. in English and Creative Writing. Her blog posts merge her educational background and her experience traveling to 70+ countries to encourage responsible, enriching travel. She has been a speaker at the World Travel Writers Conference and her writing, photography, and podcasting work has appeared in National Geographic, CNN Arabic, CBC Canada, and Forbes, amongst others. Now a full-time traveler, she has lived in Prague, Sofia, New York City, and the San Francisco Bay Area.