The best wetsuit is the one you'll reach for time and again.
After freezing my butt off while diving in Cozumel in my 3 mm suit, I realized that 3mm wasn't going to cut it for repetitive scuba diving on longer dive trips — even in warm water like the Caribbean.
I run cold, and I need a wetsuit with thicker neoprene that gives me the proper thermal protection — otherwise, I simply don't enjoy my dives, even in warmer temperatures.
Yes, I'm often the only person in a long sleeve, full-length wetsuit while other divers are in shorties! But I'm comfortable, so that's what matters.
I personally wear my 5mm wetsuit if I'm doing repetitive dives in water temperatures at 80 F or lower — but I know that's overkill for many.
I definitely got some funny looks wearing my 5 mm wetsuit while diving in Roatán and Utila in May while others were in skinsuits or shorties… but I loved the comfort!
For people who don't run as cold as I do, you still may find a 5mm beneficial for places other than tropical destinations.
These 5mm women's wetsuits may be the best option for a winter wetsuit or even spring suits for cooler temperatures.
If you're not sure yet what you need, I suggest renting wetsuits from dive shops (or surf shops, if that's why you're buying a wetsuit) to test how comfortable you feel in the water.
Your personal experience in the water is the most important aspect.
Everyone's body temperature runs differently, so a 5mm may be perfect for some, and a 3mm may be the better choice for another — even if water temps are the exact same!
Another thing to consider is that you can always add warmth by adding some layers underneath your wetsuit.
Personally, I like just having a warmer wetsuit, but you may prefer to add some thermals beneath a 3mm wetsuit.
What I Looked for in a 5 mm Women's Wetsuit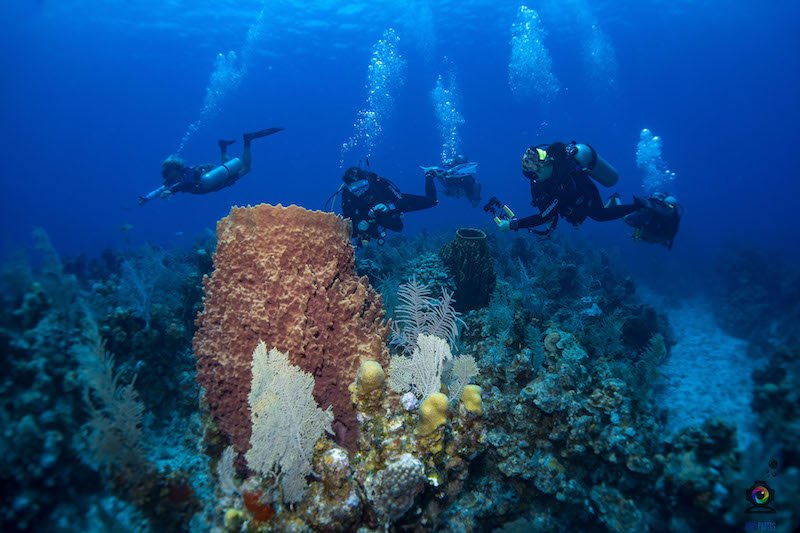 Note: This post contains affiliate links, which means I may receive a small commission if you purchase something through one of these links. Thank you for supporting the free content on this site! For more information on affiliate links and cookies, see my disclosure page for more details.
Here's a quick look at the factors that went into buying choose between all the 5mm scuba wetsuits for women there are out there.
Right Fit
This seems obvious, but your wetsuit needs to be the right size. What does that mean?
It should be skin-tight, with arm seals, ankle seals, and ideally a neck seal that keeps the water warmed by your body inside the wetsuit.
Effective seals are the key to feeling warm underwater!
Contrary to popular thought, the warmth from wetsuits doesn't necessarily come from the neoprene itself, but rather from the heat generated by your body.
The thicker the wetsuit, the more it traps the body-warmed water in the suit with you, keeping you warm.
If your wetsuit is too big, even the warmest wetsuit will not keep you as warm as a wetsuit with the perfect fit.
Gaps in the wrists, ankles, and neck offer cooler waters a chance to rush into your wetsuit and lower the temperature inside the wetsuit — making you feel colder.
Optimized for Diving
I don't surf or do any other water sports, so I wanted to be sure I picked a wetsuit that was specifically made for divers rather than from one of the surf brands like Rip Curl or O'Neill.
Surf wetsuits have some differences, such as being more suited for quick movements, but not as focused on good buoyancy.
That said, I know some people reading may be looking for a womens 5mm wetsuit for surfing, so I didn't leave you out — I have my top pick for a cold water surfing wetsuit in here as well!
Good Range of Motion
Cold water wetsuits can sometimes feel rather tight and uncomfortable.
While I don't expect a 5mm wetsuit to be easy to put on, the best women's wetsuits are made of flexible materials like traditional neoprene that allow for enough movement.
While it will always be a little more "Stay Puff" marshmallow-like than a thinner material wetsuit, I don't want to feel like I have no mobility underwater.
Best Womens 5 mm Wetsuits for Colder Water
Cressi is a reliable brand, produced in Italy with an eye for detail. The 5mm ladies wetsuit, the Cressi Castoro, gives you both warmth and comfort.
It features 5mm thick neoprene on the arms and 7mm on the core.
This is just the right thickness in my book, because you don't feel like the marshmallow man underwater with thick neoprene one the arms that you don't need, but your upper body is nice and toasty.
According to the brand, it's suitable for diving in colder water temperatures ranging from 35 degrees F to 45 degrees F. For me… I don't know about that.
I am admittedly a diver who runs very cold. I got chilled multiple times on my recent Cozumel drift dives, despite a water temperature of 79 F.
Once I switched over to a rental 5mm womens wetsuit…. all was right in the world.
I found myself a little warm after dives, but not roasting, which was way better than being chilled and shivering during my dives.
The 5 mm wetsuit is available in sizes XS to 3XL, so it's inclusive of plus-size options — a major score for larger divers who often struggle to find their size catered to.
Best of all, the pre-shaped legs fit the curves of a woman's body, particularly the hips and thigh area, eliminating the awkward stretching-out period where you feel squeeze like a sausage for the first few dives.
What's extra cool about this 5 mil wetsuit is that the wrists and ankles feature a proprietary AquaStop system, consisting of 1.5mm neoprene, which act as 'cuffs' that prevent water from entering the suit, thus keeping you warm.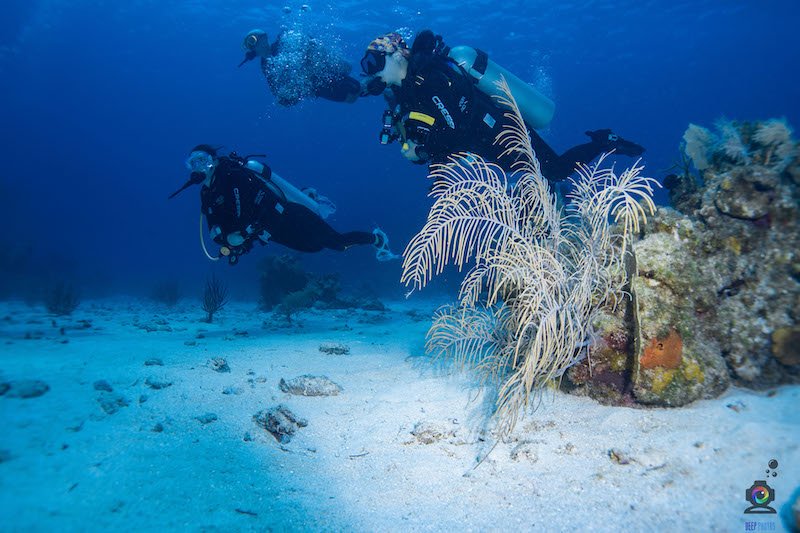 The knees have a Power Tex layer for protection against rocky or sandy bottoms, which can be beneficial during shark dives, manta encounters, or when trying to spot macro life… anytime you need to be still, basically.
Plus, there's also similar protective reinforcements on the shins and shoulders (great because your BCD can often wear on the shoulders, too.
The wetsuit is constructed from 5 mm and 7 mm neoprene lined with nylon on both surfaces, providing durability, warmth, and comfort (and stylish design, in my opinion — I love the yellow, and it makes it easy to spot me underwater).
The back zipper features an Aquastop seal system and YKK zipper, and the smooth neoprene interior minimizes water leaks so you can retain your body heat.
The neck seal designed to reduce water leaks as well; however, this does have the effect of making it feel like a squeezy turtleneck, which is not my favorite feeling in the world, I'll admit.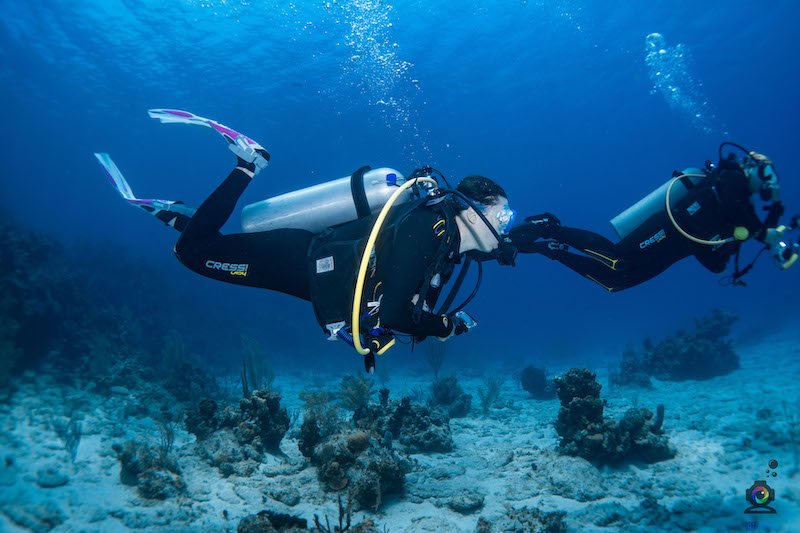 That said, I am neurodivergent with strong sensory aversions, and my neck is one of my most sensitive areas.
I find it irritating but fine overall, but those who are more sensitive to the 'turtleneck' like sensation may not be a fan of this wetsuit….
… that said, I do think the majority of women's 5mm wetsuits do have a neck seal because that super-tight seal is part of what's needed to keep you warm in the cooler waters it's designed for.
I'll note that I've only dove in this wetsuit in warmer waters because again — wimp.
I live 2 hours from Monterey and I already own a 7mm two-piece farmer john wetsuit and thick hood, and I still haven't gone diving there yet…
… but according to one reviewer who is likely less of a wimp than I am, the Cressi Castoro performed well in 48-degree water when paired with 7mm boots, 5mm gloves, and a hood.
Overall, the Cressi Castoro is a reliable and comfortable wetsuit at an affordable price that provides excellent protection and warmth for a range of water temperatures and weather conditions.
The Scubapro Sport Steamer 5mm Back-Zip Women's Wetsuit is a high-quality wetsuit that is CE certified, indicating its high standards of quality, suitable for dives with water temperatures ranging from 50°F to 65°F (10°C to 18°C).
The wetsuit is made from X-foam neoprene, the ultimate in wetsuit technology, which is softer and more flexible than typical dive foam neoprene.
However, this material is less resistant to compression underwater over time, so it'll stay somewhat bulky — something to note about packing this wetsuit in the future!
One thing I really am jealous of when it comes to this wetsuit is that its unique zipper construction: it features a diagonal zipper as opposed to a straight up-and-down zipper.
Supposedly, this makes it easier to get in and out of the wetsuit and doff it half-way during surface intervals without having to take the whole suit off.
Another way this wetsuit goes on and off more easily is that the arms and legs feature double-zippered seals.
This make it easy to get in and out of the wetsuit while also keeping water out (no awkward blowing into your wetsuit armholes in order to get it on — yes, it works, and yes, it's as awkward as it sounds).
Additionally, the neck has a partial chest zip so you can zip it down or up high to insulate your neck.
This feature is really helpful for divers who may experience anxiety or sensory overwhelm (read: me) with too much tight material around their neck.
The Scubapro Sport Steamer 5mm Back-Zip Women's Wetsuit is designed to stretch more where it is needed most, and features an ultraspan chest panel with lots of give, as well as Stretchtec fabric on the sides, arms, and legs for a flexible yet snug fit.
The wetsuit has an orange infrared lining on the torso to reflect body heat and maximize thermal insulation.
It also features a spine pad along the back to cushion where the tank goes, adding comfort to your dives — something unique to this Scubapro wetsuit.
There are also reinforcements on the shoulders, knee pads, and elbows, in order to increase durability and decrease the time between replacements.
Overall, the Scubapro Sport Steamer 5mm Back-Zip Women's Wetsuit is a high-quality, flexible, and durable wetsuit that provides excellent thermal insulation and comfort during dives in a variety of water temperatures.
The main reason why I didn't buy this wetsuit is 1) it's more expensive than the Cressi wetsuit and 2) I didn't like that it was a thicker suit that wouldn't compress over time, staying bulky in my bag and 3) it's quite heavy, at just over 4 lbs.
Other scuba divers may have a different price point they consider reasonable, or different priorities, so it may be the right wetsuit for you if your budget allows!
The Henderson Women's Thermoprene Pro Wetsuit 5mm Back Zip Fullsuit is a versatile wetsuit that is available in sizes ranging from 2 to 24, making it a great option for many different body shapes to find the perfect fit.
The wetsuit features an Aquasilk plush lining made of micro-fleece for a smooth lining feel, adding to its comfort factor — if you've ever tried to shimmy into a regular wetsuit, this will feel like putting on a robe by comparison!
The neoprene used in the wetsuit is very stretchy, providing a comfortable, form-fitting feel that contours to your body like a second skin.
Additionally, it features DuraTex stretch knee pads, which come in handy when you need to kneel on the ocean floor. All seams are double glued and double sewn, ensuring extra longevity and durability.
At 2.3 pounds, it is lightweight (for easy packing) and easy to move around in; plus, it's rated for temperatures of 52°F and up, so it's great for diving in colder waters (or if you just run cold like I do).
Overall, the Henderson Women's Thermoprene Pro Wetsuit 5mm Back Zip Fullsuit Black is a versatile and comfortable wetsuit that is designed to fit women of all sizes.
With its stretchy neoprene, DuraTex knee pads, and double-sewn seams, it is a durable option that is great for diving in a range of temperatures.
The Bare Women's 5mm Nixie Ultra is a high-quality wetsuit that is designed to provide warmth and comfort in a range of diving conditions.
The wetsuit features a 5mm backzip full suit design, with durable sealed seams to ensure its longevity.
One unique feature of the wetsuit is its Omnired technology in the lining's interior.
I'm not really sure how the science of it works, but it's supposed to increase blood circulation and therefore improve your oxygen usage, allowing you to use less energy, conserve air, and stay warmer during your dive.
Additionally, the wetsuit features really rock-solid ankle and wrist zippers (allowing for easier donning and doffing of the wetsuit), as well as a short chest zipper in the front (so you can customize how high the neckline is) and a full back zipper for easy entry and exit.
The wetsuit also features flip seals at mid-forearm and mid-calf, which is a really cool way to prevent water ingress (flushing) and keep you warm.
The Armor-flex kneepads are tough and durable, providing extra protection when you need to kneel on the ocean floor.
The seamless underarms are designed to prevent chafing, ensuring your comfort throughout your dive.
At 3.65 pounds, the Bare Women's 5mm Nixie Ultra is a medium-weight wetsuit, making it easy to move around in, but a little heavier than some other options.
Overall, it is a reliable and comfortable wetsuit that is designed to provide warmth, protection, and flexibility for women divers.
When it came time for me to decide what womens wetsuit I wanted, I specifically was not including surfing brands in my search.
That's just because I plan to use mine for diving — not because surfing brands are any less quality, they just have different goals in mind.
That said, the Roxy Prologue 5mm Wetsuit is a top-notch choice for surfers looking to conquer chilly waters without compromising on flexibility and mobility.
This wetsuit is constructed with Freemax neoprene on the body and upper legs, keeping the core of your body warm and insulated.
However, understanding the need for increased mobility during surfing, Roxy has intelligently incorporated Hyperstretch neoprene into the arms and calves.
These areas are designed with a 3mm thickness, a strategic choice that allows for heightened mobility in areas that require it the most.
Importantly, the core is kept toasty with a 5mm thickness, striking a balanced combination of warmth and flexibility.
Another comfort plus is the durable Supratex knee pads, a thoughtful addition that protect your knees when you're kneeling and getting up on your board.
A notable feature of the Roxy Prologue Wetsuit is the high quality of its blind-stitched seams and waterproof GBS glue construction: designed for endurance and ensuring that the wetsuit can stand up to the rigors of surfing.
One of the standout features of this surfing wetsuit is the Hydrowrap neck closure.
This innovative design element effectively keeps water out, ensuring that you stay warm even when braving the coldest of waves. It's a crucial feature for a winter surf wetsuit.
In true Roxy fashion, this wetsuit also shines in the style department. It features the iconic Roxy logo on the chest and the brand name on the arm, adding a touch of charm and identity to the design.
The color block panels are not just aesthetically pleasing; they are also flattering, offering a nice silhouette that enhances the overall look of the wetsuit.
The AKONA Women's Quantum Stretch 5mm Full Suit is an excellent option for divers and watersports enthusiasts who value comfort, flexibility, and eco-friendliness.
A good cold water option, the suit is designed to be worn in waters that are 58 degrees Fahrenheit and warmer.
The reason why it's so eco-friendly is in its innovative use of limestone-based neoprene, departing from the typical petroleum-based products that most neoprene materials are made of.
This innovative material choice shows AKONA's commitment to preserving the environment while still providing top-notch performance!
The AKONA Quantum Stretch Full Suit goes beyond the norm when it comes to flexibility.
It incorporates Quantum Stretch material that offers an extraordinary 300% more stretch than standard neoprene.
This gives wearers an unparalleled level of flexibility and comfort, making it easier to maneuver yourself in the water.
In terms of sizing, the Quantum Stretch Full Suit stands out among its competitors.
AKONA offers inclusive sizing up to 5XL, a range that is much broader than most brands.
This inclusivity is a testament to AKONA's commitment to accommodating all body types, ensuring that every diver can find a suit that fits them perfectly.
Despite its full coverage, the AKONA Quantum Stretch Full Suit is impressively lightweight, weighing in at only one pound.
In addition to its top-tier features, the AKONA Quantum Stretch Full Suit doesn't compromise on style.
It has a beautiful design, complete with your choice of accent colors like teal and magenta. These vibrant options add a pop of color and personal touch to your dive kit.
Overall, the AKONA Women's Quantum Stretch 5mm Full Suit combines performance, sustainability, inclusivity, and style, making it an outstanding choice for any woman seeking a reliable and fashionable water sport suit.
Allison Green is a former educator turned travel blogger. She holds a Masters in Teaching and a B.A. in English and Creative Writing. Her blog posts merge her educational background and her experience traveling to 60+ countries to encourage thoughtful travel experiences that both educate and entertain. She has been a speaker at the World Travel Writers Conference and her writing, photography, and podcasting work has appeared in National Geographic, CNN Arabic, CBC Canada, and Forbes, amongst others. Now based in the San Francisco Bay Area where she grew up, she has also lived in Prague, Sofia, and New York City.