From kaleidoscopic coral gardens to large pelagics to tiny nudibranchs, scuba divers know that diving is one of the most incredible ways to see the world.
Scuba diving is one of the most magical, immersive, and exciting activities you can do on your travels — but it does require a fair bit of planning.
After all, diving brings you into an underwater world you were never meant to inhabit, and you'll need to make sure you're well-equipped to handle that.
Whether that means relying on a dive shop for your bigger rentals or bringing your own gear, packing for a dive trip requires special preparation.
Whether you're planning a liveaboard dive trip or plan to weave diving into your next vacation, here is a packing list specifically for scuba divers.
Do You Need to Pack Your Own Dive Gear?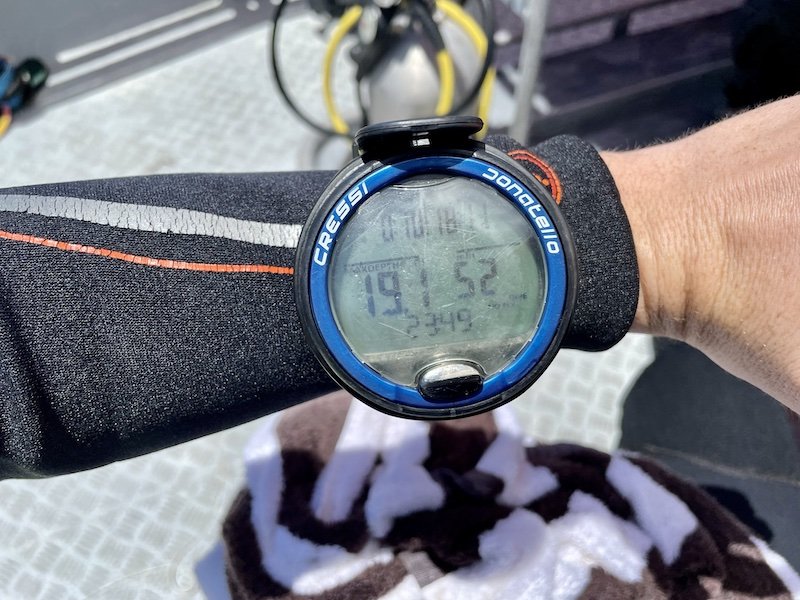 Note: This post contains affiliate links, which means I may receive a small commission if you purchase something through one of these links. Thank you for supporting the free content on this site! For more information on affiliate links and cookies, see my disclosure page for more details.
Generally, no, you can always rent whatever dive gear you need.
I've sorted this diving packing list into 'need-to-haves' and 'nice-to-haves' because I do believe it is really important to own your own core gear, if it's within your means.
However, I also acknowledge that going diving quickly gets very expensive, and dive equipment is not cheap… plus, it takes up a lot of space.
I recognize not everyone has the funds or the storage facilities for full-on dive gear (I make it work in my tiny 500-square-foot apartment, but I also have tons of closet space).
That said, there's something to be said about having your own dive gear that you know and trust.
Don't worry — you can still dive even if you don't have a single piece of gear! I'll tell you what I think are the most essential, though.
I've slowly been building up my dive equipment kit over the past year and I'm grateful that I now have a self-sufficient enough dive kit and that all I would need to do is rent tanks and a weight belt!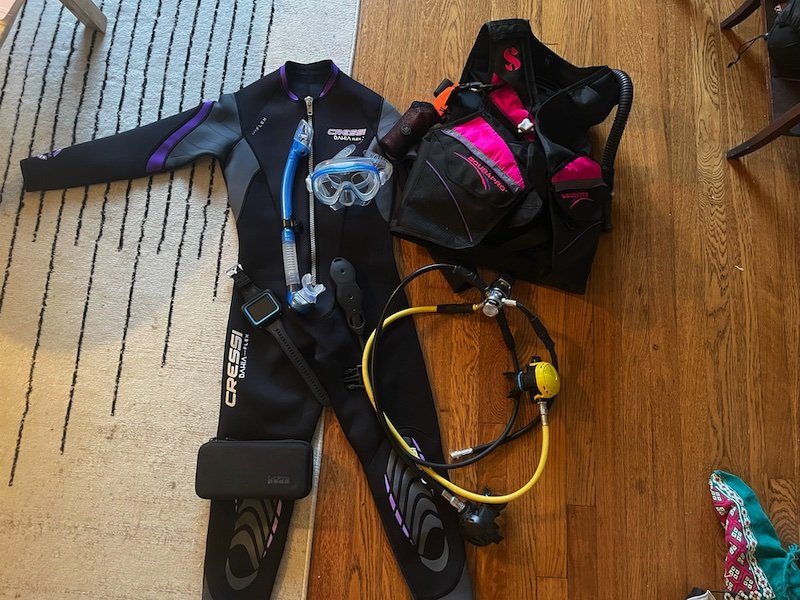 However, I still tend to dive with dive operators as my dive experience is only intermediate, with a little over 30 dives under my belt.
Plus, I prefer the expert knowledge that comes with dive shops, because their dive masters can bring us to the best dive locations and know the conditions of each dive.
For me, the benefit of having my own gear is knowing it and trusting it so I can dive comfortably.
I know my own equipment is in good condition and is up-to-date on its servicing. Plus, I'm familiar with all the ins and outs of it, and don't have to have a learning curve on each dive.
While a good dive operator will have well-serviced equipment, things are more in your own hands when you have your own gear.
What to Pack Dive Gear In
Depending on how you decide to pack for your dive trip this truly depends!
If you are bringing a lot of your own pieces of equipment, you will want a specialty suitcase designed with diving gear in mind.
I recommend the Cressi roller bag / backpack combo, which can easily fit a full scuba kit (and then some!).
It has lots of thoughtful touches like a side pocket for fins, water-resistant construction,
In addition to your checked bag with your gear, your carry-on luggage should carry anything sensitive or valuable (regulators should go in your carry-on!), as well as any personal items you want in flight.
I also suggest bringing a few items of clothing in your carry-on just in case your luggage gets delayed!
What to Wear on a Dive Boat
Bathing Suit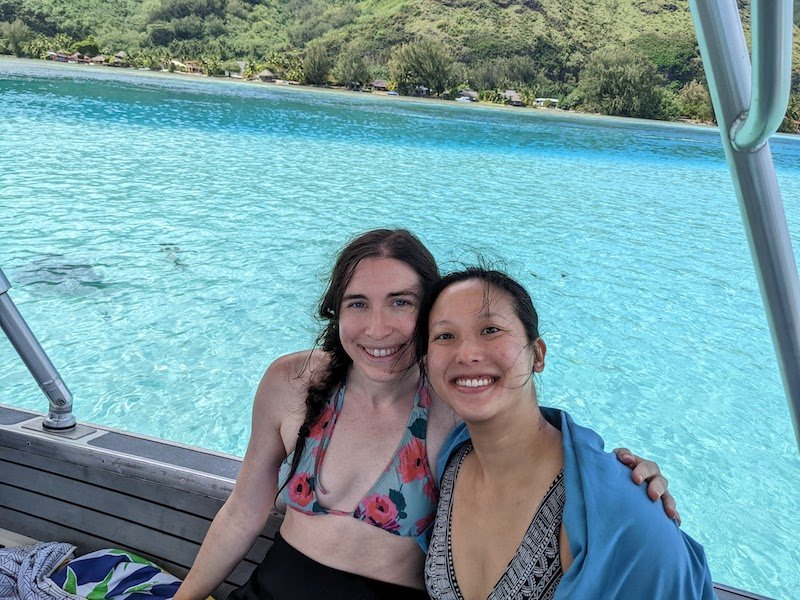 It's useful to have a bathing suit layer underneath your wetsuit for a few reasons.
For one, it makes peeling off your wetsuit layer to warm up during a surface interval a lot easier.
I also prefer wearing a bathing suit to full garments like a rash guard, etc. because I find it easier to get a little sun on me to dry off and warm up.
That said, there are countless things you can wear under a wetsuit!
Getting your core dry and warm is the easiest way to warm up after a dive.
I get a lot less cold wearing a bikini than a one piece, since there's less material on me that's wet.
My bikini is no longer sold online, but here are a few I like: this black and white printed two-piece, this colorful high-waisted set, and this fun sporty colorblock two-piece set.
Flip Flops
For the most part, you won't actually wear your shoes on the boat — many boats ask you to take off your shoes when you board.
Make it easy on yourself with some simple flipflops like Havaianas.
Sun Hat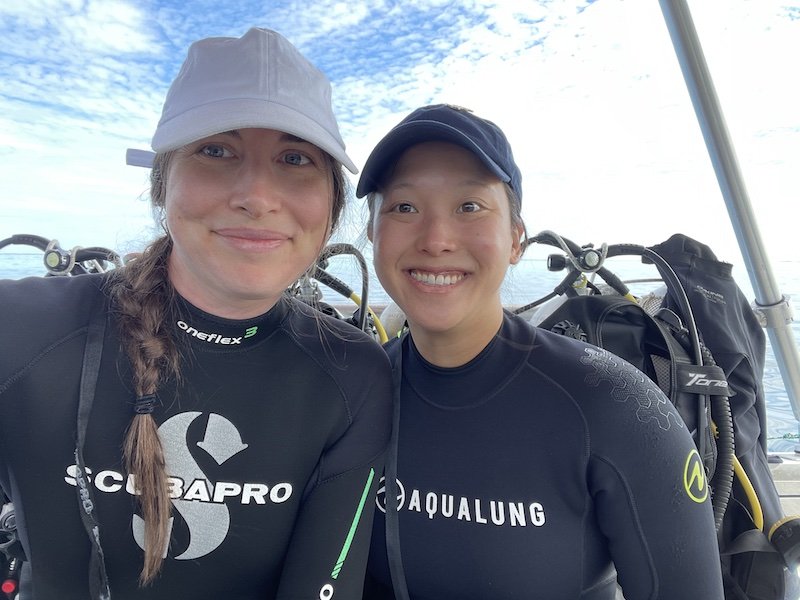 Between getting to and from your dive site and being exposed to the sun during your surface interval, you'll need some sun protection.
I prefer an adjustable baseball hat that won't fly off even if your captain is driving the speedboat like a madman to get to the dive site!
Layers / Sun Protection
Besides keeping the sun out of your face, you'll also want layers like a dive shirt or rash guard to keep you protected from the sun while you're on the boat.
For the first dive, you can just wear a normal T-shirt, and to relax between surface intervals, you should bring something like a long-sleeve rashguard or dive shirt.
I like this colorful and fun dive shirt!
Cheap Sunglasses
You don't want to bring your nice sunglasses on a dive boat, trust me!
It's easy for them to get lost, especially when you're packing up at the end of a long day of diving.
Bring a cheap pair of sunglasses specifically for the dive boat — I like these ones which are cute but inexpensive.
Hair Protection
If you have long hair, you'll want to keep your hair protected. Salt water and mask straps can really do a number on your hair.
The easiest way to protect your hair is with a simple fabric headband which will keep strands of hair from getting in your mask (which hurts the seal as well as breaking your hair).
Another way to protect your hair is with a neoprene mask strap which will keep you from breaking the hair on the back of your head.
And if your hair does end up getting rather gnarly after dives anyway, the Sea 2 Stream leave-in conditioner works miracles (truly, miracles — my thin, easily broken hair can attest to that).
Need-to-Have Dive Gear
Mask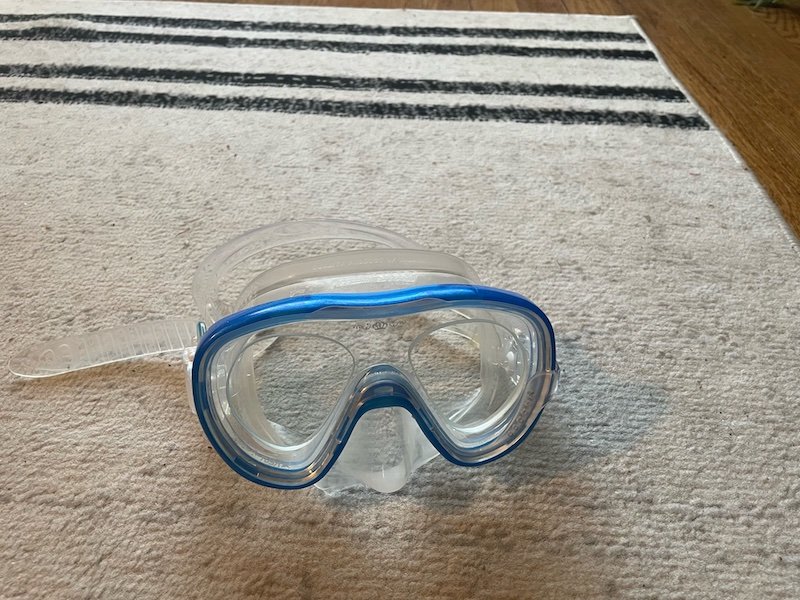 Anyone who goes scuba diving should have their own mask, point blank. If you buy one item — make it this.
Your mask is one of the most essential items for diving: after all, your sight is one of the most important things that keeps you safe underwater.
Having a reliable mask you know and love means no struggling with mask flooding, fogging, etc. and other stressful situations that can negatively impact a dive.
I use this TUSA mask and am extremely happy with it!
Keep in mind that your mask should fit well, and many masks can be too big depending on your face shape.
As a rough guide, you'll want to fit about two fingers between your hairline and where the mask hits.
Snorkel
You'll also want a snorkel for use on the surface to conserve your air (especially if you're doing shore dives).
A snorkel is also a safety device: it's a back-up breathing device in case you get tired during your dive and don't have any more air in your tank when you surface.
I use a TUSA Hyperdry Snorkel which has a dry top chamber that covers the opening of your snorkel to reduce the amount of water that can get into your snorkel.
It also has an angled purge chamber for easier purging — I find I have to use less intense exhales to satisfactorily purge my snorkel.
Fins & Dive Boots (If Needed)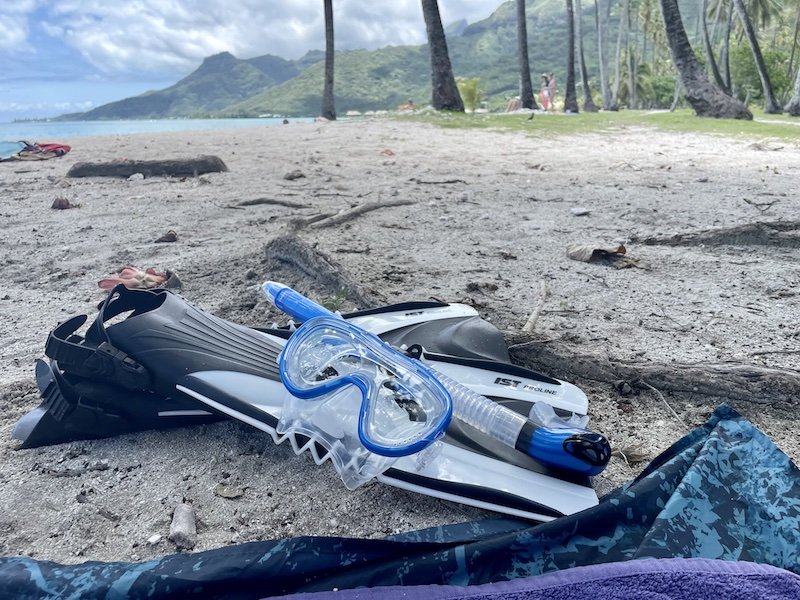 I have simple IST Proline fins that are no longer available online — they're actually more designed for snorkeling than scuba diving, but I've enjoyed how lightweight they are.
I am planning to upgrade to a better set of fins in the future, such as these Tusa open-back fins combined with a 3mm neoprene bootie (like this one from Cressi) to keep my feet warmer.
I prefer open-back fins because they're way easier to remove when you're getting back on the boat, which is helpful because normally you're quite tired at this point and don't want any more struggle than you need
Split fins are another popular choice but I haven't tried it yet!
Surface Marker Buoy (SMB) / Safety Sausage
It's really important to have your own safety sausage / SMB attached to your BCD.
While it's unlikely that you'd get separated from your divemaster if you're being vigilant, having one can make your safe rescue a lot quicker.
If you're diving with a DM, you likely don't need one of the SMBs that inflate underwater, with words on it indicating that there are divers below.
I bought mine at my local dive shop here, but you can find a similar one here. It's easy to inflate with just a few breaths at the surface.
If you're shore diving with a buddy and think there's a chance of boat traffic overhead, you'd want a DSMB.
Dive Computer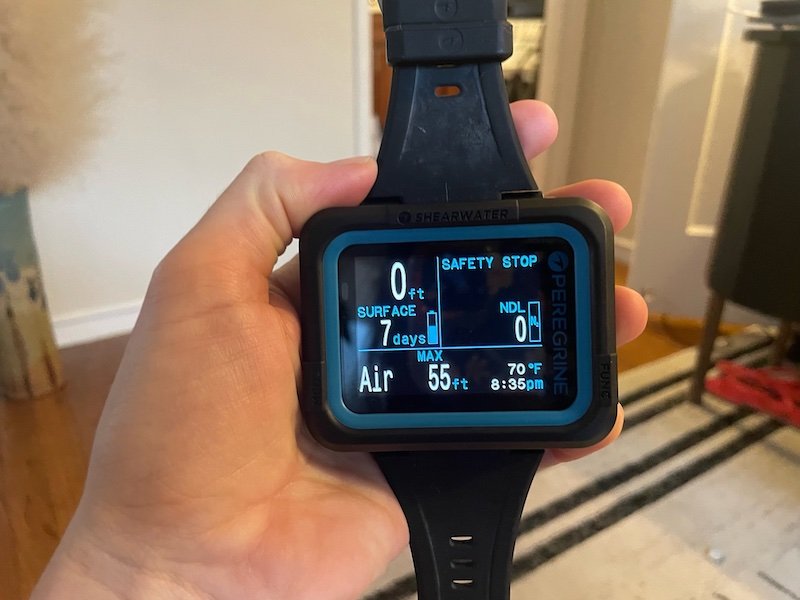 Okay, so a dive computer is absolutely an investment, but I do think it's really important to have your own dive computer or dive watch.
It can be overwhelming to decide what dive computer to get if you're a beginner, so I've demystified it in this (simplified) guide to the best entry-level dive computers.
For one, most dive computers have an app so that you can download all your dive profiles and easily log your dives.
This can come in handy later down the line, when PADI certifications or more advanced dive trips or dive sites require a certain number of logged dives.
Plus, being familiar with your dive computer is a safety matter.
You'll want to know how it alerts you about rapid ascents, how it displays depth, how it alerts you about approaching your no decompression limit (NDL), and how it monitors safety stops.
I use a Shearwater Peregrine which I admit is a bit of a splurge (I wanted a backlit display for easy visibility especially on night dives).
My girlfriend uses this Aqualung i300 dive computer and is happy with it overall, and it's a good $200 cheaper.
Dive Certification Cards
Don't forget to bring your PADI or other certification card to your next dive trip!
Generally, a dive shop can look you up in the PADI database and find your certification, but it would be awful to not be able to dive in case they can't find you for some reason.
Dive Insurance
I saved the last for the most important — dive insurance. Yes, not technically 'gear', but absolutely a need-to-have.
Many travel insurances don't fully cover scuba diving accidents, and so you'll want to read the fine print and ensure you're covered in case of a diving accident.
The biggest thing to worry about is decompression illness (DCI or 'the bends'), which requires treatment in a hyperbaric chamber… a treatment which can cost several thousand dollars.
DAN provides an annual dive insurance plan, which I buy and then I pair that with a travel medical insurance like Safetywing to ensure I'm covered in case of other illness, accidents, or trip interruptions.
Nice-to-Have Scuba Gear
Wetsuit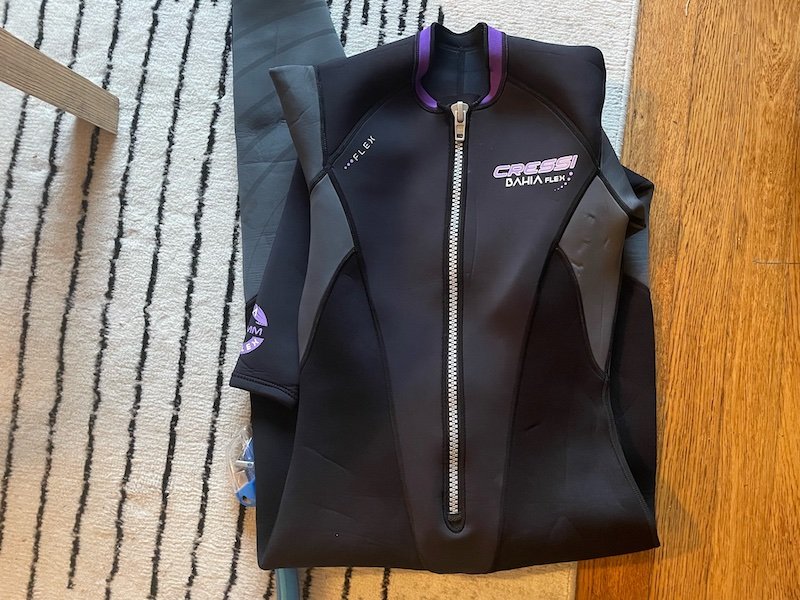 One of my biggest pieces of diving advice is to know what the water temperature is where you're going and how you tend to feel in the water.
I can tell you from recent experience, it's really unpleasant to arrive at your destination excited to dive… and emerge from your first dive chilled and worrying about how the rest of your trip is going to go.
I took my 2.5 mm Cressi wetsuit to Cozumel, where the water temperatures were consistently 79°/80° F (around 27° C).
Despite being more than comfortable in a 3mm on my dives in Tahiti and Moorea in water that was more like 77°-78°, I was pretty chilled in my 2.5mm.
That's because Cozumel has a lot of drift diving where you don't really build up your body temperature, because you're still and just allowing the current to take you.
I ended up having to rent a 5mm for the rest of my dives, making my wetsuit pretty much moot to bring!
You can bring a 3mm dive vest to offset any chill you might be worried about — I'm planning that for my next trip.
I've also gone ahead and bought this Cressi 5mm wetsuit too and just got back from wearing it while diving in Roatan where it was perfect.
I've reviewed some other 5mm wetsuits in case you also run cold!
Generally, I love Cressi wetsuits for being high-quality yet affordable: a fraction of the price of brands like Aqualung and Scubapro but still really good!
If you know you'll be diving in cooler or cold water, you'll probably also want to bring a 7mm wetsuit and a dive hood like this one.
BCD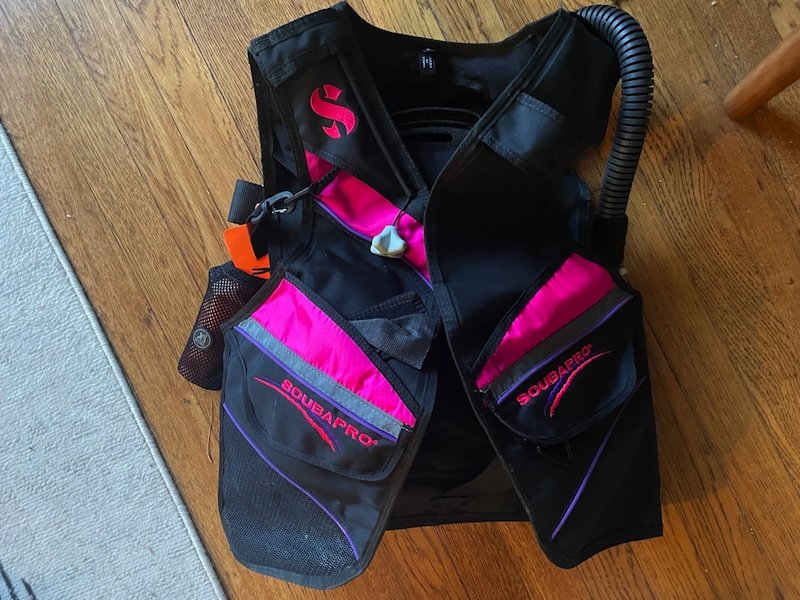 I recently got my own BCD — it's an older version of the ever-popular Scubapro BCDs that I got when a local dive shop closed for business.
That exact BCD is no longer available online (frankly, the colors make it look like it came from the 90s, but it works fantastically) — and the Scubapro BCDs I can find are all $500+.
If you're looking for an entry level BCD, I'd suggest something like this Cressi BCD or a pricier Aqualung BCD.
Regulator & Spare O-Rings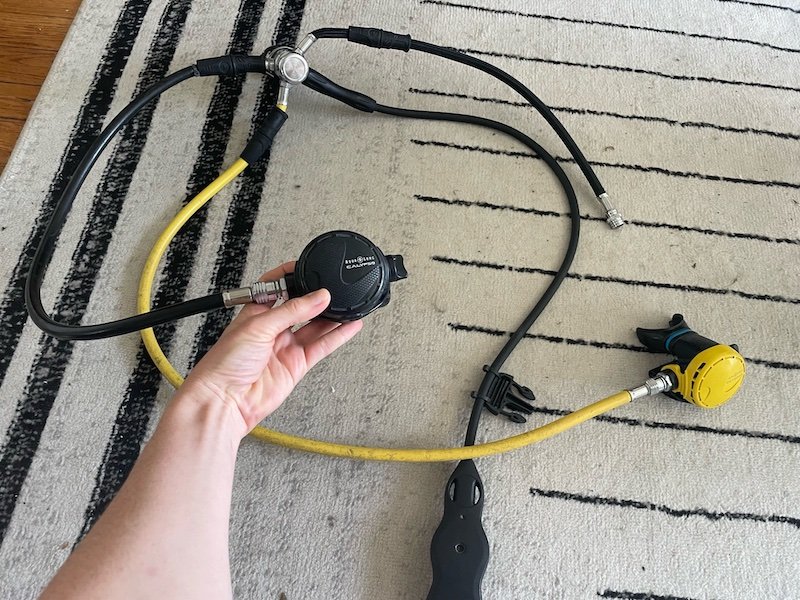 I'm now the proud owner of my own regulator!
When I dove with ScubaTony in Cozumel, they had a great deal where you could buy used Aqualung regulators and buy back the rental fee you paid.
To have the same set up I have, you'd want a Aqualung Calypso regulator (comes with hose), Aqualung Calypso octopus, and a pressure gauge like this one (pick PSI or bar, whatever you're most comfortable with — I use PSI).
Aqualung is practically synonymous with regulators and is the gold standard of most dive shops.
Since your regulator is literally your lifeline, it was a place where I wasn't planning to skimp on spending.
You should also bring some spare O-Rings just in case one pops out (this happened to me once on a recent dive trip!)
Dive Knife
Generally not really necessary, some people like to have a dive knife handy in case you encounter fishing line or nets, or to help any marine life that may be in trouble for the same reason.
Dive knifes are more necessary if you dive in places with kelp forests like Monterey or in wrecks.
Dive Light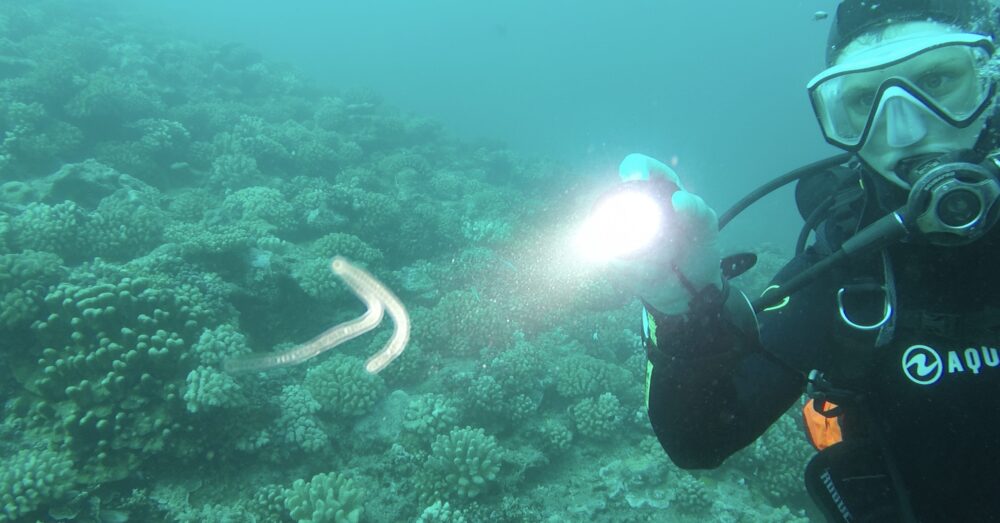 Whether you're planning night dives or just like to peek into crevices to try to spot shy sea creatures like lobster, shrimp, and eels, a dive light or dive torch comes in handy!
If you're night diving, keep in mind you'll want both a primary light and a backup light.
You can get a cheaper dive light like this one or splurge on a higher-quality one.
Log Book
If you like a pen-and-paper logbook, they can be a fun way to keep track of your dives and write down any notes about problems you had or what you saw on a dive.
Those dive memories can go quick so it's always nice to write things down in a log book (or in your phone) during a surface interval.
Frankly, if you use a modern dive computer that imports your dive data, this isn't really necessary anymore, but some people like the analog vibe of log books.
Reef Hook (If Allowed/Needed)
On certain drift dives you may need a reef hook, which you attach to a rock (rather than living coral) to keep you in place with minimal damage to the reef.
They're not allowed in many places or necessary in others, so check on the dives you are planning to do to see if it's necessary.
Camera Equipment for Diving
Underwater Camera like GoPro and Underwater Housing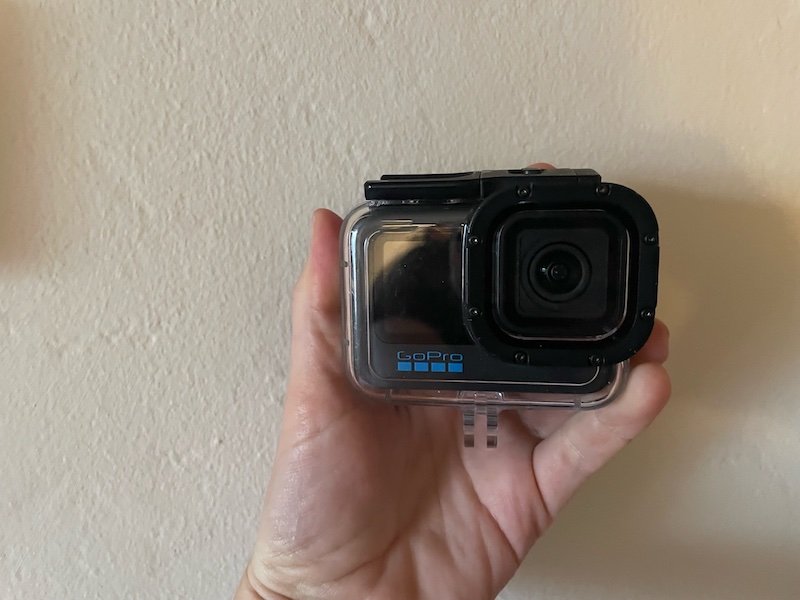 Taking great videos of your dives is the best way to remember your diving trip! I recently upgraded my GoPro set-up and I see miles of difference.
I use a GoPro Hero 11 with the proprietary GoPro dive housing (I'm not taking any chances on a third party dive housing when my GoPro costs several hundred bucks!)
You'll also need either a floating stick or a dive tray. The latter keeps your footage more stable, but it can be rather unwieldy.
My girlfriend uses this Movo dive tray (with mounted dive lights) and gets really great footage, but she's dialed in her buoyancy control quite well.
If you're just starting off diving or capturing underwater photography, you'll probably just want a floatie stick so that you can focus on other aspects of your diving.
You'll also want a lanyard for your floatie/dive tray to make sure it's secure on your BCD.
Memory Cards
You'll need a micro SD to go with your GoPro. I suggest getting one with a decent amount of memory, because the new GoPros have 4K which take up a lot of space.
I suggest having an extra one in case yours corrupts or you fill it with too many scuba memories and you don't want to have to delete footage before you're ready to.
Filters for GoPro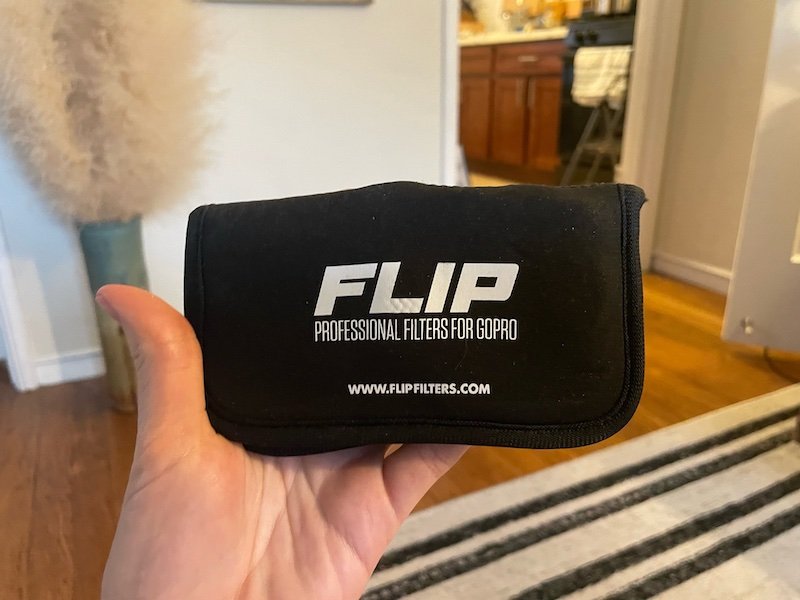 The best addition to a GoPro is dive filters — I invested in these Backscatter flip filters and they are amazing!
You never have to worry about your footage getting locked into one (bad) filter — you can adjust the filters extremely easily while underwater by just flipping the filters on or off.
I bought the dual system, which has filters for both 20-40 feet depth and 40-80 foot depth.
It's a little pricy, but for how it amazing it makes my footage — it's absolutely worth it.
Extra Batteries
Having extra GoPro batteries is always nice, especially if you're doing repetitive dives.
Having these GoPro batteries which come with a separate charging port so you don't have to have your GoPro plugged into the wall to charge is really helpful, too.
Stuff for Surface Intervals
Quick Dry Microfiber Towel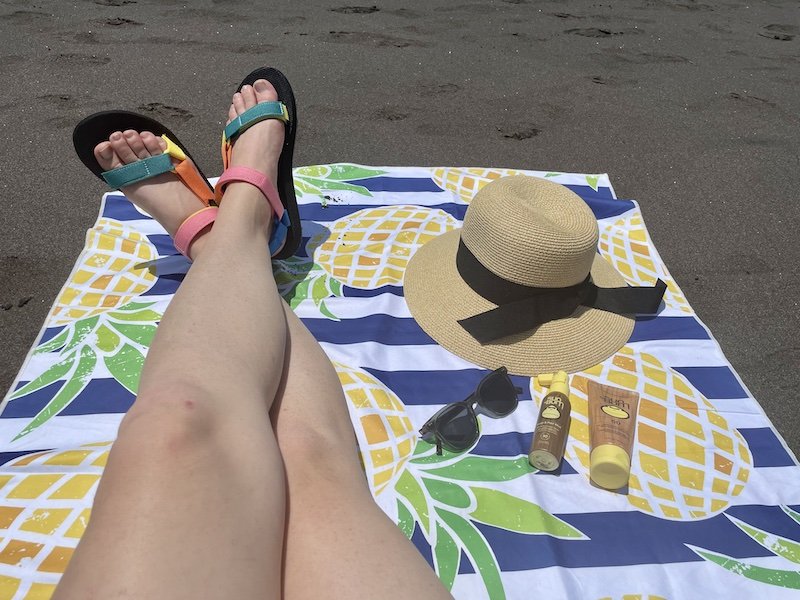 The best way to warm up after a dive is to dry off. Yes, it may feel awful when you first peel off that wetsuit but you'll be grateful for it in less than a minute!
I always bring a small microfiber towel — and next trip, I'm thinking of bringing two small ones because then each one will be dry on a two-tank dive.
Sun Protection Clothing
As mentioned above, you'll want to bring something dry to cover up in during your surface interval / return trip after your second dive.
That can be a rash guard, a dive shirt, a swim cover up, or even just a plain T-shirt — as long as it protects you from the sun, it's good to have!
Additional Clothing
If you want to change out of your swimsuit into fresh clothing when you get back from your dives, it's nice to have a change of clothing in your bag.
Just make sure it stays dry!
If you're staying at a nice resort like the Atlantis Bahamas, Kanuhura Maldives, etc., you'll likely want some nicer clothes you can change into before you arrive at the resort.
Dry Bag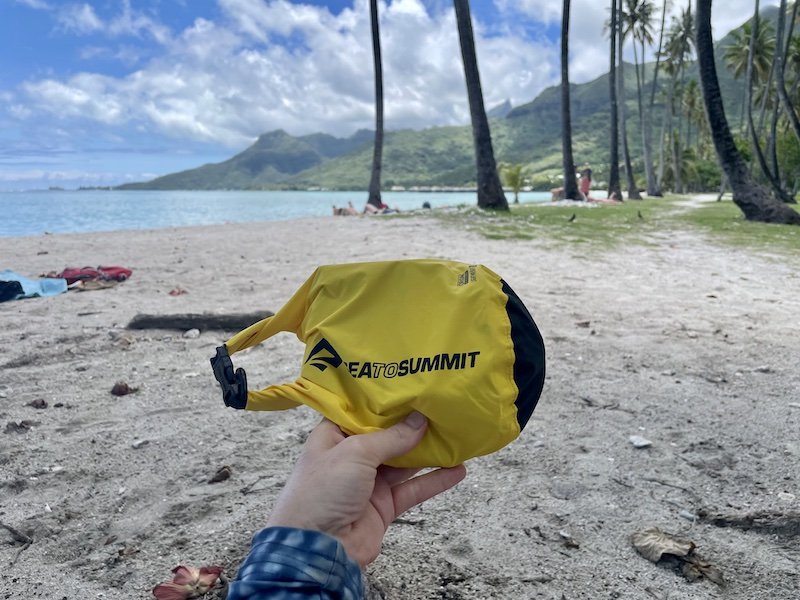 … and a dry bag will help with that! It's handy for keeping things like your change of clothes, your wallet/money, your phone, etc. all stay safe from salt water.
Get a small one if you only want to keep your basics dry or get a larger one if you also want to keep clothes dry.
Sea to Summit is the most-trusted dry bag brand, so it's what I'd go with.
Other Dive Travel Musts
Reef-Safe Sunscreen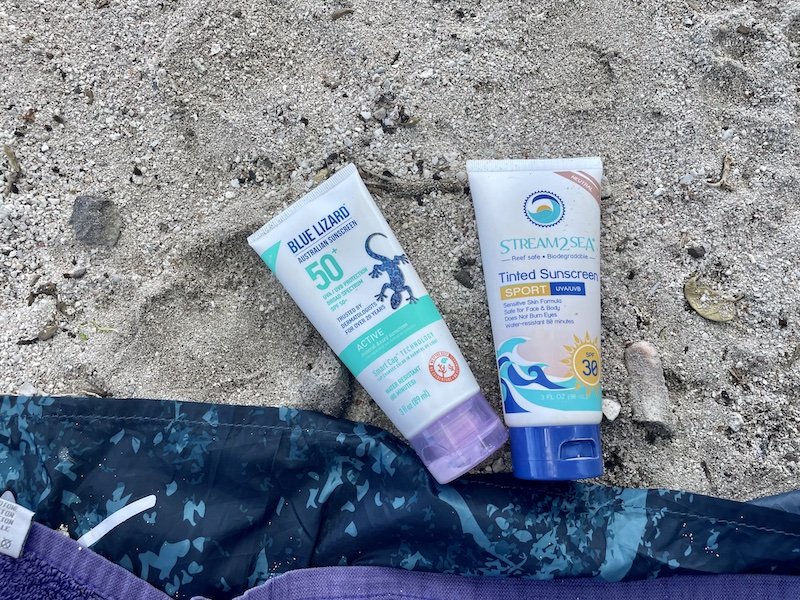 It's extremely important to use reef-safe sunscreen when you're diving if you want the reefs to still be there in the future!
I love Sea 2 Stream for reef-safe sunscreen — they have a regular version and a tinted version in case the white zinc is not your favorite look.
The worst two sunscreen ingredient offenders are Oxybenzone and Octinoxate — avoid those at all costs!
Other ingredients to avoid are Benzophenone-1, Benzophenone-8, OD-PABA, 4-Methylbenzylidene camphor, 3-Benzylidene camphor, and Octocrylene.
Check the ingredients yourself because there is no regulation for what a company calls 'reef-safe', and unfortunately some brands that advertise themselves as reef safe are actually not.
Lip Balm
You'll want to use a lip balm to soothe chapped lips, which can get exacerbated by salt water and the sun.
Make sure you don't use anything with SPF because that goes against the whole point of reef-safe sunscreen! I like Aquaphor.
Motion Sickness Pills (Dramamine)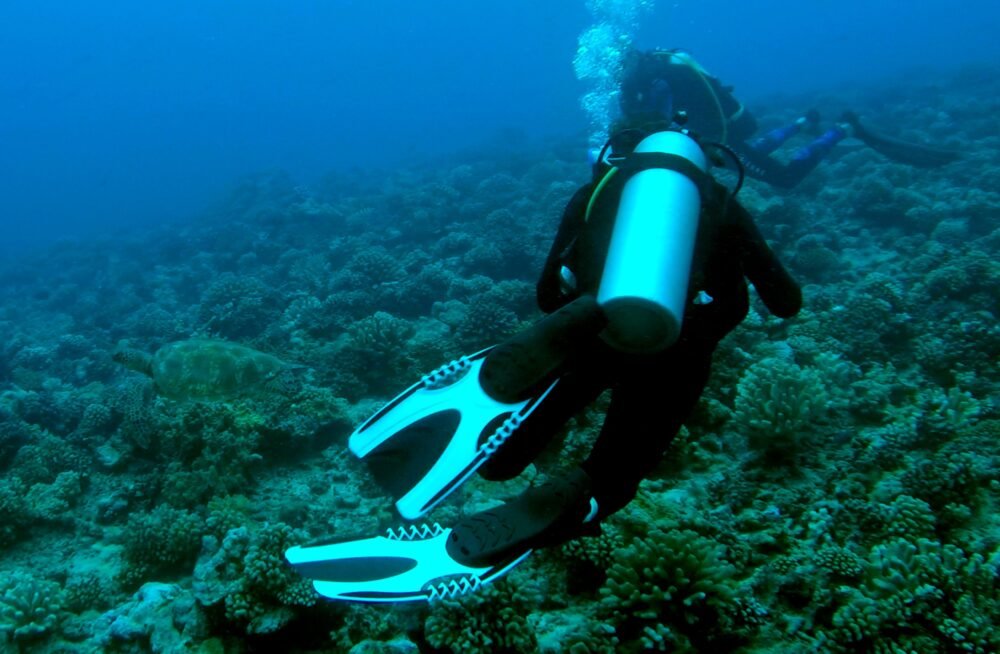 If I'm on a surface interval that is just out at sea, it's quite easy for me to get seasick.
I take less drowsy Dramamine one hour before I plan to leave for my first dive, and it keeps me feeling well for a two-tank dive, including the surface interval.
You can also take all-natural ginger Dramamine 30 minutes before your first dive. It's not quite as effective, but if you are less prone to seasickness, it may be enough!
Ear Drops
If you have any problems with equalizing or swimmers ear, divers swear by Diver Drops.
It's not something I've needed to use yet, luckily, but if you are prone to ear problems you may want to give it a try.
Mask Defogger
Yup, you can do the ol' spit and rinse, but having mask defogger at hand is always nice.
I always feel more comfortable having used it and knowing I'm going to enjoy my dive… nothing is worse than a foggy view while you're trying to enjoy your dive!
Allergy / Sinus Medication
If you are prone to getting stuffy, I suggest bringing whatever allergy medicine you typically take at home. I take Zyrtec and I also use Flonase.
Note that you should be cautious with using decongestants like Sudafed, etc. as this can potentially cause problems.
DAN recommends exercising caution with it (and better off avoiding it entirely), and never using it to dive despite being sick.
General Travel Essentials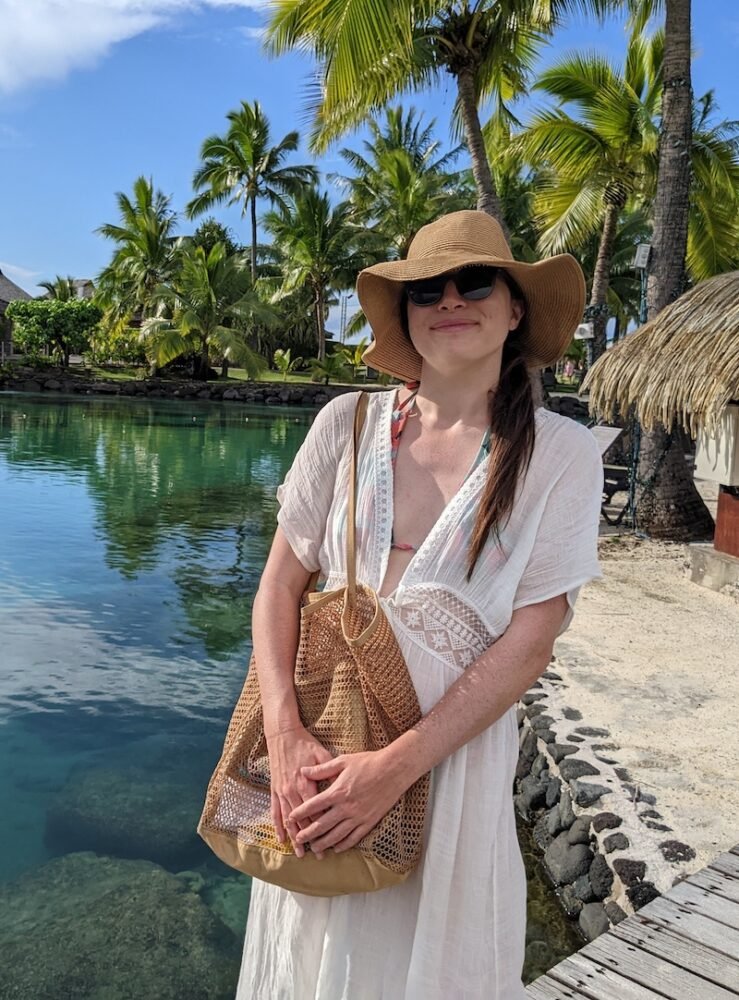 Clothing for Your Trip (for an example of a tropical packing list, check this Tahiti packing list)
Noise-Canceling Headphones
Insect Repellent (be sure to shower this off if you use any chemical based ones before you dive!)
Credit Cards & Debit Cards
Mobile Phone & Charger
Laptop & Charger, if bringing
Travel Adapter, if needed
Camera Gear
External Battery Pack
Ear Plugs
Eye Mask
Mini First Aid Kit
Medicine (Birth Control, Prescription Medication, etc.)
Your Own Water Bottle
Allison Green is a former educator turned travel blogger. She holds a Masters in Teaching and a B.A. in English and Creative Writing. Her blog posts merge her educational background and her experience traveling to 60+ countries to encourage thoughtful travel experiences that both educate and entertain. She has been a speaker at the World Travel Writers Conference and her writing, photography, and podcasting work has appeared in National Geographic, CNN Arabic, CBC Canada, and Forbes, amongst others. Now based in the San Francisco Bay Area where she grew up, she has also lived in Prague, Sofia, and New York City.