Hiking on the Big Island of Hawaiʻi is one of the greatest opportunities to enjoy incredible landscapes and inspiring views.
The Big Island is otherwise known as the island of Hawaiʻi, and it's received the nickname of "The Big Island" to distinguish itself from the U.S. state of Hawaii.
The Big Island is of the most beautiful places on earth to hike. One of the coolest things about the Big Island is that there are eight different climate zones. On just one island, you can explore rainforests, desert areas, and ice caps (plus more).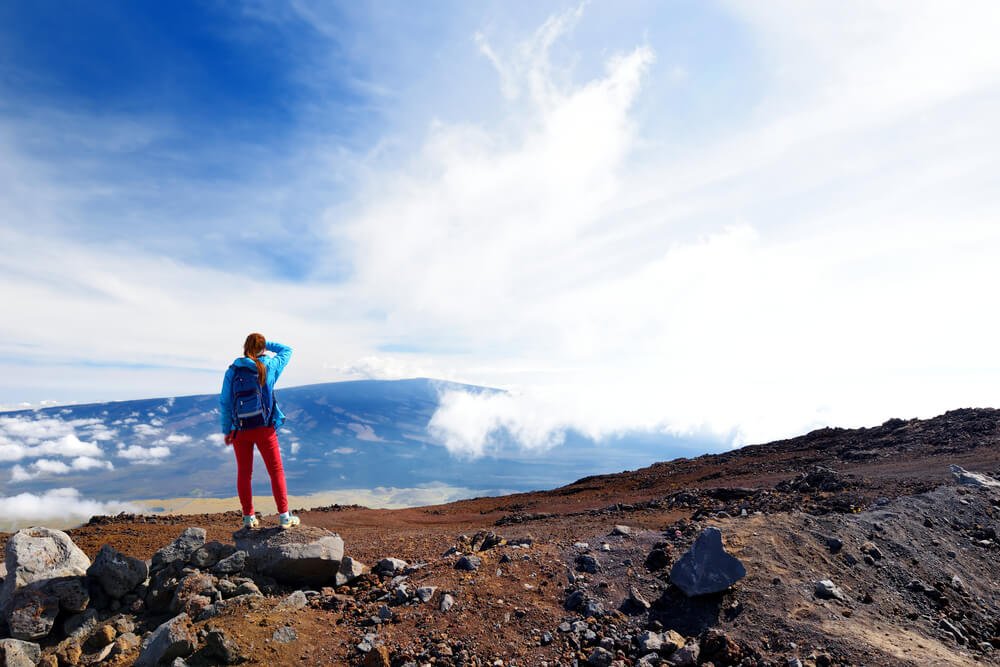 Note: This post contains affiliate links, which means I may receive a small commission if you purchase something through one of these links. Thank you for supporting the free content on this site! For more information on affiliate links and cookies, see my disclosure page for more details.
When you come to Hawaiʻi, you will realize that it is largely made up of two massive mountains, Mauna Loa and Mauna Kea.
Mauna Loa is the largest mountain by volume in the world, whereas Mauna Kea is the tallest mountain in the world if you count what's below sea level — move over, Everest!
These massive mountains lend themselves to some pretty stellar hiking on the Big Island, as you can imagine!
There is also incredible hiking in Hawaiʻi Volcanoes National Park, where you may even get to see lava flowing.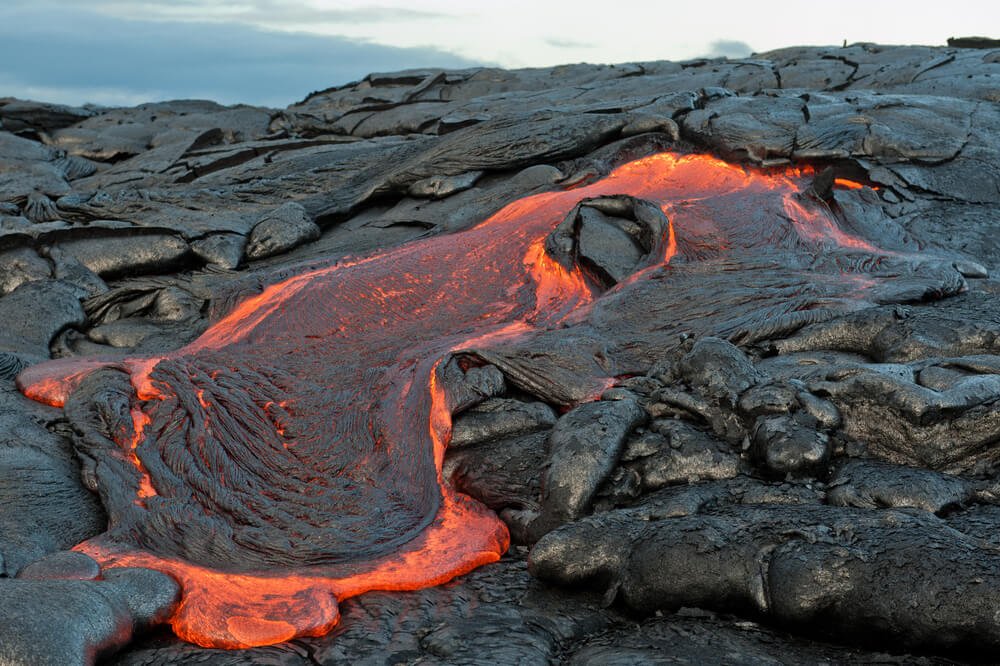 The Big Island is named so because the lava is always flowing, and therefore new land is born every day.
It's the biggest island of the Hawaiʻian islands, but it's also the newest. There are five volcanoes on the island of Hawaiʻi: Kīlauea, Mauna Loa, Mauna Kea (Maunakea), Kohala, and Hualālai.
When I lived on the Big Island, I was able to walk right up to the lava flow when hiking in Hawaiʻi Volcanoes National Park!
However, this was because of the timing and is not guaranteed. It just depends on what the lava is doing.
This is also why helicopter rides are a popular attraction on the Big Island. You can always see the flow overhead; it is just too difficult to get to if the lava is flowing in a remote area.
In addition to high elevation climbs and hiking amongst volcanoes, the Big Island is full of beautiful green forests and offers coastal hiking and gorgeous valleys.
Hike on the desert plains, along the shoreline, in the rain forest, or through lava tubes. It does not really matter; every place is spectacular. The Big Island is just that amazing.
We will categorize these Big Island hikes based on regions: Kaʻū, Hawaiʻi Volcanoes National Park, Hilo, Hāmākua, Kohala, Kona, Saddle Road, and Puna.
First, though, let's talk some quick logistics about getting to Hawaiʻi in these current pandemic times as well as how to get around Hawaiʻi once you arrive!
This post was originally published on June 5, 2021 by guest writer Allison Coulter, who lived on the Big Island of Hawaii for six months traveling by van. It has been updated several times since and was last updated March 29, 2023 to reflect changes and updates since it was written.
Getting Around Hawai'i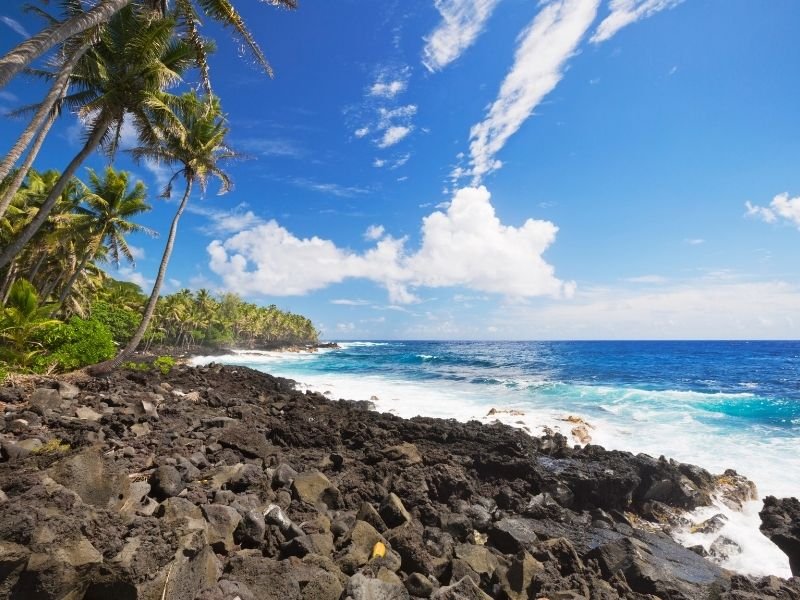 Your best bet is to rent a car when you come to the Big Island, especially if you are hiking.
The public bus system does not necessarily go to all these trailheads, and it is just not reliable, especially if you want to see all you can.
Not sure where to get the best deal on your rental? I've rented cars dozens of times through various search engines and have settled on Discover Cars as the best car rental search engine.

It searches over 500 trusted rental companies to find the cheapest price for your rental, so you know you're getting the best price! Compare prices for car rental from Kailua-Kona Airport here.
Most of these hikes are more accessible from Kailua-Kona, and more flights land there, which is why I suggest renting a car there.
However, if you are basing yourself in Hilo, you will want to rent your car at Hilo Airport instead.
Big Island Hikes in Kaʻū
First, we have rural and scenic Kaʻū, which is home to South Point, the southernmost point in the United States.
There are great places to hike on the plains of this area while enjoying the intensity of the dramatic landscapes, as the ocean is always in sight.
There are no amenities in the Kaʻū hiking areas, so bring what you need to have a safe, comfortable journey: some local Hawaiʻian foods to snack on, plenty of water, comfortable clothing and footwear, and anything you need for camping.
You can, however, freely camp on the public lands here. Leave no litter or trash behind, and be sure to dig a hole for your bathroom needs.
South Point
Length: 0.5 miles
Rating: Easy
Route Type: Out and back
You can drive down the dirt roads leading to South Point, where you can then take the short hike to South Point, the southernmost point in the United States.
You may see people jumping off the cliff into the ocean here.. and, you may want to join them! There is a ladder you can climb back up after you jump.
Regardless of whether or not you decide to jump off the cliff, you will enjoy spacious views of the Pacific Ocean.
Papakōlea (Green Sands Beach)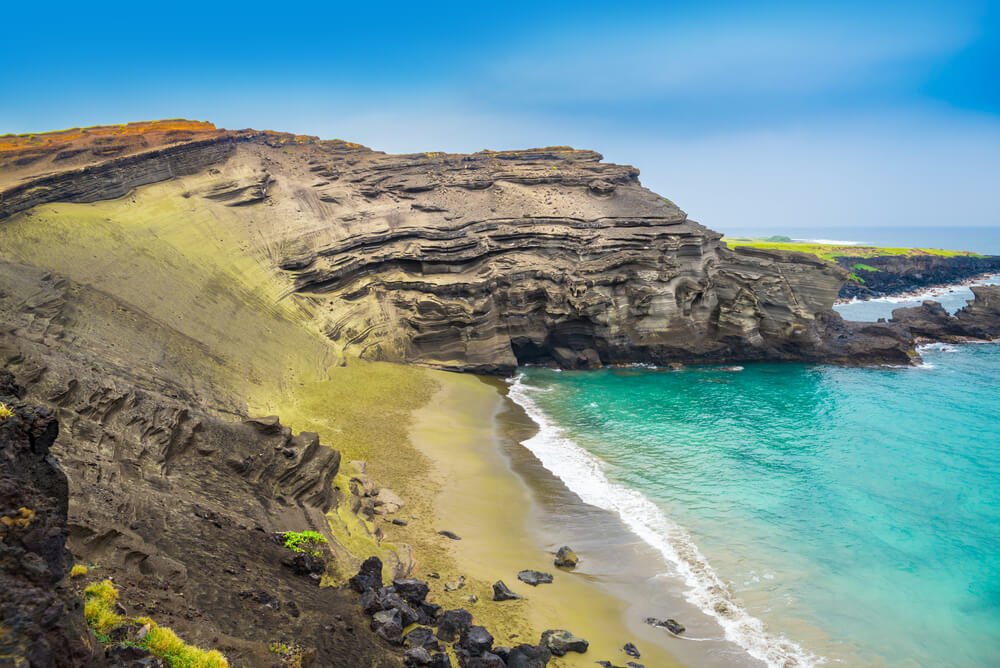 Length: 5.6 miles
Rating: Moderate
Route Type: Out and back
From South Point, you can make the trek to Green Sands Beach. This unique beach gets its name from mineral deposits of olivine crystals.
These deposits come from an ancient lava flow which formed this beach. The beach also contains black and white sands so it is greener in some areas than in others.
The hike follows a dirt road, which makes it easy to navigate. You may even be able to hop a ride with a local driving to the beach. Hitchhiking is very common on the Big Island.
However, I would not recommend driving a rental to Papakōlea unless it's a 4-wheel drive, as the road is rough.
Once you arrive, either hiking or hitchhiking your way to the beach, stop for a few moments and breathe and take in the beauty. The views are wonderful.
Note: Do not remove any sand from here or any Hawai'ian beach – it's illegal and fines can be as high as $100,000 (plus Pele may curse you!)
Kaʻū Desert Trailhead
Length: 3.8 miles
Rating: Easy
Route Type: Out and back.
When visiting the Kaʻū district, you want to be sure to check out this trail on the Big Island! It's special because you will have the opportunity to see fossils of human footprints in the rock along the path.
You will be exposed to the Kaʻū "desert," which is largely desolate. You should bring lots of water, a hat, and sunscreen.
You will see some wildflowers and the prolific ohia tree along the way. Plus, enjoy more impressive views of the Pacific!
Punaluʻu (Black Sands Beach)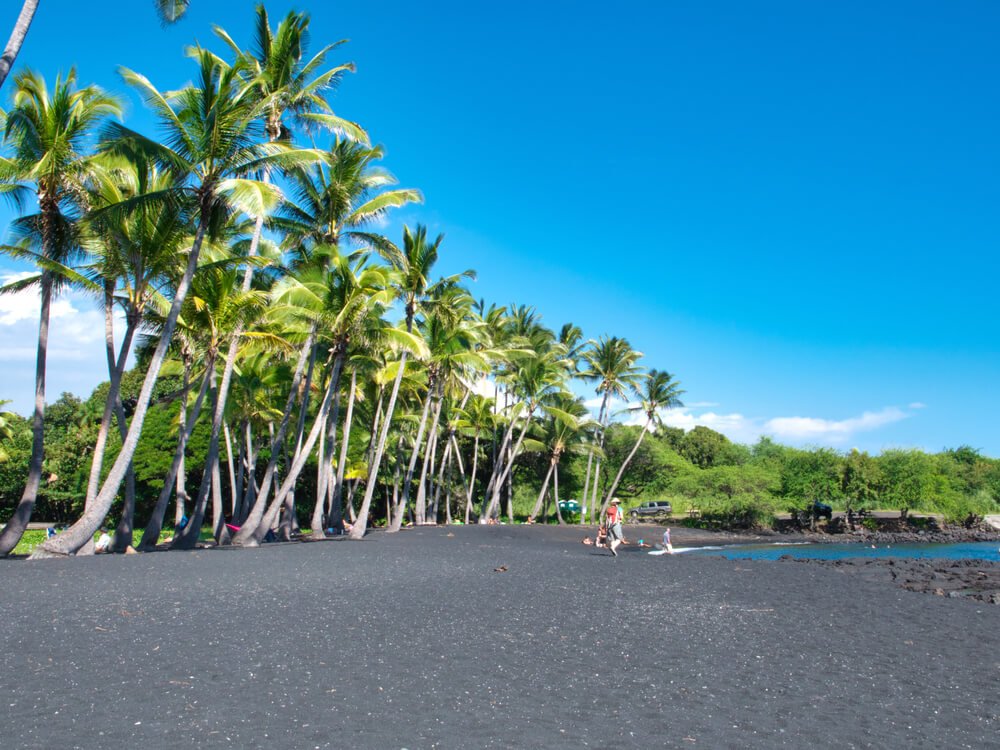 Length: 5.8 miles
Rating: Moderate
Route Type: Out and back
Come here if you want to see sea turtles — they are almost always laying on the beach!
Plus you get to see rare black sand beaches made of lava rock. You can tweak this hike to your liking or hike the entire length of Punaluʻu Bay.
Plus, there are many places to post up on the beach here. There are also restrooms and sometimes food vendors.
Hikes in Hawaiʻi Volcanoes National Park
This park has it all… including a luxury hotel! There are camping areas here as well if you're looking for a more low-key way to spend a few nights in this gorgeous national park.
You can fill your water at the visitors center and check out the displays, or head down Chain of Craters Road to view the sea arch. You can find petroglyphs, lava tubes, rainforest, and desolate craters. It is of the ultimate in Big Island hiking destinations!
You can even see the glow of Kilauea Caldera at its corresponding museum! Peep the steam vents on your way down Crater Rim Drive to see the caldera. The glow of the caldera can be seen from long distances
Halapē (Puʻu Loa via the Puna Coast Trail)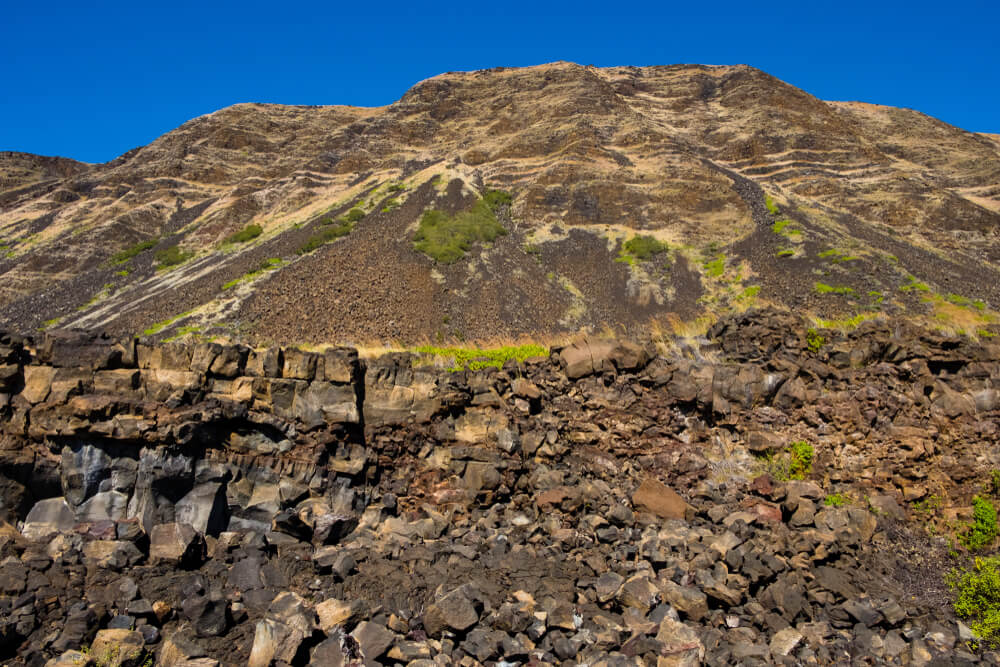 Length: 11.3 miles
Rating: Difficult
Route Type: Point-to-point
This hike is not for you if you are an inexperienced hiker. You will need a water filter to refill water, or you'll have to bring a lot of water to handle this 11-mile one-way, 22-mile roundtrip hike.
Due to its length, this hike is ideal for an overnight backpacking trip; however, you will need a permit for backcountry adventures.
You will find Halapē on the Puʻu Loa via the Puna Coast Trail. You will begin and end on a road, so if you're traveling with a friend and two cars, you may want to leave vehicles on either end.
Otherwise, you'll have to prepare a ride ahead of time or hike all the way back, doubling the length of this difficult hike.
This will be a tough but rewarding Big Island hike with some pretty hefty elevation gains. However, you won't be disappointed with the result. The reward of hiking to Halapē is supreme!
Picture a private beach and freshwater swimming holes in an incredible oasis amongst the desolate lava fields, practically all to yourself.
Puʻu Loa Petroglyphs Trail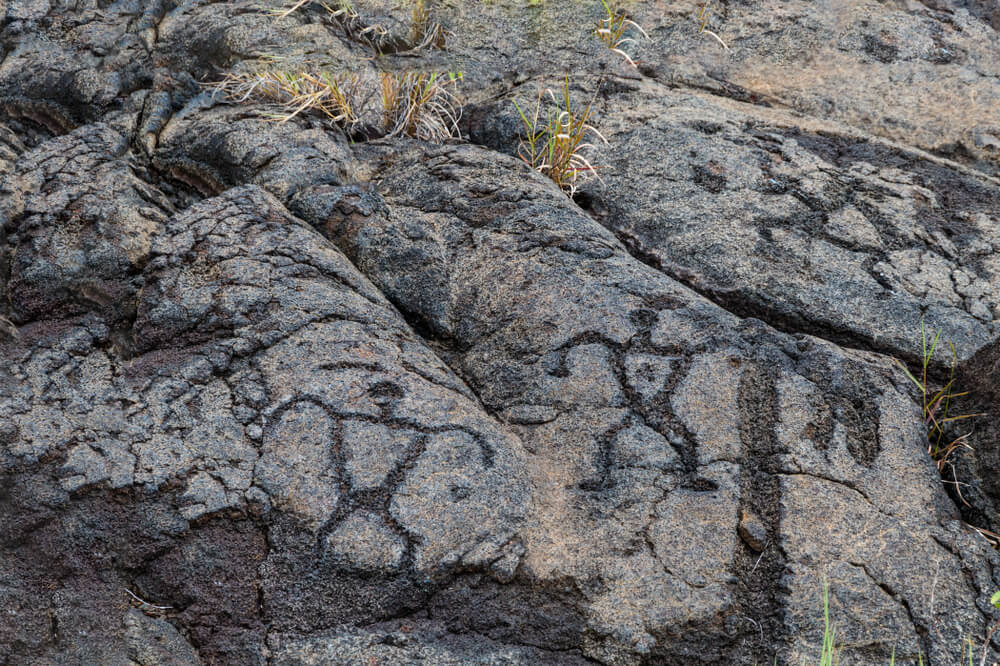 Length: 1.2 miles
Rating: Easy
Route Type: Out and back
This is a convenient trail stop-off on your way down Chain of Craters Road, which you can take to check out the sea arch.
This road is a major pipeline through the park with many stops along the way which make a great introduction to hiking on the Big Island.
We like this stop as it is an easy hike with an incredible connection to the ancient Hawaiʻians, where you can acknowledge and pay your respects to their centuries of stewardships of the island.
There is a boardwalk along with parts of the trail which increases the ease of this walk, so this is really one that shouldn't be skipped while hiking the Big Island.
Kīlauea Craters Trail and Nāhuku (Thurston Lava Tubes)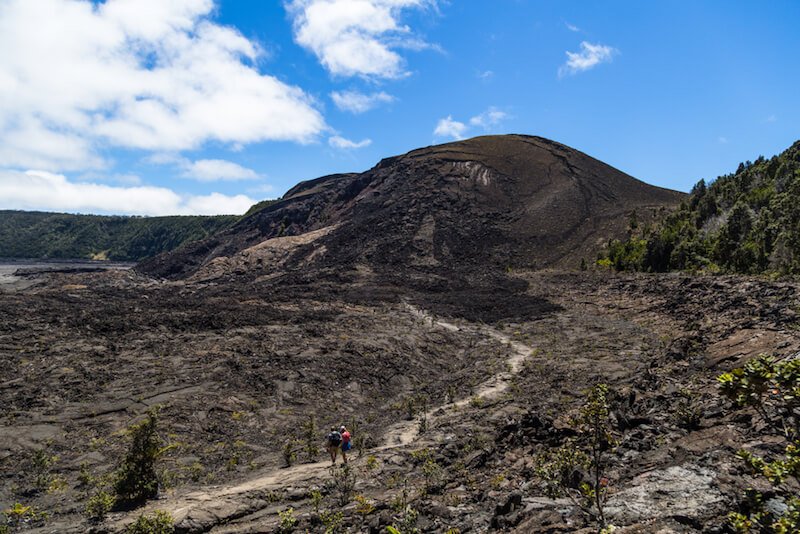 Length: 8.0 miles
Rating: Moderate
Route Type: Loop
This trail will give you a well-round experience of Hawaiʻi Volcanoes National Park. You will hike in the craters of long-since-erupted areas of the volcanoes you will be walking on. You may even see steam rising from the ground!
You will get to experience jungle and rare plant species that can only grow in this unique landscape. Plus, as you hike, you'll walk across lava fields and through lava tube caves — be sure to bring sturdy hiking shoes, as these volcanic rocks can be jagged and rough!
Big Island Hikes in Hilo
Hilo is a rainy area of the Big Island, so you'll want to come equipped with some weatherproof gear if hiking near Hilo.
It is one of the busier areas of the island, though it is not as busy as Kona. There are lots of places to check out here, but we will stick with hikes for now!
One of the main draws for hikes in this area is the waterfalls: there are several, and we'll cover a few of the best Big Island waterfall hikes below.
Rainbow Falls (Waiānuenue)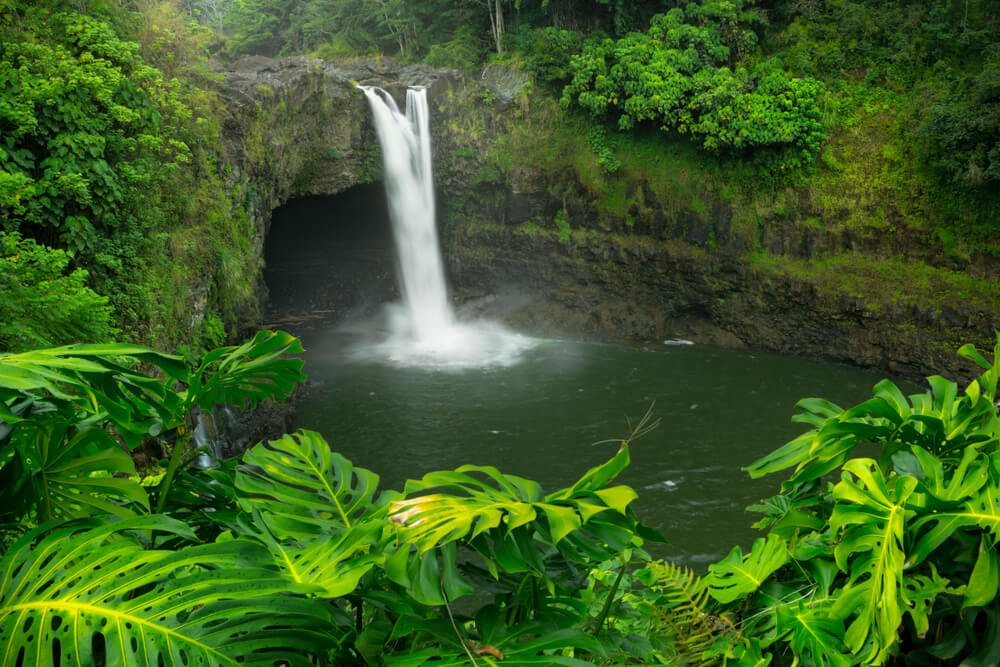 Length: 0.1-0.2 miles
Rating: Easy
Route Type: Out and back
This is one of the most photographed spots in Hilo, and the hike couldn't be easier!
You can easily view them after a short 0.1-mile hike. Then hike further up the trail to the upper falls (0.2 miles).
When you venture upwards you will get to view one of the most incredible banyan trees I have ever seen — it is over 1000 years old and truly majestic.
Trust me, you will want to climb it. It is not too difficult as the tree allows for "hallways" that form along its many branches. It is a spectacular sight to see and a fun playground for all.
Waiʻale Falls Trail and Boiling Pots Lookout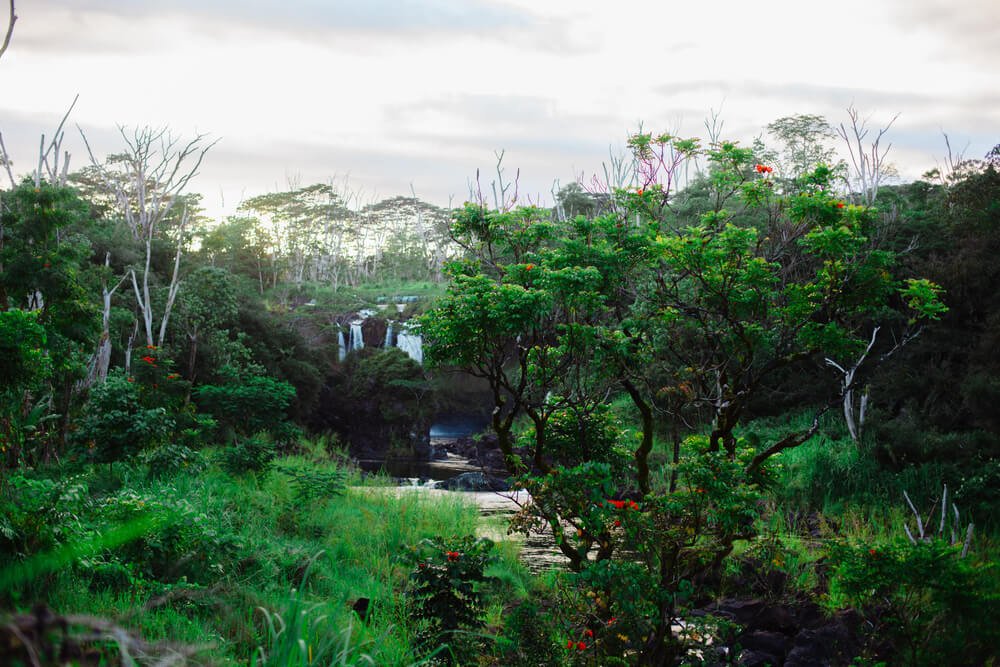 Length: 0.6 miles (plus an additional 0.3 miles for the Boiling Pots lookout).
Rating: Moderate
Route Type: Out and back
Here you can view another gorgeous waterfall, plus the Boiling Pots Lookout is pretty stellar, too, and the rapids below will surely impress!
It is also nice as these are two more short hikes with great rewards. You can easily do Rainbow Falls and Waiʻale Falls in a single day of hiking in Hilo. Have a waterfall-themed hike day!
Liliʻuokalani Botanical Garden, Banyan Drive, and Coconut Island Loop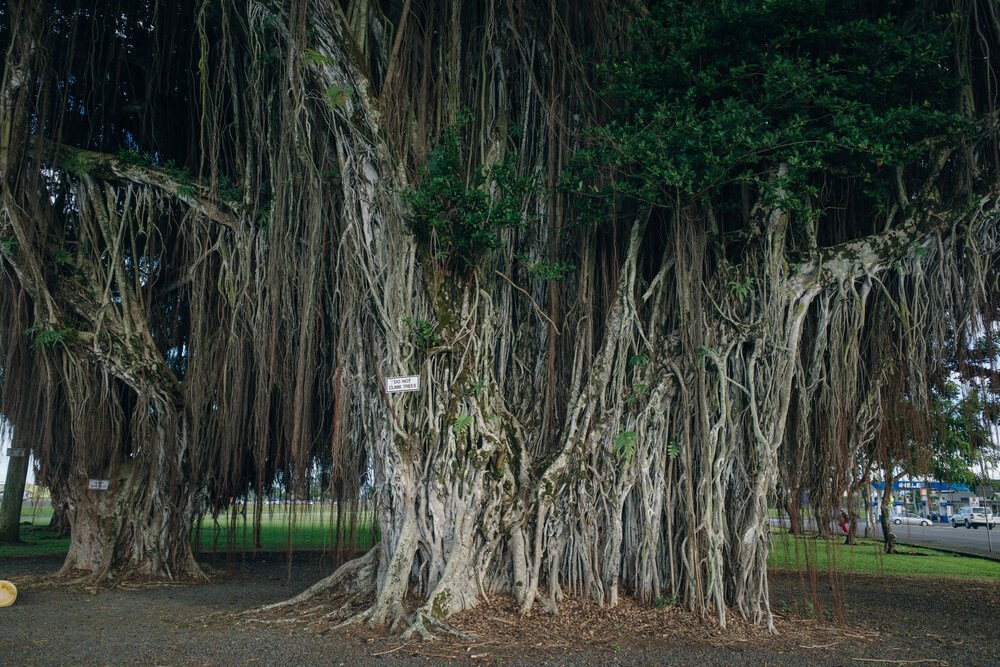 Length: 2.3 miles
Rating: Easy
Route Type: Loop
This is a great way to see a few Hilo landmarks in one fell swoop!
The Liliʻuokalani Gardens are absolutely lovely: you'll feel like you're in Japan as you walk through these 25-acre gardens, which were built in 1917 as tribute to the Japanese immigrants who came to Hawaiʻi to work the sugar cane fields.
The gardens are named after the last reigning monarch of Hawaiʻi, Queen Liliʻuokalani, who was overthrown when the United States invaded the Kingdom of Hawaiʻi, as a way of honoring her.
You'll continue down along Banyan Drive, which is cool because of the beautiful banyans, of course! The banyans were planted by celebrities who have placards on the trees. It's known as the "Hilo Walk of Fame".
Finally, Coconut Island is a tiny little island with a park, restrooms, and some beaches. It is popular to jump off the tower in the waters of Hilo Bay from here.
Fun fact: Coconut Island was originally called Mokuola by the Native Hawai'ians. It translates literally to "island [moku] of life [ola]" but can be understood as meaning "healing island". It was said that one could heal themselves by swimming around the island three times!
Big Island Hikes in Hāmākua
Head north from Hilo to picturesque Hāmākua, which is an excellent part of the island for "rainbow hunting" in the wet climate of Hilo… plus it is just such a beautiful part of the island!
Get lost in the jungle or a sacred valley as you explore Hāmākua.
Waipiʻo Valley Trail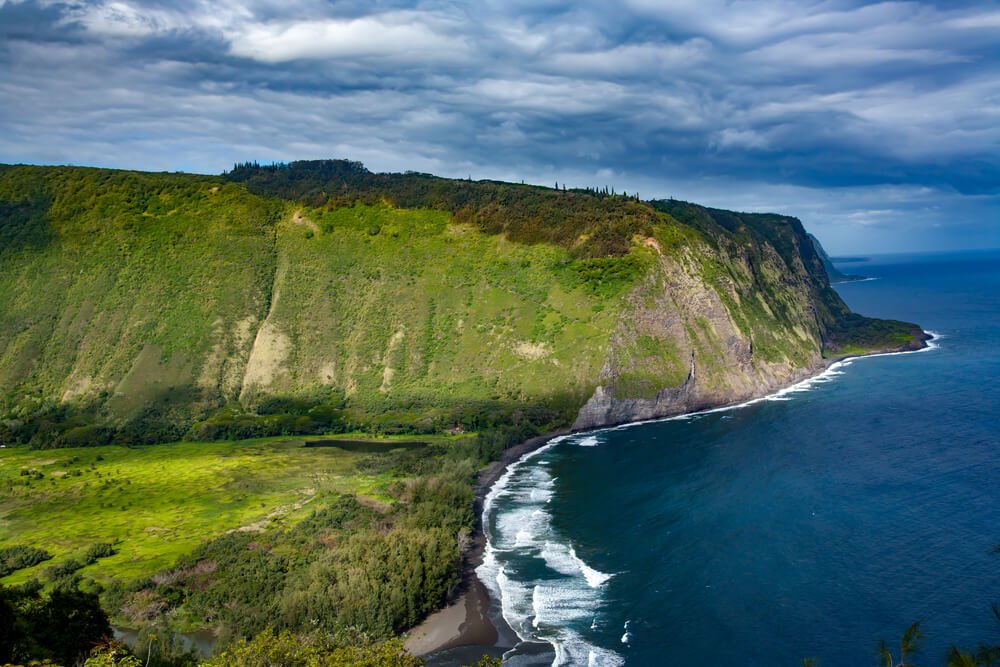 Length: 4.7 miles
Difficulty: Moderate
Route Type: Out and back
This is by far one of the most beautiful hiking spots on the Big Island! It is truly magical.
You will have to endure the steep grade of the road down into the valley, but it is worth every step.
Also, be aware that there is a river crossing here. At times the river is not passable due to heavy rainfall, so keep that in mind.
Waipiʻo Valley is a sacred valley to the Native Hawaiʻians (kānaka maoli). It was a place where they lived and celebrated together. In fact, King Kamehameha — the first ruler of the Kingdom of Hawaiʻi — was raised in this valley.
I urge you to remember this when you visit. Hold space for the remaining kānaka maoli, the Native Hawaiʻians, from whom this beautiful land was taken, and who suffered devastating effects from U.S. imperialism, colonization, and annexation.
You can do this by ensuring history stays alive by learning the history of Hawaiʻi and approaching the culture and language of Hawaiʻi with curiosity.
You will have a fuller, more rewarding experience in Hawaiʻi in general if you hold to this rule of respect and curiosity.
Best Big Island Hikes in Kohala
Kohala is situated at the very top of the Big Island. There are just a couple of spots for hiking here.
Be sure to stop in the wonderful town of Hawi to fuel up for your trip. The town is so charming, you might not ever want to leave!
Pololū Trail and ʻĀwini Lookout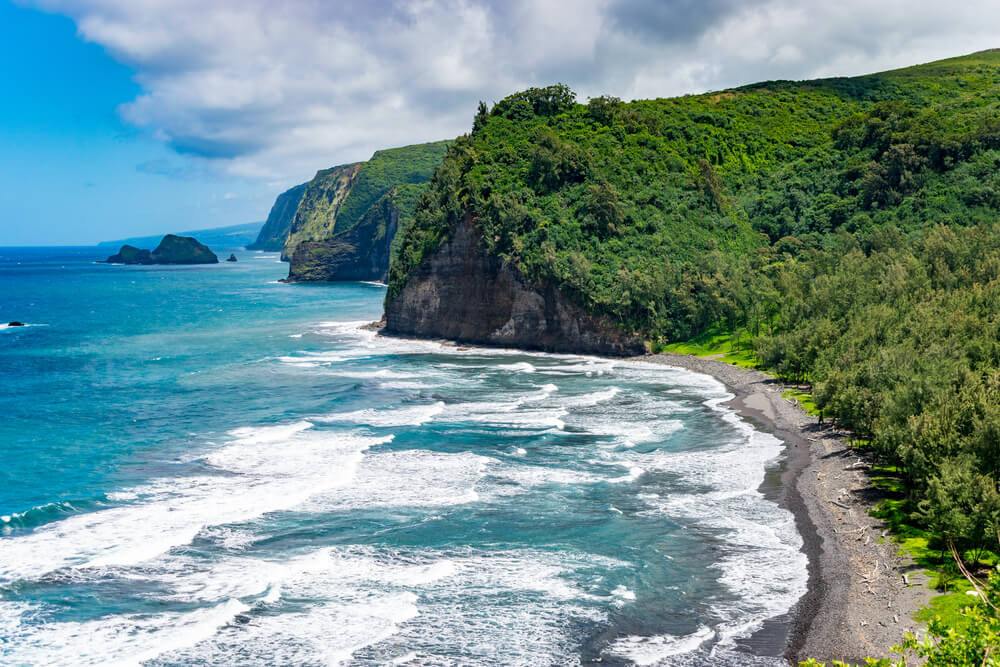 Length: 0.9 miles (3.9 miles to ʻĀwini)
Difficulty: Moderate
Route Type: Out and back
This Big Island trail will take you down to Pololū Valley, where you can enjoy views of the ocean and the green mountains which cascade along the coastline.
There are some swings here for you to enjoy. We suggest bringing a hammock to relax in while taking in the sights and sounds.
The beach is pretty rocky in parts, but if you bring a hammock, you will be all set!
To explore the area more, keep hiking past the beach and follow the trail up to ʻĀwini Lookout. It can be pretty wet and muddy to hike but you get great views and the heart pumping. This is where the 3.9 miles comes in!
Big Island Hikes in Kona
Next, we have the "Kona side". There is a huge amount of things to do in the Kona district!
One of the big draws of Kona is hiking to some hidden beaches along the coast. Plus there are forest and lava hikes for you to enjoy among the many other activities in Kona!
Makalawena Beach (Pu'u Ali'i)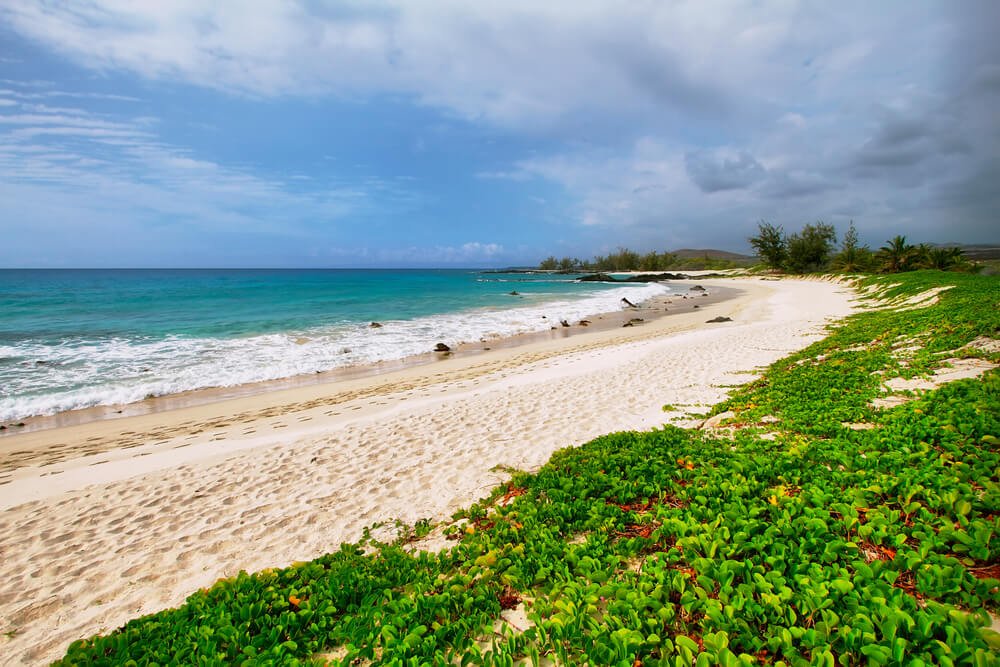 Length: 2.2 miles
Difficulty: Easy
Route Type: Out and back
This is the best beach on the Big Island (the hike is fully worth it!)! It is rarely crowded by beachgoers because of the effort it takes to get there.
You will walk down a road to reach the beach. It has no shade so be sure to bring your reef-safe sunscreen, a hat, and plenty of water.
Once you reach the beach you can continue walking to make this a 4-mile hike if you desire. The waters are usually calm for swimming so you may want to just jump right in and enjoy the blue water and white sandy beach!
Puʻu Wa'awa'a Cinder Cone Trail
Length: 7.1 miles
Difficulty: Moderate
Route Type: Loop
Puʻu Waʻawaʻa Cinder Cone State Park has many great hikes! We like this one as you end up at the top of Puʻu Wa'awa'a
You will get to see an awesome view of Mauna Kea and Mauna Loa, two of my favorite mountains in the world.
The rock formation is also super cool, and you can enjoy wildflowers and spacious views from here
Kealakekua Bay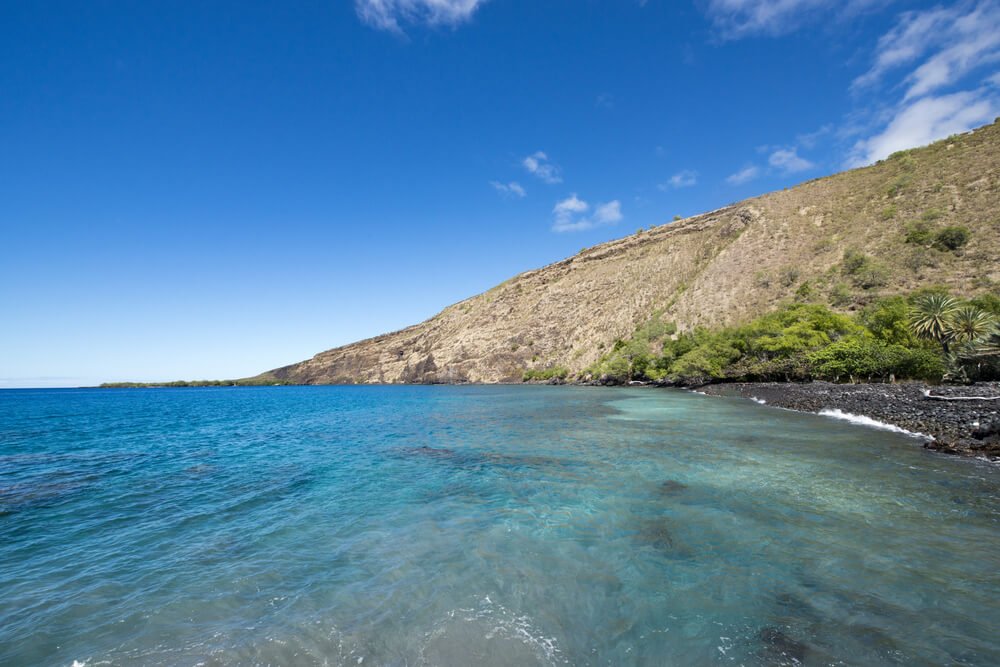 Length: 3.8 miles
Difficulty: Moderate
Route Type: Out and back
To find the unmarked trailhead, park on Nāpōʻopoʻo Road at telephone pole #4. There are other turn-outs to park in so please do not block the road!
This is an awesome Big Island hike that ends at the bay, so you may want to bring snorkel gear along. You may get to see ruins from old Hawaiʻian villages.
At low tide, you may see the placard which marks where Captain Cook landed. The story is that Captain Cook was killed by Native Hawaiʻians, but the full story is rarely told.
The real story is that Captain Cook, on this third voyage to Hawaiʻi, attempted to kidnap the King Kalaniʻōpuʻu to hold for ransom in return for a stolen boat, and that Captain Cook died in the struggle. (So, yeah, if you attempt to kidnap the king, you can't really be surprised by the results…)
Along this hike, besides seeing this interesting historical landmark, you may also get to see Hawaiian spinner dolphins and other beautiful wildlife.
Best Saddle Road Hikes on the Big Island
Cutting across the island is Saddle Road. It is from here you can access hikes on Mauna Kea and Mauna Loa. You may even want to summit them!
Prepare for the cooler temperatures that occur at higher altitudes. Also, be aware that hiking at these elevations can cause Acute Mountain Sickness (AMS). Remember to stop frequently if you choose to hike up the mountain, which is almost 14,000 feet!
Bring plenty of water and snacks. Take your time and allow yourself to acclimate to the elevation. Be sure to bring a hat and sunscreen. It feels cool, but you are super exposed to the sun!
Mauna Loa Summit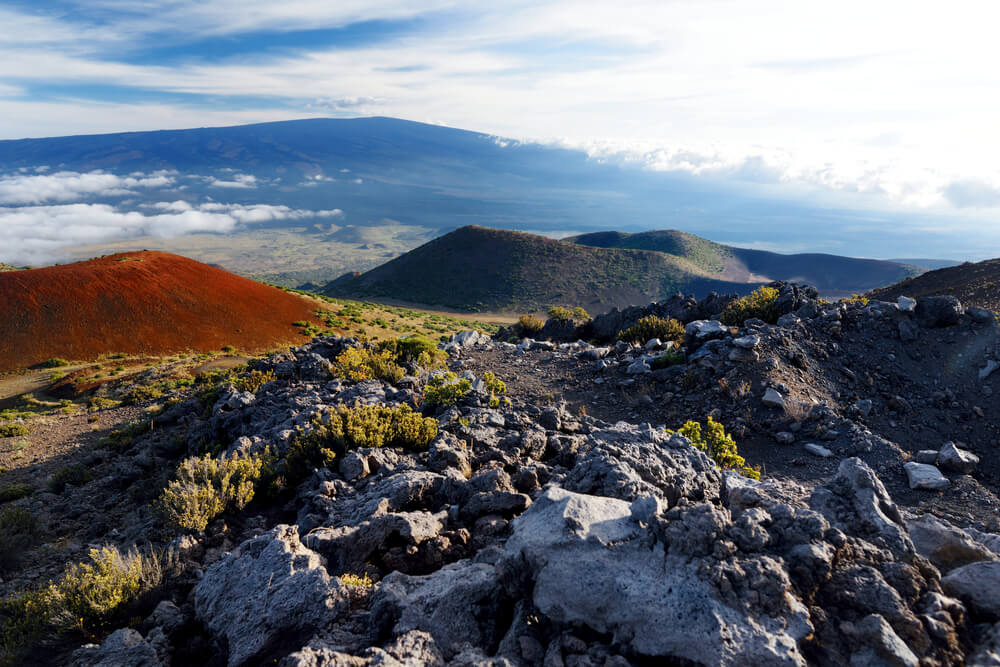 Length: 13 miles
Difficulty: Hard
Route type: Out and back
When you climb Mauna Loa, you are hiking on the world's largest mountain by volume in the world and the world's largest volcano!
To get to the trailhead, take Saddle Road to Mauna Kea Observatory Road (between mile markers 27 and 28). Park at the trailhead after 17.5 miles of driving on this road. It is one lane in some spots and rough so drive carefully.
Bring a map, although the route is marked with cairns so it is relatively easy to navigate. Just be sure not to hop on the Mauna Loa Trail that begins in the lowland; that is not the same trail you are on here.
Mauna Kea (Maunakea) Summit via Humu'ula Trail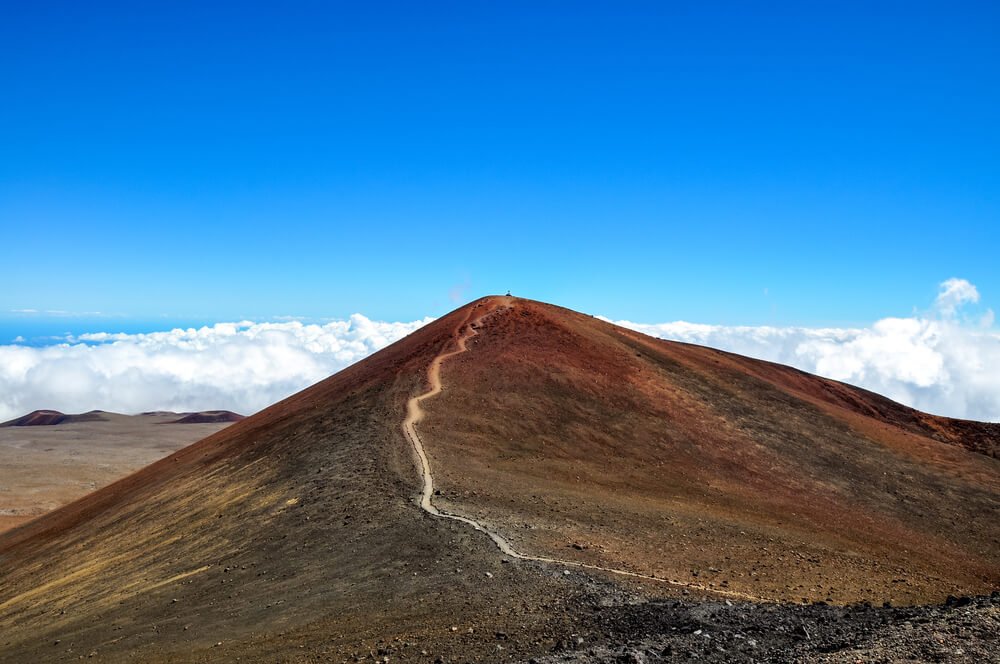 Length: 12 miles
Difficulty: Hard
Route Type: Out and back
To get to the trailhead follow the same directions for Mauna Loa's trailhead but stop at Ellison Onizuka Mauna Kea Visitor Information Station after about 6 miles.
This is where the trailhead will be. You need a permit to hike Mauna Kea (spelled Maunukea in the Hawaiian language), but it is easy to do with a self-registration station at the trailhead. Be sure to drop off your registration at the visitor center!
You will get to hike past Lake Waiau which is the highest lake in the Pacific Basin. Plus when you climb Mauna Kea, you are hiking the highest mountain in Hawaiʻi, in the Pacific Rim, and the highest sea mountain in the world.
Mauna Kea is named for the Hawaiian sky god Wākea, making this a sacred mountain. Please remember this as you climb. Do not litter or remove anything from the island you are not permitted to.
Honor the tumultuous history of this mountain. There are still many activists protesting the 30 Meter Telescope and further development of Maunakea, as it is just that sacred to the kānaka maoli.
A note about "leaving no trace": this is a Western concept that is not practiced by many Indigenous groups. You may see some offerings made by the Native Hawaiʻians to the goddess of Maunakea, Poliʻahu; however, this is not needed by outsiders as it can be offensive if done incorrectly.
You absolutely should not interfere with anyone you see leaving an offering, as this is not your place as a visitor. "Leave no trace" does not apply to Indigenous people following their ancestral Indigenous practices, and enforcing this on them is a form of cultural erasure.
In addition to these massive Big Island summit hikes on Saddle Road, there are plenty of shorter hikes you can do.
Puʻu ʻo'o Trail (8.3 miles), Pu'u Kalepeamoa Loop (1.3 or 3.8 miles), or Kaūmana Trail (2.7 miles) are some other great options for this area.
Hikes in the Puna District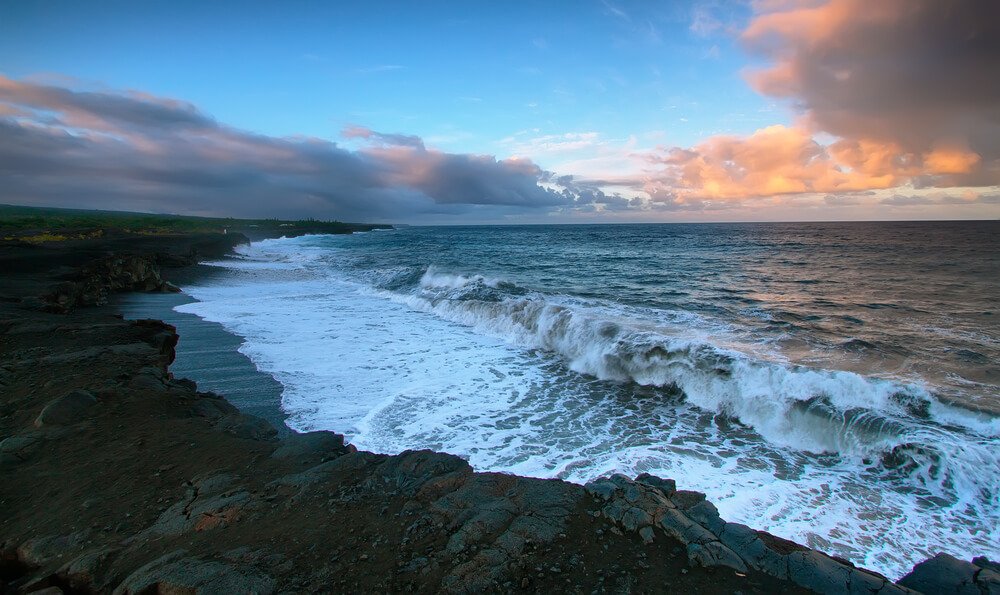 The only district not fully covered in this article includes the Puna District. This is where a lot of the rainfall on the island occurs.
If the lava is flowing in the right direction, you can access the lava flow from the Puna District. Hiking on the Kalapana Lava Fields to see lava pouring from the mountainside is truly awe-inspiring.
I hope you get to experience it when you visit the Big Island. There are many beautiful spots along the Red Road to explore, as well. Puna is a really special part of the island, so don't count it out!
***
The Big Island is full of adventure and learning opportunities, where you can learn the history of these islands through connecting with its nature and its beauty.
Show up with an open heart and an open mind full of curiosity, and the island will embrace you. Honor the ancient and present-day Native Hawai'ians through educating yourself and taking care of this sacred place.
It is full of jaw-dropping views and incredible experiences, so leave it just as beautiful as you found it. Enjoy your exploration as you hike the Big Island!
Allison is a writer, herbalist, musician, and lover of nature. She is an avid traveler and backpacker, having traveled throughout most of the United States and through parts of Asia and Europe. She has lived in Hawaii, Philadelphia, New Jersey, Boston, and of course, California. Allison has lived in California for 5 years, working on farms and in Yosemite National Park. She has been all over the state, enjoying many cities and of course, the many amazing outdoor wonders California offers. She currently resides in Aptos, Santa Cruz County, CA.