If you're planning a trip to Portugal's vibrant capital city, one of your main questions is likely where to stay in Lisbon for the first time!
I've cultivated this guide to the best areas to stay in Lisbon as a result of the three weeks I've spent traveling all over Lisbon.
Here's a guide to where to stay in Lisbon including my seven favorite Lisbon neighborhoods, all central to the city and a perfect gateway to exploring all that this gorgeous, hilly city has to offer.
Lisbon used to be a fantastic budget destination, but unfortunately, now that the secret is out about this charming Portuguese capital, prices for Lisbon accommodation are much higher than they used to be.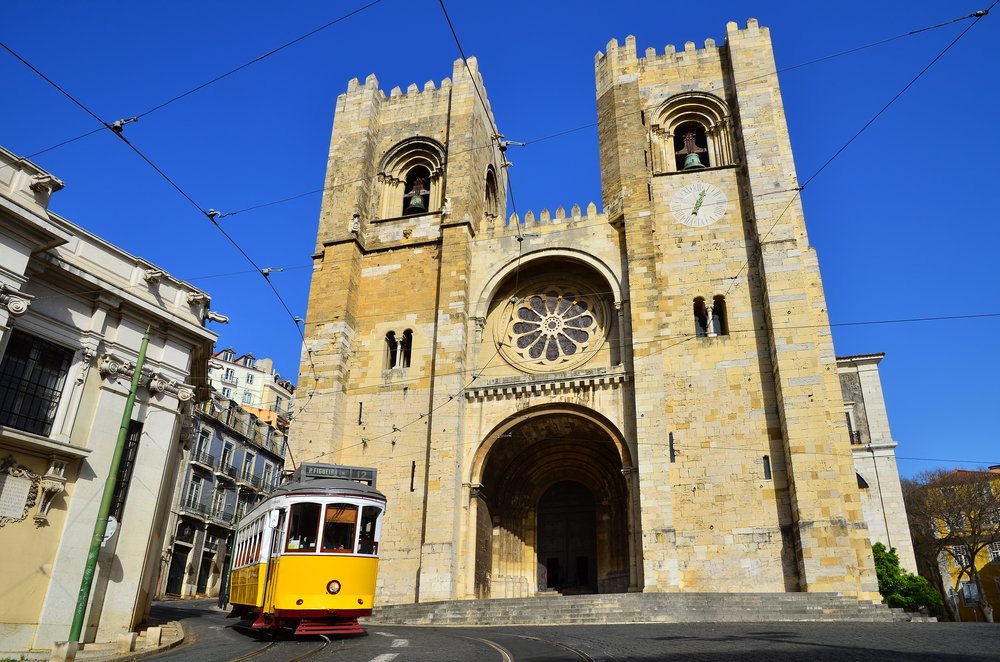 Note: This post contains affiliate links, which means I may receive a small commission if you purchase something through one of these links. Thank you for supporting the free content on this site! For more information on affiliate links and cookies, see my disclosure page for more details.
Still, I did my best to represent different extremes of the budget spectrum.
I've included my top pick for each neighborhood in each of the following budget categories: budget (under $100 USD a night, and cheaper when a hostel is available), mid-range ($100-200 USD a night), and luxury ($200+ USD a night).
Of course, actual prices depend on a variety of factors, such as if you're traveling in peak-season or off-peak, how many people are in your party, how far in advance you book, etc.
2022 Entry Requirements for Portugal
Due to the Covid-19 pandemic, there are certain entry requirements in place for entering the country of Portugal.
I've updated this post as of February 9, 2022, and all information was correct at the time of writing.
However, confirm with Portugal's official website, as you've prbably figured out after the last few years of pandemic times… things can change quickly!
Check the list of countries allowed to enter Mainland Portugal on their website. The USA and UK are currently included (note: Canada is not included at the time of writing, but this may change).
You must present one of the following if you are over the age of 12.
A negative PCR test taken with 72 hours
A rapid antigen test taken within 24 hours of boarding
An EU Digital Covid Certificate OR similar certificate from one of the 33 permitted countries. *NOTE: The US is not included.
You must also submit a Passenger Locator Card before departing.
Until recently, the EU digital certificate (Green Pass) was required for staying in hotels and eating at restaurants.
This meant that non-EU citizens who weren't one of the 33 listed countries could effectively enter the country but not dine at restaurants or stay in hotels… making travel very difficult for them!
However, a friend who is residing in Portugal recently informed me that as of the first week of February, this requirement has been dropped within the country and this is no longer required.
When to Book Your Lisbon Accommodations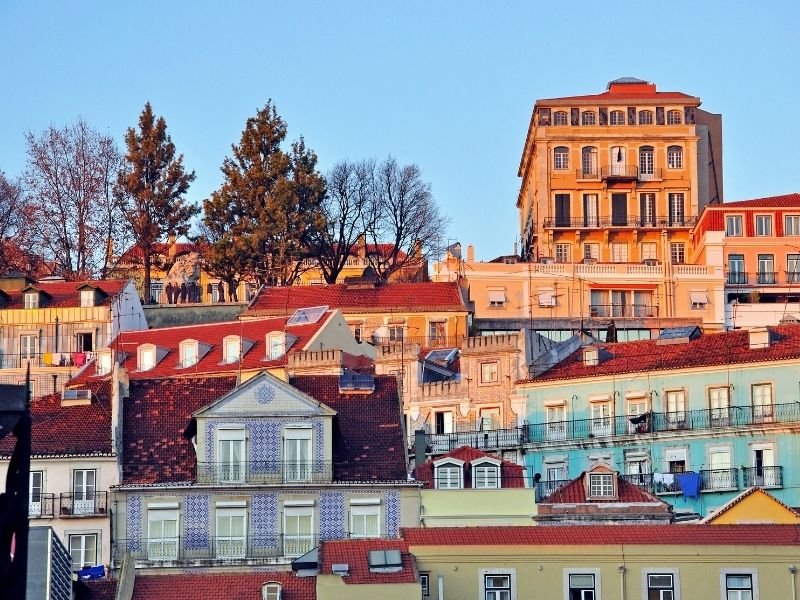 I suggest booking your Lisbon accommodation as soon as possible so that the best places to stay in Lisbon aren't sold out and so that you have the widest variety of options.
Since Lisbon is so popular year-round, there really isn't much to be gained by waiting to book.
So, without further ado, here are my seven top favorite Lisbon neighborhoods and the best hotels in each!
These are all very central areas, perfect for quick access to sightseeing if you only have a day in Lisbon or a weekend in Lisbon.
This is ideal if Lisbon is your first stop before renting a car and setting off on a road trip, possibly to the Algarve or to Porto.
Best Places to Stay in Lisbon: Neighborhoods & Hotels in Each One!
Baixa: Lisbon's Low-Lying Central Neighborhood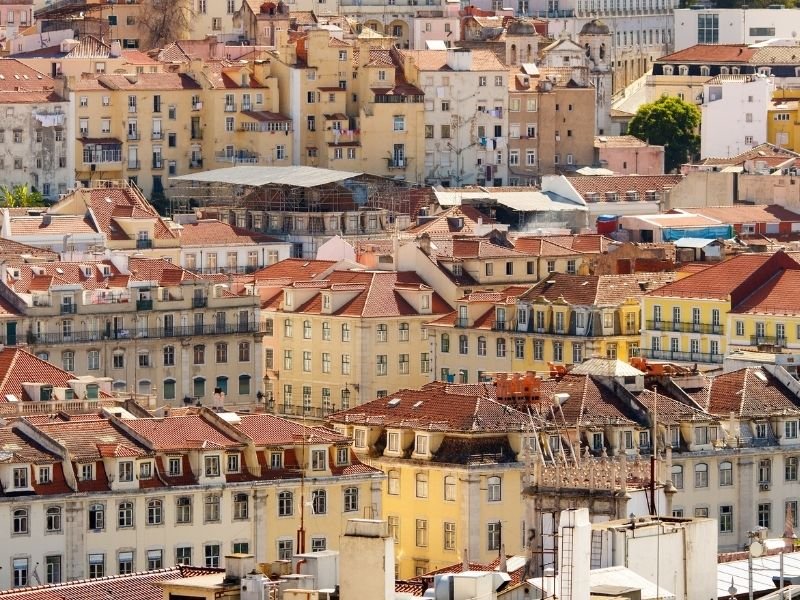 Baixa, often grouped with Chiado due to their proximity, is the lower part of the Lisbon city center, which makes up a rectangular grid of streets that are mostly filled with brand name shopping, larger hotels, and restaurants.
If you don't love getting lost in Lisbon's winding streets in Alfama or hoofing it up the hill to and from Bairro Alto, Baixa is a great choice as it's flat, conveniently located for getting around by foot, and wonderful for traveling by metro.
The heart of Baixa is the gorgeous Praça do Comércio, a royal square with gorgeous views of the Tejo River.
With its beautiful archway and signature yellow colored shops and restaurants lining the plaza, it's one of the most Instagrammable places in Lisbon.
The archway will lead you to one of the main shopping streets in the city, Rua Augusta, which was designed by Marques de Pombal and has his signature architectural style.
Nearby to Praça do Comércio is the Lisbon Story Center, a museum that presents the history of Lisbon in a fun and interactive manner.
Another main feature of Baixa is the Santa Justa Elevator, which for a steep fee will sweep you up a steep hill in a gorgeous Art Nouveau-architecture elevator designed by one of Gustave Eiffel's disciples.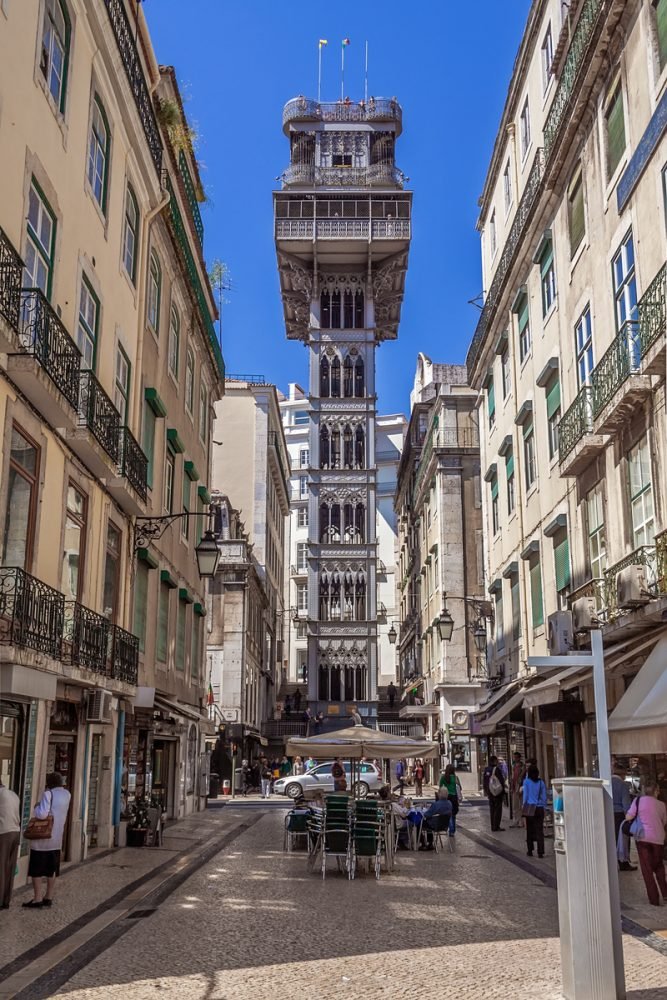 The lines for the elevator are often extremely long and usually not worth waiting in; however, for those visiting Lisbon who have limited mobility, it can be a perk, as this easily brings you up to the Convento do Carmo and the Bairro Alto area.
Finally, don't miss the hidden gem bookstore Bertrand Bookshop: it's the oldest continually running bookstore in the world, supposedly!
It was founded in 1732, pre-earthquake, and while it was damaged badly in the earthquake, it was rebuilt beautifully.
It has a gorgeous tiled exterior and an excellent selection of both English and Portuguese-language titles, and it's a must-visit for any bookworm visiting Lisbon.
Budget: Home Lisbon Hotel
Even if you are on vacation, the feeling and comfort of being home is something that Home Lisbon Hotel wants you to experience.
This hostel gives you a choice of private or shared rooms. The private rooms are quite small, but the amount of space is good enough for backpackers looking for a good private room in Lisbon on a budget.
The bathrooms are extremely clean and new. However, toiletries are not provided so it is best to bring travel-sized shampoos and shower gels with you (check my Europe packing list for recommendations).
The décor game is strong here at Home Lisbon, despite the budget prices: perfect for people who want a place to stay in Lisbon that has personality. There are vintage black and white photos as well as colorful prints hung on the wall, which add a retro vibe.
In the shared rooms, the bunk beds have curtains that you can close to ensure privacy when you're sleeping — something that I always enjoy, especially when an inconsiderate dorm-mate turns on the lights upon arriving late at night. You can also choose a mixed-sex room or an all-female room.
The shared bathroom has a seating area inside, where you can wait if someone else is using the mirrors or the sink. If you're traveling with friends, a good option may be a quadruple room with a private bathroom.
All rooms are hypoallergenic, non-smoking and soundproof. Heating and A/C is also provided, so regardless of the season you visit, you are surely kept warm or cool!
Guests will feel secure with their 24-hour service desk, and if they need any local tips or anything to photocopy then you can simply ask them.
Just outside the hotel is Nicolau Café, which the hostel promotes to their guests as a delicious place where you can have lunch, dinner, or breakfast.
Check out guest reviews, prices, and availability at Home Lisbon Hotel here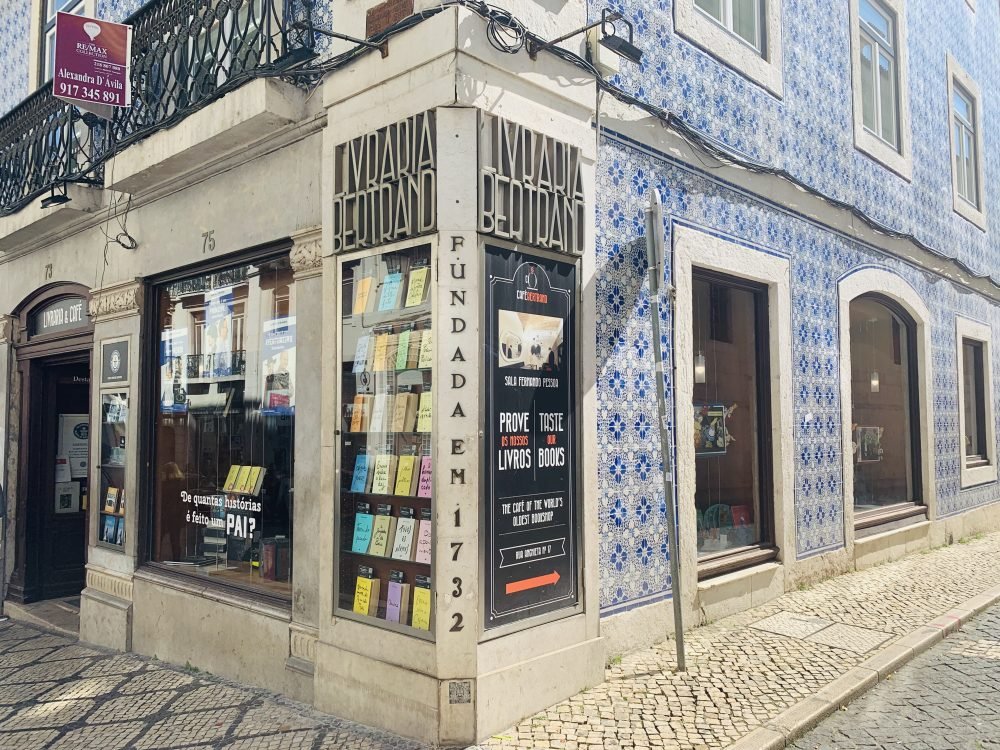 Mid-Range: My Story Hotel Tejo
At this gorgeous boutique hotel near the Tejo River, you can choose from a private room (single or double) or an apartment-type room with one bedroom.
All rooms are maintained daily by their housekeeping staff, and each room also has an ensuite bathroom that's spacious and complete with all the toiletries you'd need.
The beds are also extra comfortable and a great place to relax due to the soft headboard, where you can relax your back and read a book or check the latest social media updates.
There is also a seating area with a lamp, in case you want to write or work on something inspired by Lisbon!
If you plan on getting their apartment-type room, you will surely enjoy all the features like a kitchenette (where you can cook because it has its own oven, stovetop, and kitchenware), a sofa bed (where you can entertain guests or where someone can also sleep), and a dining area (complete with dinnerware).
There is a restaurant on-site, called O Poço, where you can enjoy a Portuguese buffet selection. Aside from this, they also have special menus for people with dietary requirements.
You can also rent bicycles at the hotel so that you can roam around easily in nearby places (though I definitely recommend sticking to the streets of Baixa and the Tejo waterfront — those hills are no joke!).
If you're traveling long-term, you can do your laundry easily for a reasonable fee. This hotel is a one-stop shop for guests who like to get things done quickly and easily in a central, convenient Lisbon neighborhood.
Check out guest reviews, prices, and availability at My Story Hotel Tejo here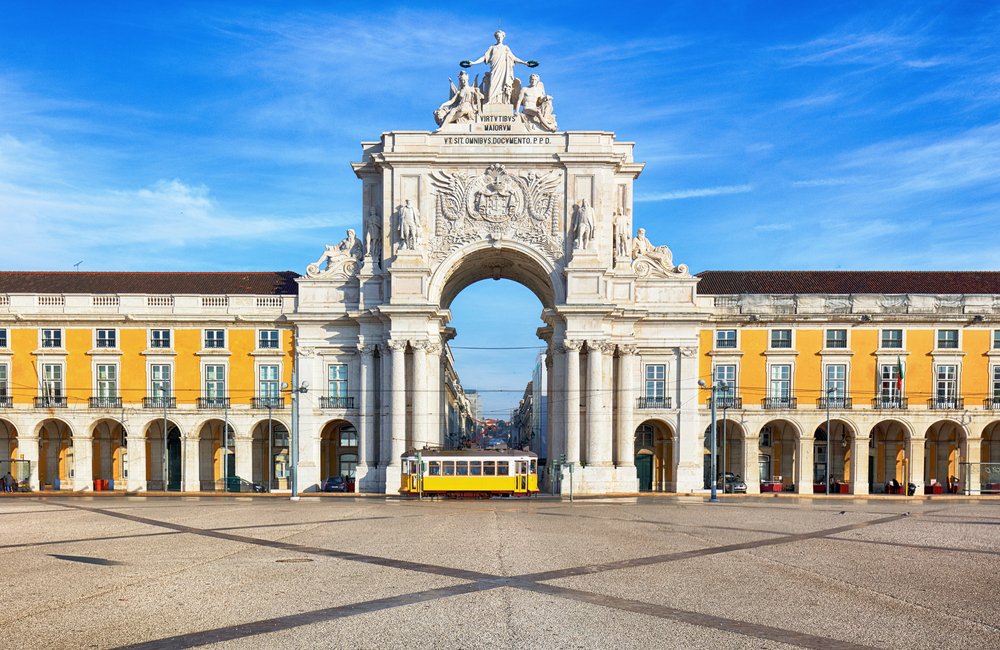 Luxury: Pousada de Lisboa – Small Luxury Hotels of the World
The word "pousada" literally means an inn, but this 5-star hotel offers way more than that with its 90 fully decorated rooms!
From afar, the building stands out because of its bright yellow color similar to the Arco da Rua Augusta.
The lobby offers some refreshments like lemonade and fruit-infused water to quench your thirst after some sightseeing, and provides you with daily newspapers to keep you up to date with local news.
What's great about their private rooms are the ensuite bathrooms with designer toiletries and bathtubs, high-speed WiFi internet, and well-stocked minibars.
The floors are made from hardwood, and the headboards are decorated with embossing, flourished with intricately detailed wall panels that scream luxury.
If you're traveling with a larger group or family, they also have a family room that's very extravagant and spacious, which is perfectly lit by a ritzy chandelier and some chicly dim lamps.
On-site dining is definitely a must at Pousada de Lisboa. Their Rib Restaurant specializes in meat dishes – their steaks are a must-try!
An indoor pool offers a spectacular oasis away from the occasional hecticness of Lisbon city life.
They also have other amenities like an indoor and heated pool (perfect if visiting Lisbon in March or other cooler times of the year), a spa with all the amenities you can think of, and a fitness center.
Check out guest reviews, prices, and availability at Pousada de Lisboa here
Bairro Alto: Lisbon's Nightlife Heart
Literally meaning "high neighborhood," that sums up Bairro Alto quite well!
Two ascensors (elevators) connect lower Lisbon (Baixo) to Bairro Alto.
There's Ascensor da Bica, which connects the Cais do Sodré area near Lisbon's waterfront to Bairro Alto, letting you off near the Miradouro de Santa Catarina.
There's the Ascendor da Glória, right next to one of the best miradouros in the city, Miradouro de São Pedro de Alcântara.
The Glória elevator also connects you to Baixa via an open-air street art 'gallery.' And of course, the Elevator of Santa Justa which I've already mentioned.
So it's quite well-connected to other parts of Lisbon if you don't feel like handling those hills.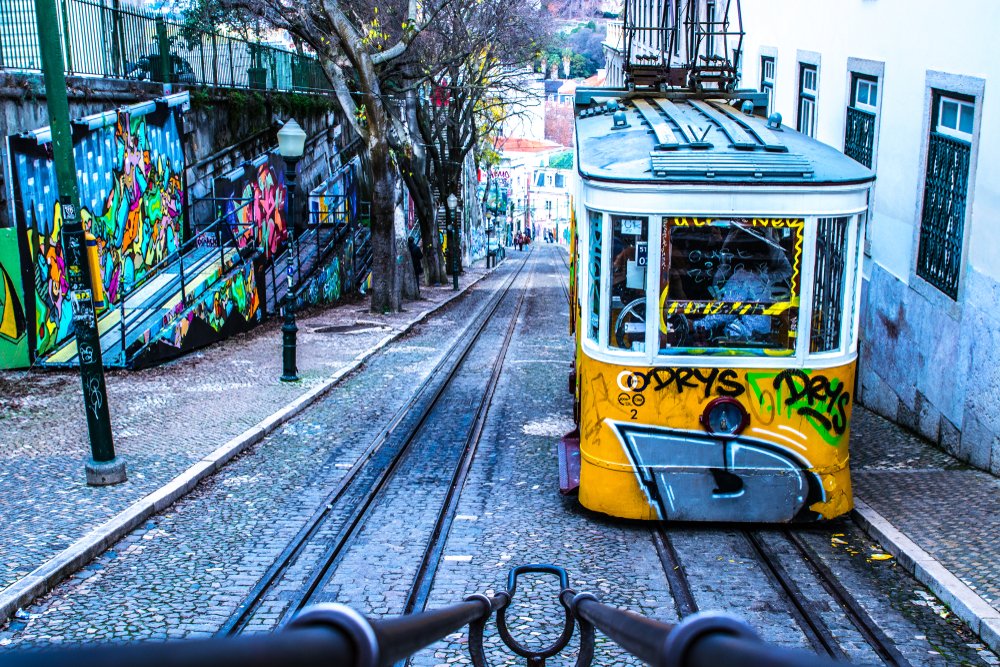 Bairro Alto is also one of the main nightlife areas in Lisbon, and it's a popular place to see fado shows.
One of the best places to see fado in Lisbon is at Tasca do Chico, in the heart of Bairro Alto.
Note that is is one of the louder Lisbon neighborhoods, since it's an all-night party hub.
I've checked the hotels' reviews to see if noise was an issue for past guests, but things do change!
I recommend double-checking each hotel's reviews specifically to check that noise wasn't an issue for recent guests if that's a concern for you and you're sure you want to stay in Bairro Alto.
Or, if you'll be out all night — the noise will hardly bother you, as you'll likely be the one making it!
Budget: Grapes & Bites – Hostel and Wines
Grapes & Bites Hostel offers dormitory-type rooms, double rooms, and suites with a tasty, wine-themed twist!
The bathrooms are a little dated, as it is a budget accommodation, but you can tell that it is maintained and cleaned well.
The use of wine bottles as a chandelier and lighting pieces create an interesting story in their rooms, in keeping with the theme of the hostel.
They also have a lovely lounge area, where you can see (and sample!) their vast collection of tasty Portuguese wines.
The best part of the hotel is the viewing patio and terrace, where you can see a fantastic panoramic view of the city.
Guests have loved the complimentary breakfast they serve, and they think that they have probably one of the best coffee around (for a hostel, at least!)
Family travelers who also want to bring their pets can do so, but you must coordinate it with the property before booking. You can also book shuttle services and rent bikes or cars at their front desk.
However, the location is not suitable for guests with disabilities or mobility limitations. Their facilities are not equipped properly to suit people with accessibility needs, and there are also no elevators.
Check out guest reviews, prices, and availability at Grapes & Bites – Hostel and Wines here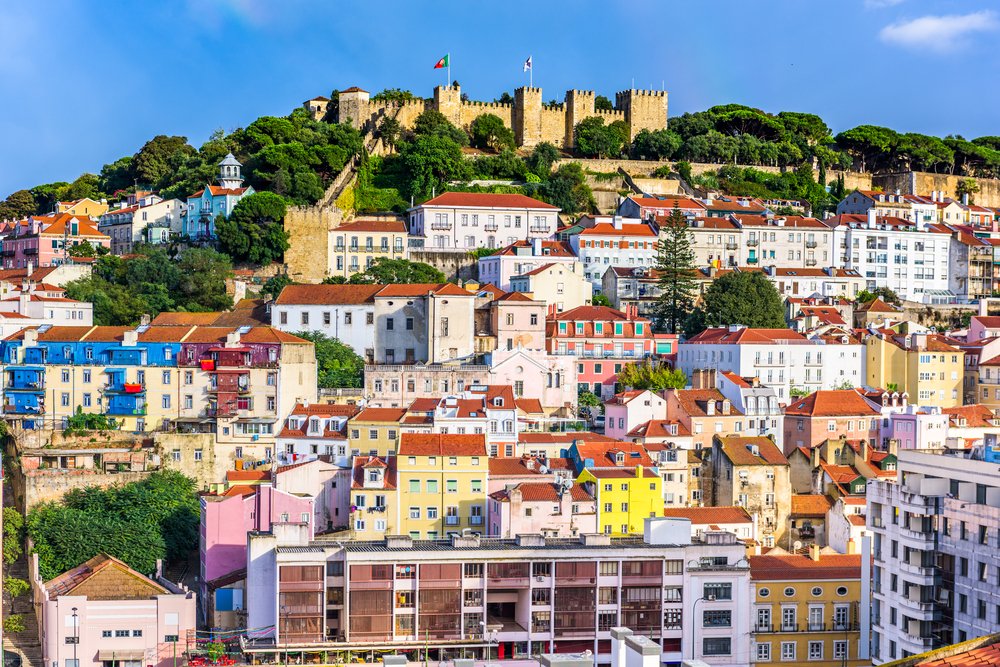 Mid-Range: Selina Secret Garden Lisbon
Someone who wants a close-to-nature ambiance while staying in the heart of the city should choose this Lisbon hotel when choosing where to stay in Lisbon!
Plants are found almost everywhere – even the lounge bars, common areas, and bedrooms! It is a gorgeous way to give a green, relaxing vibe to their guests. As a plant fiend, I'm already sold.
They have a good selection of rooms for every group size: from private single or double rooms, deluxe and superior rooms, suite rooms, and dormitory-type rooms for solo travelers on a budget.
Many of walls are painted with abstract and modern murals, creating a unique aesthetic that adds to the charm of the property.
An added feature of their dormitory rooms is the lighting and curtain cover for each bunk bed — it's almost akin to a capsule hotel like you'd find in Japan.
Breakfast is not included, but you can get one for $7 USD on-site, which is not bad, but you can also go around nearby cafés and convenience stores for a much cheaper option.
Digital nomads or people who travel for business will enjoy their coworking spaces, where you can get a shared desk (prices start around $11 USD per day), dedicated desk (prices start around $21 USD), and even a monthly desk plan (prices start around $165 USD).
There is a huge balcony with a lot of wicker chairs: a perfect place to chat with friends or just simply relax and look at how beautiful and romantic the surrounding houses are in this part of Lisbon. You can also play pool and meet new people here.
There is also an outdoor pool, which is not that big (it is in the middle of Lisbon, after all!), but you will love how it feels to have your own oasis, especially if in Lisbon in the summer!
The front desk can also arrange a street art tour, foodie tour, or a tour of Belem, so it can be your one-stop shop for exploring whatever side of Lisbon you choose to.
Check out guest reviews, prices, and availability at Selina Secret Garden Lisbon here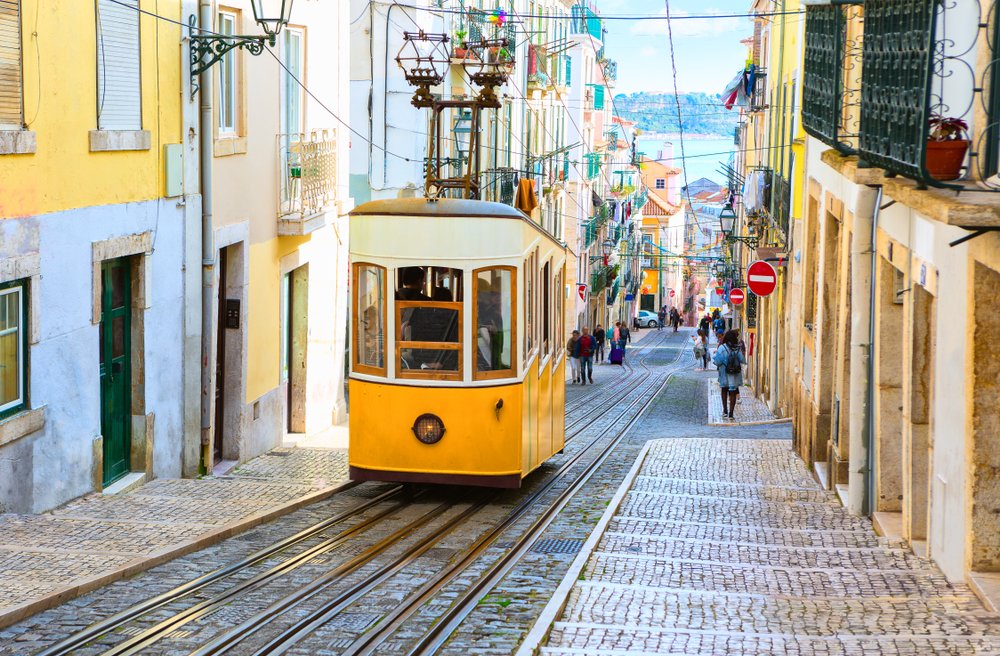 Luxury: The Lumiares Hotel & Spa
This hotel is perfectly located on top of the hill, where you can see charming views of the city.
Printed patterns and geometric shapes add a modern but elegant touch to the décor: you may see it on pillows, carpets, or chairs! It matches perfectly with the modern, clean and crisp style of each apartment.
There are different room types you can choose from: studio apartment, 1-bedroom apartment, 2-bedroom apartment, penthouse apartment (this is the only option that has a private balcony), and a ground floor loft.
They all have a private bathroom, sofa or seating area, safety deposit boxes, mini kitchen, A/C, and heating.
The fitness center and the Lumni Bar and Restaurant (located on the rooftop) are both open 24 hours a day — extremely convenient if arriving late, you have jet lag, or you're just a night owl!
They also have a small spa where you can get a relaxing massage or body treatment, as well as a sauna and steam bath where you can relax after a tiring day of exploring the city.
Check out guest reviews, prices, and availability at The Lumiares Hotel & Spa here
Alfama: The Oldest Lisbon Neighborhood
Alfama is my personal favorite neighborhood in Lisbon. It's where I stayed last time, and I'm pretty sure I'll keep staying here time and again.
It's one of very few parts of Lisbon that wasn't totally destroyed by the 1755 earthquake.
As a result, this is one of the older and more in-tact parts of the town, giving it a one-of-a-kind aesthetic in the city.
The famous 28 Tram winds its way through Alfama, but don't get tourist-trapped into taking it — lines are insane, trams are super-crowded, and it's a pickpocketer's dream.
Try the 12 instead, which makes a circle between Baixa and Alfama.
You can snap some photos of the 28 as it makes its rounds: the best photo opportunity is by the Miradouro das Portas do Sol, one of the best views in the city.
OK, I know I say that about virtually every miradouro, but it's truly a tough race to call!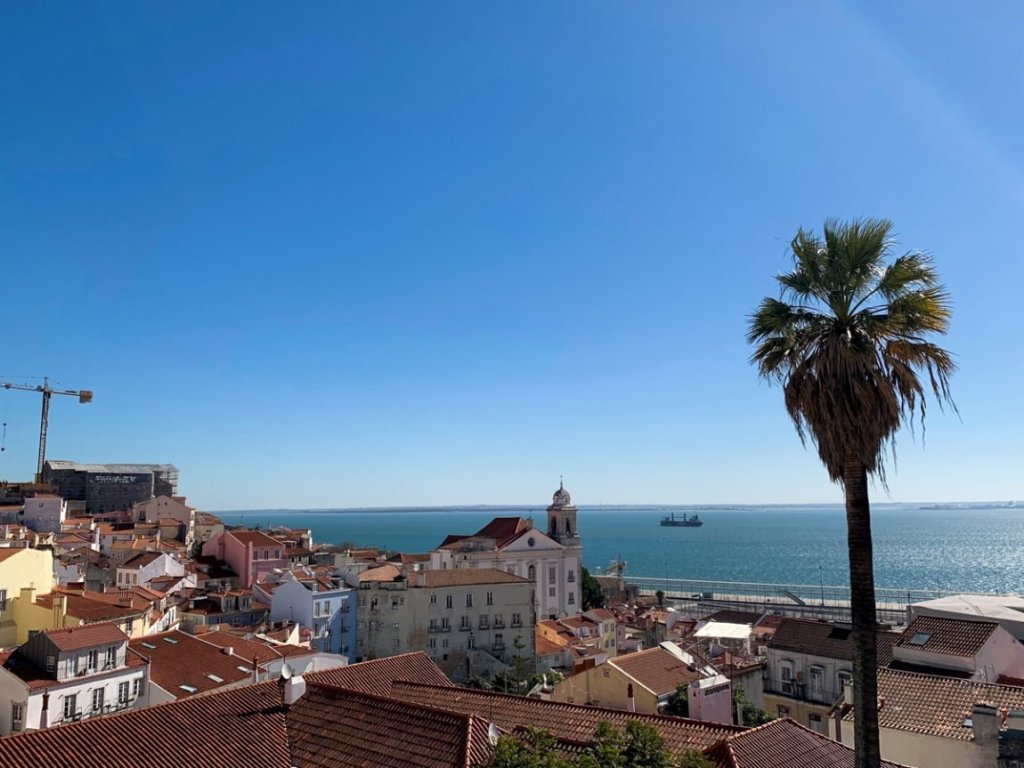 Beneath the miradouro, don't miss the História de Lisbon mural, located in an archway down a staircase. It's a popular spot for photos, though it's less known than the miradouro itself.
I'm also a big fan of the Miradouro de Santa Luzia, which has gorgeous azulejos, brilliant pink flowers, and stunning Tejo River views from its scenic pergola.
In the Alfama neighborhood or immediate vicinity, you'll also find the Lisbon Cathedral, National Pantheon, Feira de Ladras (twice-weekly flea market) and tons of fantastic restaurants, shops, and cafés.
This is also another popular area for seeing fado, with famous fado houses such as Senhor Fado in the area, as well as the famous Museo do Fado (absolutely worth a visit!).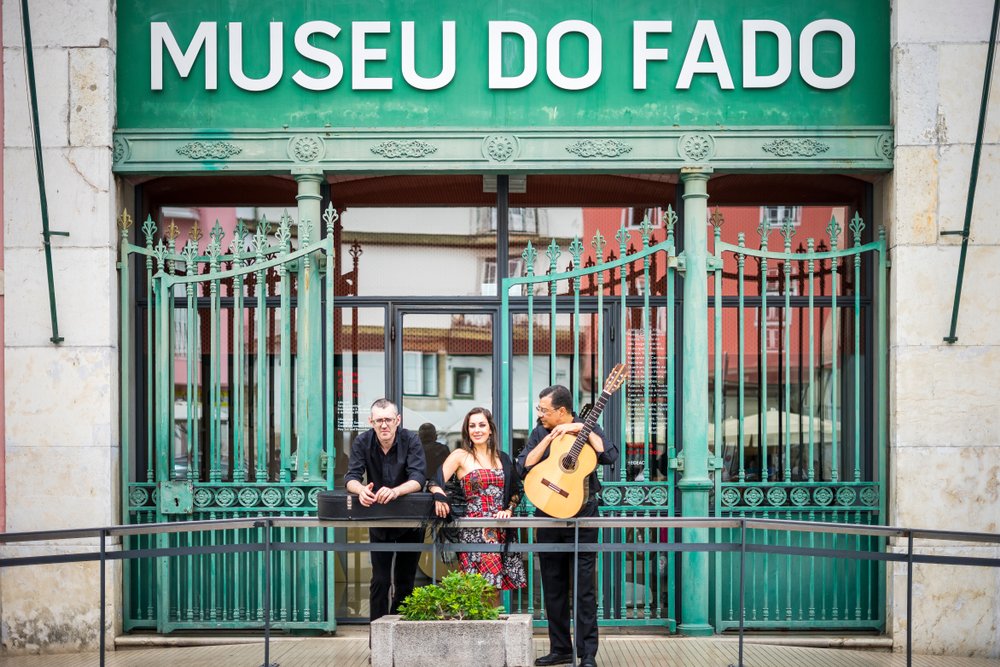 Budget: City Guesthouse Alfama
It is conveniently located near one of the stops of Tram 28; while I do recommend taking other Lisbon trams, seeing the 28 Tram with your own eyes is still a bit magical!
The rooms are very simple, just enough for a good night's sleep on a budget – the two options are private and shared rooms.
Bathrooms are all shared, but they do provide free toiletries and hair dryers. A kitchen and game room are also available for all to use.
However, note that past guests felt disappointed that there was no luggage storage option just in case you need to check in early or check out and your flights are still at a later time and you want to enjoy the city a bit more.
Also note that there are also no elevators in the property, only stairs, so people with heavy luggage are in for a workout!
Due to its budget-friendly cost, good hospitality, and clean rooms, this simple yet comfortable guesthouse in the heart of Alfama usually has a high demand. It is also one of the best places to stay for solo travelers.
An added note for travelers would be to check a map for the address of the location. Since it is located in a historical area, they're not allowed to put any signage in front of their building, so you'll want to have the address noted.
Check out guest reviews, prices, and availability at City Guesthouse Alfama here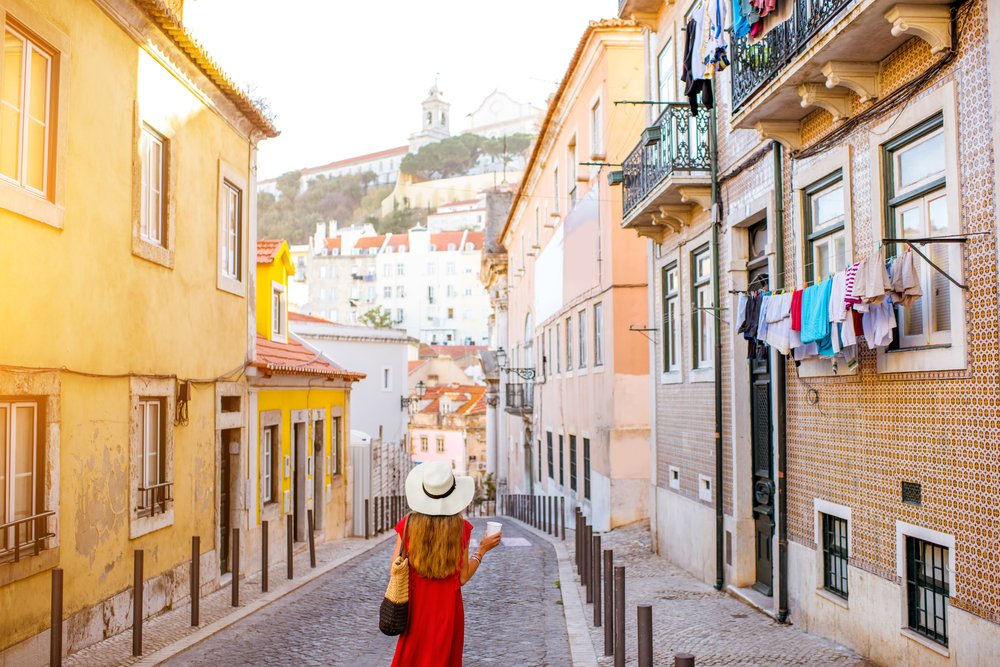 Mid-Range: Hotel Convento do Salvador
The 3-star hotel honestly looks like an old convent (not sure if it was before — the name would suggest it!).
The style of the hotel focuses on minimalist decors and architecture, but if you notice the artwork, they're uniquely made by local Portuguese artists.
They have multiple room configurations: you can choose a room with a view of the beautiful Tejo river (this one is mostly sold out!) or a room that is comfortable and accessible for guests with disabilities or accessibility needs.
Fun fact: it is one of the most eco-friendly hotels in Lisbon, so if the environment is important to you, this is where to stay in Lisbon!
It makes use of a centralized system for ensuring energy savings for their A/Cs, ventilation, and water systems. The rooms also automatically turn off all electrical sources if not in use and most spaces make use of natural lighting.
Breakfast is optional if you want to save $11 USD, but just in case you would like to try it, then you can pay the same price on-site. They serve it on the mezzanine, where you can also see the reception.
There's also a lounge bar that offers different kinds of beverages from teas, coffee, cocktails, and aperitifs that you can partner with some delightful snacks.
The hotel joins a partnership with the Youth Center to support cultural activities, and they allow them to use their business and meeting facilities. It is not just a vacation getaway, but also a place where they mold the future of the younger generation of Lisboetas!
Check out guest reviews, prices, and availability at Hotel Convento do Salvador here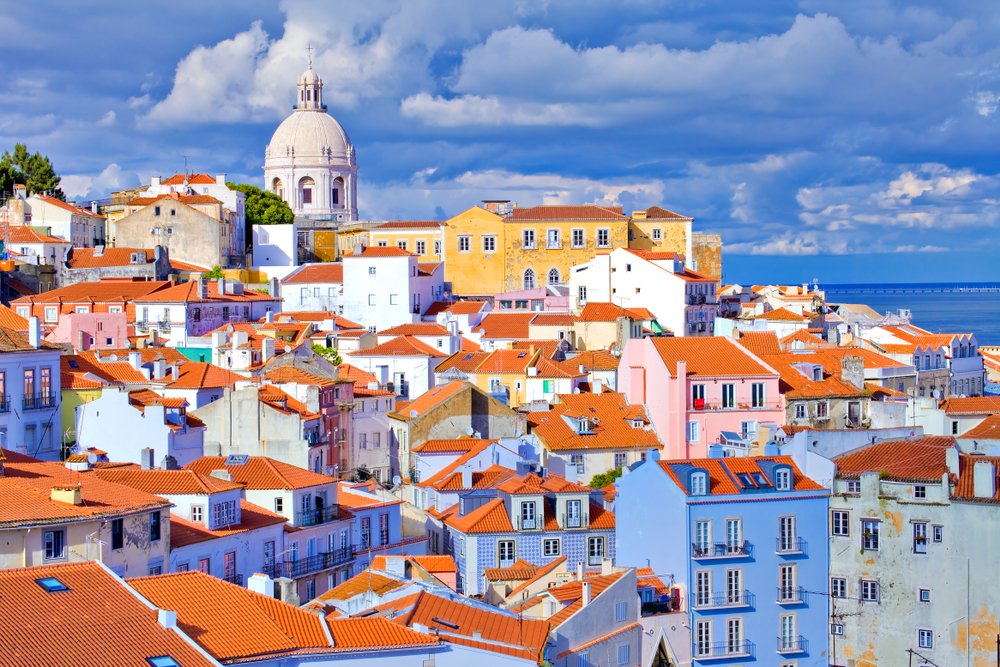 Luxury: Santiago de Alfama – Boutique Hotel
A truly world-class and 5-star experience is something you can expect from Santiago de Alfama!
This gorgeous hotel used to be the Palácio dos Castros, a lovely old building restructured to a boutique hotel.
It has been featured in several different magazines and newspapers, winning several international awards, including one of the best kid-friendly luxury hotels.
The rooms are all spacious and bright, designed with an eye towards clean lines and simple elegance.
Hardwood floors and intricately-patterned wall panels also make the rooms feel luxurious yet down-to-earth and natural.
If you want a view of the river (and I mean, it's the Tejo: who doesn't?), then you need to choose the standard double room because it has a small balcony where you can also see the city and the nearby fado houses.
You can also check the a la carte menu at their restaurant and Bar Audrey's (a.k.a. A Fábrica de Santiago).
They serve breakfast and dinner, as well as cocktails and petiscos (Portuguese snacks, similar to Spanish tapas) in the afternoon until the evening.
Those who feel like they deserve to treat themselves should check their in-house salon for some treatments, massages, and other beauty and wellness packages!
Check out guest reviews, prices, and availability at Santiago de Alfama – Boutique Hotel here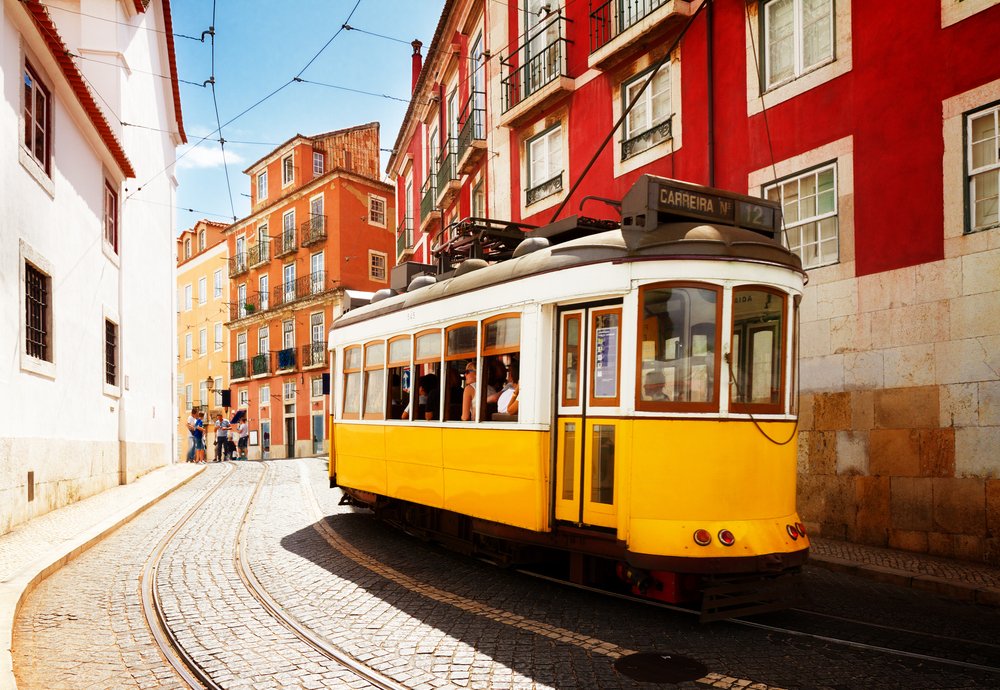 Príncipe Real: Chic & Shopping District in Lisbon
Príncipe Real is one of the more upscale and trendy neighborhoods in Lisbon, and it's priced to match with some of the more spendy accommodations in Lisbon to be found here.
However, for those seeking peace and quiet a little way from the center action where all the tourists are, yet not too far from Lisbon's best sights, it's worth it.
You can easily walk to Baixo or Bairro Alto, but you'll be well away from those crowds.
The neighborhood is centered around Jardim do Príncipe Real, a wonderful park for relaxing in Lisbon's seemingly perpetually beautiful weather.
It's also a fantastic area to indulge in some shopping. One of the main shopping streets, Rua da Escola Politècnica, is chock-full of hip boutiques and vintage shops.
And you can't miss the most famous shopping mecca in Príncipe Real, the Embaixada.
Originally, it was a palace (the Riverio da Cunha Palace, to be specific) and this 19th-century palace done in the neo-Moorish style has been beautifully brought back to life as a shopping gallery selling Portuguese wares.
But mostly, it's a place for peaceful local living, a central neighborhood in Lisbon that hasn't yet been taken over too much by mass tourism.
Budget: Flores Guest House
Flores Guest House is a wonderful property near the park!
I love how they mix and match boldly printed walls with horizontal lines and the rugged concrete-like wall panels to create a unique and interesting aesthetic.
The décor uses both modern and natural materials for their design. You will notice a lot of wood and fiber on the lampshades, chairs, and beds while the sofa and bed are mostly linen with neutral colors like gray, white and black.
They add pops of color on the throw pillows, otherwise skeeping things fresh and neutral.
You can choose from a single or double room with a view of the garden, an apartment with 1-bedroom (there are upper and ground floor choices), a penthouse with a balcony, a junior suite, and a 1-bedroom apartment with a mezzanine (this one is really homey!).
The breakfast basket is also something that you can look forward to every morning!
Check out guest reviews, prices, and availability at Flores Guest House here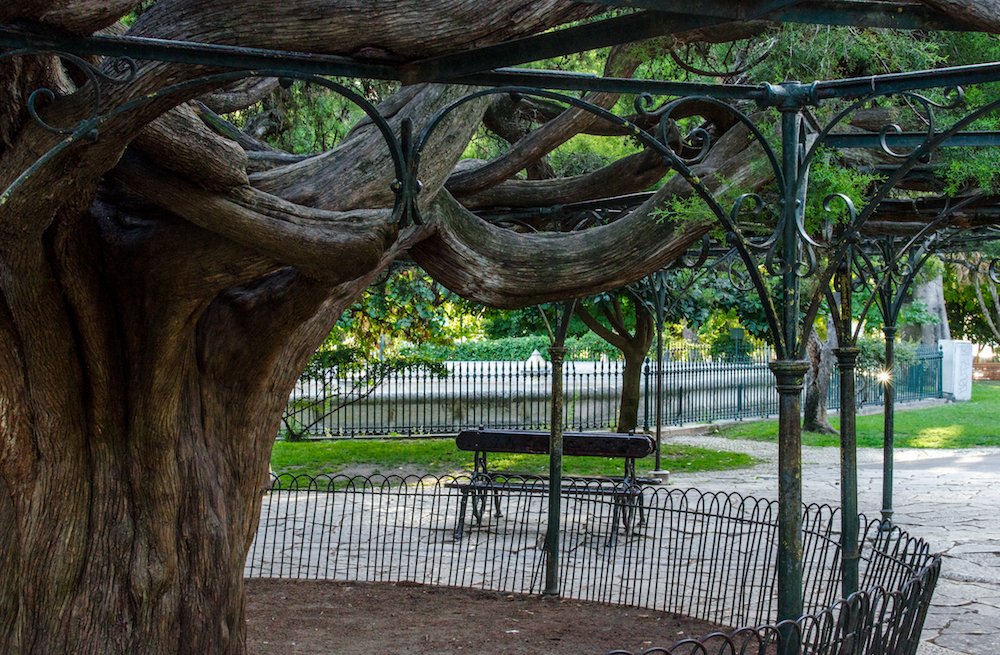 Mid-Range: 1869 Principe Real
The guesthouse has an exterior of gorgeous red tiles and bricks. It's a small and intimate guesthouse, with a total of just 9 rooms and suites.
All are fully equipped with an A/C, heating, safety deposit boxes, ensuite bathroom with free toiletries, and an electric kettle.
Note that only the executive suite has a balcony and only the double room has a terrace.
All rooms are spacious and have a seating area, fireplace, and comfortable beds plus a washer and dryer for your laundry.
Breakfast is included in your stay. You have to try their fresh bolos that you can partner with some deli meats, cheese, fruits, coffee, and tea.
Guests loved how it was located in a quiet area and how the owner can help you book last-minute reservations with nearby cafés, restaurants, and other arrangements!
Check out guest reviews, prices, and availability at 1869 Principe Real here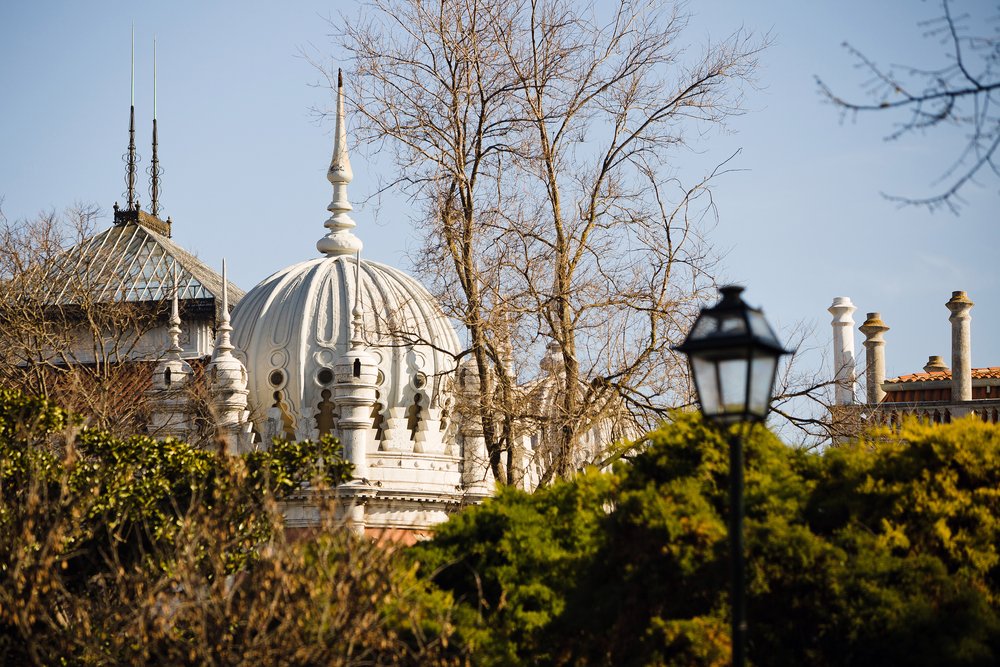 Luxury: Memmo Principe Real – Design Hotels
This is one of the 5-star hotels of the Memmo Group, famed for their aesthetics and design. It's located in the heart of Príncipe Real and is relatively small, with just 41 rooms.
It is believed that a member of Portuguese royalty once lived in the property before it was transformed into a luxury hotel!
The rooms have a very elegant contemporary style, sleek and modern. The private bathrooms also have Hermés shower gels, conditioner, lotion, and soap.
You will also see artworks by famed Portuguese artists in some areas as well as a portrait of Don Pedro V at the entrance.
Breakfast is not inclusive of your stay, but you can have it at a surcharge in their Café Príncipe Real, a restaurant that offers Portuguese cuisine.
Just right outside its balcony is an outdoor pool that looks beautiful, especially at night when its floor is lit and glittering in the night sky — plus a gorgeous view of the city that will mesmerize you!
There are also wicker chairs around the area where you can sit back and chill. From 1 pm until midnight you can check their rooftop bar for a nice view while drinking some of their craft cocktails.
Check out guest reviews, prices, and availability at Memmo Principe Real here
Mouraria: Lisbon's Lively Former Moorish Quarter
Bordering Alfama and Baixa, Mouraria is also known as the Moorish District, centered around the Martim Moniz and Intendente metros.
Frankly, I had heard some bad things about Mouraria on other blogs, but visiting there, I found the area to be safe, vibrant, and diverse in a way that is missing in a lot of Lisbon, which has gentrified rapidly.
Sure, it's "rough around the edges" in a way that Principe Real is not, but I loved it.
I loved that I could find Nepalese and Chinese food restaurants alongside Mozambican and Goan restaurants, all with a more local feel than most other Lisbon neighborhoods.
My husband also lived in Mouraria for his several years he spent living in Lisbon and never had any issues in the neighborhood, ever, so I feel comfortable recommending it to all.
Mouraria doesn't have so many attractions as other Lisbon neighborhoods, but its proximity to Lisbon, Baixa, and Chiado are all great selling points.
It's also home to some local gems like the delicious seafood restaurant Ramiro, which was featured on No Reservations (show up early or be disappointed!), as well as great shopping like at A Vida Portuguesa and Ó! Galeria.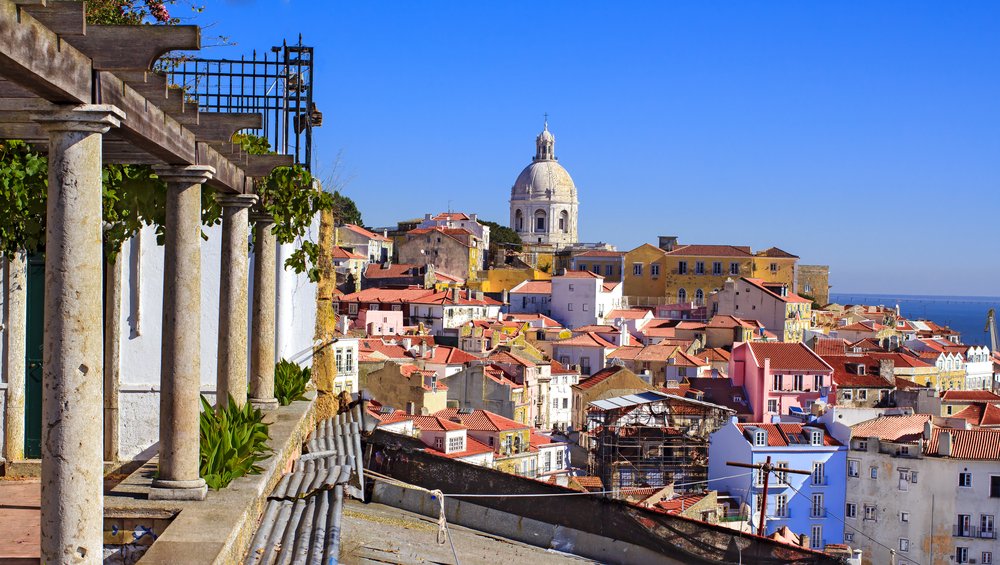 Budget: Hostel 15
This budget hostel in Mouraria has single, double and quad rooms to choose from — you can also request one with a balcony.
There is not much décor in the rooms, but it is a decent place to stay especially given how cheap it is!
All of their bathrooms are shared, but maintenance is frequent to keep shared areas fresh. Housekeeping also works daily to maintain the cleanliness of the property, one of the things that guests have loved.
Check out guest reviews, prices, and availability at Hostel 15 here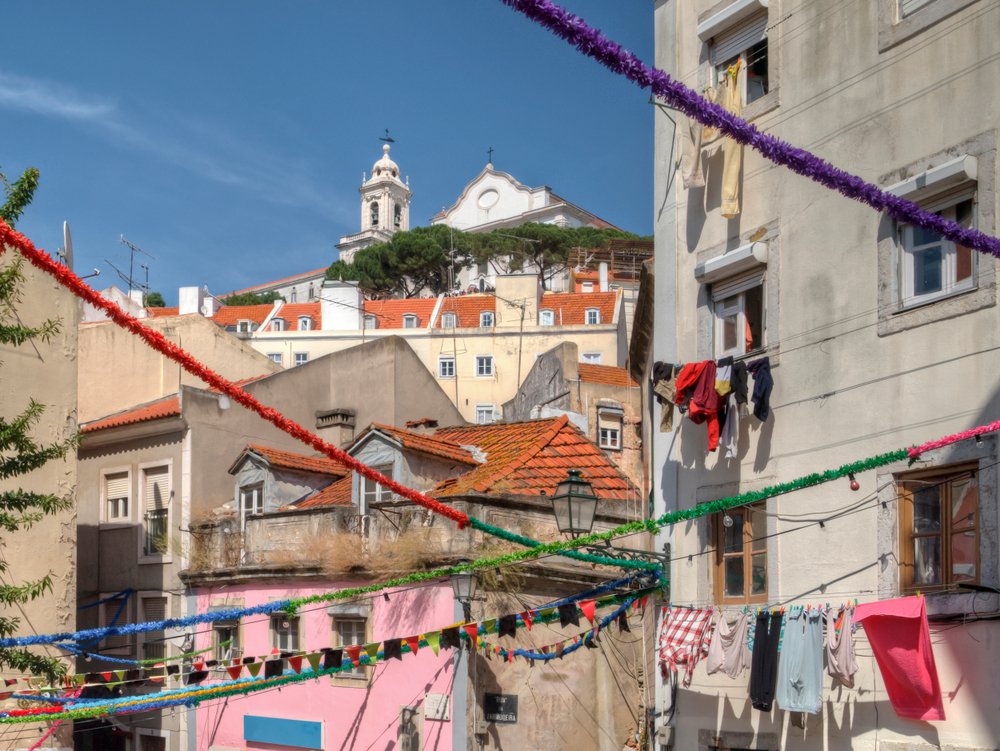 Mid-Range: OnJ S. Lazaro Lisboa
This is an apartment-style hotel that just started its operations in 2017. The property was also renovated to function as a hotel, but it originally traces back to 1830.
The rooms are simple and modern, using neutral and basic hues to create a soothing color palette, and choosing only hypoallergenic materials.
You can choose from a studio or an apartment with 1 or 2 bedrooms.
The private bathroom has a divided wet and dry area and they also have modern perks like of rain showerheads (my favorite!) and marble floors.
Some people love their rooms cleaned every day, but most travelers don't really stay that long in their room or create much of a mess.
For skipping the replacement of your towel and cleaning, you can get a €5 voucher which you can use at their café or bar — eco-friendly and economical.
If you want to tour around the area, there are bicycles available that you can rent on-site!
Check out guest reviews, prices, and availability at OnJ S. Lazaro Lisboa here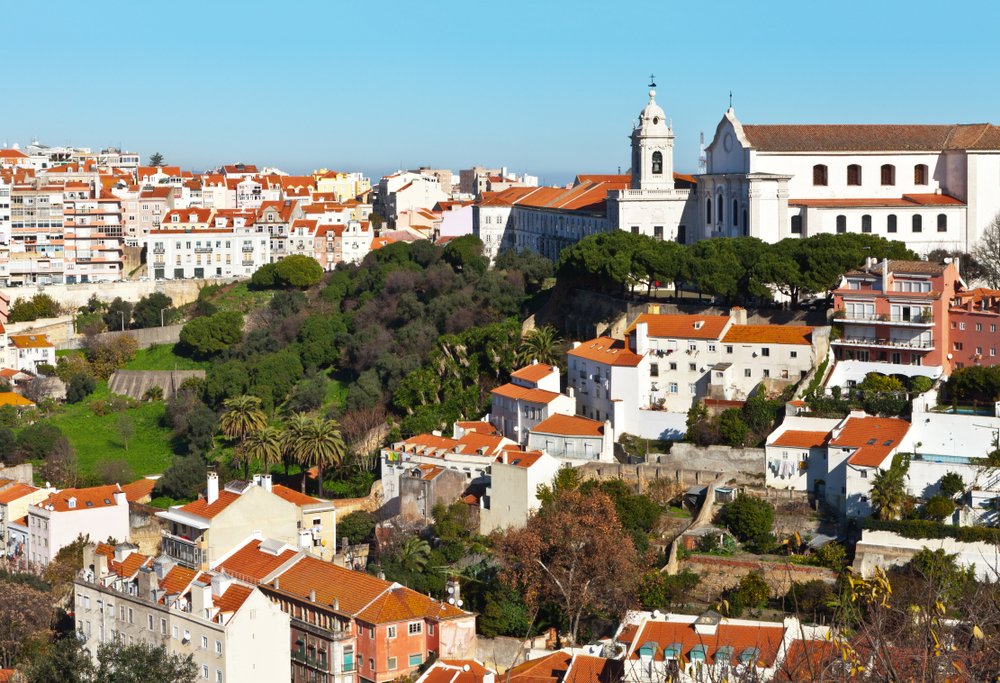 Luxury: 1908 Lisboa Hotel
This is a very gorgeous 4-star hotel (awarded with a Valmor Prize) with old-style Art Nouveau architecture from when it was built in 1908.
It was later on restored (and still is perfectly maintained) and operated as a luxury hotel.
The moment you arrive, you will be welcomed warmly and given a drink!
The property may seem a bit small from the outside, but inside it has big and spacious rooms.
Each room is super clean and all floors are carpeted, plus the beds are large with sturdy but comfortable mattresses.
Added features of their rooms include a balcony and an ensuite bathroom with a walk-in shower complete with Castelbel-branded toiletries.
You can also check their art galleries and dine or try the alcoholic drinks at their Infame Restaurant and Bar, which is loved by locals.
There's a funny bit of history behind the name of the restaurant: a King was once assassinated in the famous avenue, and this made the Queen shout the words "Infame!" which means infamous.
Check out guest reviews, prices, and availability at 1908 Lisboa Hotel here
Chiado: Lisbon's Chic, Chilled Out Neighborhood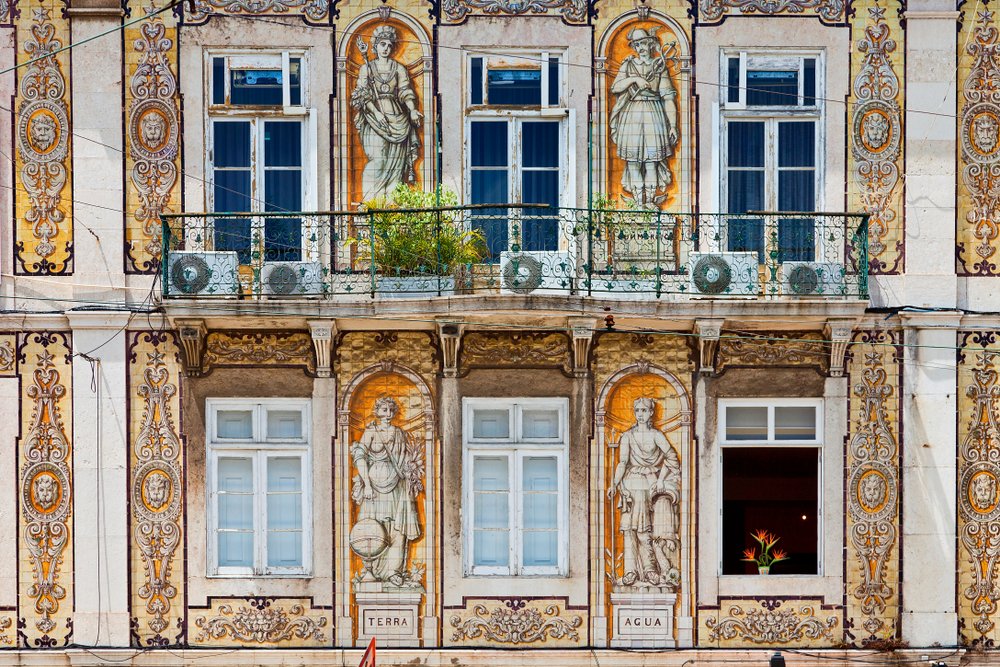 The neighborhood of Chiado has been called bohemian and been compared to the Montmartre district of Paris.
If you were to take the Santa Justa lift up from Baixo, it'd connect you to Chiado near one of it's main and most important sites, the gorgeous and impressive Convento de Carmo.
This old convent is now an archaeological museum after having been destroyed in the 1755 Lisbon earthquake.
Of course, the much faster and cheaper way is to simply walk up from Baixo!
Chiado is home to some wonderful quiet gems, such as the São Roque Church, several theaters such as São Luiz and São Carlos, as well as the Praça Luis de Camões.
It isn't the most jam-packed place when it comes to Lisbon attractions, but its proximity to Bairro Alto, Baixa, and Cais do Sodré make it a popular place for Lisboetas and tourists alike to hang out.
Budget: BoHo Guesthouse Rooms & Apartments
This is one of the best budget guesthouses and apartments in Chiado.
Most of the rooms have a communal bathroom, but you can choose a room that has a private external bathroom or a quad room that has an ensuite bathroom.
Every floor has a communal bathroom (3 for each floor) so you won't expect long waiting times.
The rooms are not decorated very uniquely, but you can tell that it is clean and organized. It also has features like hardwood floors, WiFi, heating, and TV.
Some rooms do have a balcony, so make sure to request one if you want some views from your room.
A shared kitchen is also available for you to prepare or cook some easy meals, and (bonus!) there's also a dishwasher to help you clean the dishes.
However, the rooms do not have an A/C (which would be a problem during the summer), though fans are provided for each room.
Guests reported that the staff were also very attentive when it comes to assisting their needs and were happy with their stay given the price.
Check out guest reviews, prices, and availability at BoHo Guesthouse Rooms & Apartments here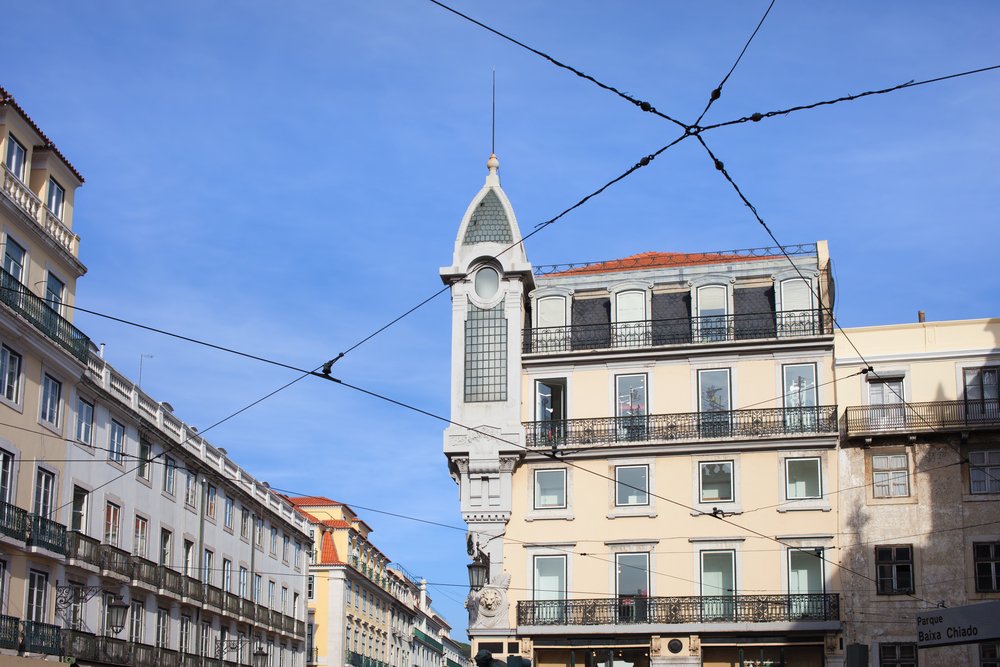 Mid-Range: My Story Hotel Rossio
My Story Hotel Rossio wants just that: to tell you a story in every area of the hotel!
It is a four-story building with 46 rooms, which originally dates back to the 18th century.
The hotel makes use of modern and very artistic décor – it is a play between modern and classic pieces, which works in perfect harmony.
They only have soundproofed double rooms, but there is one room where you can have a view of beautiful Rossio Square!
The private bathrooms also feature a hairdryer, a separate shower area, towels, and free Rituals shower gels and shampoos.
The restaurant, Café Portugal, is considered as one of the historic places in the area where you can best taste traditional Portuguese cuisine.
The original café had been closed down around the '70s, but people missed it enough that the property decided to reopen it in 1983 and named it after the original name of the café.
The restaurant also has a very romantic appeal, perfect for a date or special occasion. A must-try is their grilled octopus: tender, charred in all the right places, and so fresh!
Check out guest reviews, prices, and availability at My Story Hotel Rossio here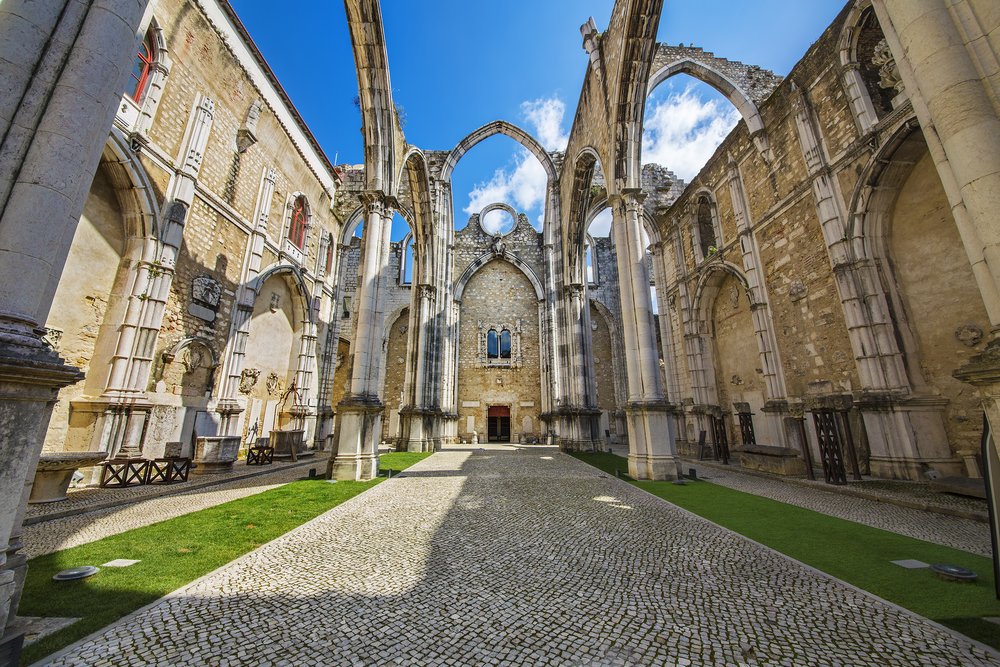 Luxury: Lisboa Pessoa Hotel
This 4-star hotel is on a steep hill and it has been constructed with careful thought, dedicated to the poetry and written works of Francisco Pessoa whom the hotel is named for.
There is even a room with a library dedicated to his masterpieces inside!
It has 75 elegantly styled rooms with carpeted floors and huge double beds with wooden headboards that have built-in dimly-lit lamps for reading or mood lighting.
The ensuite bathrooms feel super lavish because the floors and walls are all made of gray and white marble!
An alluring view of the city awaits you at their rooftop, where you'll find the bar and restaurant Mensagem.
The breakfast buffet option also has a good variety and you can choose from continental, vegetarian, or gluten-free!
Their luxury amenities include an indoor pool, heated pool, hammam, steam room, and a fitness center.
They also have a spa where you can get different kinds of therapeutic medical treatments, healing rituals, and massages for a totally relaxing break!
Check out guest reviews, prices, and availability at Lisboa Pessoa Hotel here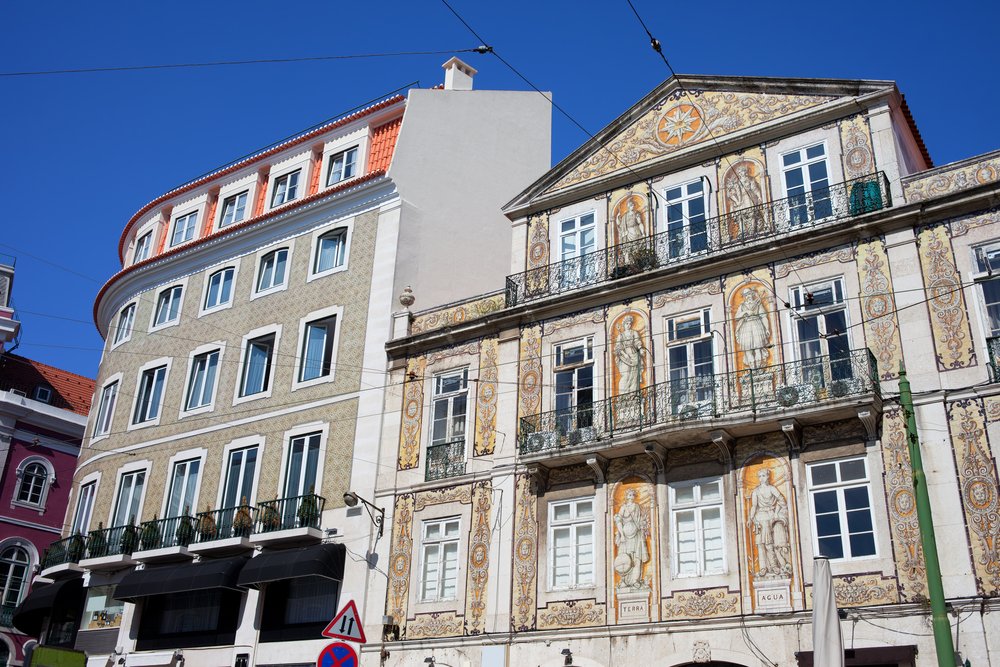 Cais do Sodré: Lisbon's Waterfront Neighrbood for Food & Fun
Named for its metro station, which is the terminal of the line, Cais do Sodré also has a train station which can take you to Belém or even to Lisbon's neighboring towns where you enjoy beautiful beaches such as Cascais.
There are also a lot of lovely waterfront areas to sit and chill or relax with a coffee or a drink, though these waterside cafés are often overpriced for the quality. But hey, it's all about that Tejo view!
Cais do Sodré is considered one of the better nightlife areas in Lisbon, especially around the so-called "Pink Street" which you undoubtedly have seen on Instagram!
Nowadays, Cais do Sodré is most famous for its Time Out Market, where you can have tastes of some of the most delicious Lisbon restaurants all under one roof.
It is always quite busy and packed in there, but that's what happens when you combine some of the best places in Lisbon all under one roof!
I strongly recommend grabbing a pastel de nata at Manteigeira – it's the best pastel de nata outside of Belém.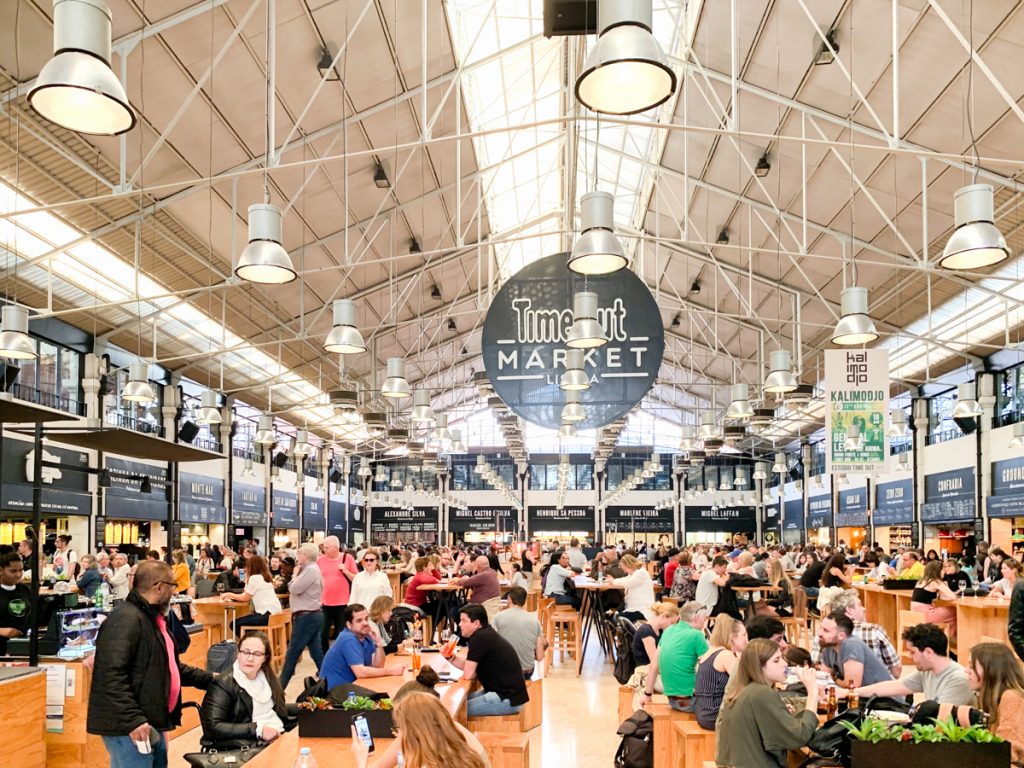 Budget: Lost Lisbon Cais House
This guesthouse is on the third floor of a historical building. The design would best be described as shabby chic, using furniture pieces that aren't uniform.
Mostly, they are old pieces refurbished to look beautifully new while keeping its original structure.
The doors of each room were intentionally made to look raw (no varnish and paint) and like it has stood the test of time.
The use of colors like turquoise blue, yellow, and royal blue perfectly matches the wooden floors and furniture (as well as the vintage décor).
Some of their walls also have an artsy vibe due to the murals, which are mostly modern and abstract paintings.
High ceilings are also seen in most of their common areas and rooms, which gives a sense of a much bigger space.
However, they do not have 24-hour front desk and there's no elevator in the property.
Another thing that guests loved most about the hotel is the boutique feeling despite the budget cost of the rooms which makes it a very good deal.
You really get a piece of the fragments lost from the modernization of Lisbon – which is what I think the name is trying to indicate!
Check out guest reviews, prices, and availability at Lost Lisbon :: Cais House here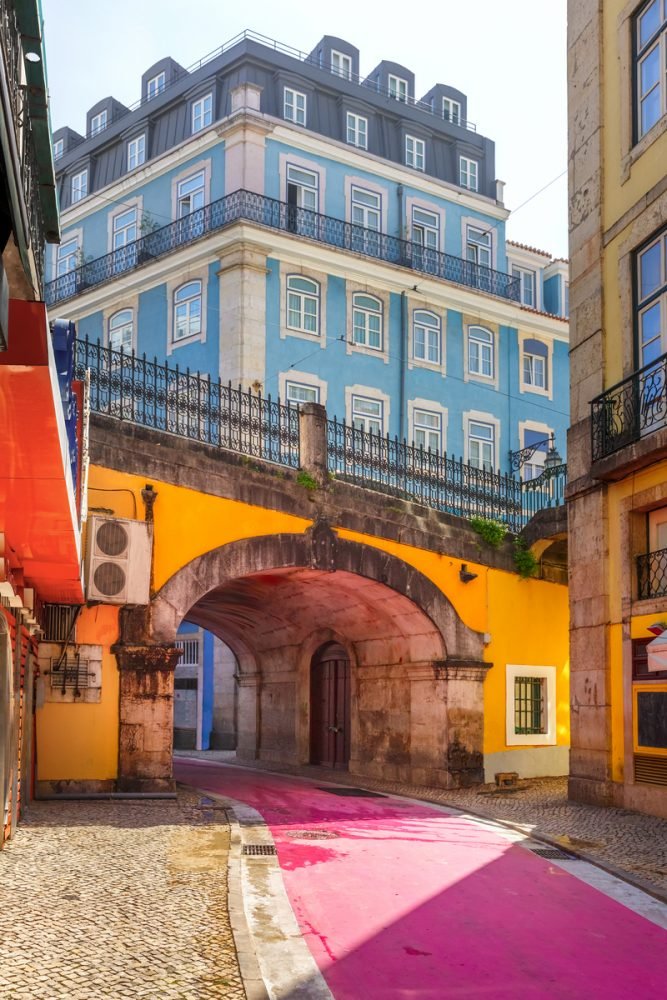 Mid-Range: Lx Boutique Hotel
This 4-star hotel overlooks the Rio Tejo and was formerly known as Hotel Bragança.
The lobby area is really charming, with vertical blue lines for the wallpapers and accented with some blue and white Portuguese Coimbra pottery.
At their 24-hour front desk, they do have some Portuguese tarts (pastel de nata) and drinks that you can sample for free!
Some walls of the rooms have luxury printed wallpapers with different patterns, images, and shapes. Floral prints are also seen in their sofa, pillows and chair covers.
What's good about their rooms is the variety of types to choose from to suit a variety of group sizes!
The in-house restaurant, Confraria Lx, offers a wide variety of dishes from salads to tapas – though the best time to eat here is during the afternoon when they provide complimentary sushi (ummm, reason alone to book!).
A bar and jazz club are also available at the hotel for people who want to mingle and have some drinks at night.
Note that sometimes the music from here can be a bit loud, so it would be advisable to choose a room on an upper level. Past guests have said that once you shut the windows and balcony doors, the rooms are soundproof.
Check out guest reviews, prices, and availability at Lx Boutique Hotel here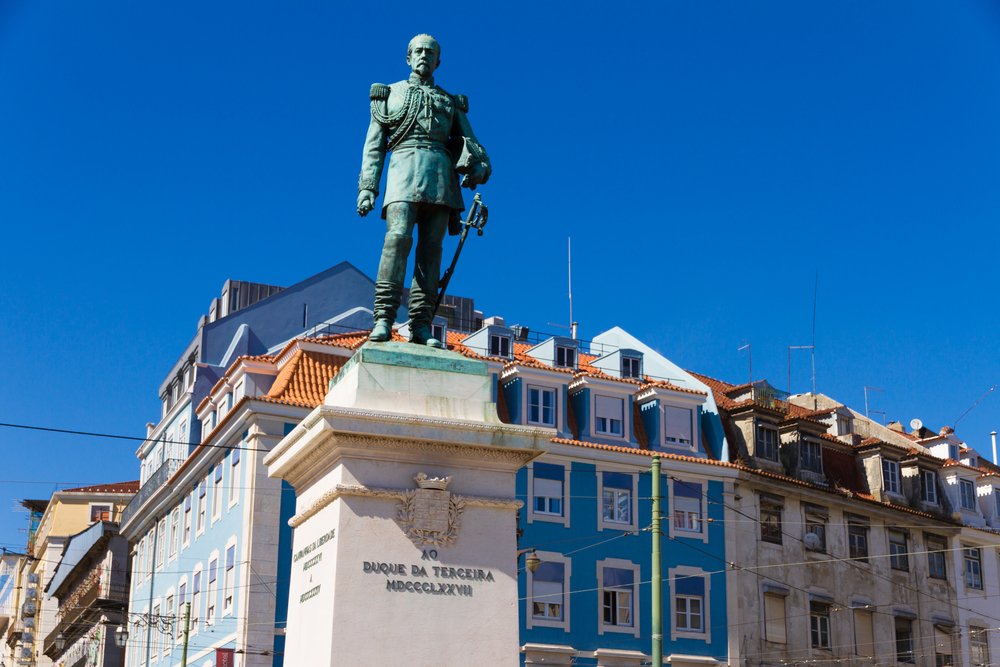 Luxury: Corpo Santo Lisbon Historical Hotel
This hotel has a total of 75 rooms with options from suite-type (8 rooms all in the topmost floors), double, and family.
The rooms are spacious and only make use of earth tones and wooden furniture to give a soft and soothing aesthetic.
The beds are sturdy with comfortable mattresses and extra-long beds — great for the taller travelers amongst us!
Their rooms all have an ensuite bathroom with Molton Brown London bath and body products plus chromotherapy if you're feeling extra fancy!
Coffee and tea making facilities are also available and some rooms even have Nespresso machines so you can make your own cup just how you like it.
There's also Porter's Restaurant, which has international cuisine and fusion dishes with a well-marked menu that caters to guests with food allergies and intolerances.
The hotel also offers wellness facilities like a fitness center, an indoor pool and a spa (packages are also offered).
It's a rather popular property, so book in advance — at the time of this writing, 44 guests had booked at this property within the last 24 hours!
Check out guest reviews, prices, and availability at Corpo Santo Lisbon Historical Hotel here
Allison Green is a former educator turned travel blogger. She holds a Masters in Teaching and a B.A. in English and Creative Writing. Her blog posts merge her educational background and her experience traveling to 60+ countries to encourage thoughtful travel experiences that both educate and entertain. She has been a speaker at the World Travel Writers Conference and her writing, photography, and podcasting work has appeared in National Geographic, CNN Arabic, CBC Canada, and Forbes, amongst others. Now based in the San Francisco Bay Area where she grew up, she has also lived in Prague, Sofia, and New York City.