Capri is a stunning, rocky island in the Bay of Naples surrounded by the sparkling blue waters of the Tyrrhenian Sea.
It sits just off the Sorrentine Peninsula, easily reached by ferry from both Sorrento and Naples.
Taking a day trip to Capri is the perfect idea if you're looking to soak in amazing views, discover unique sights, and maybe even do a bit of shopping along the way.
You can also indulge in the delicious local food or learn a little about the island's history.
In this article, I'm going to show you all the things you can do with just one day in Capri, so read on before you start planning!
How to Get to Capri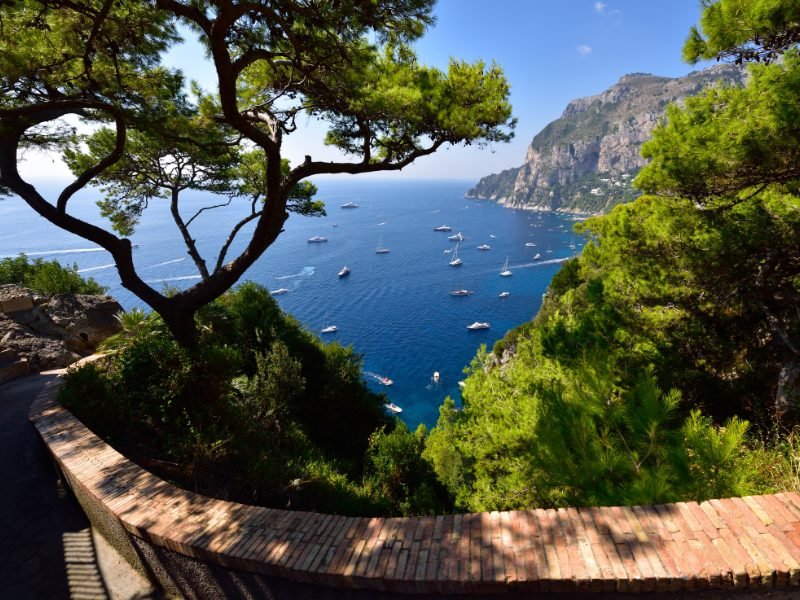 Note: This post contains affiliate links, which means I may receive a small commission if you purchase something through one of these links. Thank you for supporting the free content on this site! For more information on affiliate links and cookies, see my disclosure page for more details.
As mentioned above, you can reach Capri by ferry as well as by hydrofoil from different points on the mainland.
There are several daily boat connections from Naples and Sorrento departing all year round.
However, during summer, you can also get to Capri from the island of Ischia, the city of Salerno, and the Amalfi Coast (both from Positano and Amalfi).
The trip from Naples to Capri is about an hour dock to dock, while the boat from Sorrento will only take about 30 minutes.
All these options make this destination an easy day trip from any point on Campania's coast!
When to Visit Capri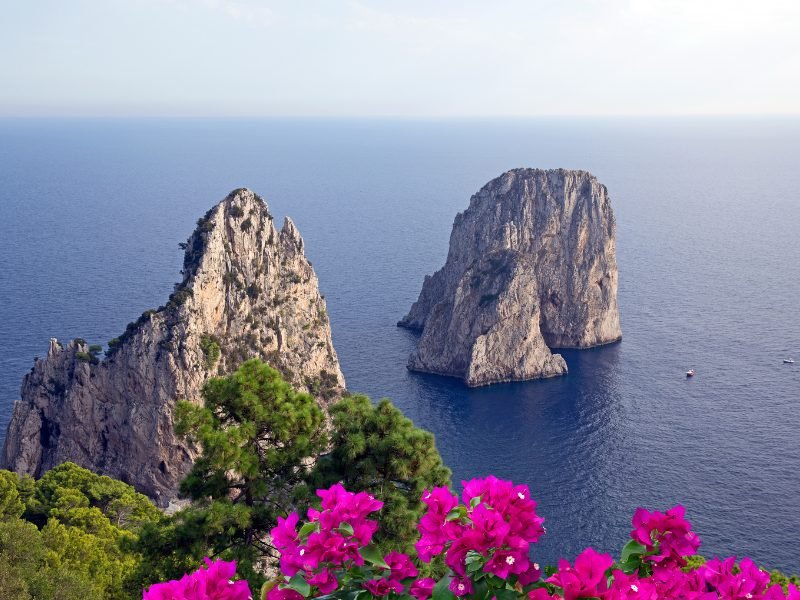 Capri is a typical Mediterranean island, enjoying mild but wet winters and hot, long summers.
If you're traveling the area in winter, try to pad your itinerary with a few extra days in case of any travel disruptions.
If the weather is rainy or stormy, boats arriving or departing the island might get stuck in the port and schedules might get delayed. Keep this in mind to avoid disappointment!
Visiting in summer generally means better weather conditions overall. That said, it might feel too hot if you're coming from a cold destination and are not used to the scorching temperatures during summer in southern Europe!
Also, don't forget that the summer crowds can be crazy, especially from July to August!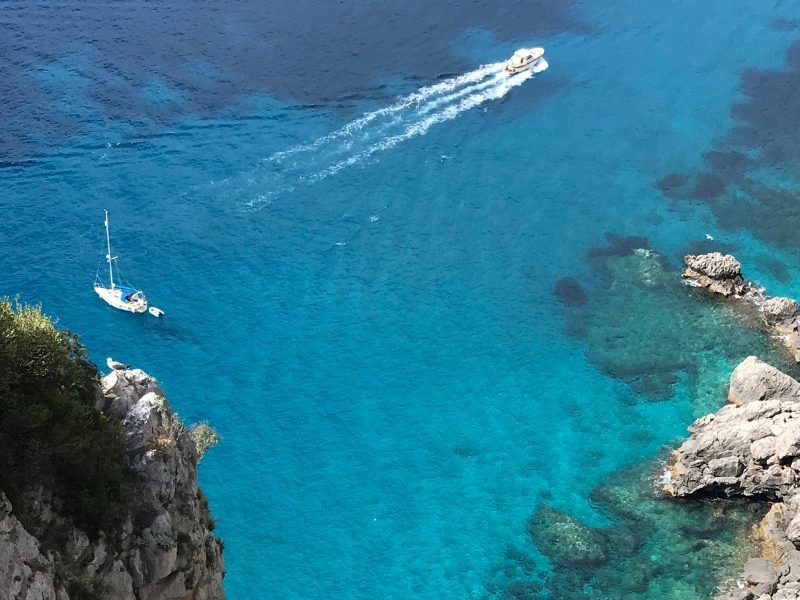 Whenever traveling to Capri — and to Italy in general — mild temperatures are usually preferable if you're planning to do a lot of exploring.
Spring and even fall are the best seasons to tour Italy, especially when visiting the south of the country.
Temperatures will be pleasant enough to move around in, but not extreme (i.e.: cool enough for layers and warm enough for gelato!).
You will find better prices on accommodations and tours and will also be able to beat the crowds — or at least, the very peak of the crowds.
Remember, most Europeans take their holidays in August, so this is the month to avoid if you hate crowded attractions and transport.
Should I Do More than a Day Trip in Capri?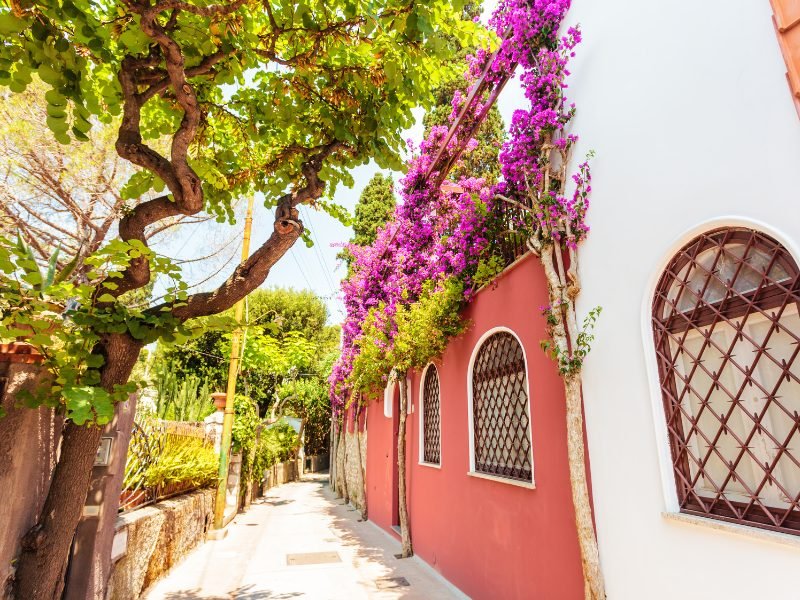 Although Capri is a perfect destination for a day trip from Naples, spending the night is not a bad idea if you know you'll want to really take your time and not rush to see it all.
Or maybe you'll find that you just like the island so much that one day in Capri doesn't feel like enough!
If that's the case and you want to spend the night on the island, I recommend you check out these accommodations.
Note: As always with islands, take into account that accommodation options are limited, so book your room as soon as you make up your mind about staying overnight vs. doing a day trip to Capri.
Budget
The lovely CapriOnda is a small, affordable bed and breakfast located about 20 minutes from the beach. It offers pretty sea views and rooms are set up with all the basic amenities you need for a brief stay including a fridge, a minibar, and a coffee machine.
In the morning, you can choose between an Italian and gluten-free breakfast included in your stay.
>> Check prices, availability, and reviews here!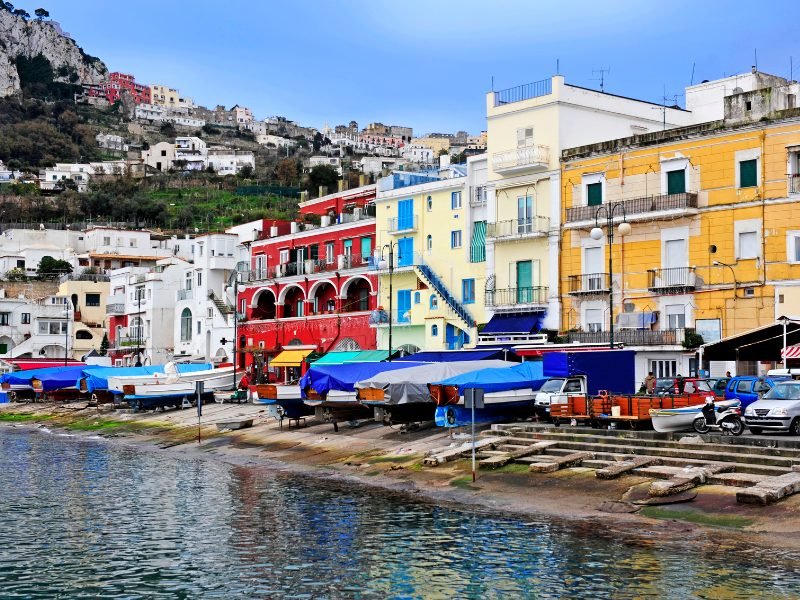 Mid-range
The 4-star Regina Cristina offers great accommodation only a few steps from the beach and about 5 minutes from the main town center.
At the property, the renovated rooms feature a tasteful Neoclassic aesthetic and are decorated with local crafts and ceramics. Some rooms offer a balcony and a spa bath if you really want to feel fancy!
>> Check prices, availability, and reviews here!
Luxury
If you want to be close to it all, Malafemmena Guest House is an amazing and luxurious choice.
It is located close to the best beaches as well as the center of Capri and it provides guests with beautiful allergen-free rooms equipped with a desk, a fridge and kettle, and a balcony.
The property serves a traditional Italian breakfast every morning.
>> Check prices, availability, and reviews here!
Best Things to Do in Capri in One Day: Capri Itinerary & Travel Guide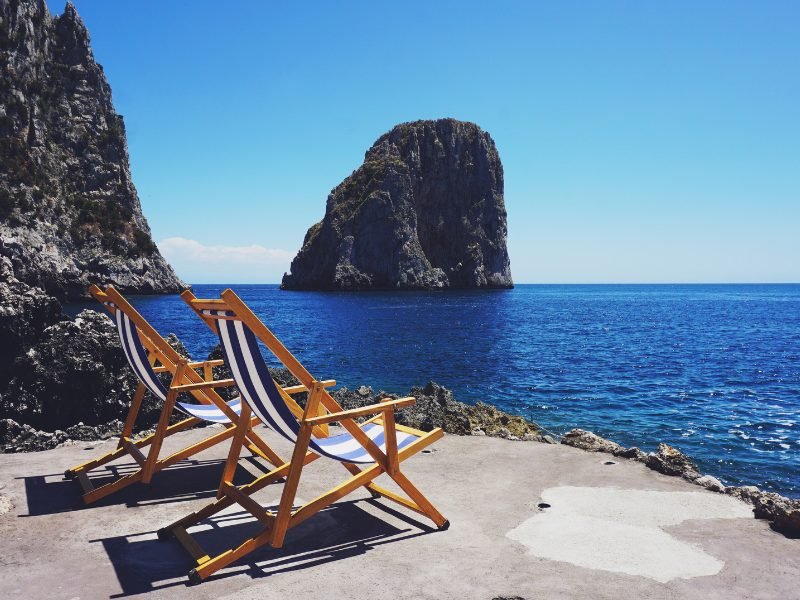 Although Capri is not such a big island, there is a lot to see and do, especially if you visit only for a Capri day trip.
Staying organized, keeping a good rhythm, and making sure you have pre-booked tickets or organized tours to beat the long lines are key to making the most of your visit.
I'll note where you can book things in advance to save you time and hassle on your day trip to Capri.
Do a boat tour of the Blue Grotto.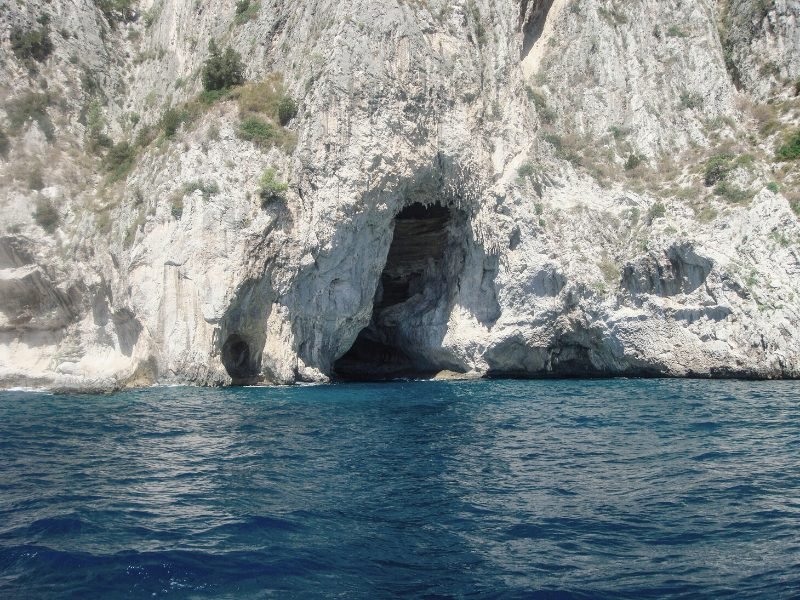 Start your day trip visiting the most popular spot in Capri, the Blue Grotto.
You can beat the crowds by venturing to the grotto early in the day. It will get quite packed, as this spot is probably the number one reason why people visit Capri!
Known in Italian as the Grotta Azzurra, the Blue Grotto is a beautiful sea cave where just enough sunlight creeps in to scatter over the sea's surface, casting impressive turquoise reflections that illuminate the cavern.
Don't forget your camera!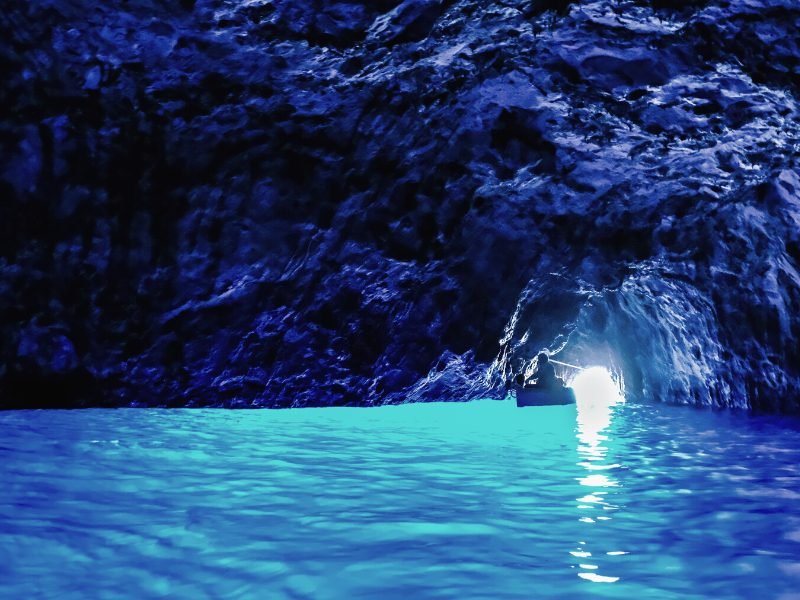 There are several different tour companies offering boat trips that visit the Blue Grotto.
Prices range from €20 to €30 for the trip and there is always an extra cost (around €15) if you want to actually get out of the boat and visit the grotto. The boat tour lasts about 2 hours.
Alternately, you can do this tour independently by renting a boat just for you and your travel party.
Prices can be higher but you will have the boat all to yourself and you can request a longer or shorter stop in the cave.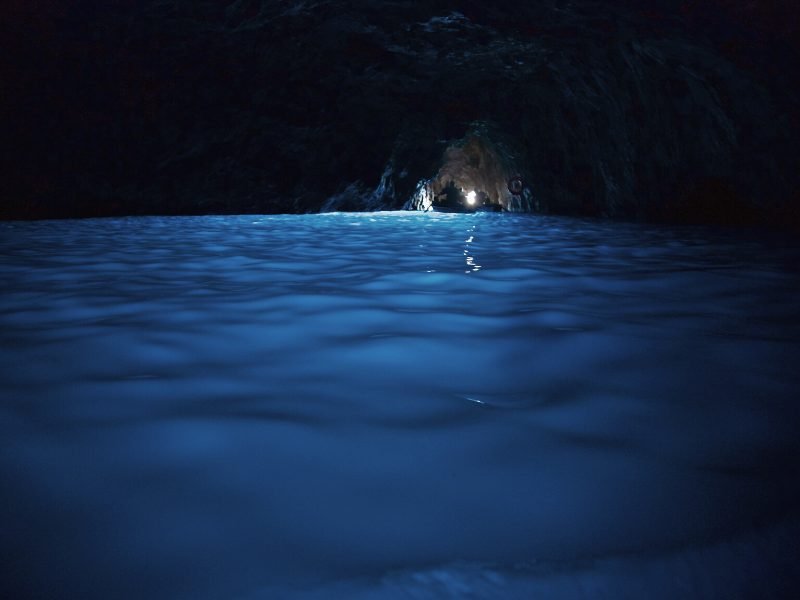 Check out these organized tours:
This affordable option from Get Your Guide offers different stops along the way. After setting sail from Marina Grande you will enjoy a relaxing cruise around the rugged coast of Capri, passing the historic lighthouse and the legendary Baths of Tiberius. The ride includes sights of the White Grotto and Green Grotto, the sea stacks of the Faraglioni, and finally the famous Blue Grotto where you will have the chance to enter and be amazed by the intense blue of the water.
As an alternative, you can decide to do the whole day trip to Capri by joining a tour that would also take care of transportation to and from Sorrento. This full-day tour includes all ferry tickets and a local guide. It features a boat ride to the Blue Grotto, a visit to Anacapri, a visit to a local restaurant for lunch, and free time to shop and wander the island. The same tour also goes to and from Naples as well.

Book your full day tour of Capri from either Sorrento or Naples here!
Head to the town of Anacapri and Mount Solaro.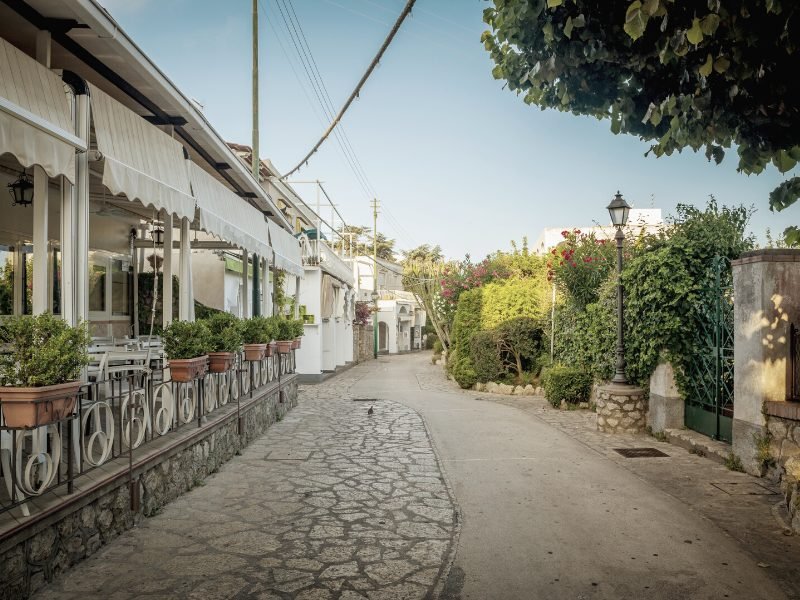 After visiting the Blue Grotto, you can make your way to Anacapri directly, without first going back to Marina Grande.
Since you only have a day on Capri, you'll want to make the absolute most of every moment and avoid unnecessary backtracking.
Not everyone knows that there are stairs that go up the cliffside just next to the Blue Grotto cave.
Ask your skipper to drop you there so that you can climb up and immediately get on the bus that goes to Anacapri.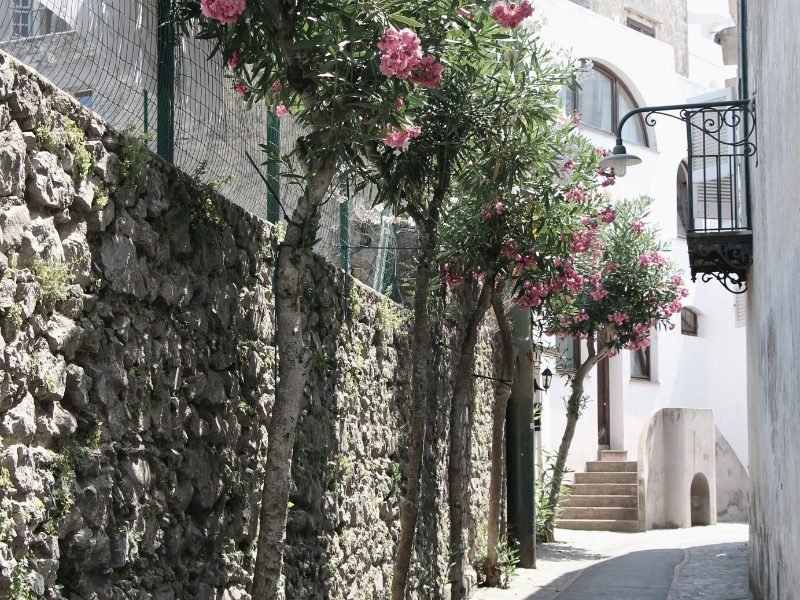 You've just avoided the long lines back at the port!
At the last bus stop, the scenic vistas and wandering footpaths of Anacapri await, with its white-washed buildings and colorful flowers spilling out in bloom.
Consider hopping on the chairlift (€12 roundtrip) that takes you up to Monte Solaro. At over 500 meters, this is the highest point on the island and the views are simply jaw-dropping.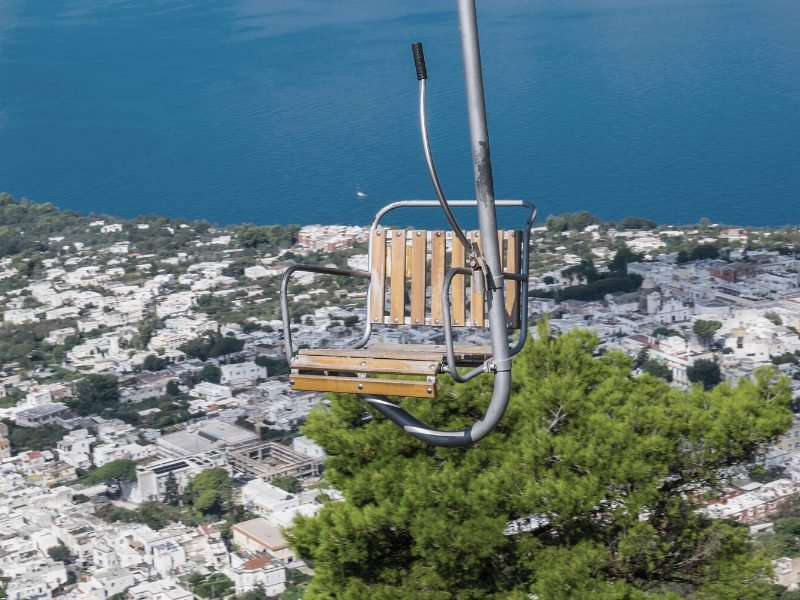 The small village of Anacapri, perched on the top of the island, is probably the most authentic place on Capri.
Far from the glam boutiques and the crowds in the center, here you will breathe the true spirit of those little Italian villages where time stands a little stiller.
Speaking of time, hopefully you've carved out enough for a meal at a traditional trattoria here. But if not, there are lots of options for a quick snack back in the city center.
While strolling the alleyways of Anacapri, try not to miss the church on Saint Nicholas Square! It's famous for its stunning maiolica floor and beautiful interior.
Also consider devoting some time to Villa San Michele, a wonderful house-museum featuring amazing sculptures, gorgeous sea views, and some fantastic gardens.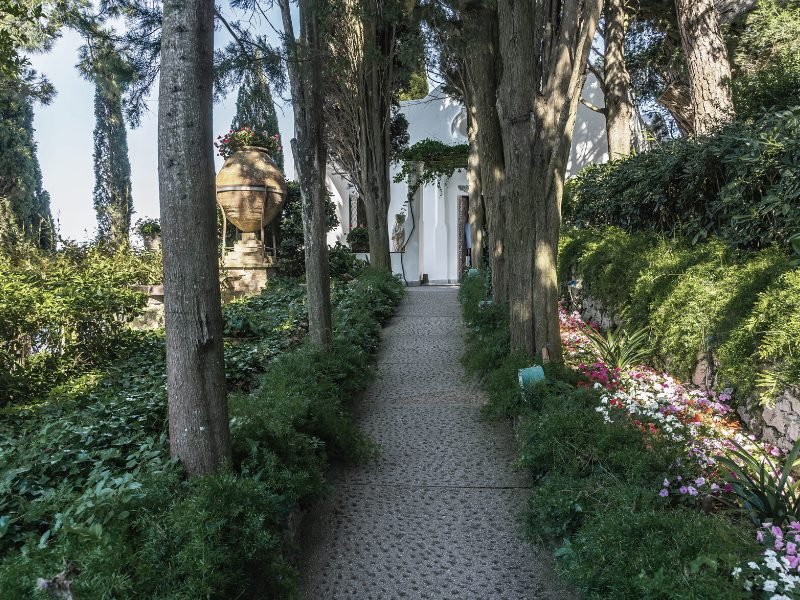 The villa is located northwest of Anacapri. It was built over the remains of an ancient Imperial Roman villa and a Medieval chapel dedicated to Saint Michael.
At this point in your exploring, you might be ready to take the bus back to the center of Capri for lunch and some souvenir shopping.
Or you could pick one of the many beaches on the island for a quick swim and some lazy lounging by the sparkling sea. It's up to you!
Go to Capri town to see La Piazzetta and the Gardens of Augustus.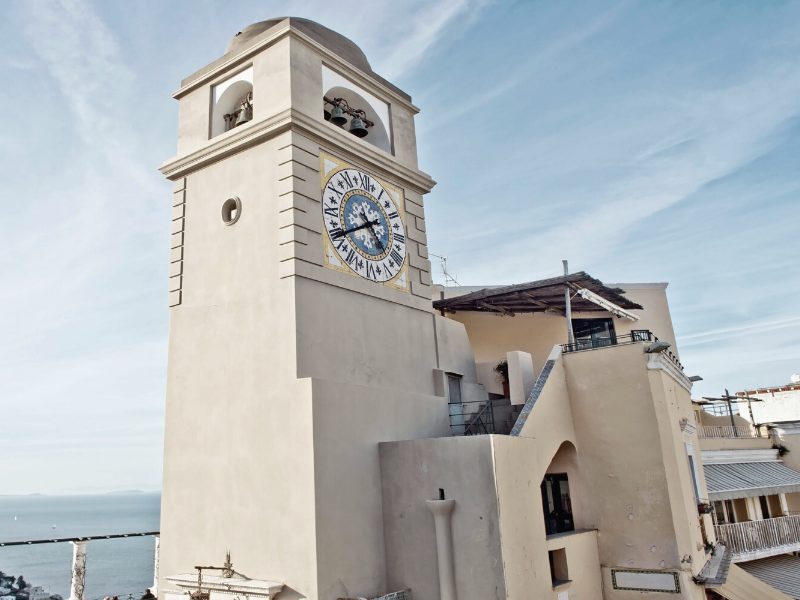 The main place you have to visit in Capri town is known as La Piazzetta, which translates as small square.
It's centered around the famous Torre dell'Orologi, the Clock Tower of Capri, which has a beautiful tilework clock face.
This is a popular gathering place for locals where you can spend some time people-watching and/or sampling a delicious cone of authentic Neapolitan gelato. (We suggest and.)
If, instead, you'd like a more substantial – yet quick – bite (we still have plenty to see during our day in Capri!), then a slice of pizza might be calling your name.
Tip: if you're short of time, pizza al trancio will save your day in Capri, Naples, or honestly anywhere in Italy. This is a popular lunch that lets you grab one or two slices of pizza (each with different toppings) and eat them on-the-go instead of sitting at a restaurant and spending over an hour for a meal.
If shopping is your thing, check out luxurious shops and design boutiques along Via Camerelle and Via Le Botteghe.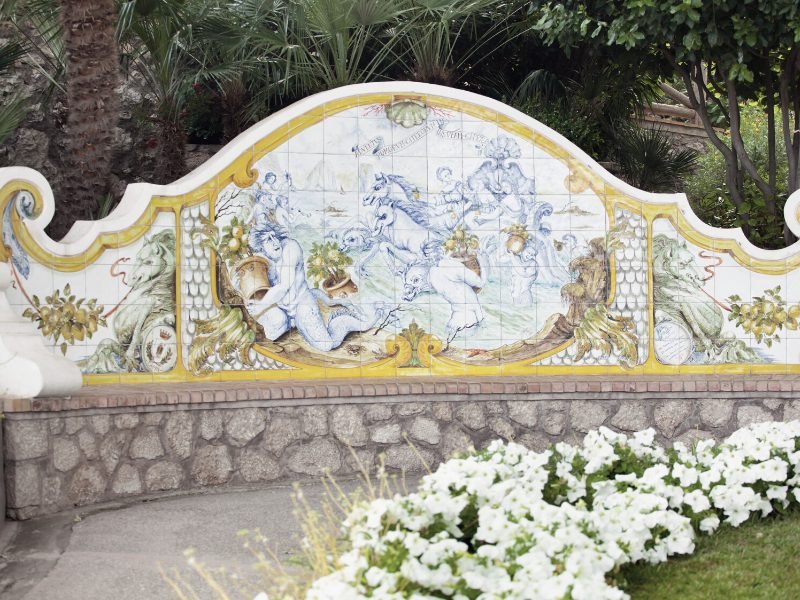 After a short walk along the alleys of the town center, walk down Via Vittorio Emanuele until you reach the Garden of Augustus from where the views of Marina Piccola are simply dreamy!
The gardens feature a series of panoramic flower-decked terraces overlooking the bay and, off the coast you can see the famous Faraglioni, the impressive rock formations emerging from the sea.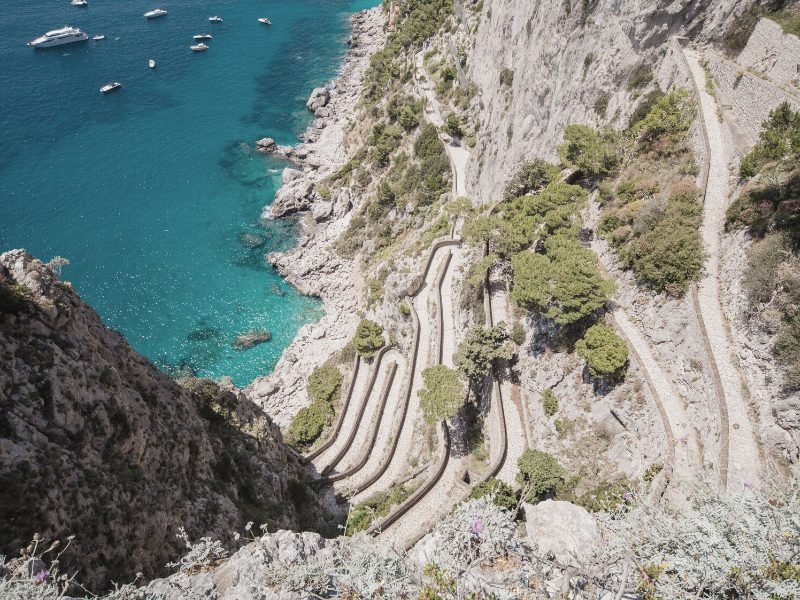 Via Krupp is another stunning sight that you shouldn't miss. It is a mountain pathway linking Marina Piccola and the Gardens of Augustus.
The path features a 100-meter drop cut and a series of hairpin turns, quite impressive to see from above.
The path is closed to the public so the only way to admire it is from the Gardens of Augustus.
Say goodbye to Capri and head back to the port.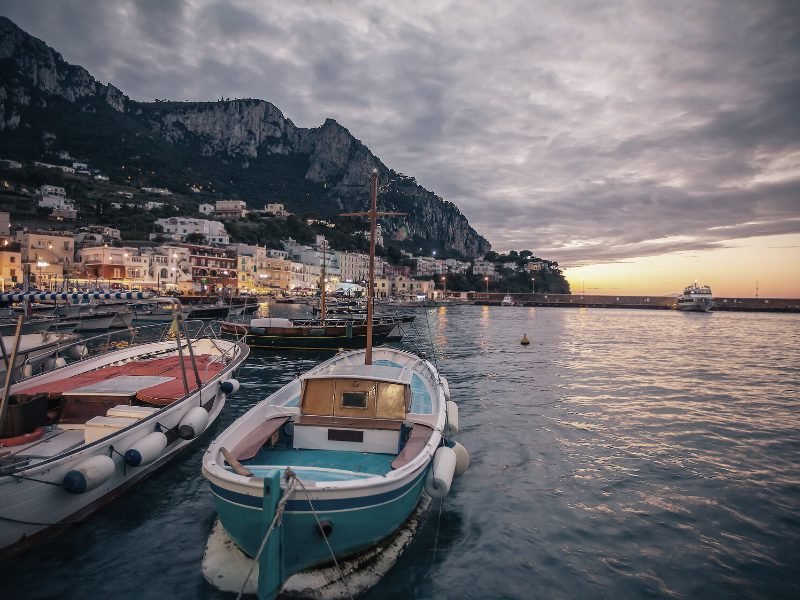 This will be the least favorite part of your trip because it means your stay on this romantic island is almost over!
But all good things must come to an end, so at some point you will need to go back to the port to board the ferry.
To save time (and stairs), you can take the funicular down from the Piazzetta. Keep in mind that lines tend to be quite long during summer, so it is always better to buy a round trip ticket when you set out in the morning.
This will save you tons of time and give you a few extra moments to actually enjoy the island or hang out a little longer in the Piazzetta relaxing with an aperitivo.
If You Have More Time on Your Day in Capri…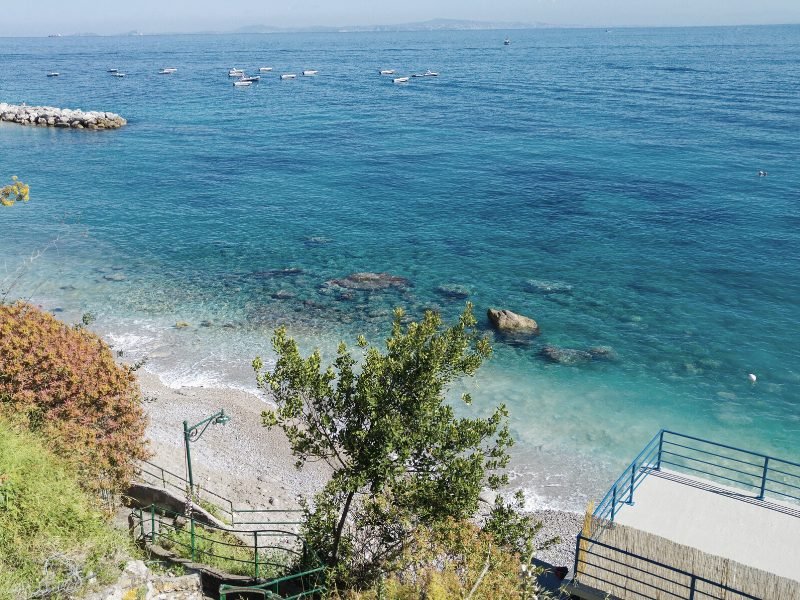 If gardens and shopping are not your cup of tea, or if you've perfected speed walking to the point that you still have free time before your ferry takes you back to the mainland, spending time by the sea will be the cherry on top of your day-in-Capri cake!
The island has several pebble beaches with crystal clear Mediterranean waters to choose from.
Depending on where in town you are and how much time left you still have, you can simply check out Marina Grande, which is very accessible from the center.
If you have more time available, you can visit Marina Piccola, much more picturesque and traditional.
What to Eat in Capri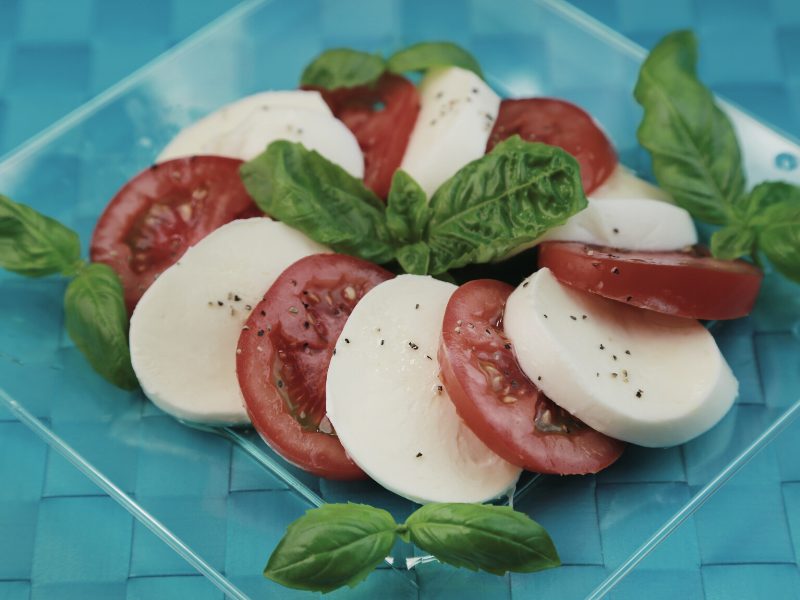 We intentionally did not devote a lot of time discussing food in this Capri itinerary because there are already a lot of activities to try to pack into just one day in Capri.
However, you are in Italy… and if you're a fan of Italian cuisine and prefer to discover local flavors instead of doing tons of walking, then keep these tips in mind!
First, Caprese food is what you should be on the lookout for. Everything Caprese will be fresh!
Looking for rich fresh mozzarella and delicious tomatoes? Then go for the well-known Caprese salad, named for the very island you're visiting!
The local food culture also includes fresh seafood (do try the mussels), Neopolitan-style pizza, and Caprese cake, which is a tasty sweet made of almonds and chocolate.
Ending any meal with a small shot of sweet Sorrentine limoncello or an espresso is also part of the Caprese tradition at the table!
Making Up Your Mind: Capri, Ischia, or Procida?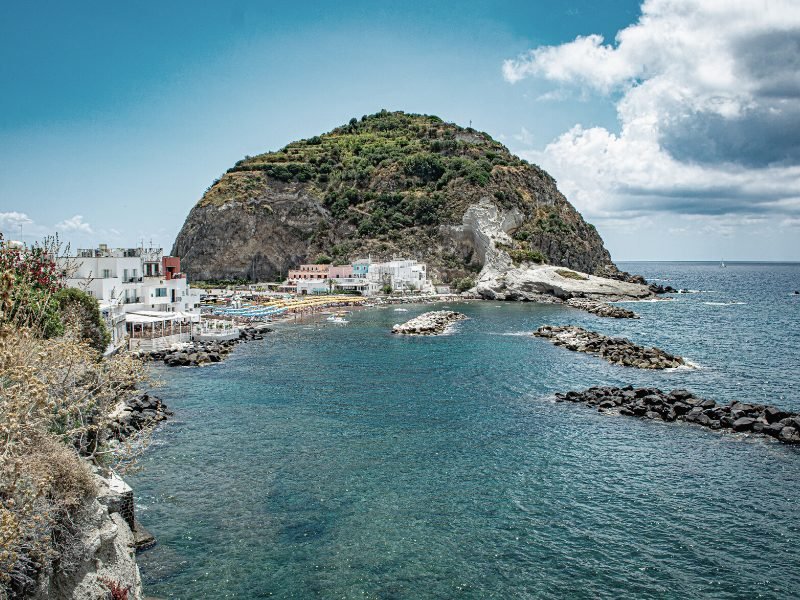 Some travelers are lucky enough to find themselves in this pocket of Italy with a lot to see and a lot of available time.
If that's not your case, and you're not sure whether you should spend a day in Capri or on another island in the Bay of Naples, then these next paragraphs are for you.
You see, Capri is not the only island you can visit in the Campania region.
Ischia and Procida are two — less glamorous but not less amazing — islands ripe for your discovery in the area.
If you're having a hard time choosing between these three very different gems, keep these details in mind.
Procida is the smallest island, and you can see it in just three to four hours (it's about 1.5 square miles).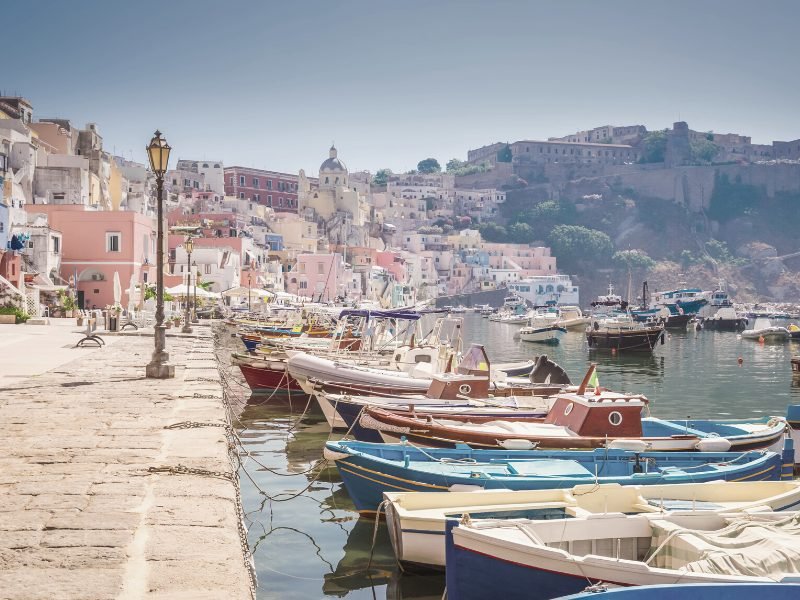 Capri is about 4 square miles, while Ischia is much bigger (approximately 18 square miles). This means that you might need at least two to three days to make the most of it.
When it comes to the atmosphere of each of these islands, Procida is a very relaxed destination, far from the fancy brands of Capri town, and closer to that romantic Italy from the movies, like you're back in the 1950s.
Ischia is an island for everyone, family-friendly with several towns to visit and a variety of shops, hotels, and restaurants.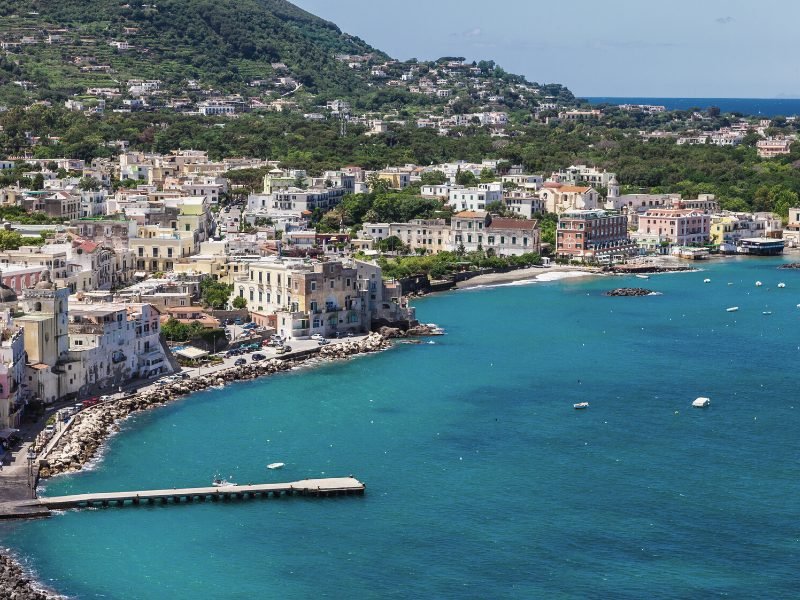 Finally, as described above, Capri has a more cosmopolitan vibe, with plenty of high-end shopping, and is often visited by local and international celebrities.
As a consequence, when it comes to prices, Capri is the most expensive. Ischia offers activities for all budgets while Procida, a bit off the beaten path, is generally the most budget-friendly.
Gabi is a full-time travel blogger, tour guide, and freelance writer currently living in Crete, Greece. Born in Argentina, Gabi spent a decade of her life living in Milan and traveling around Italy. She is one of two featured Italy experts on Eternal Arrival. She shares her knowledge of Crete and Greece on her blog, The Tiny Book, where she has also published several digital travel guides. She has 25 years of experience in writing and translation. She holds a BA in Languages and Translation, an MA in Translation for Tourism and a degree in Copyediting.