One of the most magical destinations in Italy, Venice is a unique city surrounded by turquoise canals leading out to the Adriatic Sea, located in the northwestern area of the country.
The city, romantic and full of history, offers incredible things to do either for a short stay or a multi-day holiday!
If you're visiting Italy, discovering its culturally rich cities and beautiful landscapes, then take some time to visit Venice — you won't regret a minute of it!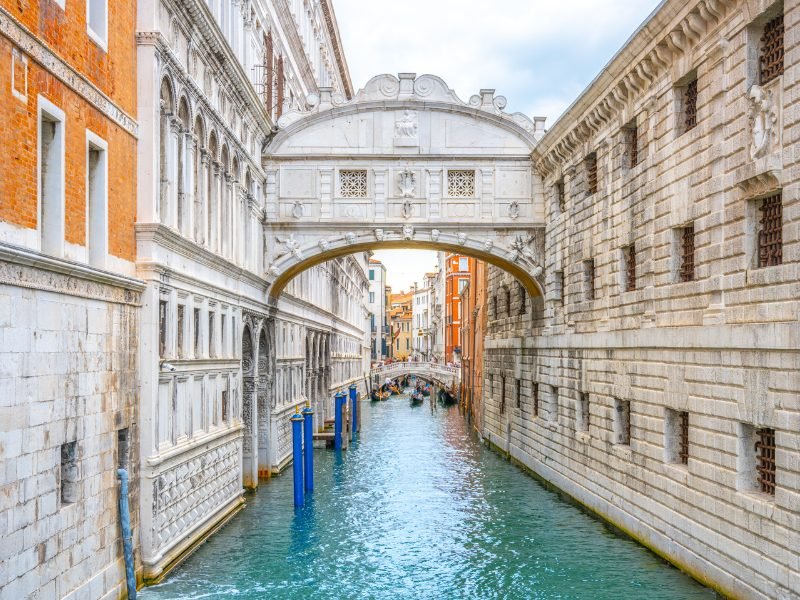 Note: This post contains affiliate links, which means I may receive a small commission if you purchase something through one of these links. Thank you for supporting the free content on this site! For more information on affiliate links and cookies, see my disclosure page for more details.
Plus, Venice is the place where culture and natural beauty merge best, so really you're getting the best of Italy when you visit Venice.
If you're still not sure what to do for your first time in Venice, then follow this 3-day Venice itinerary — it'll help you to make the most of Venice without missing any iconic spot in town, while also covering a few hidden gems.
This post was written by Gabi Ancarola, who lived in Italy for 10 years traveling around the country. She now lives and works in Crete as a tour guide and travel blogger.
What to Know Before Visiting Venice
History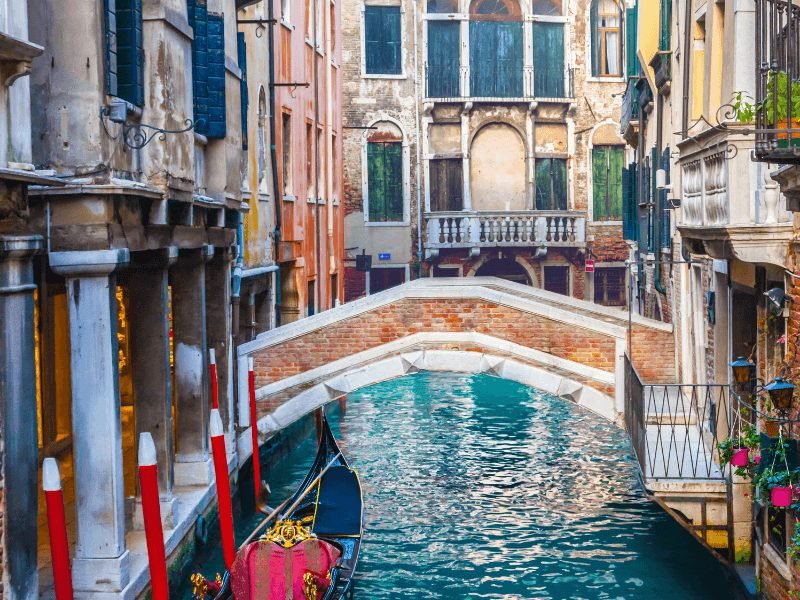 Located facing the Adriatic Sea, Venice is an important city, major seaport, and capital of the Veneto region, one of the richest industrial regions in the country.
In the past, Venice dominated the commercial routes of the Mediterranean as the most important Maritime Republic and trade center during the fifteenth and sixteenth centuries.
The then-Republic of Venice, or also La Serenissima, ruled over different regions in Europe such as Croatia, Slovenia, Montenegro, Albania, Cyprus, and much of Greece's territories, including several important Greek islands.
The opulence and wealth of the Republic of Venice are still visible in the castles and buildings scattered around each and every one of those countries!
The city-state was a wealthy settlement — we're talking lavish palaces, impressive churches, and unique buildings, many of which are still standing and can be visited today.
Most of these palaces clearly depict the incredible wealth that made Venice a powerful trade center in the past, with sumptuous interiors, marble facades, and amazing frescoes.
Its unique beauty gained the Venice names such as the Queen of the Adriatic and City of Bridges, due to the countless stone bridges that cross the hundreds of water canals that surround the town.
In fact, the "floating city" we think of as Venice stands upon a portion of the mainland of Italy as well as more than a hundred small islets divided by channels, linked by a myriad of beautiful bridges — 300 of them, in fact!
This is all separated by a barrier island referred to as the Lido di Venezia, which separates the Venetian Lagoon from the Adriatic Sea on the other side.
Flying into Venice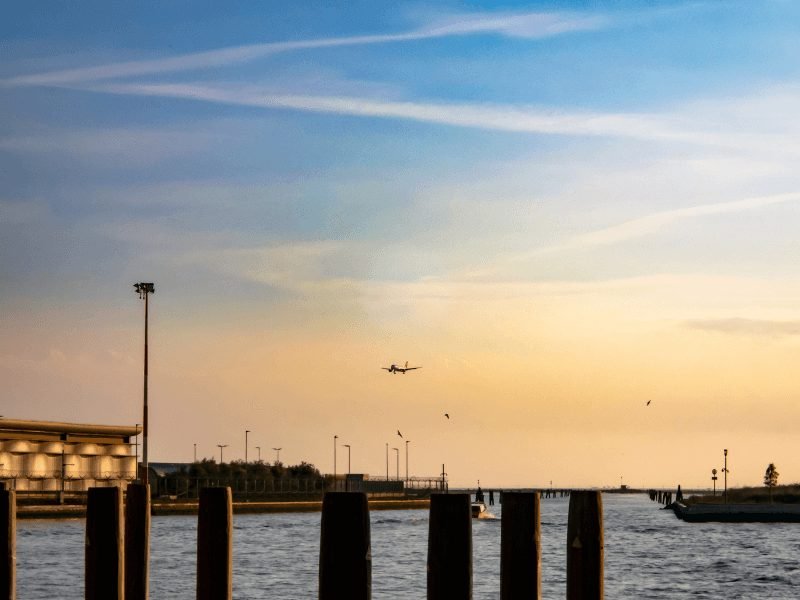 The city is home to Venice's international airport, Venice Marco Polo Airport, a hub that receives flights from the rest of the country, as well as from several European capitals.
Those who want to reach Venice from outside the European Union can fly to Rome or Milan and then board a domestic flight.
If you're traveling from the US, you can even find direct connections from JFK (in New York), although these are seasonal flights only in the spring and summer.
The airport is located on the mainland, and most people prefer to stay on the island part of Venice, so you'll have to arrange for transit from the airport.
When arriving at Marco Polo airport, it is easiest to get to the center of Venice via water taxi transfer. Not only is it easy, it's one of the most beautiful and magical ways to arrive in Venice!
Prebook your water taxi transfer here for a stress-free arrival in Venice!
Traveling to Venice by Train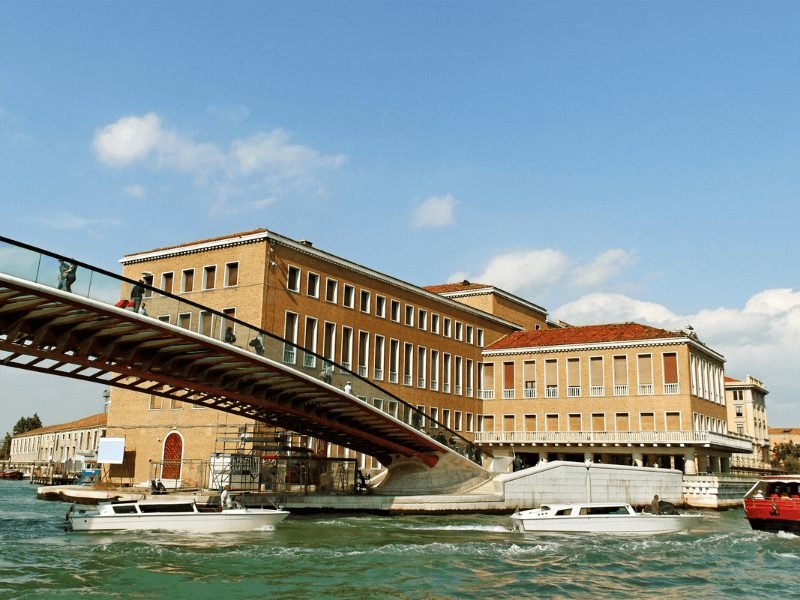 If you're already in Italy, train travel may be the most convenient way to move around!
Reaching Venice by train is a convenient alternative to flying if you're traveling from most cities in the north, including Milan (2.5 hours), Florence (3 hours), or Genoa (3-4 hours).
It is also possible to reach Venice by train from Rome (the journey is about 4.5 hours) and Naples (from 5 to 6 hours). However, in these case, a flight might be more convenient in order to cut travel times.
Often, low-cost airlines are cheaper than train prices in Italy, so it's worth checking both.
From the Venice train station, Stazione di Venezia Santa Lucia, you'll need to take a vaporetto (line 5.1 or 4.1) which will bring you to the Piazza San Marco area which is likely where your hotel is.
You can also take a private water taxi which you'll want to arrange with your hotel beforehand, though this can get expensive!
Best Time to Visit Venice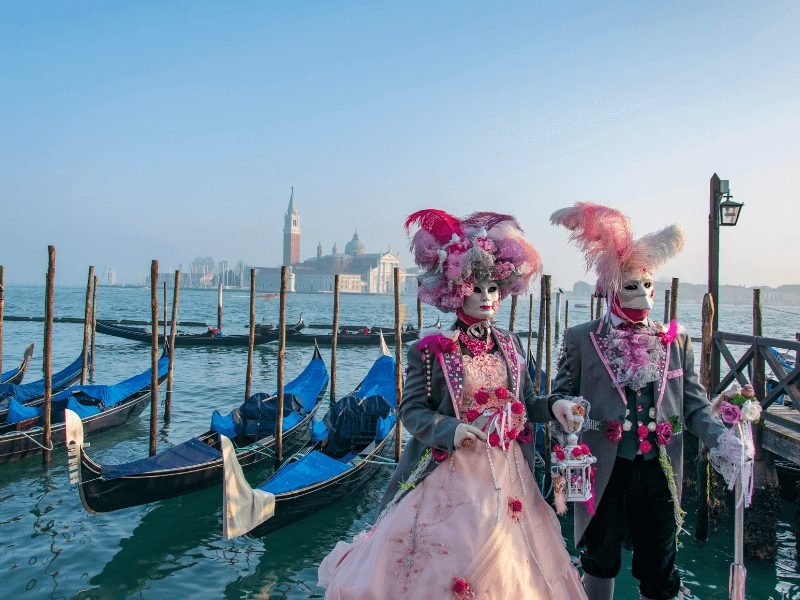 When planning a trip to Venice, it is a good idea to keep in mind that this is among the most touristic destinations in the country, with hundreds of thousands of visitors every year and in every season.
The summer months (June, July, and August) are the most popular times, making it hard to find accommodation last minute — and what accommodation there is in the city center will be rather expensive.
Also in February, the time of the popular Venice Carnival, the city sees a large number of visitors, with accommodation prices increasing fast.
It is always better to visit Venice in September and October to avoid high temperatures, as well as in April and May when prices tend to go down.
If you want to get the best bang for your buck and also avoid the crowds, visiting Venice in winter is ideal! The time around Christmas is magical, but January (before the Carnival) will be the absolute cheapest.
Getting Around in Venice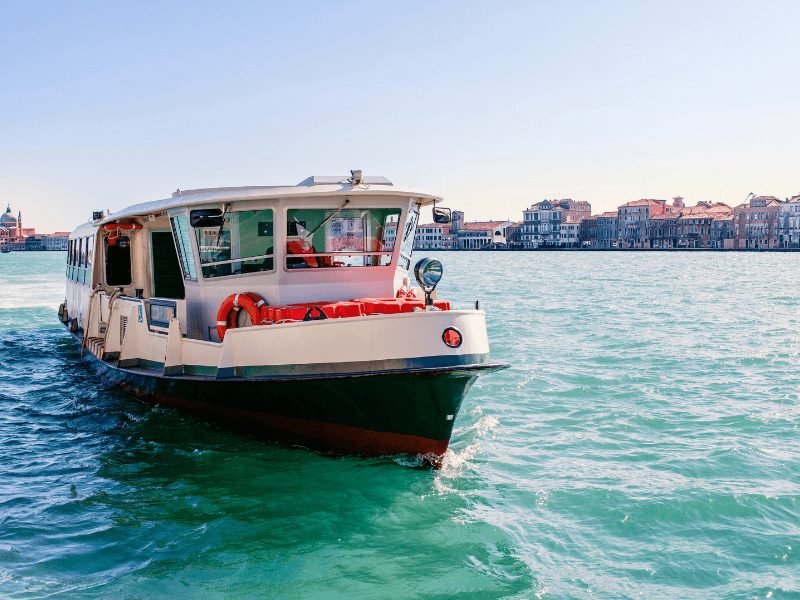 As we have already stated, the city is surrounded by canals, so moving around is a bit different in Venice from what you might expect!
Take a look at these suggestions, which will help you move around Venice with ease.
Vaporetto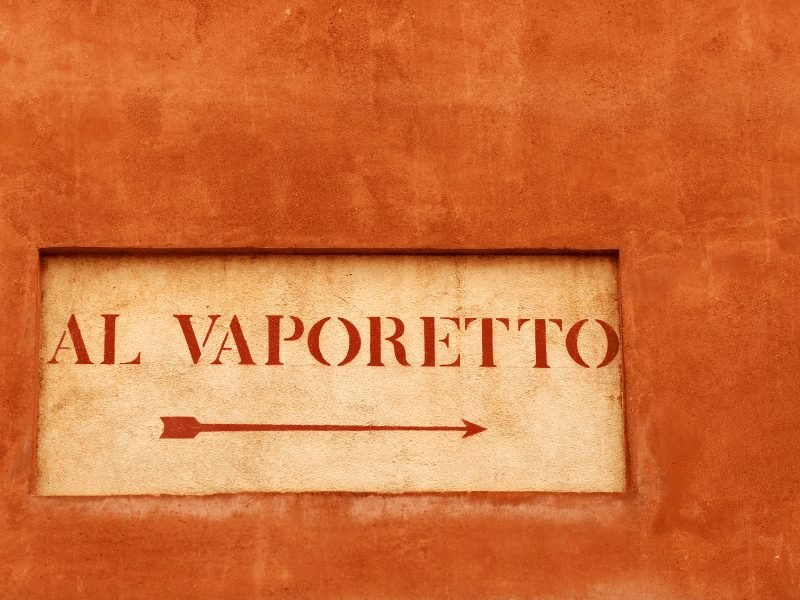 This is the most popular and convenient way to go from one place to the other in Venice.
The popular water bus or vaporetto is what locals use to reach every corner of Venice, because it is the cheapest and most efficient way to move around.
Different vaporetto lines operate from early in the morning until midnight while there are also a few night lines available.
You can purchase a single vaporetto ticket or get a multi-day card to save some euros.
For more details, prices and to learn how to validate the Vaporetto ticket, check this website, which also includes a section to purchase tickets online.
Gondola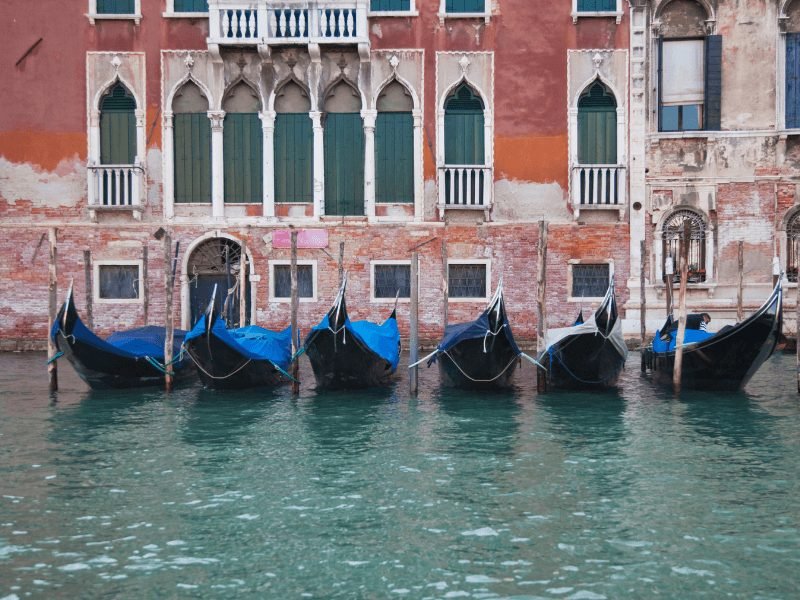 Although gondolas are more expensive, they are the most iconic means of transport sailing the canals of Venice.
Prices can vary according to the time of the day and the kind of ride, and sometimes it can be even possible to negotiate the price before the trip, especially in the low season.
However, keep in mind that you might pay about 120 euro for a short 30-minute ride, with a higher fee for a night gondola ride.
Despite the high price tag, a gondola ride is one of those things you won't regret during your Venice experience, booking the ride in advance might save you some extra cash.
This particular ride takes you to discover the historic sights along the shoreline, admiring marvelous palaces and churches, and exploring the romantic secret waterways of Venice.
This private gondola ride includes a glimpse of St. Mark's Square and the impressive La Fenice Opera House.
If budget is a concern, you can also book a shared gondola experience.
It works out as cheaper if you are doing it as a solo traveler or a couple, but as soon as you have a party of three or more, you're better off with a private gondola.
No matter which way you go, be sure to tip your gondolier!
Water Taxis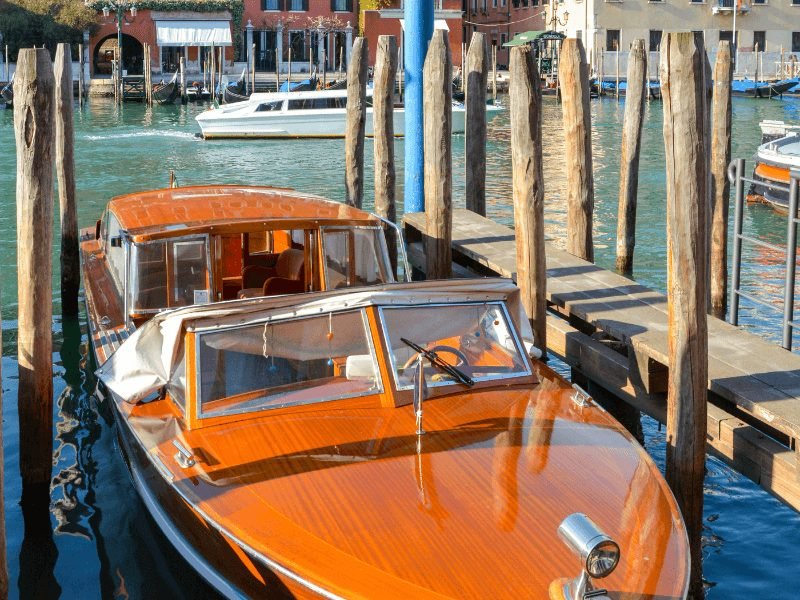 Keep the local water taxi company phone number at hand to call a water taxi when visiting Venice. The number is 041 522 2303.
Taxis operate 24 hours a day and prices should be arranged beforehand, as they might change according to the time of the day and the availability.
Best Places to Stay in Venice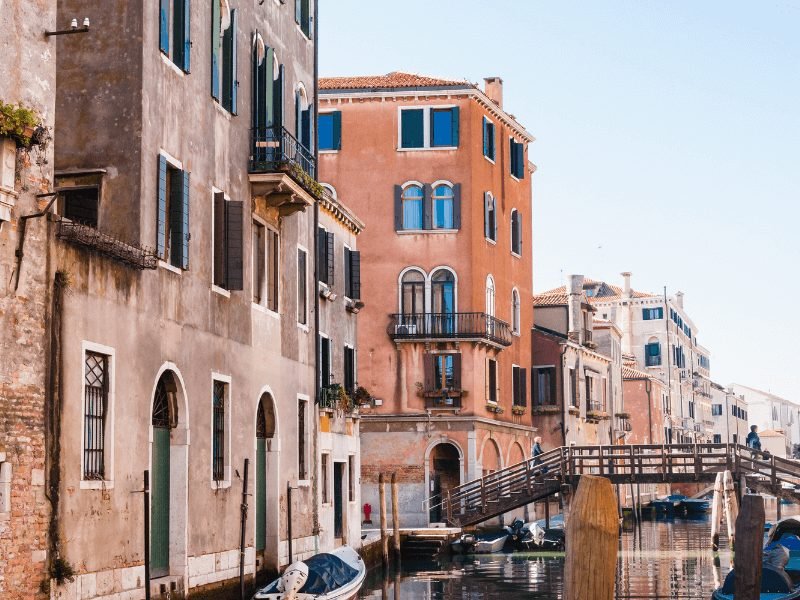 Venice is divided into different quarters or neighborhoods, locally known as sestieri.
Some of them are more central than others, but most of them are well-connected not only with bridges but also with the vaporetto, the most popular and convenient means of transport.
These water buses sail along the most important canals, connecting all the neighborhoods and most important touristic spots.
They are not as romantic as a gondola, but they are fast and convenient!
When picking an area to stay in Venice, keep in mind that each of the neighborhoods has something interesting to offer.
There are six different quarters in town: San Marco, Castello, Dorsoduro, Cannaregio, Santa Croce and San Polo.
The best-known of them is San Marco, home to most of Venice's landmarks, such as the remarkable piazza of Saint Mark's Square and Venice's amazing cathedral.
Where to Stay in San Marco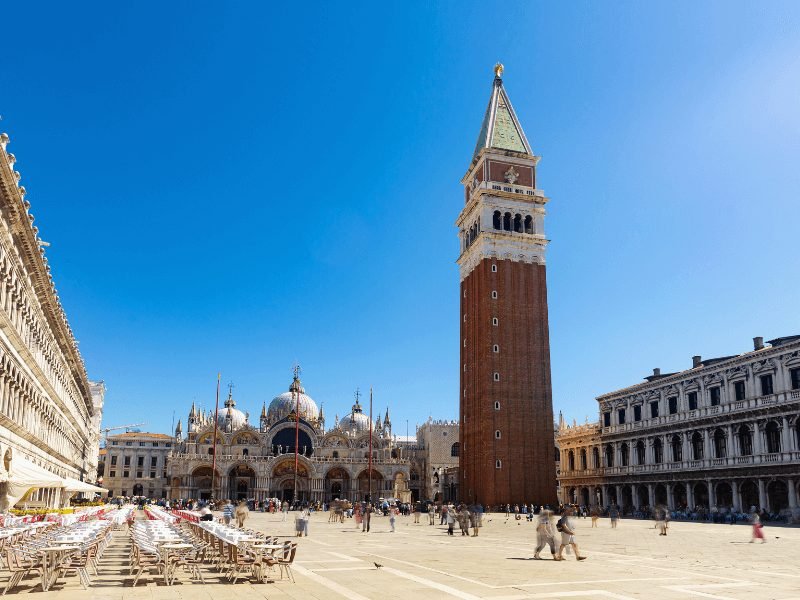 If you're looking for a convenient hotel in San Marco, then you can check out The Carlton which stands overlooking the magnificent Grand Canal.
It has a stunning rooftop cocktail bar with a terrace and spacious, Venetian-style rooms.
The hotel is a romantic 4-star property, with incredible interiors and decorated with local Murano glass lamps and antique furniture.
Where to Stay in Dorsoduro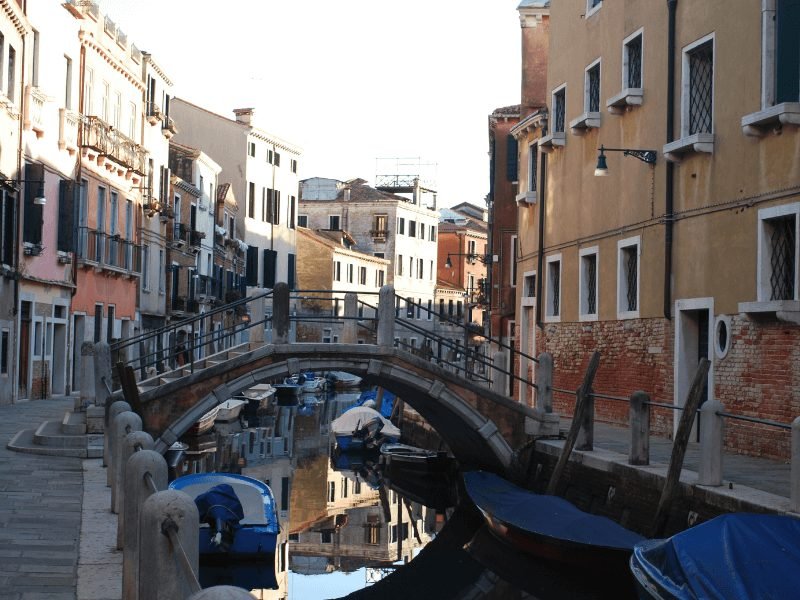 Another great place to stay in Venice, especially for young travelers, couples, and solo adventurers is Dorsoduro.
This is Venice's popular university district and is home to dozens of affordable eateries, as well as many small pubs and bars open until quite late at night. Plus, Dorsoduro is great for budget travelers.
A place such as Ca Bea, for example, offers charming and comfortable rooms with free WiFi only minutes from iconic places such as St. Mark's Basilica or the Rialto Bridge.
Your 3 Day Venice Itinerary
Day 1 of Your Venice Itinerary: Iconic Landmarks of Venice
Check out the Grand Canal and the Rialto Bridge.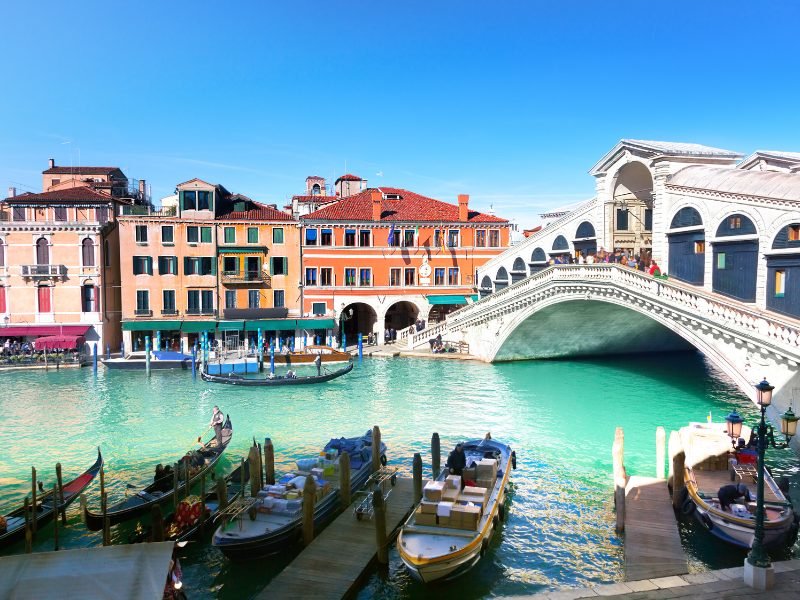 Devote your first day in Venice to exploring some of the most iconic sights in town! Fuel up on breakfast, because we have a full day ahead of us!
Start by heading directly to the Grand Canal, which is the perfect departure point to explore the rest of the city.
To see the best buildings and architectural gems along the canal, board a Line 1 Vaporetto water bus and spend some time taking in the one-of-a-kind vistas.
Along the way, you'll reach the most iconic bridge in town for a beautiful snapshot of the canal.
Although the city boasts more than 300 bridges, Ponte del Rialto (Rialto Bridge) is the most important of them all.
The Rialto Bridge is a high, stone arch bridge crossing the narrowest point of the Grand Canal, high enough to offer spectacular views!
Since it is an important observation point, it tends to be crowded, so heading there early in the morning will guarantee much better pictures and a peaceful atmosphere.
Arrive at the beautiful Piazza San Marco.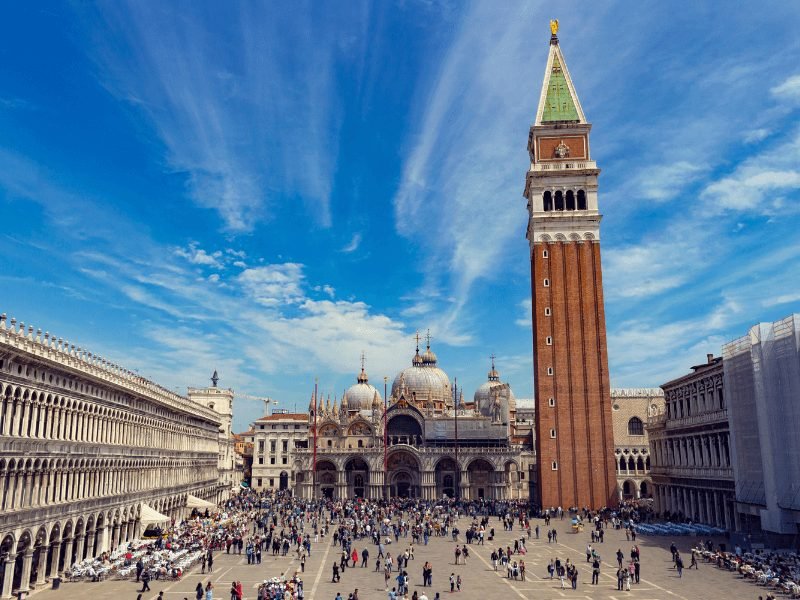 Right after checking out the Grand Canal and its most important bridge, walk along the small alleys in the direction of Venice's main square, Piazza San Marco.
Here, you will find the most important church in the city, the Byzantine church of San Marco, which dates back to 1092!
Called Piazza San Marco in Italian or Saint Mark's Square in English, this is Venice's place to be and a common meeting point for locals and a touristic spot for visitors to enjoy.
Often listed among the most impressive piazzas in the country, the huge square features rich buildings, traditional cafeterias, and elegant shops.
Other buildings to check in the square include the clock tower and Saint Mark's Church Bell Tower, an ideal spot to take in the city's skyline and canals, and the Doge's Palace just off of the main square area.
Explore the Doge's Palace.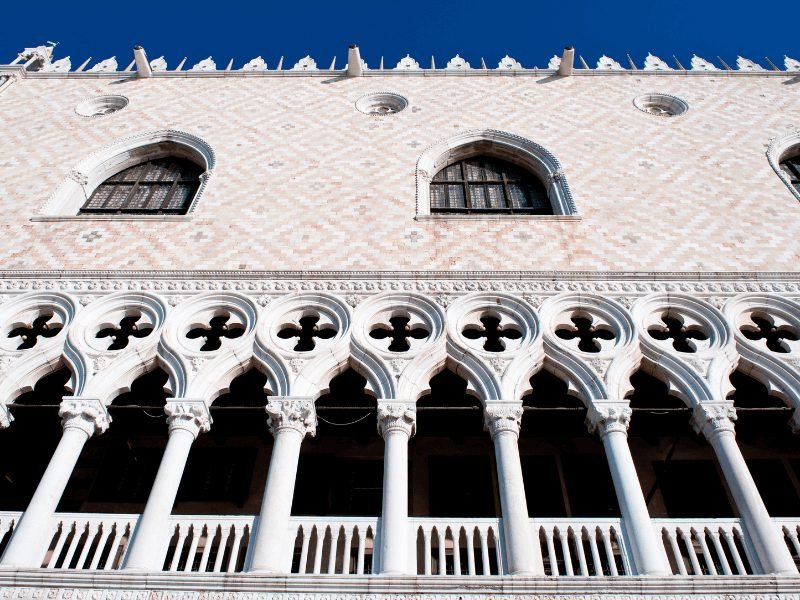 There are two main sights in Venice that everyone wants to see: the Doge's Palace and the Saint Mark's Basilica.
That often means excruciatingly long lines… unless you beat the crowds with a very early wake-up time or book a guided tour that allows you to skip the line.
I strongly recommend this tour of the Doge's Palace and the Basilica to help you avoid the lines and maximize your Venice itinerary.
Locally known as Palazzo Ducale, this incredible building is just a few minute's walk from Venice's Basilica.
It is the perfect starting point to learn about the local history and rich past of the Maritime Republic, Venice's heyday.
Today transformed into a remarkable museum, the Doge's Palace is an architectural gem and fantastic Venice landmark.
It was built back in the eleventh century to be the seat of the local court as well as the private residence of the ruler in office (the Doge, locally known as Duca).
The building can be recognized easily thanks to its one-of-a-kind pink facade made from Verona marble.
The architecture features intricate arches and lavish colonnades with distinctive windows done in the perfect Venetian Renaissance style, as well as paintings by the famous Venetian artist, Tintoretto.
Compared to other Renaissance buildings in the rest of Italy, this style presents a certain degree of restraint, and is known for its characteristic windows with arched or rounded tops.
When visiting the Palazzo Ducale, do not overlook the medieval cells and the Bridge of Sighs (Ponte dei Sospiri in Italian).
This is where prisoners being taken to their cells would take a last glimpse of the city before being sentenced in the court — hence, the sighs, knowing it would be ages (or never) until they saw their beautiful city again.
If you prefer to visit without a tour so you can explore at your own pace, I still suggest pre-booking your ticket to avoid the ticket lines. You can do so online here from an authorized ticket seller!
Explore the Saint Mark's Basilica.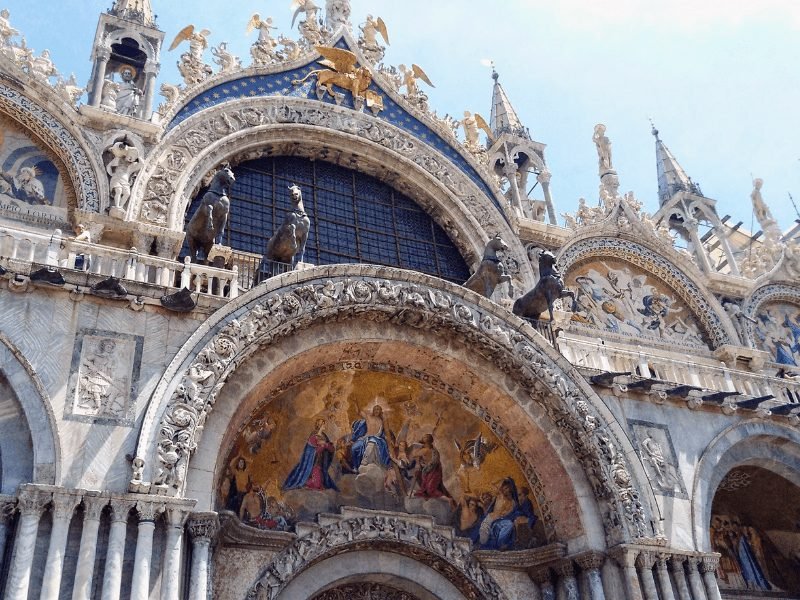 If you booked the tour above, Saint Mark's Basilica will be next on your tour, and you can allow yourself to be led by your expert guide to the Basilica as well as the viewpoints there.
Alternately, If you are sightseeing Venice independently, now is a time when you could stop for a snack by the Grand Canal before doubling back to Saint Mark's Square to pay a visit to the gorgeous cathedral.
Saint Mark's Basilica is an impressive example of Byzantine architecture, an unusual architectural style in Italy, making it one of the most original religious buildings in the country.
The San Marco Basilica features an impressively rich facade with unique artwork, sculptures, and mosaics while the interior boasts stunningly detailed frescoes and richly decorated domed ceilings.
Since everyone visiting Venice wants to access the Basilica, there are often very long queues. This means spending a significant portion of your day waiting to enter the church and the terraces.
In that case, the best thing you can do is book a tour in advance to save time and skip the line.
Many tours appear to be skip-the-line but actually aren't, so choose with caution!
I already suggested this tour which combines the Basilica and its terraces with the Doge's Palace.
Alternately, you could also take it bundled with a different experience, like this skip-the-line ticket to enter the Saint Mark's Basilica bundled with a shared gondola ride.
Note that some tours do not include a visit to the Pala d'Oro which requires a separate ticket for entry, but it's just two euros extra so it's easy to add on for yourself — I recommend it!
Check out the view from the St Mark's Campanile.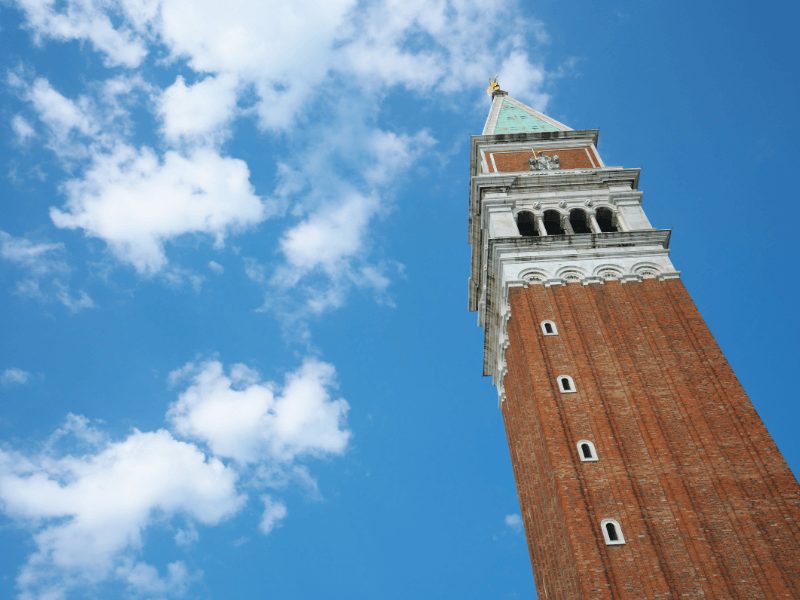 If you want a stunning view of Venice from the highest point in the city, you can head up the belltower at the Saint Mark's Basilica, also known as the Campanile.
This is not included on guided tours so you will have to purchase a ticket separately for this attraction.
Regular tickets cost 10 euros bought in person, but you'll have to wait in line. I suggest you skip the ticket line and buy tickets online here.
The elevator will sweep you up more than 300 feet in just 30 seconds, bringing you to some of the best views of a lifetime.
Once at the top, you'll enjoy stunning views of the Basilica below, the massive San Marco Square, and the sea and islets surrounding you as you stand at the heart (and height!) of Venice.
Check out the Libreria Acqua Alta.
You've likely seen photos of the unique bookstore, Libreria Acqua Alta — now it's time to visit it for yourself!
"Acqua Alta" means high water (flooding), and it's a common occurrence in the low-lying, lagoon-surrounded islands and islets that make up Venice.
As a result, this bookstore has adjusted and embraced the "Acqua Alta" concept, placing books in bathtubs and even gondolas.
There's even a stack of books that have been ruined in the floods, where instead of being thrown away, they were stacked and turned into an art piece that you can climb like a staircase!
Admire the La Fenice Opera House.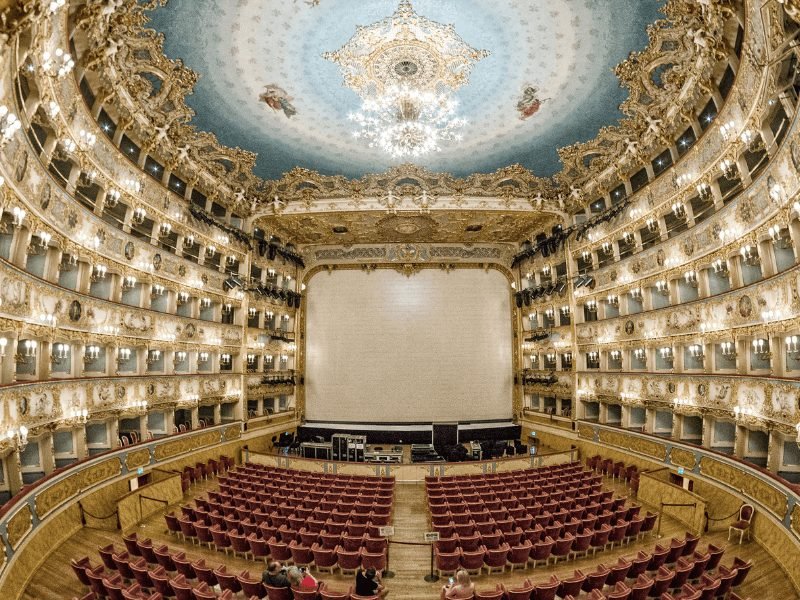 If you enjoy ancient theaters, music, opera, and ballet, then a visit to the prestigious Teatro Della Fenice is a great choice!
This opulent opera house is famous for featuring world-premiere operas and shows, but it's also just a stunning Venice landmark in its own right.
With an opera calendar that is often sold out, you can still admire the spectacular avant-garde design of this theater by joining a tour of the premises and backstage.
The best solution to visit?
A skip-the-line ticket like this one allows you to discover the history of the theater with an audio guide, exploring the curious secrets of the theatre, from its origins to the present day.
Take a scenic gondola ride.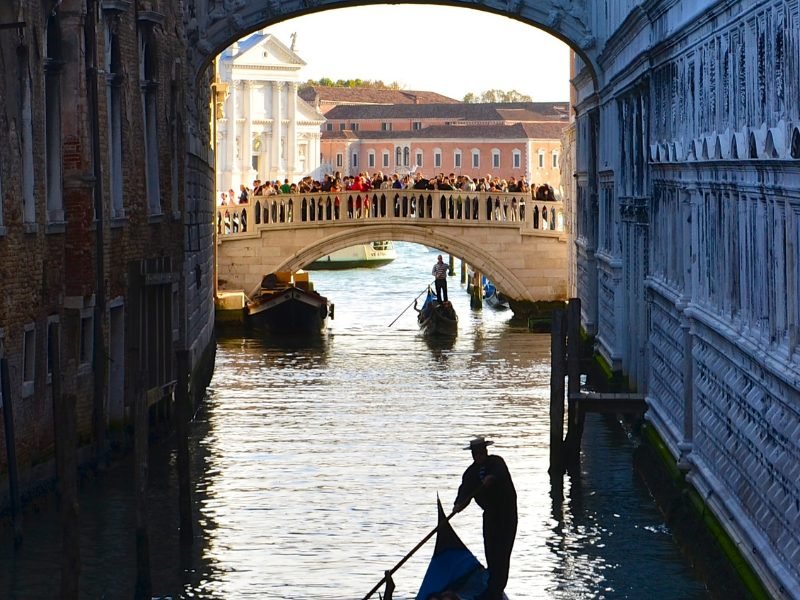 Of course, one of the most incredible ways to cap off your first day in Venice is to go for a beautiful gondola ride on the city's famous canals.
There are multiple ways to do this depending on your budget. For most travelers, a shared gondola tour is the most cost-effective way of ticking off this Venice bucket list experience!
For families and for couples who prefer to pay a little extra to have the gondola all to themselves, a private gondola tour will offer you a better experience for a little extra cash.
We recommend you prebook your gondola through a third-party tour group for free cancellation and to ensure you will get exactly what you paid for — unfortunately, there are sometimes gondola scams in Venice.
Enjoy cicchetti, aka Venetian tapas.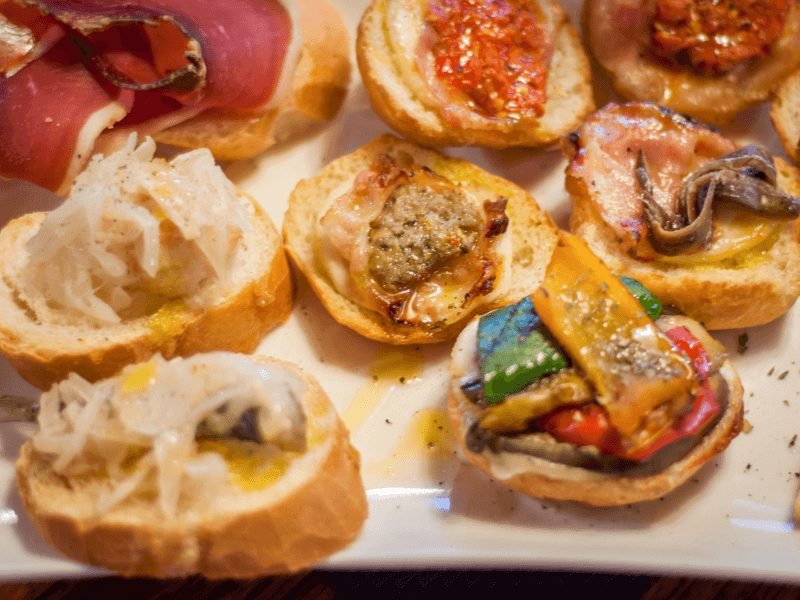 One of the more unique aspects of Venetian life is the tradition of cicchetti, or tapas-like small plates, served at local eateries called bàcari.
There are plenty of places where you can eat cicchetti, but one of the more fun ways to experience it is on a food walking tour led by a local, who will bring you to their favorite bàcari and make sure you try the best bites Venice has to offer.
Cicchetti are typically enjoyed with local wine like Prosecco or local cocktails such as the bellini (made with prosecco and peach nectar) or the Italian perennial favorite, the Aperol Spritz!
Taking part in this Venetian tradition is a must on your Venice itinerary!
Day 2 of Your Venice Itinerary: The Offbeat Side of Venice
Learn about Venice's Jewish history in the Ghetto Ebraico.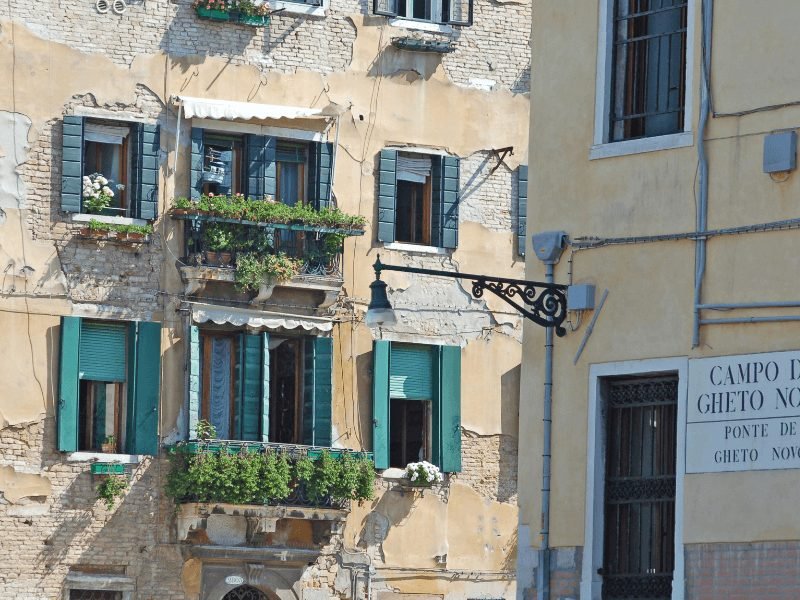 After you've had breakfast and are ready to start your second day in Venice, head to the Cannaregio district of Venice to the Ghetto Ebraico, the old Jewish ghetto.
This is one of the oldest areas in Venice, dating back to the 1500s, so visiting here feels a bit like stepping back in time.
It features dozens of ancient synagogues, an impressive Jewish Museum, and numerous memorials to the victims of the Holocaust.
The ghetto is connected to the rest of Venice by two bridges that, in ancient times, were locked during the evening to keep the Jewish population inside their neighborhood at night.
The bridges were under permanent control by the local authorities and Jewish residents of the ghetto would pay very high fees if they were caught outside of their neighborhood after certain given hours of the day.
You can get a better insight into the sad but important history of this historic district if you join a small-group walking tour.
We suggest a tour that includes visits to places such as the Deportation Memorial as well as several synagogues and other historic buildings, part of the centuries-old Venice's Jewish history.
There are tours daily at 10 AM and 2 PM, so I suggest the 10 AM tour as it fits this itinerary for Venice best.
You can take a private tour or a small group tour of maximum 12 guests, so long as you have at least two people in your party.
Explore the Basilica Santa Maria Gloriosa dei Frari.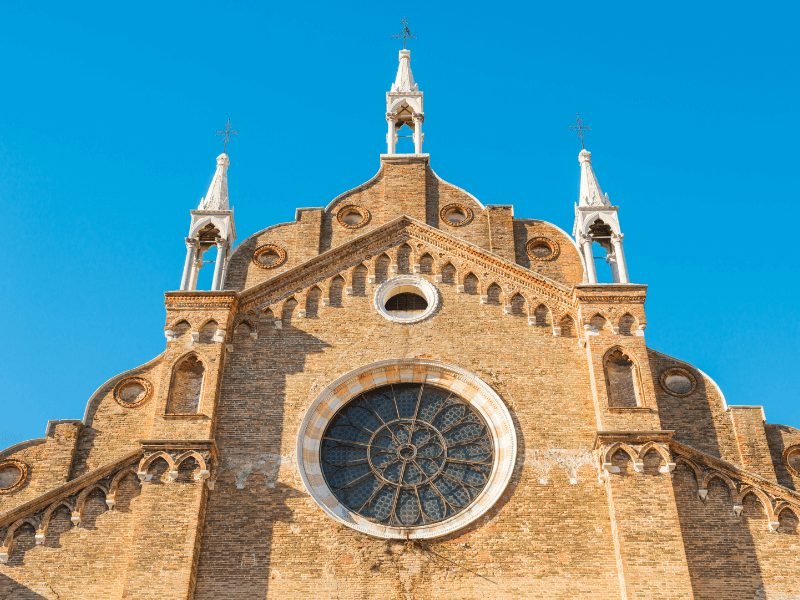 After your tour of the Jewish Ghetto, it's time to slowly make our way over to another sestiere in Venice, the Dorsoduro District.
But we'll make a few stops on our way to explore the heart of Venice, on this self-guided walking tour of Venice.
Our next stop is the Basilica Santa Maria Gloriosa dei Frari, a 14th century Gothic church that is exceedingly impressive, even in the city of Venice which full of churches!
It's about a 20-minute walk from the Ghetto Ebraico, crossing over the Ponte delle Guglie and then the Ponte degli Scalzi which has beautiful views of the Grand Canal as you cross it!
Once you arrive, the exterior of the church is nice, but it doesn't prepare you for what beauty lies within!
This church is one of the most beautifully decorated religious buildings in Venice, and it's one of the places where you can find works by the artists Giovanni Bellini and Titian.
Titian's tomb is located here, as well as the ornate tomb of Antonio Canova and other famous Italians.
Tip: A few blocks away, you'll find one of Banksy's works in Venice – Opera di Banksy, also known as The Migrant Child. Be sure to pop it into Google Maps so you don't miss it!
Wander around Campo Santa Margherita.
This lively square is a much more authentic square than Piazza San Marco, part of the Dorsoduro district where many Venetian locals enjoy hanging out.
It's located near the Università Ca' Foscari, so it's a young, lively student district.
This is a great place to stop and grab a bite to eat for lunch before things close for siesta!
Check out the Gallerie dell'Accademia.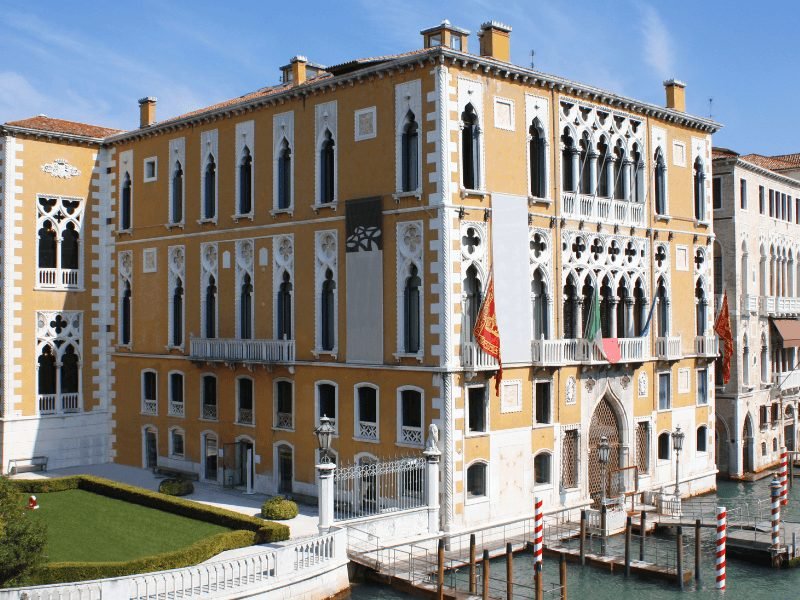 Besides its historic churches and palaces, Venice also has several great museums worthy of a visit!
The Gallerie dell'Accademia is a great place to stop if you want to see older works of Italian art, particularly from the period between the 13th and 18th centuries.
You'll find works by Titian, Tintoretto, Canova, Bellini, and many other famous Renaissance-era artists here.
Take photos on and around the Ponte dell'Accademia.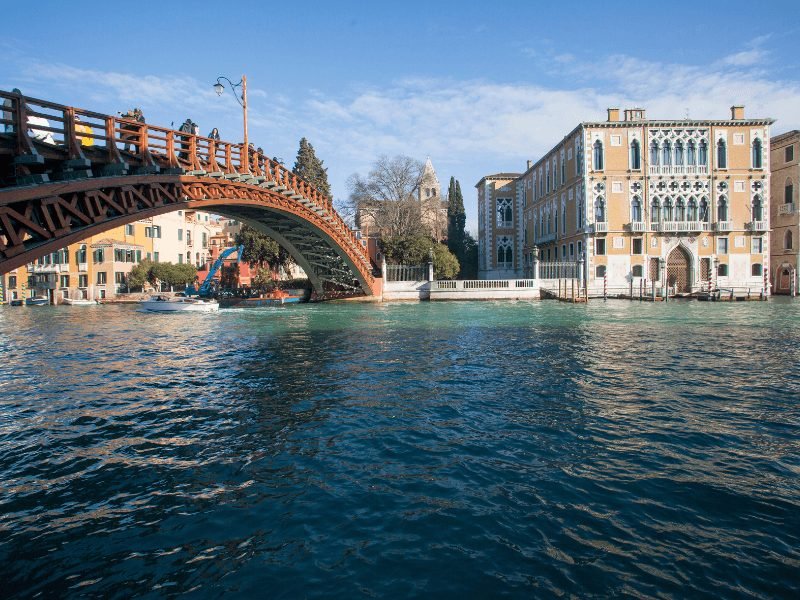 For one of the most scenic views of Venice, you'll want to snap some shots of the Ponte dell'Accademia from both sides as well as on the bridge!
Once we've snapped some photos, we'll come back to to same side of the bridge that we started from, as our next site is also located in Dorsoduro, just a few minute's walk away.
Explore the Peggy Guggenheim Collection.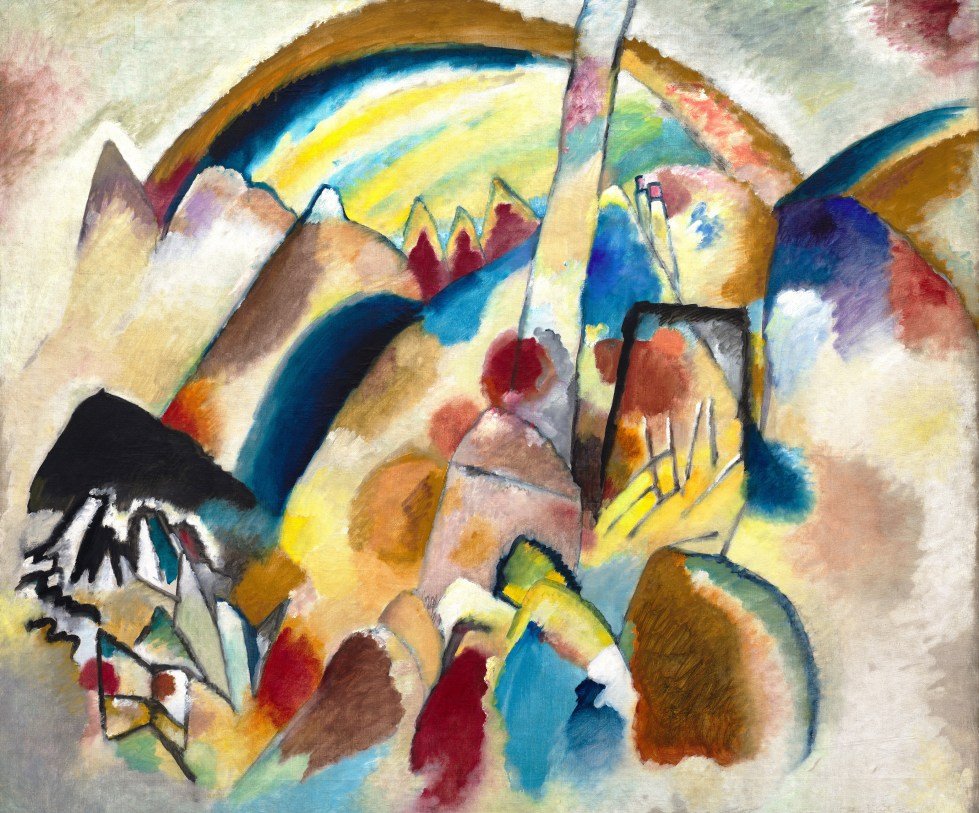 We've seen so much historic Renaissance-era art — how about some modern art next?
The Peggy Guggenheim Collection is a fantastic collection of 20th century art, all set in a beautifully renovated 18th century palace that faces the Grand Canal.
Here, you'll find works from many of the last century's most famous modern artists, including Jackson Pollack, Pablo Picasso, Rene Magritte, Joan Miro, Piet Mondrian, and Wassily Kandinsky.
This is one of the best collections of modern art in the world, perhaps only comparable to other museum heavy-hitters like the MoMA in NYC, the Reina Sofia in Madrid, and the Albertina in Vienna.
Have dinner in Dorsoduro.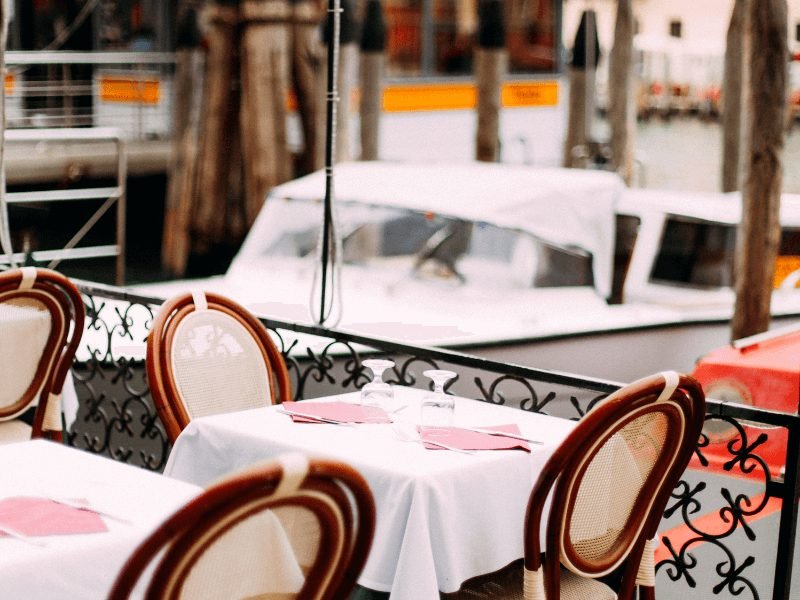 Once you've finished up your day of culture, it's time to find a lovely place to eat!
Luckily, you're already in the Dorsoduro district, one of the liveliest and most authentic quarters of Venice.
Alternately, you can make your way back to more central parts of Venice to find something to eat closer to your accommodations.
Whatever you decide, be sure to finish the evening with a delicious gelato!
Day 3 of Your Venice Itinerary: Exploring Murano and Burano Islands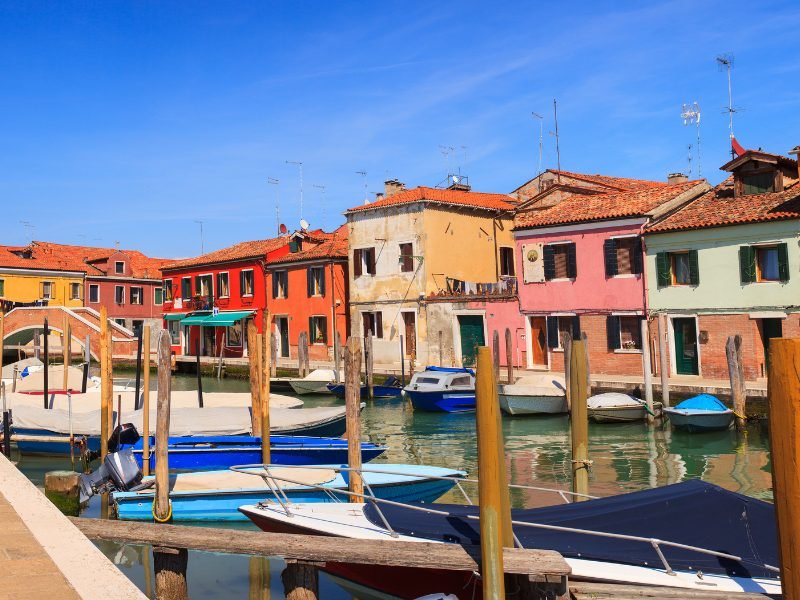 Spend a fantastic final day in Venice on a day trip embarking on a boat ride that takes you to some of its beautiful nearby islands: Murano and Burano.
Let's check them both out on this lovely day trip from Venice. You can do it either self-guided or with a guided tour — we'll go over both ways.
Despite their similar sounding names, Murano and Burano each offer totally unique experiences — but both are colorful!
Murano is known for its stunning crafts scene, particularly its glass-making. In fact, its colorful pieces of glasswork that have made the small island of Murano famous all over the world!
Meanwhile, Burano is the Instagram-famous colorful fishing village that looks too cute to be real.
Explore Murano and its glasswork.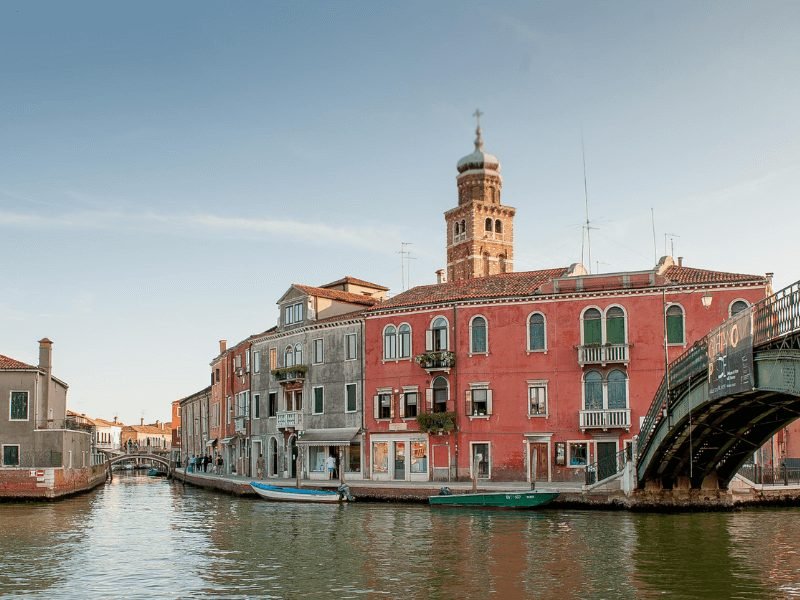 To get to Murano you can either board a water taxi or reach the island with the more affordable Vaporetto (the lines that get you to Murano are 4.1, 4.2, and 12), which takes you about 15-20 minutes from the Grand Canal.
Insider tip: Keep in mind that some hotels offer free rides to the island, so it's a good idea to check for information at the hotel reception before purchasing the Vaporetto ticket!
There are also interesting tours to Murano that also include a visit to the famous Murano Glass Factory as well as a live demonstration of the ancient glass blowing technique.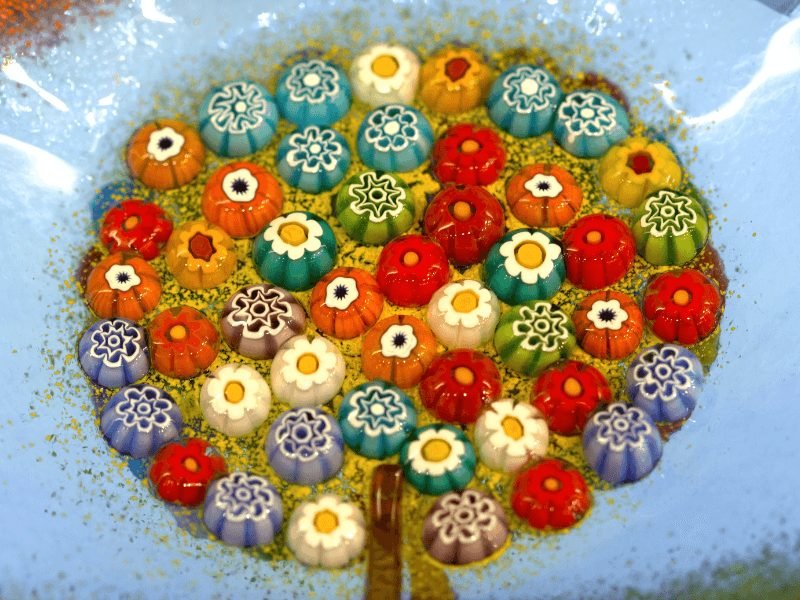 And if you're feeling adventurous, you can even get a close-up look at glassblowing with an experience like this one.
On this workshop, a glass master offer a detailed explanation about the processes involved in glass production — and you can take home your very own hand-made glass souvenir!
Book your glass factory tour or your glassblowing experience here!
Check out the colorful island of Burano.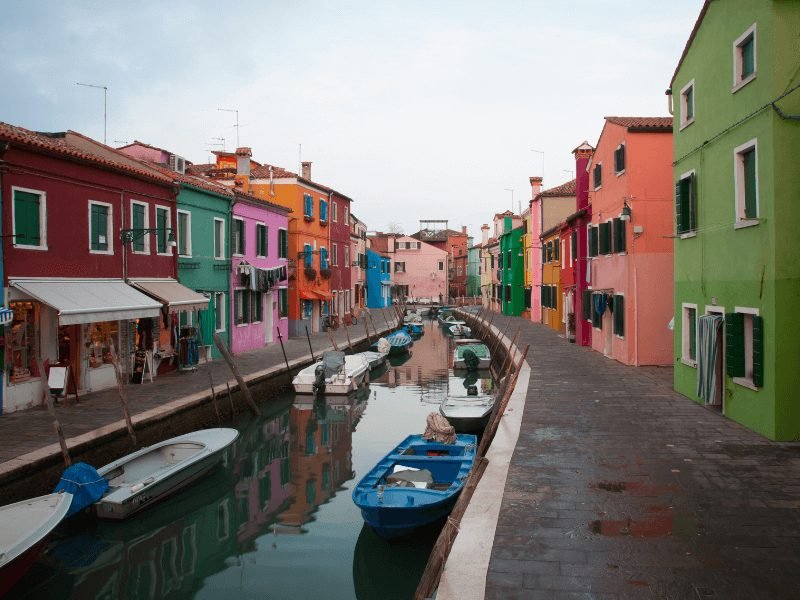 After exploring Murano, devote the rest of the afternoon to marveling at another unique island in the lagoon, Burano.
The adorable fishing village of Burano is a UNESCO World Heritage site that you really wouldn't want to miss during your 3 days in Venice!
The tiny island is only a short boat trip from Venice. You can get there with a water taxi or also with the Vaporetto.
The Vaporetto 12 line connects Venice to Murano to Burano and the ride is a bit more than half an hour if you're leaving from Murano.
There are also convenient tours that include a visit to both Murano and Burano, offering also a glimpse of Torcello, another small but interesting island in the lagoon.
This is a good option if you want guidance during your exploration, or you simply don't want the stress of timing different Vaporetto rides and tickets.
Book a small group tour of Murano, Burano, and Torcello here!
Burano is one of the most picturesque places in the region, known for the unique colorful houses that adorn the waterfront of the island.
Another typical trait of Burano is its lace-making tradition dating back to the sixteenth century — another Venice souvenir worth picking up while you visit!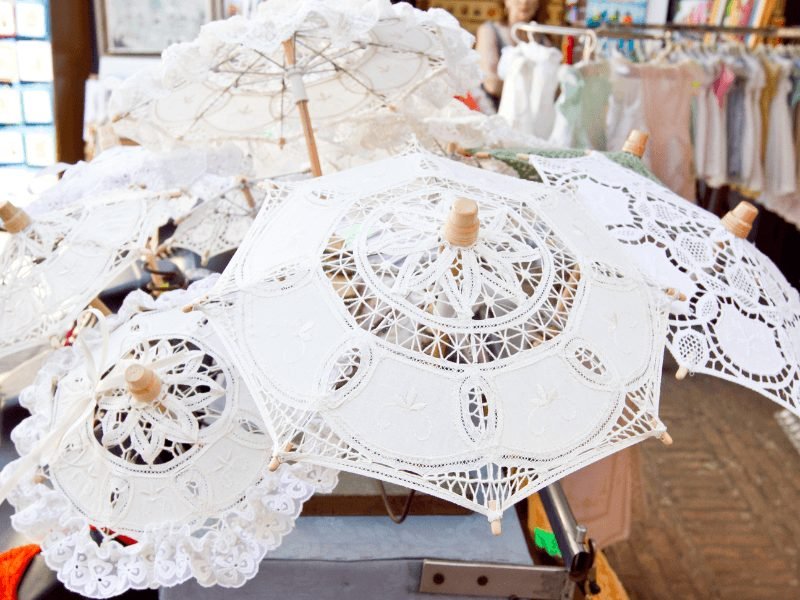 Foodies will have a great time when visiting the island as some of the best trattorias and seafood restaurants in Venice are located in Burano!
The island is, in fact, locally known for the incredibly fresh anchovies, sardines, and other seafood dishes served in the picturesque local restaurants.
If you have some extra free time, devote at least an hour to the Lace Museum and visit a few lace workshops to purchase unique souvenirs and witness skilled artisans at work. Tip: bring cash, as many of these smaller vendors only take cash.
Check out the marvelous island of Torcello.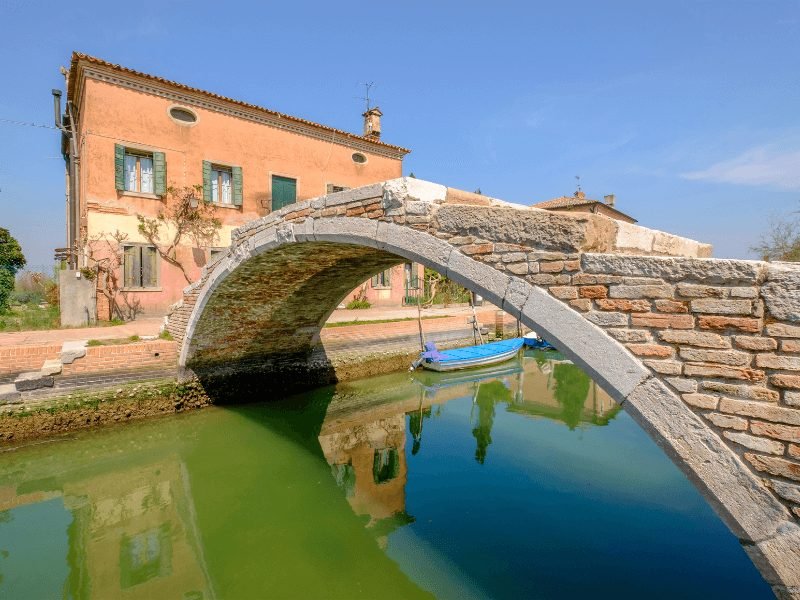 Finally, add a quick visit to Torcello, the most ancient of the inhabited islands in the Venetian Lagoon.
Although this tiny island only has just a few residents, it is a popular touristic destination and it is often busy with sightseers.
On the island of Torcello, you can visit a gorgeous church dedicated to the Assumption of the Virgin (Basilica di Santa Maria Assunta) which features beautiful Venetian-Byzantine mosaics.
From the church's bell tower, it is possible to see an aerial view of the nearby island of Burano, and the so-called Ponte del Diavolo, a bridge that received that name as it features no parapets and was considered quite dangerous to cross!
If you're not visiting Torcello as a part of a tour of the islands, then you can get there riding the line 12 Vaporetto. It's located in between Burano and Murano, so it's good to visit on the way back to Venice.
You can check out the Vaporetto timetable here, but it's a little confusing, which is part of the reason why I suggest a guided tour of all three islands.
Torcello is another great place to try fresh fish dishes in any of the many seafood restaurants along the waterfront near the main port of the island!
Return to Venice for a final evening stroll.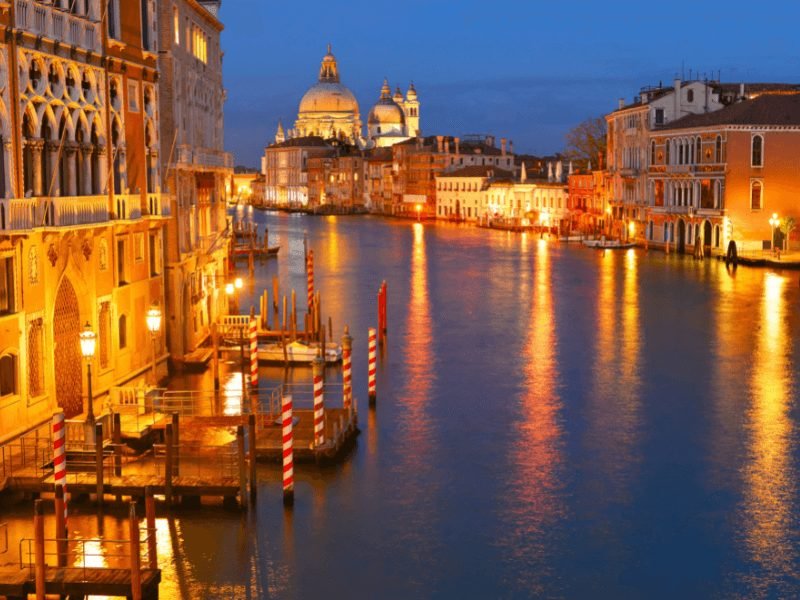 After your day exploring Venice's outer islands, take a walk in the evening to take in any last sights as the city comes alive at night with its lights.
This is the time to get a little lost, wander down any alleyways that catch your eye, grab some drinks or bites, and just marinate in the magic that is Venice for a final time.
Gabi Ancarola is a full-time travel blogger, tour guide, and freelance writer currently living in Crete, Greece. She spent decade of her life living and traveling Italy, and she shares her knowledge of Italy in her writings as an Italy expert on Eternal Arrival. She also shares her knowledge of Crete and Greece on her blog, TheTinyBook.com, where she has also published several digital travel guides.