Deep green cathedral spires alternately bathing in sunlight and hiding behind misty puffs of cloud.
Layers of canyon stacked one on top of another in a stunning array of colors.
The impossibly blue and wild Pacific Ocean meeting hidden white sand beaches.
Waterfalls only visible by helicopter, so many it is literally impossible to keep count…
These are just some of the things you'll see on a helicopter flight around Kauai, which is aptly nicknamed The Garden Isle for its lush interior and stunning landscapes.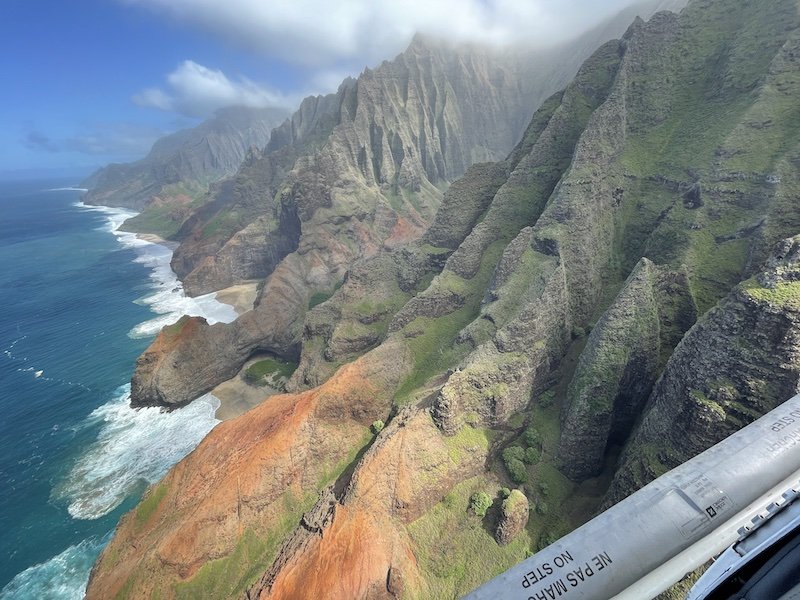 Note: This post contains affiliate links, which means I may receive a small commission if you purchase something through one of these links. Thank you for supporting the free content on this site! For more information on affiliate links and cookies, see my disclosure page for more details.
As you soar over this stunning island, you'll see exactly why it was used as the setting for Jurassic Park.
There is a prehistoric quality to the landscape in Kauai, more so than any other island in Hawaii.
Even despite the increase in tourism over the years, Kauai retains an untouched aspect to its natural beauty.
Honestly, the landscape is unbeatable: islands like Maui and Oahu can't quite compete with Kauai, despite having other draws, like whale watching and larger cities.
Taking a doors off helicopter tour of Kauai sounds like a dream come true, and it is! But it is one you will enjoy all the more if you are prepared for it — and don't make the same three big mistakes I did!
This post was originally written April 17, 2022 after the author's February 2022 trip to Kauai. Edits were last made on August 4, 2022 in order to keep information up-to-date and reflect recent changes, such as changing Covid-19 protocols in Hawaii.
What to Expect on Your Doors Off Helicopter Tour: 15 Things You Should Know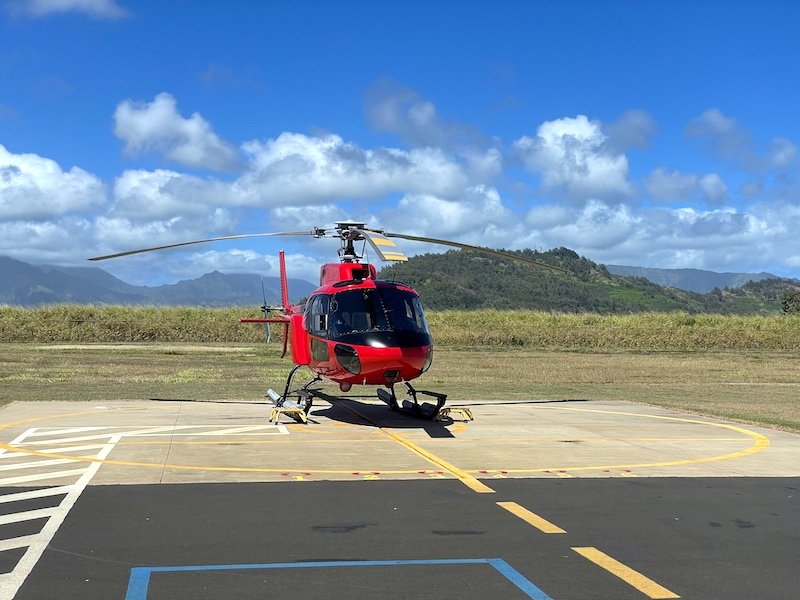 Note: This post is written from my perspective flying with Air Kauai as a full paying customer. I was not sponsored for this nor any other part of my Hawaii trip, and I paid out of pocket for everything.
99% of the time that I travel, I do not let people know I am a blogger, so that I can have an experience similar to any other traveler and not receive any preferential treatment.
The very few times I accept a free or discounted experience, I always disclose it and still provide an impartial review, imagining myself in the place of a paying customer and considering the value proposition.
We did plenty of research while planning our Kauai itinerary and we decided to fly with Air Kauai, who has a perfect safety record and has been flying for more than 25 years and offers flights on other islands under their sister company, Air Maui.
We felt confident that this was the best helicopter tour when we considered value for our money and loved our experience and can recommend it wholeheartedly.
We ended up booking our tickets through Viator because we wanted the protection of their 24-hour cancellation policy (plus it's cheaper than going directly through Air Kauai).
All the helicopter tours follow a similar route.
No matter which Kauai helicopter tour company you end up flying with, they all follow a similar route around the island of Kauai.
First off, you will depart from Lihue Airport. You'll have to put your phone in airplane mode as per FAA regulations as you are officially in the Hawaiian airspace!
Below is the doors off Kauai helicopter tour itinerary we took, in order:
First: Hanapepe Valley (Manawaiopuna Falls & Kahili Falls)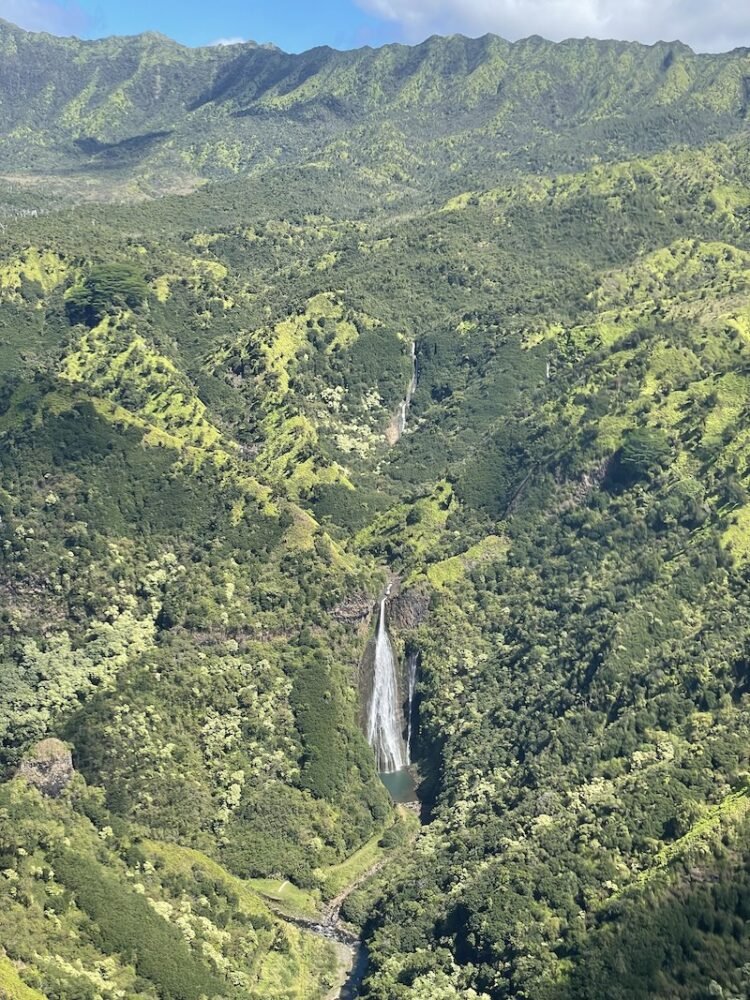 Shortly into your flight, you'll pass through the Hanapepe Valley.
This is where you'll see a series of impressive waterfalls, the largest of which is Manawaiopuna Falls, aka Jurassic Falls.
This waterfall is only visible by helicopter tour, so admire it knowing that you are getting a view few other people in the world are lucky enough to experience!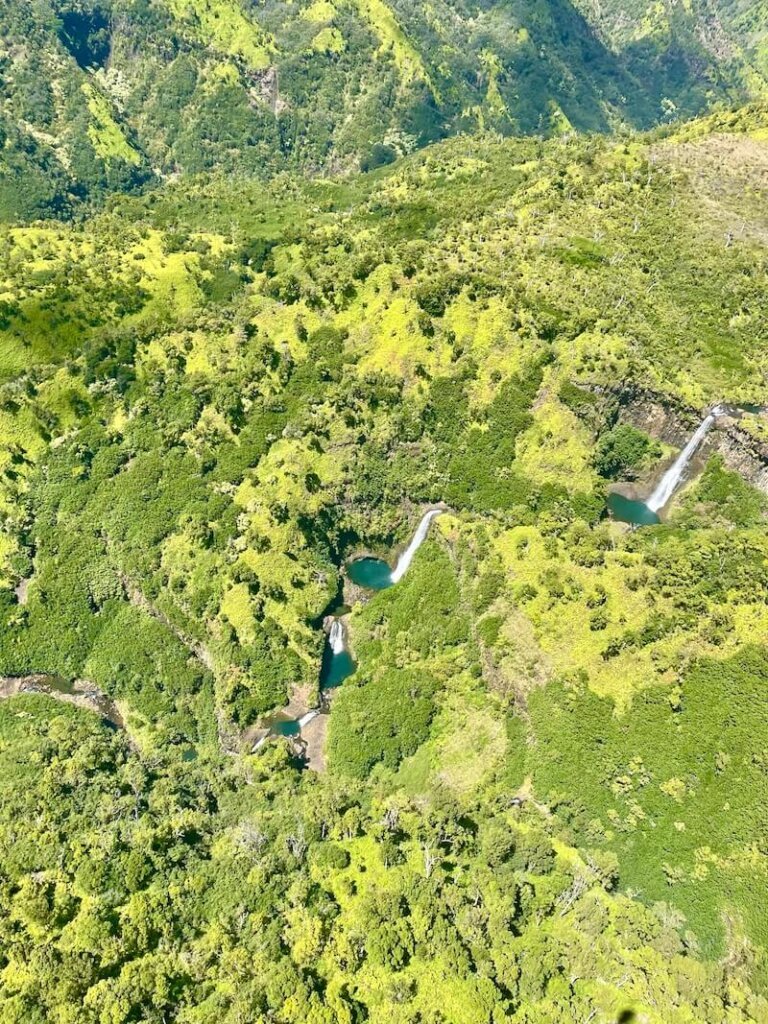 But this isn't the only secret waterfall you'll get to spot from the sky: you'll also get to spot the Five Sisters Falls (aka Kahili Falls).
This stunning series of several tiers of waterfall cascading through the gorgeous lush countryside and is one of the most stunning sights you'll see on a tour full of stunning sights!
Once you've seen these lush green landscapes, be prepared to be surprised as you head inland towards Waimea Canyon, where the landscapes turn less lush and more arid.
Next: Olokele Canyon and Waimea Canyon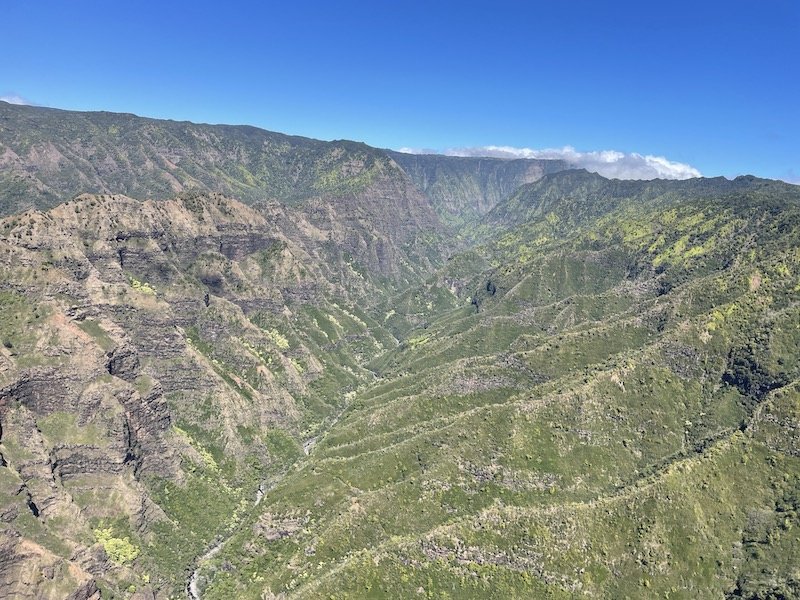 After passing by such a lush and waterfall-rich landscape, you'll quickly change course as you head to the Olokele Canyon.
This landscape is where the verdant landscapes of Kauai begin to change to something more arid and desert-like.
Finally, you'll reach the even more stunning Waimea Canyon, aptly nicknamed as the Grand Canyon of the Pacific.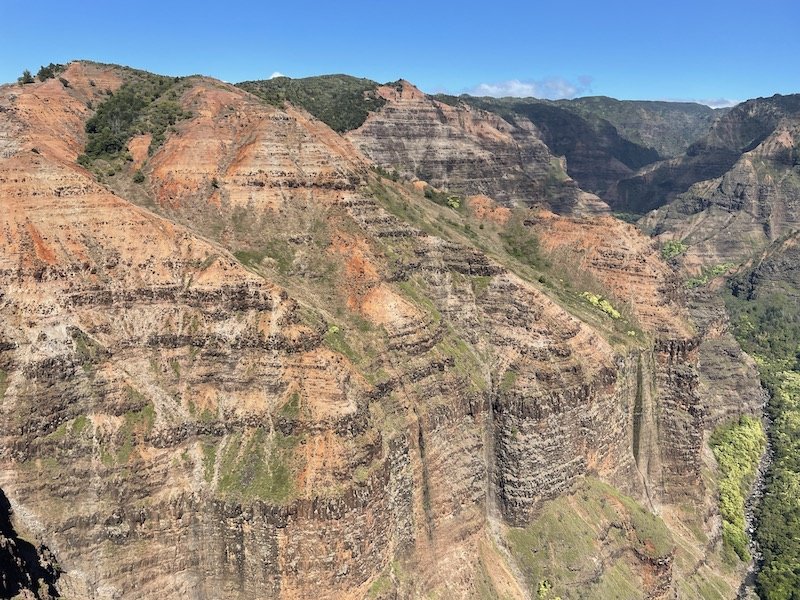 While many nicknames of this nature often overstate the comparison, I found Waimea Canyon to be just as impressive (although obviously smaller) as the Grand Canyon.
Passing through it and getting to see all the different colors of the canyon was absolutely breathtaking, and it's a real contrast in terms of landscape compared to what precedes it — and what comes next!
Next: The Na Pali Coast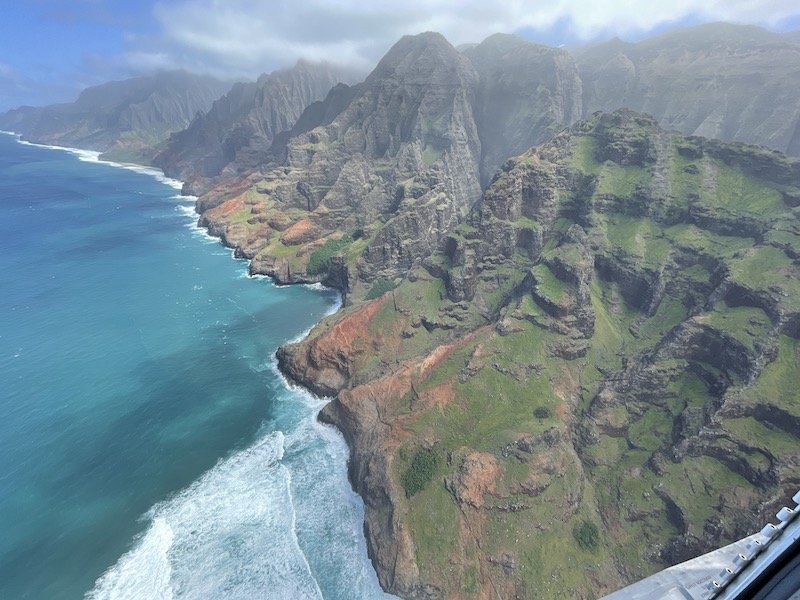 After the Waimea Canyon, you'll reach the gorgeous Na Pali Coast, which is probably the reason why you opted for a Kauai doors off helicopter tour to begin with!
This is easily the most spectacular part of the helicopter ride, as you soar over the impossibly blue Pacific waters and the emerald-green lush spires of the Na Pali Coast.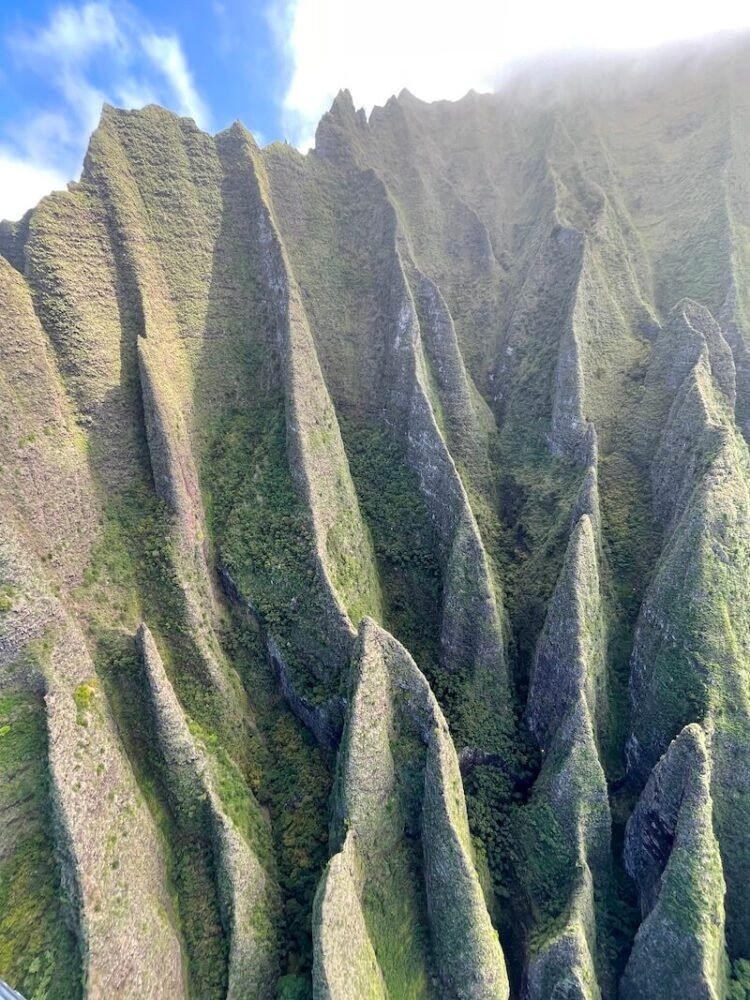 However, the Na Pali coast helicopter tour portion can also be finicky. This is the area with the most fog, so there is always a chance you won't be able to appreciate its green spires and coastal landscape in its full glory.
We, however, got lucky.
The impossible ruggedness of the Na Pali Coast is hard to put into words until you see it from the air.
It's almost inconceivable that there's actually a 11-mile trail (one-way) through this rugged terrain — it seems impossible to traverse.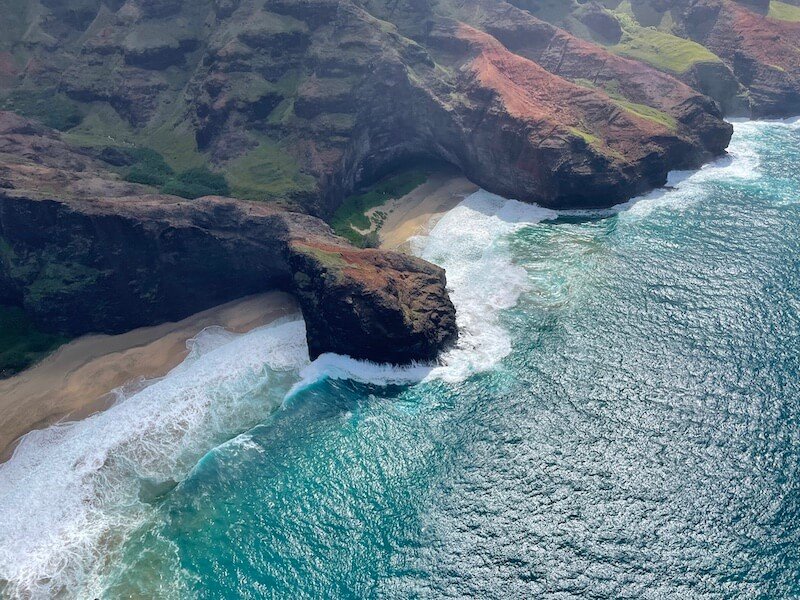 Most beautiful of all perhaps are the beaches where those two stunning sights of the Pacific and the Na Pali Coast intersect.
You'll fly over famous beaches like Kalalau Beach and Ke'e Beach, plus other lesser-known beaches that are tucked away like hidden pockets in the craggy landscape.
Next: The North Shore & Mount Waialeale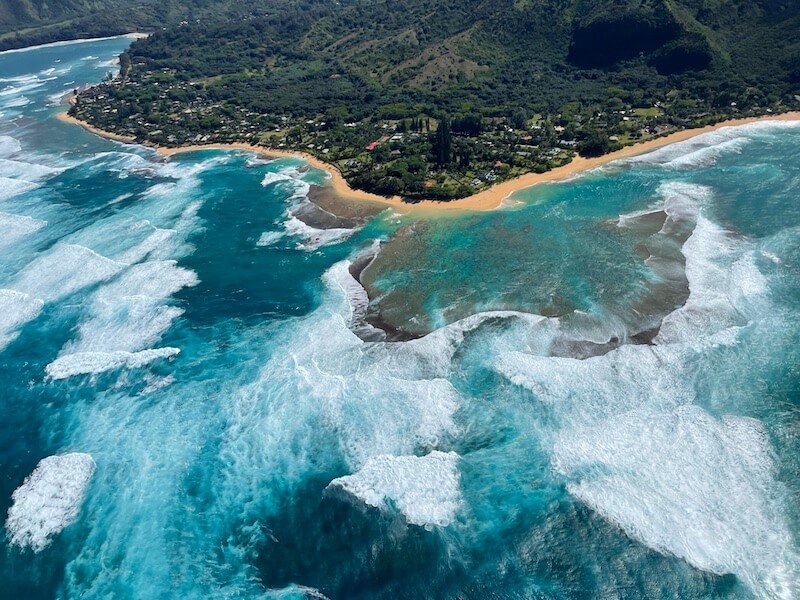 After the Na Pali Coast, you'll fly over the North Shore of Kauai, over Hanalei Bay and other lesser-known beaches that are stunning (and easy to visit on your Kauai itinerary).
Following the Waimea River for a bit, you'll head back inland to Mount Waialeale, which is known to be one of the wettest places on the planet.
This magic microclimate around the mountain makes it accumulate more than 450 inches of rainfall per year!
This is the second-tallest mountain on Kauai, so you'll soar quite high as you approach it, often entering a cloud before lowering down so you can admire the countless waterfalls streaming down the Weeping Wall.
This part can be the coldest part of the journey!
Finally: Back to Lihue Airport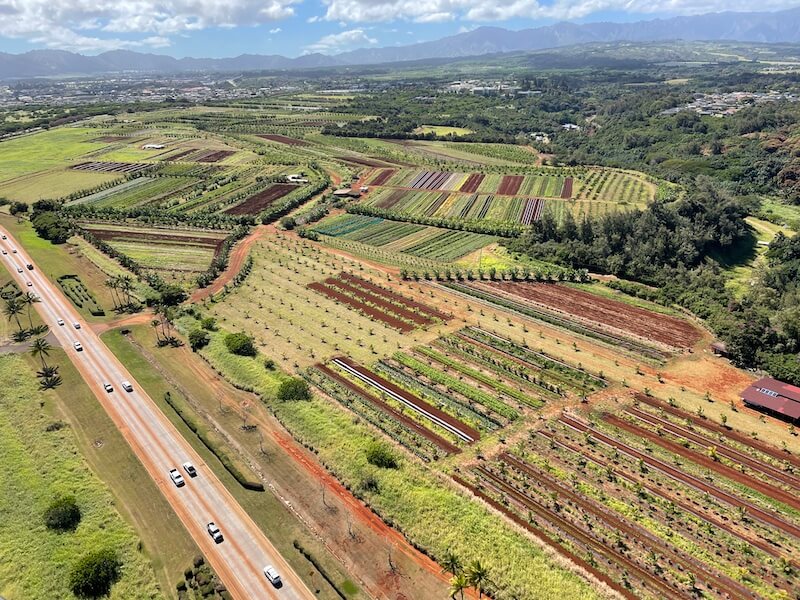 Mt. Waialeale is the final stop of your open door tour, and after that you'll return to Lihue Airport a changed person.
Truly, nothing compares to the beauty of seeing these natural wonders for yourself from the sky.
It was so beautiful I wanted to cry, and I feel so lucky that I got the chance to see the entire island of Kauai from such a unique perspective.
It gets cold — so dress warm!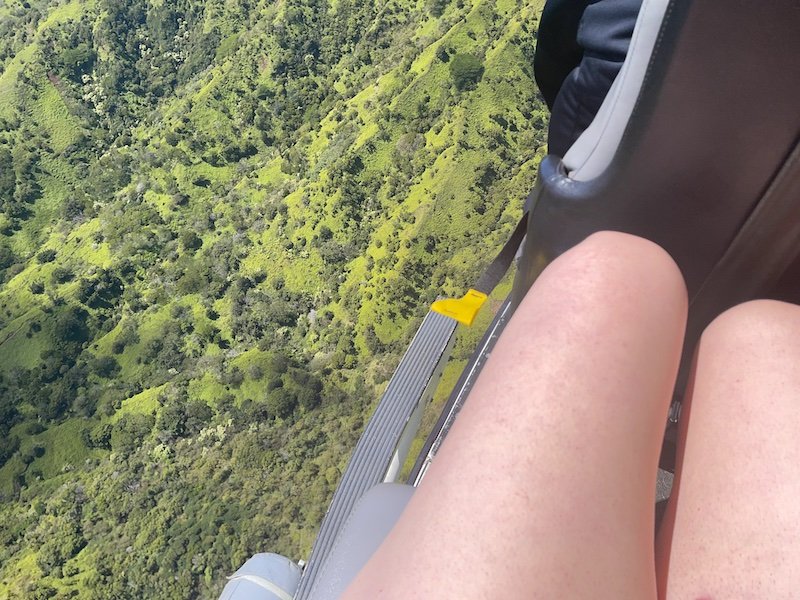 Honestly, this should be common sense… but as my own experience shows me, common sense is not so common — including (especially?) when it comes to myself.
I don't know what possessed me to wear shorts on a helicopter tour, considering I sleep with three blankets even in the summer, but I did… and I regretted it.
I'm not sure of the exact altitudes you reach, but you do go quite high. Since you soar over the Na Pali Coastline which is around 4,000 feet high, I'm guessing you top out around 5,000-6,000 feet in altitude.
They will give you a jacket which will keep your upper body warm enough, but my legs were prickling and freezing the entire trip!
Sensibly, my friend wore pants and had a much better time then I did, since she wasn't freezing cold for the entire Kauai helicopter tour.
You can't bring any loose items on your flight.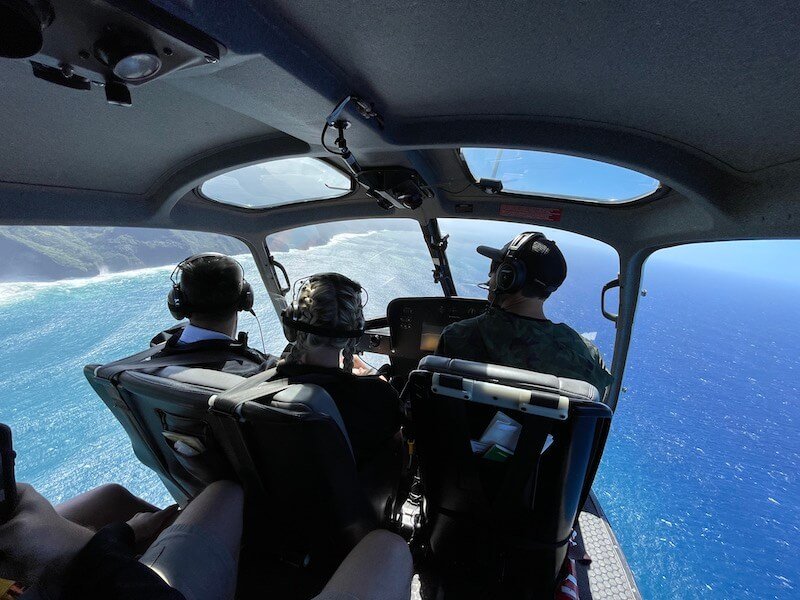 Again, this may initially seem obvious, but no loose items of any kind are allowed on a doors off helicopter tour.
We were a little disappointed to realize that the rules about no loose items included not being allowed to bring cameras, with the exception of cellphones.
Our Kauai helicopter tour company provided a lanyard case for our phones that secured them safely to ourselves, so we wouldn't drop them.
And frankly, once we got up in the air, I immediately understood why we weren't allowed to bring larger cameras (even strapped around our neck or wrist).
The wind is intense once you get in the sky and get moving, and it would be really difficult and hectic to manage anything larger than a cellphone.
On a similar note, you can't wear flip-flops or sandals on the flight, since these are a hazard and may fly off. You'll need to wear closed-toe shoes like sneakers for your flight.
Also, if you have long hair, you'll need to tie it up (and you'll want to, otherwise it will be in your face the entire time and you won't be able to see a thing!).
The wind is stronger than you think!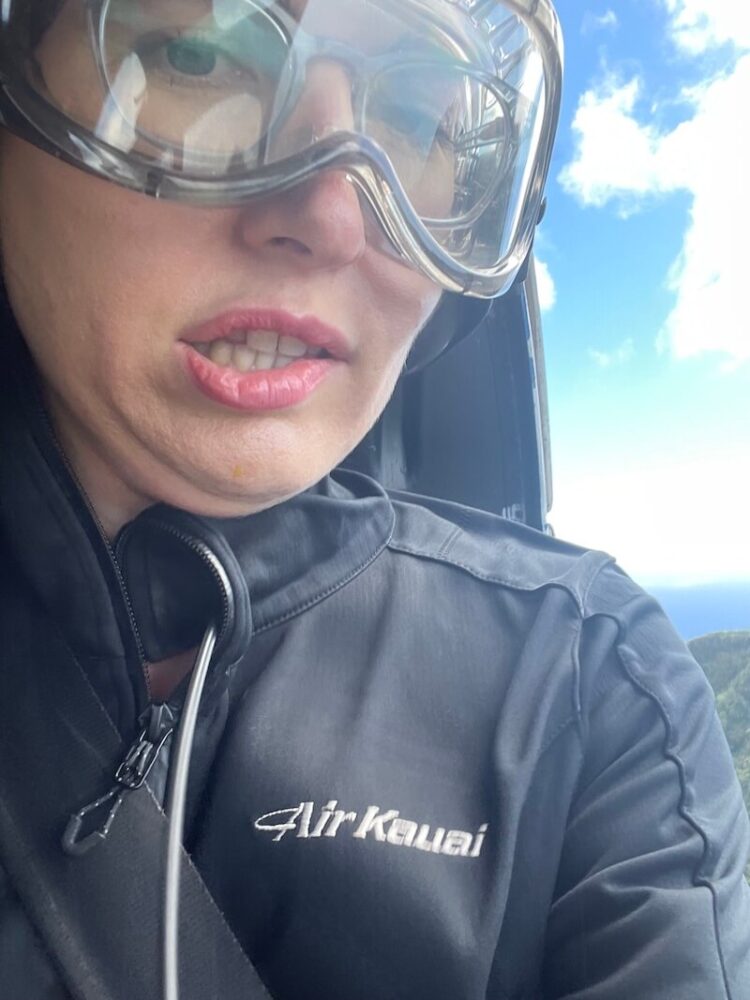 As I mentioned above, the wind is intense. Your skin will be rippling across your legs and face as you soar through the sky on your epic helicopter tour over Kauai!
The best way to prepare for this is to make sure you are covered up (pants, people! Again, learn from my foolishness) and to make sure that your goggles are secured strongly over your noise-cancelling headset.
Which leads me to my next tip for taking a doors off helicopter tour in Kauai…
Wear contacts, or have a lanyard for your glasses if you must wear them.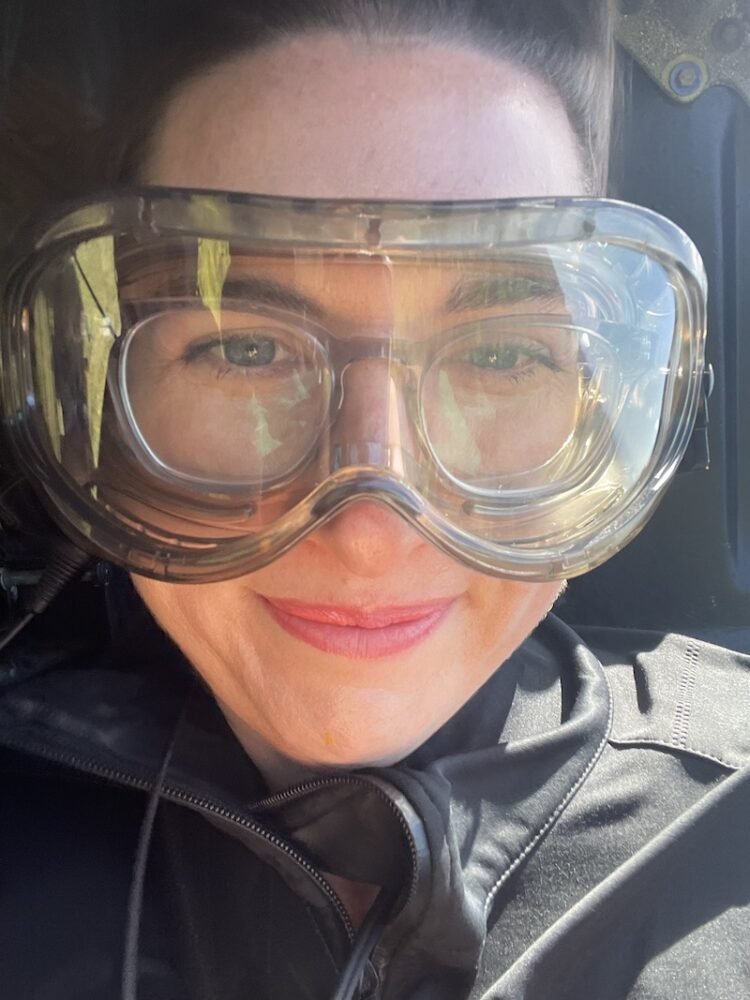 I foolishly didn't wear my contact lenses for my flight… another thing I ended up regretting!
Technically, the goggles can go over glasses just fine. However, I did end up feeling like my goggles were a bit loose due to the intensity of the wind shaking my headset.
That made me nervous that my goggles were going to come off — and then it was only a matter of time before my glasses, too, plunged off the edge of the helicopter, never to be seen again!
So, learn from my foolishness: either just wear the dang contacts or make sure you have a nerdy li'l lanyard for your glasses. You'll fly more at ease, trust me!
There are age restrictions on the flights.
Due to safety concerns, there are some age restrictions that apply to these helicopter tours.
For one, no kids under age 10 are allowed on the flights, period. Kids from 10-18 years old must be accompanied by an adult.
Finally, people must be at least 16 or older in order to sit on the edge seat (no window seats here — this is a doors off flight, after all).
If you are traveling with kids in the 10-15 year old range who really want the edge seat, prepare them that they will receive a middle seat ahead of time to avoid disappointment.
A doors off Kauai helicopter tour is still going to be a spectacular experience, no matter which seat you receive!
Be sure to arrive on time for check-in.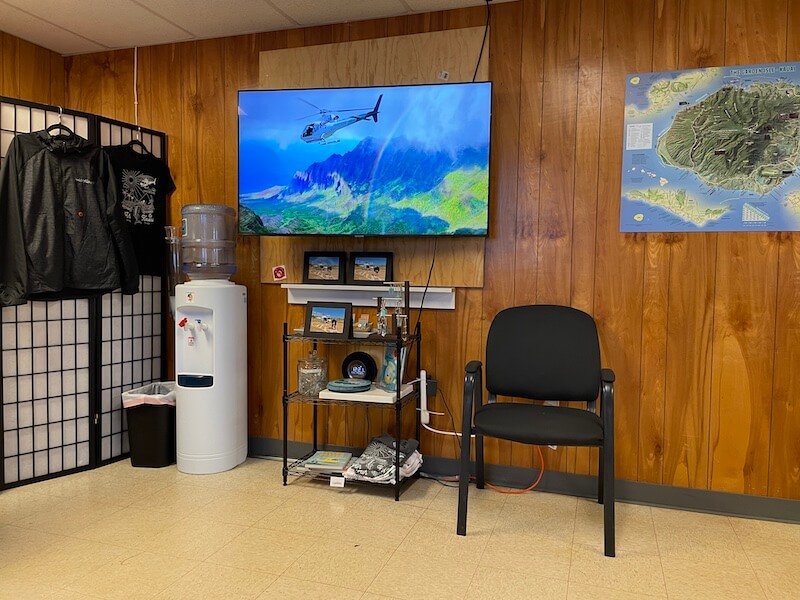 Check-in starts 45 minutes before your departure time, so don't be late! You need those 45 minutes.
Keep in mind that the Kauai helicopter tour companies are all located along Ahukini Road, not at the main Lihue Airport.
You will want to put directions to your particular helicopter company in your GPS and go there, rather than just to the airport in general, otherwise you're in for a long walk!
Once you arrive at your helicopter tour company, you will need to check in any loose items such as purses, wallets, sunglasses, etc.
You will also receive a lanyard for your smartphone so you can have it on you to safely take photos.
You'll also need to watch a safety briefing video before being brought over to the helipad area where the helicopters depart from.
You'll get your jacket, goggles, and noise-cancelling headset there on the helicopter launching area.
The company will take some souvenir photos of you before seating you in a particular and pre-determined order.
Each party of two gets one edge seat.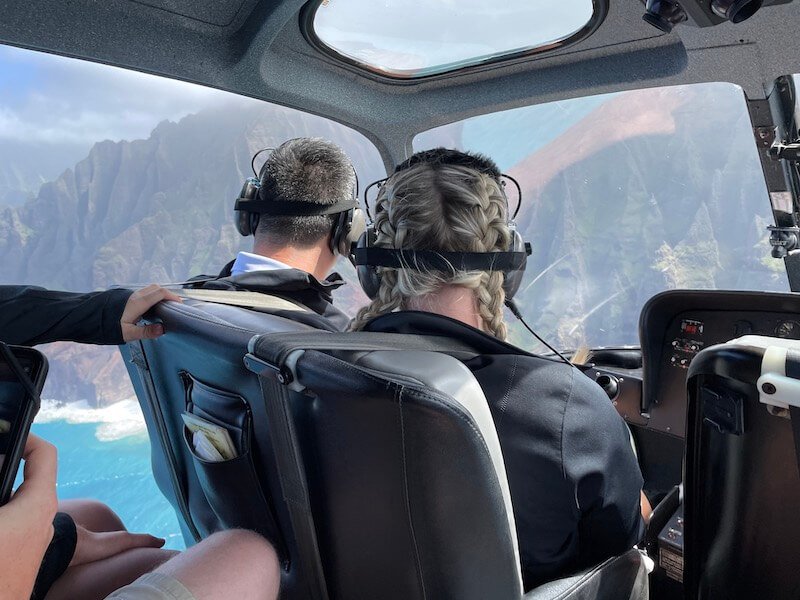 I flew with Air Kauai Helicopters, so my experience is limited to their helicopters.
Other helicopter tour operators in Kauai may have a slightly different seat arrangement: this was my experience.
On our Kauai helicopter excursion, there were two seats next to the pilot, and then four seats in the back.
That means there are six guests per helicopter flight, and three of them get edge seats.
My flight consisted of two couples, each of whom got an edge seat, and two single people.
I was the lucky single one who got the edge seat, whereas the other solo traveler got the middle seat next to me.
Keep this in mind if you are a couple booking together. Book on the same booking, so that at least one of you can get an edge seat!
As a rule, they reserve one edge seat per couple who books.
If you book separately from a friend, call to make sure you're on the same flight.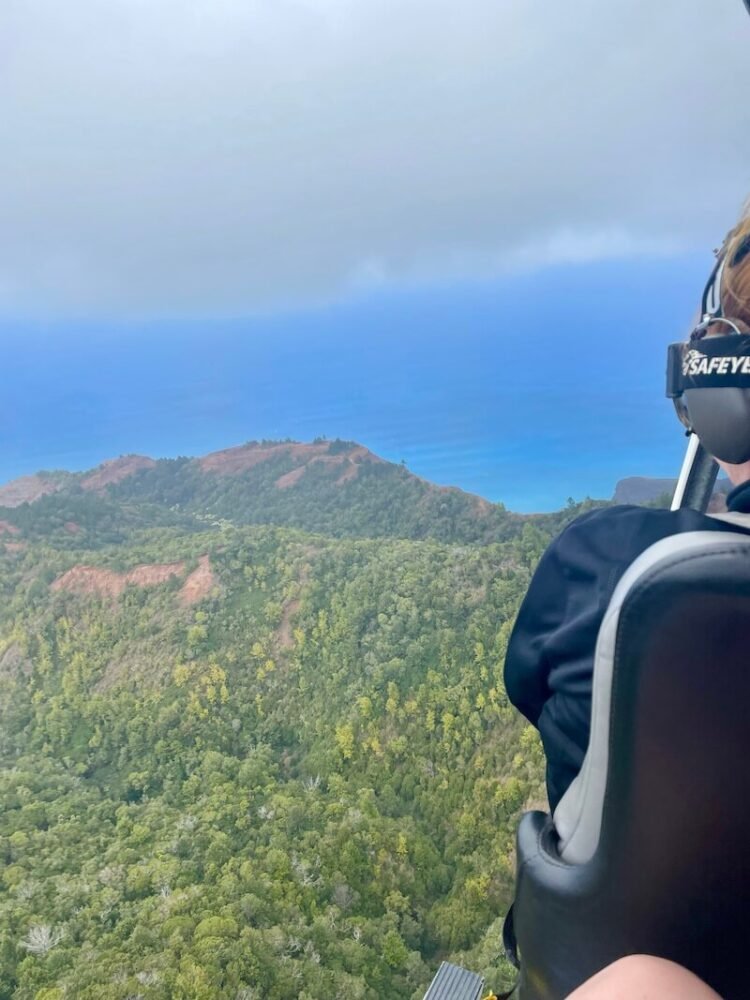 As I mentioned before, my friend and I ended up on different helicopter tours through the same company.
I didn't realize when I booked my flight that when you book an "afternoon" sightseeing flight, you are booking one of several potential time slots.
I ended up on the 1 PM flight and my friend was on the 2 PM flight, and by the time we realized it, there was no way to rectify it and fly together.
It ended up being a good thing, actually, as we each got to have an edge seat and we sat in different parts of the helicopter so we were able to compare notes on our experience.
(It also bought me an hour to come back to life from my motion sickness — but more on that in a bit).
However, if you're not a blogger taking notes in order to write a guide to taking a doors-off helicopter in Kauai… chances are you probably want to fly with your travel companion!
If you book separately online, be sure to call the company as far in advance as possible to request that you are put on the same flight.
You cannot dangle your legs out of the helicopter.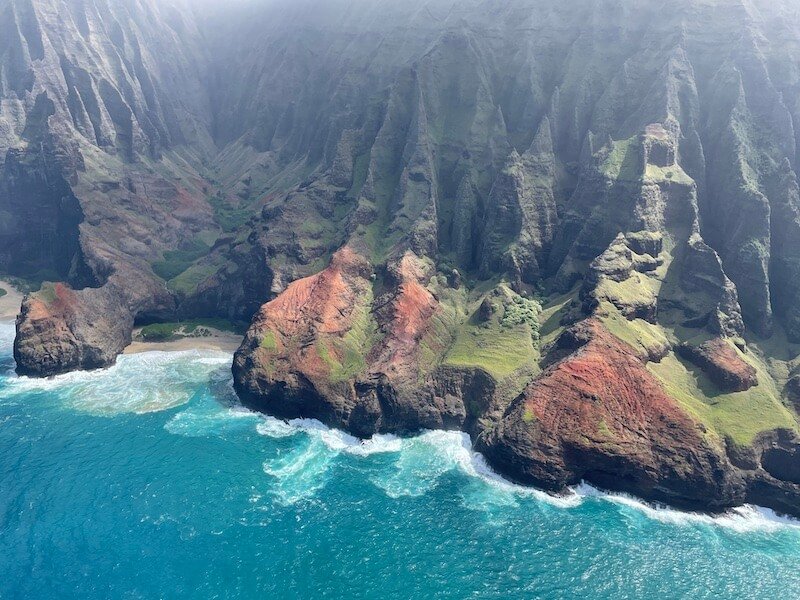 I have seen Instagram photos of the "legs dangling shot" over the Na Pali Coast, but I later learned that this is no longer doable for safety reasons.
Doors off helicopter companies in the US have since changed their regulations regarding doors off helicopter tours and the types of seats and harnesses that can be used.
This was in response to an incident in New York City and was changed due to safety reasons.
We were strictly told not to put any part of our body outside the helicopter as it was a safety risk, and there were signs clearly showing us not to dangle our legs for "the shot" as we checked in for our helicopter flight.
So to recap, while you've probably seen photos of this, and it may have been allowed in the past, regulations have since changed. Be aware in advance so you won't be disappointed!
Trust me, you can still get amazing photos even if your feet aren't in the shot 😉
Masks are required for check in, but not for the helicopter flight.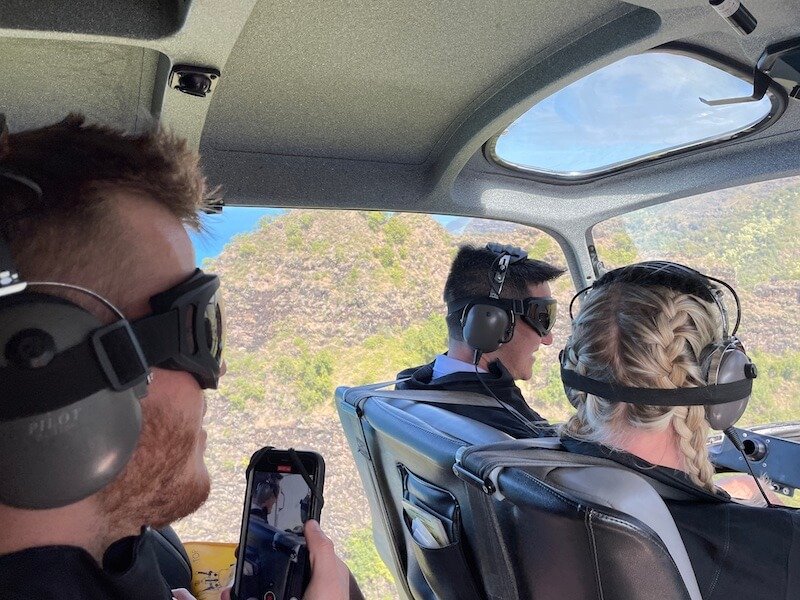 I traveled to Hawaii in February 2022, as Hawaii was the final state maintaining its mask mandate.
(Update on August 4, 2022: The mask mandate has now been dropped as of March 25, 2022).
Air Kauai checked our temperatures prior to check in and asked us to wear a mask while we were in the check-in area and in the van that took us to the helicopter launching area.
Once we arrived on the helicopter launch area, we were allowed to take off our masks and we did not need to wear them on the flight.
Even though I generally am very happy to wear my mask, I'm glad that it wasn't required on the doors-off flight, as it would have been just one more thing flapping against my face!
Plus, with the insane cross-ventilation you get, and the fact that no one is talking during the flight, your infection risk is virtually nil on a helicopter flight.
Afternoon is the best time of day for flights.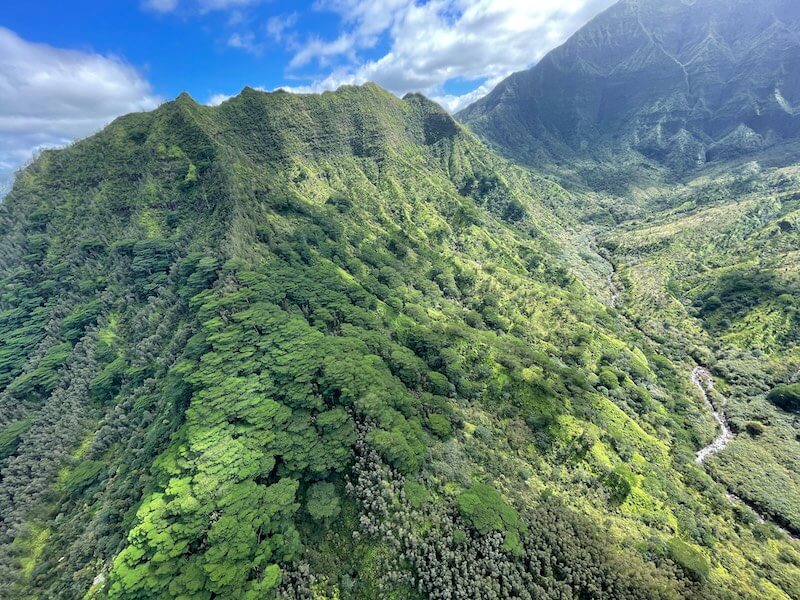 If you're looking for epic lighting conditions, I suggest booking an afternoon flight instead of a morning flight.
You will get better lighting on the Na Pali Coast, which is the most spectacular part of the tour.
My friend and I accidentally ended up on flights an hour apart, so we were able to compare our photos and see who had the better lighting.
While the lighting was still beautiful on my 1 PM tour, her photos on her 2 PM tour came out better and had better lighting.
(She was also notably less motion sick than I was, which leads me to my next point…)
Take Dramamine beforehand if you are prone to motion sickness.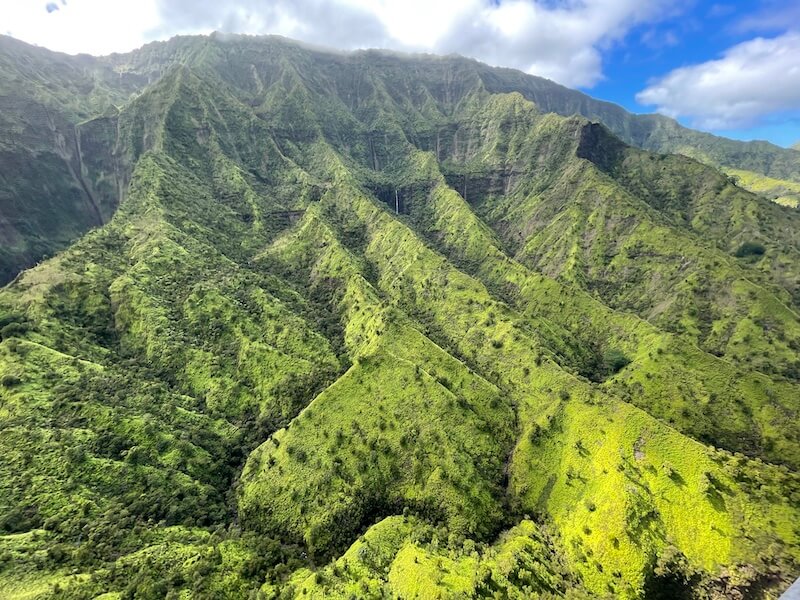 I got quite motion sick on my helicopter tour of Kauai, which made it hard to enjoy it to the fullest.
It was my first time doing a doors off helicopter tour, and I foolishly thought it would be similar enough to a doors on helicopter, which I had done before with no issues.
I figured I didn't need any sort of Dramamine or anything like that, since I don't get motion sick when I fly on airplanes or on previous helicopter flights I had done to the Grand Canyon and Valley of Fire.
I tend to only get motion sick on boats and winding roads when I'm in the back seat, so I didn't even think to take a motion sickness pill. I definitely lived to regret that!
What I didn't anticipate was that there would be a lot more shaking on a doors off helicopter tour, since the wind goes right through the helicopter and shakes it a fair amount.
I don't do well with rocking motions, so I started to feel sick pretty quickly on my helicopter tour of Kauai.
(If we're counting, that's mistake #3 I made on this 45-minute long doors off helicopter tour, which is an impressive mistake-per-minute ratio, even for me.)
If you've ever gotten motion sickness, or think you have the potential to, I strongly suggest taking a non-drowsy Dramamine before your helicopter adventure tour.
It won't hurt, and it may end up keeping you from getting sick and missing out on some of the wonder of the tour!
Even though I got motion sick, I still enjoyed my tour and was able to pay attention to the sights enough to enjoy my tour and photograph and video its beauty.
I did, however, literally lay down for nearly an hour in order to recalibrate while my friend did her flight!
That said, my friend also sometimes gets motion sick, and she was totally fine on her flight.
Anecdotally, she was on a flight with a girl who often gets motion sick, but she had taken a Dramamine beforehand and was fine.
In short: learn from my mistakes, and take the damn Dramamine.
The best seat is directly behind the pilot.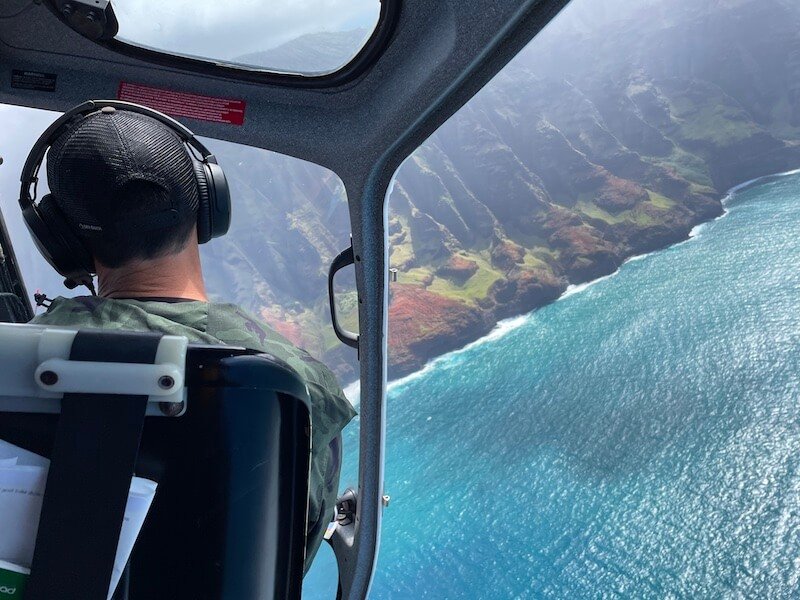 Since my friend and I took different helicopter tours, we were able to compare our photos and our experiences.
She said that she had better views and also felt that the wind was less intense on the pilot's side!
This makes sense as the right side of the plane, where the pilot flies, is typically facing towards the island.
Meanwhile, the left side of the plane is generally facing towards the ocean (and its accompanying winds!).
While the pilot makes an effort to rotate the plane as much as possible so everyone can get those stunning views of the Na Pali Coast and its sea cliffs, they do have to fly facing forward.
Naturally, the person behind them will get the clearest views of the Na Pali Coast the longest!
Let me say that I give this advice with the caveat that there are six seats on a plane and only one edge seat on the pilot's side.
Only one person can get "the best seat in the house" and odds are, it might not be you!
Be gracious — feel free to request this seat, but know that other people may be slotted for that seat.
This may either be for safety reasons (they consider weight distribution when they seat the plane) or because someone else has already claimed it.
Be aware of cancellation policies.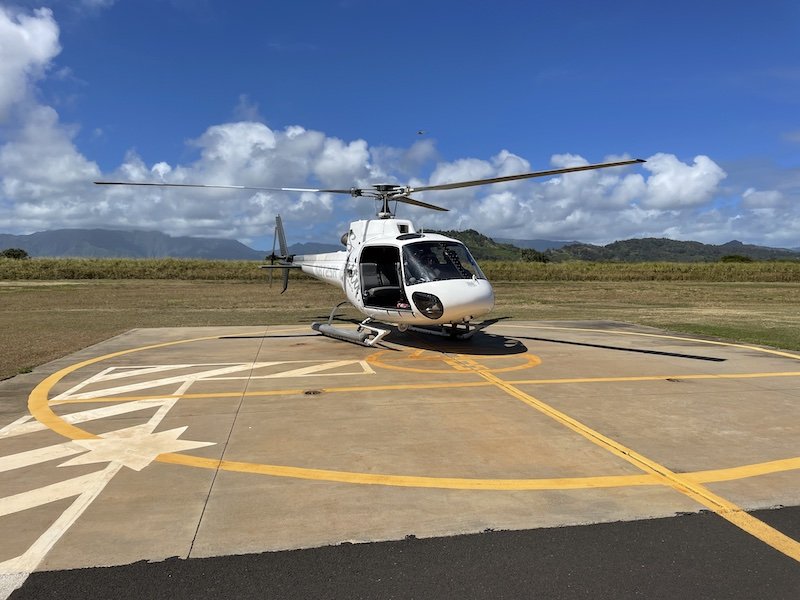 With a high-ticket tour like a doors-off helicopter tour, you'll want to be aware of the cancellation policy.
We booked our doors-off helicopter tour with Viator, which offers a flexible 24-hour cancellation policy, which is the main reason we booked with them. (It's also $5 cheaper there — not much, but it's something!)
If we booked through the Air Kauai website, we would have only had a 48-hour cancellation period and it would have been a few dollars more.
In this instance, booking with a third party offered us more protection in case our plans changed last minute — which is peace of mind that is priceless during these Covid times!
Allison Green is a former educator turned travel blogger. She holds a Masters in Teaching and a B.A. in English and Creative Writing. Her blog posts merge her educational background and her experience traveling to 60+ countries to encourage thoughtful travel experiences that both educate and entertain. She has been a speaker at the World Travel Writers Conference and her writing, photography, and podcasting work has appeared in National Geographic, CNN Arabic, CBC Canada, and Forbes, amongst others. Now based in the San Francisco Bay Area where she grew up, she has also lived in Prague, Sofia, and New York City.