There's nothing I like more than traveling around colorful cities and neighborhoods teeming with bright hues. I'm usually already wide-eyed and thrilled to be traveling somewhere new. Add bursts of color in unexpected places and I suddenly find myself inspired and dare I say, even a little giddy?pin
Since I'm always adding to my ridiculously never-ending list of places I want to travel, I figured the best people to ask were travel bloggers. The enthusiastic response surprised even me – they contributed 30 different colorful cities and neighborhoods around the world, from Ireland to South Africa to the US to Argentina. Here they are below – followed by two of my personal favorites, including one that's sure to surprise you!
Penang, Malaysia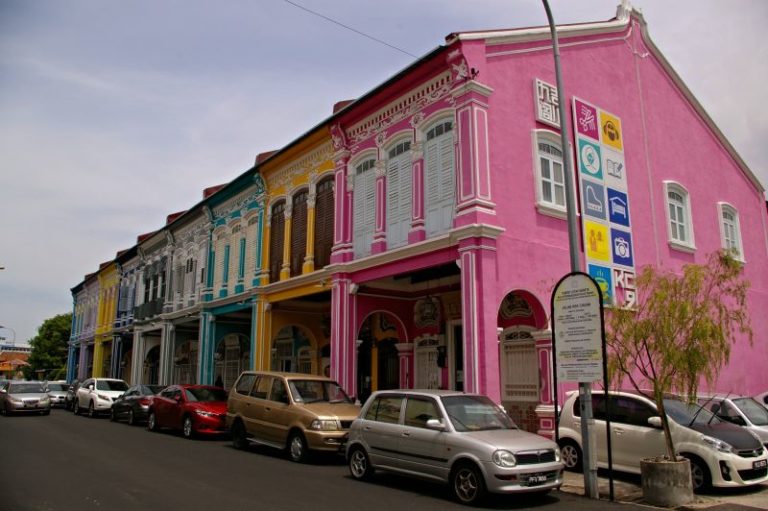 Note: This post contains affiliate links, which means I may receive a small commission if you purchase something through one of these links. Thank you for supporting the free content on this site! For more information on affiliate links and cookies, see my disclosure page for more details.
Ria of Life in Big Tent
Penang Island (Malaysia) and especially George Town is rich with history, colorful details, and inspiring places. It's a place where your walk around can be turned into never-ending discovery trail. For example, this colorful buildings complex I found by accident in Jalan Kek Chuan. I was just walking around and searching for the murals (Penang is also famous for the street art projects). There is not much story behind these buildings, only that the street name was given after Lim Kek Chuan, the co-founder and first President of the Penang Chinese Chamber of Commerce, who owned 17 shop houses along this road in the 20th century. And the new picturesque look is a result of building restoration. Now in this place known as Kau Keng Choo, you can find cozy restaurants, coffee shops, and other stores. Inspired? Check out how to get to Penang Island.
Strasbourg, France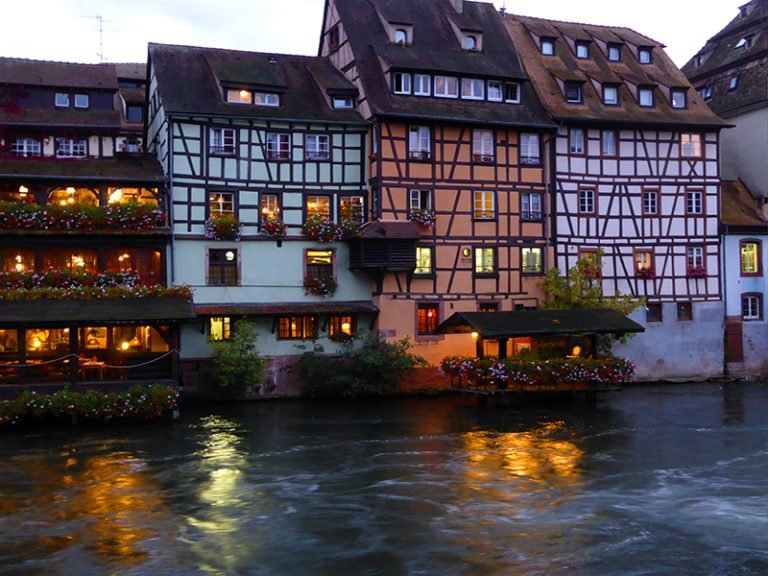 Paula McInerney of Contented Traveller
Strasbourg is in the breathtaking Alsace region of France and its ties with Germany are palpable. This city is both medieval and modern in some very interesting ways. The houses are your typical fairy tale houses of many different colors. Strasbourg is a series of twisting and turning cobble-stoned alleys with crooked half-timbered houses, with geraniums cascading from the window boxes. It is hard to go past the magnificence of the Gothic cathedral that dominates the city. Here in the Cathedral Square, The Notre Dame reins supreme, surrounded by more stunning houses and an amazing old gothic house that is now the restaurant, Maison Kammerzell. You will see street artists and performers and tourists aplenty. People come here for a reason – the city is beautiful.
Bo Kaap, Cape Town, South Africa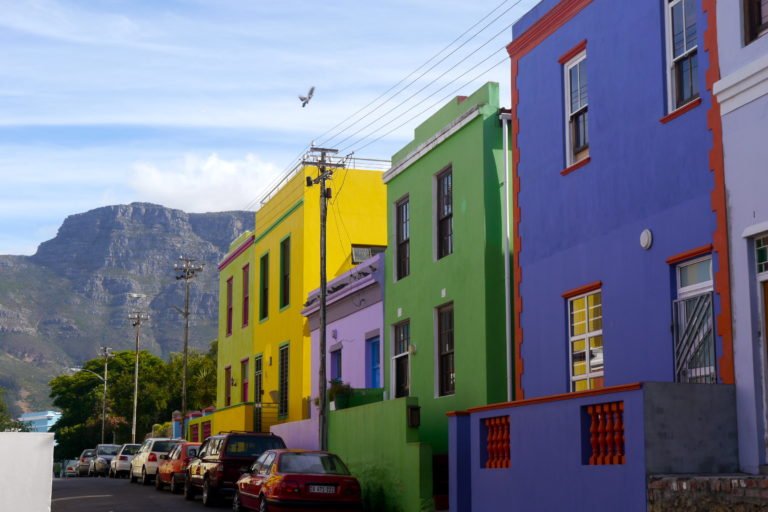 Erika of Erika's Travels
Formerly known as the Malay Quarter, the brightly colored neighborhood of Bo Kaap is home the majority of Cape Town's Malayan population. Many of the residents of Bo Kaap are descendants of slaves from Southeast Asia, Africa and the Indian Subcontinent. These slaves were brought to the Cape by the Dutch East India Company in the 1600s and have established a community that is as culturally diverse as it is colorful. The population of Bo Kaap is predominantly Muslim, which is reflected in the many minarets scattered throughout the neighborhood. 

The bright colors of Bo Kaap were introduced to the neighborhood after Apartheid in the 1990s. The vibrant hues intended to bring joy to the residents of the neighborhood during the celebration of Eid and have since evolved into a cornerstone of the area's identity. The Bo Kaap neighborhood sits at the foot of Signal Hill. The town's mountainous backdrop creates a dramatic backdrop to the beautiful rows of multi-colored houses.
Woodstock, Cape Town, South Africa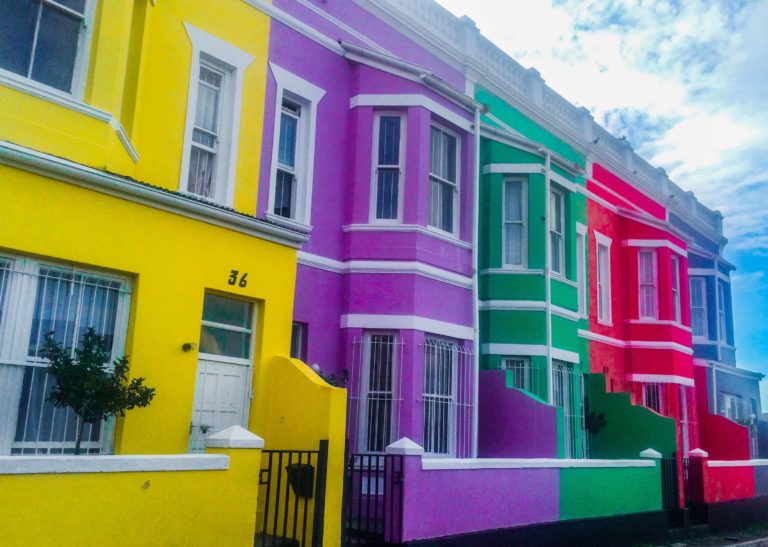 Natasha of The World Pursuit
Many people see the bright buildings that make up Bo-Kaap in Cape Town, but just right down the street is another vibrant neighborhood – Woodstock! Woodstock was known for its high crime and drugs a few years back, but is now going through a bit of urban revival and gentrification. Everywhere you look there are bright buildings, street art, fantastic coffee shops, and trendy restaurants. A day tour around Woodstock should definitely not be missed while in Cape Town.
Annecy, France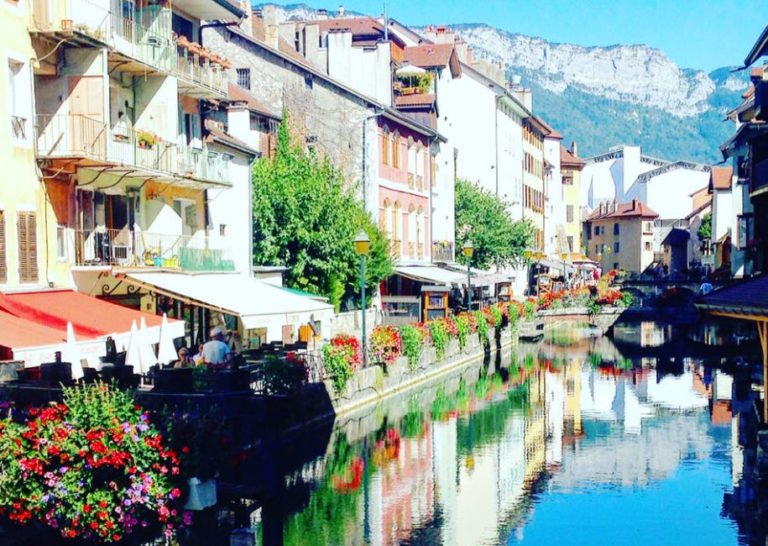 Janet of Journalist on the Run
When planning my current trip across Europe, there was only one destination I knew I had to pass through. Annecy, a small town in France right next to the Swiss border, has always fascinated me. To be found on every European bucket list out there, this picturesque town is one of the most colorful you will ever visit. There are hanging baskets and flowers lining every street, all the buildings are painted in a variety of pastel colors, and the town's location on the beautiful Lake Annecy simply adds to its charm.
Notting Hill, London, England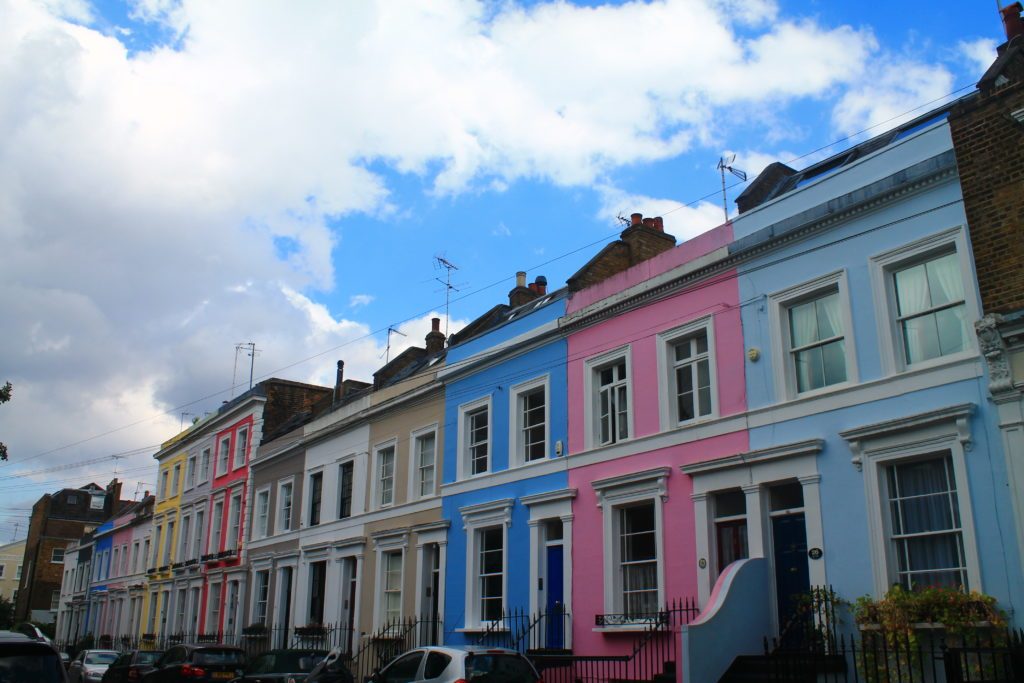 Natasha of World Inside My Pocket
In West London, you can find the adorable little district of Notting Hill. Notting Hill is quite a famous neighborhood, known for being the setting of the Hugh Grant/Julia Roberts blockbuster and also the location of the crazy, annual Notting Hill Carnival. Notting Hill Carnival originated from race riots in the 1960s, when the district was far from the affluent area that it is now (an apartment in Notting Hill nowadays will set you back £3,246 per month on average).
In the center of Notting Hill you can find Portobello Road, home to Portobello Market, which just celebrated its 150th birthday! Portobello Road is undeniably one of the most photogenic spots in London, boasting long miles of beautiful terraced streets of pastel-colored houses. At the market, which open each and every day of the week, you can buy all sorts of things: from antique trinkets and furniture to edgy vintage clothes and accessories that will have all your friends back home jealous. I love visiting the market and buying a whole load homemade jewelry before kicking back and relaxing at one of the many old traditional London pubs that are dotted down the street. My favorite thing about Notting Hill, though, is just how damned pretty it is!
Chefchaouen, Morocco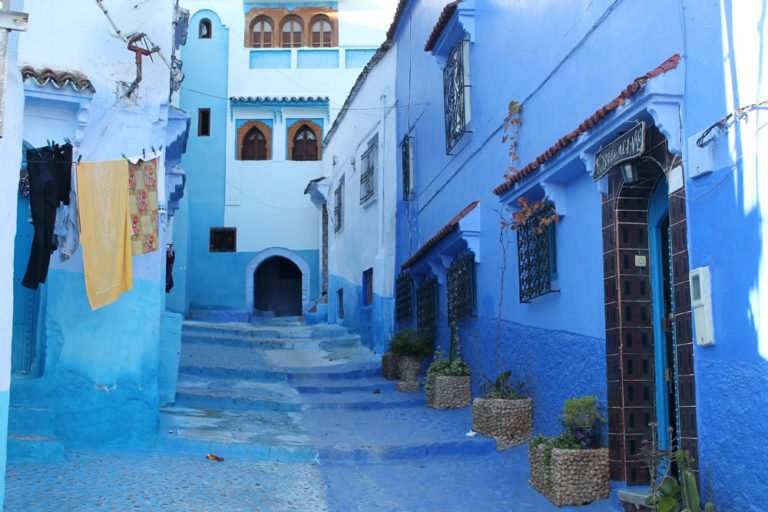 Jon of Jon is Travelling
The historic medina of Chefchaouen, with its hashish hustlers and sea of blue lanes and houses, is unlike anywhere else in the world. This little city set among the rocky Rif Mountains has had a history almost as colorful as its buildings. Chefchaouen was founded in the 15th century as a fort designed to thwart Portuguese invaders and was also ruled over by the Spanish for half a century in the 1900s. Today it's a popular tourist spot, largely thanks to its proximity to Tangier (and therefore Europe) as well as its unique monochromatic color scheme.
Burano, Italy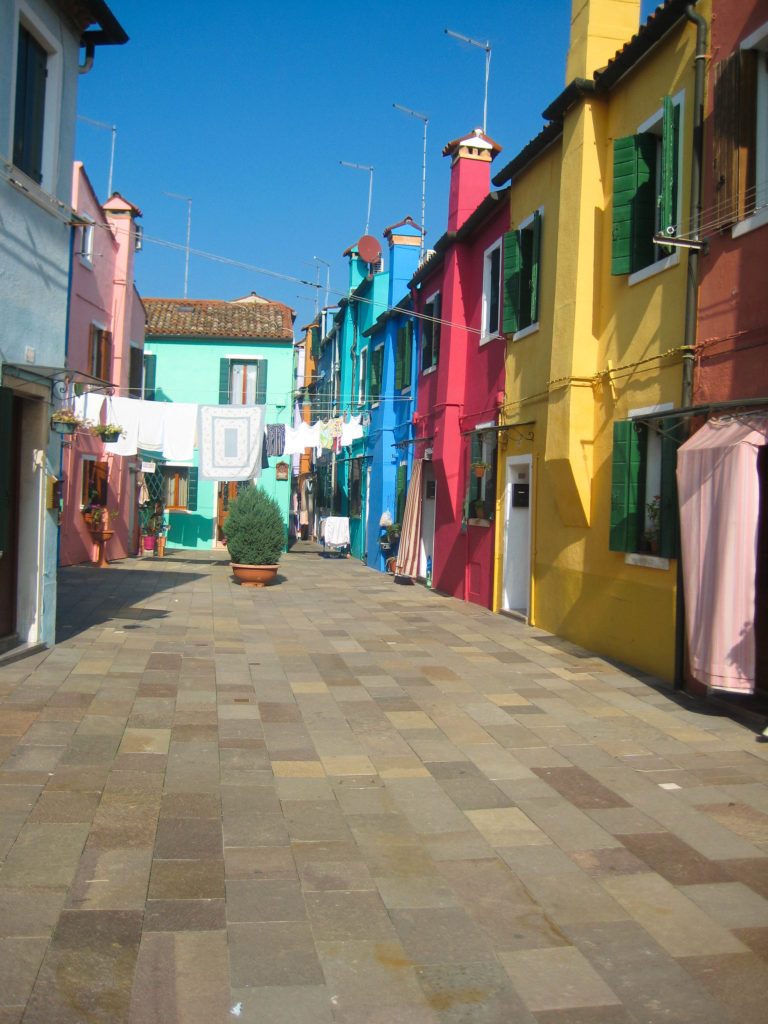 Mia of Travel with Mia
Burano, Italy is a small, charming island located in the Venetian Lagoon just 40 minutes by ferry from Venice. The houses in this colorful fishing town are almost identical on the interior, but the exteriors set them apart with their unique hues. According to legend, fishermen painted their houses in vibrant colors so they could find them in the early morning fog. However, some say it was to help the men find their way home after a drunken night at the pub! Which do you believe?
Legends withstanding or not, the color scheme in Burano is so carefully planned that if anyone wants to change the color of their home they have to ask the government for permission. Once permission is granted, the homeowner will be given a list of  acceptable colors to choose from. No matter how the colors are chosen, Burano is stunning and no trip to Venice, or Northern Italy for that matter, would be complete with popping by for a visit.
Havana, Cuba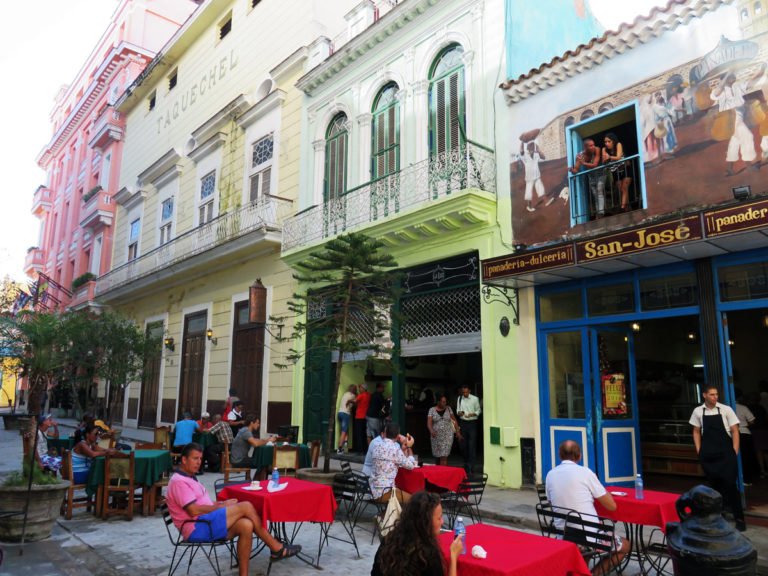 Laura of Savored Journeys
The brightly-colored colonial architecture that can be found all over Havana, Cuba, is one of my favorite things about the city. It's one of the things that brings out the vibrant and tropical feel of Havana, even in a time when many of Havana's older Art Deco-style buildings are beginning to crumble.
The art deco movement was alive and well in Havana in the early 1900s when the city was flourishing, which led to many unique elements to the architecture that still remains today in Havana, including the use of bright colors, like florescent yellow, green and blue. Like other Caribbean cities, Havana's colorful facades truly define its character.
Oaxaca, Mexico
Dean of La Vida Global
The sleepy city of Oaxaca represents everything that is amazing about Mexico. Typically colorful buildings line the streets, creating a festive spirit all year round. Cobbled and paved streets all seem to lead to magnificent Spanish churches, the town square or buzzing markets, while street vendors sell everything from fried grasshoppers to world class chocolate.
Oaxaca is the food and creative heart of Mexico, with almost all of the traditional souvenirs sold throughout the country made in the tiny surrounding villages. And any town with a whole street dedicated to chocolate is worth a visit as well!
Somewhat less colorful but equally as impressive are the Monte Alban ruins high in the mountains overlooking Oaxaca. The icing on the cake, as it were, in making Oaxaca the place that gives you the best of Mexico in one small and bright package.
Cinque Terre, Italy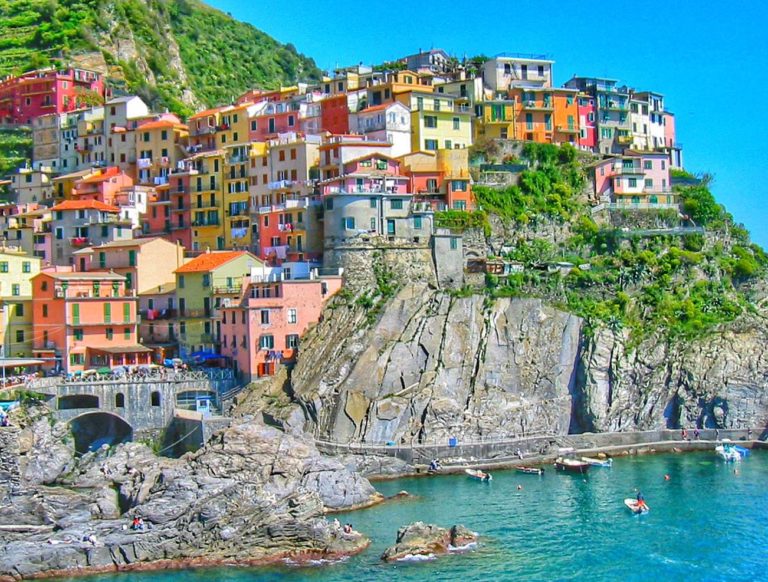 Ian of Escaping Expectation
Italy is known for many iconic landmarks, but Cinque Terre is easily one of its most enchanting. Located along the Italian Riviera, it's a collection of five (cinque) seaside fishing villages that look like they came straight from a fairy tale – each unique in its own way. The vibrant, pastel-colored houses and vineyards are built into the side of the rocky coastline.
A protected UNESCO World Heritage Site, Cinque Terre has become a popular tourist destination. With no cars in sight, you're able to peacefully explore the villages, appreciate the architecture, and enjoy the beautiful coastal scenery. A 12km hiking trail connects the villages and offers unrivaled views of the Riviera.
Cinque Terre has it all: beautiful beaches, traditional Italian culture, great local food (don't forget to try the pesto!) and wine, several hiking trails, and great scenery. After a few days – it's hard to leave!
La Boca, Buenos Aires, Argentina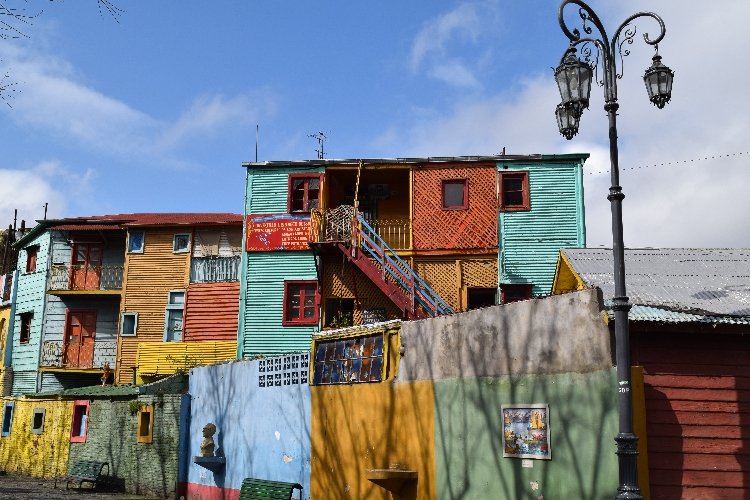 Dean of La Vida Global
With a history almost as colorful as the houses and shops that make up this suburb of Buenos Aires, La Boca is like the proverbial car accident. A place that is so obviously geared toward the tourist, and yet you can't help but keep looking.
Regarded as the home of the tango and a place that was born as a home to poor migrants, La Boca is now on the hitlist of almost everyone who visits the Argentine capital. When you get past the tour sellers, the tango dancers asking for payment for a photo and the waiters doing the hard sell to get you to eat in their restaurant, you will discover an experience that is quite hypnotic.
A kaleidoscope of color, faded in many places, beckons you to look a little deeper. Small side alleys draw you in with quirky artwork and souvenir stalls. And towering over the area like a guardian is the impressive La Bombanera, one of the world's most famous football stadiums. Just because it is touristy should never mean it is to be avoided. Go to La Boca with the awareness of an adult but the eyes of a child, you will feel as well as see the town.


Zamosc, Poland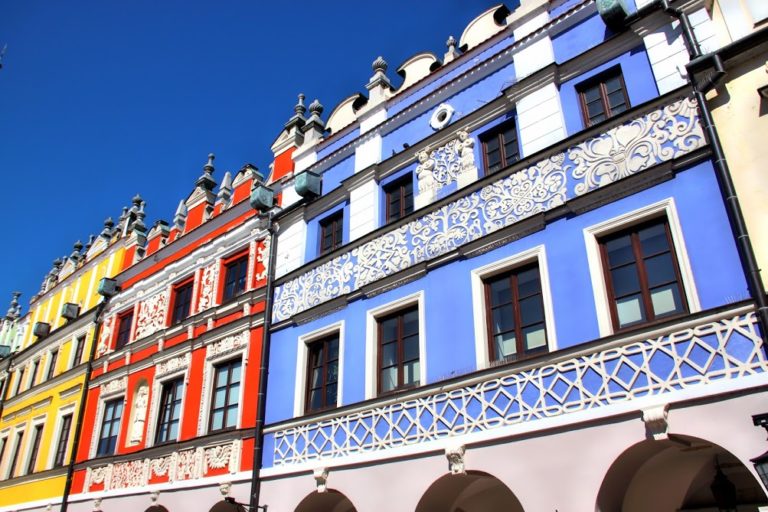 Karolina of Karolina Patryk

Zamosc is a small town located in eastern Poland, close to the border with Ukraine. Its old city is a UNESCO World Heritage Site, called the Padua of the North or the Pearl of Renaissance. It is one of the few well-preserved places like this in Europe.
We absolutely loved it! The tenement houses that surround the Town Square are colorful and picturesque. The monuments that we liked the most are Armenian Houses: green, yellow, red, and blue buildings located right next to the Town Hall.
Zamosc is a hidden gem of Europe, still not many tourists know about it. We are pretty sure it will change soon. A beautiful town like this can't remain unpopular for too long!
Positano, Amalfi Coast, Italy

Gia of Mismatched Passports
Set in the Amalfi Coast in Southern Italy, Positano is a captivating cliff-side town with pastel-colored houses that cascade down the Mediterranean Sea. This postcard perfect town is not only beautiful from afar. It's a great place to wander around with its narrow winding lanes and steep staircases that takes you along cozy cafés, charming hotels and fancy restaurants. To end the day, go all the way down by the beach or find a quiet spot uphill to watch the sunset.
New Orleans, Louisiana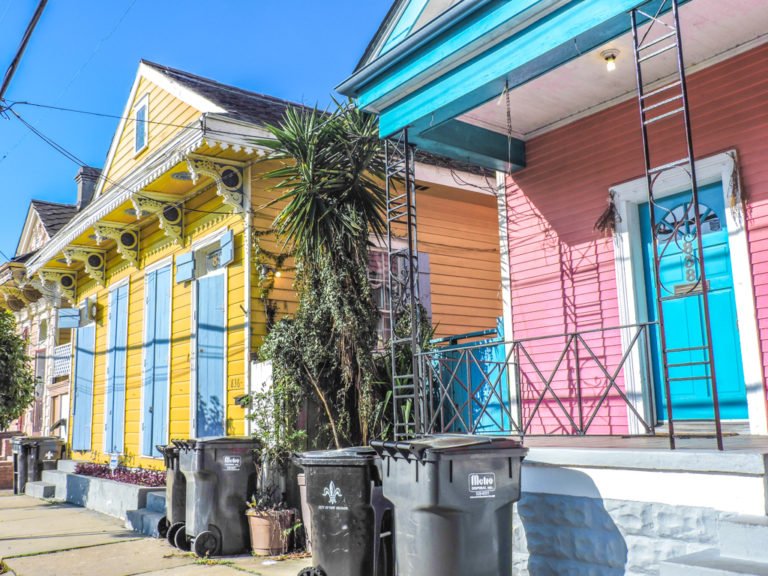 Gemma of Two Scots Abroad
Jazz, Bourbon Street, Po' Boys – there is no denying that New Orleans is a colorful city. But what really make this destination pop is the brightly colored wooden houses in likes of the Marigny neighbourhood. There is no rhyme nor reason to the colors picked to decorate what would be bland brown housing. You'll see bright blues next to shocking pink and mellow yellows next to turquoise green.
Many of these shotgun houses are occupied by very colorful residents too! It has been suggested that the colors chosen are keeping in line with the annual explosion of color that is Mardi Gras New Orleans! Gawking at the colorful houses is just one of the cool things to do in hot New Orleans!
San Cristobal de las Casas, Mexico
 
Bianca of The Altruistic Traveller
San Cristobal de las Casas is a quaint, colorful town located in a mountainous region of the Mexican state of Chiapas. Home to several indigenous groups who are descendants of the Mayans, the town of San Cristobal is a mix of both past and present. Its historical center consists of beautiful churches built in Spanish colonial times; however, if you walk down the small alleys you'll find modern cafes serving tapas, chai tea and locally sourced red wine, to complement the cool climate up in the mountains. 
The town is always full of color, whether it's the painted shopfronts, the flags that line the streets or the colorful traditional wear of the indigenous inhabitants. That color is what has attracted many people to this lovely little town, including a community of hippies, which is why you'll find hemp clothes and vegan pizza on offer.
Rue Crémieux, Paris, France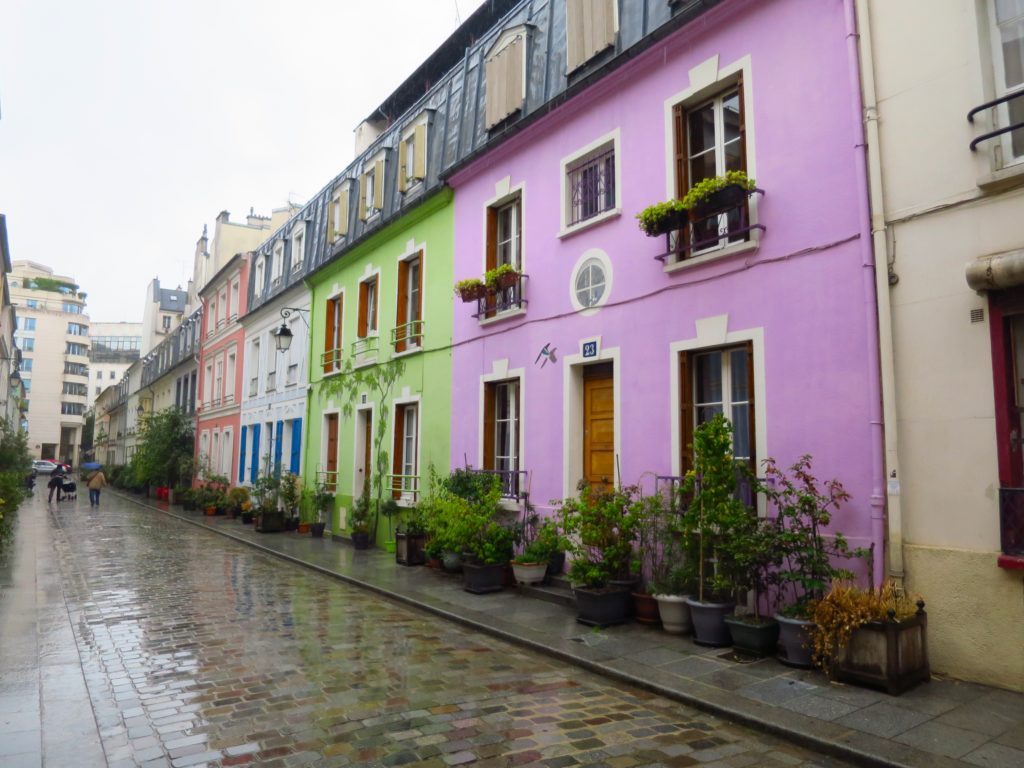 Kerri of Beer and Croissants 
I love Paris!  It's one of my favorite cities in the world. The buildings that are so uniquely French draw me in each time. I could look at their uniform structures with their second and fifth floor wrought iron balconies and the slate colored, flat roofed attics for hours. However, one attribute they decidedly lack is color. In keeping with tradition, all Hausmannian buildings are sandstone colored.  
This is why the wonderful little street of Rue Crémieux stands out and is known as the most colorful street in Paris. Seemingly a world away from Paris, this small cobbled street in the 12th arrondissement is home to some of the cutest houses. Glancing down the street, pastel colors of blue, green yellow and purple will immediately catch your eye. As you walk to get a closer look, the murals of trees look so real that you'd swear they were real plants climbing their way up to the roof. Or you will think you're surrounded by cats, with both the real and painted variety featuring heavily here. A short walk from Gare de Lyon train station, this once seedy area has now been brought alive with a pop of color.
San Francisco, California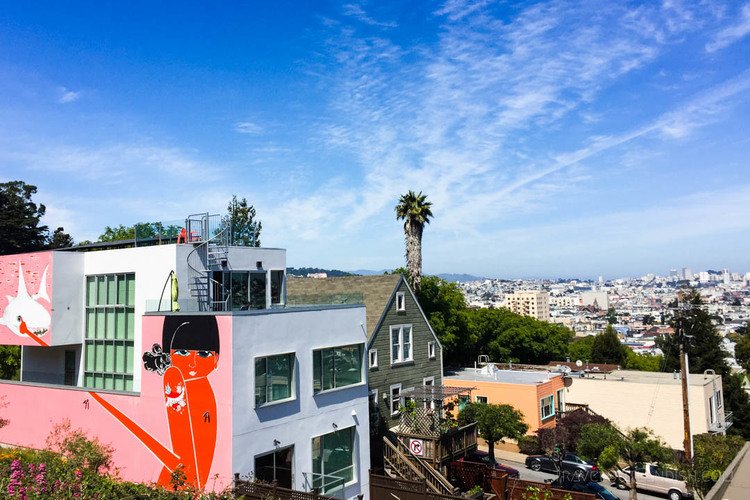 Taylor & Daniel of Travel Outlandish
While the Painted Ladies and the Golden Gate Bridge are San Francisco's most famous colorful icons, the whole city is filled with unexpected bursts of color. You can discover entire blocks of pastel houses, mismatched garage doors, and hand painted mail boxes. You can wander street art alleys for hours and discover colorful mosaics and parks just about anywhere.
San Francisco can feel more like a cluster of eclectic neighborhoods if you do it right, so ditch the dull downtown and experience all the colorful and unique things to do in San Francisco.
Galway, Ireland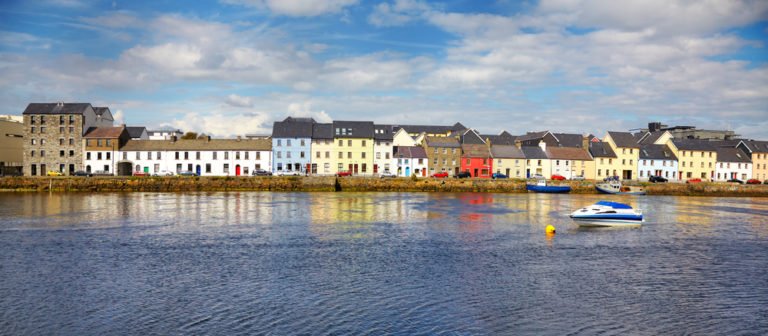 Kathleen of Squidgy Moments
Galway City, no matter the season, no matter the weather, is a charming, warm place to be. What I love most about Galway is that strolling through its cobble-stoned streets is like stepping back in time and this is all aided by its colorful shopfronts and bars.
Even on the wettest of days, Galway just has a buzz about it and I think that's what captivates all who visit. While there, be sure to stroll among its beautiful, picturesque streets, be sure to enjoy a pint of Guinness and be sure to catch some live, traditional Irish music once the sun goes down.
Bushwick, Brooklyn, New York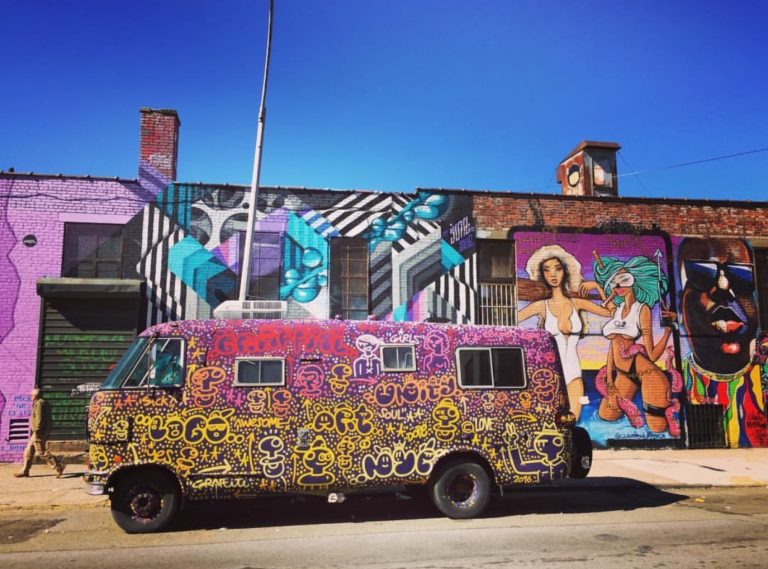 Mabes A. of Le Gypsy Soul
Bushwick is one of the most colorful neighborhoods in New York City. Its gentrification started over 3 years ago, and it has changed a lot. The neighborhood has its own vibe. Streets are full of bars, small restaurants, and coffee shops. The Bushwick Collective has decorated the streets with different graffiti over the last years, giving the neighborhood its own identity. 
Girona, Spain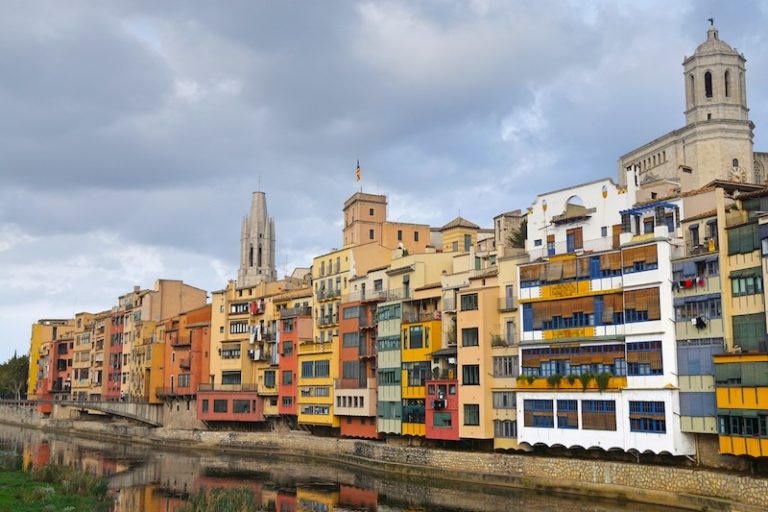 Emily of HappynFull
As you cross the many bridges along the River Onyar, you cannot help but notice the brightly painted facades of the houses lining up and down both sides. Girona, Spain is a must visit if you're looking for a quaint ancient town (over 2,000 years old!) with narrow medieval alleys and cobblestone roads.
This town is also a must visit for all Game of Thrones fans as you will recognize many of the landmarks in several episodes, including the wide Catedral de Girona.
Barcelona, Spain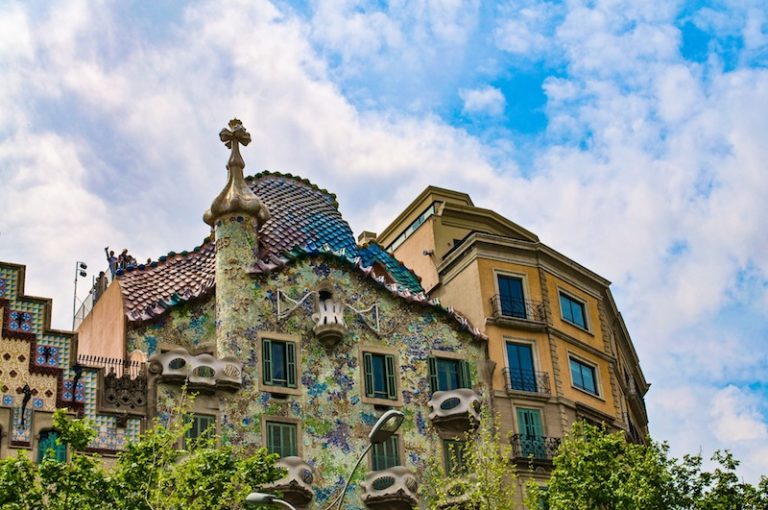 Gabriela of Gabriela Here and There
Barcelona is a vibrant city with colorful and unique architecture. Antoni Gaudí is the most famous architect in Barcelona and you will see his work all around the city. Sagrada Familia, Casa Milà, Casa Batlló and Palau Güell are some of the buildings designed by Gaudí. His work is a combination of vibrant colors and interesting shapes.
Park Güell is known as one of Gaudí's most colorful works. Inside the park, you can find colorful buildings and sculptures and also admire Gaudí's amazing tile work. An icon of the park is a colorful mosaic lizard. At the top of the park there is an area where you get an amazing view of the whole city.
Sibiu, Romania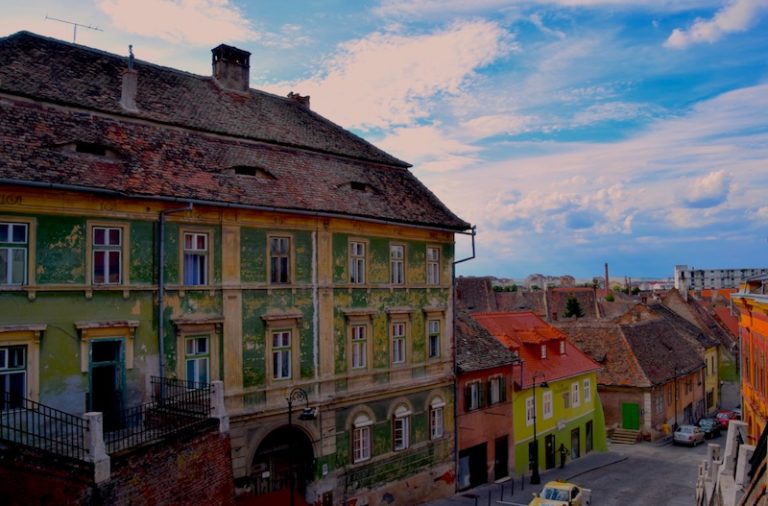 Melanie of Melanie May
Sibiu in Transylvania was an impromptu stop on our way to Bran. The sun was shining and we had been driving for hours but it was just too nice of a day to waste on the road. A quick detour took us into a maze of golden-tinged streets lined with colorful buildings painted in a myriad of green, blue, and orange shades. The edifices were topped with weathered terra cotta colored roofs with attic windows that looked like eyes peeping out from under suspicious brows. We instantly fell for Sibiu's charms and bathed in its warm glow as we wandered its characterful streets.
Roussillon, France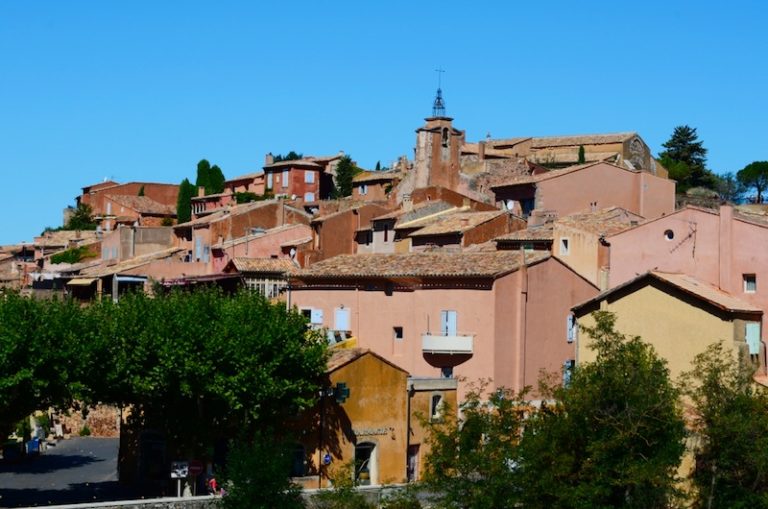 KJ of Always Travelicious 
Roussillon is a wonderful village in Provence, France. During the 19th century, Roussillon was once a mining town that mined for the ochre pigmentation found in the cliffs nearby.  The same ochre pigmentation was used to paint the village, resulting in the beautiful pinkish-brown color on the houses.
But that's not the only color you'll see because you'll also discover other delightful colors such as blue, green, yellow or red that's used to accentuate a door or a window panel. Interestingly, one of the old ochre mines known as "Les Sentier Des Ocres" can be visited, which is the best way to understand Roussillon's history.
Willemstad, Curacao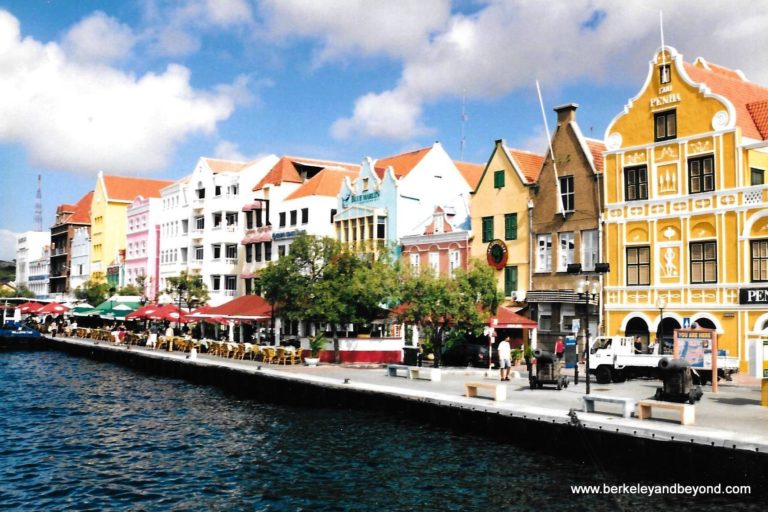 Carol of Travels with Carol
Willemstad–the capital of Curacao and a UNESCO World Heritage Site–features buildings painted in bright Caribbean colors.  All are constructed with coral stone, sea water, and sea sand, and they are re-painted once every year just before Christmas. 
Guatapé, Colombia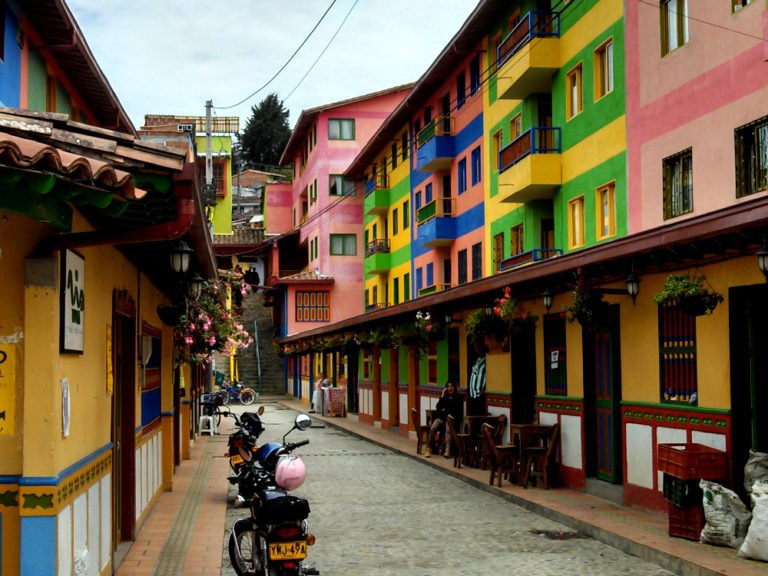 Jen of  Venturists 
If your travel plans include a visit to Medellin, Colombia, then you can't miss a side trip to whimsical Guatapé. The town has grown into a popular day trip for locals and tourists. There, you can find people taking the zipline over the lake, enjoying food prepared on outdoor grills, or shopping one of the many lakeside hawker stands. Perhaps because it has become a local's playground is one reason for the brightly colored building adorned with tiles depicting local themes.
The whole places seems to encourage its visitors not to take things too seriously and sit back and enjoy, perhaps with a nice cold michelada (beer mixed with fresh lime juice). But the biggest draw of the area is the unusual "Piedra del Peño" or "Rock of Peñol." The massive rock seems to jut out of nowhere. There are two stairways installed into the crevice in the rocks center that appear to lace it together. A trip up the 659 steps to the top is well rewarded with a spectacular view of the valley.
Oranjestad, Aruba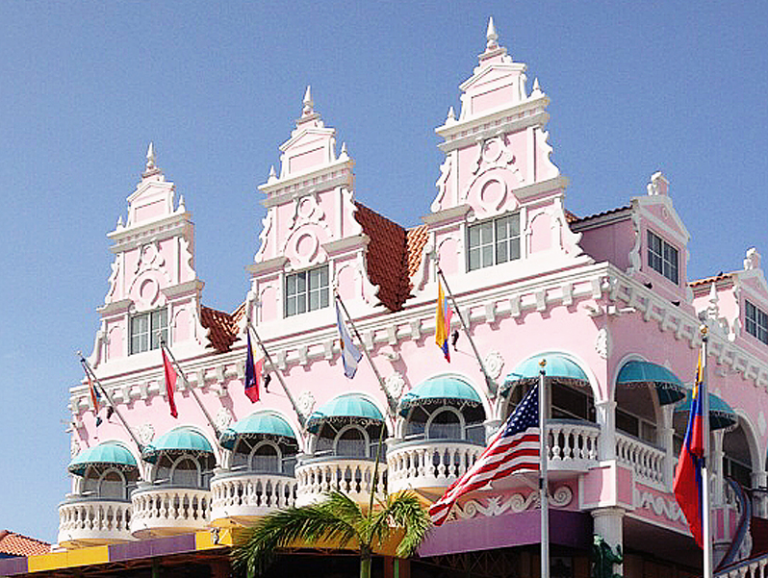 Olivia of The Skinny Doll
The slogan for the wonderful multicultural island in the Dutch Antilles just off the coast of Venezuela is "one happy island"… Why are they so happy?! The sun shines all year long… and with the sunshine comes the joy of colur…  that cerulean sky and turquoise sea are the perfect back drop to baby pink bars, sunshine yellow churches perched high on cliffs, and crimson striped lighthouses popping off the clouds.
Natural pools, golden sandy beaches you can just stop at and paddle your toes in the balmy clear sea… but most of all it's the people: "one happy island" full of happy happy people! I'll be back there in March to get my happy on!
Poznan, Poland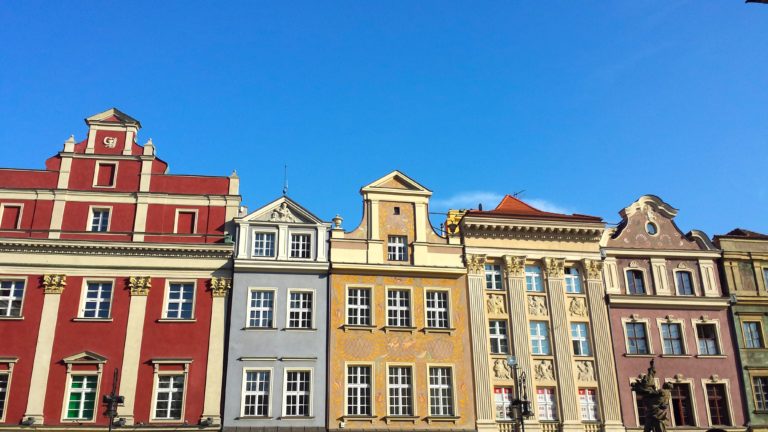 Sianna of EO Stories
Poznan is a bit off the beaten path when it comes to the most famous Polish cities, but it is a lovely vibrant student city with never-ending energy and a hipster vibe. Located close to both Berlin and Warsaw, Poznan has the modern influence of the German capital and the authentic historic feeling that most Polish cities have. Its main square called Stary Rynek is lined up with colorful houses and is naturally the heart of the city. These buildings were once merchants' houses and the central square was used as a market for trading.
Today the first floors of the colorful buildings are occupied by traditional restaurants, cafes and bars. They look so similar that you can easily get confused at which corner of the square you are. In the winter the Old Market hosts a Christmas bazaar with lot of people drinking mulled wine or eating the famous Polish ginger bread cookies called "pierniki."
Hoi An, Vietnam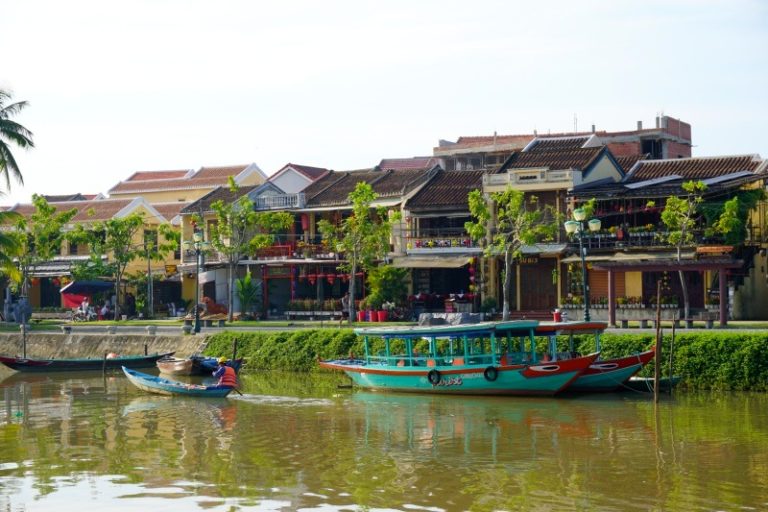 Korinna of Keza's Hippie Place
The old town is famous for its cheerful yellow painted walls and the old style wooden doors. I especially enjoyed the sleepy atmosphere before 8am, when most of the shops were still closed and only few tourists populated the road. I recommend a visit to the Reaching Out Teahouse where speaking and hearing impaired people work. It's a place of peace and tranquillity, which one should treat oneself to after all the rush while traveling. During the night you can delight in the brightly illuminated, colorful lanterns that hang in front of every house. If that is not enough to convince you, the city is famous for its tailored-made cheap evening dresses!
Singapore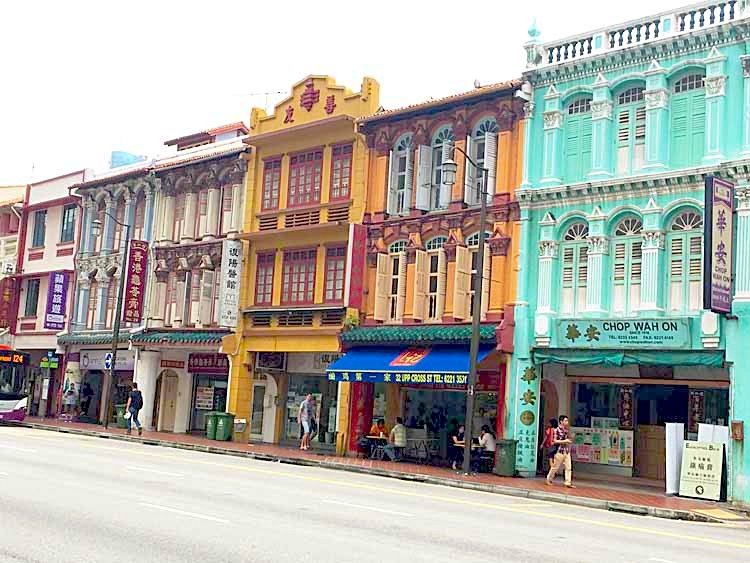 Jasmine of Singapore N Beyond
South Bridge Road is a major road in the heart of Chinatown, close to the central region in Singapore. The road, build by convict laborers in the 18th century, links the city center to the harbor and became an important road for the thriving import and export business. Shophouses here are one of the oldest, tracing back to China where early immigrants of Singapore came from. They serve to facilitate trade activities along South Bridge Road, also near the Singapore River.
Over the years, shophouses in Singapore developed varying styles due to multicultural influences. Peranakan decorative tiles, Chinese decorative elements and Art Deco motifs were incorporated into Shanghai, Rococo, Baroque, Malay and Neoclassical styles. Many today are strictly conserved, while others have been converted to cafes, temples, dining spaces, herbal and medicinal shops, offices and even boutique hotels one can check into for a 'vintage' lifestyle experience.
Here are two of my personal favorites!
San Juan, Puerto Rico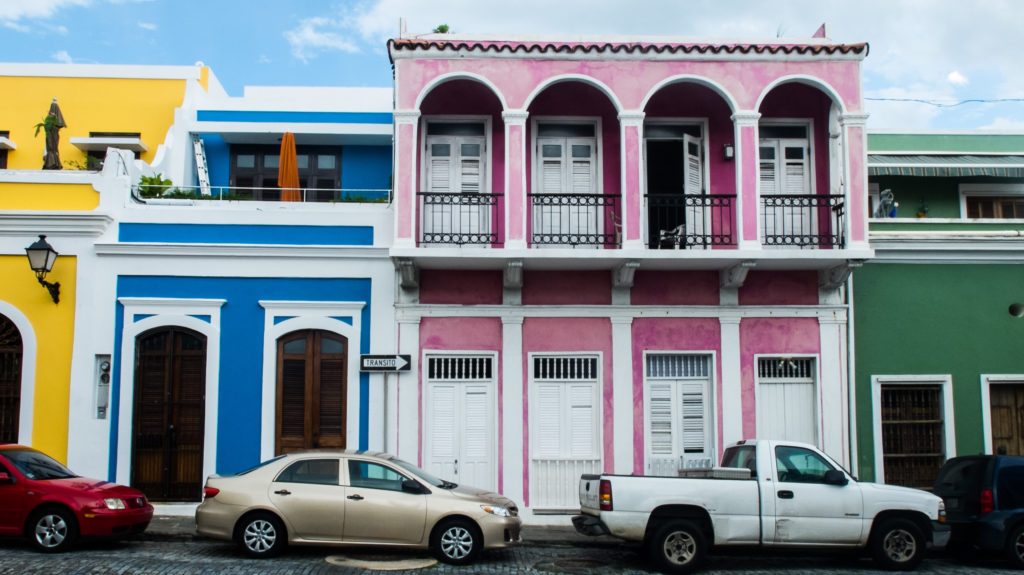 Old San Juan is known for its candy-colored old colonial houses. Its a tiny, easily walkable center with lovely colorful houses everywhere you go. Everyone from locals to cruise ship tourists can't help but stop and marvel at these beauties. Old San Juan was originally settled back in 1521… technically, the oldest settlement in the U.S.! Hungry for more? Check out this photo essay of Old San Juan.
Novi Sad, Serbia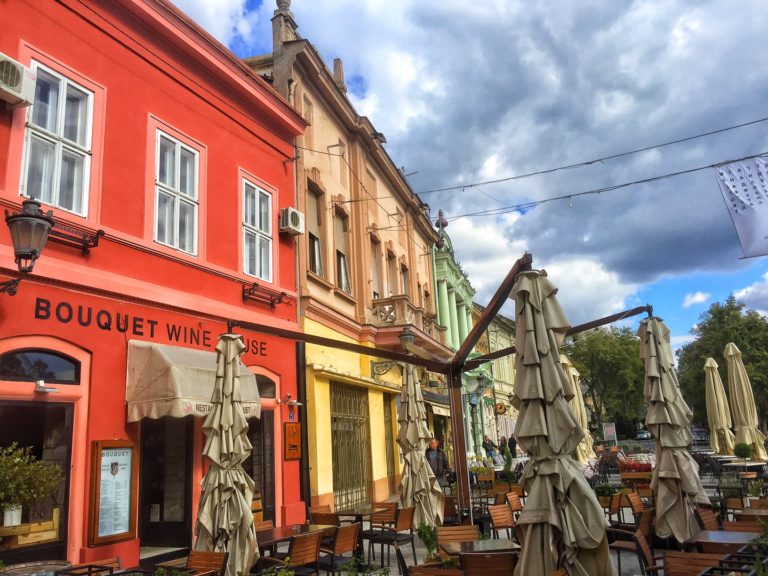 When you think of riotously colorful buildings, your mind most likely doesn't go to former Yugoslavia. Communism and bright colors typically don't go hand in hand. Well, wrong! Novi Sad, Serbia is like an artist's palette, filled with rainbow-hued architecture and pastel-painted storefronts. All over the Old Town, you'll find a gorgeous array of buildings in every color, like these bars and restaurants close to Danube Park. Who knew?
Like it? Share or Pin it!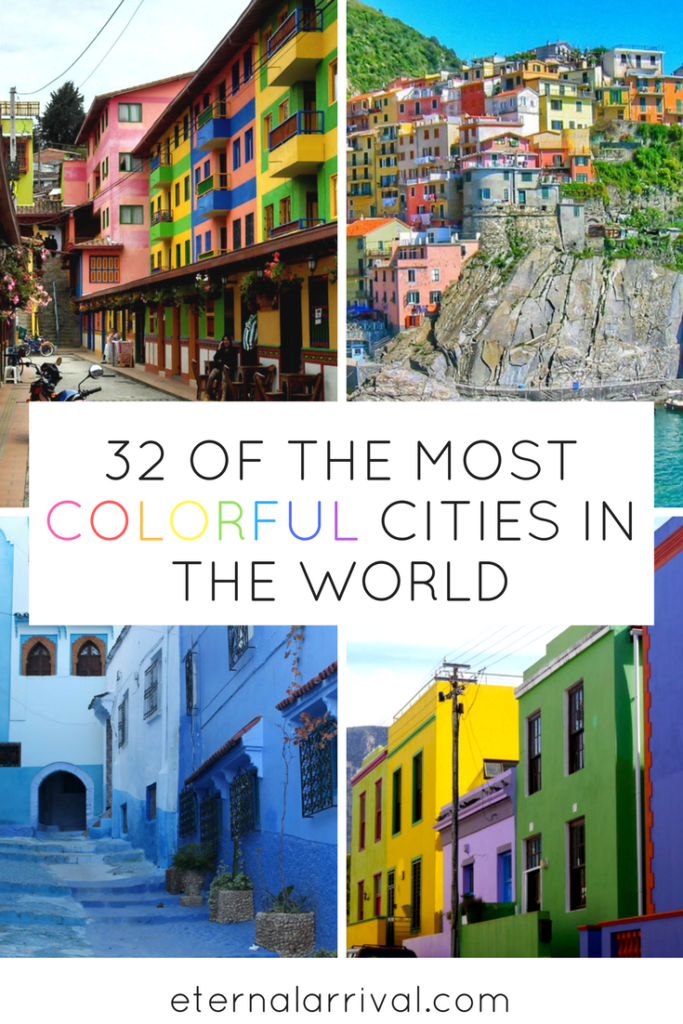 Allison Green is a former educator turned travel blogger. She holds a Masters in Teaching and a B.A. in English and Creative Writing. Her blog posts merge her educational background and her experience traveling to 60+ countries to encourage thoughtful travel experiences that both educate and entertain. She has been a speaker at the World Travel Writers Conference and her writing, photography, and podcasting work has appeared in National Geographic, CNN Arabic, CBC Canada, and Forbes, amongst others. Now based in the San Francisco Bay Area where she grew up, she has also lived in Prague, Sofia, and New York City.