Los Angeles is a mecca for many things: the entertainment business and celebrity sightings, all the green juice and avocado toast your heart could fancy, and miles of sandy beaches, just to name a few.
Sunny nearly year-round, in LA you can head west and hit the beach or head inland and get your fill of mountains all in one day.
It's just one of the many things to love about La La Land (the traffic being on the list of things not to love, but hey, there are many other reasons why LA is worth visiting!).
You won't be lacking for great hikes in LA, which offers everything from breathtaking views of Malibu to trails through film shoots from bygone days.
All of these LA hiking trails can be used as a jumping-off point to explore other trails in the area, and range from well-known to lesser-known. Either way, you'll get to soak up the LA sunshine one way or another.
And the best thing? LA is so dog-friendly, so many of these hikes can be done with your favorite four-legged friend.
Los Liones Trail to Parker Mesa Overlook, Malibu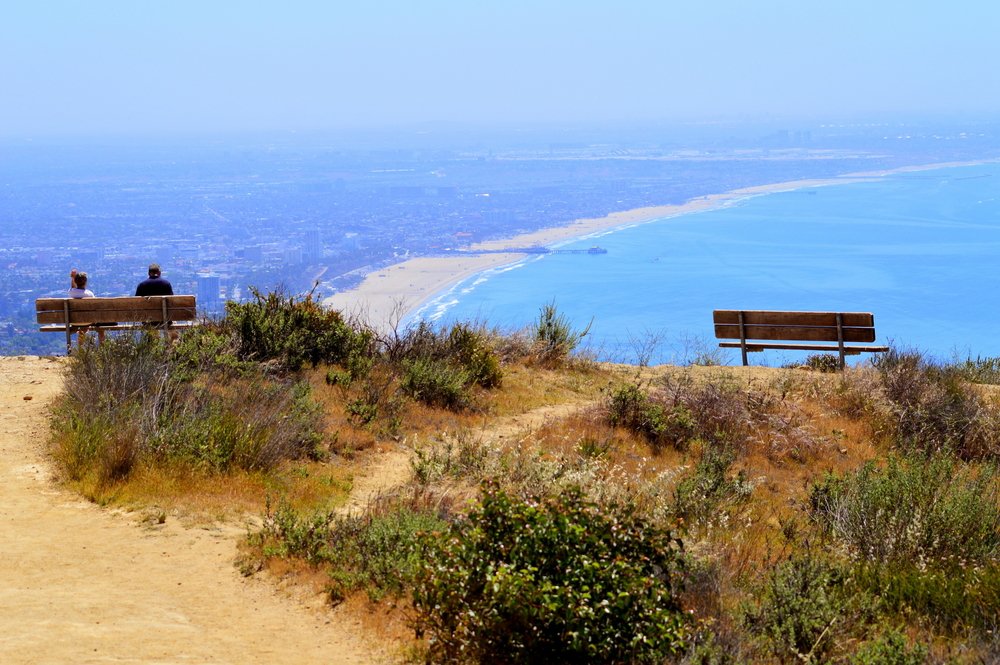 Note: This post contains affiliate links, which means I may receive a small commission if you purchase something through one of these links. Thank you for supporting the free content on this site! For more information on affiliate links and cookies, see my disclosure page for more details.
Distance: 7.3 miles
Time Required: 4 hours
Difficulty: Moderate
Parking: Free, available on Los Liones Drive
Directions: At the end of the cul-de-sac of Los Liones Drive, follow the Los Liones Trail. At the overlook, make a left at the East Topanga Fire Road junction, continue to Parker Mesa Overlook
With sweeping ocean views and the Malibu breeze against your face, this is a classic LA hike for those looking to admire the Pacific coastline.
The trail goes through some of the best scenery of the Santa Monica Mountains: you'll wind your way through vegetation in the canyon and then into the chaparral.
As you climb the trail upward, you'll be rewarded with views of the Santa Monica Bay and Pacific Palisades. On a clear day, you can see out to Catalina Island.
Once you're on the trail to Parker Mesa Overlook, the path will be mostly unshaded and goes up at a steady incline, so pack your hat and sunglasses and lots of water. The LA sunshine is great, but you know what they say about too much of a good thing! At the end of the hike, you'll get more endless views of the Pacific.
Plan B: This trail is only moderately difficult, but it does take time – especially if you're going to stop to soak in the views. If you want to take it easy or are pressed for time, skip the hike to Parker Mesa and just do the Los Liones Trail, which is a 2.6-mile loop.
This is also a great place to watch the sunset in LA as it sinks into the Pacific! Be sure to bring a headlamp if doing a sunset hike to make the hike back safe.
Insider Tip: Malibu may be synonymous in many people's heads with the rich and the famous, but did you know it's also home to one of the US's best RV parks?
Bronson Caves to the Hollywood Sign, Griffith Park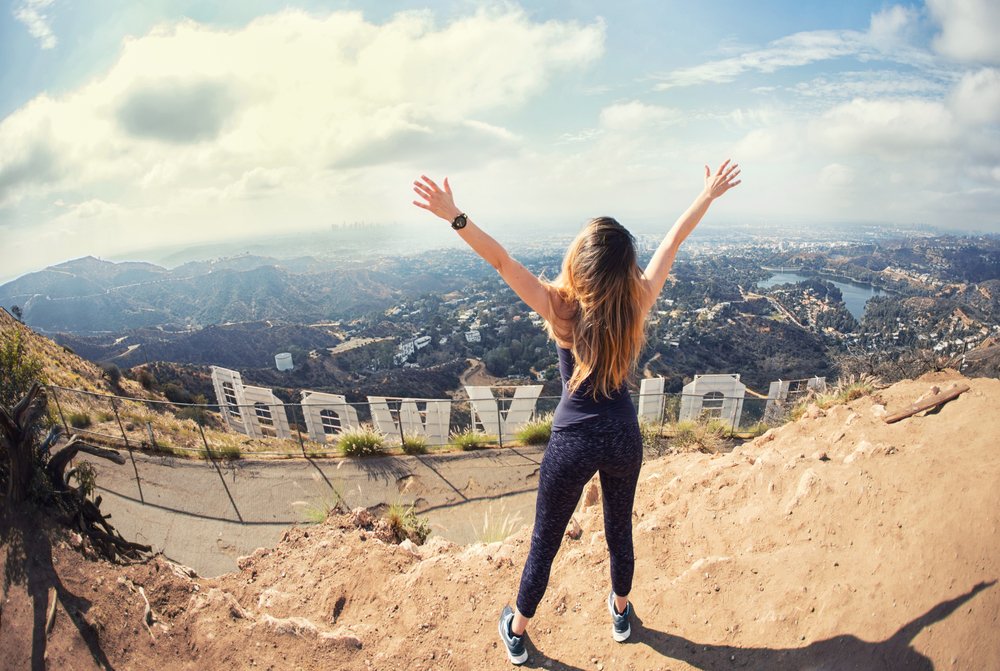 Distance: 6.6 miles
Time Required: 4 hours
Difficulty: Moderate
Parking: Free, two parking areas on Canyon Drive
Directions: Turn right off Canyon Drive to follow Bronson Caves Access Road to Brush Canyon Trail and continue left on Mulholland Trail. Make a left onto Mt. Lee Drive Viewpoint for a view of the sign (which will add 0.5 miles onto the trail), or make a right to climb to the back of the sign
The start of this hike is more a walk to the Bronson Caves, famously known as the Bat Cave in the 1960's Batman TV series. From there, you'll catch a glimpse of the Hollywood sign, your destination for this quintessential Los Angeles hike.
As you continue onward, you will climb upward through brush canyon, but from Mulholland Trail onward, the trail levels off more. Once you get to the back of the Hollywood sign, the closest you can get is from behind the gate. There is a little hill behind the sign as well, which has panoramic views all the way to downtown.
This LA hiking trail is quite popular with locals and out-of-towners, or locals bringing out-of-towners, but it's hard to resist getting such an epic dose of LA, what with the iconic Hollywood sign before you and the LA skyline beyond.
Bridge to Nowhere, Angeles National Forest, Azusa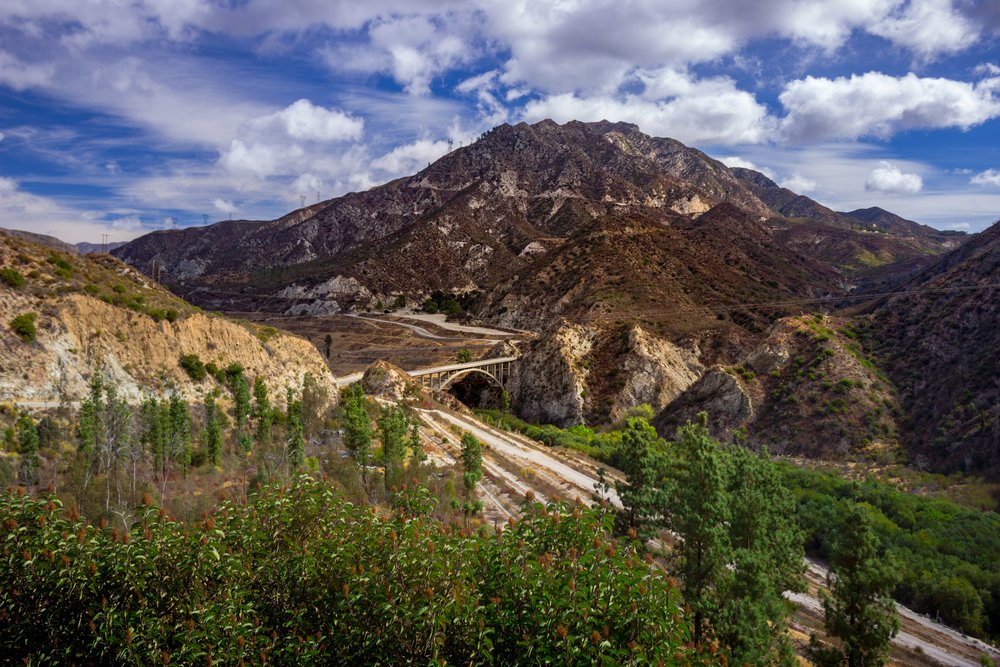 Distance: 10 miles
Time Required: 7 hours
Difficulty: Difficult
Parking: $5, available at the end of East Fork Road. If the lot is full, park on the street. This hike can be crowded, especially on the weekends, and the trailhead can be especially crowded with picnicking groups.
Other: You'll need a wilderness permit to access the trail. You can self-register for one at the trailhead or get one at any ranger center or visitor center in Angeles National Forest.
Directions: Start at Coyote Flat and down to the Heaton Flats Campground. Stay on the main trail; do not go on the Heaton Flats Trail. Follow the trail to the East Fork Trail. The trail is not always well-marked, so stick to the eastern right side of the valley and the remnants of the old road and spot returning hikers to stay oriented.
Further inland in the Los Angeles metro area are the San Gabriel Mountains, the mountainous backdrop to LA's beaches and city sprawl.
The Bridge to Nowhere was originally supposed to be just a bridge, constructed in the 1930s over the East Fork of the San Gabriel River. A massive flood washed out the road leading to the bridge and construction was ultimately abandoned.
Nowadays, it makes for quite the hiking destination and on the weekends, bungee jumpers go to the bridge for a bit of thrill-seeking ($120 if you're interested). Full of river crossings (some waist-deep) and swimming opportunities, this challenging hike to reach the bridge isn't for the faint of heart.
Note: Bring water shoes for river crossings and a change of socks. If you are going in the winter and there have been heavy rains, the river may be flooded and there is also the potential for flash flooding, which are particularly dangerous. Postponing your hike is the best bet.
Portuguese Canyon Trail, Portuguese Bend Reserve, Palos Verdes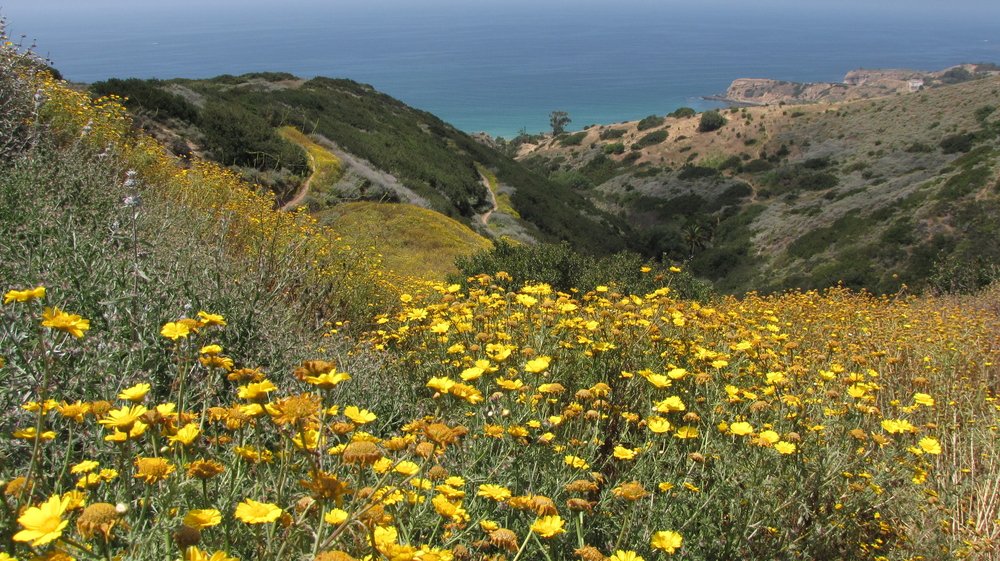 Distance: 5 miles
Time: 2 hours
Difficulty: Moderate
Parking: Street parking available on Crenshaw Blvd., check the signs for parking restrictions.
Directions: At the end of Crenshaw Blvd, the park entrance is at Burma Road and make a left onto Eagle's Nest Trail
About 30 minutes south of downtown, Palos Verdes is a hidden coastal gem of LA.
Often overlooked and slightly out of the usual way for most LA destinations, Palos Verdes refers to both the peninsula and a cluster of neighborhoods.
Along with some pretty amazing scenic drives, there are some great LA hiking trails with views of the bluffs and coves. This particular trail is inverse, meaning it goes downhill towards the ocean and you'll get most of your workout as you make the trek back up.
In the spring, the hills are covered in a blanket of bright yellow flowers. Plenty of side trails mean you can take detours along the way if you want to log in a few more steps or explore other paths.
City View and Walnut Forest Trail, Ernest E. Debs Regional Park, Arroyo Seco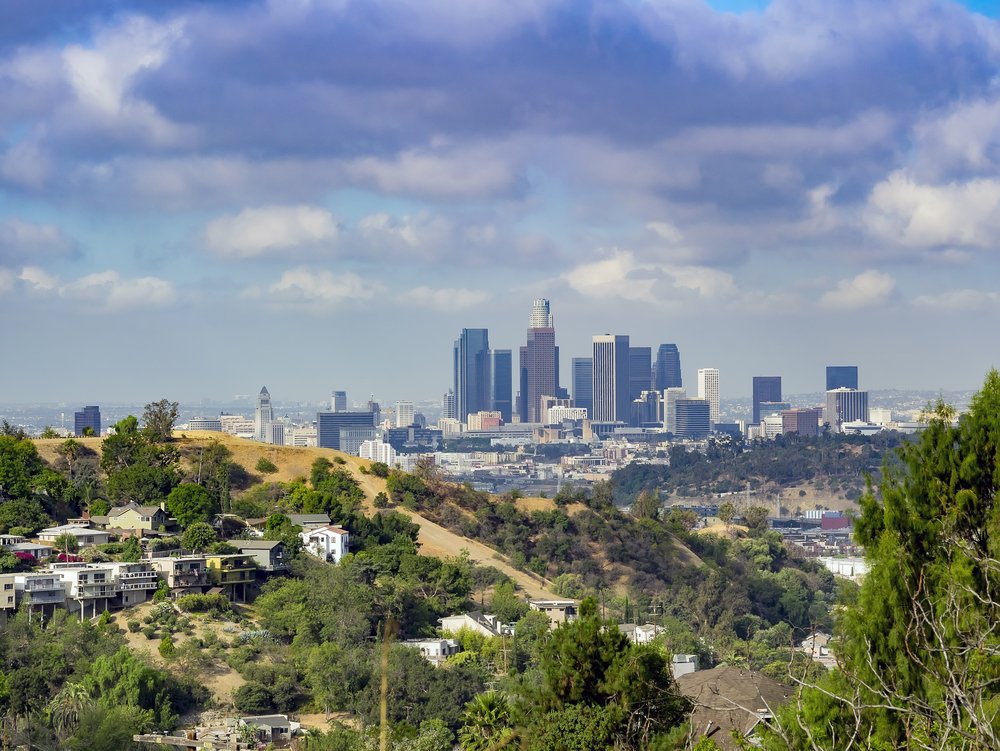 Distance: 2.5 miles
Time Required: 1 hour
Difficulty: Easy
Parking: Free parking in the lot by Audubon Center, enter on Griffin Ave.
Directions: From the parking lot, follow onto the Scrub Jay Trail. Take a right to connect to City View Trail. Make a left on Summit Ridge Trail, make a left on Walnut Forest Trail. Make a right to connect back to Scrub Jay and back down.
Just a short drive from downtown, Ernest E. Debs Regional Park sits on what used to be ranch land in the Arroyo Seco neighborhood.
Most Angelenos have driven by this park going to and from downtown LA without realizing this park is full of hiking trails and views!
This loop is ideal for a quick hike or late afternoon walk if you're looking for some views of downtown LA, but be prepared for some uphill climbs.
Bird watchers, from seasoned to amateur, love this park for the variety of birdsong you can hear as you're hiking. If you're looking for a longer LA hike, feel free to hop onto any of the trails crisscrossing the park. Not only will you get views of different cities within LA from different sides of the park, but there are areas throughout the park that are great for a picnic.
The Audubon Center is currently closed because of Covid-19; otherwise, it's worth checking out, especially if you're going with kids.
Ferndell Trail to West Observatory Trail, Griffith Observatory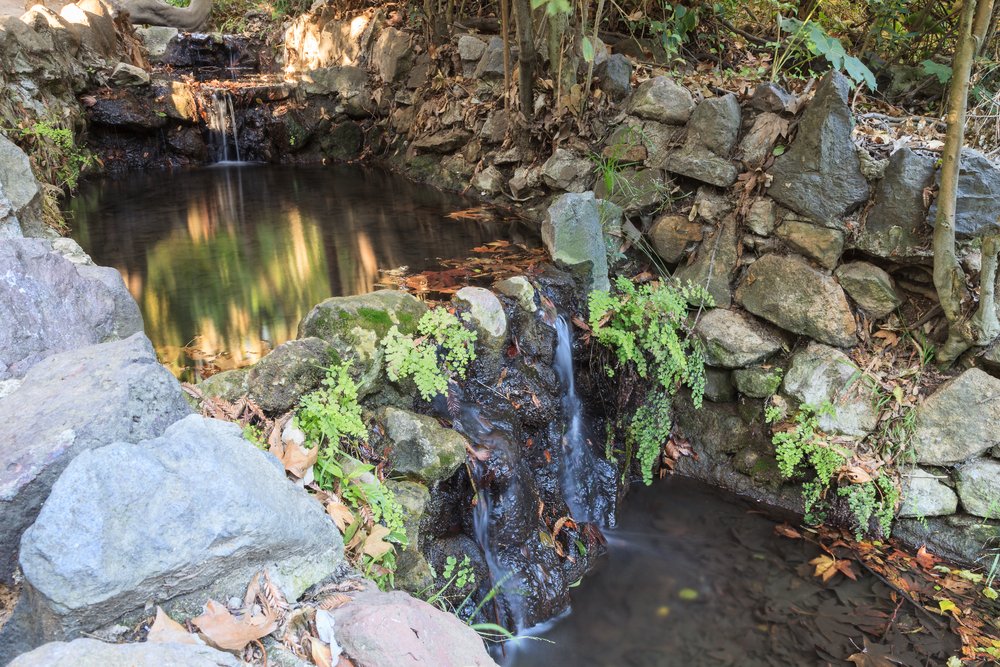 Distance: 2.5 miles
Time Required: 1 hour
Difficulty: Easy
Parking: Free street parking on Fern Dell Drive.
Directions: Trailhead at Fern Dell Drive
This small gem of a LA hike is right on the border of the famous Griffith Park and Observatory.
While most trails in LA are dry – the city is located in a desert, after all – the short and relatively easy trail through Ferndell doesn't fit the mold. Even when other parts of Griffith Park are dry and dusty, especially during a drought or the scorching summer months, Ferndell stays lush and cool.
Enjoy the many varieties of both native and non-native fern, which form a shaded canopy for some respite from the sun. Along with its diverse plants, Ferndell also has many insects, birds, reptiles, and mammals to spy. Once you get to the West Observatory Trail, the hike will start to go uphill. This trail is great for a short hike, or as an oasis-like starting point to jump onto Griffith's more challenging hikes.
Note: Fern Dell Museum, which is located at the start of the hike, is temporarily closed because of Covid-19.
Pin These LA Hikes for Later!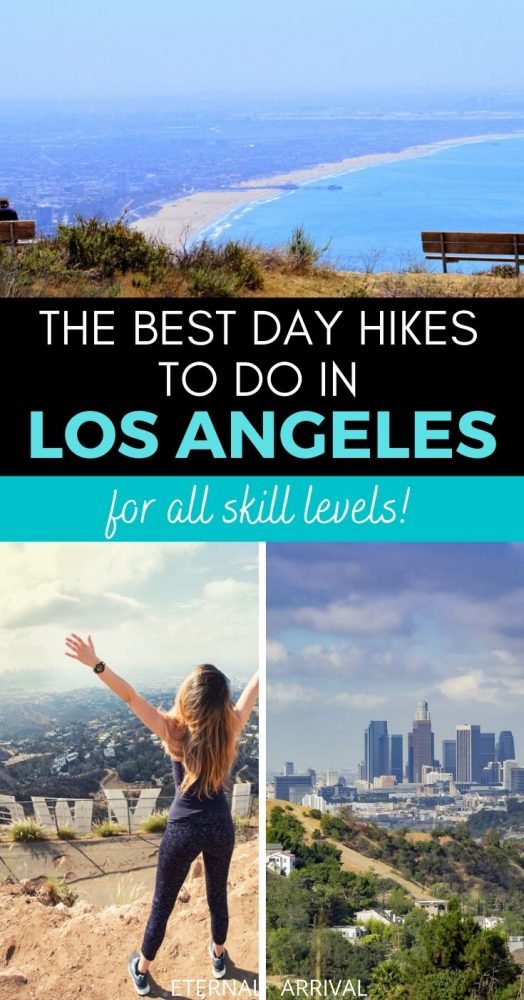 Allison Green is a former educator turned travel blogger. She holds a Masters in Teaching and a B.A. in English and Creative Writing. Her blog posts merge her educational background and her experience traveling to 60+ countries to encourage thoughtful travel experiences that both educate and entertain. She has been a speaker at the World Travel Writers Conference and her writing, photography, and podcasting work has appeared in National Geographic, CNN Arabic, CBC Canada, and Forbes, amongst others. Now based in the San Francisco Bay Area where she grew up, she has also lived in Prague, Sofia, and New York City.