Dog sledding is a Tromso bucket list must — it's an experience you'll never forget.
There's no more incredible feeling than bounding over powdery snow, powered only by a team of enthusiastic huskies and your steering.
Dog sledding in Tromso is a wonderful experience and there are all sorts of dog sledding tours that are available.
From self-driving tours to musher-led tours, from daytime tours to nighttime tours with hopes of glimpsing the Northern lights above you, there's a dog sledding tour perfect for you!
In this post, I'm going to tell you exactly what it's like to go dog sledding in Tromso. I've gone dog sledding three times: once in Abisko, Sweden and twice in Tromso, Norway. 
The Abisko dog sled tour was self-driven; one of my Tromso ones was a daytime self-driving tour, and the other Tromso tour was a nighttime Northern lights tour where the musher drove the dog sled.
Before we go into dog sledding in Tromso, though, let's quickly chat entry restrictions into Norway in 2022 as of February!
Entering Norway in 2022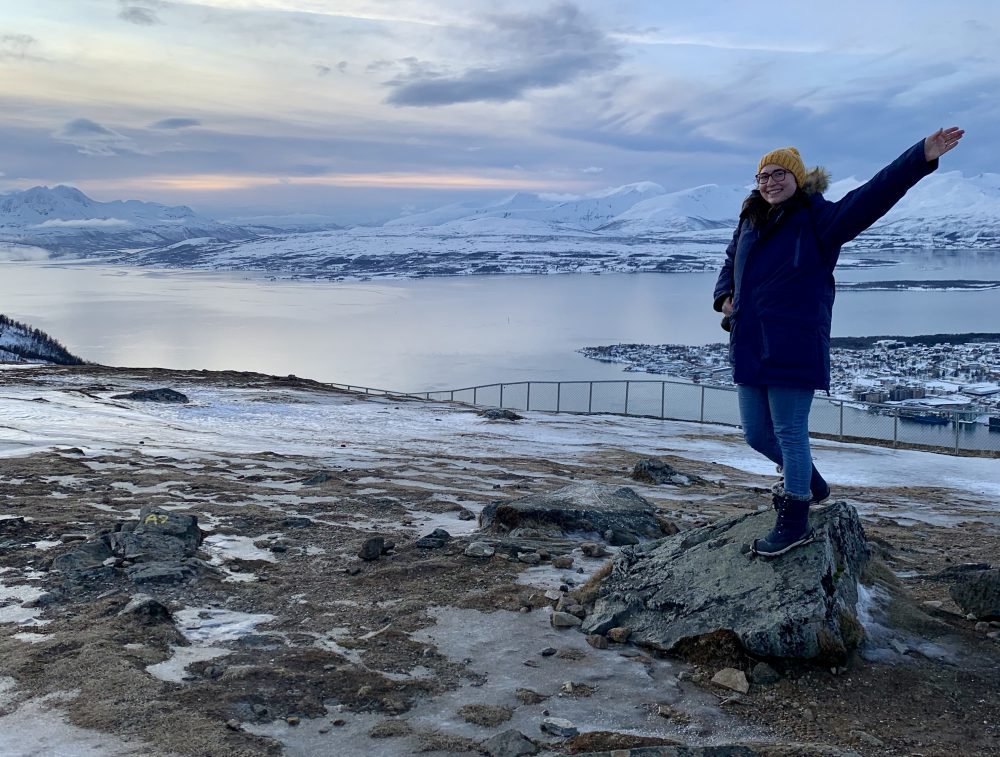 Note: This post contains affiliate links, which means I may receive a small commission if you purchase something through one of these links. Thank you for supporting the free content on this site! For more information on affiliate links and cookies, see my disclosure page for more details.
I visited Tromso in early February 2020… right before the world fell apart.
It was my last pre-pandemic trip and I'll always be grateful that I had such a magical experience before Covid would change the face of travel for the next few years.
As of literally four days ago when updating this article, the Norwegian government announced that all restrictions of entering into Norway have been lifted!
In their words: "No testing, no quarantining, no registration! As of February 12, 2022, all COVID-19 entry requirements have been lifted for all travellers to Norway. It is now super easy to travel to Norway, and we have lots of space!"
As long as you are eligible for a visa to Norway (or are able to visit Norway visa-free), you can now go without any extra fuss or thought.
The reason why Norway is able to do this is their high rate of vaccination — about 75%! Norway has lifted mask restrictions and social distancing requirements, and all restaurants, bars, and museums are back to normal operations.
While you are not required to show vaccination cards to enter Norway, arriving vaccinated (and boosted, if available to you) is the kind, safe thing to do to keep yourself and the people of the country you are visiting healthy!
What to Expect on a Dog Sledding Adventure in Arctic Norway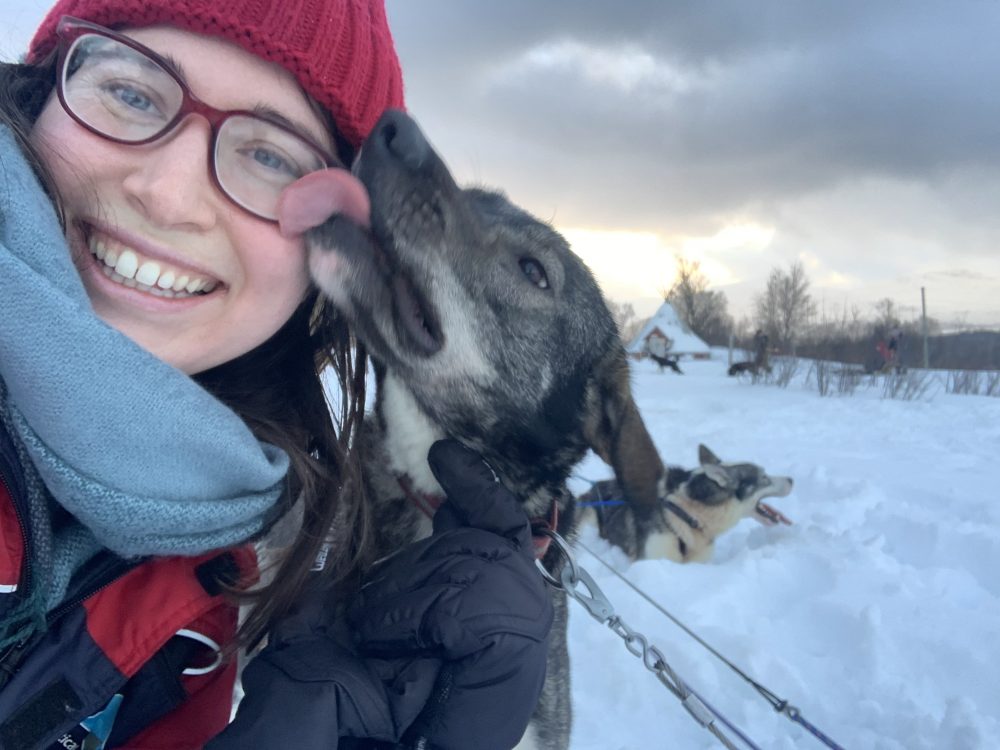 It depends what kind of tour you book, to be honest! All the dog sledding tours in Norway are quite different.
You can book it through a website like Get Your Guide, which I recommend often below — they have a great selection of tours and offer free cancellation within 24 hours, which makes it great for flexible travel planning (a must in our 2022 travel reality!)
You can also book your dog sledding tour through your accommodation, especially if you're staying at a destination accommodation like one of the ice hotels and Northern lights hotels in Norway.
Here are a few different kinds of tours and my comments on each.
Self-Drive Husky Safari Tours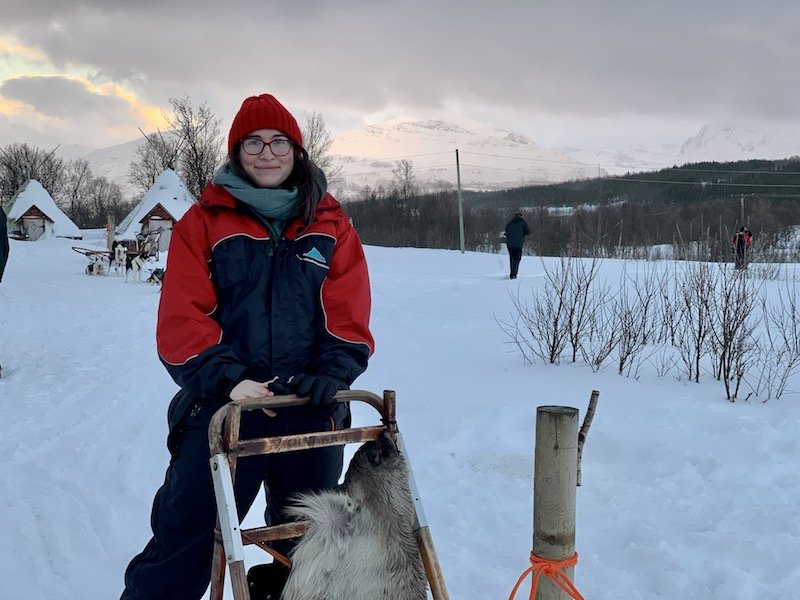 This is usually a daytime tour as it's a bit tough to drive a dog-sled at night! However, during the polar night in Tromso, you won't have much light as you do a self-driving tour, so do keep this in mind.
On a self-drive dog sled tour, you and a fellow tour participant — either someone in your group or a fellow solo traveler in my case — are in charge of leading your dogs.
You'll bound through the landscape on a beautiful circuit, passing gorgeous Northern Norwegian landscapes like fjords and mountains. 
You take turns, one of you steering and the other sitting, and it's actually a lot more hard work than it looks to steer the dog sled with your very own team of Alaskan huskies!
This is no passive activity, but rather, you work as a team with the dogs. This means that you help the dogs run up hills, and you use your body weight to steer and also to brake as needed.
You also have to keep your eye on the order of the dog sleds and not get out of order or race ahead of the line.
These huskies aren't pets but rather working dogs. There is a specific order to the line-up of sleds that the mushers organize based on their temperaments and relationships between the dogs.
I've done two self-drive dog sled tours and they are absolutely incredible.
Personally, they are my favorite way to do a dog sledding tour in Tromso, because it's active and you develop a really cool bond with dogs as you work together. 
However, the con of doing a self-drive dog sled tour is that it is physically demanding, and it's not suitable for people recovering from injuries, people with mobility concerns, or families with small children.
Musher-Driven Tours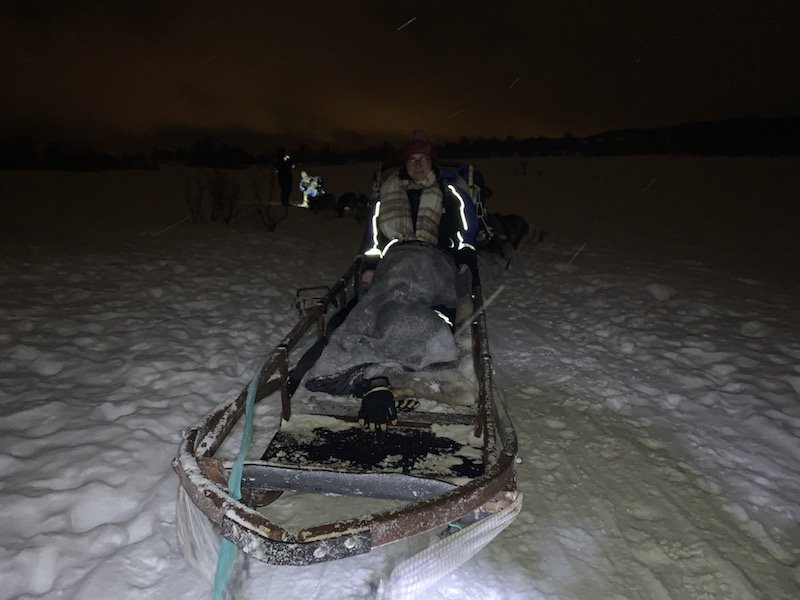 I've done one musher-driven tour and it was also a super fun experience! I did a combination Northern lights tour with a dog-sledding tour and it was an Arctic adventure I'll never forget.
On a musher-driven tour, you'll be guided by expert mushers who know exactly how to handle the dogs and make sure everything goes smoothly.
You don't have to worry about making sure the dogs don't run ahead of their assigned order.
The mushers ensure this won't happen and have more of a relationship with the dogs because they've been working with them so long, so the dogs stay in line more and don't test the waters!
Musher-driven tours are ideal for families, people with mobility concerns, and people who are a little anxious about doing their own self-driving husky sledding adventure.
I loved the experience and was glad I got to do it, but personally, if I had to choose just one, I think a self-drive is more fun if it's the right option for you!
Dog Sledding FAQ
Is dog sledding cruel to dogs?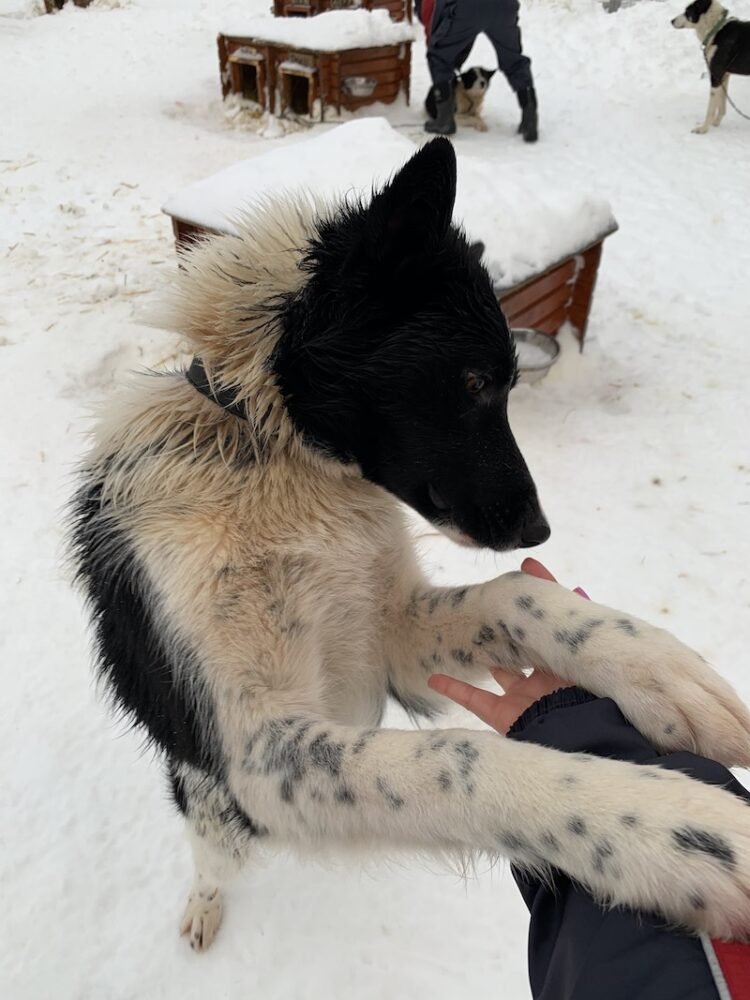 We definitely don't think so!
Of course, there may be some bad apples in the dog sledding world, as with any animal tourism enterprise.
However, I've gone dog sledding three times, and every dog sledding tour operator I've used has treated the dogs as members of the family and care for them well, providing for their every need!
Remember, Alaskan huskies are… well, to borrow the words of Bruce Springsteen, born to run! 
We answer this question in more detail below on the section on "Is Dog Sledding Ethical", so be sure to read that section.
When can you dog sled in Norway?
This truly depends on the year!
As climate change means weather patterns are more and more unpredictable, there is a less definitive start and end date of dog sled season in Norway. 
Generally, dog sledding tours open up November 1st and run through the end of April.
However, snow conditions are critically important, and if there is not enough snow or if the snow has melted and turned to ice, dog sledding tours cannot safely run.
Where can I go dog sledding in Norway?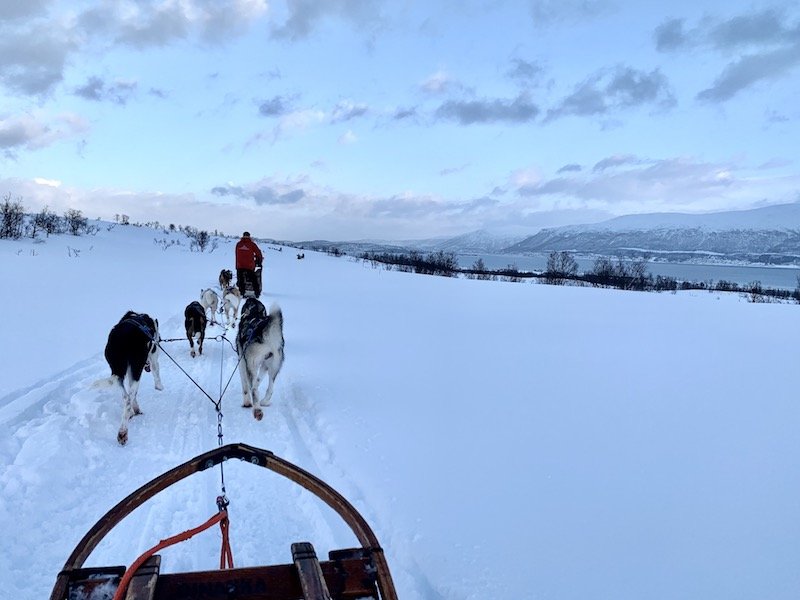 There are several places you can go dog sledding in Northern Norway, but Tromso is by and far the most popular.
Keep in mind that places in Southern Norway like Oslo and Bergen do not have enough snow to support dog sledding, so you want to be North — like, North of the Arctic Circle North!
Other places you can go dog sledding in Northern Norway include the Lofoten Islands and Alta. 
How much does it cost to go dog sledding?
Most half-day dog sledding tours in Tromso cost around NOK 1,850 to NOK 2,350 (~$225-$285 USD) with a two-day excursion topping out at NOK 6,990 (~$850 USD)!
If budget is a concern, there are cheaper ways to visit the husky farms by doing a tour that does not include sledding, which can be as little as NOK 1,000 (~$132 USD).
Why is dog sledding so expensive?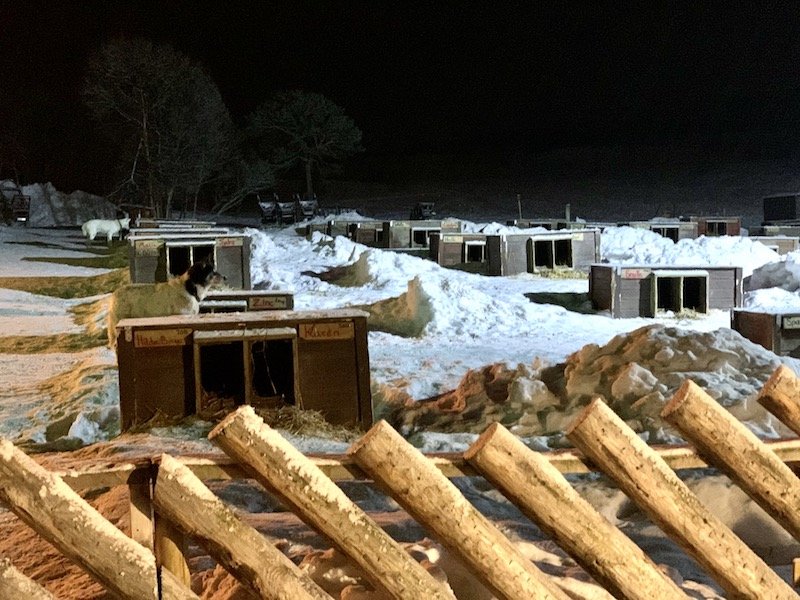 These are hard-working dogs who need a lot of food and care… I remember one tour operator telling me that these 45-60 pound dogs eat 10,000 calories worth of food a day!
That's a lot of food… especially since most husky tour companies have 100-300 huskies they care for!
Considering a ~150 lb. human needs about 2,000 calories a day, that's pretty wild!
The money spent on a dog sledding tour also ensures that the dogs have access to regular vet care.
Other expenses for operators include maintaining their licensure to operate, paying the staff to feed and clean and take care of the dogs, as well as paying the staff a living wage.
Remember that the cost of living in Norway is high and salaries are high as well.
While a dog sledding tour may seem expensive, remember that you are paying for an ethical experience in multiple ways.
Your tour cost goes to not only well-fed, well-kept dogs, but also well-paid people and healthy families!
Is dog sledding difficult?
If you're self-driving… definitely, in the sense that it's a real workout!
However, it is not hard to learn how to operate the sledge, so you can absolutely get acquainted with the basics of dog sledding and do it safely, even in a short 90-minute tour.
That said, there are also musher-driven dog sled tours which are a lot less difficult on the body… just sit and enjoy!
These are the perfect dog sledding tours for kids, older adults, people with injuries or disabilities, or people who just want a more relaxing experience.
Is Tromso Dog Sledding Ethical?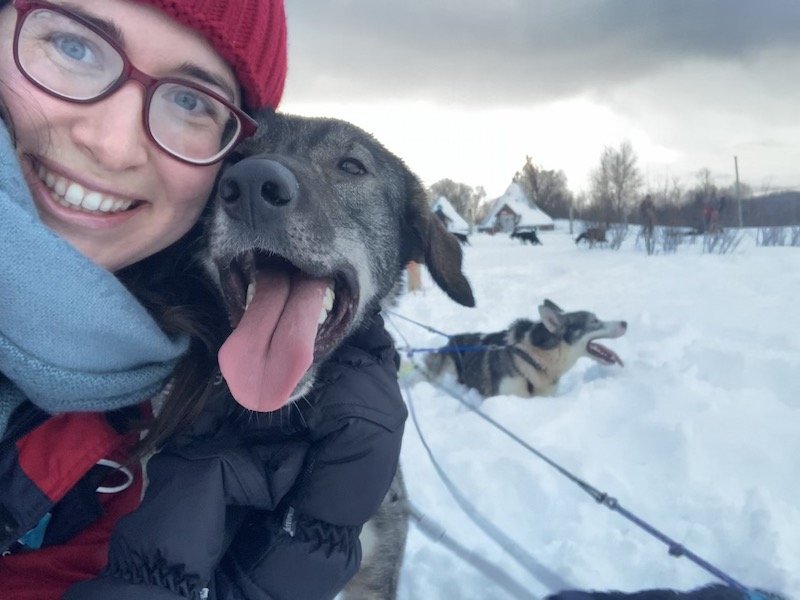 The ethics of dog sledding is understandably a concern, and it was a subject I researched in depth before first deciding to do a dog sledding tour in Abisko in 2016.
Before I did another two dog sledding tours on my 2020 trip to Tromso, I dove deep into the research again to ensure that I was still operating with good information and that my initial assessment that dog sledding can be ethical with the right company still stands.
My opinion is this: dog sledding can be ethical or unethical depending entirely on the treatment of the animals.
I would compare it to horseback riding, but I think the dogs enjoy running and sledding more than horses enjoy people riding on them! 
At the two Tromso tour companies I visited as well as the one in Abisko, I felt the dog sledding companies truly had their dogs' health and happiness at the heart of everything they did.
My conclusion was that these are ethically run husky sledding tours and that I felt comfortable with everything I saw.
The reality of these tours is that these dogs are, quite simply, born to do this. These are Alaskan huskies who have generations upon generations of running and pulling sleds in their bloodlines. 
It is, quite simply, what they were born and bred to do, and they would go insane as pets kept in an apartment.
They need to run for several hours a day to let off all their energy, and you can see just how much they love to run when they start howling as a team as they get suited up and ready to pull the sleds.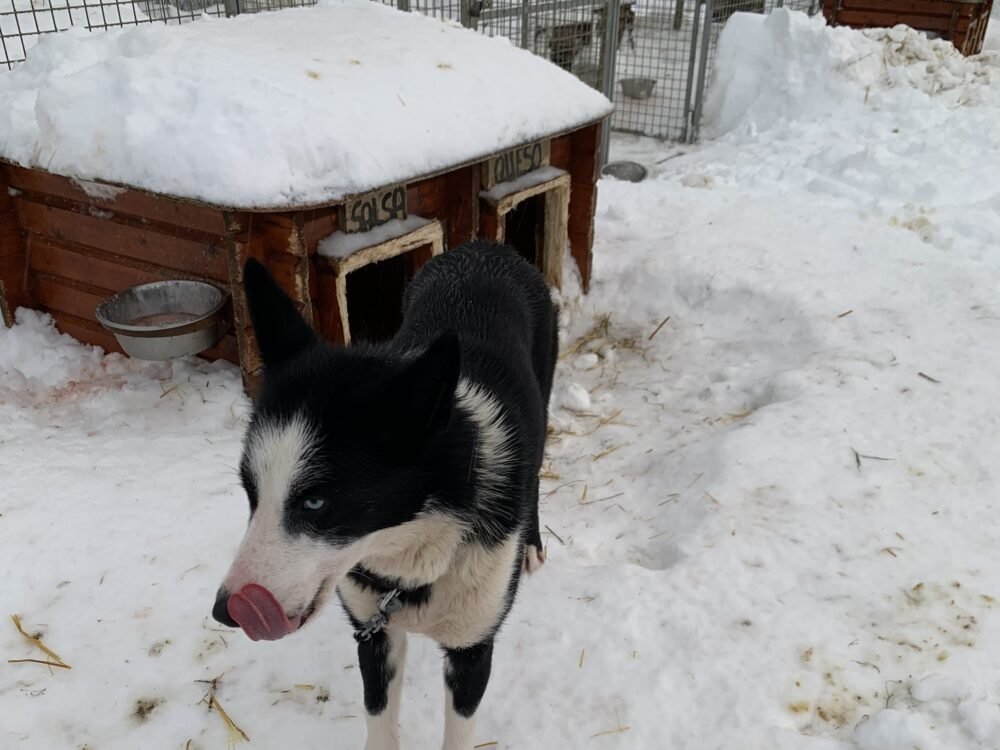 One thing I will say, though, is that the dogs are kept chained up when not running. This is due to Norwegian laws.
This can be a little off-putting at first, so I asked about this. I learned that the chaining is done to prevent fights from breaking out between the dogs, which can happen as dogs are pack animals and form different little "cliques." 
This also helps ensure no unwanted puppy accidents happen and that the husky farms only breed exactly as many puppies as they can care for and take care of.
I should note that the husky babies are bred in small numbers, usually just one or two litters at a time so as not to be overwhelmed by puppies.
Best of all, the husky mom gets to live in a giant suite with all her puppies, kept away from the other dogs. 
All the dogs have their own little homes and live next to a dog they are friendly with so they can socialize.
Sometimes, if the dog has trouble living and sharing a close space with other dogs, the dog will have its own cage, with a box to keep warm and snuggle in, as well.
Their boxes are filled with straw, cleaned multiple times daily, and provide plenty of space for the dog (I saw two particularly friendly pups spooning and sharing a box instead of enjoying their own rooms!).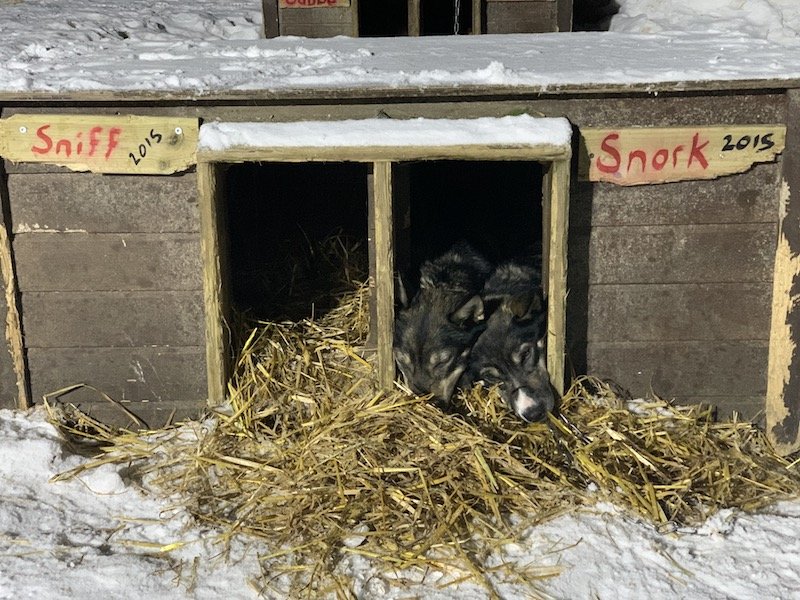 About the temperatures: huskies are happy out in the cold and can withstand temperatures as low as -60 F / -50 C.
It rarely gets below -20 F / -6 C in Tromso, and if it does, they have their dog houses with plenty of warm insulating straw for them to keep warm in.
The dogs get exercise daily with one day of rest per week.
With so many different husky tours running at all hours of the day, every dog gets a chance to run daily, and they never run more than 50 miles in a week, and never if they are sick or injured.
Compare this to the Iditarod, where dogs sometimes run 100 miles in a single day.
The dogs are checked frequently by vets and the kennels are inspected by Norwegian government inspectors to ensure the dogs are enjoying high-quality care.
But my favorite thing was seeing that the retired dogs get to live a good life, too.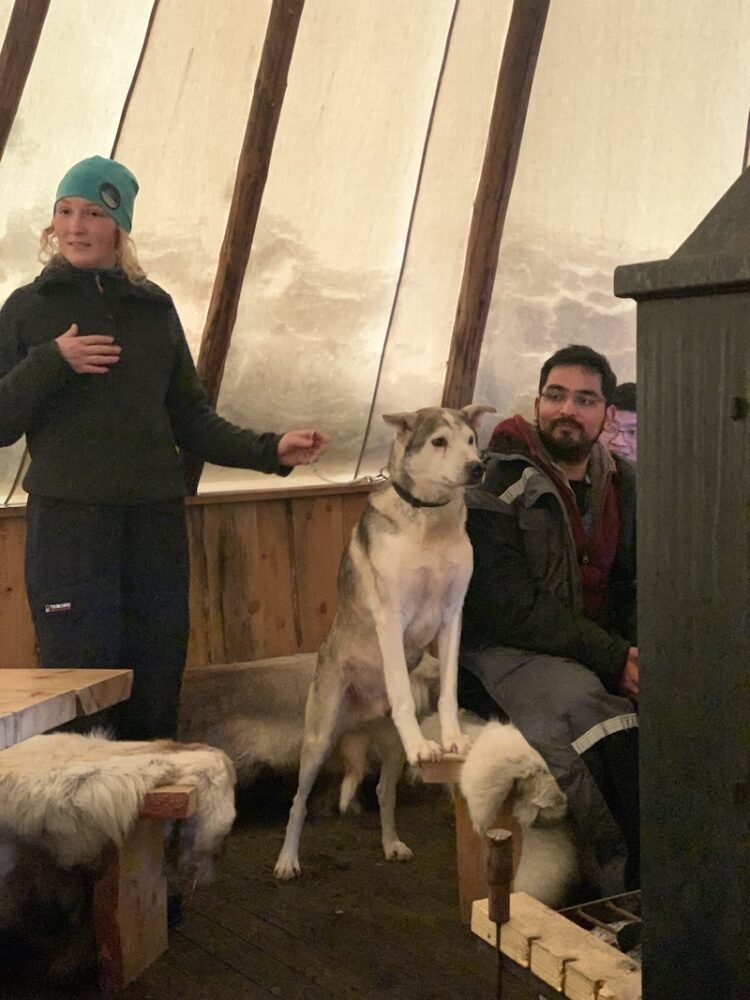 On my self-drive husky tour with Arctic Adventures, they brought out a retired sled dog at the end to meet and greet all of us while we enjoyed our dessert.
They explained how every dog is part of the family, and that often those who work at the husky farm end up adopting the retirees!
Some sometimes, the retirees end up enjoying a comfortable retirement as a pet, getting loved on by visitors to the farm!
What to Wear When Dog Sledding in Tromso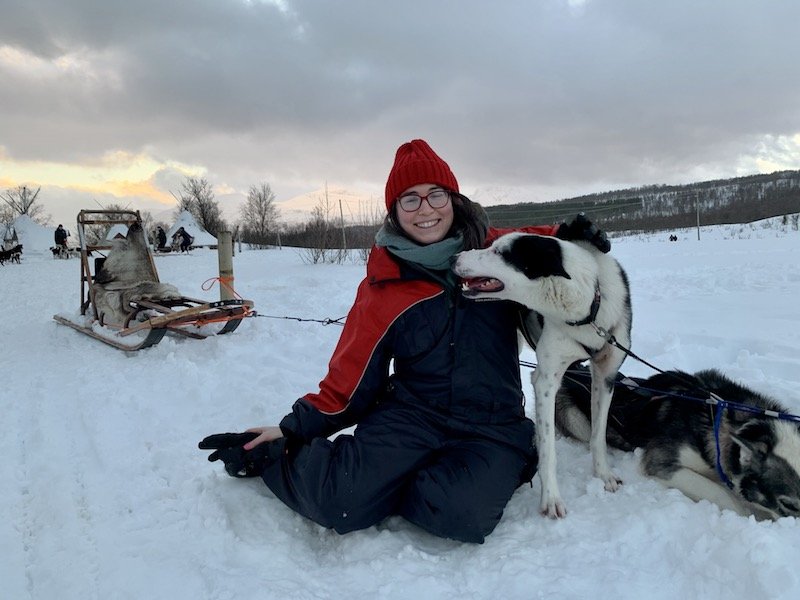 On your dog-sledding tour, they will provide you with a warm suit and boots to ensure that you don't get too cold on your tour.
I strongly suggest you wear what they offer you, as you'll be so nice and toasty! This is expedition-strength gear and will likely be warmer but more breathable than whatever you brought.
Remember, you're above the Arctic Circle, and it gets cold! Make sure that you come equipped with thermal base layers, waterproof gloves, and a hat that tightly covers your ears.
I have a full packing list for Northern Norway in winter, but here is my quick list of must-haves for dog sledding in Tromso.
Parka
For my trip to Norway, I wore a jacket that I bought from Decathlon which I can't find online, but it is virtually identical to this one but in a navy blue.
On my past trip to the Arctic, in neighboring Sweden where it's actually a bit colder, I did really well with my North Face parka which I've owned for 10 years and absolutely love (I just didn't have it moved over to Europe, where I was living at the time).
Snow boots
I wore a pair of snow boots by Quechua which I bought from Decathlon, which I can't find online.
Here is a similar boot by Sorel, a trusted winter brand that's beloved in Norway and beyond (here's a women's version and a men's version).
I recommend sizing about half a size up to account for thick winter socks.
Yaktrax
Walking around Tromso is icy! While you might not need Yaktrax on your dog-sledding trip, you'll want them for walking around the city when it ices over.
I like these simple Yaktrax because they're easy to take on and off, as you're not allowed to wear them in indoors stores, etc. in Tromso. (And yes, I was able to bring them on my carry-on.)
Cold weather accessories
For me, this means a winter hat, two pairs of winter gloves (one thin and able to be used with touchscreen devices, one thick and waterproof), and a scarf or two.
I like these to be as colorful as possible so they can add color and uniqueness to my winter photos, which can end up looking uniform because I'm wearing the same jacket!
Base layers
For thermal leggings, I recommend these for women and these for men, both by Columbia, a trusted outdoors brand.
For a top thermal layer, I recommend this top for women and this top for men.
Wool socks
For making those warm snow boots even warmer, I love SmartWool socks.
Even though I normally hate wool on the softer parts of my skin like my neck, arms, and legs, I don't find these itchy for my feet at all!
Your normal winter clothing
Once you've got a parka, base layers, accessories, and snow boots, you can wear whatever normal winter clothing you'd wear — jeans, sweaters, etc.
The rest does all the heavy lifting!
Where to Stay in Tromso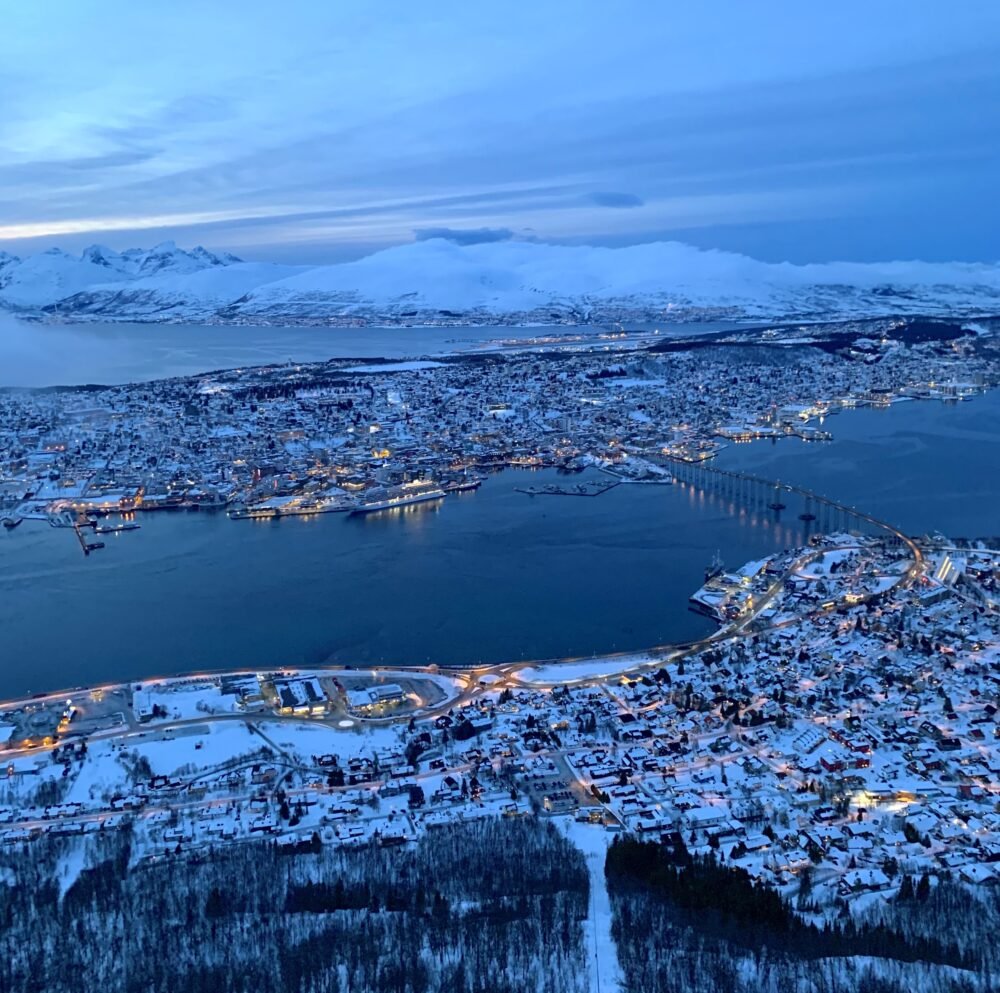 Here are our 3 top picks in Tromso city center, as well as one amazing Arctic glamping spot just a bit outside of the city (free transfers are provided).
Budget
 The best budget option in Tromso is  Smarthotel Tromso.
It's right in the heart of central Tromso, so it's easy to get to all your activities, it has all the things you need in a hotel — 24-hour reception, comfortable beds, a work desk, and some food available in the lobby.
Note that breakfast is not included in the price but can be added for a fee.

>> Check reviews from verified guests, see photos, and book your room here.
Mid-Range
If you want to stay in a chic boutique hotel that's not overly fancy, Thon Hotel Polar is a fabulous choice.
The beautiful Nordic decor is irreverent yet modern with a polar theme, many with vibrant pops of color that make the hotel have a lot more personality than many other Scandinavian hotels which tend to be a bit more muted in terms of decor.
Breakfast is included and there is also a restaurant on-site should you want to dine in. The location couldn't be better, so it's a fantastic choice for mid-range travelers to Tromso in winter.
>> Check reviews from verified guests, look at photos, and book your room here
Luxury
There are three Clarion Collection hotels in Tromso, but the nicest of the three seems to be Clarion Collection Hotel Aurora.
Why? It's harborfront and has an incredible rooftop jacuzzi where you can try to spot the Northern lights!
Rooms are luxurious and modern with updated bathrooms, and the facilities include a gym, free afternoon coffee with waffles, and a light evening meal as part of your stay.
>> Check reviews from verified guests, look at photos, and book your room today!
Arctic Glamping
 For a stay that's truly memorable, look no further than the epic Camp North Tour for a glamping experience, Arctic-style!
Stay in heated yurt-style glamping tents, complete with cozy carpeting, comfortable beds heated with reindeer pelts, and panels that open up into the aurora above you so you can watch the Northern lights dance overhead from your bed!
It's not located in Tromso proper, but transfers or free parking are provided. Buffet breakfast & traditional dinner are both included.
>> Check reviews from verified guests, look at photos, and book your room here!
The Best Winter Dog Sledding Tours in Tromso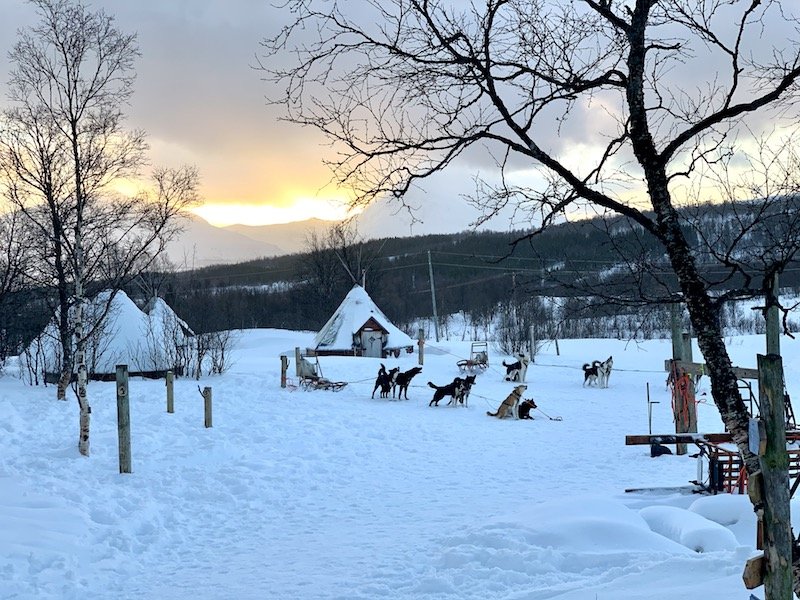 There are a number of great dog sledding tours in the winter in Tromso.
Note that the conditions have to be right for dog sledding tours, and they can be canceled due to poor weather and bad snow conditions.
Dogs cannot safely run when the snow is very icy, such as when the daytime gets too warm, melts the snow, and then it forms back into ice at night. In this case, they would cancel the tour and issue a refund, as it's not safe for either the dogs or the humans on the tour.
The later you get into the season, the more likely this is to occur. I went in the first week of February on my most recent trip to the Arctic and it was the perfect time for dog sledding with lots of fresh powdery snow for them to pull sleds through comfortably.
However, someone I know who went to Tromso a few weeks later than me at the end of February experienced issues with ice and her dog sled tour was canceled as a result.
Similarly, booking a dog sledding tour too early in the winter means there may not be enough snow on the ground.
I had friends who were in Tromso in December 2020 (they are Norwegian residents, and it was when domestic travel was permitted), and there was no snow on the ground at all in December — even by Christmas!
Keep in mind that climate change means that weather is more and more unpredictable. January is likely the safest month to plan for, and it has the added bonus of being a prime time for whale watching (as the whale watching season ends near the end of January).
Here are the best dog sledding tours in winter in Tromso!
Self-Drive Husky Dog Sledding Adventure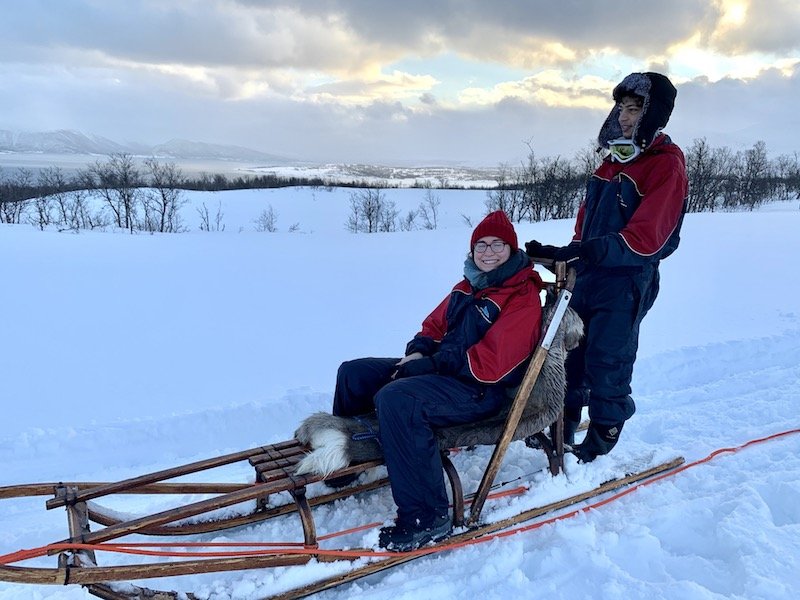 Note: This tour does not permit children under age 7 for this tour or age 6 for the Ice Domes Tour below. If this applies to you, scroll down for the Guided Husky Sledding with Lunch tour, which is suitable for kids of all ages.
This is the exact tour I did and it was my favorite while I was in Tromso!
You start by getting oriented to the husky farm and acquainted with what you'll be doing on your half-day adventure.
You'll pick out your warm gear, put everything away that you won't be taking with you in a locker, and then it's time to meet the pups!
They give you a chance to cuddle the huskies who aren't doing the run and get to take a billion husky selfies while they get all the husky sleds geared up and make sure all the safety checks are passed.
Once they're satisfied that the huskies are ready to run, they give you a quick demo of how the dog sledge works — how to steer, how to brake, how to help your team of huskies up the hill, that sort of thing.
Then it's off to the races!… Though not quite, as the head mushers and other mushers interspersed throughout the line of husky teams set a pace, and you follow in a line to ensure everyone, including the dogs, are safe.
You'll speed around the Arctic wilderness on the beautiful island of Kvaløya for a time, about 90 minutes, stopping every so often to ensure all the sleds are still in the correct order and that everyone is safe, as well as to stop and snap some photos of you enjoying your husky sled ride!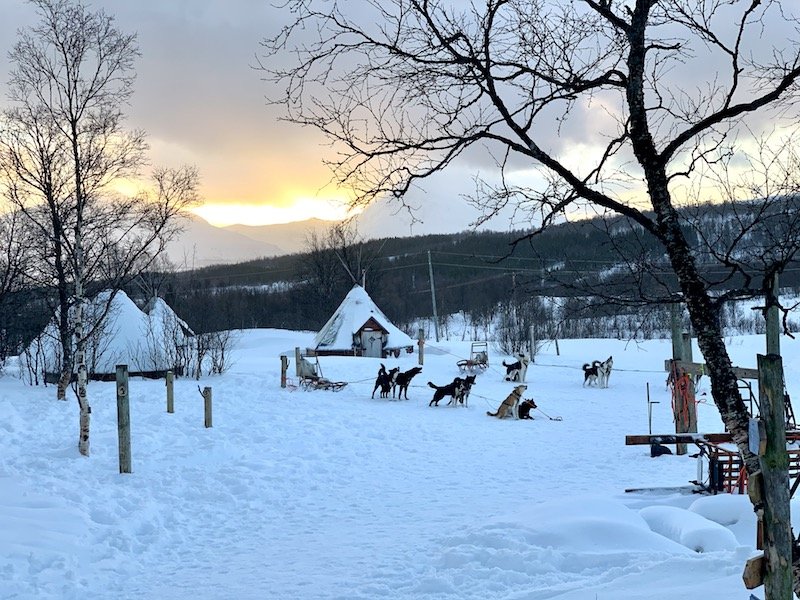 At the end, you'll eat a tasty meal of a warm codfish stew in the lavvu (a typical Sami tent), followed up by some chocolate cake and hot drinks of your choice — coffee, hot tea, or hot chocolate.
This also included a meet-and-greet with one of the retired sled dogs, who greatly enjoyed all the love and attention.
This tour includes pick up and drop off in the city center, making it one of the easier day trips to arrange in Tromso.
Husky Sledding and Guided Ice Domes Visit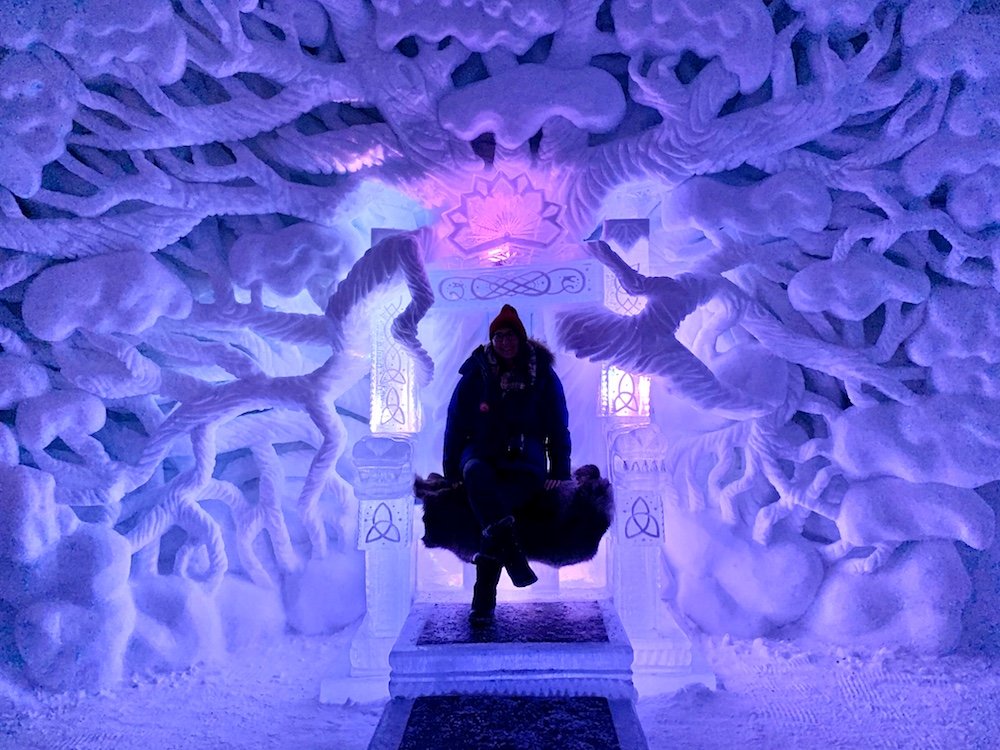 I didn't do this exact tour, but I did enjoy a fantastic guided visit to the Tromso Ice Domes and can highly recommend it to every traveler!
I did these tours on different days as I had one whole week in Tromso, but if you were short for time, this is the tour I would suggest as you can combine two Tromso bucket list items in one epic day trip on the husky sled + Ice Domes tour.
This tour picks you up in the city center of Tromso and drives you far into the Tamok Valley, about an hour and a half away from downtown Tromso.
But the ride into the Tamok Valley is in and of itself an absolutely gorgeous experience, as you pass all sorts of mountains and fjords along the way, including the beautiful Lyngen Alps.
Once you're at the gorgeous Ice Domes, the fun really begins! You'll be greeted by a guide and either begin with a dogsledding tour or a guided tour of the Ice Domes; the order of activities will depend on a number of factors, including how many people are on the tour, weather, and availability.
The tour of the Ice Domes is incredible — a true winter wonderland — and it's something I've done firsthand and loved. We watched a brief video in the ice cinema which explained exactly how the ice hotel is built (from scratch!) each and every year, using ice from the nearby rivers. It takes about 6 weeks to build, all done as the Polar Night approaches.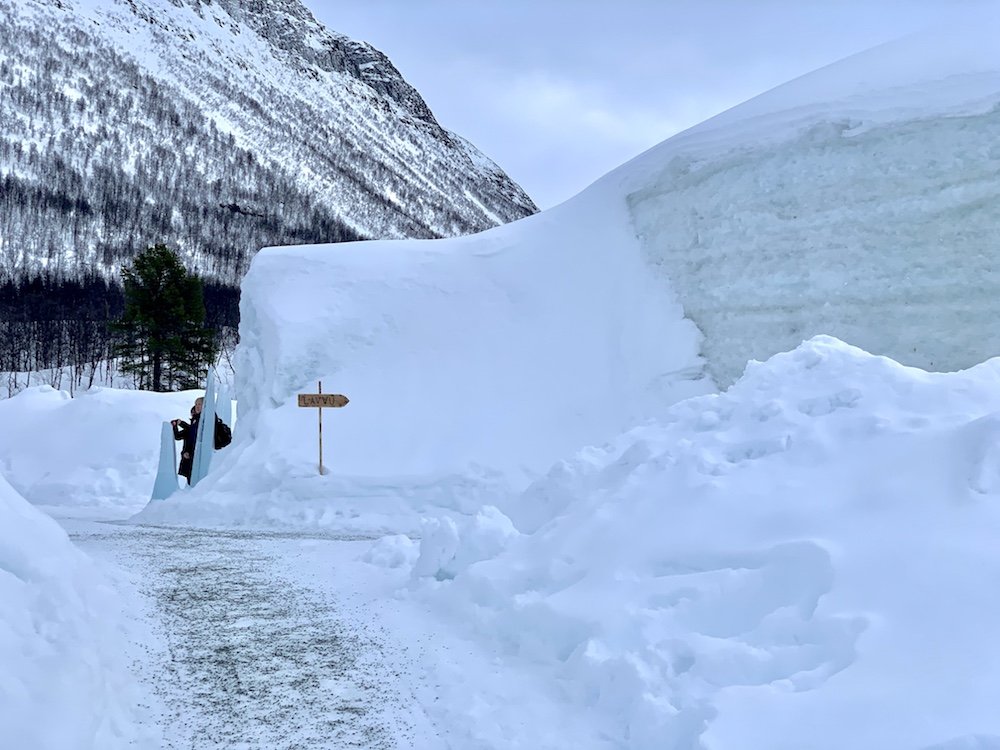 Then you'll get to tour the hotel in a small group, starting at the ice restaurant and all its incredible sculptures and themes, have a shot of lingonberry juice at the ice bar, and then get to tour the different rooms, where you can see what it would be like to spend the night in an ice hotel (without having to splash out $1,000+ to do so!).
For a full recap of my visit to the Ice Domes, read here, although keep in mind I did not do a husky tour on my trip (I did get to meet the reindeer and feed them some lichen, though!).
This tour includes the guided tour of the Ice Domes, a non-alcoholic drink, a light meal, a dog-sledding tour, warm clothing rental, and transfers to and from the ice domes.
This is another self-drive dog sled experience like how I described above, and the guides will explain how to man the sledge and handle your team of dogs and give you all the tips you need to ensure you have a safe and fun sledding experience. And of course, there will be plenty of time for lots of husky cuddles!
All in all, it seems like the perfect way to spend a day in Northern Norway, am I right?
Guided Husky Sledding with Lunch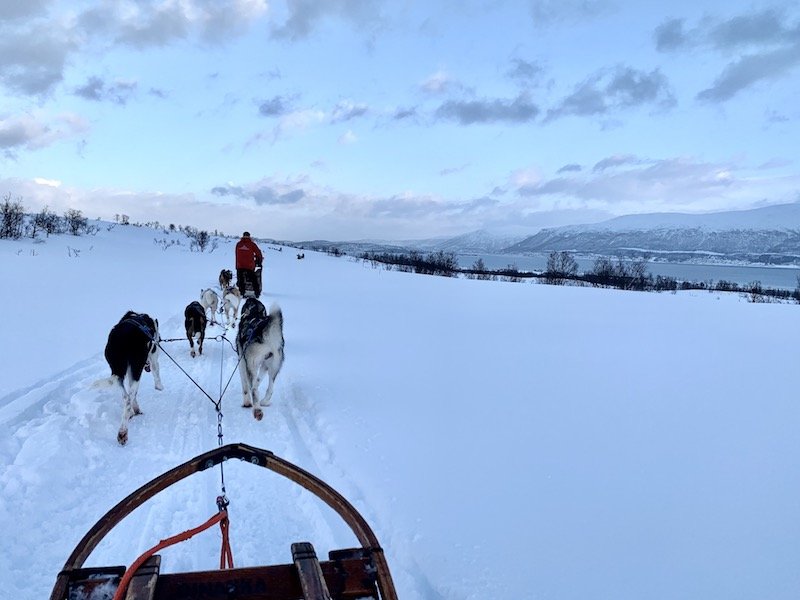 Both of the above tours fall under the self-drive category, which are the perfect adrenaline-pumping tours for travelers who like a more active adventure.
But what about if you want to relax and let the mushers do what they do best?
Or what if you're traveling with small kids who aren't strong enough to man a sledge? Then a guided husky sled tour is the perfect solution.
On a guided husky sled, each team of dogs is paired with a professional musher, and you get to sit in the sledge, nice and toasty in your warm suit!
After about a 45-60 minute dog sledding tour, complete with views of Balsfjord and the Malangen Peninsula, it's time to thank your team of huskies and have lunch.
You'll head into the lavvo to enjoy bidos (a Sami reindeer stew) or a vegetarian option, and a cup of coffee around the fire, before heading back to Tromso city center on the provided transfer.
Full Day Arctic Dog Sledding Expedition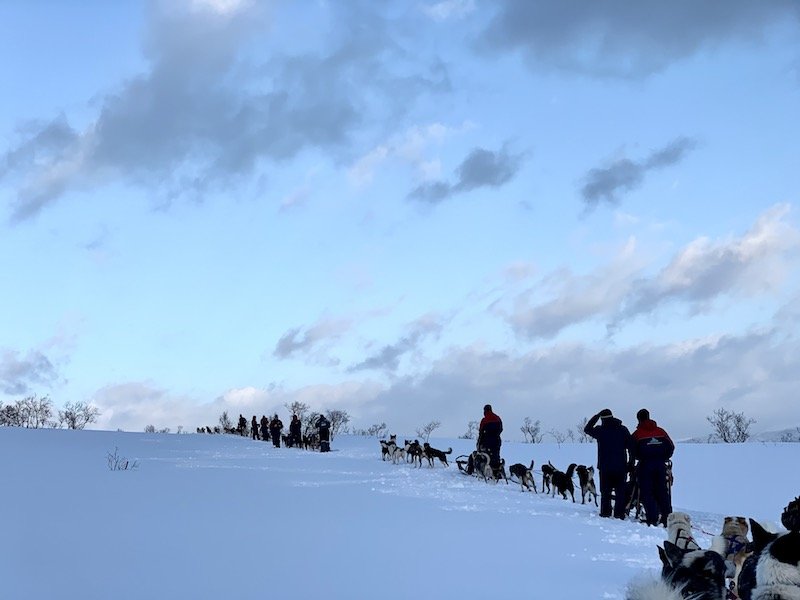 Want even more time with your four-legged pals? 
A full-day expedition tour is the perfect way to amp up your dog sledding experience and make it even more memorable.
This full-day tour lasts about 6 hours, much of it active, so be prepared for a lot of hard work! Y
ou don't need to be experienced with dog sledding, but you should be in good shape and prepared to pay attention to your team of huskies at all times! 
Along the way, you may see different Arctic wildlife like foxes, snowshoe hares, Arctic hares, eagles, moose, and even reindeer!
This full-day mushing expedition will really get you in the mindset of how Arctic mushers experience daily life as you explore the beautiful landscapes of Kvaløya with your own team of sled dogs during this full-day mushing expedition tour! 
You're in charge of your team of dogs and for ensuring they stay on task and stay safe. But don't worry, you won't be doing it all alone — you'll have experienced guides with you every step of the way.
I didn't do this tour, but I did do a different tour with this same company and I can stand behind the organization and team 100%! They truly care about their animal's welfare and make sure you have a phenomenal experience on the tour.
This tour includes the 6-hour tour, transfers, and a delicious meal of reindeer stew (or a veggie option) served in the lavvu, with tea or coffee and a dessert of chocolate cake to reward you after a long day's work!
Northern Lights Tromso Dog Sledding Tours
Arctic Evening Dog Sledding Excursion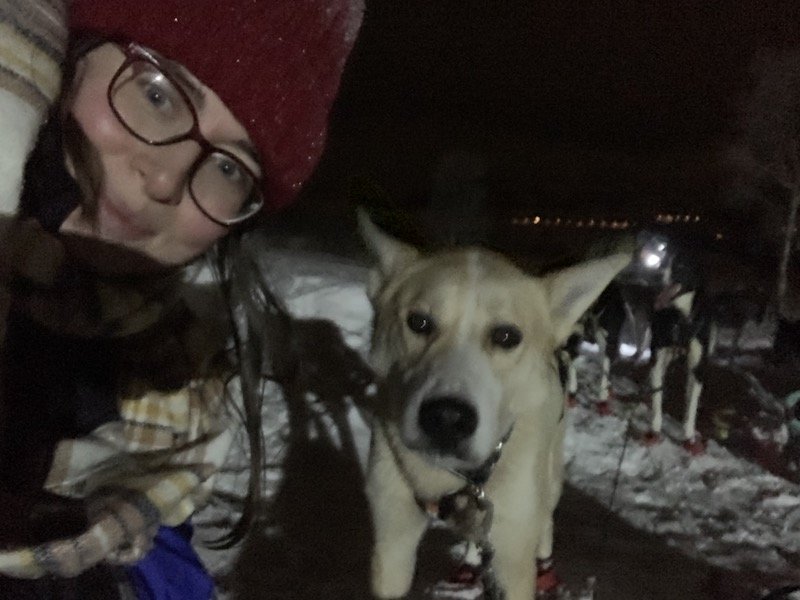 This is the exact tour I personally did while visiting Tromso in winter! 
I wanted a chance of seeing the Northern lights while I dog-sledded, and while unfortunately, the lights didn't make an appearance, it was still a lot of fun and a great way to spend an evening in Tromso.
With limited daylight hours in Tromso in winter, it's nice to be able to have activities that are just as enjoyable in the dark night hours as the softly-lit day hours. So if you are trying to pack quite a few activities into your time in Tromso, this is a great way to maximize your Tromso vacation.
One quick note though: I wouldn't make this the only Northern lights excursion you do if you have your heart set on it.
There are so many different ways to see the Northern lights in Tromso, but a tour where you move over a large area and have a guide and driver specifically chasing the lights and the perfect weather conditions is the best way to ensure you see the lights.
It's still not 100%, but you have a very good chance on a minibus tour, as they'll drive far — in my case, literally all the way to Finland! — to get the best chance of seeing the Northern lights.
However, if you have another Northern lights expedition booked, and you're looking for another chance to see the lights and also enjoy a fun activity, I strongly recommend this tour — I absolutely adored my experience, lights or not!
This is a musher-driven guided tour, so you don't have to worry about driving yourself in the dark.
You are provided with a headlamp and the guides lead you all away around the 'track' that the huskies run.
This way, you can see what you're doing while also having a chance to maybe spot the Northern lights as you get away from the light pollution of the husky camp.
The tour is done with a ratio of 2 guests to every guide, so you can ensure you have a lot of personal attention.
Although I was a solo traveler, I didn't have to share my sled with anyone, so I got the experience all to myself.
I can't ensure this will happen to you, if you travel solo you may get paired up with another solo traveler, but since there was an odd number in my group, I got lucky.
This tour also includes a meal in the lavvo — a delicious plate of stockfish stew (similar to bacalao/bacalhau, dried codfish) for dinner, which I can attest firsthand was so, so tasty!
Transfers are included to and from the Radisson Blu hotel and the tour lasts about 4 hours including travel time.
Overnight Dog Sledding Experiences
Ice Domes Overnight Stay and Dogsledding Tour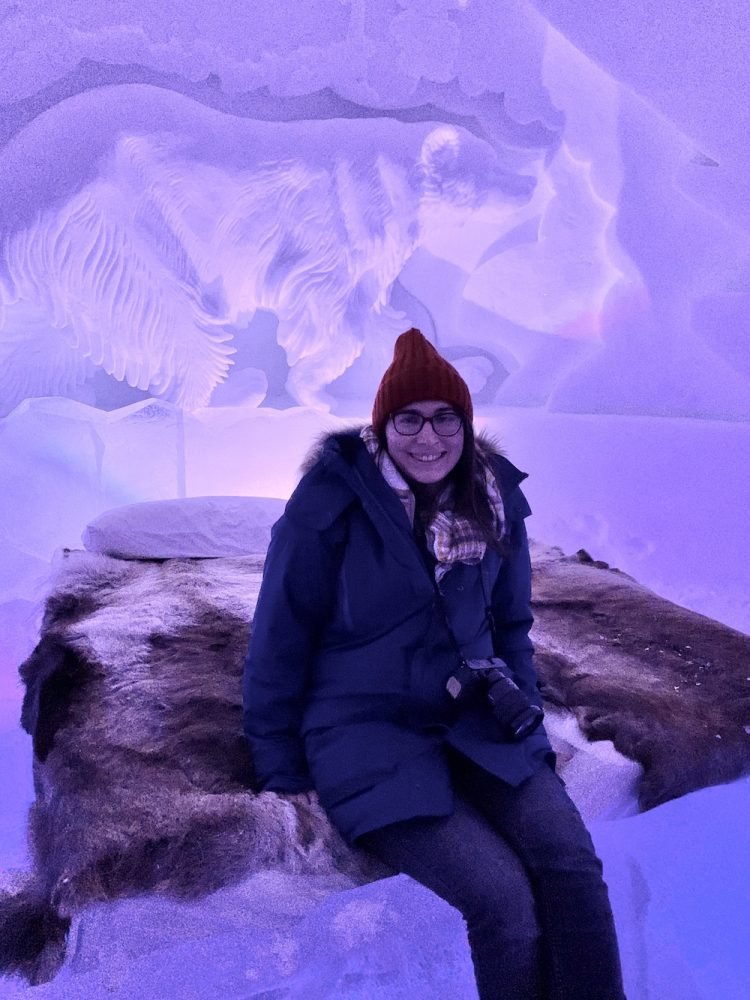 If you're visiting Tromso for a special occasion like a honeymoon, anniversary, or you just like to vacation like a baller, then you've got to spend a night hunting for Northern lights at the ice hotel!
Combine your dog sledding adventure with an overnight adventure at the Tromsø Ice Domes. This gorgeous ice hotel (yes, made of real ice) is located in the Tamok Valley, about an hour and a half away from Tromsø City Centre.
You can do a day tour of just the hotel or a day tour that includes a dog sledding tour (described above), but the full-on experience is the overnight experience!
This includes a night staying the ice hotel, which also includes a dog-sledding tour the following morning, a Northern lights campout, a snowshoe tour, and all your meals (dinner and breakfast).
On this experience, you can enjoy the entire property of the Tromso Ice Domes — which includes a bar made of ice, an ice cinema, an ice restaurant, and even ice bedrooms!
The whole property is decorated with themed ice sculptures as well, carved by local artists each year.
The evening part of this overnight tour includes a snowshoe walk in the Tamok Valley.
As you explore deep into the Arctic wilderness, you'll be accompanied by a local guide.
They can help you identify wildlife tracks and nature in the area, set up the nature camp and fire, grill a dinner over the open fire, and spot and photograph the beautiful Northern lights if they make an appearance!
The overnight part of the tour consists of staying in a literal ice bedroom. Don't worry, though, you won't be sleeping on an actual block of ice (though the bed frame is made of ice!).
You'll have an expedition-rated sleeping bag to keep you warm and cozy, and your mattress is covered in reindeer skins to keep you toasty warm. 
The morning is when the real fun begins — as you wake up to a winter wonderland landscape and enjoy a delicious Nordic breakfast, you'll then suit up for a self-drive dog-sledding excursion for a few hours, before you head back to Tromso city center and end the tour.
2-Day Dog Sled Expedition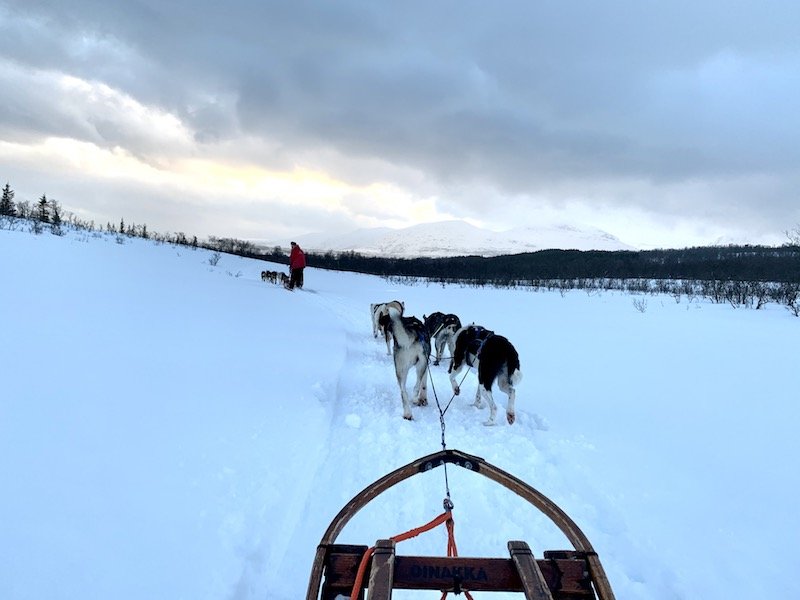 If you've ever dreamed of knowing exactly what it's like to be a dog musher, this two-day, one-night dog sled expedition is the perfect choice for dog sled tours in Tromso!
This tour, run by Villmarkssenter, will bring you deep into the Arctic Circle wilderness: just you, a small group, your tour guides, of course — your team of hardworking and happy Alaskan huskies.
Be sure to come prepared in good physical condition, as this tour is hard work — you'll help your team of dogs go across the snowy landscapes for 5-8 hours, weather conditions depending.
At night, set up camp — all gear provided by the tour guides, of course — and spend hours around the campfire, hoping for a glimpse of the Northern lights dancing above you as you sleep amongst snow and stars.
The next morning, you'll have a hearty fire-cooked breakfast before you continue further into the wilderness of Kvaløya, up mountains and through valleys keeping an eye out for all manner of native fauna, including Arctic foxes, hares, moose, reindeer, and eagles.
Finally, you'll arrive back at camp — exhausted and exhilarated — to eat reindeer stew in a Sami-style tent, the lavvu.
Book this epic two-day dog sledding expedition on Manawa (same tour at a discounted price)
6-Day 5-Night Arctic Dog Sledding Adventure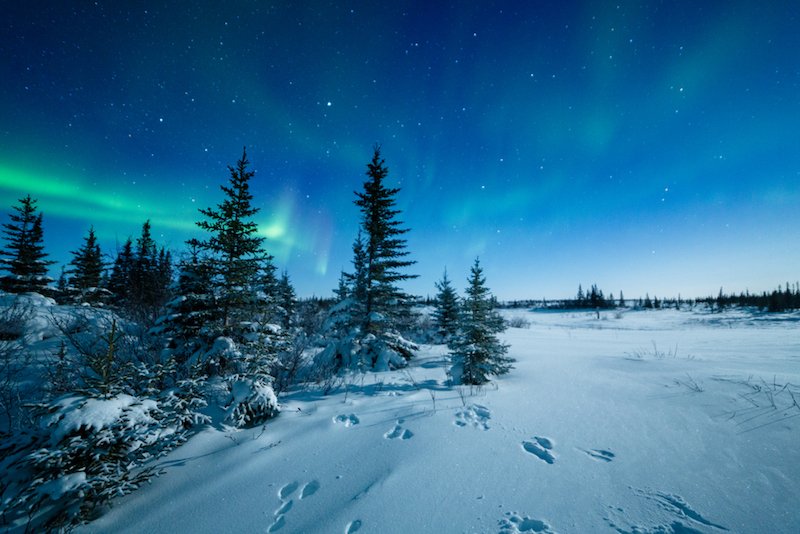 For the most memorable experience, spend nearly a full week out in the Northern Norwegian wilderness exploring places few people ever go with this 6-day dog sledding tour.
You'll be led by two expert guides, Tove and Torkil, who own Tromso Wilderness Center.
They are both professional dog sled racers — Tove is the female world record holder and the fifth best musher worldwide, and she completed the Iditarod race in 2006!
Tove and her son are two inspirational people who live and breathe the art and culture of dog sledding. This expedition will take you through some of the most remote landscapes in Tromso.
This is not a tour for the faint of heart nor is it a luxury tour, but a true experience of living life as a real Arctic musher.
This means sleeping in tents on snow-covered landscape, hard days with many hours spent manning your four-dog team and your own sled, riding across ice-covered lakes and trying your hand at ice fishing.
The tour takes you through Sweden and Finland over the course of several days, passing high mountains as you traverse Swedish Lapland, passing by many herds of reindeer tended to by Sami reindeer herders, the Indigenous people of the lands that encompass Northern Norway, Sweden, Finland, and Russia.
You'll experience mountains, woodlands, frozen lakes, steep areas, and all sorts of landscapes as you traverse the border area of Norway, Finland, and Sweden, before arriving back at your pick-up point where you'll be brought back to civilization, having finished a life-changing tour.
Book this 6-day 5-night dog sledding expedition here on Manawa
Other Ways to Meet Huskies in Tromso in Winter (Without Dog Sledding)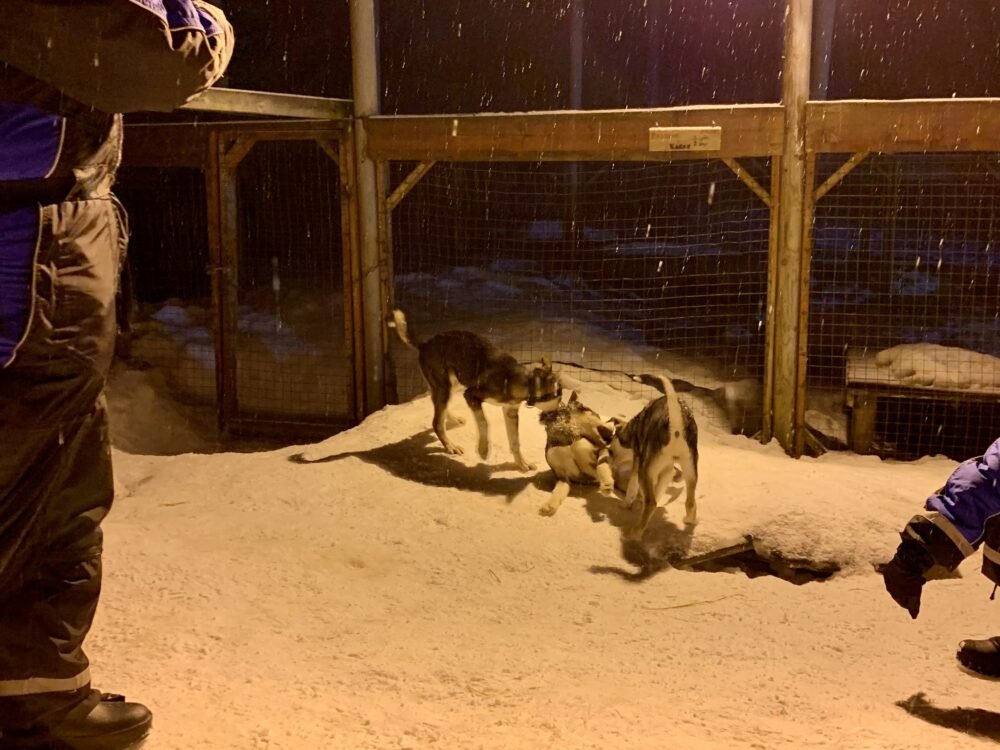 Like I mentioned above, I do believe husky tours are absolutely an ethical way to interact with these gorgeous, hard-working Alaskan huskies.
However, if you're not into the concept of husky sledding for ethical or personal reasons, there are other ways you can interact with huskies that have nothing to do with sledding!
You can do a snowshoe tour with Tromso Villmarkssenter where you get to meet their 300 husky strong team and embark on a beautiful snowshoe adventure in the Norwegian Arctic wilderness.
Another option, also at Villmarkssenter (where I did my Northern lights and guided husky sled tour, and can highly recommend!), is the Northern lights and husky experience.
This is similar to the tour I described above, but instead of doing a sled ride, you just get to meet and interact with the huskies.
It's also a nice way to have a Northern lights tour and husky experience on a budget, as it's a fraction of the price of the dog-sledding tours. 
Husky Tours in Tromso in Summer & Fall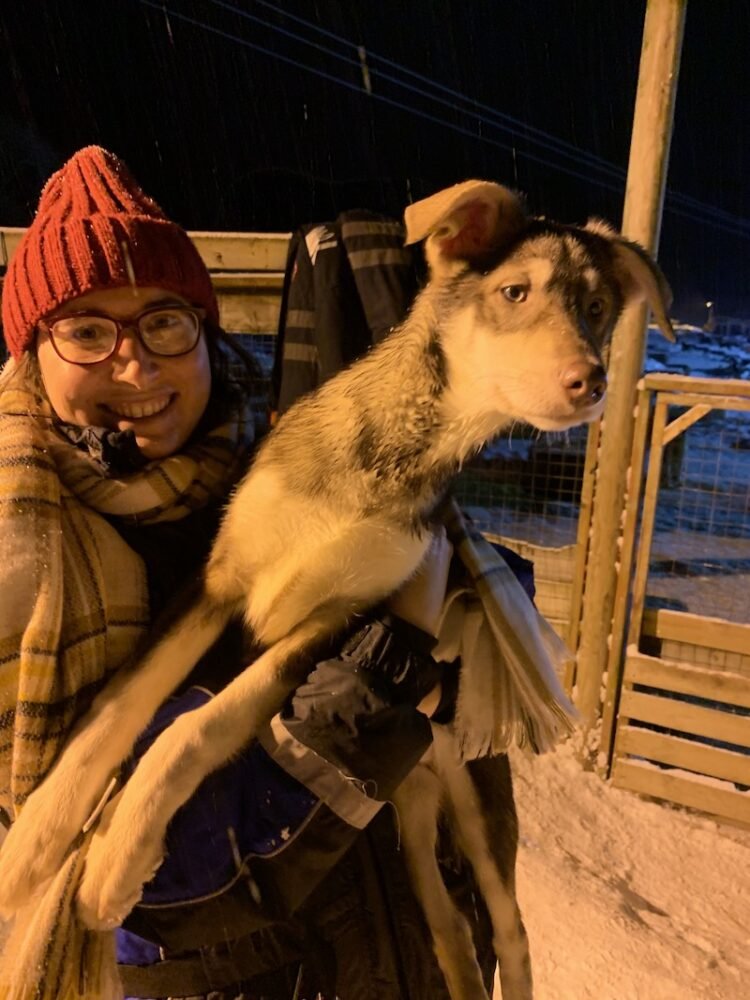 Yes, you can play with huskies in the summer in Tromso, too!
These pups need attention and exercise at all times of the year, so don't fret if your trip to Tromso falls under the midnight sun or beautiful autumn season.
There are a few different ways you can interact with huskies in the summer. One great option is husky hiking, also offered at Tromso Villmarkssenter.
Visit their husky farm while taking these energetic pups out for a walk in the beautiful summer Norwegian countryside, with views of fjords, mountains, and all sorts of beautiful views in the gorgeous summer light.
This tour includes a lunch, coffee, and tasty chocolate cake as a dessert — you'll need to replenish your energy after walking these rambunctious pups! 
More interested in some puppy love? Do the puppy training tour, where you can interact with and train puppies aged between four weeks to six months! 
You'll do an hour to hour and a half hike our with the puppies, including some training exercising depending on the ages of the dogs.
This is a great tour for kids in summer – they won't be disappointed!
If you really have your heart set on dog sledding, you can do dog "sledding" on wheels!
This replicates the sensation of dog sledding without the need for snowy conditions.
It's a little bumpier than just gliding over the snow, but it's the only dog-sledding experience you can have in summer. Bonus – it's also great for kids (over the age of 4).
It's available September through November, so if you came slightly out of the dog sledding season, don't worry — there's still a chance to see what a musher's life is like!
DON'T FORGET ABOUT TRAVEL INSURANCE!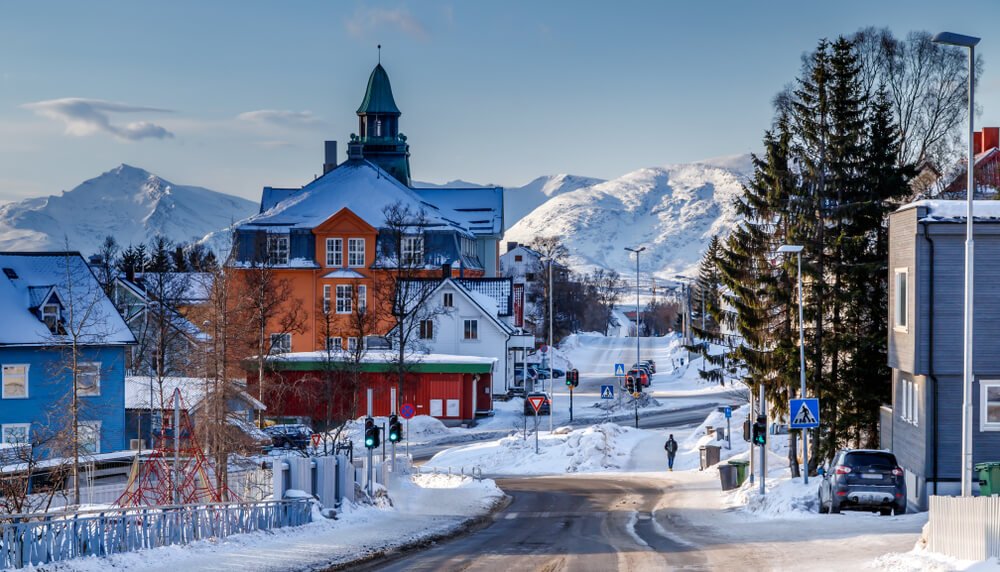 When planning any trip, especially a winter trip, be sure not to forget about travel insurance!
I use SafetyWing and its Nomad Insurance to insure all of my trips for its affordable rates and comprehensive coverage for all my travel needs.
For a trip as expensive as traveling to Norway, with weather as unpredictable as the Arctic, it's especially important for me to have coverage.
It provides both travel insurance (coverage for trip delays, cancellations, interruptions — the likelihood of which increases in winter) and travel medical insurance (coverage for things like accidents, illnesses including Covid, etc. — also more likely in winter!).
Coverage is really affordable — for me, it costs roughly $11 USD for a week of coverage outside of the U.S., with a policy max of $250,000 after a deductible of $250. Not bad!
Allison Green is a former educator turned travel blogger. She holds a Masters in Teaching and a B.A. in English and Creative Writing. Her blog posts merge her educational background and her experience traveling to 60+ countries to encourage thoughtful travel experiences that both educate and entertain. She has been a speaker at the World Travel Writers Conference and her writing, photography, and podcasting work has appeared in National Geographic, CNN Arabic, CBC Canada, and Forbes, amongst others. Now based in the San Francisco Bay Area where she grew up, she has also lived in Prague, Sofia, and New York City.