One of the most memorable places I've ever visited in my 60-something countries of travel was my trip to Abisko in the winter of 2016.
It was before I was even blogging, but visiting Swedish Lapland in winter all covered in snow still remains one of the top travel highlights of the last decade or so I've been traveling.
While I'm sure Abisko, Sweden is a lovely place to visit at any time of year, it truly shines in winter.
I visited in mid-February and found the weather to be perfect: the days were getting long enough to ensure plenty of sunshine hours (okay, like six or seven) but the nights were early and dark enough that I got to see the Northern lights dancing overhead literally every night.
I wrote this article after my 2016 visit to Abisko, and I've updated the article several times (most recently in January 2023) to reflect any changes since then. 
The Most Magical Things to Do in Abisko in Winter
Take advantage of the "Blue Hole" and go Northern lights spotting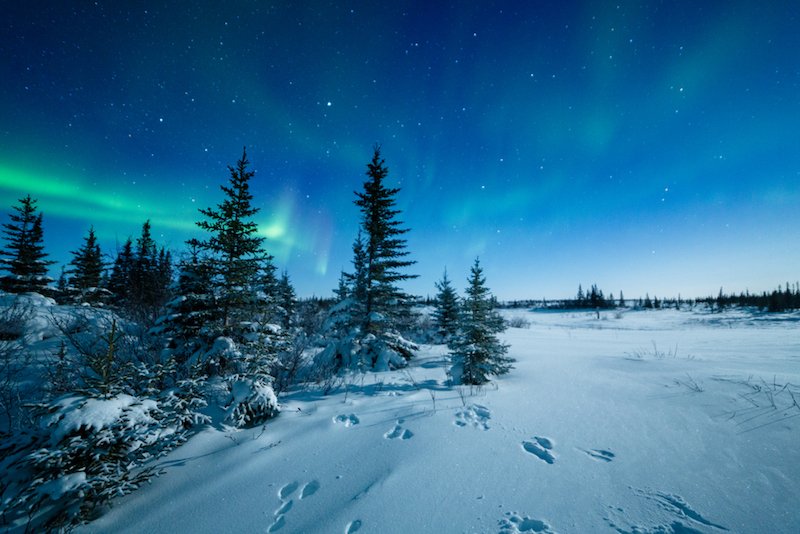 Note: This post contains affiliate links, which means I may receive a small commission if you purchase something through one of these links. Thank you for supporting the free content on this site! For more information on affiliate links and cookies, see my disclosure page for more details.
The thing about seeing the Northern lights in Scandinavia is that often, the lights will be roaring overhead, but clouds will get in the way.
The geomagnetic activity that creates the bands of the aurora is way above the cloud cover, and therefore, if there are clouds in the sky on the night you're attempting to see the Northern lights you're unlikely to have much success.
So while many people choose to go to Norway or Iceland in hopes of seeing the Northern Lights, the fact that most of the places you'd visit in these countries are coastal doesn't do you any favors.
Coastal climates such as Tromso are more temperamental with more frequent cloud cover in winter, decreasing your chances of seeing the Northern lights dramatically.
Abisko, on the other hand, has a microclimate that's been blessed with clearer weather than other places in the Arctic, thanks to the so-called "Blue Hole" effect that the lake and surrounding mountains have.
That's why Northern lights spotting is one of the top things to do in Abisko in winter!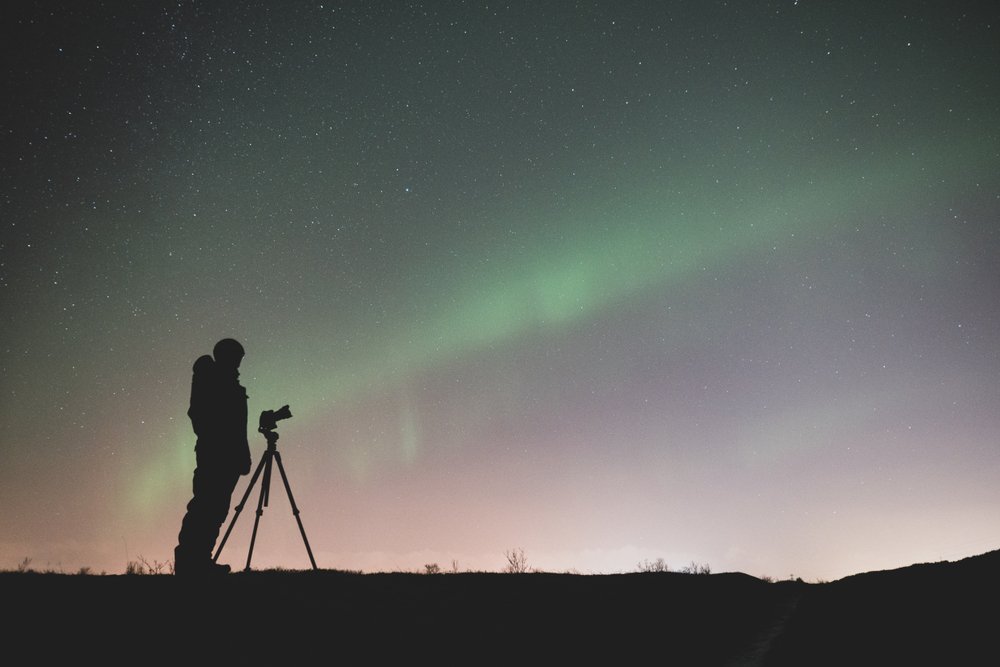 The exact physics behind this meteorological phenomenon is a mystery to me, but all I can say is that the odds proved in my favor.
The statistics say that if you stay in Abisko for three nights, you have an 80% chance of seeing the Northern lights in Abisko (my full guide to seeing them is here!)
Anecdotally, I stayed for three nights and saw them every night of my stay to some degree or another, the most spectacular show on my final night.
In contrast, I spent 7 days in Tromso and saw the Northern lights only twice in the city itself.
In fact, on that trip, had to take a pricy Northern lights tour from Tromso to see even a fraction of the spectacle I saw in Abisko — and we went all the way to Finland to achieve that!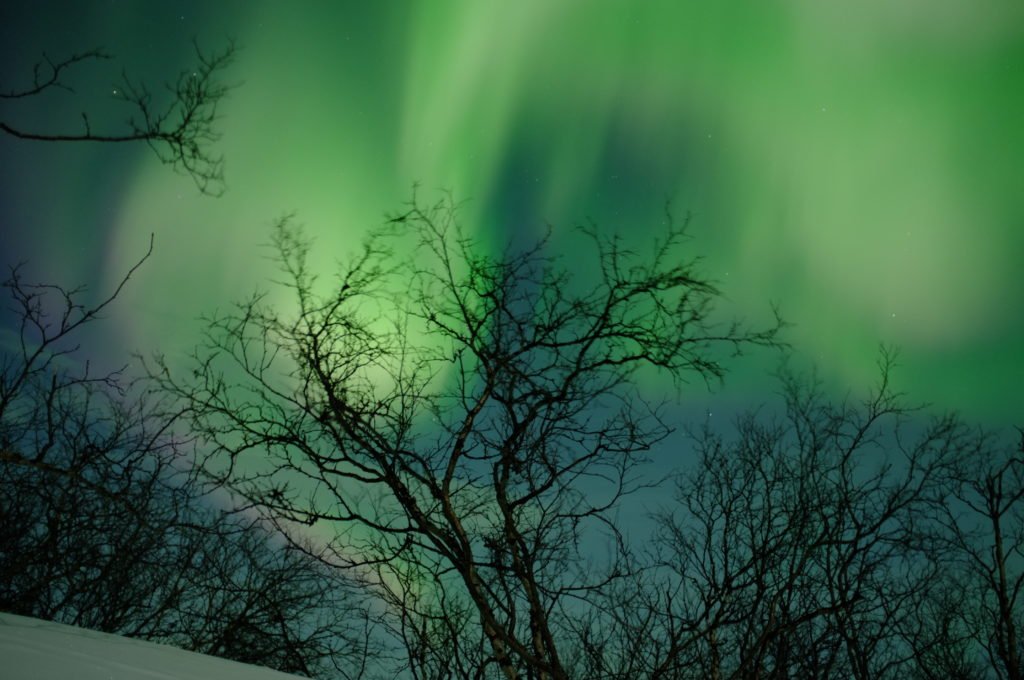 When planning a trip to Sweden for the Northern lights, keep a few things in mind.
The aurora is generally not as vivid as you see in photos.
That's not photoshop but rather a trick of long exposure.
This is because the camera is able to take in light for seconds at a time where your eye can only take in light at, well, the speed of light, creating a much different effect.
While you'll definitely notice bands and colors moving across the sky, expect paler colors with your naked eye and much more vividness on camera.
No matter what you do, you're at the mercy of the weather.
Unfortunately, no amount of planning or preparation can guarantee you seeing the lights.
I can only speak about my experience, which was that I saw some variation of the Northern lights in one way or another each night.
My first night, I just saw a small band appear low on the horizon, one that I could barely tell was an aurora with my eye but appeared bright and green on the camera.
My second night was similar, with some aurora activity that I glimpsed through some cloud cover.
But my final night was truly incredible and I was able to see the whole aurora show through the famed "Blue Hole" effect.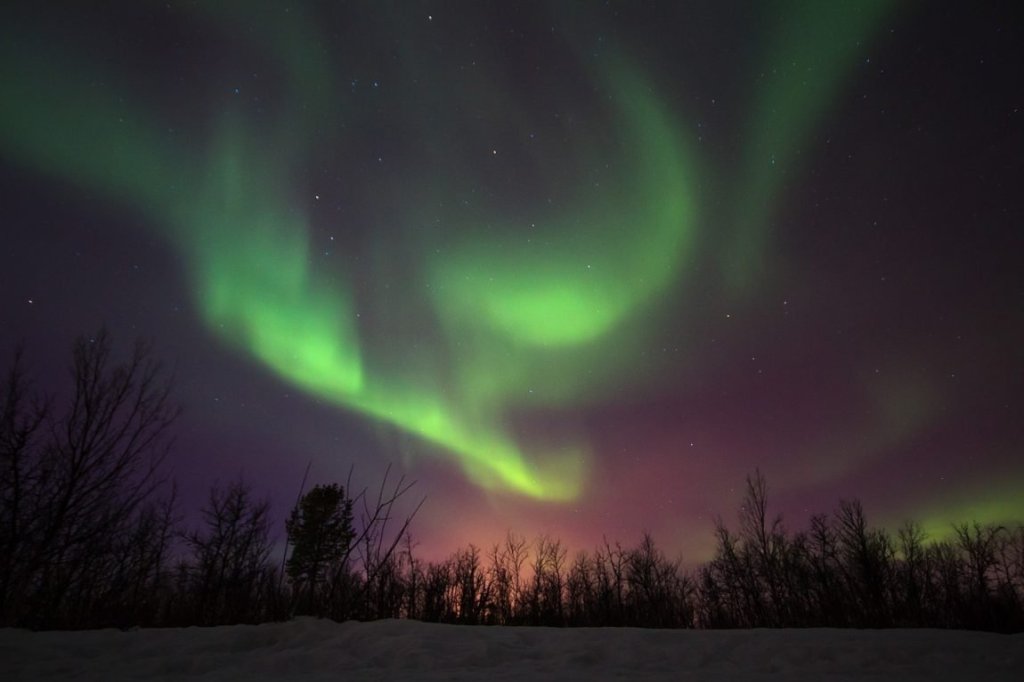 Even with Abisko's relatively high odds, I struggled to see the Northern lights on my first two nights despite there being plenty of solar activity.
Had I gone on a guided excursion for the Northern lights, I undoubtedly would have had a different experience those first two nights and gotten to see more.
The great thing about doing a Northern lights tour is that your guides will do their best to find cloud-free skies and take you to places where you can get better compositions for your photos.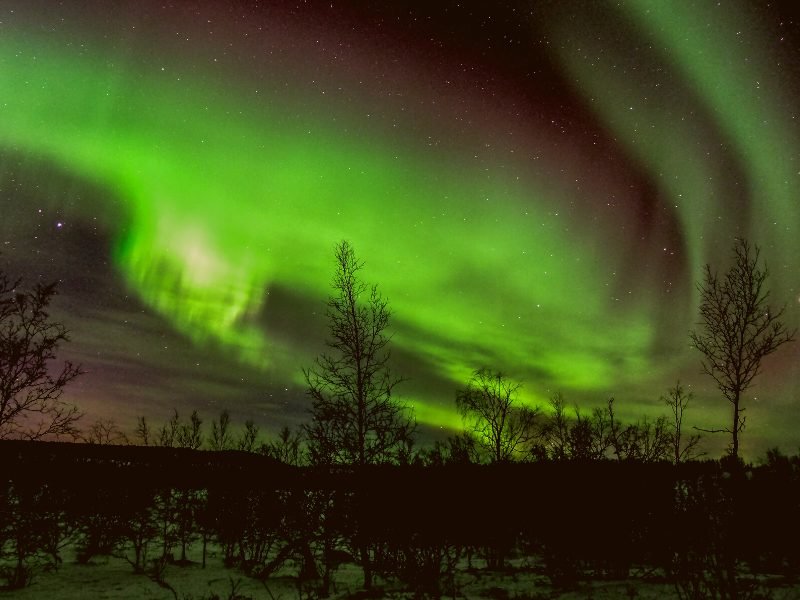 This tour is slightly more expensive than other options because it is a photography tour that includes camera gear rental.
You are given a high-quality camera with all the settings dialed in for you plus a sturdy tripod to use (all you have to bring camera-wise is your own memory card, or buy one off them).
Of course, if you have your own photography gear, you can use that instead.
The tours are restricted to 8 people per group, so you'll want to save your spot in advance.
However, since these tours come with a lot of inclusions and are the name with the highest profile, they do come at a steeper cost.
If budget is a concern, I recommend this similar Northern lights chasing tour which lasts for 4 hours and takes you to various places where you can get stellar compositions for your photos.
However, keep in mind that this does not include any photography equipment, so if you don't have a DSLR or mirrorless camera plus tripod setup capable of setting up long exposure photos, it's not the ideal tour for you.
Alternately, you can do what I did and just hope for luck with the lights – it worked for me one night out of three, and maybe it'll work for you too, and it won't cost you a cent.
Go dog sledding and cuddle some husky pups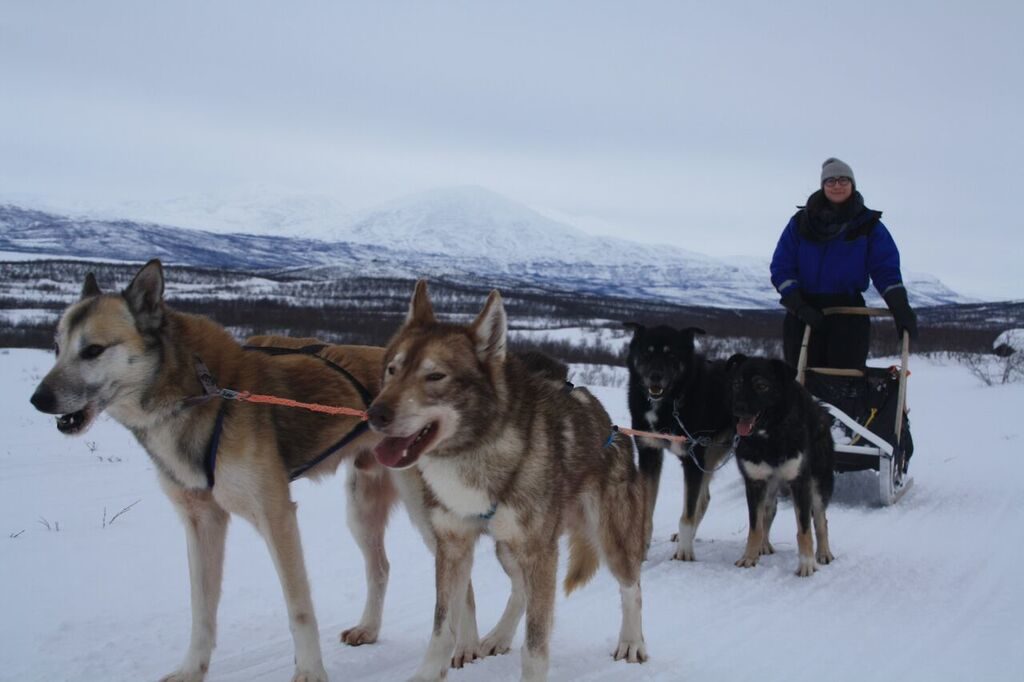 While seeing the Northern lights was incredible, it wasn't my favorite of all the things to do in Abisko.
That honor belongs to the incredible dog-sledding trip (and subsequent puppy-cuddling) I took with Abisko Fjällturer.
Dog-sledding is so much more interesting and involved (and difficult!) than you'd imagine.
I think I pictured a leisurely ride through the snow, but I opted for the drive-your-own-dogsled option where you had to man your sled, steer, brake, and help your dogs up hills in the snow.
It was one hell of a workout and an incredibly thrilling day out. Working as a team with your dogs, looking out on the vast Arctic landscape, was truly a life-changing experience and the best money I spent on my Sweden trip.
Especially since it came with a side of husky pup cuddles (obviously there won't always be puppies, but we got lucky when we visited!)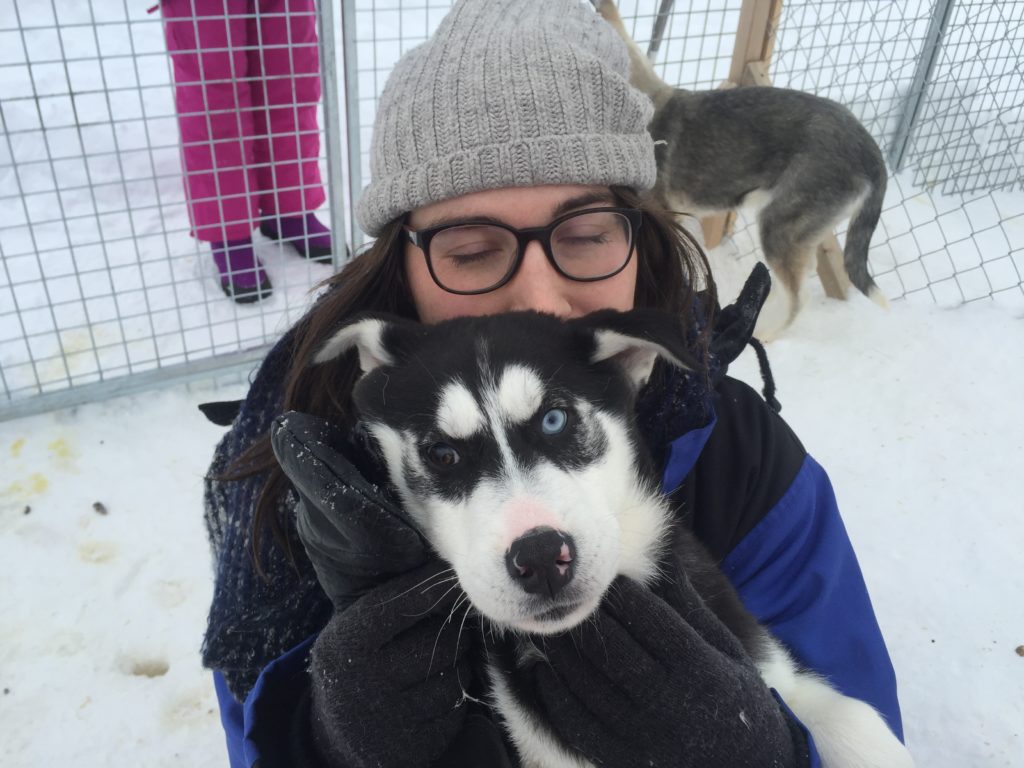 While I'm generally quite wary of animal activities in tourism, this is one I can make an exception for, as huskies have been domesticated for exactly this kind of life for thousands of years: it's literally what they were born to do.
The dogs live in great conditions and are given tons of love and rest time, as there's only one two-hour run per day.
Their individual personalities are known and respected; for example, the staff knows exactly which dogs to pair up based on their personalities.
They also know what order to place the dogsled teams in, as some teams prefer to be leaders and some have their own rivalries!
As for the huskies, they truly seem to love what they do. They actually get so excited as they're being harnessed up that they start howling in anticipation!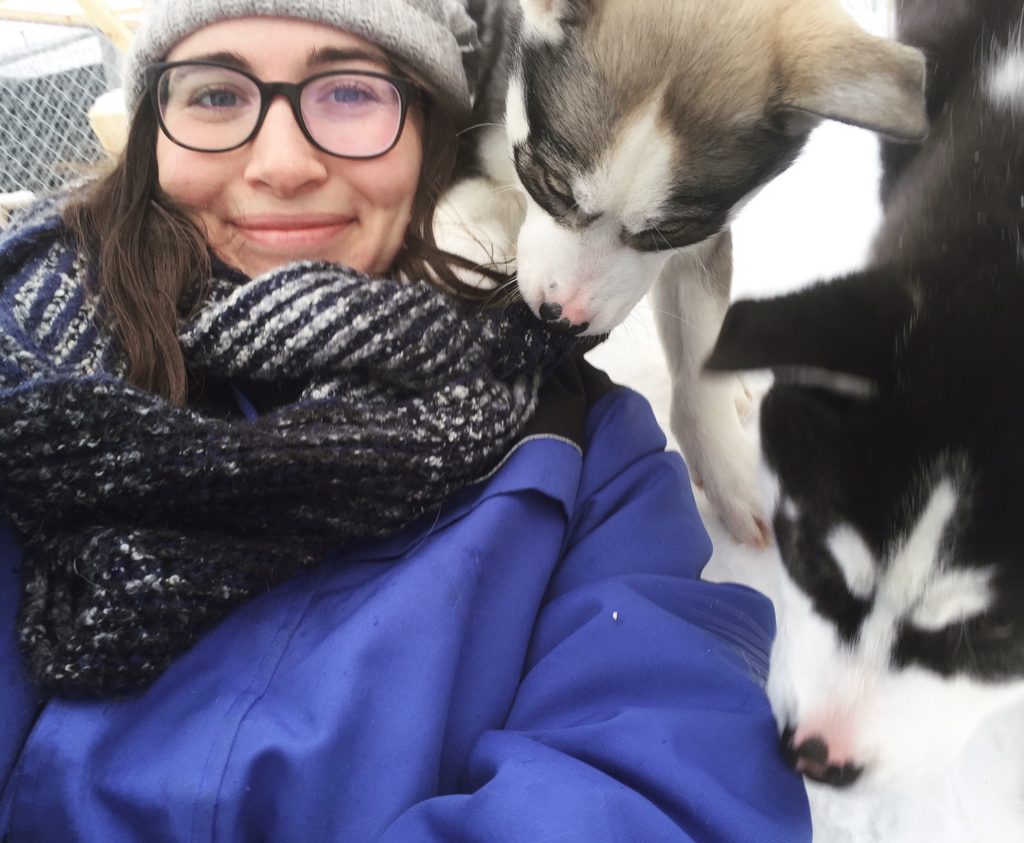 Keep in mind that driving your own dogsled is way more difficult than it looks and requires a good deal of physical strength.
Because of that, it's not really suitable for kids – on this tour, you have to be 16 or older to drive your own sled – or people with limited mobility or injuries.
But if you can handle it, this is my #1 thing to do in Abisko!
I recommend booking it online in advance because as far as I know, they're the only husky sledding tour operator in Abisko.
If you're traveling with kids or people with limited mobility, a better option is to sit back and enjoy dog-sledding on a sled, getting driven through the snow by a team of huskies.
Personally, I think getting to drive your own sled is a lot more fun (though a lot more work), but this isn't a half-bad option if you can't man your own sled.
Chase (frozen) waterfalls in Abisko National Park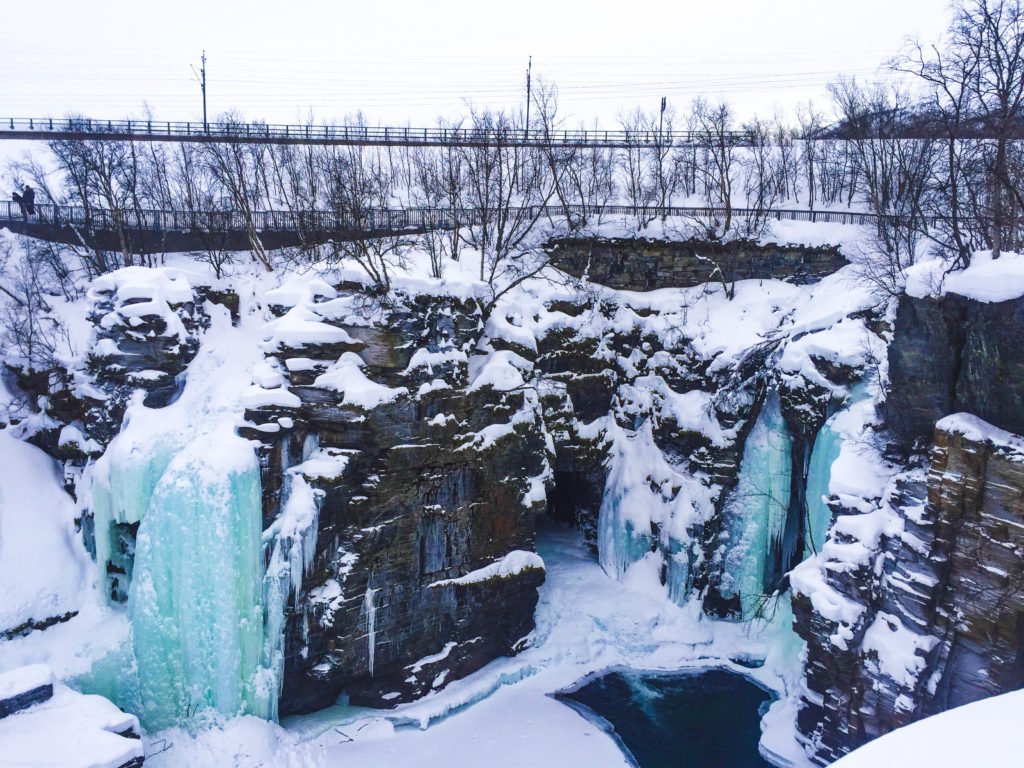 Abisko National Park was one of the first national parks in all of Europe – and when you visit for yourself, you'll see why.
It's a truly breathtaking place and in winter Abisko National Park becomes utterly magical under a dusting of snow.
But what's most impressive are the impressive waterfalls you'll find just a short but snowy hike from STF Abisko Turiststation (the front desk staff there can help draw you a map).
It took us about 15-minutes trudging through Abisko's winter wonderland to come across these beautiful waterfalls, and boy was it worth the cold!
If you're feeling exceptionally brave, we saw people ice climbing up the waterfalls, using a harness-pulley set-up with pickaxes and crampons.
Back when I saw this when I visited in 2016, that elicited a big old nope from me — it's not something I thought I'd ever want to do.
Many years later, now that I love rock climbing, it's on my bucket list to return and try ice climbing!
Learn about the indigenous Sámi culture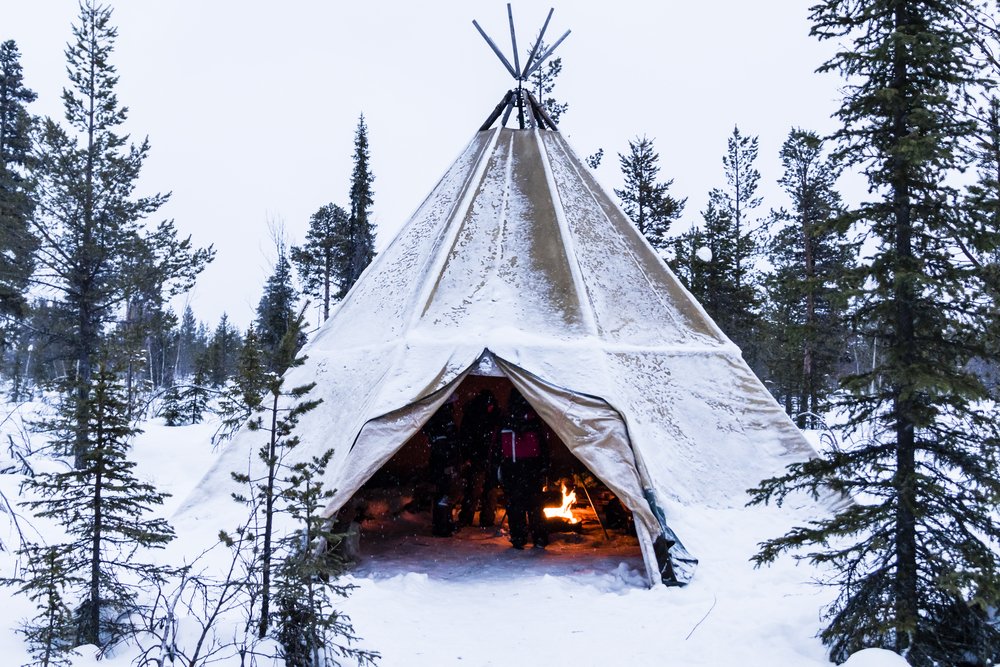 One thing I've been trying to do more as part of being a responsible traveler is to educate myself about the indigenous people of the lands I'm visiting.
The Sámi people are the indigenous people of the Sápmi region which encompasses northern Norway, Sweden, Finland, and the Kola peninsula in Russia.
The Sámi have stewarded the land in these regions for at least 2,000 years.
They've preserved their traditions, language, and culture despite the harsh Arctic climates, attempts to force assimilation through political and "educational" means, and the division of their ancestral lands into four distinct modern-day nations.
Reindeer have historically held an important role in Sámi life and industry.
Historically, the Sámi would hunt reindeer, but that's changed, and since the 1500s the Sámi began herding reindeer and domesticating them in a manner similar to cattle.
While this is still part of the Sámi economy, the focus of reindeer herding has shifted in recent years towards tourism rather than animal agriculture.
Visits to Sámi villages often include visiting reindeer farms and getting a chance to feed reindeer or go reindeer sledding.
Tourism is an important facet of the modern-day Sámi economy, and so long as the animals are well-fed and taken care of, I think you can ethically visit a reindeer farm if it's in line with other animal activities you would do, such as riding a horse or a camel.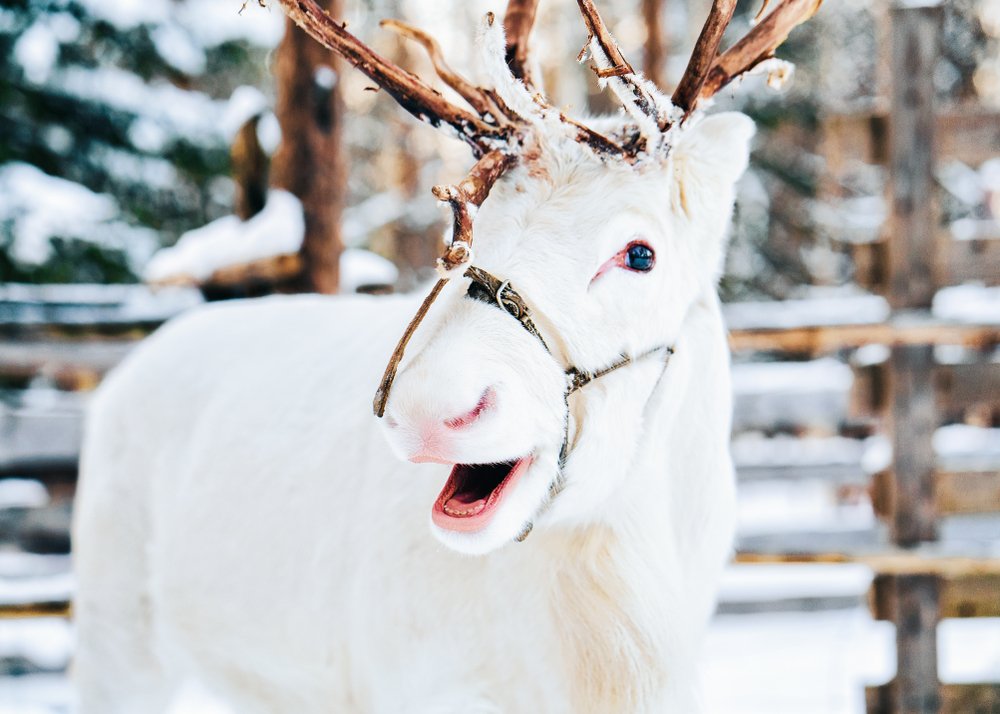 This Sámi tour is the one I would recommend as it is also run by Lights over Lapland, which enjoys a great reputation in the region.
The 7-hour tour consists of a visit to a reindeer farm in Rávttas, a small Sámi village 45 minutes away from Abisko.
The tour includes roundtrip transportation, meeting and feeding the reindeer, learning about Sámi culture from an English-speaking Sámi tour guide, a short reindeer sled ride, and lunch in a traditional Arctic teepee (word of warning: your lunch may include reindeer – get in touch with them if you have dietary restrictions).
It's a popular option for things to do in Abisko during the day, so book this tour in advance if meeting reindeer is a must on your Sweden bucket list.
Visit the incredible ICEHOTEL
One of the most famous places in Sweden, a visit to the famous ICEHOTEL in Jukkasjärvi is likely one of the top things to do on your Abisko itinerary.
I love visiting ice hotels — I've visited the Tromso Ice Domes and adored it — although I've never gotten the chance to stay the night in one, and this Swedish ice hotel is no exception!
Getting there from Abisko can be a bit of a pain, as it's closer to Kiruna than Abisko.
There is no direct public transportation to the ICEHOTEL from Abisko, so you would have to transit via Kiruna, and I'm not even sure how you'd do that.
It's far easier to go on a guided day trip like this one and not much more expensive.
Visiting the hotel for the day independently will cost you 325 SEK (~$35 USD) plus all your transportation costs from Abisko to Kiruna by train, then to Jukkasjärvi by bus, then back to Kiruna and then taking the train to Abisko again – easily another $35 USD.
That's not without counting the significant headache of the limited public transportation up north, as I found out from my disastrous experience trying to navigate Kiruna's public transportation…
… oh, about that, I ended up with me dragging myself and my backpack through a snowdrift while running to the train station so I didn't miss the only train of the day… but I digress.
Just book yourself the day trip and save yourself the stress.
The ICEHOTEL is an incredible feat of engineering, which mashes up a hotel with an art exhibition — all of this 200 kilometers north of the Arctic Circle.
The original ICEHOTEL was created in 1989 and the ice structure is completely redone each year (hence the serious price tag on the cold rooms).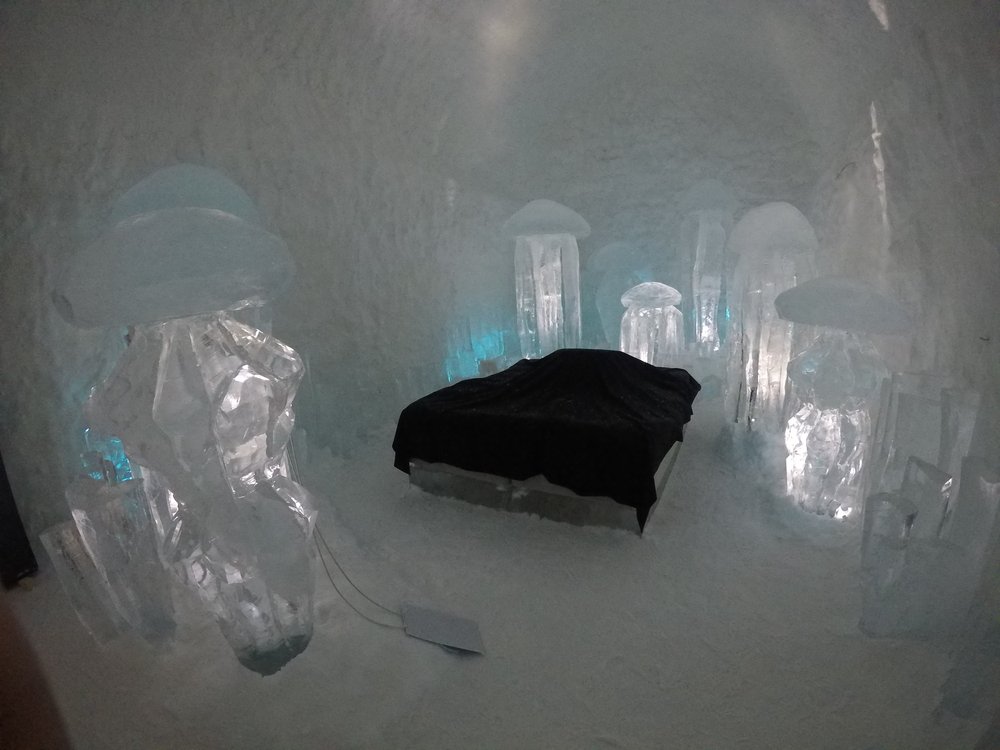 Incredibly, in 2016 they created a whole new hotel: a permanent structure with ice rooms that you can even visit (and stay in!) in the summer month, called ICEHOTEL 365.
Before you go worrying about the carbon footprint of such an undertaking — it's completely cooled by solar panels so it's eco-friendly!
While temperature is not a concern if you're visiting Abisko in winter, it's pretty amazing to think that this structure still exists in the summer when temperatures can reach 17 °C/63 °F.
Keep in mind that the winter ICEHOTEL is constructed at the start of winter each year, so if you visit before the middle of December, it's not likely to be finished.
It takes a team of 40 artists each year several weeks – not to mention months of planning – to create the ICEHOTEL completely from scratch each year, which is truly incredible.
If the seasonal ICEHOTEL not yet open, however, you can check out the ICEHOTEL 365 which is open all year round.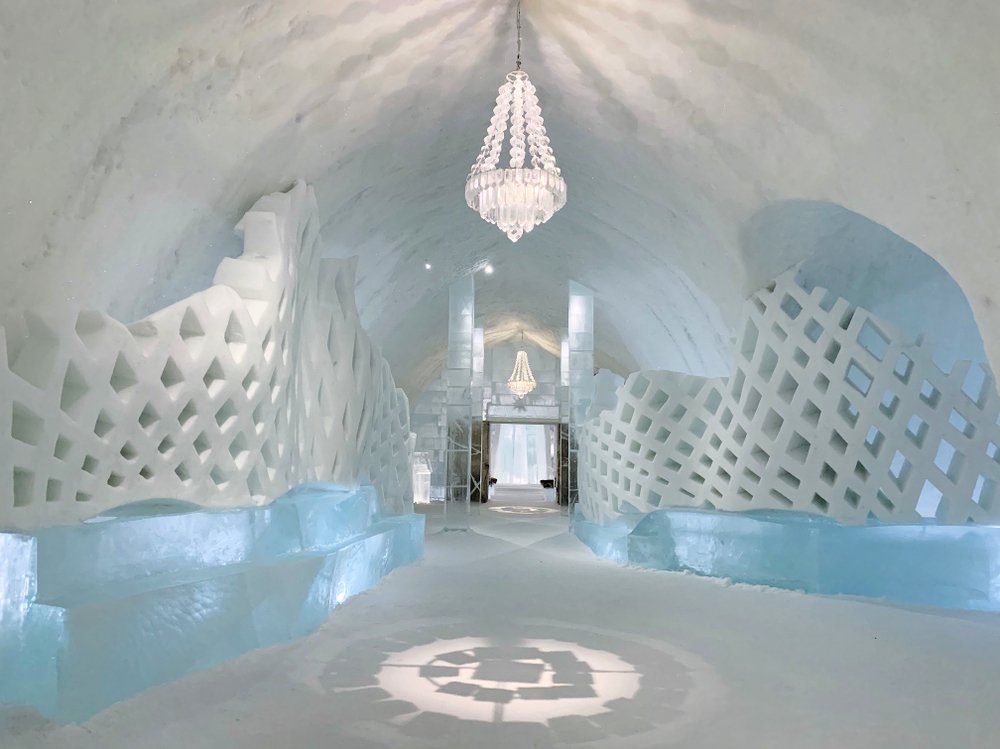 This structure has luxury suites you can stay in, and if no one is in the rooms you can take a peek inside.
Even better, it also has an ice bar serving up chilled champagne (what else?) to curious visitors and day-trippers, and there's also an ice gallery you can visit no matter the time of year.
The day tour consists of a guided tour of the art suites, ice bar, and ice church – yes, you can actually get married here! – plus leisure time to explore the hotel, take photos, or even dine or drink there (not included)
Explore the cute, curious town of Kiruna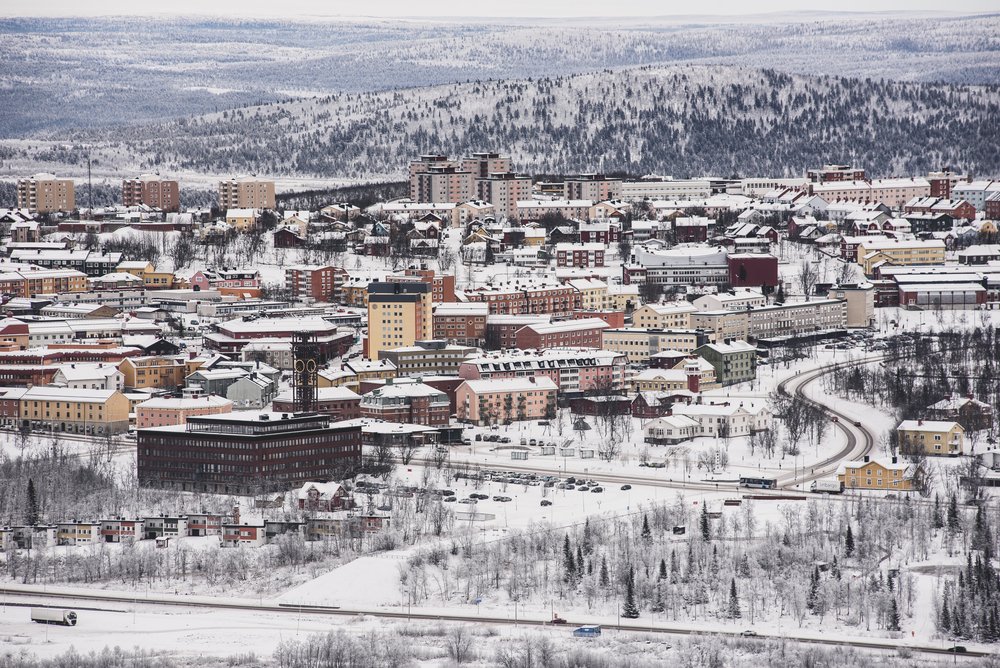 Kiruna is an easy day trip from Abisko, or if you fly into Kiruna in the morning you can explore the city before your afternoon train to Abisko.
Kiruna is a mining town, and herein lies the curiosity of this city: it's actually in the process of being moved two miles away from its current center.
There is a giant crack in the earth progressing towards Kiruna at a slow but steady rate, at which point, at some time in the future, will swallow up Kiruna as it currently exists.
Check out this fascinating article which explains the situation far better than I ever could.
The town is in the process of slowly being moved bit by bit – annoyingly, the first bit to move was the train station, which is why it's so inconveniently far out of town.
Taking a taxi or hitching a ride into town is recommended in winter, as the path into town is basically a highway and is extremely icy – we were lucky that when we tried to walk it, a local picked us up and gave us a ride in.
There's actually quite a lot to see in this charming Arctic city, so let me break down a few of my favorite sights.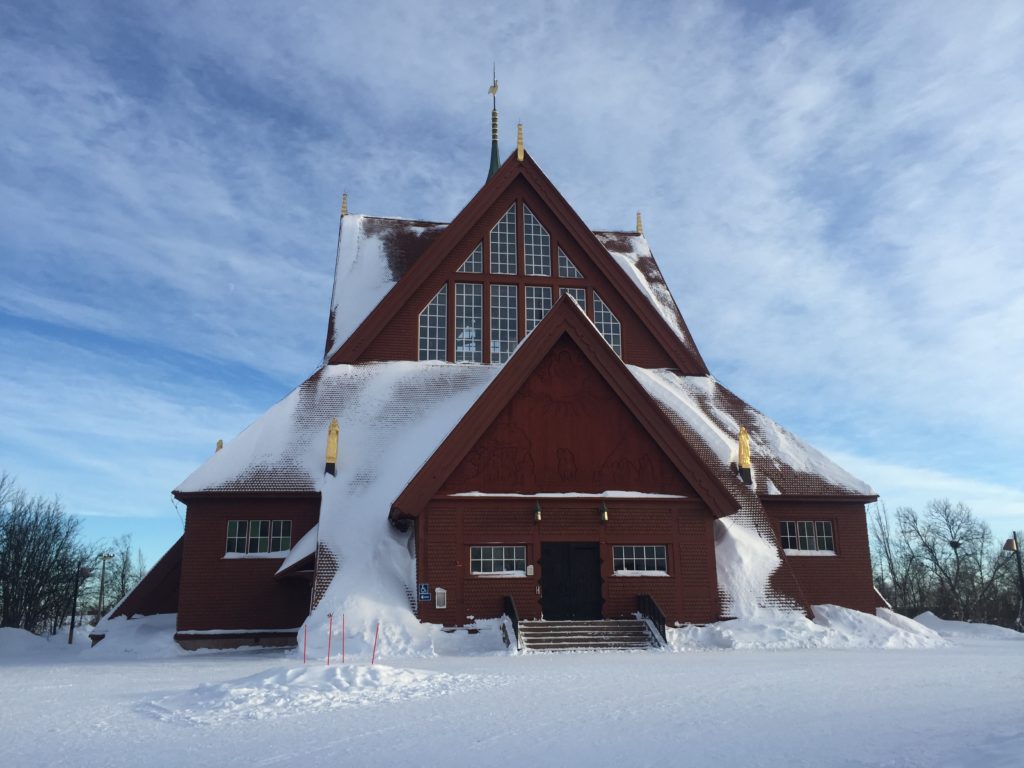 First, you can't miss the wooden church of Kiruna – one of the largest wooden structures in all of Sweden!
The church is unique for having a Gothic Revival style with an Art Nouveau interior and is more than 100 years old. (It, too, will eventually be deconstructed and moved two miles away).
The town center is quite cute, and there's lots of great shopping to be had for a town of its size. I really loved popping into the local design shop, Kvadrat, which had great mugs, textiles, text art, and other unique souvenirs.
Don't miss a buffet lunch at SPiS Mat & Dryck, which offers a fantastic spread for an affordable price. There's a wide variety of salads, soups, and cold and hot dishes, plus all you can drink coffee!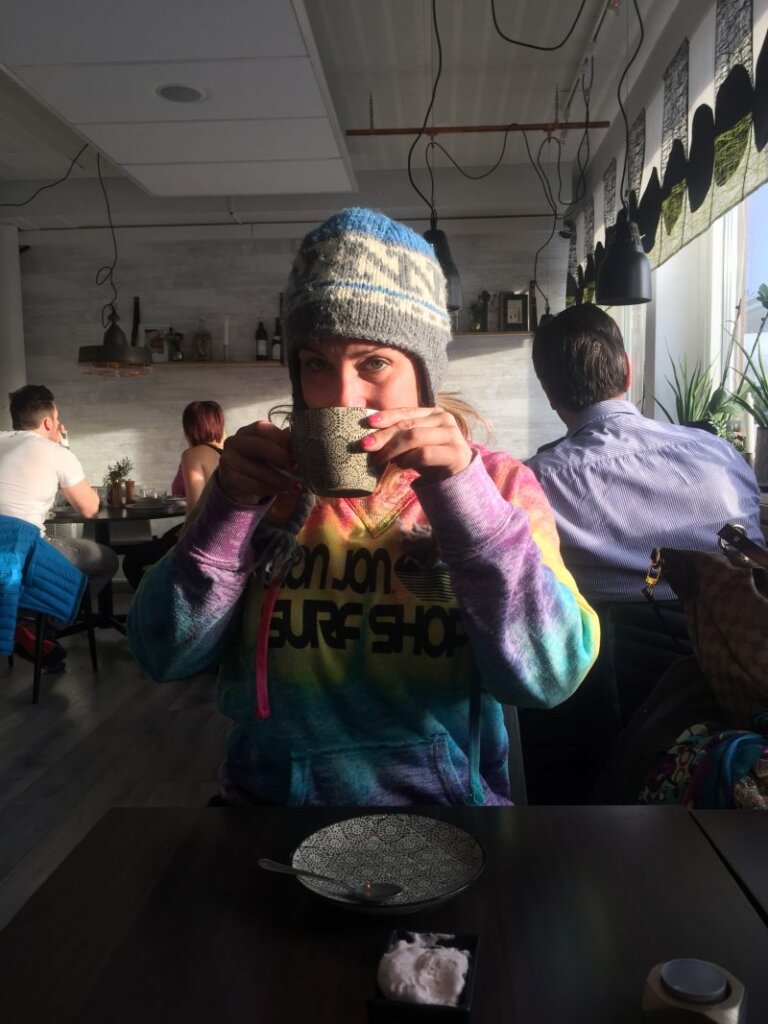 Unfortunately, it can be hard to DIY a day trip to Kiruna from Abisko, since the first train of the day leaves Abisko Östra at 12:30 PM and arrives in Kiruna at 1:30 PM. That would be fine… if the final train didn't leave at 2:49 PM!
Since the station isn't that close to the center you would barely have any time in the city.
Therefore, it's best to visit either on your way in or out of Kiruna airport (we did it after arriving on a morning flight and taking the 2:49 PM train to Abisko).
Alternately, as a day trip, you can book a shared shuttle that stops in Kiruna's town center from Abisko on the way in and then take the train back to Abisko at the end of your day trip.
Take a day trip to Norway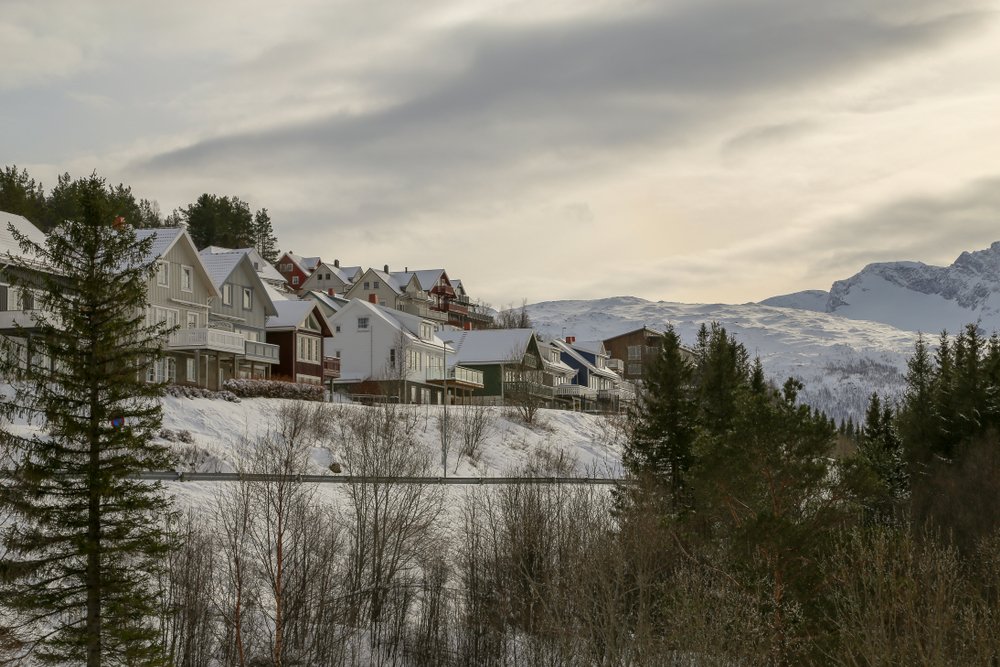 This is not as ambitious of an undertaking as it sounds, as Narvik, Norway is just two hours away by train.
It's quite possible to do this trip independently, but you will have limited time in Narvik if you do.
The trains aren't exactly set up for day-trippers, so the first train leaves at 11 AM and arrives just before 1 PM, but you'd have to leave on the last train of the day at 3:15 PM.
This gives you just about two hours to explore (double check timetables here, as they may change in the future).
Still, you can do a day trip independently for less than $16 USD roundtrip for two hours of exploring Narvik, which may be worth it.
When I went to Abisko in winter 2016, while I was itching to scratch Norway off my map, ultimately I felt like it wasn't worth it to spend 4 hours in transit to spend 2 hours in Narvik, just to say I've been to Norway (I finally went in 2020 and Tromso in winter was so epic!)
In the end, I didn't do the trip – but I didn't know that there was a guided day tour option that gave you more time in Narvik.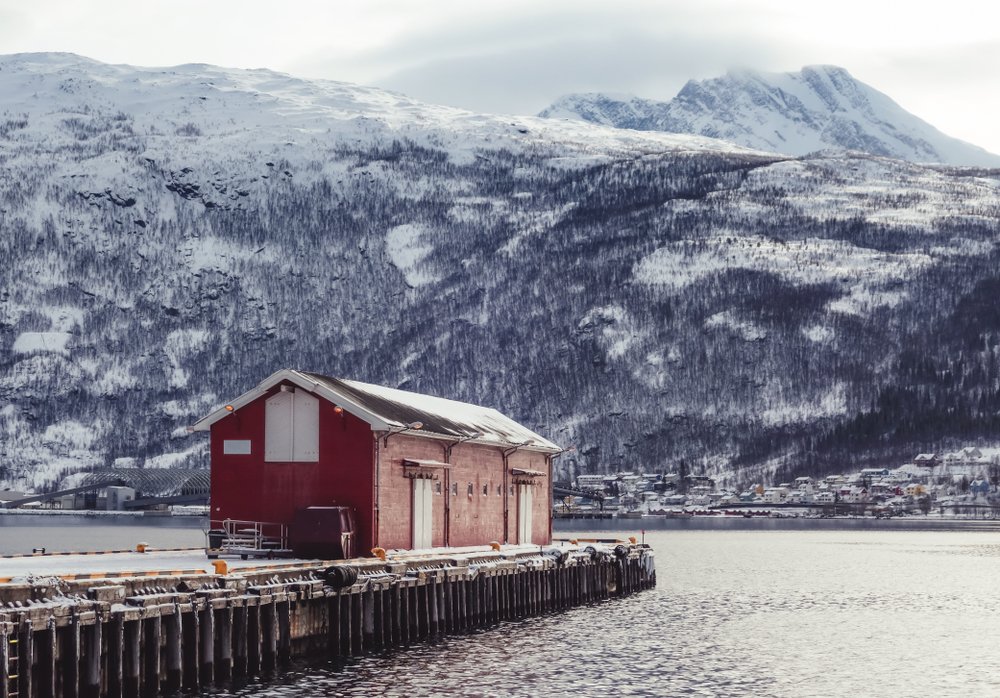 It's definitely pricier (check current rates and discounts here), but you get a lot more time to explore the beautiful fjord city of Narvik as a result.
On this comfortable shuttle tour, you'll get to see a wide variety of Arctic landscapes, including the second deepest lake in Sweden at Lake Torneträsk, frozen waterfalls, stunning Norwegian mountains like Björnfell, and the fjord beaches of Narvik.
It also includes lunch (not a minimal expense when we're talking Norway prices) and a visit to the Narvik War Museum, which explores battles the Norwegian Army faced during WWII.
Where to Stay in Abisko
Abisko is a rustic village of 85 people, and therefore, there's not a ton in the way of guesthouse and hotel options.
Most of the places to stay veer towards the budget end of the spectrum, with a number of hostels and affordable guesthouses, as well as one traditional mountain lodge.
You can spend anywhere from around $35 USD for a bunk in a dorm to around $250 for a cabin sleeping 4-6 people.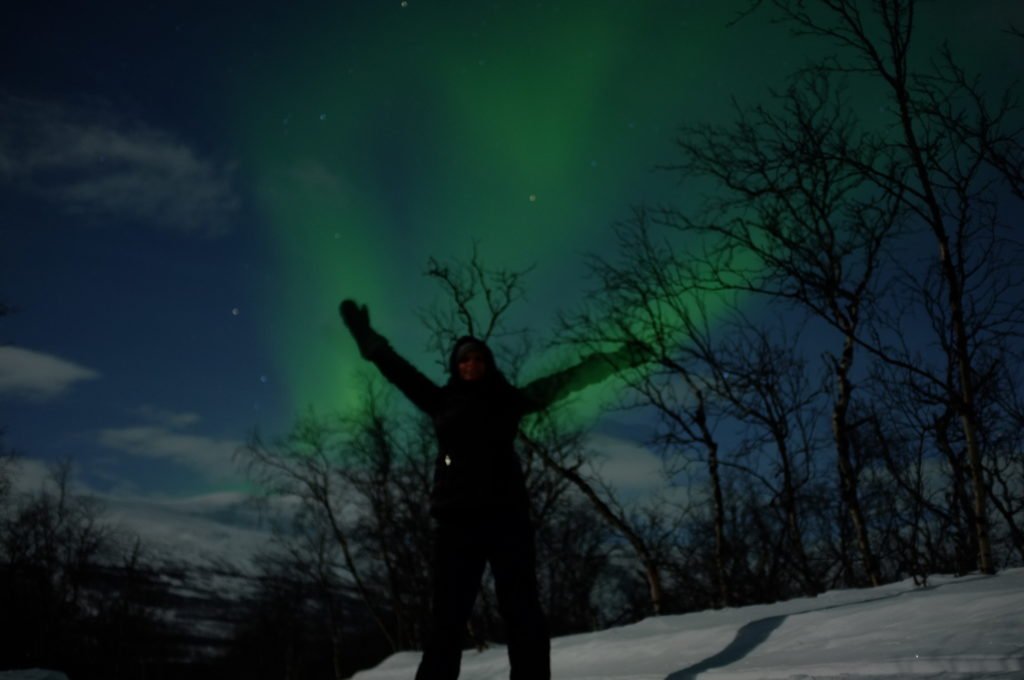 Budget
The owners of the dog sledding tour included above, Abisko Hostel & Huskies is a fantastic place to stay in Abisko if you are traveling on a budget.
This is actually where I had booked to stay in Abisko in 2016; unfortunately, the hostel ended up having an unforeseen issue and wasn't able to host me, so it rebooked me at STF Turiststation (below), a more expensive place, in a better room at no extra cost to me.
That sort of above and beyond mentality was really encouraging, and while I didn't get to see their facilities firsthand, I loved the dog-sledding tour I did with them.
With seriously affordable dorms and doubles and perks like a free sauna and shared kitchen, I can definitely recommend this hostel to budget and/or solo travelers in Sweden!
Mid-Range
I personally stayed at STF Turiststation and can highly recommend it – it was literally the best hostel I've ever stayed at, hands down, with not one but two incredible kitchens, a free sauna, and an incredible restaurant.
The breakfast and lunch buffets offer a great value in pricy Sweden, and while the dinner is definitely more expensive, it's also incredibly delicious and well worth shelling out for on a special occasion.
Plus, you're literally in Abisko National Park, just a 10-minute walk from the lake or frozen waterfalls: how much better can a location get?
Luxury
I'd recommend Abisko Mountain Lodge for a low-key but luxe stay in Abisko.
There aren't a ton of luxury offerings in Abisko, so this is the closest option I could find.
While STF Turiststation is great, it is more a traditional hostel in that it's mostly bunk bed rooms, with limited twin room options.
Abisko Mountain Lodge, on the other hand, is definitely more of a traditional hotel.
They have a variety of rooms from singles to doubles and even full cottages that sleep four.
There's a sauna, restaurant, lounge area, and breakfast is included with most rooms!
Don't Forget Travel Insurance!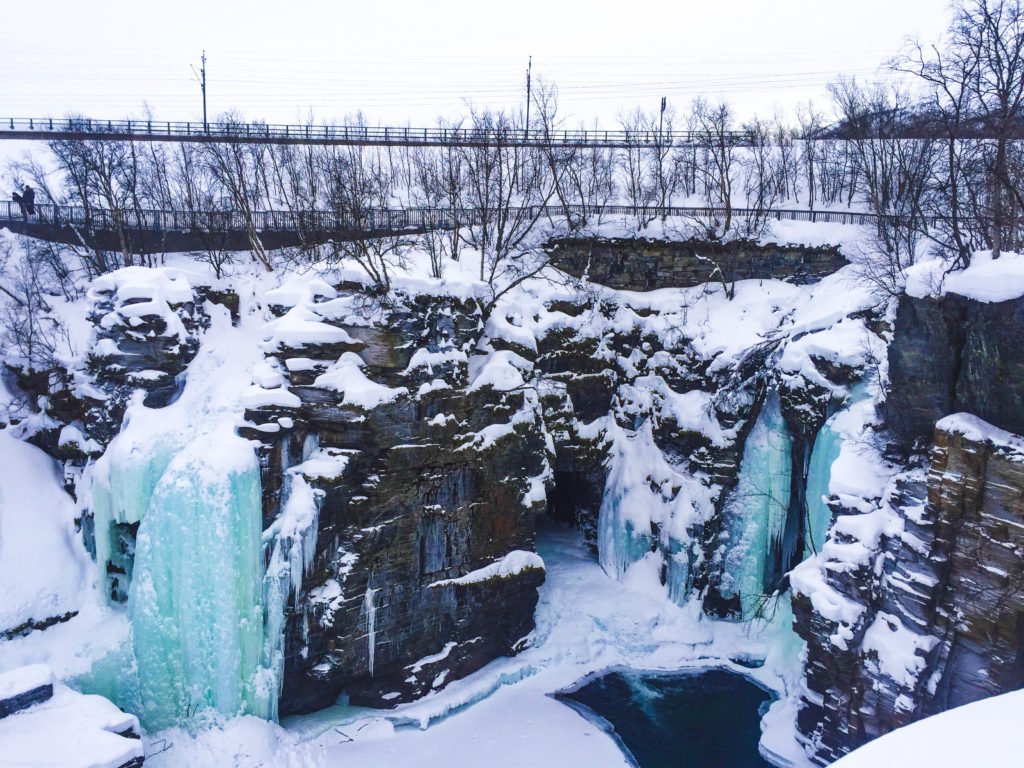 When planning any trip, especially a winter trip, be sure not to forget about travel insurance!
I use SafetyWing and its Nomad Insurance to insure all of my trips for its affordable rates and comprehensive coverage for all my travel needs.
For a trip as expensive as traveling to Sweden (and the unpredictability of Arctic winter weather), it's especially important for me to have coverage.
SafetyWing Nomad Insurance provides both travel insurance (coverage for trip delays, cancellations, interruptions — the likelihood of which increases in winter) and travel medical insurance (coverage for things like accidents, illnesses including Covid, etc. — also more likely in winter!).
Coverage is really affordable — for me, it costs roughly $11 USD for a week of coverage outside of the U.S., with a policy max of $250,000 after a deductible of $250. Not bad!
Allison Green is a former educator turned travel blogger. She holds a Masters in Teaching and a B.A. in English and Creative Writing. Her blog posts merge her educational background and her experience traveling to 60+ countries to encourage thoughtful travel experiences that both educate and entertain. She has been a speaker at the World Travel Writers Conference and her writing, photography, and podcasting work has appeared in National Geographic, CNN Arabic, CBC Canada, and Forbes, amongst others. Now based in the San Francisco Bay Area where she grew up, she has also lived in Prague, Sofia, and New York City.