Of all the things I wanted to do in Tromso in winter, visiting the ice hotel in Tromso, the Tromso Ice Domes, was high up on my list.
I mean, a hotel that's entirely constructed of ice and snow, rebuilt each year in the middle of a frozen-over valley above the Arctic Circle? What's not to love?
However, while the ice hotel may be called the 'Tromso Ice Domes', it is most definitely not in the city of Tromso.
In fact, it's nearly a hundred kilometers away, necessitating either a rental car or a guided tour in order to visit the ice domes.
Therefore, I've decided to write this guide to visiting the Tromso Ice Domes to break down how to exactly to visit this popular attraction in Tromso.
Luckily, it's easier than you might think, though it being Norway, be prepared to spend a pretty penny!
Entering Norway in 2022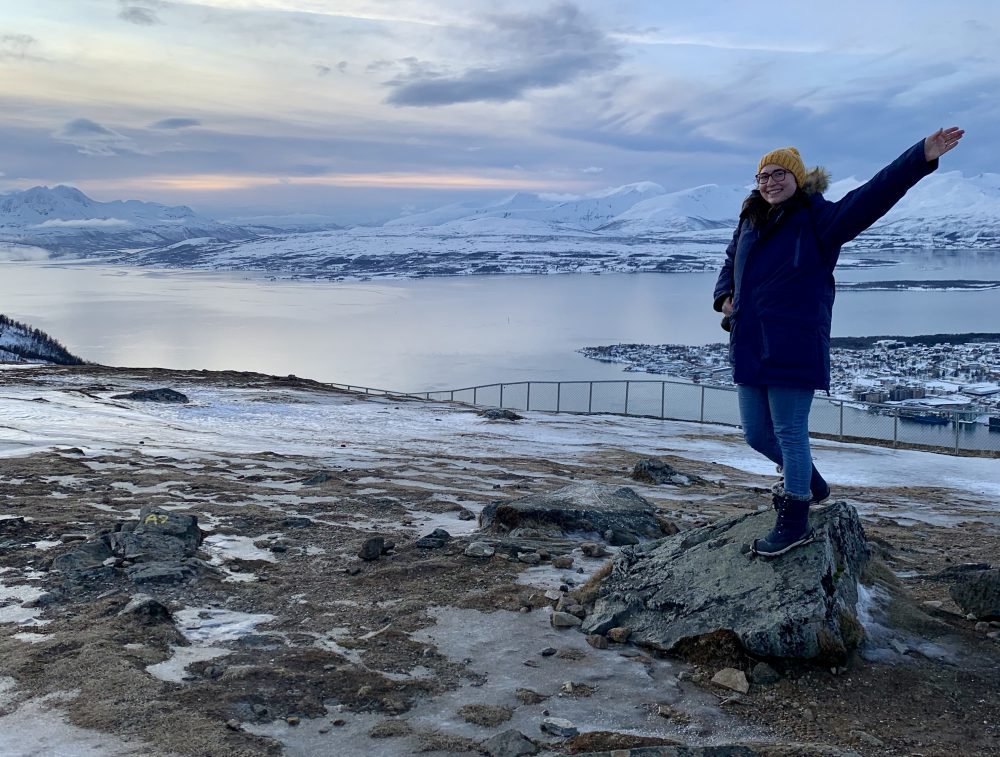 Note: This post contains affiliate links, which means I may receive a small commission if you purchase something through one of these links. Thank you for supporting the free content on this site! For more information on affiliate links and cookies, see my disclosure page for more details.
I visited Tromso in early February 2020… right before the world fell apart.
It was my last pre-pandemic trip and I'll always be grateful that I had such a magical experience before Covid would change the face of travel for the next few years.
As of literally four days ago when updating this article, the Norwegian government announced that all restrictions of entering into Norway have been lifted!
In their words: "No testing, no quarantining, no registration! As of February 12, 2022, all COVID-19 entry requirements have been lifted for all travellers to Norway. It is now super easy to travel to Norway, and we have lots of space!"
As long as you are eligible for a visa to Norway (or are able to visit Norway visa-free), you can now go without any extra fuss or thought.
The reason why Norway is able to do this is their high rate of vaccination — about 75%! Norway has lifted mask restrictions and social distancing requirements, and all restaurants, bars, and museums are back to normal operations.
While you are not required to show vaccination cards to enter Norway, arriving vaccinated (and boosted, if available to you) is the kind, safe thing to do to keep yourself and the people of the country you are visiting healthy!
What are the Tromso Ice Domes?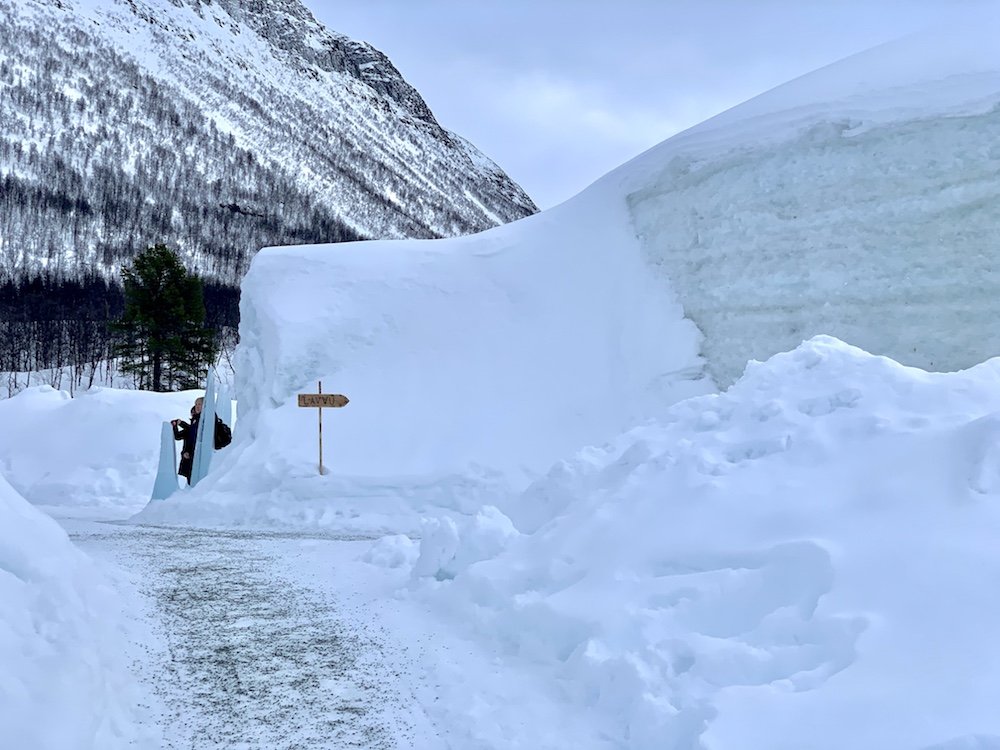 The Tromso Ice Domes is a hotel made entirely of ice outside of Tromso, Norway, about an hour and half's drive away from Tromso city center.
It's a relatively new attraction — the most recent season, the 2019-2020 season, was only its third year in operation, so there is not a lot of information on the internet about it yet.
But despite being a fairly new attraction, it's one of the must-do excursions in Tromso, and if you have more than two days allocated for visiting Tromso, I definitely think the Tromso Ice Domes warrant a visit.
Are the Tromso Ice Domes really made of ice?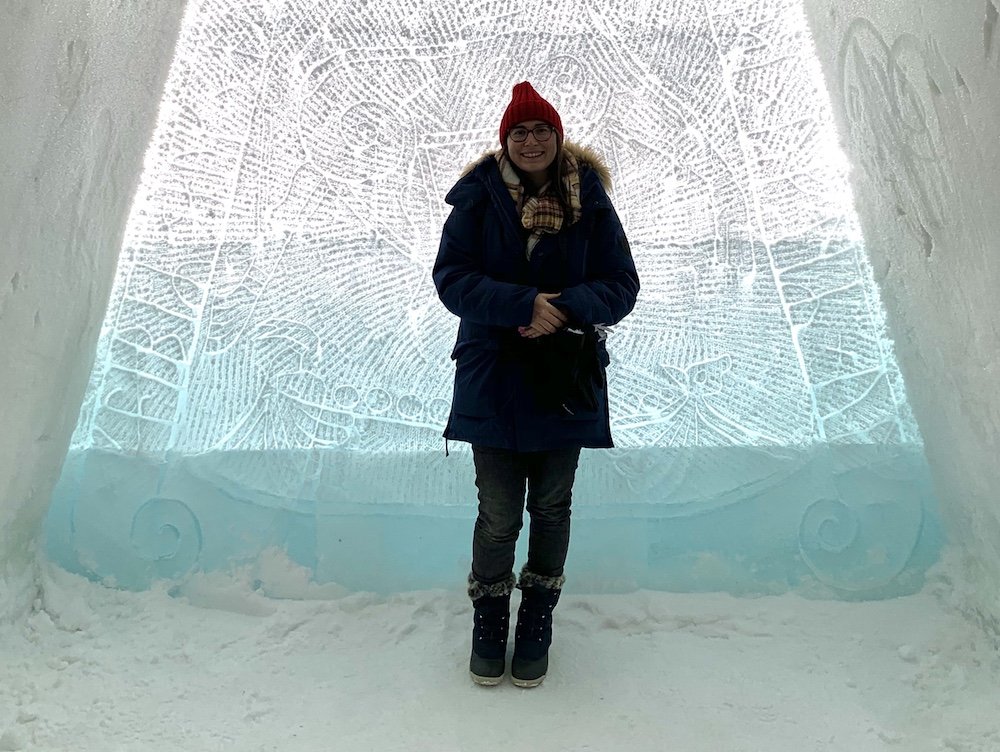 Yes! The Tromso Ice Domes are constructed every year from scratch.
It takes about one month to construct, and each year, builders use several thousand tons of ice from a nearby river in order to build the ice hotel.
The actual structure is constructed by blowing up giant balloons to create the 'dome' structure, and then the ice blocks are built up around the domes and then melted together in order to create a solid ice structure.
They also invite ice carvers to create ice sculptures for the interior of the hotel, and each year, the themes and carvings differ.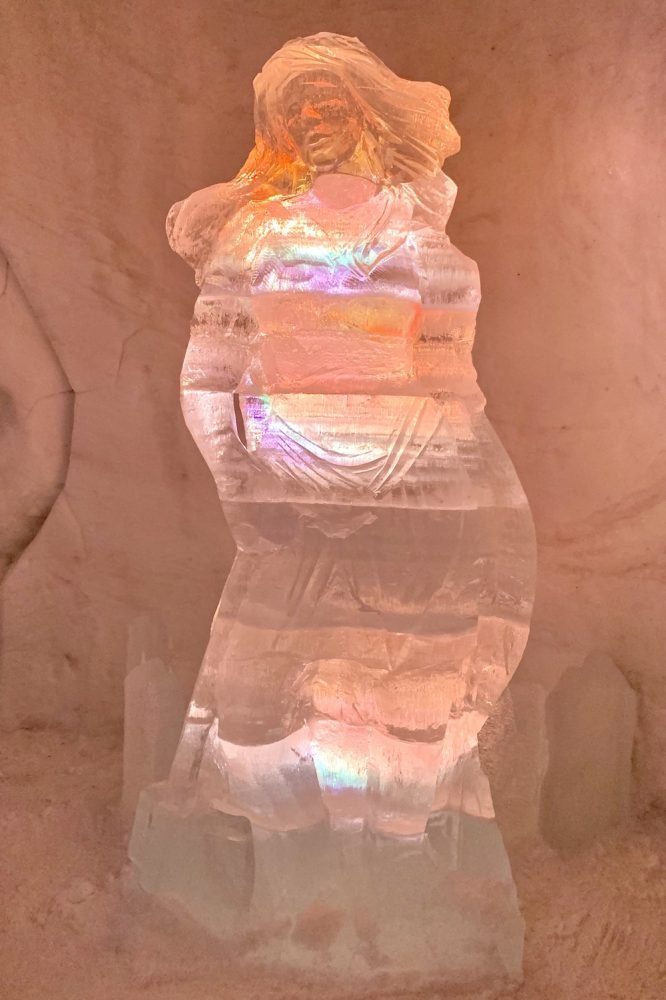 Structurally, the ice is 3 meters thick on the outer walls and about a meter thick at the top, and it's a rather roomy structure — not a cramped igloo-like structure, but actually really spacious and roomy.
On the interior, basically every single thing is made of ice – from the chairs and tables in the restaurant to the ice bar itself to the bed frames. Seating surfaces are covered in reindeer pelts in order to keep you warm.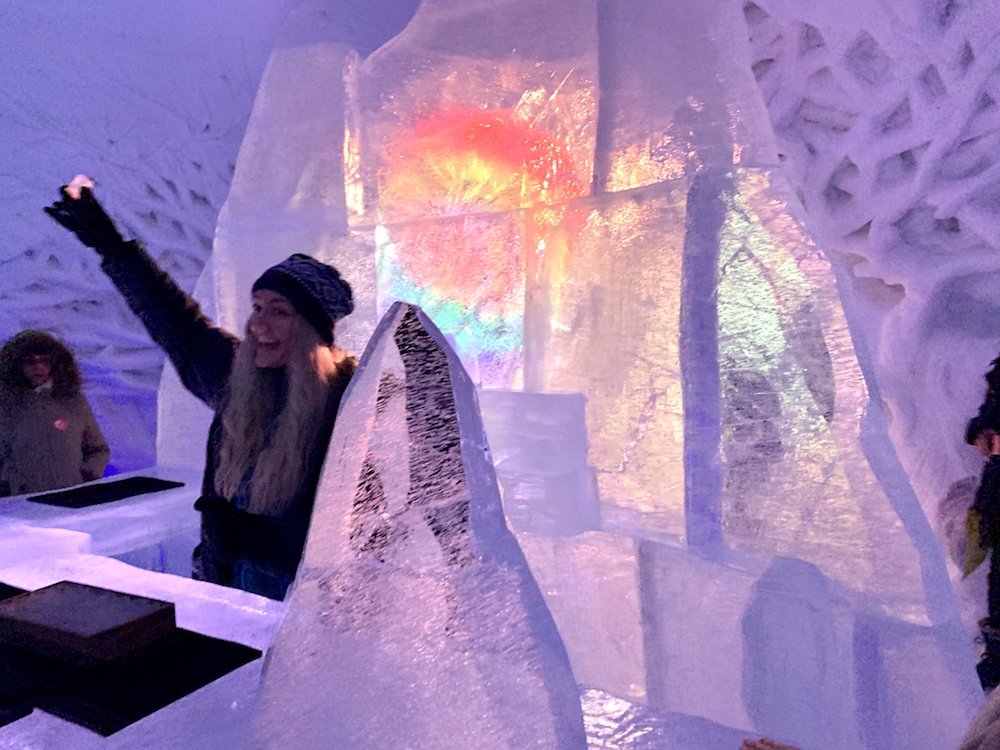 They demolish the ice domes at the end of the season, though being made entirely of ice, they would just melt away as summer set in on Northern Norway.
All in all, the Tromso Ice Domes are open from December 10th to the end of March each year, just over 3 months of operating time each year!
How to Get to the Tromso Ice Domes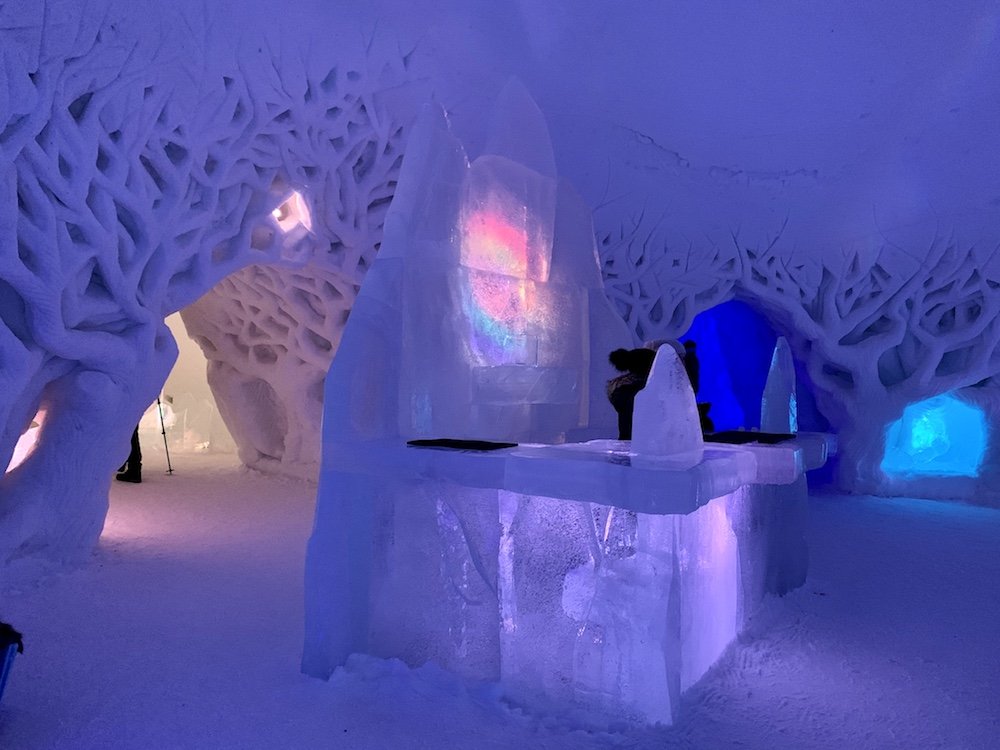 The most popular way to visit the Tromso Ice Domes is via a guided tour and shuttle bus which departs from Tromso.
This is the exact tour I took, which I highly recommend — it was a definite highlight of my winter Tromso itinerary!
I don't recommend planning to rent a car in Norway in winter unless you are a very experienced winter driver, as the road conditions can be quite treacherous for the inexperienced.
Therefore, a guided tour with a dedicated shuttle bus is the only way to get to the Tromso Ice Domes, as public transportation will not take you here.
The most popular package is to combine a visit to the Tromso Ice Domes with a snowmobiling ride through the stunning Tamok Valley where the ice hotel is set.
I was aching to do this, but unfortunately, the snowmobiling portion of the tour requires that you have a valid driver's license in order to operate a snowmobile, and mine just expired, so I was unable to do so.
However, if you can, I highly recommend bundling the Ice Domes and a snowmobile ride as the area around the ice hotel is truly spectacular and I wish I had more of a chance to explore it.
Book your Ice Domes visit with a snowmobiling add-on today!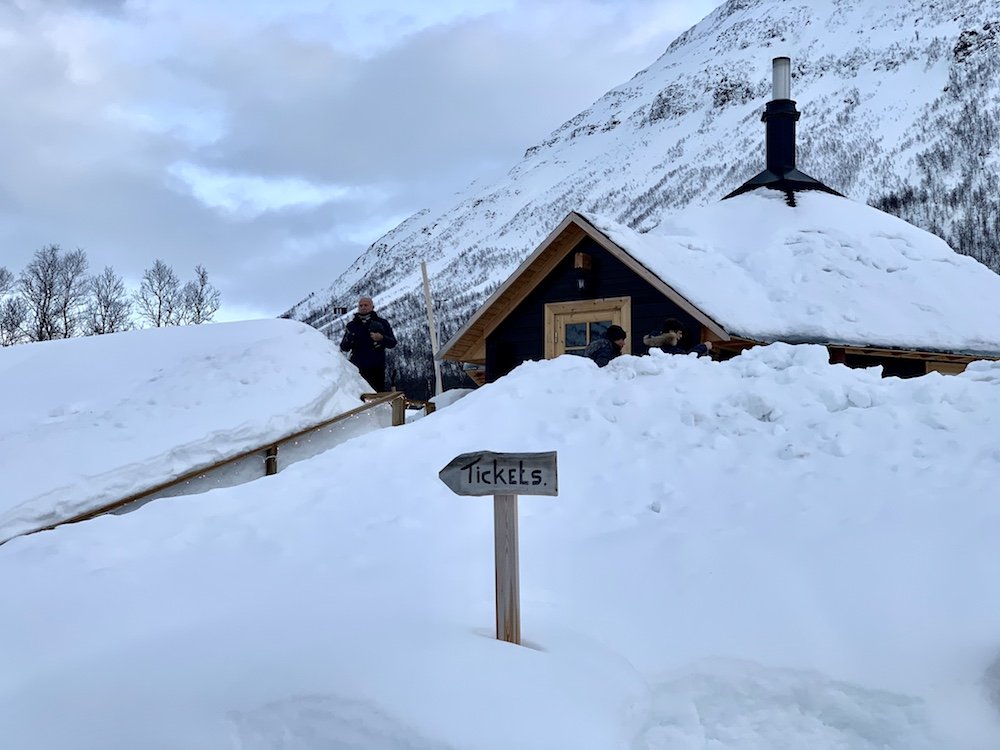 Another popular option is to do a guided tour of the Ice Domes with a dog-sledding add-on.
Dog sledding is one of my favorite things to do in the Arctic and it's a can't-miss winter activity in Tromso!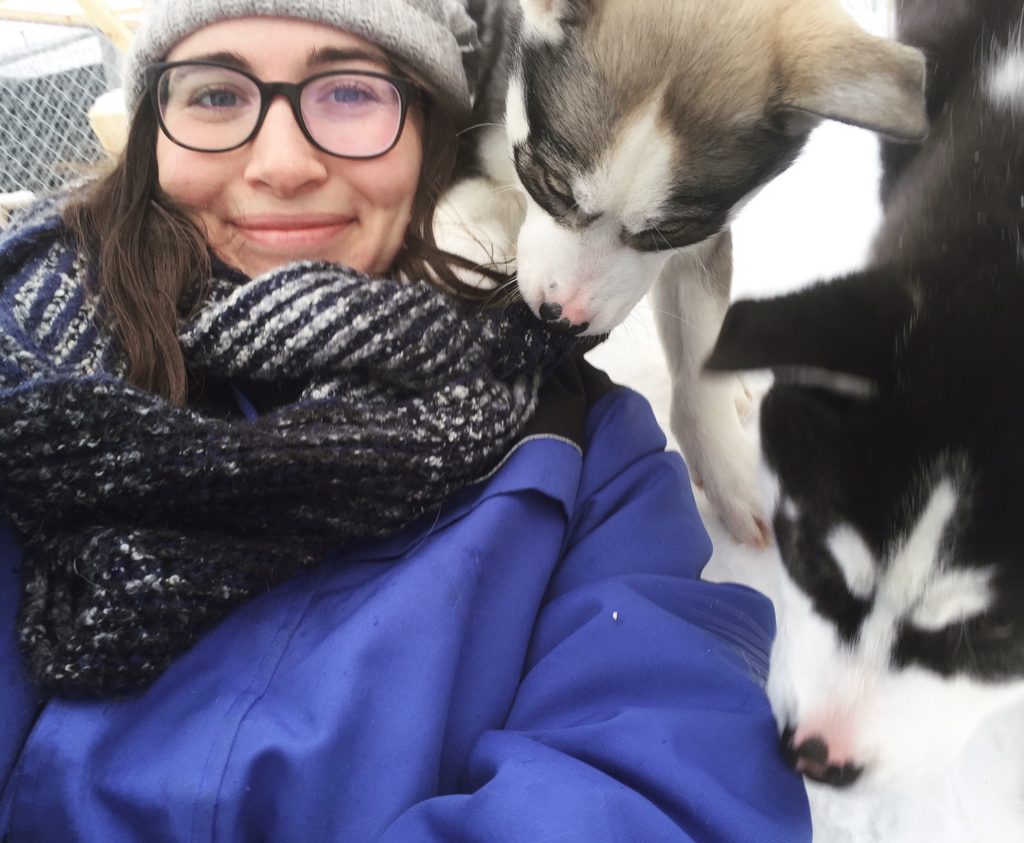 If you are renting a car on your trip to Tromso, you can arrive at the Ice Domes independently and pay for a guided tour upon arrival, which costs 499 NOK (about $54 USD) per person, so you can save a bit of money if you've already rented a car.
The guided tour is at noon daily, and you can stay around the area for as long as you'd like, having lunch at the restaurant, meeting their reindeer, walking around the premises, etc.
What You'll See at the Tromso Ice Domes
The tour of the Tromso Ice Domes lasts about two hours, and you'll start off in their Ice Cinema, watching a brief informational movie about how the Ice Domes are constructed.
The Ice Cinema is a gorgeous introduction to the Ice Domes, an amphitheater-style room made of snow and ice.
Learning about the effort involved in constructing the Ice Domes while sitting inside of the fruits of that labor is a really cool experience!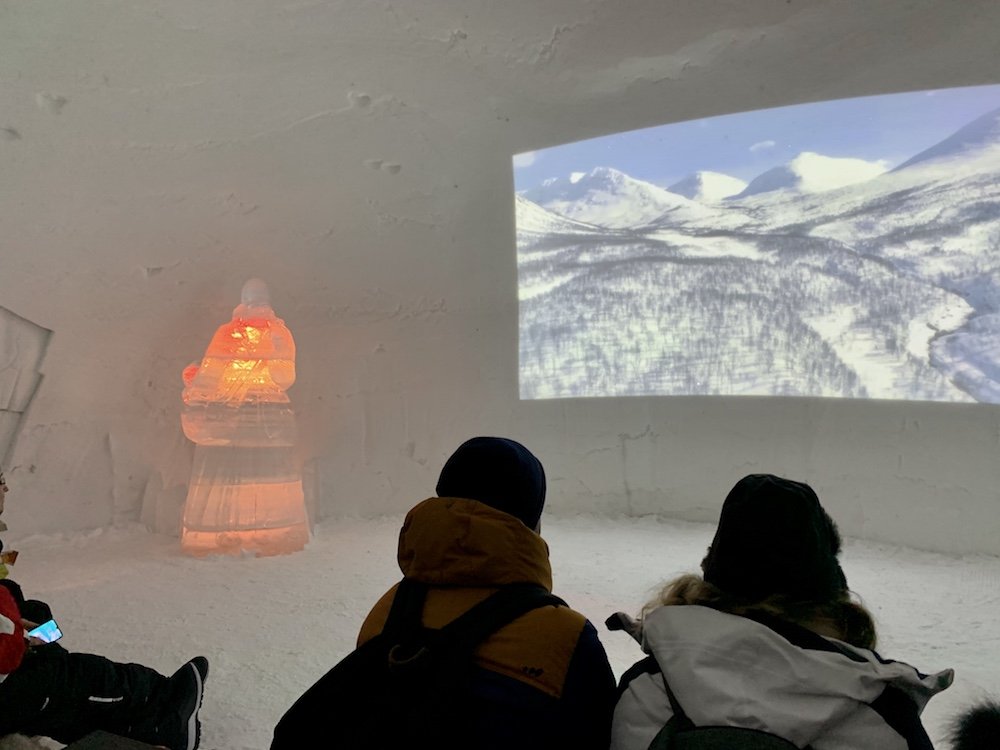 Following the quick briefing in the Ice Cinema, you'll visit the rest of the Ice Hotel, starting in the ice bar and restaurant room.
Here, you'll enjoy a shot (alcoholic or non-alcoholic options were provided) in a cup made entirely of ice from the ice bar, while sitting at a table made of ice on ice chairs!
There are some cool decorations in the ice bar, including a very Instagrammable ice throne which everyone gets really excited to take pictures in.
I suggest waiting until you have free time to explore the ice hotel after you see the ice rooms, as then you'll have fewer crowds to contend with and it'll be far easier to get some good photos here.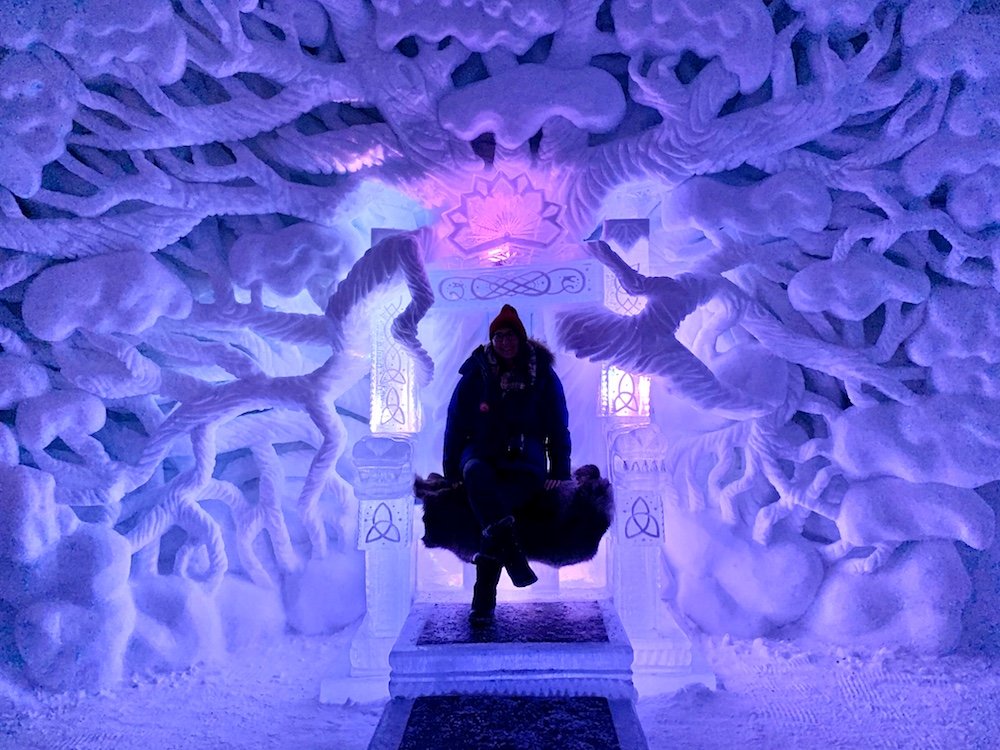 Next after the ice bar area comes the part you've probably been the most curious about — the ice hotel bedrooms themselves!
As with the rest of the property, the rooms are made entirely of ice as well, right down to the bed, which is made of a block of ice with a mattress covered in reindeer pelts to add warmth.
A thermal sleeping bag and warm accessories will help you get comfortable should you stay in the night here!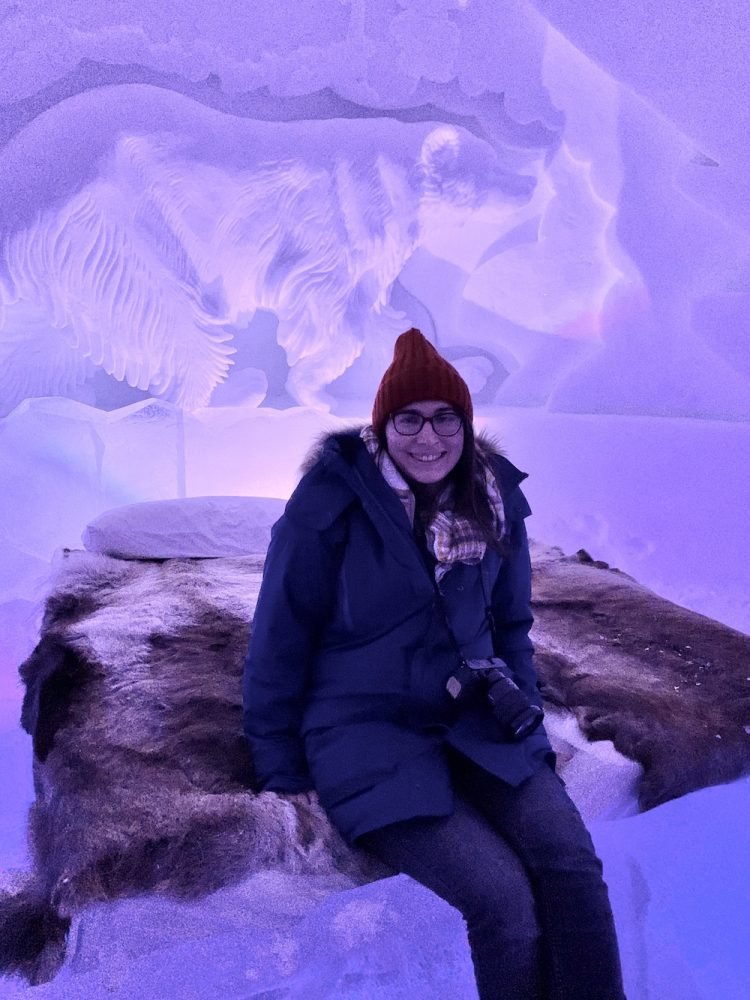 After getting briefed on the ice bedrooms, you'll have about 40 minutes at leisure to explore the Ice Domes.
I recommend taking photos to your heart's content before heading over the warm room where you can order a delicious lunch.
When I was there, they offered a fantastic lunch special of a bowl of creamy fish soup with unlimited coffee for 199 NOK (about $21 USD, which is about normal for lunch in Norway).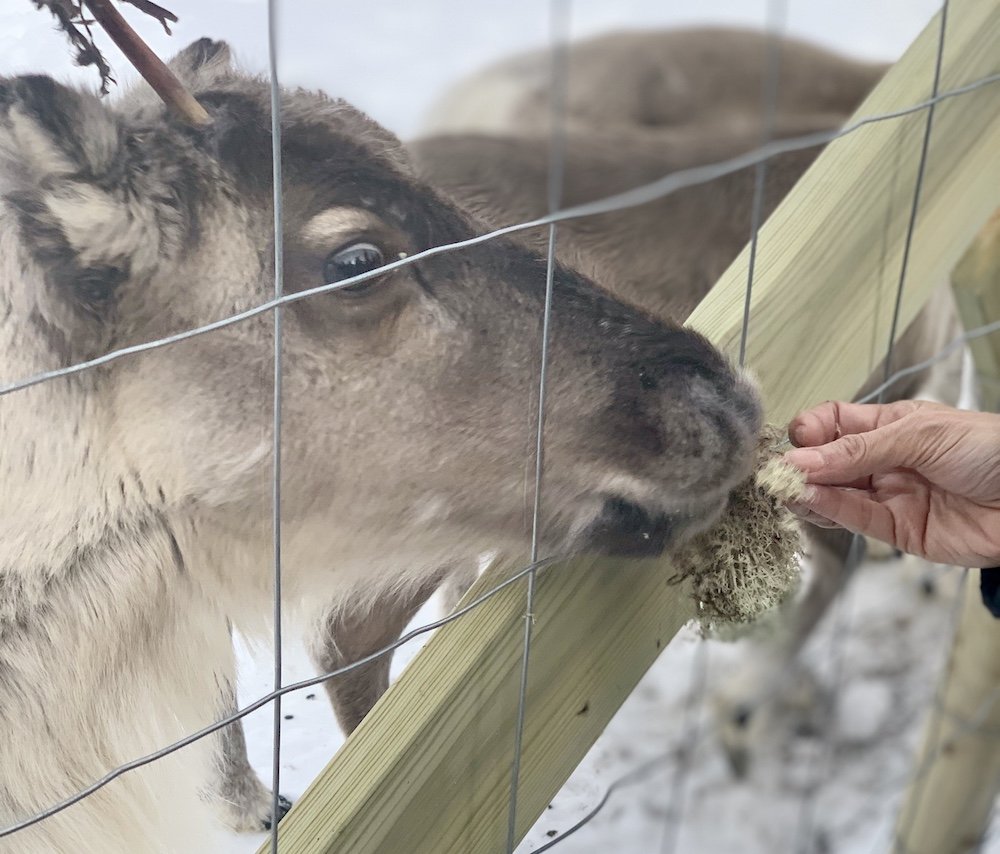 You'll also have a chance to briefly visit and feed the reindeer their favorite treat – some lichen – should you want to while you're visiting the Ice Domes!
They're so adorable and friendly! This is a great way to tick meeting reindeer off your bucket list if you don't have time to go reindeer sledding or visit a Sami reindeer farm.
After your free time, it's back on the bus, where you'll head back to Tromso via some of the most beautiful roads you can imagine.
Staying Overnight at the Tromso Ice Domes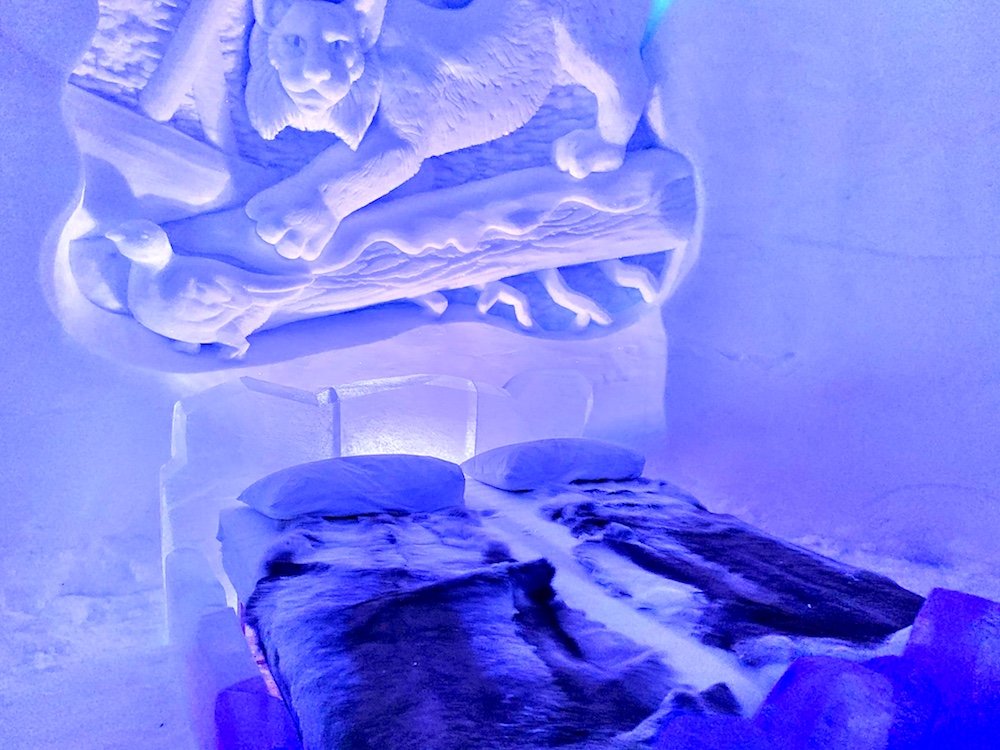 Of course, the Tromso Ice Domes is a true ice hotel (as well as being one of the best Northern lights hotels in Norway!) and that means you can spend the night here — and hopefully catch the Northern lights dancing overhead!
I didn't do this, as at over $1,000 USD a night for a room, it was well out of my price range… but if you're visiting Norway for a special occasion like a honeymoon or anniversary, you're a baller, or you just really are living that YOLO mindset, you may want to splurge on staying the night!
If you'd like to stay at the Ice Domes, you can book here which covers the full experience!
The experience includes a guided tour of the Ice Domes, welcome shots, dinner cooked on a campfire while out in the Norwegian wilderness, an evening snowshoe tour with the possibility of Northern lights photography, breakfast, and a morning self-drive husky sled ride, plus transfers.
If you need to borrow any warm clothing or equipment, this can also be arranged with the hotel.
The hotel will also provide everything you need to sleep warmly, including expedition-strength sleeping bags, which keep you so toasty warm that you can sleep in only thermal underwear!
What to Bring to the Tromso Ice Domes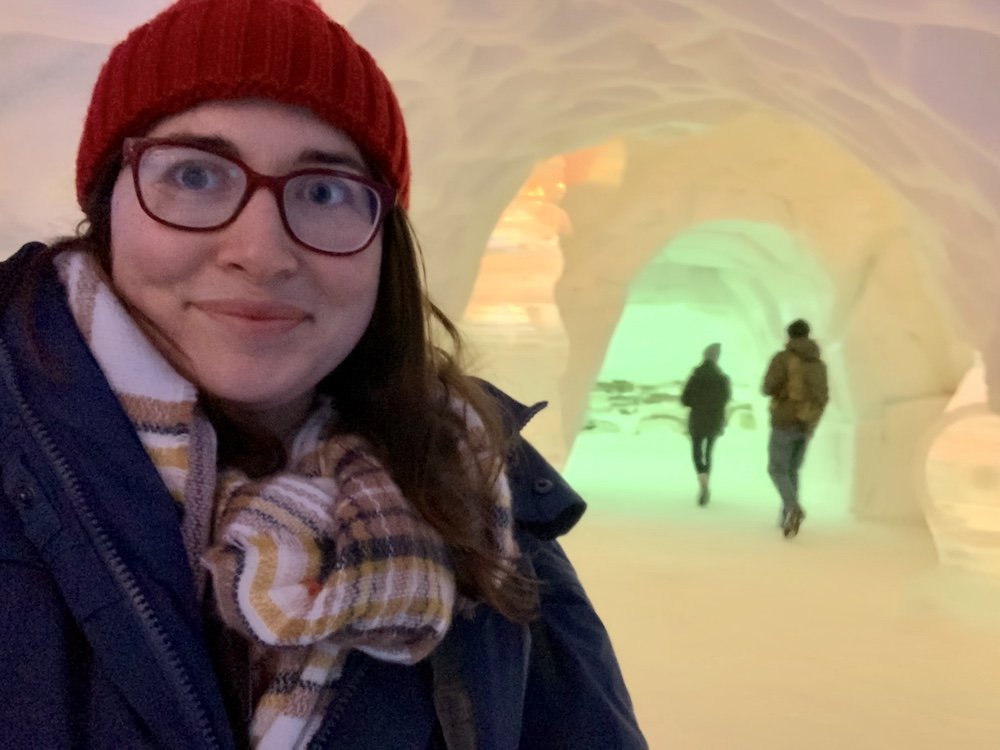 Inside the Ice Domes, the temperature is kept a constant -5° C / 23 °F due to the insulating effects of the ice — so even if it is much colder outside, it will always be -5° C inside.
As a result, you'll want to dress fairly warm for the day, though you'll want to dress in layers as the bus you'll take to the Ice Domes will be heated quite warmly.
I recommend wearing a thermal top and underwear/leggings, jeans or snow pants and a sweater on top, a warm down jacket as your outer layer, and cold weather accessories (hat, waterproof gloves, and scarf).
I also strongly recommend bringing crampons, which are little spike traction slip-ons for your shoes, as the area around the Ice Domes can get quite slippery!
If you're not sure what to bring and you need more guidance, I have all the winter clothing and products I recommend listed on my Norway winter packing list.
Of course, you'll definitely want to bring your camera as well for all the amazing photos you'll take during your stay.
If you're staying overnight, you'll want to also bring whatever toiletries, medicine, a change of clothes, etc. that you would need for an overnight stay.
Book Your Tromso Ice Domes Visit Today!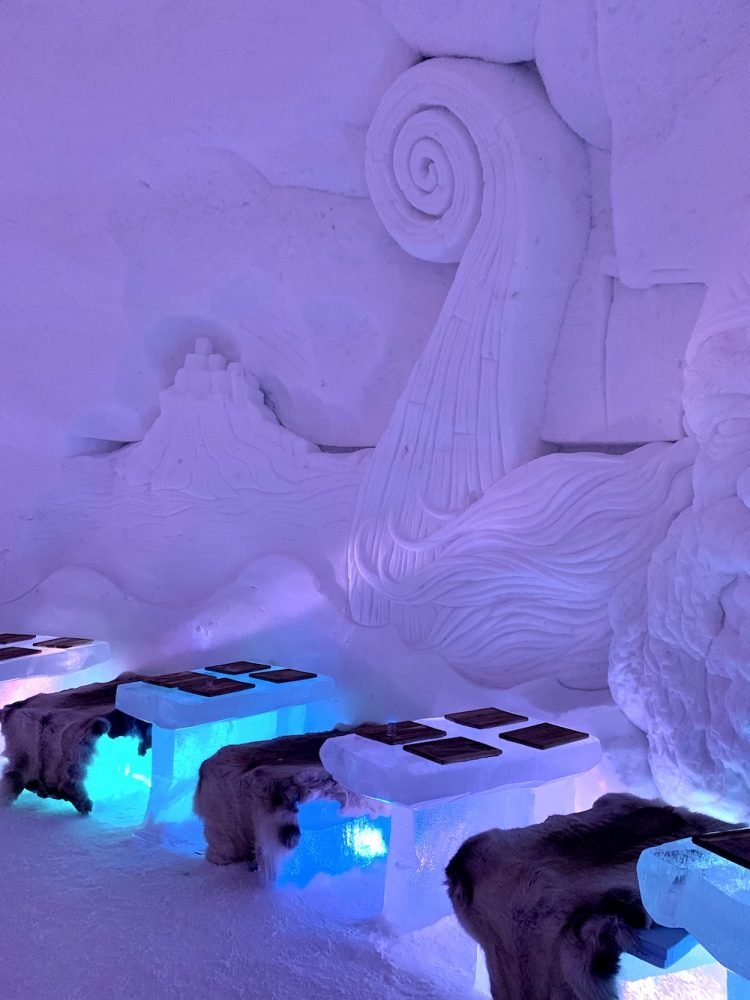 On a budget but don't have a rental car? The basic guided tour plus transport is the way to go.
Want to add a little adrenaline to your day and make your trip a bit more memorable? Opt for the snowmobiling add-on and Ice Domes visit for a special experience, or a dog sledding and Ice Domes visit!
And for the most memorable experience of all, an overnight stay in the Tromso Ice Domes is one for the bucket list.
DON'T FORGET ABOUT TRAVEL INSURANCE!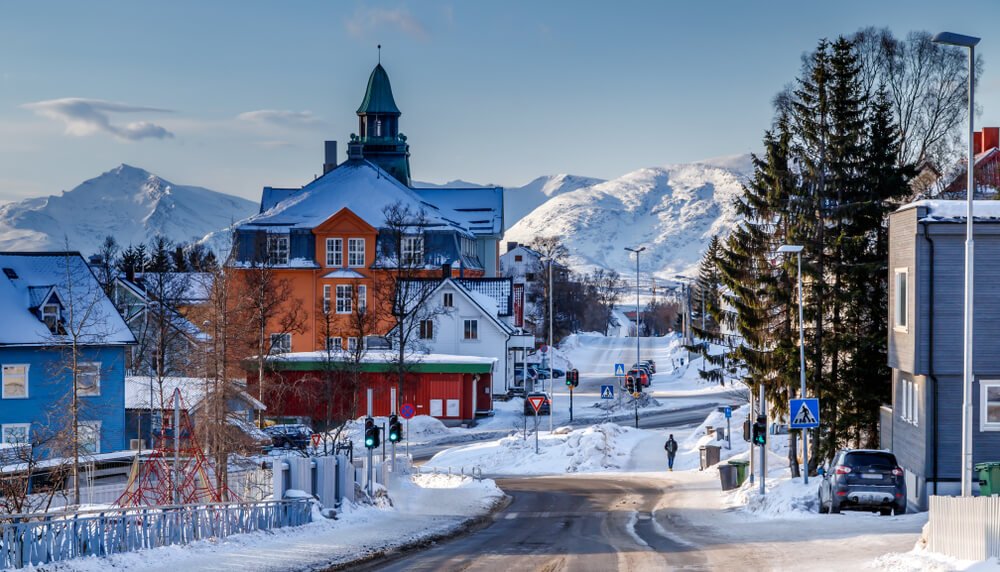 When planning any trip, especially a winter trip, be sure not to forget about travel insurance!
I use SafetyWing and its Nomad Insurance to insure all of my trips for its affordable rates and comprehensive coverage for all my travel needs.
For a trip as expensive as traveling to Norway, and as unpredictable as traveling to the Arctic, it's especially important to have travel insurance coverage!
SafetyWing's Nomad Insurance provides both travel insurance (coverage for trip delays, cancellations, interruptions — the likelihood of which increases in winter) and travel medical insurance (coverage for things like accidents, illnesses including Covid, etc. — also more likely in winter!).
Coverage is really affordable — for me, it costs roughly $11 USD for a week of coverage outside of the U.S., with a policy max of $250,000 after a deductible of $250. Not bad!
Allison Green is a former educator turned travel blogger. She holds a Masters in Teaching and a B.A. in English and Creative Writing. Her blog posts merge her educational background and her experience traveling to 60+ countries to encourage thoughtful travel experiences that both educate and entertain. She has been a speaker at the World Travel Writers Conference and her writing, photography, and podcasting work has appeared in National Geographic, CNN Arabic, CBC Canada, and Forbes, amongst others. Now based in the San Francisco Bay Area where she grew up, she has also lived in Prague, Sofia, and New York City.