Tromso in winter is an absolute wonderland: a pristine city center, glittering freshly-fallen snow, glimpses of the aurora winding overhead.
There's no shortage of charms this Arctic City, called "The Paris of the North," has to offer.
You'd think a wintry city near the top of the world, above the Arctic Circle, would be rather sleepy, but Tromso in winter proves otherwise.
Note: This post contains affiliate links, which means I may receive a small commission if you purchase something through one of these links. Thank you for supporting the free content on this site! For more information on affiliate links and cookies, see my disclosure page for more details.
Winter is Tromso's peak season, where people from all over the world flock to see winter in its purest form.
Depending what month you visit Tromso in winter, you'll either have some or no daylight.
That's because Tromso experiences the "polar night", a 2 month period where the sun never reaches above the horizon, roughly between November 20 and January 20 each year.
I wanted to be able to have a bit of sunlight to my days, so I planned my Tromso winter trip for early February and it was perfect.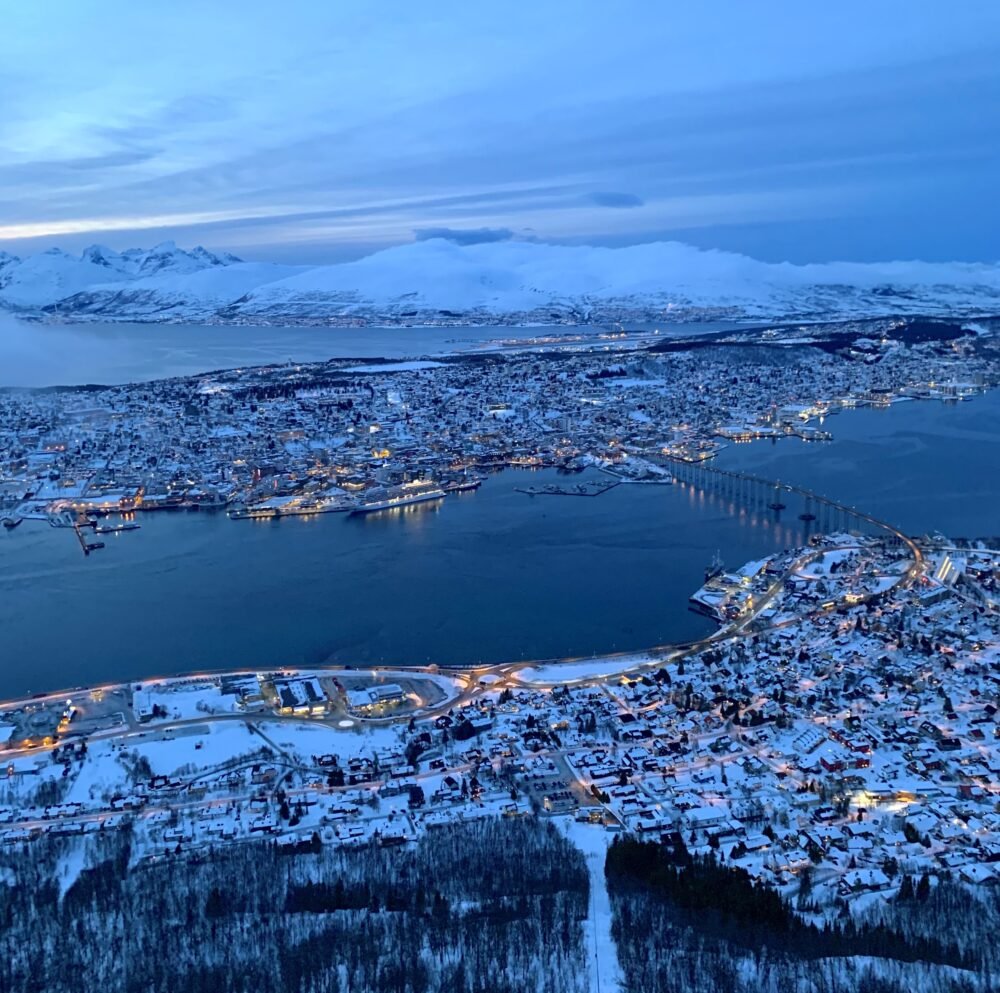 Once the sun finally makes its reappearance, the days lengthen rapidly, and I was enjoying plenty of sunlight and lots of hours to look for the aurora!
I've gathered 30 incredible things to do in Tromso in winter, but I know that may be overwhelming for some people who have a limited amount of time in Tromso.
Therefore, I've structured the post to list my top 10 favorite things to do in Tromso first, then I break it into extra Tromso activities — foodie, cultural, and adventure — which you can add to your Tromso bucket list as you see fit.
If you want to see how this looks spread over a period of 1, 2, 3, 4, or 5 days, check out this 1-5 day Tromso itinerary for the winter.
I traveled to Tromso in February of 2020, right before the pandemic hit. I have edited this post several times since to reflect changing restrictions, attraction availability, entry requirements etc. This post was updated on September 15, 2023.
Where to Stay in Tromso in Winter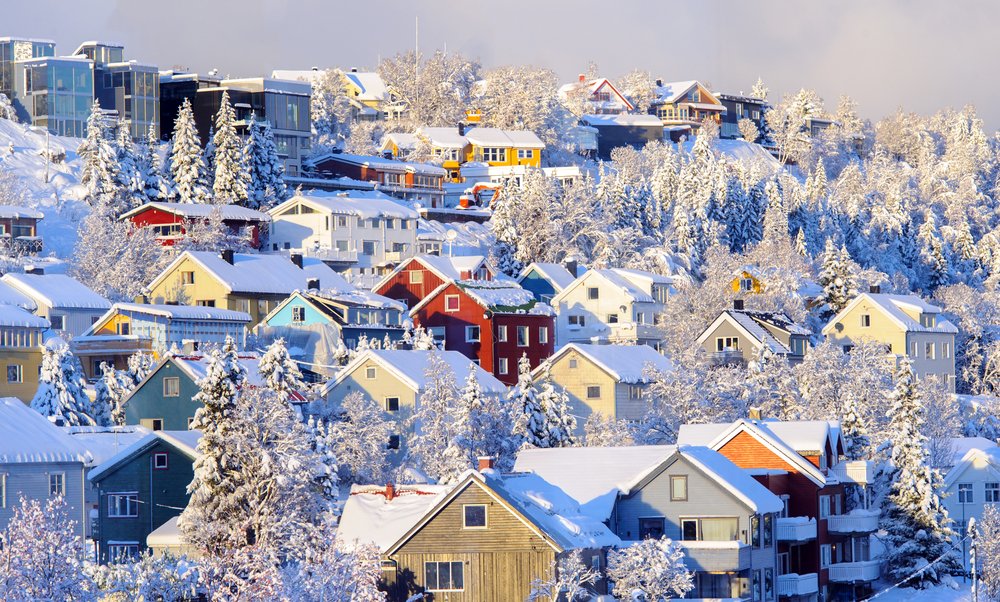 First things first: when it comes time to pick where to stay in Tromso in winter, book early. The best deals go fast, as accommodation is limited and Tromso is soaring in popularity as arctic travel gets really big.
Accommodation will be one of the pricier parts of your trip to Tromso, so be sure to budget accordingly.
Expect to spend, even on the budget end of things, approximately $150 USD per night at a minimum, and around $300 per night for upper-tier accommodations.
If you want to stay at bucket list places, like some of the ice hotels and Northern lights hotels in Tromso and Northern Norway, expect to spend $300+ a night!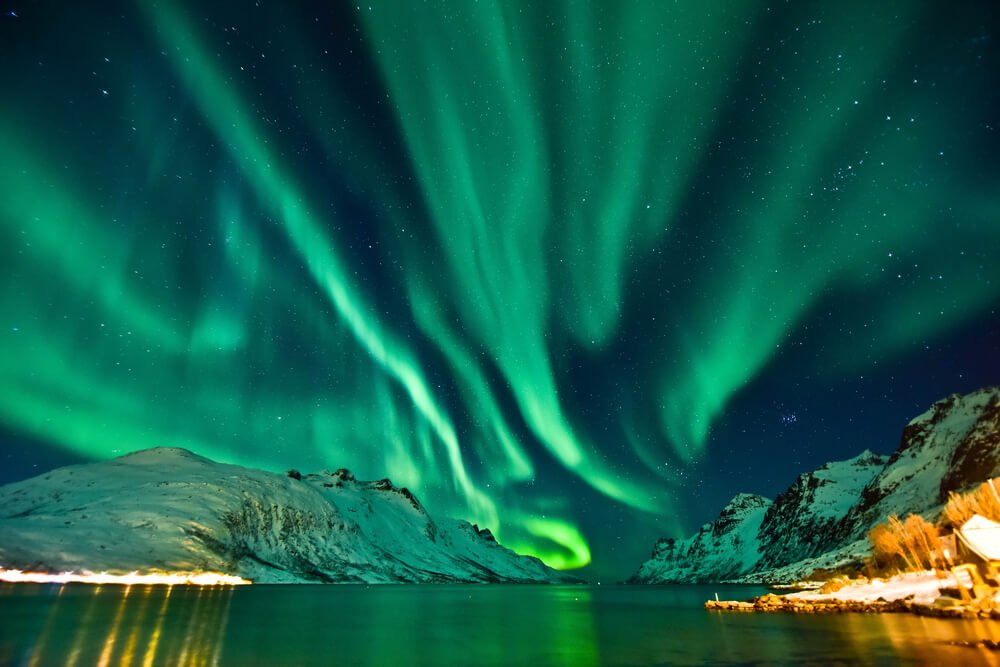 Budget
The best budget option in Tromso is hands-down Smarthotel Tromso.
It's right in the heart of central Tromso, so it's easy to get to all your activities, it has all the things you need in a hotel: 24 hour reception, comfortable beds, a work desk, some food available in the lobby.
Note that breakfast is not included in the price but can be added for a fee.

Mid-Range
If you want to stay in a chic boutique hotel that's not overly fancy, Thon Hotel Polar is a fabulous choice.
The decor is irreverent yet modern with an arctic and polar theme, many with vibrant pops of color that make the hotel have a lot more personality than many other Nordic hotels which tend to be a bit more muted in terms of decor.
Breakfast is included and the location couldn't be better, so it's a fantastic choice for mid-range travelers to Tromso in winter.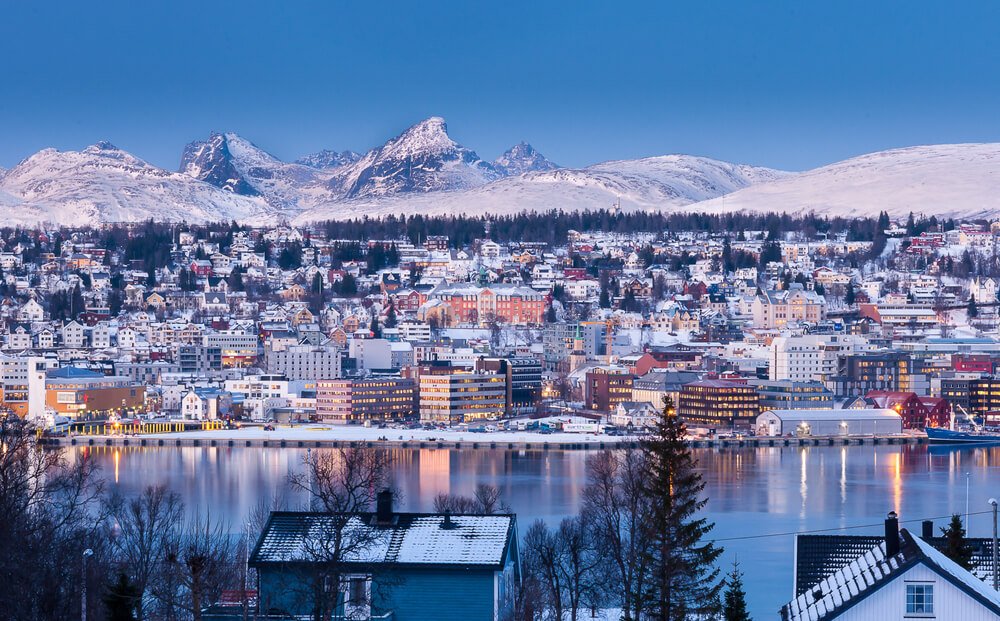 Luxury
There are three Clarion Collection hotels in Tromso, but the nicest of the three seems to be Clarion Collection Hotel Aurora.
Why? It's harborfront and has an incredible rooftop jacuzzi where you can try to spot the Northern lights!
Just 250 meters away from the Hurtigruten cruise dock, it's perfect if you're staying in Tromso for a few days before embarking on an adventure on the Hurtigruten.
Rooms are luxurious and modern with updated bathrooms, and the facilities include a gym, free afternoon coffee with waffles, and a light evening meal as part of your stay.
Essential Things to Pack for Tromso in Winter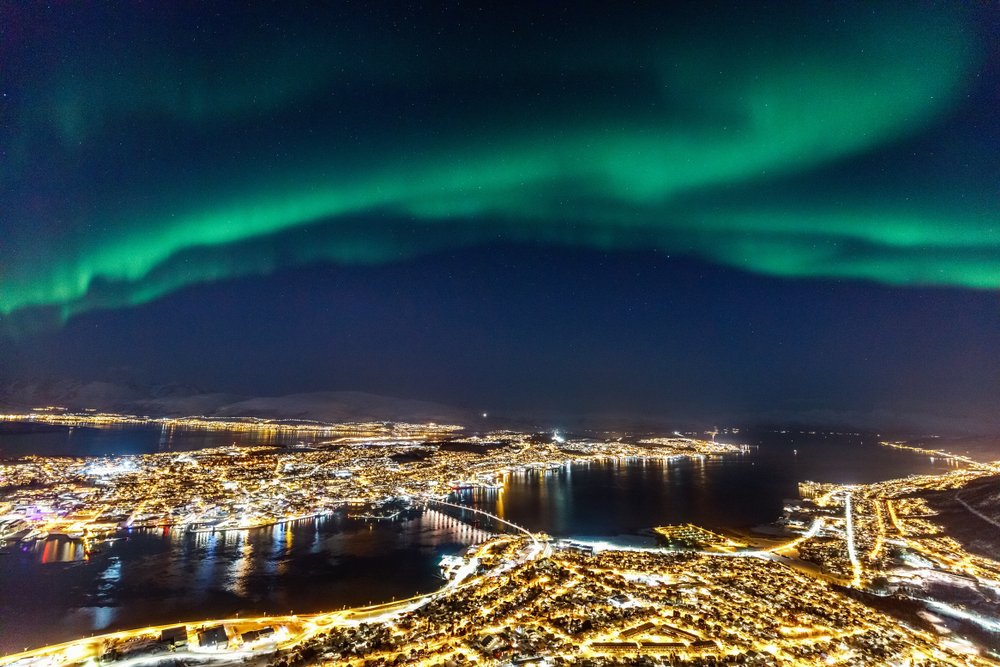 I have a complete Northern Norway in winter packing list here, which I strongly suggest you read before planning your trip to Tromso in winter!
Here are the key things to pack for Tromso in winter!
Crampons
One of the most important things to pack for Norway in winter is a sturdy pair of crampons.
Crampons are basically small spikes or grips that you attach to your winter boot with a stretchy silicone attachment
I used these simple Yaktrax which were really easy to take on and off — this is essential, as indoor places everywhere in Tromso ask you to take off your crampons before entering, so you don't want difficult ones to put on and take off.
They were also perfectly grippy for icy city streets and I didn't have any slips while wearing them, walking around in the snow and ice for miles (trust me– the day I went out without them on accident, I definitely noticed the difference!).
Protect your travel investment!

Travel insurance coverage helps you recoup your losses in case of emergency, accident, illness, or theft.

I rely on SafetyWing for coverage when it comes to trip interruptions and cancellations as well as accidents and medical emergencies.

It offers great rates starting around $12/week with clear, easy-to-read coverage.
Moisturizer and lip balm
Winter in Tromso will really dry out your skin, so you'll definitely want to pack a pretty heavy-duty moisturizer as well as lip protector.
I remembered the former but forgot the latter and by day 2 I had sore, chapped lips and running to the nearest pharmacy to drop way too much money on a simple stick of chapstick…
Be smarter than I am and bring it from home where you'll spend less on something better.
I love this moisturizer from La Roche-Posay and highly recommend Aquaphor Lip Repair for keeping your lips moisturized!
Camera & travel tripod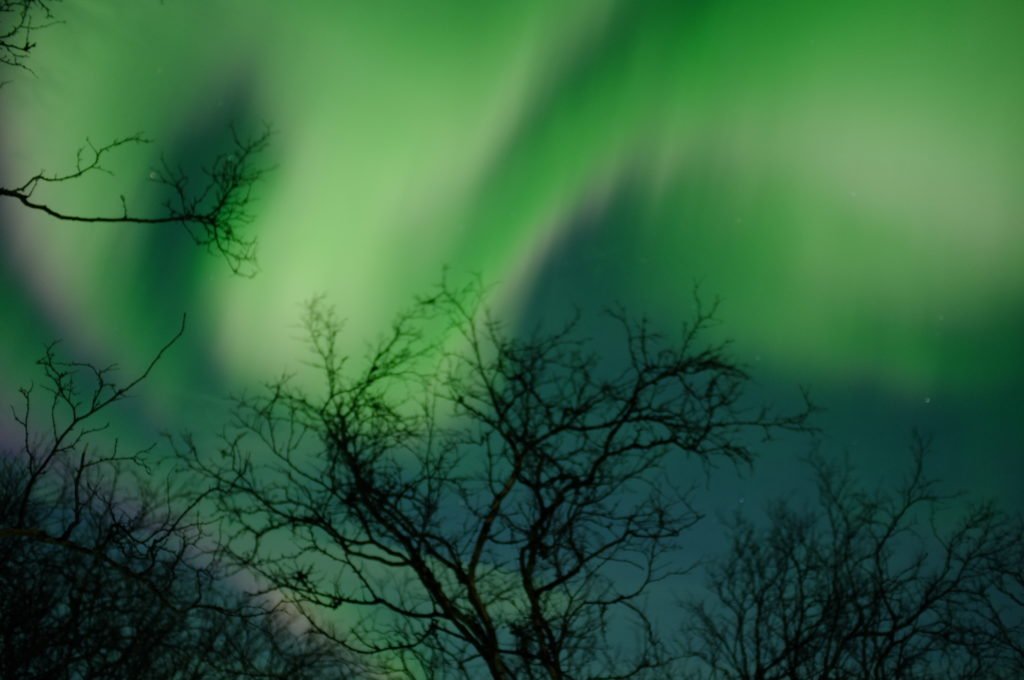 It's highly likely that one of the reasons why you are going to Norway in the winter is to see the magical Northern lights.
In that case, you'll want to ensure you have a camera that is capable of manual settings – a smartphone won't do if you want proper photos.
Most importantly, you need to be able to set the aperture, ISO, and shutter speed. I use a Sony A6000 and it works great.
But a camera isn't all you need. To properly photograph the Northern lights, a travel tripod is absolutely essential.
You need the camera to be still for at least 3-5 seconds to get a decent photograph, and there's no way you can eliminate camera shake for that long without a tripod.
In the past, I've used a simple, cheap 50″ Amazon tripod and it worked just fine.
Be sure to also bring spare batteries as the cold will knock out your batteries so much quicker than you expect!
Base layers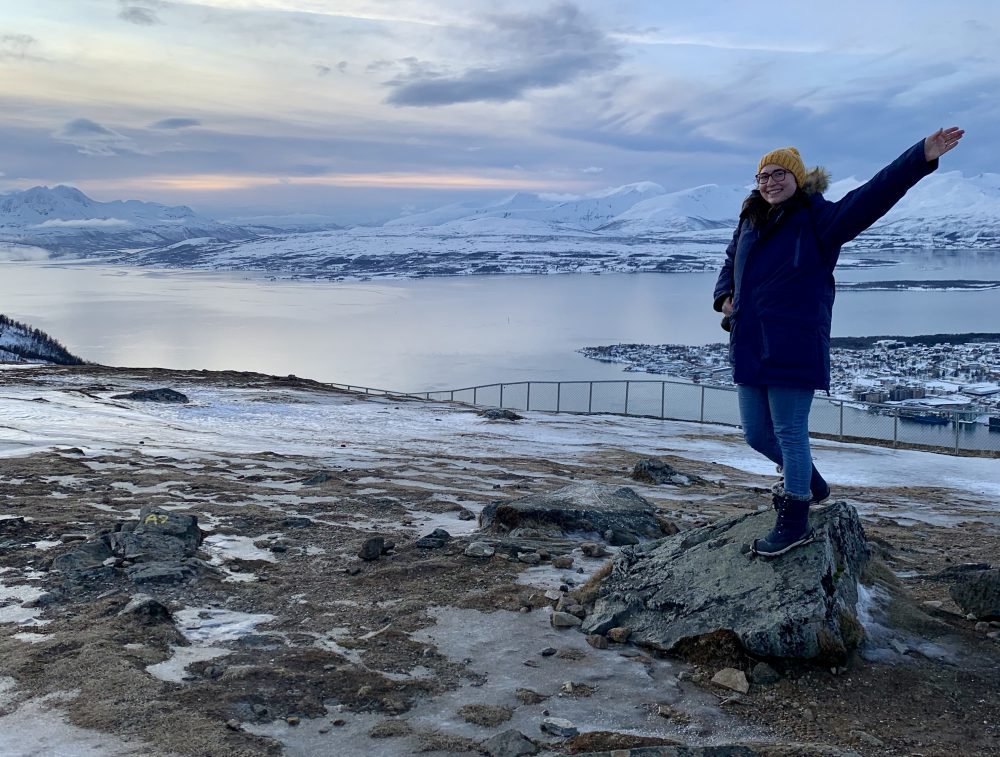 You can get away with wearing most of your normal winter clothing in Norway as long as you have proper base layers that help insulate you and keep you warm.
You need clothing that's moisture-wicking and antimicrobial, which will keep things from getting stinky or uncomfortable when you sweat (which you will if you're walking around or being active, yes, even in the cold!).
For thermal leggings, I recommend these for women and these for men, both by Columbia, a trusted outdoors brand. For a top thermal layer, I recommend this top for women and this top for men.
Many people swear by wool, but in general I can't wear wool or I get insanely, tear-off-all-my-skin itchy (though wool socks are fine for me as the skin on my feet is thicker).
If you can tolerate wool then something like these merino wool leggings, paired with a cashmere sweater layer, will serve you very well.
A warm winter jacket or parka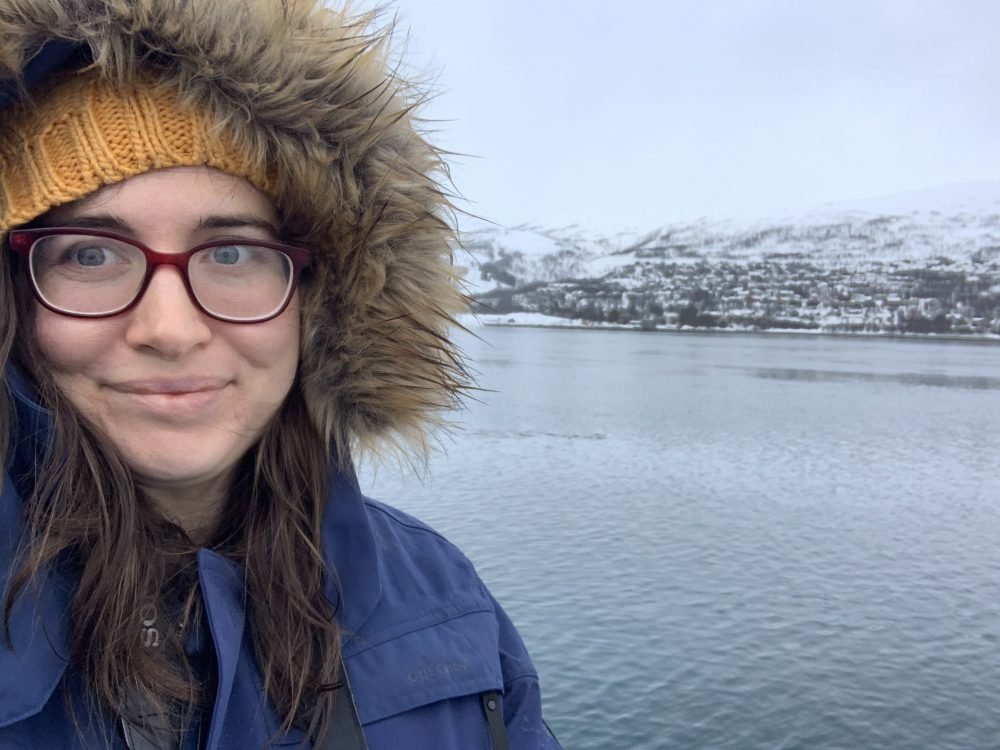 For walking around in Norway in winter, you'll want a nice and warm winter jacket (preferably a parka which goes to about mid-thigh) that is water-resistant and hooded, to keep you warm against the snow.
While winter in many parts of coastal Norway like Tromso actually isn't that cold, with average temperatures around -4° C to 0° C (24° F to 32° F), there is a lot of wind and precipitation, making it feel colder.
You want a waterproofed jacket that will protect against snow and even worse, freezing rain.
For my most trip to Norway, I wore a jacket that I bought from Decathlon which I can't find online but is virtually identical to this one but in a navy blue.
I loved having a faux fur lined hood to keep snow and rain out of my face and the weatherproof material was much-needed.
Down feathers add a nice layer of warmth that really helps insulate you (though if you want a vegan option, this jacket is similar).
On my past trip to the Arctic, in neighboring Sweden where it's actually a fair bit colder, I did really well with my North Face parka which I've owned for 10 years and absolutely love.
I just didn't have it with me since I had recently moved to a new country and didn't have all my typical winter clothes with me!
Snow boots & wool socks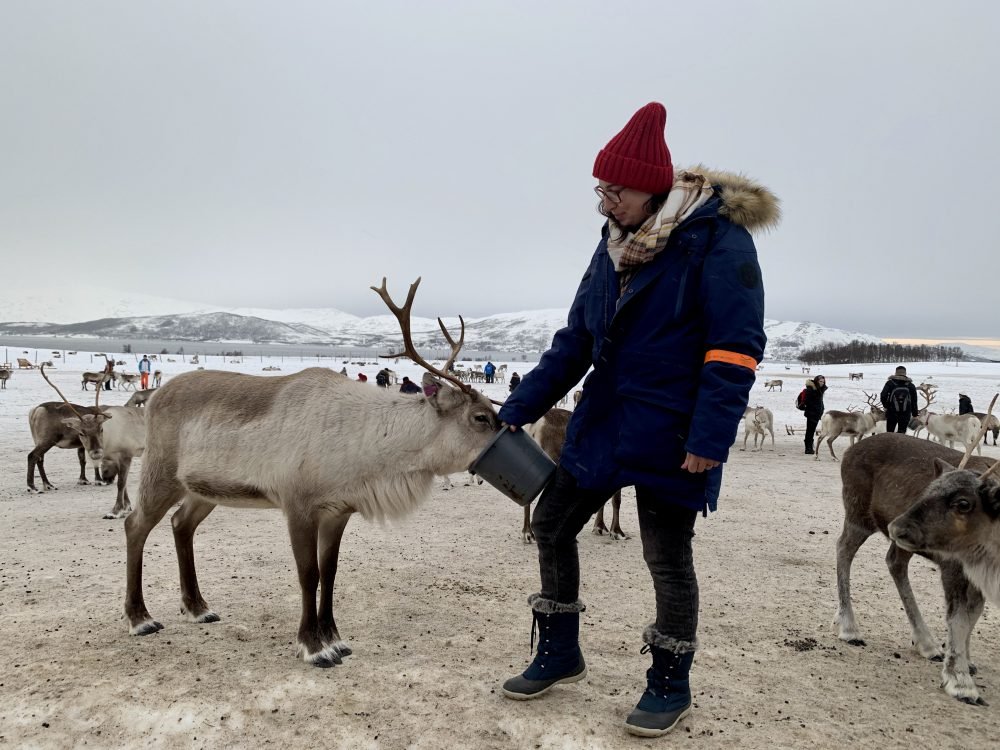 I wore a pair of snow boots by Quechua which I bought from Decathlon, which I can't find online anymore unfortunately.
Here is a similar boot by Sorel, a trusted winter brand that's beloved in Norway and beyond (here's a women's version and a men's version).
I recommend sizing about half a size up to account for thick winter socks.
But no matter how insulated your shoe is, it won't do much good if you are wearing thin, crappy cotton socks.
I invested in these Smartwool socks after some hemming and hawing about the price and I'm so glad I did.
10 Best Things to Do in Tromso in Winter
Chase the Northern lights with experts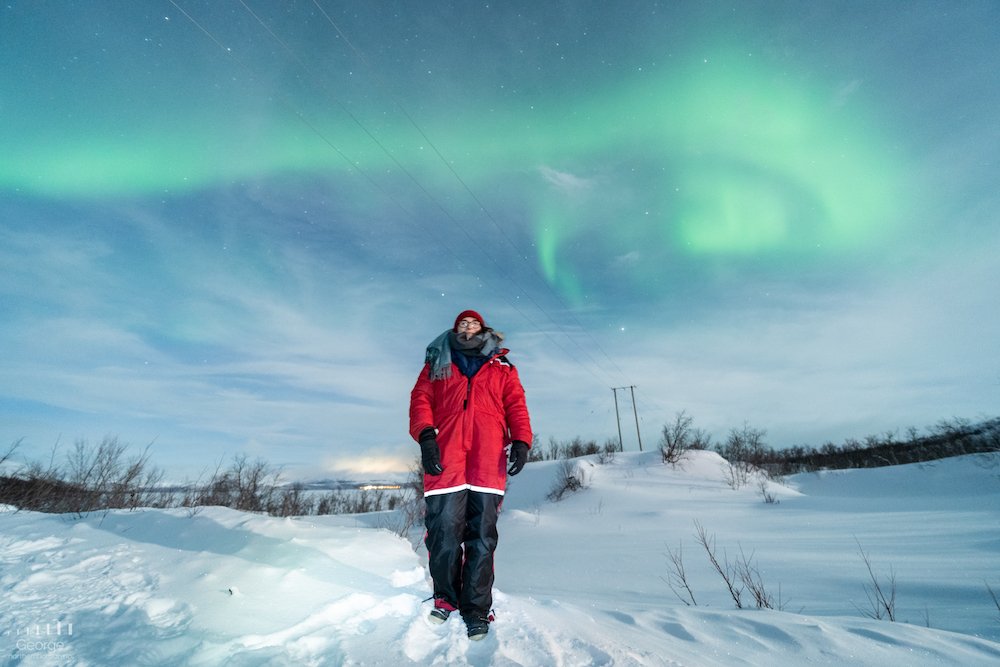 Of course, the main reason people visit Tromso in the winter is for a chance of glimpsing the magical Northern lights!
However, it's not quite as easy as you'd think. You may imagine that the Northern lights swirl overhead like a never-ending light show going on all night… yet unfortunately, that is very rarely the case.
I was lucky enough to see the Northern lights three times during my week in Tromso: a tiny, minute glimpse on a night sailing tour, once from my Airbnb in Tromso, and a wild show on my Northern lights tour (I went with this company).
I highly recommend going with the same company as I did for several reasons.
For one, they truly went above and beyond to ensure we got to see the Northern lights properly, which meant driving all the way past the Finnish border and setting up camp in the one place that didn't have cloud cover.
We stayed for quite a while, eating fire-roasted sausages (reindeer, pork, and vegan options) while sitting on reindeer pelts out in the snow.
We drank cocoa and coffee to keep warm by the fire as we waited for the Northern lights to resume their dance.
Every so often, the guide would call out to us that the lights had returned and were dancing again in the sky.
Once they were out, he'd arrange for Northern lights portraits (like the above picture of me looking like the Marshmallow Man who attacks New York City in Ghostbusters — which is entirely not his fault but the fact that I was wearing both a parka and a thermal suit…)
I'll be honest: you can try seeing the Northern lights on any selection of tours, like dog sledding and reindeer sledding tours.
That said, I did several night activities hoping I'd get a glimpse of the lights, and on almost all of them, I had a fantastic time doing the activity but saw (almost) no lights.
So if the Northern lights are on your Tromso bucket list, don't settle for anything less than a true Northern lights tour or you might end up disappointed.
I also rounded up all the different types of Northern lights tours in Tromso here, with my personal experience from 6 of the 11 different tours — check it out!
Go dog-sledding with an enthusiastic team of huskies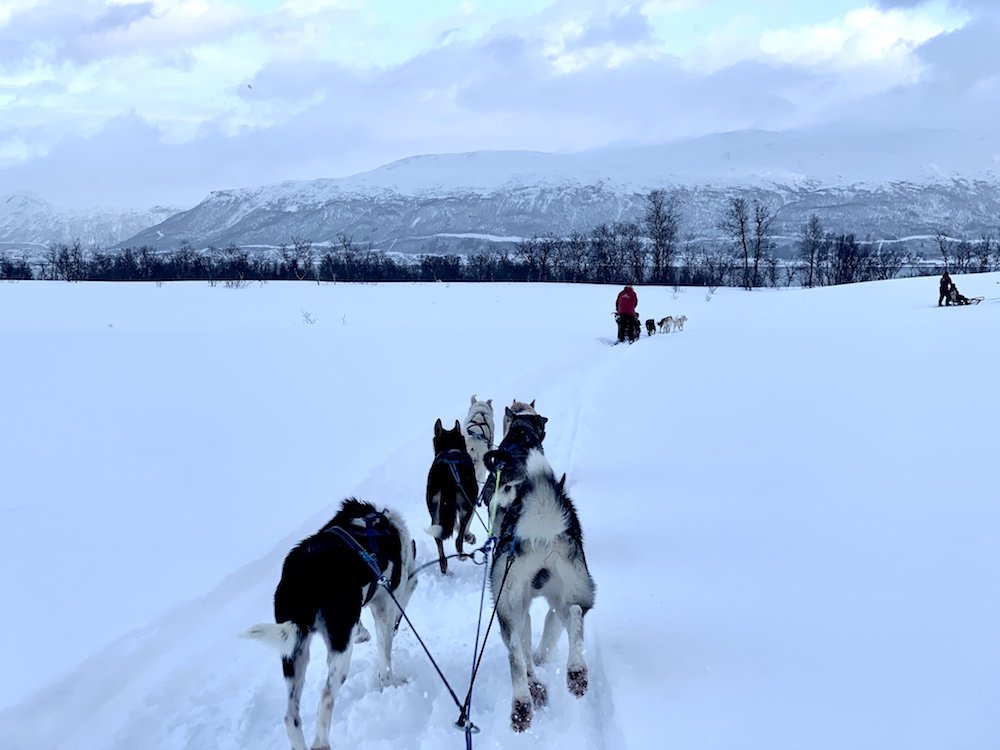 Dog sledding is my favorite thing in the world!
I first tried it in Abisko when I visited in the winter of 2016, and I couldn't wait to do this on my trip to Tromso this winter.
It's truly a breathtaking and spectacular experience, one that's a lot more work than it seems if you opt for the self-driving experience!
I tried out a variety of dog-sledding tours in Tromso: a daytime self-driving sled adventure was my first dog sled experience and I loved it!
I also did a nighttime guided dog-sledding tour (they also ofter daytime guided sled tours as well) — guided, meaning someone else drives and you just sit back and enjoy!
For me personally, I had more fun self-driving — it's more active and the rush of wind at your face as you help your dogs man the sled is just incredible.
You get your heart racing and pumping as you see the incredible fjord scenery all around you and you really feel like you're part of the pack as you help your dog team manage the sled!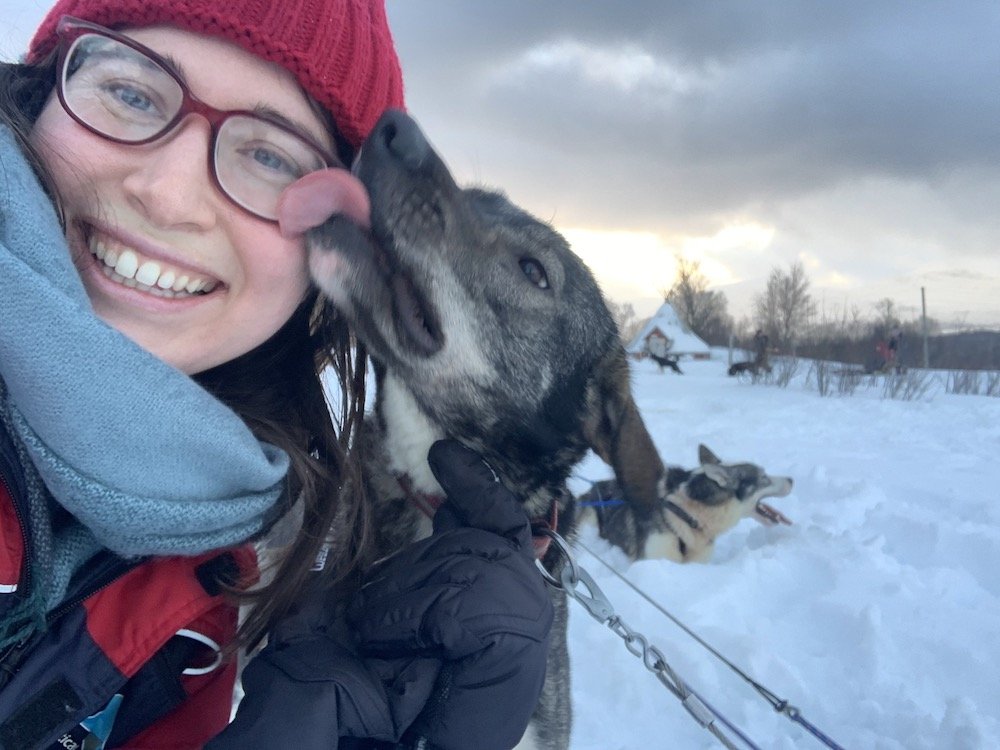 However, for many people, I think they would enjoy a guided tour better.
It's a far better option for families traveling with younger children (the minimum age is 4 for guided tours, as opposed to 7 for self-driving tours).
It's also better for those who are not very physically fit as self-driving is far more active than you imagine…
Just think: you're running to help push a sled in shin-deep snow!
Also, for those who are a bit anxious about dog-sledding, I'd suggest a guided sled ride.
But if you have a keen sense of adventure and are at least mildly fit (I'm no picture of health, but I managed perfectly fine), you definitely ought to try a self-driving sled ride… it's a trip of a lifetime.
Personally, it's my favorite winter thing to do in Tromso.
And whichever tour you choose, you'll be given plenty of pup cuddle time!
Go whale watching in the waters outside of Tromso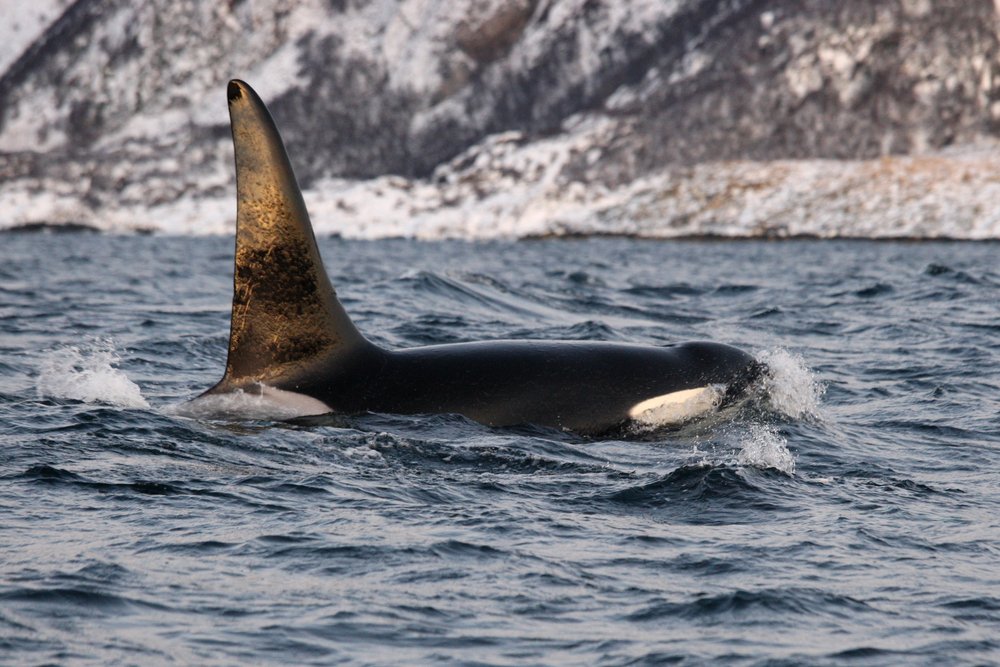 Whale watching in Tromso is atop many people's Tromso in winter bucket lists… but there's a lot to consider when planning whale watching as part of your Tromso itinerary.
First thing to consider is when in winter you are going. If you are visiting Tromso in November through January, you are almost guaranteed to see whales on your whale watching tour…
Of course, remembering that this is a wildlife excursion and there are no guarantees in nature.
However, by the end of January, the whales tend to leave the Tromso area. I was able to snag the last day of whale watching excursions when I arrived on February 5th….
Unfortunately, the excursion was canceled as the whales had already migrated out of the area!
So if whale watching is high on your Tromso list, be sure to visit during whale season and don't assume it's all winter long like I did.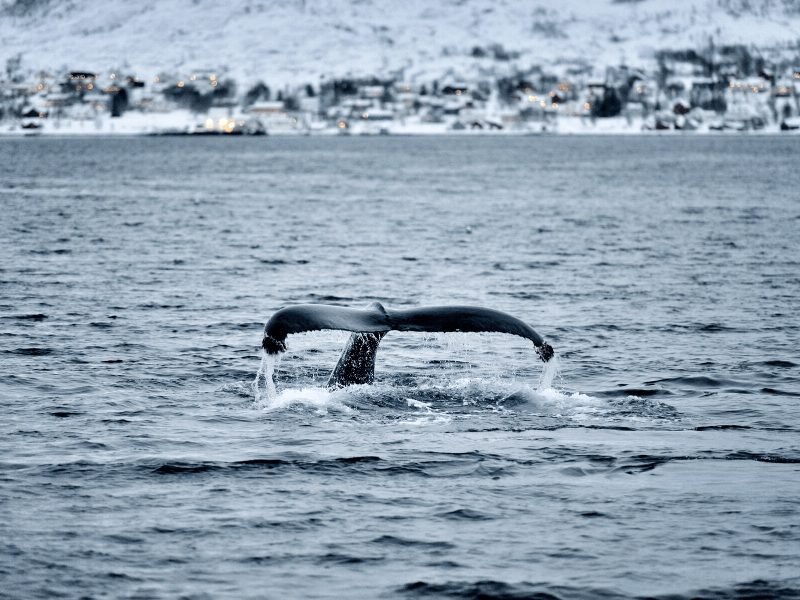 Another thing to consider is the significant time investment that whale-watching in Tromso requires.
The whales used to feed in the Tromso fjords, but now they no longer go there, and instead go to Skjervoy… which is about a 3 to 4-hour boat ride from Tromso.
You're talking about 7-8 hours of boat travel time in order to have about 2.5 hours of whale watching time… a trade-off I think is well worth it.
That said, if you have a very short amount of time in Tromso or if you're very prone to boat sickness, this may not be the excursion for you.
I recommend this hybrid-electric catamaran cruise, with the same company I did a wildlife and bird fjord safari with.
Visit a Sámi reindeer camp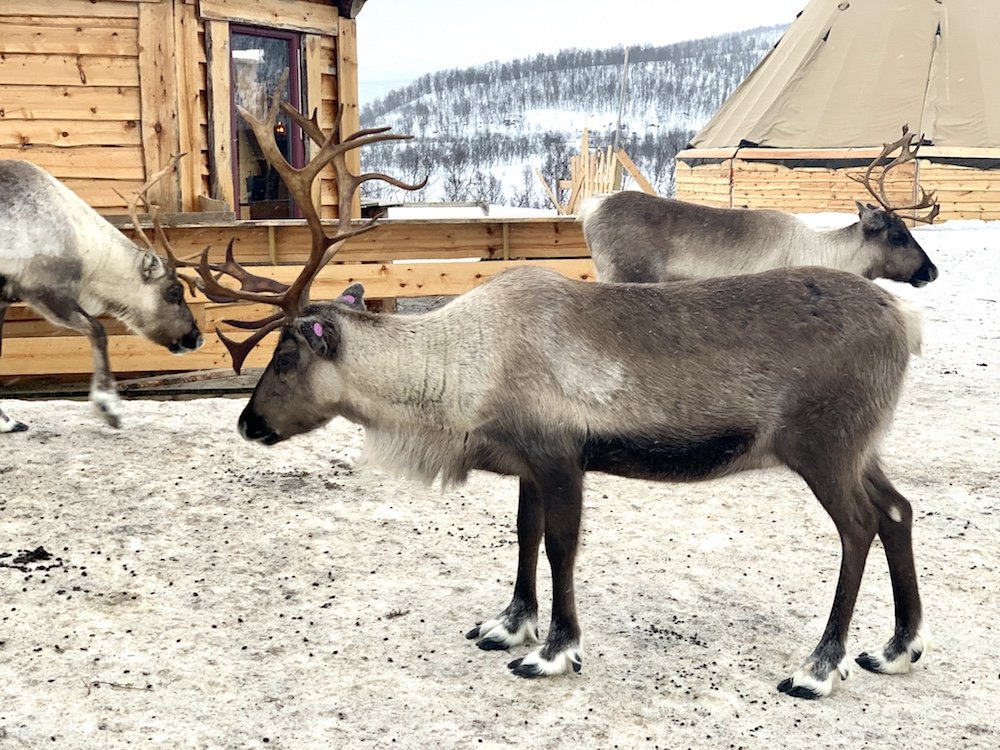 The Sámi people are an indigenous people who live in the far north of four countries: Norway, Finland, Sweden, and Russia.
Their history in the Nordic lands goes back millennia and they are the original people of the Arctic north.
The Sámi people have herded reindeer for centuries, moving large herds of reindeer around Northern Norway to forage and living nomadically.
Now, many Sámi reindeer herders make some money during the harsher winter months by bringing their reindeer down from the north to reindeer farms outside of Tromso.
Climate change is making it harder for the reindeer to find food naturally up in Northern Norway in winter.
These farms serve a dual purpose of providing Sámi people a good income from tourism during the winter months — something they were historically shut out from — and ensuring the reindeer have plenty to eat during the winter season before they get brought back up north to graze in Sámi lands.
On the farm, you'll get a chance to hand-feed reindeer, go reindeer sledding if you want, try reindeer stew (or a vegetarian option if that's a bit too on the nose for you), and listen to a Sámi reindeer herder share his story and the history of Sámi people.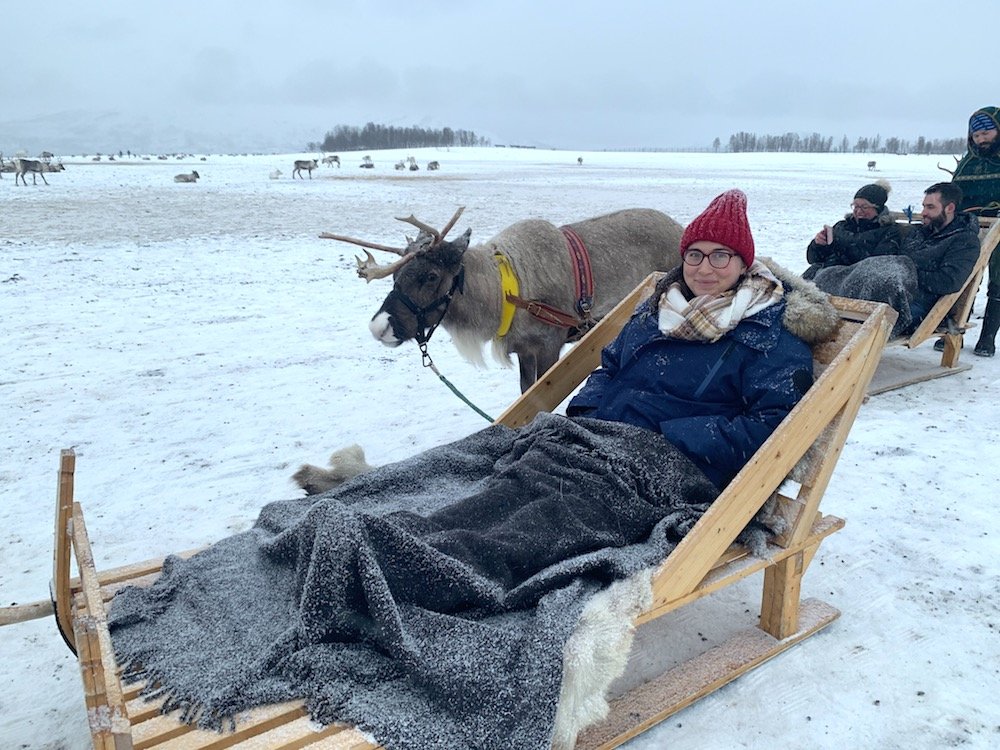 This is the exact company I went with and highly recommend it!
Everything about the day was magical, and I enjoyed my reindeer sled ride (though dog-sledding is definitely a bit more 'high-octane' fun!).
They also offer the same activity but at night if you want to try to spot the Northern lights!
I was really impressed by our Sámi storyteller!
He was so passionate about preserving Sámi culture but also acknowledging how the culture has changed — such as herders using drones to herd their reindeer.
He was quite young, very open and honest, and not afraid to touch upon important issues like bigotry and anti-Indigenous sentiment.
It's important to be aware that Norway has historically been quite oppressive of the Sámi population — same as other Nordic countries.
Many state-sanctioned measures attempted to erase Sámi history from Norwegian culture through forced assimilation measures (Norwegianization or Fornorsking av samer).
These practices included prohibiting the teaching of Sámi language or culture in schools, stripping away land ownership rights of Sámi people, and even separating Sámi children from their families to be sent to boarding schools elsewhere in Norway.
This legalized form of cultural genocide continued into the 1980s.
Measures have been taken to atone for Norway's horrible treatment of the Sámi, including reparations, an official apology, and a truth commission to further acknowledge the extend of what the Sámi experienced.
While Norway is making strides towards better treatment of their indigenous people, it's important to note that anti-Sámi bigotry continues to this day, with Sámi people being assaulted for speaking their native language in public.
It's important to be aware of Sámi history as we enjoy Northern Norway, their ancestral lands.
Visit a stunning Ice Hotel for the day — or night!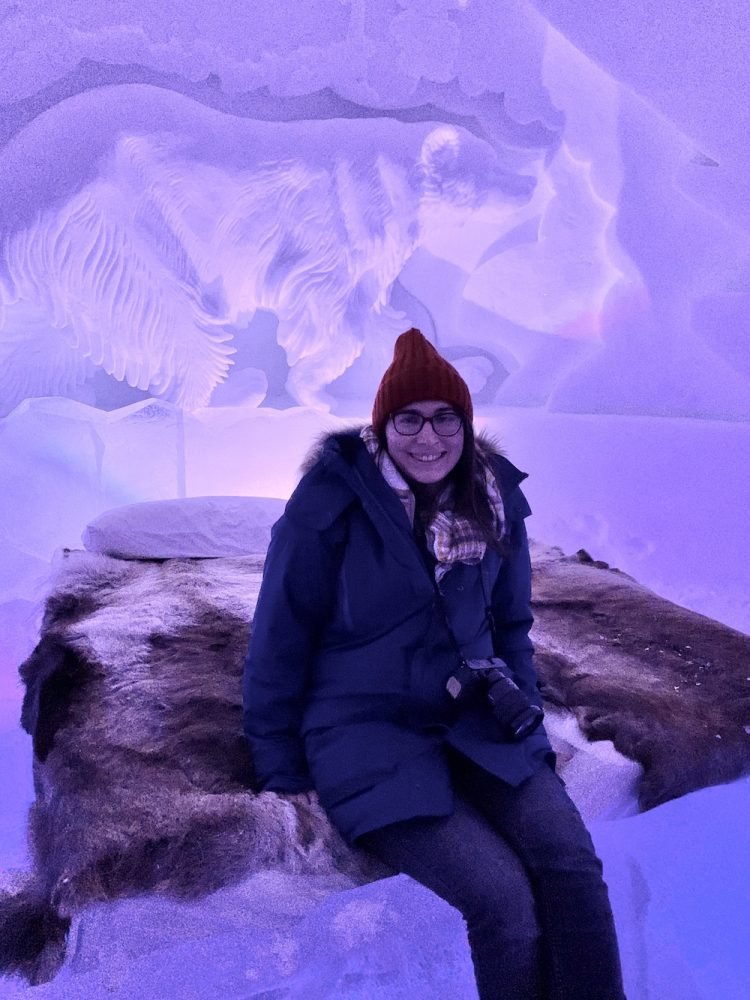 The Tromso Ice Domes are not actually located in Tromso city, but rather about 100 kilometers away in Tamok Valley… but it's well worth a side trip during your time in Tromso!
The easiest way to visit the Tromso Ice Domes is via a guided tour and shuttle bus which departs from Tromso. 
This is the exact tour I took, which I highly recommend — it was a definite highlight of my time in Tromso.
Unless you plan to rent a car when in Tromso in winter, a guided tour with a dedicated shuttle bus is the only way to get to the Tromso Ice Domes as public transportation will not take you here.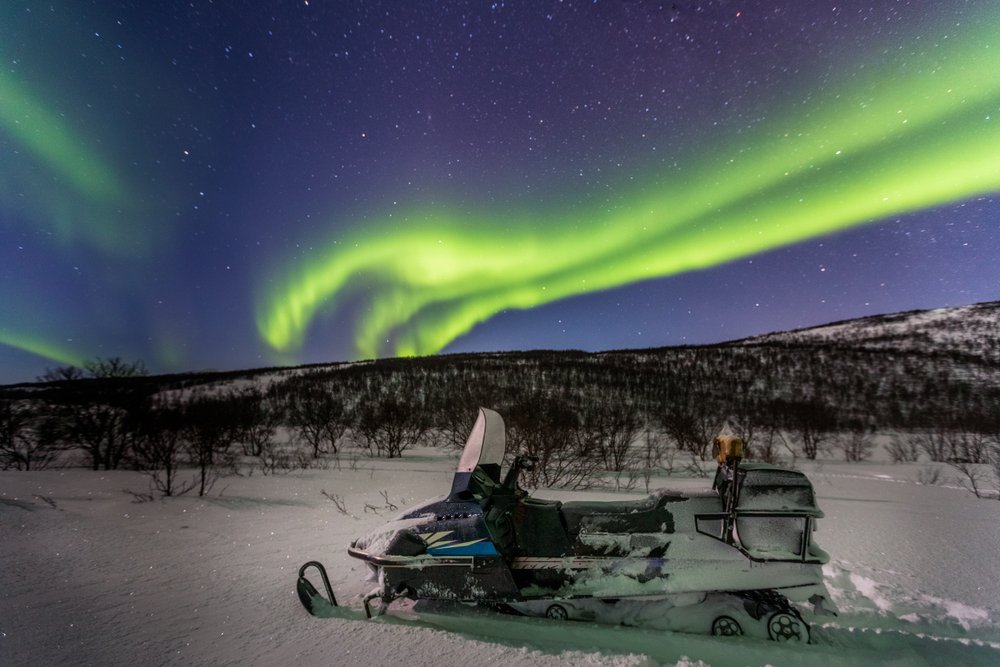 The most popular package is to combine a visit to the Tromso Ice Domes with a snowmobiling ride through the stunning Tamok Valley where the ice hotel is set.
I was aching to do this, but unfortunately, the snowmobiling portion of the tour requires that you have a valid driver's license in order to operate a snowmobile, and mine just expired, so I was unable to do so.
However, if you can, I highly recommend bundling the Ice Domes and a snowmobile ride as the area around the ice hotel is truly spectacular and I wish I had more of a chance to explore it.
Sail into the fjords at night for a shot at spotting the aurora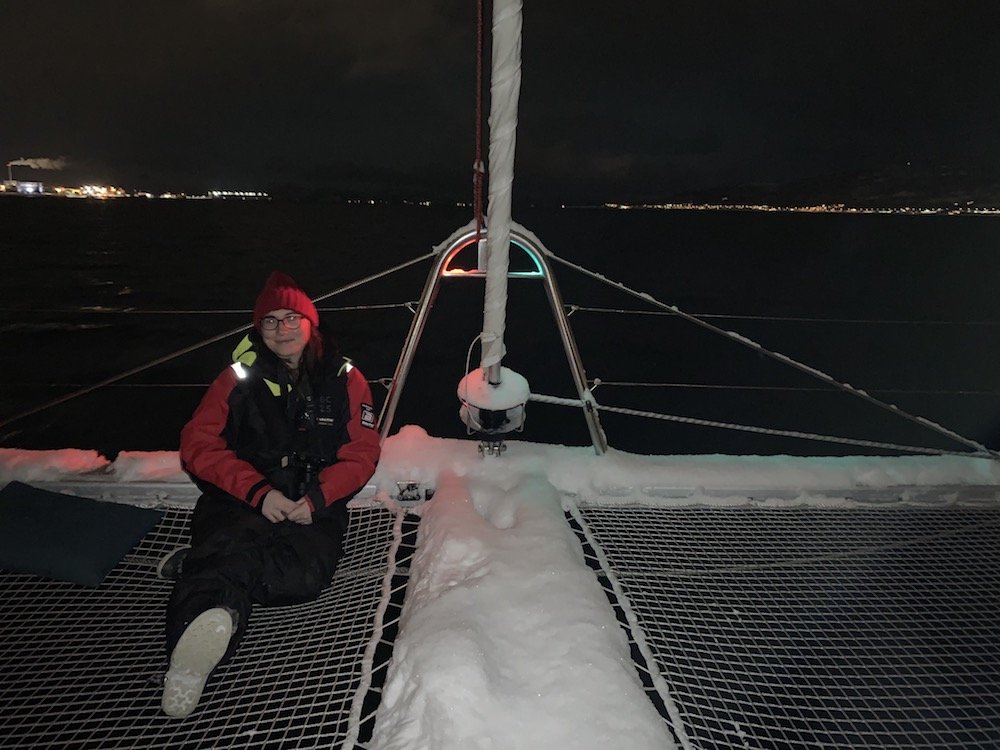 How does sailing away past the city lights through a glassy fjord in search of the Northern lights sound?
If you answered "pretty darn magical," I'd say you're spot on.
I took a sailing and Northern lights trip with Pukka Travels during. mytime in Tromso and it was an absolute delight.
We weren't super lucky with the weather, but we did spot a glimmer of Northern lights… which I hastily snapped with my smartphone, because by the time I got my tripod out, it had already gone.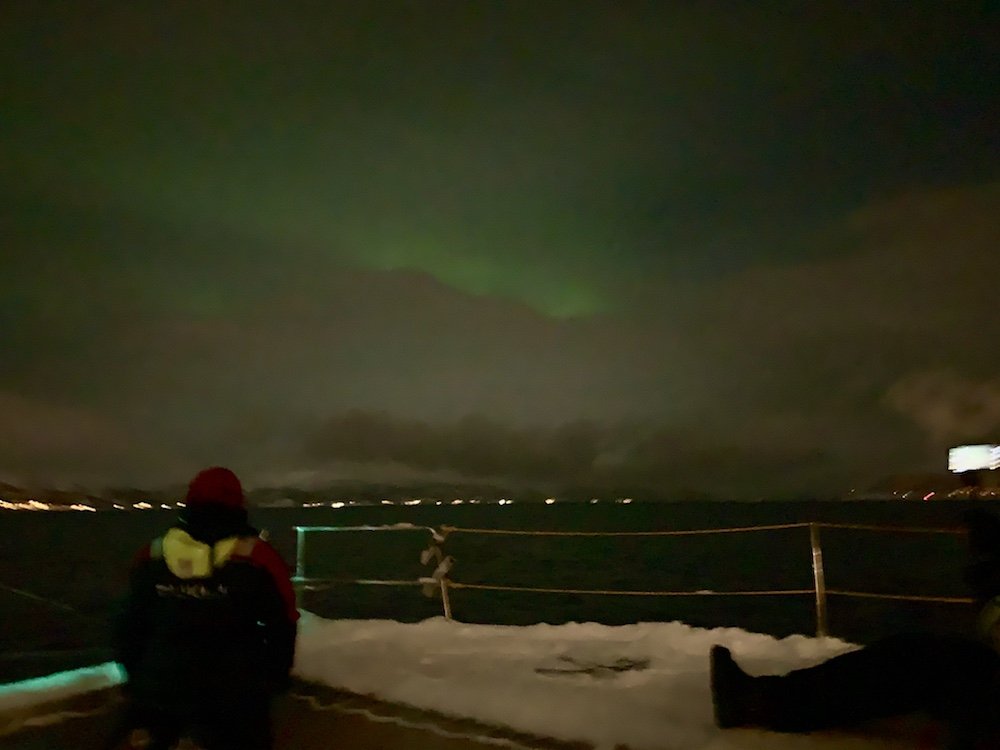 Regardless of only seeing a brief glimmer of the lights, I had an amazing time sailing… mostly because the crew was so lovely, making sure we were warm, well-fed and caffeinated, and comfortable.
We ate a delicious fish soup — truly the best I had in my week in Norway!
I must have eaten at least 5 bowls of fish soup and drank tons of tea and coffee to stay warm.
I truly enjoyed the scenic cruise and seeing the city lights as we entered and left Tromso harbor, even if the Northern lights didn't cooperate so well!
Catch a concert at the Arctic Cathedral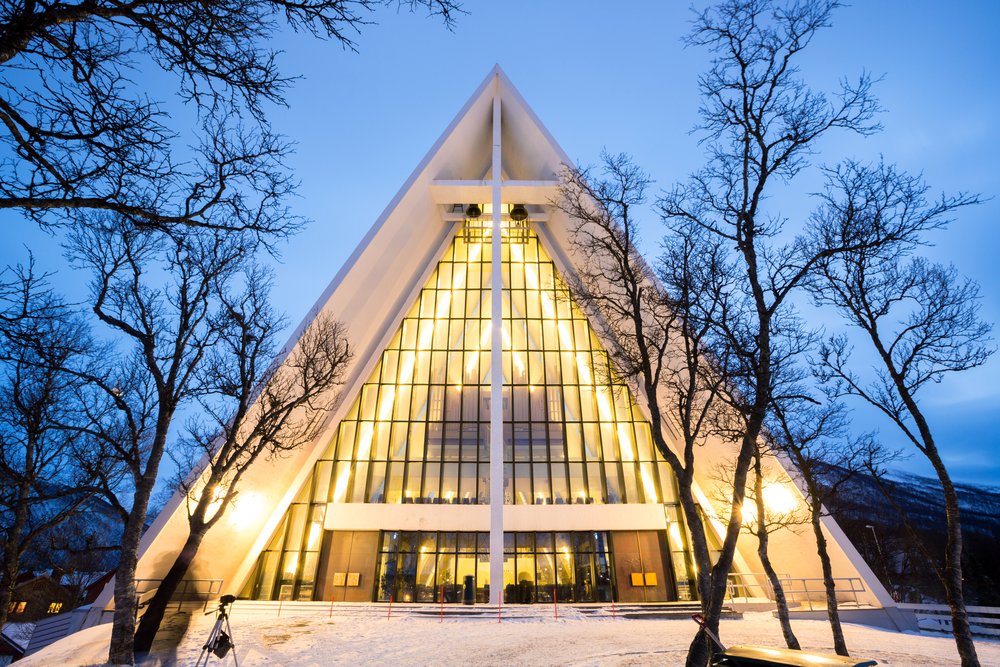 The Arctic Cathedral in Tromso is located in Tromsdalen, across the bridge from the more touristic part of Tromso.
It's an easy and beautiful walk over the bridge from downtown Tromso, but you can also take bus line 28 from Tromso center.
You can visit the Arctic Cathedral during opening hours like for a 70 NOK (around $6.50 USD) entrance fee.
Their winter opening hours are from 1 PM to 5 PM on all days except Wednesday, which is from 2 PM to 5 PM.
But if you're visiting Tromso in winter, I recommend trying to see one of their Northern Lights concerts — if you can stay up late enough one night!
You'll have to check their calendar for dates, but the most are in December.
Take the cable car for sweeping views over Tromso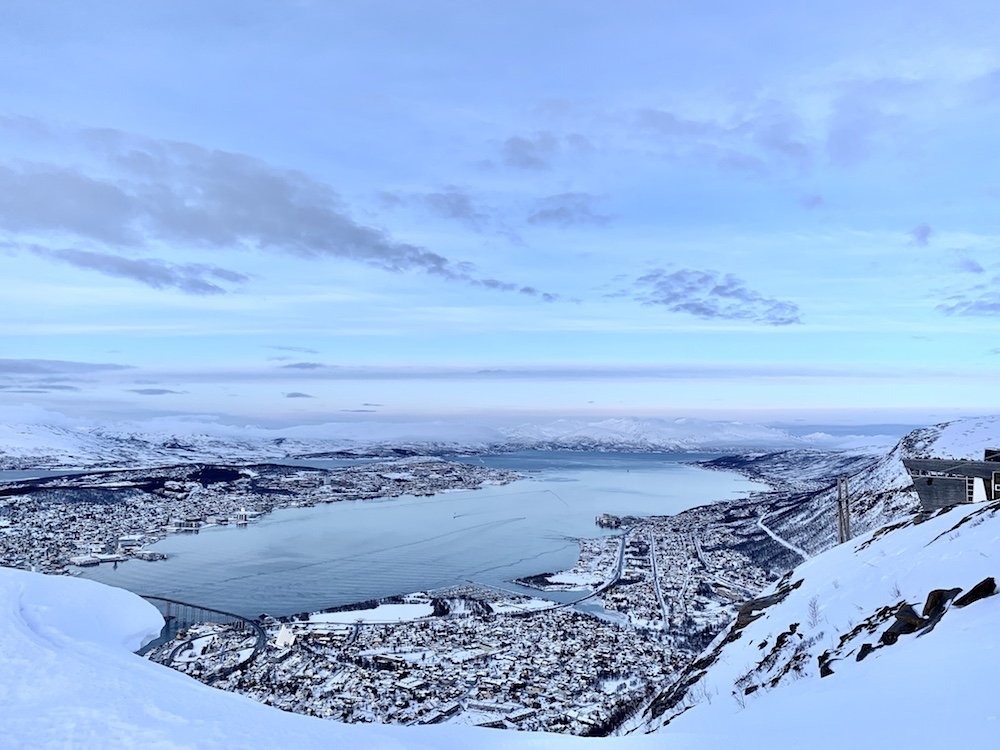 Also in Tromsdalen is the Tromso cable car (Fjellheisen), which offers you sweeping views over the city of Tromso and the fjord landscape.
Views here are simply remarkable!
You can visit independently as I did: return tickets are NOK 225, about $21 — not bad for Norway prices, and definitely not bad for those amazing views!
You can hike around the area for some incredible scenery, but be sure to wear proper shoes with crampons as it can get quite icy and slippery here.
After you've walked around a bit and checked out the views, you ought to stop by the cafeteria for a delicious Norwegian waffle and a cup of coffee!
Prices are surprisingly reasonable — they are standard Norwegian prices (so not budget) but not inflated for the view.
Take a bird and wildlife fjord cruise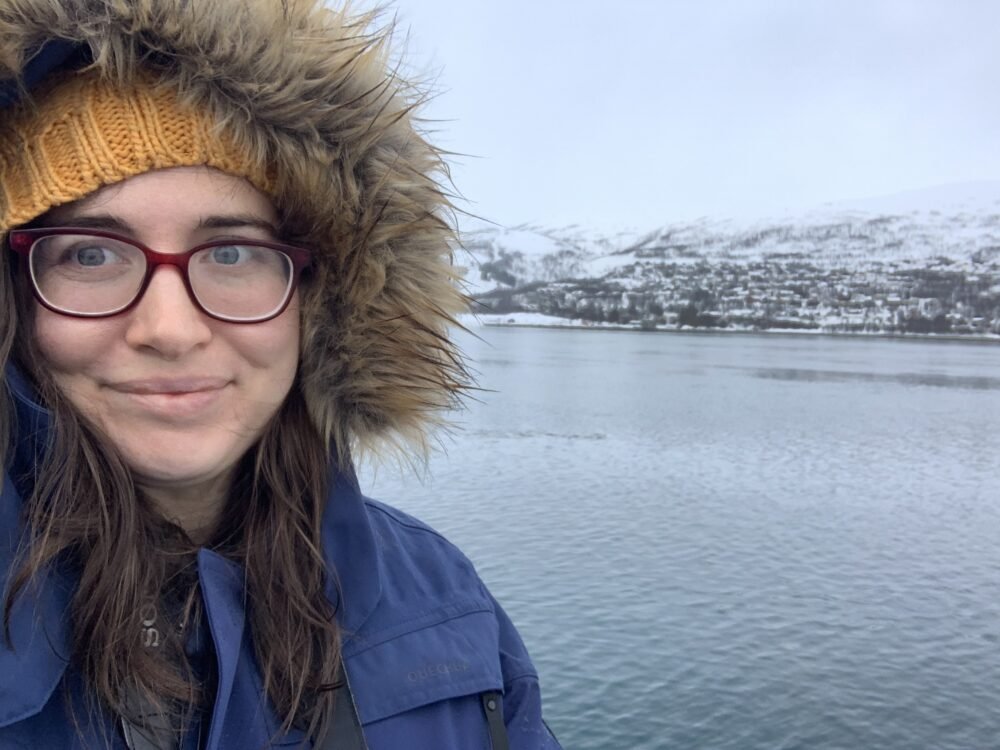 While I couldn't go whale watching during my time in Tromso in winter, I was able to go on a wildlife and bird safari through the fjords of Tromso and it was incredible!
During the 5 hour cruise (this is the exact tour I took), I was able to see an amazing array of wildlife from the boat.
In that time, I spotted seals, otters, dolphins, and even Norwegian sea eagles which are truly incredible (no whales, though — they stopped visiting the Tromso fjord area long ago).
The cruise included a fantastic lunch with fresh Arctic fish and warm drinks, plus they had insulated bodysuits in case you were cold…though I was pretty toasty warm in the parka I packed for Norway!
Other Active Winter Things to Do in Tromso
Go snowshoeing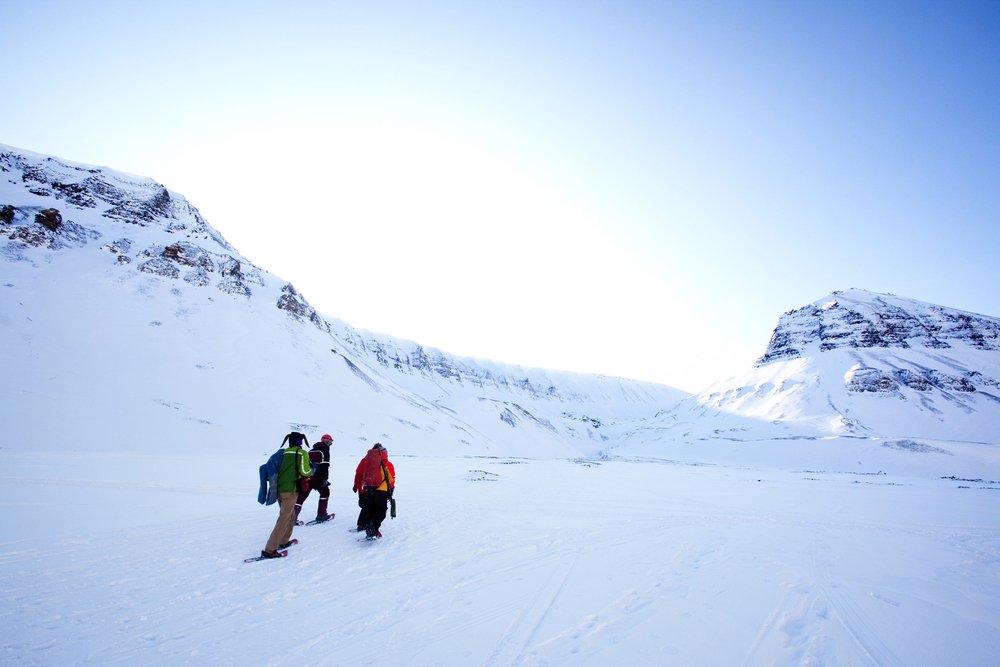 With only a week in Tromso in February, I had to make a few cuts to my original Tromso itinerary.
Unfortunately, that meant I missed the chance to go snowshoeing while in Tromso last winter.
However, I've down snowshoeing before in Swedish Lapland when I was staying in Abisko in winter and I absolutely adored it!
It's a lot of fun, but it's a surprisingly difficult workout.
It's also important to note that unless you are picking a well-trodden trail, it's better to only snowshoe with a guide.
With as much snow as there is in Tromso, some places are not safe and are at risk for avalanches, so be sure to go with a licensed guide and never do anything crazy like try to hike up to the Tromsdalen cable car by yourself!
Not sure who to go with? I did my nighttime dogsledding with Tromso Wilderness Center and absolutely loved it
I'd heartily recommend their tour company for snowshoeing and other excursions!
Here's their snowshoeing excursion which you can book online
Try your hand at snowmobiling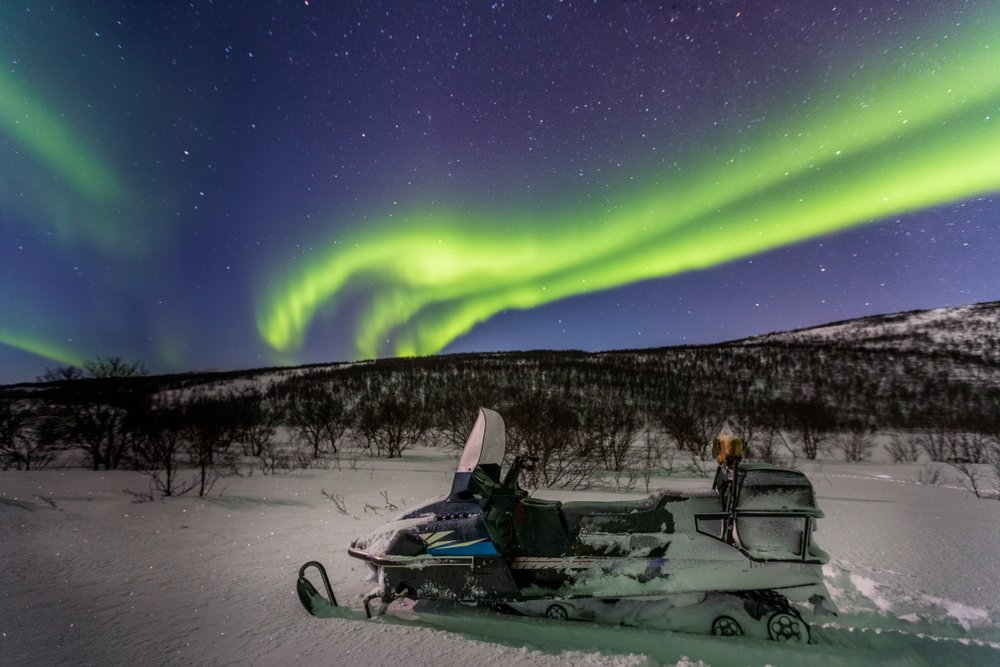 Alas, another thing I didn't get to do on my trip to Tromso in February — this time not because of time.
Rather, it was because my driver's license expired in December before my trip began, and I didn't have time to renew it before leaving for Tromso!
I wanted to add on a snowmobile excursion to my trip to the Tromso Ice Domes (which you can do here) but it also would have been fun to take an aurora snowmobile ride!
Go cross-country skiing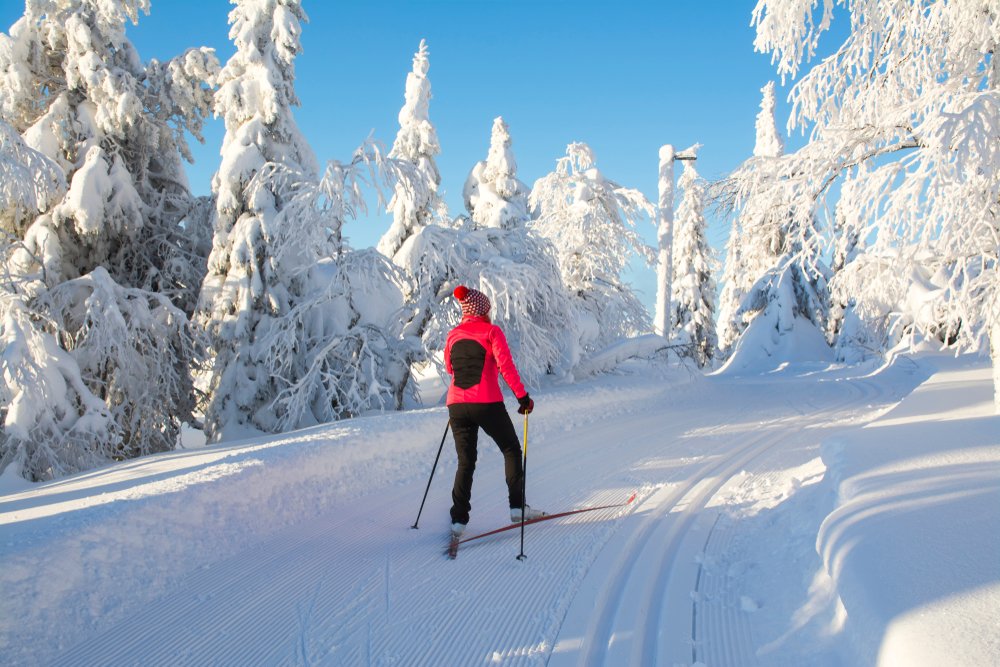 Norwegians love cross-country skiing — it's a super popular activity in Tromso!
It's not something I've ever tried… I'm uncoordinated enough without two planks of wood strapped to my two left feet.
If you enjoy skiing but aren't planning to do any downhill/alpine skiing on your trip to Norway, you may want to give cross-country skiing a try!
This cross-country skiing activity is beginner-friendly and comes with everything you need for a fun day out cross country skiing!
Try your hand at Arctic fishing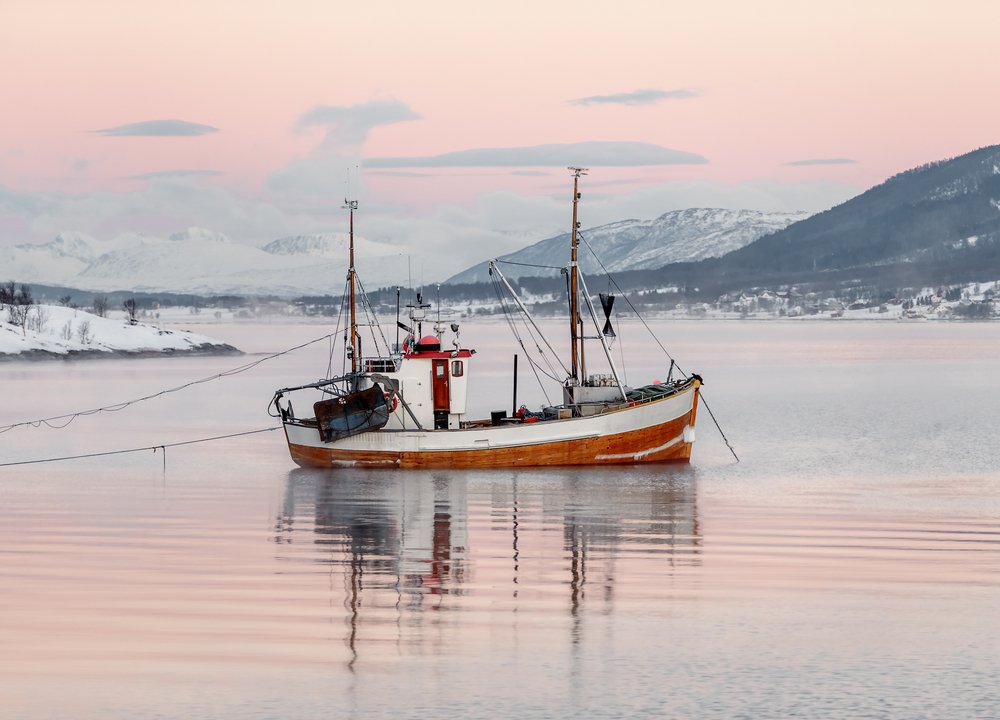 If anyone in your group is a fan of fishing, you can't miss a chance to fish Arctic-style!
Enjoy the beautiful winter dawn colors in Tromso as you enjoy a peaceful day out fishing with local fisherman who have handed down the secrets of the best fishing spots from generation to generation.
And the best part? Whatever you catch, they'll cook for you on the boat! It doesn't get fresher than that.
Cultural Things to Do in Tromso in Winter
Get cultured at Northern Norway Art Museum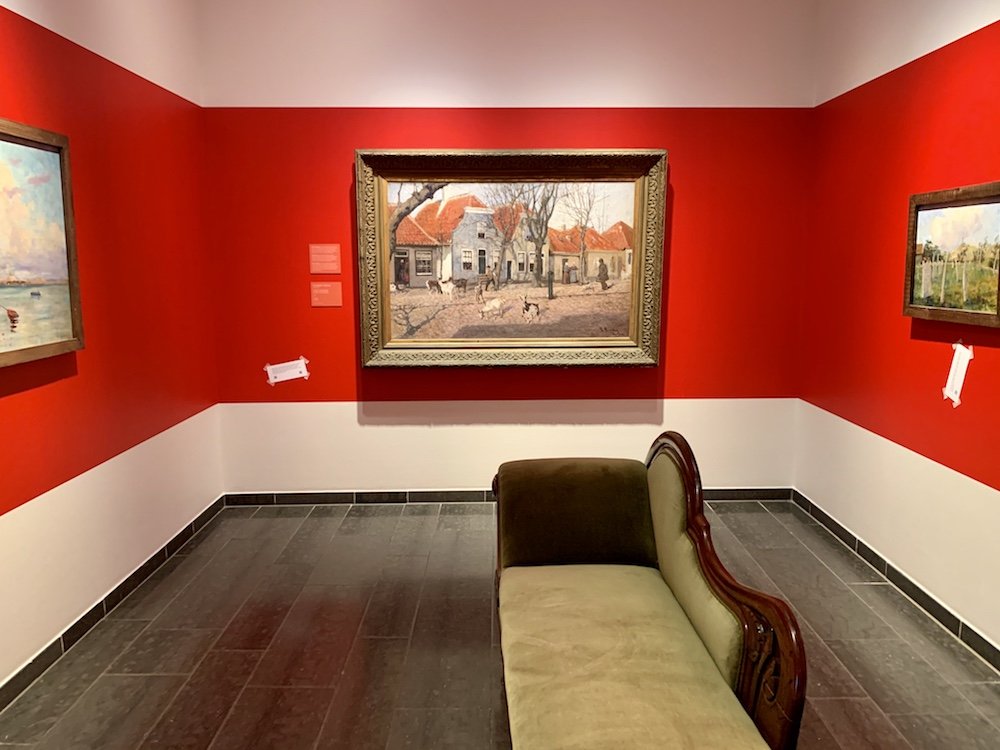 For a small city of about 70,000 people, Tromso has quite a bit of local culture that's well-worth exploring.
This city has several world-class museums that give you a better sense of Tromso beyond the Northern lights and dog sledding activities which, while fun, are admittedly quite touristy!
One of the best places to dive into Tromso's culture is the Northern Norway Art Museum (Nordnorsk Kunstmuseum).
This art museum features artists who were from Northern Norway or made Northern Norway the subject of their art.
My favorite part about seeing these beautiful paintings was seeing the use of light done by these artists.
Nordic light is like no other, dreamy and creamy in winter with so many pastel tones, and brilliant and vibrant under the midnight sun.
It has so many shades and tones you won't see in other art around the world, and it was really cool to see.
There was also some really cool Sámi sculptures while I was there, and it was great to see their initiative in showcasing more Sámi art, which has historically been shut out from Norwegian culture.
Admission to the Nordnorsk Kunstmuseum is reasonable – around 80 NOK or about $9 USD – and it's a must for any art fiend.
Allow about an hour or two to peruse the museum, depending on your pace.
Peruse the free exhibits at Perspektivet Museum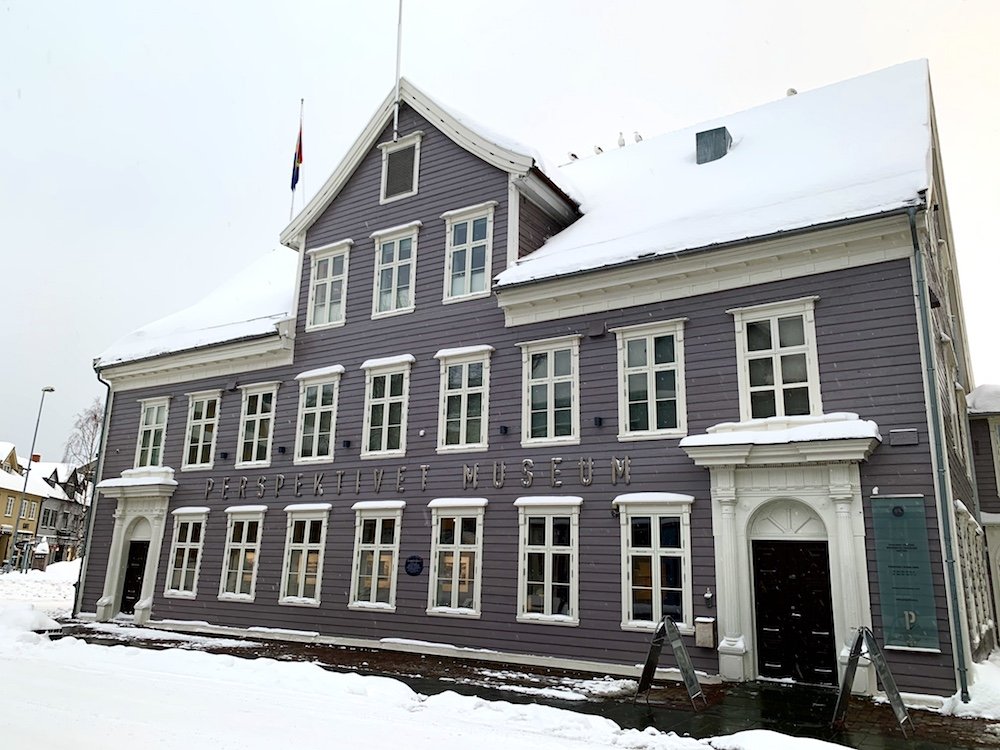 They say Norway is expensive, and they're not wrong, but one of the great things about Norway is that many museums are free or rather affordable!
The excellent Perspektivet Museum is always free, and it's well-worth visiting to see a more contemporary side to Norwegian art.
When I visted the Perspektivet Museum, there were a few different photography exhibits focusing on different aspects of Norwegian life.
When I visited, the theme was "Homo Religious": all about mankind's different relationships with religion and the many forms that took even in a small place like Tromso.
I was surprised and pleased to see such diversity showcased in Tromso, and it was really interesting to see how people have come to this unique corner of the globe and brought their religion and customs with them.
It answered questions I never knew to ask, like how do Muslims who celebrate Ramadan fast in Tromso during the midnight sun, when the sun never goes down?
Exhibits change often, but the theme is always diversity in Tromso through photography, so you're sure to learn a lot about Tromso and the people who live here no matter what the exhibit. Absolutely worth a visit!
Learn Arctic history at the Polar Museum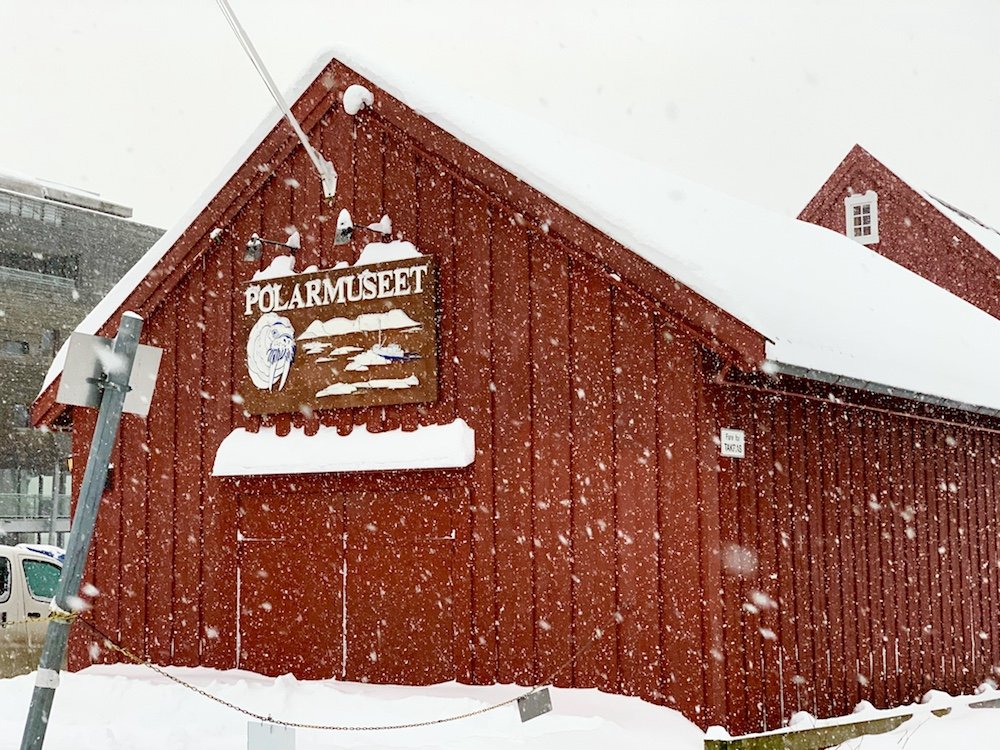 This museum was a true highlight for me, as I'm a total nerd who is absolutely enraptured by people who explore extreme environments…
… that's mostly because I'm a wimp who will never be brave enough to do even a fraction of what they do!
The Polar Museum was super cool because it showcased so many incredible Arctic explorers who went on missions to discovered uncharted and never-yet-touched lands (by man at least), such as Svalbard and the North Pole.
I really loved learning about all the explorers who left Tromso in search of understanding the globe we live on more fully.
It was so interesting to read about the harsh and extreme conditions they underwent in order to discover a previously unknown part of the globe.
I was also particularly enraptured with the story of Wanny Wolstad, a fierce explorer who was the first woman to be a fur trapper on Svalbard, the ultra-northern Norwegian archipelago.
Her story was fascinating (read a bit about it here) and I'm so glad the Polar Museum made sure to highlight her story, as women's voices are often lost in stories about discovery and exploration.
Visit the Tromso Cathedral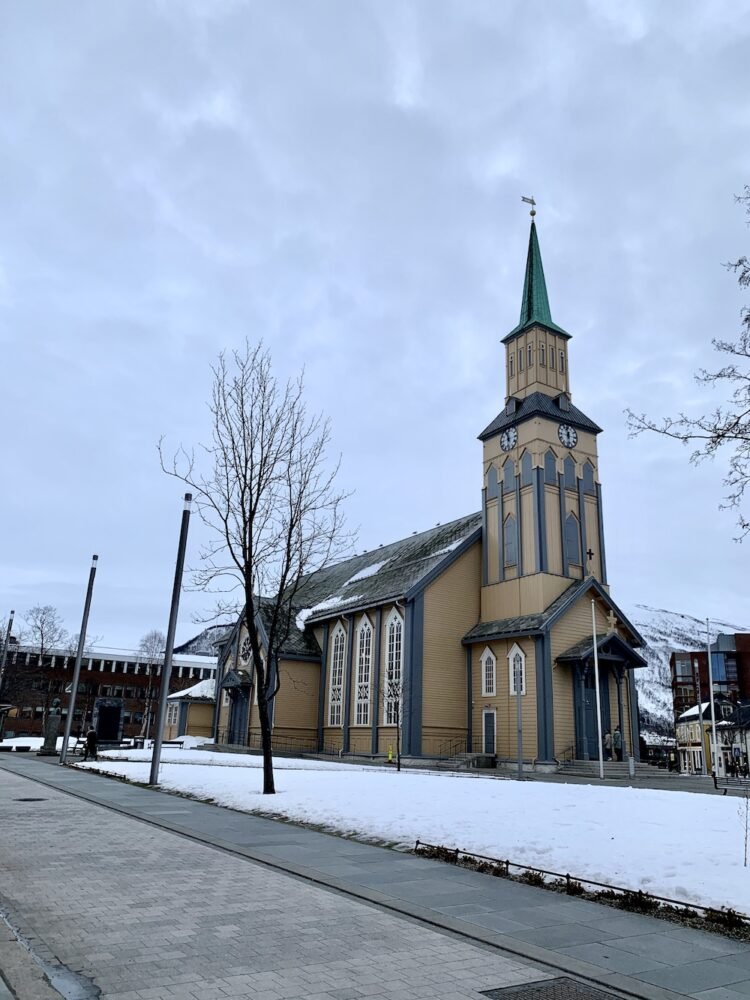 Not to be confused with the Arctic Cathedral over in Tromsdalen, the Tromso Cathedral is located in the heart of the City Center.
It's a fairly standard Lutheran church, and to be honest, it's not particularly interesting compared to the more architecturally rich Arctic Cathedral.
That said, since it's in the heart of Tromso, you'll inevitably walk past it.
If you're interested, you can enter the church but there's a small entrance fee, roughly 30 NOK / $4 USD.
Another church worth seeing is the Catholic Cathedral of Our Lady, also not far from the center.
It's a cute wooden church which holds the cool honor of being the northernmost Catholic church in the entire world!
Marvel at the architecture of the Tromso Library
Now this is more my speed architecture wise!
The Tromso Library (Bibliotek) is a really cool piece of modern architecture right in the heart of the city.
Visiting Tromso in winter adds to the visual effect, because it looks really cool next to the snow — almost like an igloo from the future!
It's a modern style that looks different at every angle, something that I personally really enjoy in architecture.
Inside, the architecture is really beautiful and all the windows make it so light and airy.
Better yet, it's free to use the internet there in case you need to warm up and browse the internet or kill some time between activities without wanting to spend a lot of money on coffee and cakes.
Check out local art at the gallery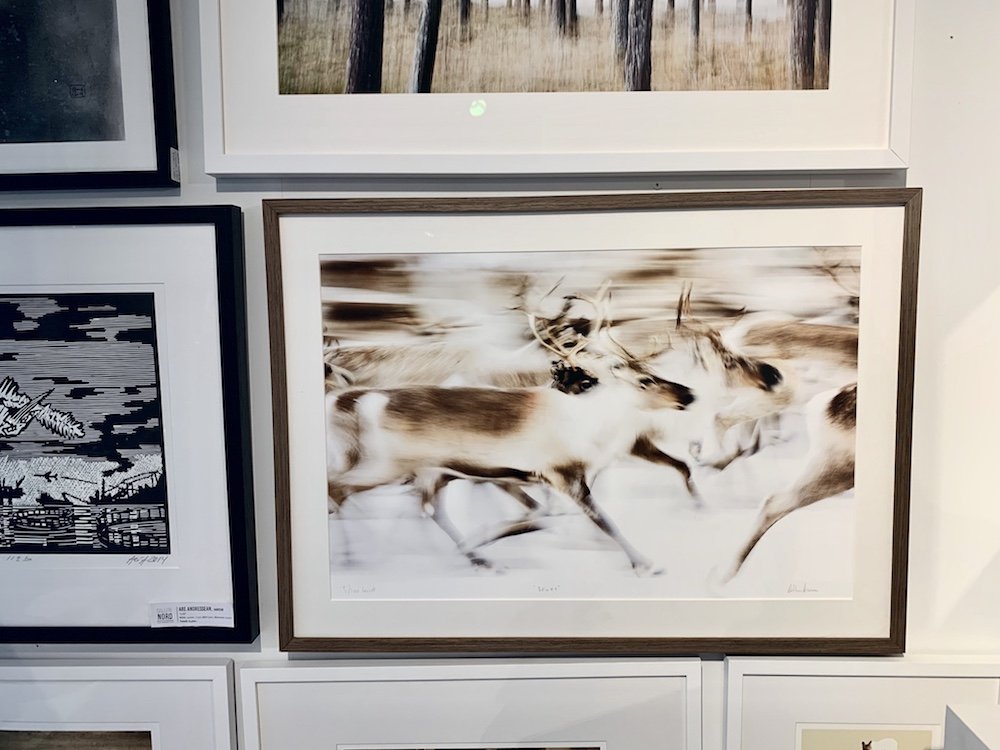 I love looking at local art galleries while I'm traveling… even though I'm admittedly a window shopper as I rather don't trust my own taste in art!
In between some of my activities I spent some time checking out the Galleri NORD.
I was really tempted by some of the art — particularly this beautiful piece which features an almost abstract rendering of some Arctic reindeer running — too bad it was (quite) a bit out of my price range.
There's lots of exquisite art here and it's located just around the corner from the Radisson Blu Hotel, a common tour pickup point, so it's absolutely worth browsing!
Experience Norwegian coffee culture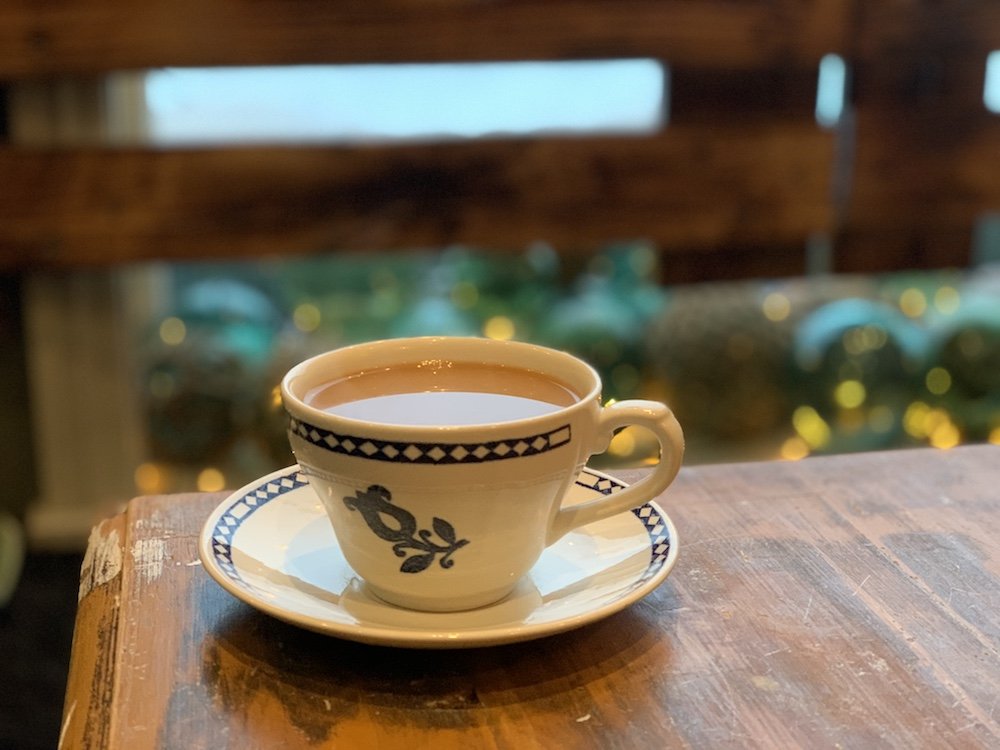 In my opinion, there's nothing quite like enjoying a cup of coffee on an Arctic winter day. And I think Norwegians would agree, as they drink on average 4-5 cups of coffee a day!
I had coffee at a number of cute Tromso cafes during my time there. Two standouts are Smørtorget, also near Galleri NORD and a great place to stop between tours if you're doing both a morning and an evening activity, as well as the charming Svermeri Kafé og Redesign which is a coffee shop mixed with some cute furniture and decor pieces also for sale. They have delicious cakes as well!
Svermeri is located near the Polar Museum and makes a great stop after visiting the museum.
Sip drinks at the Magic Ice Bar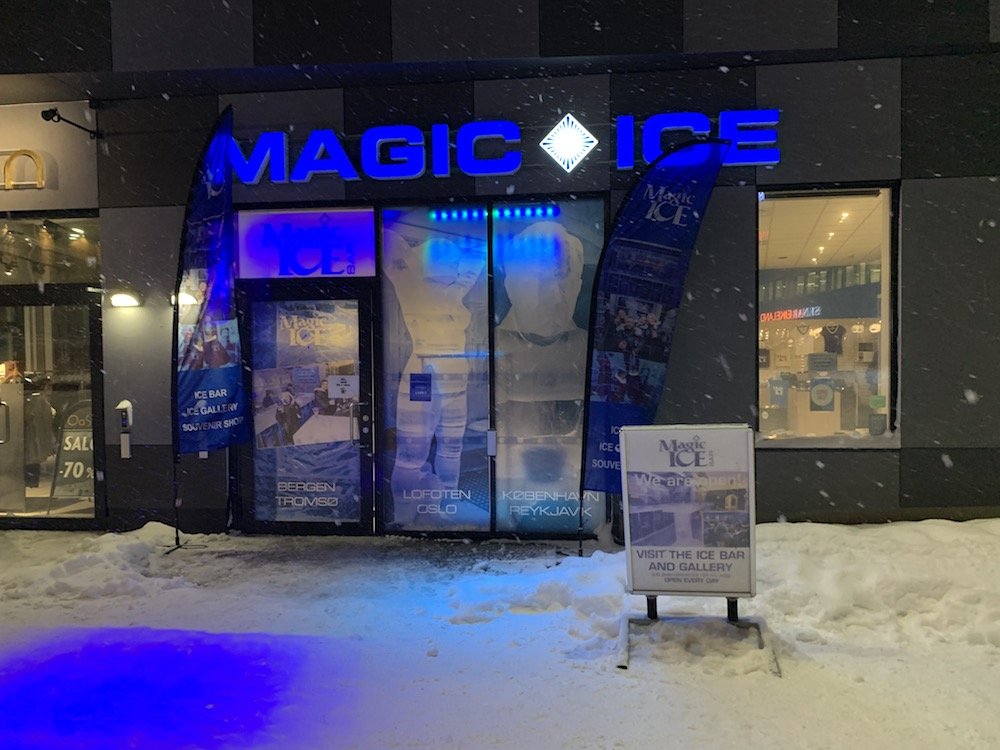 Since I went to the Ice Bar at the Tromso Ice Domes, I didn't feel a need to check out the Magic Ice Bar as it's a little on the pricy side.
It's 350 NOK per person to enter, about $33 USD. That includes warm gear and a welcome drink plus a cocktail of your choice… which honestly isn't bad given the price of alcohol in Norway.
However, if you don't have time to squeeze in a visit to the Ice Domes but you do want that Ice Bar experience, it's right in the heart of Tromso.
It seems like a fun, quirky way to spend some time, though of course, since it's -5 degrees Celsius in there, it's certainly no way to warm up!
Drink at Tromso's oldest pub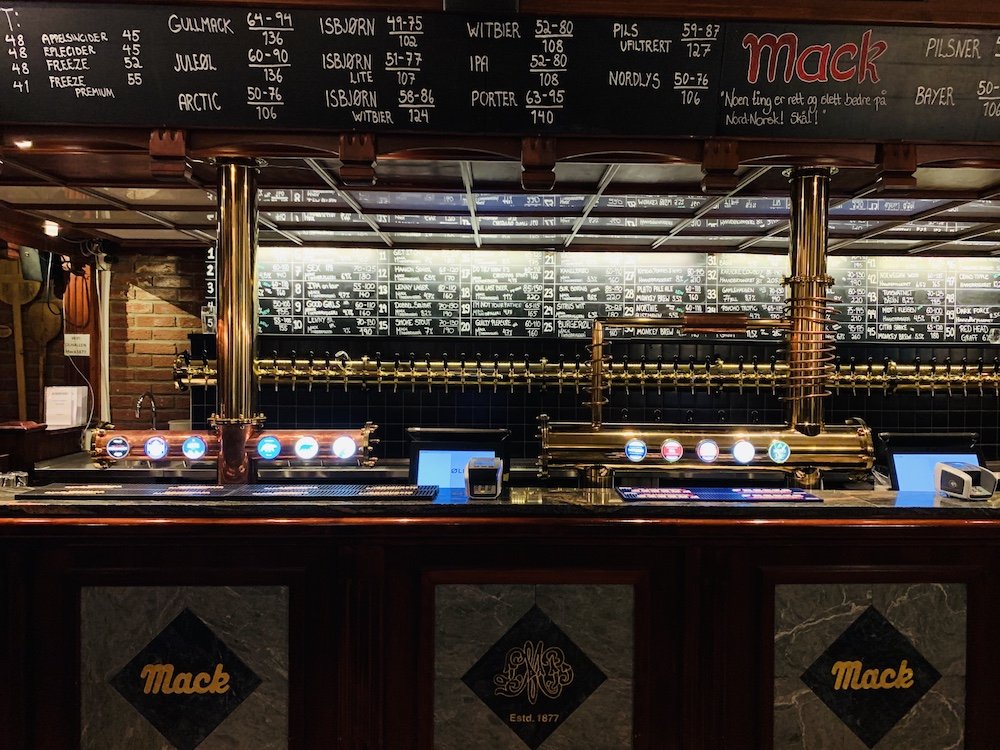 Now, this is more my style! I really enjoyed having a craft beer at Ølhallen, the oldest pub in Tromso which features over 72 taps of beer!
It has a long history in Tromso, one that you'll learn if you visit the adjacent former Mack brewery for a cool beer tour (more on that below).
The bartender here is really knowledgeable and can definitely point you in the right direction!
I recommend going with one of the smaller breweries rather than Mack beer, which you'll find all over Tromso, so you can find a more unique brew worth your kroner…
Again, alcohol is very expensive in Norway, so expect to spend the equivalent of at least $10 USD on a small beer!
Tour Tromso's own brewery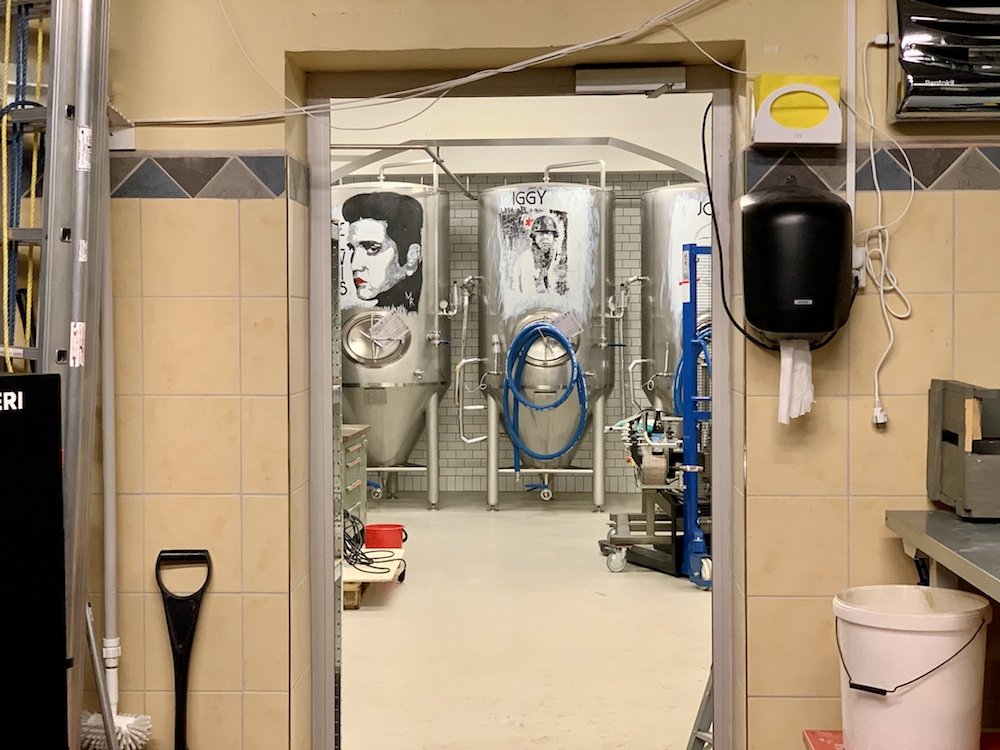 Next door to Tromso Ølhallen is Kjeller 5, a beer shop that sells tasty Norwegian craft beers and also does cool brewery tours!
Behind the beer shop are the former Mack brewery premises.
Mack used to be the northernmost brewery in the world. However, now there are at least two breweries in Svalbard, though they didn't mention this on the tour and kept calling themselves the northernmost brewery…
Still, it was cool to learn the history of Mack and how they moved from this smaller brewery here to a larger brewery just outside of Tromso.
While their main operations are elsewhere, they still brew a few microbrews here, and you're able to see the facilities and learn about the microbrewing process on their daily brewery tours.
It wasn't the best brewery tour I've ever done, but it was interesting nonetheless and worth the price (190 NOK / ~$21 USD for a one-hour tour plus tastings).
Prices may have changed since I visited in 2020, but I wasn't able to find updated prices — check it out in person.
Foodie Things to Do in Tromso in Winter
Have a beautiful harborside meal at Fiskekompaniet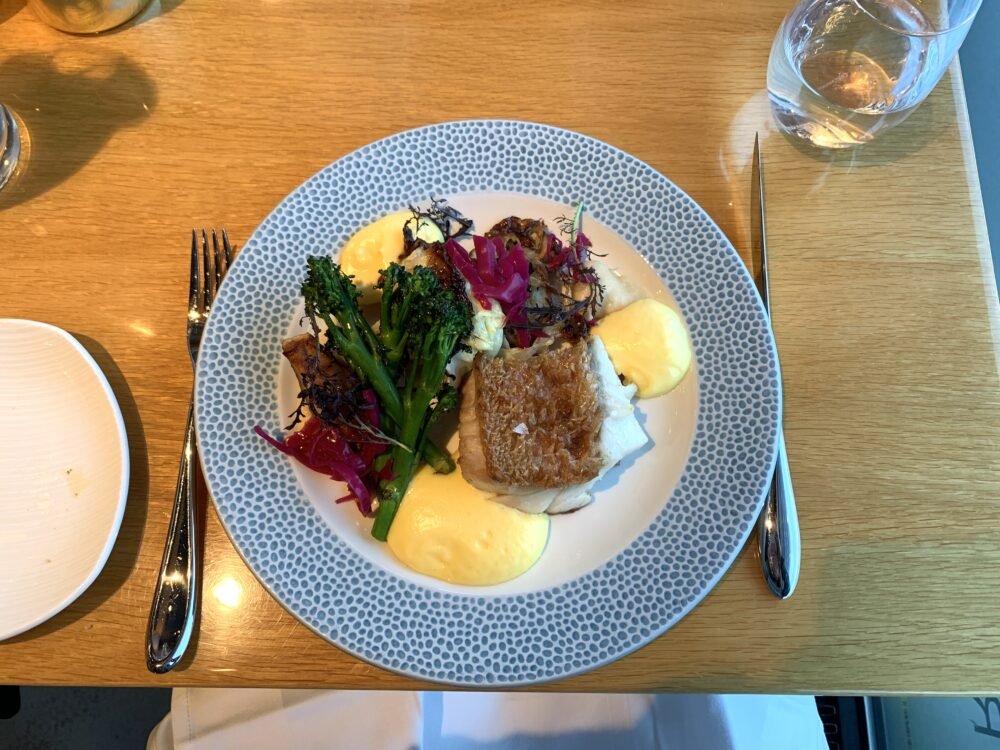 One of the best tricks for enjoying meals in Norway on a budget is going for lunch rather than dinner! W
hile I was visiting Tromso on a mid-range budget, I opted to eat my meals out for lunch and at home for breakfast. and dinner (when it wasn't included on a tour).
On my last full day in Tromso, I splurged on a 2-course lunch special at Fiskekompaniet and it was fantastic!
For about $35 USD, I enjoyed a meal of a spectacular fish soup and delicious local cod prepared beautifully.
Enjoy burgers, shakes, and games at Burgr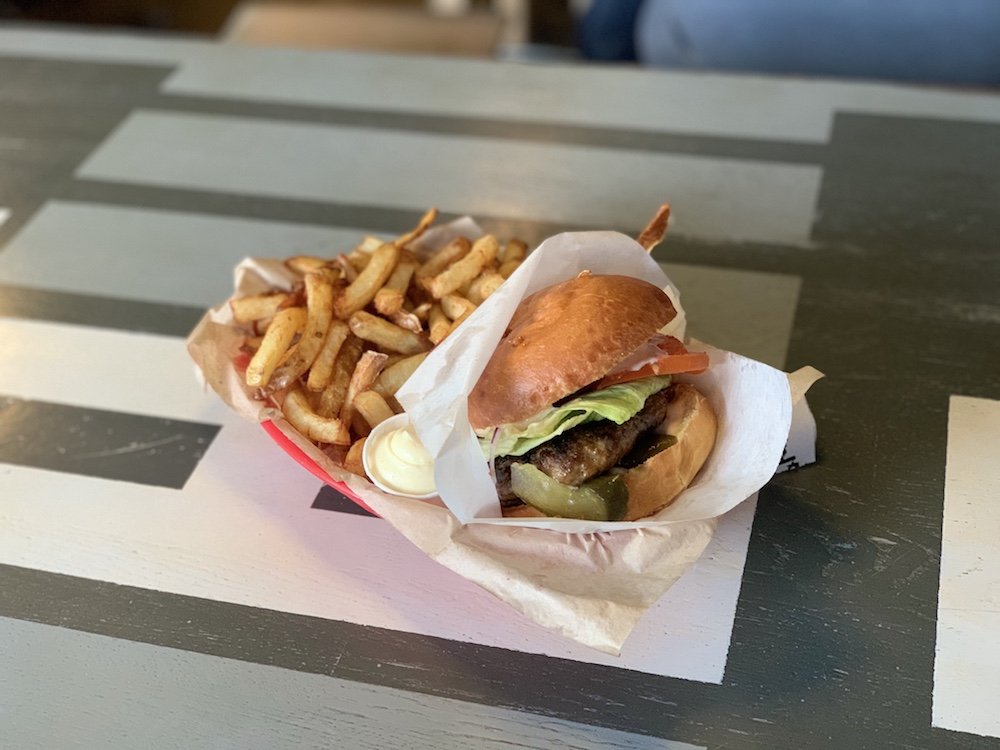 It can be hard to find a good deal in Tromso… but Burgr is a very noteworthy exception, especially at lunch time!
I forget the exact price, but I had a meal with burger and fries for about 140 NOK / ~$15 USD. Not bad for notoriously expensive Norway!
The burger was excellent and they have all sorts of fun, inventive spins on the standard burger if you want something a little more out there.
There are also some video games you can play while you're waiting for your burger, which is a fun way to pass the time!
Try a reindeer burger at Nyt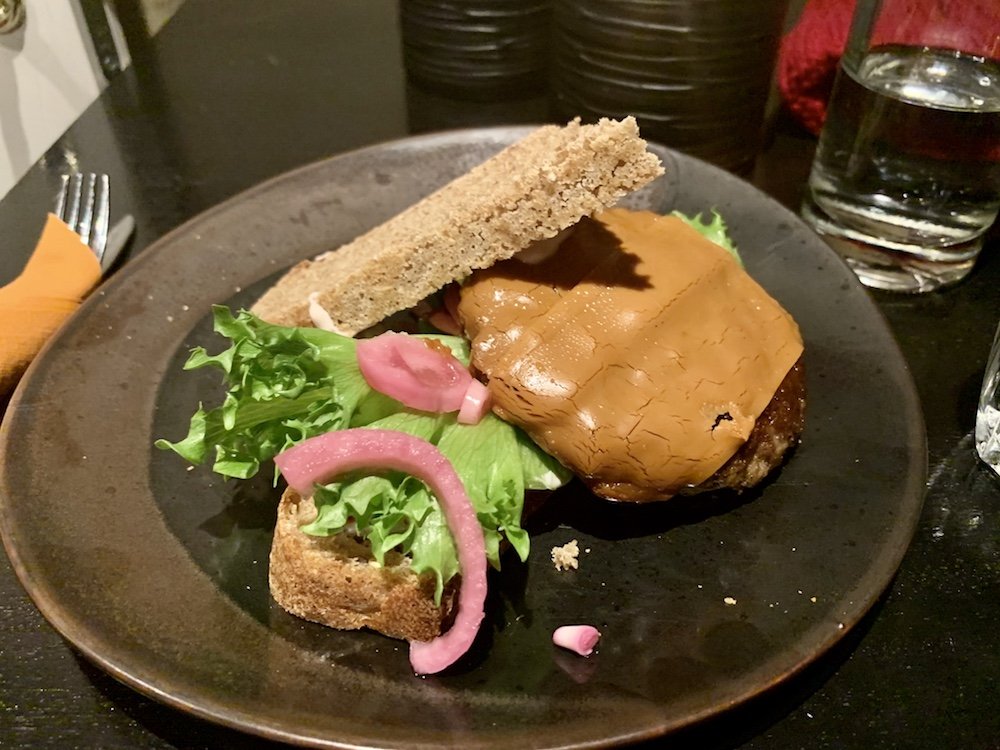 This meal won't be for everyone, because it's about as Norwegian as it gets, but I loved it!
The reindeer burger at Nyt has a trifecta of three things Norway: reindeer meat (delicious!), brunost (Norwegian brown cheese — not bad, but not my favorite thing in the world), and rye bread.
I had it at Nyt for lunch and quite enjoyed my meal!
I had better reindeer dishes elsewhere in town (see my review of my sandwich at Bardus below), but overall, I enjoyed it and would recommend it to other visitors to Tromso.
The price was around 150 NOK / $17 USD.
Note that the service here is a bit slow, though, so it's not a place I'd recommend if you're really crunched for time.
Eat a sophisticated meal at Bardus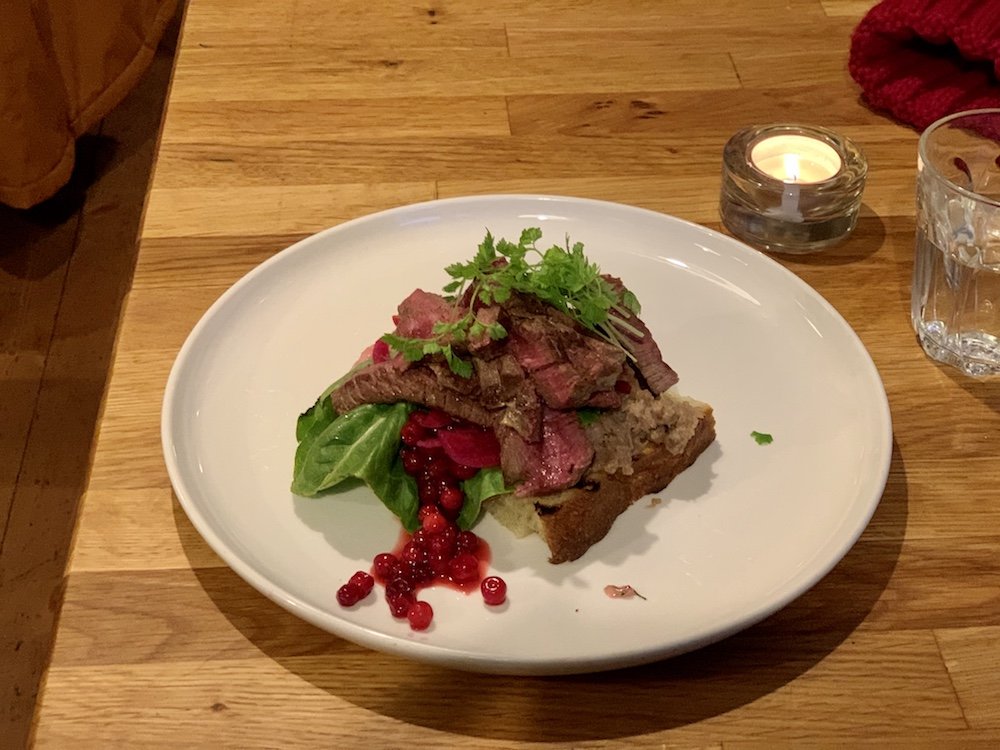 Besides Fiskekompaniet, this was my favorite meal in all of Tromso!
I had the reindeer open-faced sandwich at Bardus Bistro and oh my god, it was truly incredible.
The reindeer was served rare and it was absolutely delicious, better than steak to be totally honest!
It was paired with duck paté, greens, and a lingonberry jam aioli. It was life-changingly good.
It was a little more expensive than other places in Tromso, 180 NOK / ~$20 USD for a sandwich at lunch, but it was worth every kronor.
Have the affordable daily lunch at Mathallen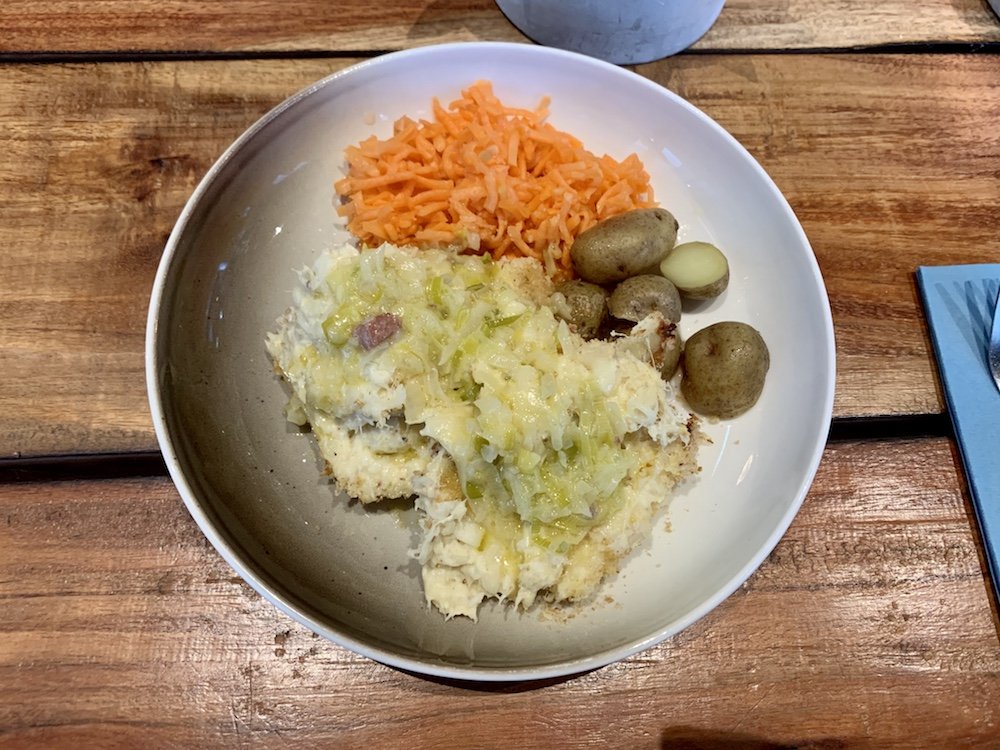 Really on a budget? Get the lunch of the day at Mathallen, easily the best deal in all of Tromso!
I spent 99 NOK on this really tasty fish gratin — I promise it was much better tasting than the picture suggests — with buttery baby potatoes and a sweet carrot salad.
It's much more expensive to eat there at night — we're talking tasting menus that run between 700-900 NOK, (~$80-100 USD) — so this is a fantastic deal given the quality of food at Mathallen.
Allison Green is a former educator turned travel blogger. She holds a Masters in Teaching and a B.A. in English and Creative Writing. Her blog posts merge her educational background and her experience traveling to 60+ countries to encourage thoughtful travel experiences that both educate and entertain. She has been a speaker at the World Travel Writers Conference and her writing, photography, and podcasting work has appeared in National Geographic, CNN Arabic, CBC Canada, and Forbes, amongst others. Now based in the San Francisco Bay Area where she grew up, she has also lived in Prague, Sofia, and New York City.