A salmon-pink castle, a charming castle, a city literally built in circles around it: what's not to love about Eguisheim?
Add on the fact that it's part of the Alsace Wine Route, has some of the region's most adorable half-timbered houses, and has its very own Christmas market with 30-odd stalls selling unique wares… yup, Eguisheim is even more perfect in winter!
While more often visited as a day trip from nearby Colmar, a quick drive, taxi, or even shuttle away, there's plenty to do in Eguisheim to take up some time if you have it to spare while visiting Alsace.
It's worth it to come see for yourself why Eguisheim one of the best French destinations in winter in Alsace (and one of its most beautiful villages year-round)
Here are just five things to get you started!
5 Things to Do in Eguisheim in Winter
Admire Eguisheim's Château and Chapel.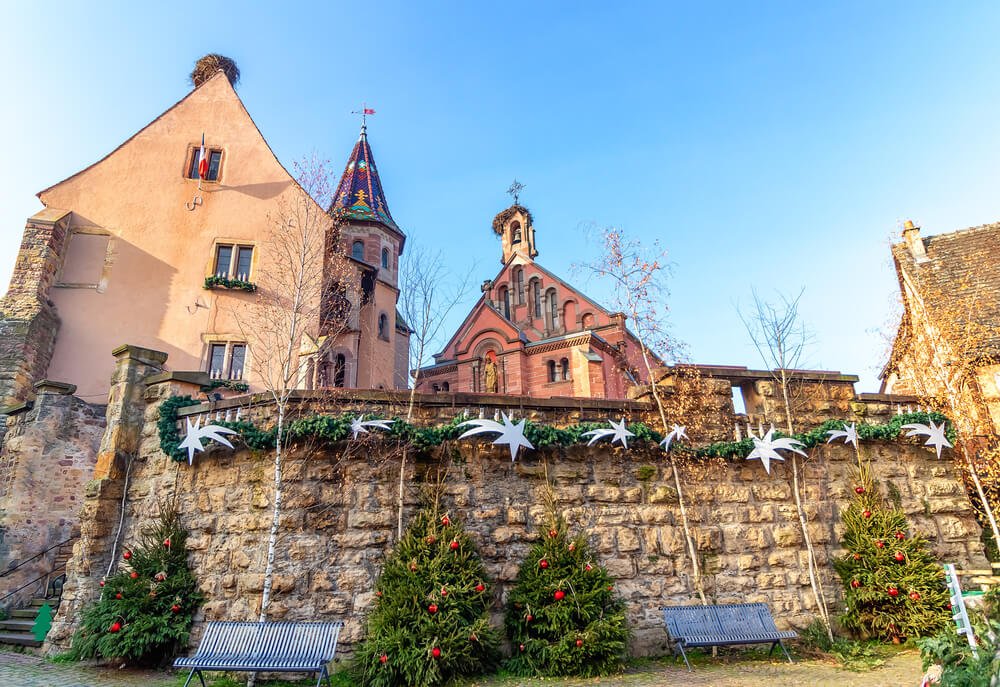 Note: This post contains affiliate links, which means I may receive a small commission if you purchase something through one of these links. Thank you for supporting the free content on this site! For more information on affiliate links and cookies, see my disclosure page for more details.
Right at the heart of the town of Eguisheim stands Château Saint-Léon–Pfalz.
Named for a Pope St. Leo IX (born in Eguisheim well over a millennia ago, in 1002), this humble castle is still worth a visit when visiting Eguisheim.
From château to religious site to historical monument, this spot in the heart of Eguisheim is a can't-miss, especially in winter, when the general area around the castle is home to the town's Christmas market!
You'll find quite an array of little stalls selling everything from mulled wine to Alsatian street food to handcrafted souvenirs and gifts.
It's a great central place to start your winter explorations in Eguisheim, since the town is quite literally bit in a spiral formation out from the castle!
While you can't visit the castle itself, you can visit its adjoining chapel, Château Saint-Léon IX, which is free to enter and has beautifully painted ceilings!
Explore the decked-out central square and fountain.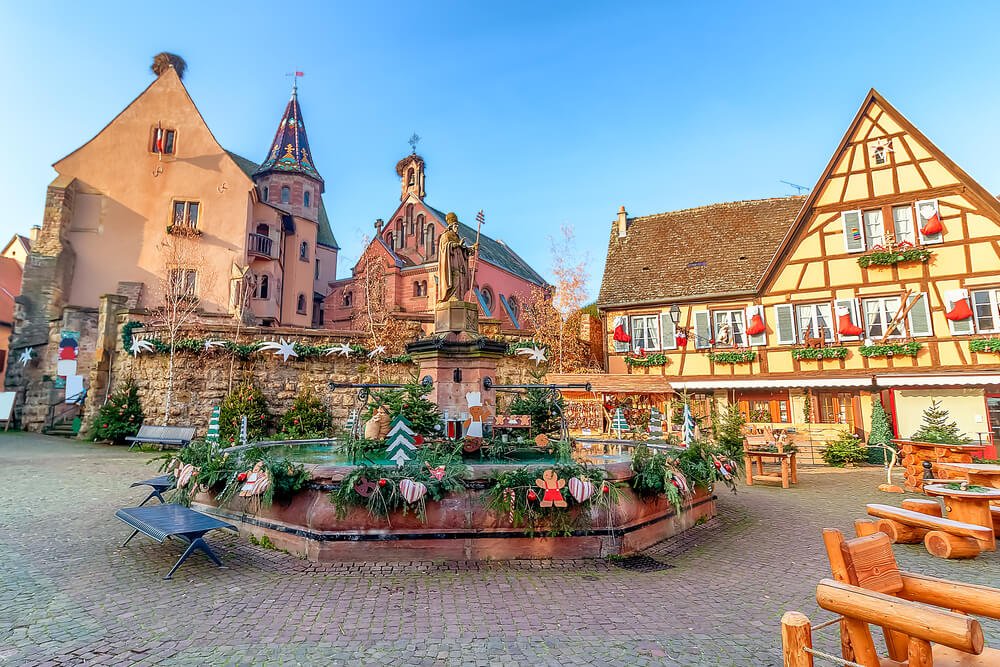 Just outside the walls of the central castle area, you'll find the Place de Saint-Léon as well as the fountain of the same namesake, the Fontaine de Saint-Léon.
In the winter in Eguisheim, this humble little fountain takes on a more ornate vibe, adorned with festive foliage, cut-out gingerbread men, and just generally all things Christmas.
Many little pop-up chalets also put out some outdoor seating so you can enjoy a hot beverage in this central, scenic part of Eguisheim.
I recommend grabbing lunch or a glass of Alsatian wine at Caveau d'Eguisheim right in the square area.
For some pastries, head to Maison Alsacienne de Biscuiterie — it's exquisite!
Wander around the festive streets of the Old Town.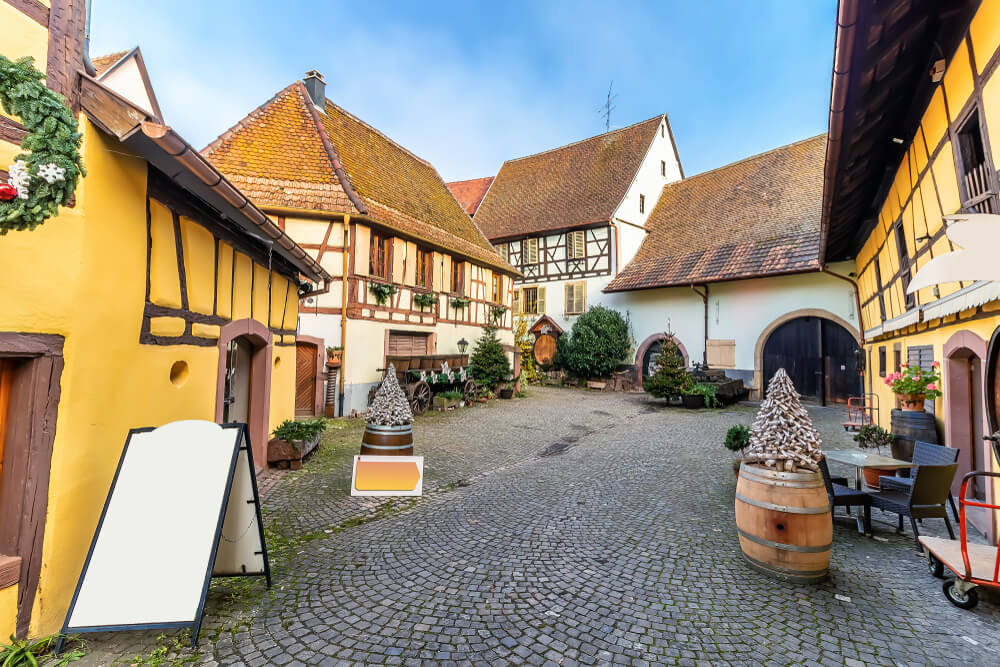 Like many towns and cities of Alsace, from Colmar to Strasbourg, Eguisheim's compact Old Town is home to lots of beautiful half-timbered architecture that gives it that classic fairytale aesthetic.
This represents the blend of French and German history showcased in Alsatian design: the German detailing of half-timbered houses mixed with a French idea of how a city should be laid out and its central places.
Something unique about Eguisheim is the fact that the town is designed quite literally in circles around the Château, making for an unusual walking path!
The Old Town is a great spot to stop for a coffee, pastry, or bite to eat as well: many of these cute half-timbered houses are actually small shops and restaurants!
See Eguisheim's most iconic street in festive decor.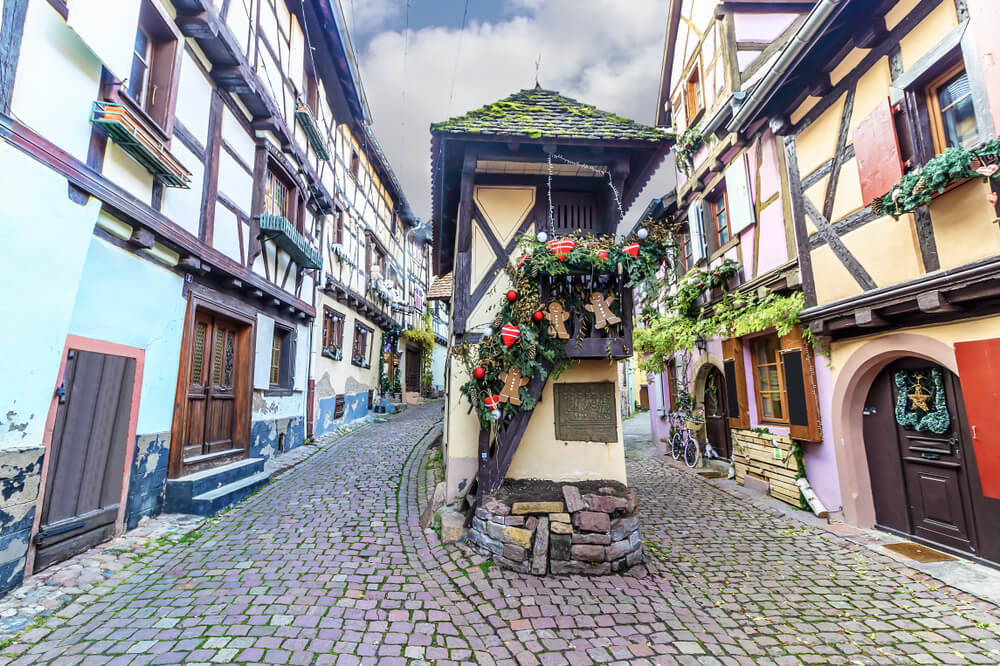 You've probably seen this photo any time you've seen Eguisheim before (if you ever have that is — this town is still a little off-the-beaten path!).
During the Christmas season, Eguisheim's most charming street of Rue de Rempart — an already narrow street that bifurcates into two narrower paths when split by this narrow little building — is even more charming with its festive decor!
But what exactly is this narrow little building? It's called Le Pigeonnier, and yes, like the name suggests, it used to a be a pigeon house!
The good this is that you simply can't miss seeing this beautiful little street scene, as if you walk the entirety of the Rue de Rempart (the central circular street around Eguisheim's Old Town) you will certainly pass it.
A few places to stop along the way also include Bar St. Léon if you'd like to grab something to drink or L'Authentique Pain d'Épices Alsacien for some uniquely Alsatian gingerbread!
Stay for nightfall to see the holiday lights and lit-up Christmas Markets.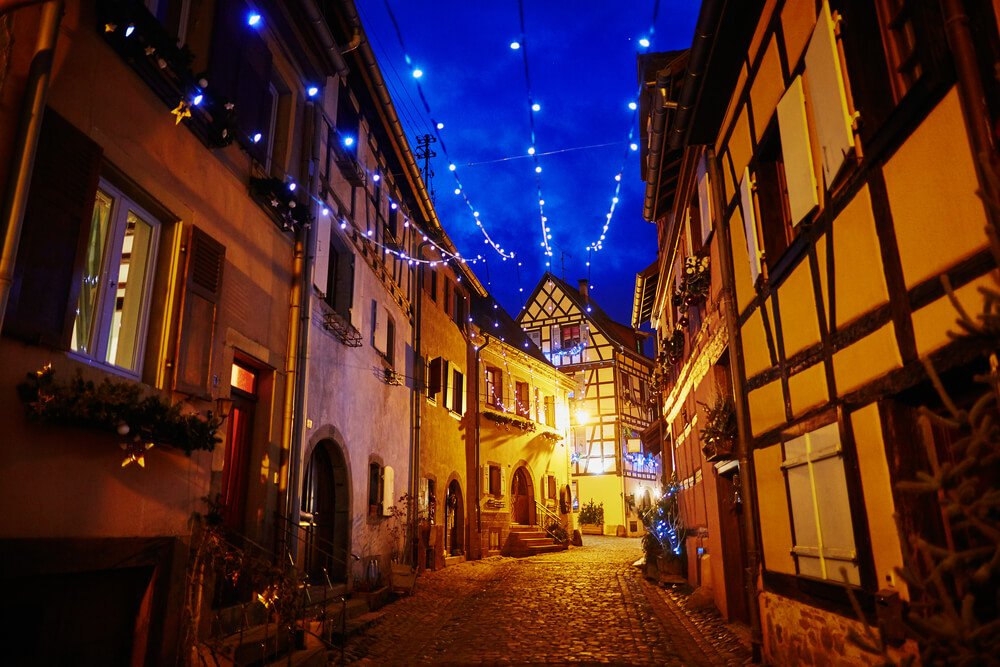 Speaking of night, any day trip to Eguisheim should include a little bit of time in the evening so you can see all the town's festive lights come on!
Luckily, since the sun sets between 4:30 and 5:00 PM in the winter, it's pretty easy to stay 'til dark!
This is when the lights twinkle on on the town's Christmas markets in Place du Marché aux Saules and Place Monseigneur Stumpf, making them even prettier.
For the 2023 season, the Christmas markets will be open from 24 November to 23 December and then again from 27 December to 30 December.
Allison Green is a former educator turned travel blogger. She holds a Masters in Teaching and a B.A. in English and Creative Writing. Her blog posts merge her educational background and her experience traveling to 70+ countries to encourage responsible, enriching travel. She has been a speaker at the World Travel Writers Conference and her writing, photography, and podcasting work has appeared in National Geographic, CNN Arabic, CBC Canada, and Forbes, amongst others. Now a full-time traveler, she has lived in Prague, Sofia, New York City, and the San Francisco Bay Area.