If you're planning a winter trip to Strasbourg, you've probably already heard of its iconic Christmas markets.
After all, it's among the oldest in all of Europe's winter markets, a continent known for them!
But there are so many other reasons why visiting Strasbourg in winter is a great idea.
Known for its distinctive combination of French and German architecture, Strasbourg is a photographer's delight.
Note: This post contains affiliate links, which means I may receive a small commission if you purchase something through one of these links. Thank you for supporting the free content on this site! For more information on affiliate links and cookies, see my disclosure page for more details.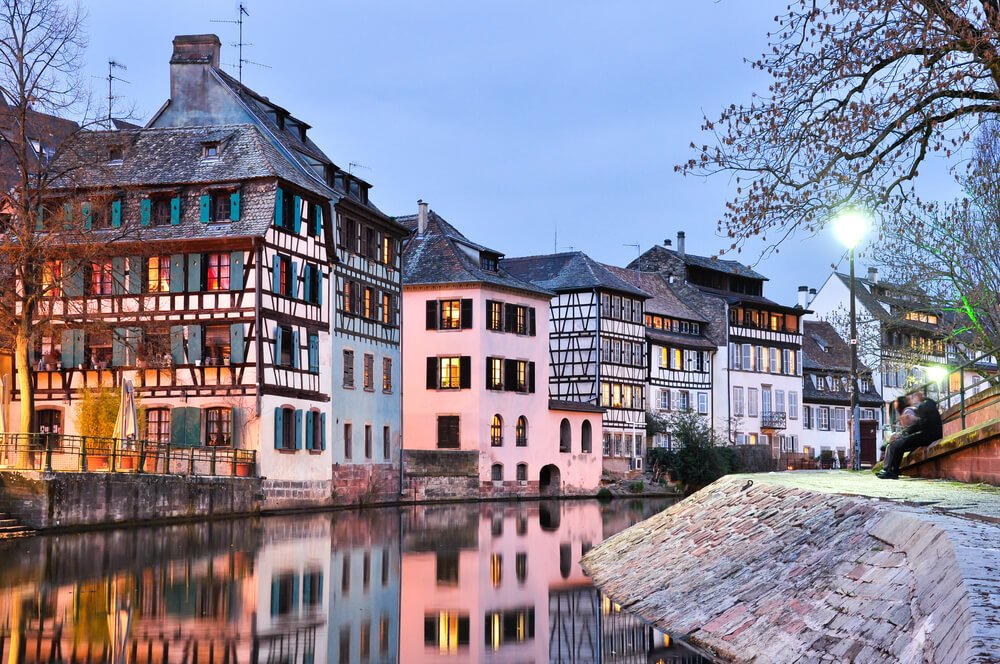 With its well-preserved medieval center, Strasbourg is truly a city unlike any other, and the fact that it looks so beautifully old-fashioned makes it a fairytale winter destination!
Our curated guide to the capital of France's Alsace region will tell you everything you need to know to make the best of your trip to Strasbourg in winter (we also have guides to other French cities in winter, like Annecy).
Whether you're interested in the history, the culture or the food, we've got you covered.
Best Things to Do in Strasbourg in Winter
Embrace the holiday spirit at the Christmas Market.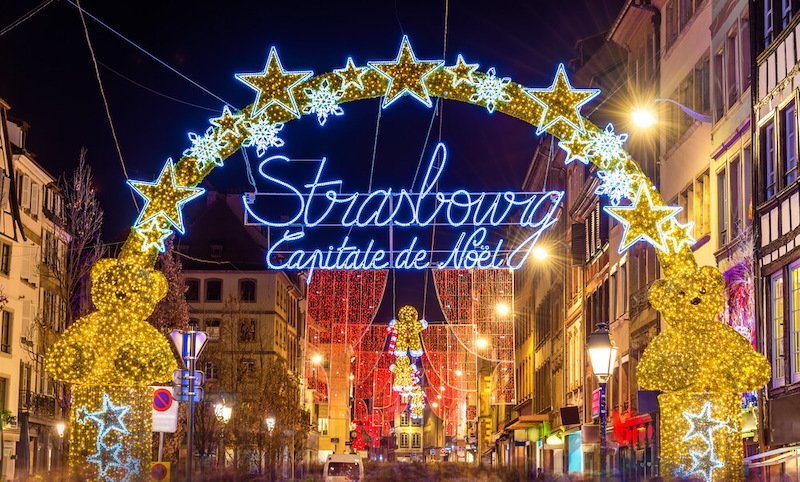 Strasbourg truly comes alive during the Christmas season!
So much so, it is even known as the capital of Christmas (well, at least according to its own website!)
Strasbourg's Christmas market tradition began in the 16th century, and it only gets better each year.
With over 300 quaint chalets in markets spread across the city, Strasbourg's Christmas markets attract visitors from around the world who want to experience its one-of-a-kind Christmas spirit.
As you wander through the cobblestone streets, there are 13 distinct Christmas markets throughout the city.
Each market has its own selection of stalls offering beautiful artisanal crafts, regional knickknacks, and delicious food and drink!
The atmosphere in these markets is nothing short of magical, with dazzling decorations illuminating the city — all perfectly scored by the obligatory Christmas playlist.
You can visit the Christmas markets independently or join a local who will guide you to all their favorite spots and give you some tips for enjoying them!
Visit Notre Dame de Strasbourg.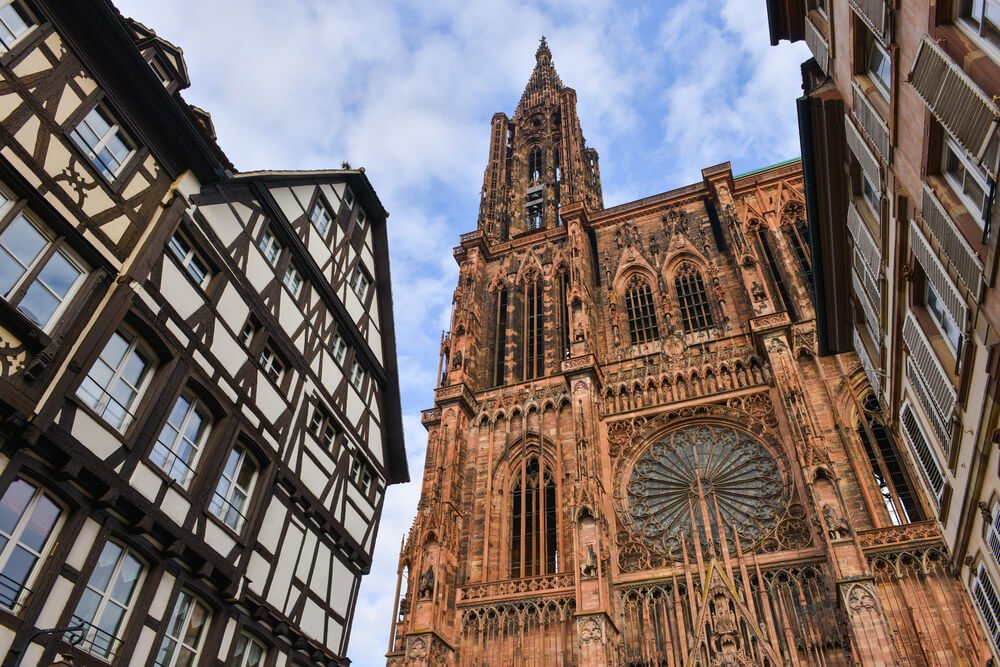 A masterpiece of Gothic architecture, Strasbourg's Notre Dame cathedral is a must-see when visiting Strasbourg in winter (or any season, frankly).
The Cathedral took a long time to build: construction began in the 12th century and continued for several hundred years until it was completed in the 15th century.
But its history is even longer than that: Notre Dame de Strasbourg stands on the site of previous churches and Roman sites, and its foundation stone was laid all the way back in 1015.
The cathedral is known for its striking façade, with intricate stone carvings of biblical scenes and sculptures of angels and saints, as well as its soaring spires.
Fun fact: With a spire reaching 142 meters, the Notre Dame de Strasbourg was the tallest building in the world from 1647 to 1874!
In addition, it has an impressive astronomical clock, an important symbol of the Gothic architecture that you'll see in other cities like Prague.
The cathedral, while being a major tourist attraction, retains important religious significance in the city, which you'll see in full force if you visit Strasbourg at Christmas.
Learn about modern Europe at the Parliament of Strasbourg.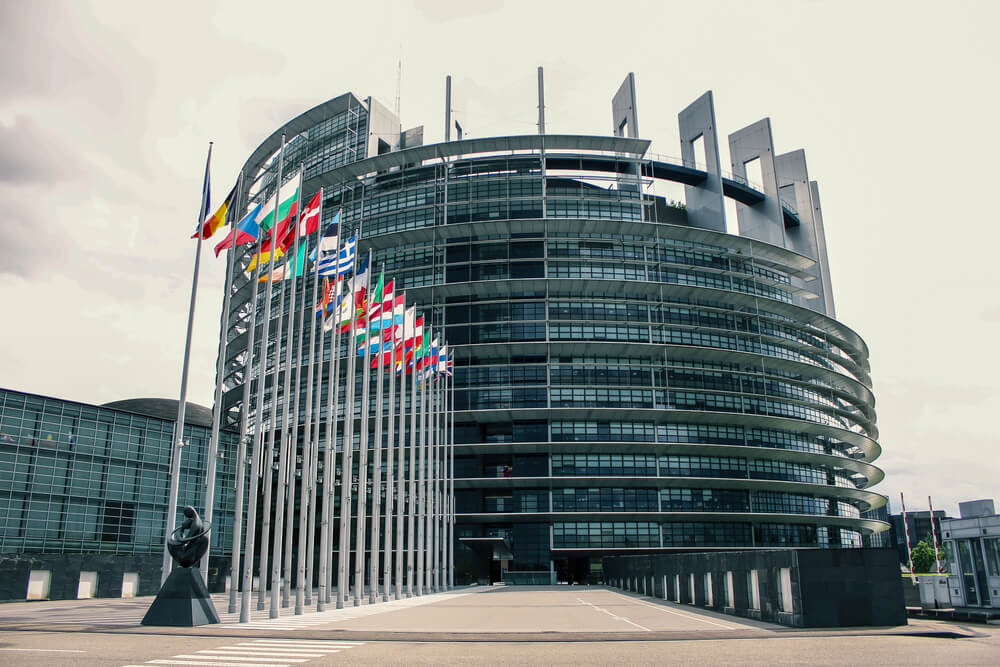 Strasbourg is the current home of the European Parliament, one of the key institutions in the European Union.
This is a directly elected legislative body, and it shares authority with the Council of the European Union in Brussels.
A visit to the Strasbourg Parlamentarium provides an overview of the legislative process governing all of Europe!
You can take tours six days a week here, free of charge — learn more here.
Explore the picturesque streets of Petite France.
The enchanting Petite France is a cute little neighborhood where time seems to stand still.
Recognizable for its winding canals and Germanic half-timbered houses, Petite France was originally built to accommodate the local leatherworkers.
Because they needed water constantly for their work, the village was built around the canals.
As a result, it's a bit like a little Venice!
While Petite France is lovely in the the spring with countless flower boxes in bloom, it also has a magical atmosphere in winter!
The medieval architecture, a unique fusion of French and German influence, offers an enchanted backdrop to postcard-perfect scenery.
Plus, as part of the Grande Ile, Petite France is a designated UNESCO World Heritage Site!
Petite France is also known for its many historic bridges, such as the Ponts Couverts, which adds to the neighborhood's romantic appeal.
A perfect area for a winter walk, Petite France features a mix of restaurants, cafés, art galleries, and artisan boutiques perfect for Christmas shopping.
Admire the Christmas tree at Place Kléber.
This impressive square is one of the most important places in the city center, and it's especially scenic in the holidays when it is home to a beautiful Christmas tree!
Place Kléber is busy at all times of year, since it's where several of the city's main streets converge.
The square has high street shops and luxury boutiques, as well as cafés and restaurants, making it a popular destination for shopping, eating, and of course, people watching!
The area around Place Kléber transforms into one of Strasbourg's most famous Christmas markets each December. You can't miss it!
Go underground at the Caves Historiques des Hospices.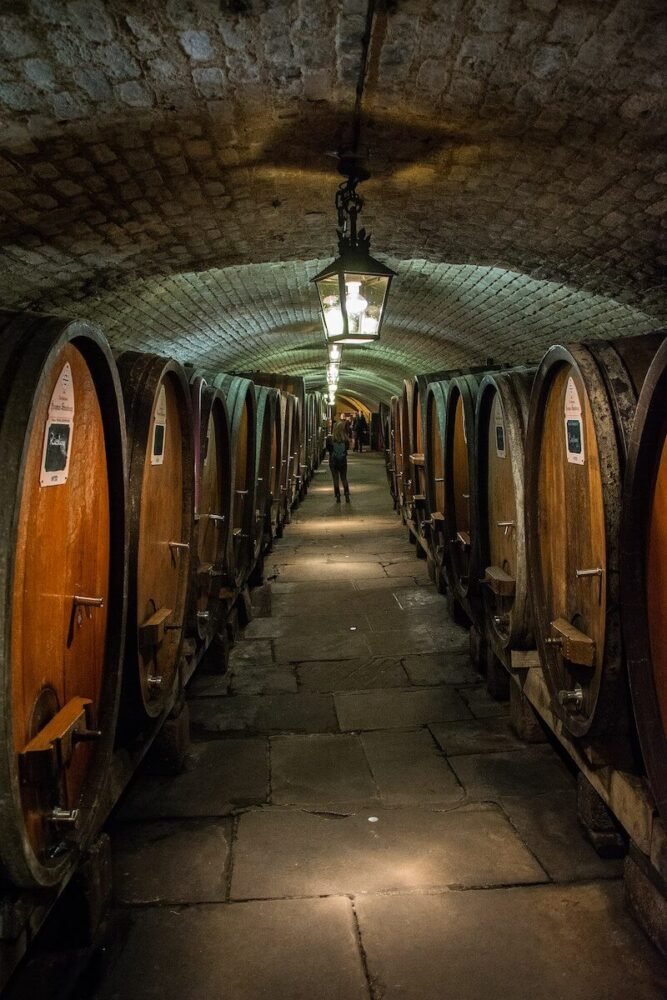 Also known as the Historical Cellars of Strasbourg Hospital, the Caves Historiques des Hospices de Strasbourg are a unique place to visit when in Strasbourg.
These cellars date back to the Middle Ages. In the past, when resources were hard to come by, this hospital was a safe place for the poor to seek shelter and food.
In exchange for shelter and food, people would often pay in land — particularly, land that would be used for grape-growing, which allowed the hospital to accumulate enough vineyards to establish a significant wine cellar.
The wine cellar ceased most of its winemaking activities in the 1990s. But it's slowly seeing somewhat of a resurgence.
The Alsace region is reclaiming its winemaking traditions, giving the Hospital's cellar a future.
A visit to the Caves Historiques is well worth your time.
Touring the cellars takes less than an hour and offers an off-the-beaten-path glimpse into the city's past.
Rumor has it the cellar still owns its oldest barrel – from the 15th century. Talk about fine wine!
Visit the Musée Historique de Strasbourg.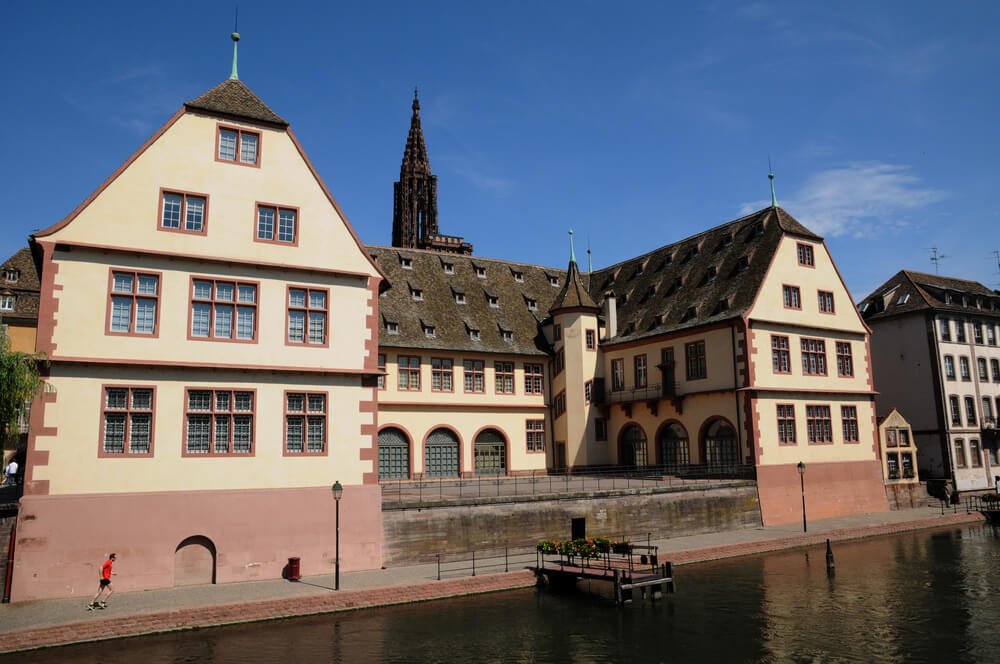 Dive into Strasbourg's past at the Historical Museum of Strasbourg.
This museum chronicles the city's journey from its ancient Roman foundation to its contemporary significance to the European Union..
The building's medieval architecture, located in Petite France, is a chapter of history in and of itself!
Admire the Musée des Beaux-Arts de Strasbourg.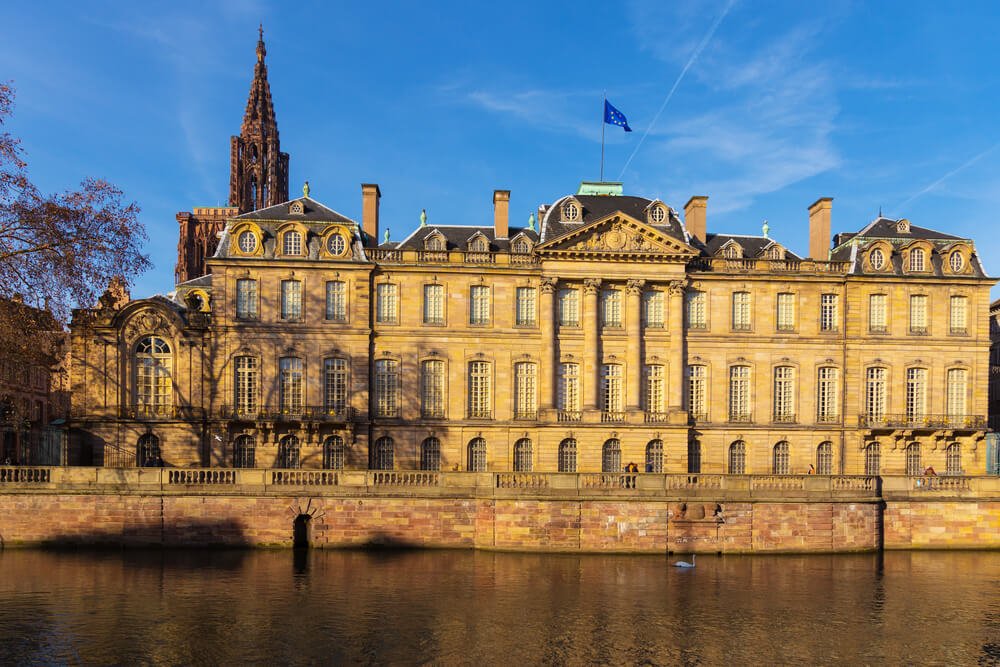 For those with a passion for art, the Strasbourg Museum of Fine Arts is a must-visit, housed in the elegant Palais Rohan.
This prestigious museum houses a wide selection of European art, including pieces from Gothic period, the Renaissance, and up through the dawn of Impressionism.
You can find works by Goya, Rubens, and more amongst its artists.
Explore the Musée d'Art Contemporain de Strasbourg.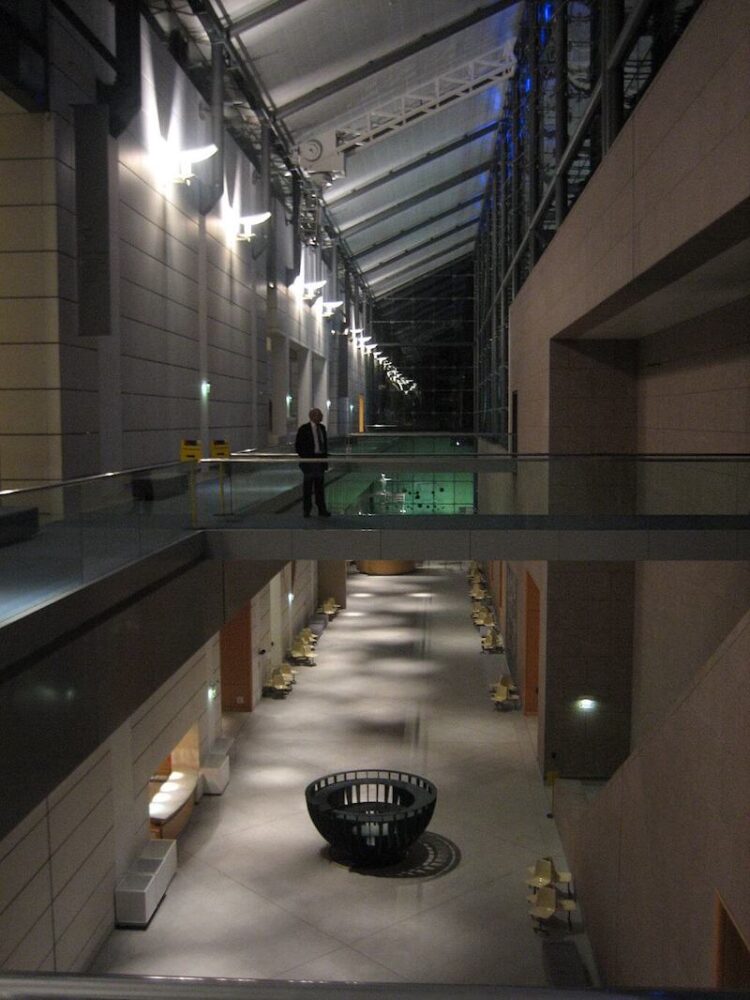 Reflecting Strasbourg's progressive streak, the Museum of Contemporary Art focuses on art from Impressionism onwards.
With nearly 20,000 works, you'll find a wide variety of pieces, including an extensive collection of Impressionist art, photography, and contemporary pieces.
Artists in the permanent collection include Monet, Rodin, Kandinsky, Klee, Ernst, and more.
Savor the delicious local cuisine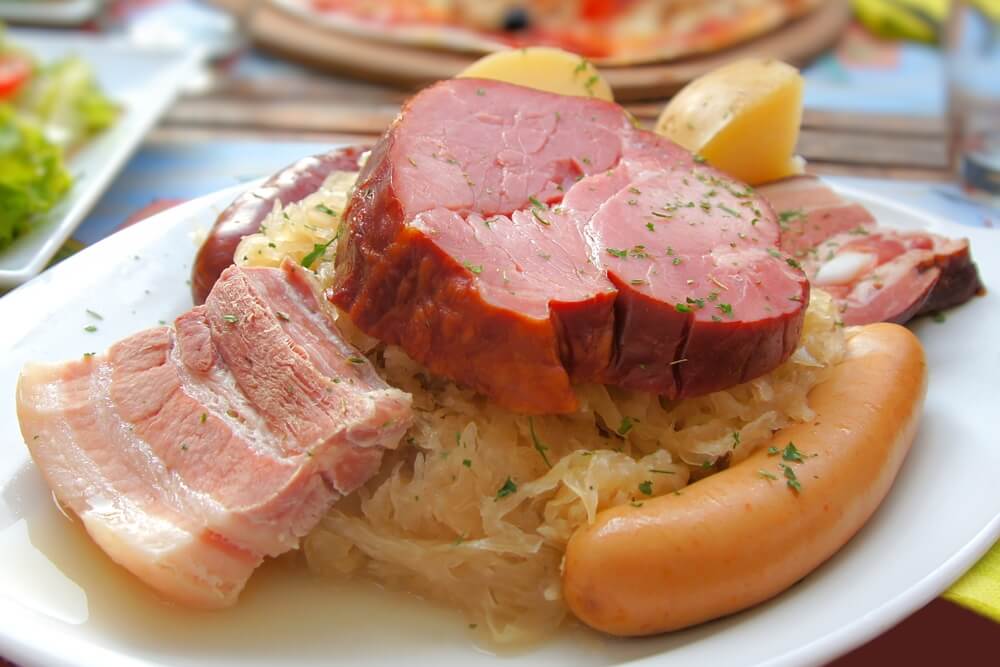 Strasbourg is the capital of the Alsace region, which makes it the best destination to savor the traditional cuisine of the region!
Alsatian cuisine is known for its blend of French and German flavors. As a result, the food is rather hearty, and thus perfect for a winter day.
In the mood for an authentic culinary experience?
Head to Winstub du Pont du Corbeau, a traditional eatery that's a favorite of locals and tourists.
You'll find all the traditional dishes here, including sauerkraut, grilled ham, meatloaf and the obligatory spaetzle, the rib-sticking German noodle-dumpling hybrid.
Tire-Bouchon is another local favorite when it comes to enjoying la cuisine alsacienne.
In the mood for more of a unique dining experience?
Book a table at Brasserie Les Haras; it's a little more pricy, but it's worth the cost.
What's so special about it? The dining room is actually part of an old farm that dates back to the 18th century!
You can also take a Strasbourg traditional food tour, which will bring you to several eateries that serve the best Alsatian cuisine!
This tour has you visit five different eateries, including samples of charcuterie, soft pretzels, cheeses, the traditional choucroute garnie, Alsatian wine and beer, and pain d'épices, the local spin on gingerbread.
Book a river cruise with Batorama.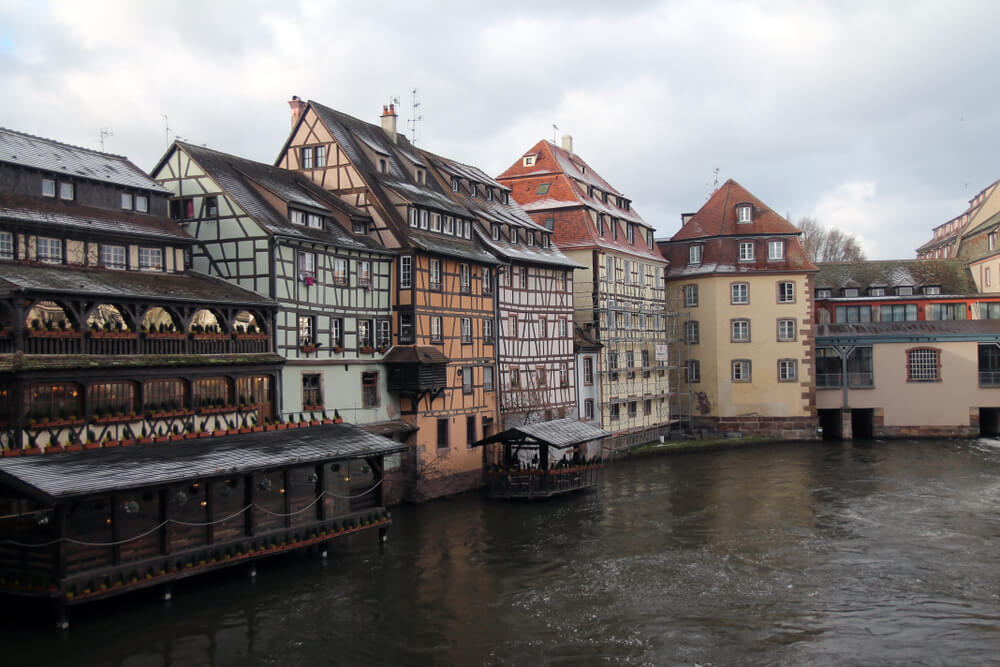 What better way to see Strasbourg than from the river?
Batorama is the best cruise in town, offering several tour options to choose from.
The best choice is the Grand Circuit, which takes you along Strasbourg's main historic attractions in about an hour.
You can also choose to focus your visit on the Grande Ile, which will only take 45 minutes.
Several departures are offered every day, and you can book your cruise here.
Batorama offers cozy river boats in the winter, protecting you from the cold while you get to enjoy the views!
Rent a car and explore the surrounding villages.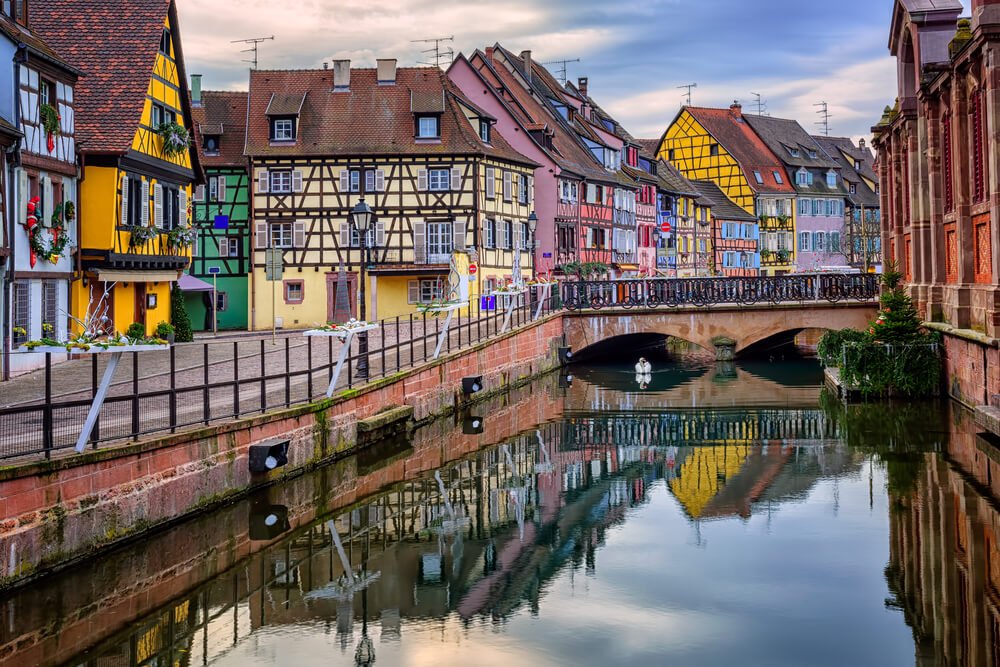 OK, admittedly, winter may not be the best time to explore the vineyards of the Alsace region.
That said, it's a fantastic time to drive through the picturesque villages and admire the Christmas markets of each town.
Thanks to its German influence, Alsace takes Christmas very seriously, so each village boasts its own festive market and Christmas tree!
If you have the time, rent a car for a day and head out into the countryside for an authentic Alsace experience — Colmar in winter is a special treat, in my opinion.
When looking into renting a car, I recommend searching with Discover Cars, since they look through over 500+ agencies — including smaller European ones other car rental search engines miss — to find the best price on your rental.
They also offer the most affordable full coverage insurance, usually around $8/day — great for peace of mind when renting a car in a foreign country, and about half the price of what you'll generally get offered at the car rental counter.
Be sure to stop at a village restaurant and taste the locally produced wine.
You can follow the Route du Vin, which traverses Obernai, Ribeauvillé, Hunawihr, Riquewihr, Kaysersberg, and Eguisheim. 
If you don't feel like renting a car, there are guided day trips like this one that will bring you to all the main sights along the area — and typically include a wine tasting to boot!
Where to Stay in Strasbourg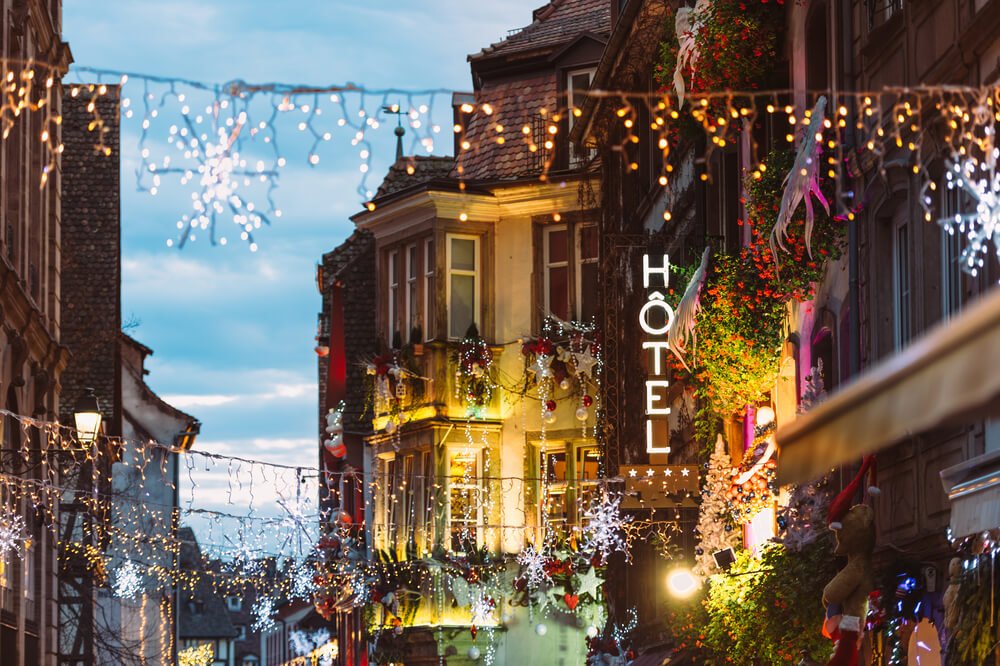 The 4-star Hotel Cour du Corbeau is in a beautifully renovated building from the 1520s.
The rooms, updated with modern amenities such as automatic lights, feature have all sorts of creature comforts like plush bathrobes and comfortable beds.
The hotel's location is convenient, with many city attractions within walking distance, and they have lots of nice touches like afternoon tea.
The chic hotel BOMA is a fun delight for the eyes, with contemporary design and vibrant colors to liven up a dreary winter day.
Rooms have modern furnishings with vintage accents like retro telephones, which carries through into the hotel's public spaces, giving everything an eclectic and funky vibe.
Despite being so modern, the medieval vibes of the lovely Petite France is just a 10-minute walk away, making it a convenient choice in Strasbourg.
For the classic convenience of a chain hotel, the AC Hotel by Marriott Strasbourg is a great option.
It's slightly out of the historic town center, closer to the newer parts of town like the European Parliament and the Exhibition Center, but you can still get everywhere you need to go quickly.
Protect your travel investment!

Travel insurance coverage helps you recoup your losses in case of emergency, accident, illness, or theft.

I rely on SafetyWing for coverage when it comes to trip interruptions and cancellations as well as accidents and medical emergencies.

It offers great rates starting around $12/week with clear, easy-to-read coverage.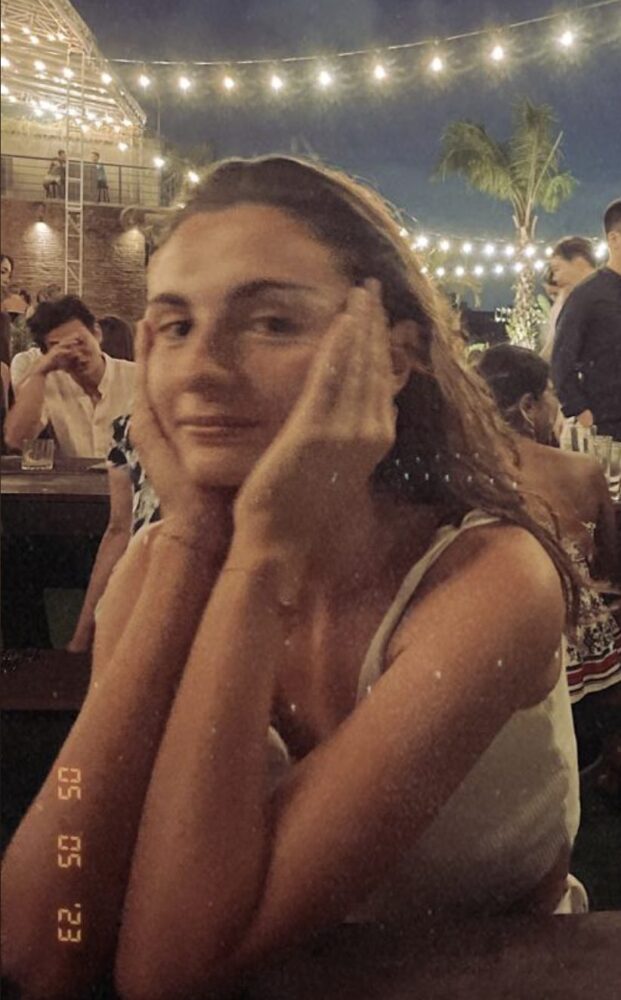 Anna is 20-something writer from France, currently living on the beautiful island of Bali. After earning a degree from Sorbonne Université in Paris, she spent a few years working in fashion before embarking on what was supposed to be a 1-year trip through Europe, North Africa and Asia — which ultimately turned into moving to Bali. Aside from traveling and writing, her passions include surfing, film photography, drinking unhealthy amounts of coffee, and reading through the night.