The road to Savulelele Waterfall, Fiji's tallest, is long and remote: the kind of remote that makes you regret watching movies like Wrong Turn.
But above all, it's dusty. Reddish dust from the occasional car lingers in the air, coating your car like a layer of smoke as you traverse the slowly-rising road into the mountains.
Finally, after endless roads, reach the remote village of Nabalasere, which protects the beautiful waterfalls of Savulelele like an ancient, human guardian.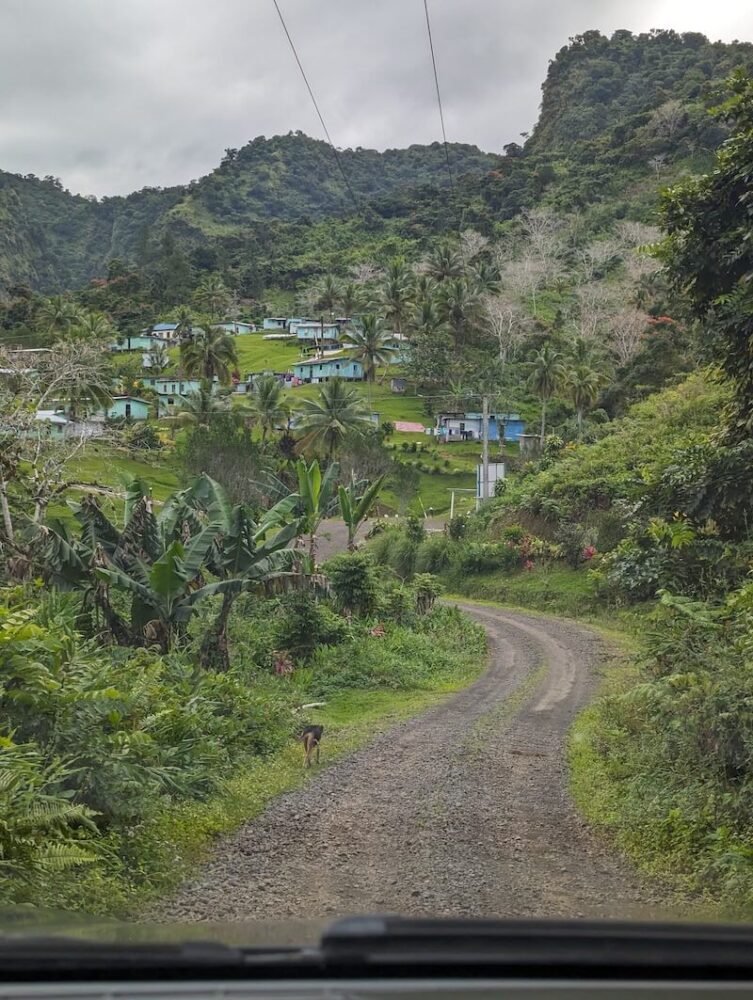 Note: This post contains affiliate links, which means I may receive a small commission if you purchase something through one of these links. Thank you for supporting the free content on this site! For more information on affiliate links and cookies, see my disclosure page for more details.
I cannot tell you how many times I thanked God — who took corporeal form as a Budget car rental employee at the Nadi airport — for upgrading us for free from a cruddy rental sedan to a 4×4 truck that (in another stroke of fate!) was actually automatic. 
We really needed it: from the potholes in the road to the chunks of gravel that could nearly be classified as gravel, having a 4×4 car as our rental in Fiji was truly a godsend.
It was one that we'd only come to appreciate more when we saw where we stayed in Volivoli, but more on that later…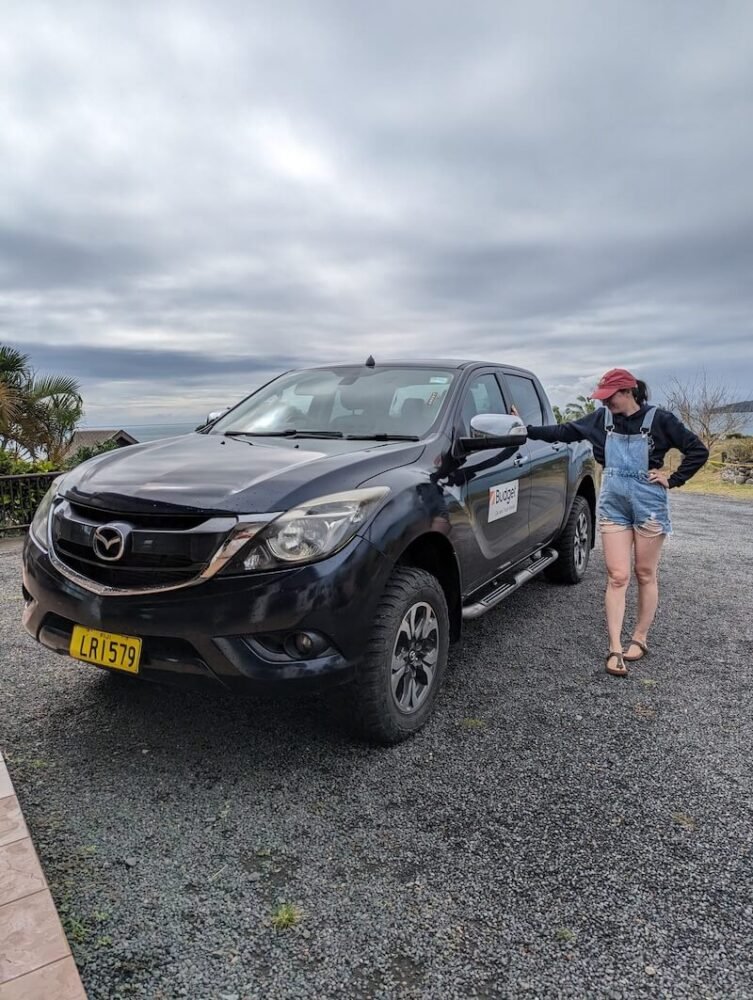 All hyperbole and long road rants aside, visiting Savulelele is one of the most rewarding things to do in Fiji.
We had seen several waterfalls on the island of Taveuni during our time there.
We traversed the path to admire the the three Bouma Waterfalls and the Wainibau Waterfall at the Lavena Coastal Walk… but nothing compares to Savulelele.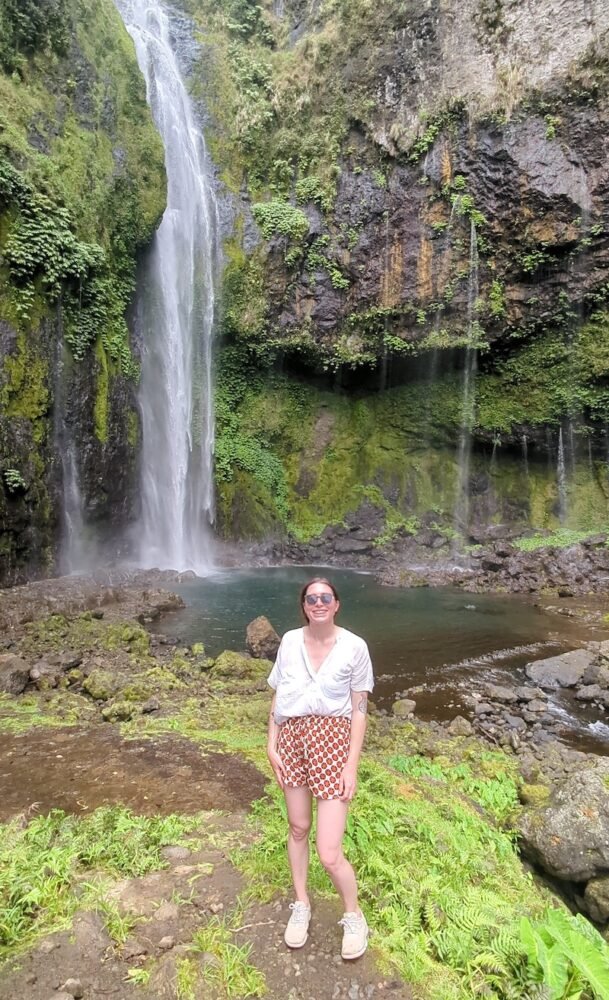 And honestly, no waterfall I've ever seen up close compares to it.
The closest comparison I could make it some of the waterfalls that you can see on a helicopter tour of Kauai, when you pass over the Weeping Wall.
But still, you can't get out and really see the waterfalls. Here, you can… and then some!
Getting to Savulelele Waterfall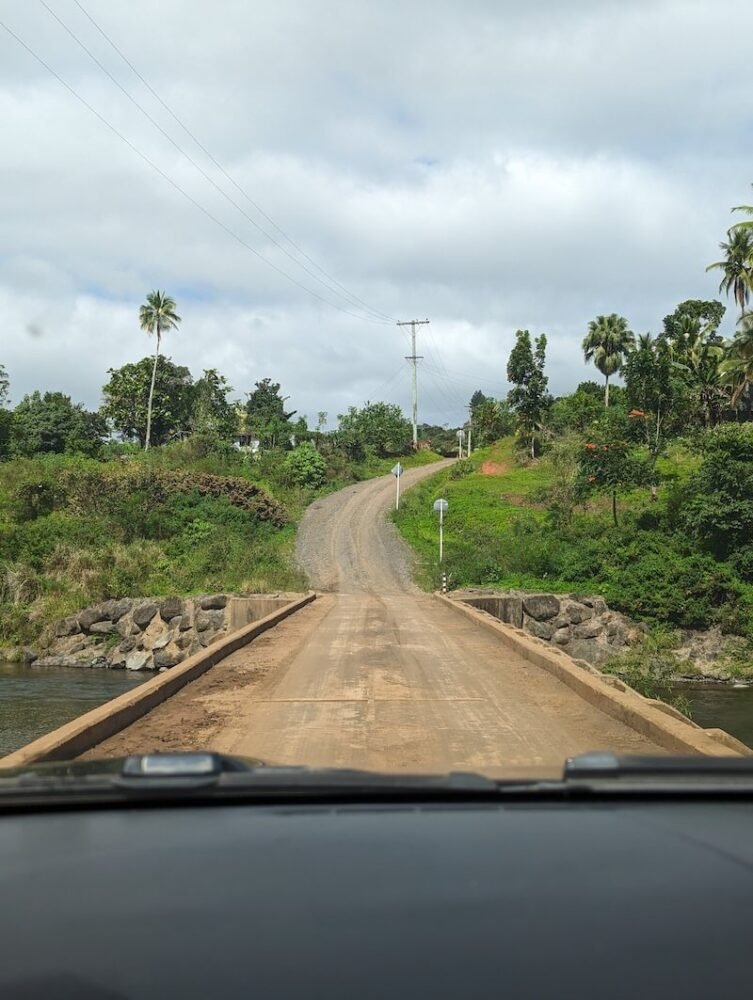 Like I said, the roads to get to this waterfall is best traversed in a 4×4.
Is it possible to go in a sedan? Possibly, but not without either Fijian oversized sense of confidence in the power of your car, or a lot of anti-anxiety techniques.
If you're visiting from Rakiraki on a dive trip, like we were, it takes about 2.5 hours to get there — and those first 30 minutes are on the King's/Queen's Highway, and the full two hours is like an endless chair massage down chaotically unmaintained roads.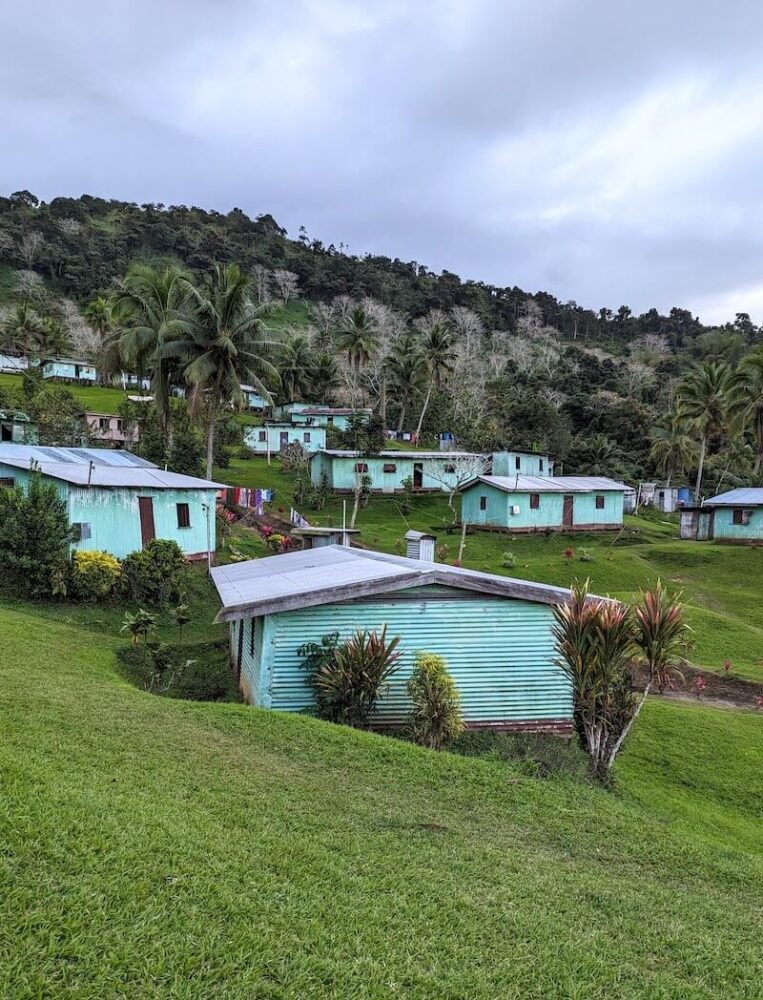 Reaching Nabalasere feels like this impossible touchpoint, and at times, you'll wonder if you're even on the right path… until you see a sign that points you in the direction of Savulelele Waterfall, giving you a bit more hope.
The kilometers tick down slowly, but once you really arrive, I promise you, it's fully worth it.
Oh, and if you're not from the UK/Australia/NZ, get used to driving on the opposite side of the road too! 
Costs of Visiting Savulelele Waterfall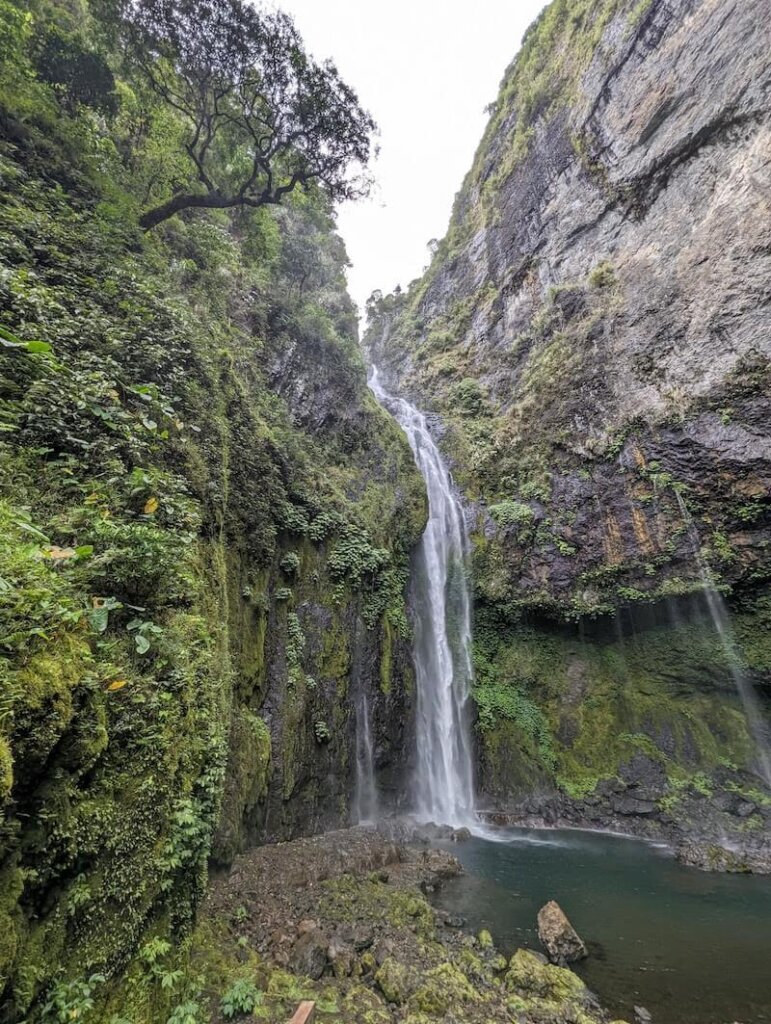 Excluding any car rental and gas, visiting Savulelele is not free but it is affordable.
More importantly, all the money goes to a great cause – employing locals of one of Fiji's most remote villages and also paying for village upkeep.
It costs $50 FJD (about ~$20 USD) per person for a guide (mandatory) to see Savulelele Waterfall.
You also have to make a donation of kava or money to pay for kava for a sevusevu ceremony. This was $5 FJD each for us. 
Parking is free, so at least you don't have to worry about that part. And it's so remote, you'll never struggle with parking — we were the only ones there!
Arriving in Nabalasere Village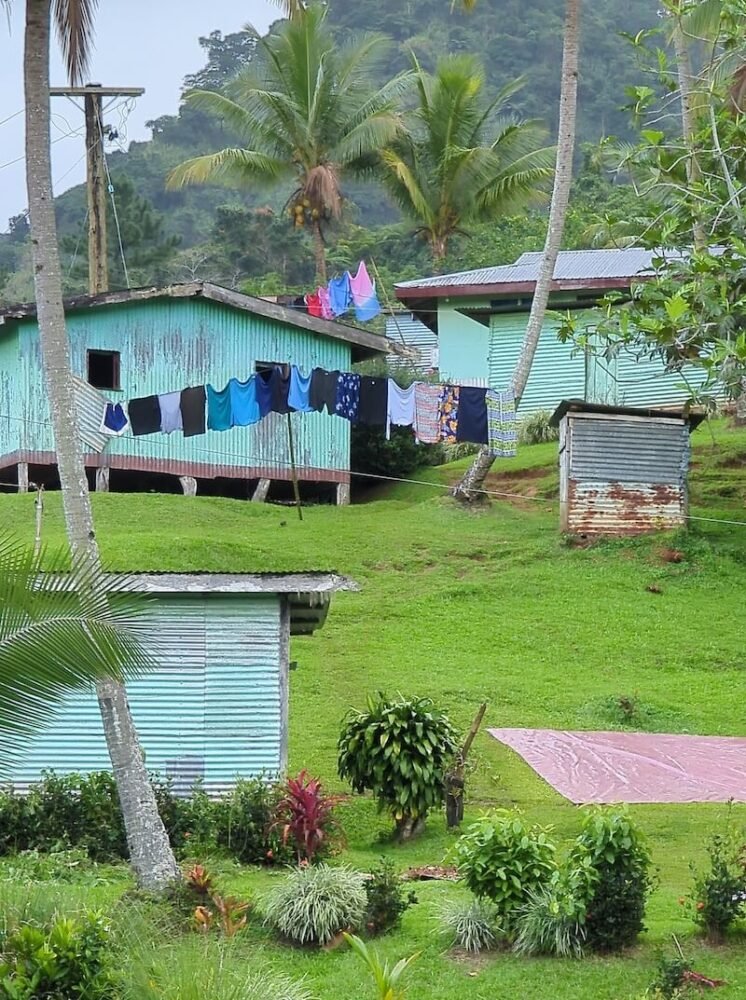 First of all, you should let someone in the village know you are coming.
We did this by talking to our diving host, Joji of Ring Gold Divers, who gave the villagers a call to give them a heads-up on our arrival time (especially since we were arriving late, after a dive). 
Once you arrive, some villagers will be waiting for you with some sarongs. This is not some slander against your sense of modesty: even if you are wearing pants, you will be asked to wear a sarong in the village. It's simply the custom.
After you don the sarong, you'll also be asked to present a sevusevu — the traditional offering that is made in Fiji when you arrive in a village.
The sevusevu is traditionally in the form of kava — or money to buy kava. We didn't have our own kava to bring, so we were told to bring $5 FJD per person contribute towards kava.
They actually grow, harvest, and pound their own kava here — we were able to see them sun-drying it as we walked through the village.
After paying our sevusevu fee and putting on our sarongs, we went to visit the village chief and a few other important people in the community in the local community house.
Here, they performed a prayer for us — a mix of Fijian prayer and more Christian elements, an example of the hybridization of Fijian customs and the missionaries who have overtaken Fijian religious traditions.
They prayed to the waterfall for our safety and for us to all return safe and sound.
I have heard that some people also have a kava ceremony here, but we did not have kava with the villagers.
I think it's because we arrived quite late, at 3 PM after our dives, and we didn't have time for a proper kava ceremony and still see the waterfall safely, with enough light.
Afterwards, they asked if we needed to use the restroom or change into other clothes, or a bathing suit, before we headed out to the waterfall, warning us that it was a 30-minute trek to the waterfall.
Once that was all finished, our two guides — one for each of us — led us to the edge of the village, where we left our sarongs behind and began our walk to Savulelele.
The Hike to Savulelele Waterfall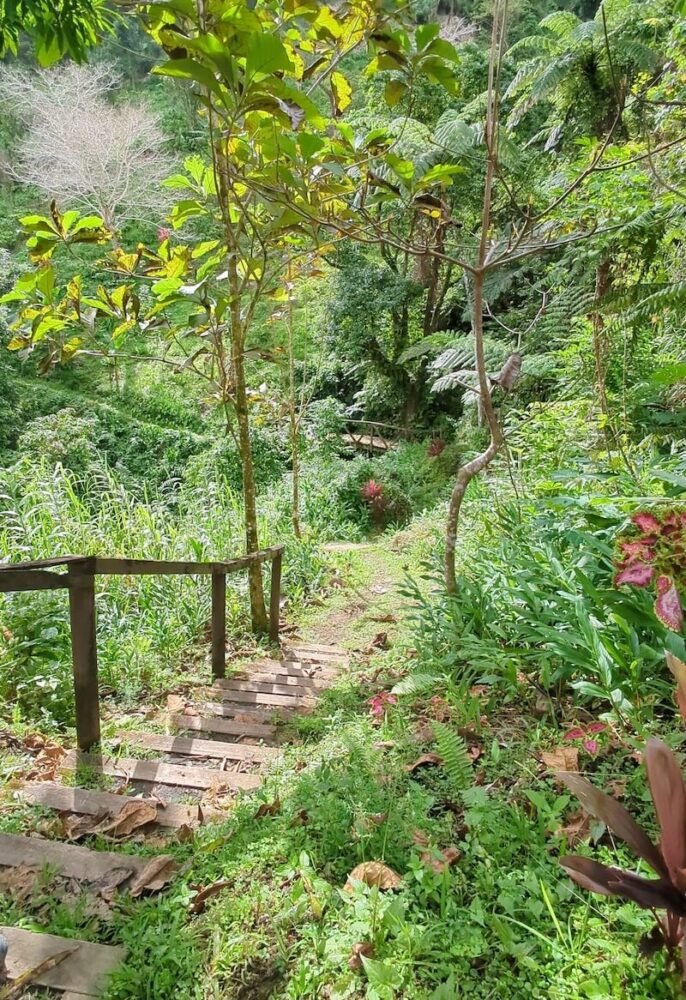 The hike to Savulelele isn't particularly difficult. At just about 30 minutes each way, I'd say it's on the easy side of moderate.
There are definitely some uphill and downhill portions, but nothing is incredibly steep, but you will switch between up and down enough that you start to get a bit of a cardio workout.
As you make the hike, the guides will chat with you a little about life in one of Fiji's more remote villages, point out important plants to their community (such as taro and kava) and how they are harvested.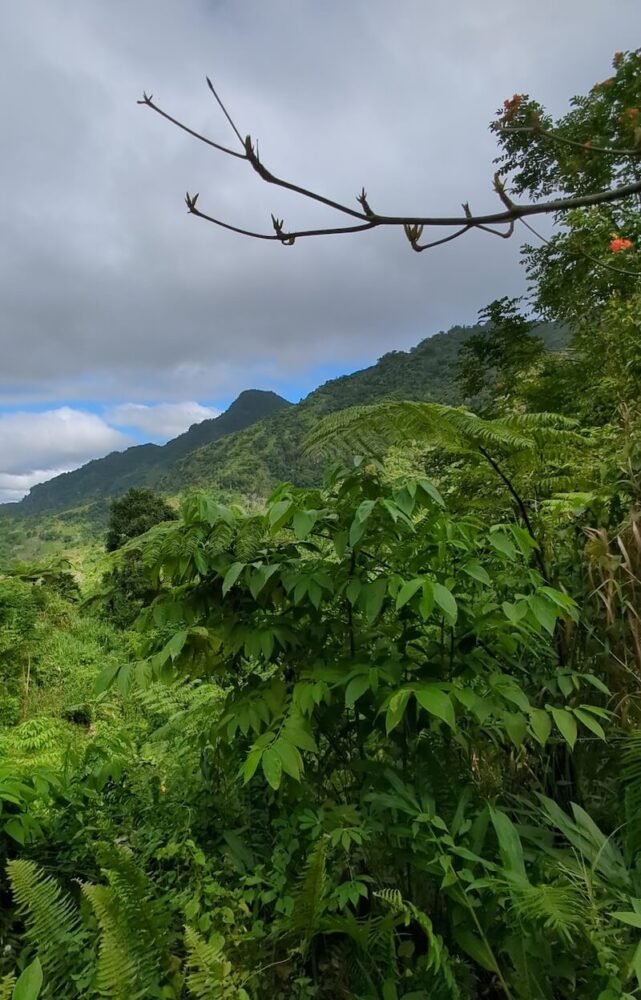 This is a great chance to learn about life in Nabalasere — they laughed out loud at us when we asked if they used tractors on the land and said no, it's all done by horseback.
We got our first glimpse of Savulelele from the crest of one of the hills: it was absolutely beautiful.
Even from far away, we were able to see just how majestic it would be up close once we finally arrived.
The absolute thunder of the waterfall also got us pumped for just how huge and overwhelming (in a good way!) the waterfall would be.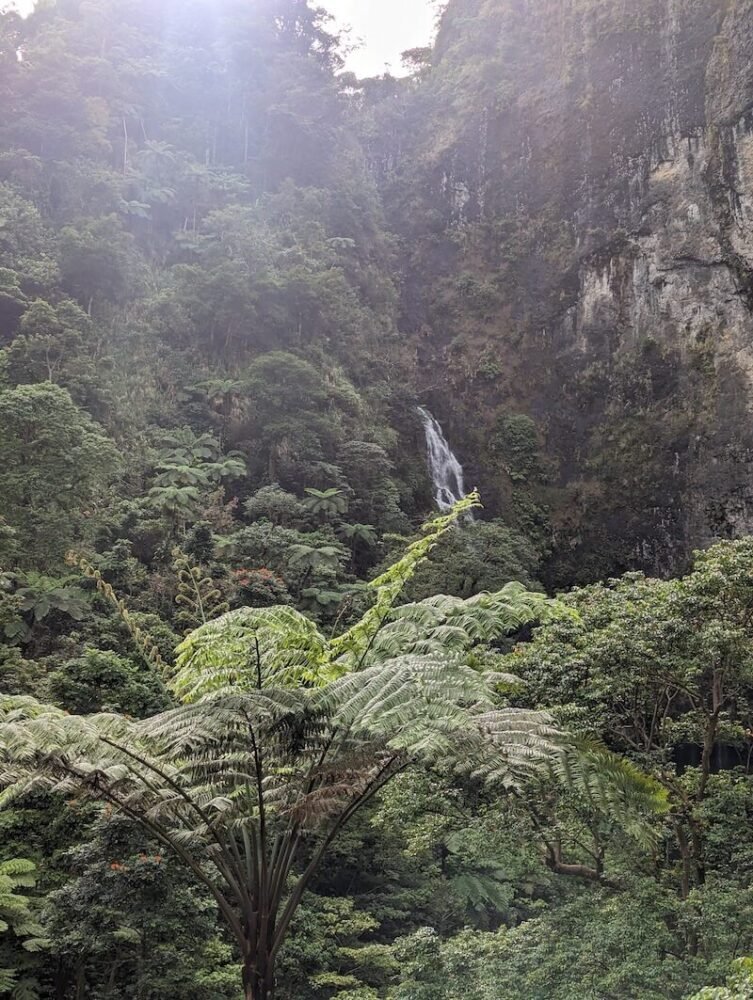 Once we reached the area of Savulelele, we had to do a river crossing. Ever a gentleman, one of the guides carried my friend across the river crossing so she didn't have to get her shoes wet.
I had given up on mine, so I accepted the squelch of my shoes here, letting them get wet in the process.
After crossing that small river, we climbed up a small little hill: and there Savulelele was in all her exquisite glory.
Experiencing Savulelele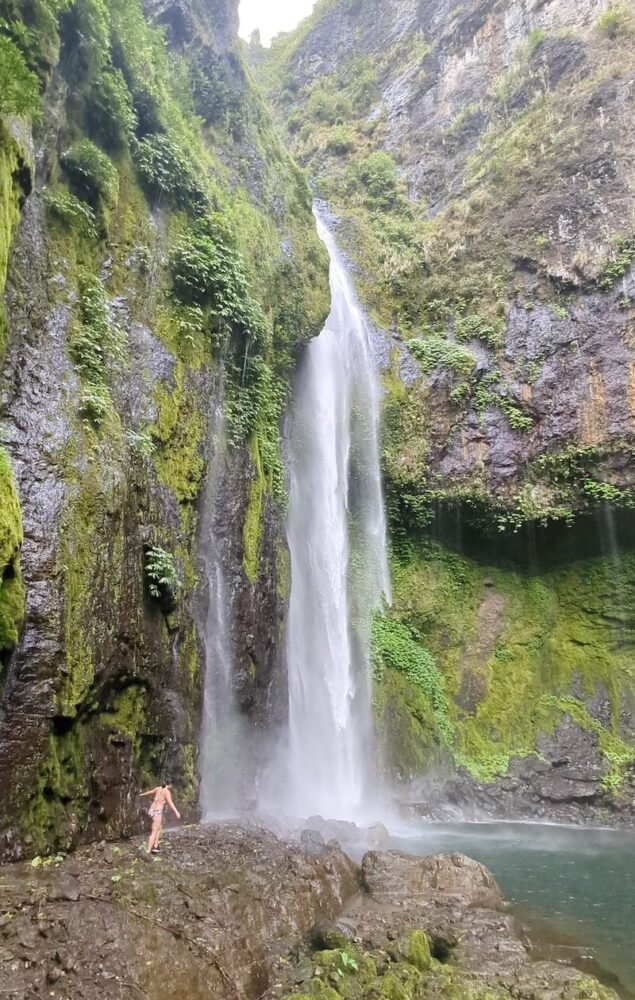 There's no other way to say it: Savulelele is not a waterfall you merely hike to or see, it's a waterfall that you experience with every sense.
She confronts you with her raw power almost immediately and you instantly understand why they begin every hike with a prayer ceremony: the respect she commands is palpable, as dangerous as she is beautiful.
Towering over 120 meters tall, nearly 400 feet, Savulelele cascades in a rush that is almost deafening, but quickly calms down as it leads into a pristine turquoise pool you can swim in.
Generally, the way you experience Savulelele is by letting the guides take a few pictures of you while you're still dry, in front of the waterfall.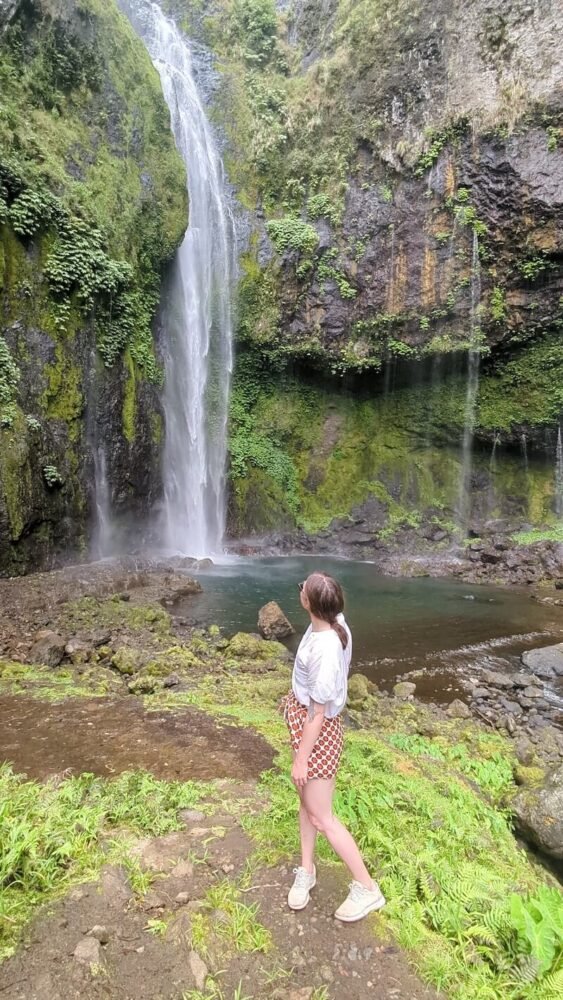 Then, one of the guides will stay behind with the stuff you don't want to get wet, and another guide will lead you behind the waterfall… yes, behind the waterfall!
This part was a little dicey for me, I'll admit. I had to take off my glasses so I was nearly blind. Water was hitting my face in cold, razor-sharp droplets, like being in a spotlight of a hurricane.
Once we reached a little divot in the cliff though where we were sheltered from the waterfall, it became a lot more chill.
Then, we could join our guide in echoing his joyous bellows into the waterfall and hearing them echo back at us.
We crossed a small split in the rock — another nerve-wracking moment, but our guide held our hand to help us get through it — and then from there, we got to place where we could jump into the icy pool of the waterfall!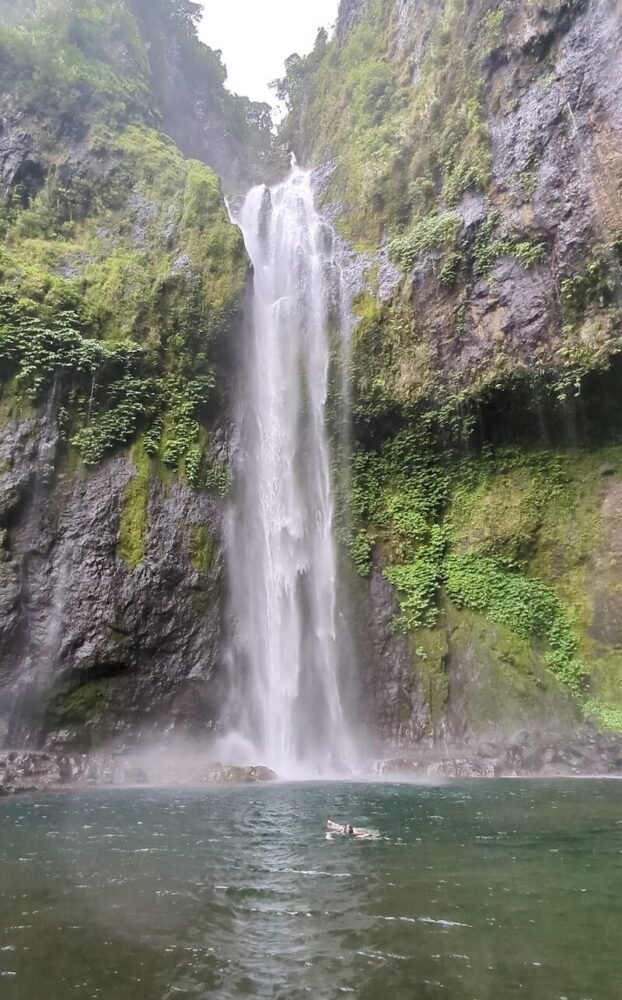 Since the frigid coldness of the droplets the waterfall flung at me had already gotten my normally quite cold-sensitive self primed for jumping in, I did so with gusto — and landing in the water, it was an incredible rush.
We immediately got pushed away a bit from the waterfall's tumbling spot, which created a effect like a magnet repelling us. No matter how close we tried to get, it would push us back.
It was a fun challenge trying to swim close to it, and watching physics deny you each and every time.
We played in the water pool quite a bit, crisscrossing the water, admiring the smaller rivulets that cascaded down a mossy wall on one of the sides of the waterfall area, sitting down in the soft, tumbled-smooth rocks in the shallow area and admiring the waterfall.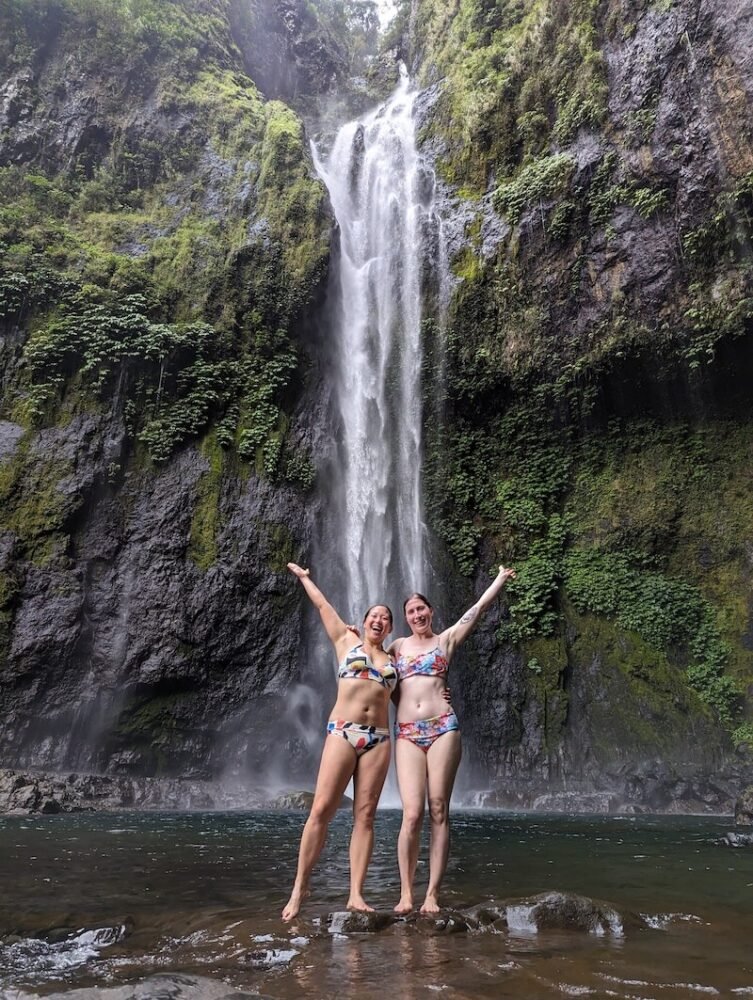 But my favorite part was floating on my back in the water, laying back with my ears half-submerged in the water, hearing the water tumble uproariously into the water, with the occasional echo of the ululations of the guides echoing around the waterfall.
After an extensive selfie session — our guides were ever the enthusiastic photographers, not only patient to let us get our selfies and videos but also to be our own little cinematographers and tell us the angles they thought were special — we started to head back…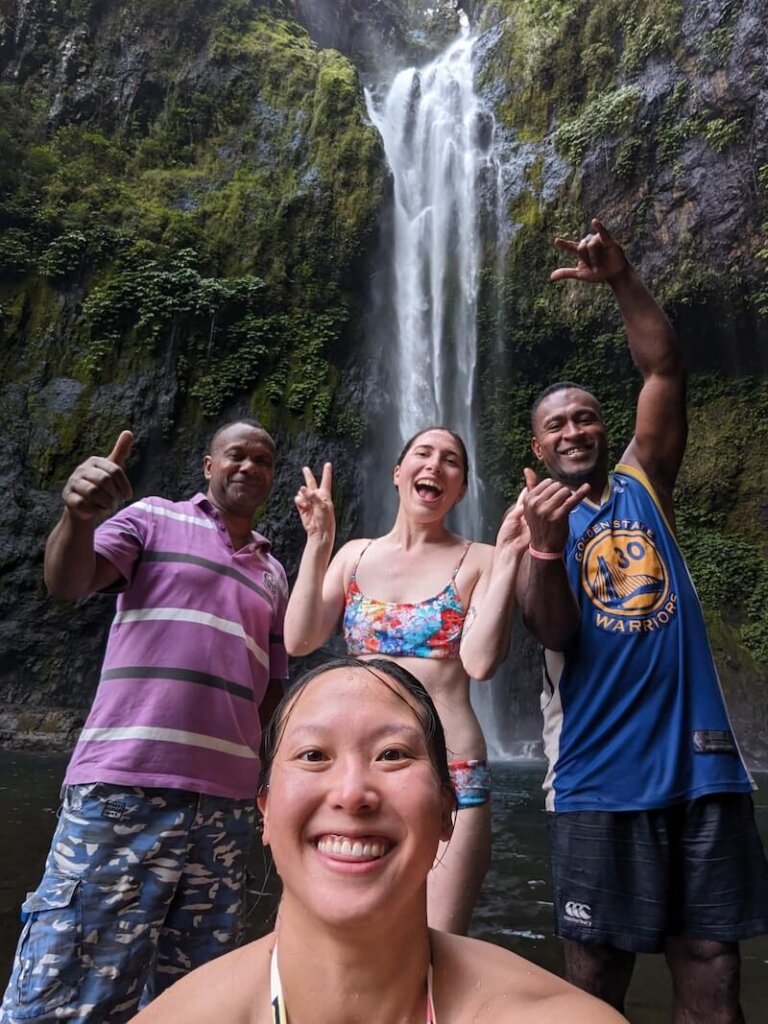 But not before a quick cliff jump in a little smaller area of the water! It was quite exhilarating, and I'm not normally a big cliff jumper.
They pointed out that the flat area around the cliff-jumping spot was quite popular for picnickers.
Unfortunately, we had come late in the day after diving so we didn't have time for a picnic, though, since we arrived around 3 PM… it was just enough time for a somewhat-rushed visit of Savulelele.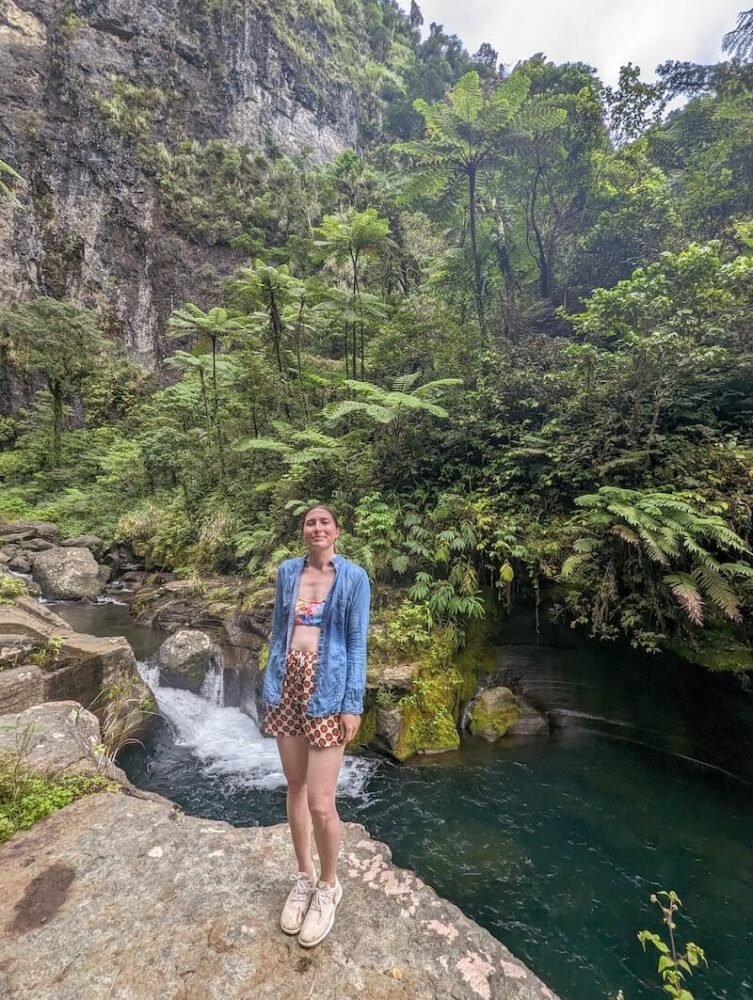 We made the hike back, re-donned our sarongs for our village visit, and said hello to all the village kids who had made their way back from school.
They were there to greet us with ebullient "Bula!"s and shy responses when we echoed it back.
We learned a little about the history of the village on the way back, and how our money that we spent on visiting the waterfall helped the village.
For just $50 FJD per person, which both goes to the guide individually as well as a portion to the village itself for its upkeep, it felt like a very good deal for everyone involved.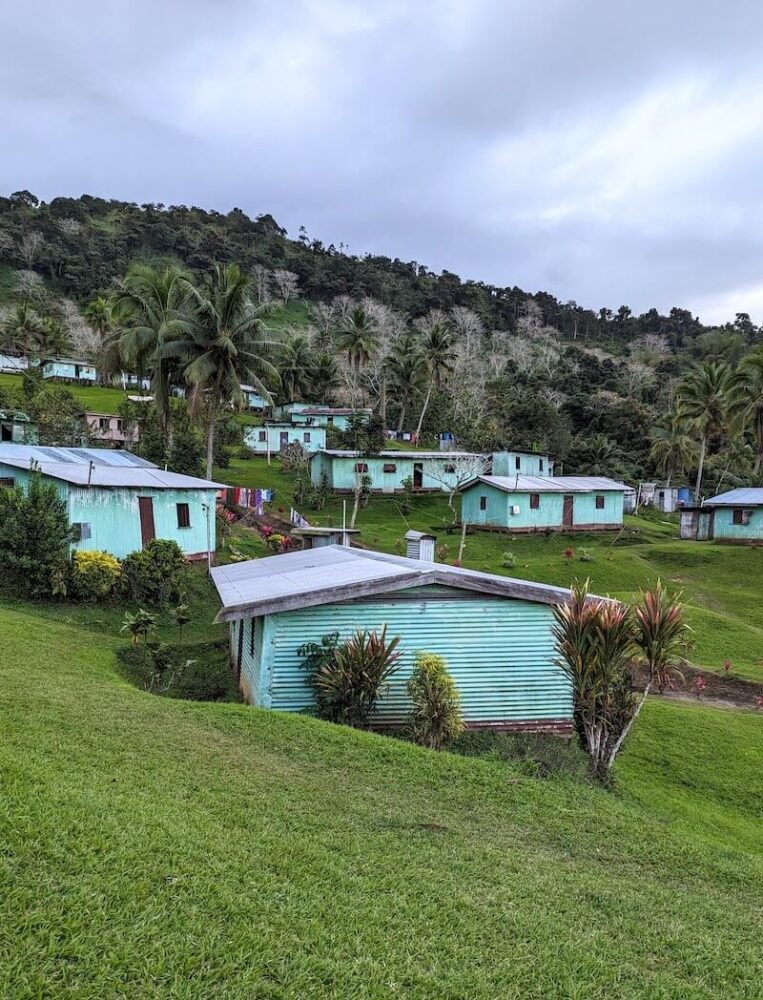 I have to say that after nearly circumventing all of Viti Levu (going from Nadi-Pacific Harbour and back and then Nadi-Rakiki and back, with this little sojourn too), this village stands out.
Without a doubt, in all my time in Fiji, I can say that Nabalasere is one of the most beautiful and cohesive villages in the area.
It's humble, yes, but proud: everything freshly painted in a gorgeous shade of pastel mint green, blending into the scenery.
Everything is made with natural materials like tree branches and white-painted rock creating pathways through the village, where there was a small little rugby patch for the village kids to enjoy.
Last Words on Visiting Savulelele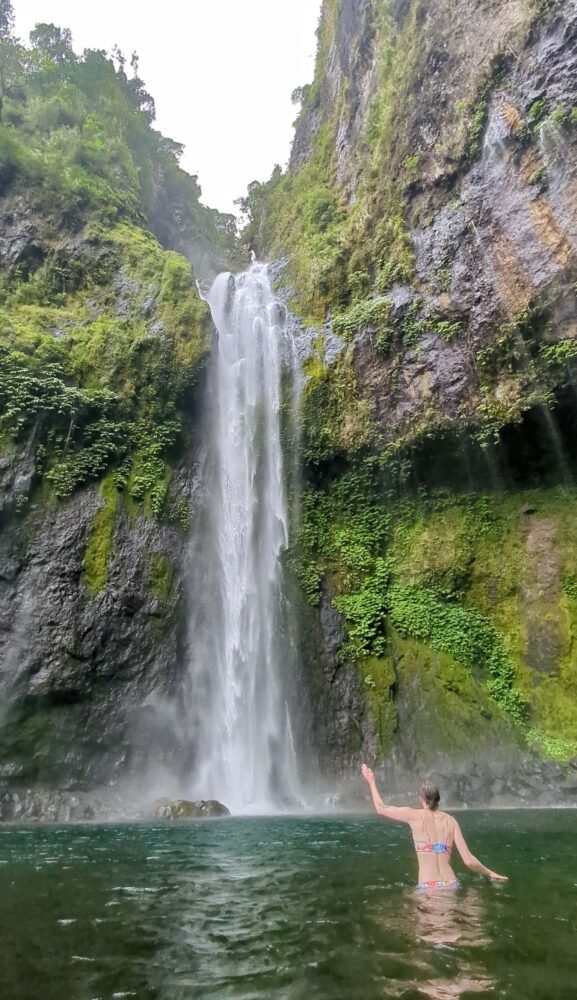 Visiting Fiji's tallest waterfall, Savulelele, is an incredible experience that is my favorite above-water memory on my entire nearly three weeks on the islands.
Yes, the road there was chaotic and took forever to traverse. And by the time we got home, it was pitch-black, we were so hungry we could barely think, and we were more exhausted than I have words to describe.
But everything about visiting Savulelele was magical: from meeting the villagers of Nabalasere who keep her beautiful and keep those who visit her safe, to seeing how the symbiosis between Savulelele and Nabalasere benefits the village's welfare as well as the waterfall's beauty, to the laughs and photos we shared with our guides. 
It was a reminder of what responsible travel can be: community-centered, locally-invested, and transformative.
It was simply one of my favorite days in Fiji, and while in many countries, a superlative like "tallest waterfall" would be enough to get it mobbed by tourists, Fiji is a special place — Savulelele remains untouched by mass tourism.
Most people immediately leave Viti Levu (Fiji's largest island, where international flights arrive) for the resorts of the Mamanuca and Yasawa islands to the east, or possibly to go diving in Taveuni's Rainbow Reef.
But exploring the huge island of Viti Levu is well worth it, and you'll often find yourself nearly alone on some of this huge island's most spectacular sights, like Savulelele.
Allison Green is a former educator turned travel blogger. She holds a Masters in Teaching and a B.A. in English and Creative Writing. Her blog posts merge her educational background and her experience traveling to 70+ countries to encourage responsible, enriching travel. She has been a speaker at the World Travel Writers Conference and her writing, photography, and podcasting work has appeared in National Geographic, CNN Arabic, CBC Canada, and Forbes, amongst others. Now a full-time traveler, she has lived in Prague, Sofia, New York City, and the San Francisco Bay Area.