The Finger Lakes region in New York is made up of 11 lakes and 14 counties — with so many areas to choose from, you'll need to tackle a Finger Lakes road trip carefully!
The area is a popular destination for travelers who love wineries, breweries, scenic hikes, and gushing waterfalls.
The small cities and towns surrounding the lakes are full of history while at the same time, on top of the trends with innovative restaurants, wine and food festivals, and revitalized downtowns.
Visitors could spend weeks exploring the Finger Lakes and still only scratch the surface!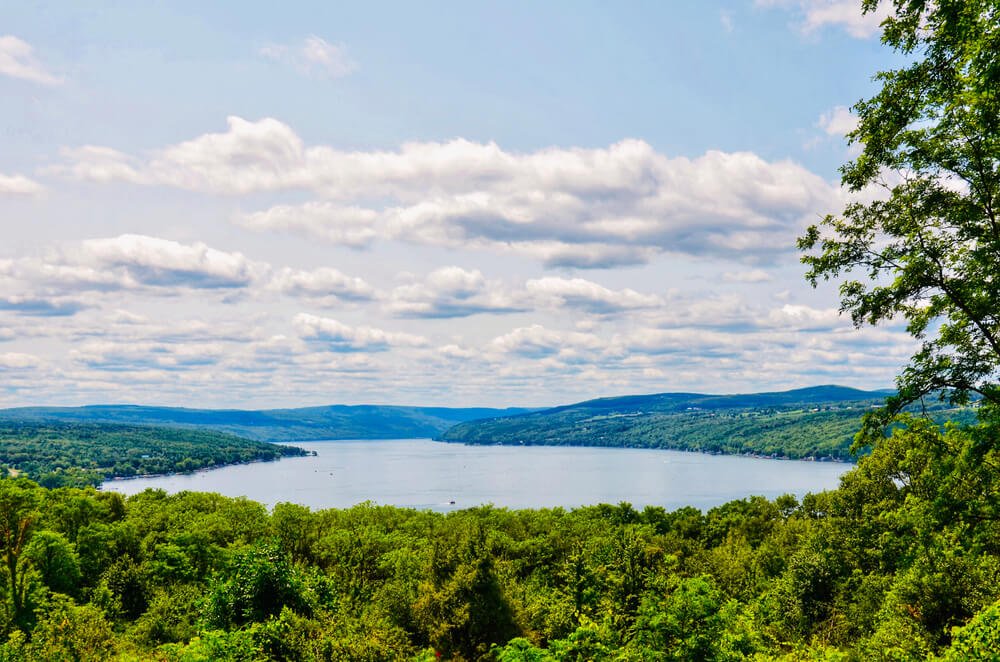 Note: This post contains affiliate links, which means I may receive a small commission if you purchase something through one of these links. Thank you for supporting the free content on this site! For more information on affiliate links and cookies, see my disclosure page for more details.
One way to get started is to focus on exploring one or two lakes at a time.
Here is a 3 day Finger Lakes road trip itinerary that highlights the best of Cayuga Lake and Seneca Lake, which are located in the eastern part of the Finger Lakes region.
Pack up your car with all your road trip necessities; it's time to hit the road!
Day 1 in the Finger Lakes
Start the day in Ithaca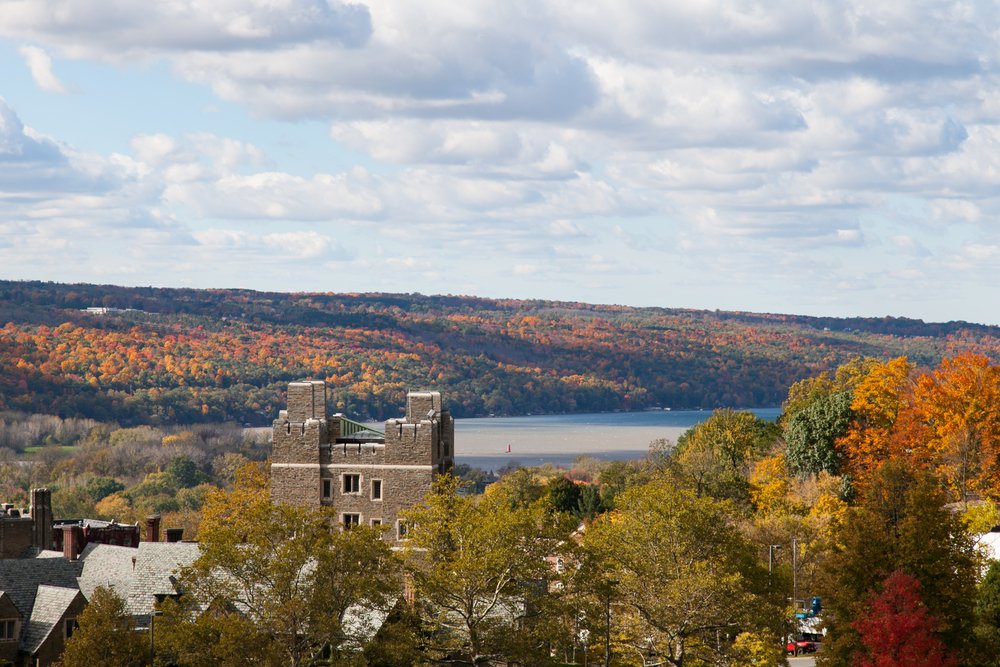 Ithaca, NY, located at the southern end of Cayuga Lake, is the perfect city to kick-off to a Finger Lakes road trip.
Here you can sample some of the finest restaurants in the region on Aurora Street's Restaurant Row!
Alternately, you can grab a cold one at a local brewery, and pop into the Visitor Center on Ithaca Commons to ask about local events.
If you arrive the night before you begin your road trip, stay at Argos Inn.
This lovely restored mansion furnished with French antique furniture and decorated with eclectic artwork is a great place to start your Finger Lakes road trip.
Hike the Cascadilla Gorge Trail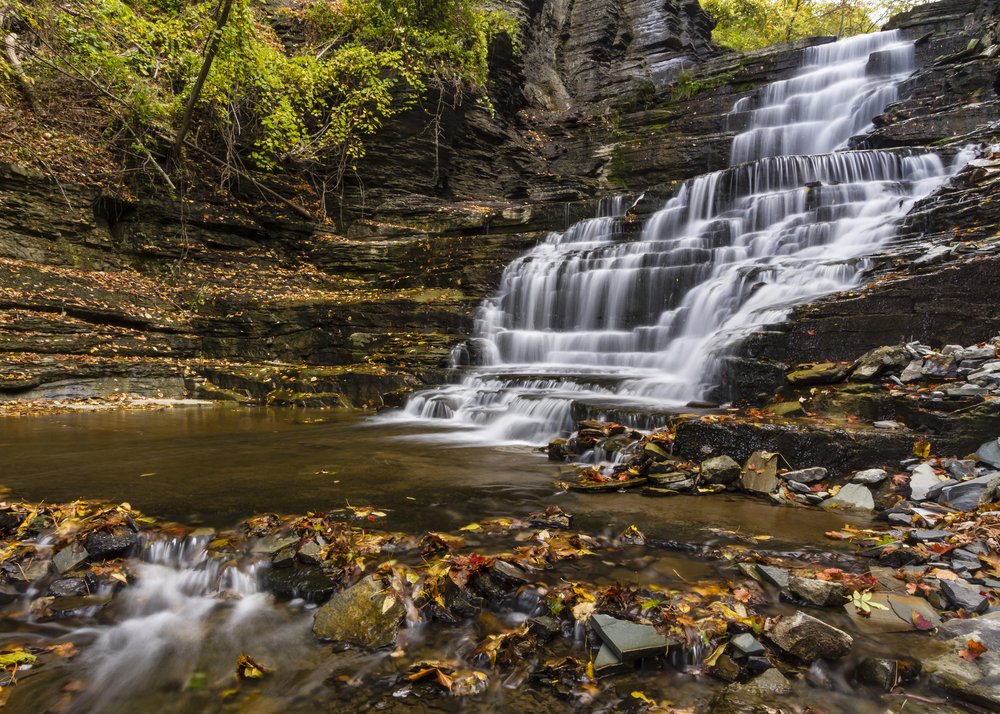 After a good night's sleep and a hearty breakfast, set out for an easy to moderate hike on Cascadilla Gorge Trail.
It's three-quarters of a mile in length and runs through a deeply cut gorge, connecting downtown Ithaca to Cornell University.
You'll also pass several waterfalls as you make the 400-foot ascent via stone pathways and staircases.
If you need a mid-morning snack after your hike, try Ithaca Bakery for fresh coffee, bagels, and baked goods.
See Taughannock Falls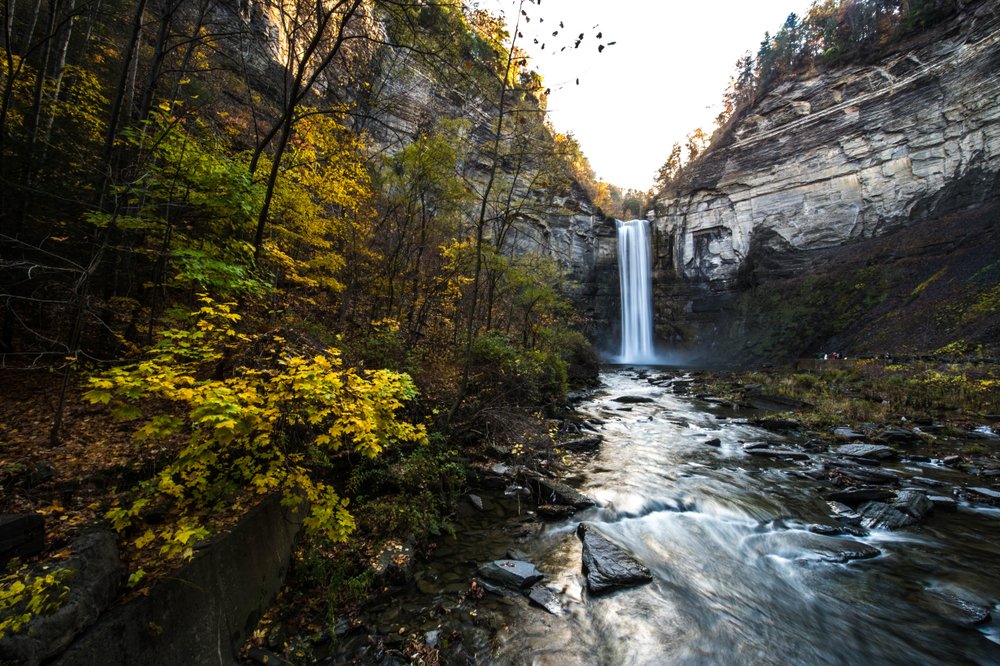 From Ithaca, head north along the western shore of Cayuga Lake.
Before stopping at your first winery, make a quick stop at Taughannock Falls State Park to see a waterfall that's actually three stories taller than Niagara Falls!
This is an easy detour, so no excuses!
The state park is just off the main road and it's possible to drive up to a viewing platform, where there is a visitor center and a parking lot.
Visit the Cayuga Lake wineries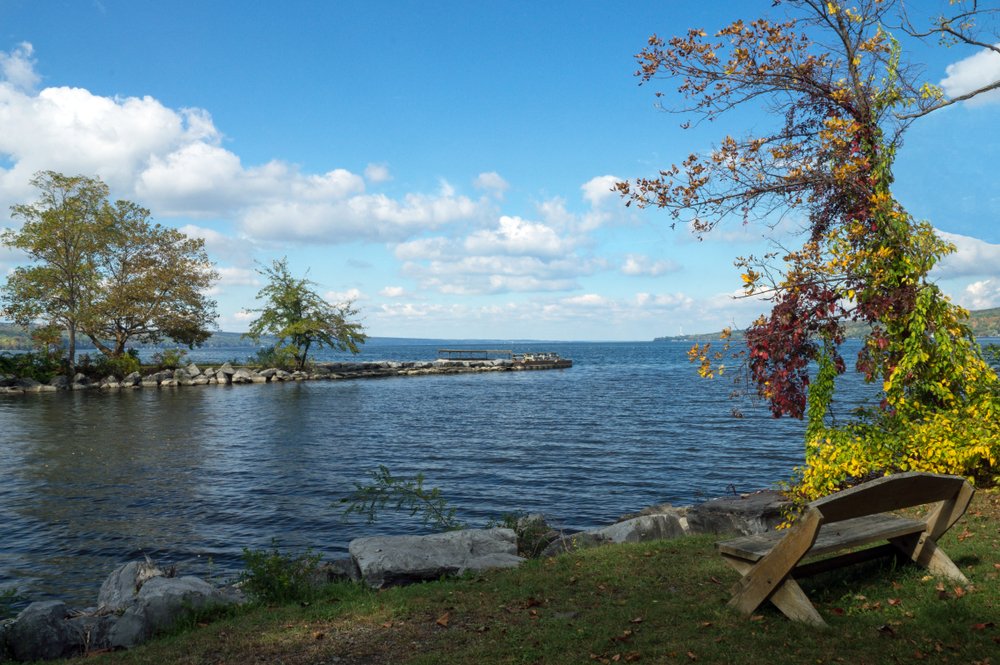 It's time, finally, to sample some wines along the scenic Cayuga Lake Wine Trail.
There are several wineries to choose from, plus a handful of hard cider houses and breweries.
Here are a few recommendations to help whittle down your itinerary, located from south to north.
Americana Vineyards is popular not only for its wine tasting room but also for their Sunday live music and on-site café.
Bacchus Brewing is also located on the grounds for the beer lovers in the group.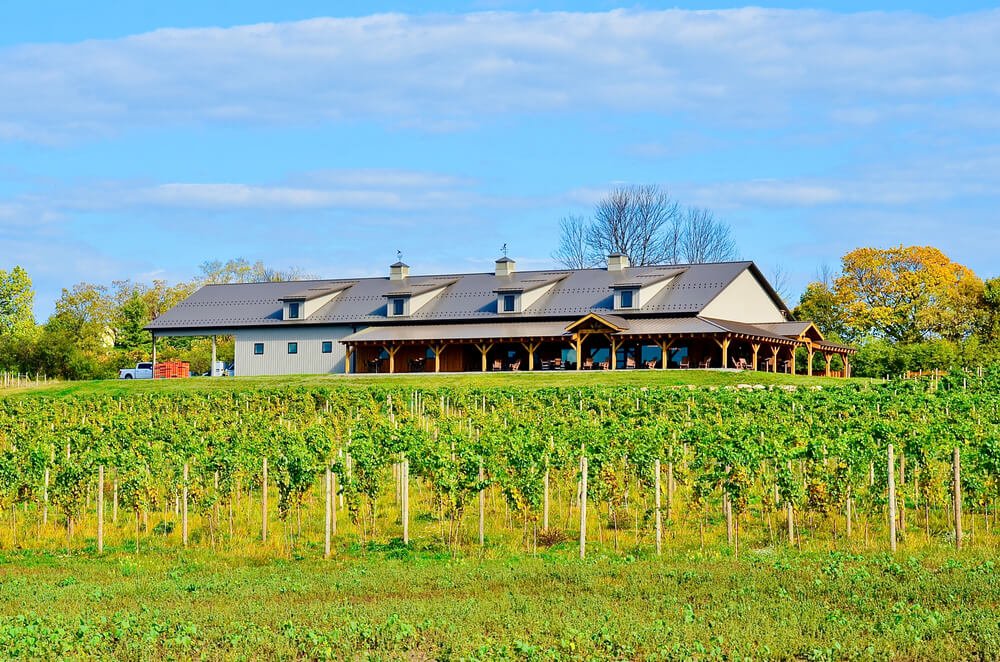 The Finger Lakes are gaining steam as a premier hard cider-making region. If that appeals to you, swing by Finger Lakes Cider House.
The tasting room is located inside a spacious renovated barn, with views that look out onto acres of beautiful farmland.
You can also pick strawberries, peaches, and apples when they're in season.
Heading further north, Lucas Vineyard is the oldest winery on the 40-year-old Cayuga Lake Wine Trail.
Ruth Lucas, the general manager and founder, has the distinction of being one of the first women in the region to own a winery.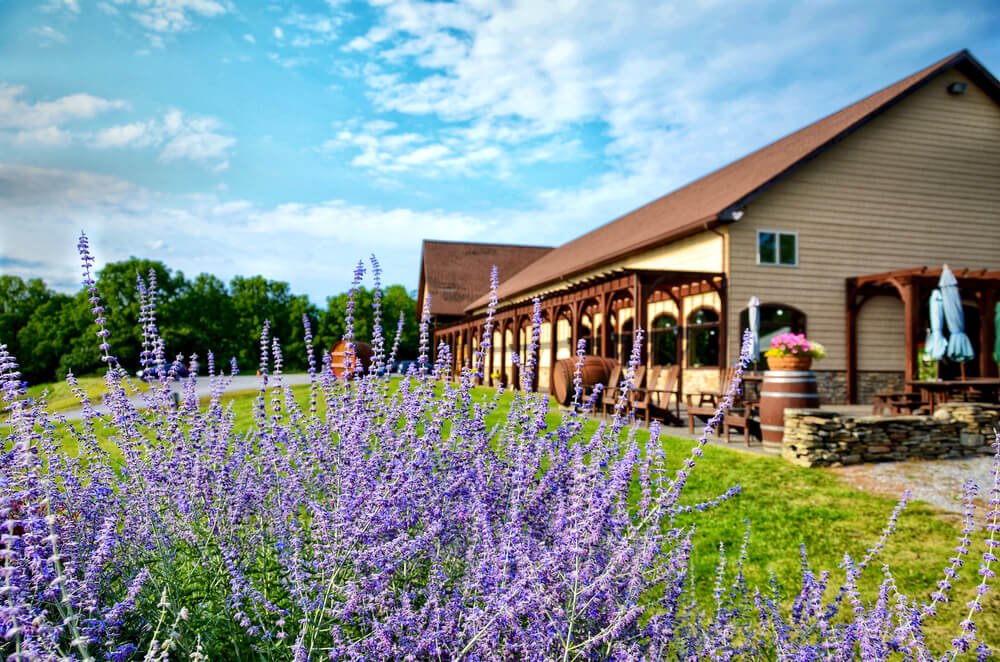 Next, Sheldrake Point Winery is popular for their expansive lake views, as well as their dry Rose and ice wines.
Heading north, Knapp Winery's Vineyard Restaurant is a good place to stop for lunch.
You have a couple of choices once you're ready to wind down your day.
If you're really into the Cayuga Lake vibe and don't mind backtracking a little, stay at the elegant Inn at Taughannock, just steps from the waterfall.
Alternatively, to position yourself nearer to tomorrow's destination, head to Seneca Falls and stay at The Gould, a funky art deco hotel.
Both establishments have excellent restaurants, making it easy to have dinner in after a long day road tripping!
Day 2 in the Finger Lakes
Take a nature walk in Seneca Falls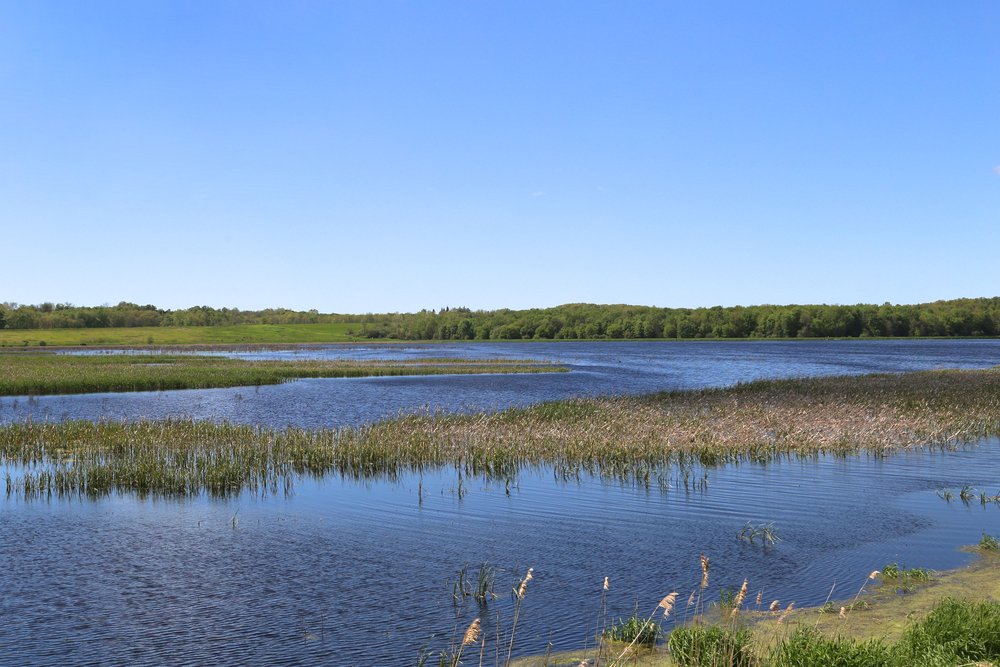 For a small town, Seneca Falls is packed with things to do.
Start your day with a dose of nature at nearby Montezuma National Wildlife Refuge.
There are options for driving or walking along the trails, and visitors usually spot woodpeckers, hawks, herons, and more.
The refuge is also home to six bald eagle's nests, so keep an eye out for our nation's symbol!
Visit Women's Rights National Historical Park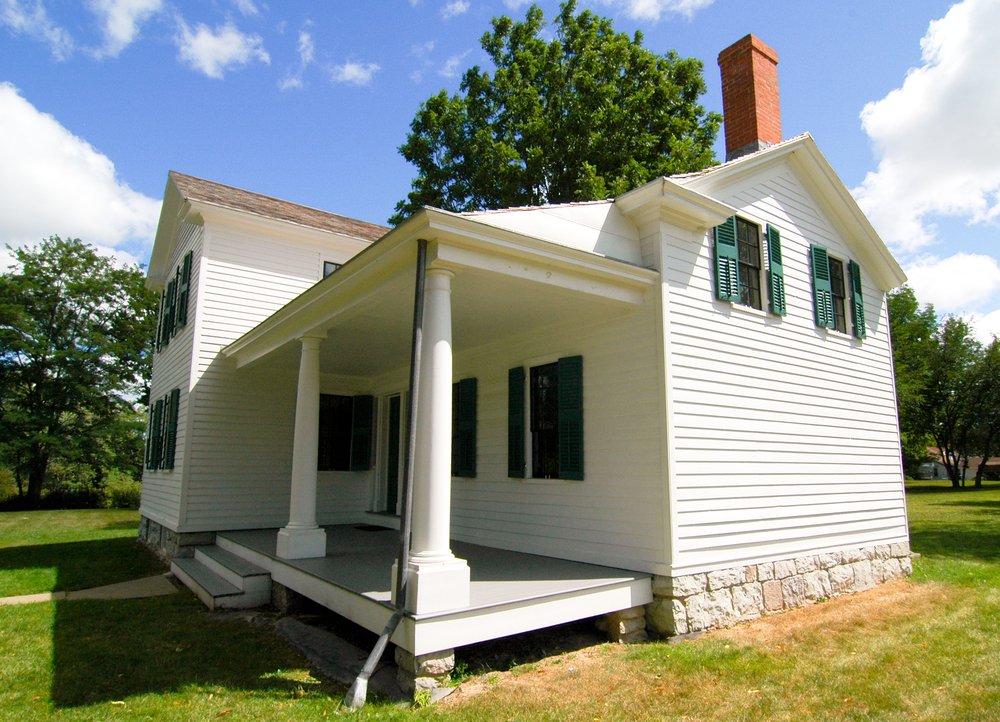 After a morning of communing with local wildlife, take in some history at the Women's Rights National Historical Park.
The Visitor Center is a good place to start. Explore the exhibits that tell the stories of the fight for women's suffrage, watch an informational film, and talk to the Rangers about guided tours, maps, and special events.
Next door is Wesleyan Chapel, where the first U.S. women's rights convention was held in 1848.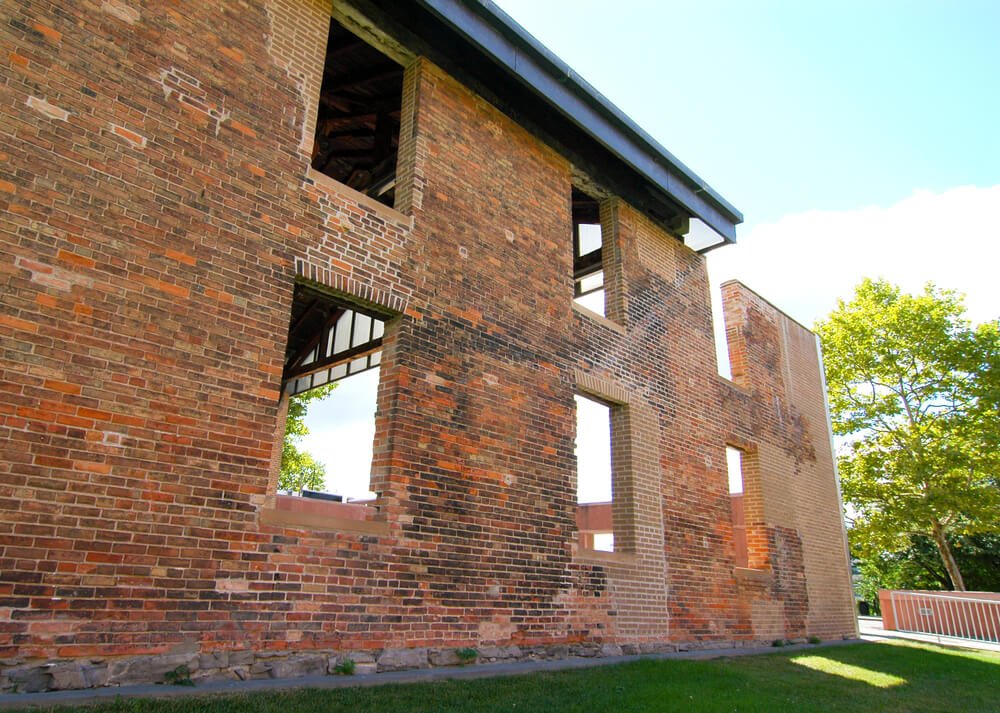 It's also possible, depending on the season, to tour the homes of women that were vital to the movement, including Elizabeth Cady Stanton's home.
Other sites related to the women's movement in Seneca Falls include the National Women's Hall of Fame, and Ludovico Sculpture trail.
The latter takes visitors on an easy nature walk along the canal and features sculptures of prominent women.
At this point, you have a couple of options for lunch.
Grab a bite at a restaurant on Fall Street in Seneca Falls, or stock up on snacks, fruit, fresh baked goods, and made-to-order sandwiches at the very well-stocked Sauder's Store.
The latter is a good option if you want to get started on the wine trail!
Follow the Seneca Lake Wine Trail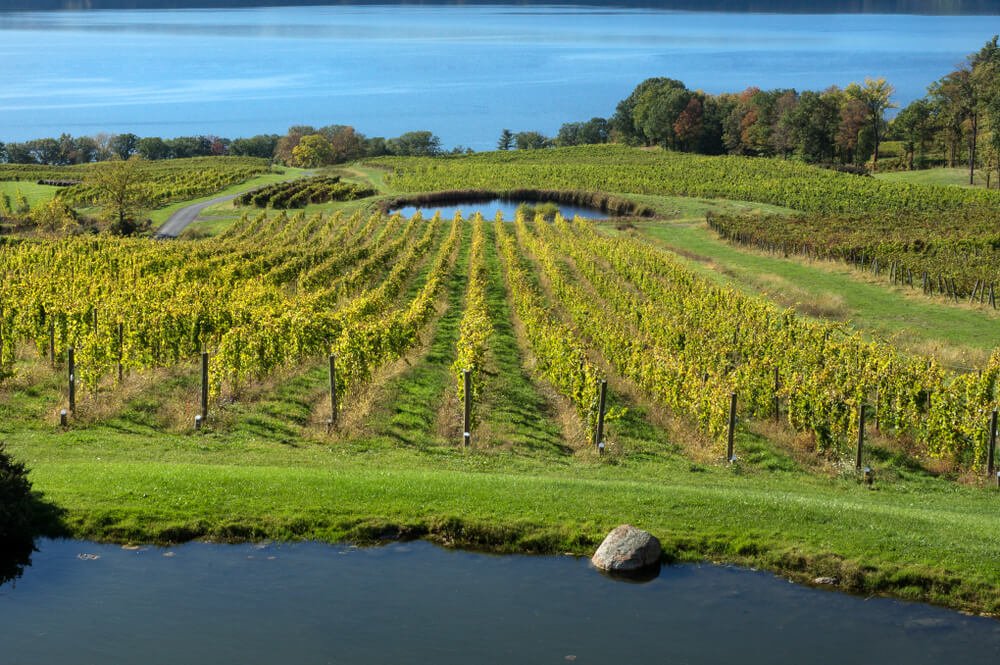 The rest of the day is dedicated to the Seneca Lake Wine Trail, following the eastern shore.
As with Cayuga Lake, you'll have to be selective due to the large number of wineries to choose from.
From north to south, here are some of the most popular wineries on Seneca Lake.
The tasting room at Ventosa Vineyards is housed in a building that's modeled after a Tuscan villa and offers panoramic vineyard and lake views.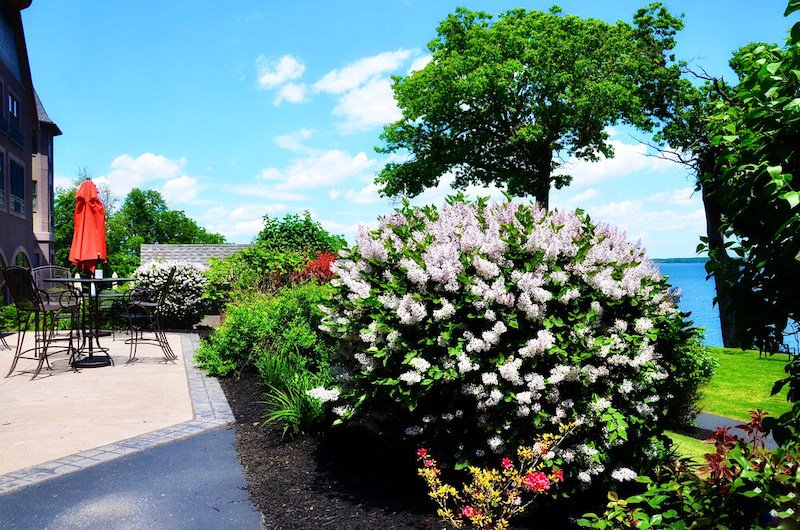 At Three Brothers Wineries and Estates, you can choose your adventure.
Sip wine in one of their tasting rooms, cool off with a wine slushie, or sample craft beers at War Horse Brewing Company, the onsite brewery whose décor is entirely made up of World War II memorabilia.
This is definitely the party winery, where you're most likely to see tour buses crowding the parking lot.
Driving south, Wagner Vineyards is one of the oldest wineries in the Finger Lakes and has dozens of award-winning wines available.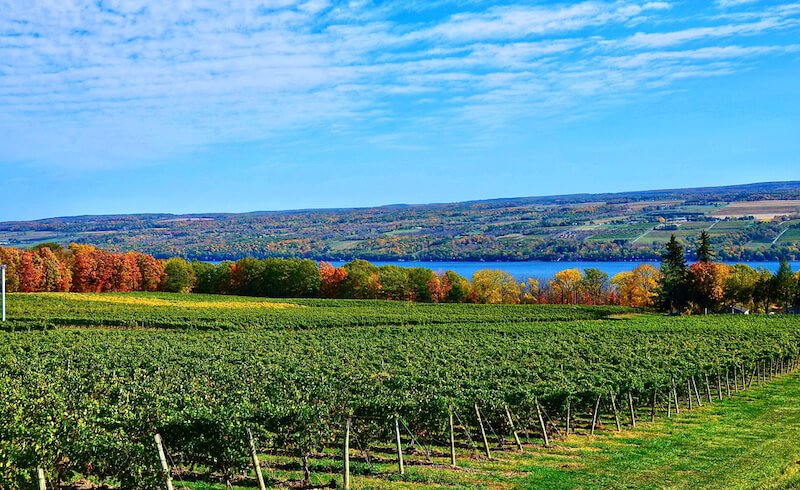 Next, if you picked up a to-go lunch back at Sauder's Store, and if the weather cooperates, consider claiming a picnic table at Lamoreaux Landing Wine Cellars.
Finally, Hazlitt 1852 Cellars is a scenic, laid back winery with live music on select nights.
You can also catch a stunning sunset from their property.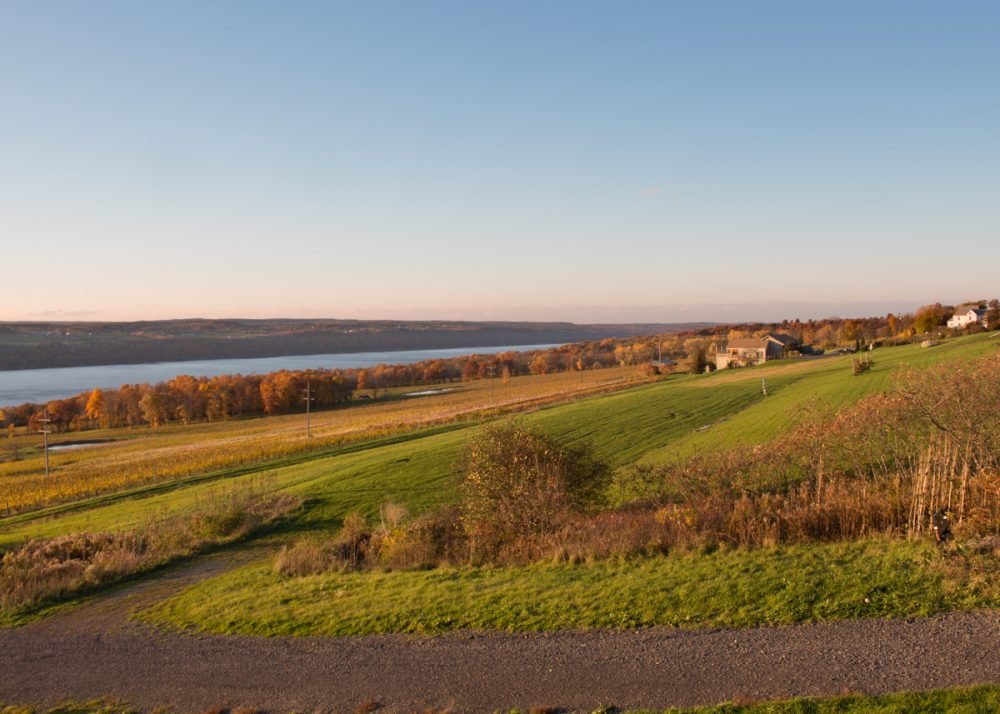 If you'd prefer watching the sun go down with a craft beer in hand, Two Goats Brewing is just a couple miles to the south.
In between Hazlitt and Two Goats, Hector Handmade is perfect for souvenir shopping.
The store is owned by two local artists. All of their items are made by local Finger Lakes artists.
End the day in Watkins Glen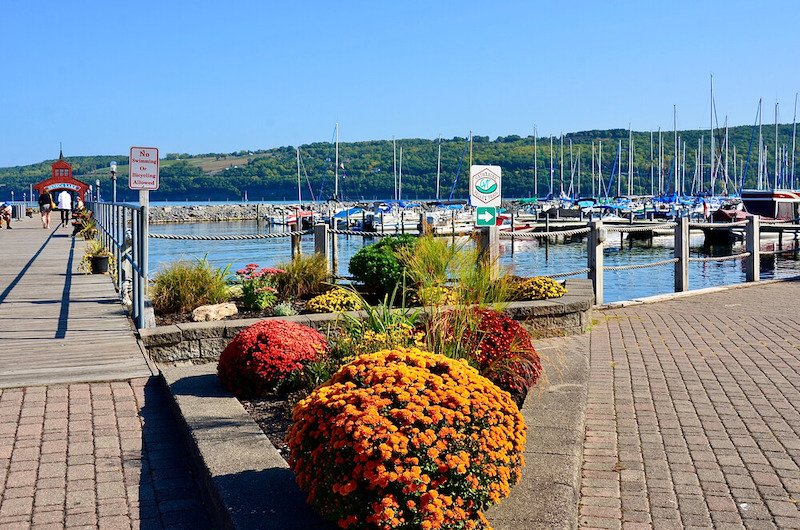 For accommodations, Idlwilde Inn is a charming bed-and-breakfast inside a 19th-century Victorian mansion.
Watkins Glen Villager Motel is a slightly cheaper alternative, but it's not as well-reviewed.
The small village of Watkins Glen has a number of good restaurants for dinner, including Rooster Fish Pub and Graft Wine + Cider Bar.
Day 3 in the Finger Lakes
Hike in Watkins Glen State Park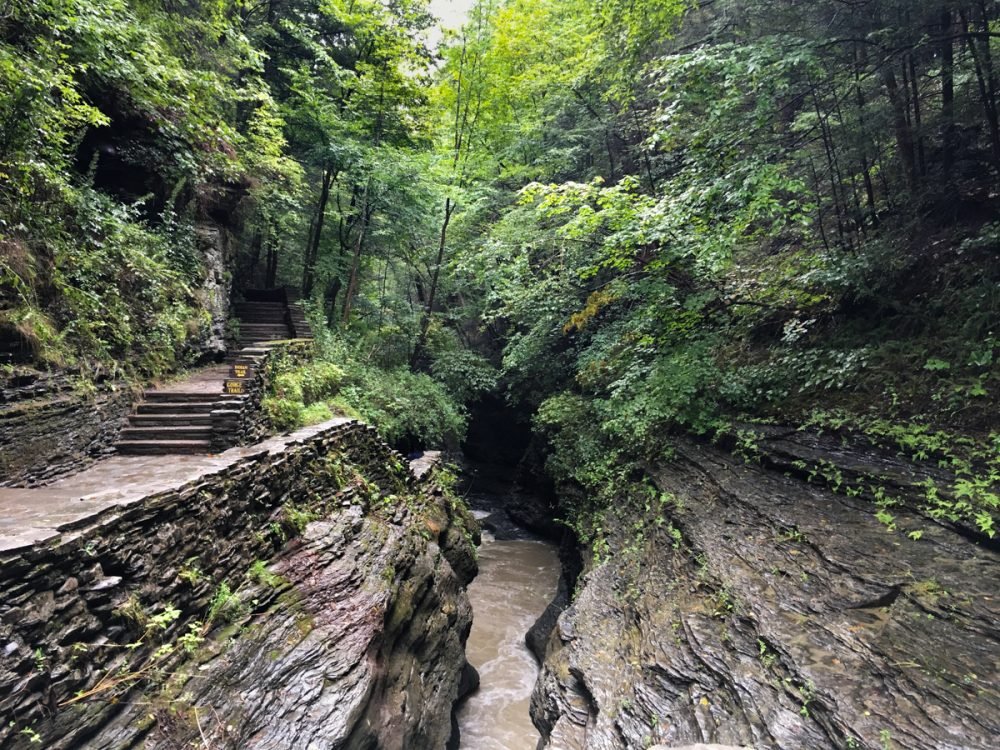 Another morning hike is on tap at Watkins Glen State Park, which has one of the most beautiful landscapes in New York state.
The hike is rated moderate in difficulty, mainly due to the steep stone stairways.
For all of your stair-climbing, you'll be rewarded by the 19 waterfalls you'll see along the hike.
Be aware that it does get very crowded so it's a good idea to get there early.
The Gorge Trail is 1.5 miles long one-way, but you'll get a sense of its dramatic beauty even if you only hike a short way and turn around.
Follow the Seneca Lake Wine Trail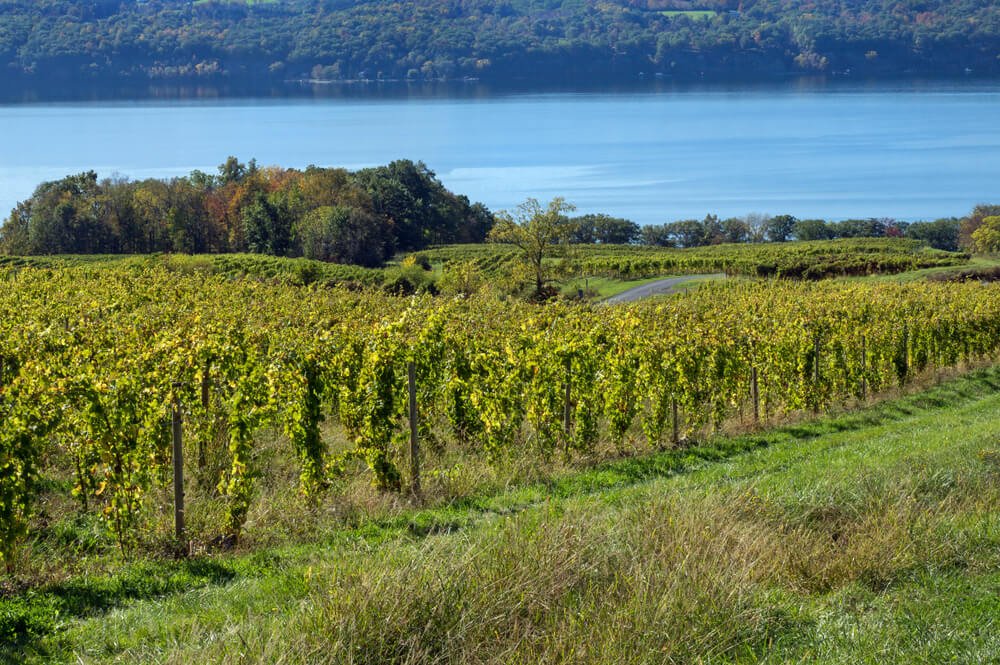 Now it's time to tour the wineries along the western shore of Seneca Lake, where there also happens to be some great breweries worth checking out, in case you're tiring of wine!  
Begin at Seneca Lake Brewing Company, an English style pub that's also a cask ale brewery.
Next, Glenora Wine Cellars was the first winery on Seneca Lake and their restaurant Veraisons is popular for its fresh seasonal menu items.
If you're interested in farm breweries, Climbing Bines Craft Ale Company is located on a beautiful estate where they grow their own hops.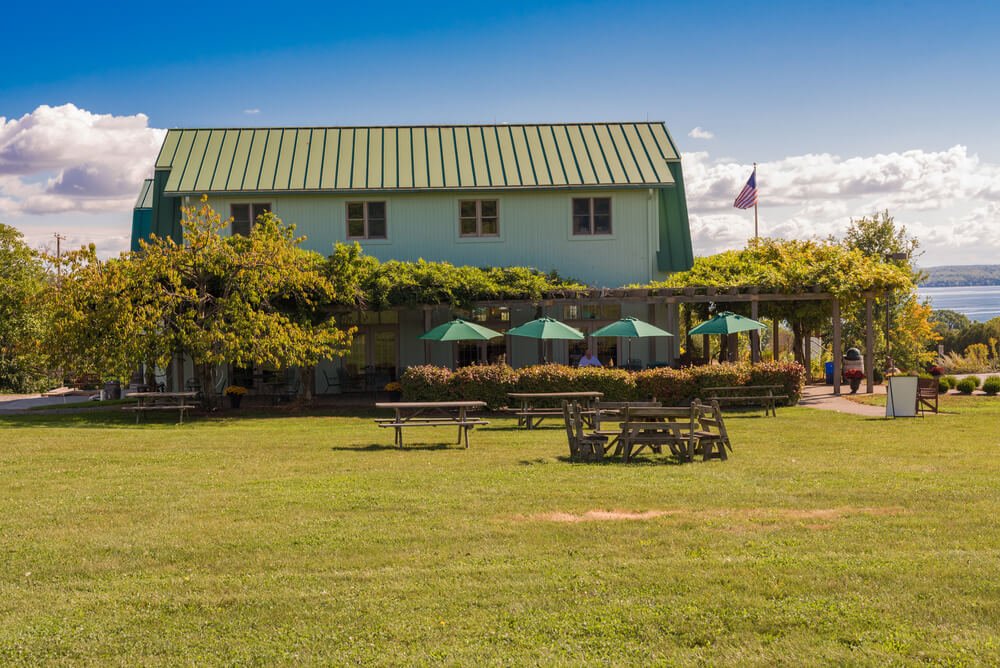 Anthony Road Wine Company is a friendly, family-run winery that makes popular dry and semi-sweet Rieslings.
Back in 2020, they celebrated the 30th year that they've been in the wine-making business!
Finally, Fox Run Vineyards strives for sustainability by using solar panels for energy, committing to locally sourced ingredients, and nourishing the soil with regenerative farming techniques.
When you're ready for lunch, go to FLX Wienery to sample some local comfort food with an emphasis on wieners and sausages.
For a slightly more upscale eatery, Ports Café is a popular bistro that pairs local wines with seasonal menu items.
End the day in Geneva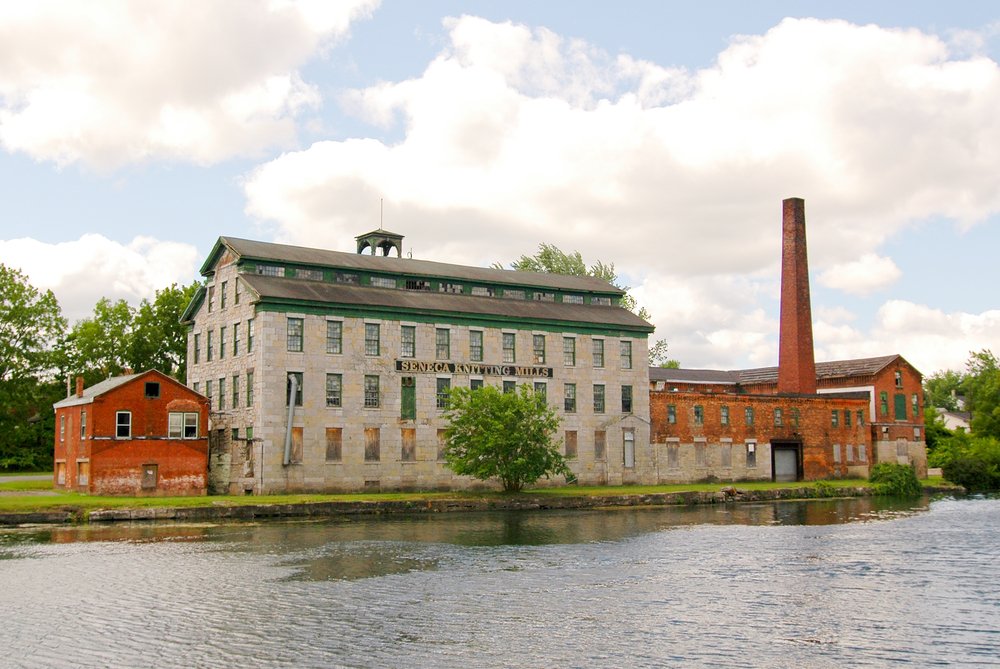 For accommodations, CiCi's Chalet in Geneva is a lovely bed-and-breakfast with friendly owners.
When you're ready for dinner, you can wander downtown and find a restaurant without any trouble. Geneva has become a go-to spot for farm-to-table restaurants with excellent food.
If you've got the time and inclination on your final day, there a few more points of interest before heading out of town.
Red Jacket Farm Store carries local food specialties as well as T-shirts, jewelry, and more, all handcrafted by local makers.
Belhurst Castle is a 19th century estate with a checkered past that includes once serving as a speakeasy. They also have a winery on site, as well as lodging and dining.
Extending your Road Trip in the Finger Lakes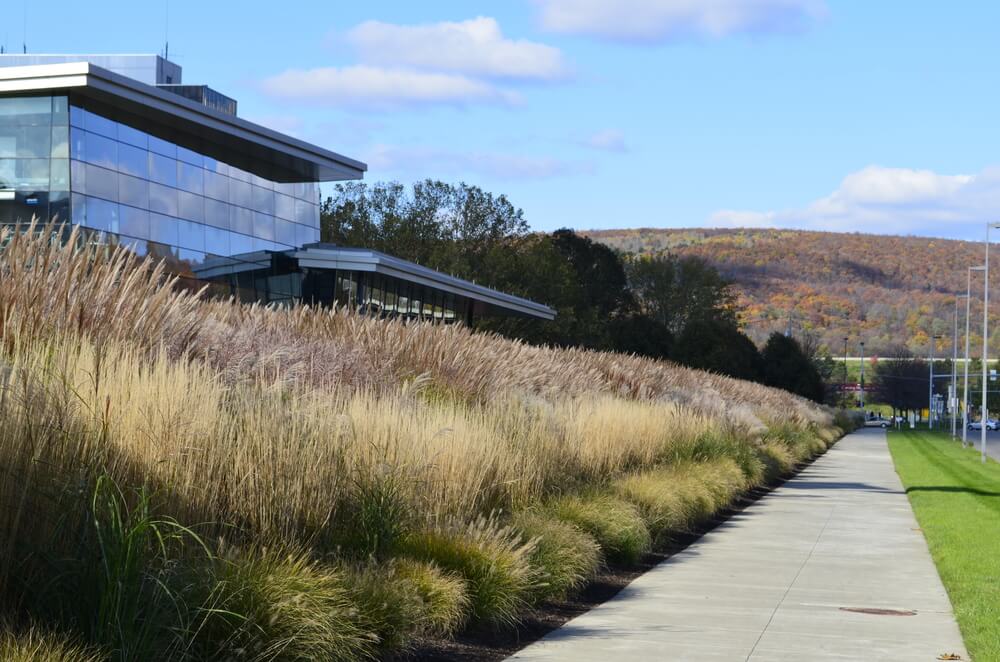 If you have an extra day, consider spending it in Corning, a small city south of Watkins Glen — one of the best places for a getaway in the Finger Lakes.
The downtown area is loaded with good restaurants, bakeries, breweries, and shops, and the nearby Corning Museum of Glass is well worth spending at least a half a day.
When to Road Trip the Finger Lakes
Although there is a stark beauty to the Finger Lakes in the winter, late spring through mid-autumn is the best time to fully experience the region.
Many attractions listed here are closed during the winter, and most wineries and breweries have reduced winter hours.
About the Author
Michele traveled the world for years before growing roots in New York City. Now she explores the Empire State, region by region and shares her experiences on her blog, From Inwood Out. You can find her on Instagram at @frominwoodout.
Allison Green is a former educator turned travel blogger. She holds a Masters in Teaching and a B.A. in English and Creative Writing. Her blog posts merge her educational background and her experience traveling to 60+ countries to encourage thoughtful travel experiences that both educate and entertain. She has been a speaker at the World Travel Writers Conference and her writing, photography, and podcasting work has appeared in National Geographic, CNN Arabic, CBC Canada, and Forbes, amongst others. Now based in the San Francisco Bay Area where she grew up, she has also lived in Prague, Sofia, and New York City.