So, you're here because you have a hunger for adventure. We love to see it! Whether you're a Denver native or a tourist planning a future trip or currently visiting the area, we've got some great, dog-friendly options for you!
Boasting vivid landscapes of forests, mountains, mesas, high plains, plateaus, canyons, desert lands and rivers, Colorado is one of the most beautiful states of the southwestern United States.
Denver, the capital and most popular city, is known as the "Mile High City" because its official elevation measures at exactly one mile above sea level! (Bet you tourists didn't know that one!)
This means that hikes near Denver require a little extra stamina due to the lower oxygen levels at elevation, so don't be surprised if a hike marked as 'easy' ends up leaving you feeling a little winded! It's just one thing to prepare for before visiting Denver.
Denver is where the great outdoors, and Mama Earth, meet urban and artsy sophistication. What people adore about this treasure of a city is that, as mentioned, it offers the best of both worlds. Denver's an outdoor city with renowned cultural attractions.
It's got buzzing craft breweries for you beer-drinkers (pun intended,) chef-driven dining your tastebuds will come to worship, bumping music scenes for the dancing folk, and the Rocky Mountains just around the corner.
Alright, you've been let in on our little secret: We love this city.
What's one of the best ways to experience it, you ask? Day hikes.
A day hike refers to a hike that can be completed in a day. (Yeah, nothing gets past you, huh?)
No, really, that may sound obvious but knowing hiking lingo is quite important for this hobby or pastime. Hiking for multiple days, for example, is referred to as backpacking.
The common rule of thumb is that the average hiking extraordinaire can generally walk between 2.5 and 3.5 miles per hour. So, with that estimation in mind, a trained walker can walk up to 20 to 30 miles per day.
A day hike can be any amount you can walk while the sun is up!
The Best Dog-Friendly Day Hikes in Denver
North Table Mountain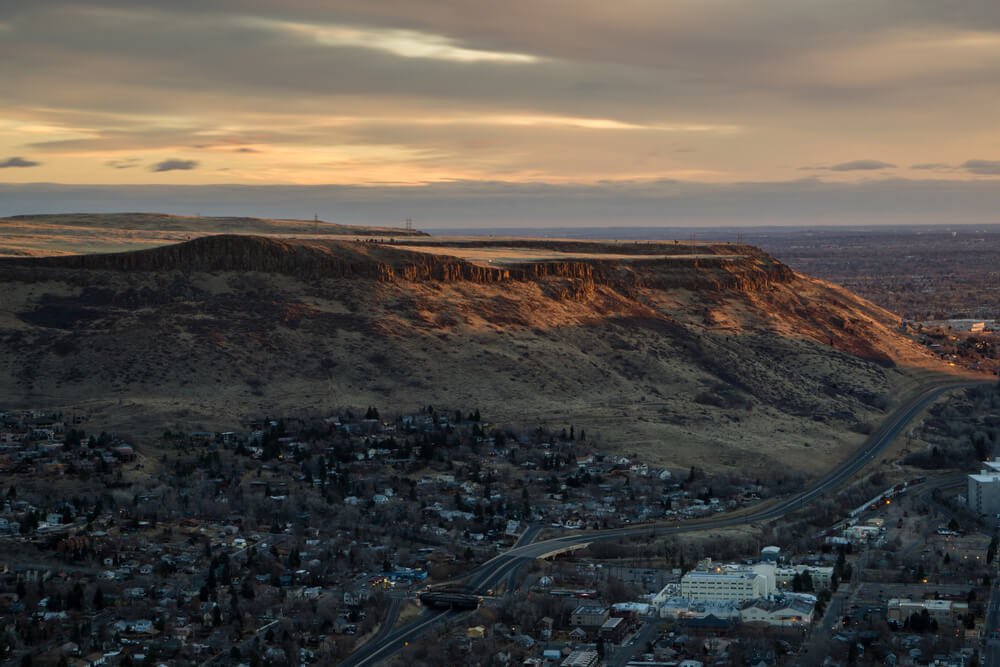 Note: This post contains affiliate links, which means I may receive a small commission if you purchase something through one of these links. Thank you for supporting the free content on this site! For more information on affiliate links and cookies, see my disclosure page for more details.
This mountain is more of a mesa. A mesa is an isolated, flat-topped hill with steep sides. When the sun rises, you'll see the details of its steep sides framed by the lower surrounding town of Golden, Colorado.
Trails stretch in abundance waiting for hikers, photographers and mountain bikers alike.
This is perfect for walkers who may not have tons of spare time on their hands, but are in need of a good stretch of the legs and breath of fresh air to their lungs.
The trails of Table Mountain are accessible year-round; however, it's the most beautiful and picturesque during the spring and early summer months when flowers start to bloom.
In their unique and unruly wildness, each petal reaches towards the sky and serves as a reminder that the loveliest things are free.
Hike Breakdown:
Distance: 2.7 – 7.7 miles
Duration: ~ 1-4 hours
Difficulty: Moderate
Dogs: Leashed only
Drive Time From Denver: 25 minutes
Meyer Ranch Open Space Park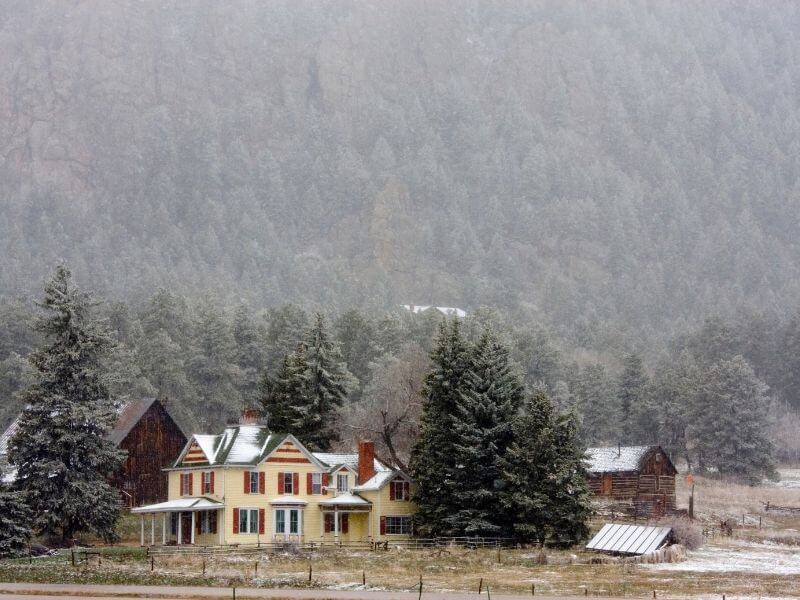 Extending 30 minutes outside of Denver, Meyer Ranch offers three different hiking options. That's what makes this spot so great, there's something for everyone, from easy to moderate.
You'll see meadows so big they could swallow you whole, vibrant flowers, as well as your friendly neighborhood deer and elk.
Bonus activities here include going on a mountain bike ride or picnic. It's a fantastic area in Aspen Park and the relatively new ramada makes the perfect spot to bust out the snacks for a picnic!
Additionally, if you're stopping by during the winter, there are perfect hills for sledding!
We've mapped out three dog-friendly hikes near Denver in Meyer Ranch below!
Hike Breakdown:
Distance: 2.4 – 4.8 miles round trip
Duration: ~ 1 – 2.5 hours round trip
Difficulty: Easy – Moderate
Dogs: Leashed only
Drive Time From Denver: 30 minutes
Hike Options in Meyer Ranch
Lodgepole Loop (3 miles / Moderate)
Directions:

Owl's Perch Trail South →
Straight left down to next junction →
Continue right to the Lodgepole Loop for 1.2 miles →
Arrive back to Owl's Perch Trail →
Going left will bring you back to the parking lot
Sunny Aspen Trail Loop (3 miles / Moderate)
Directions:
Owl's Perch Trail South →
Straight left down to next junction →
Continue right to the Lodgepole Loop for 0.6 miles →
Take right onto Sunny Aspen Trail for 0.8 miles to return to Lodgepole Loop →
Going left will bring you back to the parking lot
Old Ski Run Trail (4.8 miles / Moderate)
Directions:
Owl's Perch Trail South →
Straight left down to next junction for .2 mile →
Go left onto the Sunny Aspen Trail for .5 mile →
Arrive at Old Ski Run Trail →
The Ski Run trail loops 2 miles out and back →
Return the way you came via Sunny Aspen Trail
Chautauqua in Boulder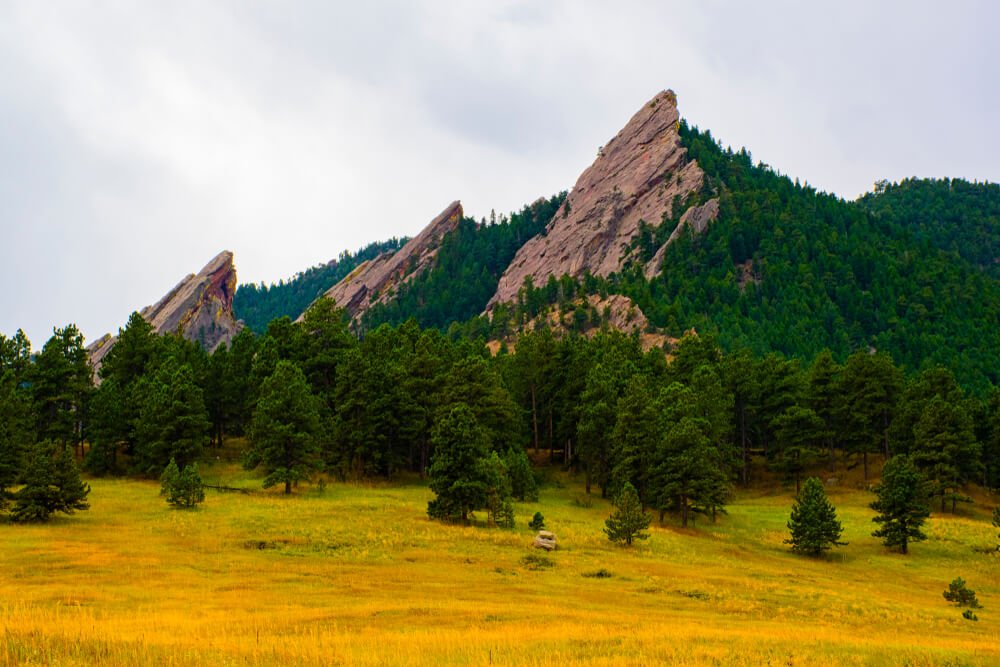 The Chautauqua Trail has 1,747 reviews and 4.5 stars on one single trail review site. So, yeah, you could say it's a crowd favorite!
This heavily trafficked hike leads to many other popular trails such as the Royal Arch and Flat Irons. So, if you're just getting started at the end of the Chautauqua, you can always hit one of the other treks as well!
On the Chautauqua, you can expect a lot of width, a little incline, and a boatload of wildflowers, vistas, and views of the rugged Flat Irons.
Fun (historical) fact: This is the only Chautauqua west of the Mississippi River that continues in unbroken operation since the peak of the Chautauqua Movement of the 1920s.
Hike Breakdown:
Distance: 3.6 miles
Duration: 2 hours
Difficulty: Moderate
Dogs: Leashed Only
Drive Time From Denver: 35 minutes
South Boulder Peak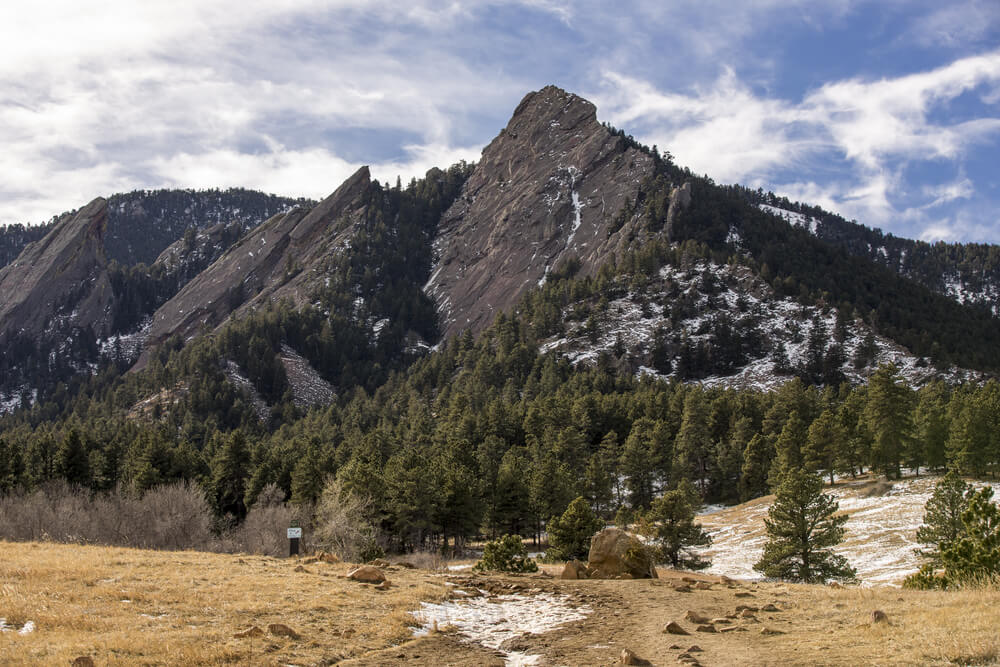 We needed to have a difficult one on the list for all you weathered day-hikers!
South Boulder Peak will demand a lot out of you! It's a 3.7-mile hike one way nestled above the South Mesa.
In the famous Flatirons, near Boulder, hikers can also hit Bear Peak and return through the Fern Canyon for an 8.7-mile loop.
If a tiring (but, rejuvenating!) thrill is what you seek, South Boulder Peak is just that. You'll be stunned by the views. Don't take our word for it.
Hike Breakdown:
Distance: 7.4 miles round trip or 8.7 mile loop
Duration: ~ 3 – 5 hours
Difficulty: Difficult
Dogs: Leashed Only
Drive Time From Denver: 45 minutes
Tips for Day Hiking Near Denver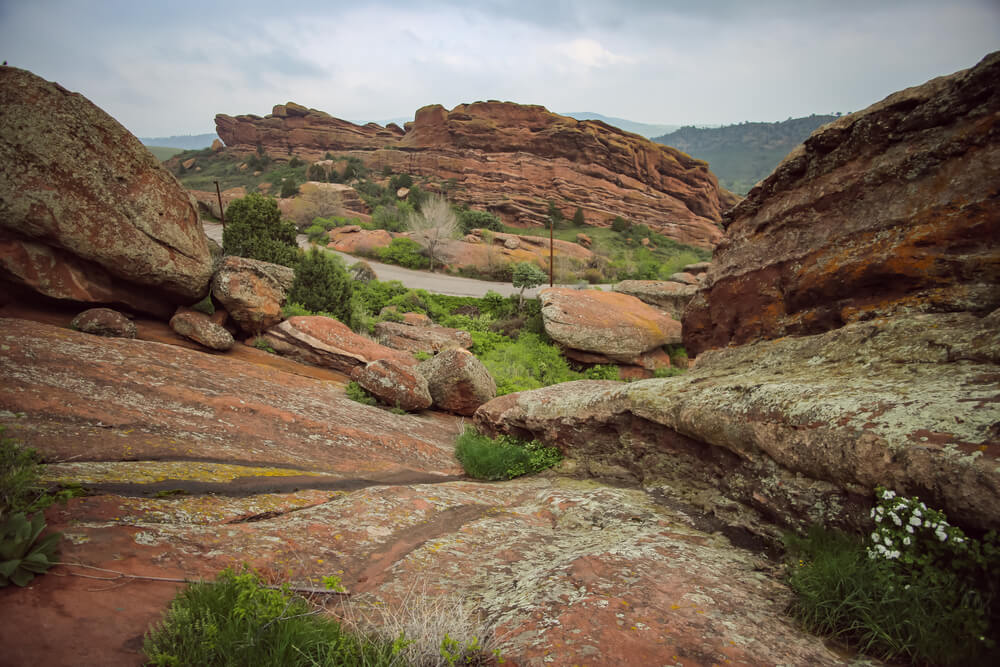 Day hikes are fantastic for beginner hikers to hone in on and build up their skills, no matter how newfound those may be.
The key takeaway I want to imprint on new day hikers is this: Research, research, research. Find trails that are well-marked, well-maintained, and will be easy to get to and from your stay.
You never know how tired you will be when you're finished with the hike, and want to make sure you aren't too far from "home."

Be sure to study a map before you begin your trek. Here are a few things to consider:
Scope out the area to consider how hard it will be for you in terms of time and energy.
Make a note of water sources if you are not bringing your own. If you aren't, be sure to bring a water filtration system like the GRAYL water bottle, which can filter any potentially contaminated water from an unmaintained source and make it perfectly safe to drink.
Decide ahead of time your calculation of when to turn back and at what time. Be realistic about your energy level and also keep in mind what time during the day this will all take place, especially if it is a new spot. You don't want to run out of daylight and get turned around!
If you're tackling a sunset hike or a sunrise hike, be sure to bring a headlamp. In fact, this is just good practice no matter what time of day you're hiking. It's lightweight but could save you from a nasty tumble in the dark or worse, getting disoriented, if your hike ends up being in the dark longer than you expect.
Anticipate landmarks. That way, if you take a wrong turn, you'll notice and know what to look out for.
Finally, pack a lunch so that midday you can take care of your body, soul and mind! Exercise is key, but in order to take on the challenge to your best ability, rest and nutrients are just as important… if not more important!

To piggyback on the previous point, a small sack or pack to store your food and water source will be of GREAT value to your trip. Pack smart as to not weigh yourself down but, with that, be strategic in choosing the right essentials!
Why Hike Near Denver?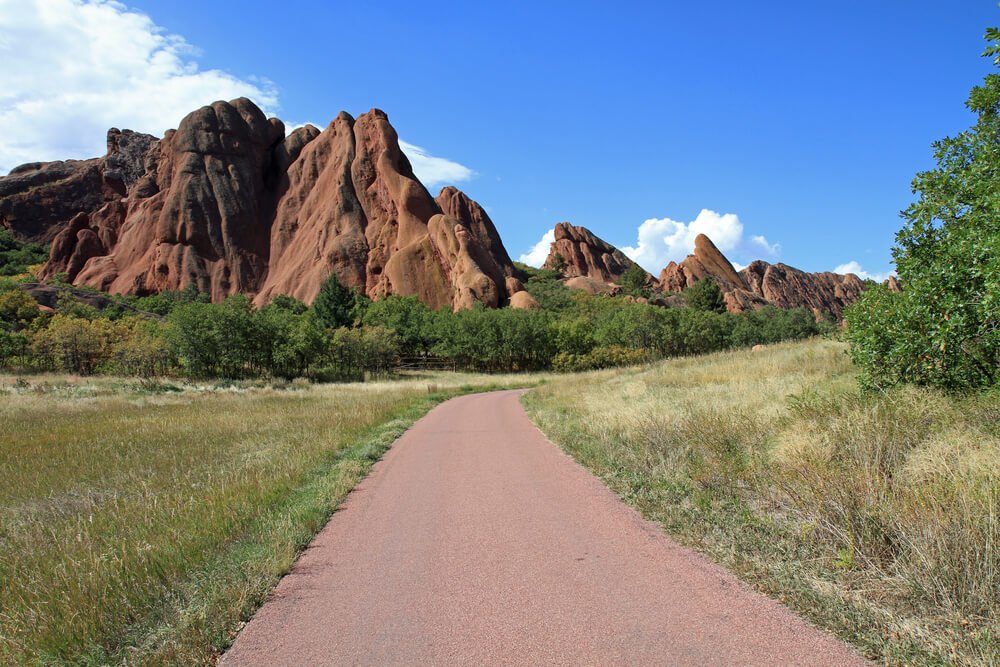 In case you run into any motivation issues while hitting that alarm button and planning to head to the trails, we're gonna end this thang with some health benefits.
So, bring on the phenomenal benefits:
Reduced risk for heart disease
Lower stress levels
Enhanced mental state due to endorphins
Improved mood
Increased control over healthy weight
Lower cholesterol levels
Lower body fat
Improvement in bone density
Increase in coordination and flexibility
Enhanced connection with others
Better quality of life
Lots of that sweet, sweet Vitamin D!
So, despite your achy legs, you're gaining countless benefits. And, in Denver?
We may be a little bit biased, but we'd say you're combining the best activity with the best location. You. Just. Can't. Beat. It. Folks.
We hope this guide of dog-friendly hikes in Denver was everything you needed and more, as well as the navigation, tips, tricks, and health benefits.
We'd love to hear about your Denver hiking experiences below! As well as any day hiking information you may be itching to share with us.
Pin This Guide to Day Hikes Near Denver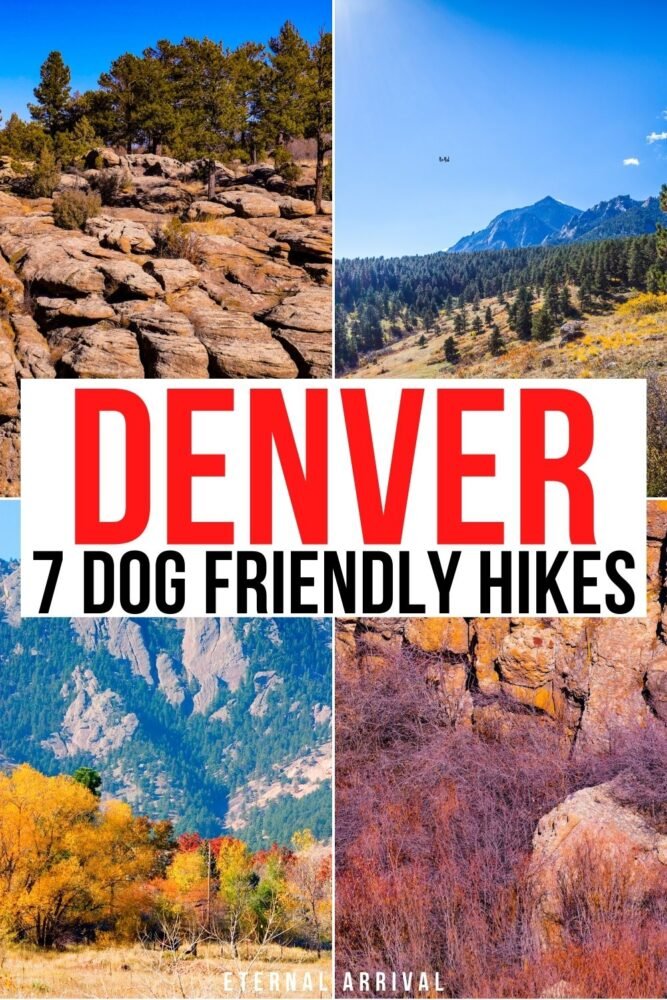 Allison Green is a former educator turned travel blogger. She holds a Masters in Teaching and a B.A. in English and Creative Writing. Her blog posts merge her educational background and her experience traveling to 60+ countries to encourage thoughtful travel experiences that both educate and entertain. She has been a speaker at the World Travel Writers Conference and her writing, photography, and podcasting work has appeared in National Geographic, CNN Arabic, CBC Canada, and Forbes, amongst others. Now based in the San Francisco Bay Area where she grew up, she has also lived in Prague, Sofia, and New York City.