If you're looking for some places to stay in Idaho while you're traveling around the state on a road trip, we've got you covered with this post!
There are some really great Airbnb options in Idaho all over the state, and we've tried to spread our picks for where to stay in Idaho in Airbnbs all around the state.
From Teton County at Grand Teton's backdoor to quirky picks in the capital city of Boise to houseboats on Lake Coeur d'Alene and luxe cabins in McCall, and oh yeah — a giant potato — here are the most lovely and unique Airbnbs in Idaho!
The 12 Best Airbnbs in Idaho
Idaho Homes in Teton County
Teton Valley Cabins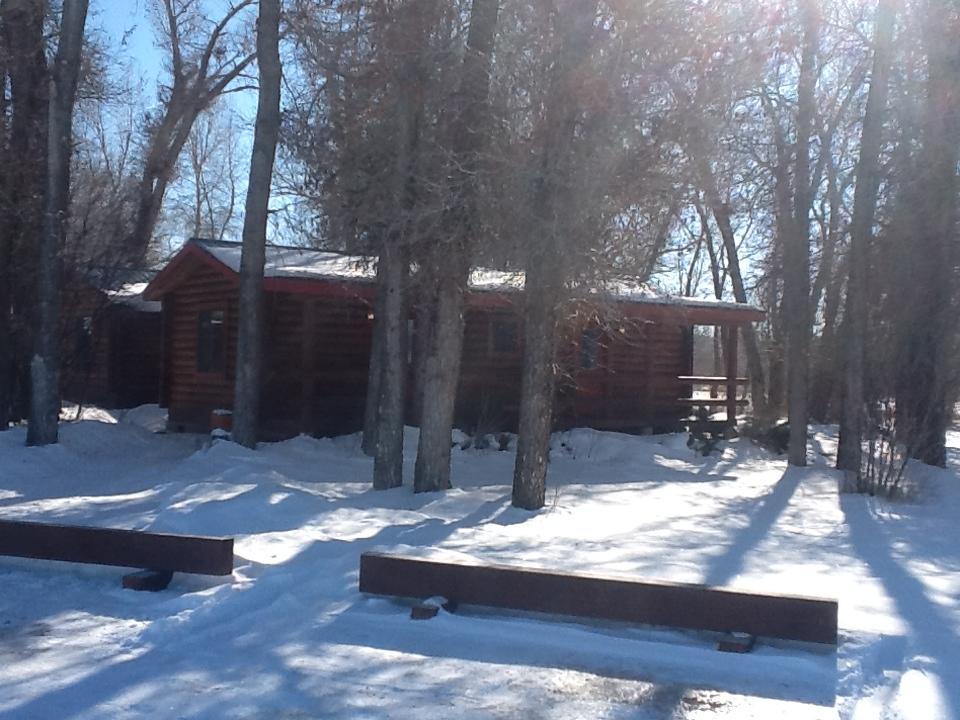 Note: This post contains affiliate links, which means I may receive a small commission if you purchase something through one of these links. Thank you for supporting the free content on this site! For more information on affiliate links and cookies, see my disclosure page for more details.
This gorgeous Idaho cabin takes glamping to the next level in a location near Grand Teton National Park on the Idaho side of the border.
The interior of the cabin is adorable, with lots of exposed wooden detailings and comfy wooden beds that positively invite you to sleep and have the sweetest dreams.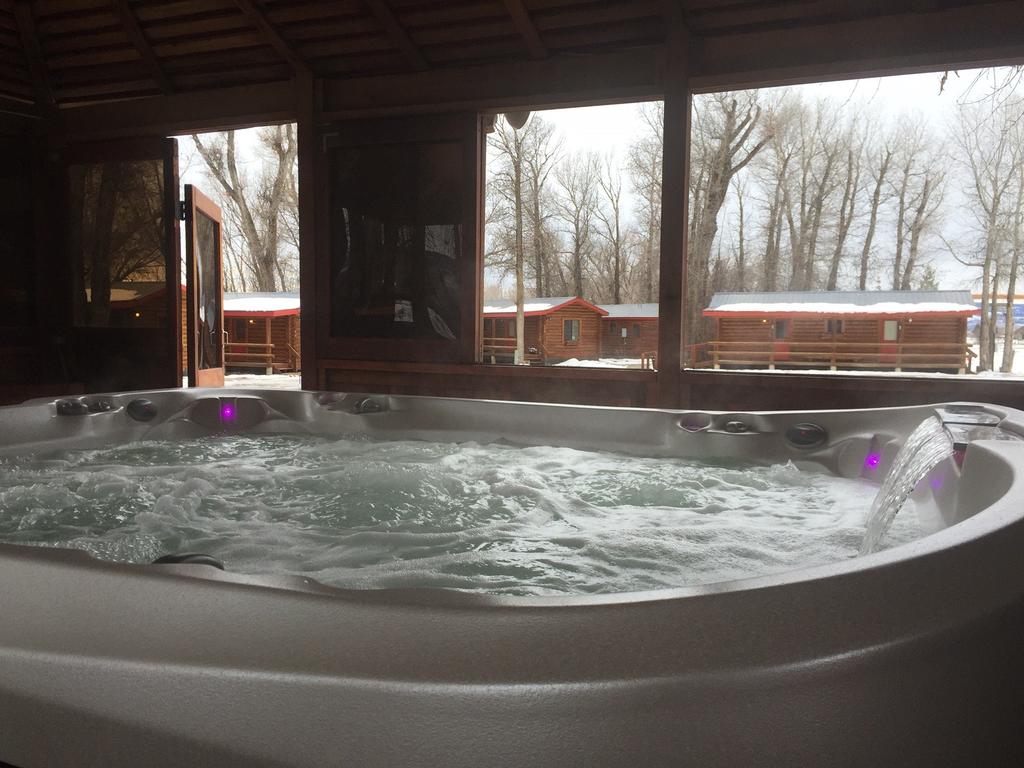 It is quite a cozy place, just 16.1 km from The Grand Targhee Ski and Summer Resort.
An oversized hot tub is offered for guest relaxation, which seems like the perfect place to enjoy the views thanks to the ample windows.
Each of the few cottages on the property offer ski storage as well as a kitchenette for you to prepare and enjoy your meals.
You can enjoy a picnic area with an outdoor volleyball court is on-site at this family-friendly lodge. The cabins also feature horseshoes, barbecues, and a fire pit.
Teton Teepee Lodge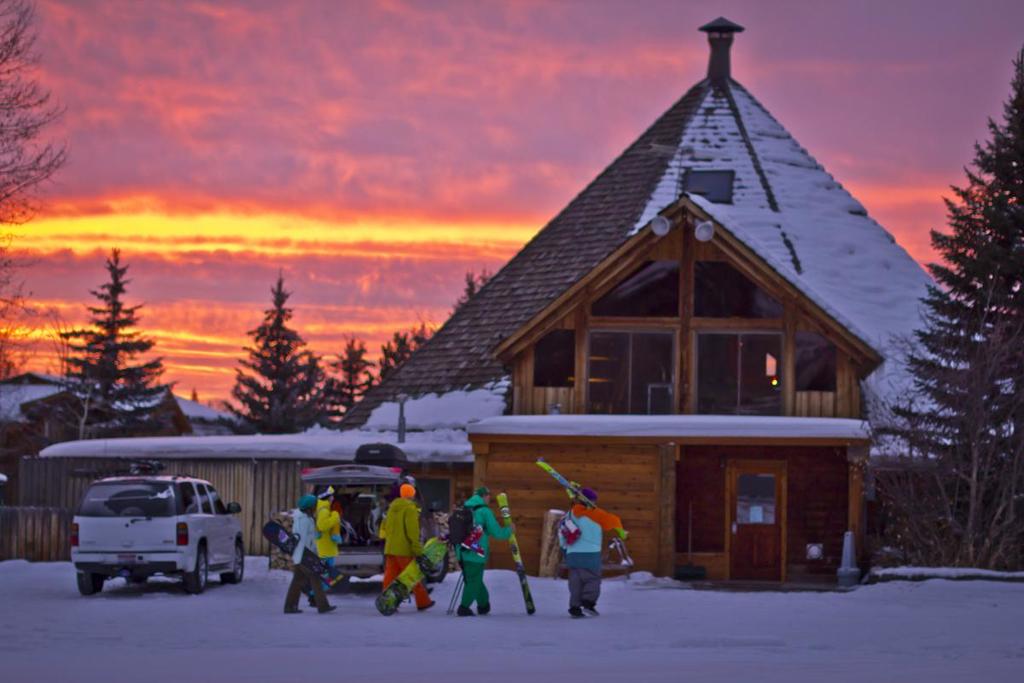 If you're looking for a colorful and quirky home in Idaho near Grand Teton, Teton Teepee Lodge is a perfect choice!
It combines comfort, color, and location to create the perfect summer stay on a reasonable budget given all the amenities and location.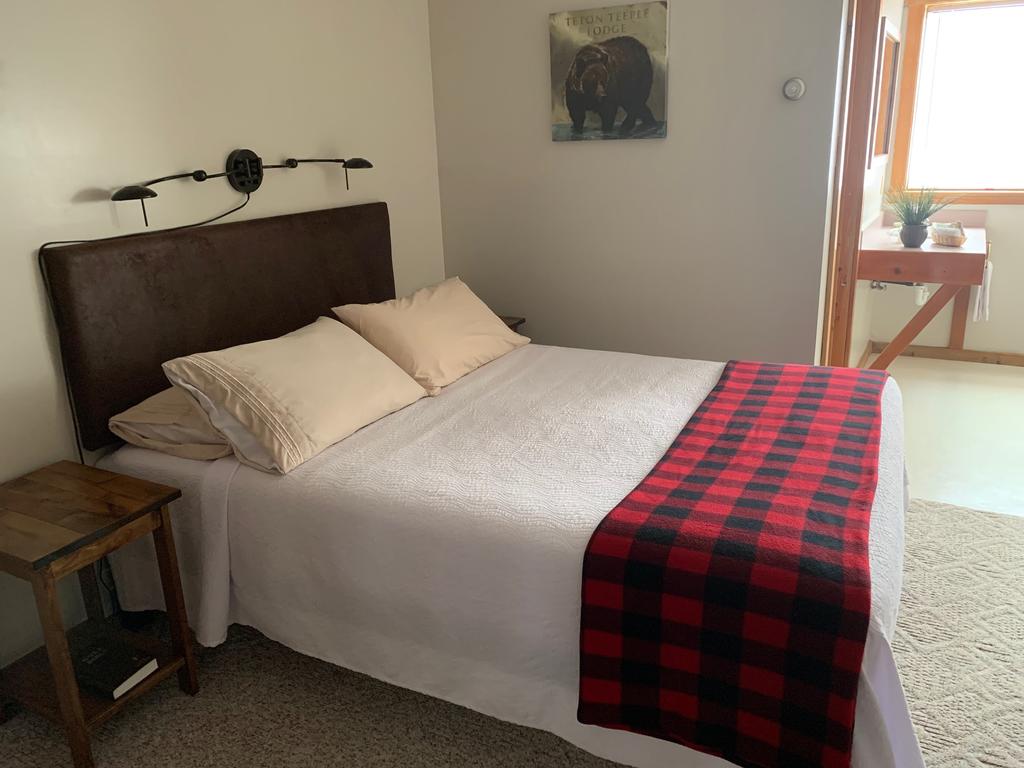 The units are spacious and comfortable, fitting a large queen bed, a comfortable sofa with colorful throw pillows, a coffee table, and even a full bathroom with a shower.
Available for guests, there is a tennis table while the area is also popular for horse riding. In the surroundings, guests can enjoy cycling and fishing too.
Victor is 11 miles from Teton Teepee Lodge, while Jackson Hole is 19 miles away.
Northern Idaho Airbnbs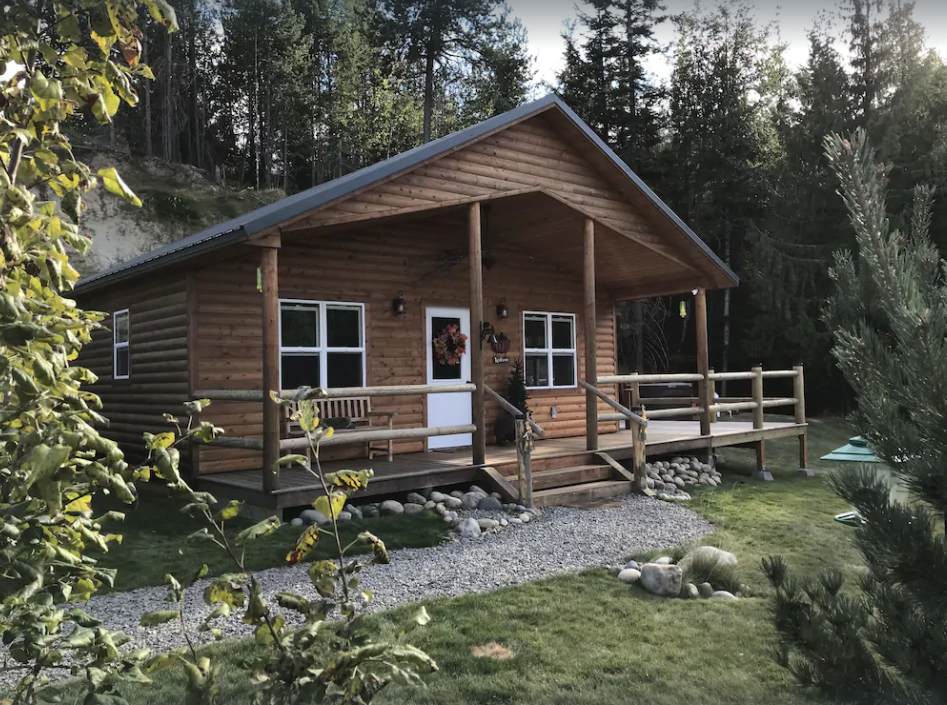 This gorgeous mountain cabin is the perfect tiny house Idaho escape. It's definitely a comfortable and up-to-date place to stay in the mountain surrounded by national forest, 3/4 of a mile on up the mountain!
This cabin is outfitted for people looking to escape to the mountains and relax, and still located only 15 minutes from Bonners Ferry and 30 minutes from Sandpoint.
This cute cabin features a bedroom with a comfy queen bed and a living room with a sofa bed. There is also a wonderful deck with a grill and the most amazing views around.
In the area, you can choose different hiking trails and snowshoe trails right outside your door or watch eagles right from your deck. Schweitzer Mountain is a mere 30 minutes away and Cross Country Skiing is only 10 minutes away!
.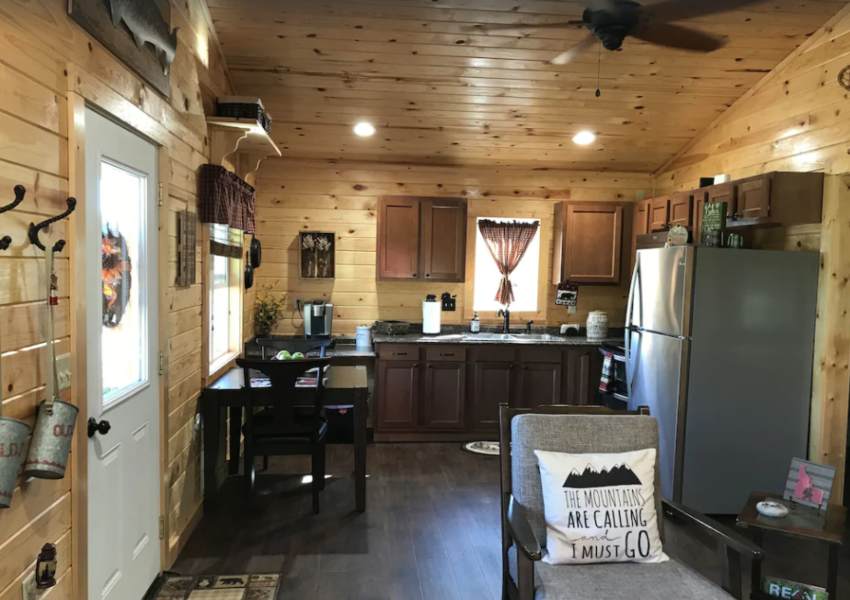 This is a great getaway for couples looking to get away from it all, as it's far from virtually all civilization.
The place also offers a fire pit, gas BBQ grill, a hot tub, a large yard with plenty of seating, an outdoor movie theater seasonal (shared), a private gym, kayaks, bikes, golf clubs, fishing equipment, snowshoes, and a bunny farm! Kayaks, bikes, and golf clubs have a rental fee.
In the winter months, 4WD or AWD is necessary to access the cabin. Should guests not feel comfortable driving up the mountain, the hosts will be happy to shuttle guests up and down. There is private parking at the top and the bottom of the mountain.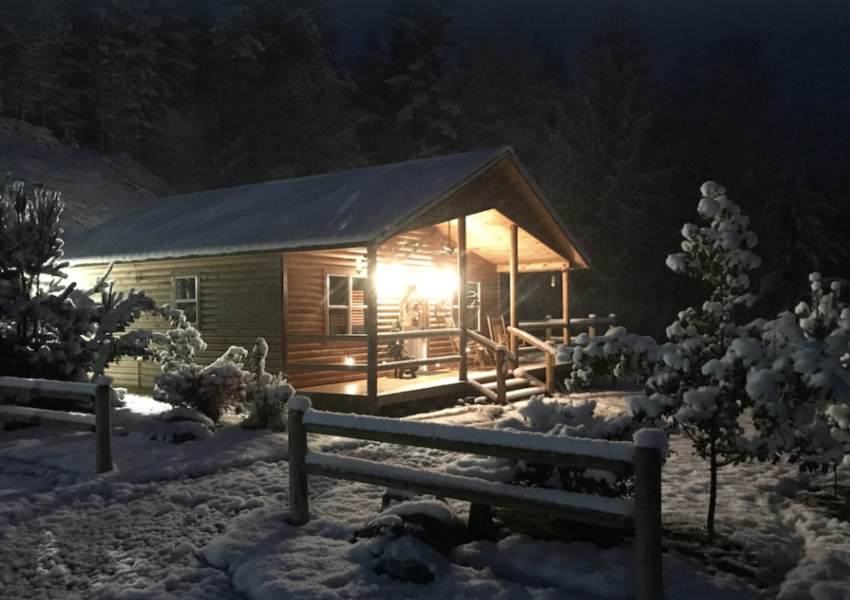 That said, couples or friends (or hell, even indulgent solo travelers looking to get away from the hustle and bustle of city life!), though, this place is a paradise where you can cook elaborate meals, wake up to views of the beautiful forest, and sit in a secluded hot tub watching forest wildlife go about their business.
The property allows pets between May and October only and in the dog kennel which offers 2 dog houses $25 per pet per night.
Couer d'Alene Houseboat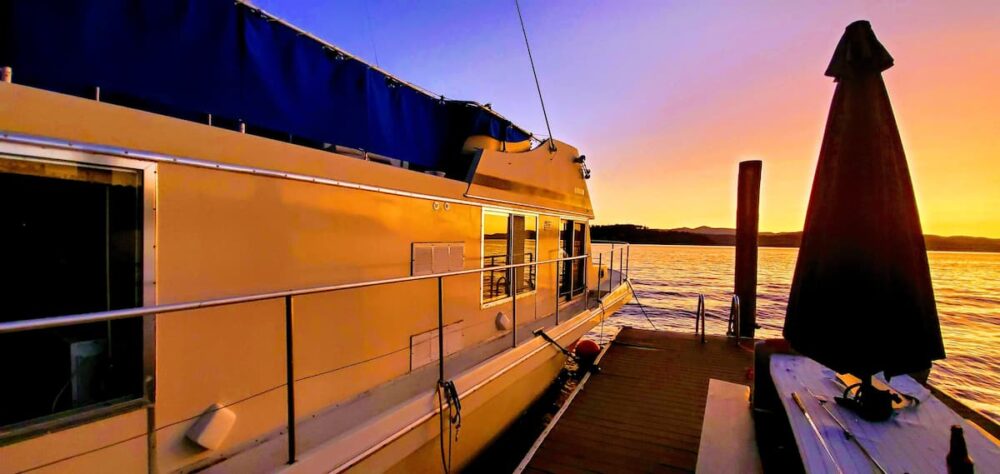 This lovely houseboat on Lake Couer d'Alene is the perfect Idaho Airbnb for people who not only want to be one with nature, but literally in nature!
This houseboat is great for groups of families as it is able to sleep six. There's a bathroom on the boat that's fully connected, including a shower, and there is a full kitchen so you can have a delicious cookout on the lake – preferably with fresh-caught fish from the lake!
There's also a spacious outdoor area as part of the houseboat that's a private deck for you to enjoy, a great place for a meal on a warm summer evening.
There is a comfortable master bedroom, a smaller lofted room with two twin beds (perfect for kids), and the dining/living area converts to fourth bed if needed to sleep six.
Just be aware that this is a houseboat on a lake, and as a result, there may be some movement — so if you have severe motion sickness, this is not the best Idaho Airbnb to choose! Do note, though, that the boat is moored and you're unfortunately not allowed to take it for a spin.
The area is absolutely fantastic for outdoor activities! You can birdwatch and keep an eye out for bald eagles — CDA has one of the largest populations of bald eagles in the United States!
There are also water toys available for use, such as a water trampoline, launch pads, standup paddleboards, inflatable rafts, kayaks, and canoes. Just note that these are shared with cabin guests so you may not get. your pick of exactly what you want, but they are available.
There's also a picnic table, BBQ area, and firepit available to use on the beach of the lake. This is the perfect Idaho Airbnb if you want your home to be the ultimate getaway and not need to travel far for anything once you arrive!
Crystal Peak Lookout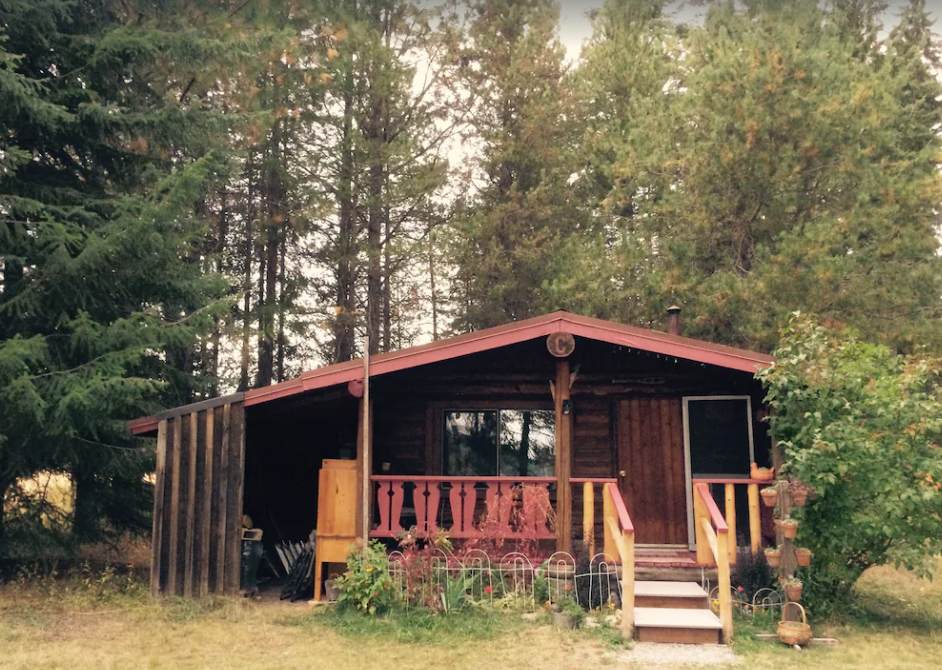 This ultra-cozy vintage cabin offers the ultimate experience in the woods for those eager to remain in close contact with nature during the whole length of their stay!
If you're looking for an Idaho cabin where you can indulge in sweet solitude here you will certainly be sharing the land only with starry skies, owls, bluebirds, and the occasional moose — plus whoever you bring, of course.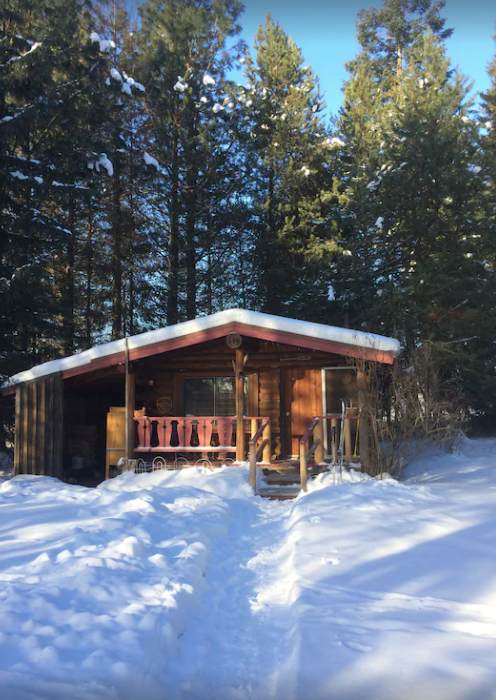 This small but outfitted cabin in its own bit of paradise. The place is only 3 miles away from town but still maintains an authentic rural atmosphere.
Deer, pheasants, turkey's, walk through the yard often. fishing and hunting easily accessed. Rivers and lakes are in all directions for spring rafting and summer fun! Mountains surround area [three mountain ranges, Selkirk, Percell and the Monarchs] The hiking is endless.
Deer, pheasants, turkeys walk through the yard often, besides, fishing can be easily accessed. Rivers and lakes are in all directions for spring rafting and summer fun! Three mountain ranges surround the whole area, Selkirk, Percell, and the Monarchs, so hiking possibilities are virtually endless.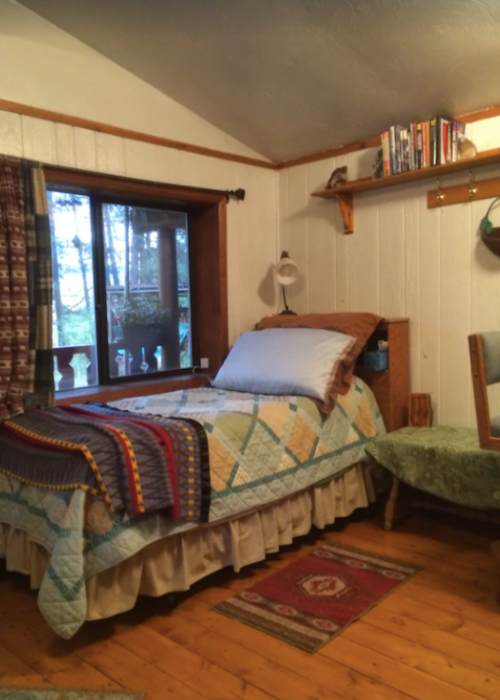 The cabin has a cozy covered porch, a separate bedroom, and a twin bed in the main room. The kitchen is small but well-equipped with a NuWave stovetop with pans, electric stainless skillet, microwave, electric kettle, and crockpot. Heating can be with is wood or infrared electric heat.
Starting around late October, snow can make the roads impassable. You'll need to go by snowmobile or you can hire the property vintage 1960s Snowcat with a driver for $100 for the day, who will take you all over the snow-covered forest and take care of transporting luggage and food.
It's also possible to have a free sled and snowshoes to enjoy exploring the area! For top comfort and homely feeling, the hosts will bring some gourmet hot cocoa (with or without Baileys!) and you can enjoy the wood-fired stove and a wood sauna to warm up in — before jumping on the snow to cool off!
One thing to note is that the lookout doesn't have a bathroom in the lookout itself but rather an outhouse nearby, so if you're unable to handle lots of stairs (or don't want to handle navigating stairs at night for a middle-of-the-night pee), this may not be the Idaho Airbnb for you!
Idaho homes in McCall
Upscale Lodge with Two Hot Tubs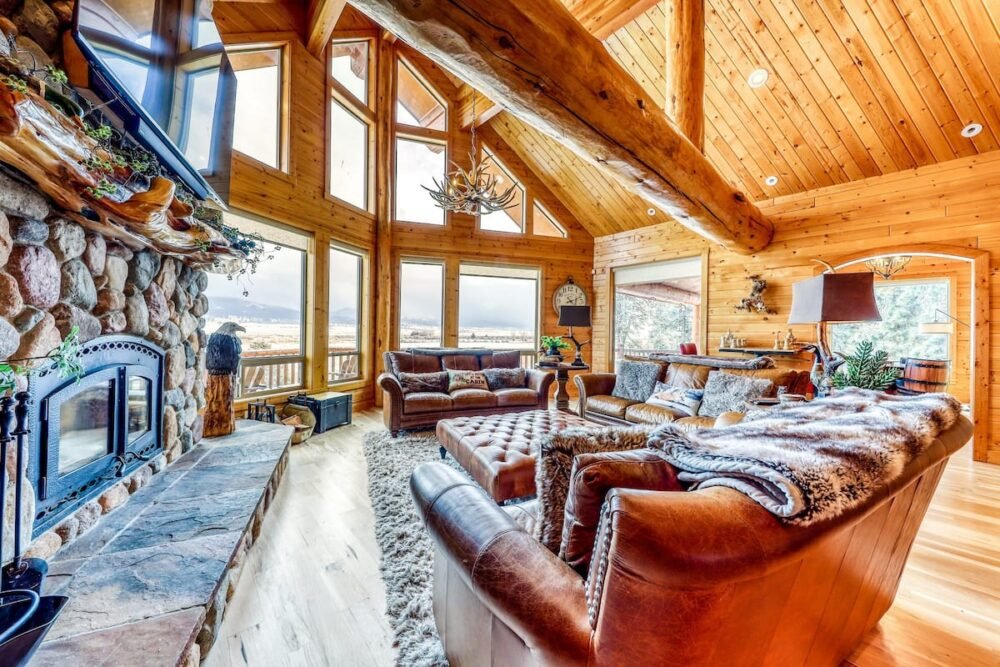 This is the absolute ultimate Airbnb in Idaho for large groups: this monstrous cabin near McCall, Idaho can fit a whopping 16 people and sleep them well, spread across 14 beds to choose from!
This is great for groups of friends as well as several families traveling together, and when you have a nearly full group, the price tag can be quite reasonable for the property.
There are so many rooms of the cabin that it's almost overwhelming! There is a large living room with a gorgeous fireplace surrounded by plush leather couches, the perfect place for watching movies on the flatscreen TV over the crackling fire or having drinks around the fireplace at night.
There's a gourmet kitchen and a large dining area perfect for group dinners, and my favorite feature, a large game room with all sorts of activities available for the group to avail themselves of, including pool, ping-pong, foosball, and shuffleboard!
There's also an entire theater room for watching movies with your group, cinema-style, with a 75″ TV!
Of course, there's also the gorgeous outdoor Idaho surroundings to enjoy no matter the time of year. There are several porch areas with chairs to enjoy watching the snowfall or the stars above.
There is also not one, but two, hot tubs to make use of — one for 8 people as well as a private 2 person tub off the master bedroom — as well as fire pit for gathering around and toasting s'mores and enjoying drinks no matter the time of year.
Custom Built Luxury Cabin with Hot Tub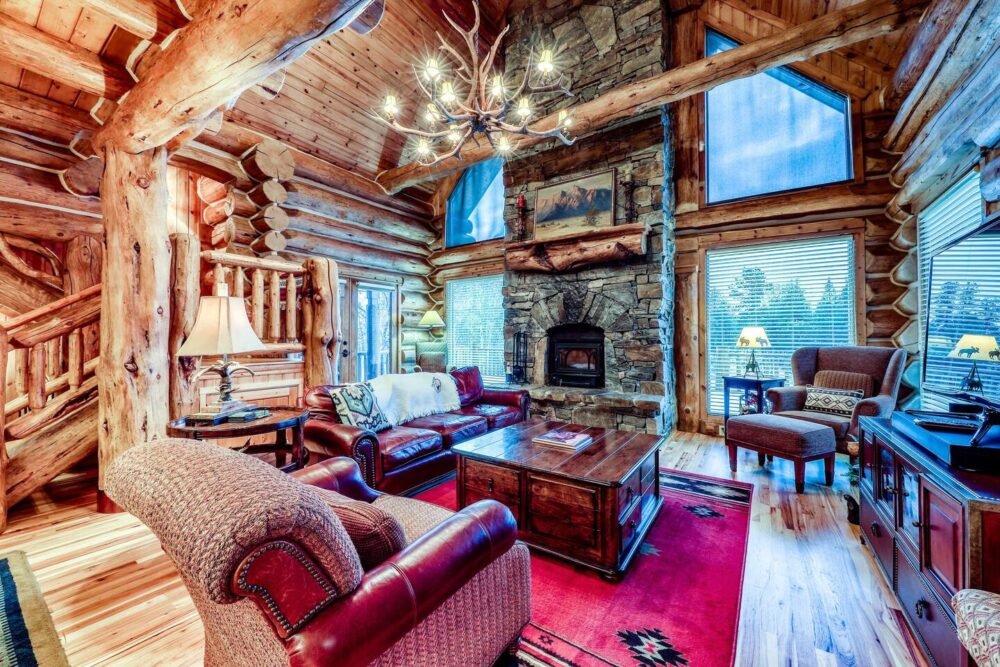 For the ultimate group getaway in Idaho, this delightful Idaho cabin in McCall ticks all the boxes.
It's incredibly spacious and its setting right off of Payette Lake in McCall means that while you could certainly enjoy your Idaho Airbnb for your entire stay, there's a whole host of natural activities just beyond your fingertips.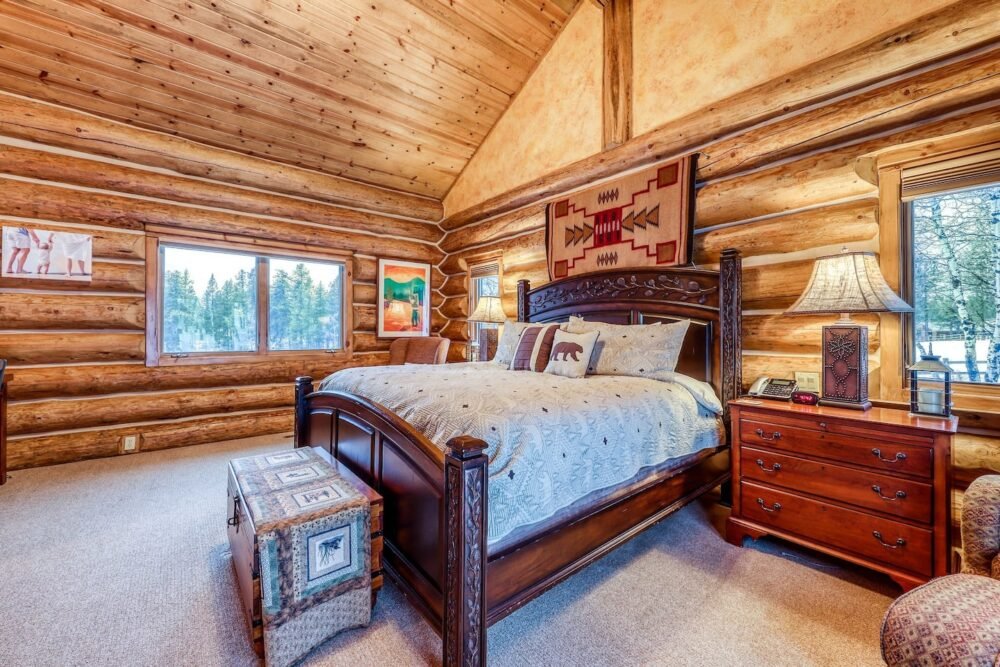 The interior of the cabin is delightfully rustic in a way that just screams "cabin vibes only". It's done in a log-cabin style, yet a lot of the fixtures are extremely modern, so nothing feels dated and you won't lack for any creature comforts.
There are two bedrooms but also an additional lofted area with plenty of extra beds so every member of the family or group can have their little corned carved away to enjoy.
The property also has plenty of amenities to enjoy on the property itself, including a heated hot tub perfect for enjoying in any season and a BBQ grill perfect for summer cookouts (or winter grill sessions, if you're brave!).
There's also WiFi and a home office to use in case any member of the group needs to catch up on some work while enjoying some time out in the country, so you're not off-grid!
The MacCall Escape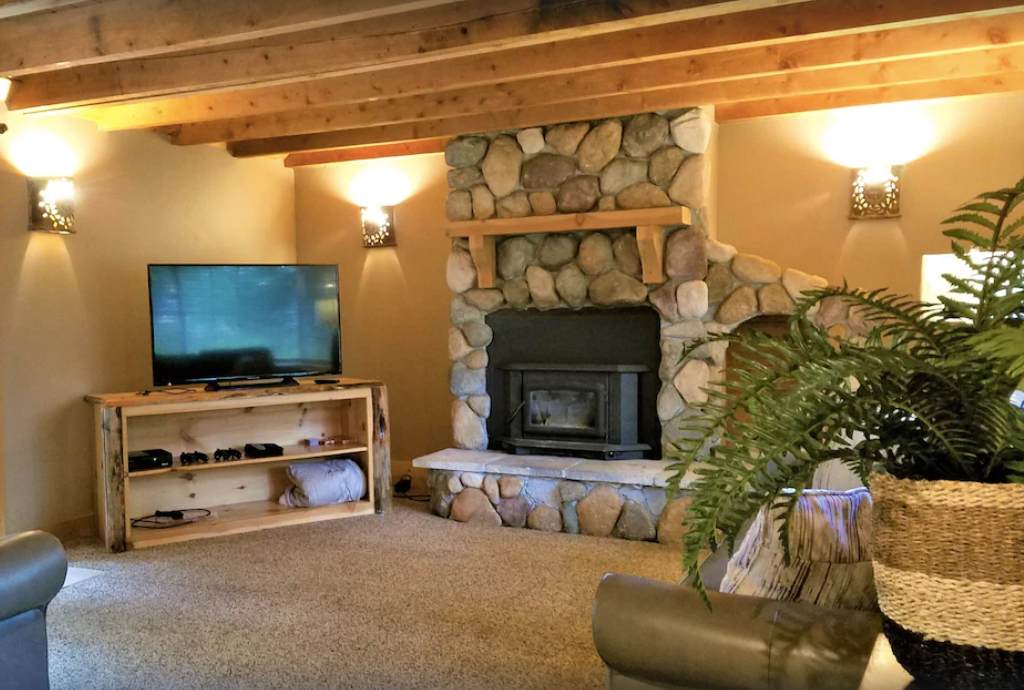 For a cozy to stay in McCall, this great place is conveniently located two blocks from downtown McCall but with private seclusion.
The McCall Escape offers access to all that embodies McCall, whether walking to Payette Lake or heading across the street for the Harshman Skate Park & McCall Skills Pump Park or the 6 mile North Valley Rail Trail that connect to them. And, with ample parking, there is plenty of room for a big family.
The property features an enclosed yard, a nicely-stocked kitchen that includes basic cooking essentials and appliances such as toaster, blender, mixer, mixing bowls, baking pans/sheets, griddle, crockpot, waffle maker, and coffee maker. The washer and dryer are available for longer stays.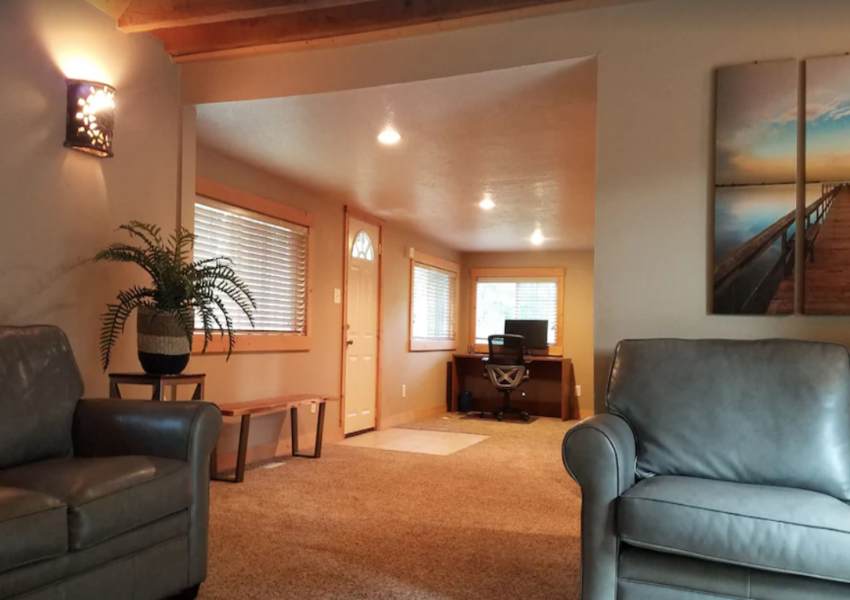 The master room has a smart television that allows for access to movie streaming via Prime Video or Hulu.
And, for those who can't leave work at home, the office area has a desk with a 27″ monitor and HDMI chord for hookup to your laptop. Bedroom spaces are cozy. The low-sloped ceilings in the upstairs bedrooms make a fun place for kids (but maybe a little tight for taller adults).
Idaho Airbnbs in Boise
1940's Remodeled Bungalow with Private Backyard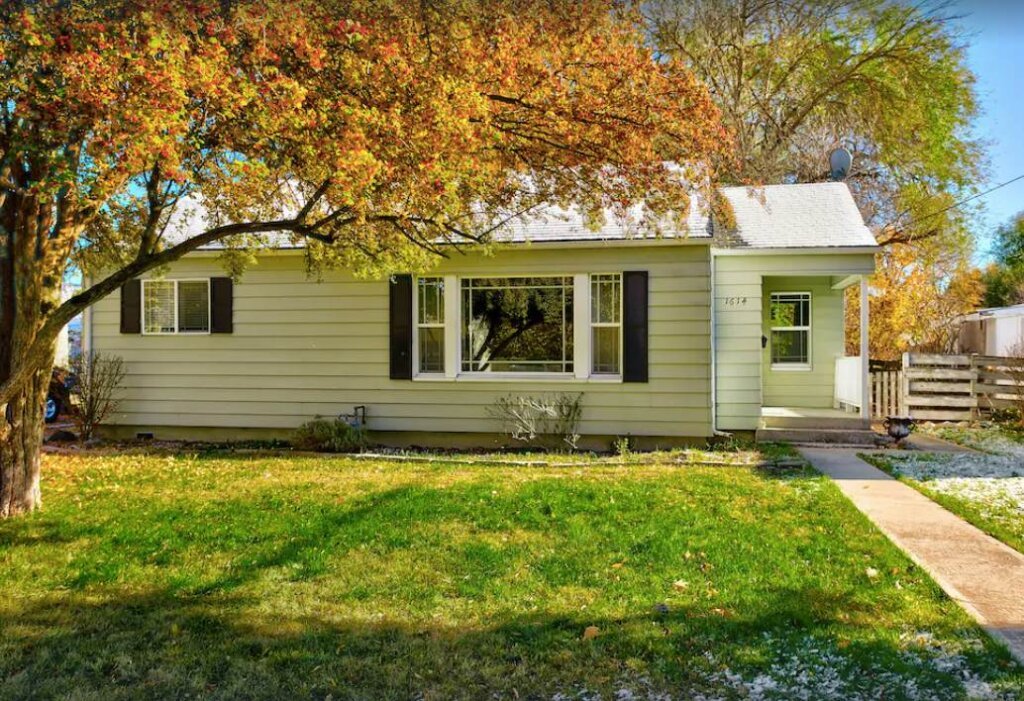 This unique 1940's property is the perfect offbeat place to stay in Boise, Idaho for a group of up to four people looking for a unique place to stay.
The home is cozy and traditional with lots of fun colorful elements and a beautiful yard with barbecue facilities.
This single-level home comes equipped with WiFi, so you don't have to fully disconnect to enjoy a slice of the nomad life!
This home features 2 comfy bedrooms and a beautiful kitchen with a granite kitchen with hardwoods throughout. The kitchen is fully equipped to accommodate any meal with a microwave, stove, oven, refrigerator, freezer, dishwasher, and many other items that you may need during your stay.
The living room is furnished with a comfy sofa and armchair & desk to enjoy the smart TV enabled with Netflix, Hulu, Amazon, etc.
There's also a private backyard with a flagstone patio, chiminea fireplace & BBQ. Pets are allowed with an additional charge ($25/per pet/per stay).
For long-term stays, guests can enjoy the comfort of having a washer/dryer.
The place is in the heart of South East Boise. Minutes from Boise State, Boise River, Greenbelt & Downtown Boise. It's close to restaurants, shopping places, and a gym.
Two bicycle cruisers are provided for you to explore the local area or enjoy the 25-mile Boise River Greenbelt that runs through the entire city.
There is plenty of parking with an off-street driveway, and street parking out front.
Big Idaho Potato Hotel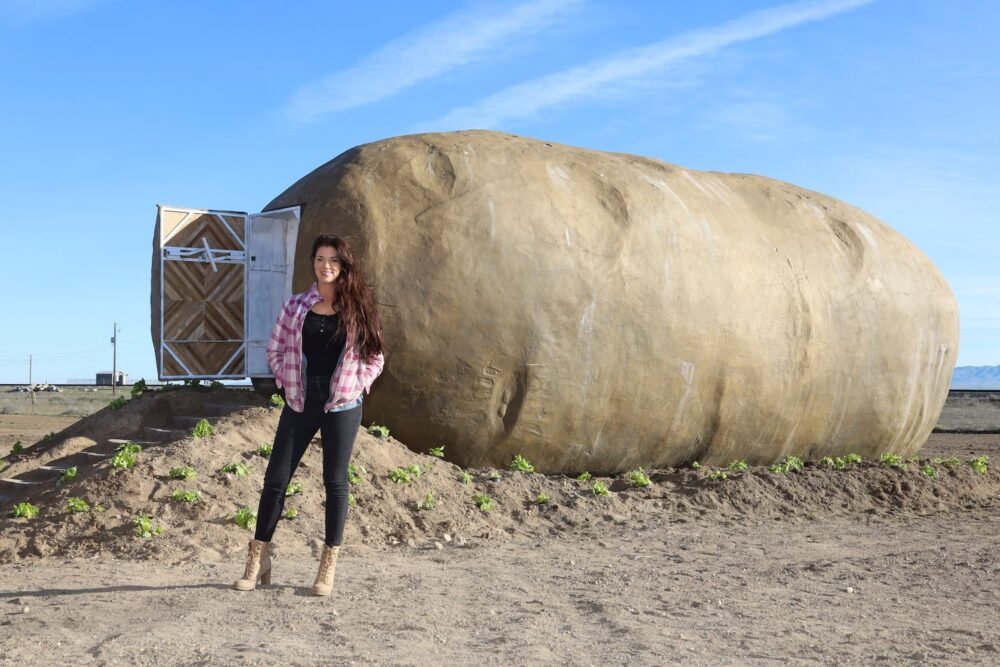 Have you ever found yourself wishing, gee, I wish I could spend the night in a potato? Anyone? Anyone? Bueller?
It may not be something that was on your Idaho bucket list beforehand, but come on, there's something delightful about getting to say yes, I spent the night in a giant 6-ton Idaho potato on an actual farm, and it was surprisingly stylish and dare I say, even hip?
The outside may be delightfully kitschy and rural, but the interior is utterly modern, with an almost Scandinavian sensibility in its color palette and pared-down design elements, enlivened by a bit of mid-century modern touches.
Really, who knew potatoes could be straight up elegant?
If you're wondering where that Idaho potato Airbnb fits a bathroom… well, it doesn't, but there's an outhouse in a converted grain silo just a few feet away. And trust me, it's a lot more luxurious than it sounds (though I guess that wouldn't be hard).
The bathroom is just as chic and design-focused as the interior of the potato, with a soaking tub, sculptural chandelier elements, and lots of greenery to make the bathroom feel like a little spa on your Idaho farm.
Plus, the benefits of being on a farm is that you can say hello to all the cute animals on the farm, including the pet cow Dolly: her kisses come included!
Stay 208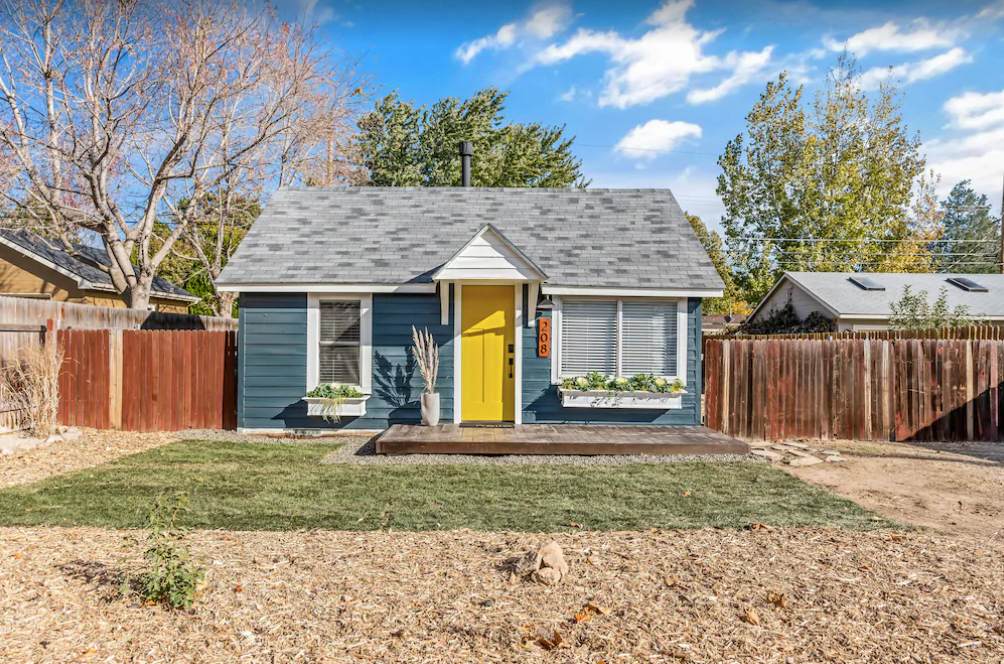 Forget everything about hotel rooms, this is one of the prettiest places to stay in Boise, Idaho!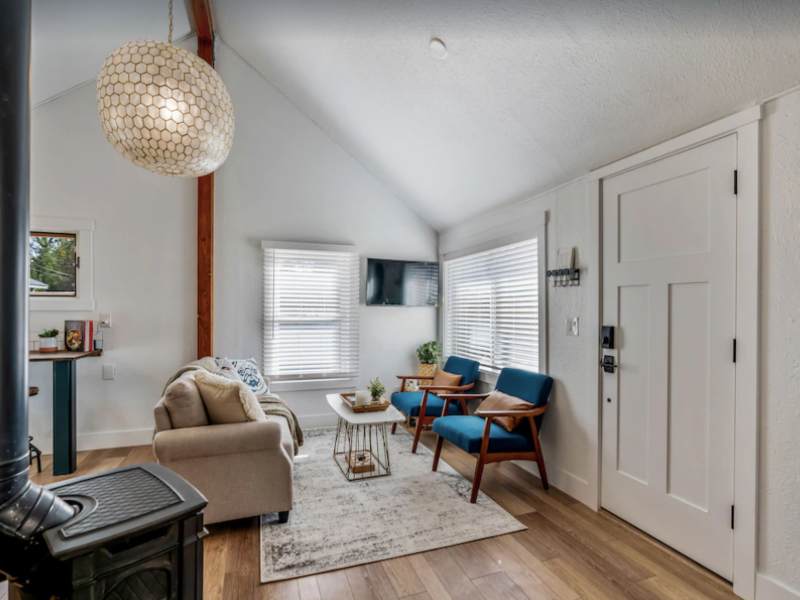 This is simply the most perfect little Boise getaway! Located only minutes from downtown Boise and conveniently near the Boise Depot, this completely renovated space offers a private yard, outdoor spaces, a fire pit, plenty of parking, and more.
And the most unique feature? The super edgy Espresso bar…
The property features also bikes, spa-like bathrobes, and more!…check! With an emphasis on style and comfort, this place is a must-stay for your Boise trip.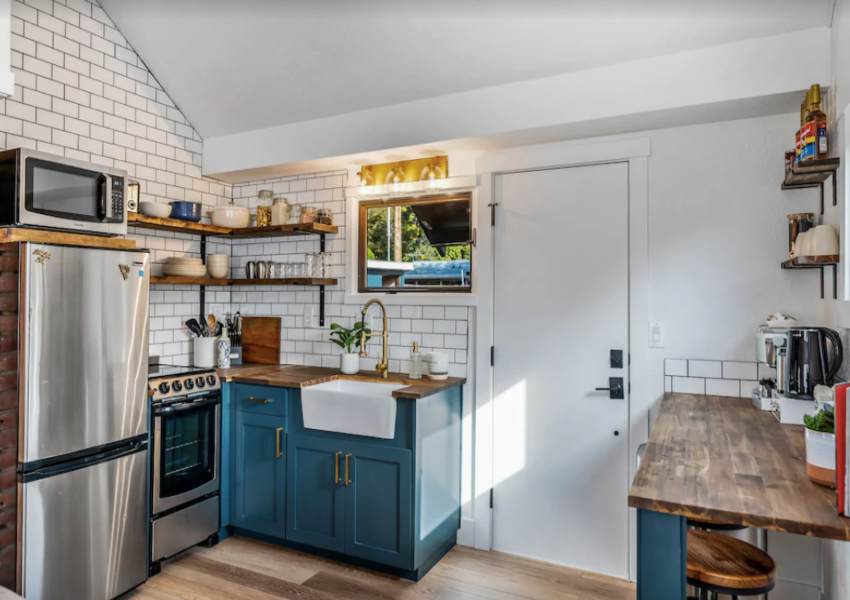 The kitchen is delightfully large for such a small space, and the colorful cabinets bring a spark of joy to the otherwise rather neutral color palette of white and wood details.
A small dining nook makes enjoying a romantic meal for two a breeze in this charming Boise Airbnb.
Meanwhile, the bedroom space is lush and inviting, with tons of soft blankets and pillows that practically beg you to curl up for an afternoon nap.
Southwest Idaho homes
The Ranch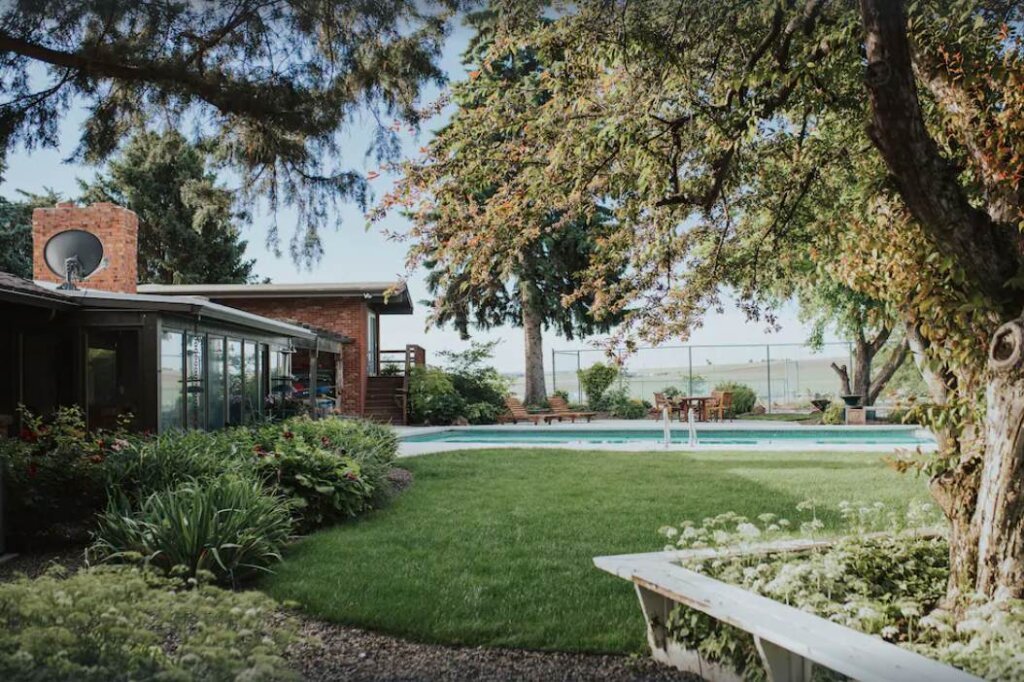 If you have someone in your life who loves life at a ranch (or you're that someone and you're looking to treat yourself) — this is the perfect Idaho home overlooking lake Lowell!
It's also a great choice for a group of friends or two or more families, as well as for those who are a little old-fashioned or into history.
This beautiful Country Home is located in the heart of Wine Country and close to Town and it's just a perfect option for family & friends gatherings.
The Ranch House grants an unparalleled Southwestern Idaho experience. It's just 10 minutes from Caldwell, on the edge of Deer Flat Wildlife Refuge, which overlooks the beautiful Lake Lowell and Treasure Valley. The place is framed by acres of picturesque farmland and surrounded by the nearby scenic Snake River Canyon Scenic Byway.
The beautiful country setting is in the heart of the Snake River Valley AVA, and Sunnyslope Wine Trial which features 15 wineries and vineyards, award-winning wines, and unique dining experiences and tasting rooms.
Almost 6,000 square feet of living space, four bedrooms, four bathrooms, two family rooms, a large dining room, pool room, and a heated outdoor pool with plenty of room for everyone to spread out and play games, watch movies or just relax inside or outside.
Guests can also sample and enjoy local, ranch-raised Black Angus beef and lamb meat. Historic downtown Caldwell and Indian Creek Plaza are minutes away.
Pin This Guide to Airbnbs in Idaho!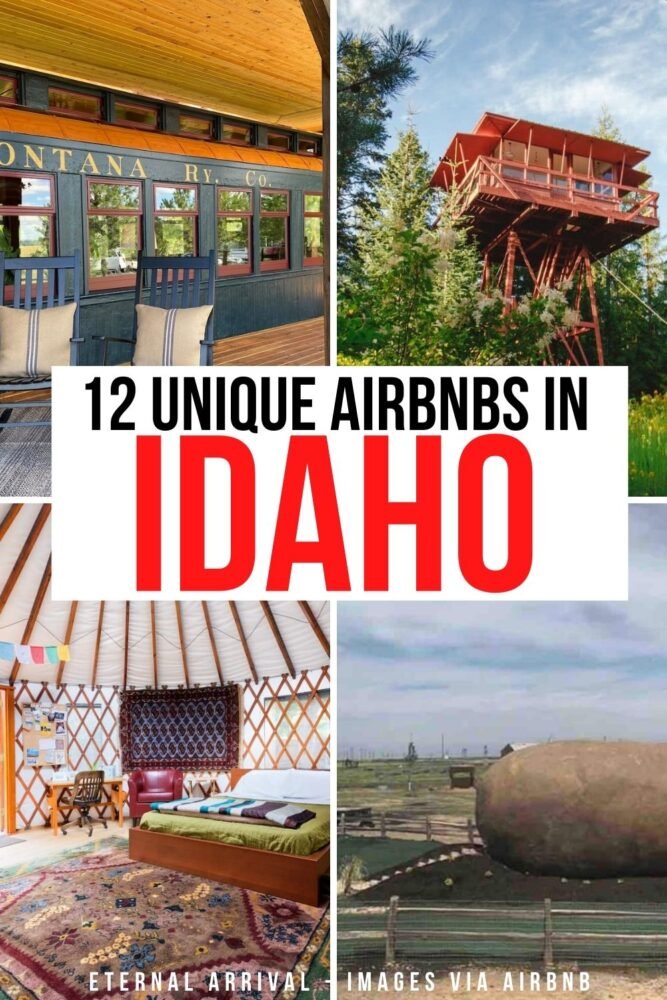 Allison Green is a former educator turned travel blogger. She holds a Masters in Teaching and a B.A. in English and Creative Writing. Her blog posts merge her educational background and her experience traveling to 60+ countries to encourage thoughtful travel experiences that both educate and entertain. She has been a speaker at the World Travel Writers Conference and her writing, photography, and podcasting work has appeared in National Geographic, CNN Arabic, CBC Canada, and Forbes, amongst others. Now based in the San Francisco Bay Area where she grew up, she has also lived in Prague, Sofia, and New York City.