It's no secret that Iceland has some issues with overtourism. The beautiful Nordic island was mobbed by nearly 2.2 million people in 2017, and tourism has increased by a factor of 5 over the last decade. Tourism in Iceland doesn't seem to be likely to decrease, either, with WOW air looking to increase its transatlantic presence and offering flights so cheap they nearly seem economically impossible.
When I recently spent a week in Iceland, I admit I was a little nervous to come – afraid I was contributing to their massive overtourism with my mere presence. As I spent 8 days road-tripping through some of the lesser-known parts of Iceland, covering the Westfjords extensively, I was surprised to find that Iceland isn't as crowded as it appears by the numbers.
The real problem is that many tourists in Iceland never stray off the beaten track of tourist musts.
They go to the same 5 or 10 places: the plane wreck on the black sand beach, Skogafoss, the glacier lagoon, and repeat. People begin to think this is the only way to experience Iceland.
And while Iceland's top 10 sights are certainly gorgeous, unless you are waking up at the very crack of dawn you are likely to share them with at least a few hundred other people.
Planning an Iceland road trip? Bookmark this page with this handy mobile-responsive map for your trip.
[wpgmza id="6″]
However, what I quickly discovered when traveling Iceland's west is that tourism is hyper-concentrated in a few places, namely all along Iceland's South Coast. But there are several smaller towns, lesser-known waterfalls, and other Iceland hidden gems that are also well-worth exploring. They may take a little more effort or time to get to, but the rare feeling of having a place in Iceland all to yourself is worth it, no?
I can only cover so much ground, so I asked travel bloggers who have visited Iceland to recommend their favorite off the beaten track and unusual places to visit in Iceland. Check them out below!
Landeyjahöfn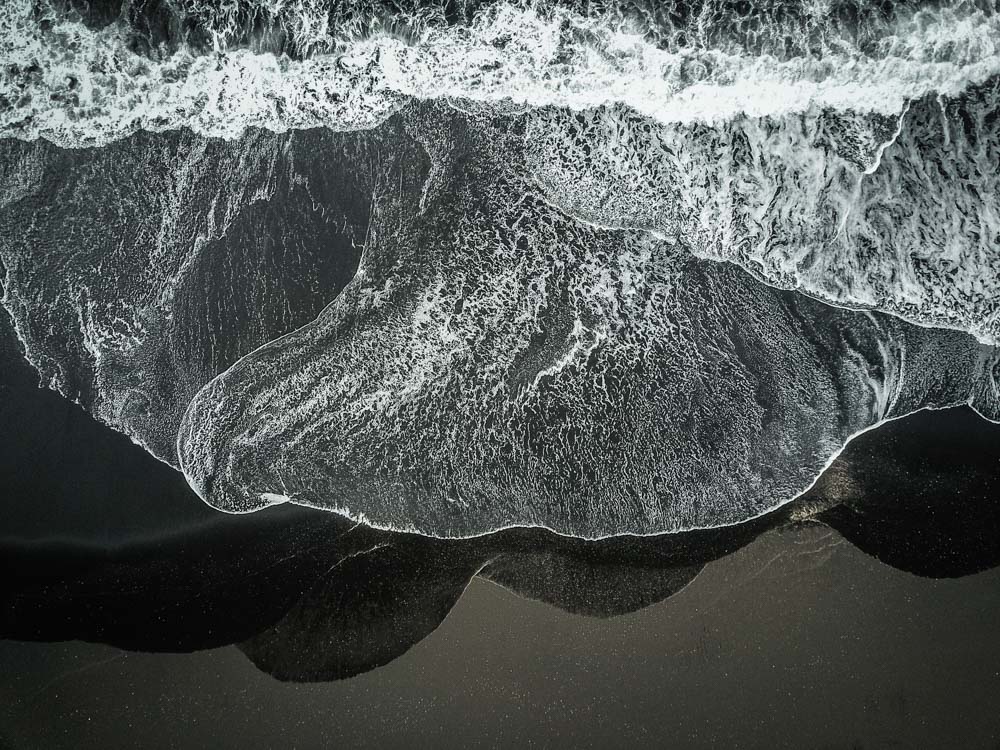 Note: This post contains affiliate links, which means I may receive a small commission if you purchase something through one of these links. Thank you for supporting the free content on this site! For more information on affiliate links and cookies, see my disclosure page for more details.
Contributed by Julianna of The Discoveries Of
When people think of a black sand beach in Iceland, they tend to think of Vik or Diamond Beach – but Iceland actually has a number of black sand beaches to explore. My favorite was the one at Landeyjahöfn.
Extending for several miles from the Landeyjahöfn port, the beach is like something out of another world. A seemingly endless view of black sand, battered by powerful waves – the contrast between the seafoam and the sand is pretty incredible.
Landeyjahöfn stands across from the Vestmannaeyjar Islands. In the day I visited, they hovered on the horizon in a cloud of mist, which only added to the appeal.
Sea birds, seals – if you keep your eyes open, there are enough wildlife spotting opportunities at Landeyjahöfn to make it worth the trip alone.
Landeyjahöfn is pretty under-the-radar, and if you visit, the chances are that you will have it to yourself. But this solitude comes at a price… it's a bit of an adventure to get there – bumping over small sand dunes and into puddles of water in a super-jeep. The journey was half of the thrill.
As a much tamer alternative, you can park up at the port and walk down onto the beach from there. But where's the fun in that?
Hraunfossar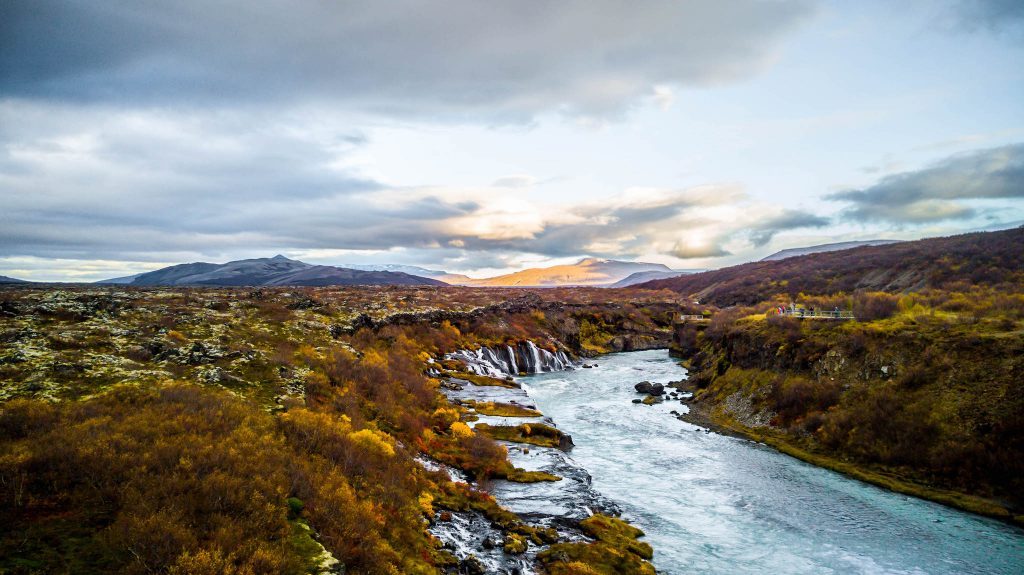 Contributed by Natasha and Cameron of The World Pursuit
One of my favorite waterfalls in Iceland is far off the beaten path and less heard about than many others. It's not the beautiful Skogafoss or Dettifoss though. Located near the small town of Husafell is a beautiful series of cascading waterfalls called Hraunfossar.
Hraunfossar translates to "Lava Waterfalls." Hraunfossar is a combination of creeks and large and small cascades streaming out of lava over a full distance of 900 meters. Cascading waterfalls flow over the Hallmundarhraun lava field and finally pour into the river Hvíta below. The spectacle is peaceful and quiet and reminds me of the famous Plitvice lakes in Croatia. The became my favorite waterfalls in Iceland because they were so different and unique.
If you can I would highly recommend traveling to Iceland in the fall season so you can see the falls surrounded by yellow, orange, and red trees. The autumn sight is simply stunning!
After checking out Hraunfossar make your way to Husafell. The surrounding area is great for hiking around. There is also a fantastic pool at Hotel Husafell nearby.
Fjaðrárgljúfur Canyon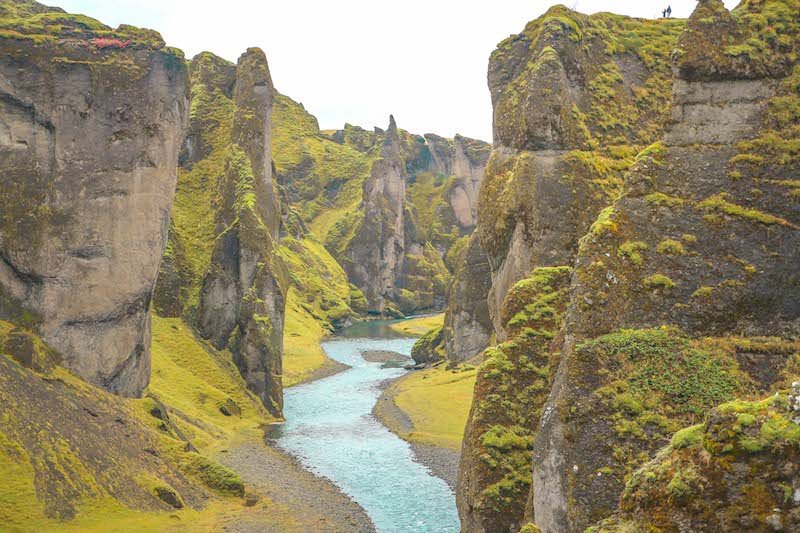 Contributed by Sam and Natalia of Something Of Freedom
It's perhaps surprising that Fjaðrárgljúfur canyon isn't found more commonly on people's Iceland itineraries. The canyon is home to some of the country's most spectacular and dramatic landscape, which promises to stay etched in the memory of those who do choose to visit.
Formed over 9,000 years ago, the Fjaðrárgljúfur canyon meanders for around 2 kilometers reaching a depth of 100 meters. Carved out by glacial waters, the steep canyon walls are covered with a distinctive moss, which only adds to the beauty of the landscape.
A trail runs along the top of the canyon, with multiple magnificent viewpoints along the way, allowing you to stop and truly appreciate this natural wonder. At the end of the trail, a viewing platform offers even more brilliant views and the chance to see the waterfall, which feeds into the Fjaðrá river below. If you want to walk within the canyon itself, you'll have to wade through the river – although thankfully the water levels are generally quite low!
The canyon is just over 3 hours away from Reykjavik by car, and is far less busy than tourist hotspots like Gulfoss and the Blue Lagoon. That doesn't mean it's not worth a visit though, as the impressive landscape make it one of the must see places in Iceland.
Aldeyjarfoss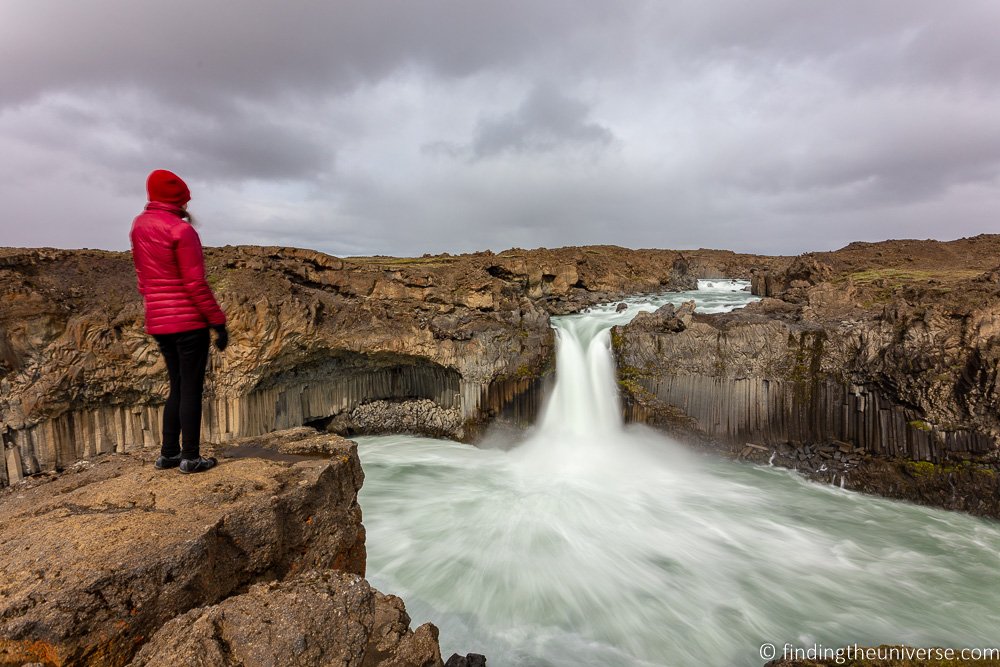 Contributed by Laurence of Finding the Universe
Whilst Iceland's ring road has many attractions that are easy to visit without much of a diversion, there are a few stops that warrant getting a bit into the backcountry.
We'd suggest that one of these stops that is worth the detour is Aldeyjarfoss, found in northern Iceland in the Lake Myvatn area. Aldeyjarfoss is an impressive waterfall which requires around an hours drive each way along dirt roads.
The reward if you make the effort is a waterfall with far fewer visitors than many of the others in Iceland, with a fast flowing rush of water squeezing between multi-colored basalt pillars into a large pool of water. The hard basalt restricts the water into a relatively narrow jet, making it a very impressive and quite unique sight to see.
The surrounding landscape is also impressive, as the river carves its way through the rock and flows out to the distance.
Access to Aldeyjarfoss is via a dirt track that is in relatively good condition, but access in winter in particular can be more challenging. You don't specifically need a high clearance 4×4 vehicle to come out here, but you might find it to be more comfortable a journey if you do.
Westman Islands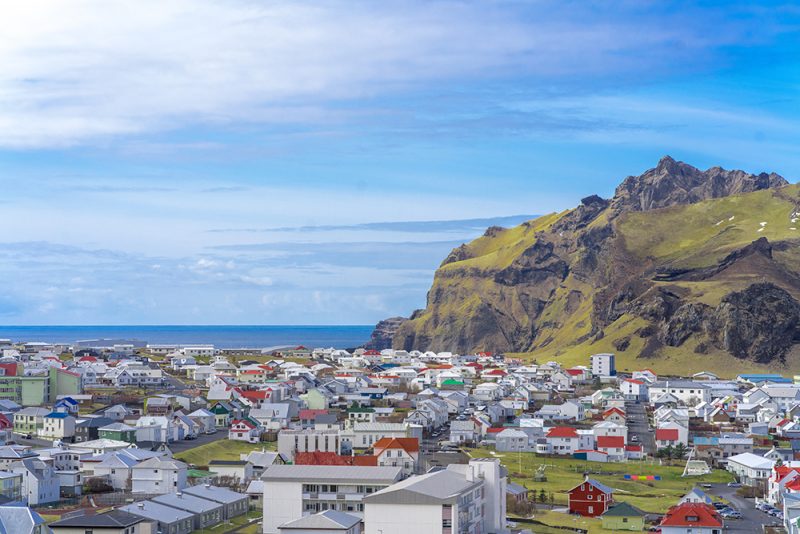 Contributed by Wanderlust Crew
Several miles off the south coast of Iceland lies the Westman Islands, or Vestmannaeyjar in Icelandic. The most inhabited island, Heimaey is home to the now dormant Eldfel Volcano, which famously erupted in 1973, causing all of the inhabitants to quickly evacuate the island and resulted in the loss of many homes and the expansion of the island as well as a downsizing of the harbor, which was the lifeblood of the fishing community.
The Westman Islands are now home to several hundred inhabitants with a unique way of life. The islands are easily accessible by a ferry from the south coast of Iceland that leaves several times a day during good weather.
On Heimaey Island visitors can hike the dormant volcano Eldfel, take boat trips around the island, visit puffin colonies, play a round at the golf course, eat fresh fish at one of the local restaurants, and play at the playground in the shadow of a volcano.
Don't miss the Eldheimar Museum where you'll learn about the Eldfel eruption and its lasting effects on the community. The museum is literally built around an excavated house that was buried by the eruption where you can see artifacts from every day life preserved just as they were left in 1973.
Reyðarfjörður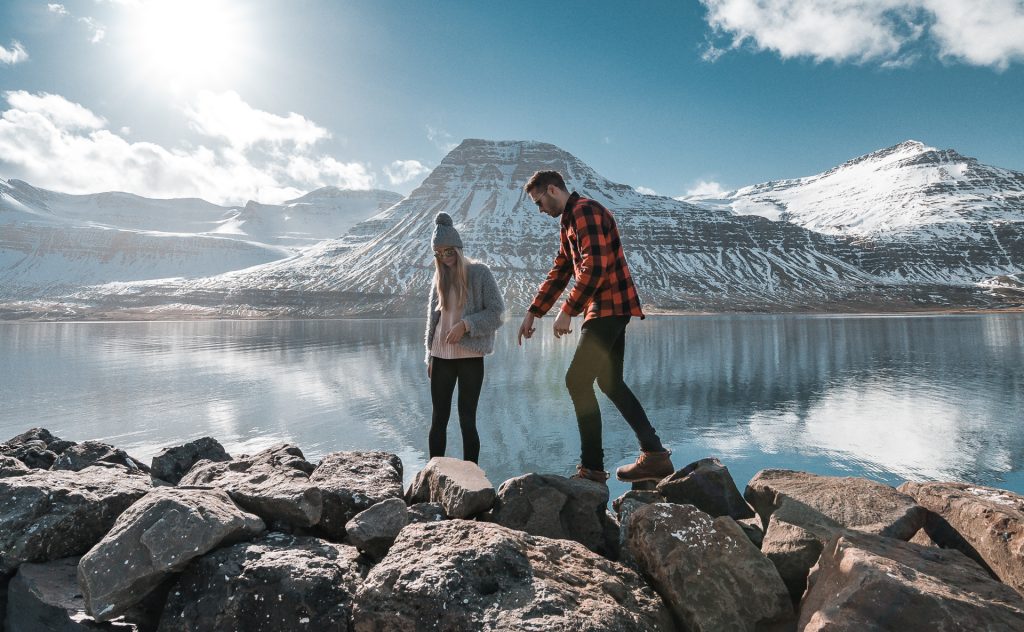 Contributed by Christine of Christine Abroad
Reyðarfjörður is a beautiful small village in East Iceland. It's not the typical tourist place, but if you're driving around the ring road, I highly recommend it as a stop along the way.
The beauty of the mountains with reflections, the small fishing boats and the fact that you feel like in the middle of nowhere. We were there for 2 hours, and in that time, we barely saw a person. The total population of this little town is about 1000.
You can also go hiking here and walk up the mountains for some spectacular views. Make sure to bring good shoes though as the walk up is quite steep, and there are no real trails.
In Reyðarfjörður you get the chance to see a real and untouched side of the Icelandic beauty and tranquility. This is definitely one of the best places to visit in East Iceland if you want to get away from crowds and experience something unique outside of the ordinary Iceland itinerary.
Nearby, you can also visit 2 quaint villages called Fáskrúðsfjörður and Eskifjörður. These are also worth a visit and make an interesting stop if you want to experience the authentic daily life of East Icelanders."
Krossneslaug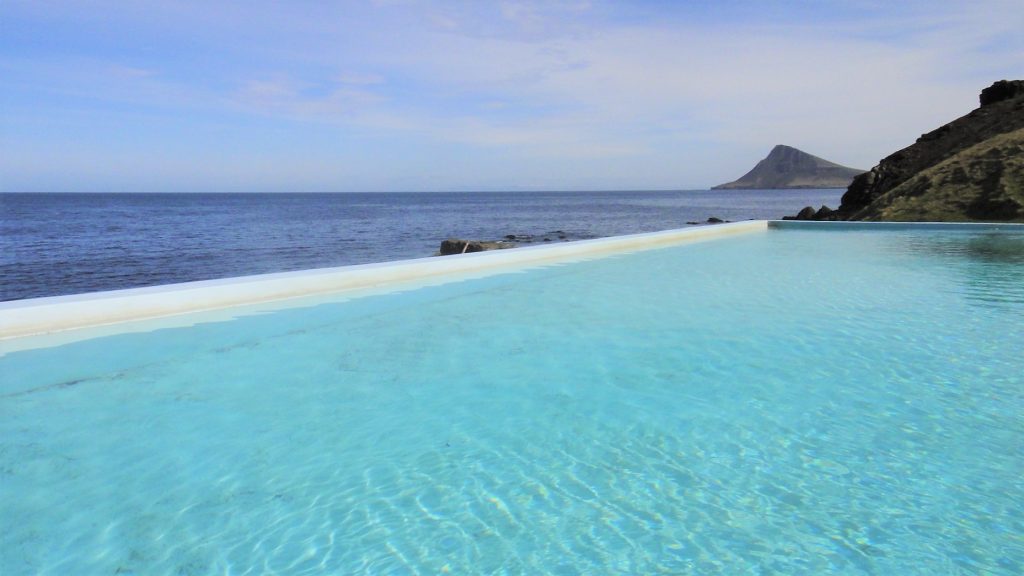 Contributed by Inma of A World To Travel
This open-air geothermal pool by Strandir in the Westfjords is far enough from the main ring road to be uncrowded. Yet, for anyone exploring this peninsula, it should be a mandatory stop. With 38ºC water, a nearby 42ºC jacuzzi and shower facilities, the turquoise paint of the pool surely balances the dark blue of the sea in front of it, near the Arctic circle.
I visited it while doing my EVS (European Volunteer Service) in Djupavik, a tiny village less than one hour away by car along with other volunteers. There was no one else there at the time, so we dropped a few coins in the donation box before jumping in.
It would have been great to watch the sunset from there but as it was June that would only happen around 1 am, so we left knowing that next time in Iceland, this gem would be again on our Iceland road trip itinerary. And as if we needed more reasons, soon after our micro adventure, we were told that sometimes it is possible to spot whales swimming in the ocean from Krossnes pool. I mean, what else do you need to make it happen?
Arnarstapi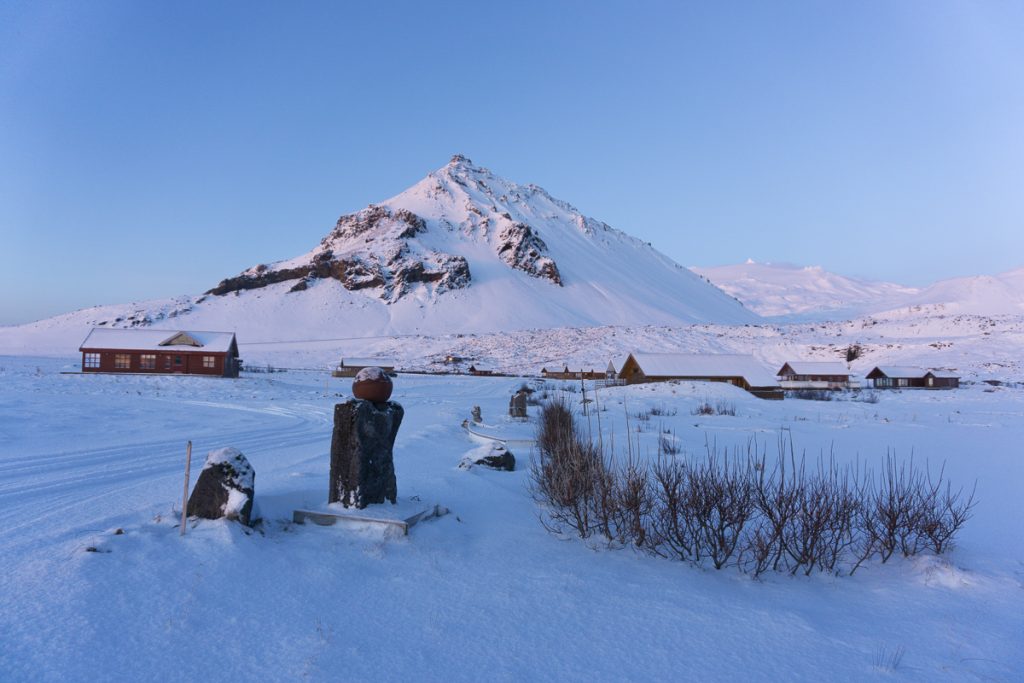 Contributed by Sonja of Migrating Miss
Arnarstapi is a small village located on the southern side of the Snæfellsnes Peninsula. It was once a busy port and commercial area but is now more popular with tourists and Icelandic people who own second homes here. 

Many travelers pass through Arnarstapi on their explorations of the area, but it is worth a stop and is a great place to stay to explore the area for longer. There are plenty of attractions on the Snæfellsnes Peninsula like Kirkjufell, the Gerðuberg cliffs, Lóndrangar basalt cliffs, Vatnshellir Cave, the black sand beaches of Djúpalónssandur and Dritvík just to name a few! 

In Arnarstapi itself you can walk along to Hellnar village across the Hellnahraun lava field. If you're brave, there's also Gatklettur, or Arch Rock, a natural rock bridge you can walk across, although there are no rails! There's also a quaint Icelandic Church and a rock formation that is said to represent Bárður Snæfellsás, a half troll, half man who is the protector of the peninsula. 

The town is also overlooked by Mt. Stapafell and the Snæfellsjökull glacier which are covered in snow during the winter time in Iceland. It is also a fantastic place for keeping an eye out for the Northern Lights that appear across the skies in the darker and colder months. Another reason to stop and stay in Arnarstapi!
There are also some really cool Northern lights hotels near Arnarstapi!
Stykkishólmur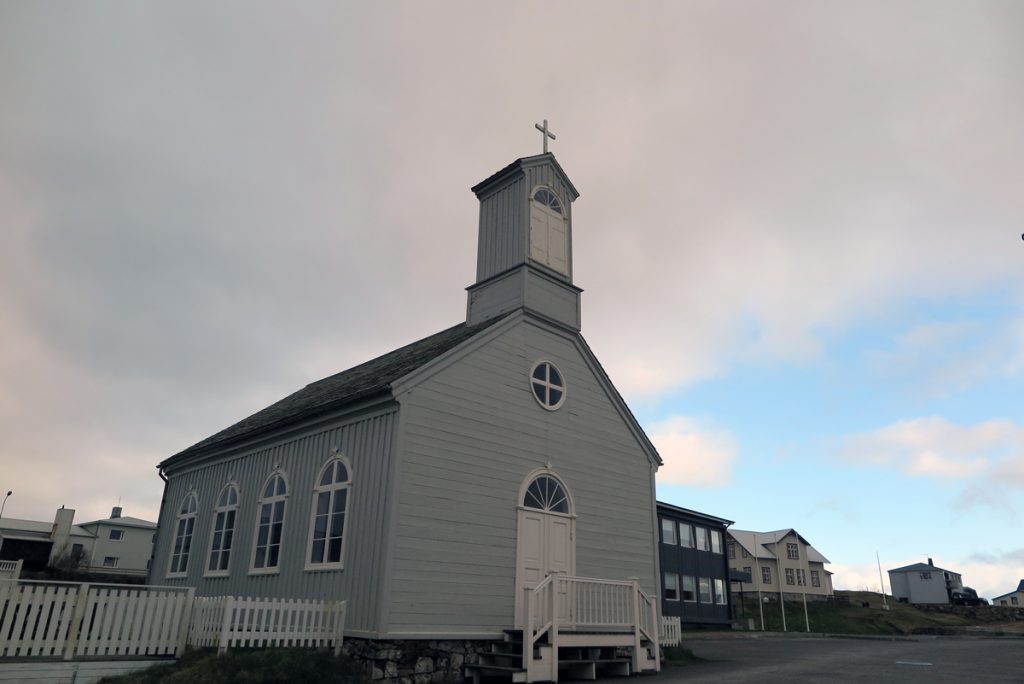 Contributed by Veronika of Travel Geekery
The cute town of Stykkishólmur is located on the Snaefellsness Peninsula in the West of Iceland. It's an area just a few people venture out to, and thus it's still void of crowds. Stykkishólmur is the most populous spot on the Peninsula and there's more than a 1,000 inhabitants living there. When you visit, though, it won't feel that way.
Stykkishólmur is known to travelers as a few scenes from the movie 'The Secret Life of Walter Mitty" were filmed here. Some people just drive through, take a photo by the harbor and continue their way. I'd urge you, though, to stop at least for a few hours. Apart from walking around and admiring the typical Icelandic architecture, you can observe fishermen in the harbor or indulge in tasting some of local delicacies.
We visited a restaurant called Sjávarpakkhúsið located right by the harbor. The meals we had – fresh catch and veggie pasta, were delicious! My husband flushed them with the local ale and we went on with our journey.
It might not be apparent at first sight, but Stykkishólmur is a rare example of how a town can be 100% environmentally friendly. Not only do they sort the waste impeccably, they use the hot water from the ground for heating and then inject it back into the ground. The ecological approach has earned Stykkishólmur an environmentally conscious award every year since 2008.
Reykjadalur Valley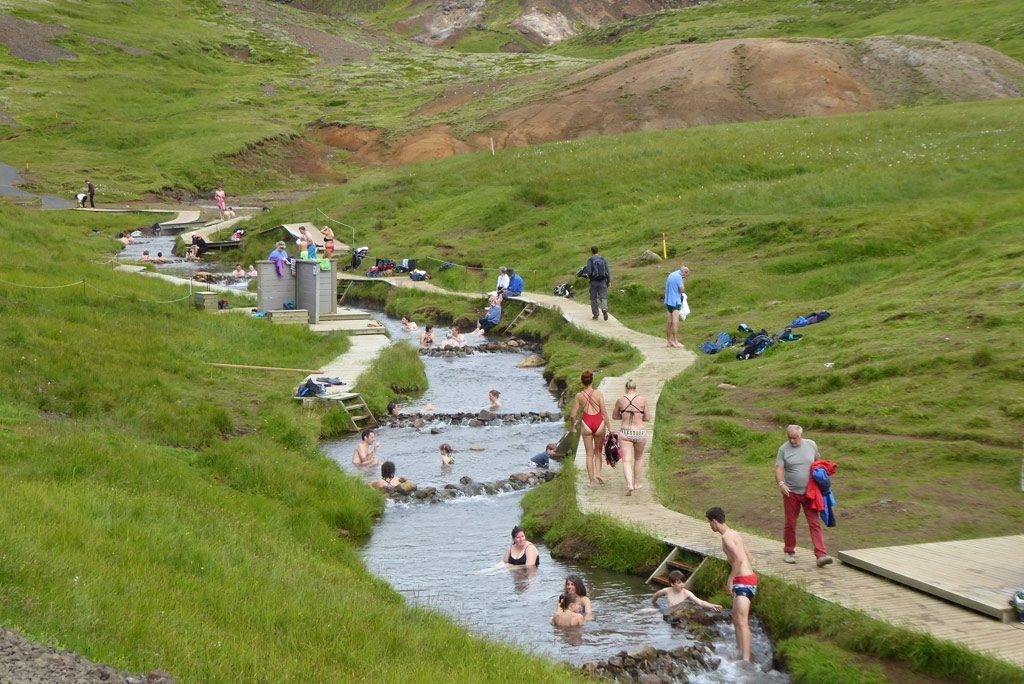 Contributed by Elisa from World in Paris
Reykjadalur Valley is a beautiful area located in the vicinity of Hveragerði town, in Southwest Iceland. This is a highly active geothermal area not far from the famous Geyser, and it is known for its lava fields and natural steaming vents. In Reykjadalur Valley there is a hot river where people can bathe in.
This unusual place is a very popular attraction among locals and tourists and we definitely recommend to have a look (and of course take a dip) if you are around. To reach the hot river there is a 3 km hike (one way) up to the valley. This is a beautiful and easy hike where you can see mud holes, hot springs, and a little waterfall.
It is also possible to reach the river by horse, as there is a place to rent the typical Icelandic horses not far from there. We decided to do the hike, starting at the car park in front of the restaurant called Dalakaffi.
Because this is an easy hike, and not really steep, there is no special equipment to take apart from the swimsuit and a light towel, of course! However, a pair of sturdy hiking shoes and a waterproof jacket are always a good idea, especially if it starts to rain. The river is long enough for everybody but we recommend going early in the morning to avoid the crowds.
Glaumbaer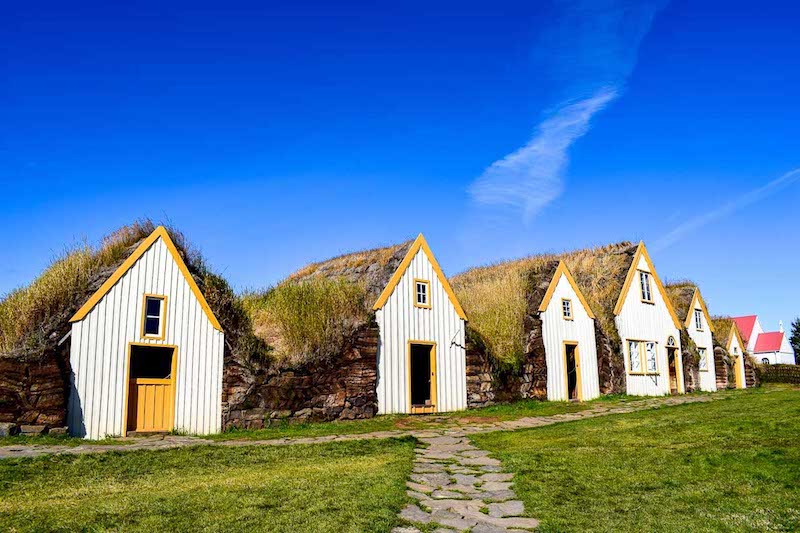 Contributed by Emily of Kids and Compass
Glaumbaer Turf Farmhouse is a small open-air museum.  You'll find it just off the ring road in the north of Iceland, near the town of Varmahlid.  The main turf farmhouse is a great example of traditional Icelandic life.  In addition to the large farmhouse, there are two other historical wooden houses on site at Glaumbaer, although they've both been moved from their original locations.
Glaumbaer is a historical site: it's thought that there's been a farmhouse here ever since Iceland was first settled, although the main turf farmhouse that you see today dates from the mid 18th century.  As you walk around the outside of the farm buildings you can easily see the herringbone pattern of the turf bricks – it's surprisingly effective way to waterproof a home if built properly.  It's definitely one of the finest and prettiest examples of turf buildings you'll find in Iceland.
Inside the farmhouse, you can see how the farmers and their families would have lived.  The corridors are dark and gloomy but several of the rooms are lined with wood and brightly painted. Others, such as the storerooms, have bare earth walls and floors.  The rooms are filled with objects, tools, kitchen utensils and the like to give you the impression the farmhouse is still lived in.
Outside, make sure you find the statue of Gudridur Thorbjarnardottir whose son farmed on the Glaumbaer site – they were among the first westerners to visit the Americas and return to Iceland.  Their lives are recorded in some of Iceland's Sagas.
Glaumbaer is open every day from May to September, during the week in April and October and by request only from November to March.
Arctic Henge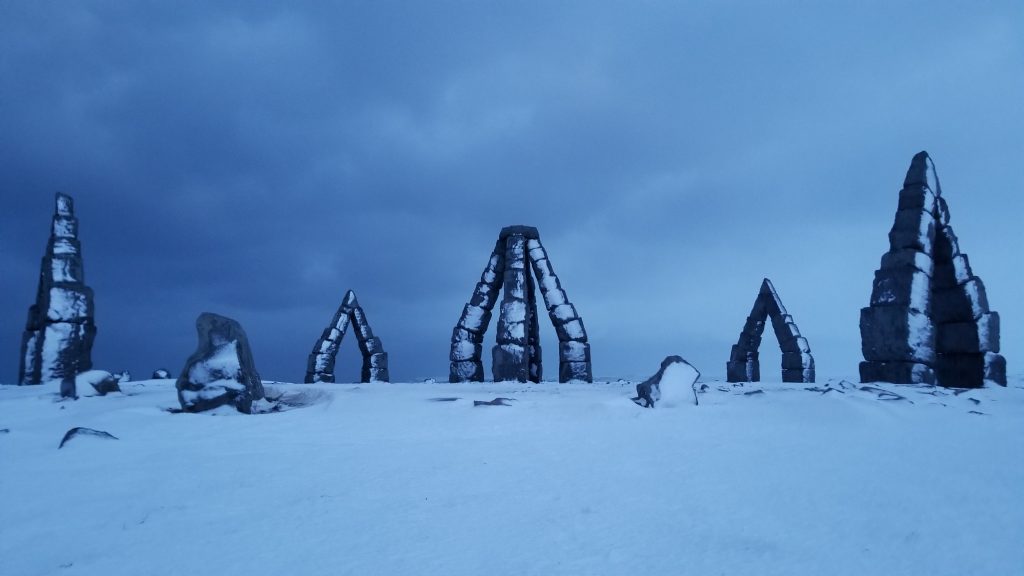 Contributed by Jess of How Dare She
Iceland's Arctic Henge (Heimskautsgerðið) is one of the most remote and northernmost spots in the country. Raufarhöfn is a small village on a peninsula at the top of the island and Arctic Henge lies right on the coast. The roads to access it are quite nice, but if you're going to Iceland in the winter, be sure to check conditions as it can be a very tough drive, located about 130km from the nearest larger village.
While it may look ancient and reminiscent of other pagan monuments, like Stonehenge, it's actually modern. Construction started in 1996 and isn't completed yet, but it's still worth checking out. It is designed, like other henges and stone circles, as a large sundial. By using the chosen location, there is nothing blocking the horizon in any direction, meaning nothing blocking the light from a rising or setting sun, any time of year.
Arctic Henge is about 50 meters in diameter and consists of two main rings. In the outer ring, there are four, 6-meter-tall gates, facing each cardinal direction. The inner ring has a 10-meter-tall column, with four pillars. The column will eventually be topped with a prism to reflect light throughout the structure. In addition to the goal of attracting tourists, it is also designed to serve Iceland's modern pagan population, approximately 1% of the population.
Hellulaug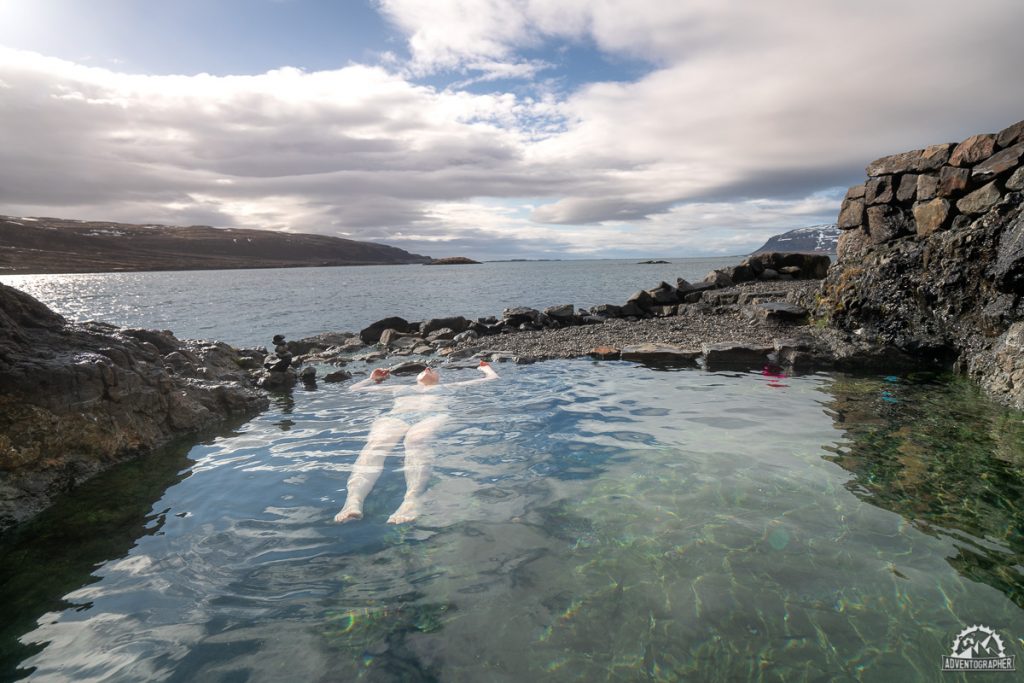 Contributed by Patrick of Adventographer
Nestled deep in the often overlooked, yet spectacular, Westfjords are some of Iceland's least trafficked but most beautiful places. Along this rugged, off the beaten track section of coastline you'll find countless small towns full of Icelandic charm. Taking in that charm and talking with the locals provides a great insight into the history of the area and if you're lucky they might just share with you the location of one of their favorite Icelandic hot springs.
That's exactly how we found the stunning, seaside hotpot, Hellulaug. Tucked into a cliff, trapped between the road and sea, in a remote fjord, this naturally fed hot spring was a welcome reprieve from the road. With no amenities (aside from a short stone wall to change behind) this truly feels like the Iceland we all want to experience.
Dipping in the comfortably hot 40° water and listening to the waves crash just feet away it's easy to get lost in your thoughts. If you keep your eyes open when you're done and moving on you'll find more than a few more amazing hot springs in the area!
Landbrotalaug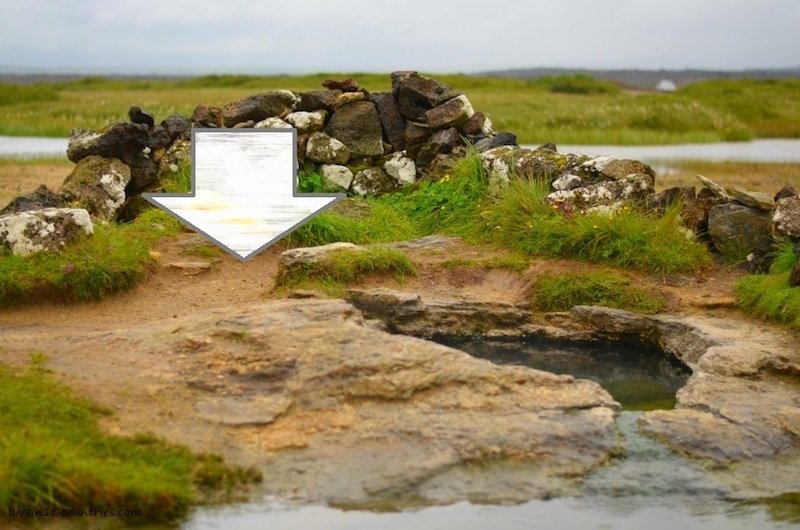 Contributed by Danni of Livein10countries
Although the Blue Lagoon is fun, I'd definitely recommend that anyone keen to explore Iceland off the beaten path to try the country's free hot pools as well. It's a glorious experience, and part of the culture!
Landbrotalaug is special because it's only an hour to an hour and a half from Reykjavik. Admittedly, that doesn't mean it's easy to find, so take a look at my guide to this hot pool in West Iceland  for detailed directions, especially as there's quite a walk from where you can park.
This thermal spot has pools at varying temperatures since only one end is fed by the hot springs, so you can position yourself to feel like you're in a delicious bath or in cool waters – depending on what you like.
It even has natural places to sit, thanks to ridges formed in the volcanic rocks around it. Handy!
Unlike your average spa sesh, however, this trip will require some prep. You might not have signal, so download Google Maps offline. The route to the pool is marshy, so bring wellies (or rubber boots, as the rest of the world calls them) and an anorak, You'll be toasty in the pool but it's cold when you get out, so take some warmish dry clothes to change into – and a towel of course!
Dimmuborgir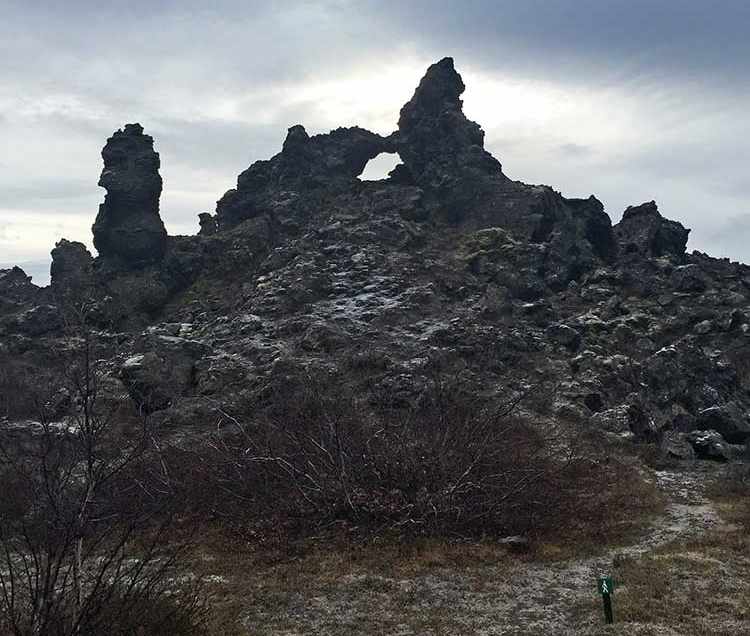 Contributed by Constance of The Adventures of Panda Bear
Dimmuborgir is not only unusual, but also one of the most unique landscapes to visit in Iceland. Its eerie and haunting landscape is one in a million. The area is located in northern Iceland, at the eastern end of Lake Myvatn. It is one of the most unusual places, not only in terms of looks, but also due to its Icelandic folklore and its creation.
The name Dimmuborgir translates to "dark castles" in English and is a great description for the unusually shaped lava field formations. The area consists of varying shapes of lava rocks as well as volcanic caves.
Its ominous appearance lends itself to lots of folklore from traditional Icelandic to the Christian. Prior to Christianity, there were legends of mischievous Icelandic trolls called The Yule Lads terrorizing Icelanders. These stories were probably told to keep children from leaving the home during cold, dark Icelandic winter nights.
After Christianity was brought to the country, new folktales were told. Many came to believe that Dimmuborgir was where Satan landed when he was exiled from heaven and the area became the gates to Hell.
Dimmuborgir's landscape was formed when lava flowed over a lake, boiling the water underneath. The steam from the hot water pushed up the lava forming the large lava pillars. As the lava continued to flow, the crust collapsed, forming the hollowed-out pillars you see today.
There are several hiking trails that take visitors around Dimmuborgir some can take as little as 30 minutes, others can take hours to wind around the tall pillars of lava. Don't forget to explore some of the caves!
Lóndrangar Cliffs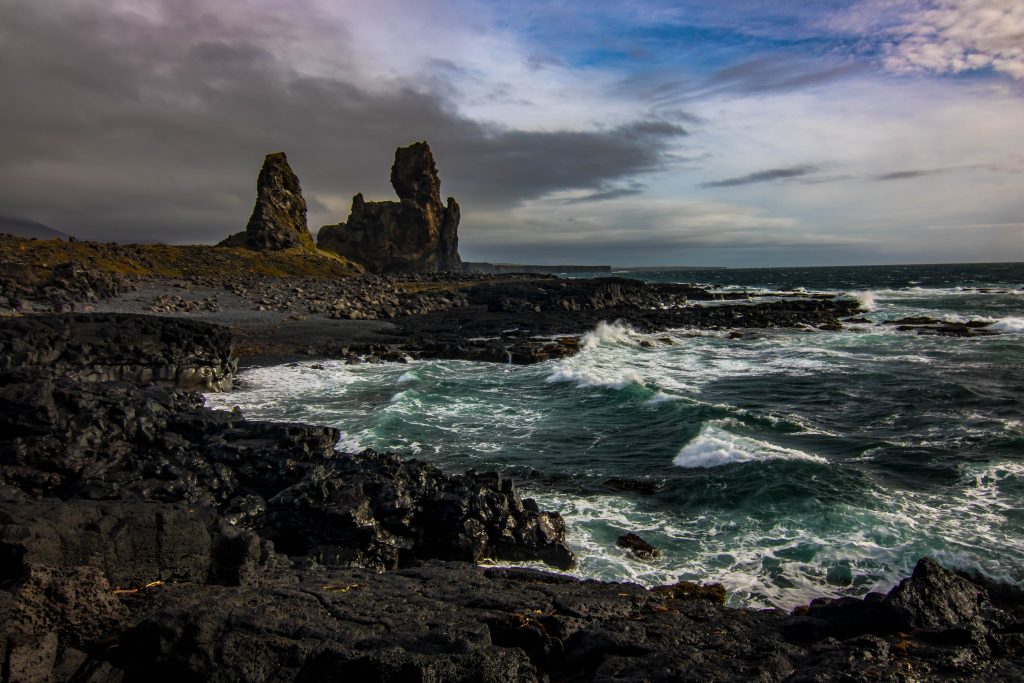 Contributed by Nina of Where in the World is Nina?
As if every corner of Iceland isn't beautiful, here's another one that makes your mouth gape… Lóndrangar Cliffs are certainly a sight to behold but they are very easily missed if you don't purposefully visit them.
Located on the Snæfellsnes Peninsula, most people drive by without a second glance. They are certainly worth the stopover though. As you get closer and closer to the cliffs you can feel and hear the waves crashing against its fragile volcanic rock and then you see its bizarre peaks that define the cliffs and make you wonder if you stepped onto another planet.
These cliffs were one of my favorite spots in Iceland and I spent a good few hours pondering thoughts as the wind chapped my lips and the mist from the waves blew on my face, luckily I packed well for Iceland and my jacket prevented me from getting wet. The cliffs are a stunning sight but after all, this is Iceland, and quite literally the entire island is breathtaking.
Hafnarfjörður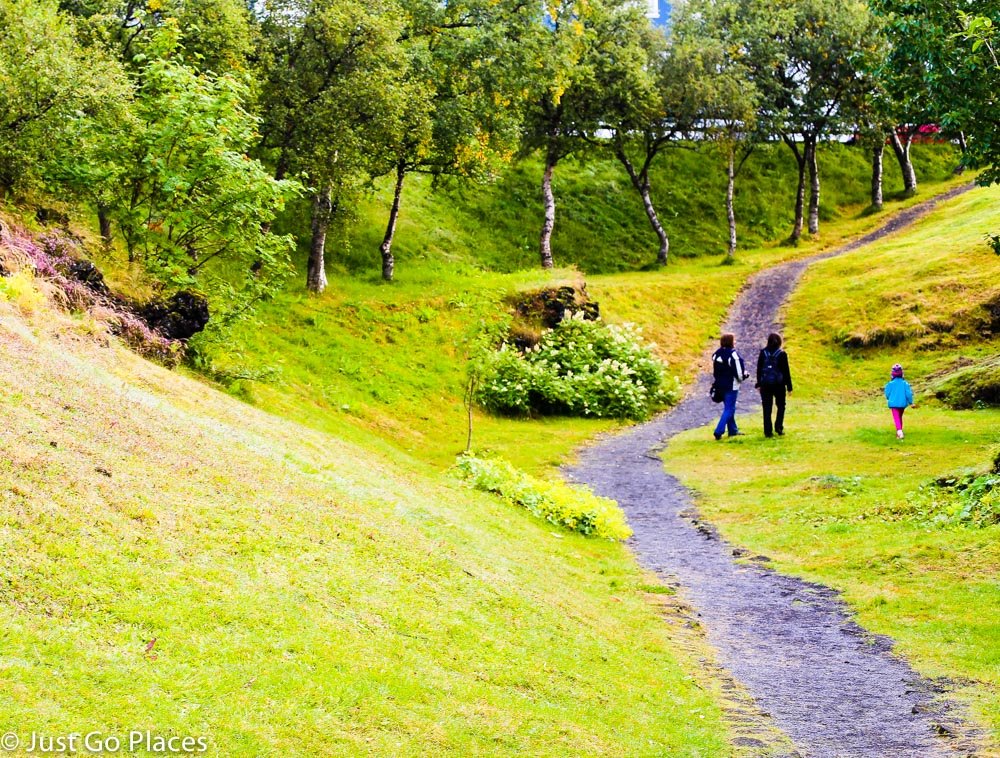 Contributed by Shobha of Just Go Places
Traditional Icelandic folklore says that there are hidden people (huldufolk) living in the country alongside everyday Icelanders. These hidden people engage in traditional work like farming and fishing. Most people in Iceland may no longer believe in these hidden folk but they are happy to take a you-never-know approach.
One of the hot spots in Iceland for these magical people is the town of Hafnarfjörður which is about a 10 minute drive from Reyjkavik.  In this fishing town, there is an Elf Garden in a local park, Hellisgerdi Park, which is supposed to be inhabited by the hidden people. The park also has a center for learning about Iceland's hidden people which serves Elf Tea! There are guided tours twice a week from the Hafnarfjörður tourist office which explains about the Icelandic folklore traditions of magical creatures while also visiting the Elf Garden
When we went to the Elf Garden, we did not see any elves much to my children's disappointment. The park itself felt magical with woodlands, waterfalls and mossy steps. There were a lot of hidden nooks and crannies for my kids to explore and use their imagination. A beautiful place without many people, it's hard to believe that we were only a short walk from the town centre of Hafnarfjörður because it really did feel a world away.
If you haven't had your fill of elves and hidden people in Hafnarfjörður, there's also an Elf School in the capital of Reyjkavik. We missed out on Elf School because my kids weren't going anywhere near anything with the word 'school' in it – not even to learn about magical people!
Rauðasandur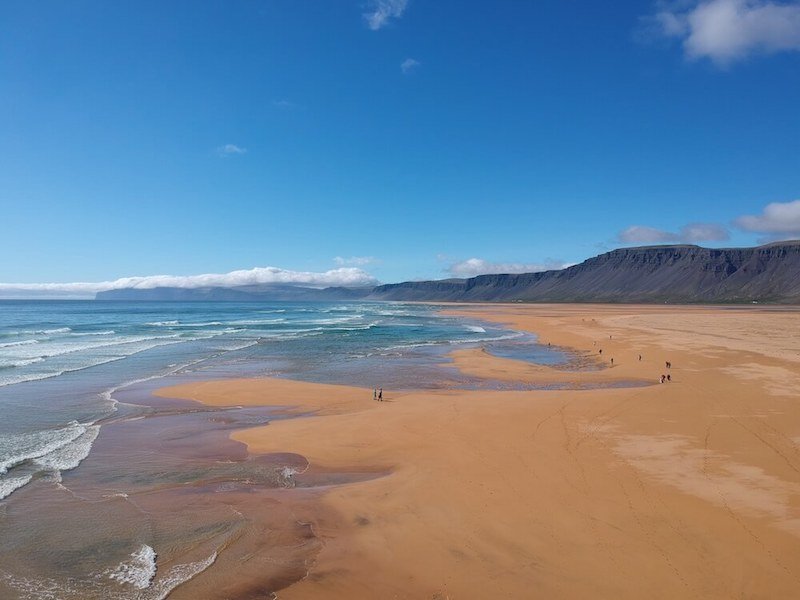 Contributed by Greta of Greta's Travels
If you're looking for a truly unique place in Iceland you need to visit Rauðasandur, the Red Sand Beach. Beaches in Iceland are characterized by black sand due to high volcanic activity, however, Rauðasandur distinguishes itself from its neighbors, thanks to its red sand. The Red Sand Beach is 10km long and surrounded by the cliffs of the Westfjords, which make for a very pretty backdrop as you walk along the beach. There are parking lots and camping grounds on both ends of the beach so you can access the beach from either end.
Rauðasandur is in the Westfjords, Iceland's most rural region also known as Iceland's "best-kept secret". Most of the roads in this part of Iceland aren't paved, and the one that leads to the Red Sand Beach is one of them. It's an extremely winding gravel road that some people have labeled as the most frightening road in the Westfjords. I can't comment from a drivers point of view since I don't drive, however from a passenger point of view it's not scary at all, in fact, it's pretty spectacular. At every turn of the winding road, you get a view of Rauðasandur from a different perspective.
Rauðasandur is also a popular location where seals come to bask in the sun, if you're lucky enough you might spot them chilling on the beach! Couple your trip to Rauðasandur with other natural wonders in the Westfjords and you'll have an epic off the beaten track itinerary!
Heydalur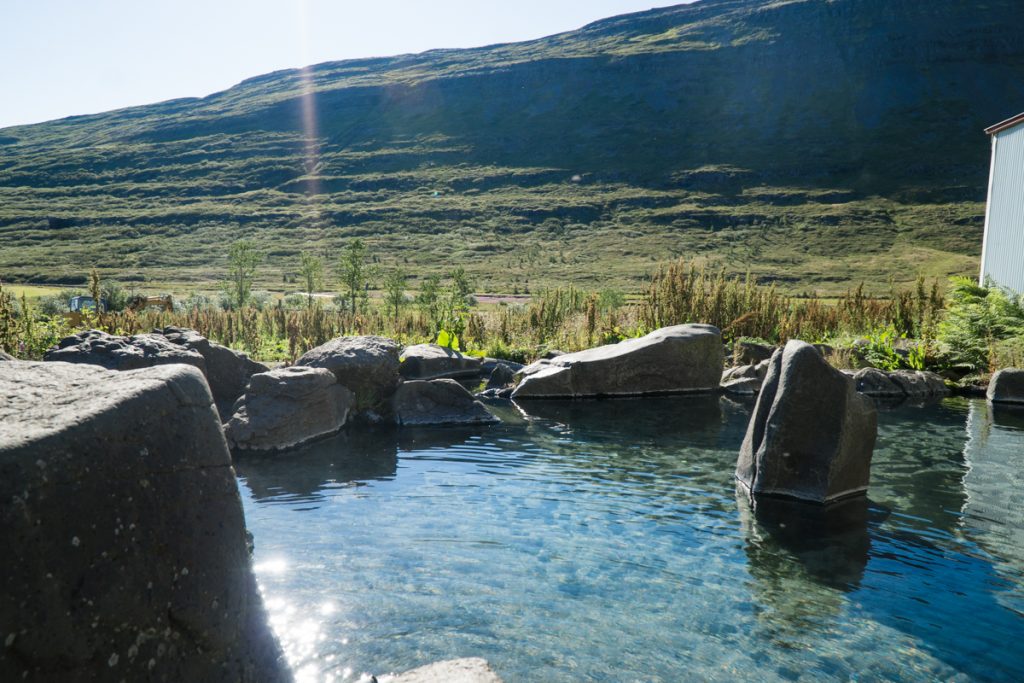 Contributed by me
Located 12 kilometers off any main road, Heydalur is not a place to "stumble upon" – but it is a true Iceland hidden gem. To call Heydalur a village is to be generous – really, it's a cluster of a few small farms, centered around one main guesthouse and restaurant, Heydalur Guesthouse.
This is your hub for all things in the area, including hiking in the beautiful nearby fjords, relaxing in one of the geothermal hot pots, swimming laps in their heated greenhouse pool, going horseback riding on beautiful Icelandic horses, or sea kayaking with arctic seals and puffins if you're lucky.
I loved my day at Heydalur and it was the highlight of my Westfjords trip for sure.
***
Enjoy this post? Pin it for later!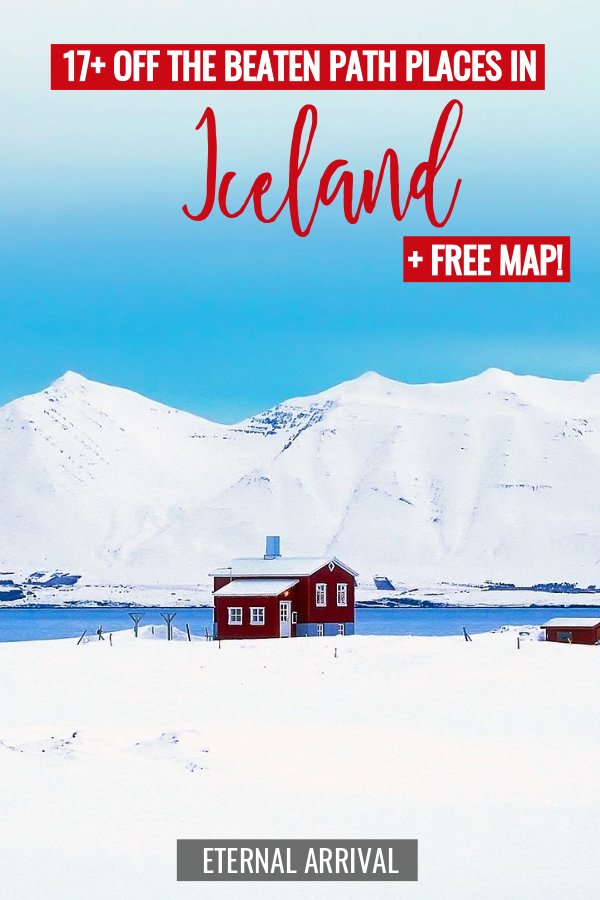 Got any off the beaten path Iceland hidden gems to share with us? Drop your suggestions below in the comments!
Allison Green is a former educator turned travel blogger. She holds a Masters in Teaching and a B.A. in English and Creative Writing. Her blog posts merge her educational background and her experience traveling to 60+ countries to encourage thoughtful travel experiences that both educate and entertain. She has been a speaker at the World Travel Writers Conference and her writing, photography, and podcasting work has appeared in National Geographic, CNN Arabic, CBC Canada, and Forbes, amongst others. Now based in the San Francisco Bay Area where she grew up, she has also lived in Prague, Sofia, and New York City.