Iceland in winter is a stunning land of icy waterfalls, glacier lagoons, ice caves, and colorful auroras dancing overhead.
One of the more popular ways to see the Northern lights while in Iceland is to take a Northern lights tour — but personally, I'm of the opinion that staying in a Northern lights hotel is an even more unique and comfortable way to experience the beauty of the aurora borealis.
Luckily, there are many places to stay in Iceland for the Northern lights. Just about anywhere in Iceland will have good views of the aurora with the right combination of conditions, so long as you are far enough away from any city light pollution.
If seeing the Northern lights in Iceland is on your bucket list, keep reading for the best Northern lights hotels in Iceland, with options ranging from luxury hotels to boutique hotels to log cabins to glass igloos.
Let's go!
Best Northern Lights Hotels in Western Iceland
The charming Hotel Húsafell is one of the best hotels for seeing the Northern lights in Iceland.
This luxury hotel features outdoor hot tubs and its very own golf course in the unique landscape of Húsafell, close to geothermal pools (especially the epic Húsafell Canyon Baths, a unique semi-private geothermal hot spring experience) and hiking trails.
But the main draw for Hotel Húsafell for hopeful aurora-spotters is both the frequency of its aurora sightings (about three times weekly during the aurora season) and its unique offering of being the very first Icelandic hotel to provide automated wake-up calls when the Northern lights appear.
Húsafell and the Borgarnes region in general is one of the best places to see the Northern lights in Iceland. It's located close to the glacier Langjökull, which means that the area experiences more cloudless skies and high winds, two things that dramatically increase aurora visability.
At Hotel Húsafell, all rooms are spacious and comfortable, not over-the-top but complete with all you'd need for a pleasant stay. Bathrooms are modern and luxurious, with either a bathtub or shower depending on the room.
There's a 24-hour front desk to answer any questions and provide assistance, as well as an on-site restaurant with Nordic-inspired dishes as well as international cuisine. The restaurant has floor-to-ceiling windows so if the lights appear while you're dining, you can see them!
The Retreat at the Blue Lagoon – Book Here
The stunning luxury hotel The Retreat at the Blue Lagoon offers 62 luxury suites right on the Blue Lagoon, the most famous hot spring in Iceland.
Where else can you relax in geothermal waters while seeing the Northern lights dancing overhead? You have access to both the general Blue Lagoon as well as the private Retreat Lagoon where you can be in a more private setting.
This epic Iceland hotel features a subterranean spa — yes, you read that right! — offering spa treatments utilizing the unique mineral-rich waters and volcanic mud of the region, as well as a sauna room.
There is also a fantastic restaurant on-site, which is one of the most admired restaurants in the region when it comes to new Nordic cuisine, plated beautifully using stunning ingredients.
Rooms are spacious and luxurious, with a muted gray and brown color palette so you can appreciate the lagoon views and moss-covered lava fields right outside your floor-to-ceiling windows. Plus, you can enjoy amenities like a nightly turndown service and 24/7 room service.
This is a great place to see the Northern lights since you can enjoy the view either from your room with its large windows or from the warm lagoon.
Spending a night or two at the Retreat at the Blue Lagoon is a fantastic way to end an Iceland trip, as it's conveniently located just a 20-minute drive from Keflavik Airport, where most flights into Iceland arrive.
Northern Light Inn – Book Here
The lovely Northern Light Inn in Grindavík near the Blue Lagoon is another popular (and more affordable) option for Northern lights viewing near Reykjavik, complete with aurora wake-up calls upon request!
This Northern lights hotel is more understated than the fancy Retreat at the Blue Lagoon, but with similar convenience of location and ease of seeing the lights — plus they run a free shuttle bus to the Blue Lagoon!
This guesthouse is small and family-owned but it has some amenities such as a spa, a small fitness center, and a lounge with a fireplace where you can enjoy panoramic views of the surrounding moss-covered lava field for which the Reykjanes peninsula is so well-known.
The rooms are modest but well-appointed with what you'd need, such as down comforters, a smart TV, an electric kettle, a small seating area, and an en-suite bathroom.
The on-site restaurant, Max's Restaurant, is well-loved for its Icelandic cuisine with a focus on fresh local seafood, lamb, and other local specialties. This restaurant also has floor-to-ceiling windows so you can keep an eye out for the Northern lights while you dine!
The well-loved Hotel Budir near the famous black church of Iceland is another one of the more popular Northern lights hotels in Iceland.
It's close to several important sightseeing locations, such as Snæfellsjökull Volcano and Arnarstapi, and you can do a lot of fun activities here ranging from glacier hiking to whale watching!
At Hotel Budir, the rooms are more cozy than modern, but the overall feel is a really charming guesthouse with comfortable shared areas. Rooms enjoy either mountain views, ocean views, or lava field views!
There's an on-site restaurant serving Icelandic food including seafood and lamb dishes, paired beautifully with wines picked by the in-house sommelier, with views of the Budir estuary.
Budir is in a great location with little light pollution making it a great option for Northern lights viewing, and yes, they also offer aurora wake-up calls so you'll never miss the show!
Best Northern Lights Hotels in Southern Iceland
Located in the charming town of Hella (a name which warms my Northern Californian heart), Hotel Rangá is widely considered to be one of the top Northern lights hotels in Iceland.
For one, its remote location near the Rangá River provides epically dark skies free of light pollution, perfect for observing the aurora borealis.
Hotel Rangá has aurora spotters working through the night and they offer you wake-up calls for when the Northern lights begin dancing overhead. They'll turn off all the lights in the hotel then to maximize the viewing experience!
And what better way to enjoy the Northern lights than by sitting in an outdoor hot tub and watching them dance above you, enjoying the contrast of cold air on your face and hot water bubbling on your body?
Besides its aurora watching potential, Hotel Rangá also has its very own stargazing observatory — literally!
Hotel Rangá's observatory features a roll-off roof with two high-caliber telescopes for watching the night sky. Even if the aurora doesn't do its thing, as long as you have clear skies, you'll be amazed by the beautiful stars you can see from this remote observatory.
Lastly, Hotel Rangá is just an all-around solid luxury hotel. Rooms feature amenities such as spa baths, balconies with views of nearby Mount Hekla or the Rangá River, or the Eyjafjallajökull volcano.
There's also an on-site restaurant that serves stunning gourmet Nordic food, inspired by local ingredients but given a modern update, with an all-organic menu.
ION Adventure Hotel – Book Here
One of the most well-known Northern lights hotels in Iceland due to its beautiful architecture, ION Adventure Hotel is located atop a mountain, Mount Hengill, with views of Lake Thingvallavatn below.
The hotel has a very unique modern design that emerges from the natural landscape in a beautiful way, and the rooms enjoy a similar modern design.
The most unique perk of the hotel is the stunning outdoor plunge pool which is kept at 40 degrees C (104 degrees F) year-round, so you can watch the aurora borealis from the geothermal pool!
The shared lounge also features floor-to-ceiling windows all around with a completely unobstructed view from the mountain top, so you can enjoy epic aurora views from the lounge if you don't want to be outside.
Frost and Fire Hotel – Book Here
Another great Northern lights hotel in Iceland is Frost and Fire Hotel, located in Hveragerði and its beautiful geothermal springs, just a 30-minute drive from Reykjavik yet feeling a world away!
This hotel has an outdoor pool, two different hot tubs, and a sauna for guests to enjoy in the stunning natural scenery.
The rooms are bright and airy, utilizing modern décor elements and artwork from local Icelandic artists, and many have large windows facing the river which offers the potential for some great Northern lights views.
Fosshotel Glacier Lagoon – Book Here
The stunning Fosshotel Glacier Lagoon is a great choice when you're visiting South Iceland and the Jökulsárlón glacier lagoon area. It's a can't-miss along the typical Ring Road route.
Fosshotel is an Icelandic chain of hotels of excellent quality, but the Glacier Lagoon location may be one of the best.
Not only is it close to the stunning glacier lagoon where icebergs float in pretty turquoise waters, but the hotel itself offers a deluxe Northern lights watching experience.
The rooms feature large and well-placed windows, so you can watch the Northern lights dance from bed or even the bathtub!
Amenities include 24/7 reception, a Northern lights wake-up call upon request, hot tubs, sauna, and a delicious on-site restaurant.
360 Hotel and Thermal Baths – Book Here
Located in Selfoss, 360 Hotel and Thermal Baths is a sustainable property in a fantastic location close to many of Southern Iceland's best attractions.
The hotel features its own private spa area with a pool heated by geothermal springs, as well as a sauna area and relaxation lounge with a roaring fire. It's a great place to warm up in between aurora spotting attempts!
The bedrooms feature large windows that face the bed, so you can sometimes see the Northern lights right from your hotel room!
Guests raved about the kind staff, delicious food, and adorable dogs who live on the site. So if you, like me, are the kind of person who book a hotel purely based on the pets who 'help' run the show… this is a must-stay when you visit Iceland.
One of the best Northern lights hotels in Vik, a popular base for South Iceland and Ring Road road trips, Hotel Kría offers stunning views great for when the Northern lights make their appearance.
Located a mere 5-minute walk away from Vik's famous black sand beach, Hotel Kría is a wonderful modern hotel with all the amenities you'd want for a comfortable stay. It even has a game room with ping pong and darts and an on-site bar!
Rooms feature a modern design and come equipped with WiFi, LCD TVs with satellite cable, electric kettles, desk areas, and en-suite bathrooms.
The rooms also have large windows that go from the floor to the ceiling so you can enjoy the views of the mountains nearby as well as the aurora if it makes an appearance during your stay!
The dining area also includes extremely high ceilings and large windows, so it's also a good place to watch the lights from indoors!
There's a daily breakfast buffet that is included in your stay, with local products featured and vegetarian options available.
The small but luxurious Magma Hotel is located in the middle of a beautiful lava field. This stunning hotel has but 25 rooms, allowing for a personalized experience.
The rooms utilize Nordic design elements and all have their own private patio, where you can admire the lake and the lava field — both of which make an excellent backdrop if the Northern lights make their appearance!
The rooms are also unique in that each room is its own little turf roof cottage, so that the hotel blends almost seamlessly into the natural landscape if you are looking from afar.
Because Magma Hotel is so far from light pollution, if there is solar activity and the Northern lights make an appearance, you will get a great view!
There's also a delicious on-site restaurant, Bistro 1783, which serves breakfast and dinner daily.
Best Northern Lights Hotels in Eastern Iceland
Located close to Höfn near to the Eastfjords region, Aurora Cabins are a great place to see the Northern lights in the East Iceland area.
This property has four private wooden cabins that have been recently renovated so that they are very cozy, but they are still removed enough away from Höfn and the main roads so that you won't experience any light pollution while you're here.
The cabins have amenities like a kitchen as well as an outdoor grill, comfortable beds, seating areas, and well-equipped modern bathrooms.
You'll love the view of the glaciers behind you, making an especially stunning photo backdrop if the aurora appears during your stay.
Fosshotel Eastfjords – Book Here
Many travelers in Iceland don't go further east than Vik, which is a real shame because the Eastfjords region is so beautiful!
However, hotels do get fewer and further between in this region, and Fosshotel Eastfjords stands out as one of the better options in Eastern Iceland.
Located on the Fáskrúðs fjord, this can be a stunning backdrop for the aurora if it graces the sky during your stay.
There is an on-site restaurant located on a floating pier with a great view of the harbor and the fjord, which is an especially scenic setting in the winter!
Best Glass Hotels, Arctic Domes & Unique Northern Lights Hotels in Iceland
Panorama Glass Lodge – Book Here
While there are several 'glass hotel'-style Northern lights hotels in Norway and Finland, these types of hotels are still few and far between in Iceland… though there are a few!
One such hotel is the stunning Panorama Glass Lodge, which has individual cabins that are half wooden (for the bathroom and kitchen area) with the bedroom area having 270-degree glass ceiling windows.
This way, you can enjoy the Northern Lights for the most stunning panoramic views you can enjoy without ever needing to leave your toasty bed!
The interior of these cabins are delightfully modern, with Nordic design influences throughout. The bathrooms are especially modern and stylish, with a rain shower, heated towel rack, heated floors, and beautiful modern chandelier lighting to create a cozy ambiance.
Best of all? Each little cabin has its own hot tub attached to the deck of the cabin, so you can enjoy the Northern lights from your own personal hot tub. There are also private saunas available for use!
One thing to note, though — you must have a 4×4 in order to access the Panorama Glass Lodge, as it is rather remote and deep in the Icelandic countryside.
Currently, they only have one location, near Hella, but another glass lodge is being constructed in Akranes, between Reykjavik and the Snaefellsnes Peninsula.
The only true Iceland igloo hotel, the Bubble Hotel (which also calls itself the "5 Million Star Hotel") offers a unique opportunity to sleep under the stars — or aurora, if you're lucky! — with a 360-degree panoramic view of the forest and night sky above you.
These glass igloos are quite minimalistic — we're talking a bed, heating, and that's about it — but there are amenities on-site to make up for it.
There is a service house for all guests to use, with a kitchen, two toilets, and two showers.
If visiting in the summer, you can book accommodation only, but if you book it in winter, the hotel is only available via a guided tour.
There are two tour options: either the Golden Circle (Thingvellir National Park, Geysir, Gulfoss, and the Secret Lagoon) or the South Coast (Seljalandsfoss, Skogafoss, Reynisfjara Black Sand Beach).
There are two different Bubble Hotels: the Golden Circle location has nine bubbles whereas the South Coast one has just six.
Either way, it's very private and a very unique experience, though because you have to book it as a tour it can be rather expensive!
Sky Sightseeing Iglúhús – Book Here
This unique igloo house is located 20 miles from Akureyri in Northern Iceland, making it a great option to be close to one of the larger Icelandic cities but also far enough away that you won't experience light pollution from the city.
Sky Sightseeing Iglúhús is special in that it is a wooden igloo with glass panel skylights (10 in hotel) that allow you to see the Northern lights dancing above you!
It's not a full-on glass igloo like the two options above or like what you've seen in Norway or Finland, but it does have a bit of the igloo experience and is also just a unique, cozy property.
If you're worried about comfort — don't! Everyone raved about how warm the wooden igloo was and also about the delicious hot breakfast that the host delivered to them the next morning!
If you want to stay near Reykjavik but have a bit of the glamping experience, Reykjavik Domes is a fantastic choice.
These glamping tents are perfect for seeing the Northern lights because despite their proximity to Reykjavik, they are far enough out in the countryside to still have enough darkness to see the aurora properly.
No hotel in the city center can really grant you that, unless it's an extremely strong aurora.
The Reykjavik Domes have a shared kitchen and WiFi, so you're not totally on your own like you would be if you were camping!
In the winter, the glamping tents can be heated by a wood-fired stove, and some domes even have a private bathroom complete with their very own hot tub — the perfect place to watch the lights dance in the cool winter air!
WHAT CAUSES THE NORTHERN LIGHTS?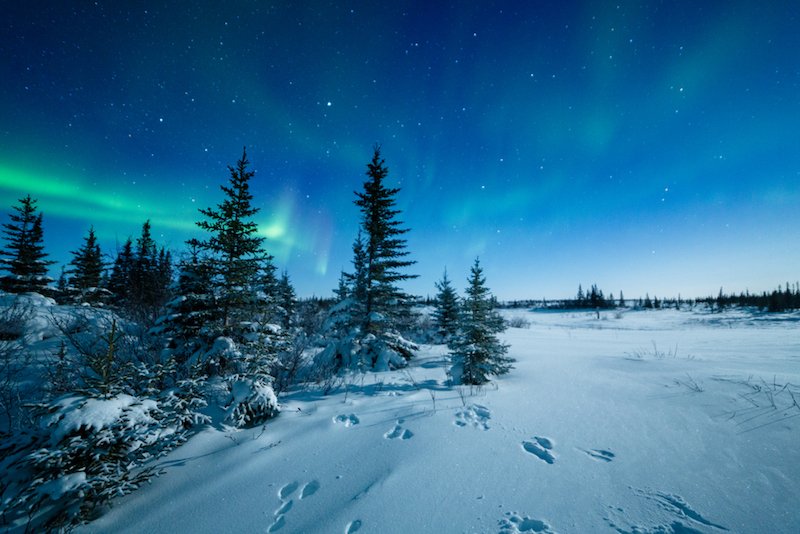 Note: This post contains affiliate links, which means I may receive a small commission if you purchase something through one of these links. Thank you for supporting the free content on this site! For more information on affiliate links and cookies, see my disclosure page for more details.
The Northern Lights are an entirely natural phenomenon that occurs when gas particles that are free-floating in the Earth's atmosphere interact and collide with other particles released by the sun.
These particles from the sun occur after solar storms produce massive clouds of particles that are electrically charged (ions) — and when they collide with the Earth at certain latitudes, the magnetic fields of the Earth create beautiful light shows.
The different colors of the aurora relate to different gases, as well as how high the particles are when they interact.
The most common color you'll see is green, which is characteristic of low-altitude oxygen. If you see a scarlet red, that's also oxygen, but interacting at a high altitude (which is atypical unless there is high solar activity).
You may also see purple, pink, and blue, which are caused by nitrogen particles.
Keep in mind that photos you see of the aurora are typically more intense than the Northern lights you see in person.
This is because the eye takes in light information at, well, the speed of light, whereas as a camera taking photographs of the northern lights is typically set on a tripod and takes photos for anywhere from 1-5 seconds, which allows for more light collection and thus more vibrant color.
This is not to say that the photos are altered per se, but that the camera "sees" differently than the human eye does.
That said, I've seen the Northern lights on nearly a dozen separate occasions, and you can absolutely see the lights with your naked eye quite dramatically when they are particularly active, and I've even been able to snap good photos with a simple smart phone.
If you want more information about the aurora, I wrote a post about seeing the Northern lights in Sweden which applies to seeing the Northern lights in Iceland just as well!
RECOMMENDED PHOTOGRAPHY EQUIPMENT FOR TAKING PHOTOS OF THE NORTHERN LIGHTS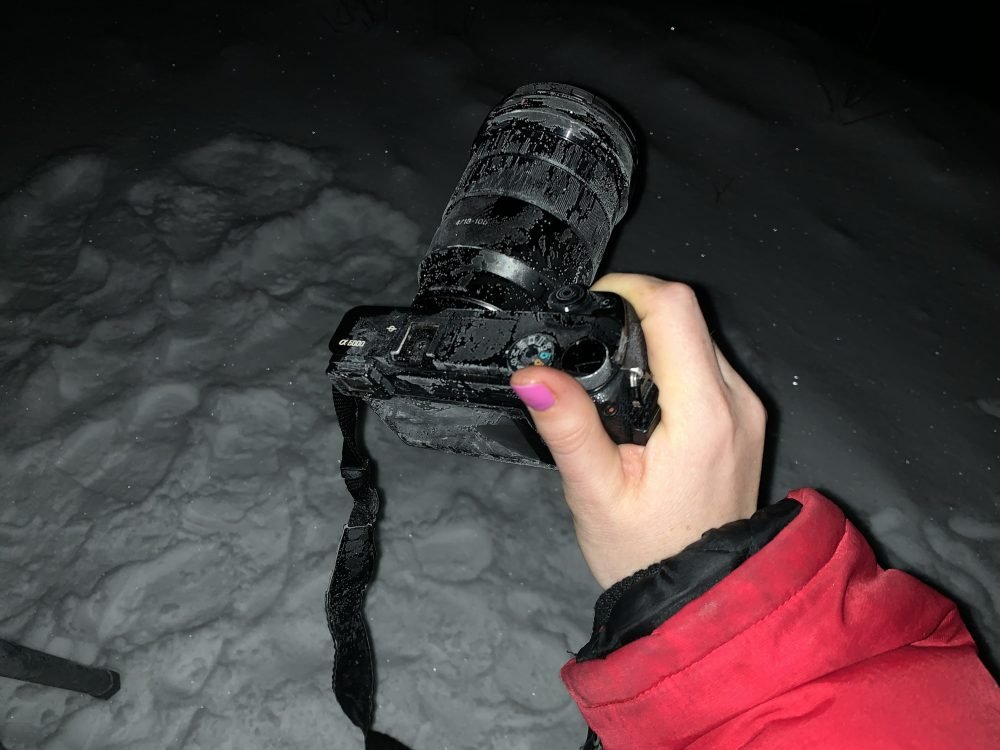 Mirrorless or DSLR Camera | Personally, I prefer mirrorless cameras because they are really lightweight. Ever since I started blogging in 2016, I've been using the Sony mirrorless series.
I now use a Sony A7 II camera body, which is a step-down from their top-tier full frame camera, but it is still professional grade. Before that, I was using a Sony A6000, which is a more affordable option.
Wide Angle Lens | Besides your camera body, you'll also want to make sure you have a wide-angle lens (like this one for the Sony full frame series, or this one for the Sony crop sensor cameras).
As a rule of thumb, full frame camera gear tends to be pricier than crop sensor gear, but you will be able to capture a lot more of the night sky with a full frame camera with a wide angle lens than you will with a crop sensor, which has a magnifying effect.
Lens Warmer | If you have a large camera lens, you may want to grab a lens warmer which will keep your camera from icing up.
Sounds weird, but trust me, it happens a lot when shooting the Northern lights (take it from me!)
Hand Warmers | It gets super cold while waiting for the Northern lights a lot of the time!
These rechargeable hand warmers are great to keep in your gloves or mittens, or in your pocket to keep your batteries warm!
Extra camera batteries | Be sure to have lots of extra batteries with you, fully charged.
The cold will zap the battery way faster than you are used to! This four-pack of Sony-compatible batteries will serve you well.
Tripod | You'll absolutely want a sturdy tripod to stabilize your camera for Northern lights photos in Iceland. I suggest setting up a two-second delay on taking photos, so that there is no camera shake from you pressing the shutter button.
The Sony cameras also have a feature where you can control snapping photos with your smartphone, which will also reduce the potential shake but allow you more control of when exactly you snap the photo, so you don't miss anything.
You don't need a super expensive tripod, but it does need to have a little heft to it so that wind does not shake it and blur your photos, so resist the urge to buy the cheapest possible Amazon option.
Allison Green is a former educator turned travel blogger. She holds a Masters in Teaching and a B.A. in English and Creative Writing. Her blog posts merge her educational background and her experience traveling to 60+ countries to encourage thoughtful travel experiences that both educate and entertain. She has been a speaker at the World Travel Writers Conference and her writing, photography, and podcasting work has appeared in National Geographic, CNN Arabic, CBC Canada, and Forbes, amongst others. Now based in the San Francisco Bay Area where she grew up, she has also lived in Prague, Sofia, and New York City.