As the snow blankets Jackson Hole each winter, people from around the world start to arrive, eager to delve into its renowned skiing and snowboarding.
Long a popular destination for winter sports enthusiasts, as well as a beloved home base for people visiting Grand Teton or Yellowstone in winter, Jackson Hole in winter has fun in store for everyone – even non-skiers!
Note: This post contains affiliate links, which means I may receive a small commission if you purchase something through one of these links. Thank you for supporting the free content on this site! For more information on affiliate links and cookies, see my disclosure page for more details.
Be it immersing oneself gliding down the well-manicured ski trails of Jackson Hole Mountain Resort, snowmobiling through glistening landscapes, or embarking on magical sleigh rides, Jackson Hole has some winter fun for all.
For those considering a winter trip to Jackson Hole, there's a ton of delightful activities awaiting.
However, before diving in, here are some crucial pointers to keep in mind for your winter visit!
Winter in Jackson Hole FAQs
When is the best month to visit Jackson Hole in winter?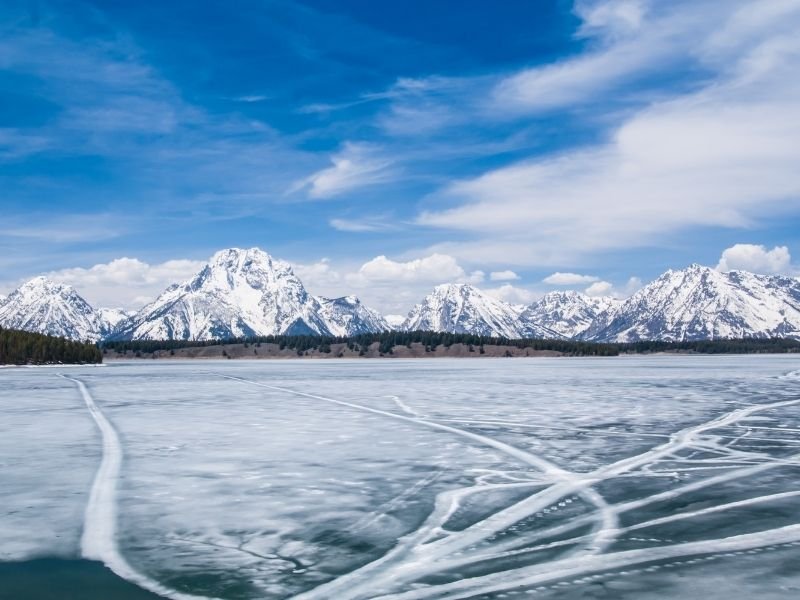 The optimal time to visit Jackson Hole is in January or February, that brief lull between the Christmas buzz and before the influx of snowbirds and families on spring break.
That said, I know, for many Americans juggling limited vacation days, timing is as crucial as budget when planning a winter trip, especially if you're a parent who is limited by the school calendar.
Those from the East Coast, who typically have both a mid-winter and a spring break (something I learned while teaching in NYC, as growing up in California, I only expected a spring break), might find the mid-winter break in February to have better prices.
During this period, Jackson Hole is less congested and prices are better than at other high-volume times like the Christmas and New Years holidays.
Is it possible to ski in Jackson in December?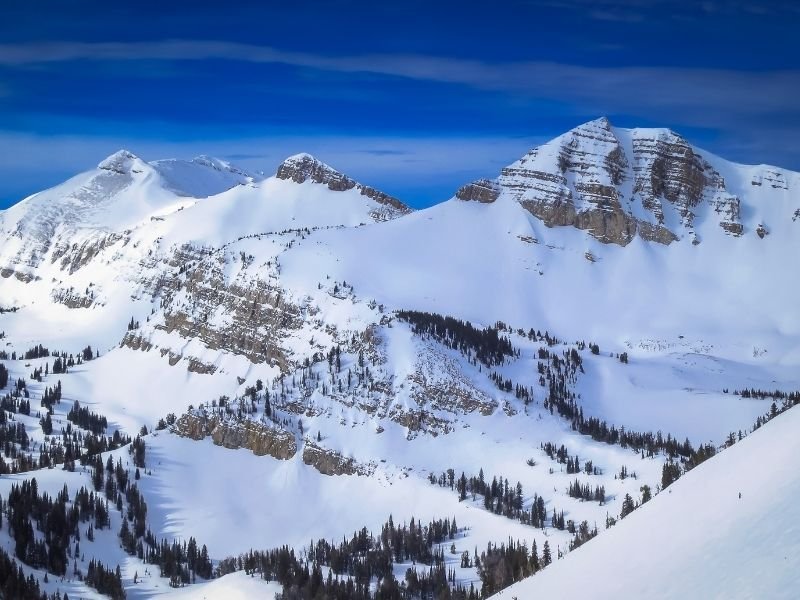 Historically, Jackson boasts an 82% open rate by Christmas Day… which means it's not quite a sure thing.
There's a 1 in 5 chance if you plan to ski in Jackson Hole in December that it might not go your way.
If you do plan a Jackson trip in December, be sure to line up alternate activities that will keep you fulfilled and happy in case there isn't enough snowfall for the season to open.
Given the steeper terrain of Jackson's ski terrain, the mountain resort needs more snow than other ski resorts with gentler slopes.
If skiing is the main reason for your Jackson winter trip, schedule your ski trip for a later date, like February or March, when enough snow is virtually a certainty.
Is skiing in Jackson Hole expensive?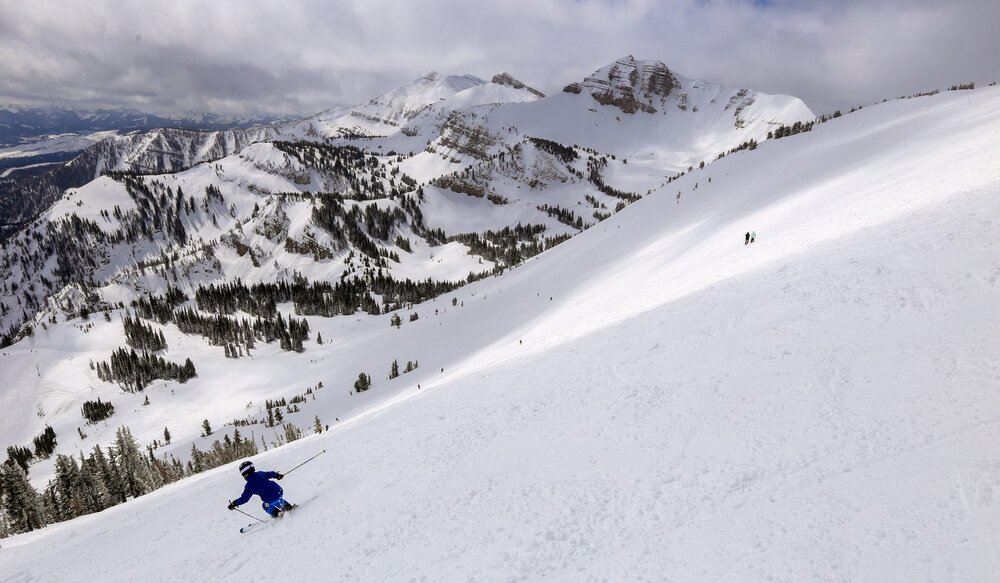 Yup, unfortunately, Jackson Hole does come with a hefty price tag.
As of 2023, according to the On The Snow, the ski lift costs $191 USD for an adult full-day ticket and $153 USD for a half-day ticket (4 hours).
Kid's lift tickets — for those aged 5 to 12 — are $115 USD for a whole day or $92 USD for a half-day. Junior lift tickets — for those aged 13 to 18 — are $173 USD or $138 USD respectively.
A week pass offers a slight discount, priced at $1,136 USD for an adult ticket, $684 USD for kids, and $1,023 USD for juniors.
Winter accommodations in Jackson are also on the higher side due to the demand.
Do Jackson and Jackson Hole refer to the same place?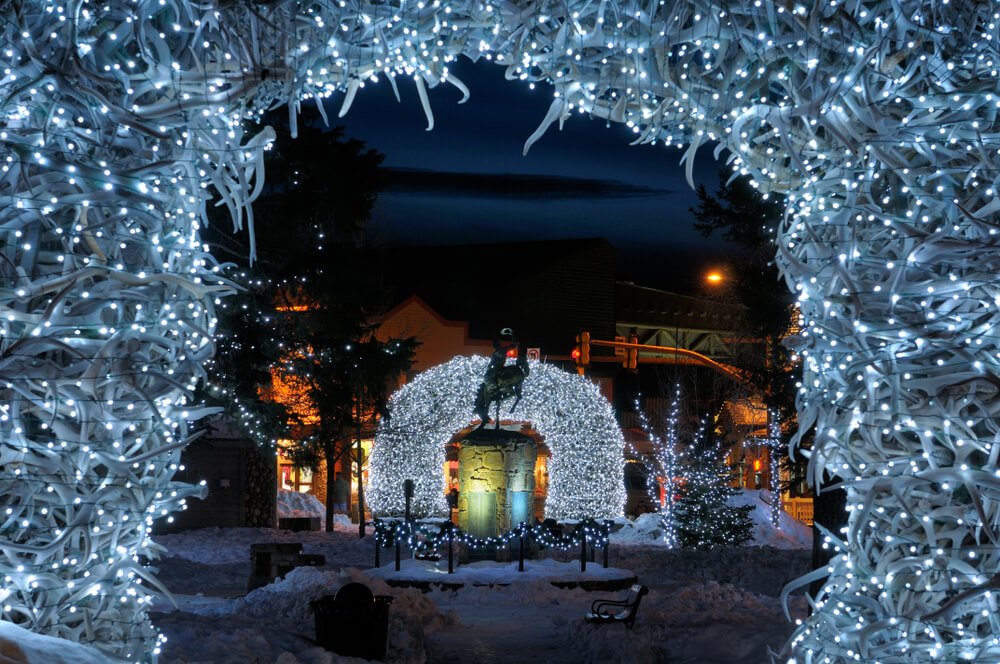 Not exactly, but there is overlap.
Jackson is the largest town within the Jackson Hole area.
Jackson Hole is the region that encompasses the valley that houses several towns, including Jackson.
This valley also includes Teton Village, which is the central skiing hub, and other quaint towns like Moose, Wilson, and Moran Junction.
Best Things to Do in Jackson Hole in Winter
Snowmobile in paradise!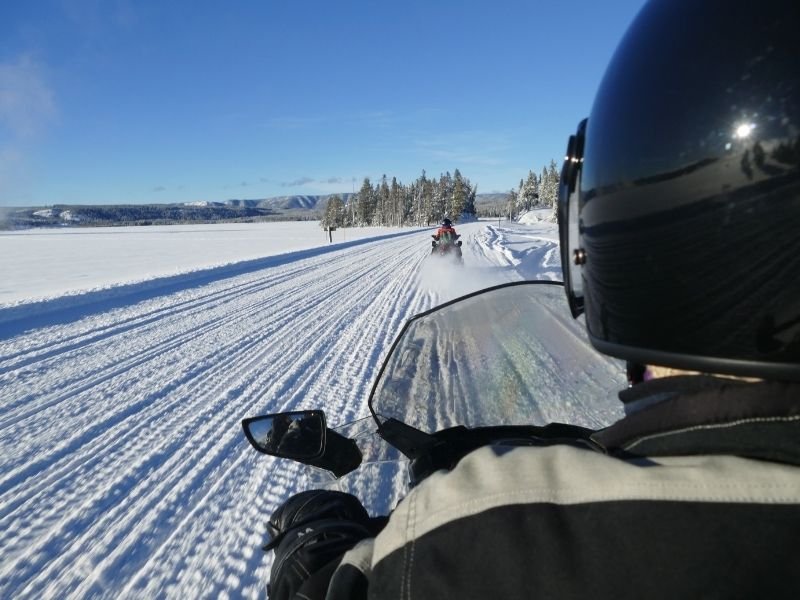 Each winter, Jackson Hole is blessed with several feet of snow, making it a popular destination for snowmobiling!
The area boasts a wide variation in terrain along with hundreds of trail miles to explore.
If you've never been snowmobiling in Jackson Hole before or are completely new to the sport, scheduling a trip with a local guide is highly encouraged and easy to do!
There are many outfitters to choose from, and with an area expert in the lead, you can be sure you're traveling through the scenic landscape safely.
Not sure which snowmobiling tour to go with?
I suggest going with this 5-star-rated tour, which runs full-day tours of their ranch and other beautiful backcountry areas you'd never get a chance to see in winter on foot!
Go dog sledding with a team of enthuastic pups!
I've gone dog-sledding several times, in Norway and Sweden, but I've still yet to go in Jackson — however, it is on my list!
Dog sledding is an extremely fun activity for both the humans and the dogs involved.
The huskies are quite literally born to run, and every single time I've gone dog-sledding (three times now!) I've been impressed by the dog's enthusiasm, energy, and absolute adoration for what they do.
This dog-sledding tour has the option of being driven by musher, where you get to sit down and relax in it, or you can learn to self-drive, which is what I recommend!
This is when you help out your team of pups by helping them steer the sled, control the brakes, and assist on running up any uphill portions so that the dogs aren't the only ones doing the work.
It's actually quite a workout and it's a ton of fun!
The dogs are well-loved and taken care of by the ranch, so it's a great way to experience the landscapes around Jackson in a unique way.
Take a magical sleigh ride through the National Elk Refuge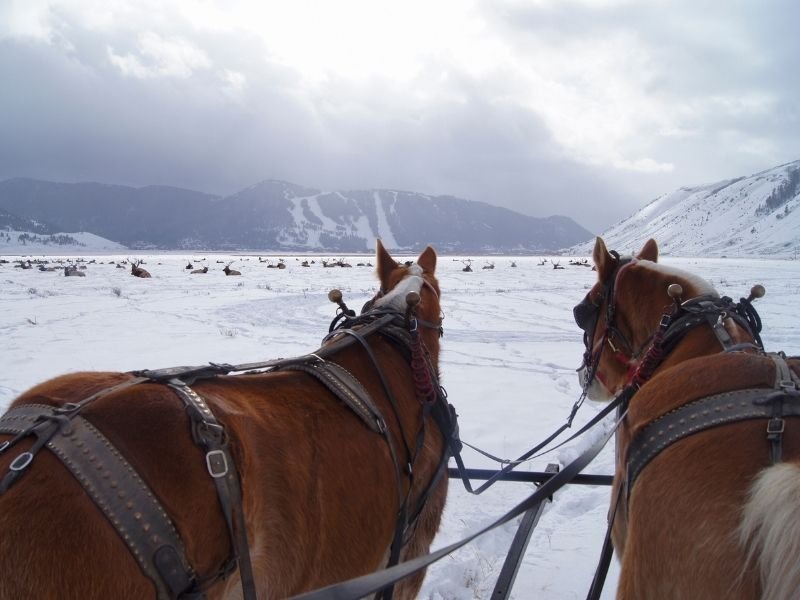 Get ready to dash through the snow on a horse-drawn sleigh! You'll want to bundle up for this sleigh ride adventure.
The full-day tour takes visitors on a sleigh ride in the National Elk Refuge, just outside of Grand Teton National Park, for a wildlife tour you'll never forget.
In the company of a professional guide and experienced naturalist, you will be taken across the refuge to get a closer look at the elk that winter there.
This astonishing refuge is home to the largest migratory elk herd in North America — but it's also visited by several other species.
Going through this snowy landscape with a team of horses, you'll also have picturesque views of the Tetons in the background besides all the elk!
The sleigh rides operate between mid-December and early-April.
Advanced reservations are highly encouraged – especially during the holiday season!
Backcountry snowmobile to Granite Hot Springs.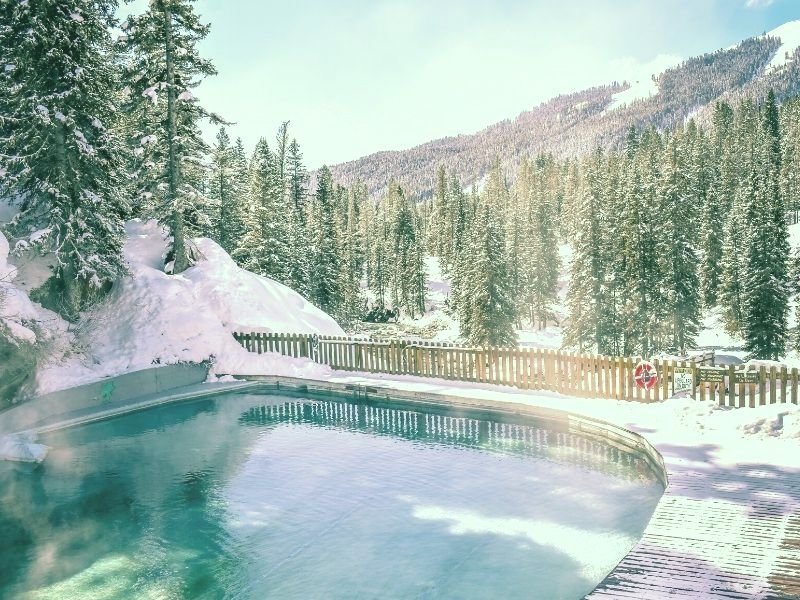 For a snowmobile adventure unlike any other, book a guided trip to Granite Hot Springs in the Gros Ventre Mountain Range.
Your tour will also provide transportation to the trailhead, which is 24 miles south of Jackson, WY.
From the trailhead, you'll follow your guide deep into the Bridger-Teton National Forest, sprinting though through a wintery wonderland at top speeds before reaching the steamy hot springs.
This wilderness hot tub usually measures 105 °F — perfect for warming up after a day of cold wind whipping your face.
The snowmobile excursion to Granite Hot Springs is about 20-miles of riding round trip and takes a half-day.
Bring your own towels and bathing suits and let your guides do the rest!
Do a full-day snowmobile adventure in Grand Teton National Park.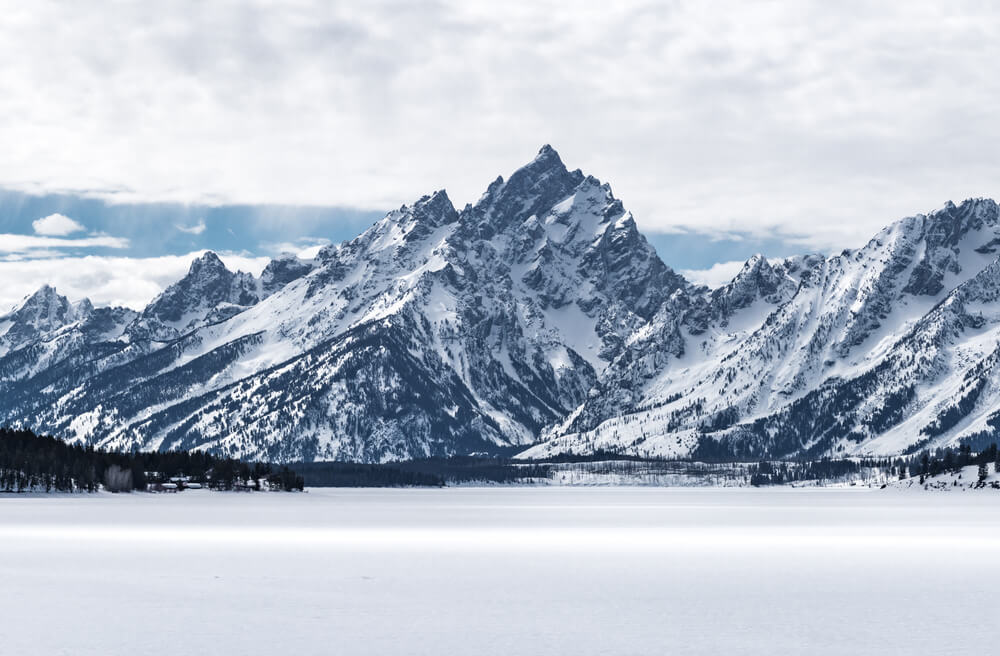 Embark on a thrilling and breathtaking snowmobile tour of the pristine Grand Teton National Park for a fun Jackson winter escape.
The 5-hour expedition promises ample opportunity for adventure, with approximately 3 hours dedicated to snowmobiling.
This ensures that guests not only experience the thrill of gliding through snow-covered landscapes but also have time for breaks, photos, and a delightful packed lunch amidst nature.
For those wondering about the logistics, the tour has it all sorted. A convenient hotel pickup and drop-off service ensures a hassle-free start and finish to your adventure.
You'll be warm, too: you'll be provided with high-quality snow gear, including insulated pants, a cozy jacket, snug gloves, and a safety helmet.
As you journey deeper into the heart of Grand Teton National Park, take a pause to savor a packed lunch and hot chocolate in the company of unparalleled panoramic views.
One of the tour's highlights is the potential wildlife encounters.
The snow-covered Tetons are a sanctuary for a variety of wild animals during the colder months, including elk, buffalo, and moose!
Do a full-day adventure into Yellowstone National Park.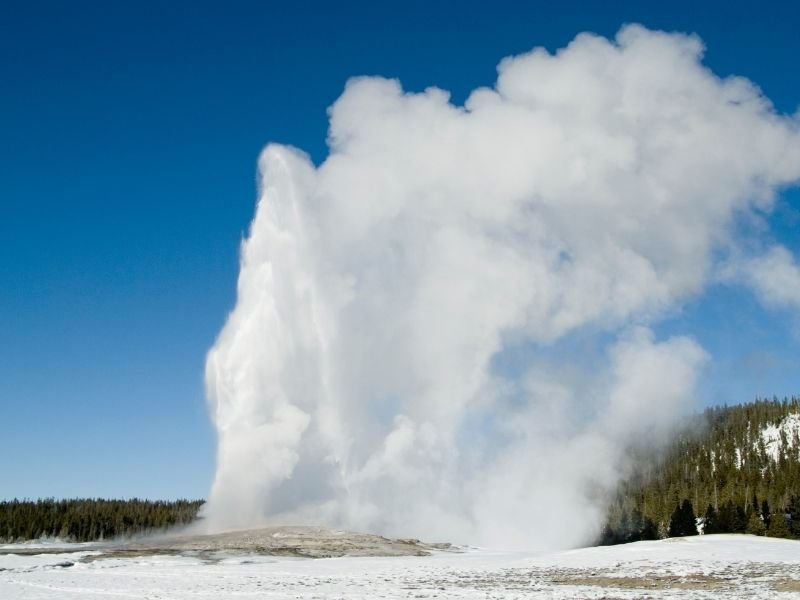 One thing not many people know is that Yellowstone is completely closed to car traffic in winter, so snowmobile is one of the only ways to visit the national park in winter.
Luckily, there are a handful of guided tours leaving from Jackson that make this a doable day trip, despite the distance.
Beginning early in the morning, your tour guide (I suggest Brushbuck Tours) will shuttle you to the trailhead.
There, you'll begin your snowmobile journey through Yellowstone's pristine landscape.
While riding past the mountain vistas, keep your eyes peeled for wildlife.
This national park adventure offers the opportunity to see bison, elk, deer, moose, and even wolves!
Go shopping in Downtown Jackson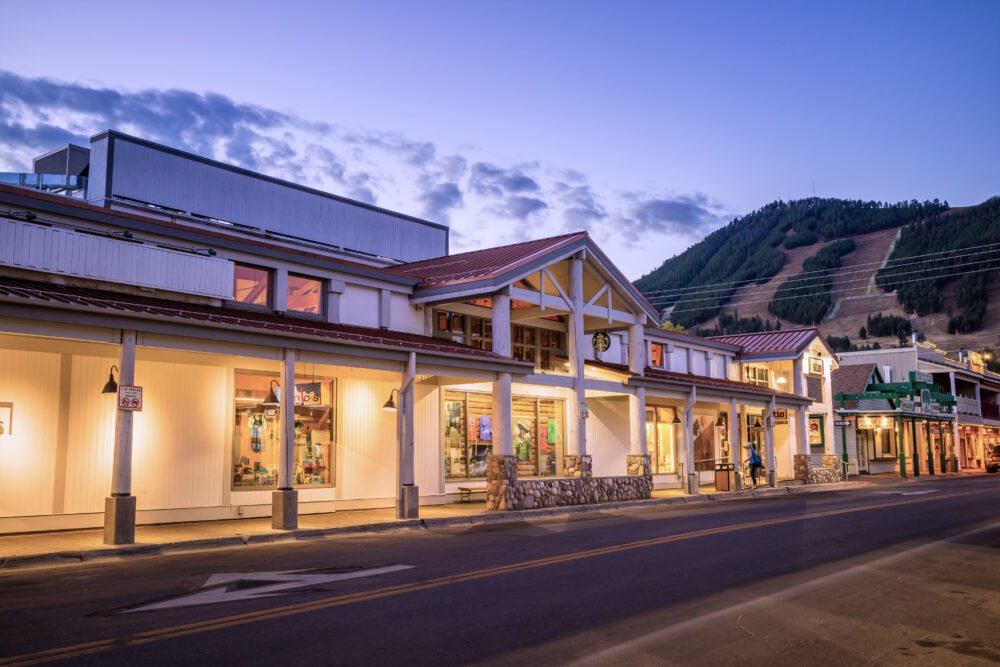 Shop 'til you drop in Jackson's Town Square!
Begin your tour of the downtown stores at the Antler Arch, which also makes an excellent photo backdrop!
From here, you can easily walk to any of these fun downtown stores:
Jackson Hole Resort Store: This is the perfect store for branded souvenirs and endless browsing!
Teton Toys: Find fun holiday gifts for the little ones in your life or a classic board game to bring back to your Airbnb.
Lee's Tees: Rep your winter trip to Jackson, WY with a shirt designed by a local artist. Lee's Tees has a wide selection of graphic shirts everyone will love.
Jackson Hole Jewelry Co.: Fall in love with handcrafted jewelry for yourself or as a gift for a special someone.
Stio: Here, you can find stylish clothing for recreation or everyday wear. Stio has timeless items that are rugged enough to stand up to the challenges of outdoor adventure!
Snap a photo at the lit-up Antler Arch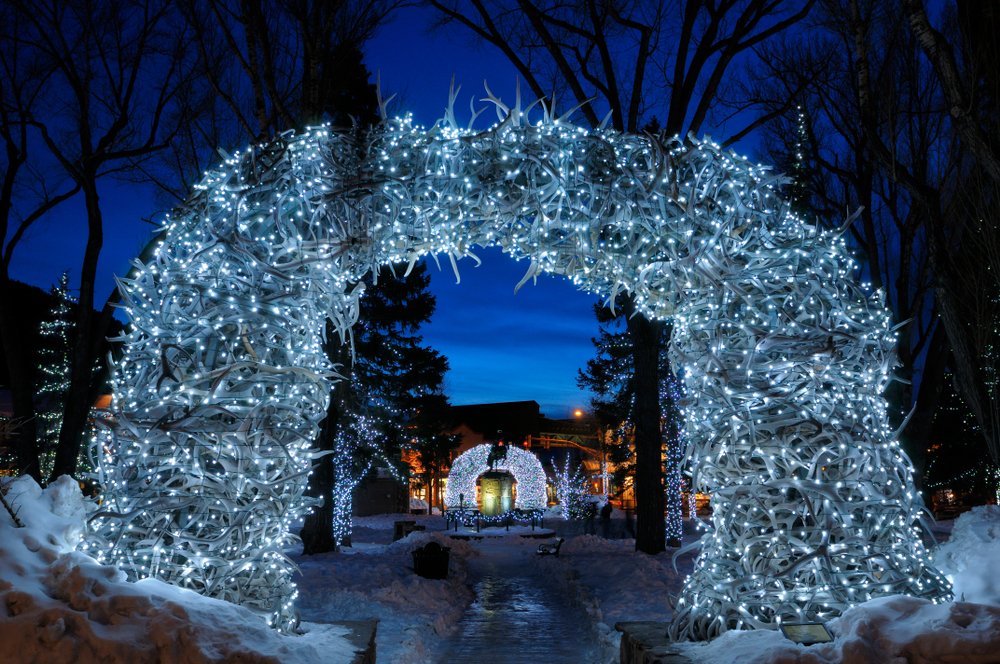 The Antler Arch is a popular photo spot in Jackson Hole no matter what the time of year.
There's no denying it gets even more festive in winter, when blue-tinted fairy lights adorn the snow-dusted antlers and make for the ultimate Jackson Hole Instagram stop.
Taking a photo here is pratically a rite of passage on every Jackson winter trip!
Explore Jackson's art displays, museums, and galleries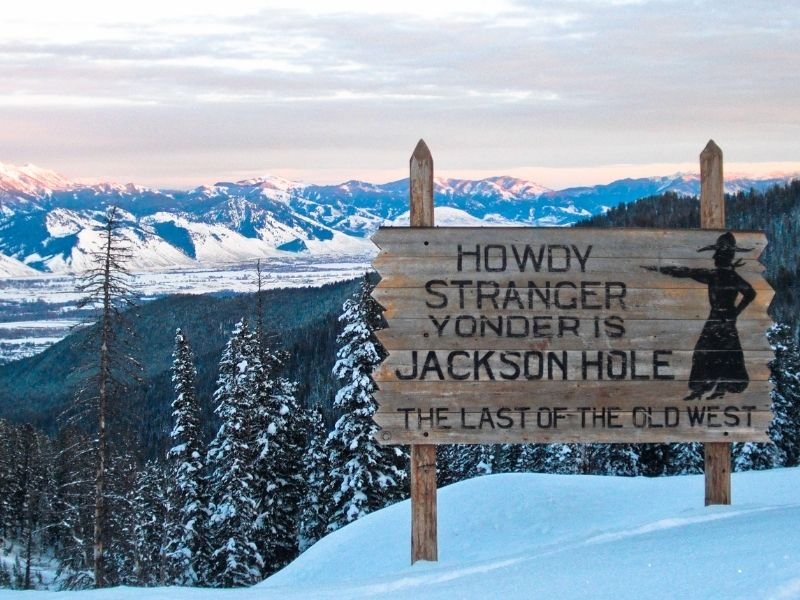 Interested in exploring Jackson's diverse art scene?
There are over 10 galleries within walking distance of Jackson Town Square, and even more spread throughout the town.
Among all of these galleries, Jackson is also home to the well-known National Museum of Wildlife Art.
With over 5,000 pieces of art representing wildlife from around the world, there's so much to discover at the National Museum of Wildlife Art!
In addition to a world-renowned art collection, including work from artists like Georgia O'Keeffe, Andy Warhol, John James Audubon, and Henri Rousseau, the National Museum of Wildlife Art offers guided tours with professional docents.
It also has a breathtaking location overlooking the National Elk Refuge, a museum store, dining on location at the Palate Restaurant, and a 3/4-mile trail to view beautiful bronze sculptures.
Also, be on the lookout for Jackson's many public art displays, including the 4,000-pound sculpture of a bronco rider that welcomes all arriving in the Cowboy State from the Jackson Hole Airport!
Go sledding or tubing at Snow King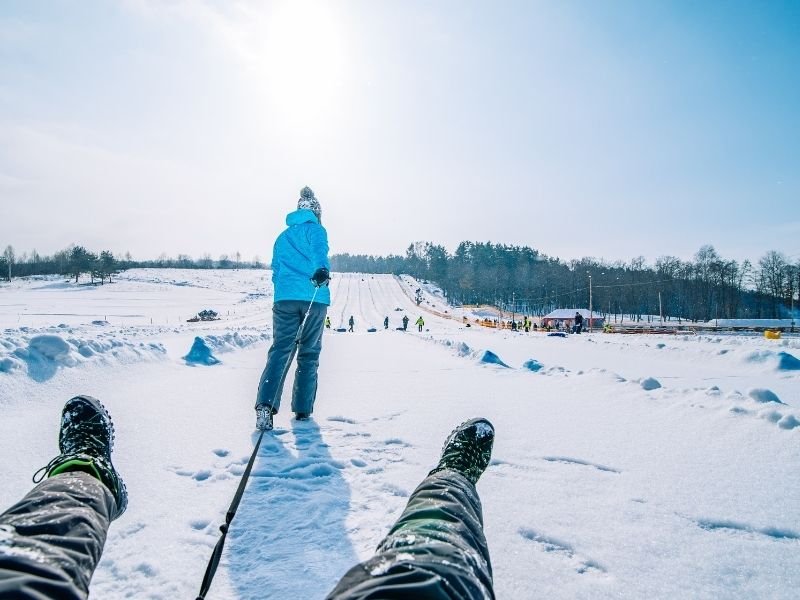 Who said sledding was just for kids?
In Jackson Hole, anyone with a need for speed is encouraged to try out the tubing at Snow King Resort!
Located right in the town of Jackson, Snow King has a specially designed lift with groomed lanes just for tubing!
You can buy a Big King pass which allows you to do all the activities for a full day.
Visit the Ice Castle in Teton Village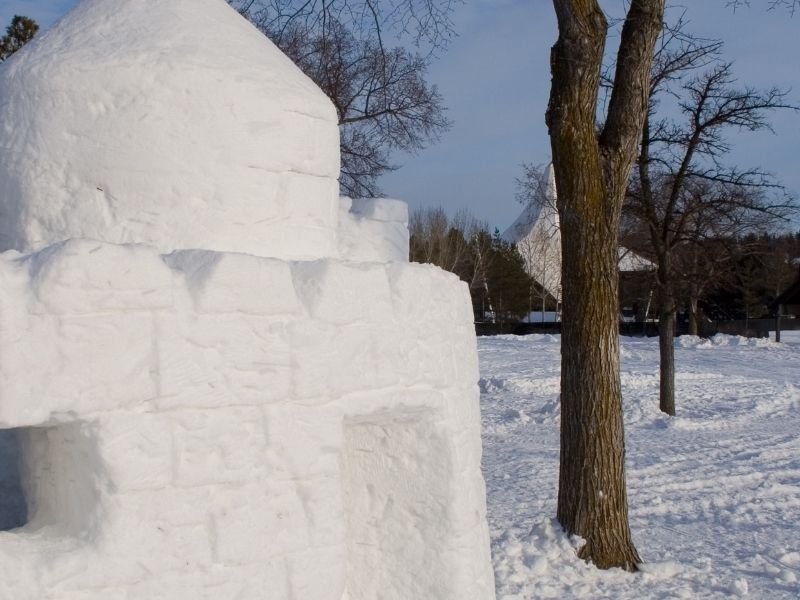 If you are traveling with young kids, they'll love the Ice Castle in Teton Village, in the Village Commons area.
It's located right next to a small hill, which is perfect for sledding and snowplay.
The castle is made from snow and ice and has kiddos playing around it all hours of the day.
There's also a skating rink here and the ice castles get lit up at night to make it a great place to spend an evening with the family.
Visit Jackson Hole Mountain Resort for skiing or snowboarding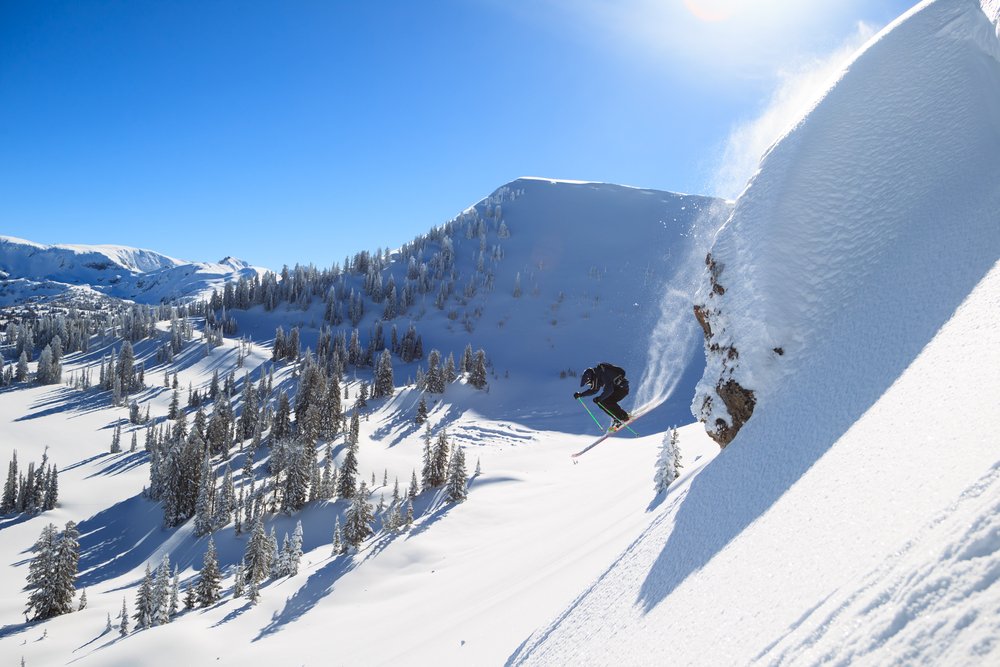 If you love to ski or snowboard, a visit to Jackson Hole Mountain Resort is probably already high on your list of must-do activities.
After all, this powder paradise has exciting terrain for all experience levels and ages to shred!
I'm not a skier or a snowboarder, but the official Jackson Hole tourism website is a treasure trove of research!
Ride "Big Red" to 10,450 feet.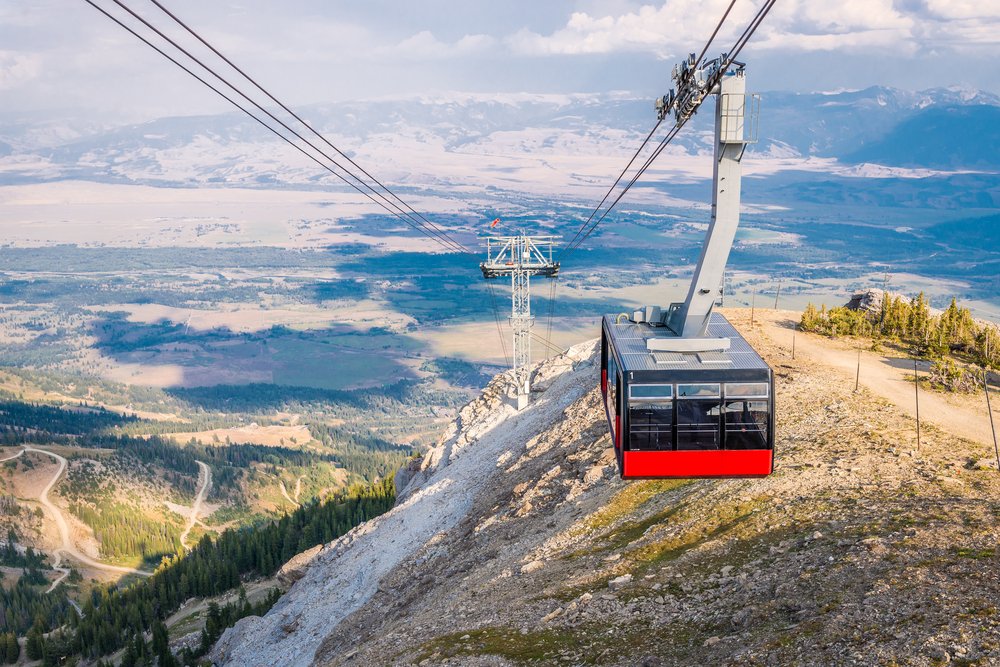 There are even fun winter activities for non-skiers to experience resort-life!
Anyone wishing to take in the alpine views at Jackson Hole Mountain Resort on foot should make time to ride the Aerial Tram (aka Big Red) to 10,450 ft.
There are even waffles waiting for you at the top!
After your 9 minute ride up the mountain, pop into Corbet's Cabin for one of their world-famous waffles! They pair perfectly with the mountain scenery.
Enjoy an après-ski scene for all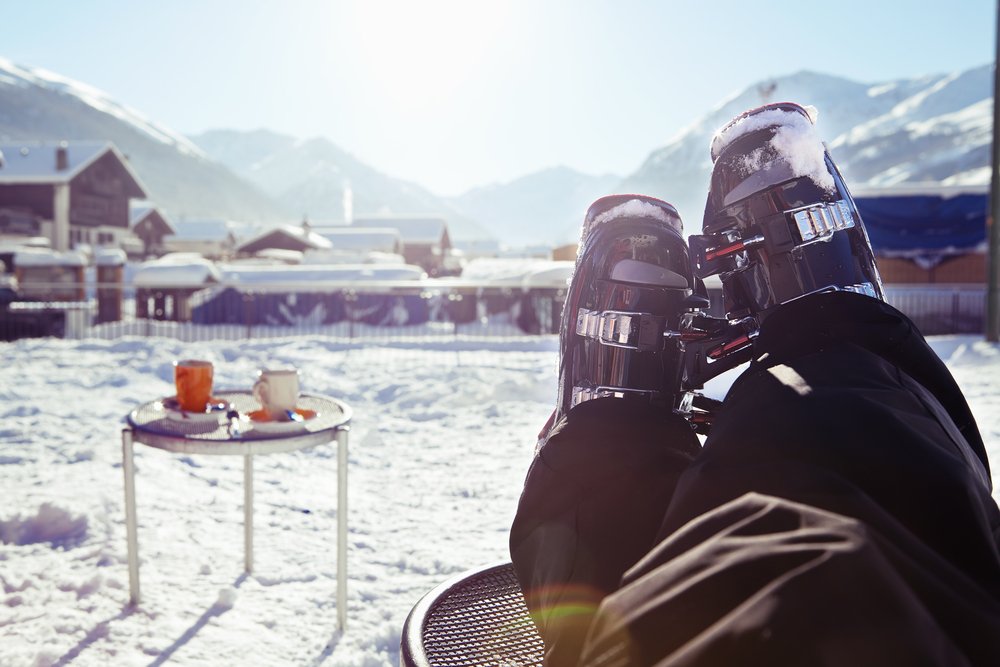 Whether you're coming from a powder day at the resort or an afternoon roaming downtown shops, après ski begins at 3PM!
For folks coming off the slopes, the Mangy Moose is widely-known for their après fun among visitors and locals alike. Cold beer, signature drinks, and filling nachos are only a few of the restaurant's top attractions.
Grab a table after a long day of skiing or riding and listen to some live music as you recount the day's excitement.
Downtown Jackson has an après scene of its own, and a local favorite is the Million Dollar Cowboy. You may recognize this bar's famous saddle stools!
If you're looking for some après-ski fun in town, pop into this lively watering hole for western ambiance, music, mouthwatering steak, and a refreshing beverage!
Enjoy the delicious Jackson Hole dining scene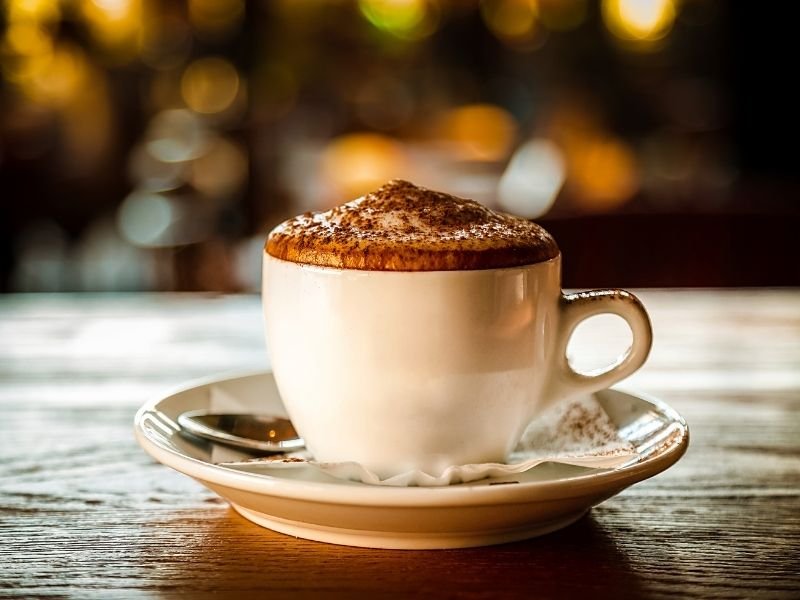 Foodies, this one is for you! Jackson Hole is the heart of the west but home to cuisines from all over the world.
If your breakfast, lunch, and dinner were from all the best restaurants in Jackson, the lineup would look like this:
Breakfast: Delicious espresso drinks and gourmet French bakery items come together at Persephone Bakery.
Take something to go or dine in. There's something everyone will love here from light and sweet to filling and savory!
Lunch: Every town has its signature burger place, and in Jackson, it's Liberty Burger.
Reasonably priced with a wide selection of local brews on tap, there's no wonder why Liberty Burger is a local favorite! Try your first bison burger with onion rings on the side. They even have great veggie burgers!
Dinner: For dinner, pass around a variety of European-style small plates at Bin22.
Make reservations in advance or arrive early because this is one of the most popular dinner restaurants in Jackson Hole! Sip on hand-selected wines and indulge in the best flavors your palate has ever tasted.
Dessert: If you have a sweet tooth, you'll want to stop by Moo's Gourmet Ice Cream. Their all-natural ice cream made with 100% organic cream is to die for.
For those out there that don't like ice cream, Moo's also has a wide selection of baked goods, truffles, and even offers house-blend coffee!
Hit up the local breweries.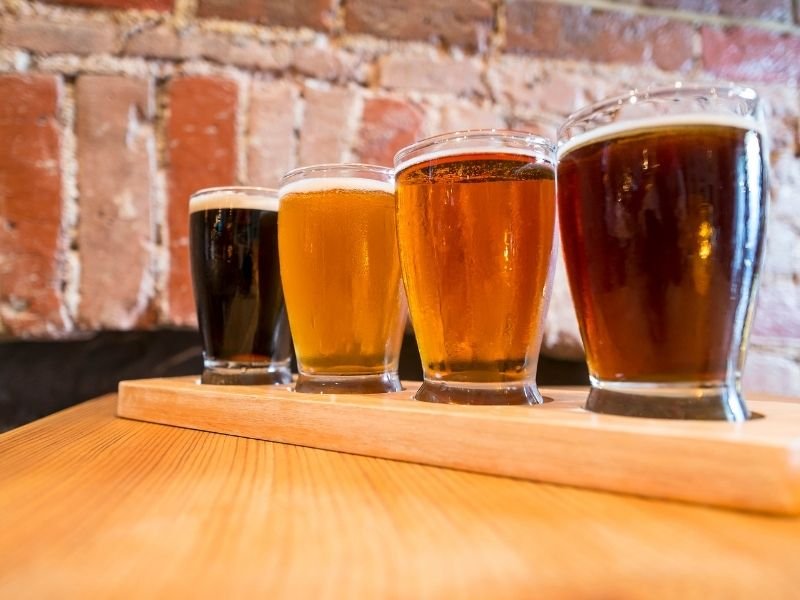 Jackson has a great brewery scene that you absolutely should check out while you're there!
Roadhouse & Brewing Company is a favorite stop on the Wyoming Beer Trail. The brewery started as homebrewers and they've kept true to their roots, focusing on small-batch beers inspired by the landscapes around them.
Snake River Brewing is another local favorite, which also offers tours of their brewery — just e-mail them to set up a tour.
StillWest Brewery & Grill also operates in town and always has several beers which are standard (a kolsch, an APA, a red ale, a pilsner, and a porter) and 3+ seasonal offerings.
Jackson Winter Weather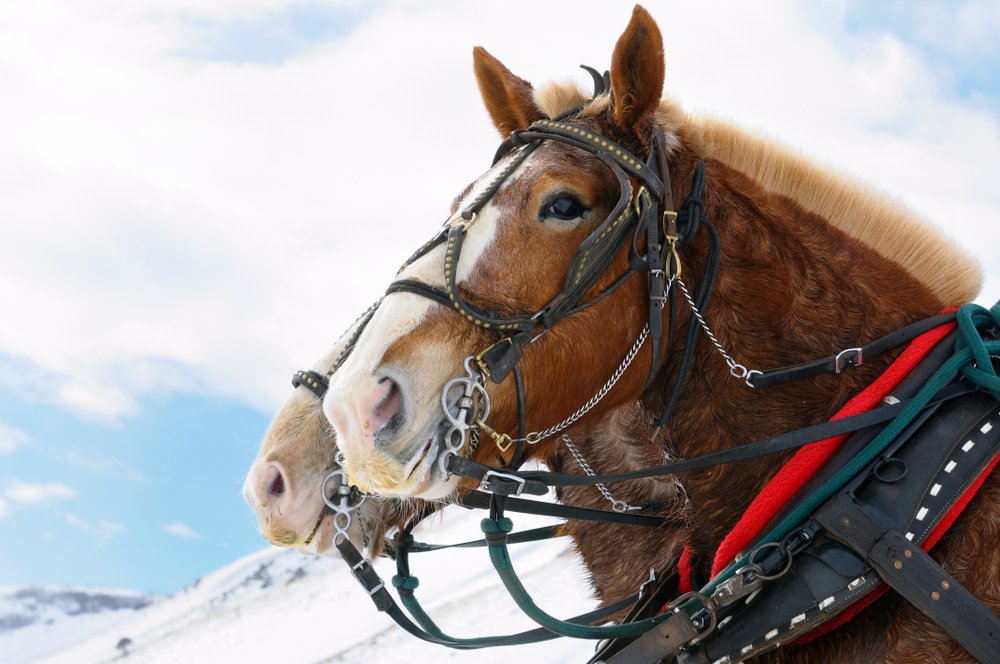 Here are the breakdowns for winter temperatures and weather conditions in Jackson in winter, and what to expect on a month-by-month basis from November through March.
November: Average high of 40° F and an average low of 17° F, with 6 days of rain/snow
December: Average high of 28° F and an average low of 7° F, with 8 days of snow.
January: Average high of 28° F and an average low of 5° F, with 8 days of snow.
February: Average high of 33° F and an average low of 9° F, with 6 days of snow.
March: Average high of 42° F and an average low of 18° F, with 10 days of snow/rain.
Where to Stay in Jackson in Winter
Best Overall: Wyoming Inn
The chic yet laid-back Wyoming Inn at Jackson Hole is my personal pick for where to stay in Jackson, WY! This charming hotel is super cozy and is designed with Western-style decor.
The inn's lobby comes with a roaring fireplace, is toned with warm colors with lots of wood elements, and has an overall rustic design that gives you serious cabin vibes with modern hotel amenities.
The Inn also has its own designated fitness center complete with fancy Peloton equipment, a big hot tub to soak sore muscles in, and complimentary tea, hot chocolate, and cookies by the fireplace! There's also a great on-site restaurant for nights when you're too tired to properly hit the town.
>> Check photos, reviews, and availability here <<
Best on a Budget: Elk Country Inn
If you're traveling Jackson on a budget, look to the beautiful The Elk Country Inn. It's highly rated by fellow travelers and affordable (well, by Jackson standards) for cost-conscious travelers.
It's located just 4 blocks from Town Square in central Jackson, and the rooms are modern, spacious, and clean.
I'll admit, the ambiance is a bit generic/standard hotel, and it doesn't quite have the cool hipster points that a place like Wyoming Inn has, but it's warm, comfortable, and well-appointed with all you need.
There's also an indoor swimming pool and a lobby fireplace: two big wins considering its budget-friendly price tag.

>> Check photos, reviews, and availability here <<
Best in Luxury: Teton Mountain Lodge & Spa
If cost is not a factor, the stunning Teton Mountain Lodge and Spa (a Noble House Resort) is a no-brainer.
This hotel is as luxurious as it gets in Jackson Hole, located in Teton Village just about a mile from Grand Teton National Park. It's perfect for people who plan on skiing while in Jackson because it's basically a ski-in, ski-out hotel.
There are a variety of room types, all with a gorgeous fireplace and cooking area, so you can find everything from queen studios to bi-level two-bedroom suites. While none are particularly budget-friendly, you can find the best size and style to suit your needs.
In terms of luxury amenities, there is a phenomenal on-site restaurant, a chic bar area with a great apres-ski scene, with indoor and outdoor hot tubs.
There's also an indoor heated pool, a massage and spa center, and a gorgeous outdoor heated pool that's lit up beautifully at night for after-dark dips under the Wyoming stars!
>> Check photos, reviews, and availability here <<
Emily is a freelance travel and outdoor recreation writer from Big Sky, Montana. Her adventurous spirit has led her to the high peaks of the Sierras and the largest wilderness areas in the lower 48. When she's not writing, Emily can be found backpacking, road tripping to outdoor destinations, climbing, or rowing whitewater.