Anyone who loves the aesthetic beauty of snowy mountains will be in awe by the winter views in Grand Teton National Park!
The peaks rocky slopes become artistically contoured by the frequent arrival of fresh powder, and the area trails become snow-covered.
Grant Teton National Park and its gateway town of Jackson, WY come to life with winter visitors eager to explore.
If you love getting outdoors in the wintertime and enjoy the brisk mountain air, Jackson Hole and Grand Teton National Park in winter are the perfect destinations for you!
Outdoor enthusiasts from all over the world flock to this winter wonderland for the epic ski terrain at Jackson Hole Mountain Resort, backcountry skiing in the Teton Range, mountaineering, snowshoeing, cross country skiing, and the encompassing mountain views.
Grand Teton in Winter FAQs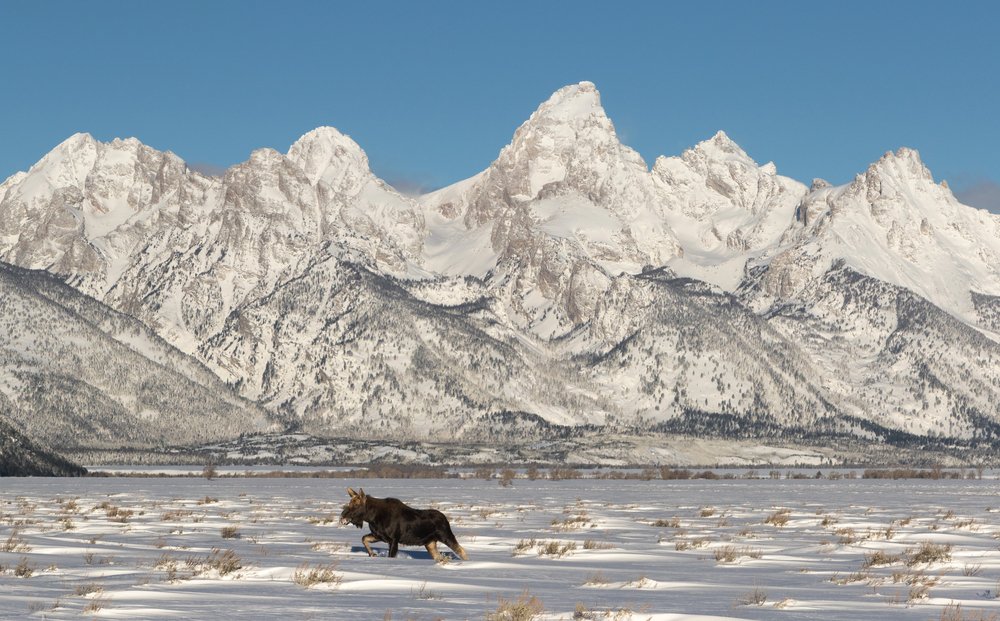 Note: This post contains affiliate links, which means I may receive a small commission if you purchase something through one of these links. Thank you for supporting the free content on this site! For more information on affiliate links and cookies, see my disclosure page for more details.
Is Grand Teton open in winter?
Absolutely — Grand Teton National Park is open 365 days a year, including the winter season! However, once there is significant snowfall, many roads and areas in Grand Teton do close down. We go into those closures later in the article
Can you drive through Grand Teton in winter?
The two main highways in Grand Teton are open in winter: Highway 89/191 and Highway 26/287. Many park roads close to vehicle traffic in winter and become groomed trails for winter sports, including Teton Park Road and Moose-Wilson Road.
What is the best time of year to visit Grand Teton National Park?
It truly depends on what you enjoy doing and how comfortable you are in the cold! If you're looking to enjoy hiking but aren't a fan of snow, then Grand Teton in winter is obviously a bad idea. But if you can find joy in winter sports like cross-country skiing, snowshoeing, and winter wildlife tours, then I'd say winter is Grand Teton National Park is one of the best times of year due to the stunning snow-covered scenery and serious lack of visitors!
What is there to do in Grand Tetons in the winter?
So, so much — we'll go into it all later in the post! But let's start with winter hiking, cross-country skiing (Nordic skiing), guided backcountry skiing, guided wildlife tours including sleigh rides to see local elk, snowshoeing, and warming up after all your adventures in nearby Jackson Hole which is a lively place to be in the winter!
Grand Teton Winter Weather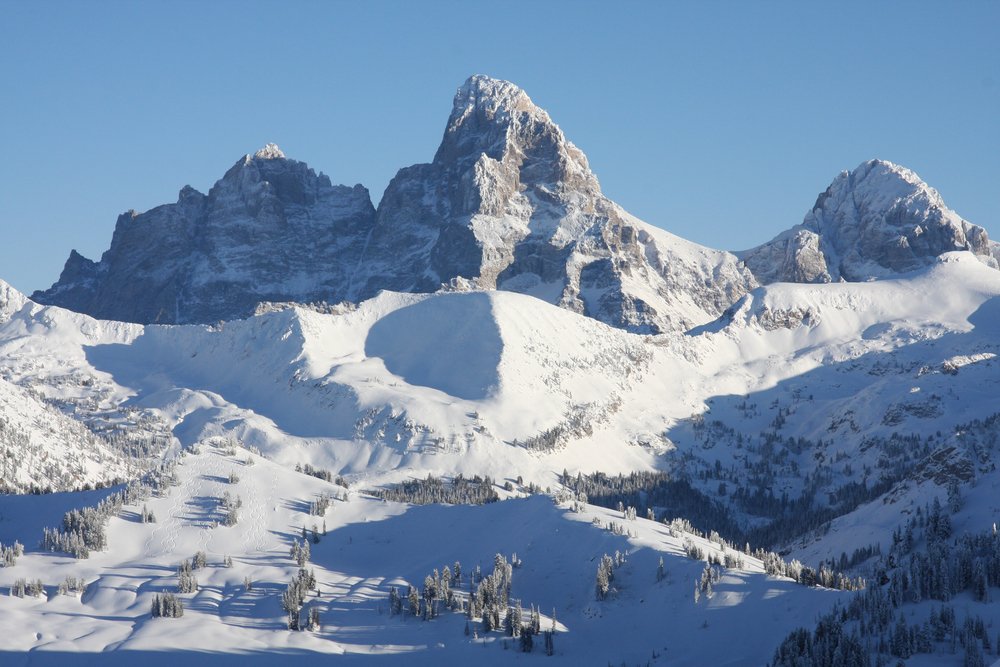 In a word? COLD! So cold, in fact, that the coldest temperature Wyoming ever experienced was measured in Moran, Grand Teton National Park — a bone-chilling 63 degrees below zero Fahrenheit in 1933!
But don't worry — that's not exactly the average temperatures in Grand Teton in winter.
Here are the breakdowns for winter temperatures and weather conditions in Grand Teton National Park, and what to expect on a month-by-month basis from November through March.
November: Average high of 35° F and an average low of 14° F, with 11 days of rain/snow
December: Average high of 25° F and an average low of 3° F, with 12 days of rain/snow.
January: Average high of 25° F and an average low of 0° F, with 12 days of snow/rain.
February: Average high of 30° F and an average low of 2° F, with 10 days of snow/rain.
February: Average high of 39° F and an average low of 11° F, with 10 days of snow/rain.
Grand Teton Entry Price in Winter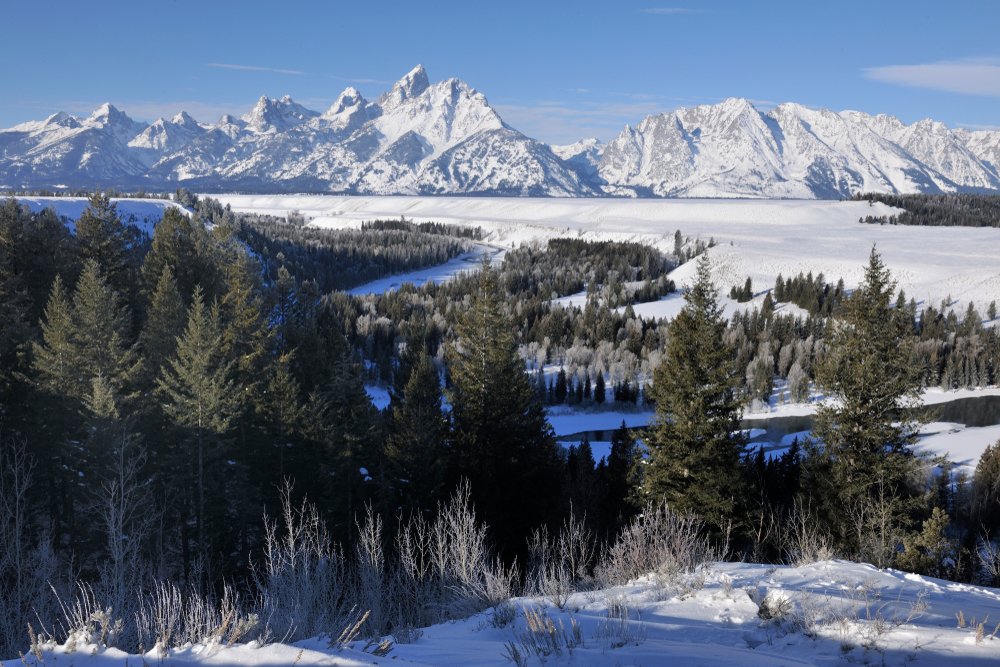 The Grand Teton entry price is the same year-round. For vehicles, it costs $35 for a 7-day pass. For people entering on foot, it costs $20 for a 7-day pass.
If you're planning on visiting Yellowstone in winter as well, that'll be $70 per vehicle for both parks, as there is no combined ticket for just the two parks. However, for $10 more, you can buy a National Parks Pass valid for an entire year.
If you plan on visiting both parks, I highly recommend investing in an America the Beautiful pass! It gives you one year of free entry to all National Parks and other federally-administered protected areas (National Forests, National Seashores, etc. — over 2,000 sites!) for the low price of $79.99.
Plus, 10% of that goes back into the National Park Foundation to keep the land pure, beautiful, and accessible for all.
>> Buy your America the Beautiful annual pass online here! <<
Jackson Hole and Greater Yellowstone Visitor Center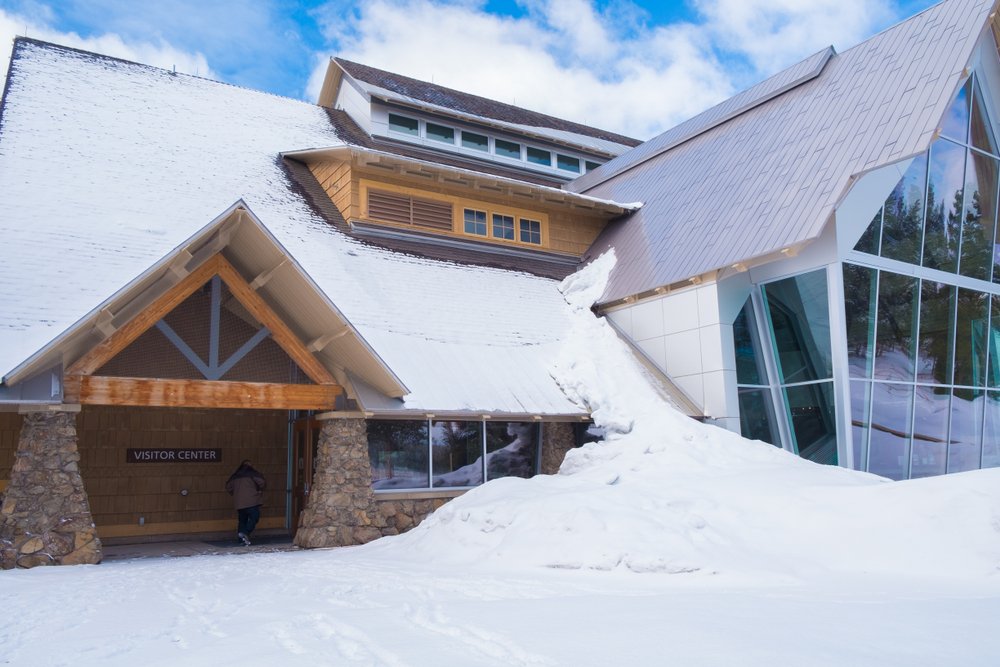 Every trip into a national park should begin with a stop at a visitor center! Visitor centers are the perfect place to get the most recent information on road conditions and chat with professionals that have expert knowledge of the area.
The Jackson Hole and Greater Yellowstone Visitor Center is located in Jackson, WY, just outside of the national park and next to the National Elk Refuge.
In addition to offering an official update on road conditions and information on winter safety, this visitor center has phenomenal views, interesting interpretive displays, a bookstore operated by the Grand Teton Association, and ticket sales for sleigh rides into the National Elk Refuge.
Visitor Center Hours
During the winter season in Grand Teton National Park, the Visitor Center hours for the Jackson Hole Visitor Center are between 9 AM and 5 PM seven days a week.
Although the visitor center is open year-round, holiday visitors can expect to find the center closed on Thanksgiving and Christmas Day. Be sure to get all the info you need in advance!
Once you have all the information you need, you're ready to explore a wintry Grand Teton National Park!
Where to Stay in Grand Teton in Winter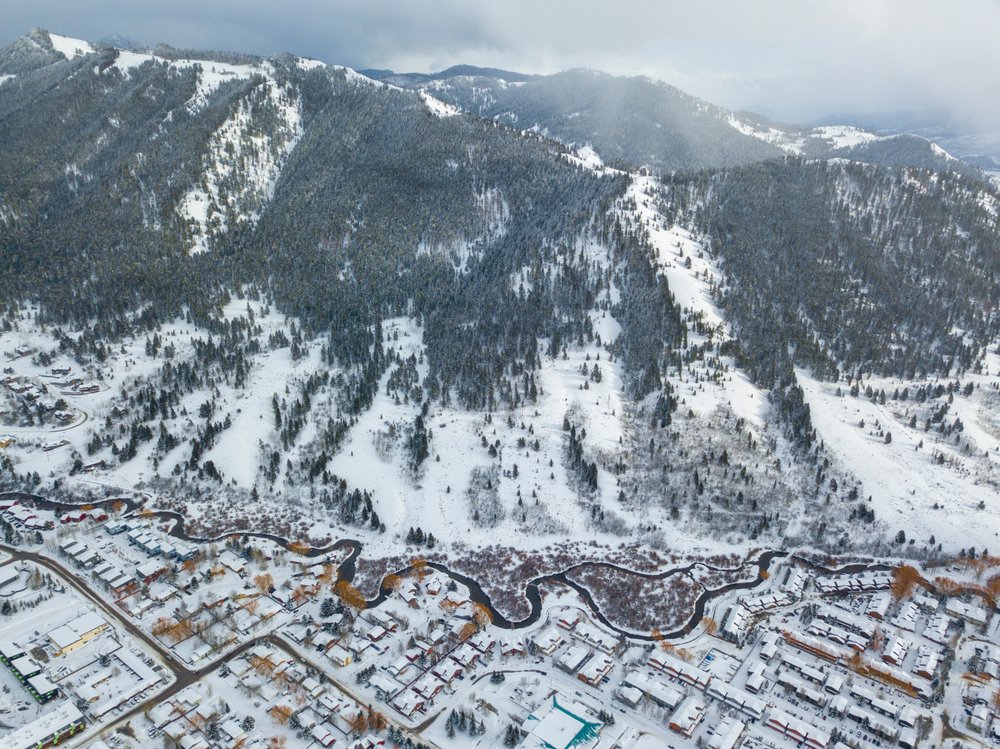 There is nowhere to stay in Grand Teton National Park itself in the winter, as all the in-park lodging ends mid-October. Therefore, you'll want to stay in nearby Jackson Hole or Teton Village.
Luckily, there's no shortage of incredible accommodations there! Here are our top picks for where to stay near Grand Teton.
My top choice? The chic yet laid-back Wyoming Inn at Jackson Hole! This cozy inn features Western-style decor complete with a roaring fireplace, warm woodsy colors, rustic design touches, and large, modern rooms.
Added luxury amenities include a fitness center with Peloton equipment, a large hot tub, complimentary tea, hot chocolate, and cookies by the fireplace, and a delicious on-site restaurant.
>> Check photos, reviews, and availablity here
Traveling on a budget? Then I would opt for the beautiful The Elk Country Inn, which is highly rated and affordable for cost-conscious travelers. Just 4 blocks from the central Town Square in Jackson Hole, the rooms are modern, spacious, and clean.
The ambiance is a bit generic hotel, as opposed to hip places like Wyoming Inn, but it's warm and comforting nonetheless. There's also an indoor swimming pool and fireplace: a score for a budget-conscious place.
>> Check photos, reviews, and availability here
Looking for the ultimate in luxury? If cost is not a factor, the stunning Teton Mountain Lodge and Spa (which is a Noble House Resort) is the obvious choice! This is as luxurious as it gets in the Grand Teton area. There are a variety of room types, all with a gorgeous fireplace and cooking area, so you can find everything from queen studios to bi-level two-bedroom suites.
It's located in Teton Village, just over a mile from Grand Teton National Park and close to several ski runs in case you're traveling with skiers. There is a phenomenal on-site restaurant, a lively bar area for apres-ski drinks, indoor and outdoor hot tubs, an indoor heated pool, a massage and spa center, and a gorgeous outdoor heated pool that's lit up beautifully at night for after-dark dips.
>> Check photos, reviews, and availability here
Grand Teton NP Winter Road Conditions and Closures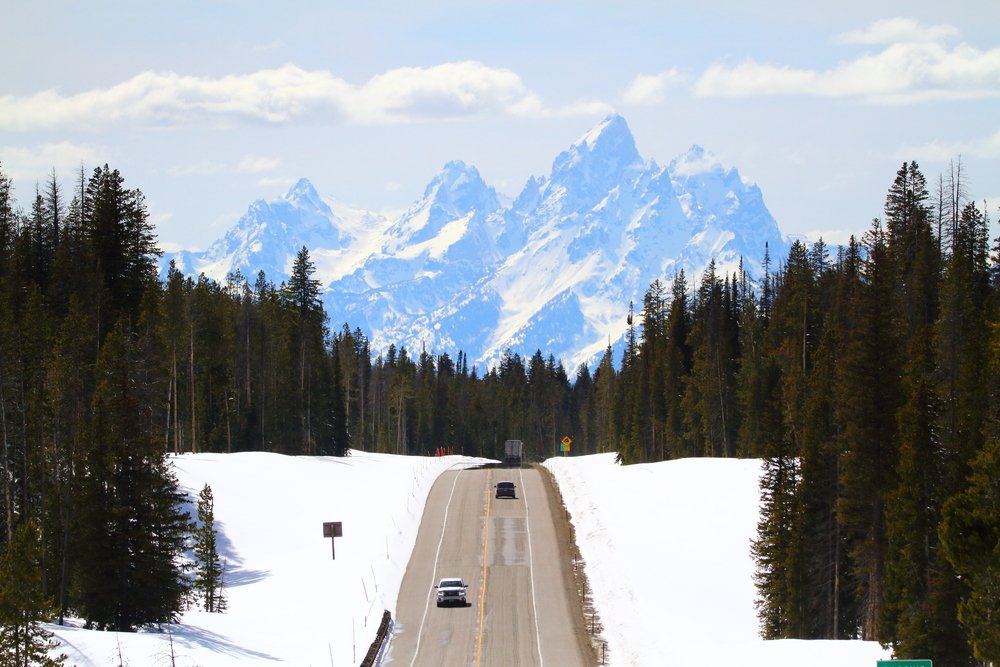 Winter-like conditions in Grand Teton National Park and Jackson Hole can last from November until mid-April.
During that time, the park closes many of its roads to keep visitors safe during winter travel. The park service strongly encourages 4-wheel drive and tires that are suitable for snow-covered roads during winter in Grand Teton.
Grand Teton Winter Roads Open Year-Round
For those traveling from Jackson, WY, John D. Rockefeller Jr. Parkway/ HWY 191 remains open through the winter up until the Flagg Ranch, which is just before the boundary of Yellowstone National Park.
Although the roadway is plowed, those who choose to travel on this route should expect the road to be snow-covered and icy. Drive with caution.
Seasonally Closed Roads
Beginning on November 1st, the Teton Park Road is closed to private vehicle traffic from the Taggert Lake Trailhead to Signal Mountain Lodge. The road remains closed throughout winter until April 1st.
Although the Teton Park Road closes to private vehicle traffic, it does open up to many more fun winter activities, which we will get to in a bit!
Most other park roads close on November 1st or when the park service determines that the road is impassable due to snowfall.
Always check on conditions at the Jackson Hole Visitor Center before entering the park!
Grand Teton Winter Tours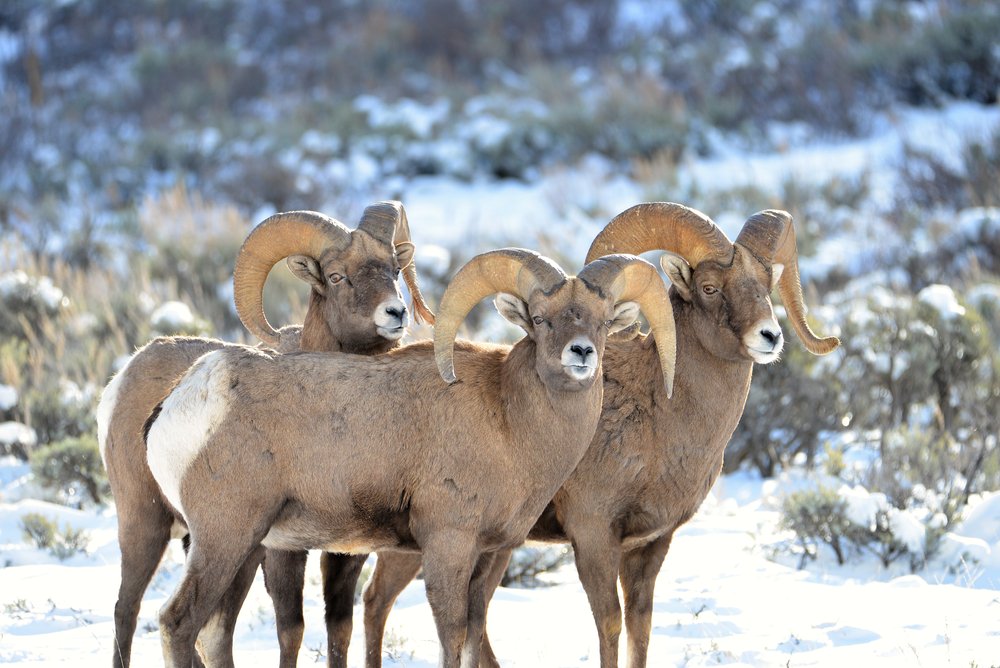 There are tons of winter tours if you prefer a more structured experience in Grand Teton in winter, led by a knowledgeable guide who is passionate about the region and exploring it safely and conscientiously.
Here are a few of the best Grand Teton tours and activities you can do in the winter!
Snowmobiling: The beautiful Heart Six Ranch offers full-day snowmobiling tours of their region in the Grand Teton mountains, including a tasty lunch at a beautiful mountain lodge and gear rental (bring your own warm base layers). This is a full-day tour from 8 AM to 4 PM or later, so it's great for whiling away a day in the backcountry of Grand Teton in winter!

>> Book your snowmobiling excursion here <<
Wildlife Tour: Want to see the best winter wildlife in Grand Teton National Park? That means a pre-dawn wake-up call to spot some of the most beautiful animals in the park on a sunrise wildlife tour. This small-group tour (maximum size: 7 participants) includes a pre-dawn pickup, tasty breakfast, and several hours of wildlife spotting with an expert guide before returning to your hotel for a cozy afternoon nap or fireside lounge!
>> Book your sunrise wildlife tour in Grand Teton here <<
Full-Day Private Tour: For an all-day private guided tour of Grand Teton for small groups up to 4, this is the best tour to pick if you want total privacy for your group or family for social distancing or just enjoyment purposes. This tour focuses on winter wildlife spotting and photography spots in Grand Teton, but as you are the only participants on the tour, you can speak with your guide to try to customize aspects of the itinerary.
>> Book your private guided tour of Grand Teton here <<
Cross Country Skiing in Grand Teton National Park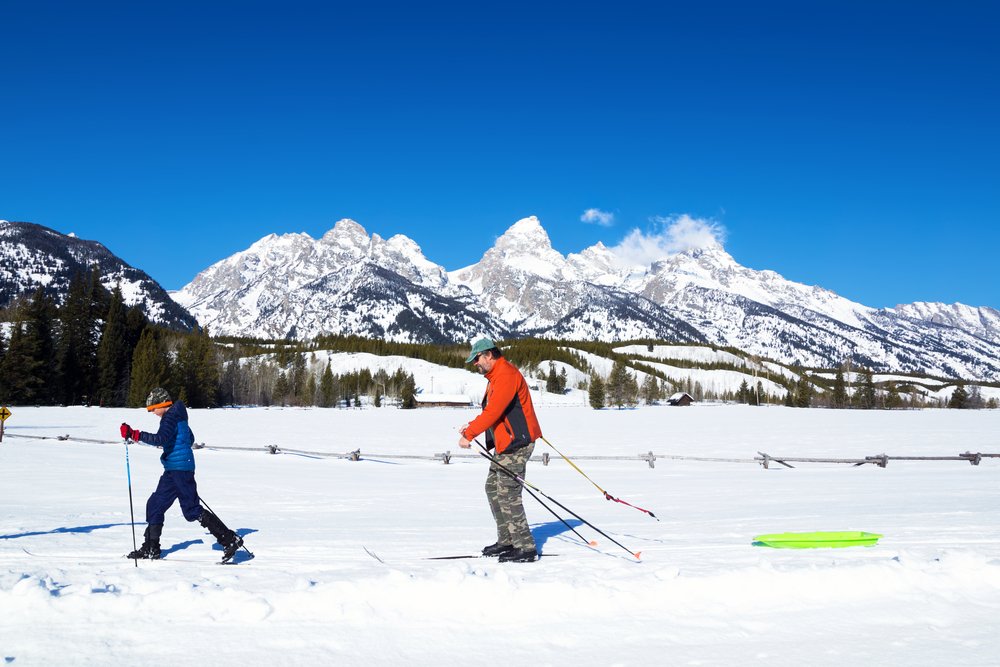 Skiing into Grand Teton National Park is an experience unlike any other. The area's powdery snow is perfect for ski touring, and the views are unbeatable.
There are many professional outfitters located in Jackson that can equip you with everything you need to get out and glide through Grand Teton National Park. If you are visiting during the holidays or for spring break, you may want to reserve your rental gear in advance to secure availability!
Teton Park Road
For those interested in cross country skiing in Grand Teton, the Teton Park Road is a great place to start.
The Teton Park Road is groomed from the Taggert Lake Trailhead, where you will likely park your vehicle, all the way to Signal Mountain Lodge.
That's nearly 15 miles of beautifully groomed trail to explore beginning in mid-December, depending on conditions. The trail passes popular attractions like Jenny Lake and the southern end of Jackson Lake.
Whether you decide to ski only a few miles or the whole stretch of the road, on a bluebird day you're guaranteed epic views of the Cathedral Group, which includes Grand Teton, Mount Owen, Teewinot, Middle Teton, and South Teton. 
Moose-Wilson Road
Another great option for some in-park cross country skiing is the Moose-Wilson Road.
To ski along the groomed trail on this scenic road, park at the Granite Canyon Trailhead. The road is groomed for about 3 miles, where it ends at another trailhead.
Round trip, the trail offers 6 miles of the wonderful forested scenery. During the winter, skiers often use this road to access Phelps Lake.
Skiing with Pets in Grand Teton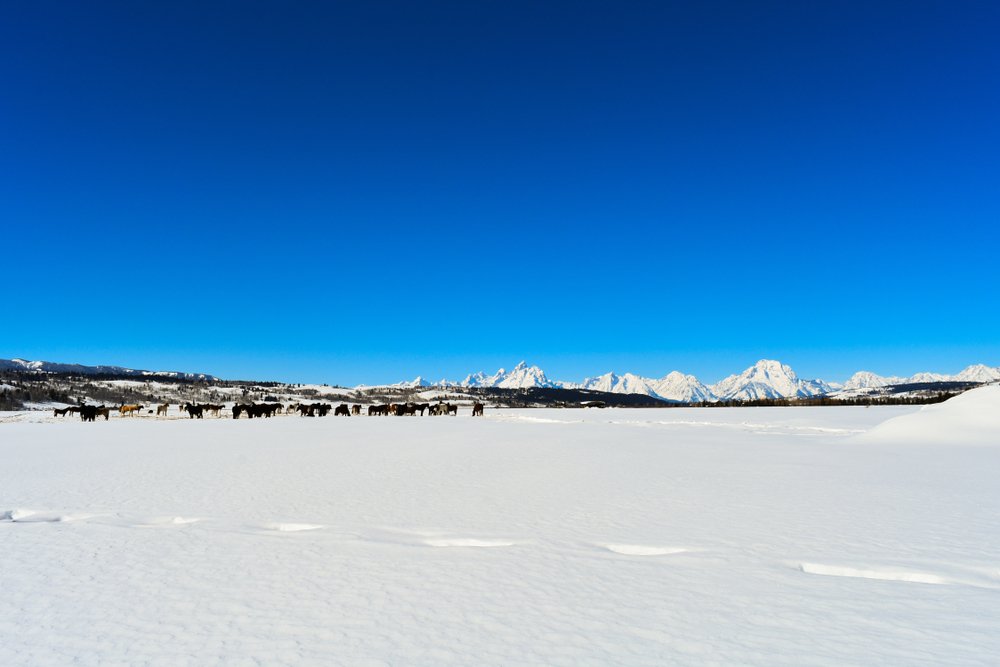 Did you know your favorite four-legged friend can join you as you ski?
Regardless of snowfall, the Teton Park Road does close on November 1st to private vehicle traffic. However, the road begins to welcome leashed pets!
Once the snow begins to fall, leashed pets must stay in the multi-use lane. Pets are also welcome on the Moose-Wilson Road following the November 1st closing.
Use caution whenever traveling off-trail and be aware of the current avalanche conditions.
Snowshoeing in the Tetons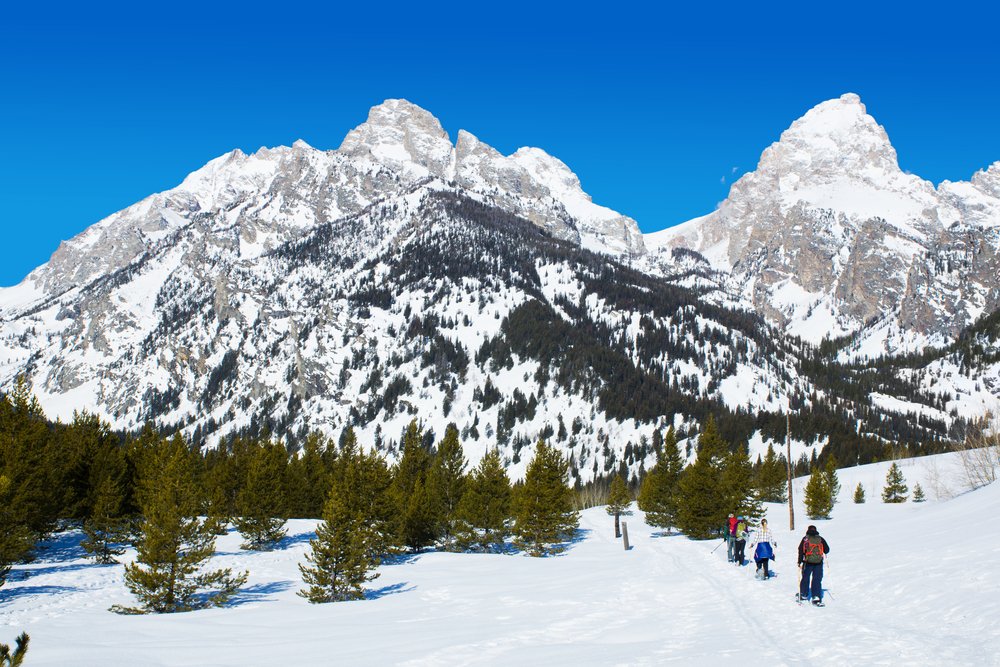 For anyone uninterested in cross-country skiing, snowshoeing is another great way to get outdoors in the wintertime!
There's an easier learning curve compared to cross-country skiing, and snowshoes are very cheap to pick up your own pair so you can have them with you all winter season long. Here's a well-reviewed affordable pair that also comes with snowshoeing poles.
One thing to note: on mixed-use trails, do not snowshoe in the cross-country ski tracks! The cross-country skiers use this to return to the trailhead more easily. It's poor trail etiquette to snowshoe over their tracks.
Ranger-Led Tours
Grand Teton National Park offers a fun program called, "Explore Winter: Snowshoe with a Ranger".
Participants can join a park ranger for a snowy hike in the Taggert Lake area. This is a great opportunity to learn how to be safe while recreating in the winter, ask questions about the park, and explore the Teton's beautiful landscape.
Reservations for this ranger-led program must be made in advance on the park's official website. Snowshoes, historic of those used in the U.S. Army's 10th Mountain Division during World War II, are provided to all participants. 
Groomed Trails on Moose-Wilson Road and Teton Park Road
The groomed trails in Grand Teton National Park, mentioned above in the cross-country skiing section, are also open to snowshoeing!
Remember to avoid walking on top of the ski tracks whenever possible.
Colter Bay
If you're interested in a self-guided snowshoe excursion, there are a few other areas to consider.
A popular spot for winter hiking and snowshoeing is Colter Bay. The Colter Bay trails are adjacent to Jackson Lake and offer picturesque views of the Teton Range on clear days!
To access the Colter Bay parking area, visitors should use John D. Rockefeller Jr. Parkway/ HWY 191. From the town of Jackson, this area is a 1-hour scenic drive.
Backcountry Skiing in Grand Teton in Winter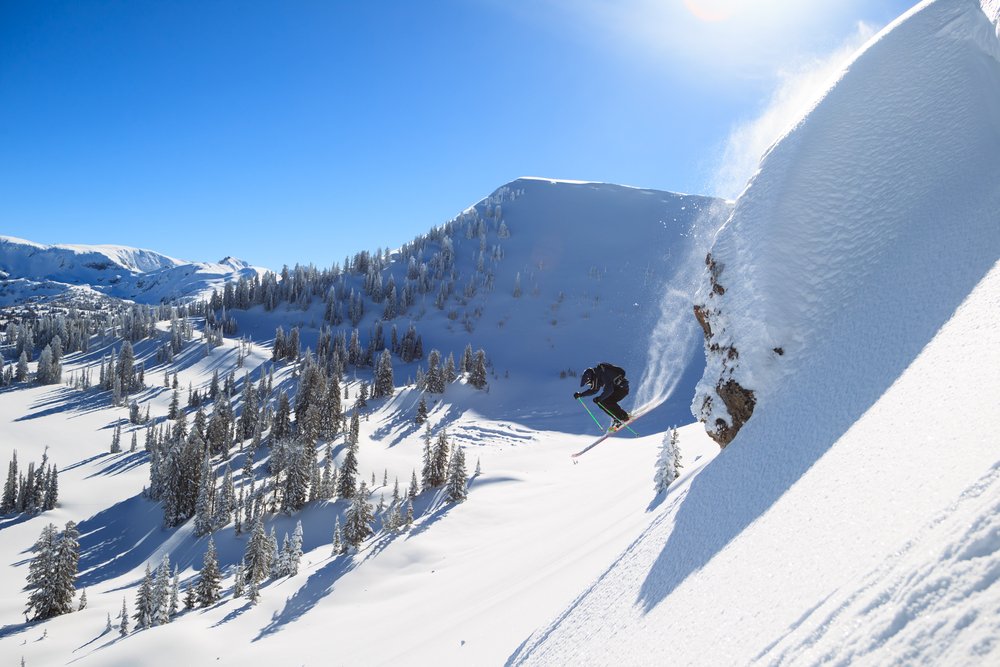 The Teton Range is a well-known paradise for mountaineering, climbing, and backcountry skiing. However, these activities aren't for the faint of heart or the inexperienced.
Grand Teton National Park encourages all snow-season backcountry users to carry the appropriate safety equipment and have expert knowledge of avalanche safety.
There is still a way to explore the winter backcountry for intermediate skiers, however. For those eager to get deeper into the Teton's remote terrain, a guided backcountry ski trip might be in order.
There are many professional outfitters that are permitted to offer guided backcountry ski trips into Grand Teton National Park! Teton Backcountry Guides is one such company.
Going with a professional guide is a great way to learn about winter safety and ensure that the mountain routes you run are thoroughly assessed for avalanche danger.
The helpful folks at the Visitor Center can help you find a guide company that offers exactly what you're looking for.
Winter Wildlife Viewing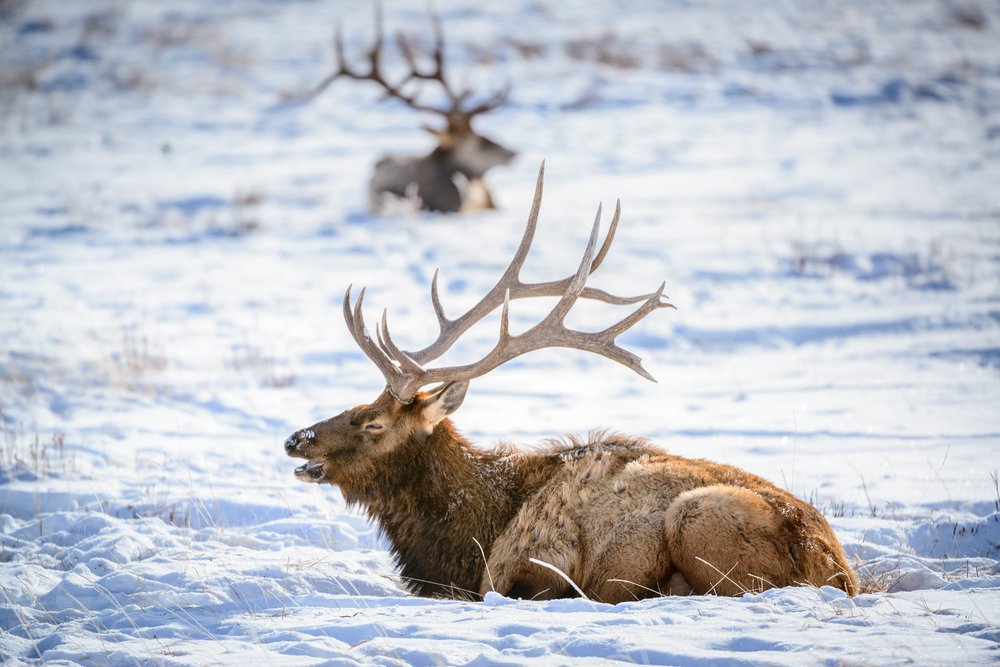 Get out of the chilly winter air and warm up on a scenic drive to seek out some area wildlife.
Grand Teton National Park is home to bison, deer, elk, coyote, bear, and even wolves!
Although bear settle in for hibernation in the wintertime, many of the park's other wildlife remains active.
Hit the road for a drive along John D. Rockefeller Jr. Parkway/ HWY 191 from Jackson, WY. Take all opportunities to pull off of the road and scout the open landscape.
A good pair of binoculars or a spotting scope will be extra helpful for locating wildlife in the distance.
Wolves in Willow Flats Overlook
The Willow Flats Overlook is well-known as one of the best places to scout for wolves in Grand Teton National Park.
Grab a parking spot and set up shop for a little while. Be patient in your search, and remember to have fun!
The National Elk Refuge
Elk can often be seen just outside of the park in the winter at the National Elk Refuge in Jackson Hole.
The refuge also is a popular place to spot other types of mammals and migratory birds.
Sleigh Rides to See the Elk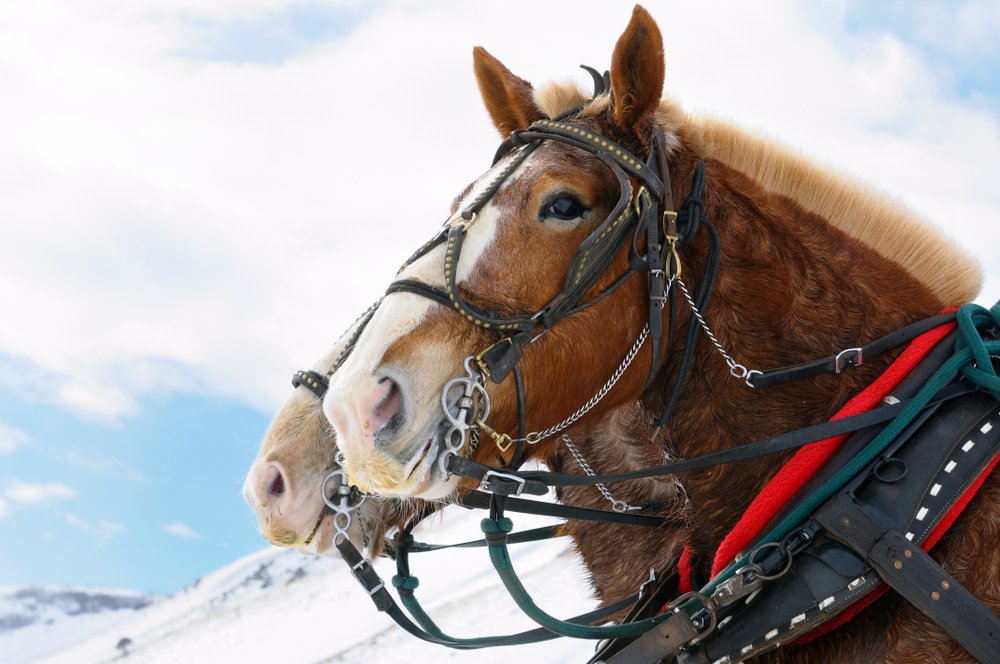 Wintertime visitors can get a close-up view of the massive elk herd that inhabits the refuge by booking a horse-drawn sleigh ride!
Tickets and reservations for the sleigh rides are available at the Jackson Hole and Greater Yellowstone Visitor Center.
What to Pack for Grand Teton in Winter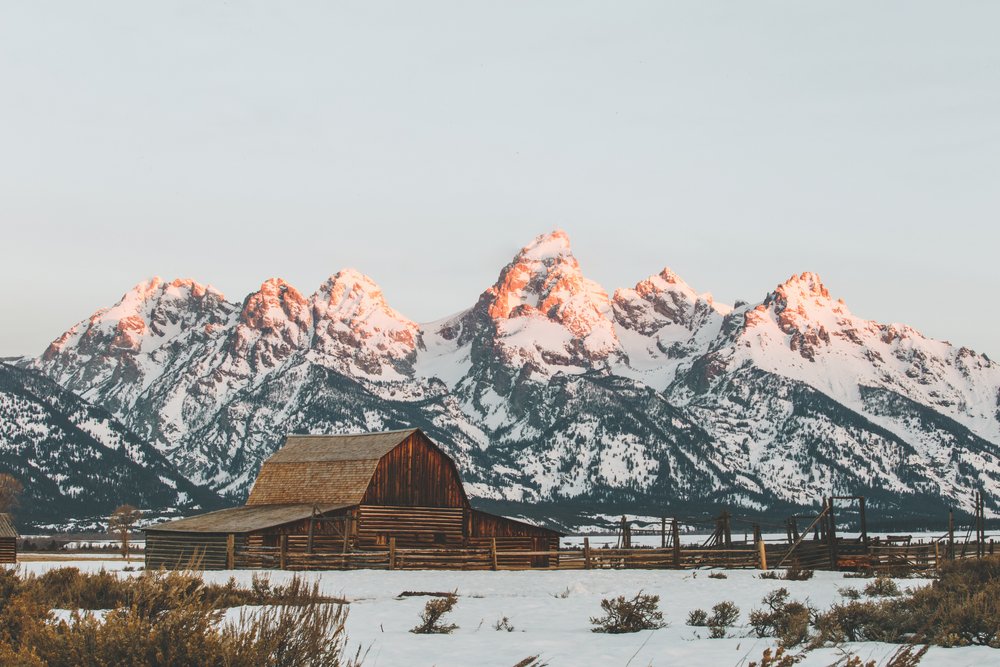 Packing for Grand Teton in winter requires some extra consideration, especially in the clothing department.
Waterproof Parka: In the snowy weather and freezing temperatures of Grand Teton in winter, you'll want something like this wonderful North Face parka. It's pricy to be sure, but it comes with a lifetime guarantee (which I've tested by sending in my zipper to be fixed after four years of use and abuse cycling in it all winter long – my jacket came back looking like new!).
I've had this one for ten years and it's held up beautifully from everything to biking in NYC in winter to visiting North of the Arctic circle in Tromso, Abisko, and Finnish Lapland. It'll certainly do you just fine in Grand Teton in winter!
>>> Get yours here! <<<
Waterproof Pants: If you're doing any winter hiking, skiing, snowshoeing, snowboarding, etc. (basically, anything more intense than just a stroll around town) you'll want waterproof pants: trust me, jeans just won't do when you're dealing with snow this deep.
Snow Boots: For snow boots for walking around Yellowstone National Park as well as whatever town you're using as your base, I suggest these cute and cozy Sorel boots for women, which are waterproof and warm but also have plenty of traction. Add some Yaktrax to the bottom for grip on icy surfaces and pathways. These are a godsend!
Warm Leggings: You have two options for ultra-warm leggings in winter – fleece-lined for people with sensitive skin like me, and merino wool for people who don't find wool itchy like I do. I own several pairs of these fleece-lined leggings in a variety of colors (I have black, gray, and maroon). I wear these underneath my waterproof pants in the snow. For people who like wool, merino wool leggings are the way to go – the absolute warmest you can get!
Fleece-Lined Knit Hat: I live in several different colors of knit hats in the winter. Since your jacket is likely a dark or neutral color, it's fun to liven up your look (and photos) with a selection of colorful beanies. I like a snug knit hat lined in fleece and with a pom pom that does absolutely nothing to add warmth but tons to add cuteness!
Thermal Top Layer: Again, this'll depend on if you like wool or not. I don't, so I go for thin performance thermals like this Heat Plus layer from 32 Degrees. However, if you're a fan of wool, a merino wool base layer will keep you insanely warm and it won't trap odors, meaning you can re-wear it several times before it needing a wash — great if you like to pack light.
An Enormous Scarf: The bigger and thicker and more wrappable the scarf, the better. I tend to opt for bright, bold colors to liven up my look. I love these ones — they're cheap and feel soft like cashmere but aren't pricy (or in my opinion, itchy!) like it!
Touchscreen Friendly Gloves: Taking off your gloves to use your phone when navigating on GPS, looking up something you've bookmarked, etc. is so annoying. Most gloves these days tend to be touchscreen friendly, but check before you buy. These gloves are adorable, touchscreen-compatible, and affordable.
Waterproof Gloves: You'll also want to layer waterproof gloves over your touchscreen gloves if you're snowshoeing or cross-country skiing and generally out and about a lot in the snow when you can't put your hands in your pockets.
Headlamp (and Extra Batteries): Grand Teton National Park in winter can get dark early — and quickly — due to the early sunset time plus the mountains making it get darker even before that. Bring a headlamp in case any hikes take longer than expected! This Petzl headlamp is highly-rated and affordable.
Waterproof Backpack or Dry Bag: You'll want to keep your belongings dry, especially if you're doing long hikes in the snow or freezing rain. Bring a waterproof backpack — you won't regret it, especially if you're carrying pricy camera equipment — or even a dry bag for added protection.
Snowshoes (optional): Many trails in Grand Teton in winter will require proper snowshoes (different than snow boots!) and poles if you want to do some winter trekking. You can also rent them, but they're pretty cheap to buy and will last you for future winter trips!
Camera: You'll want a camera to capture all that Grand Teton winter beauty. I use and love my Sony A6000! It's mirrorless, so it's lightweight and perfect for a high-quality camera that won't weigh your pack down. Bring extra batteries as they burn out faster in the cold.
Battery Pack: Cold weather depletes cell phone batteries insanely quickly, so if you're using your cell phone as your primary camera and navigation device (and who doesn't these days?) you'll absolutely want the ability to power up without a wall outlet while you're out enjoying nature.
I rely on an Anker battery pack to keep all my devices charged in the cold — and as a blogger who takes frequent winter trips to the Arctic and beyond with way more gear than a normal person needs, it's served me very well!
>>> Get your battery pack here <<<
Travel Insurance for Grand Teton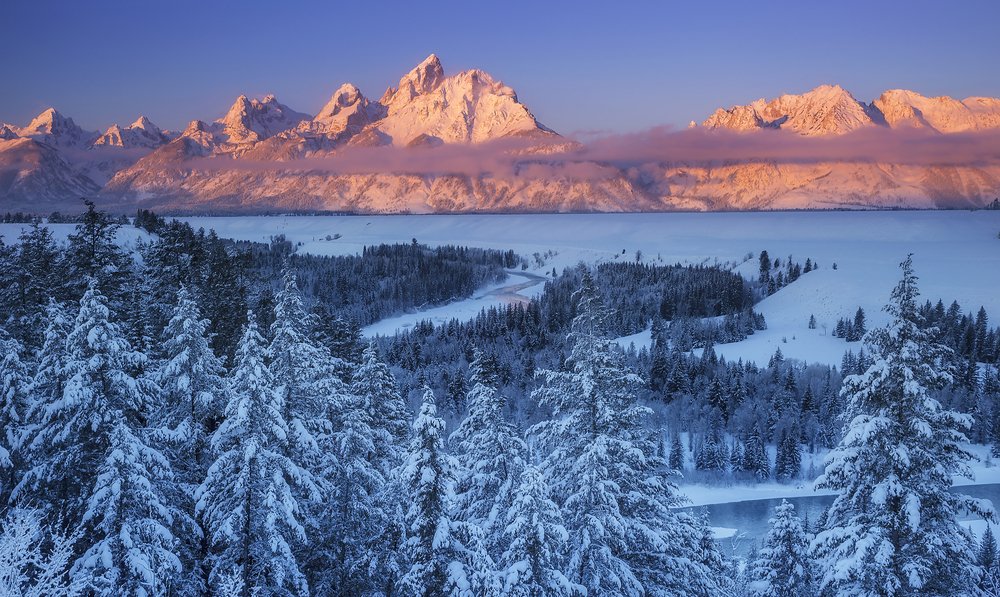 I always recommend travel insurance, but in winter, that goes even more so. Travel insurance protects you from everything from accidents to trip cancellation to illness and more.
I use and recommend World Nomads as my travel insurance provider and have been a happily-paying customer for four years of near-constant travel!
If you're just planning on doing basic winter activities, you can go ahead with the Standard plan, but if you're planning on anything more extreme — including snowmobiling, skiing, snowboarding, etc. — you'll want to upgrade to the Explorer plan for full coverage.
Get a free quote for coverage here!
Concluding Thoughts on Visiting Grand Teton in Winter
Grand Teton National Park is a wealth of outdoor adventure and scenic views in the wintertime.
With so many activities to choose from, there's no wonder why this area makes a perfect destination for winter travel!
Pin This Guide to Grand Teton in Winter!
Emily is a freelance travel and outdoor recreation writer from Big Sky, Montana. Her adventurous spirit has led her to the high peaks of the Sierras and the largest wilderness areas in the lower 48. When she's not writing, Emily can be found backpacking, road tripping to outdoor destinations, climbing, or rowing whitewater.