Framed by three volcanic peaks and lush greenery, the turquoise waters that fill the caldera in Lake Atitlan are one of Guatemala's most spectacular wonders.
So it's no surprise that new Lake Atitlan resorts are popping up practically once a month!
This stunning, tranquil lake is home to several stunning lakeside towns which fringe the lake's shores, most only accessible by boat.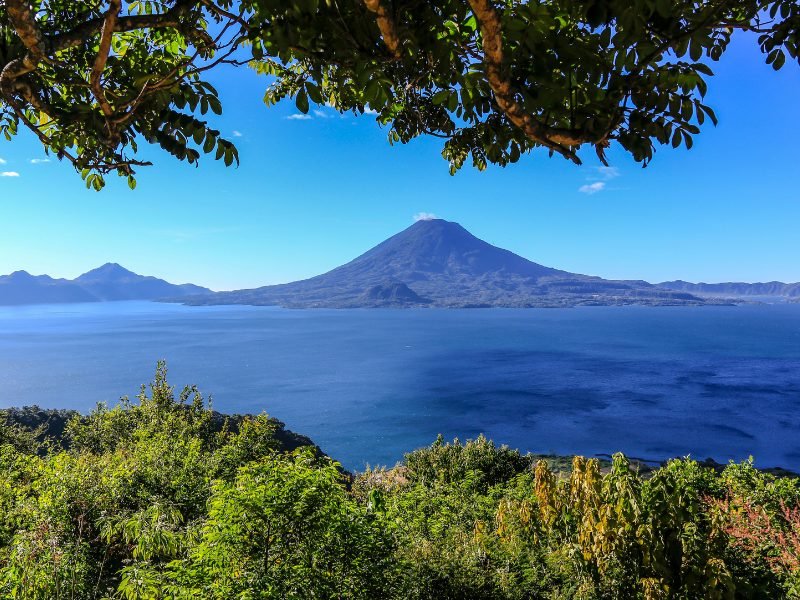 These once-sleepy towns are slowly livening up, meeting the demand of people who want to stay in a stunning Guatemalan eco resort in Atitlan with an epic lake and volcano view.
This post details all the best Lake Atitlan resorts, broken down by town, so you can pick the perfect place for your Atitlan getaway!
San Marcos La Laguna Resorts
Our top choice in San Marcos La Laguna is Lush Atitlan, and boy does it ever live up to its name!
This stunning eco hotel was is built into the side of a hill so that its terra cotta roofs and whitewashed walls just barely peek out of the dense mountain foliage. 
Every one of the resort's rooms is unique and fully personalized. Imagine brushing your teeth in a bathroom with rock-cave walls or lying on your plush platform bed while looking up at rich wood paneling and unique stucco walls. In a way, it's like each room is its own little adventure!
The resort's exterior is also something to write home about,  with mountain and lake views as well as beautiful forest and gardens that you can stroll through.
The town of San Marcos is cute but lively, so don't be surprised if you hear some live music on the breeze!
Lush Atitlan is also the home of a local favorite – La Terraza restaurant – which serves locally sourced plant-based eats.
One bite there and you'll realize why it has been a quintessential brunch stop in San Marcos for over 15 years. 
To unwind, you can take a yoga class, explore the San Marcos Natural reserve or the town of San Marcos itself (less than a mile away) — all some of the best things to do in Guatemala! 
Whether you're an artist, digital nomad, couple, or group of friends, a stay at Lush Atitlan will easily connect you with your natural surroundings.
Best New Kid on the Block: Kula Maya Boutique Hotel and Spa
The lovely Kula Maya may be the new kid on the block among San Marcos' boutique hotels, but it's definitely worth the hype.
Kula Maya is designed and built around the element of water – there's literally a water temple and 4 lakeside geodesic domes that you can actually stay in!
Each of the geodesic domes overlooks the infinity pool and is near to the lake. The idea behind the domes is to give you an indoor-outdoor experience – the best of both worlds.
Think camping lakeside where you can wake up to the sound of water lapping at the shore… and yet still enjoy a hot, high-pressure outdoor shower in your own private section of a tropical jungle. Pretty neat, huh?
The domes are homey and spacious, each having a king-sized bed, wood floors, cozy lounge chairs, and a desk in case you need to squeeze in a bit of work (or simply get inspired by the beauty around you!).
If luxury suites are more to your liking, they've got those too. Each suite is designed with natural materials and funky accents (imagine rose gold metal, wood, palm, and chic polished concrete!).
The spaces play with the wild and the natural, giving you an experience that feels both luxurious and rustic.
You'll certainly feel rested and restored after a stay at Kula Maya (especially if you indulge in their unique spa packages!)
Drop by for a stay at Kula Maya and be one of the first to experience it. You'll be glad you did!
Most Immersive: Eagle's Nest Atitlan
The final spot we're highlighting in San Marcos has been featured on FOX, NBC, USA Today, and CBC. Why is that? Well, the real question to ask is "Why not?!"
Eagle's Nest Atitlan is an eco resort with a view that will make your jaw drop. The entire place is dedicated towards personal transformation in all of the best ways.
We'll be honest: this Atitlan resort isn't for everyone. If you're allergic to new age-y, hippie atmospheres, you'll definitely feel out of place here. But if that's your vibe, read on!
Eagle's Nest is not just a hotel but an experience. They're best known for their "Movement Medicine" events, encouraging an atmosphere of connection and coexistence through ecstatic dance exercises.
The resort also invites world-class artists and wellness gurus to come to teach classes on various topics: metaphysics, yoga, photography, astrology, you name it!
You'll never know who will be teaching, but chances are you'll learn a lot and grow more into yourself. Just think who you'll be by the time you leave!
And hey, even if your stay at Eagle's Nest doesn't end up being personally transformative, at least it'll be pretty, with stunning views nearly everywhere you look.
Eagle's Nest is an all-inclusive experience, so all activities, 3 meals per day, and access to the sauna are all included with your stay.
When it's time for sleep or personal time, you can kick back in your room. But first you'll have to decide if you want to stay in the Fox Queen Cabin, Elephant Queen Cabin, Boa Twin Cabin, Asteroid Queen Cabin (and yes, each room is just as unique and awesome as it sounds!).
If you want to save some money, you can opt to go community-style and stay in one of the dormitory rooms.
However you choose to spend your time at Eagle's Nest, you'll connect more with your body, health, and community, all while enjoying one of the most unique resort vibes ever.
This isn't like any old all-inclusive!
Santa Cruz La Laguna Resorts
Best Place to Unwind: Hotel & Restaurant Arca de Noe
Want to experience a restful stay right on the waterfront? We thought so!
At Arca de Noe, you can stay in your very own beach or waterfront bungalow. If renting a private beach is your thing, you can do that too!
This place is hands down the best place for sitting. Yep, just sitting around – one of life's most overlooked comforts.
There are lovely porches, stone patios, and terrace gardens everywhere with comfy chairs for sitting and taking in the views.
Oh, there's also a fire pit and plenty of hammocks scattered around to add a little variety to all that lounging.
Wake up early if you can to catch both the sunrise and the sunset against a volcano backdrop overlooking the water.
While it may be hard to make yourself go inside at the end of the day, the rooms themselves are pleasant retreats in their own right.
Made with natural elements, the rooms are simple but have little details to keep you charmed and comfortable (they offer standard, double, and triple rooms for parties of all sizes).
While the hotel is right in the center of Santa Cruz La Laguna, it is also a small world by itself. Whether or not you explore beyond its borders is completely up to you.
Hostel, Budget Friendly: La Iguana Perdida
At La Iguana Perdida ("The Lost Iguana"), you're actually more likely to be "found" than "lost."
Travelers from around the world come to this hostel-style destination, so you just might meet your next travel buddy at the bar or restaurant!
Dinner at La Iguana Perdida is an all-you-can-eat buffet, so you'll have plenty of time to mingle, or if you're the talented sort, you can show off your skills at their open mic Wednesdays.
Another reason we love this hostel is because it is so darn colorful! Wall murals, comfy bedspreads, and painted murals evoke the vibrancy of your surroundings and stir your spirit of adventure.
Thankfully, La Iguana Perdida has access to tons of local activities – which you'll now be able to afford more of, since La Iguana Perdida offers rooms for all budgets.
If you're a diver (or want to be), La Iguana Perdida is definitely the place for you!
Home of Ati Divers, La Iguana Perdida has the only dive shop in Lake Atitlan, which offers a variety of PADI certifications and fun dives. If you need to check the Altitude Specialty course off your dive list, they've got you covered!
They offer that PADI certification, and you can finish it in a day.
Never been scuba diving before? Perfect! Ati Divers will teach you so that you can explore Lake Atitlan from a new (and literally immersive!) angle.
The One With the Treehouse: Atitlan Sunset Lodge
If you're a digital nomad looking for a long-term stay with character, check out the beautiful Atitlan Sunset Lodge.
This charming little lodge even has a treehouse room with a workstation with a view to die for.
If the treehouse is already booked, you can stay in any of the lodge's other 4 independent apartments, all of which have spectacular views of Lake Atitlan and its three volcanoes.
Each apartment (including the treehouse) has a fully equipped kitchen, a large seating area, a dining table, purified drinking water, and good wifi.
When it's time to get out and about, you can relive your childhood on the wooden swing, try out stand up paddle boarding on the lake, or relax in the sauna or solar-heated hot tub.
When it's time for dinner, you can mosey on over to the resort's new, lakefront lounge area for drinks before dining at Restaurant Okaniko, the plant-based wonder that even non-vegans love.
Whether you're looking for your next nomadic home base, a memorable trip with friends, or a romantic getaway, Atitlan Sunset Lodge is sure to dish up plenty of excitement during your visit.
San Juan La Laguna Resorts
Bird Watchers' Paradise: Eco Hotel Uxlabil Atitlan
Whether you're a proud birder or someone who simply enjoys being in the company of feathered friends, Eco Hotel Uxlabil Atitlan is the place for you! This hotel with a B&B feel has a specialty in bird watching.
You can observe local wildlife while sitting on your private balcony, relaxing in one of the hotel's many common areas, or flexing your binoculars on the bird watching deck!
For those who aren't as into the bird-watching scene, the hotel also offers horseback riding adventures as well as free kayak rentals.
And everyone enjoys the on-site restaurant overlooking the lake because in addition to having excellent eats, it's designed after the style of the local, 200-year-old church. How cool is that?
The location of Eco Hotel Uxlabil Atitlan is secluded, which means you'll need to walk for a few minutes before finding a tuk tuk to take you into town, but that's exactly why the birds flock here.
And there's really no need to go into town unless you want to. Eco Hotel Uxlabil Atitlan is located right on Lake Atitlan, guaranteeing fantastic views and immediate access to water activities.
Each room comes with a private bathroom with solar-heated showers and plenty of room to relax and unpack. A free breakfast is included, including organic coffee for the early birds in your group.
Beyond being a bird paradise, its gardens and home-grown produce, Eco Hotel Uxlabil Atitlan truly lives up to the "eco" in its name while still offering a great value for guests.
4-Star Glory: Sababa Resort
From its soothing, natural color palette to its gorgeous outdoor swimming pool, gardens, and terraces, Sababa Resort makes all of your 4-star travel dreams come true.
The entire place has a manicured look and feel in all of the best ways. Even the alarm clocks in the rooms match the rest of the decor!
But we hope you won't have to set your alarm clock (unless you just want to watch the sunrise… then fall back in bed) so you can spend time relaxing in the beautiful surroundings!
Wake up after a luxurious night sleep to enjoy garden views from your room. Read a book or take your coffee in your room's seating area or outside on your own private patio.
When you're ready, take a dip in the infinity pool or rest on its submerged chaises (yup, they've really thought of everything here).
You'll love looking around at the thatched roof cabanas, all of which give off true resort vibes. And just wait until you see it lit up at night!
In addition to gawking and pinching yourself to ask if it's real, Sabana Resort has plenty of activities to keep your interest.
It has its own dock, sundeck, onsite coffee shop, and beachfront for exploring.
There's plenty of outdoor furniture for sunbathing and taking in the lakefront scenery (don't forget to slather on some eco-friendly sunscreen!).
If you don't feel like visiting the town center, there's plenty on-site to keep you busy: you can play a game of pool or rent a set of wheels and cycle around the area.
Whatever you do, make sure you have your phone handy to snap plenty of pictures. From its buffet breakfast, tree-stump tables, and geometric pathways, Sababa is Instagram-worthy at every turn.
Santa Catarina Palopo Resorts
Life-Size Zen Garden: Tzampoc Resort
If you've ever wanted to live in a Zen garden, visit Tzampoc Resort!
The architecture here is soothingly sand-colored, filled with curves, giant stone features, and high walls, making you feel like you are walking through the swirls of your mini Zen garden at home!
But you won't need a Zen garden for stress-release here!
You can relax basically everywhere: soaking in the resort's hydro-massage hot tub, walking through its terraced gardens, swimming in its gorgeous infinity pool, and swaying in hammocks (did we mention that some of these might be in your own room?!).
Strolling around the resort, you can admire village views, Indigenous artwork, green lawns, and lush gardens and trees.
If you need to unwind even more, try out one of the local offerings at the spa, or rest in the firewood sauna.
Tzampoc is only 4 miles away from Panajachel for when you need the creature comforts of a larger town, although it may require a boat trip to get there (which we don't think you'll mind!)
Resident Hot Spring: Villa Santa Catarina
Imagine all of the wonders that Guatemala's Atitlan region has to offer, plus a hot spring bath! That's right, Villa Santa Catarina has its very own hot spring for your enjoyment.
Founded in 1971, this resort has had time to get its act together – and is apparently doing something right to keep guests coming back year after year.
Located on the shores of Lake Atitlan, this resort features 33 standard rooms and 5 junior suites, all with access to a beautiful lap pool (ya know, in case the lake isn't enough!).
Fireplaces, natural elements, pretty tiles, marble details, hanging plants, and, of course, the hot springs pool, all come together to make Villa Santa Catarina exude major resort vibes.
You will also see lots of colorful accents that will remind you of the stunning hand-crafted textiles that are made in the Palopo region. Every room is beautiful; you can't go wrong!
Panajachel Resorts
Coffee Lover's Paradise: Hotel San Buenaventura de Atitlan
For coffee connoisseurs, there's no question of where to stay during a visit to Lake Atitlan. Hotel San Buenaventura de Atitlan is built on the site of what was a coffee plantation before the opening of the hotel in 1989!
The hotel is still surrounded by coffee plantations and continues to honor its heritage through its very own coffee house onsite (although you can also order a cup of joe at its restaurant, El Cafetal, which serves farm-to-table dishes from the hotel's organic garden).
What goes better with coffee than beautiful scenery and art? Hotel San Buenaventura de Atitlan has all of this and more.
With beautiful landscaping, a private beach, a stunning outdoor swimming pool with a child-friendly wading area, and temporary art exhibits, the hotel is a feast for the the eyes. Even the jacuzzi and sauna have beautiful views!
For a truly unique experience, visit the Atitlan Nature Reserve & Butterfly Sanctuary that is adjacent to the resort.
In case you can't bear to leave, the hotel offers long-term rentals. It's also great for families because it offers bungalows for groups of all sizes.
With fully-equipped kitchens and living room areas, San Buenaventura de Atitlan can be your new home away from home.
So what are you waiting for? Whether you love coffee or just need a getaway, stay at San Buenaventura and explore the coffee groves and forests.
Best for Infinity Pools and Making Vows: Jardines de Lago – View Property Here
Looking to tie the knot? Jardines del Lago is your place. I mean, the resort has a wedding ceremony dock and natural arbor for crying out loud!
Its lush foliage and private beachfront guarantee your wedding photos will be ones to drool over for years to come.
Speaking of pictures, the infinity pool at this place is absolutely stunning, and definitely worthy of an Instagram photo shoot during your stay.
The resort's bright and comfortable rooms have modern decor and lake, garden, or courtyard views, and there are lots of chairs and hammocks for guests.
Jardines del Lago is another resort that has stood the test of time (open since the 1950s!).
Since it first opened its doors, it has been dedicated to customer service and sustainability.
Whether you're tying the knot, taking a little getaway with your partner, or just celebrating your relationship with yourself you'll see why this place is so special!