Welcome to another installation of Offbeat Travel, featuring out of the way, lesser known travel destinations that other intrepid travel bloggers have visited. Now let me pass the mic to LC of Birdgehls, sustainable travel extraordinaire and Nordic country enthusiast, so she can introduce you to the northernmost town on earth – Longyearbyen, Svalbard. Svalbard technically belongs to Norway but is geographically and culturally distinct from it. I share her love for all things Nordic, and it seems you guys do too — my post on visiting Sweden in winter and seeing the Northern lights in Abisko remain firm favorites even 9 months after I shared the post! So I'm sure you'll love to see what she has to say about the best things to do in Svalbard — check it out below!
***
Have you heard of Svalbard? Don't worry if not, as I hadn't either, until a couple of years ago.
Jump onto Google Maps, or kick it old school by grabbing your nearest map or atlas. Head north, above Europe pretty much as far north as you can go. See that collection of islands, located around 600 miles from the North Pole? That archipelago is Svalbard.
Coming from a land of what feels like eternal summertime (Australia), I've had an obsession with the Nordic countries for as long as I can remember. So, I've been slowly ticking them off my list. Svalbard isn't a country – it's a part of Norway – but it is a destination in its own right. It made the list alongside other Nordic territories, like Greenland and the Faroe Islands.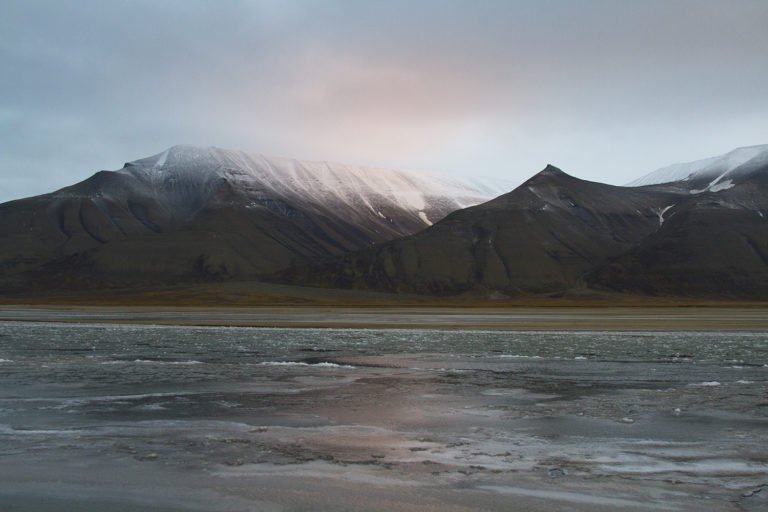 Note: This post contains affiliate links, which means I may receive a small commission if you purchase something through one of these links. Thank you for supporting the free content on this site! For more information on affiliate links and cookies, see my disclosure page for more details.
Svalbard is a bit of a winter wonderland all year round, with temperatures in the summer months averaging 40°F (5°C). The sun doesn't set in the summer and during the shoulder seasons, the light blends seamlessly from sunrise to sunset over the course of a few hours.
Longyearbyen, Svalbard is located so far north that it is shrouded in darkness during the winter months, a phenomenon which is known as the "Polar Night." The only natural light you'll see is that of the aurora borealis (the Northern lights), which makes this time of the year quite possibly the most interesting to travel to Svalbard.
So, quite fancy checking it out yourself? Here's what you need to know.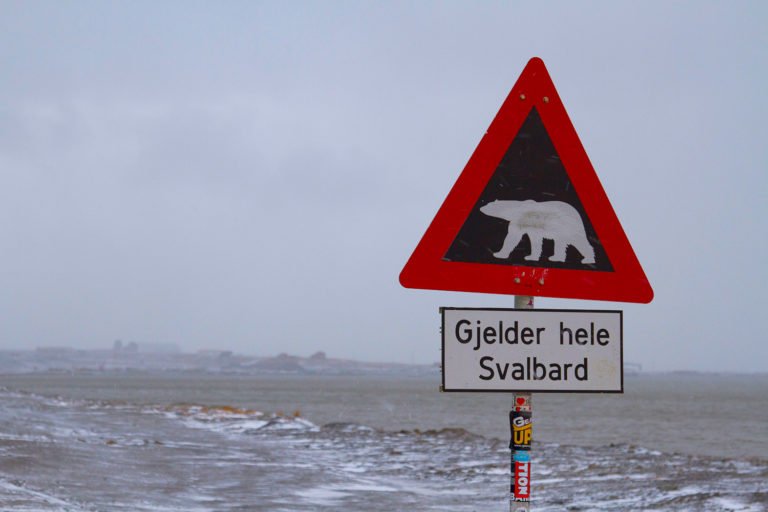 Getting To Longyearbyen, Svalbard
Norwegian Air, which is easily my favorite budget airline, offer flights from Oslo or Tromso in Norway direct to Longyearbyen, Svalbard's capital. You can fly to either destination from essentially anywhere in Europe – I flew in from London and carried on to Berlin straight after.
What to Pack for Svalbard
All your winter woollies! Svalbard is COLD – which is to be expected, considering its location.
At the very least, I'd bring thermals (merino wool are the best, as the material is cozy and quick drying – polyester ones will do the trick too), a fleece, waterproof trousers, a beanie, gloves, scarf, and boots with good grip (snow boots are ideal, but I made do with faux-fur lined Timberlands).
Don't forget a decent jacket either – one that can fit over your many layers and is both insulated and waterproof.
Here are some must-haves for your Svalbard adventure:
Things to Do in Longyearbyen, Svalbard
Despite the weather conditions, there's plenty to do in Svalbard.
Dog sledding in the snow
I enjoyed this activity above all others, as I am simply mad about man (and woman's) best friend.
We were picked up at our hotel and went off to the doggie base camp to pick up some mutts. The handlers knew all the dogs by name, which ones had been out recently (they rotate them so that every dog gets a run every couple of days).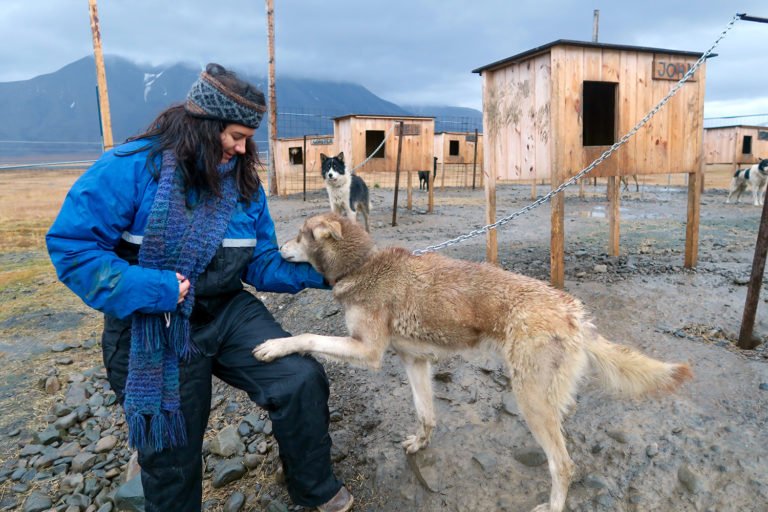 The dogs were more excited to go running than we were and enthusiastically led us around the outskirts of town. Our guide was quite knowledgeable as well and delighted us with even more random facts about the area.
Plus, we got a hot beverage at the end, which was needed – darkness had descended and the cold was rapidly settling in!
Chase the Northern Lights
As I stated earlier, Longyearbyen, Svalbard is not a bad spot for viewing the Northern lights. They can generally be spotted anytime from around October to March.
You have more luck outside of the city boundaries, so I did a tour that took us to a small cabin, built just for that purpose. We were fed reindeer casserole (they had vegetarian options too) and sipped on coffees and tea, in the hope of seeing the lights.
Unfortunately, they did not deign to make an appearance that night, so we spent the evening learning about polar bears instead. That was also the closest I got to seeing a polar bear – despite the ones that were stuffed and sat around town (weirdly, there is one in the airport when you enter, leering over the baggage carousel).
Indulge your sweet tooth at the world's northernmost chocolate factory
Fruene was started in 2013 in Longyearbyen and make handcrafted chocolates that are inspired by the Arctic.
You can sample treats that are fashioned into miniature polar bears, or display patterning that is meant to represent the Northern lights. Or just escape inside to enjoy a cup of hot chocolate in the warmth of their cafe.
Check out the Svalbard Museum
This is ideal for learning some background information on this strange and eccentric archipelago. Did you know that Longyearbyen was once a mining town? Or that all locals need a license to drink? Have you heard that you can't step outside of the city limits without a gun, due to the fear of polar bear attack?
Here are some more facts about Longyearbyen, some of which are downright odd.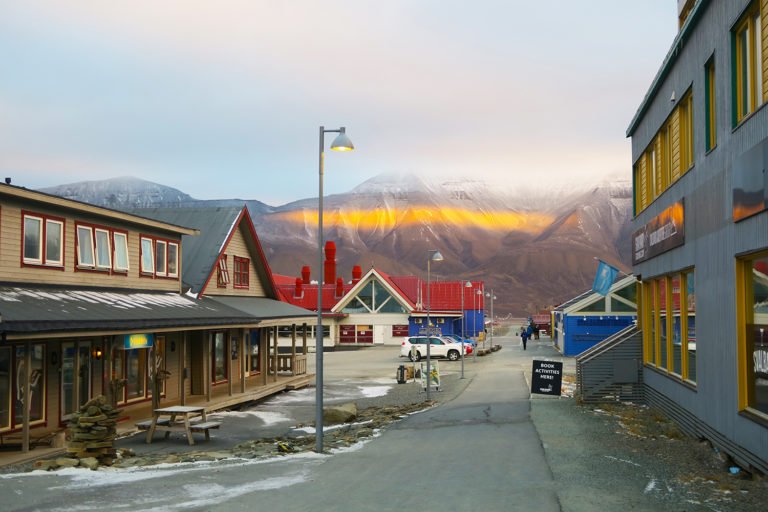 Snowmobiling through the… well, snow
I was gutted to discover that there wasn't enough snow for me to go on my pre-planned snowmobiling adventure (highly irregular for that time of the year, we were told).
In normal conditions, snowmobiling is readily available in Svalbard. It's a pretty normal mode of transport for locals.
Learn about the Global Seed Vault
The Global Seed Vault in Longyearbyen was the sight I was most excited to find out more about, as a biology nerd.
The vault was installed in 2008 by representatives of Iceland, Norway, Sweden, Denmark and Finland (so, each of the Nordic countries). Think of it as insurance for the planet itself – as the vault contains seeds from countries all over the globe.
If ever there was some worldwide emergency where crops were wiped out, these seeds ensure that we can continue to feed ourselves. The seed bank has already demonstrated its worth. Seeds native to Syria were removed, to be grown in Morocco and Lebanon, as the country's crop supply has been devastated by the civil war.
You can't actually enter the vault (to my bitter disappointment) but you can learn about the history of the seed bank and how crops are grown in the arctic north. That's right… there are greenhouses in Svalbard!
There are plenty of other activities available, depending on the time of year – from glacier hikes to boat trips to the north in the summer and ATV adventuring up and down mountains.
***
With an end in sight for the coal mining industry, Svalbard will continue to grow as a hotspot for travelers the world over, as it becomes more and more accessible. For those who are obsessed with Nordic territories and the various adventures they offer, this strange and beautiful archipelago is a must-see.
LC is an ex-expat who is currently re-exploring her home country of Australia and plastic free living on her blog, Birdgehls. You can also look her up on Facebook and Instagram.
Like it? Pin it or share it!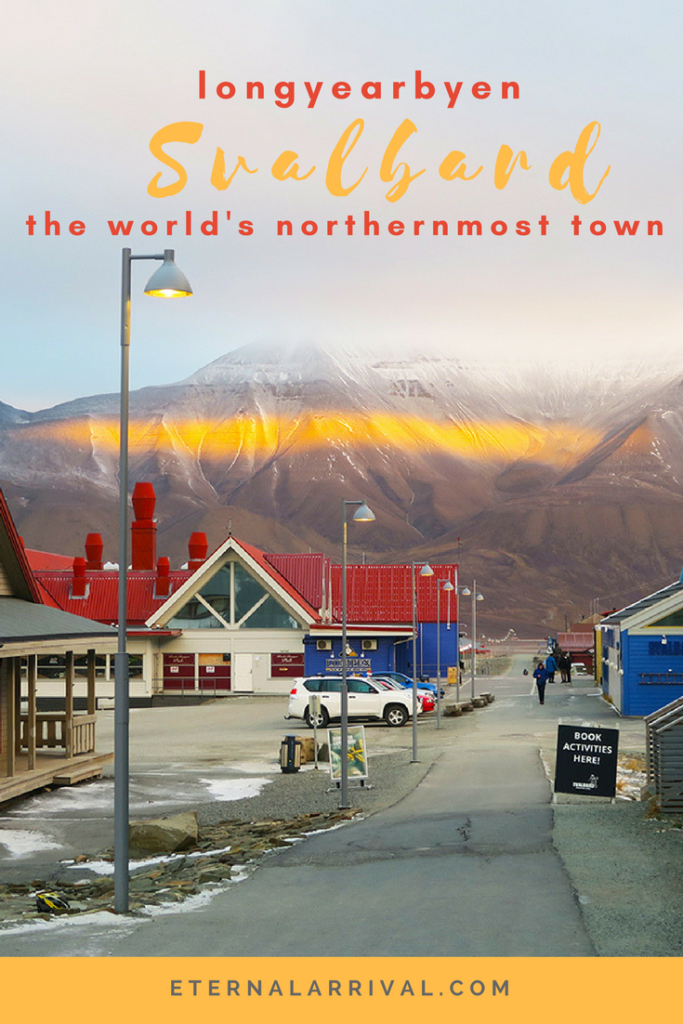 Note: This post contains affiliate links. That means that if you purchase something using one of these links, I will receive a small commission at no added cost to you. No BS – I only recommend accommodations, services, and products I truly believe in.
Allison Green is a former educator turned travel blogger. She holds a Masters in Teaching and a B.A. in English and Creative Writing. Her blog posts merge her educational background and her experience traveling to 70+ countries to encourage responsible, enriching travel. She has been a speaker at the World Travel Writers Conference and her writing, photography, and podcasting work has appeared in National Geographic, CNN Arabic, CBC Canada, and Forbes, amongst others. Now a full-time traveler, she has lived in Prague, Sofia, New York City, and the San Francisco Bay Area.