I've always traveled on a tight budget, and Sweden is rightfully notorious for being an expensive travel destination.
Even a dorm bed will easily cost 250 SEK, or $30 USD, per night. But even a girl on a budget's gotta dream, and I was dreaming big: I wanted to see the Northern lights in Abisko, Sweden.
In true type-A fashion, I laboriously researched the best place to see the Northern lights in Sweden, and Abisko kept coming up as the best place. Statistically speaking, scientists agreed that the Abisko Northern lights are among the most reliable in the world, with an 80% success rate of seeing the lights if you stay in Abisko for three nights. Many people who had previously been to Iceland or other Nordic countries had failed to see the Northern lights; Abisko National Park seemed to have the highest success rate.
How to Save Money in Stockholm
With only six full days in Sweden, I decided that I wanted to spend three in the capital enjoying Stockholm in winter and three in Abisko, Northern lights spotting. It's extremely rare to see the Northern lights in Stockholm, so I recommend heading up north to the Kiruna and Abisko area if you have your heart set on seeing the Northern lights in Sweden.
Stockholm is not a super budget-friendly place, and I visited Stockholm when I was working on saving up money to quit my job. So to save money in Stockholm, my two friends and I split an Airbnb three ways.
Since it was so expensive for a simple dorm bed in a hostel in Stockholm, an Airbnb made more sense.
If you do want to stay in a hostel, though, I've created a comprehensive guide to the most affordable and comfortable hostels in Stockholm by neighborhood, which you can read here.
In a private Airbnb, we each paid $30 a night to stay in the lovely neighborhood of Hornstull on the island of Södermalm – the same cost as a hostel but with a lot more privacy. To keep costs down, we mostly bought groceries, ate out for lunch rather than dinner when we could take advantage of deals, and walked everywhere (I mean everywhere — we didn't even take any public transit except for the bus to the airport!)
Note: This post contains affiliate links, which means I may receive a small commission if you purchase something through one of these links. Thank you for supporting the free content on this site! For more information on affiliate links and cookies, see my disclosure page for more details.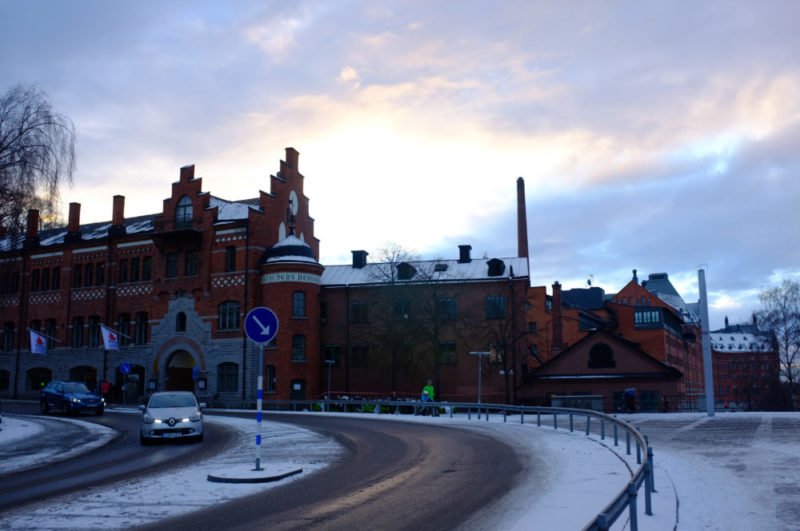 Budget Breakdown: Cost of Seeing the Northern Lights in Sweden
Flight from Stockholm to Kiruna: $61.65 on SAS
Flight from Kiruna to Stockholm: $59.19 on Norwegian Airlines
My share of food and a six-pack of beer from Coop Grocery Store: $24
My share of a double room at Abisko Hostel: $35 per person (dorms available for around $30)*
Taxi to Kiruna train station from airport: $20 per person (split two ways)
Buffet lunch at Spis in Kiruna: $10
Train from Kiruna to Abisko: $11
Return shuttle bus direct to airport: $45
Total for 3 days in Abisko for Northern lights spotting: $315.84 USD plus additional $140 for dog-sledding (optional)
* Note: I paid to stay at Abisko Hostel & Huskies – however, at the last minute they had an issue with their property and re-booked me into STF Abisko Turiststation instead at the same price. So I can't give any personal insight into Abisko Hostel's property, but I did love my dog-sledding trip that I did with them and just generally the staff was really fantastic at accommodating us given the mix-up with their property, giving us rides between STF Abisko Turiststation & the Abisko Hostel as needed and just generally being awesome. STF was excellent as well, and so I highly recommend either option for Abisko. I'd say that Abisko Hostel is better for solo travelers or extreme budget travelers, whereas STF is better for families, couples, and groups of friends.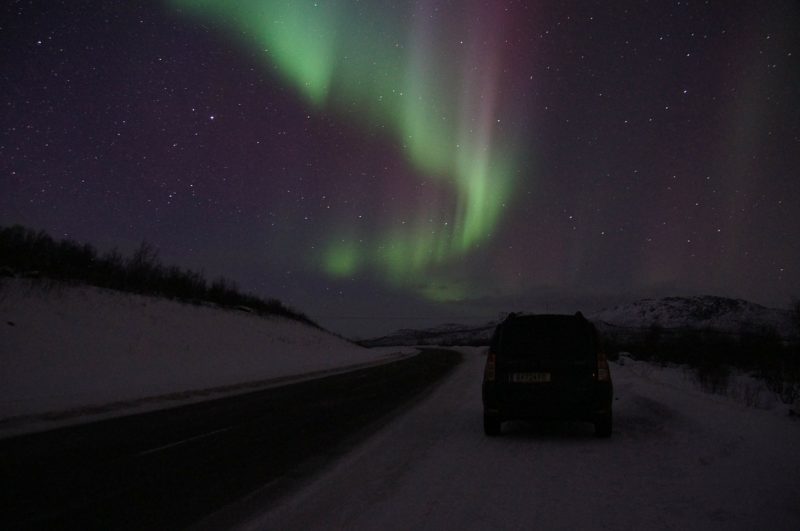 Getting to Abisko from Stockholm
Contrary to what you might think, flying is actually usually the best way to start a cheap Northern lights holiday. The train from Stockholm to Kiruna is closer to $100 USD each way and takes 17 hours, and time was a luxury we did not have, and most people on short weekend breaks will not either. However, since the overnight train will save you on paying for one night's accommodation, if you prefer to travel by train it may be worth it. It's up to you.
Kiruna is worth a few days exploring, as it's a super cute and unique town if you have the time. But I was on a strict schedule, so I headed straight to Abisko immediately after having lunch in town and a wander through the shops.
From Kiruna, you have a few choices to get to Abisko, where you can view the Northern lights a lot easier: either an obscenely expensive taxi (I believe it would have been about $200 USD), taking the bus/taxi to Kiruna and then taking the train to Abisko (about $11), or a direct shuttle bus. There is also a once-daily public bus (line 91) that goes directly from the airport to Abisko, but it is generally really hard to line up your flight arrival time with the bus departure. It's worth looking into, but don't get your hopes up. It didn't work out for us when we visited in 2016.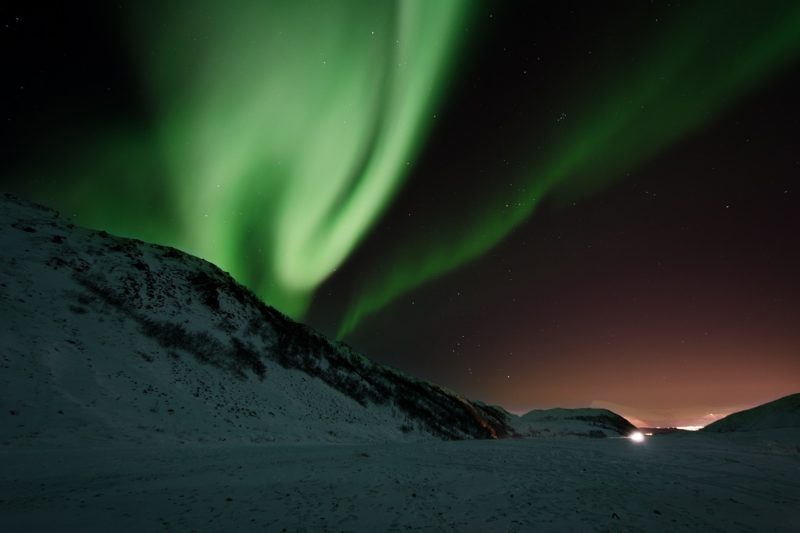 There are certainly ways that you could see Abisko's Northern lights for cheaper, such as by buying inexpensive groceries and forgoing the beer, hitchhiking, or trying to find Couchsurfing hosts (which are pretty rare that far North, as Kiruna – the nearest "city" – has a population of only 20,000).
However, here I tried to represent the most typical paid costs that most travelers would incur when trying to see the Northern lights on a budget. It's definitely not cheap, and well over my typical budget…. but for a natural phenomenon this majestic, it's hard to be mad about it.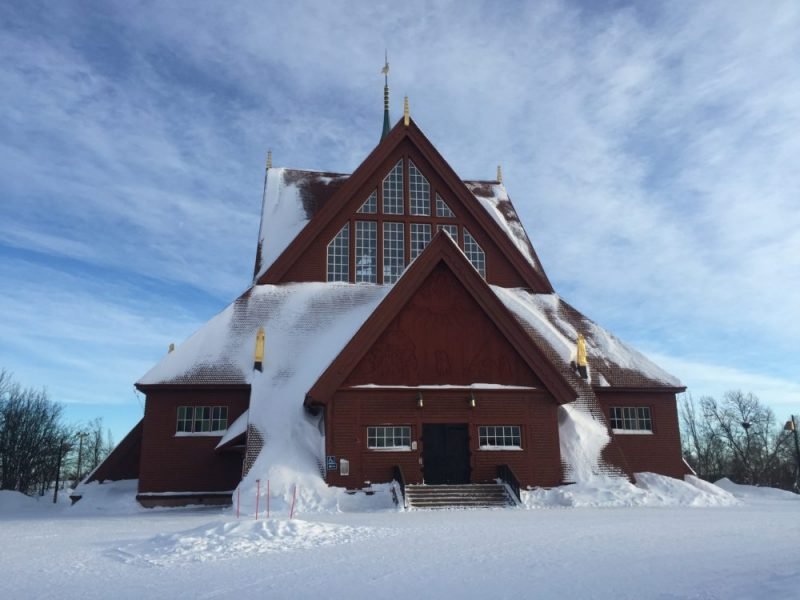 We booked to stay at Abisko Hostel & Huskies; however, due to a last minute problem with the hostel, they had to cancel our reservation and rebooked us for no extra cost at STF Turiststation, a more expensive (but incredibly nice!) hostel. We loved our stay at STF so much that if your budget allows I'd really recommend staying there, because you truly can't beat having all of Abisko National Park to yourself.
STF has multiple saunas, snowshoe and cross-country ski rentals, TWO of the nicest hostel kitchens I've ever seen, a fireplace and lounge room, and it's walking distance to frozen waterfalls and the frozen lake in Abisko National Park. If you don't stay there, it's a great place to go for lunch – they have a daily buffet for about $10 USD, which is a fantastic deal for pricy Sweden.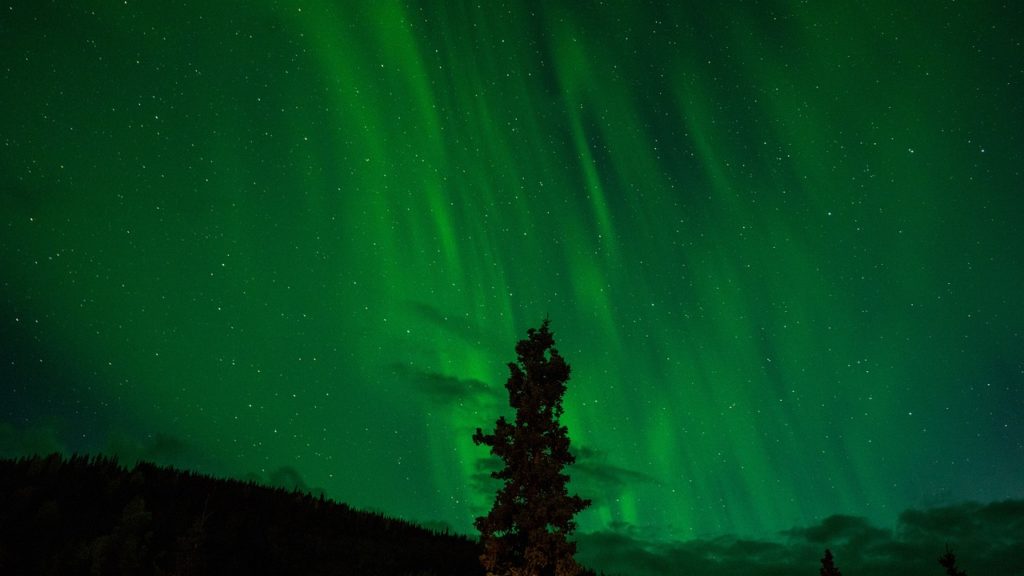 The people at Abisko Hostel & Huskies were so lovely, and really helped us out with everything related to our stay… but I can't speak to how the dorms were as we ended up being unable to stay there. The dogsledding tour we took with them, however, was excellent!
As a traveler who is hesitant to support animal tourism, I was able to see that the staff really value the dogs' safety and wellbeing. They had an awareness of each dog's personality and knew how to pair the dogs with other dogs they'd get along with. Sled dogs aren't like your average dog – while obviously domesticated, there's still a touch of the wild in them. There's a very clear hierarchy amongst sled dogs, and certain dogs need to be at the front of the line or else they get really upset. I appreciated how the staff knew about this, anticipated it, and kept the dogs happy — they were literally howling with happiness, ready to run before we left.
At approximately $140 USD, a two-hour sled ride with the dogs is certainly an expensive treat, but it was well worth it to me. I didn't include the cost of the tour in the budget breakdown as it's not integral to seeing the Northern Lights in Abisko if you're on a tight budget. However, for me, the realization of a childhood dream was worth the added cost.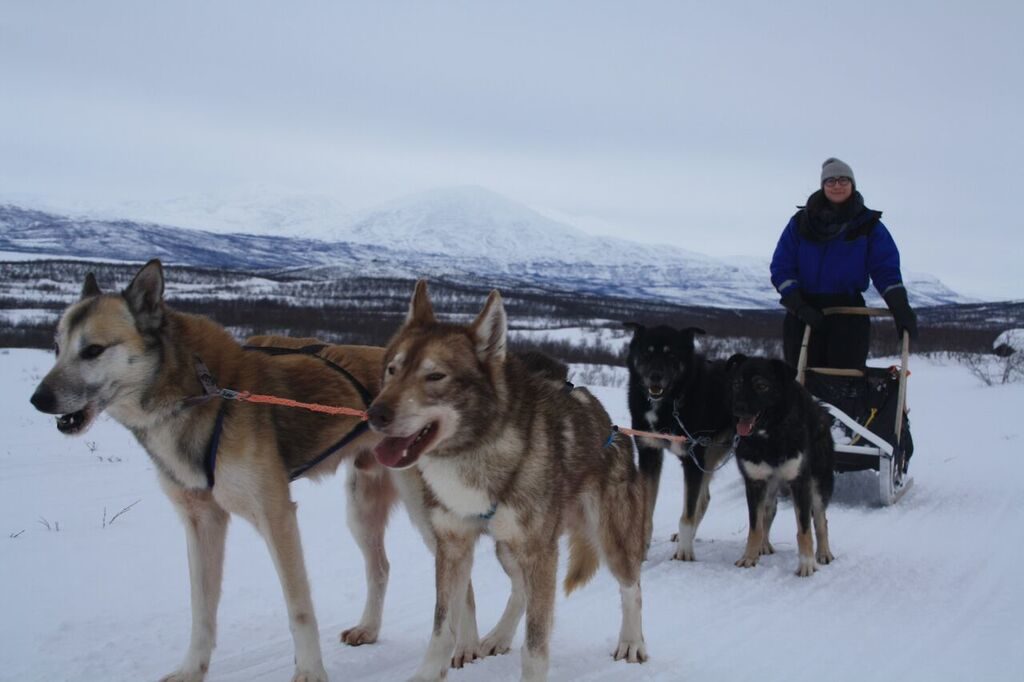 What to Pack for a Trip to Abisko's Northern Lights
Despite being located north of the Arctic Circle, Abisko isn't always as cold as you might think. Temperatures of -20°C / -4°F are common, and on rare occasions, the weather will reach as low as -40°C / -40°F. However, when I visited in mid-February, the weather really wasn't that bad. In fact, Abisko was warmer than the weather in NYC that I had left behind! We usually had temperatures of around -1°C/30°F during the day, and as low as -9°C / 15°F at night.
However, the weather is unpredictable, so you will most certainly want to pack accordingly. Here's what I recommend you bring (for a more complete list, check out my winter in Sweden packing list)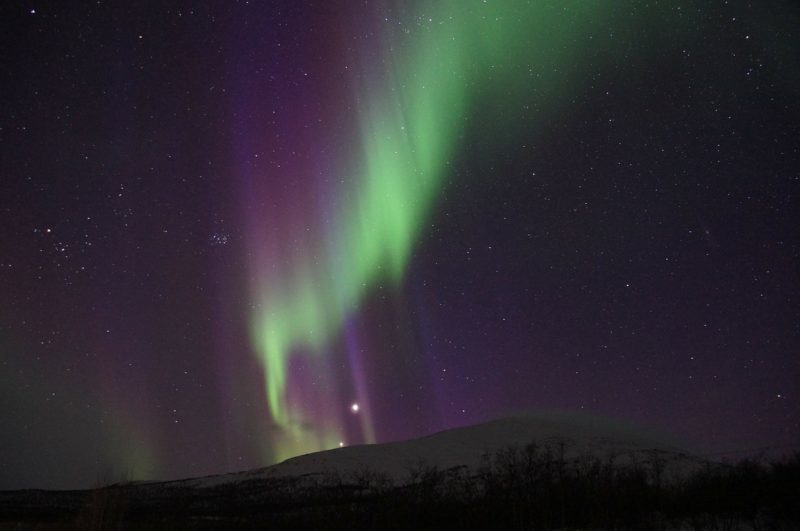 Other aurora trips & inspiration:
Enjoyed the post? Why not Pin it or share it?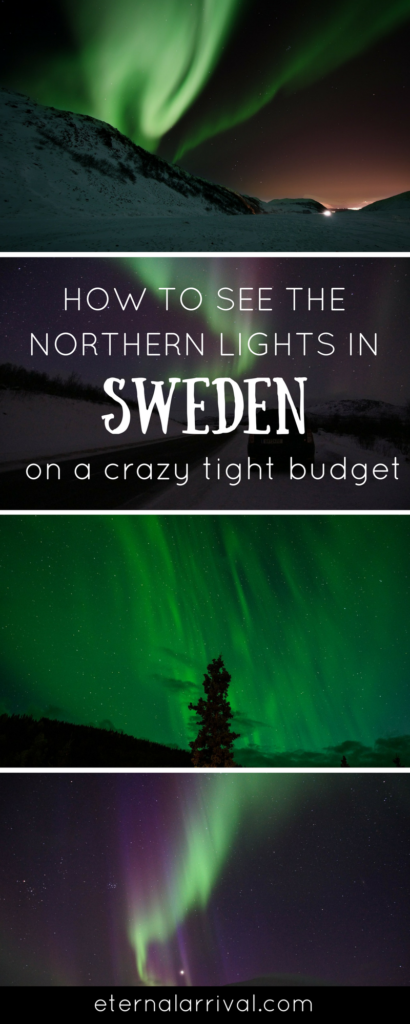 Recommended Companies: Abisko.net for dogsledding
Recommended Accommodations: I stayed at STF Turiststation and can highly recommend it.   Abisko Guesthouse also comes well-recommended, though the reviews aren't quite as high as STF's and I can't personally vouch for it. If you're on a tight budget, Abisko.net has the only true hostel in town (the rooms at STF are quadruples and have bunk beds, but you need to book the entire room; I'm not sure why) but they fill up very quickly.
Further Reading: Lonely Planet Sweden
Useful tips: Be sure to have travel insurance when traveling to Sweden. You're a long way away from a hospital when you're in Abisko, and that would be a very expensive accident to have! I use and recommend World Nomads for their affordable prices and flexible policies.