Note: This post may contain affiliate links. Please see my disclosure page for more details.
I've always traveled on a tight budget, and Sweden is rightfully notorious for being an expensive travel destination.Even a dorm bed will easily cost 250 SEK, or $30 USD, per night. (Check out my guide to hostels in Stockholm for budget-friendly options!) But even a girl on a budget's gotta dream, and I was dreaming big: I wanted to see the northern lights.
In true type-A fashion, I had laboriously researched the best place to see the Northern lights. Abisko kept coming up as the best place. Statistically speaking, scientists agreed that Abisko Northern lights are among the most reliable in the world, with an 80% success rate of seeing the lights if you stayed for three nights. Many people who had previously been to Iceland or other Nordic countries had failed to see the Northern lights; Abisko National Park seemed to have the highest success rate.
With only six full days in Sweden, I decided that I wanted to spend three in Stockholm enjoying the city and three in Abisko, Northern lights spotting. It's rare to see the Northern lights in Stockholm, so I recommend heading up north if you have your heart set on seeing the Northern lights in Sweden. In Stockholm, my two friends and I saved major money by splitting an Airbnb three ways (not a member yet? Use my link to get a $40 discount off your first stay!).
Since it was so expensive for a simple dorm bed in a hostel in Stockholm, an Airbnb made more sense.We each paid $30 a night to stay in the lovely neighborhood of Hornstull on the island of Södermalm – the same cost as a hostel but with a lot more privacy! To keep costs down, we mostly bought groceries, ate out for lunch rather than dinner, and walked everywhere (I mean everywhere — we didn't even take any public transit except for the bus to the airport!)
Seeing Abisko Northern Lights on a Budget
The cheapest way to see the Northern lights in Sweden
Flight from Stockholm to Kiruna: $61.65 on SAS
Flight from Kiruna to Stockholm: $59.19 on Norwegian Airlines
My share of food and a six-pack of beer from Coop Grocery Store: $24
2-bedroom at Abisko.net Hostel: $35 per person (dorms available for $30)*
Taxi to Kiruna train station from airport: $20 per person (split two ways)
Buffet lunch at Spis in Kiruna: $10
Train from Kiruna to Abisko: $11
Return shuttle bus direct to airport: $45
Total for 3 days in Abisko for Northern lights spotting: $315.84 USD
Getting to Abisko
Contrary to what you might think, flying is actually usually the best way to start a cheap Northern lights holiday. The train from Stockholm to Kiruna is closer to $100 USD each way and takes 17 hours, and time was a luxury we did not have, and most people on short weekend breaks will not either.
Kiruna is worth a few days exploring, as it's a super cute and unique town if you have the time. But I was on a strict schedule, so I headed straight to Abisko immediately.
From Kiruna, you have a few choices to get to Abisko, where you can view the Northern lights a lot easier: either an obscenely expensive taxi, bus/taxi and train, or a direct shuttle bus. There is also a once-daily public bus (line 91) that goes directly from the airport to Abisko, but it is generally really hard to line up your flight arrival time with the bus departure. It's worth looking into, but don't get your hopes up.
Planning a Northern lights vacation? Don't forget these budget-friendly necessities! 
There are certainly ways that you could see Abisko's Northern lights for cheaper, such as by buying inexpensive groceries and forgoing the beer, hitchhiking, or trying to find Couchsurfing hosts (which are pretty rare that far North, as Kiruna – the nearest "city" – has a population of only 20,000).
However, here I tried to represent the most typical paid costs that most travelers would incur when trying to see the Northern lights on a budget. It's definitely not cheap, and well over my typical budget…. but for a natural phenomenon this majestic, it's hard to be mad about it.
We booked to stay at Winterday Hostel; however, due to a last minute problem with the hostel, they had to cancel our reservation and rebooked us for no extra cost at STF Turiststation, a more expensive (but incredibly nice!) hostel. We loved our stay at STF so much that if your budget allows I'd really recommend staying there!
They have multiple saunas, snowshoe and cross country ski rentals, TWO of the nicest hostel kitchens I've ever seen, a fireplace and lounge room, and it's walking distance to frozen waterfalls and the frozen lake in Abisko National Park. If you don't stay there, it's a great place to go for lunch – they have a daily buffet for about $10 USD, a fantastic deal for pricy Sweden.
The people at Winterday Hostel/Abisko.net were so lovely but I can't speak to how the dorms were as we ended up being unable to stay there. The dogsledding tour we took with them, however, was excellent! They treat their dogs excellently and value their safety and wellbeing.
At approximately $140 USD, it's certainly an expensive treat, but well worth it to me. I didn't include the cost of the tour in the budget breakdown as it's not integral to seeing the Northern Lights in Abisko if you're on a tight budget. For me, the realization of a childhood dream was worth the added cost.
Other aurora trips & inspiration:
Enjoyed the post? Why not Pin it or share it?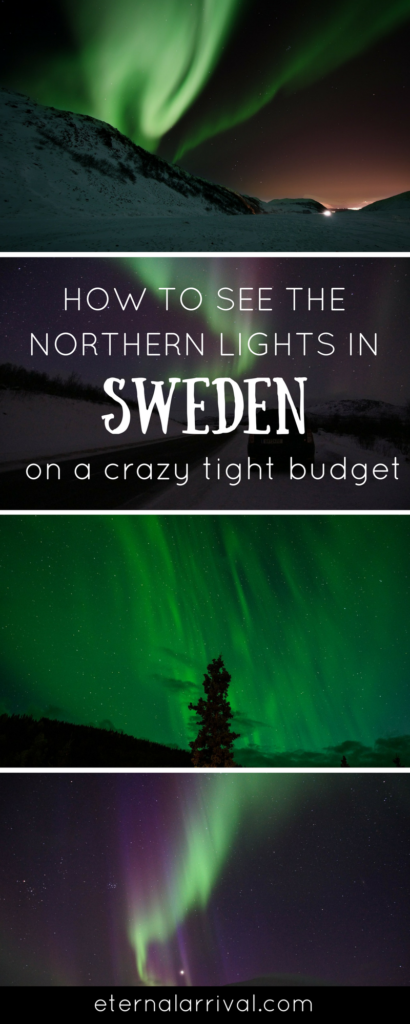 Recommended Companies: Abisko.net for dogsledding
Recommended Accommodations: Abisko Guesthouse or STF Turiststation
Further Reading: Lonely Planet Sweden
Useful tips: Be sure to have travel insurance when traveling to Sweden. You're a long way away from a hospital when you're in Abisko, and that would be a very expensive accident to have! I use and recommend World Nomads for their affordable prices and flexible policies.
Note: This post contains affiliate links. That means that if you purchase something using one of these links, I will receive a small commission at no added cost to you. No BS – I only recommend accommodations, services, and products I truly believe in.