From rugged mountain peaks that jut out from the island's topography into the clouds to the emerald-green valleys teeming with waterfalls and springs, Madeira's landscapes are perfect to explore by foot.
But hiking in another country can occasionally be a little intimidating.
Whether it's navigating the signage system, figuring out public transportation or driving, or just committing to getting up when your alarm goes off… a guided Madeira hiking tour can ease you into it.
This selection of Madeira trekking tours — both guided and independent — offer the perfect opportunity to explore the island's unique flora and fauna, as well as its varied volcanic topography.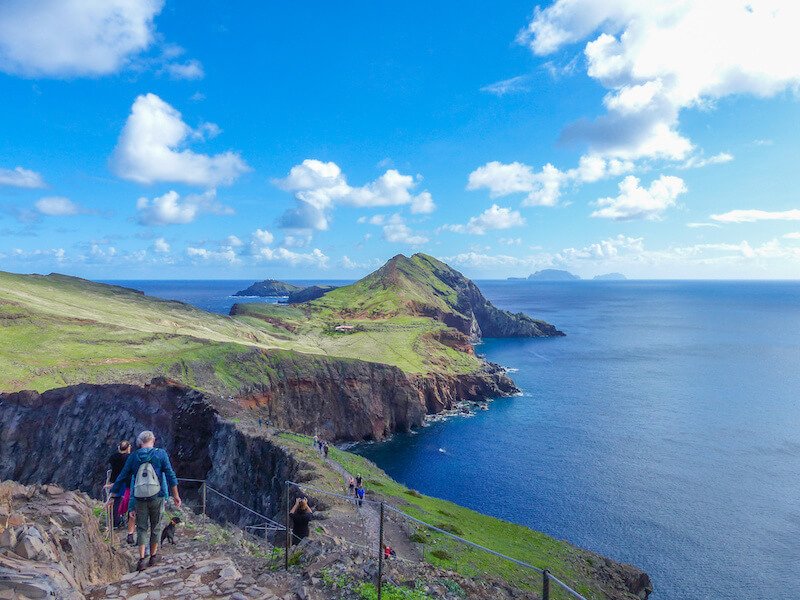 Note: This post contains affiliate links, which means I may receive a small commission if you purchase something through one of these links. Thank you for supporting the free content on this site! For more information on affiliate links and cookies, see my disclosure page for more details.
Whether you want to traverse the UNESCO-listed the Laurissilva Forest, wander alongside the levadas, centuries-old irrigation channels that crisscross the island, or reach the highest peak of Madeira, there's a hiking tour for you.
Whether you prefer a guided tour with a knowledgeable guide or a self-guided experience where you can hike at your own pace, Madeira's hiking tours are well-organized, ensuring safety, enjoyment, and an unforgettable adventure.
Here are 7 of our favorite hiking tours in Madeira to choose from!
Best Madeira Trekking Tours of Rabaçal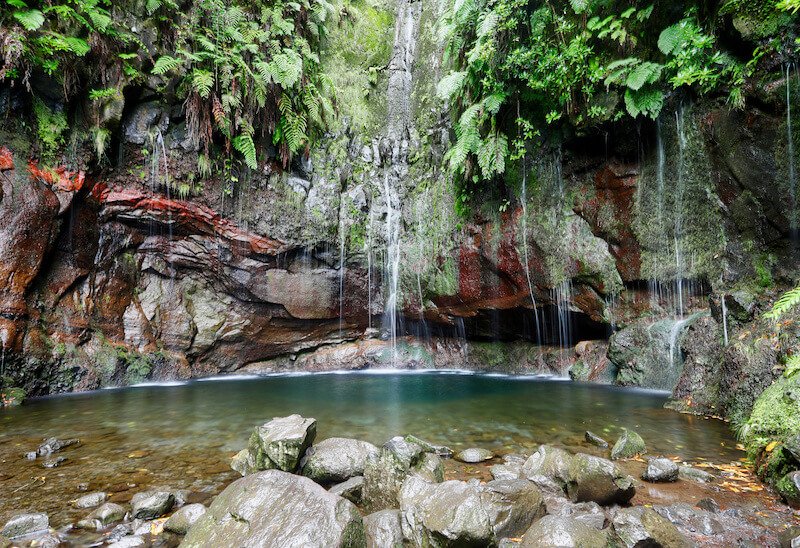 One of the best hikes in Madeira, the Rabaçal and 25 Fountains hike is an absolute must-do for outdoors lovers. 
This Madeira hiking tour brings you to Rabaçal Nature Reserve, home to the picturesque 25 Fontes waterfall.
With close to 500 positive reviews, this is one of the top-rated hiking tours in Madeira for its great guides and stunning landscapes that you'll see.
This full-day tour — taking about 8 hours — picks you up and drops you off, so you can focus on your hike with a certified mountain guide.
Your local guide will explain the ancient Laurissilva forest, a place so magical it earned a spot as a literal UNESCO World Heritage Site!
Continuing down the narrow path of the Levada das 25 Fontes, as you approach the waterfall you'll hear the soft murmur of the springs that give the waterfall its name as you hike.
Arriving at the falls, it's hard not to drop your jaw at the sheer magic of the 25 natural springs that coalesce into what seems like a single waterfall, cascading into a crystal-clear lake before you.
Note that the tour does not include lunch, so pack a lunch or carry cash to purchase it during the journey. In addition, carry all your hiking essentials essentials such as sunscreen, a hat, and plenty of water!
Prefer a self-guided experience, but don't want to deal with a car?
Take this Rabaçal and Levada das 25 Fontes transfer service!
This stress-free transportation option allows you to explore at your own pace while eliminating the hassle of arranging your own transport.
Your journey begins with an early morning transfer to Rabaçal, scheduled to ensure you're one of the first to reach the park.
Given the popularity of the 25 Fontes and Risco Levada – the most visited levada (walk alongside an irrigation channel) in Madeira – this early start allows you to experience the stunning views and tranquil atmosphere before the crowds arrive.
The transfer from Funchal to Rabacal is by van, which can take up to eight people. The journey takes approximately 1.5 hours each way
You'll be given about 5 hours to complete the hike, which is about 10 kilometers in length, so you'll have plenty of time to explore at your own speed, without feeling rushed.
From the breathtaking small springs that coalesce in one large waterfall to the stunningly tall Risco Waterfall, you'll be blown away by all the waterfalls in this lush part of Madeira.
Please note that this transfer service does not include a guide during the hike, nor does it provide food and drinks. Bring all you need for a successful day hiking, as well as some cash.
In total, the tour lasts for about 8 hours, including 3 hours in transit and 5 hours of self-paced hiking, catering perfectly to independent adventurers who want to escape the tour groups but still have some convenience.
Best Madeira Trekking Tours to Pico Ruivo
A Madeira hiking tour for the more serious trekker, this guided hike from Pico Arieiro to Pico Ruivo is a stunner.
With more than 800 reviews and tons of positive feedback, this challenging yet rewarding Madeira trek is a real crowd-pleaser.
On this 8-hour tour, you'll traverse some of Madeira's highest peaks, starting at Pico Arieiro (the island's third-highest) and ending at Pico Ruivo (its highest).
You'll literally reach of the pinnacle of Madeira — the peak of Pico Ruivo, sitting at a breathtaking 6,107 feet (1862 meters) above sea level.
While the mountain is often shrouded in clouds and fog, when it isn't, the spectacular views of the island of Madeira from here are absolutely stunning.
It's not all about the summit though — the hike itself is gorgeous, with a path that winds through dramatic volcanic landscapes and offering birds-eye views of Madeira below you.
Although the walk is indeed challenging due to the high peak and demanding terrains, the sense of accomplishment upon reaching Pico Ruivo is unparalleled. The tour is suitable for adventurous souls with a decent level of fitness, with a can-do attitude who will be spurred on by their guides.
After soaking in the views at Pico Ruivo, you'll begin your descent down to Teixeira at the end of the hike to enjoy one of life's best pleasures — a refreshing drink after a tough hike.
Remember to pack essentials such as sunscreen, a hat, food, and drinks to keep you hydrated and energized throughout the hike.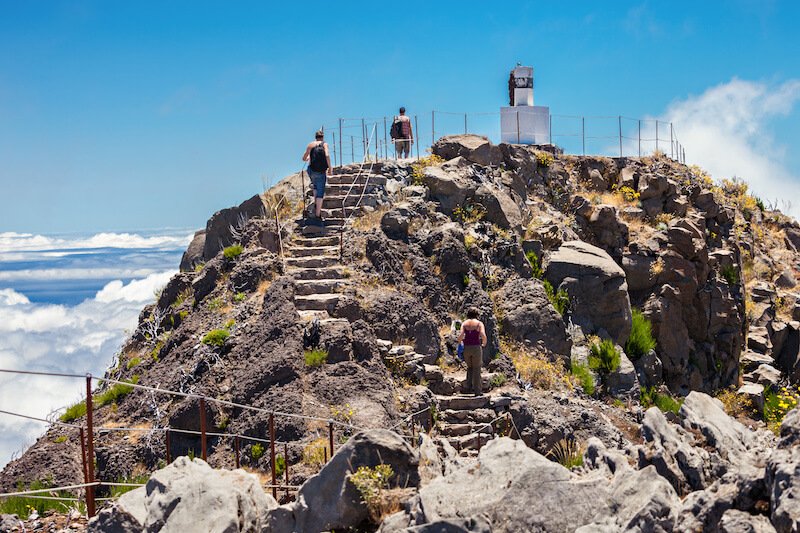 Prefer to hike independently, but you don't want to deal with renting a car in Madeira — or more importantly, just want to do a one-way hike instead of having to return to your car?
Take advantage of this super-helpful Pico Do Arieiro & Pico Ruivo Hike transfer service, positively rated with over 100 reviews: it simplifies your journey, so you can focus on the hike in front of you, not all the little logistics.
It's important to note that this tour is only a transfer service, rather than a guided hike like many of the Madeira hiking tours on the list.
Some people may prefer the peace of mind of a guide, knowing that they won't get lost or left behind — then a guided tour is a better choice.
But for some, the idea of a guided hike isn't quite right, like if they're an an experienced hiker and don't want to feel bogged down.
Or maybe it's the inverse: those who know they're slow hikers but don't want to feel rushed by the group.
Either way, you'll have 4.5 hours to make the hike, which is plenty of hike for even slower hikers, before reaching your shuttle point.
Once at Pico do Arieiro, you'll embark — on your own or with your travel buddies — on the exhilarating hiking trail to Pico Ruivo, the tallest of the mountain peaks on Madeira Island, only accessible by foot.
Starting at 1,540 meters and ending at 1,860 meters, you'll certainly gain a decent amount of elevation over the hike, but it's spread out over some distance, so it's not too bad.
After reaching the top of Pico Ruivo, you'll arrive at Achada Do Teixeira, where you can wait for the transfer service back to your starting point.
Other Madeira Hiking Tours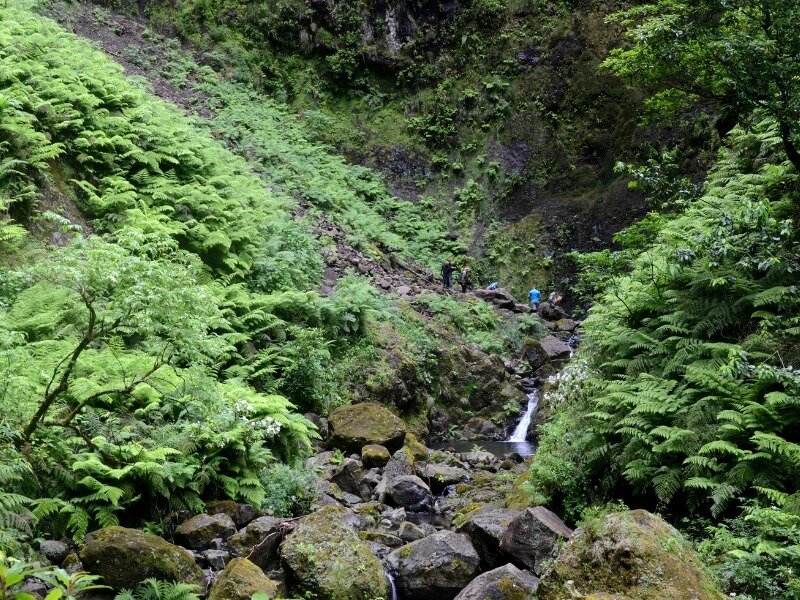 Another great hiking tour in Madeira is this Queimadas Natural Park guided hike, trekking alongside one of Madeira's oldest levadas, the Caldeirão Verde, or "big green caldera" in Portuguese.
Set off on a 5-hour trek that navigates along this centuries-old irrigation channel, a lifeline that has been bringing water from the mountains to the farmlands of Faial throughout the years.
Walking alongside this levada, you'll see a piece of Madeiran history, as well as a landscape marked by moss-covered trees, towering waterfalls, small rivers, and more.
You'll hike to the heart of the valley, the São Jorge brook, which is a distance of 7.5 miles (12 km) from your starting point.
It's considered to be an easy-to-moderate hike, as the highest elevation you'll reach is 3,248 feet (990 meters).
As part of your hike, you'll traverse rock tunnels carved out by hand, a testament to the hard work of Madeiran people in shaping the levadas that this island is known for.
Note that food and drinks are not provided as part of the tour, so be sure to pack your own or bring cash for any purchases you wish to make along the way.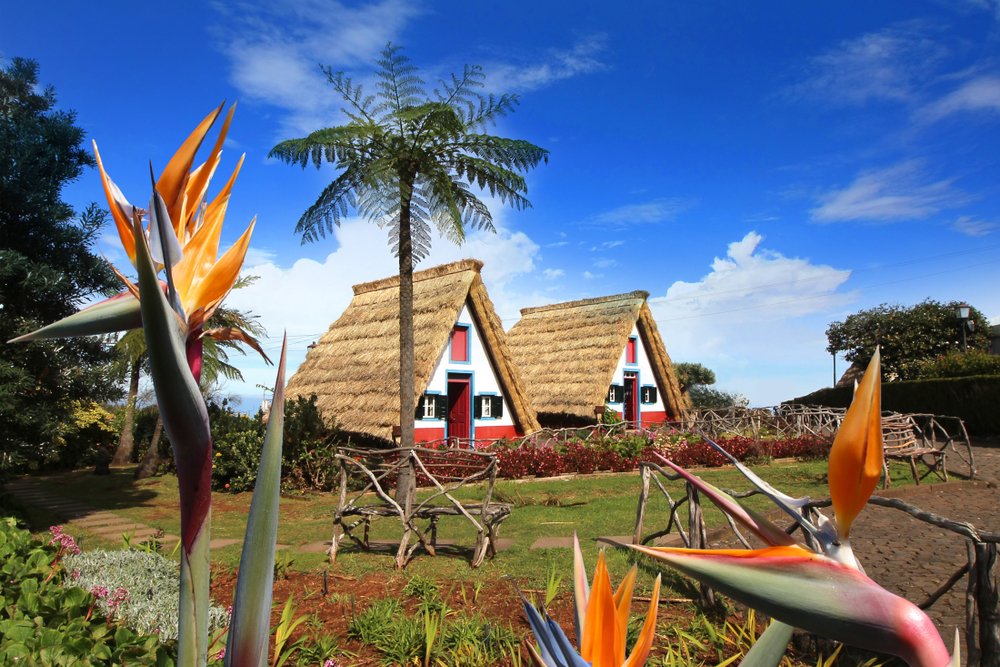 For a small group hiking tour that explores Madeira's stunning east side as well as its famous Laurissilva forests, this is the hiking tour for you. 
You'll see all the highlights of East Madeira, from the traditional triangular houses of Santana to the wild beauty of Ponta São Lourenço, all on a 7-hour tour.
Starting the day at Pico do Arieiro, a whopping 1,800 meters up, you'll take a guided walk around this third-highest peak of Madeira before continuing on your tour. 
You'll also hike the lovely Ribeiro Frio, taking a 45-minute levada walk to one of the island's best viewpoints.
Have lunch and a walk around Santana, a charming village known for its distinctive dwellings, with steep thatched roofs and vibrant colors.
The tour will also make a new non-hiking sightseeing stops, like the Miradouro de Guindaste viewpoint, a visit to Porto da Cruz (where you can taste their local rum!), and the Ponta do Rosto viewpoint at Ponta São Lourenço.
Book your Eastern Madeira hiking tour and Santana visit here!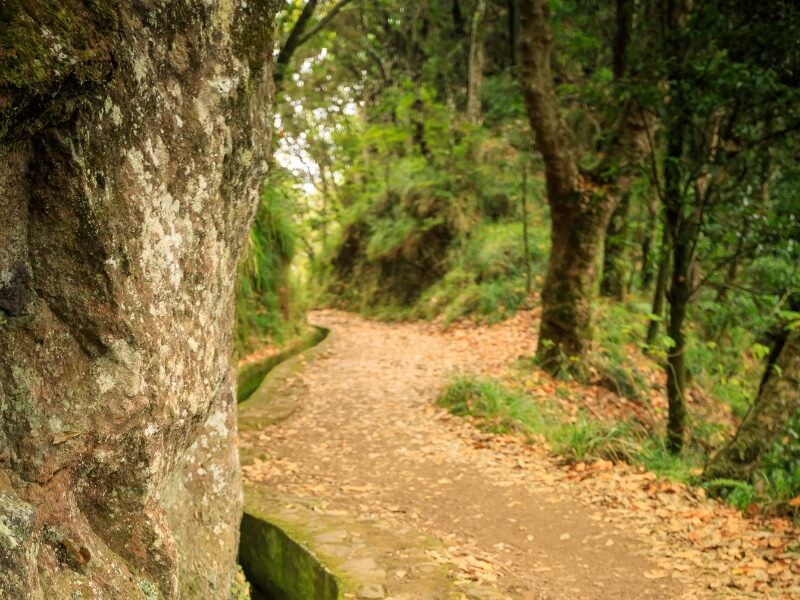 Immerse yourself in the stunning beauty of Madeira with this hidden forest hike to Rochão, a delightful 3-hour tour that's perfect for those who want a shorter walk. 
The hike covers a 5-mile (8 kilometer) stretch along a picturesque levada, an irrigation channel characteristic of Madeira.
This tour comes with a guide, who will help you keep the pace and explain the history and nature of the region.
You'll start in Choupana, not far from Funchal, for this hike.
Along the way, you'll admire the highlands of Funchal and the expansive forest that makes up the heart of the island.
As you walk, you can admire the small villages on the outskirts of Funchal nestled amongst the vibrant green landscape.
Your endpoint, Rochão, offers yet more panoramic views over the area! 
Protect your travel investment!

Travel insurance coverage helps you recoup your losses in case of emergency, accident, illness, or theft.

I rely on SafetyWing for coverage when it comes to trip interruptions and cancellations as well as accidents and medical emergencies.

It offers great rates starting around $12/week with clear, easy-to-read coverage.
Allison Green is a former educator turned travel blogger. She holds a Masters in Teaching and a B.A. in English and Creative Writing. Her blog posts merge her educational background and her experience traveling to 60+ countries to encourage thoughtful travel experiences that both educate and entertain. She has been a speaker at the World Travel Writers Conference and her writing, photography, and podcasting work has appeared in National Geographic, CNN Arabic, CBC Canada, and Forbes, amongst others. Now based in the San Francisco Bay Area where she grew up, she has also lived in Prague, Sofia, and New York City.