Anybody who loves the outdoors needs to visit the incredible state of Utah!
Utah has so many options including phenomenal national parks (five of them!), hot springs, ski resorts, and more!
Pack your bags and your camera because this 7-day Utah itinerary has all of Utah's unique destinations laid out in the perfect order.
I've ensured you hit all the top attractions and snag some of those drool-worthy Instagram pictures you see plaguing your feed, as well as suggesting a few off-the-beaten-path gems, while road tripping the Mighty 5 in Utah!
PLANNING FOR UTAH AT A GLANCE: 

When to Go: With mellow summers and stunning snow-covered winters, Utah is beautiful all year round but since you'll be spending a tremendous amount of time in the outdoors, I suggest going in the months of April-May and September-October. But if I had to pick just one month to go, I'd choose October — the crowds are fewer, the weather is appealing, and fall foliage is in full swing. 

Where to Stay: For this itinerary, you'll have sleepovers in Salt Lake City, Moab, Bryce Canyon National Park, and Springdale or Zion.

For the first overnight stay in Salt Lake City, I recommend staying at Kimpton Hotel Monaco for a luxurious stay in downtown SLC.

Moab has several accommodations but for something exclusive, I suggest staying at either Moab Red Stone Inn or Moab Springs Ranch. And if you prefer glamping, Under Canvas Moab is unmatched when it comes to comfort and style.

And for a sleepover near Bryce Canyon National Park, Stone Canyon Inn or Bryce Canyon Log Cabins in nearby Tropic is what I recommend or you can even opt for camping within the park itself at any of its 2 campgrounds.

And as for your last days on your Utah road trip in Springdale, you can either choose to camp inside Zion but if you can't find a campsite or just don't want to, then you can stay at either Cable Mountain Lodge or Springhill Suites in Springdale. Both of these places offer incredible Zion views.

How to Get Around: You're definitely going to need a car while road tripping Utah. If you don't know where to rent one from, you can compare car rentals and prices from here. Alternately, you can rent an RV or campervan via RVShare and save on accommodations. 

Best Activities: Want to fully enjoy your Utah road trip without the hustles of planning? Booking some activities will help you with that. You can book a horseback excursion on a canyon trail ride, an ATV tour, a Bryce Canyon National Park guided Tour, or a Moab Sound and Light Show tour.

3 Things Not to Forget to Pack:  A sturdy pair of hiking boots will serve you well -- I love my Ahnu boots. A dual purpose phone mount and charger will come in very handy and you'll be happy to have a roadside emergency kit should your car break down while road tripping.
Road trip pro tip: Purchase an annual pass (AKA the America the Beautiful Pass) to save money on the entrance fees for the multiple locations in this itinerary run by the NPS!
When to Plan Your Mighty 5 Utah Road Trip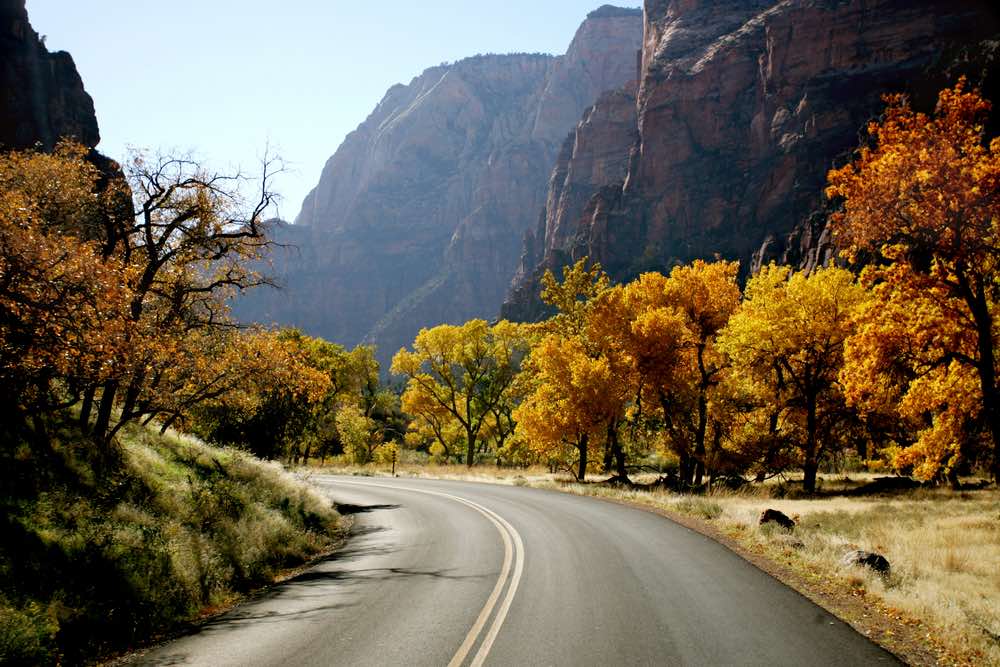 Note: This post contains affiliate links, which means I may receive a small commission if you purchase something through one of these links. Thank you for supporting the free content on this site! For more information on affiliate links and cookies, see my disclosure page for more details.
Utah is incredible any time of the year. With tepid summers and gorgeous snow-covered winters, there is never a season that doesn't reveal jaw-dropping landscapes.
But since you'll be cruising the highways and spending enormous amounts of time in the outdoors if you're doing a Mighty 5 road trip, I suggest the months of April-May and September-October.
Late September and early October is a great time if you want to see some fall foliage in places like Zion!). If I had to pick the best month to visit Utah, I'd pick October — fewer crowds, better weather, and gorgeous foliage!
Going in the shoulder season will allow some crowds to dissipate at the popular sites and puts you ahead of snow closures. These months are considered the off season for crowds, and the weather has never failed me during these months.
Tips for Planning Your Utah National Parks Road Trip Itinerary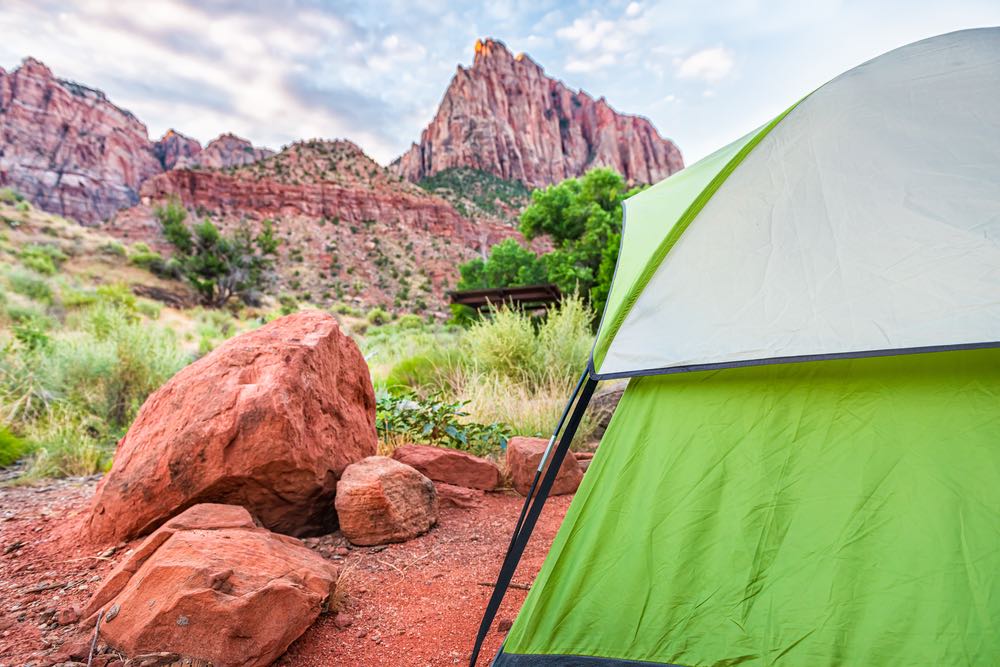 Prep for the parks. This Utah road trip means you will need to pay for entrance to at least 4 separate national parks, 5 if you also visit the interior of Capitol Reef and don't just pass through. Each park can easily charge a $30 admission fee, so if you're planning to enter more than two parks, an America the Beautiful pass will save you money! Buy it online at REI.
Time it wisely. Spring and fall, in my opinion, are the best times to visit Utah! Skip summer unless you're willing to handle the heat (and school vacation crowds), and winter unless you're a confident winter driver as many parts of Utah experience snow.
Cell service is spotty. Don't always count on having cell phone service while driving in Utah! There are many long stretches of highway with very little service. Be prepared by having your maps downloaded offline.
Places on the map are not always as direct or close as they look. There are many routes that, at first glance, appear to be doable… but when you plug it into your maps app, you find they're rather far apart! I've omitted a few notable places from this itinerary for that reason, such as Monument Valley, which is hard to squeeze into a 7-day Utah itinerary.
Utah Road Trip FAQs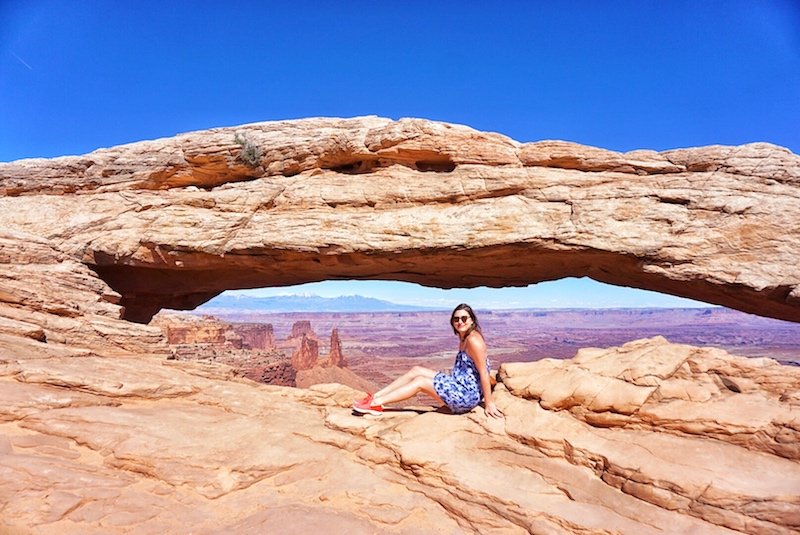 How many days do you need to visit the Utah National Parks?
There are five incredible national parks in Utah (hence their collective nickname, the Mighty 5!). One week in Utah is enough time to catch a glimpse of each of the five national parks, but to see them in full, you could easily spend a month in Utah's national parks and not see it all!
What are the best national parks to visit in Utah?
All of them, but this itinerary focuses the most time on Arches National Park, Bryce Canyon National Park, and Zion National Park, with briefer part-day trips to Canyonlands National Park and Capitol Reef National Park.
How do I plan a road trip to Utah?
The first step is to determine your itinerary: where are you flying or driving into, and how many days do you have from there?
Below, I'll offer a few different routing ideas for driving around Utah, but generally, this itinerary assumes you'll fly into Salt Lake City and then have seven days to explore Utah by car.
If you have longer, you can absolutely spend more time at each site, but 7 days is the bare minimum to complete a Mighty 5 road trip!
The Mighty 5: Your Perfect 7 Day Utah Road Trip Itinerary
Day 1: Salt Lake City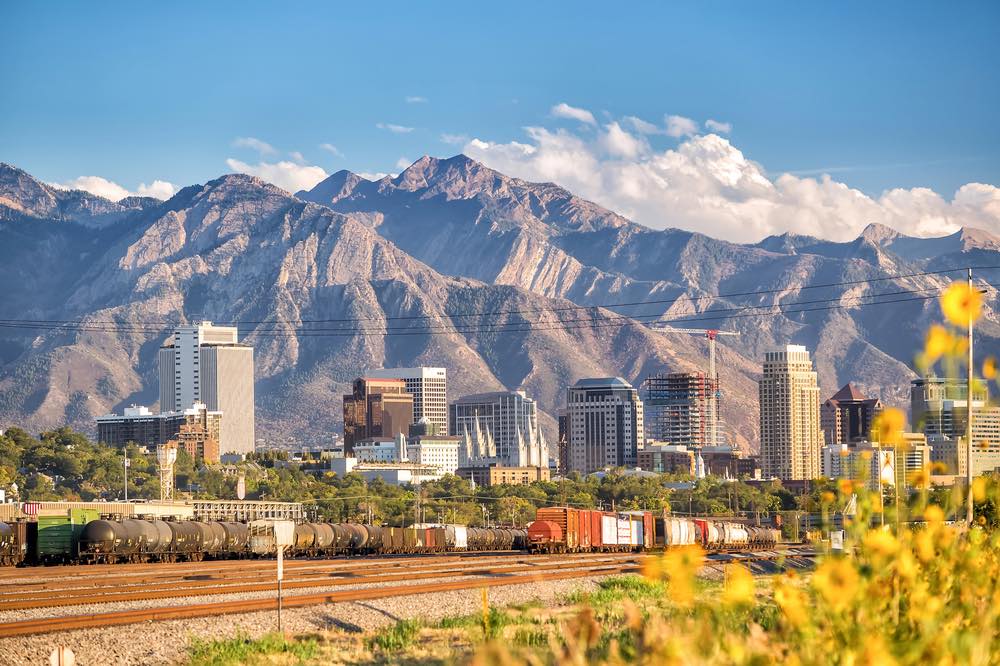 Salt Lake City International Airport is a hub for flights and car rentals as well as the perfect starting and ending point for exploring Utah.
I suggest booking your arrival and departure tickets from here, as it creates the perfect loop for your 7 day Utah road trip.
Another option would be to fly into Las Vegas, in which case, your route itinerary would look like the following: Las Vegas – Zion – Bryce Canyon – Capitol Reef – Moab – back to Vegas or SLC.
You could also add on a few days at the Grand Canyon and Grand Staircase-Escalante National Monument as well Page, AZ easily with this kind of itinerary.
If that sounds more like the itinerary you want to follow, check out my Southwest road trip post, which does a roundtrip from Las Vegas to Moab and back, touching all Mighty 5, the Grand Canyon, and Page's landmarks like Antelope Canyon and Horseshoe Bend.
However, for the purposes of this 7 day itinerary, let's assume you're flying into SLC, as it's the easiest for routing purposes, plus SLC is a great airport hub!
Not sure where to get the best deal on your rental? I've rented cars dozens of times through various search engines and have settled on Discover Cars as the best site to rent with in the USA – it searches dozens of rental companies to find the cheapest price for your rental! Compare car rentals for your trip here!
Salt Lake City is in the heart of Utah, nestled among the Wasatch and Oquirrh Mountain Range it is surrounded with fantastic opportunities for fun.
Here's how you should spend your day in SLC! If you have two days, read our two-day Salt Lake City itinerary.
Check-in to the Kimpton Hotel Monaco Salt Lake City
This luxury hotel is such a delight for the eyes!
Swirling colorful carpet draws you into the warm space of the lobby while modern vintage furniture gives the Kimpton Hotel Monaco an inviting atmosphere.
The rooms are adorned in old-world style with flashes of flair from the 1950s.
Hotel Monaco is perfectly situated in downtown SLC, making exploring the city extremely accessible.
Grab a coffee and start your day
Begin your morning by making the 3 block walk to Campos Coffee.
Snag a seat in their stylish cafe and order up a delicious cappuccino with a side of Cran-Apple Toast.
Campos coffee offers an inviting, wide-open atmosphere adorned with a steampunk theme. Enjoy a quiet morning here as the city will quickly wake up.
Wander around downtown SLC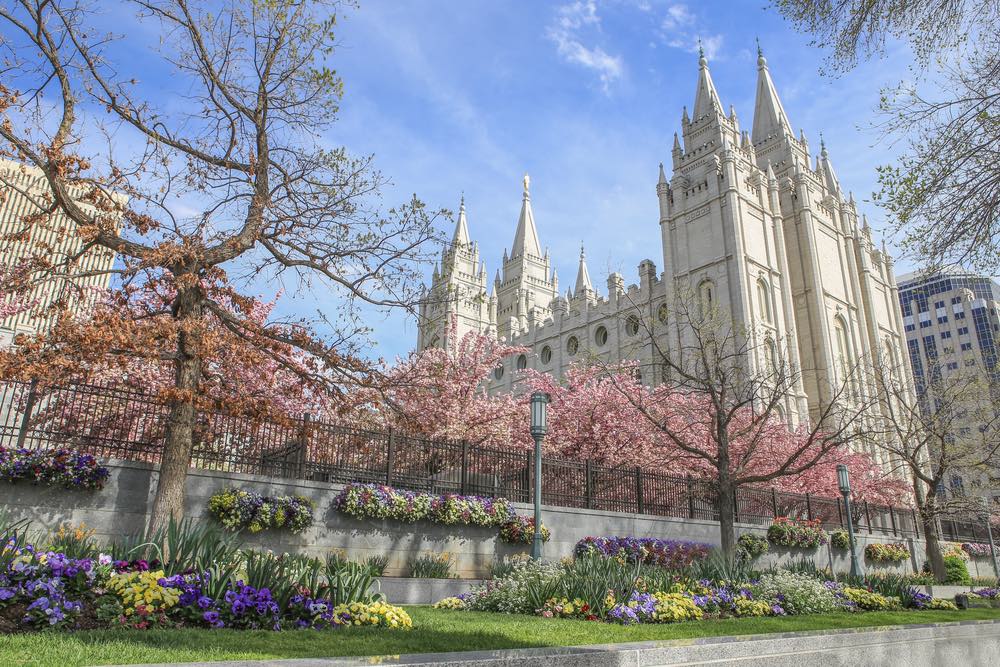 Salt Lake City is known for its outdoor squares and parks. Once you've properly caffeinated, head to one of the year-round farmer's markets for food, fun, and Utah flair.
There are several downtown areas that offer farmers' markets at different times a year. A couple of options include Liberty Park, Sugar House, and Downtown Farmers Markets.
Most of these markets only take place on Fridays and Saturdays but if you're lucky enough to catch one, they're worth the visit.
Fresh fruits and vegetables line the streets along with homemade gifts and local artists displaying their talents. It's easy to spend a few hours wandering the streets.
While you're on foot, consider seeking out some of Salt Lake's most known and gorgeously constructed monuments such as the Mormon Temple, the State Capitol, and Temple Square. There's a ton of historical sightseeing in downtown SLC, so be sure to pack your most comfortable shoes.
Hit the hiking trails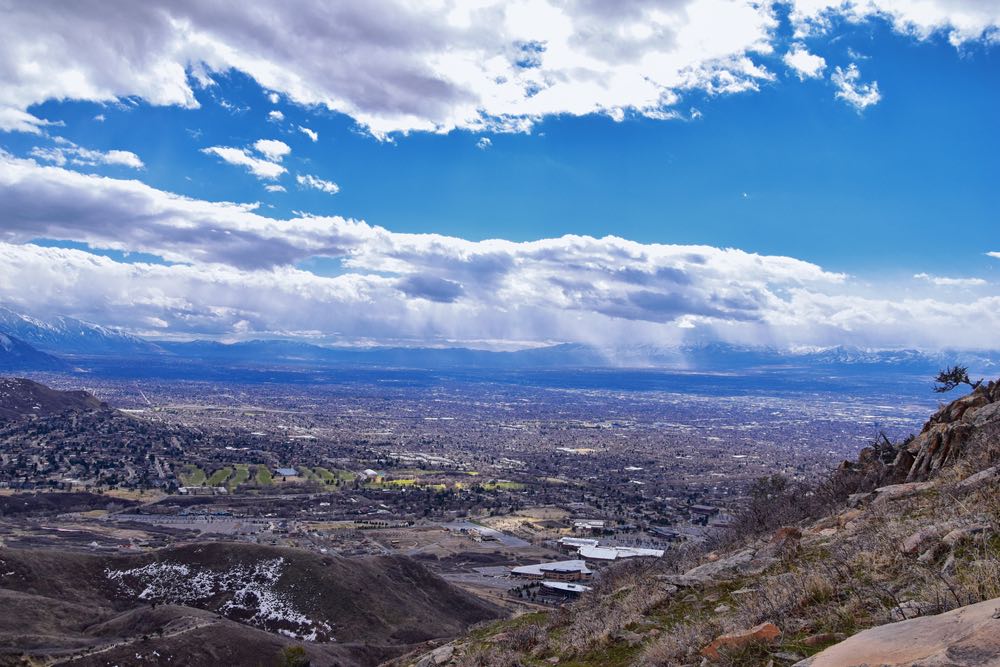 Salt Lake City is filled with tons of outdoor options as well!
One of the most fun and accessible hiking trails is The Living Room. Lying just 10 minutes from downtown, this 2.2-mile out-and-back hike leads to incredible views of Downtown and the surrounding landscape.
Sit above the horizon on "chairs" made from surrounding rock and enjoy the afternoon high above the city.
If you desire some trails that require a bit more of a time commitment consider looking into Mount Timpanogos Trail or summit Grandeur Point. Both of the trails lead to exquisite views.
If you're visiting in the fall, the colors of the changing leaves along both trails are breathtaking!
I also have a full guide to the best hikes near Salt Lake City here in case you want to extend your trip a bit and do a day hike or two!
Grab a delicious dinner in the city
Head back to the city and clean up for dinner.
Salt Lake is filled with phenomenal restaurants that'll please any palate. A few of my favorites are Settebello for pizza or Red Iguana for Mexican.
Settebello offers insanely delicious Neapolitan style pizza wood-fired to perfection with a fluffy, buttery crust. Their bruschetta is simple and delicious, piled high with fresh tomatoes on divinely toasted bread.
If a cuisine south of the border sounds more enticing, Red Iguana is the hot spot for you. Dubbed as Utah's "killer Mexican food," they have all the specialties including chimichangas and indulgent Mexican desserts that go down well with a custom-made margarita!
Day 2: Moab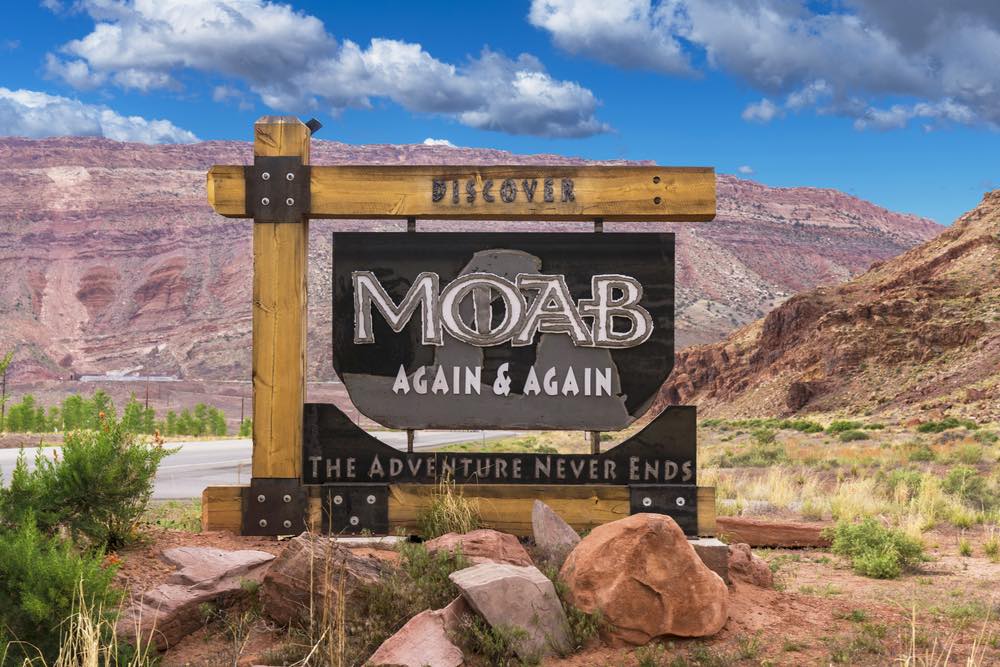 Day two of this Utah road trip is all about hiking and soaking up some of Utah's most iconic scenery in Moab!
3.5 hours south of Salt Lake via an incredibly scenic drive lies 3 parks that are so breathtakingly beautiful, it'll take two days to explore.
Dead Horse Point State Park, Canyonlands National Park, and Arches National Park all lie within miles of each other but the landscapes of each are so totally different.
Here's how you should spend your first day in beautiful Moab.
Start the day with a delicious breakfast
As you roll into the quaint city of Moab, consider stopping for breakfast at the Love Muffin Cafe to fuel your hiking day.
They have all the breakfast classics including breakfast burritos, quiches and scones set in a brightly colored, eclectic cafe.
I've also heard rave reviews of Moab Cafe. Although I've never personally visited, it sounds like it's worth checking out!
Head to Dead Horse Point State Park
Dead Horse Point State Park is the perfect introduction to the beauty of Moab.
It's a sprawling 5,000-acre park set high among the desert landscape with towering cliffs and unrivaled views of the Canyonlands in the distance.
There are several pull-outs along the drive to the parking lot that are all worth the extra stops.
But to truly experience the spectacular sights, hike the Dead Horse Rim Loop Trail. This trail is a 5-mile loop that canvasses the rim of the canyon.
The most prominent view from the trail is hands down the overlook at the point of the Colorado River — it's stunning!
Dead Horse Point also has a trail system for mountain bikers as well. If you've come prepared to bike, the park Intrepid Trail is a 16-mile single-track trail on dirt roads that offers the same unrivaled views with a bit more adrenaline.
Head towards Canyonlands National Park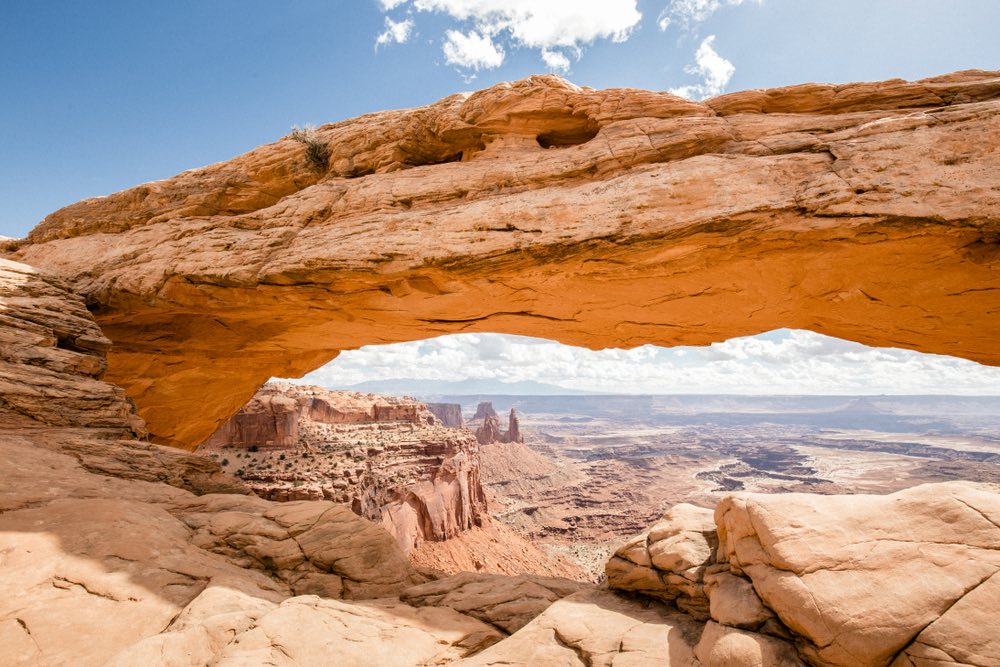 Rest your feet and make the short 12-minute drive over to Canyonlands National Park to the park entrance at the Island in the Sky Visitor Center.
Canyonlands is a massive park that has 3 different districts. For the sake of time, I recommend visiting the nearest and most accessible district called the Island In The Sky.
Here, you'll find a comprehensive visitors center with rangers who are more than willing to help you plan your afternoon.
The Island In The Sky is the only paved district in Canyonlands National Park with easy access to well-marked trails; the Needles is beautiful but more remote and not quite suited for such a quick trip to Utah, and the Maze and the Rivers (consisting of the Colorado River and the Green River) are even more remote.
On your drive into the park stop at the Grand View Point Overlook. The overlook totally lives up to its name as it reveals jaw-dropping views into Monument Basin as you ascend via a scenic drive. You can also take the trail, which is an easy 1.8-mile hike.
Another iconic sight is Mesa Arch, a short and easy 0.7-mile trail that leads you to an arch that's perched perfectly on the edge of Canyonlands Cliffs.
After a few dramatic photos of Mesa Arch, head over to Upheaval Dome, the last trek of the day. Upheaval Dome is attractive because of its odd geology and wild folklore that surrounds its creation.
An easy 2-mile wide trail takes you along the rim of the Dome and gives you a panoramic view of just how weird and wonderful the geology truly is.
Grab a drink to toast your hikes
After an entire day of hiking, you deserve a beer!
Back in the city of Moab is Moab Brewery. The perfect place to end your first day in the spectacular Utah desert. Moab Brewery is always fun, always lively, and always has plenty of beer!
The atmosphere is a fun mix of outdoorsman bar vibes. Kayaks hang from the ceiling and pool tables fill the corners.
You'll find a massive selection of microbrewed beers including ambers, lagers, Hefeweizens and IPAs.
They're also a full-service restaurant, so grab dinner and hang around for a bit.
Check into your Moab accommodations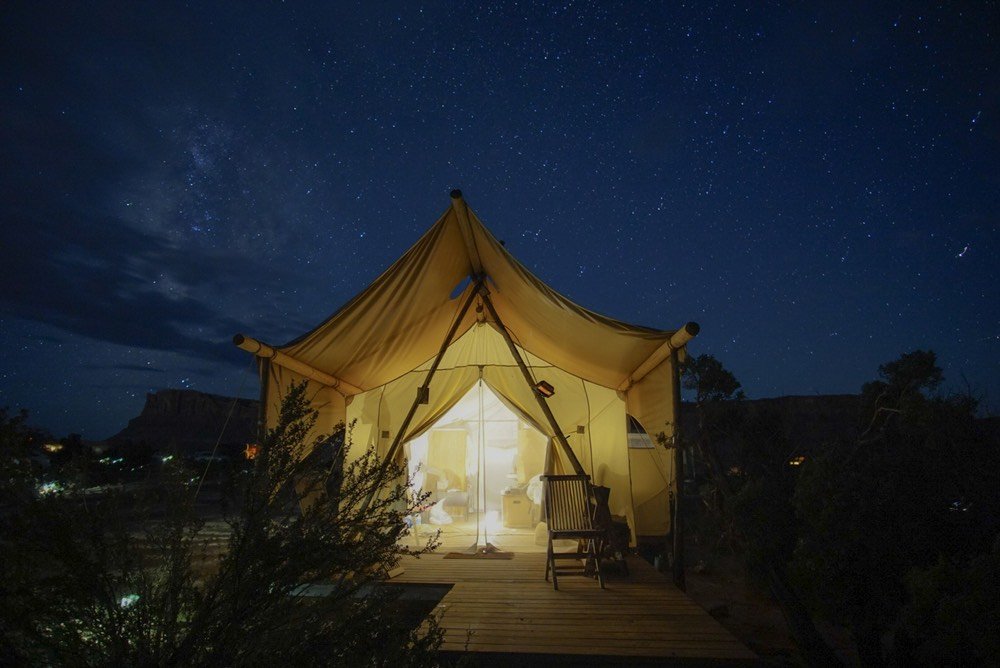 There are several different options when it comes to accommodations in Moab. These include hotels, Airbnb, glamping, and camping.
If you're wanting more of the comforts of home, there are plenty of commercial hotels located in the heart of Moab.
For something more unique look into the Moab Red Stone Inn or Moab Springs Ranch. Both offer a more low-key, secluded fee.
As for glamping, Under Canvas Moab knocks it out of the park in terms of comfort, style, and entertainment, and is frequently cited as one of the best glamping lodges in the entire United States.
If you're wanting to go all in and camp under the stars, there are plenty of campgrounds dispersed in and around the city.
To find these, I recommend checking out my entire write-up on Utah's incredible dispersed campsites or by using some well-known campground finder apps including The Dyrt, iOverlander, or rec.gov website.
Day 3: Arches National Park
Wake up early while the city of Moab is still sleeping and get a head start on Arches National Park.
Arches National Park is one of Utah's top attractions and draws over 1.5 million visitors a year. Because of its popularity, it's important to beat the crowds if you want to experience Arches in all its glory.
Start with a sunrise hike to Delicate Arch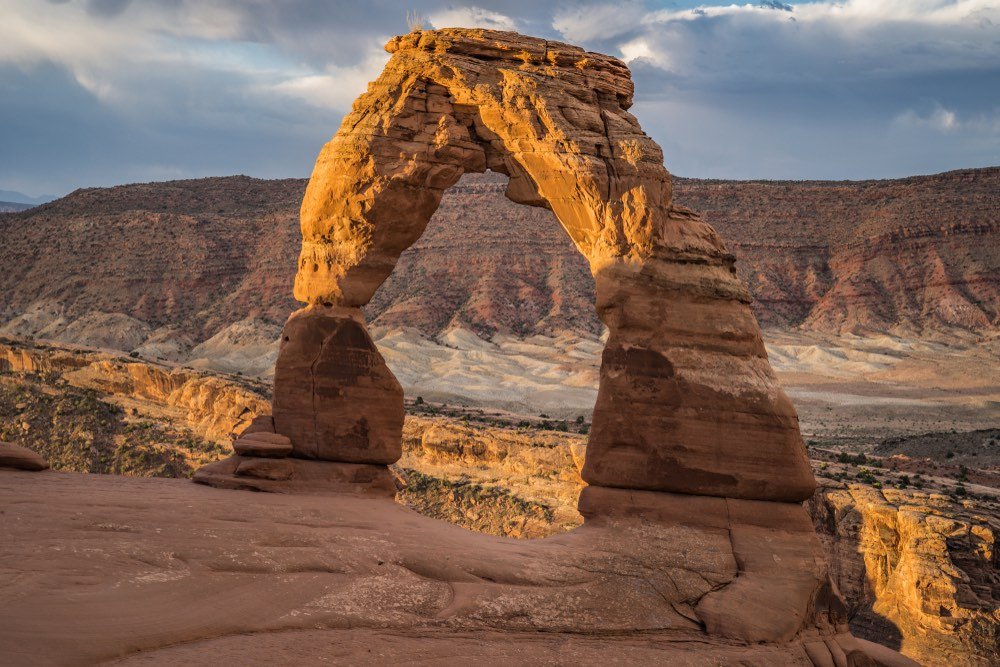 The iconic Delicate Arch should be your first destination and you should plan to hike it before the sun rises.
To make this possible, check the local times of the sunrise and plan to head out about an hour and half before this.
You'll need a headlamp or flashlight for the first part of the 1.5-mile hike to Delicate Arch, as it will still be dark outside.
If you timed it correctly, you'll reach Delicate Arch just as the sun begins to beam on its east side.
It's an amazing experience to see the surrounding landscape wake up and to watch Delicate Arch glow under the newly risen sun.
Wander the Devils Garden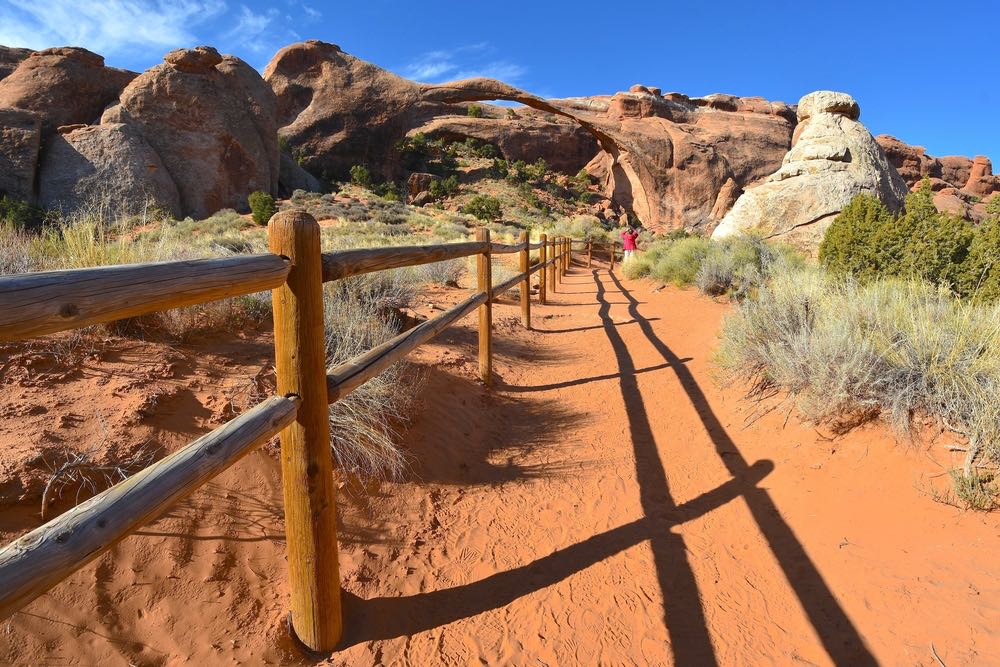 After you've captured photos of Utah's most iconic arch, continue driving on Arches Entrance Road until you reach the Devils Garden Trailhead.
This 7-mile trail can easily be broken up into something more manageable (2-3 miles) while still offering insane views of the otherworldly landscape.
Massive boulders, tunnels, and arches are the highlight of this trail, as well as its tranquility.
Devils Garden is much less crowded than the surrounding trails and offers a great opportunity to bask in the uniqueness of Utah in peace.
On the way back, be sure to stop in Fiery Furnace which has some of the best views and reddest rocks in Arches.
Snap some final photos of Arches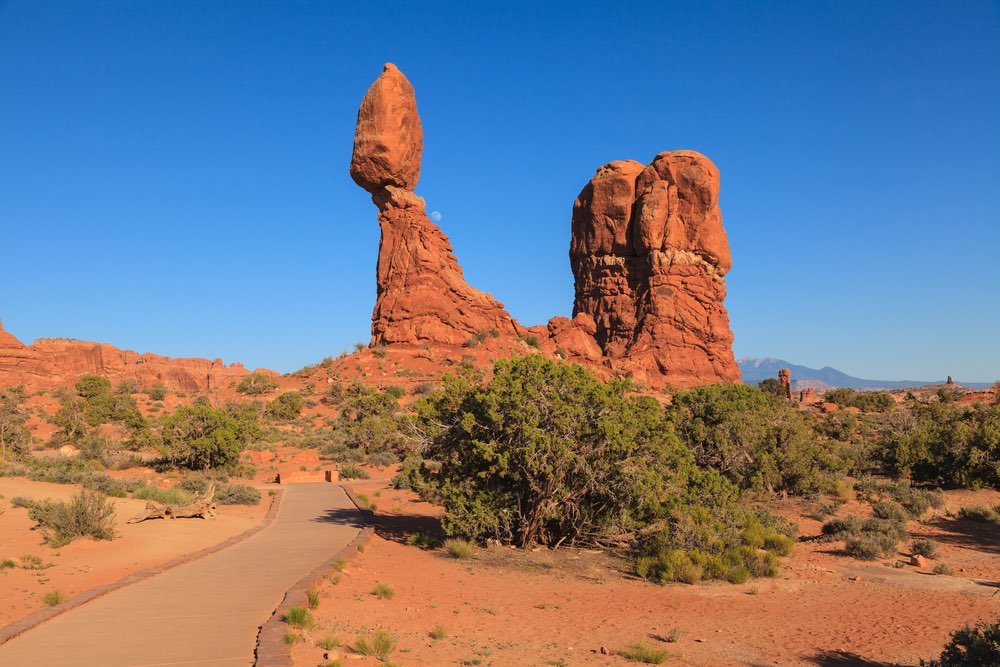 As you meander your way back to the entrance, take this chance to capture some stunning photos at the multiple pull-outs spread throughout the park.
Balanced Rock, the Windows, Double Arch, and Petrified Dunes Lookout are just a few spots worth a quick stop.
You also should make sure to visit the longest arch in the entire park, Landscape Arch, which is accessible via an easy 1.9-mile out-and-back trail.
The day should still be early enough to capture the stunning lighting and natural beauty of the surrounding rock formations.
Grab lunch and gas before hitting the road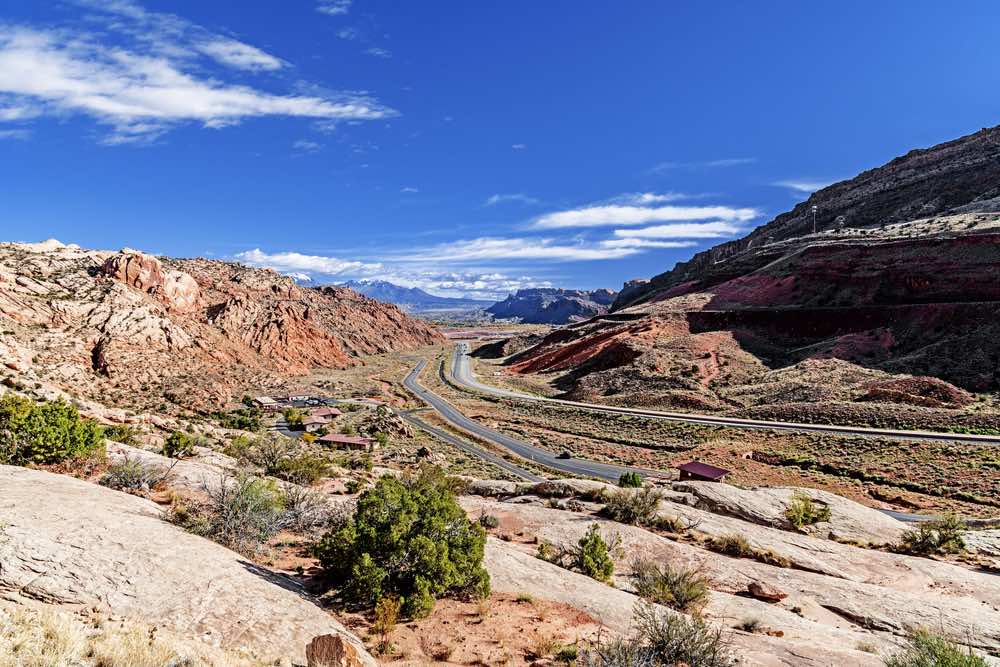 Stop off in Moab for a bite to eat and gas up the car before you hit the road again to head towards your next destination.
The afternoon will be spent driving to Bryce Canyon National Park. The 4-hour drive from Arches National Park to Bryce Canyon National Park is absolutely stunning.
You'll leave Arches and head West on highway 70. As you leave the desert landscape of Moab you'll be transported into the mountainous scenery as you head south through Highway 24.
If you don't want to visit Capitol Reef National Park, you can shave an hour or two off your drive time by skipping Highway 24, instead going a more direct route to Bryce via Highway 72 and Fishlake National Forest. However, for the purposes of this post, we'll go the scenic route so you can visit Capitol Reef!
Stop quickly in Capitol Reef National Park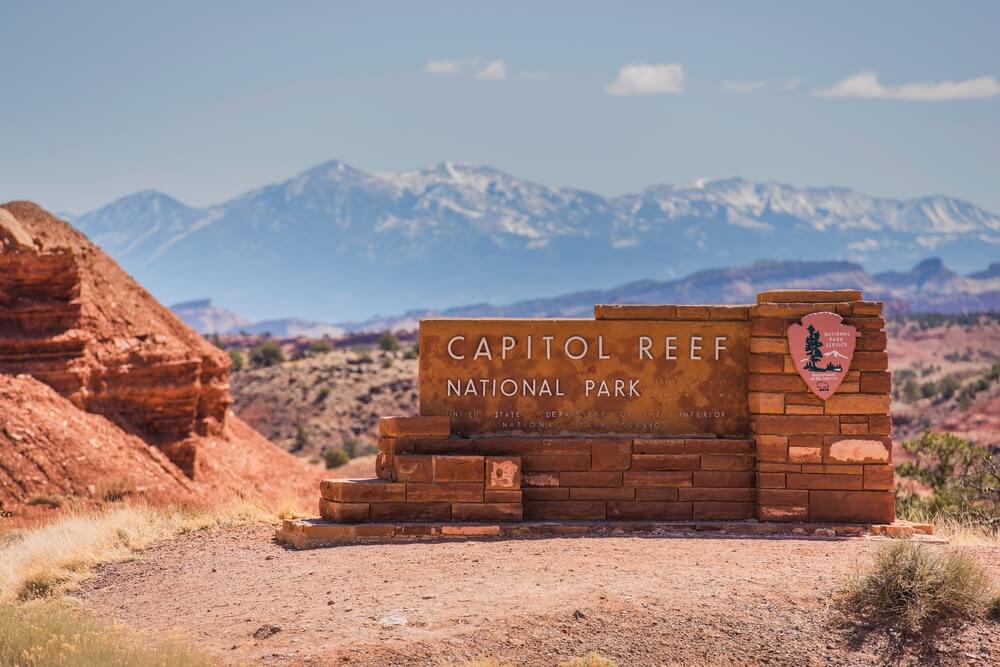 With only 7 days in Utah, it's hard to tackle all of the Mighty 5 and do them proper justice.
This Utah itinerary focuses more heavily on the Southern Utah national parks, but that doesn't mean we can't pop into Capitol Reef on the way to Bryce from Moab!
We won't have time to take on some of the best hikes in Capitol Reef, but we can definitely see a few of the most beautiful landmarks there that are easy to access by car.
As you near Torrey, be sure to stop off at Factory Butte, a stunning and off-the-beaten-path land formation that looks like it could be something out of Mars. It's right off Highway 24 so you can't miss it.
For a quick but scenic spin through the park, stick to the parts of the park near Torrey that are accessible via Highway 24, all centered around the Visitor Center.
This includes the Fruita Schoolhouse, the Petroglyphs, Hickman Natural Bridge, and the gorgeous views at Panorama Point.
If you have a national park pass, as you should, then you can also visit a few places within the park within an easy drive. That would include Fruita Barn, the Gifford Homestead, and if you have time for a hike, the Cassidy Arch Trailis a phenomenal 3.1-mile out-and-back with one of the best views in all of Capitol Reef, rated as moderate.
Arrive in Bryce Canyon National Park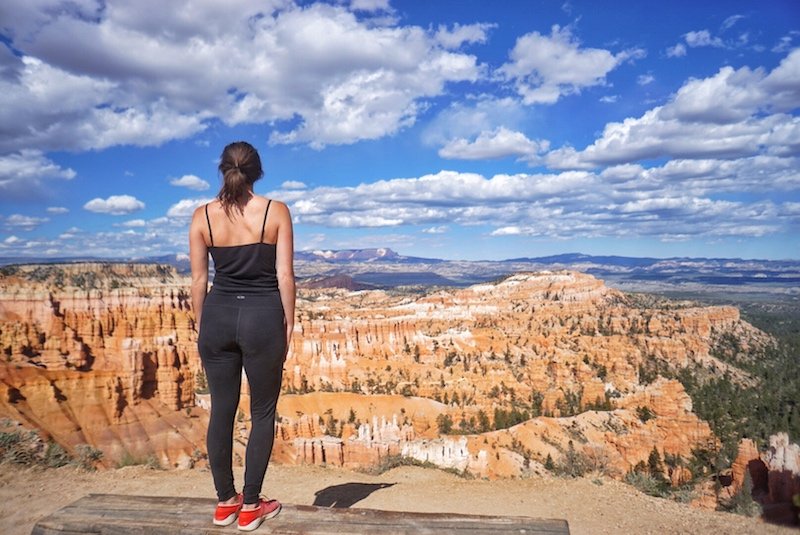 As you turn south and head towards Bryce, the topography changes one final time into a mix of bright red cliffs, canyons, and hoodoos.
The first sighting of a hoodoo along a scenic drive is a great indication that Bryce Canyon is just around the corner!
The city of Bryce is a small, quiet town that lies minutes outside the National Park. Although limited on hotels and restaurants, it's easy to find a place to have dinner and a warm place to sleep.
You can also stay in nearby Escalante, which is halfway between Capitol Reef and Bryce Canyon and is home to Yonder Escalante, a great accommodation choice with cute cabins and Airstreams available for rent.
Grab dinner and hit the sheets
Hell's Backbone Grill & Farm, Big Fish Family Restaurant and Stone Hearth Grille are a few restaurants that cater to weary travelers looking for a hearty meal.
As far as hotels, check out the Stone Canyon Inn or Bryce Canyon Log Cabins in nearby Tropic.
Each resort is immaculately maintained and offers stunning views of Bryce Canyon in a private setting.
Of course, Bryce Canyon is also brimming with campgrounds. There are two campgrounds inside the park, North Campground and Sunset Campground, as well as options for backcountry camping.
Day 4: Bryce Canyon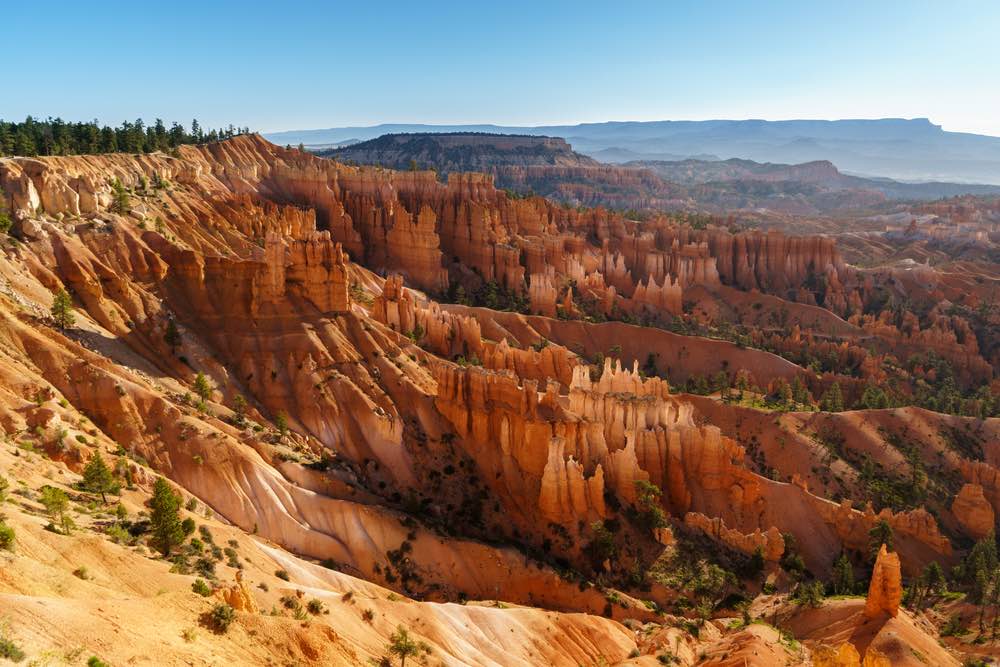 Bryce Canyon is purely about the landscape!
With the largest concentration of hoodoos and brightly colored cliffs, Bryce Canyon is a geologic wonder that resembles Mars.
Hikers will adore the plethora of beauty that is easily accessible via the trails in the park!
While the classic Bryce Canyon Rim Trail would be amazing to do, at 11 miles roundtrip, it's not doable for this itinerary, so save it for a return trip. We've listed a few shorter day hikes that are better suited for one day in Bryce instead.
Do a hoodoo hike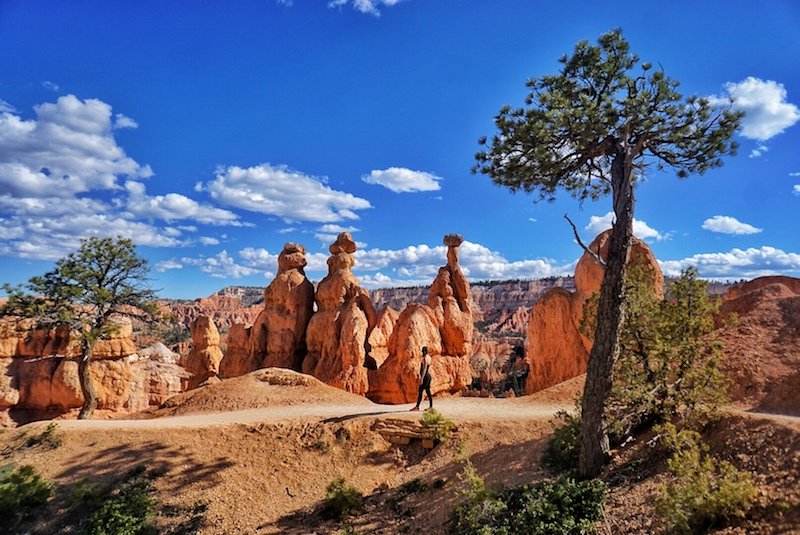 There are several different ways to enjoy one day in Bryce in an adventurous and active way!
Hike the Navajo Loop Trail or Queens Garden Loop inside the core section of the park to experience the topography from within the canyon.
Navajo Loop is a personal favorite and you'll enjoy absolutely stunning views from everywhere on this canyon trail!
… Or hop on a horse or ATV!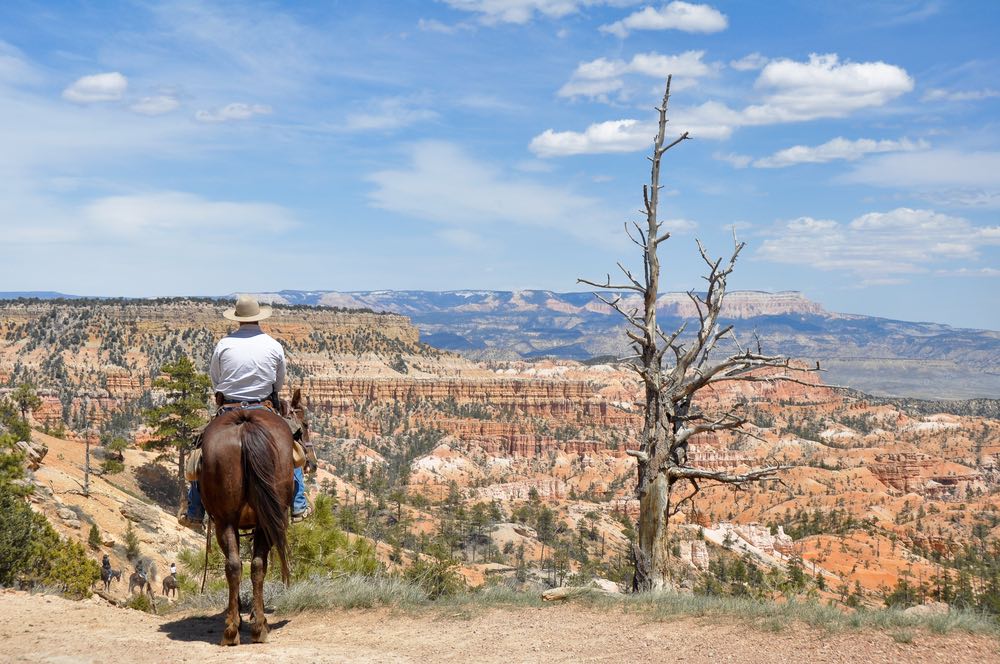 If your feet are exhausted from the previous days' hikes, no worries — there's still plenty of ways to experience Bryce Canyon without needing to hike.
Hop on a horse for a horseback excursion on a canyon trail ride or pump up your adrenaline with an ATV tour!
Either is a great way to stay active and see the best that Utah's Mighty 5 have to offer without overexerting yourself.
Get the best sunset view in Utah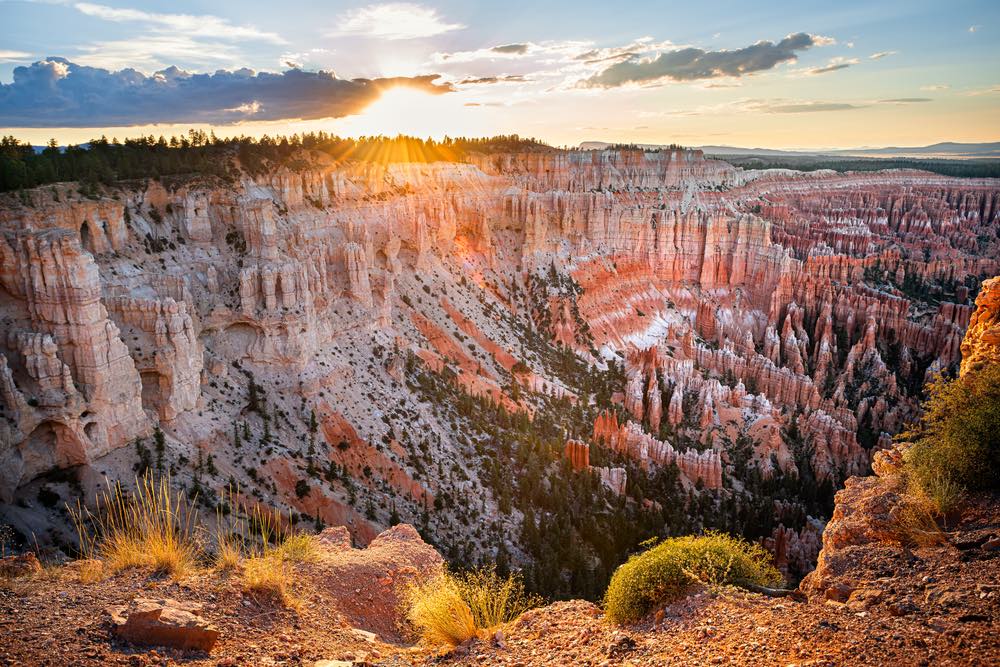 As the sun begins to set, head to Sunset Point to watch the most phenomenal sunset cover the canyon.
It's probably the best place to catch the sunset in all of Utah, with its hoodoos, red rocks, and wide-open skies.
As the skies begin to darken, catch the glory of the stars, as Bryce is part of the world-renowned International Dark Skies club.
Of course, if you're too tired for sunrise — or you just want to double up on the beauty of Bryce — another option is to do an early wakeup call the following morning at Sunrise Point, which offers a great vista from a viewpoint better oriented for the rising sun.
Day 5: Springdale and Zion
Wake up early and start the 2 hour drive to Springdale, Utah.
What makes the Beehive State so unique is the opportunity to experience dramatic landscape changes over the miles and the drive from Bryce to Springdale is a prime example of this.
Start at the East Entrance of Zion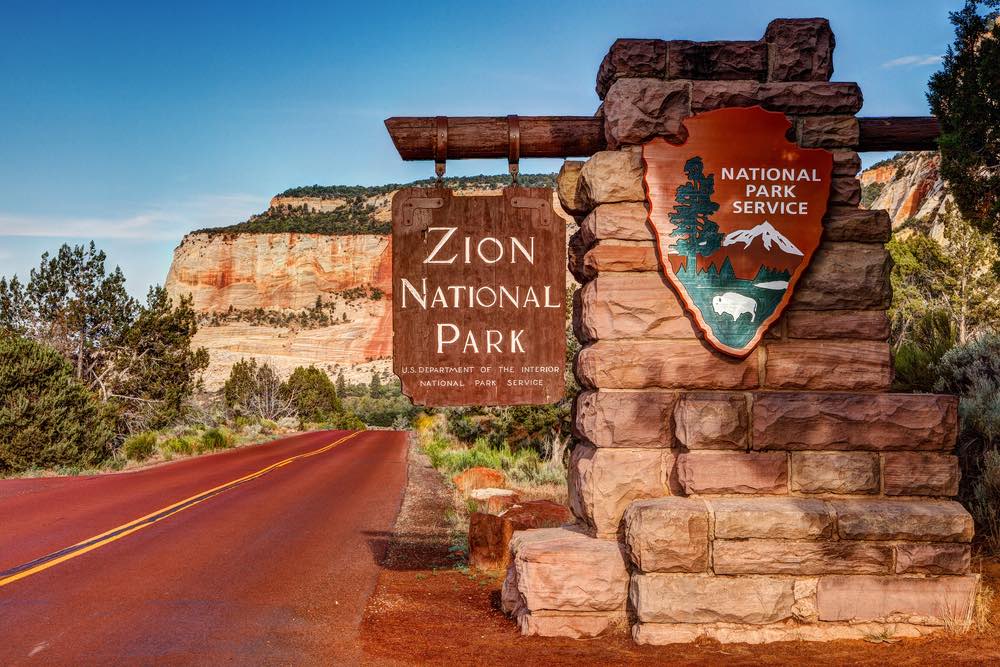 Head south down highway 89. From here, you'll hit the East Entrance of Zion National Park first.
I recommend coming in from this direction because it allows you to drive through the entire length of Zion before hitting the main headquarters of the Park.
There are no words to describe the beauty of Zion. Sky-high mountains loom over deep purple slot canyons, multi-layered rock formations weave among the cliff sides, and wild animals can be seen crossing the street.
The beauty will captivate you all the way to the visitors center where you'll catch a park shuttle to the epic water hike of The Narrows.
Hike to the Narrows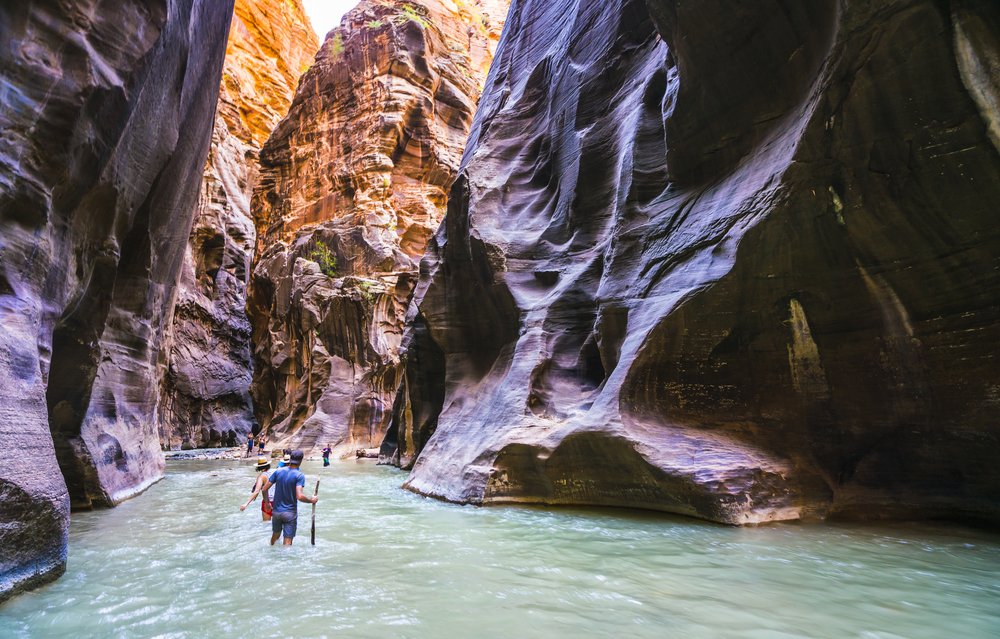 The Narrows is by far the top trail in Zion for discovering the interior slot canyons, and it's a must-see on the bucket lists of hikers everywhere.
Some visitors rent waders and gear from the nearby Zion Outfitters but I don't see this step as absolutely necessary. If you're wanting to save money, it's perfectly acceptable to hike without being outfitted.
Waterproof hiking shoes, however, are absolutely needed, or you'll be regretting it. Trust me.
Jump on the shuttle and head to the last stop, Temple of Sinawava. From here, make the 1-mile paved hike into The Narrows.
The beauty of this hike is you can make it as long, or as short as you desire. The entire trail will be water wading while you explore between two towering canyon walls that tend to change color as the sun orbits over.
Get in as much, or as little, hiking in as you like and head back to the visitors center to claim a campsite.
Grab a campsite or check into a hotel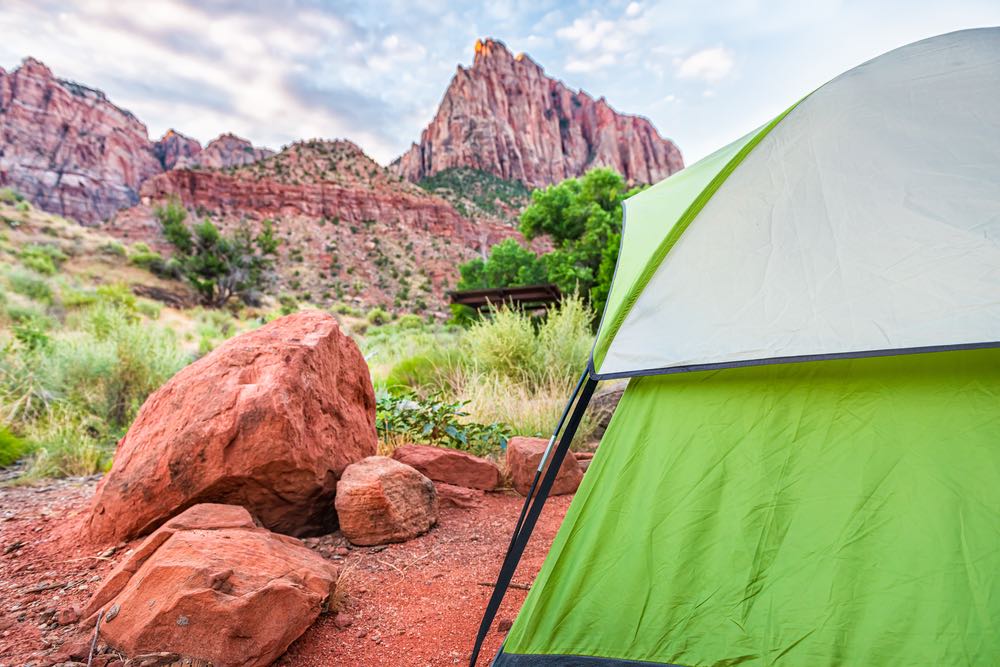 The Watchman Campground is the only public campground in the park and fills up quickly.
This is a gorgeous, shaded campground sitting at the foot of the Mountains with a paved walking path along the Colorado River and within walking distance to the bustling city of Springdale.
If you can't (or don't want to) snag one of the limited campsites in Zion, there are plenty of wonderful hotels in Springdale.
I recommend Cable Mountain Lodge or Springhill Suites, with their stunning floor-to-ceiling windowed lobby with incredible Zion views. Another classic is the Zion Lodge which must be booked months and months in advance.
Head to the city and grab a bite to eat at The Spotted Dog (American), Zion Pizza and Noodle (pizza), or the Whiptail Grill (Mexican).
Shop around the many unique, handcrafted stores and head back to camp to enjoy a night under the stars or to your hotel for some creature comforts in a beautiful setting.
Day 6: Zion National Park
Grab a delicious cup of coffee before hitting the trail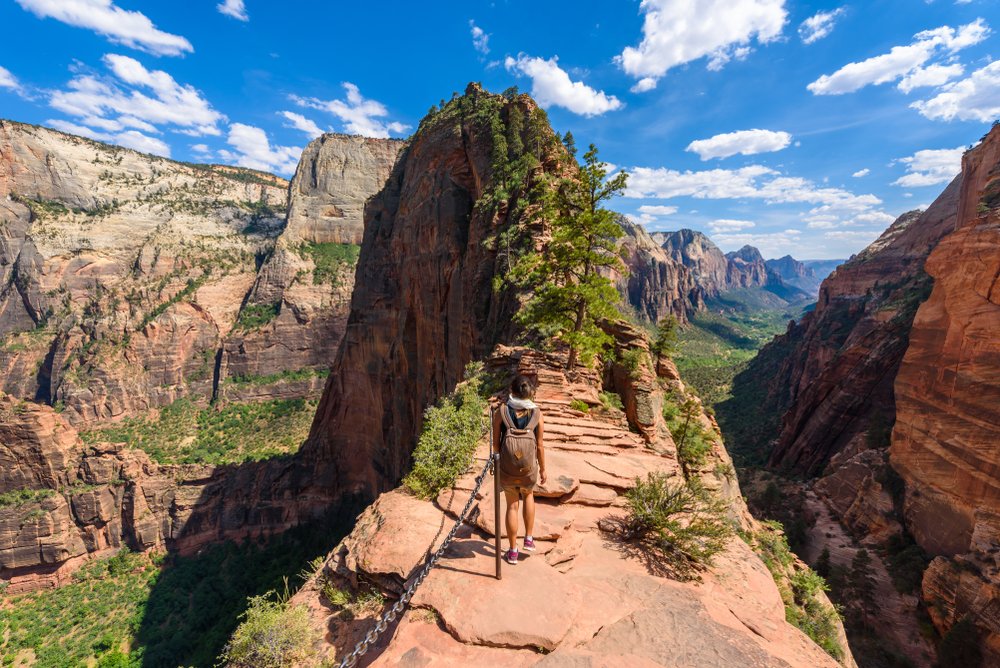 Wake up early and hit Deep Creek Coffee for a pre-hike meal and hand-crafted coffee. You'll need the energy for this hike!
Today's trail, Angels Landing, is a strenuous uphill hike to the tops of Zion so you'll need to properly fuel your body.
If you're feeling extra energized this morning, rent a bike from Zion Cycles and skip the shuttle!
You can bike to the trailhead of Angels Landing as well as the rest of the park. Although a big undertaking, it's a great alternative to beating the crowds.
Angels Landing is arguably THE top hike in Zion and for a good reason. This 5-mile trail climbs up and over the canyons of Zion and gives you a birds-eye view of the true beauty of the park.
Summiting Angels Landing is an exhilarating experience! As you ascend, you'll be assisted by chains that are hanging off the sheer cliffside offering a heart-pounding experience.
Once at the top you're greeted by the most epic view on earth. Catch your breath and enjoy the beauty before you.
Want a different view? Head up to Observation Point. While normally this is a harder hike than Angel's Landing, the East Rim to East Mesa approach is closed due to the danger of rockfall.
The easier route via East Mesa is still accessible though, and is only rated as moderate. It involves a 6.7-mile out-and-back trail with only 700 feet of elevation gain (the hard Observation Point trail involves well over 2,000 feet of elevation gain!).
For this trailhead, I suggest you park at the intersection of Beaver and Fir Roads if you don't have a high-clearance vehicle.
Celebrate your summit with a drink
Descend Angels Landing and head back to town for a celebratory beer at Zion Brewery.
Located creekside to the Colorado River, Zion Brewery has the perfect patio to enjoy the afternoon while you recharge and reminisce.
Once you've had a beer… or three, cool off at the riverbank or tackle a shorter Zion hike around sunset for even more epic views.
Hit Zion Canyon Overlook Trail for sunset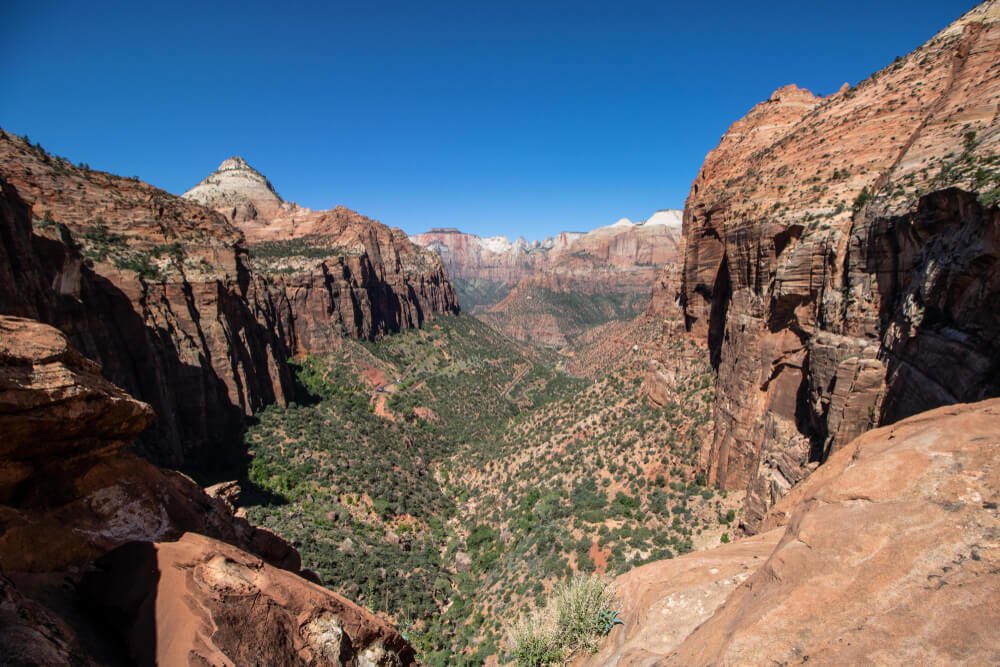 For a great view worthy of the final full day of your Utah itinerary, head to Zion Canyon Overlook Trail for sunset.
It's a super short trail, less than 1 mile out-and-back and rated as easy, though there is about 400 feet of elevation gain. It's absolutely worth it!
Parking is limited so you may have to circle around for a spot. Give yourself some extra time to find parking if you're going at sunset as it is a popular sunset spot.
Day 7: Back to Salt Lake City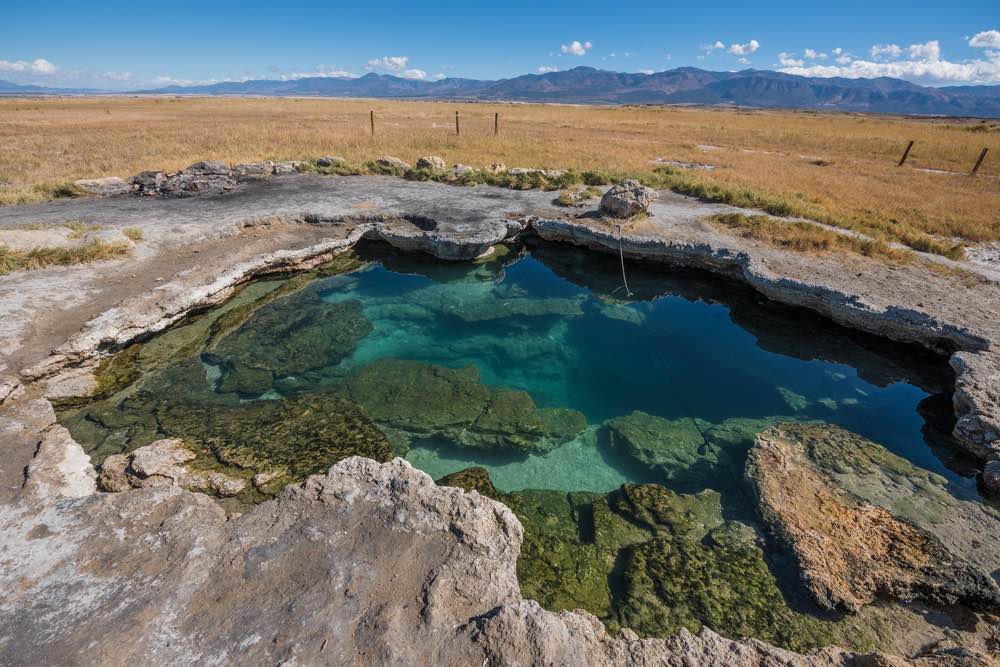 The last leg of your journey will be spent making the 4.5-hour drive back to Salt Lake City.
Don't let the longer drive intimidate you, there are plenty of stops you can make along the way to break up the drive.
A few options I recommend are visiting the ghost town of Grafton, stretching your legs at Cedar Breaks National Monument or soaking in the natural hot springs along the way.
As you head north to Salt Lake City, you'll conveniently pass two opportunities to soak in Utah's many natural hot springs.
Mystic Hot Springs and Meadow Hot Springs are both located off Highway 15 and welcome tourists to enjoy the soothing heated waters. It's the perfect ending to your 7-day road trip across Utah.
I hope this 7 day Utah itinerary inspires you to get out and enjoy this beautiful and truly unique state!
What to Pack for an Utah Road Trip
I have a complete USA road trip packing list that you can go through before your trip to know everything to take but below is a rundown.
Travel guides
This Utah road trip itinerary is packed with so much useful information but Travel guides are useful resources to have for deeper insights as they dedicate more time and resources to research. So, to fully arm yourself with knowledge and tips before doing the mighty 5 Utah Road Trip, I recommend combining my personal experience with this highly-rated Fodor's Utah travel guide.
Phone Mount & Car Charger
Though cell network is not the best while road tripping Utah, you'll still need your phone whether it's to check maps or take photos, so it's essential to have a car charger. And for navigating, a phone mount is gold! It takes away the pressure of having to check your phone while driving (which you shouldn't do btw) or even asking your front-seat passenger all the time. I honestly can't imagine going on a road trip without this dual-purpose phone mount and charger!
Snacks
Road trips just go better with snacks and let's not forget how quickly hanger can kick in especially if you don't want to keep stopping just to get something to eat. Pack a few snacks — and not just the sweet ones but a mix of sweets and salty ones too.
Rehydration packets
Rehydration packets are life savers when it comes to road trips! From long hikes, fatigue, uncoordinated meal times, scorching sun, there are so many incidences that can cause dehydration.
I always carry some rehydration packets for every road trip I go on and they've been great at keeping me hydrated. There are quite many on the market but I recommend these ones.
Bug spray and after-bite care
Nothing takes away the fun of enjoying a scenic hike like bug bites. I know it and I've been there — nowadays I never leave home without this lemon eucalyptus-based mosquito repellent, it's a natural and DEET-free solution that works well on even the most stubborn mosquitos!
Unfortunately, it is sometimes inevitable to avoid bug bites regardless of how committed you were to applying and re-applying bug spray every couple of hours. In that case, this After Bite itch eraser will instantly soothe any bug bites.
Sunscreen
Most people don't know this but the windshield doesn't protect you against all UV rays. While they protect against UVB rays (which cause sunburn), most do not block UVA rays, which cause aging and skin cancer and that's why it's important to wear sunscreen even when driving.
On top of that, you'll need it on hikes, beach days, or every time you go under the sun. You could probably get away with a cheaper sunscreen but since my face is kind of sensitive to chemical sunscreens, I need something gentle and I found that in this sunscreen.
And unlike the myth that some skin tones and races don't need sunscreen, I am here to tell you that you need it as sun cancer doesn't discriminate based on skin tone. So whether you're white, pale like me, Black, Latina, or Asian, you need sunscreen!
If you're hiking, don't forget about your scalp either — I often end up with a burned scalp and it's no fun, often leading to headaches. Buy a special sunscreen for hair and scalp to avoid this!
Rain jacket
Do you hate hiking in soaked clothes? Me too! You could have the perfect Utah road trip itinerary but that won't stop it from raining but that also doesn't mean you should just waste your day and wait for it to end while hiding in your hotel room!
Get yourself the Marmot PreCip rain jacket (there's a women's version and a men's version). I've used mine for years doing all sorts of activities, from biking to hiking and traveling.
And the best part about this jacket is that it keeps me dry when it rains without making me uncomfortably hot like other rain jackets due to the zippered arm-pits which provide ventilation.
External batteries
The Anker external battery pack is a travel must. While you can charge your phone while driving, you may want to charge other devices — a camera, a drone, portable speakers, an e-reader — as well.
Or if you notice your battery is running low while you're out hiking or sightseeing, you can just start charging right away without having to return to your car. It holds several charges on a single battery pack and will last days at a time.
Read Next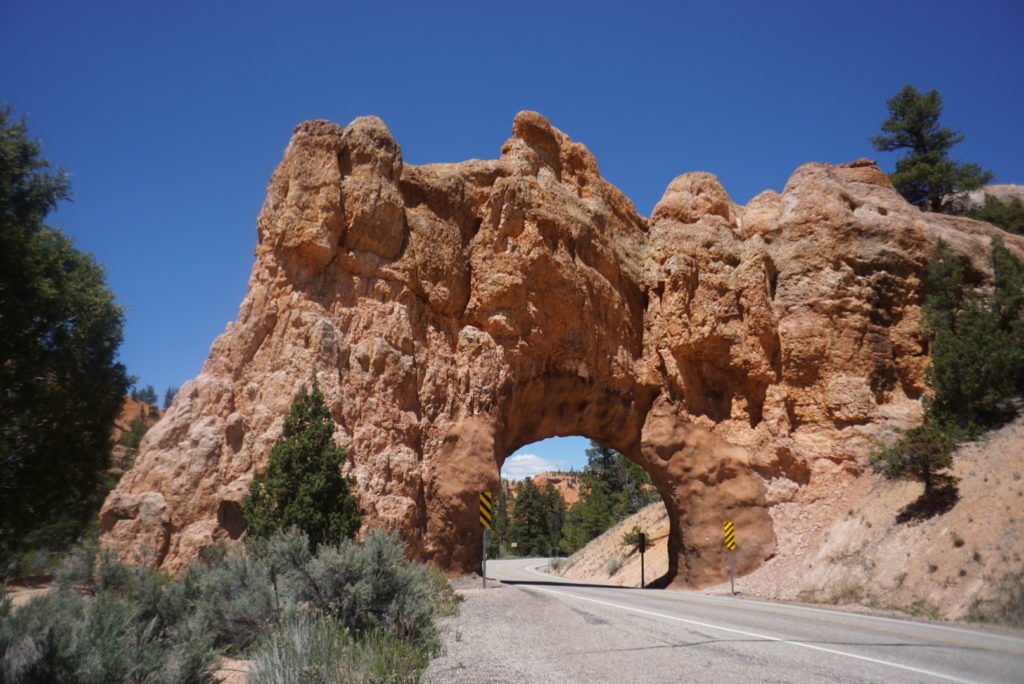 I have so many posts to help you plan an epic trip through the Southwest, from general packing guides to quotes to inspire your trip to detailed itineraries just like this one for neighboring states!
Protect your travel investment!

Travel insurance coverage helps you recoup your losses in case of emergency, accident, illness, or theft.

I rely on SafetyWing for coverage when it comes to trip interruptions and cancellations as well as accidents and medical emergencies.

It offers great rates starting around $12/week with clear, easy-to-read coverage.
Here are my suggestions for where to go next.
What to Pack for a Road Trip: The Ultimate Road Trip Packing List
Road Trip Quotes: The Best Road Trip Quotes & Instagram Captions
Arizona Road Trip: The Perfect 7 Day Arizona Road Trip Itinerary
Southwest USA Road Trip (Nevada, Arizona, & Utah): The Ultimate Southwest Road Trip Itinerary for 10-14 Days
Idaho Road Trip: The Best Idaho Road Trip Itinerary
Montana Road Trip: The Perfect 10 Day Montana Road Trip Itinerary
Sabra is an adventure-hungry outdoor enthusiast originally from Dallas, Texas. She has been to 33 states, 3 countries, and has traveled America while living out of the back of her truck. Besides writing, Sabra can be found powerlifting, running her online personal training business, and enjoying time with friends and family.