With a host of mountain trails, trout streams, and downtown art scenes, a Montana road trip should be next up on your USA bucket list.
The state is home to several national parks, including Bighorn Canyon National Recreation Area and Glacier National Park.
This road trip also offers drivable access to the northern entrance of Yellowstone National Park in neighboring Wyoming should you want to extend your trip to be both a Montana and Wyoming road trip!
Are you ready for one of the best road trips in the USA? Let's get going: here's all you need to know to plan the best Montana road trip.
PLANNING FOR MONTANA AT A GLANCE: 

When to Go: There is no doubt you can visit Montana any time of the year but if your road trip involves visiting Glacier National Park (which it should as it's one of the state's highlights), then the best time to visit is in summer. This is because most roads and lodges in Glacier National Park close in winter due to snow and it doesn't make sense to visit Montana and skip GNP.

Where to Stay: For this itinerary, you'll have sleepovers in Billings, Bozeman, Bigsky& Yellowstone, Missoula, and Whitefish & Glacier National Park.

For your first sleepover in Billings, I recommend staying at Northern Hotel, a charming historic hotel with a touch of luxury. And while in Bozeman, I recommend staying at Kimpton Armory Hotel, a chic boutique hotel.

Missoula might not be a popular overnight stay area but if it makes sense for your road trip, then you can spend the night at Blossom's Bed & Breakfast.

And for your adventures in Whitefish & Glacier National Park, I recommend staying at The FarmHouse Inn, a quaint B&B or Firebrand Hotel if you want to stay in the middle of everything.

How to Get Around: You're definitely going to need a car while road tripping Montana otherwise you'll have to spend a lot of money on private tours. In that case, you can compare car rentals and prices from here if you don't know where to rent one from.  Alternately, you can rent an RV or campervan via RVShare and save on accommodations. 

Best Activities: Don't want to drive or plan? Booking a few different activities can help you eliminate the need for driving around. You can book a Bighorn Canyon cruise, whitewater rafting experience, or river floating experience in Glacier National Park, or this 2-day Yellowstone guided tour if you choose to extend your Montana road trip to Wyoming. 

3 Things Not to Forget to Pack:  A sturdy pair of hiking boots will serve you well -- I love my Ahnu boots. A dual purpose phone mount and charger will come in very handy and you'll be happy to have a roadside emergency kit should your car break down while road tripping.
Road trip pro tip: Purchase an annual pass (AKA the America the Beautiful Pass) to save money on the entrance fees for the multiple locations in this itinerary run by the NPS!
How this Montana Road Trip Itinerary Works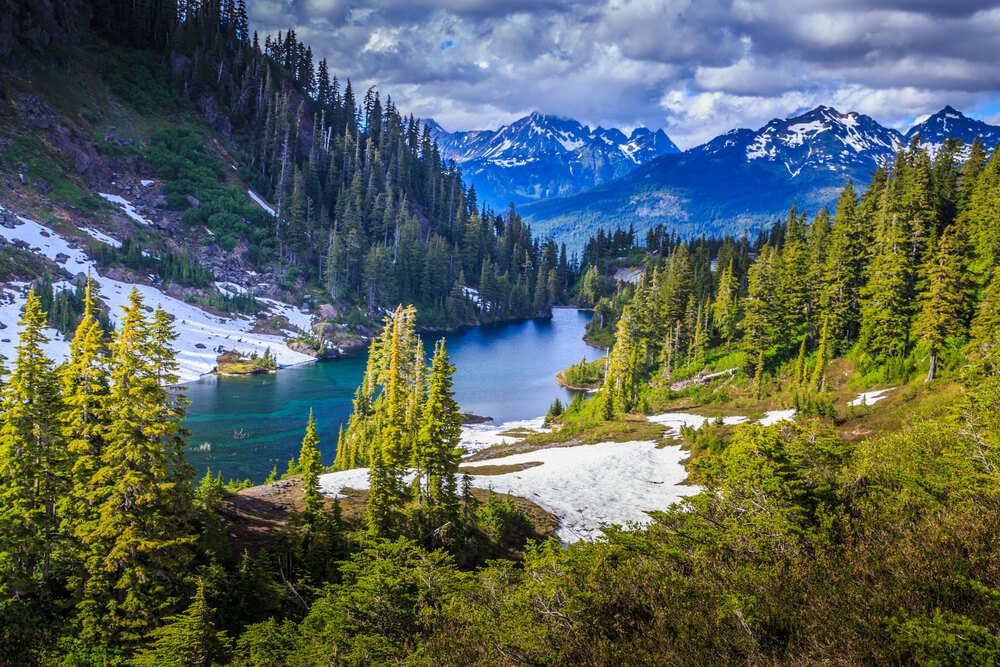 Note: This post contains affiliate links, which means I may receive a small commission if you purchase something through one of these links. Thank you for supporting the free content on this site! For more information on affiliate links and cookies, see my disclosure page for more details.
This Montana road trip is designed for people who don't mind a few longer days of driving, but are truly all about the sights and hikes that this beautiful state has to offer!
Personally, I don't like staying in a new place every single night, so I try to break the itinerary up a bit so that you have a few multi-night stays — typically 2 nights, occasionally 1 night or 3 nights in the case of Glacier National Park and Whitefish at the end.
Breaking up this Montana road trip with longer overnight stays in a place helps you get to really know each destination on this trip rather than just passing through in a car as fast as possible and ticking off the "main sights", as many other road trips have you do!
I want this road trip through Montana (and Wyoming, if you wish!) to mix as much sightseeing as possible with a leisurely pace… so you don't end up needing a vacation from your vacation!
There are a few places on this Montana road trip where you can "choose your own adventure" so to speak. When you stay in Big Sky, I give you the option to make a side trip to Yellowstone National Park. And of course, you could also visit Grand Teton National Park while you're in Yellowstone, and extend the stay a little there, making this more of a 2 week Montana road trip than a 10 day one.
However, since you probably got here by searching for "Montana road trip", this post is going to focus on the best places to stop on a road trip through Montana. However, I will note when a quick side trip or detour into another state would be a good idea, in case you are hoping to visit a bit of Wyoming as well on this road trip!
The Best Time of Year for a Montana Road Trip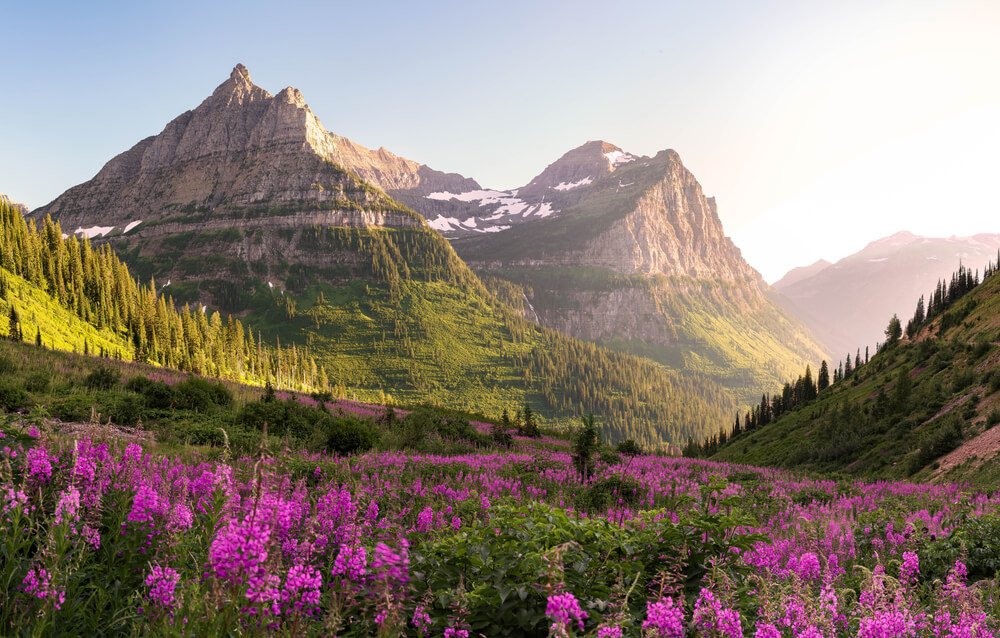 Let me start off by saying that while the best time to visit Montana is really any time, the best time to road trip Montana is a little different: especially if you have Glacier National Park on your Montana itinerary!
While of course, you can visit Glacier National Park in the winter (and it's beautiful and worthwhile!), many of the roads are closed which makes the whole 'road tripping' part a little more complicated.
Due to the high elevation of Glacier National Park (the highest part of the park, Logan Pass, is located at 6,646 feet above sea level!) and northern location near the border of Canada, heavy snow sets in rather early in Glacier National Park.
As a result, this road trip through Montana is at its best in the middle of the summer: think July or August.
This is when you'll enjoy the best weather with a limited impact of snow (though a few trails in Glacier National Park may still have some patches of snow — it is Glacier National Park, after all!).
Early September is also a good time to visit Montana. There is no fixed date to when the roads and lodges close, but the later you get into September, the more you risk not being able to see as much of the park as you wish.
So, for that reason, I'd say late August is perhaps the best time to start this 10 day Montana road trip: that way, you end up in Glacier National Park right at the beginning of September, with little chance of closures interrupting your road trip plan.
Flying Into Montana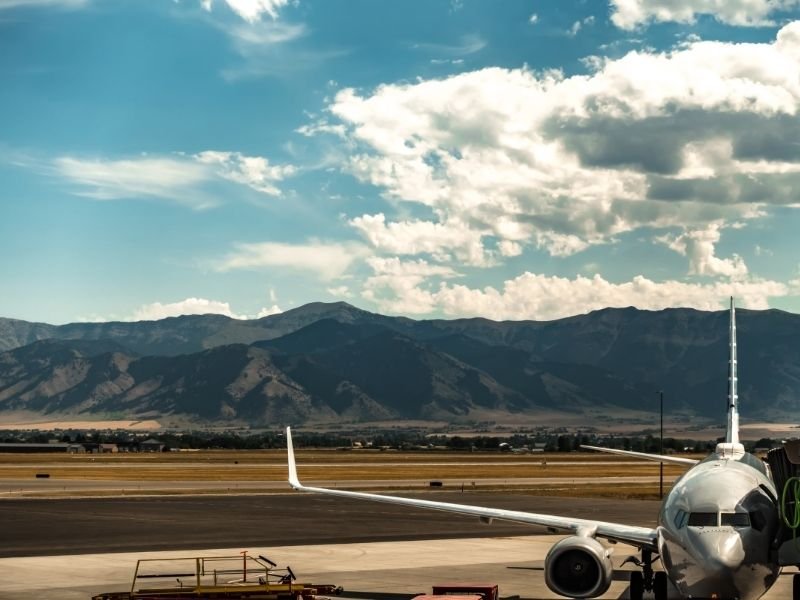 Flights are typically best through Billings or Bozeman. However, Missoula and Kalispell are worth looking into.
Booking one-way flights from different cities versus a roundtrip might make sense if you need to save some time on the road. The state is large and there is a lot of ground to cover!
Year-round flights into Billings are offered from larger hubs including Denver, Salt Lake City, Seattle, Las Vegas, Dallas and Phoenix.
Chances are you one layover away from the start of your trip. Seasonal direct flights are also available from Chicago and LAX.
We'll assume you are flying into Billings for this Montana road trip itinerary as it is the most common arrival hub, but you may need to reorganize this itinerary if that is not the case.
Luckily, this Montana road trip goes in a circle once you leave Billings, so it's pretty easy to adapt to your needs if your flight booking means you need to rejig the itinerary.
If you're not flying into Billings, you may decide to skip it, as it's a bit out of the way compared to the rest of the itinerary, and spend more time along the loop we detail in days 3-8 of these 10 days in Montana itinerary.
Renting a Car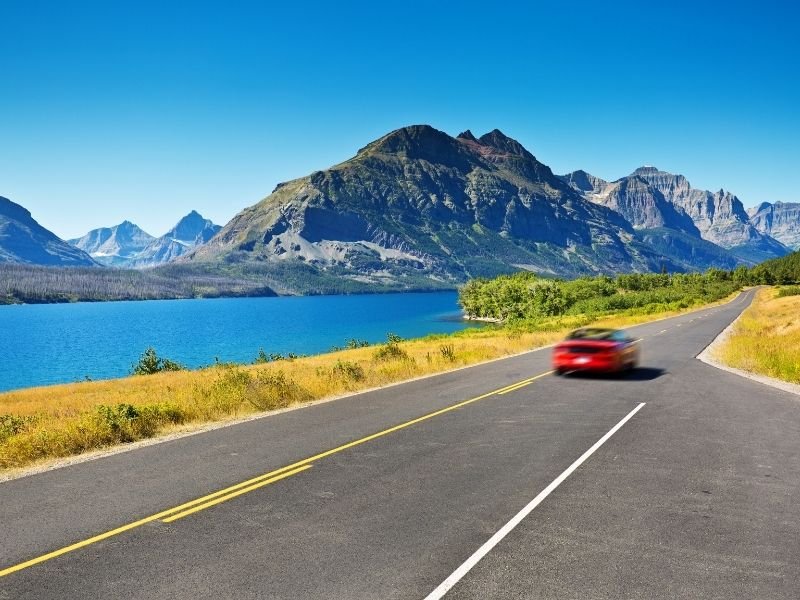 If you're flying into Montana for a road trip, you're definitely going to need a car!
The best prices can be found by picking up and dropping off at the same pickup point, which will likely be Billings.
Keep in mind, though, that this means a 6-hour straight drive from the last point on this 10 day Montana road trip itinerary, Glacier National Park, back to Billings.
If that sounds tiring to you, you may want to look into one-way rentals between Billings and Kalispell, the nearest airport to Glacier National Park. It will almost certainly cost more, but it may be a whole lot more convenient.
Not sure where to get the best deal on your rental? I've rented cars dozens of times through various search engines and have settled on Discover Cars as the best site to rent with in the USA – it searches dozens of rental companies to find the cheapest price for your rental! Compare car rentals for your trip here!
Montana Road Trip Map
Day 1-2 of Your Montana Road Trip: Billings
Welcome to Billings!
Since you'll be driving a lot on this Montana road trip itinerary, we'll get you out onto the hiking trails to stretch your legs as much as possible between each Montana road trip stop.
Take a Hike
From Billings, several day hikes are within a quick drive from downtown. Moderate hikes include Phipps Park and Skyline Trails — pick one or the other to start your Montana itinerary.
The Skyline Trail
If you want to hit the trails pretty much as soon as you hit the road, about a 5-7 minute drive west from Billings Logan airport is the Skyline Trail. It is an easy 1.7-mile loop around the ridge of Zimmerman Park.
With sweeping views of the city below (and Bighorn, Pryor, and Beartooth Mountains in the distance) it's a quick way to get your directional bearings before further exploring Billings. The trail is rated as easy, but take good hiking shoes and be prepared for a slight scramble.
City partnerships are currently in the fundraising process to build out a paved multi-use Skyline Trail extending for 7 miles between Zimmerman and Swords Parks.
Check in on the trail status before your trip, as you might be able to tack on a longer bike ride as trail sections are completed!
The Phipps Park Trail
Clocking in at a slightly longer 2.5-mile loop, Phipps Park Trail is located farther west from town and offers similar views of Billings. The trailhead parking is just past the Yellowstone Country Club off Rimrock Road and about 20 minutes or 10 miles from downtown.
Most of the trail's 450 foot elevation gain is tackled in the first mile, and the shared trail is also good for running and mountain biking. If walking, plan for about 1.5 hours.
Bighorn Canyon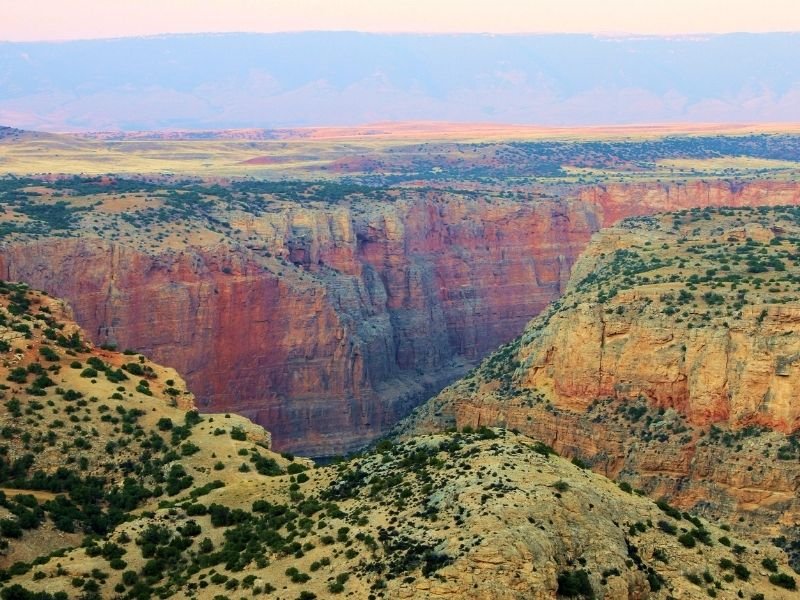 For longer, more difficult hikes head to Bighorn Canyon for the day. Located 1.5 hours from Billings, the national recreation area is a great spot for hiking around, or watersports on, Bighorn Lake.
The lake extends nearly 60 miles from Montana into Wyoming with the majority of the area in the Bighorn Canyon. The area is vast, over 70,000 acres, so checking in at the Fort Smith Visitor Center will give you the best information for the day.
One of the best ways to explore Bighorn Canyon without the hike is by taking a two-hour scenic boat tour of the canyon, learning about America's third-largest canyon and its importance to the Native American people who have lived in this area for centuries, narrated by an expert guide.
You can also try your hand at fly fishing below the Yellowtail Dam or hit trail sections like Sullivan's Knob Trail (easy at 0.8 miles), Upper Layout Creek (moderate at 1.8 mile), or Medicine Creek and South Pasture Loop (hard at 11.6 miles).
Check Into Your Hotel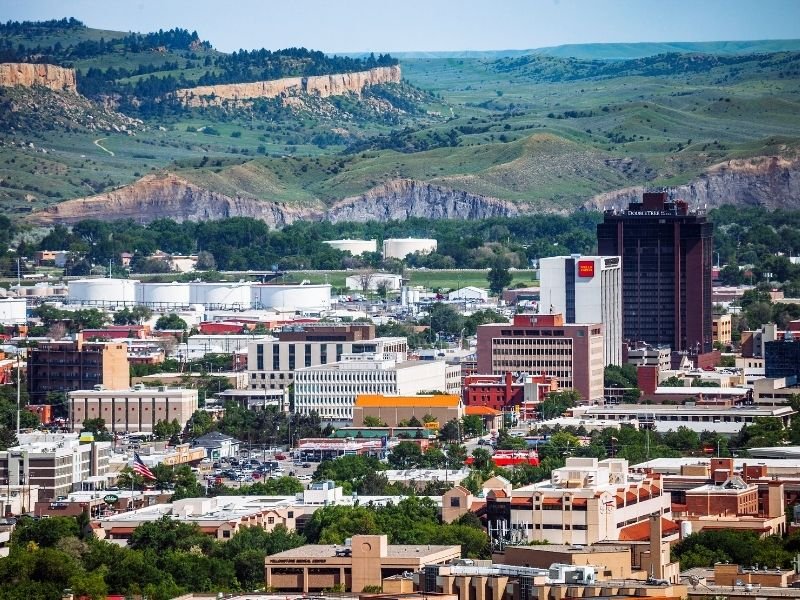 Since this Montana road trip itinerary places you in Billings overnight, we recommend you check into the Northern Hotel.
Dubbed as "unpretentious historic luxury", the Northern's renovated guest rooms feature warm, contemporary interiors, and a central location to the best drink and fare downtown.
Though the hotel's restaurants serve up good food, plan to branch out and explore for dinner instead — the dining scene in Billings is too good to miss!
>>> Book a room at the Northern <<<
Enjoy the Brews
A benefit of staying downtown is walking from your hotel straight onto the Billings Brew Trail, Montana's only walkable brewery trail.
The 1.5-mile self-guided tour covers the heart of historic downtown while mixing your choice of six breweries, two distilleries, and one cider house.
Favorites include Uberbrew and Montana Brewing Company, the state's first brew pub.
Day 3-4 of your Montana Road Trip: Bozeman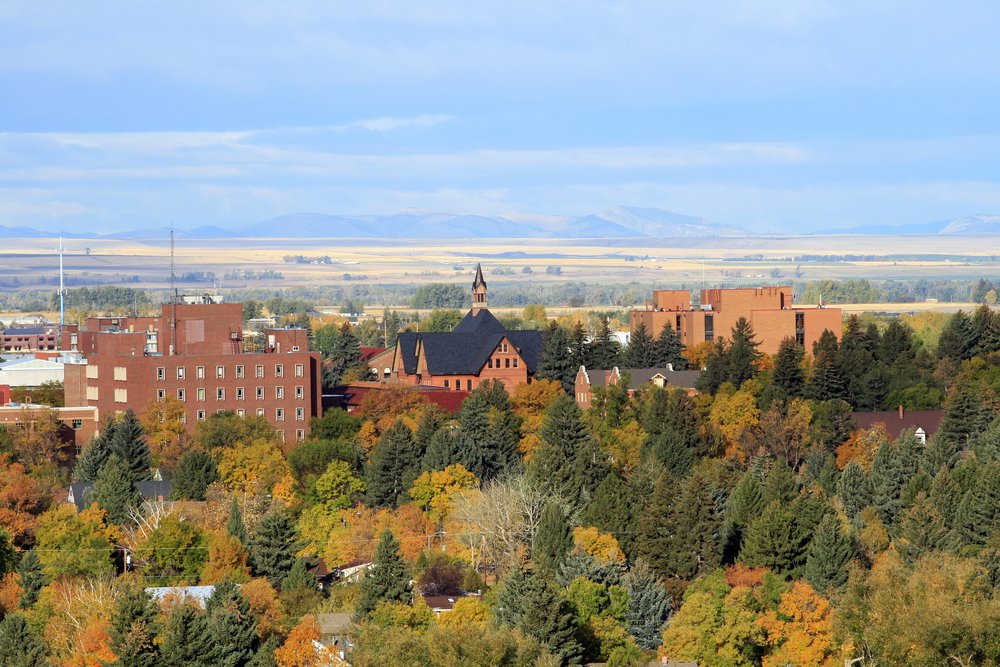 Bozeman will be your next stop from Billings.
At 2 hours due west on I-90, Bozeman has a college town vibe with growing art, music, and food scenes. It also serves as a launching point to the Gallatin River and Big Sky.
Whether passing through or staying the night, the best restaurants are centrally located downtown near the Montana State University campus.
I also have a full guide to visiting Bozeman in case you need more inspiration!
Check Into Your Digs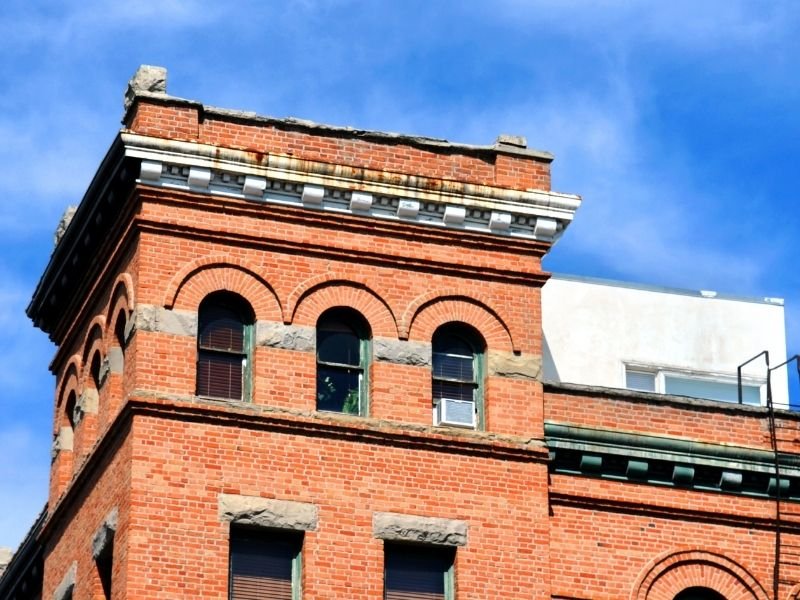 There are several chain hotel options to choose from, but your best lodging choice is the Kimpton Armory.
The Kimpton Armory Hotel has been renovated from its National Guard roots to restore its Art Deco design and new, comfy communal spaces set it apart from bland chain hotels in Bozeman.
It's a lovely chic and central place to stay the night in Bozeman!
>> Book a room at the Kimpton Armory on Booking.com | Book it on Hotels.com <<
If you're on a budget, Airbnb is your best bet.
Look for a location a few blocks north or south of W. Main Street. The neighborhoods here have a quaint, just-off-campus feel, with a short walk to the center of all Bozeman action.
Stroll the Downtown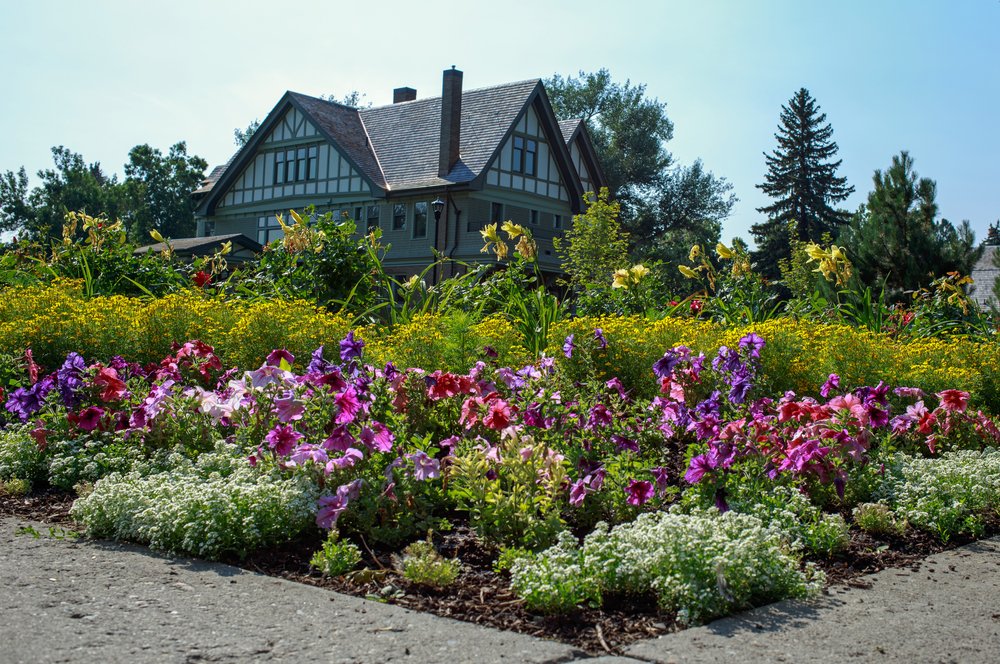 In fact, just strolling through the downtown and near campus neighborhoods is well worth it, especially with a cup of coffee.
Go-to coffee shops are Wild Joe's Coffee or Treeline Roasting Room. Lean towards Wild Joe's if you need some food alongside your latte.
Hit the Trails with a Picnic Lunch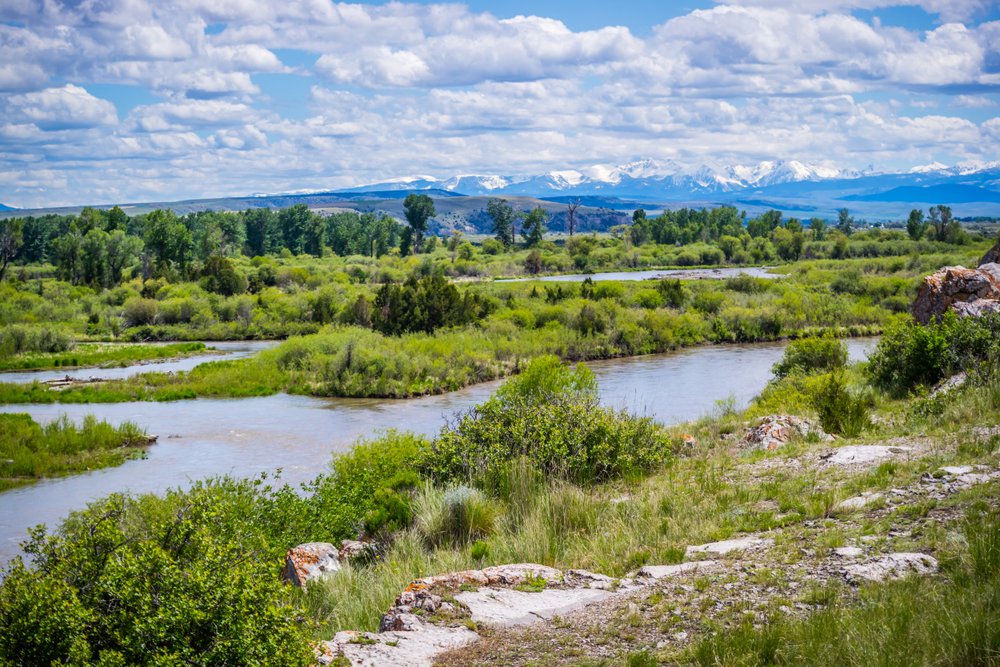 There are several hiking options near town, primarily to the north in the foothills of the Gallatin National Forest or south towards Big Sky.
Whichever direction you head, grab a lunch to go from the Bozeman Co-op. The local co-op grocer is near the above coffee stops on W. Main.
The Storm Castle Peak Trail
Storm Castle Peak Trail is located 25 miles south of Bozeman, with access from the Gallatin Road. This is the road that eventually leads into Big Sky so the peak hike is an easy stop on the way out of town.
Storm Castle is 4.6-mile out-and-back trail that rewards hikers with worthy views. Be prepared for an elevation gain of just under 2,000 feet, but with several accommodating and manageable switchbacks.
Bozeman Creek Trail
Also due south of Bozeman (but not on the way to Big Sky) is Bozeman Creek Trail. The 16-mile out-and-back trail is moderately rated with a turnaround point at Mystic Lake in the Custer Gallatin National Forest.
Elevation gain totals nearly 1,800 feet, and it is a popular dog-friendly trail. Despite the noted elevation gain, most visitors report the hike feels a bit steeper. Time your trip during wildflower season for the best experience!
Drinking Horse Mountain Trail & M Trail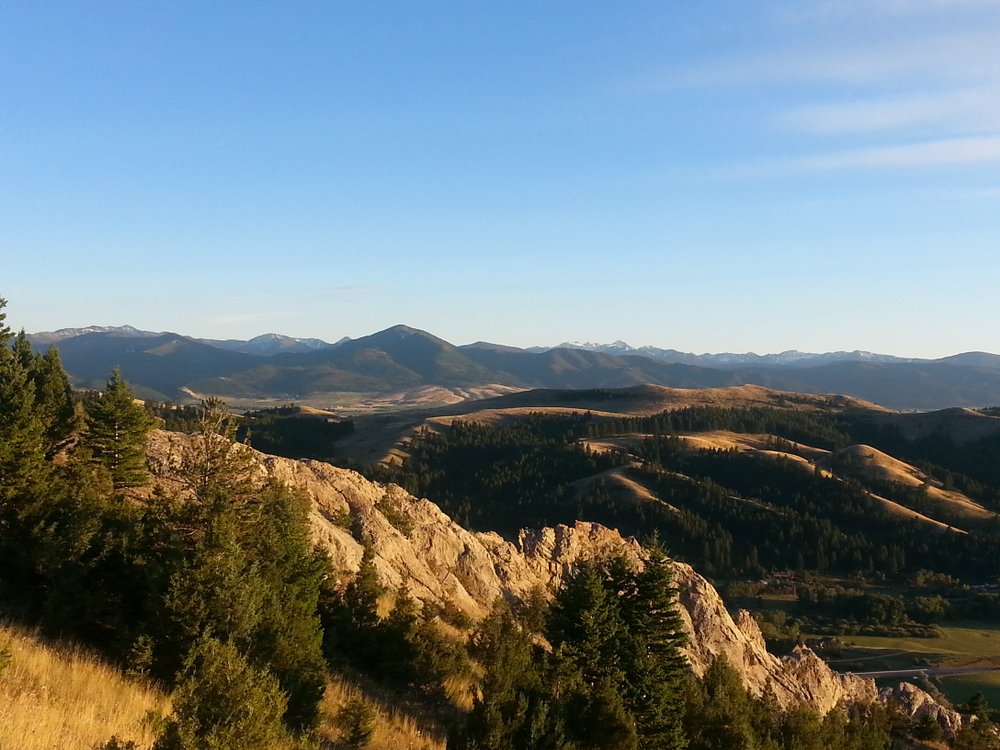 If wide open mountain meadow trails are more your cup of tea, plan to hike north of town off Highway 86.
There are two trailheads on U.S. Forest Service land near Drinking Horse Mountain. The first, Drinking Horse Mountain Trail, is a short, but steep, 2.1-mile loop best tackled from May through September. Most hikers suggest going counterclockwise.
The second trailhead, located just across Highway 86, is for M Trail, a slightly shorter moderate climb with less elevation gain and views of the valley, city, and mountains to the south.
Enjoy the Culture
Circle back to Bozeman post-hike for music, arts, and dinner. Once again, downtown on W. Main Street is where you should start and stick around.
Several galleries are located on W. Main or one block off, between S. Rouse and N. 3rd Avenue including Visions West Contemporary, Altitude Gallery, and Thomas Nygard Gallery.
Keep an eye out for dinner spots while you gallery hop. South 9th Bistro and Dave's Sushi are two of the author's favorites.
Listen to Live Music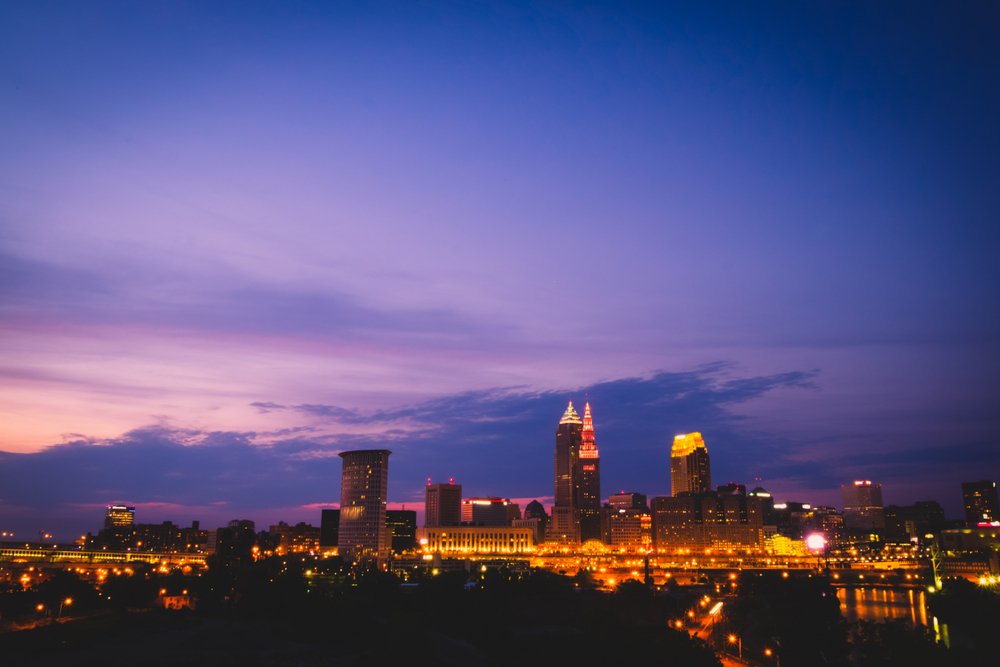 There will likely be a live-music option following dinner if you continue your exploration of W. Main Street. Try Haufbrau House, Rialto, and Live from the Divide (Northeast of Main on Peach Street) for current shows.
One great benefit of a college town is there is likely a good music option regardless of the night of the week!
Day 4-6 of Your Montana Road Trip: Big Sky & Yellowstone
Your next Montana road trip stop, Big Sky, is an hour south of Bozeman along the stunning Gallatin River.
The wide-open views surrounding Bozeman quickly narrow to continuous steep-sided gorge which winds for about 30 miles along Gallatin Road.
There are several U.S. Forest Service designated camping sites, as well as turnoffs for perfect fly fishing spots, if you wish to extend your trip up Gallatin Road awhile longer.
Get Oriented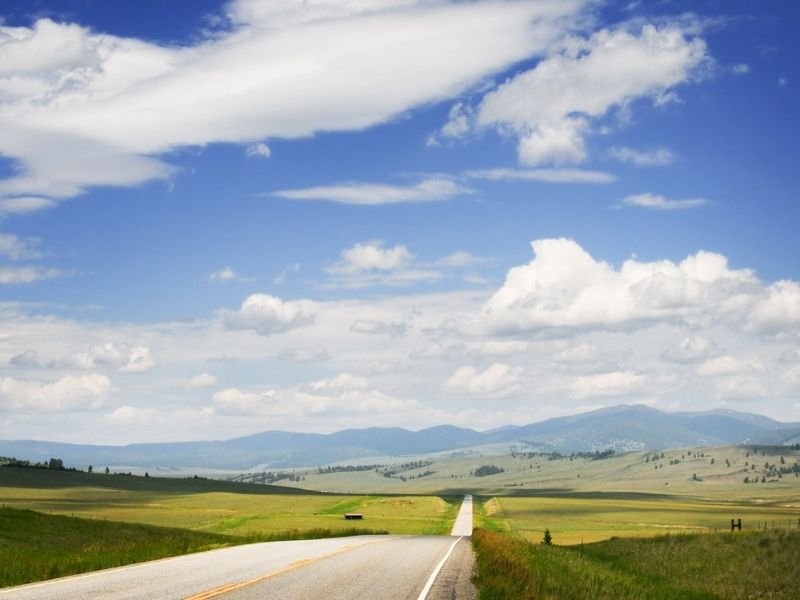 Big Sky, MT comprises of a base village called Town Center and an upper mountain village connected by a steep 8 mile stretch of road.
In-town transportation is easy as the community boasts a reliable public bus route, complete with bike racks. Be sure to check the current schedule as route times change between seasons.
Relying on bus transportation makes it easy to get into town or up to the resort village and puts less pressure on deciding beforehand which part of town to stay.
The majority of restaurants and shops, including flyfishing and mountain biking outfitters, are located in Town Center. Particularly during summer months, not much will be open at the upper mountain village.
Go for a Mountain Bike Ride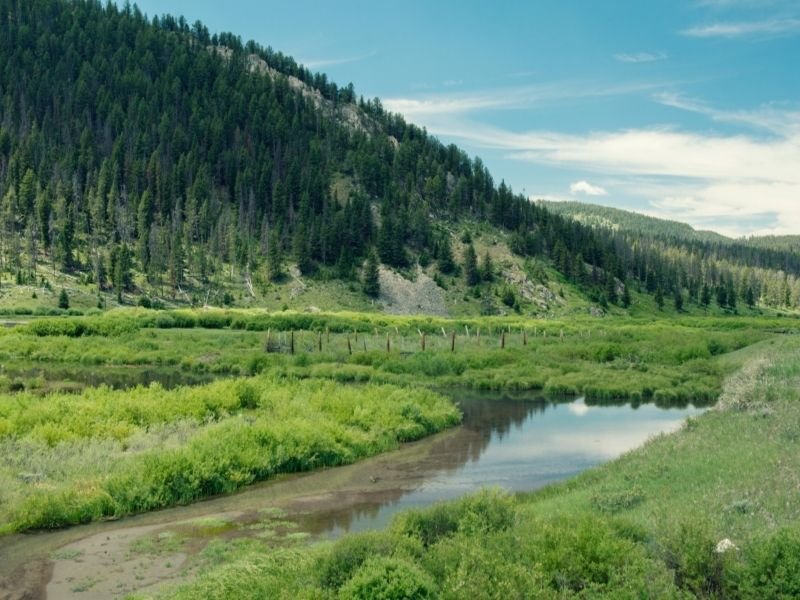 Big Sky is the best spot on this Montana road trip for mountain biking at any experience level!
For beginners to intermediate bikers, check out the Mountain to Meadows Trail. The entrance begins at the resort base (upper mountain) near the Ramcharger Chairlift.
A short 10-minute uphill climb is rewarded with a downhill trail for the remainder of the 5-mile ride. The trail averages 7% grade with a max 35% grade.
The trail ends right behind Gallatin Alpine Sports in Town Center which happens to offer very reasonable daily and weekly bike rentals!
Soothe Your Muscles
New mountain bikers will soon realize a host of ignored muscle groups are used during a ride.
If a yoga session or massage is in order stop, by Santosha Wellness Center in Town Center.
The studio offers a host of vinyasa and ashtanga classes as well as massage methods ranging from Swedish to Cranio-Sacral to Reflexology.
Grab a Bite to Eat
By now you've probably worked up quite an appetite — luckily, several delicious eateries can also be found in Town Center.
Favorites include Lotus Pad (Thai), Pinky G's (Pizzeria), Hungry Moose (Market and Deli), and Blue Moon Bakery.
Hit the Hiking Trails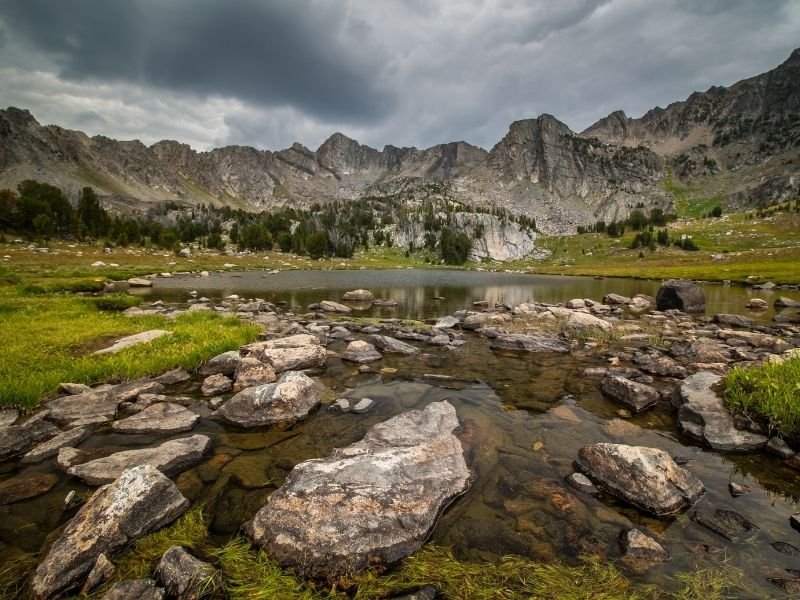 Apart from a range of mountain biking trails, Big Sky is also host to several fabulous hiking trails. Two popular outings are Beehive Basin and Cinnamon Mountain.
Beehive Basin
Beehive Basin clocks in at 7.1 miles out-and-back and has great views of Lone Mountain (which towers over Big Sky resort).
It includes stops at alpine lakes before the return trek to a convenient parking lot.
Cinnamon Mountain
Cinnamon Mountain is a moderate 8-mile out-and-back trail through a denser pine forest.
Both trails can be muddy after heavy rains and also hold snow in shadier spots, so plan around the weather.
Both hikes entail a consistent, steady climb and easy descent, so they're great for less experienced hikers.
Take a Day Trip to Yellowstone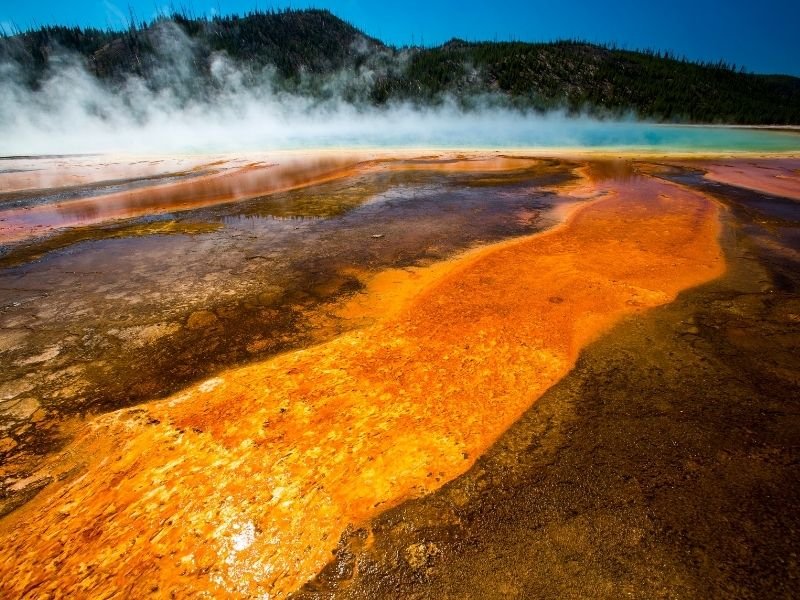 If time for a detour is allotted, a good Montana road trip addition is a drive to Yellowstone National Park.
It's a one-hour drive from Big Sky to West Yellowstone, which you can use as a jumping-off point for all Yellowstone adventures.
Important Note: If you are visiting Yellowstone in winter, road access is seriously restricted, so you will have to plan for snowcoach transport. Learn more on my guide to visiting Yellowstone in winter.
Day 7 of Your Montana Road Trip: Missoula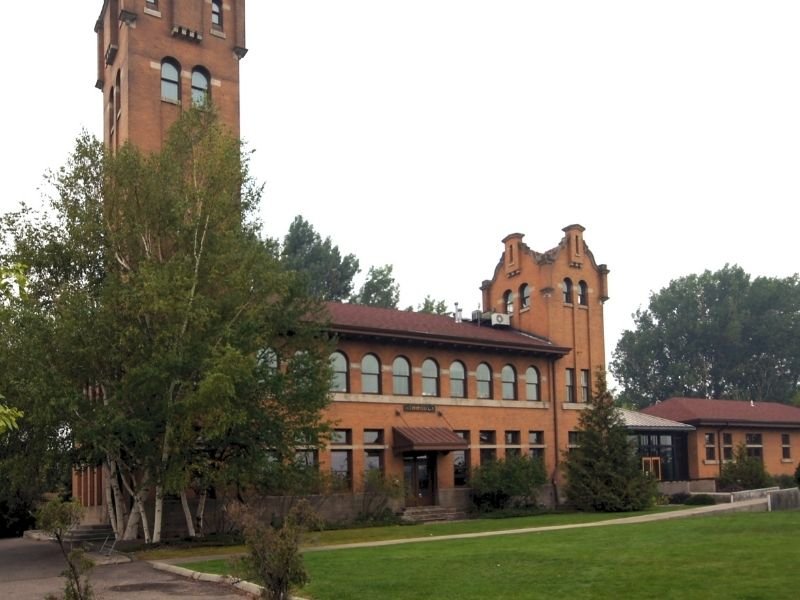 From Big Sky, continue your road trip in Montana towards Missoula.
On this particular Montana road trip itinerary, the city is the ideal afternoon stopping point before heading north to Whitefish and Glacier National Park.
You can stop just for lunch if you're short on time, but we recommend staying the night.
Missoula is home to the University of Montana and, because of the connection, has a vibrant near-campus Main Street similar to that in Bozeman.
Grab a Lunch or a Hike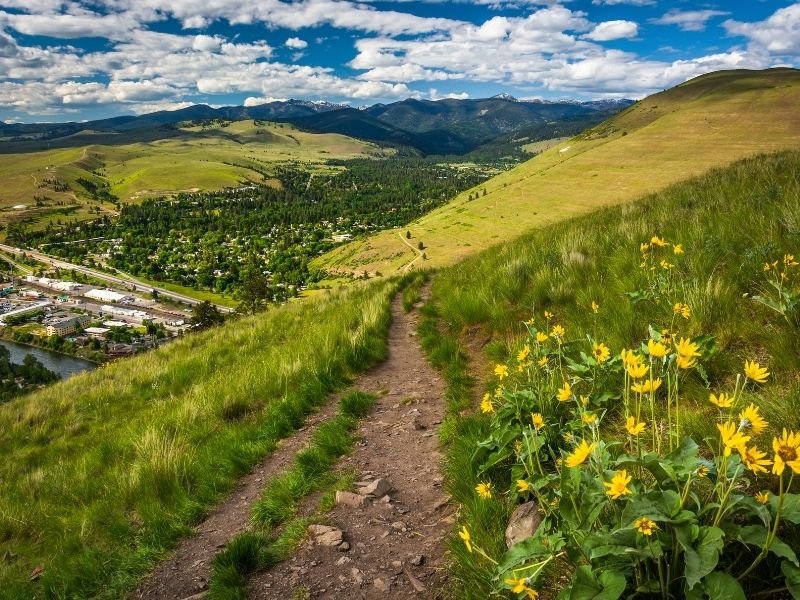 Take in a long lunch downtown or pack a to-go snack for a quick hike before continuing on to Whitefish.
If you choose the quick hike option, check out Hellgate Ridgeline on Mount Sentinel. The brief 3-mile out-and-back trail features views of the city, valley, and river.
With a trailhead conveniently located near the campus and downtown, the hike can be easily paired with a quick lunch.
The hike is steep and strenuous but not long. Make it up to the "M", a student-built Missoula landmark since 1908, or continue on for even better views.
Enjoy the Downtown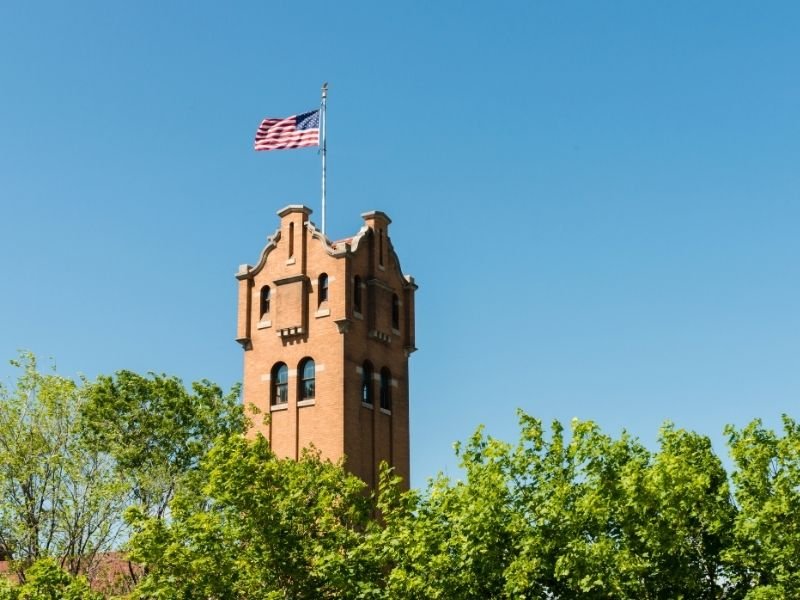 Missoula's downtown district follows the Clark Fork River and is teaming with unique restaurant options.
Many include outdoor seating with views of the riverfront. Hob Nob, Bernice's Bakery, Tamarack Brewing, Scotty's Table, Catalyst Café, and Biga Pizza should spark your interest.
While downtown, stretch your legs at Caras Park before getting back on I-90.
The park overlooks Brenan's Wave, Missoula's manmade wave installation in the Clark Fork River. It is an entertaining spot to watch surfers and kayakers take on a brief rapid.
Consider an Overnight Stay
If staying the night in Missoula makes sense on your personal itinerary, grab a room at the Blossom's Bed & Breakfast.
Blossom's B&B is in the Lower Rattlesnake Historic District near downtown. The comfortable rooms give you the sense you are staying at a friend's or family member's home.
"Wine down" on the porch with views of Mt. Jumbo. Amenities also include backyard games and guest bikes.
>>> Check out other Missoula hotels here <<<
Day 8-10 of Your Montana Road Trip: Whitefish & Glacier National Park
From Missoula, Whitefish and Glacier National Park are next up on this Montana itinerary, located within a 2.5-3 hour drive through the Flathead National Forest. Much of the drive is uneventful until reaching the shores of Flathead Lake.
The lake spans 27 miles and Highway 35, which follows the lake's eastern shore, passes several privately-owned cherry orchards.
Many of the orchards operate roadside cherry stands during high season which lasts from June through August.
Check Into Your Whitefish Digs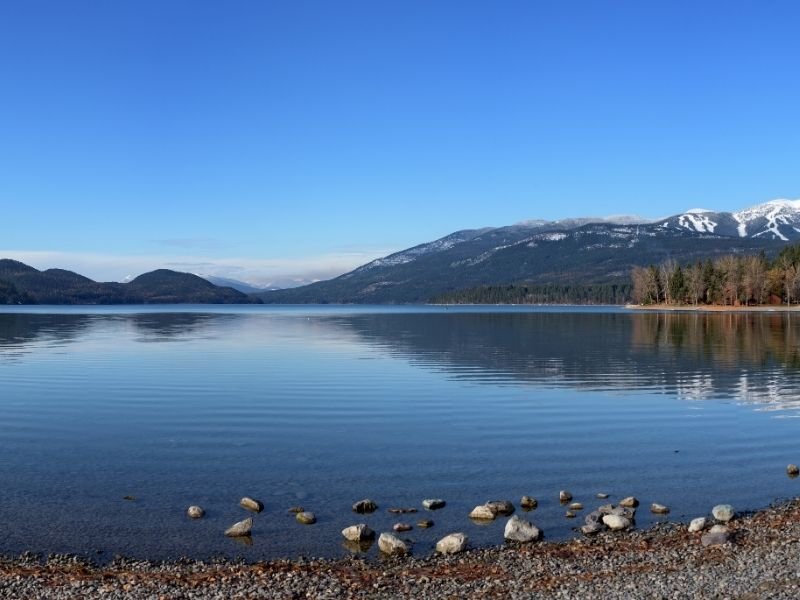 Whitefish is just 30 minutes north of Flathead Lake and your home base for all activities in and around Glacier National Park.
Whitefish is similar to Big Sky in that, while it may be more widely known for its ski resort and winter activities, the area doesn't lack for summer fun. The town itself is about a 15-minute drive from the resort by way of Whitefish Lake.
The best places to stay in downtown Whitefish include The Firebrand Hotel and The FarmHouse Inn and Kitchen.
On Lupfer Avenue, The FarmHouse Inn is a quaint B&B comprised of two guest rooms. One sleeps four and the other sleeps two.
It is centrally located and the onsite bakery and café churn out local farm to table meals and Czech pastries. This is your spot for gluten-free options and fresh-pressed juices. Hotel guests can also enjoy the backyard fire pit on cooler evenings.
>>> Book your stay at the FarmHouse Inn here <<<
The Firebrand Hotel sits right in the mix of downtown nightlife on the corner of E. Second Street and Spokane Avenue. The hotel's vibe mixes urban sophistication with a node to Montana's rugged Northwest.
Amenities include a rooftop patio and spa along with bicycle rentals in the summer months. The hotel also includes shuttle transportation to Amtrak and their sister property, the Lodge at Whitefish Lake.
>>> Book your stay at the Fireband Hotel here <<<
You may opt for the Lodge at Whitefish Lake if you prefer a quieter setting closer to the water.
The Lodge amenities include a lakeside pool, onsite yoga classes, and quick access to watersports and boat rentals from a private beach.
>>> Book your stay at the Lodge at Whitefish Lake here <<<
Grab a Bite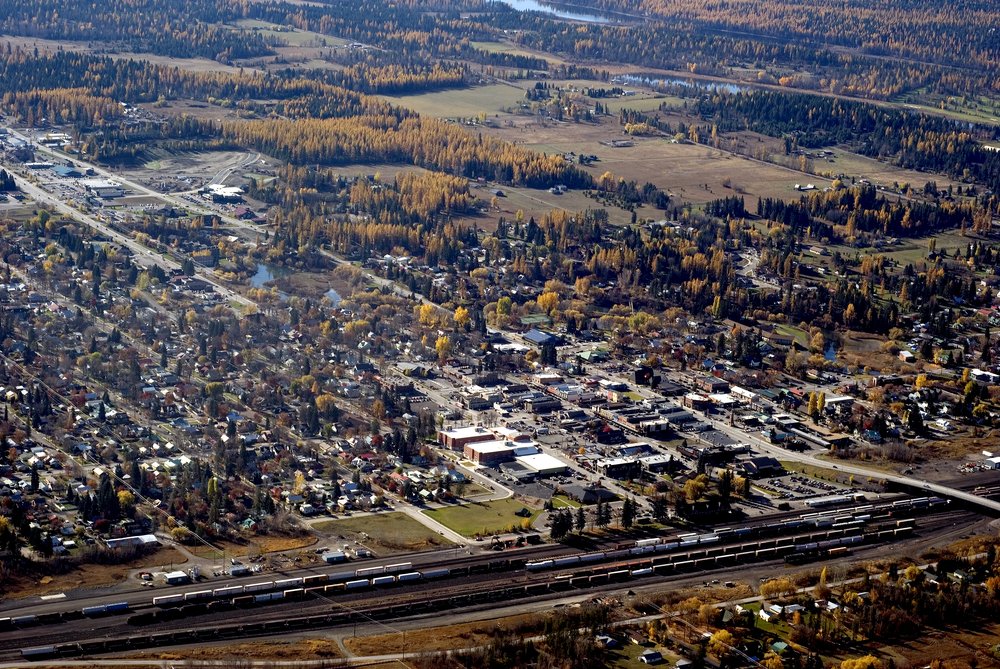 There are several great breakfast, lunch, and dinner options in Whitefish.
Local favorites include Wasabi Sushi Bar, Jersey Boys Pizzeria, Tupelo Grille, and Amazing Crepes.
Head to Glacier National Park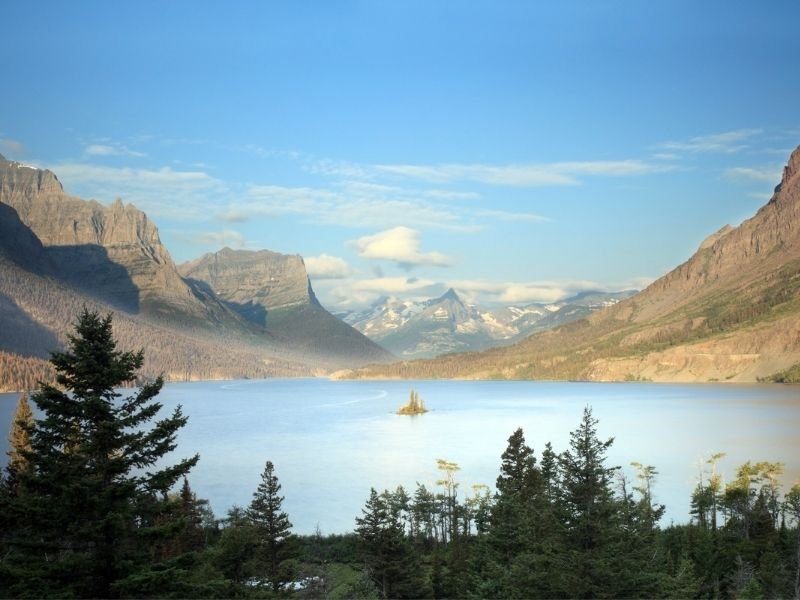 Whether staying lakeside or in town, access to Glacier National Park is an easy 35 minute drive to the Apgar Visitor Center.
Visitors are encouraged to avoid traffic and minimize impact to our collective natural resources by utilizing the park's free shuttle service.
Shuttles leave every 15 to 30 minutes from the Apgar Visitor Center and take visitors to all of the best park sites.
Shuttle stops from the Apgar side include Apgar Village, Center, and Campground, Sprague Creek Campground, Lake McDonald Lodge, Avalanche Creek, The Loop, and Logan Pass which serves as the transfer to the east side of the park.
Want more information on Glacier National Park? Read my two-day Glacier National Park itinerary which will lay out exactly how to have the perfect time there.
Go for an Adventurous – or Leisurely! – Rafting Trip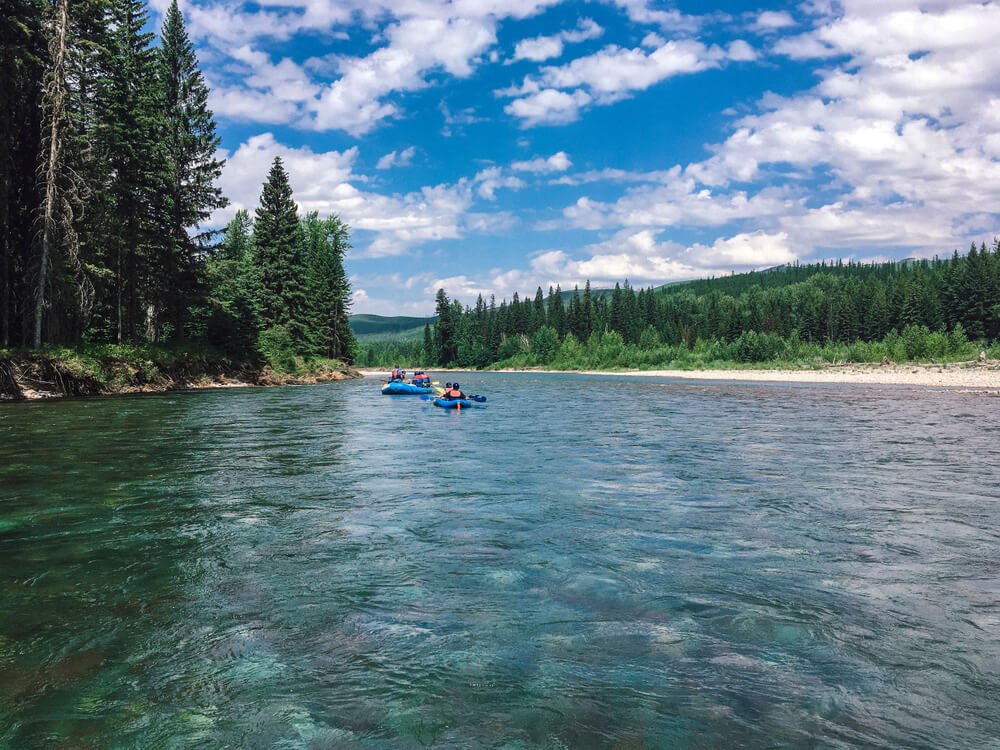 One of the most popular things to do in Glacier National Park in summer is to take a rafting trip on the scenic Middle Fork Flathead, which has fun whitewater rafting that's perfect for rafters looking for an easy to moderate level (class II and III) experience.
Of course, whitewater rafting isn't for everyone, and if you're in the mood for more sightseeing and relaxing rather than adrenaline-pumping, a lovely float trip on a calmer stretch of the Flathead River is a perfect option for you!
This is better suited for families of all ages, as whitewater rafting can be a little scary for younger kids.
Hit the Hiking Trails
Glacier National Park has 734 miles of hiking trails and something for all hiking levels, including day and overnight hikes.
Note that overnight hikes require reservations and park permits. Popular day hikes include the Highline Trail (11.4 miles), Avalanche Lake (4.6 miles) and Pitamakan Pass (15.4 miles).
The Highline Trail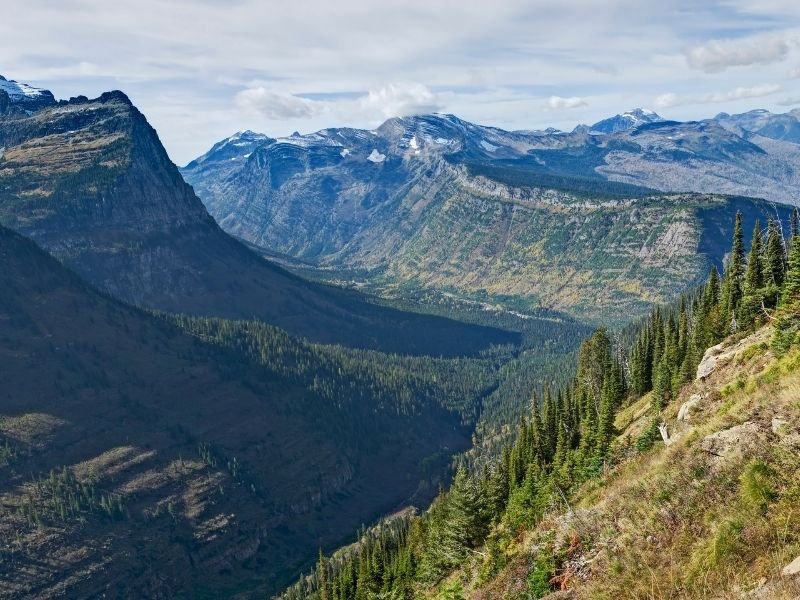 The Highline Trail features views of Logan Pass and includes some technical areas of hiking, some which come with the safety of a cable railing.
Highline is one of the best hikes for catching a variety of scenery as you will see alpine meadows, creeks, avalanche ridges, and portions of the Livingston Range. The hike can be made shorter by stopping at Haystack Butte.
However, hikers should press on for views of the Grinnell Glacier. The overlook area for the glacier sits on the Continental Divide. If you chose to bypass the park shuttle, you can still access the trailhead from the Logan Pass Visitor Center parking lot.
The Avalanche Lake Trail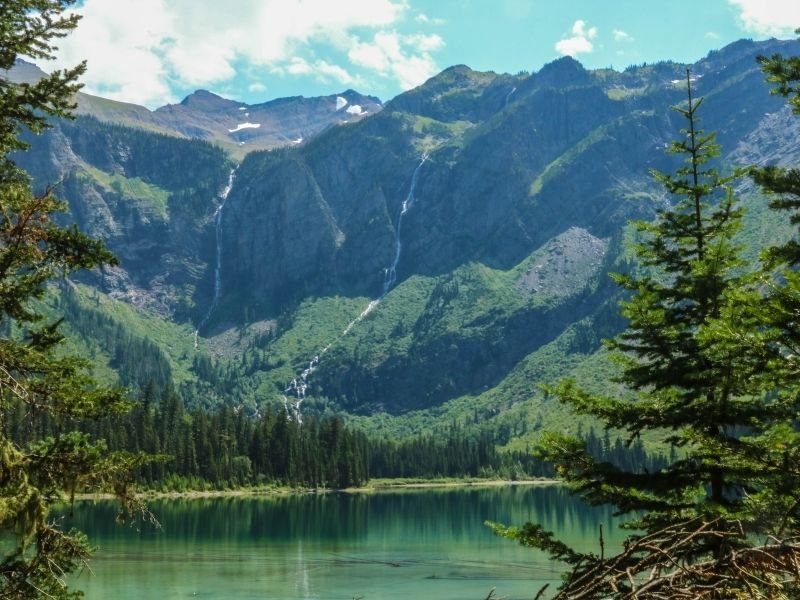 Avalanche Lake Trail is a shorter hike with equally breathtaking views. The trail follows Avalanche Creek until meeting with the alpine lake.
Views of waterfalls at the lake's far end can be seen from the trail. The total elevation gain is an easy 600 feet.
The Pitamaken Pass Trail
If you want to take on a longer hike, shoot for Pitamaken Pass Trail. The hike swaps between forested and meadow trails while passing by Oldman Lake, Sky Lake Waterfall, and finally Cut Bank Basin's alpine lakes.
You might even come upon bighorn sheep at higher elevations, especially nearing Bighorn Basin. The total elevation gain is a stout 3,300ft.
Trailhead access begins at the campground at Two Medicine by Pray Lake and is preferred as a counterclockwise route.
Grab A Set of Wheels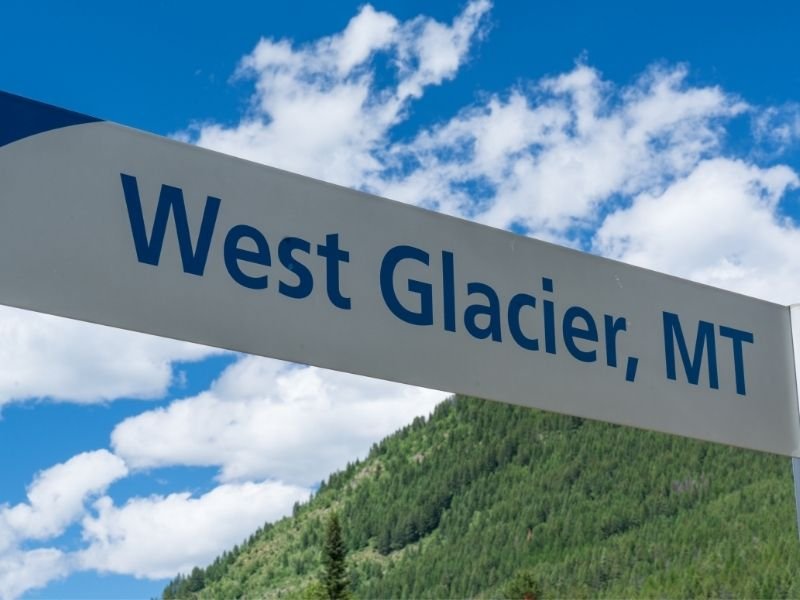 Another popular way to explore Glacier National Park is by bicycle.
Parking is available at Glacier Guides in West Glacier, MT where bike rentals are available.
From there, a 1.5 mile downhill trail takes you to the Apagar Visitor Center where trails continue within the park's boundary. Access to the park via bicycle is also half the cost of standard admission, so it's good for cost-conscious travelers!
Feeling a little intimidated to try biking in Glacier National Park all by yourself? This 6-hour guided cycling tour is a great way to see the park by bike without the stress of self-guiding.
Optional: Tackle Other Hiking Trails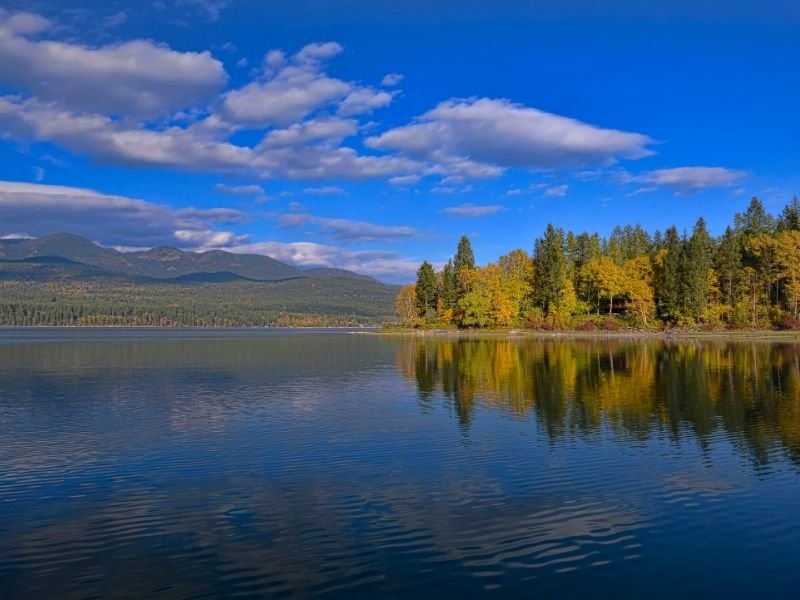 There are several hiking options outside the park boundary and closer to Whitefish.
Many of the best can be accessed in Whitefish Lake State Park near the Whitefish Mountain Resort base.
If you visit during the summer season, you might be able to jump on the gondola for a one-way trip.
From the resort base, try Journey Mountain (2.8 miles), Big Mountain via Summit Trail (16.1 miles), Danny on National Recreation Trail (7.2 miles), or Gray Wolf Ski Trail (17.9 miles).
Ending Your Montana Road Trip Itinerary: Kalispell or Back to Billings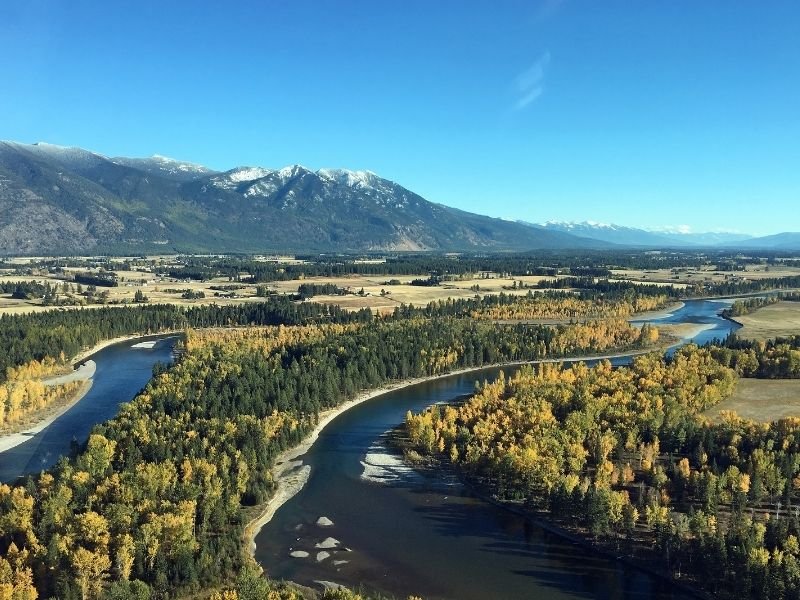 While some of the more frequent and better-priced flights are found out of Billings and Bozeman, it's worth checking options in and out of Kalispell.
The city and airport are just 22 minutes south of Whitefish, and you can often find cheap connections to Salt Lake City.
Do a bit of research on one-way rental prices, consider the time (it's a 6-hour drive back to Billings!), and check the best ways to get to and from Montana.
While we have covered some of the best places the state has to offer, Montana offers still offers so much to explore!
How to Extend This Montana Road Trip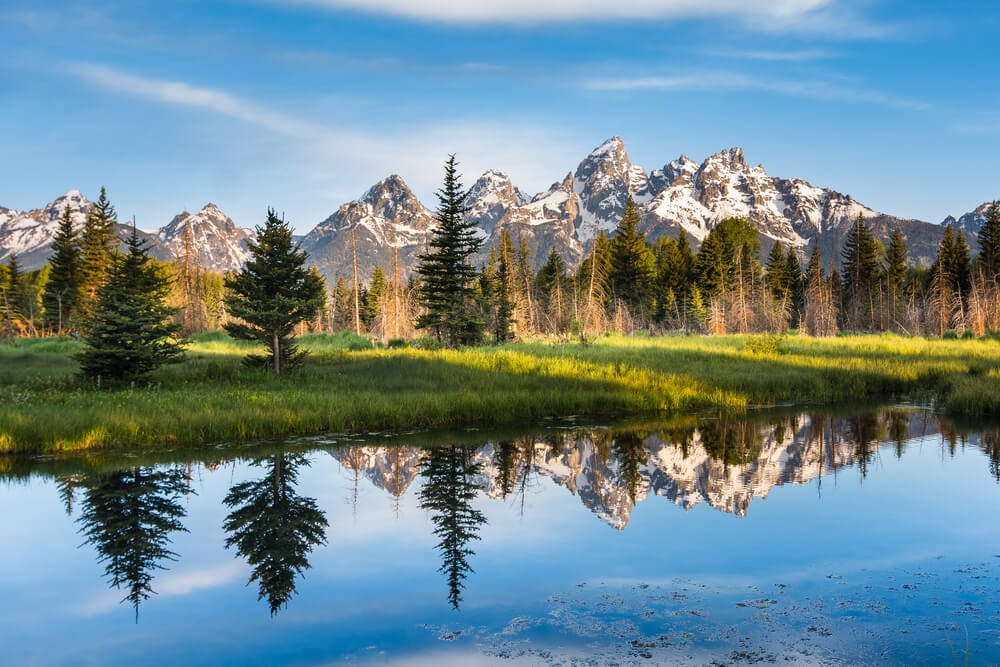 Of course, there are several ways to extend this Montana road trip in order to see even more of this gorgeous part of the United States!
The most natural addition to this Montana road trip is spending a few days exploring Yellowstone National Park and Grand Teton National Park.
From Big Sky, you can easily head down south to Yellowstone and spend some time in the park. I have a two day Yellowstone itinerary which you can simply insert into this Montana road trip itinerary between days 6 & 7!
If you want to extend your Wyoming explorations even further, overnight (or stay a couple days) in the Jackson Hole area, which is one of the prettiest parts of Wyoming and a perfect midway point between Yellowstone and your next stop, Grand Teton National Park.
I also have a two day Grand Teton National Park itinerary, which you can add after Yellowstone, before heading back up to Missoula. Just note that you may want to stop in Big Sky again on the way up, or you'll be in for a long driving day (6 hours point-to-point without stopping, traveling via Idaho).
10 Day Montana Road Trip Itinerary at a Glance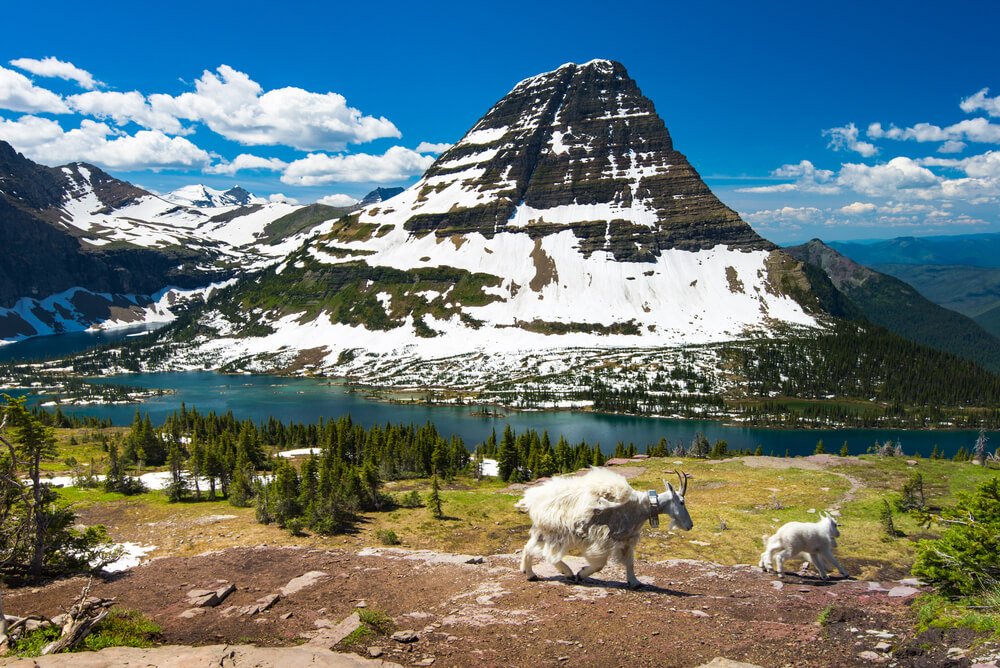 Day 1: Fly into Billings
Day 2: Billings
Day 3: Bozeman
Day 4: Bozeman
Day 5: Big Sky
Day 6: Big Sky (optional Yellowstone Day trip)
Day 7: Missoula
Day 8: Whitefish & Glacier NP
Day 9: Glacier NP
Day 10: Fly out of Kalispell or drive back to Billings
2 Week Montana and Wyoming Road Trip at a Glance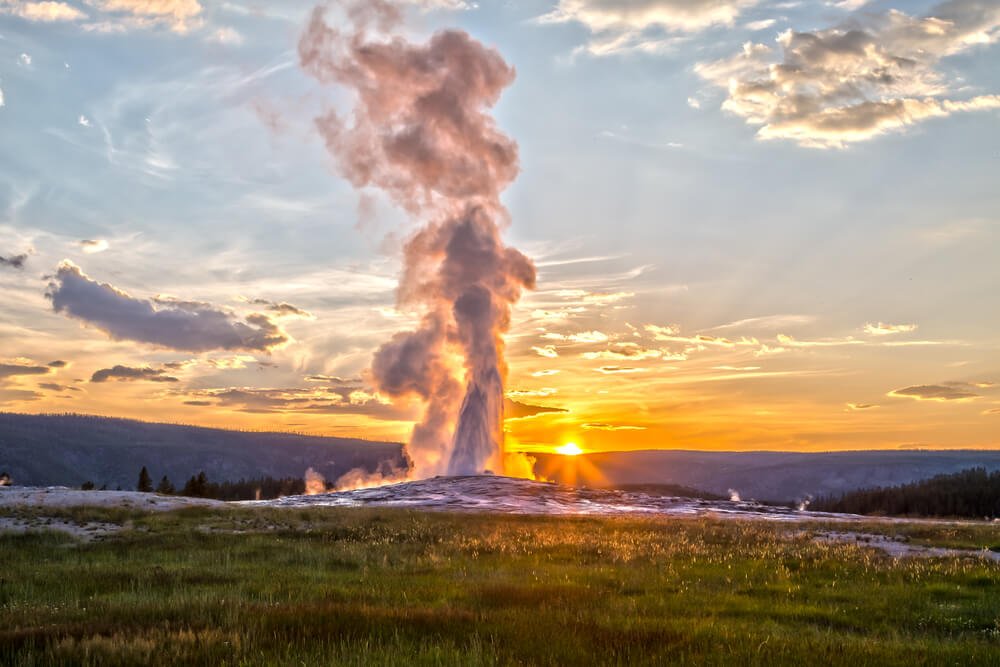 Day 1: Fly into Billings
Day 2: Billings
Day 3: Bozeman
Day 4: Bozeman
Day 5: Big Sky
Day 6: Yellowstone NP
Day 7: Yellowstone NP
Day 8: Grand Teton NP
Day 9: Grand Teton NP
Day 10: Missoula
Day 11: Whitefish & Glacier NP
Day 12: Glacier NP
Day 13: Glacier NP
Day 14: Fly from Kalispell or return your car in Billings
What to Pack for a Montana Road Trip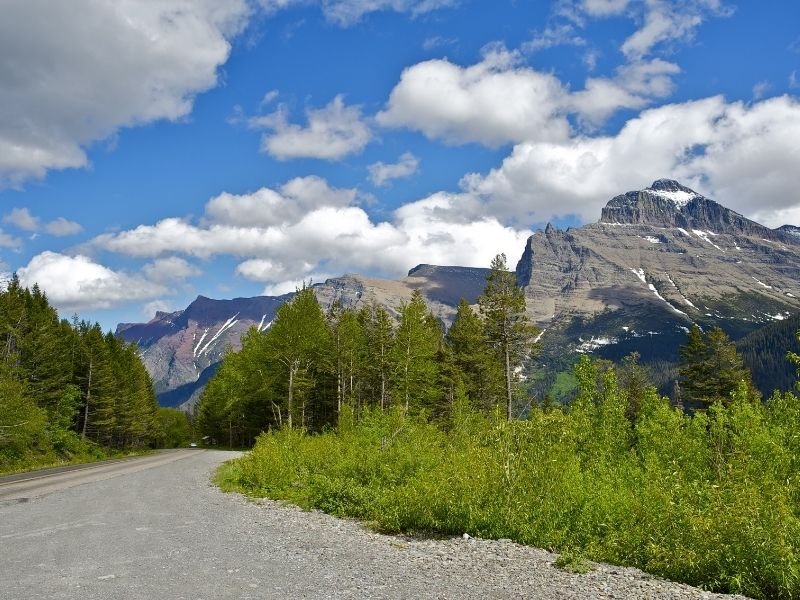 I have a full road trip packing list here, but here at the top things you shouldn't forget!
Road Trip Essentials
Roadside emergency kit
You should already have an emergency kit in your car with things like a reflective triangle, rain poncho, emergency blanket, safety vest, safety whistle, etc. in case of an emergency.
But if you are renting a car and aren't sure it'll have the full emergency kit, now is a good time to invest in a roadside emergency kit that also includes a first aid kit.
Car charger & hands-free phone holder
You will zap your phone battery FAST while on a road trip, so it's essential to have a car charger.
I like this dual purpose phone mount and charger!
Of course, it's pretty hard to connect your phone and charge it and do all sorts of other necessary 21st-century things without USB cords.
Bring 1 or 2 more than you need, it's always a good idea!
External batteries
The Anker external battery pack is a travel must. While you can charge your phone while driving, you may want to charge other devices — a camera, a drone, portable speakers, an e-reader — as well.
Or if you notice your battery is running low while you're out hiking or sightseeing, you can just start charging right away without having to return to your car. It holds several charges on a single battery pack and will last days at a time.
Face mask, alcohol wipes & sanitizing gel
When in places where distancing is not possible, you will need to wear a face mask to keep yourself and fellow humans safe.
Bring multiple cloth face masks and circulate them, allowing face masks ample time in the sun when possible (such as leaving them on your dashboard) or washing them in between uses in order to sanitize the masks.
You should also bring alcohol wipes or sanitizing gel in case you aren't close to a place where you can wash your hands.
Rehydration packets
Long hikes, lack of schedule, random meal times, salty snacks, sunny days, hangovers from wine nights after driving duty is done: there are many reasons it's easy to get dehydrated while road tripping.
I always pack some rehydration packets with me on my travels as I'm prone to getting dehydrated and getting headaches, and they're a lifesaver. I recommend these ones.
Camera & extra batteries
For all my years of running this travel blog, I've relied on my Sony A6000 to take nearly-professional quality images. I don't sell my photography, but I do love having wonderfully preserved memories, and this camera is the perfect middle-ground above a smartphone yet below the 5-figure kits that most photographers give.
Whatever camera you choose, be sure to have plenty of extra batteries and the battery charger as well — plus extra memory cards! I rely exclusively on 64GB Sandisk memory cards.
Clothing & Hiking Essentials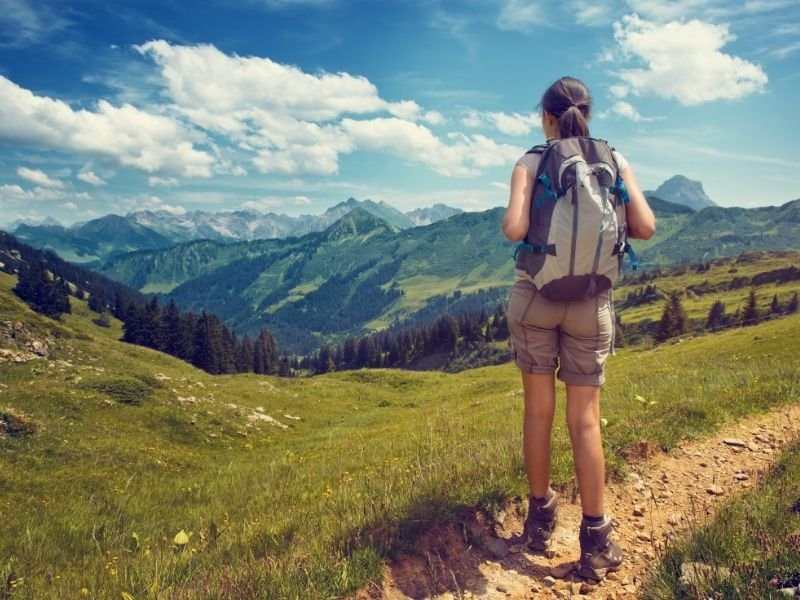 Comfortable clothing
When road tripping, think loose clothing that's easily breathable which transition from car to outside easily.
For women, I suggest the following at a minimum for car/outdoor comfort:
yoga pants or leggings
jeans
hiking shorts
T-shirts
sports bras
hiking boots
sneakers
flipflops
warm sweaters
You'll also want to bring layers like a jacket for any needed warmth, depending on the temperatures you expect on your Montana road trip.
Rain jacket
I included this separately from the comfortable clothes section because I wanted to highlight and underline how important a good rain jacket is. Rain is inevitable at times, so might as well dress for it!
I love the Marmot PreCip rain jacket (there's a women's version and a men's version). I used mine for years biking in all sorts of rainy NYC weather and it always kept me dry without making me too hot and uncomfortable like some other rain jackets can, due to the zippered armpits which provide ventilation. This is key if you plan to do anything active on your Montana itinerary like hiking while it's raining.
Proper Hiking Boots & Trekking Poles
This Montana road trip includes a ton of hiking opportunities, and you'll definitely be happy with yourself for bringing along a pair of hiking boots!
I recommend these Ahnu boots for women and these Keen boots for men. Both are waterproof, comfortable, and provide lots of ankle support for harder hikes.
If you're doing some harder hikes, you may also want to bring a pair of collapsible trekking poles with you!
Water Bottle with Filter
You always end up needing lots of water when you hike!
You can either carry liters upon liters of water, which can be heavy, or you can pack a backup water bottle and use your water bottle with a filter to refill anywhere along the trail — streams, rivers, springs, anywhere!
I use the Grayl for its ease of use and to reduce my plastic footprint: I love mine and highly recommend it!
Day pack
Day packs are essential when hiking or leaving the car for a bit to do some sightseeing and needing to bring essentials like bug spray, sunglasses, water, and sunscreen with you.
This Osprey day pack is the perfect size and it's designed by a company that specializes in ergonomic solutions for backpackers, so you know it'll be comfortable.
Protect your travel investment!

Travel insurance coverage helps you recoup your losses in case of emergency, accident, illness, or theft.

I rely on SafetyWing for coverage when it comes to trip interruptions and cancellations as well as accidents and medical emergencies.

It offers great rates starting around $12/week with clear, easy-to-read coverage.
Pin This Montana Road Trip Guide!
Originally from the Southern U.S., Katelyn Page currently launches adventures from Ketchum, Idaho and Revelstoke, BC. She spends most of the time when outside skiing, hiking, or cycling. As an Urban Planner by training, she understands the connection between cities and outdoor resources and the importance of getting out and exploring.