If you only have one week in Europe, you may be a bit intimidated when it comes time to deciding where exactly to go.
After all, there are countless possibilities.
You can go exploring one country in depth or you can go zipping around a couple of capitals as fast as you can.
There are so many different ways to spend your one week Europe trip depending on the kind of traveler you are and what kind of sights you're interesting in seeing.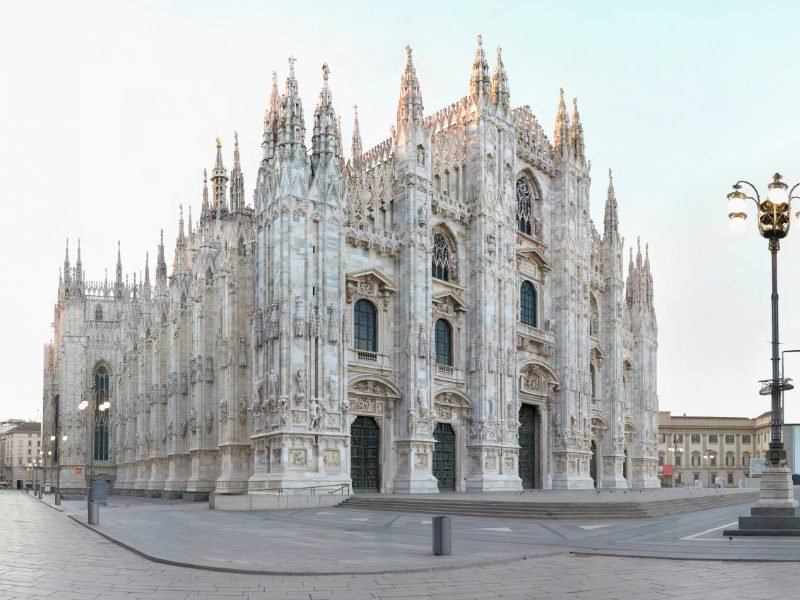 Note: This post contains affiliate links, which means I may receive a small commission if you purchase something through one of these links. Thank you for supporting the free content on this site! For more information on affiliate links and cookies, see my disclosure page for more details.
I've broken down the best ways to spend 7 days in Europe with the help of well-traveled bloggers from around the world, sharing their favorite way of spending just one week in Europe.
From classic examples like Italy and Spain to one week itineraries for the Balkans and Central Europe's capitals, here are 25 incredible ways to spend a one week in Europe itinerary!
One Week in Europe: Classic Itinerary Ideas
Classic Italy: Rome – Florence – Venice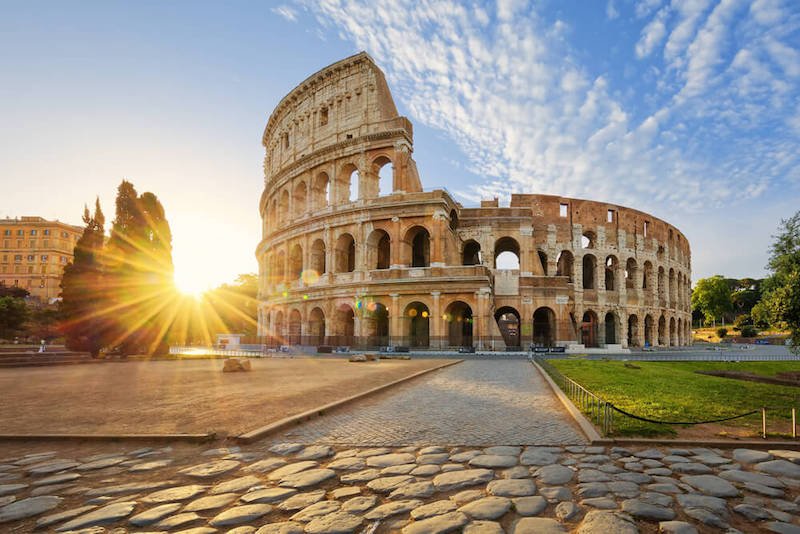 A one-week road trip through Italy is on many people's bucket list. The incredible views of Tuscany, mouth-watering food, and pristine history make it one of the best road trips in the world!
Rome to Florence and Florence to Venice are only 3-hour drives, and the route can also be done by train.
Stop 1: Rome (3 days)
The eternal city of Rome is a traveler's dream destination! With an incredible lifespan filled with rich history and delicious food, what's not to love.
Highlights:
Visiting the Colosseum and Roman Forum to appreciate the glory of Ancient Rome
Explore the history of Vatican City
Toss a coin or two into the Trevi Fountain to guarantee a return to Rome.
Stop 2: Florence (3 days)
Walking through beautiful architecture while snacking on homemade gelato is the perfect Florence day!
Highlights:
Visit the impressive collection of museums in Florence – including the Uffizi Galleria
Walk through the city to the Piazza del Michelangelo for panoramic views of the city
Enjoy live music throughout the many piazzas
Stop 3: Venice (2 days)
The floating city of Venice is a breathtaking destination for all travelers.
Since there's no driving in Venice, it's the perfect time to drop off your rental car and use public transportation during your stay.
Highlights:
Cross the iconic Rialto bridge with gondolas gliding underneath
Take a relaxing gondola ride through the small alleyways
Enjoy cicchetti (Italian tapas) at a waterfront restaurant.
Take some day trips from Venice to places like the Prosecco region and the Dolomites
– Explored by Pamela of the Directionally Challenged Traveler
Northern Italy: Venice – Verona – Milan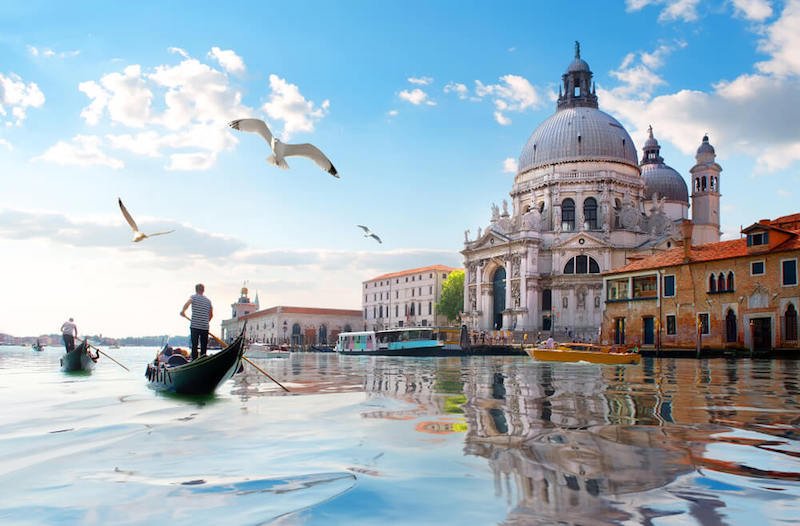 A one-week whirlwind trip through Northern Italy is the perfect way to experience a bit of Italy, without biting off more than you can chew with just one week in Europe.
Here's how to structure a perfect one week Northern Italy itinerary!
Stop One: Venice (3 days)
Venice is a beautiful city with plenty of opportunities to just lose yourself in the backstreets.
There are some great family hotels in Venice making it the perfect base to start your travels.
Highlights:
Take a gondola ride through the canals to see Venice at its best.
See the glass being made in Murano, some of the most exquisite in the world.
Explore the history in the Doge's Palace full of intrigue and culture.
Stop Two: Verona (2 days)
Verona is much less touristy than Venice but has a real charm.
It's a place to see history, eat great food and soak up the history in this picturesque city that featured in Romeo and Juliet!
Highlights:
Take a trip to the Roman Arena which is older than the Colosseum.
Stand on Juliet's balcony to imagine yourself in Shakespeare's tale!
Climb to the top of the Lamberti Tower for spectacular rooftop views.
Stop Three: Milan (2 days)
Milan is a fantastic city to take in the culture, the shopping and the sights.
It is cosmopolitan Italy at its best!
Highlights:
Visit the Duomo di Milano – the largest cathedral in Italy.
Shop until you stop at the Via Montenapoleone.
Immerse yourself at the Museo Nazionale Della Scienza e Della Tecnologia with all the creations of Leonardo da Vinci
– Explored by Nichola of Globalmouse Travels
Classic Spain: Seville – Granada – Madrid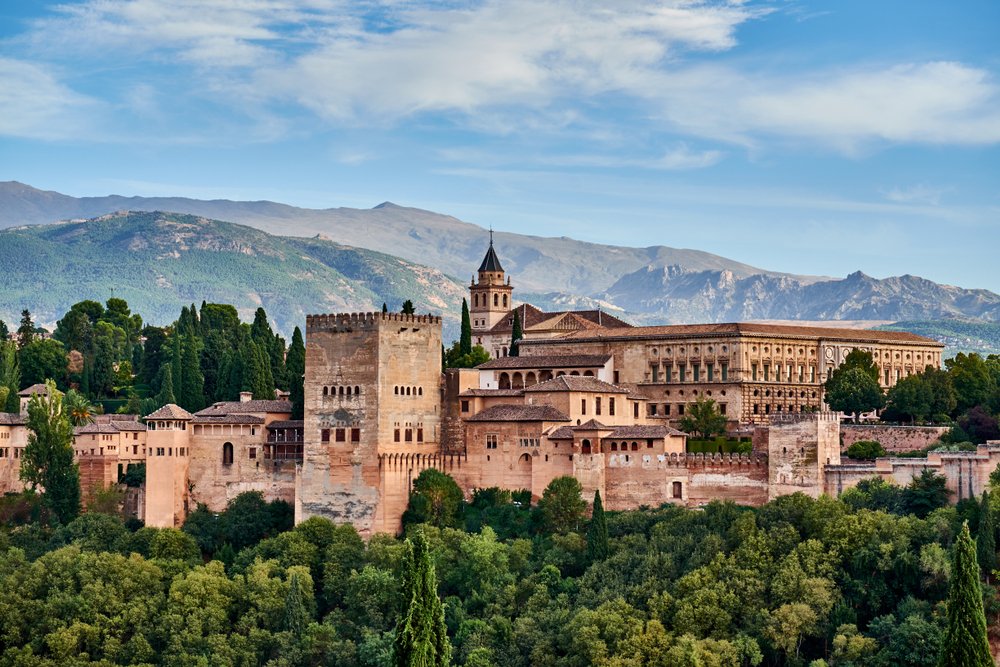 Spain is a beautiful destination that's perfect for a first Europe trip.
If you only have one week in Europe and you want to see history, culture, and food: Spain is the destination!
Stop One: Seville (2 days)
Located in the southernmost region of Spain, Seville is a beautiful city that is easy to explore on foot.
It is filled with stunning historical buildings, traditional music and dance, and incredible food.
Highlights:
Visit the incredible Royal Alcázar of Seville
Experience music and dance at a flamenco show
Explore the Triana neighborhood and enjoy some of the best tapas in Seville
Stop Two: Granada (2 days)
Visiting the small city of Granada is like stepping back in time.
While many visitors simply stop for a day trip to the Alhambra, an overnight stay allows you to truly experience the heart of this historic city.
Highlights:
Visit the magnificent Alhambra Palace and gardens
Wander the historic Albaicin neighborhood
Visit the Granada Cathedral and the Royal Chapel, the final resting place of Queen Isabella and King Ferdinand
Stop Three: Madrid (3 days)
The capital city of Spain, Madrid is filled with history, art, and wonderful food. Make sure to include a little of each during your visit!
Highlights:
Visit the Reina Sofia art museum to see Guernica, as well as the Prado if you have time
Take a tour of the Royal Palace (Palacio Real)
Walk around the beautiful Retiro Park
– Explored by Joanne of Sunsets and Roller Coasters
Beloved Italy: Rome – Florence – Pisa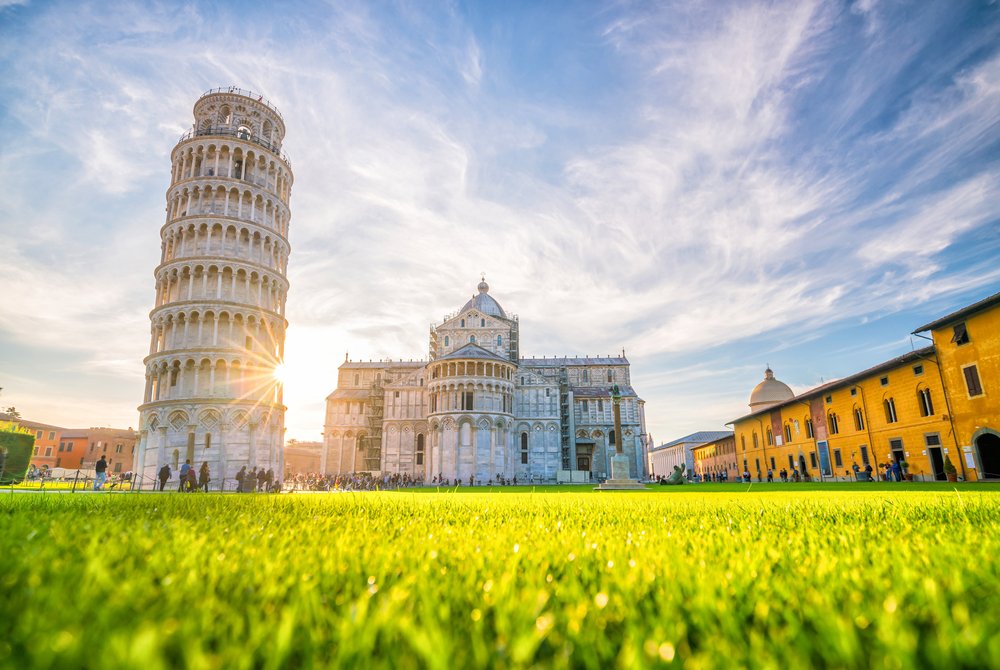 There are so many wonderful destinations to spend one week in Italy, but perhaps the most classic is the combination of Rome, Florence, and Pisa, a tourist favorite.
Here's how to tackle Italy if you have just a week in Europe!
Stop One: Rome (3 days)
Rome is the ultimate place to visit for ancient history, culture, and cuisine. It's also home to many of Italy's famous landmarks as well as plenty of hidden gems that will leave you in awe.
Highlights:
Wandering the Colosseum, the biggest amphitheater of the Roman Empire
Admiring the beautiful fountains in Piazza Navona
Walking up the Spanish Steps and enjoying the view
Tossing a coin in the legendary Trevi Fountain
Seeing the Sistine Chapel in the Vatican Museums
Tasting the delicious local cuisine in the Trastevere neighborhood
Stop Two: Florence (3 days)
As the capital of Tuscany, Florence is filled with beautiful cathedrals, scenic bridges, and magnificent art. It also offers one of the most gorgeous sunset views of Italy!
Highlights:
Wandering the historical center with a gelato in hand
Climbing to the top of the iconic Duomo
Shopping for souvenirs on the scenic Ponte Vecchio
Watching a spectacular sunset at Piazzale Michelangelo
Seeing beautiful artwork in the Uffizi Gallery
Getting cultured in the museums of Palazzo Pitti
Stop Three: Pisa (1 day)
The charming town of Pisa is only an hour away by train from Florence, making it an easy day trip to take. It's not only a great place to visit for architecture and food, but also for shopping!
Highlights:
Climbing up the iconic Leaning Tower of Pisa
Listening to the acoustics in the Pisa Baptistery
Exploring the stunning Pisa Cathedral
Admiring the artwork inside Palazzo Blu
Shopping at Corso Italia
-Explored by Jiayi of The Diary of a Nomad
Southern Spain: Seville – Malaga – Granada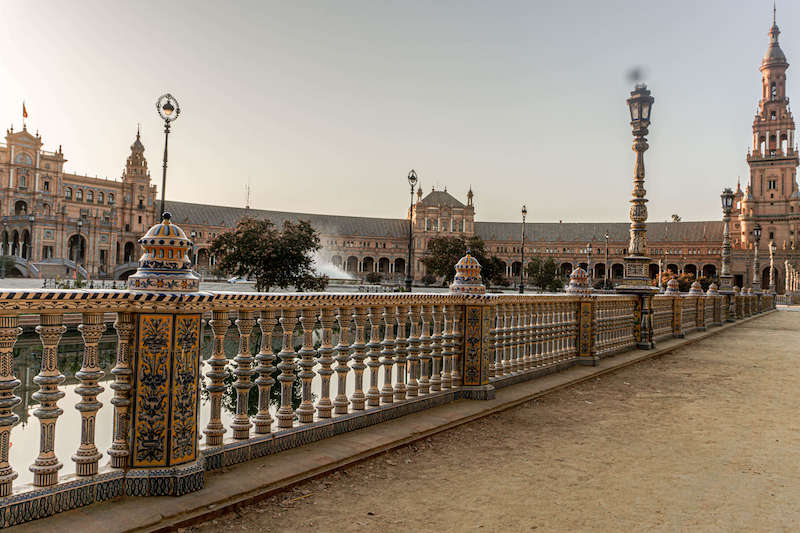 If you want to stick to the south of Spain (Andalusia), then this alternate one week in Spain itinerary is a great choice.
Stop One: Seville (3 days)
Seville is a top highlight of Spain, with incredible Mudejar architecture, 25,000 orange trees, spectacular streets with buildings covered in orange and white, amazing food, and flamenco music on every corner!
Highlights:
Visit the palace of Real Alcazar, a Game of Thrones filming location
Stroll around the colorful streets of Santa Cruz neighborhood
Watch the sunset from the top of Las Setas
Stop Two: Malaga (2 days)
Malaga is the most popular, and the largest beach town of Andalusia, with beautiful beaches, colorful streets, and vibrant nightlife.
We can't forget that it's the birthplace of the famous artist Pablo Picasso! By bus, it takes 2.5 hours to arrive from Seville, so it's an easy next stop:
Highlights:
Visit the Picasso Museum to learn more about the man behind the paintings
Explore the beautiful beaches of Malaga
Watch a sunset from the best viewpoint of the town, Mirador de Gibralfaro
Stop Three: Granada (2 days)
Granada is one of the most authentic towns to visit in Andalusia, and it's just an hour and a half away from Malaga.
The Moors (Arabic) played a really important part in Andalusia's history and unique architecture, an you can see that in Granada.
Granada is spectacular for its amazing views, authentic feel, and the many flamenco artists that are strolling around in Albaicin and stopping at each restaurant for a quick show.
Highlights:
Visit the spectacular Alhambra palace
Wander around in the Moorish neighborhood, the white-washed old town of Albaicin
Listen to flamenco artists while enjoying a delicious meal
– Explored by Helga of ShegoWandering
Mainland Greece: Athens – Meteora – Thessaloniki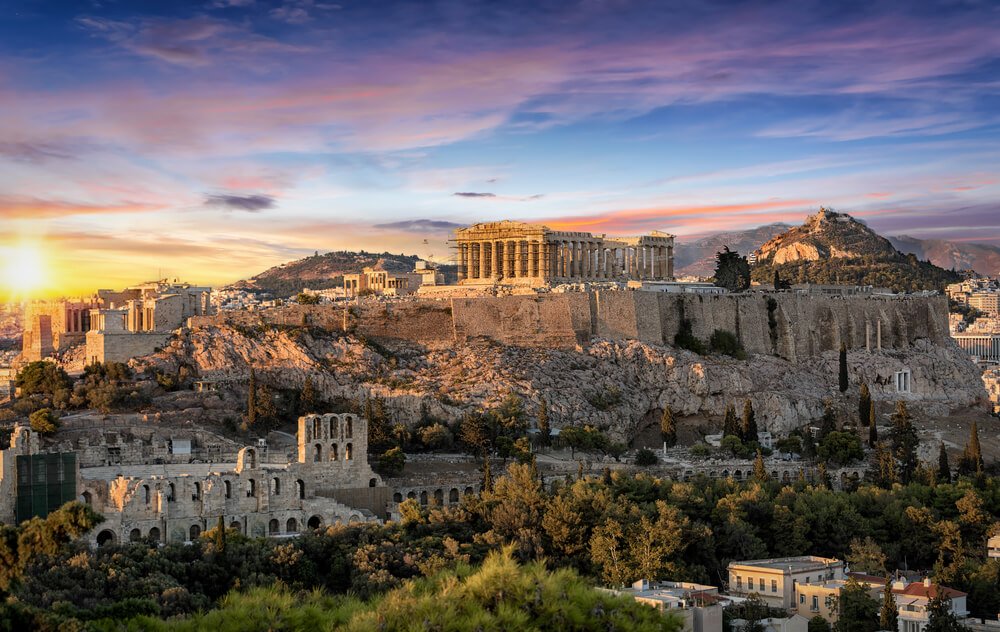 A wonderful trip through Mainland Greece is the perfect one week in Europe trip, since you won't have to deal with coordinating flights and ferries during a shorter trip.
This one week in Greece is the perfect primer to Greece and is easy to travel by car or train.
Stop One: Athens (3 days)
Athens, the capital of Greece, is a vibrant city rich in history, archaeological sites, museums, and amazing food that enjoys great weather all year round.
It has a wealth of archaeological sites like the Acropolis but also the Ancient Agora, the Temple of Olympian Zeus, and more.
Highlights:
Visit the Acropolis, a UNESCO World Heritage Site and Athens' most popular attraction, as well as the Acropolis Museum and the Archaeological Museum of Athens to learn about Greece's rich history.
Explore the street art on the streets of Athens
See the change of the guards on Syntagma Square
Stop Two: Meteora (2 days)
Meteora is another UNESCO World Heritage Site.
It is a place of unique natural beauty where you will find big rock formations with Greek Orthodox monasteries on top.
Highlights:
Visting the 6 remaining monasteries
Watch the sunset from the top of the rocks
Hike one of the many paths around these unique rock formations
Stop Three: Thessaloniki (2 days)
Thessaloniki is the second-largest city in Greece built around the coastline of the Thermaic Gulf.
It is a lively city with great nightlife, food, and a lot of interesting historical sites.
Highlights:
Admire the view from Ano Poli
Check out the archaeological sites of the Roman Agora, the Rotonda, the Byzantine Baths, and the Arch of Galerius.
Visit the landmark of Thessaloniki, the White Tower on the waterfront
– Explored by Chrysoula of Athens & Beyond
Central Europe Sampler: Budapest – Vienna – Bratislava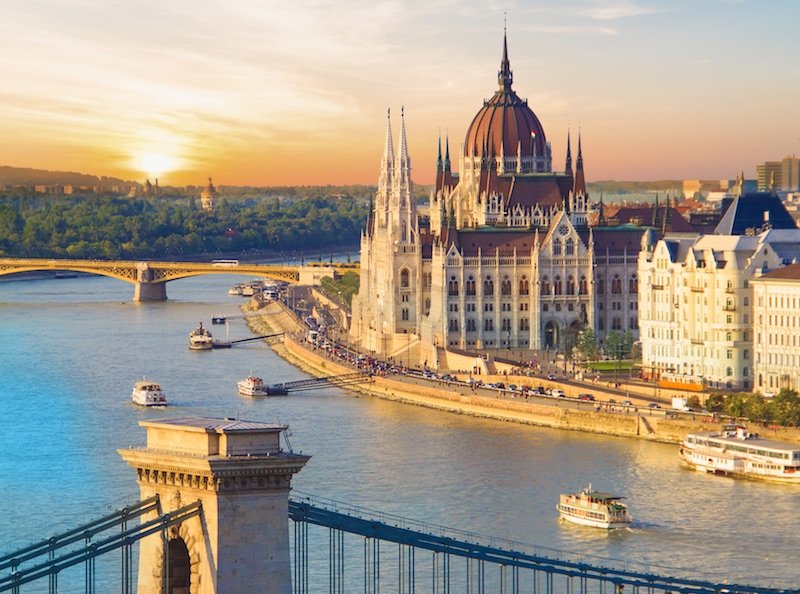 Central Europe is a wonderful destination for travelers hoping to experience a few different countries in a single week in Europe.
The closely-linked capital cities of Vienna and Bratislava are just an hour apart, and Budapest isn't far, either, making three European countries in one week not only doable but also downright pleasant.
Stop One: Budapest (3 days)
A city of two halves divided by the Danube River, Budapest has so much to see and do. Budapest is a cosmopolitan city offering a wealth of culinary delights and a historical center with magnificent architecture.
Budapest also has the most thermal springs than any other capital in the world, so plenty of choice for bathing.
Highlights:
Relax in the Szechenyi Thermal Baths, or the Palatinus Baths which is more suitable for families
Visit Buda Castle and Fisherman's Bastion on Buda Hill
Explore the Jewish Quarter and the 'Shoes on the Danube Bank', a memorial to those killed during WW2
Stop Two: Vienna (3 days)
Trains to Vienna (Wien Hauptbahnhof train station) depart from Budapest Keleti train station every hour and take around 2 hours 40 minutes, making this an easy next stop on a week in Europe itinerary.
Vienna is a romantic and magical city packed full of architectural masterpieces. If you like shopping and museums, Vienna has an abundance of both.
Highlights:
See Vienna's magnificent Rathaus (City Hall) and Hofburg Palace
Visit Maria Theresia Garden, home to both the Natural History Museum & Vienna's Art History Museum
Explore the beautiful Schönbrunn Palace & Children's Museum
Stop Three: Bratislava (1 day)
From Vienna, the train journey to Bratislava is just a little over an hour. It can be visited as a day trip or as an overnight.
Such an underrated city, Bratislava has something for everyone with its quirky historical old town and modern center, tightly packed with super trendy bars, cafes and eateries.
Highlights:
Visit the unique, white rectangular Bratislava Castle which overlooks the city
Wander around the old town and visiting the Church of St. Elizabeth (aka the Blue Church)
Walk over the River Danube via the UFO Bridge
– Explored by Gemma of Families Can Travel
Best of the UK: London — Lake District — Edinburgh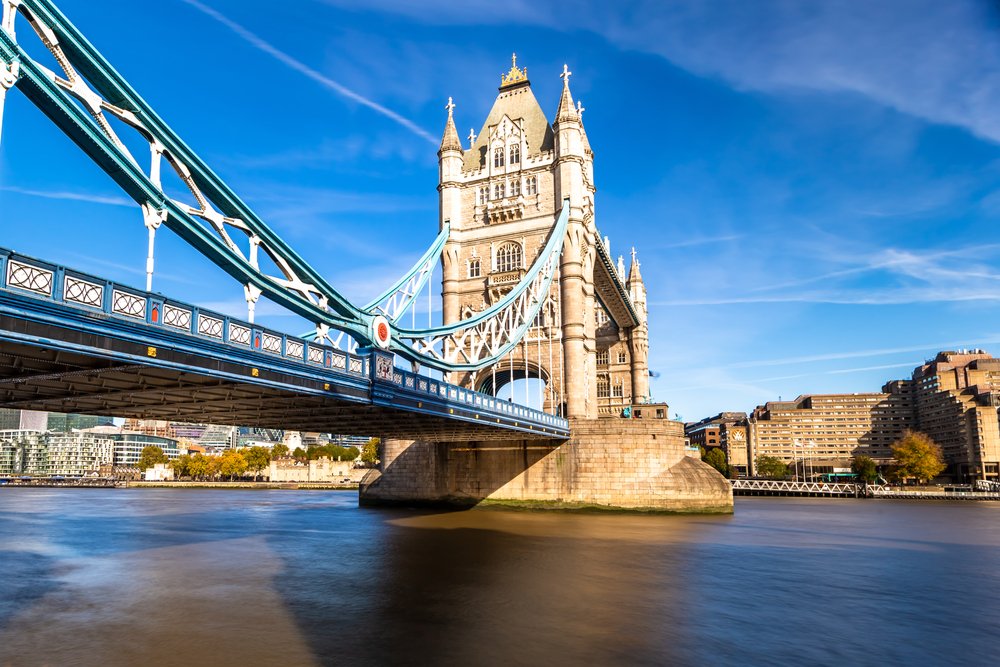 The UK is a compact and diverse country that is perfect for a first trip to Europe.
If you only have one week in Europe, you can easily visit both the English and Scottish capitals with a quick trip to the beautiful Lake District in between, all easily connected by train.
Stop One: London (4 days)
London, the capital city of England is brimming with history and royalty. From the many iconic landmarks to Red double decker buses to red telephone booths to black cabs, the city will make you fall in love with it.
Highlights:
Explore the royal city by taking a tour of the city and visiting Buckingham Palace and seeing the Change of Guard, Tower Bridge, London Eye, St. Paul's Cathedral, iconic Big Ben, British museum and cruise on the Thames river.
Taking a day trip to Greenwich and visiting Royal Observatory and other landmarks like Queen's House, Old Royal Naval College, National Maritime Museum. Could ride the Emirates Cable for a round trip from London.
Taking a day trip to Windsor Castle and Stonehenge.
Stop Two: Lake District (1 day)
Lake District, a national park in Cumbria, is known for its mesmerizing glacial lakes surrounded by mountains and lush greenery. It is a popular vacation spot to unwind and rejuvenate yourself.
Highlights:
Take a cruise on the Lake Windermere or Lake Ullswater
Hike or explore on an electric bike around Lake Windermere along the trails.
Check out Castlerigg Stone Circle, 5000 year old.
Stop Three: Edinburgh (2 days)
Edinburgh, the capital of Scotland is a vibrant city with beautiful landscape, cobblestone roads, window to the Scottish culture that will strike a chord in your heart. Checking out Edinburgh's attractions will also let you enjoy its classical Scottish architecture.
Highlights:
Walking the Royal Mile and shop for lambswool/cashmere, whiskey, and other souvenirs. Don't forget to eat at the cafes on Royal Mile.
Visit the Edinburgh Castle perched atop the hill, Camera Obscura, Holyroodhouse Palace and Scottish Parliament all on the Royal Mile.
Hike Arthur's seat for a panoramic view of city and take a Harry Potter tour.
-Explored by Neha from Travelmelodies
Best of Ireland: Dublin – Cork – Galway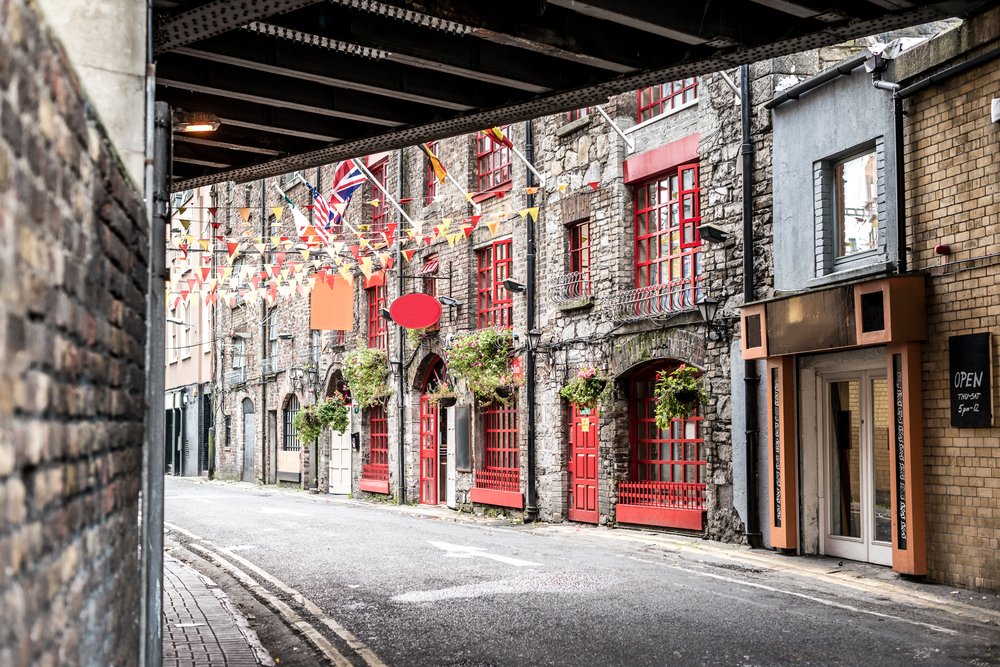 Ireland is the perfect introduction to Europe for first-timers to the continent. Friendly people, no language barrier for English speakers, beautiful landscapes: what's not to love?
Plus, Ireland is small and compact so that if you only have one week in Europe, you can easily do Ireland justice without stressing.
Stop One: Dublin (3 Days)
Dublin is Ireland's capital and largest city. Most importantly it's the heart and soul of the country. The city offers something to see for every travel, incredible food and drink, and best of all, it's easy to explore.
Highlights:
Learn about Ireland's most famous export, Guinness, at the Guinness StoreHouse and Brewery
Trinity College and the Book of Kells
Explore Ireland's tumultuous history at Dublin Castle
Stop Two: Cork (2 Days)
Welcome to the "Rebel City". Cork is Ireland's 2nd largest city and gateway to southern Ireland. The city has played a large role in the history of Ireland from confrontation with the British, to the setting off point for millions of Irish emigrants. Today it's one of Ireland's most dynamic cities offering tons to see and do.
Highlights:
Wander the English Market to sample some of the best Irish food in the country.
Visit the 18th Century Gothic Revival St. Fin Barre's Cathedral
Explore Fitzgerald Park and Cork Public Museum
Stop Three: Galway (2 Days)
Located on Ireland's rugged west coast, Galway has been referred to as Europe's "friendliest city." More of a small town than a major city, Galway is a vibrant city thanks to a lively music and arts scene.
Highlights:
Visit one of Europe's youngest cathedrals, Galway Cathedral
See Galway from the water on a Galway Bay boat tour
See the last remaining parts of the old city medieval walls at the Spanish Arch
-Explored by Eric from Food and Drink Destinations
Best of France: Avignon – Lyon – Paris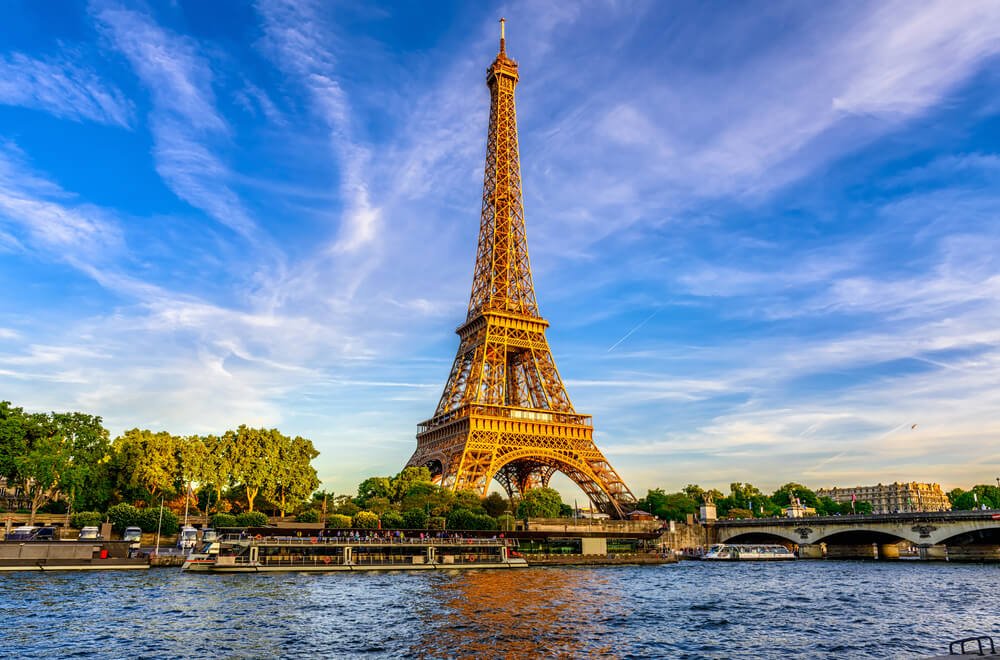 These three French cities are connected via the high-speed TGV train, making this an easy one week in Europe itinerary.
Stop One: Avignon (2 days)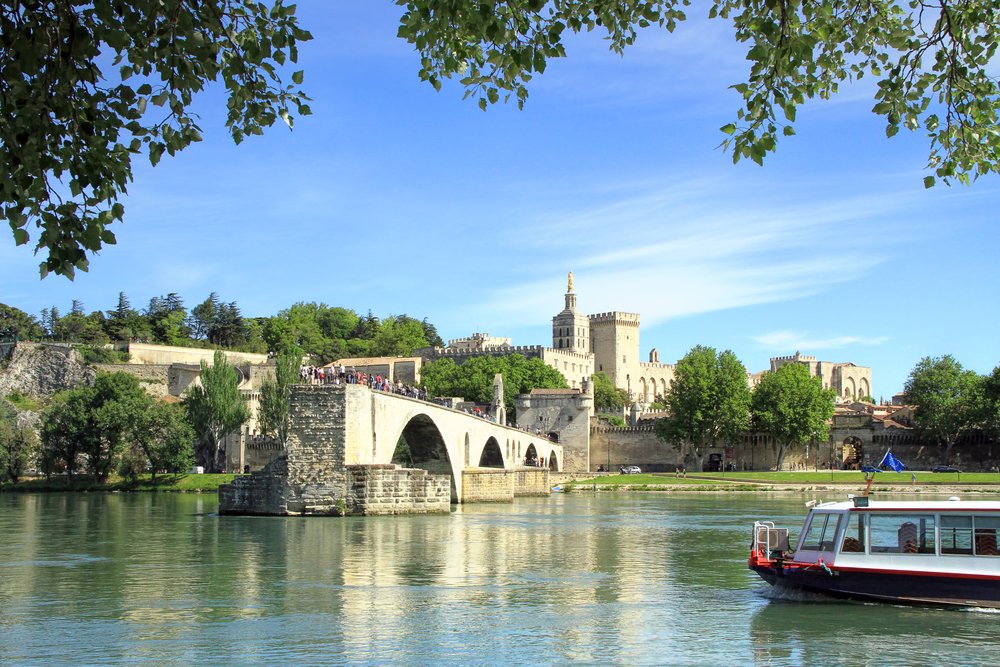 The cultural and historical heart of Provence, Avignon is a stunning city situated on the River Rhone.
From boutique shopping to dining in world-class restaurants, a 2 day Avignon itinerary offers a sophisticated city break.
Highlights:
Explore the UNESCO World Heritage city, with its intact ramparts and endless historical attractions
Visit Les Halles food market to shop for regional specialities and to watch food demonstrations
Take an interactive 3D tour (via histopad) of the Pope's Palace.
Stop Two: Lyon (2 days)
Famous for food, Lyon is the ideal place to indulge your inner food critic.
Settle into the city's cafes and restaurants to sample the region-specific specialities on offer. Then walk off your gluttony by touring the wealth of historical sights around the city!
Highlights:
Take a stroll through the streets of Presqu'île for stunning architecture and shopping
Go on a mural-spotting spree through the city, since Lyon takes street art to a whole other level!
Visit Vieux Lyon to take a step back in time and see how the city once was.
Stop Three: Paris (3 days)
Equally as alluring for lovers as it is for families, Paris is a destination with something for everyone.
From touring the city's standout museums to people watching on a cafe terrace, the City of Lights is sure to dazzle every visitor.
Highlights:
Ride the elevator to the top of the Eiffel Tower for dreamy Paris views
Walk through Montmartre and climbing up to the Sacré-Cœur
Take to the French art of flaneur and spend hours wandering the streets and gardens as you go
– Explored by Nadine of Le Long Weekend
Paris & French Riviera: Paris – Marseille – Nice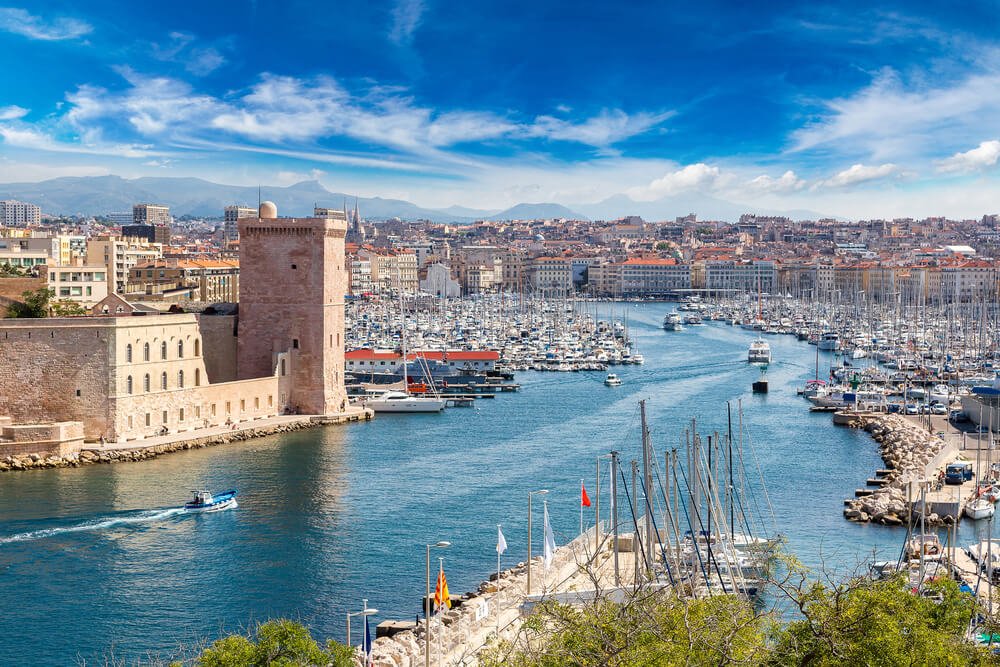 This France itinerary from Paris to Nice covers Paris, Marseille, and Nice, and it is excellent for sightseeing if you only have one week in Europe.
All the cities are well connected by direct trains, so you don't need to take any flights, great for a short trip.
Stop One: Paris (3 days)
Paris is always a good idea, and there's no better place to start this 1-week holiday than from the French capital.
If this is your first time in Paris, you will want to visit some of the city's main sights, perhaps with a couple of leisure strolls around the most picturesque areas.
Highlights:
Climb up to the Eiffel Tower
Walk around Montmartre
Visit the Louvre Museum
Marseille (2 days)
Direct TGV trains leave Paris Gare de Lyon train station to Marseille. The train ride takes less than 3 hours, and it is very straightforward.
Marseille, in southern France, is the capital of the region of Provence-Alpes-Côte d'Azur. It is one of the most important port cities in the Mediterranean Sea and an exciting place to visit for a couple of days.
Highlights:
Stroll around the Old Port and visit the fish market, as well as the Le Panier neighborhood
Admire the magnificent views from Basilica Notre Dame de la Garde
Visit the MuCEM (Museum of Mediterranean Cultures)
Nice (2 days)
The last stop of this French trip is Nice.
Enjoy the sun and the glamour of this coastal city in the French Riviera famous for its baroque architecture and the iconic Promenade des Anglais.
Highlights:
Stroll around the Old Town
Admire the views from La Colline du Château
Walk the Promenade des Anglais, ice cream in hand
– Contributed by Elisa of World in Paris
Best of the Netherlands: Amsterdam – Rotterdam – Utrecht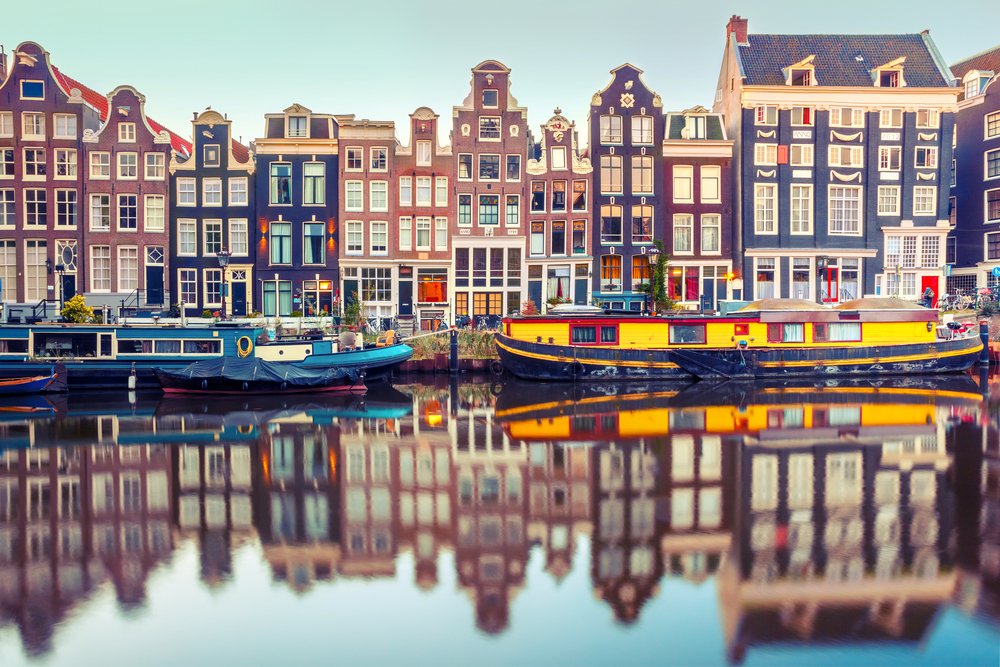 The Netherlands is a compact country with so much more to offer than just Amsterdam!
If you only have one week in Europe, the Netherlands is a perfect destination as it's compact, easy to travel by train, and very easy to navigate as a foreigner due to the friendliness of the people and the prevalence of English speakers.
Stop 1: Amsterdam (3 days)
Amsterdam is the capital of the Netherlands and known for its beautiful canals, 17th-century warehouses and excellent museums.
Highlights:
Admire world-class artworks from famous Dutch and international artists in the Rijksmuseum
Visit the house where Jewish diarist Anne Frank was hiding during WWII.
Learn about science at the interactive NEMO Science Museum (especially suitable for families planning a Dutch city trip with kids)
Stop 2: Rotterdam (2 days)
Rotterdam is the second-largest city in the Netherlands. The city is famous for its modern architecture such as the iconic Erasmus bridge, the Kubuswoningen (Cube Houses), and the colorful Market Hall as well as its maritime history.
Highlights:
Ascend to the top of the 185-meter-tall Euromast. On a clear day, you can look as far as the city of Antwerp in Belgium!
Learn about Dutch naval history at the Maritime Museum Rotterdam and stroll along the Old Harbor.
Take a boat tour and visit the Europoort, the largest harbor in Europe.
Stop 3: Utrecht (2 days)
Utrecht is one of the oldest cities in the Netherlands and is often called a smaller (and better) version of Amsterdam. Its historic city center can easily be explored on foot, or do as the Dutch people do and hop on a bicycle.
Highlights:
Climb the Dom Tower and admire the view (you can see Rotterdam and Amsterdam on a sunny day).
Take a bus to nearby Castle De Haar, a beautiful historic castle surrounded by lovely gardens.
For those with kids, the Miffy museum is a must. Here your little ones can meet this famous children's book character and walk around in 10 miniature worlds based on the Miffy books.
-Explored By Lotte from Beste voor Kids
Scandinavian Sampler: Stockholm – Malmo – Copenhagen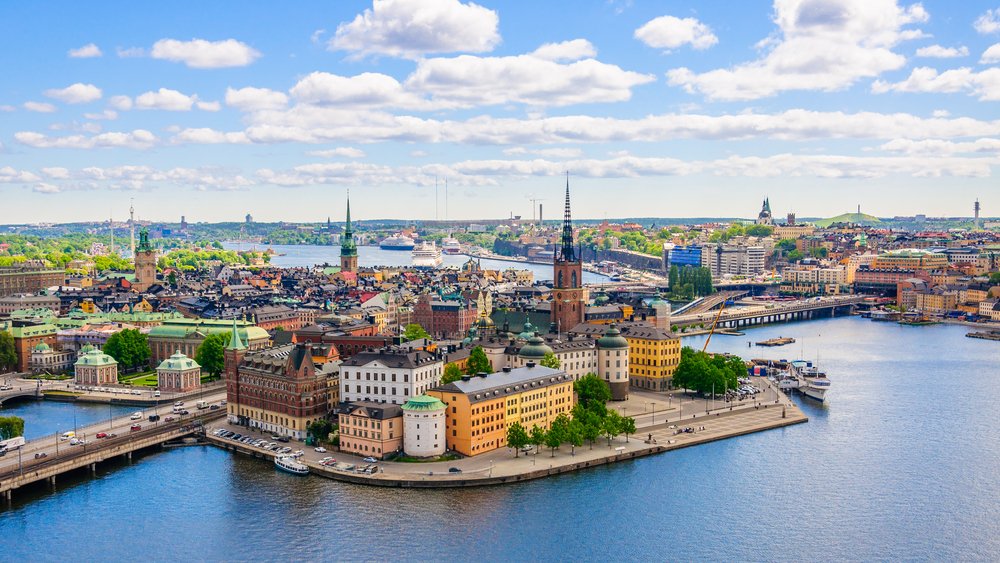 For a quick trip of some of Scandinavia's best cities, you can easily combine a trip to Sweden and Denmark with just one week in Europe, using Malmo as a connection point between the countries' two capital cities.
Stop One: Stockholm (3 days)
Stockholm, Sweden's vibrant capital, is a city built on a 14-island archipelago. It has a series of bridges and ferries to help visitors navigate the city and the waterfront of Stockholm is seemingly everywhere. The city is a must-visit capital in Scandinavia and home to fascinating history and a most-welcoming people.
Highlights:
Wander the streets of Gamla Stan, Stockholm's perfectly-preserved medieval town center
Visit the Vasa Museum, an exhibit of a 17th-century Swedish warship that was recovered from the harbor fully intact
Check out the ABBA Museum and learn about the Eurovision Song Contest and the band that has become a Swedish national treasure
Stop Two: Malmo (2 days)
Malmo is a diverse city in the southern region of Sweden. It's geographically and culturally close to Denmark with historical ties to the nation, having been part of both kingdoms throughout the centuries. It's a vibrant city with a young population due to the universities in the area.
Highlights:
Take a canal tour around the beautiful city of Malmo and its harbor
Visit the Malmo Saluhall, a hip street food hall in a rustic post-industrial building
Check out Malmo Castle, the city's fortress and part of Malmo Museum
Stop Three: Copenhagen (2 days)
Copenhagen is an often-overlooked European capital that maintains a quiet and unassuming charm. It's a perfect foodie destination and home to castles, canals, and an amusement park that inspired Walt Disney himself.
Highlights:
Embark on a canal tour of Copenhagen to see the entire city from the water in under two hours
Try a New Nordic meal at any of the fabulous restaurants or Copenhagen street food areas
Visit Copenhagen's famous amusement park, Tivoli Gardens, the second-oldest amusement park in the world.
-Explored by Derek & Mike of Everything Copenhagen
Best of Norway: Oslo – Flåm – Bergen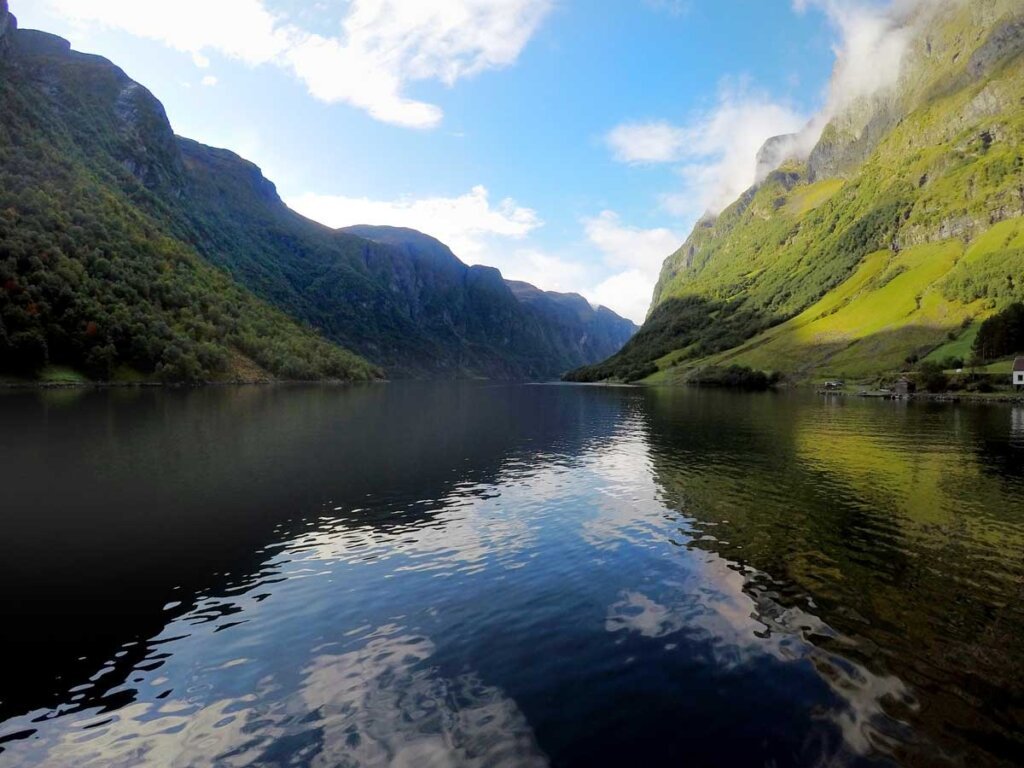 If you only have one week in Europe, the country of Norway is one of the most majestic places for a scenic vacation. Norway is a nature-lovers dream, filled with waterfalls, hikes, and stunning fjords.
Stop One: Oslo (2-3 days)
Start your journey in the country's capital city of Oslo. Plan to give yourself 2-3 days, as the city is filled with museums, the Nobel Peace Center, and the world-class sculpture park, Vigeland Sculpture Park.
Highlights:
Visiting the Nobel Peace Center
Admiring the art in Vigeland Sculpture Park
Checking out the Fram Museum and the National Gallery
Stop Two: Flåm (2 days)
After a few days learning about Viking culture, art, and Scandinavian history, catch a train to Flåm, Norway. The tiny village in the heart of the fjords is serenely beautiful. Even the train ride to Flåm is known as one of the most scenic train rides in the world.
Take a cruise through the fjords, kayak or hike to a waterfall. To truly relax and take in nature, give yourself at least 2 days in Flåm before continuing on your journey to your final destination, Bergen.
Highlights:
Admiring the views from the scenic Flåm Railway
Heading out onto the water on the Nærøyfjord Cruise
Seeing the gorgeous Brekkefossen waterfall
Stop Three: Bergen (2 days)
The coastal city is known as the gateway to the fjords. Give yourself 3 days in Bergen to explore Bryggen and its colorful row of wooden houses along the harbor, take the Ulriken cable car ride or take a funicular up Mount Fløyen. You can even hike between Ulriken and Mount Fløyen for stellar views of the harbor and its surrounding peaks.
Be sure to eat fresh fish from the Bergen Fish Market and take a short train ride to see the beautiful Fantoft Stave Church to round out your one-week itinerary in this incredible Scandinavian country.
Highlights:
Take the scenic Ulriken Cable Car for incredible views
Soar above the city on the Mount Fløyen funicular
Marvel at the Fantoft Stave Church
-Explored by Melissa from Parenthood and Passports
One Week in Europe: Alternative Itinerary Ideas
Best of Benelux: Amsterdam – Brussels – Luxembourg City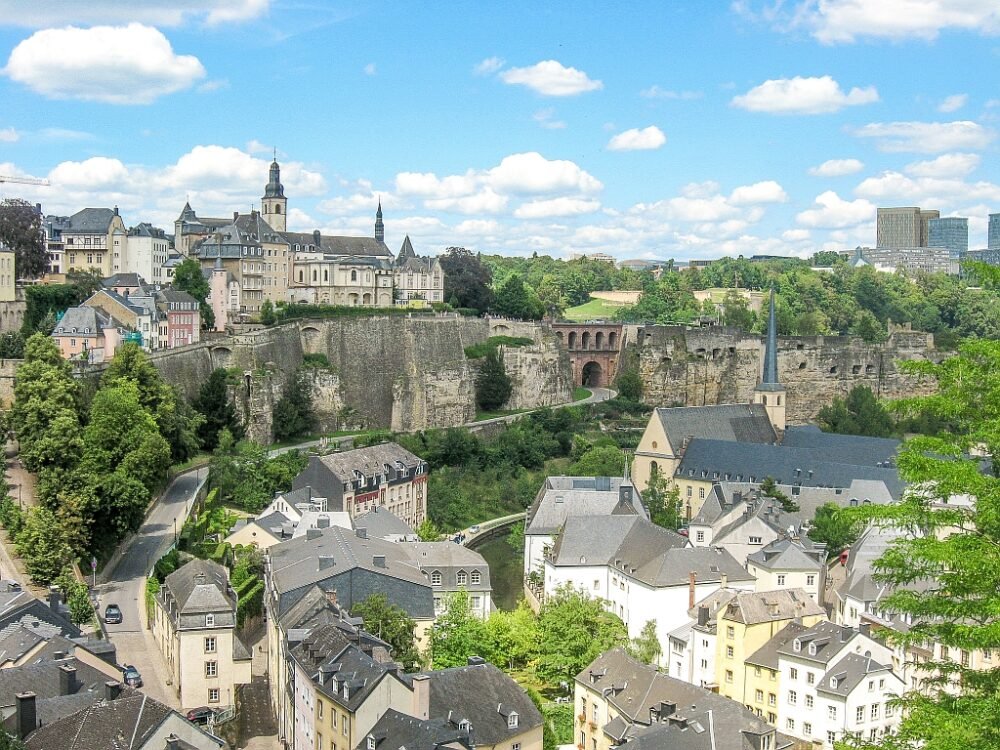 This European itinerary belongs to the classics: just in 7 days you will visit 3 countries and their capital cities.
It features the so-called Benelux countries Belgium, the Netherlands and Luxembourg.
Stop One: Amsterdam (3 days)
Amsterdam is one of the most beautiful cities in Europe – with its maze of canals and step-gabled canal houses, the city attracts millions of tourists each year. The best way to discover Amsterdam is on foot.
Highlights:
Taking a boat tour of the canals – a UNESCO World Heritage site
Visiting the Rijksmuseum to admire Rembrandt's masterpiece The Night Watch
Stopping at Anne Frank House to learn the story behind the famous wartime diary and its author – the Jewish girl Anne Frank
Seeing the gorgeous tulip gardens at Keukenhof (open only from March – May)
Stop Two: Brussels (2 days)
Belgium's capital is an amazing city where the lush architecture of the historical centre is juxtaposed to the modern buildings in the European Quarter. Brussels is also the capital of the European Union as the most EU-institutions are headquartered there.
Highlights:
Admiring the Grand Place with the Town Hall – a UNESCO World Heritage site
Binging on Belgian waffles, Belgian chocolate, Belgian fries and Belgian beer
Checking out the Atomium
Stop Three: Luxembourg City (2 days)
Luxembourg City is a cosmopolitan city with rich historical heritage. The city was founded in 963 and is a good example of medieval defensive European architecture. Luxembourg City is, after Brussels, the city with most EU-institutions in Europe.
Highlights:
Visiting Grund – the old town along the Alzette River with the Neumünster Abbey and the famous casemates – a UNESCO World Heritage Site
Relaxing at one of the cafés at Place d'Armes
Checking out on modern and contemporary art at Casino Luxembourg and at the Museum of Modern Art Grand-Duc Jean
-Explored by Daniela of Exploring the Netherlands
Beautiful Baltics: Tallinn – Riga – Vilnius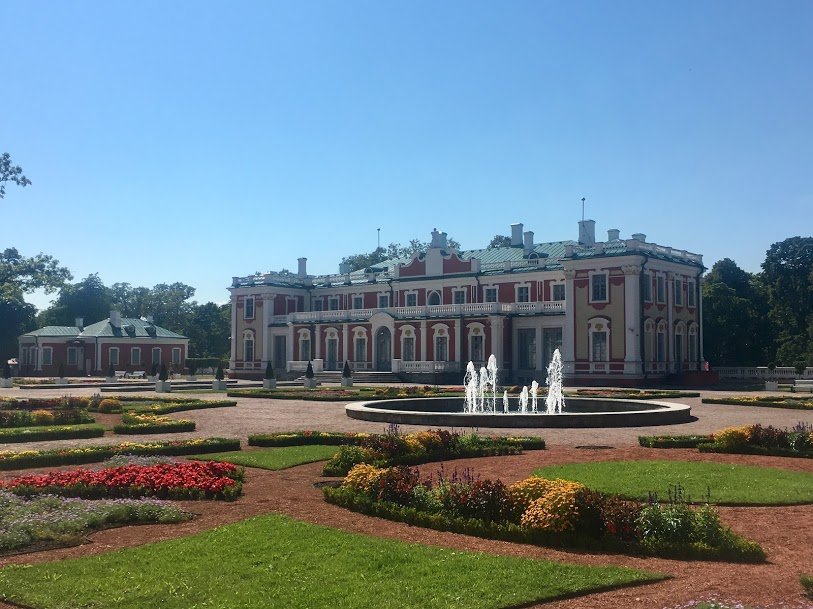 For travelers looking to visit three countries in Europe in a week, the Baltics are the perfect place to do so — and get off the beaten path in the meantime!
The three Baltic capitals are all beautiful and compact, and the short travel distance between them (and the easy bus connections) make it quite a perfect itinerary for a seasoned Europe traveler looking for a slightly different Europe trip.
Stop One: Tallinn (3 days)
Tallinn, Estonia is a beautiful cobble-stoned city that looks straight out of a fairy tale. It has a fascinating naval history to explore at the Maritime Museum. It's also a delicious destination for those who want to try Nordic-style cuisine at much cheaper prices.
Highlights:
Exploring Tallinn's Old Town
Smelling the roses in Kadriorg Park
Seeing the best of Estonian art at the Kumu Museum
Stop Two: Riga (2 days)
Riga, Latvia is a fascinating destination for any lover of architecture from medieval to communist styles.
Its Old Town is full of charming statues like the one of the Bremen Town Musicians. It has some of the most beautiful Art Nouveau buildings in all Europe as well as a fabulous food market.
Highlights:
Visiting the many churches in Riga's Old Town
Admiring the Art Nouveau designs on Albert Street and in the Art Museum Riga Bourse
Tasting the special Latvian drink known as Black Balsam
Stop Three: Vilnius (2 days)
Vilnius is the capital of Lithuania and the best place to learn about Lithuania's rich history.
But it's also a vibrant university city with an exciting youth culture and street art scene. It's also a famous destination for riding hot air balloons!
Highlights:
Learning about Lithuania at the Palace of the Grand Dukes of Lithuania
Visiting the quirky independent community Uzupis
Tasting local delicacies like the potato dumplings known as zeppelin
-Explored by Stella Jane of Around the World in 24 Hours
Classic Poland: Warsaw – Wroclaw – Krakow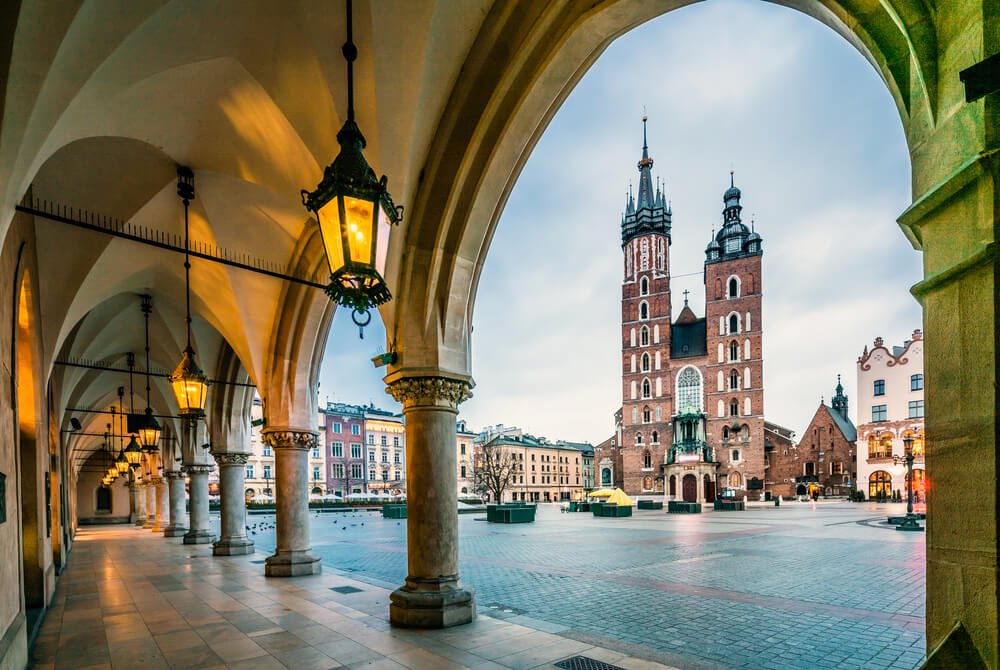 For an alternative way to spend one week in Europe, go a bit more off the beaten path and explore Poland.
A great budget destination, Poland is also incredibly rich with history, culture, and delicious food and nightlife.
Stop One: Warsaw (3 days)
Warsaw, the capital of Poland, is an incredibly special city.
Its history and style combine pre-war classic old town (that was completely ruined and rebuilt) and castles, sad memorials from Second World War and the Holocaust, post-war gray communist buildings, and modern streets with fun vibes, great shopping, and interesting Polish food.
Highlights:
Stroll the cobblestone streets of the old town of Warsaw
Watch the view from the Palace of Culture and Science
Visit the POLIN Museum of the History of Polish Jews
Stop 2: Wroclaw (1 day)
Wroclaw is one of the most beautiful cities in Poland, and maybe in Europe.
The colorful houses, the Oder river, and the impressive cathedrals make you feel as if you are walking inside a 200-year-old painting!
Highlights:
Climb up the St. Elizabeth's Church Tower to get an amazing view of the old town
Cross Tumski bridge (the Lovers' bridge). If you are with your loved one, add your own lock to the bridge.
Follow the mini dwarf statues in between the city's landmarks
Stop 3: Krakow (3 days)
Krakow is the second largest city in Warsaw and the historic capital of Poland (until 1596).
The city is an extensive cultural heritage, and the entire old town was declared a UNESCO world heritage site. It is also a city of students and is renowned for its nightlife scene.
Highlights:
Visit the Wawel Royal Castle, the beautifully preserved 14th-century castle
Grab a beer at Rynek Główny – Europe's largest medieval market square
Take a somber day trip to Auschwitz concentration camp to learn about Holocaust history.
– Explored by Moshe of The Top Ten Traveler
Best of Bosnia: Sarajevo – Konjic – Mostar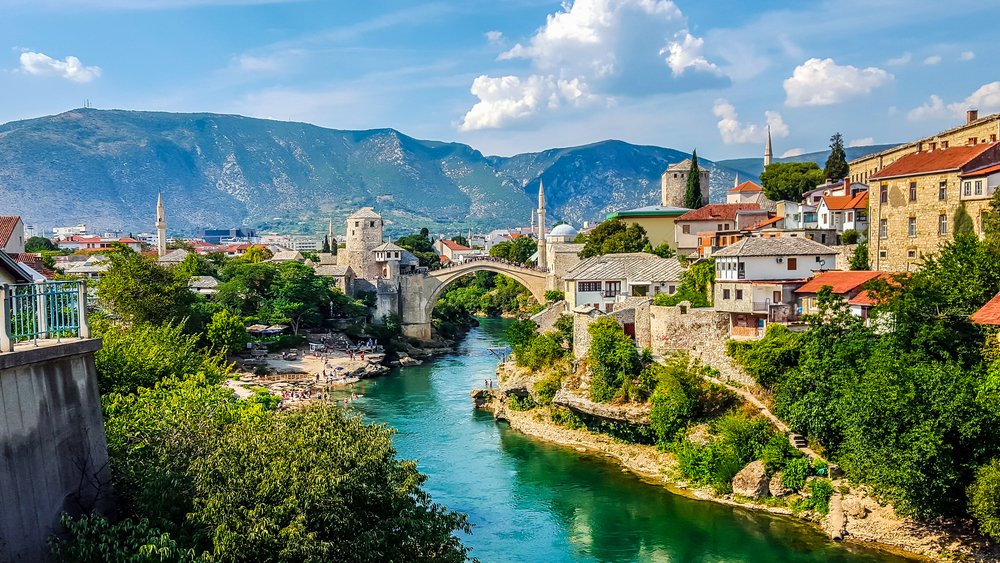 Bosnia and Herzegovina is a beautiful country off the beaten path of Europe, and it's a great place for a one week Europe trip for seasoned travelers.
While Bosnia and Herzegovina isn't the easiest country in Europe to travel — language barriers and infrastructure issues are a concern — it may be one of the most rewarding, with kind-hearted people, fascinating (and at times tragic) history, and incredible landscapes. Here's a Bosnia itinerary to follow:
Stop One: Sarajevo (3 days)
Sarajevo is Europe's most multicultural city. The charming old town allows you to travel back to Ottoman times, but there is great Austro-Hungarian architecture too. With its scenic location in the hills there are a variety of things to do.
Highlights:
Walking through the cobbled stone streets of the Bascarsija
Enjoying the Panorama views over Sarajevo from the Yellow fortress
Learning about the Bosnian civil war at the Tunnel museum and Galerija 11/07/95.
Stop Two: Konjic (1 day)
Konjic is a small town with a beautiful Ottoman bridge spanning the Neretva river. Recently it became more famous for being home to a secret nuclear bunker built by Tito. It also serves as a gateway to the spectacular natural beauty that surrounds the city.
Highlights:
A visit to Tito's bunker
Rafting over the Neretva river
Walking over the ancient Ottoman bridge.
Stop Three: Mostar (3 days)
Mostar is one of Bosnia's most picturesque towns that is famous for its historic Ottoman old town from the 15th century. Although it was destroyed during the war everything was beautifully renovated, including its iconic bridge spanning the Neretva river.
Highlights:
Watching the locals jump off the Stari Most bridge
Shopping for souvenirs in the old town
Visiting the Dervish monastery in Blagaj
-Explored by Ellis Veen of Backpack Adventures
Best of Czechia: Pilsen – Karlovy Vary – Prague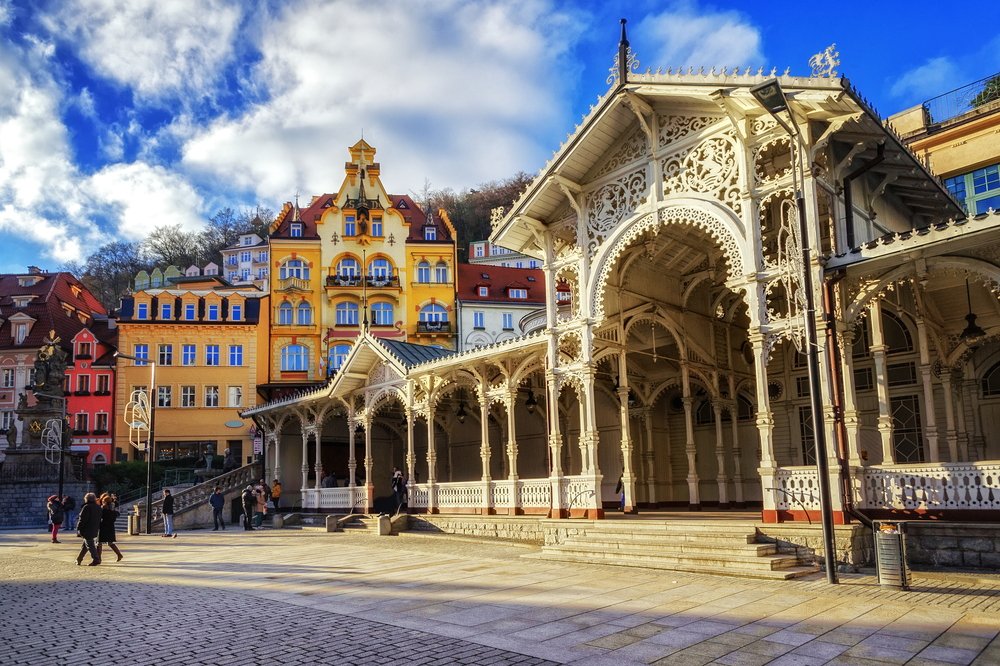 Most travelers to Czechia never make it past Prague, but if you want to see some of the best of this Central European gem, head a bit off the beaten path and explore cute other towns like Pilsen and Karlovy Vary.
Czechia's small size makes it perfect for a leisurely one week in Europe, and here's how to do it.
Stop One: Pilsen (2 days)
The beautiful Czech city of Pilsen is most well known for the beer derived from the destination. It's located in the western Czech Republic and is wrapped in charming city parks hugging a medieval town center.
Highlights:
Visit the Pilsner Urquell Brewery for a tour and tasting
Climb to the top of the Cathedral of Saint Bartholomew for a panoramic view of the city
Explore the old city and Pilsen's Great Synagogue, the second-largest in Europe
Stop Two: Karlovy Vary (2 days)
Karlovy Vary is a picturesque spa town in West Bohemia. This Czech city has been a favorite of global celebrities and nobility since the early 19th century. The thermal springs have defined the city with visitors flocking to the spas that have emerged from them.
Highlights:
Hike to the many lookouts around the city of Karlovy Vary like the famous Diana's Lookout
Book a spa treatment at one of the best thermal baths in Europe
Taste the waters from any of the hot springs fountains in the city's colonnades
Stop Three: Prague (3 days)
The cultural center of the Czech Republic, Prague is a must-visit European capital. It's one of the most beautiful cities in Europe with incredible architecture, art, history, and culture. It's bisected by the Vltava River and has been a crucial trading center in Central Europe for hundreds of years.
Highlights:
Visit historic Prague Castle and the iconic Saint Vitus Cathedral
Walk across the famous Charles Bridge and admire the sculptures that line it
Wander Old Town Square and catch the hourly performance of Prague's Astronomical Clock
-Explored by Derek & Mike of Robe Trotting
Best of Bulgaria: Sofia – Bansko – Melnik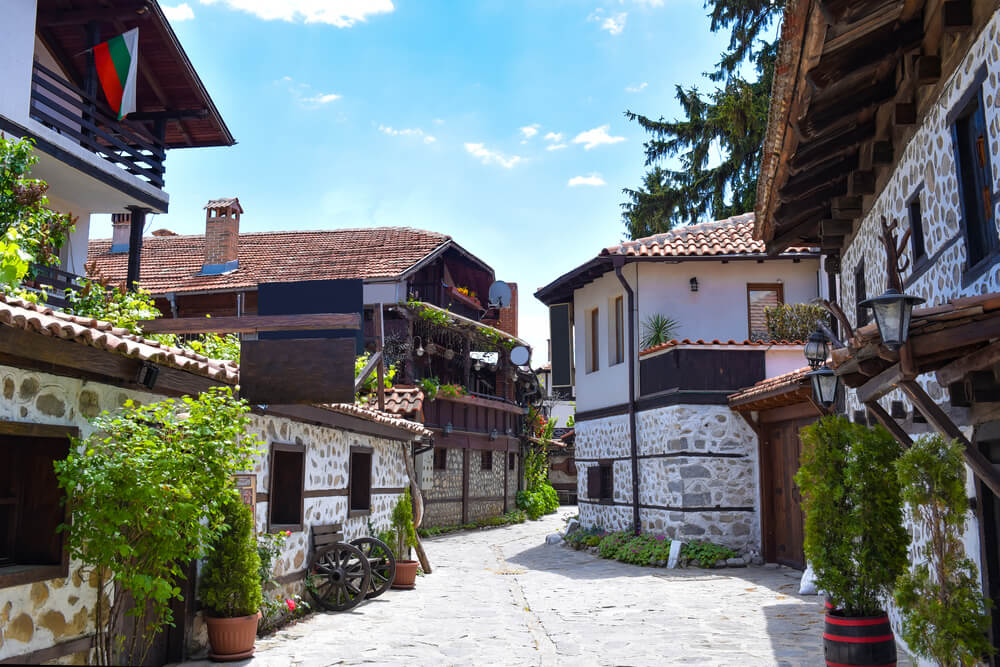 Bulgaria is a beautiful and underrated part of Europe that travelers often miss, but that's why it's such a true hidden gem, a rare place where you can escape mass tourism in Europe.
This itinerary covers the capital, Sofia, as well as two small but quaint towns that are great for travelers looking for a less hectic one week in Europe itinerary.
Stop One: Sofia (3 days)
Sofia is the country's biggest city and the capital of Bulgaria.
The city has everything that you might wish for: cultural and historical heritage, amazing cuisine, exciting nightlife, plenty of parks and even its own mountain, Vitosha!
Highlights:
Explore the ruins of the Roman city Serdika
Visit Alexander Nevsky Cathedral, Sofia's most iconic landmark
Go on a day trip to Plovdiv or the Seven Rila Lakes
Stop Two: Bansko (2 days)
The town of Bansko is one of the best places to visit in Bulgaria for hiking lovers and winter sports enthusiasts.
Located at the foot of Pirin Mountain, Bansko is famous for its distinctive architecture, stone houses, its wood-carving school, and the traditional Pirin songs as well as cuisine.
Highlights:
Hike in summer and ski or snowboard in winter
Wander around the pretty Old Town
Check out the oldest tree in Bulgaria, Baikushev's pine (1,300 years old!) in Pirin National Park
Stop Three: Melnik (2 days)
Melnik is the smallest city in Bulgaria.
Situated among sand pyramids with bizarre forms, this little town attracts its visitors with its ancient houses and aromatic wines. The town is declared as a cultural-historical reserve.
Highlights
Wine tasting along the Melnik Wine Route
Visit Rozhen Monastery
Stop by the Kordopulov House
–Explored by Bilyana of Owl Over The World
Best of Portugal: Lisbon – Sintra – Porto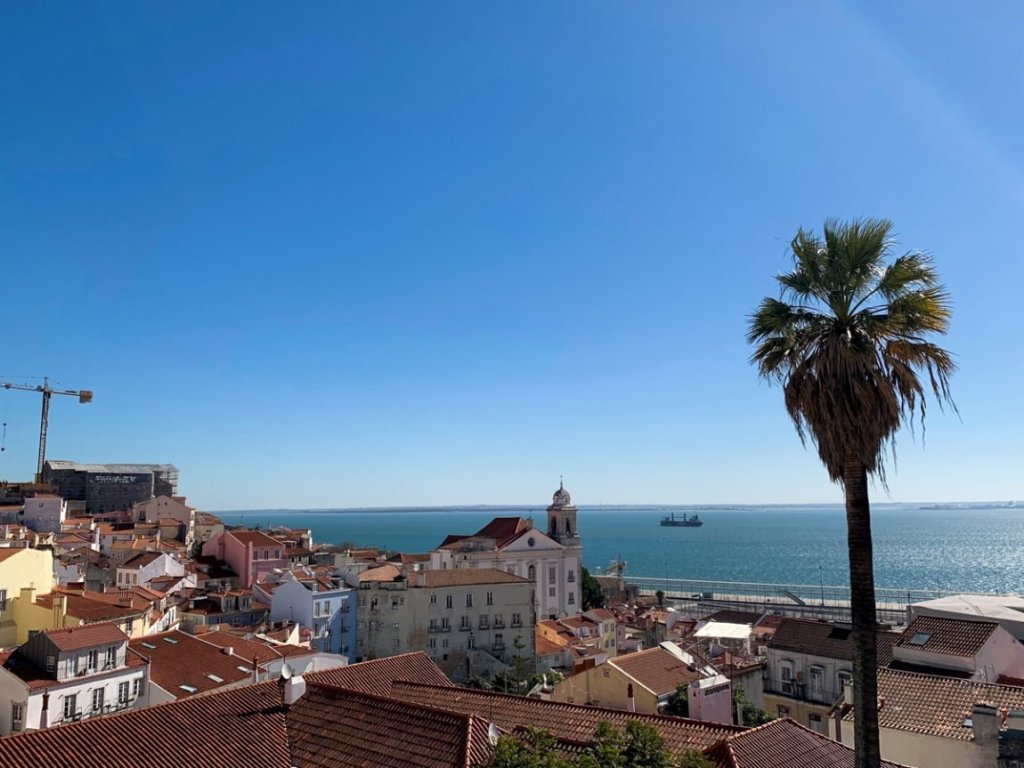 The best of Portugal can easily be seen in a week, meaning it's a great introduction to Europe if you only have one week.
You'll get to see the vibrant capital of Lisbon, the fairytale castles of Sintra, and the romantic azulejos of Porto all in an easy one week Europe trip.
Stop One: Lisbon (3 days)
Lisbon is one of the most vibrant cities in Portugal, filled with historical landmarks, museums, scenic lookout points, and charming neighborhoods. It's also a fantastic destination for foodies and those looking for a buzzing nightlife scene.
Highlights:
Visiting the 11th-century São Jorge Castle.
Attending a Fado show to enjoy the soulful, most symbolic Portuguese music.
Exploring the important and unique National Tile Museum, housed in a 16th-century former convent.
Stop Two: Sintra (2 days)
Sintra is the queen city of beautiful palaces and castles, which gave it the title of a UNESCO World Heritage Site. It's also a great base for exploring the Sintra-Cascais Natural Park.
Highlights:
Admiring the colorful 19th-century Pena Palace – one of the Seven Wonders of Portugal.
Visiting the intriguing Convent of the Capuchos.
Living a fairytale at the dreamy Quinta da Regaleira palace.
Stop Three: Porto (2 days)
Sitting on the Douro River, Porto is a beautiful city perfect for travelers who love wine, good food, interesting landmarks and museums, and "wanderable" historic centers. It's also a perfect base for a few days in the Douro Valley.
Highlights:
Admiring the 18th-century Carmo Church and its stunning Azulejo tiles.
Getting lost in the maze of the narrow, colorful streets of the neighborhood of Ribeira.
Crossing the Luís I Bridge to Vila Nova de Gaia to visit some cellars and enjoy the best port wine tasting tours.
– Explored by Or from My Path in the World
East of the Iron Curtain: Berlin – Prague – Budapest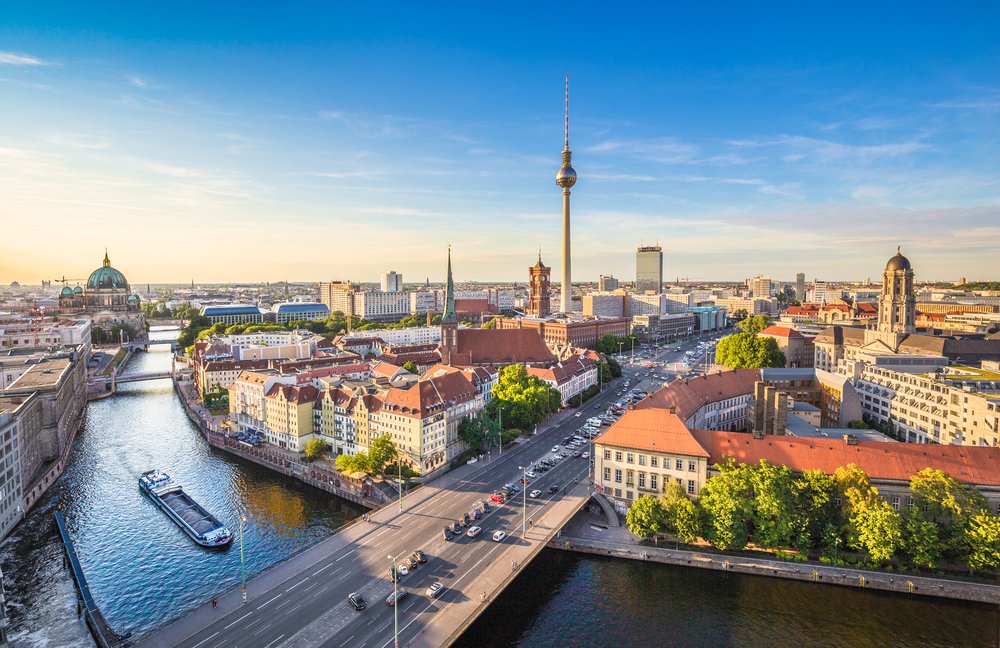 For history lovers, a one week Europe trip covering Berlin, Prague, and Budapest will allow you to visit 3 European capital cities in 3 different countries that were all formerly behind the Iron Curtain.
If you're curious to see beautiful European cities while also learning more about the history of the 20th century, this is the perfect one week Europe itinerary for you.
Stop One: Berlin (2 days)
The quirky city of Berlin is unlike any other in Germany – and the world! Not only does it have buckets of history but there are plenty of alternative things to do in Berlin popular with young travellers and locals.
Highlights
Learn about Berlin Wall history by visiting the Berlin Wall Museum and checking out the street art that now covers the remaining section
Explore quirky museums like the David Hasselhoff Museum, especially if you're visiting Berlin in winter and want to keep warm!
Alternative nightlife – check out warehouse parties, discos in refurbished phone booths and friendly LGBTQ+ bars
Stop Two: Prague (2 days)
The capital of the Czech Republic is a fantastic place for history and architecture lovers especially those who love castles. Although it gets cold in the winter, you can warm up over hearty Czech cuisine and affordable Czech beer.
Highlights
Drink in panoramic views of Prague from Vyšehrad viewpoint or Letna Park
Explore Prague Castle dating back to the 9th century
Take photos at colourful and quirky John Lennon Wall
Stop Three: Budapest (2 days)
The beautiful city of Budapest is another one with classic architecture and history in abundance but also a quirky side and off-beat attractions. You can explore the best of both worlds during a 2 day Budapest itinerary.
Highlights
Soak in the famous Széchenyi Spa Baths
Catch the funicular up to Buda Castle and Fisherman's Bastion on top of Buda Hill
Have a drink in quirky ruin bar, Simpla Kertz and others set inside refurbished buildings.
-Explored by Rose of Where Goes Rose
Mini Balkans Tour: Kotor – Dubrovnik – Mostar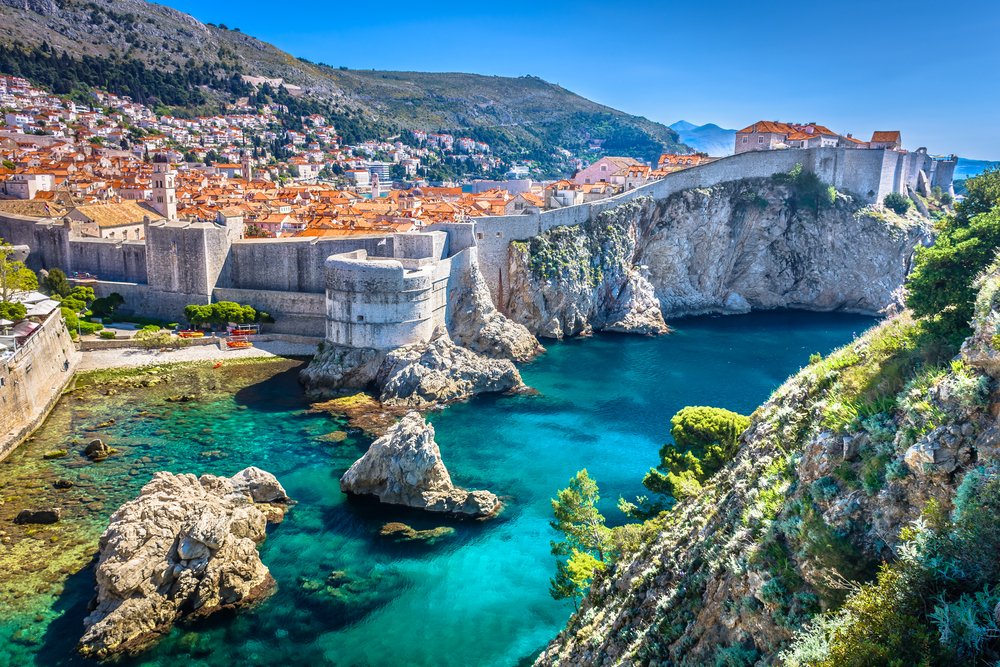 The Balkans is a complex region covering 12 countries and numerous languages, currencies, and traditions. Transit between countries can be time-consuming, and a proper trip through the Balkans definitely requires more than just one week in Europe.
However, this mini Balkans itinerary with stops in Montenegro, Croatia, and Bosnia & Herzegovina takes advantage of a particularly beautiful corner of the Balkans where you can easily visit three Balkan countries in just 7 days in Europe.
Stop One: Kotor (2 days)
Kotor is an ancient port city in Montenegro on the Adriatic coast. The city is on the UNESCO world heritage list. Kotor is famous for its churches, walls and astounding views.
Highlights:
Wander through the old town with many beautiful buildings, narrow streets, restaurants, terraces, small shops, and unique squares.
Climb the over 1200 stairs towards the fort, towering over the city. The rewards are stunning views over Kotor and the Bay of Kotor.
Take a boat tour in the Bay of Kotor. For the views on Kotor and to visit the town of Perast and the island Our Lady of the Rocks.
Stop Two: Dubrovnik (3 days)
Dubrovnik is another beautiful port city on the Adriatic Sea in Croatia. It's a famous, walled city with red-tiled roofed houses. Visitable in one day in Dubrovnik, but it's more relaxed in 2 days.
Highlights:
Walk on the medieval walls, surrounding the old town of Dubrovnik. Admire the city and its buildings from above.
Wander through the old town with its Stradun (main) street and old buildings like the Onofrio fountain.
Go up Srd Mountain with a cable car to have a perfect view over Dubrovnik.
Stop Three: Mostar (2 day)
Mostar is a city in Bosnia and Herzegovina, famous because of the bridge Stari Most. The bridge was destroyed during the Bosnian-Croatian war and rebuilt in the early 2000s.
Highlights:
Walk over Stari Most, the famous steep bridge. Admire it also from afar.
Take the Mostar Free Walking Tour, a walking tour with a local. Learn more about the city and its history.
Sit down at a terrace and try a Bosnian coffee.
-Explored by Cosette from KarsTravels
Pin This One Week in Europe Guide!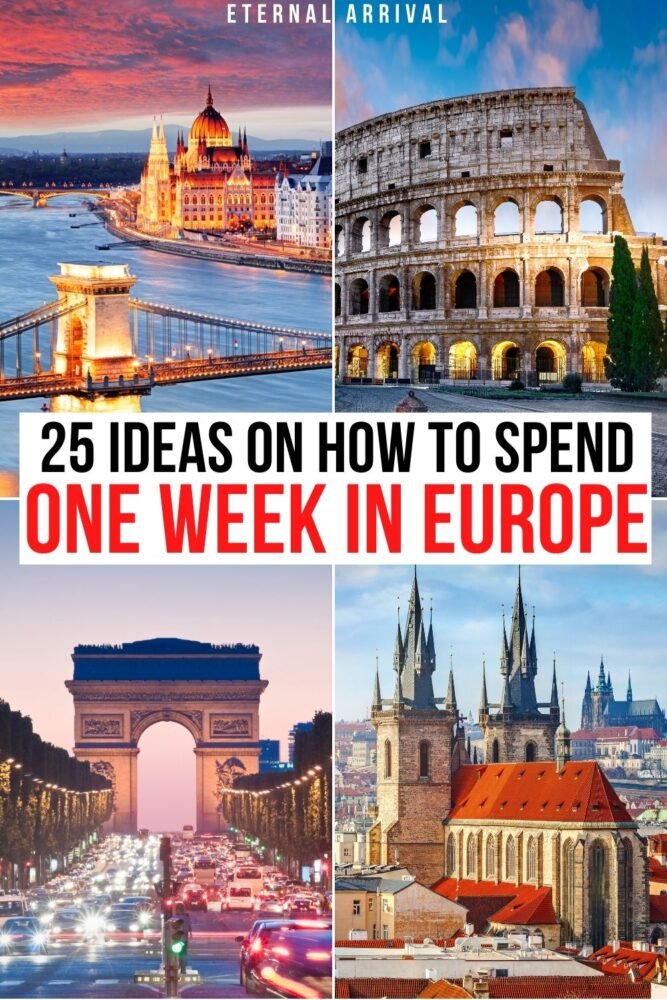 Allison Green is a former educator turned travel blogger. She holds a Masters in Teaching and a B.A. in English and Creative Writing. Her blog posts merge her educational background and her experience traveling to 60+ countries to encourage thoughtful travel experiences that both educate and entertain. She has been a speaker at the World Travel Writers Conference and her writing, photography, and podcasting work has appeared in National Geographic, CNN Arabic, CBC Canada, and Forbes, amongst others. Now based in the San Francisco Bay Area where she grew up, she has also lived in Prague, Sofia, and New York City.