If you ask anyone who knows me what my favorite national park is, I don't think a single one would hesitate to tell you it's Grand Teton.
Of course, this may have at least a little (or maybe a lot) to do with the fact that I am constantly talking about it.
If I'm not already planning my next visit to Grand Teton, there's a good chance I'm reminiscing about past trips, or, better yet, hiking on the trail pointing out cool things!
What can I say? Grand Teton is a huge part of my life, and I wouldn't want it any other way.
Want to know why this magical park has become so near and dear to my heart? Well, for starters it's simply amazing, in every way.
Between towering, rugged mountains that speak something prehistoric to your soul, crystal clear turquoise lakes around every corner, and wildlife like you've never seen anywhere outside of Yellowstone, Grand Teton has everything.
Plus, it has a fraction of the crowds of nearby Yellowstone, and its smaller size makes it much more manageable to visit if you only have one day in Grand Teton.
If you're a fan of the great outdoors, it's literally impossible to spend a day in Grand Teton and leave without a smile on your face.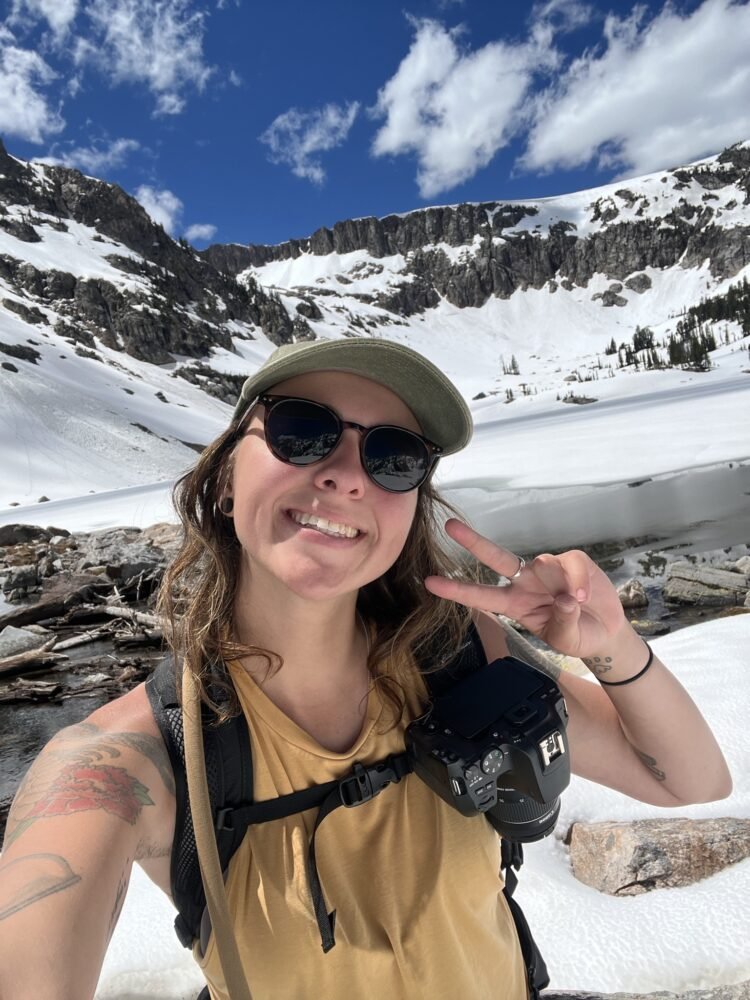 Note: This post contains affiliate links, which means I may receive a small commission if you purchase something through one of these links. Thank you for supporting the free content on this site! For more information on affiliate links and cookies, see my disclosure page for more details.
A visit to Grand Teton is bound to change your life. Am I being dramatic? Maybe, but you'll just have to see for yourself!
Phew, now that I've got that out of my system, let's get down to business.
I've lost track of how many times I've visited Grand Teton and by now it feels like I must have explored every inch. Okay, okay. That's a slight exaggeration, but cut me some slack!
The park is more than 300,000 acres and I've explored the frontcountry as much as possible, so now I'm slowly but surely making my way through the countless backcountry trails.
In any event, I think it's pretty safe to say that if you're looking for an expert to help plan your day trip to Grand Teton, I'm your girl!
When to Visit Grand Teton National Park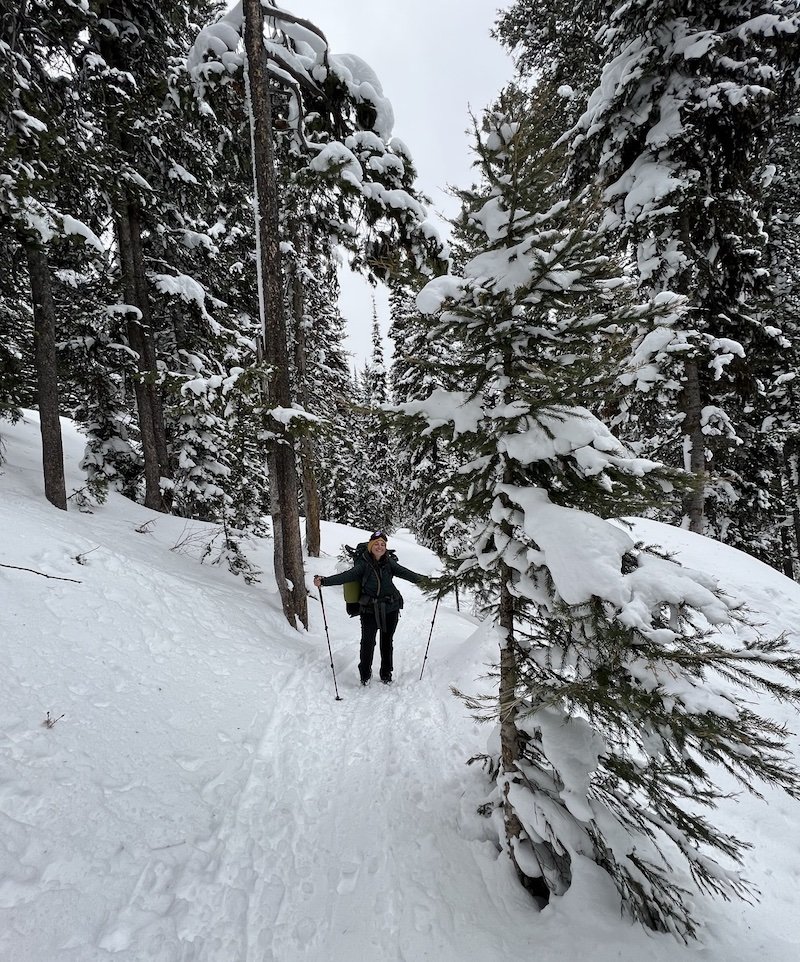 As an avid lover of Grand Teton NP, I could (and will!) argue that there is no bad time to visit the park.
While in a technical sense, that's not wrong, even I have to admit that a winter visit isn't for the faint of heart.
The scenic drive closes in the winter, which means you'll be traveling on foot once you get into the park.
So, if you aren't quite ready to snowshoe 10 miles or more to see famous views like Jenny Lake, I highly recommend that you plan your trip between April 30 and November 1st.
For a truly unforgettable experience without the headache of possible winter storms, the fall colors are spectacular in late September through early October.
What to Bring for a Day in Grand Teton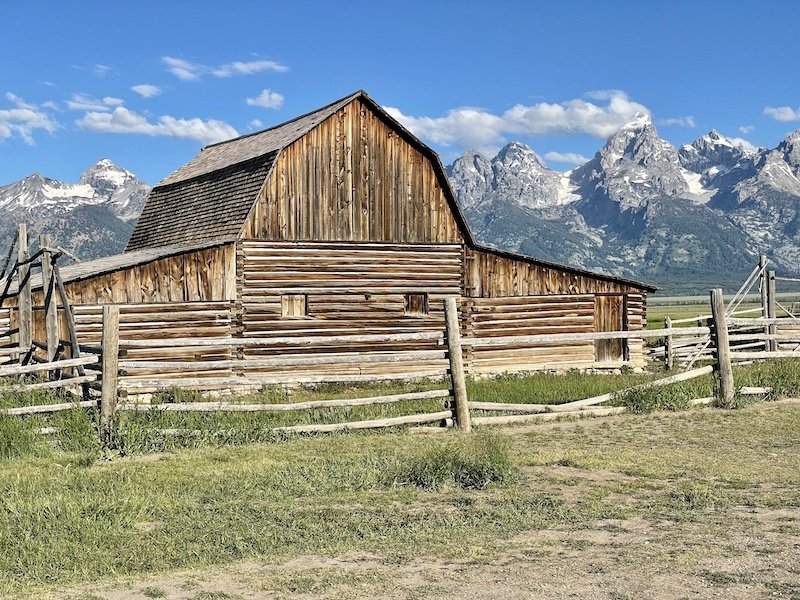 This list definitely depends on the time of year and the weather conditions but there are two absolute essentials you should have with you no matter what!
Bear Spray
Seriously. I can't emphasize this one enough.
Grand Teton is in the heart of bear country and even a short 15-minute stroll can lead to a bear encounter.
Always, always, always have your bear spray on you and within easy reach. Oh, and know how to use it, too.
Layers
Even during the summer months, Grand Teton can get pretty chilly so do yourself a favor and pack that hoodie…
And then throw in a lightweight down jacket, just to be safe.
Your One Day in Grand Teton Itinerary
Take in the sunrise at Oxbow Bend (or anywhere, really).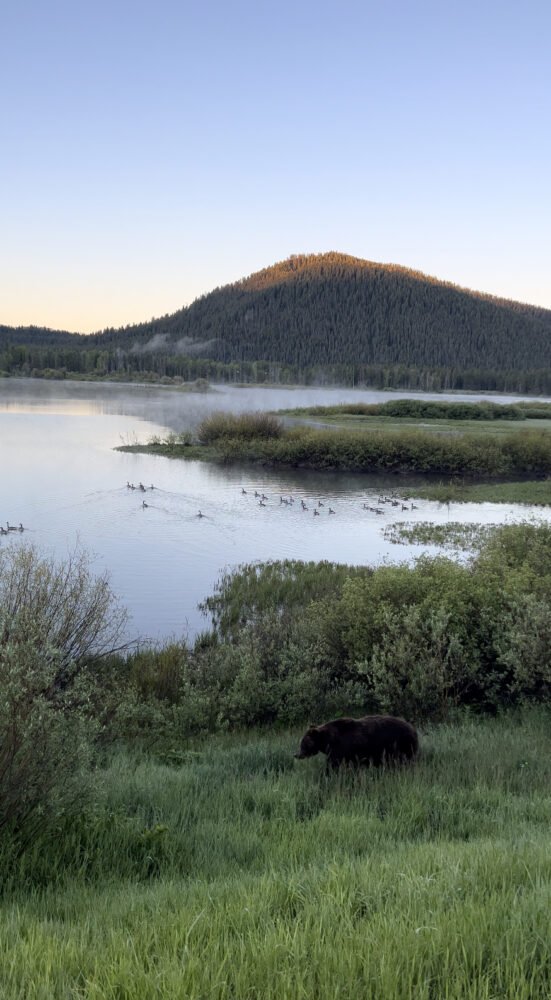 Okay, I'll be honest with you.
I've spent many nights (and woken up at an ungodly early hour for many sunrises) in Grand Teton and I have learned something…
There is literally no bad place to see the sunrise when you're somewhere this beautiful.
In fact, the morning that I saw the most wildlife (including two grizzly bears) was the same morning I woke up late and didn't get on the road until the sun was already rising.
Within five minutes of leaving my campsite, I was pulling over to experience one of the most magical moments I have had in the park!
So the bottom line is… Don't stress about the details!
I know deciding where to watch the sunrise in a place as beautiful as Grand Teton National Park can seem like an impossible task, but I assure you that anywhere you pick will reward you with a stunning sunrise view.
With that said, if you're truly overwhelmed by the choices and you don't know where to begin, Oxbow Bend is your best friend.
With a peaceful bend in the river, Mount Moran showing off in the distance, and great odds of spotting wildlife, you can't go wrong.
Enjoy a 1950's style breakfast at Jackson Lake Lodge.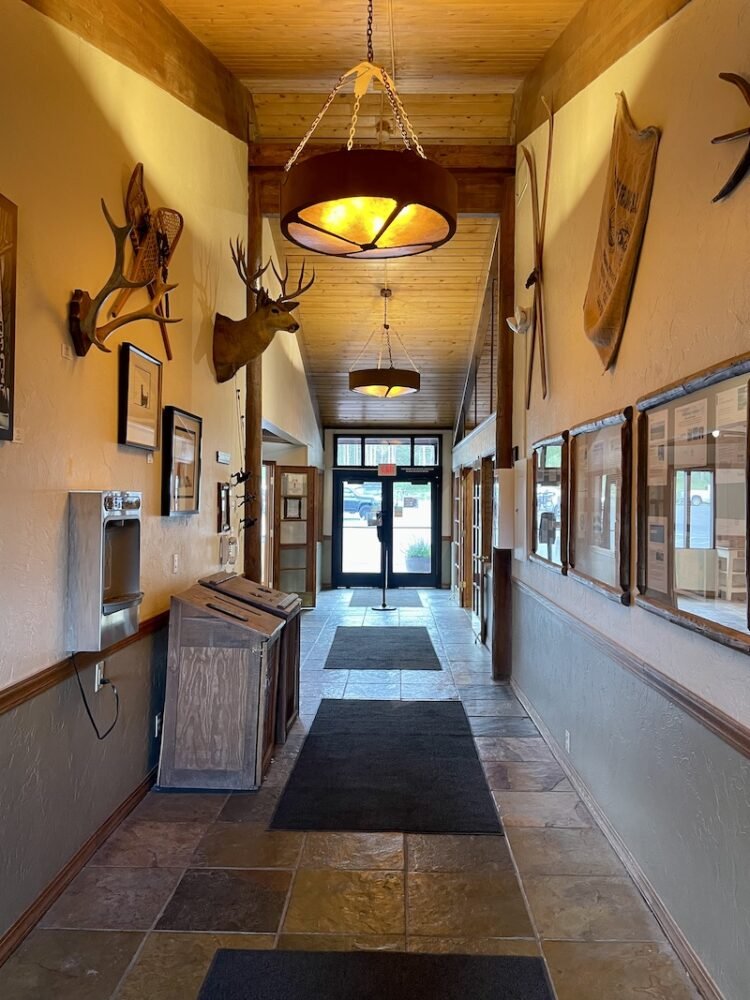 I stumbled upon this place one lazy morning (talk about pure luck) when I decided it was finally time to visit the Jackson Lake Lodge.
I was already swooning over the adorably rustic, yet somehow very new feeling of the grand lobby when I turned a corner and found myself in Grand Teton breakfast heaven.
Enjoy a classic breakfast of eggs and bacon, build your own omelet or go for a local favorite like the huckleberry pancakes.
Just make sure to get something hearty and fuel up for this busy day — with only one day in Grand Teton, you're going to need it!
Whatever you decide, you'll get to enjoy it at a breakfast counter (which is how all breakfasts should be eaten, in my humble opinion) that zigzags throughout the entire restaurant.
Some even say that it is the longest continuous counter in existence, but you'll just have to see for yourself!
So bring your own coffee up, if you so choose, or snag some here, and enjoy a delicious breakfast in a charming setting with seating that's perfect for making some new friends or exchanging trailhead tips!
Take a slow drive to your next stop.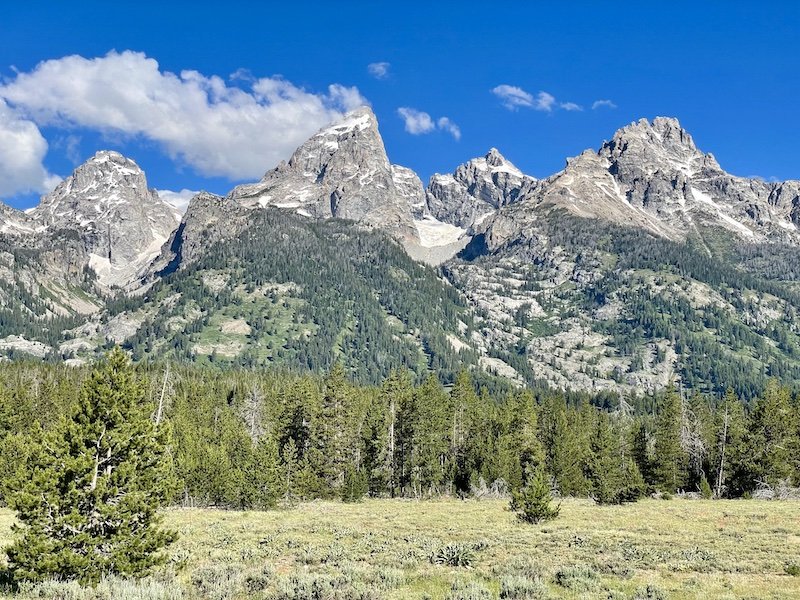 One of the things I love most about Grand Teton (okay, okay, who I am kidding, I love everything) is that the adventure starts the second you drive into the park and it just keeps on going until the second you leave.
There's fresh dense greenery and wildlife everywhere, not to mention the Teton range showing off some of the most stunning mountain views on this green earth.
It's safe to say you could never leave your car and still have a memorable time in the park.
But while every road in Grand Teton is guaranteed to amaze you, one particular stretch stands head and shoulders above all the rest – Pilgrim Creek.
Why? Well, it may have something to do with the fact that it is the location that the legendary Grizzly 399 has been spotted most frequently… adorable cubs and all!
As if that wasn't reason enough, how about the fact that the area's open fields also welcome moose and herds of elk you'd be hard-pressed to see anywhere else?
So, after your leisurely breakfast, hop back in the car and take a nice slow drive to your next stop, and keep an eye out, because you never know what beautiful creature you might see along the way.
Tip: If you drive from Jackson Lake Lodge right to your hike for the day, you'll only see a small portion of Pilgrim Creek. To increase your chances of a wildlife encounter, drive to Colter Bay first and then make your way back, and be sure to take your time!
Hike around a lake (or five).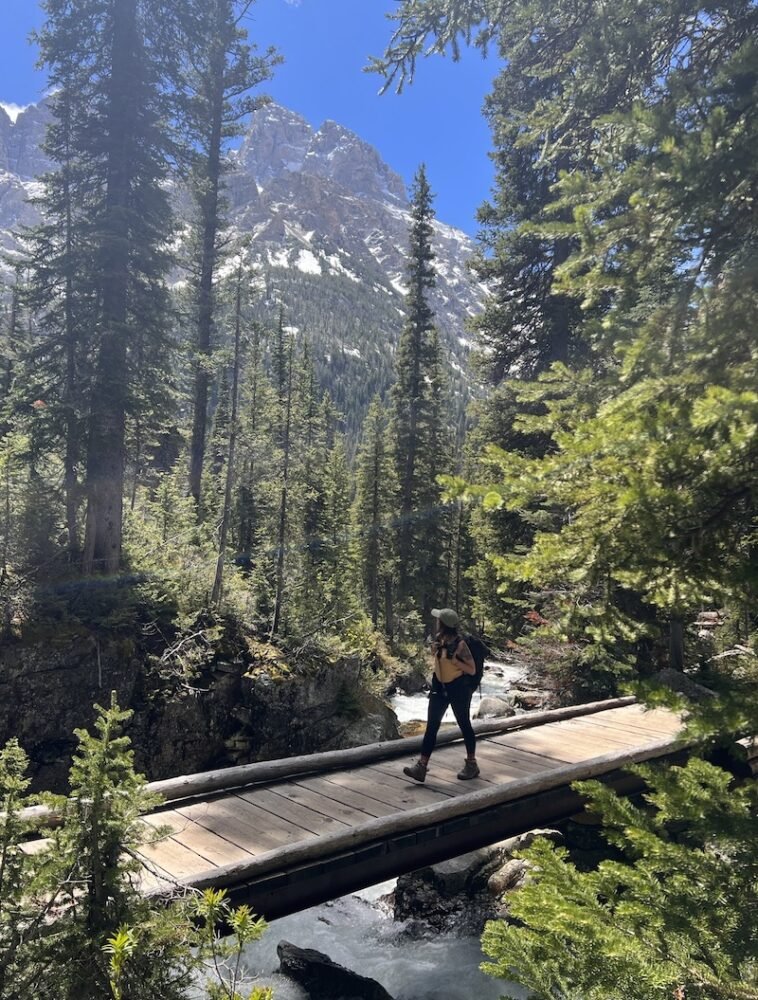 I can assure you from experience that no matter which of Grand Teton's lakes you choose to hike around, you're in for a great time, since each is somehow more beautiful than the last
But here's the thing – when every option's a good option, it means we're in for a tough decision, and as my mother likes to remind me, I don't exactly do well with tough decisions. (Just kidding…sorta).
So, here's the plan. I'm going to give you all the info you'll need to make the perfect decision for your vacation, and leave it up to you to make the final call!
Which lake is right for you?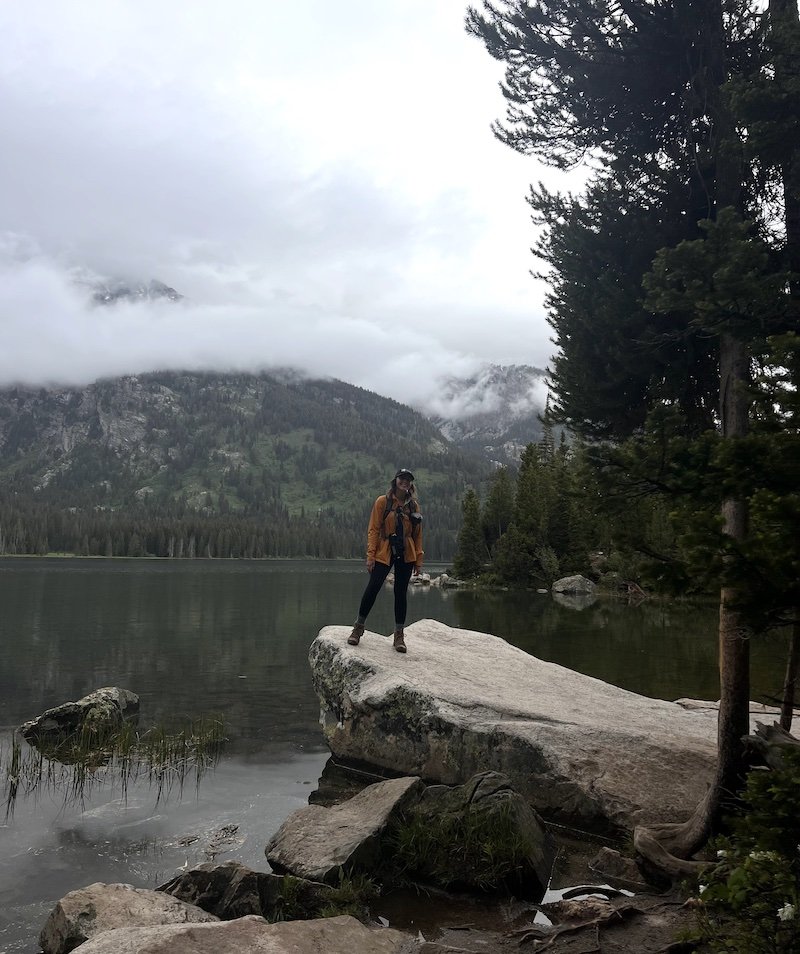 Taggart and Bradley Lake: This hike is a popular choice. Take the short hike to Taggart (just 3 miles roundtrip) and then decide if you want to take the extra journey to Bradley (an additional 2.9 miles roundtrip).
What I love about this hike is that even though the parking lot can look full and scary when you pull in, once you get on the trail you'll find no shortage of quiet places to enjoy a moment of solitude.
Do note that this is a destination hike, so you'll be spending most of your time in the forest, rather than walking the rim of a lake.
If you're anything like me, the fun lies in the journey for you and you don't mind waiting til the end for your breathtaking lake view, so this one's for you.
It's also important to note that this hike offers views of the Grand Teton but not the entire range.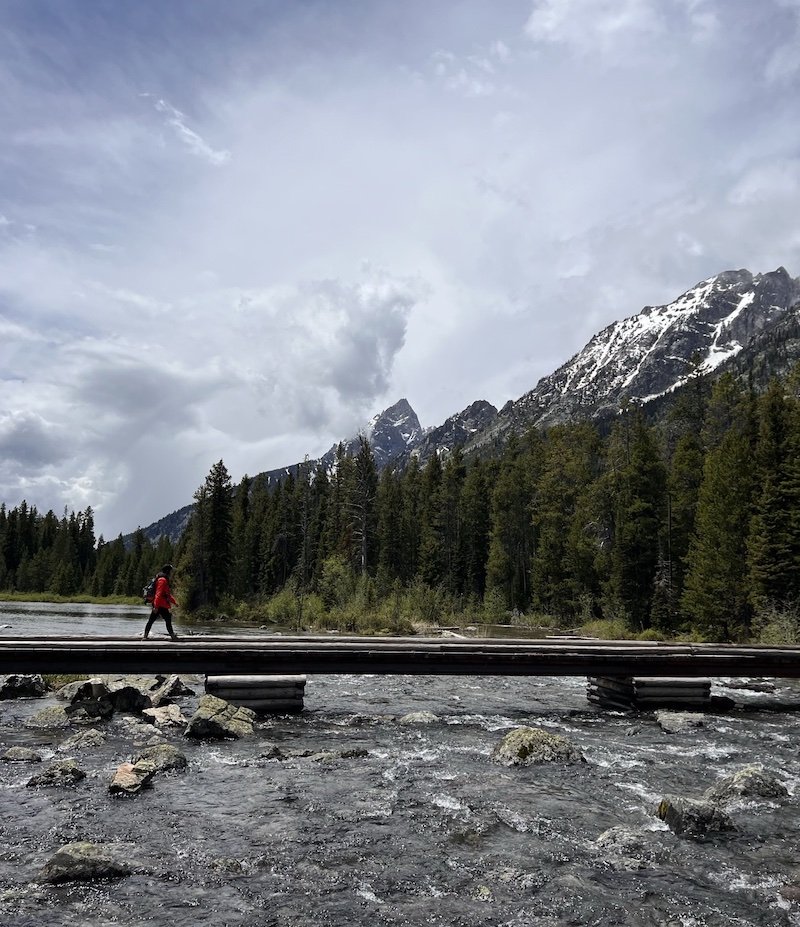 String Lake and Leigh Lake: Here we have an even more popular choice with an even scarier parking lot. Similar to Taggart and Bradley, you have a couple options available when you get here.
Hike along the edge of String Lake until you make it to Leigh Lake (2 miles roundtrip) or gain some elevation on the String Lake Loop (3.7 miles roundtrip) and see both lakes from above.
This is definitely a busier trail so don't expect to get it to yourself… unless you take the loop trail.
After all, it might be harder, but with more distance comes less people. Now that's a math equation I can get behind!
Unlike Taggart and Bradley, this is a journey-and-the-destination hike.
Every inch of the loop trail is peppered with lake views, panoramas, the Teton range, adorable bridges crossing babbling brooks, and the occasional wildlife sighting. What more can you ask for?
This is the hike for you if you don't mind toughing it out through some steep sections for some epic views. I promise the reward is higher than the effort.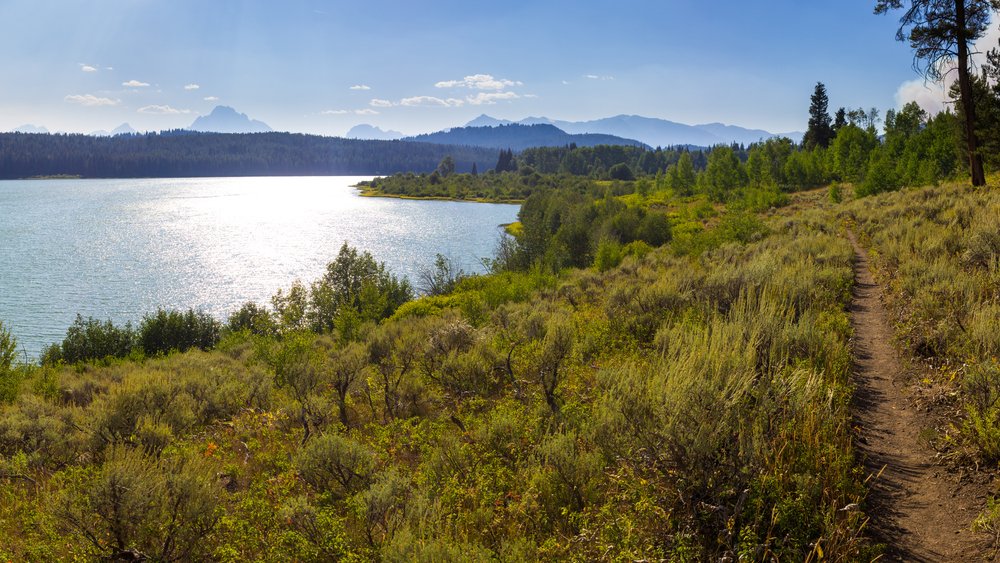 Two Ocean Lake: This one's an absolute hidden gem. This loop is a bit longer, at 6.4 miles roundtrip but you don't have to circle the entire lake to bask in its awesome views – you can turn back earlier if you so choose.
Just a short drive off the main road, it's amazing that this hike has stayed off everyone's radar.
The last time I was here was in the middle of the summer (aka peak season) and I only saw one other group. However, what I did see a lot was wildlife!
Over just one magical hour, I saw a grizzly bear, a moose, and a bunch of deer. Of course, I should warn you it wasn't all quite so magical as all that, as this trail is also home to more than a few mosquitoes!
Wildlife lovers, this is the hike for you if you don't mind loading up the bug spray and would rather spend your day as far away from other people as possible.
Just don't forget the bear spray (and bug spray, just bring all the sprays), and remember to always keep a safe distance!
Pig out at Signal Mountain's Trapper Grill.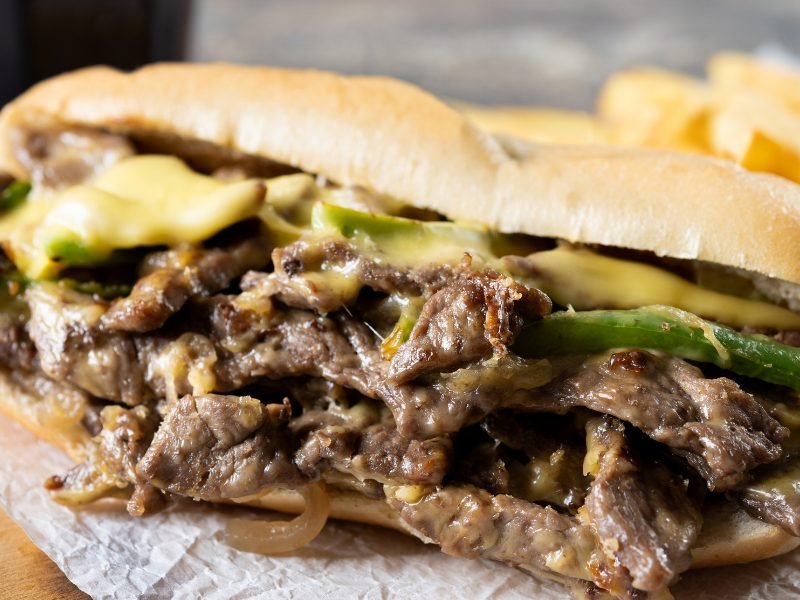 I don't know about you but every time I get close to the end of a long hike, I start daydreaming about the delicious lunch I'm about to enjoy.
If you've been hiking for any amount of time, you already know; everyone's got their own go-to "end-of-hike" reward meal. For me, it's always been a burger with a side of fries.
Of course, that was before I ran across the delightful Trapper Grill and their incredible menu shook me up out of that rut.
My first time there, I was 100% prepared to order my usual post-hike meal.
But then the guy at the table next to me (who may or may not have seen me eyeing his meal), leaned over and told me that I just had to get the Philly cheesesteak.
I'm always open to recommendations from my fellow travelers, so I did and let me tell you… I still daydream about it.
So do yourself a favor and make Trapper Grill your lunchtime destination.
Oh, and you just have to get the Philly cheesesteak.
Take the shuttle boat to Inspiration Point… or not.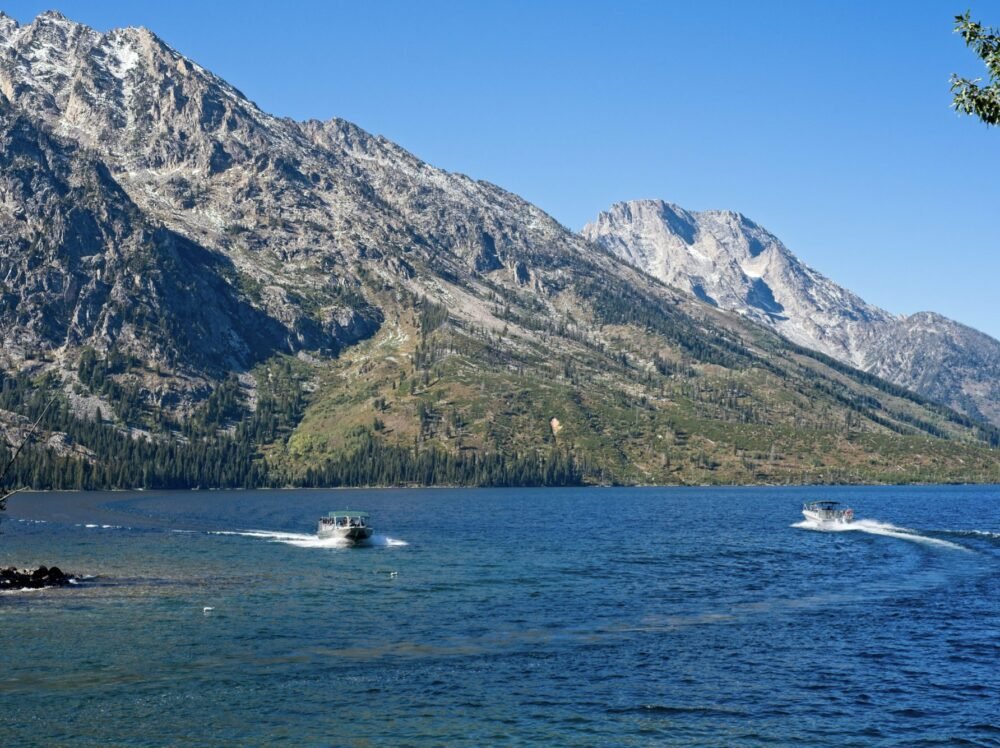 Okay, so, cards on the table: I'm a bit biased on this one and if I'm being completely honest…
I don't think it should be what you prioritize on your trip, especially with only one day in Grand Teton.
But, with that said, it's also one of the most popular things to do in Grand Teton, if not the number one pick, so what kind of guide would this be if I didn't include it?
A girl's got to think about her credibility!
You may think I'm being a bit harsh but let me explain where I'm coming from.
Gorgeous views and Jenny Lake? 10000% worth it. The shuttle boat across the lake? Pretty darn cool.
Sharing a very small viewing space with over a hundred people to see a beautiful view when there are beautiful views literally everywhere around you, and then waiting in line for over an hour to take the shuttle bus back?
Not so great. In fact, it is the opposite of great.
So while I highly recommend that you visit Jenny Lake and walk around its shoreline at least a little bit because it truly is a sight to behold, I'm hesitant to recommend the trip across the lake to Hidden Falls and Inspiration Point.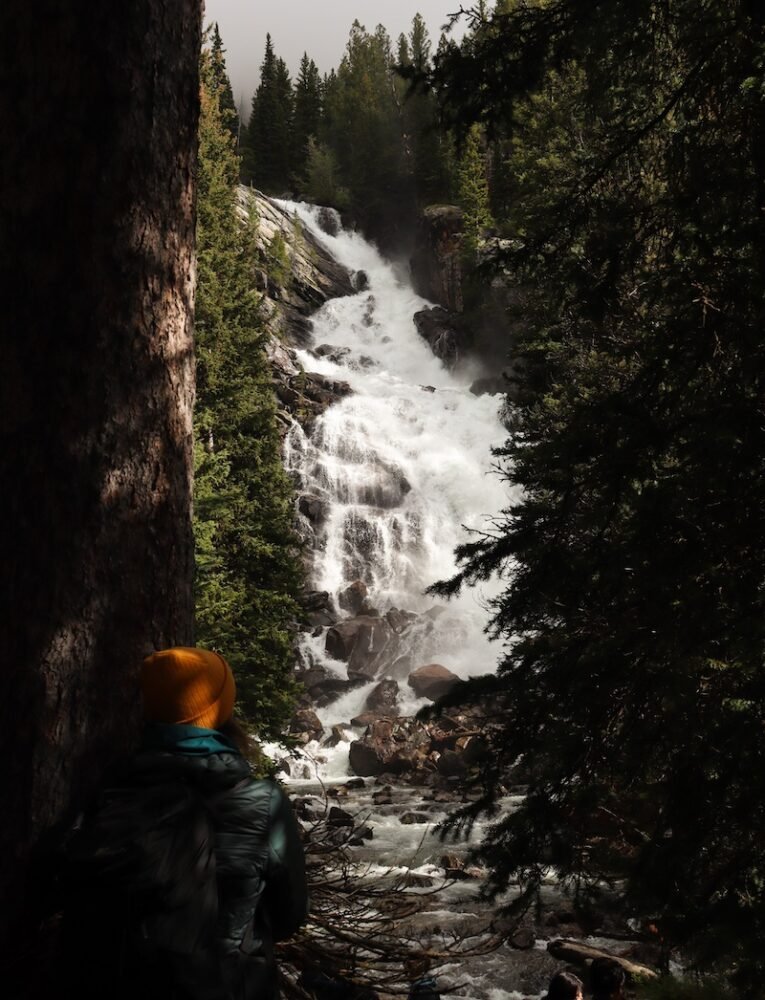 But hey! What's all my Grand Teton expertise good for if not offering you some alternative options?
Option One: Take the shuttle boat across the lake, shuffle through the hundreds of people to see the famous views, and then walk back around the lake to avoid the line (3-ish miles).
Option Two: Take the last shuttle boat across the lake, stay awhile until everyone leaves, enjoy the views at sunset with fewer (but still not zero) other people, and then walk back around the lake.
If you take this option, remember – your headlamp and bear spray are NOT optional.
Drive up Signal Mountain for sunset.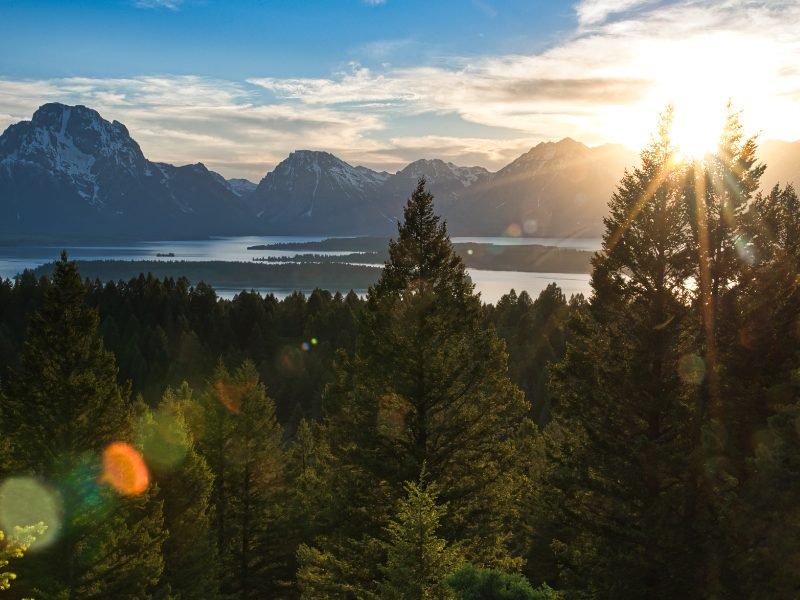 So. Sunset, if you think about it, sure is an awful lot like sunrise, but in reverse.
Should I go through my speech again about how there is no bad place to experience the park at sunrise, but the sunset version?
Driving up to Signal Mountain is a cool experience all on its own and once you get to the top, you're greeted with spectacular views of Jackson Hole and the Teton range.
Even better, though, is planning your trip at just the right time of year, as you will also be surrounded by wildflowers.
Without a doubt, Signal Mountain really is an amazing sunset location. But of course, there are also tons of other amazing sunset locations throughout the park!
So if sunset's approaching, Signal Mountain is too far away and you have dinner reservations at Gather in Jackson (and you definitely should), you can always opt for equally spectacular locations.
Two of my alternate favorite sunset spots are Schwabacher Landing or Mormon Row, both more convenient options if you're short on time!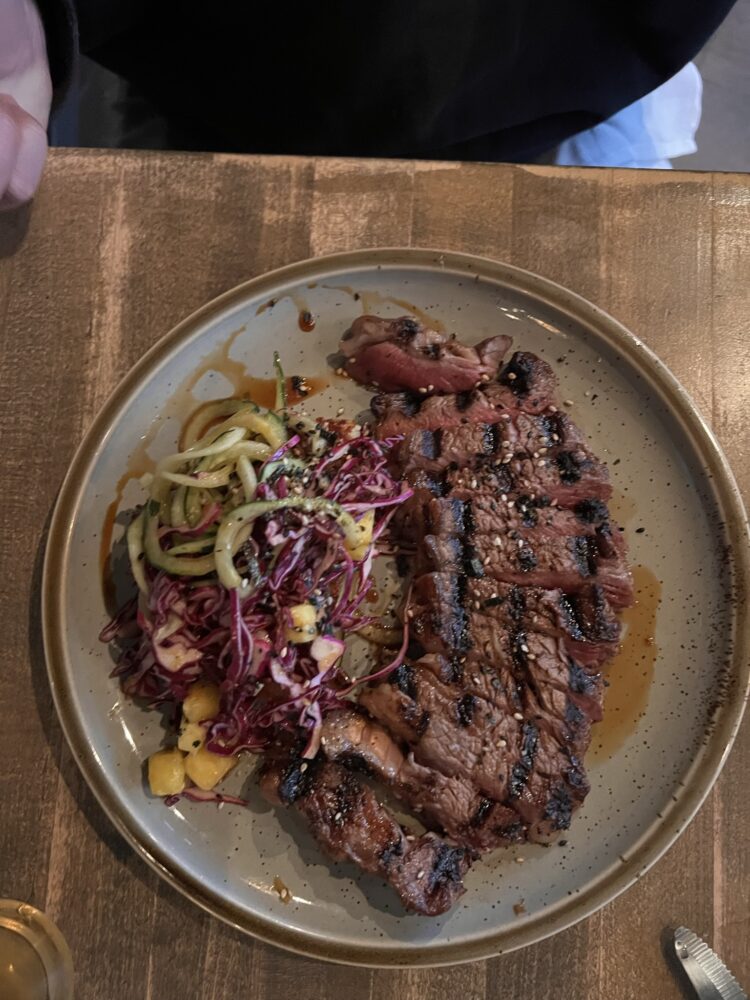 Where to Stay Near Grand Teton
Grand Teton is an amazing vacation destination for its scenery alone, so the  abundance of accommodation is just icing on the cake. 
National parks always get extra brownie points from me if they have a place to stay inside the park, but Grand Teton is so far above and beyond, it should be in a category of its own.
Not only does this park offer accommodations, but it offers a huge range of choices, varying in comfort level to suit your vacation style.
So the question isn't "will I have a place to stay?", but rather "where should I stay?" Let's take a look at the options! 
Whether you're planning a quick trip for just a day, spending two days in Grand Teton, or traveling around more of Wyoming, here are some great choices.
Camping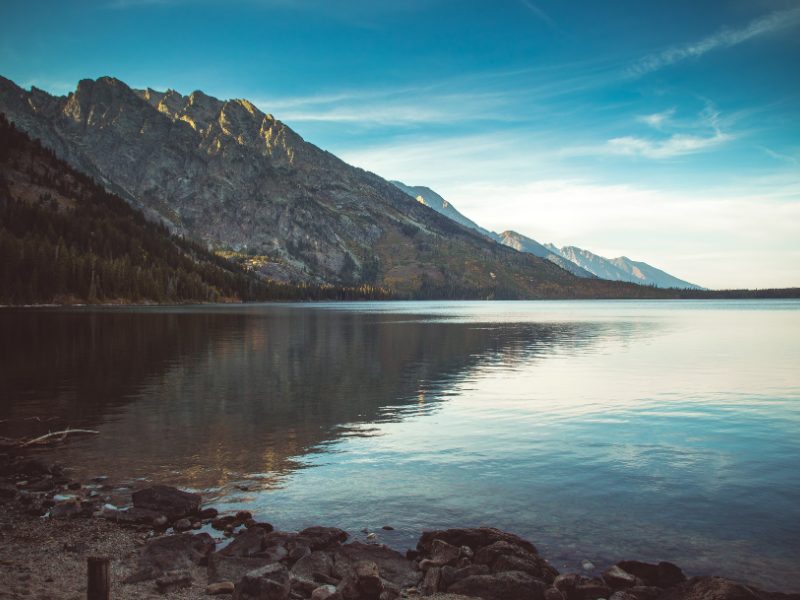 Jenny Lake Campground: There's a good reason that this campground sells out minutes after the spots release (and this is six months in advance, no less!) and it's the view.
If you don't mind sleeping right in the middle of nature and you're dying for a glorious morning view of the Teton Range, mark your calendar and don't miss these spots!
An alternative option is Lizard Creek Campground: Quiet, laid back, and bordering Jackson Lake, this is a great option if your idea of camping is less focused on getting the absolute best view and more focused on immersing yourself in nature.
Cottages
Colter Bay Village: Like the idea of connecting with nature, but a little freaked out by the thought of sleeping in a tent in bear country?
Grab your sleeping bag and head to one of Colter Bay's adorable cabins, complete with a cozy wood-burning stove to keep you warm at night!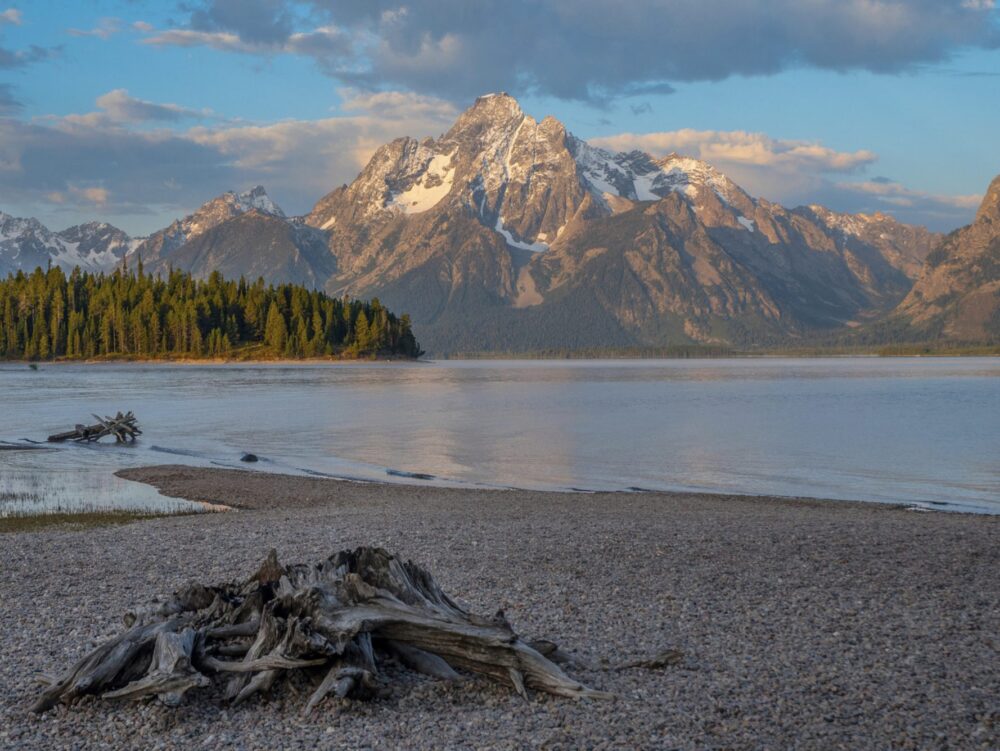 Hotels
Jackson Lake Lodge: A National Historic Landmark, this lodge has floor to ceiling windows overlooking Jackson Lake and… you guessed it!
Glorious views of the magnificent Teton range, right from the comfort of your soft hotel bed.
Plus, there's three restaurants and an abundance of recreational activities sure to please all types of visitors. What more could you ask for?
If you're visiting Yellowstone the next day, look no further than Headwaters Lodge & Cabins, since it is perfectly placed at the edge of Grand Teton and just a short drive from Yellowstone.
Sometimes, convenience trumps all!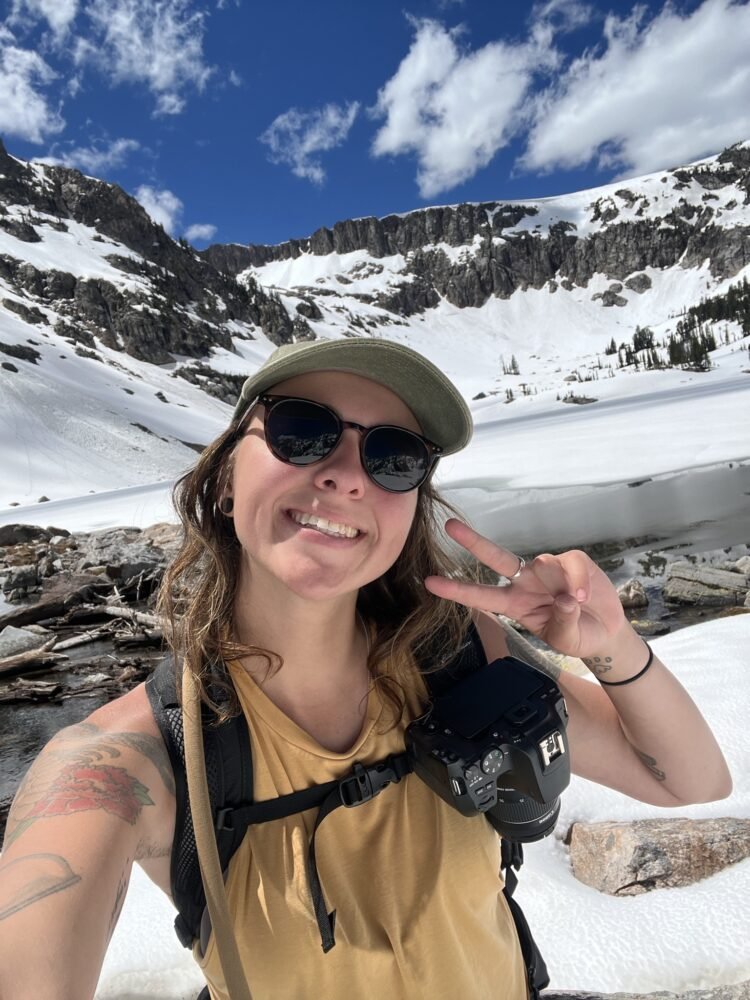 Nicole is a freelance travel writer who loves traveling and hiking in America's National Parks, particularly in Utah, Wyoming, and California. Her favorite place is just about anywhere where snow-peaked mountains can be seen in the distance.