If your travel plans end up passing through Porto for one day and you're looking for a quick adventure in this beautiful city, it can be done.
The trick is to have a thorough, detailed plan to make the most of it so you don't miss anything!
Luckily, we've got just the guide for you.
Porto is home to an incredible array of historical landmarks, gorgeous churches, and spectacular views of the Douro River.
While at least two days in Porto is ideal, it'd be a shame to miss out on sampling a bit of Porto's best sights, even if you only have one day in Porto.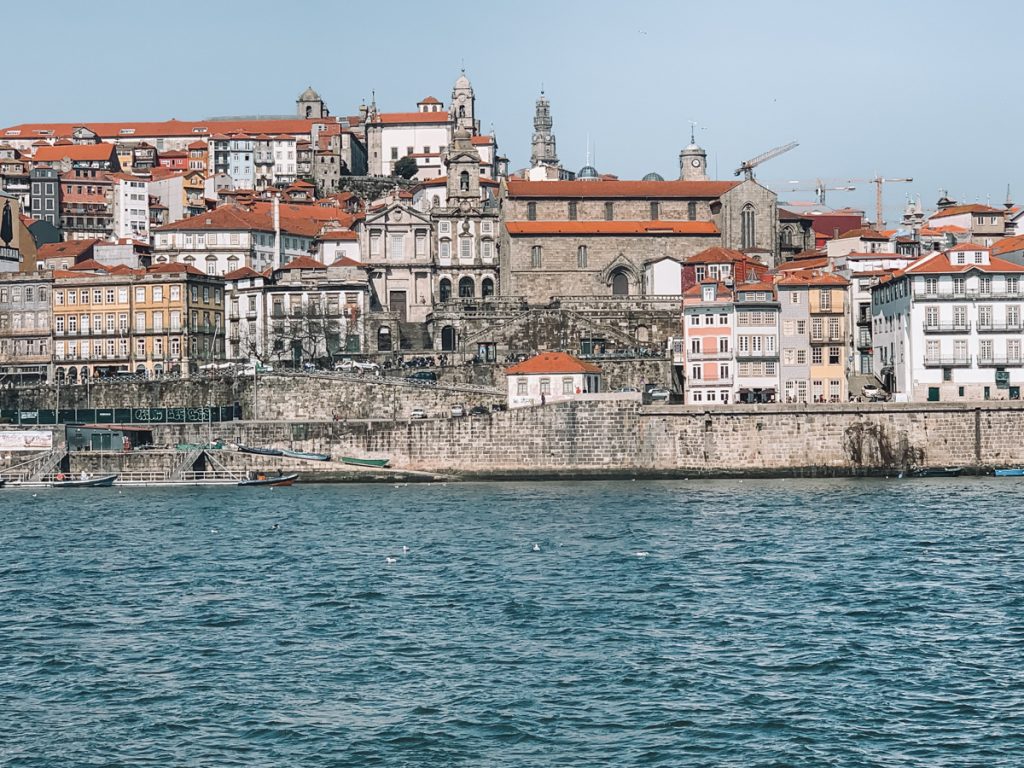 Note: This post contains affiliate links, which means I may receive a small commission if you purchase something through one of these links. Thank you for supporting the free content on this site! For more information on affiliate links and cookies, see my disclosure page for more details.
Foodies, contain your excitement: Porto is also the perfect place for a tasting of its signature port wine (no need to rent a car and go all the way to the Douro Valley for that — though it is worth it!), or to devour delicious Portuguese food. 
In this short guide, you'll find a condensed but complete one-day itinerary to experience everything Porto has to offer in a short amount of time.
During the two years I lived in Portugal, I visited Porto on many occasions, almost every time on short trips of just a day or two.
So, if I do say so myself, you're in good hands when it comes to planning your unforgettable whirlwind trip through Porto!
In the guide that follows, I'll take you through all the top highlights you can't miss in this charming Portuguese city, even if you've only got 24 hours in Porto!
And if you have another day… you can either follow this two-day Porto itinerary or take a day trip to the Douro Valley for some wine tasting!
What to Know Before Visiting Porto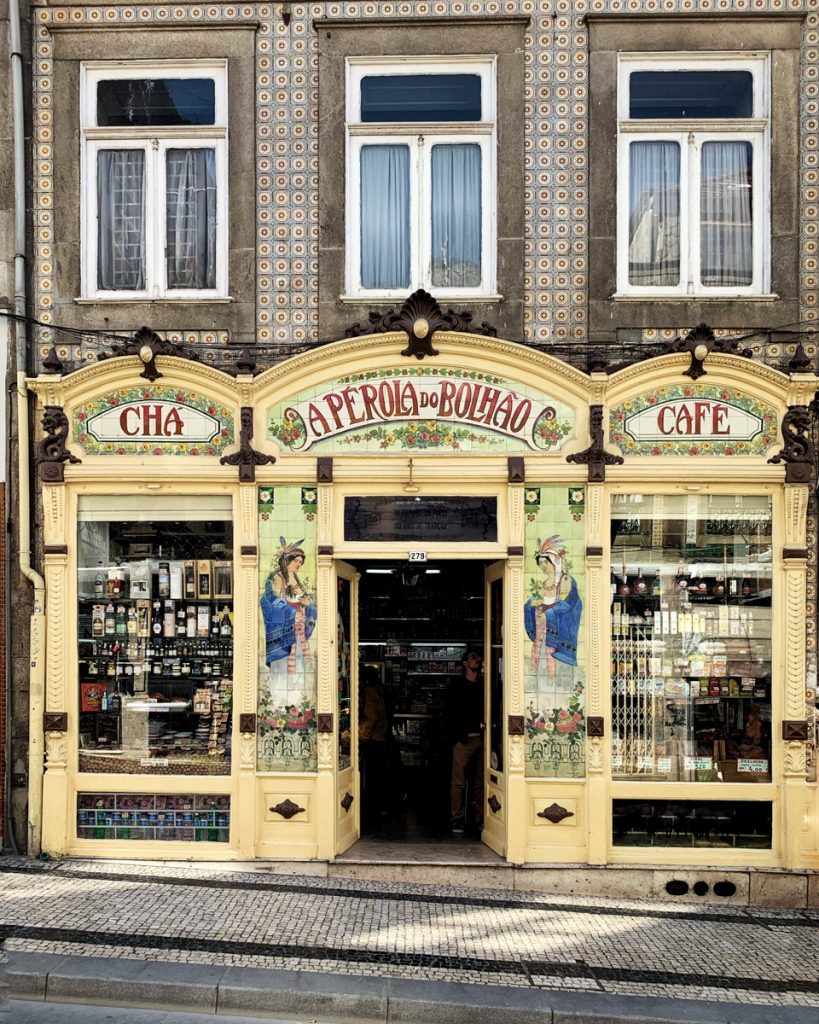 If you're visiting Porto on a short trip, you can save time by sticking to the historical center and getting around everywhere on foot.
This heart of the city is home to all of the most important landmarks, so you won't need any public transportation.
Be warned, though! Porto's a city built on hills, so you're in for a bit of a workout with all the climbing ahead of you.
Another thing to be aware of is the weather in Porto. Unlike the south of Portugal, or even Lisbon, Porto tends to get more rain. Like, a lot more.
Did you know Porto is rainier than London? Yes, that London.
During the winter months, the temperatures can be downright chilly, and it can rain for several days in a row.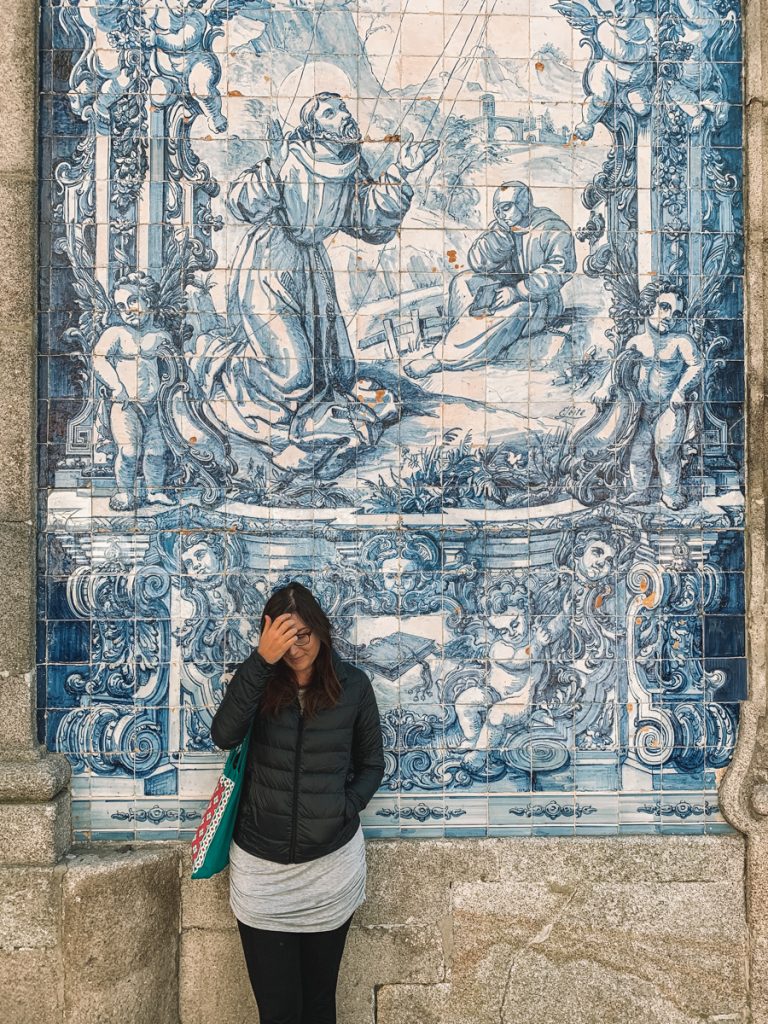 The best seasons to visit Porto are spring and autumn, but you'll want to avoid the Easter period due to holiday crowds.
If you visit in summer, brace yourself for high temperatures and huge crowds of summer tourists, especially during the peak months of July and August.
If you ask me, it's best to avoid these busy times and visit when you'll have a little more breathing room!
One Day in Porto Itinerary
Start with a delicious breakfast.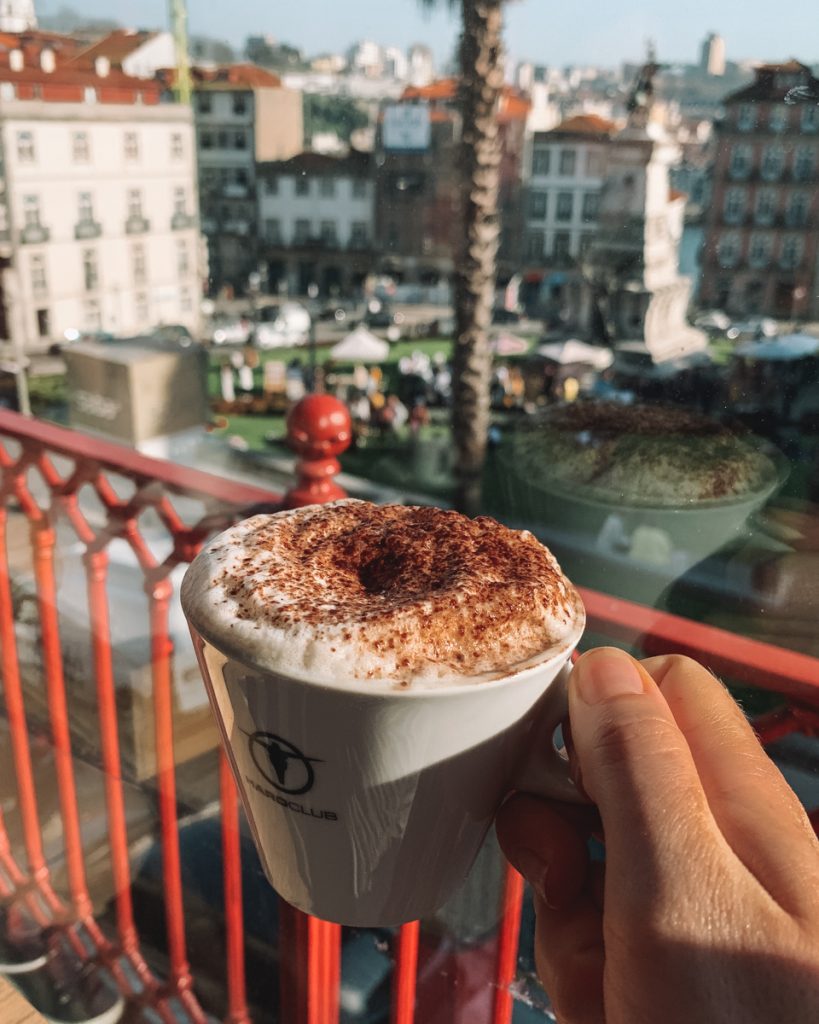 Begin your day in the Vitória district, where you can have breakfast to fuel up for a busy day ahead!
Wander over to Praça de Carlos Alberto and stop by one of the many nearby cafés.
You'll have a ton of delicious options to choose from, but just trust your appetite, and I guarantee you'll leave full and happy.
Options in the area will cover a wide range of tastes, from a typically Portuguese breakfast or a tasty and filling brunch.
Some of the best places in the area are Zenith, O Diplomata, and, for the coffee fiends among you, SO Coffee Roasters.
Admire the azulejos at Igreja do Carmo.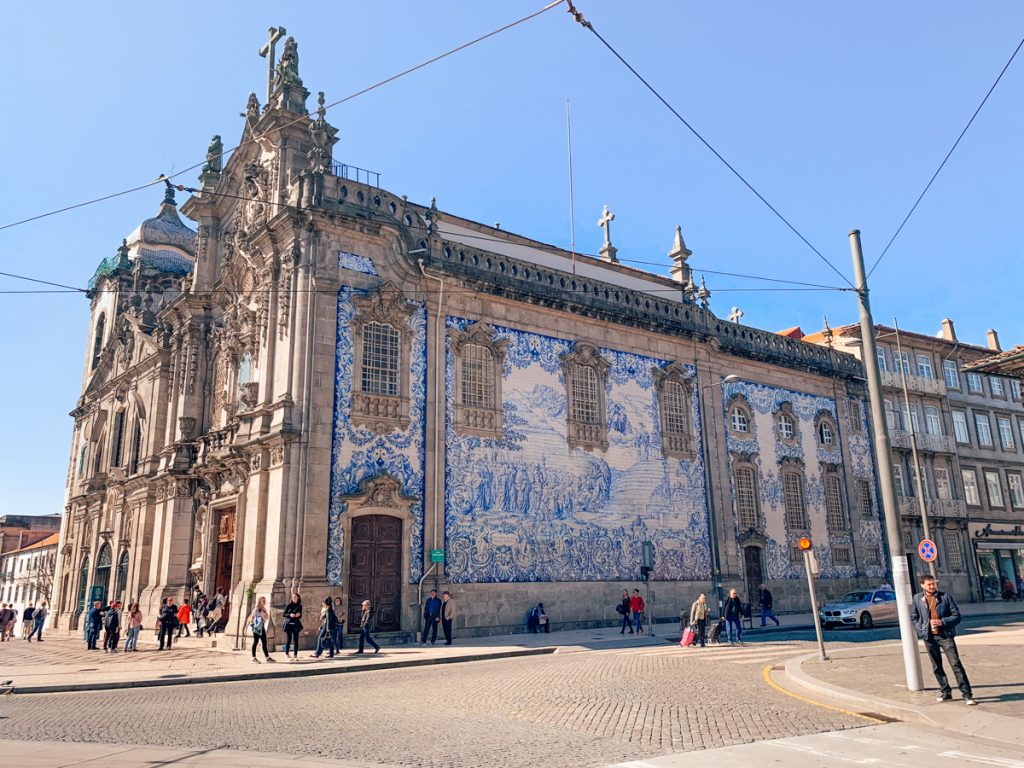 All right, now that you're fed and ready to set off on your explorations for the day, let's get to it!
Just a short walk from breakfast, you'll find one of the most iconic churches in Porto, Igreja do Carmo.
The church's most distinctive feature is the side façade covered in azulejos, so be sure to stop by and take a closer look.
These gorgeous scenes depict the foundation of the Carmelite Order on Mount Carmel.
It's also every Instagrammer in Porto's favorite spot, so you will likely have to wait to snap a good photo here!
Igreja do Carmo is a church in the Baroque and Rococo styles,dating to the second half of the 18th century, and it's located next to the existing Igreja dos Carmelitas Descalços.
Interestingly, building two churches so close to each other wasn't allowed, an ingenious solution had to be devised.
A house was built between them, turning them into a single building — or better yet — a twin church.
The house became known as Casa Escondida do Porto (Porto's hidden house).
After admiring the beautiful church from the outside, you might think you've seen the best this church has to offer, but there's so much more inside..
For just €4.50, you get access to the entire site, including the church, the Hidden House, the catacombs, the sacristy, and the library.
Enjoy bookstore heaven at Livraria Lello.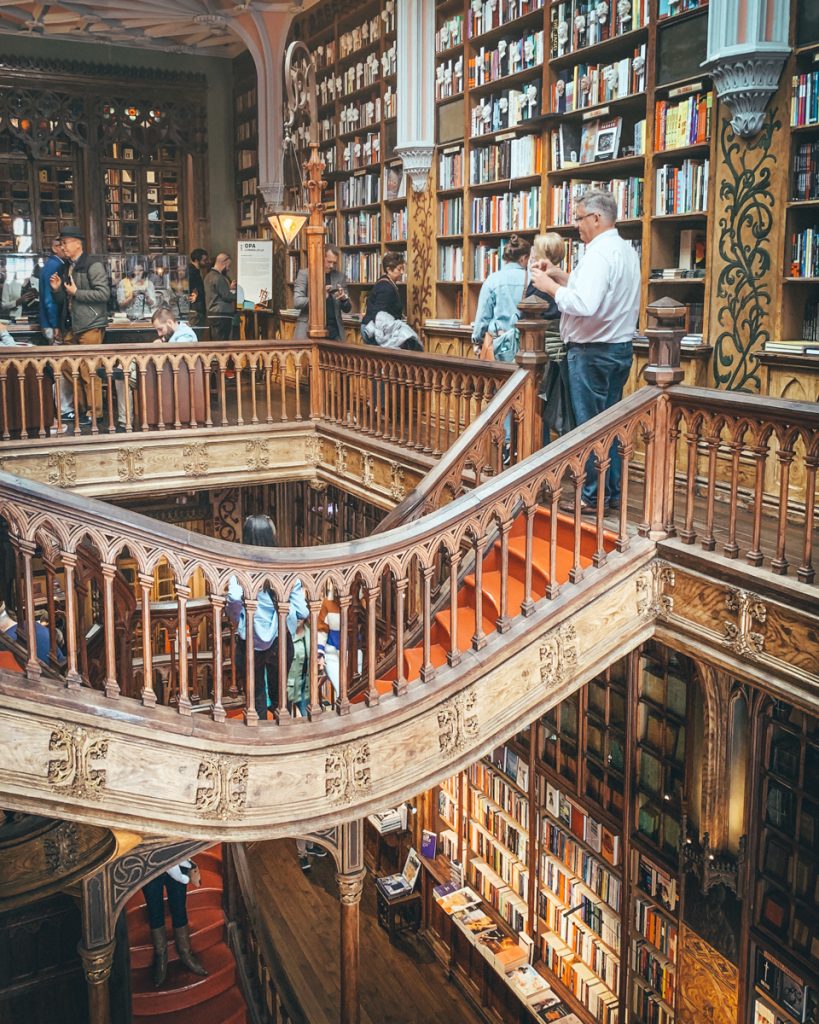 As if visiting an ancient church library wasn't enough, the next stop on your journey through Porto is a bookworm's paradise.
Only a few steps from Igreja do Carmo, you'll come across one of the world's most famous bookstores, Livraria Lello.
This gorgeous old bookstore opened the doors of its current location in the early 20th century, but its history starts even earlier, in the second half of the 19th century.
The iconic wooden staircase with the red steps became the defining emblematic feature of the bookstore, and played no small part in giving it a reputation as the prettiest bookstore in the world.
The bookstore's fame rose again when rumors spread that it inspired J. K. Rowling when writing Harry Potter (specifically that the staircase inspired the stairs inside Hogwarts), as she lived in Porto for much of her early writing career.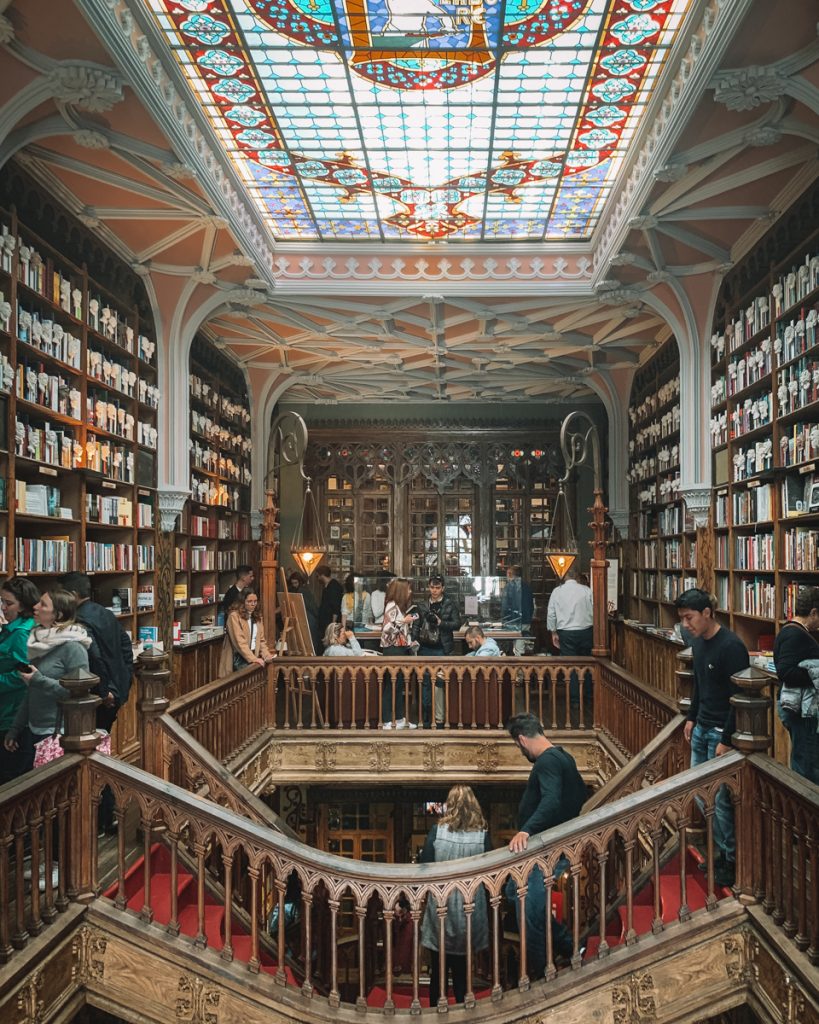 The author denied the claims, but the rumors had spread widely at that point, and the line between fact and fiction blurred, increasing the fame of this already-famous bookstore.
Livraria Lello is now so popular that you need a ticket to enter it.
The good news though, is that you can apply the entire value of the ticket voucher (€5) when you purchase anything from the bookstore.
That said, the books are marked up quite a bit, so it isn't the deal you think it is.
If you love books and need to pick up your next vacation read before continuing on your travels, why not pay a visit to this charming little bookstore?
The rumors may not be true, but the charm of this place is undeniable.
Visit Clerigos Church and climb up its Tower.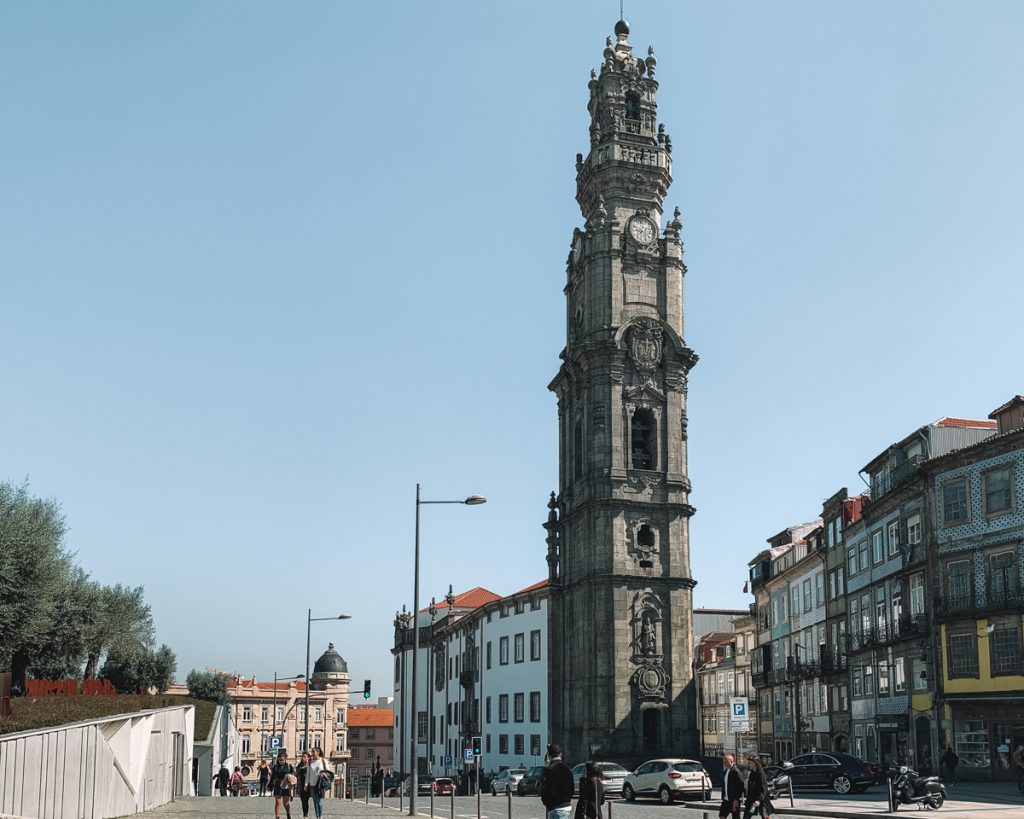 From Livraria Lello, walk two minutes to Clerigos Church and Tower (see how insanely walkable Porto is?)
The architectural complex of the Clerics is a large one, consisting of a church, a tower, and even a museum.
The entire complex dates back to the 18th century, and it became a National Monument in 1910.
At a breathtaking 75 meters tall (nearly 250 feet!), the Tower of the Clerics offers of the best scenic views in Porto.
To get to the top, you'll have to climb 225 steps, but once you get to the top (and catch your breath!) the view is worth the effort!
In addition to climbing the tower, you can visit the church and the museum dedicated to the Brotherhood of the Clerics housed in the House of the Brotherhood.
The entire visit costs €8, or you can get a night pass just for the tower for €5.
Explore the Praça da Liberdade and Church of Saint Ildefonso.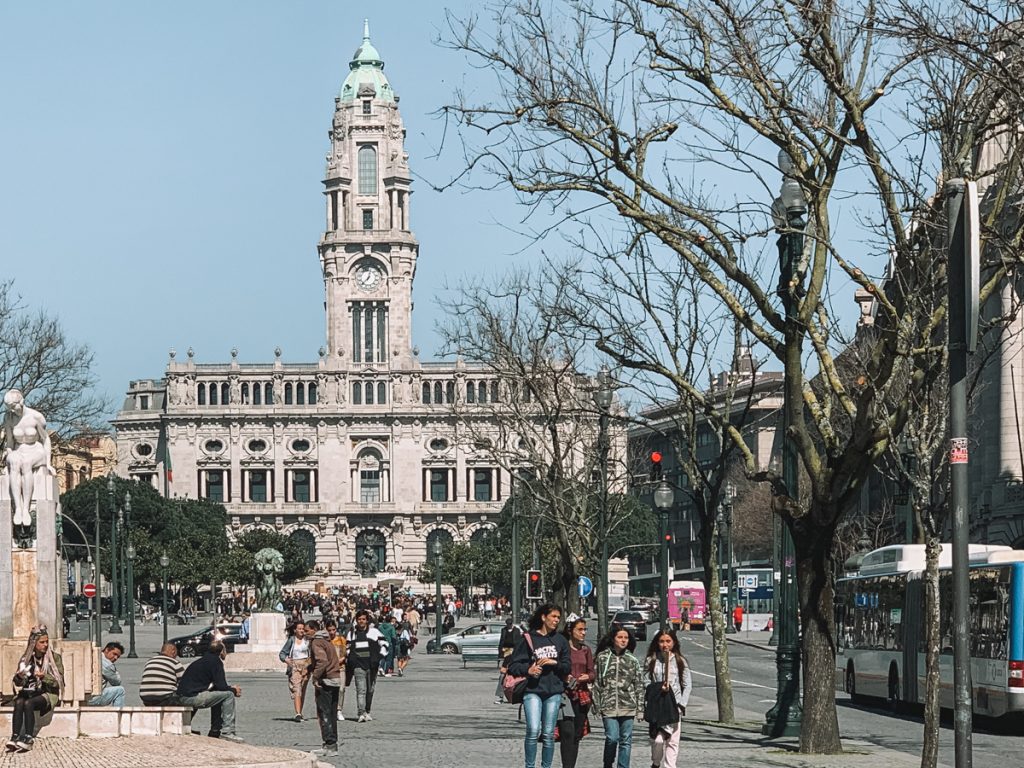 After you clamber down from the dizzying heights of the Clerigos Tower, walk to the Church of Saint Ildefonso, passing through Praça da Liberdade along the way.
This is one of Porto's most famous squares, surrounded by several important buildings, like Banco de Portugal, along with many restaurants and high-end hotels.
At the center of the square, you can see the statue of D. Pedro IV, king of Portugal (although just for a brief time), who was also first ruler of the Empire of Brazil.
To the north end of the square, you can see Porto's city hall and in front of it, the scenic Fonte dos Aliados.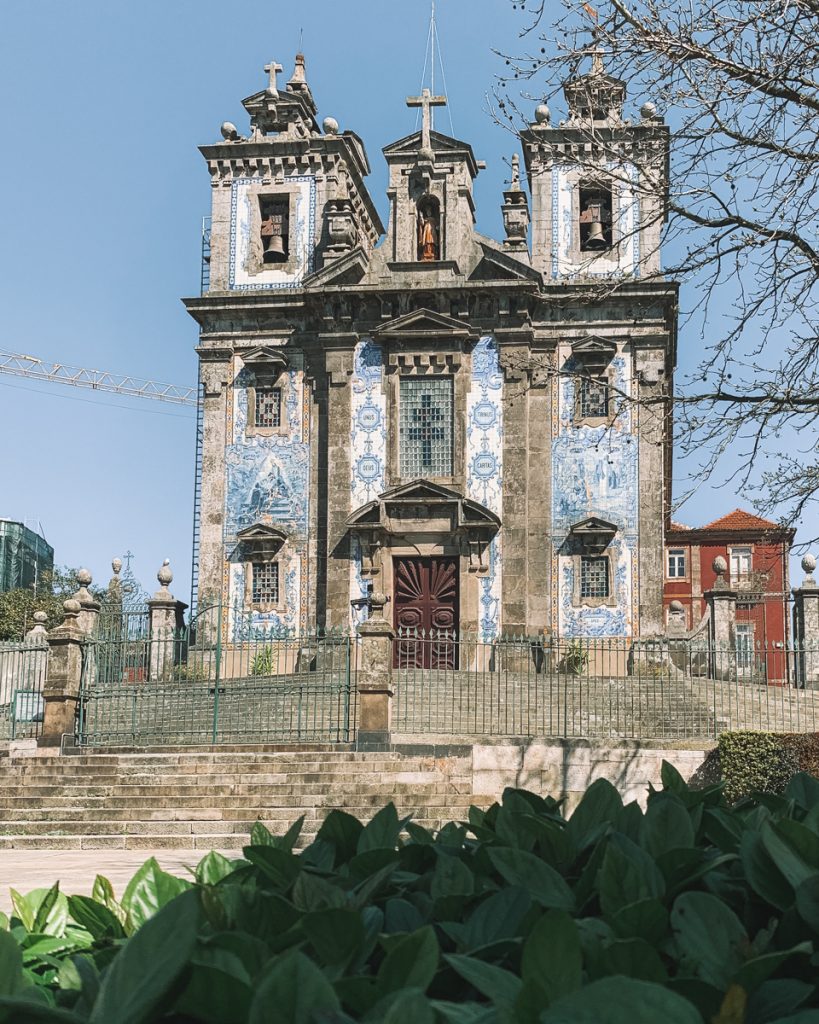 As you take it all in, keep walking east for a few more minutes along Rua de 31 de Janeiro, and you'll reach the Church of Saint Ildefonso.
Like many other churches in Porto, this charming little church features a striking façade decorated with blue and white azulejos.
The Church of Saint Ildefonso dates to the early 18th century, but its façade was only decorated as recently as the 1930s.
A jaw-dropping quantity of roughly 11,000 azulejo tiles cover the façade, depicting scenes from the life of Saint Ildefonso, to whom the church is dedicated.
Admire the beautiful mosaics in São Bento Station.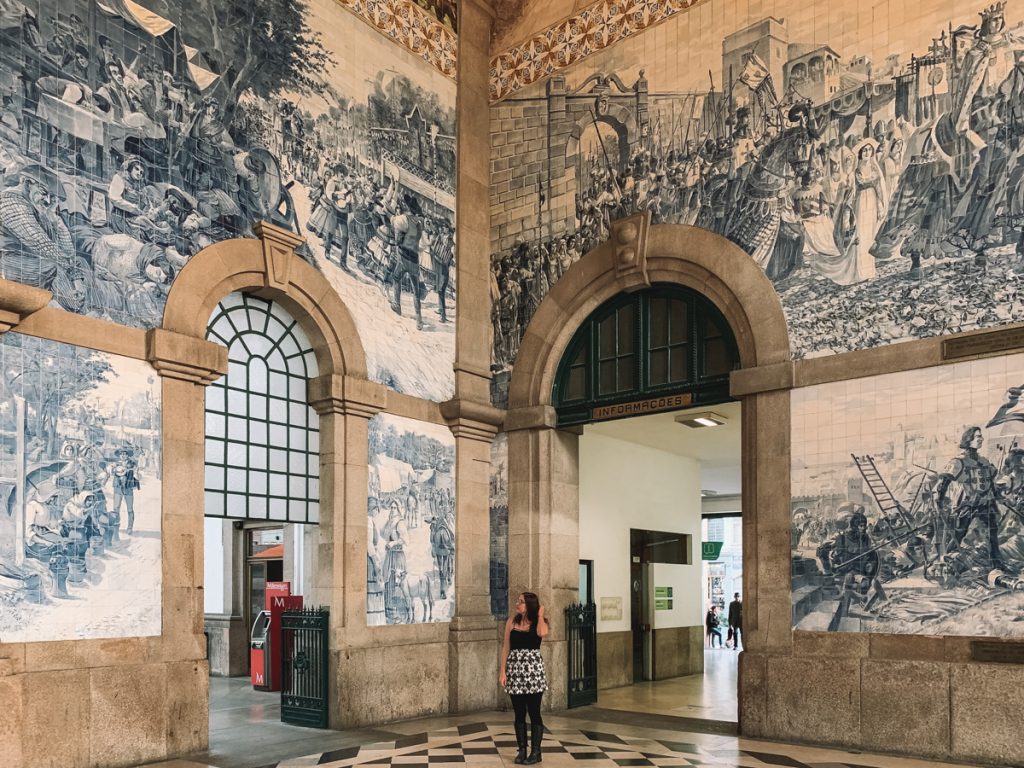 Stick with me here. I know a train station may be a bit of an unusual landmark to go out of your way to see.
But I promise you that São Bento Station is something special – it's truly one of the most beautiful public transportation stations in the world.
Step inside, and you'll see why you can't miss checking out this historical station while you're spending a day in Porto.
The interior of the station is literally covered floor-to-ceiling in stunning azulejos, depicting key events in Porto's history.
Among the many scenes depicted in the white and blue tiles, you can see the Battle of Valdevez and the Portuguese Conquest of Ceuta (yes, Portugal is really into their colonial history, but that's a story for a different day…).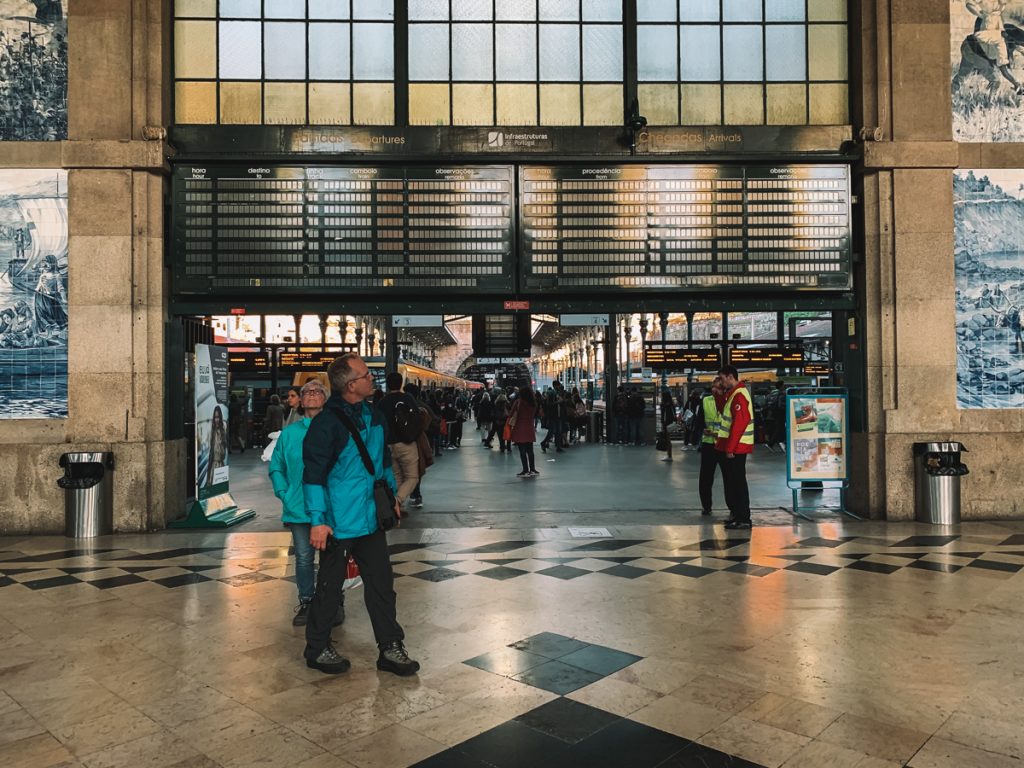 Fittingly for a train station, above the more traditional historical scenes, the multicolored azulejos depict Portugal's various forms of transportation over the centuries.
São Bento station was built between 1904 and 1916 on the site of the former Benedictine Convent of São Bento da Avé Maria.
The convent was in disrepair by the end of the 19th century, so it was demolished to make space for Porto's brand-new central station. I think it's quite the glow-up and I'm sure you'll agree!
Admire the awe-inspiring Porto Cathedral.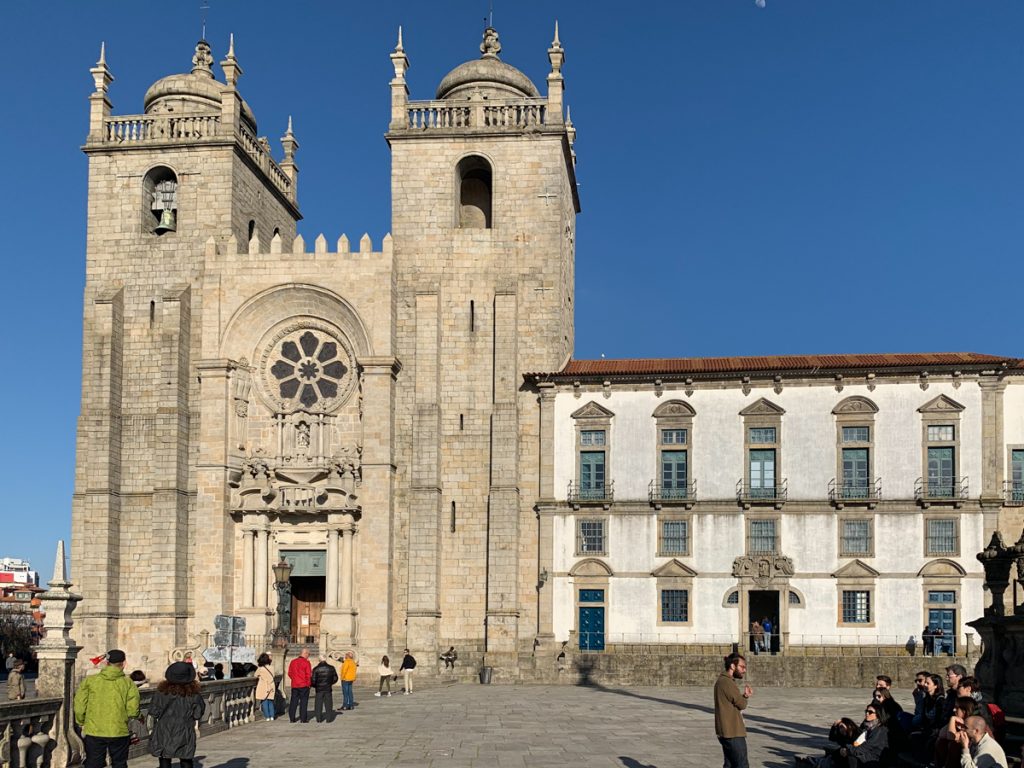 Just about ready for lunch? We've got one more stop first, and it's a good one.
The last visit before lunch is to Porto's Cathedral, known in Portuguese as the Sé do Porto.
The Sé do Porto is one of the city's oldest monuments, dating all the way back to the early 12th century when ground was first broken on the site.
However, the completion of the church would be a lengthy affair, taking several centuries – it only finished in 1737. (And I think I'm a procrastinator.)
Unsurprisingly, given how long the construction dragged on for, the cathedral features several architectural styles.
These styles span a handful of centuries, the most prominent ones being Romanesque and Gothic.
But that's not all. Some striking Baroque elements were added during the last stages of construction in the 17th century.
Those elements include the silver altarpiece and the apse that replaced the prior Romanesque one that was looking a bit worse-for-wear.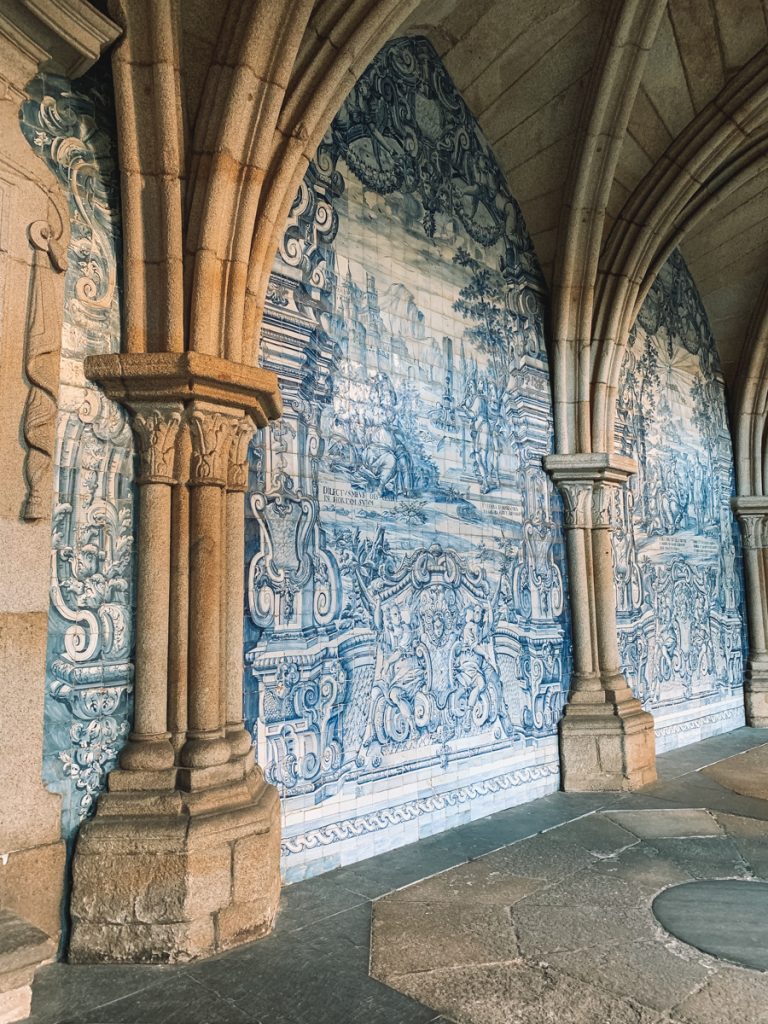 You can enter the cathedral free of charge, but there is a small fee to visit the beautiful Gothic cloisters, and trust me when I tell you it's worth it for the azulejos alone!
For just €3, you can step inside the cloisters to admire the stunning azulejos decorating the walls of the cloisters depicting famous religious scenes.
As a bonus, despite this being one of Porto's main sites, many people don't know it's worth paying the extra few euros for the cloisters, so these azulejos are among the least-crowded in Porto.
Take a lunch break.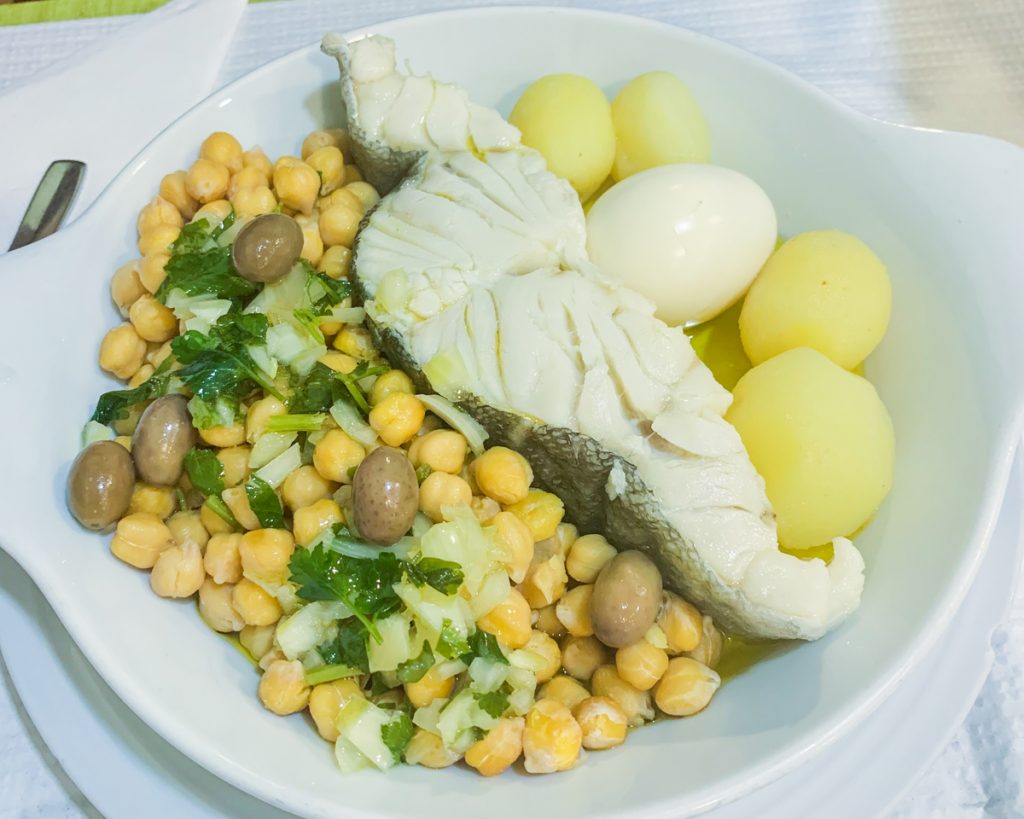 By now I'm sure you'll have worked up quite an appetite, so it's a good thing that you'll find many restaurants within a short walk from the cathedral.
If you want to try the most traditional dish in Porto, have the Francesinha, but be warned, it's not for the faint of heart!
The Francesinha is a truly massive sandwich filled with various meats, from ham to fresh sausage, steak, and a Portuguese sausage known as linguiça.
To add heart attack upon heart disease, all this is then covered in cheese, topped with a fried egg, and soaked in a traditional Francesinha sauce made with tomato and beer.
If that got your mouth watering, go ahead and try the Francesinha at Porto Escondido or Restaurante Fininho.
If you're a vegetarian but you want to sample the Francesinha, my vegetarian friend living in Porto swears by the Lado B Café (and we liked the meat ones there as well!)
However, if Francesinha sounds too intimidating for you (I get it – for me, once was enough!) you can find many great alternatives at these restaurants or others nearby.
Other good options in the area are Em Canto and Impar Flores.
Wander through the lively Cais da Ribeira area.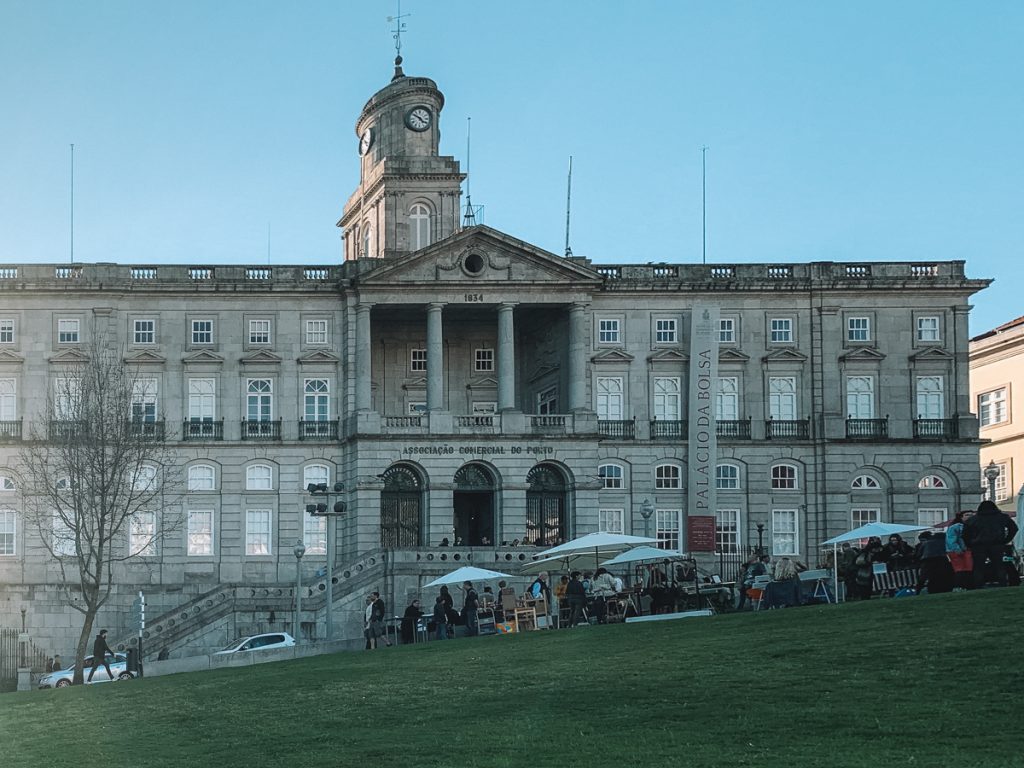 After lunch, make your way down to the riverbank in the area of Cais da Ribeira and just stroll around for a while to enjoy the lively atmosphere.
Cais da Ribeira is always buzzing with life, from locals to tourists and street artists performing for passersby.
As you pass through Praça da Ribeira and along the river, be sure to admire the stunning view of the massive Dom Luís I Bridge, one of Porto's prettiest landmarks.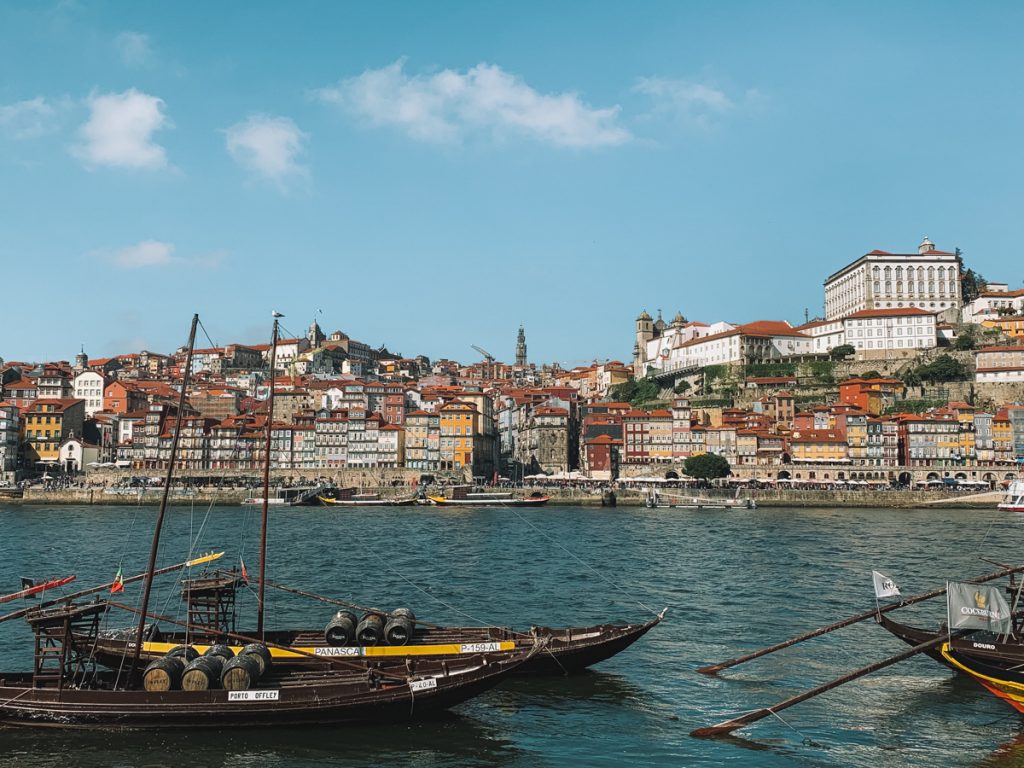 Looking across the river to the opposite bank, you'll see Vila Nova de Gaia with its port wine cellars.
Along the river, check out the traditional Ravelo boats which were historically used to transport barrels of port wine along the Douro River.
Nowadays, they're a tourist attraction in and of themselves, and you can even go for a spin on the water in one of these boats!
Cross the beautiful Dom Luís I Bridge.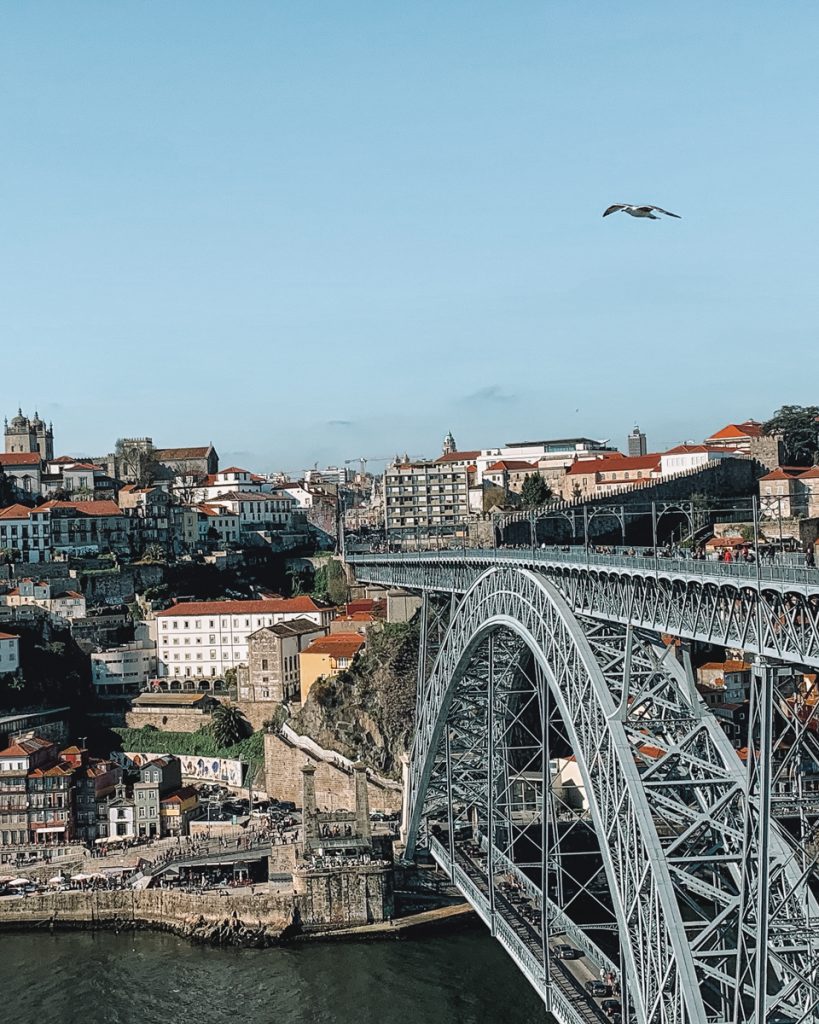 From Cais da Ribeira, you can either cross the bridge on the lower level or make your way up to the upper level.
Both options are good, but the view is more impressive from above, and it'll take you straight to the next stop.
If you're dying for the full experience of seeing the lower level, don't worry! You can cross the lower level on your way back.
Dom Luís I Bridge was designed by a disciple of the renowned architect Gustave Eiffel, Théophile Seyrig.
Seyrid had already worked with Eiffel on another bridge between Porto and Vila Nova de Gaia, Maria Pia Bridge.
With this history in mind, it's not surprising that the two bridges have a similar design, and you can even see a striking resemblance between Dom Luís I Bridge and the Eiffel Tower – just think horizontal, not vertical.
A light rail connects the two cities on the upper deck, while the lower deck is dedicated to general traffic.
Pedestrian walkways are available on both levels, so you can enjoy different viewpoints while crossing the bridge on its two levels.
Explore Porto's "sister city" of Vila Nova de Gaia.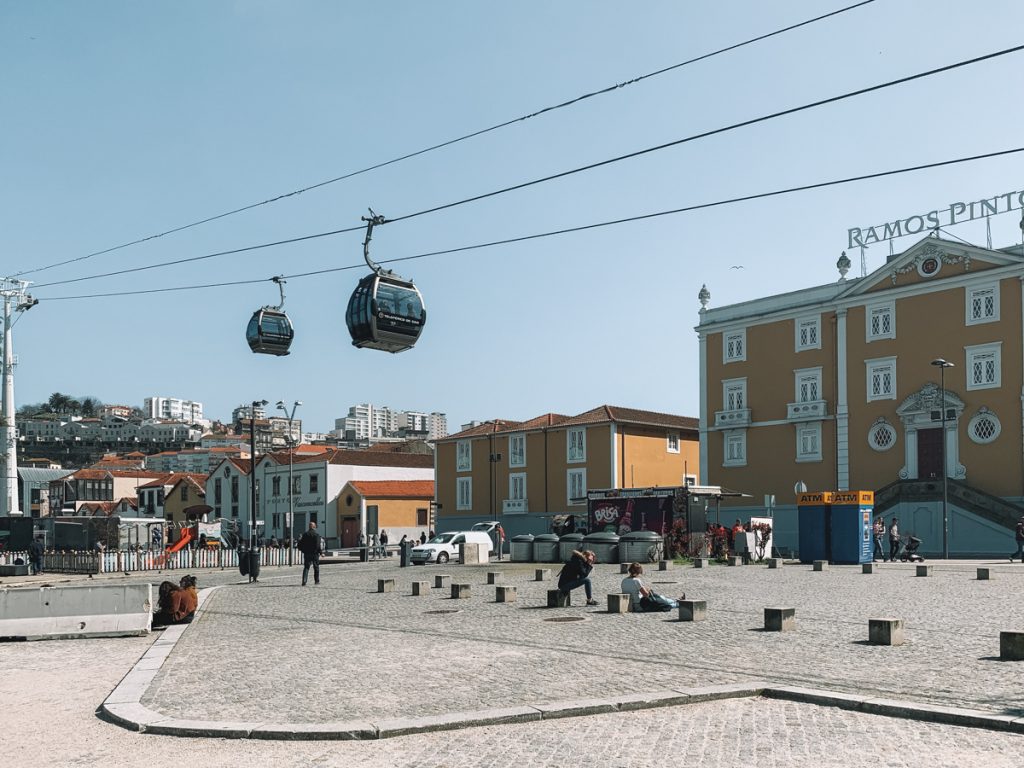 As soon as you cross Ponte Dom Luis, you'll be in Vila Nova de Gaia.
Although technically, you've left the city of Porto proper, it is part of the greater Porto Metropolitan Area, and I couldn't resist including it on this guide.
Gaia is a must-see, especially for the views you get of Porto from some of the city's main points of interest.
Besides, the city is Portugal's wine hub, which means here's where you'll find most port wine cellars (and caves), which are among the most popular tourist attractions for anyone visiting Porto.
Visit the Mosteiro da Serra do Pilar.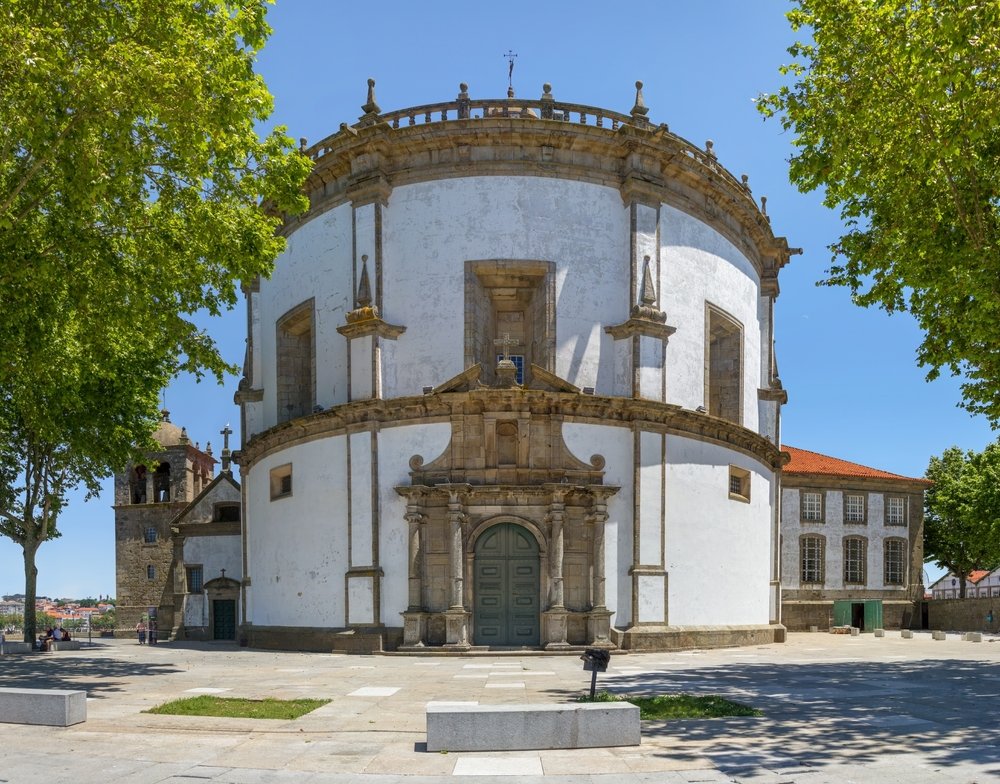 Just after crossing the bridge, you can take a left turn and climb to Mosteiro da Serra do Pilar for one of the best panoramic views of Porto.
The monastery features a huge terrace overlooking the Douro River, Ponte Dom Luis, and Porto.
A part of the UNESCO World Heritage Site of the Historic Centre of Porto, Luiz I Bridge, and Monastery of Serra do Pilar, the 16th century monastery's most notable feature is the circular church.
The monastery is typically open to the public but as of 2023, it's closed due to renovations.
However, it's still worth a visit even during its closure period, as you can still walk to the terrace and check out the spectacular view.
Take in the views from Jardim do Morro.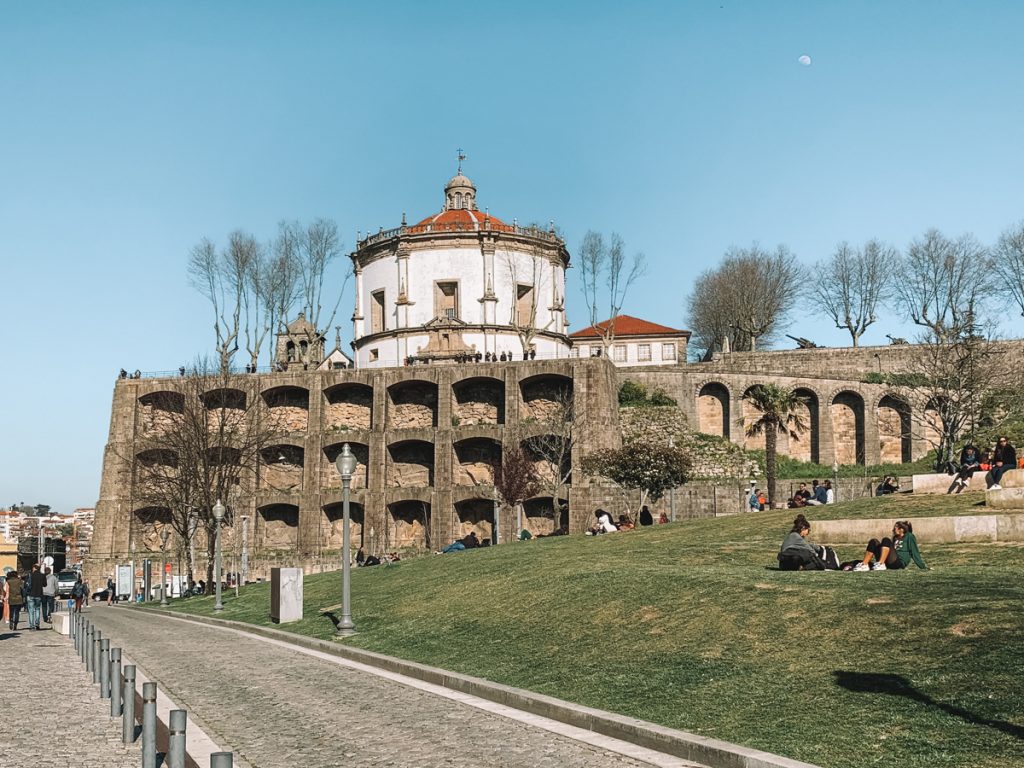 Just across the street from Mosteiro da Serra do Pilar, Jardim do Morro is a cute little park overlooking the river.
It offers yet another great vantage point to enjoy the view of the candy-colored stacked houses of Porto's historical center.
The park is perfect for a relaxing break after crossing the bridge, and is often filled with people checking out the view and listening to the occasional street artist playing music.
The atmosphere is always lively, and the place turns outright magical at sunset when the warm colors wash over the city.
A cable car connects the garden to the lower side of Gaia, offering sweeping views of Porto and the river.
The ride is very short, and a one-way ticket costs 7€ (€10 for a return ticket) – pricey for Portugal, so it's perhaps not for the budget-conscious.
Luckily, you can also walk down in less than 10 minutes.
Enjoy a port wine tasting.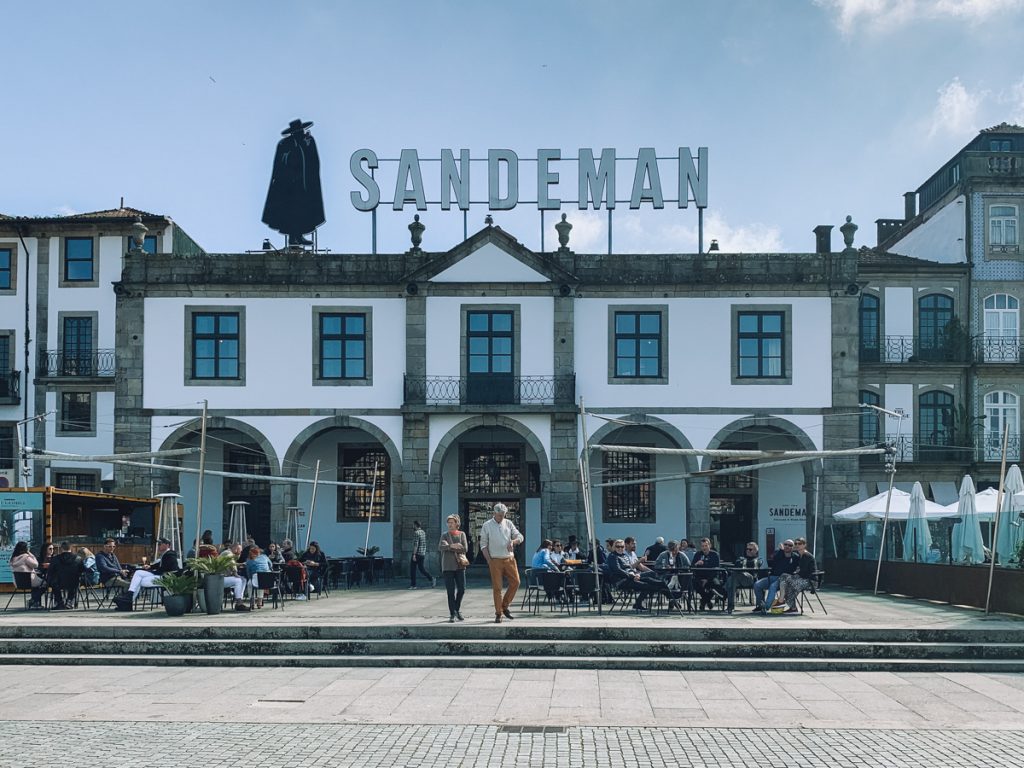 I promised you wine tastings at the start of this guide, and here we are at last!
In the lower part of Vila Nova de Gaia, all along the riverbank, you'll find several port wine cellars offering tours and wine tasting.
You don't have to be a wine connoisseur to enjoy a port wine tour, as they're a fascinating experience where you'll learn about the history of Porto's famous wine.
The choice of cellars to visit is huge, so check out the various options. Just a heads up, you'll definitely want to book in advance to make sure you get the tour that you most want!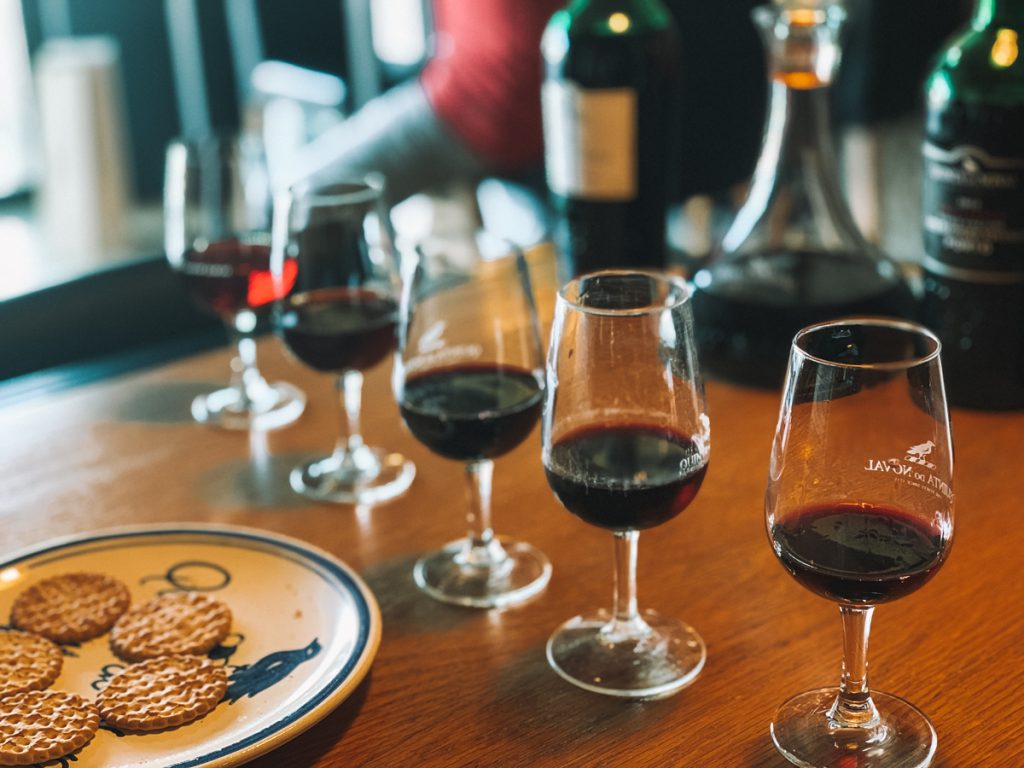 After trying several of these tours over my time in Portugal, I've got to recommend the Cálem Tour.
You can just have a cellar tour with wine tasting or go for the full experience and add in a ticket to see a Fado show (a traditional Portuguese music — it's hauntingly beautiful).
Other popular tours are Graham's Port Lodge Tour where you get to pair port wines with chocolates and cheeses, Burmester Cellars (also with chocolate tastings for an additional price), or Cockburn's Cellar (also with tasting option).
You can also skip the tour of the cellar house and wine taste a la carte along the many port houses, such as Quinta do Noval.
Have dinner in Gaia or Porto.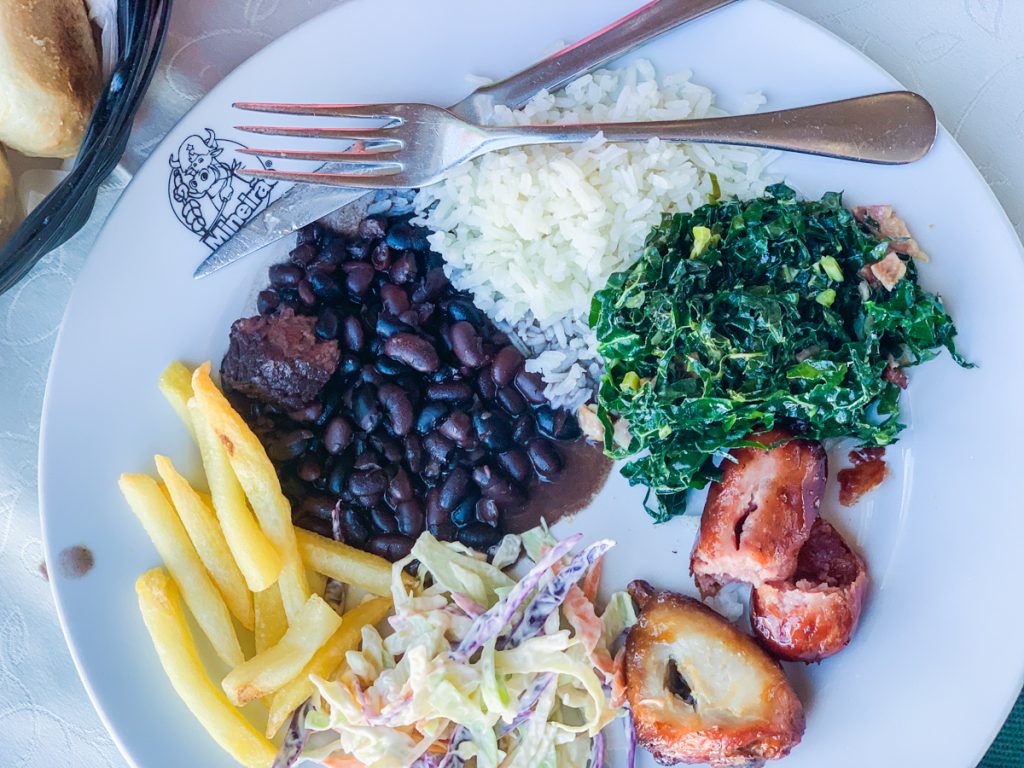 For dinner, you've got plenty of options. If you're famished and can't wait, you can stay in Vila Nova de Gaia for dinner before walking back to Porto.
If you're not quite ready for dinner yet, walk back first and find something on the other side once you've worked up an appetite!.
If you're staying in Gaia, try Barris Do Douro Restaurante or Bacalhoeiro.
I also love the Brazilian churrascaria experience in Restaurante Mineirão, where meat is served tableside rodízio-style.
There's also the Mercado Beira-Rio which is great for small bites, perhaps if you want something small to eat before you have a larger meal in Porto proper.
Back in Porto, head to the charming Restaurante Cana Verde or try the tapas at Tapabento S. Bento.
For something more unusual, you can try Mozambican food at Tia Orlando.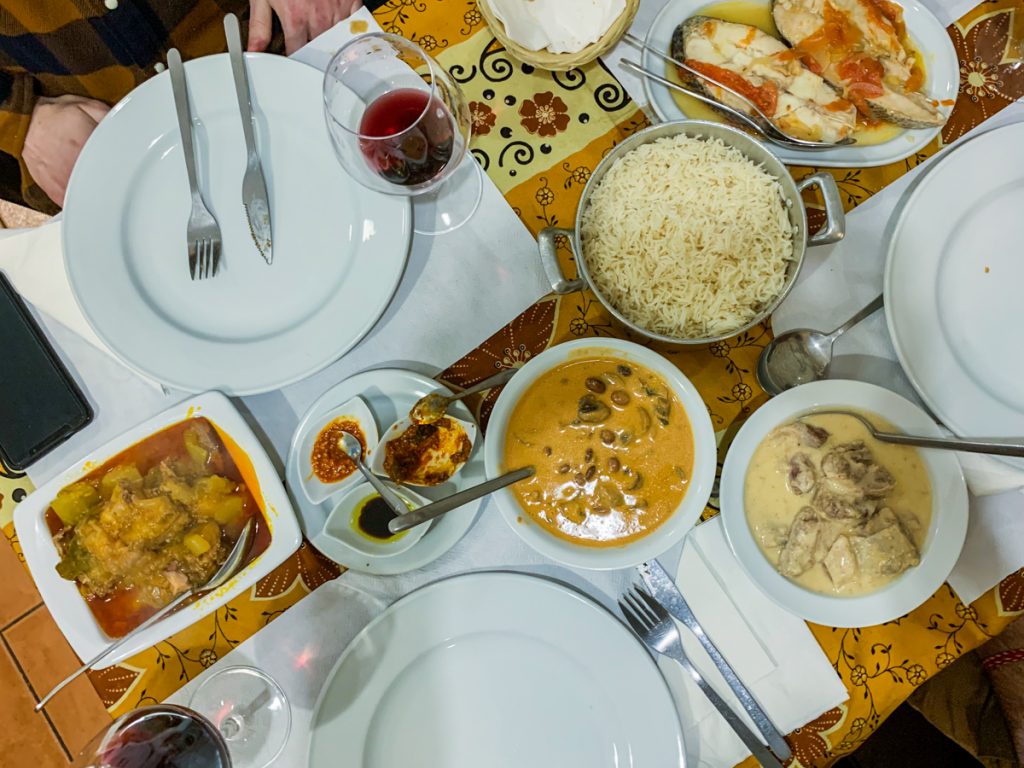 It's hard to find this just anywhere, but since Mozambique was a Portuguese colony, you'll be able to find some unique flavors in Porto.
For something traditional in Porto, try the Bacalhau à moda do Porto, just one of literally hundreds (yes, hundreds) of recipes for salted codfish that Portugal is famous for.
This Porto-style codfish dish comes with potatoes, onion, garlic, and black olives.
Have drinks along Rua da Galeria de Paris.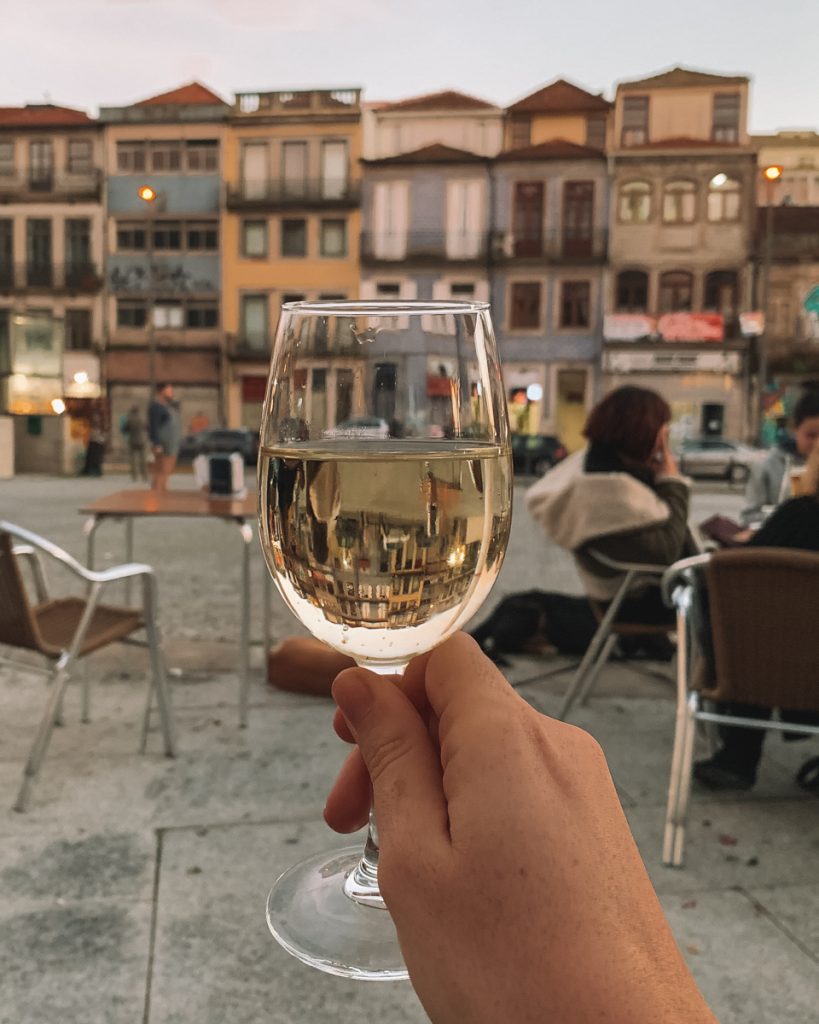 We're almost, but not quite, at the end of our fabulous one-day trip to Porto!
The city has a vibrant nightlife scene, so if that's your thing, head on over to Rua da Galeria de Paris.
This popular street and the surrounding area are where you find most bars and clubs in the city.
Whether you want to have a drink or dance the night away, you'll find a place here for every mood.
Looking for a pub? Head to Bonaparte Downtown.
In the mood for an expertly-crafted gin cocktail? As you might expect from its name, The Gin House has you covered.
To end your night in a truly unforgettable, one-of-a-kind spot, don't skip Capela Incomum.
The name literally translates to Uncommon Chapel, and the club is located inside a renovated chapel!
Plus, it's convenient: the club is not far from Rua da Galeria de Paris.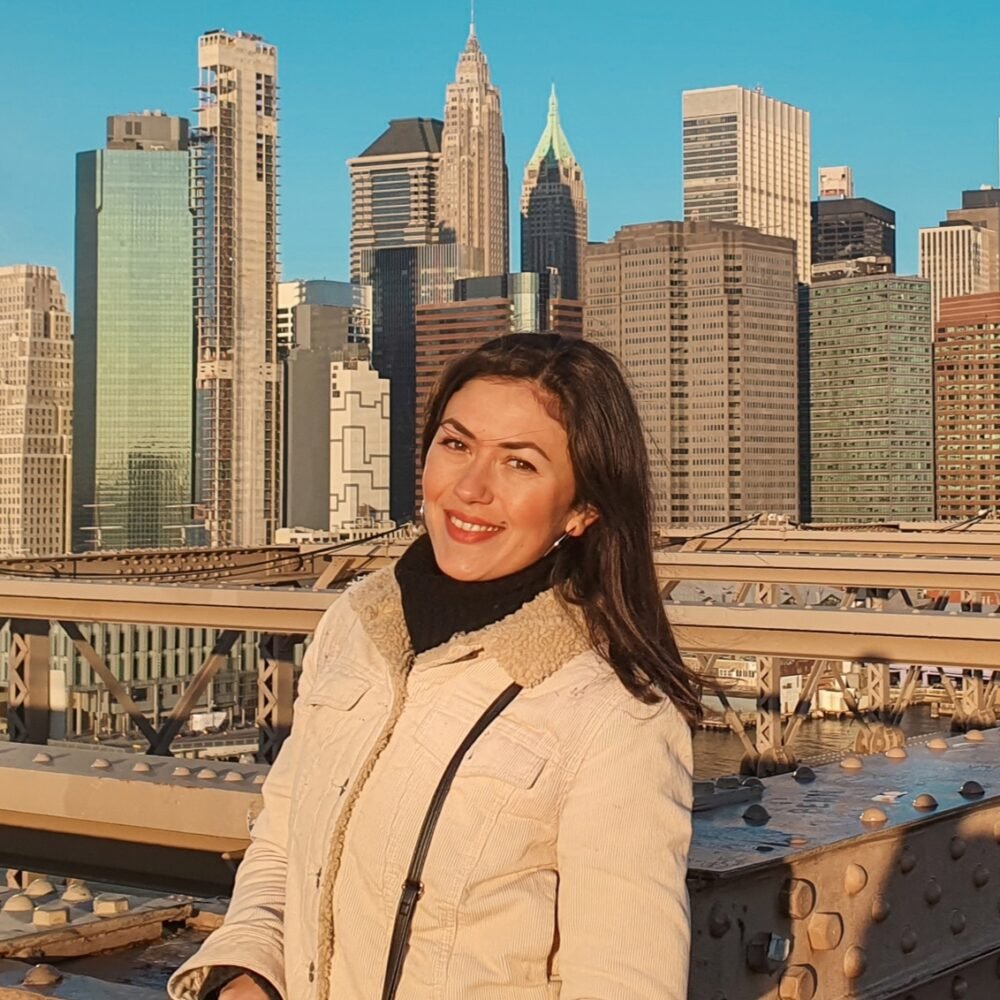 Roxana is a Romanian-born freelance travel writer who has lived in Italy for over 15 years. She has a Master's in Journalism and a Bachelor's in Film Studies. Her mission is to find hidden gems, even in the most popular travel destinations, and to inspire people to explore new places and cultures with the same curiosity! When she is not traveling, writing, or planning her next trip, she is either binge-watching TV shows or reading books.