Dreaming of a relaxing trip to Central America?
There's simply no better way to relax than waking up in an overwater bungalow in Panama.
There's one main region where you'll find Panama overwater bungalows, the Bocas del Toro region in the country's northeast corner, a collection of islands tucked away along the sapphire-blue waters of the Caribbean Coast.
Bocas del Toro is an archipelago of islands in Panama known for its lively culture, surf breaks, and verdant rainforest — all juxtaposed against those brilliant blue Caribbean waters and so-soft-it's-almost-dust sandy shores. 
It's easy to hop between the islands by private boat or water taxi, and the laid-back feel is the perfect escape to recharge from your busy everyday life.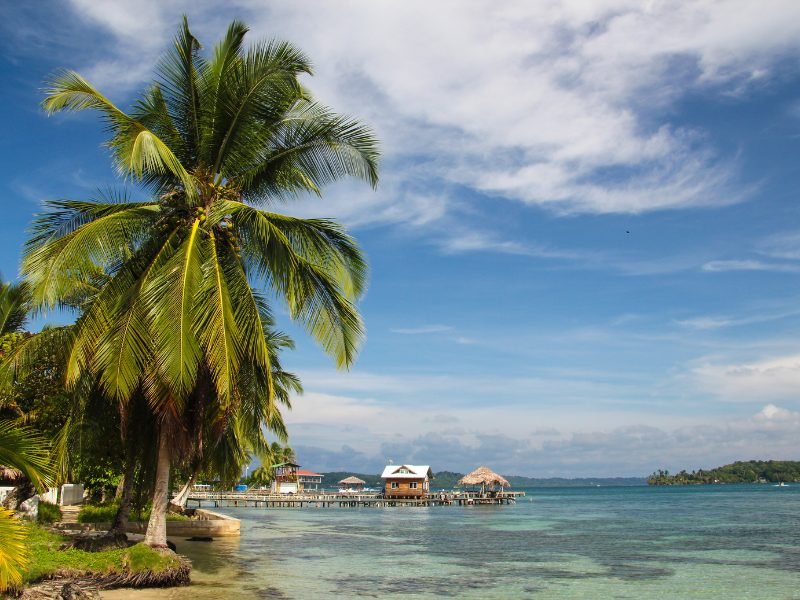 Note: This post contains affiliate links, which means I may receive a small commission if you purchase something through one of these links. Thank you for supporting the free content on this site! For more information on affiliate links and cookies, see my disclosure page for more details.
And if you really, and I mean really, want to get away from it all, the best way to unwind is by staying in one of these overwater bungalows in Panama.
I should note, Panama's overwater bungalows are gorgeous and comfortable, but they're on the more rustic end of the overwater villa spectrum.
These aren't the million-star resorts complete with butlers you'll find in destinations like French Polynesia and the Maldives, but rather a more down-to-earth, budget-friendly alternative.
If this sounds like the perfect getaway for you, keep reading to discover our favorite overwater bungalows in Bocas del Toro!
My Top 3 Picks for OVerwater Bungalows in Panama
⭐️⭐️⭐️⭐️⭐️
Nayara Bocas del Toro
✔️ Balinese style design meets overwater bungalows
✔️ Has world's only "floating beach"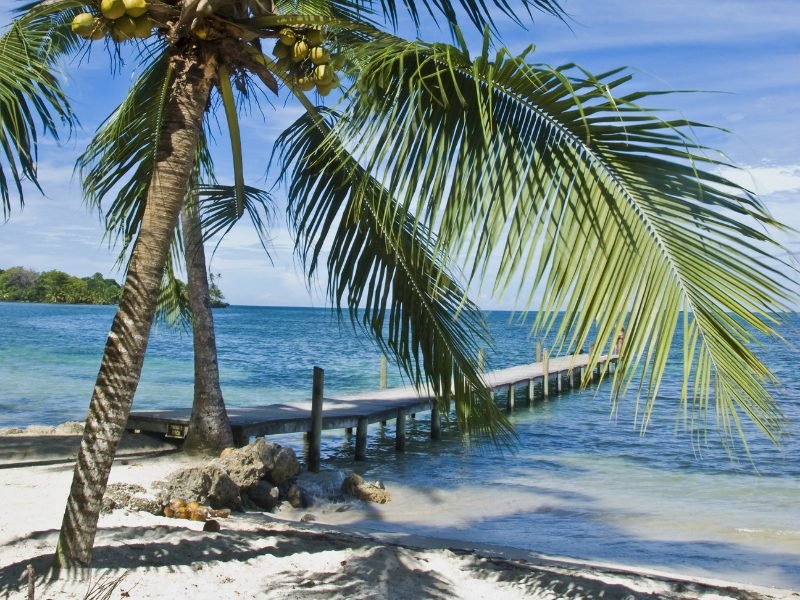 The Best Panama Overwater Bungalows in Bocas del Toro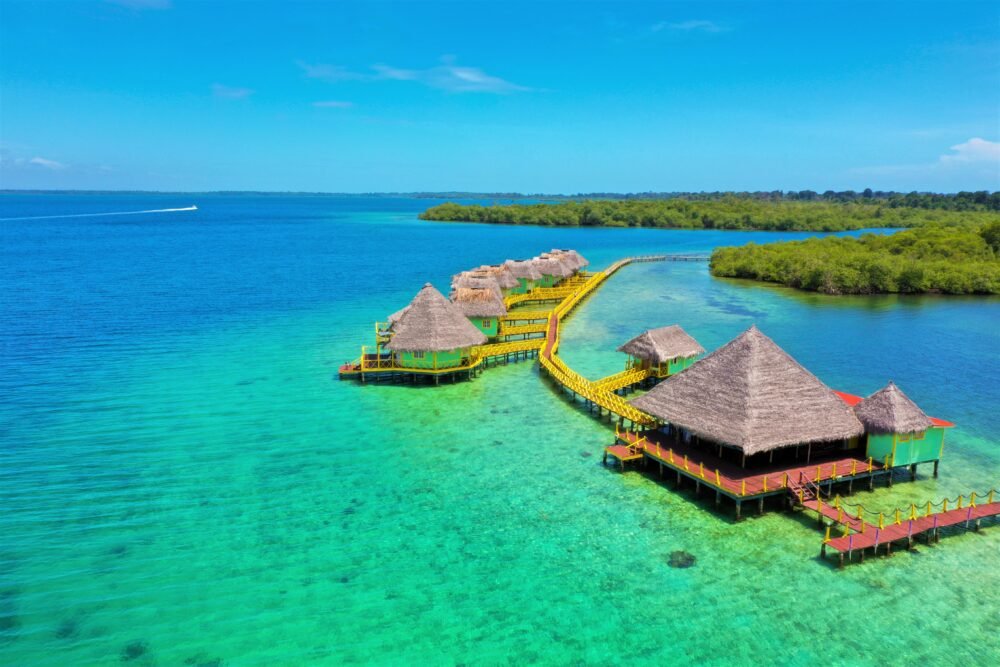 🌟 Rating: 8.8/10 from 375+ reviews | 💸 Budget: $$ | Book Now
Punta Caracol is one of the top destinations for overwater bungalows in Bocas del Toro!
It's situated on the island of Colón, the main island of the archipelago, which draws in visitors to the gorgeous Starfish Beach and lively atmosphere of Bocas Town.
This rustic lodge is a great place to relax with a good book, as there is limited WiFi availability… but with these views, we really doubt you'll mind the break from screentime!
These Panama overwater bungalows are two stories, making it easy to accommodate either a family or a bigger group. Not bad considering the price!
You can lounge on your patio area and watch the dolphins swim by, as sightings of them are common here – how magical does it get?!
The staff is able to help you arrange different excursions, like a boat trip or visiting the village of an Indigenous tribe.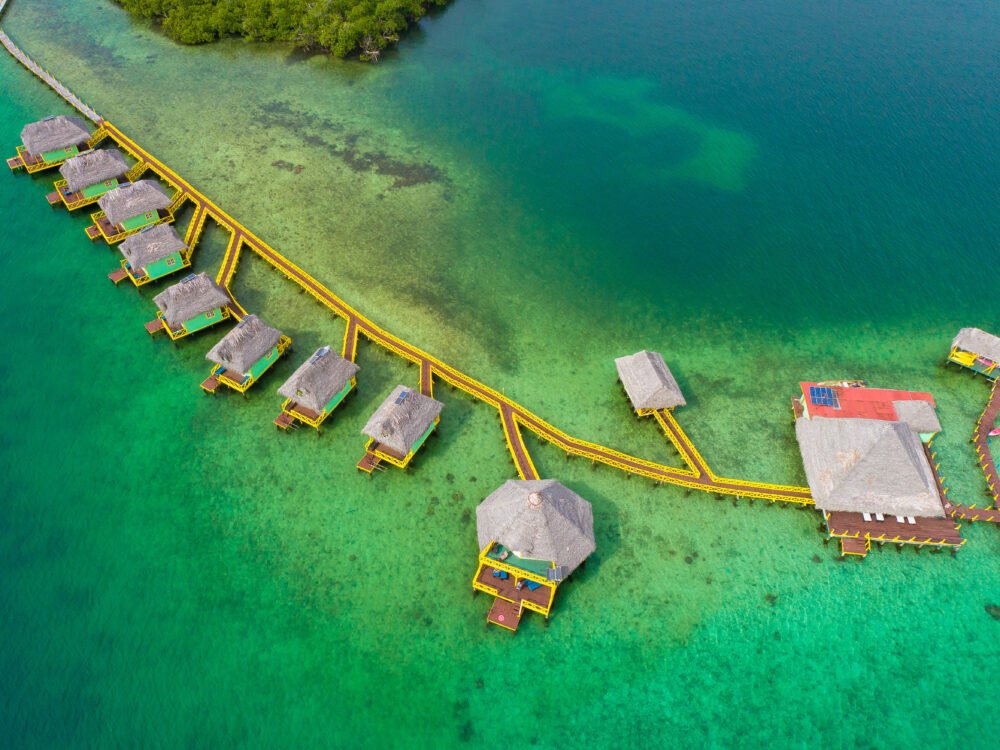 "Our stay here was lovely. The property is beautiful. The rooms are not luxury which I feel is the expectation for overwater bungalows but people need to take into account both price and location when determining value… The bungalow is spacious and clean, no TV but you're here to relax. The snorkeling was great fun and we enjoyed taking out the kayaks on an adventure." – Maggie

Read more reviews here!
They are also extremely eco-conscious!
The ten bungalows of the Acqua Lodge are arranged in a careful formation around the coral reefs, so as not to disturb the beautiful surrounding ecosystem.
After your adventures, end your day with a candlelit dinner in the open-air restaurant, also perched above the sea.
It's a lovely place to disconnect from the outside world, get off your phone, and make some memories with one hell of a backdrop!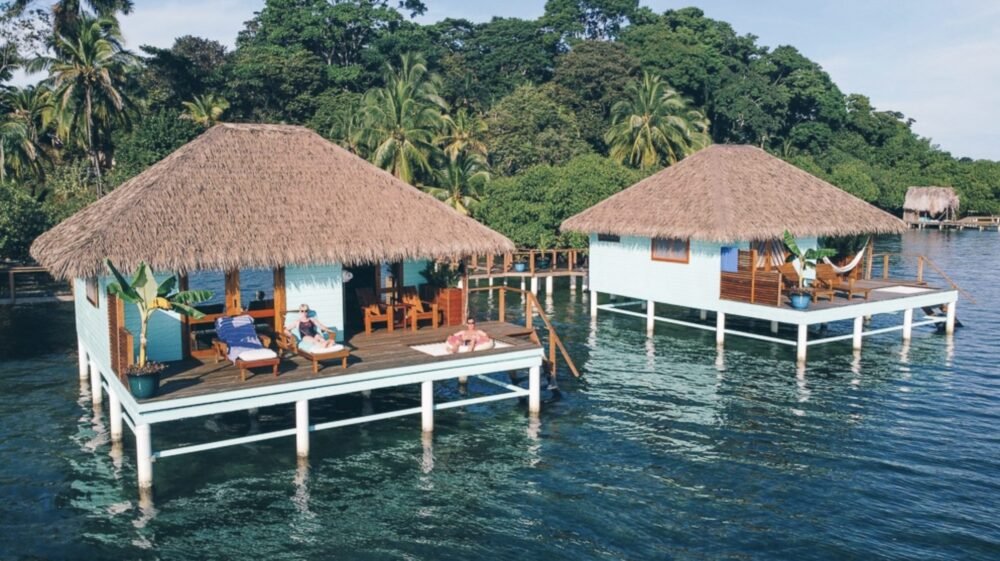 🌟 Rating: 9.9/10 from 25+ reviews | 💸 Budget: $$$ | Book Now
Sol was started by an expat couple from Switzerland and the US, who have lived and worked in tourism in Panama for nearly a decade.
Sol Bungalows is a labor of love, the culmination of their expertise in tourism. This couple knows what travelers want, and they've not only taken the time to seek out the best spots in Bocas, but they are also ready to share their knowledge with you!
The hotel is teeny and intimate, made up of two bungalows stilted above the Caribbean Sea!
The bungalows are done in a traditional style, with thatch roofs and wood floors with glass panels to watch the sea life before you!
They also have covered verandas complete with catamaran-style net hammocks, perfect for taking in the sunset from your bungalow!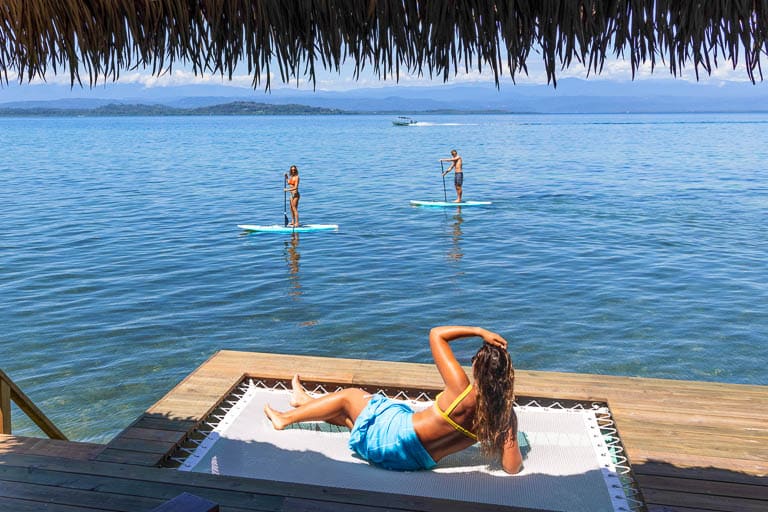 "I did a lot of research before choosing Sol Bungalows and came in with really high expectations.. those expectations were quickly exceeded across the board. I'm not kidding!! Easily the best food we've had on the entire trip… The accommodations are brand new and offer 5 star luxury right on the water. The location is perfect, extremely safe, and only 5 min boat taxi from everything." – Marc

Read more reviews here!
Each bungalow has a bedroom separated from the living room, and can comfortably fit up to four guests.
Sol has a great location – it's located off of the less-populated Isla Solarte, so you'll be able to soak in the private serenity and enjoy the beautiful sunsets without any crowds to detract from the views.
This location isn't on one of the three main islands of the archipelago, but it's only a 5-minute water taxi ride from Bocas Town's nightlife and shops, as well as famous surf and diving spots, so you are still well-connected.
Plus, this more secluded island allows you to catch a glimpse of more wildlife on your jungle hikes – now that's a win-win!
Sol is an incredibly eco-friendly option with solar power and a rainwater harvesting system, so you can take a real rainwater shower!.
They have an on-site restaurant, but if you get bored of eating at the same place or just want to mix it up, they are 5 minutes from popular eateries if you prefer to go into town.
Included in your stay are two snorkeling masks – you can jump right off your deck and into the clear blue water! Free kayak and stand-up paddleboard use is also included.
The only downside is that with only two bungalows and such high popularity, this hotel is often booked up in advance — and by that, I mean many months in advance.
But if you see it, snap it up, because these Panama overwater bungalows go quickly!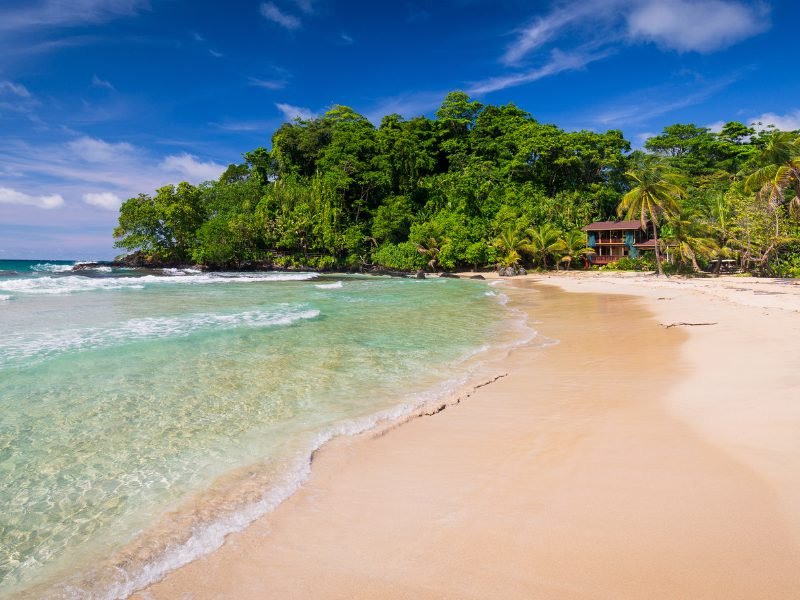 🌟 Rating: 8.9/10 from 300+ reviews | 💸 Budget: $$ | Book Here
Eclypse del Mar is especially exciting if you are a nature lover – the resort has its own private nature reserve and botanical garden area to aid the conservation effort of the area!
You can explore the surrounding jungle area with a knowledgeable, bilingual guide for no additional charge.
You'll have the opportunity to see some incredible animals in the wild, such as sloths, monkeys, and tropical birds.
The small, colorful frogs unique to the region are fun to spot, and your guide's expert eye will make sure no animal goes unnoticed!
One of the coolest things about Eclypse del Mar is how it blends the jungle with the sea.
"It was over the water!! Amazing experience. We loved that the team knocked on our doors to show us sloths. There is a whole amazing tropical garden area which you can access- we saw a caiman, red frog and sloths. The on-site restaurant served really excellent food (delicious and reasonably priced)." – Harriet

Check more reviews here!
You can choose to stay in one of seven overwater bungalows just off-shore, or even in a treehouse on the island!
Best of all, it's not extremely expensive unlike other overwater bungalows in Panama and elsewhere in the world.
A stay at this overwater bungalow is roughly the same cost as a chain hotel in a large American city.
Now that's a deal!
They offer traditional hotel rooms as well if you want to be around overwater bungalows but don't quite have the budget for a stay in one.
The bungalows are two bedrooms, except for the larger special Honeymoon Suite, and made from local wood with palm roofs.
The lodge is located on Bastimentos, a nice balance somewhere between the popular and secluded islands mentioned above.
It's one of the three main islands of the area, but doesn't contain the capital area of Colón, so it's a nice choice if you want the best of both worlds.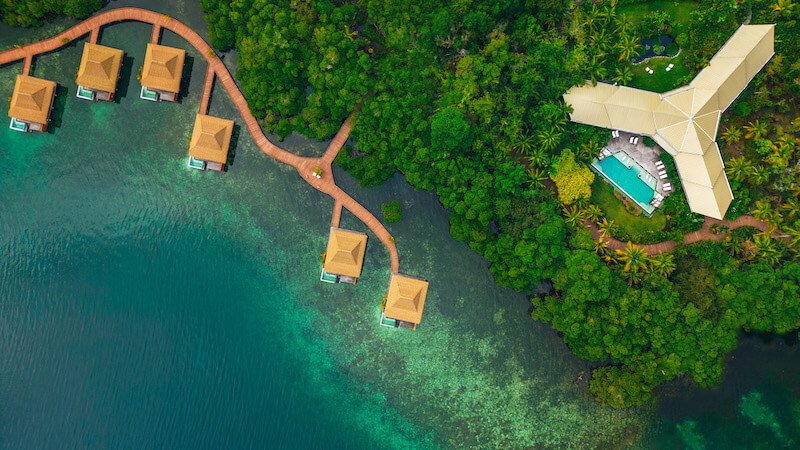 🌟 Rating: 9.2/10 from 10+ reviews | 💸 Budget: $$$ | Book Now
The overwater villas at this Panama resort are actually coined as "water villas." Why?
Because Nayara Bocas del Toro was designed in the style of Bali, Indonesia!
Not exactly what you were expecting to find in Panama? Sure, but sometimes the most unexpected combinations make a beautiful thing.
The joglo-style buildings definitely fit the island vibe, and you can relax in the paradise of a private oasis.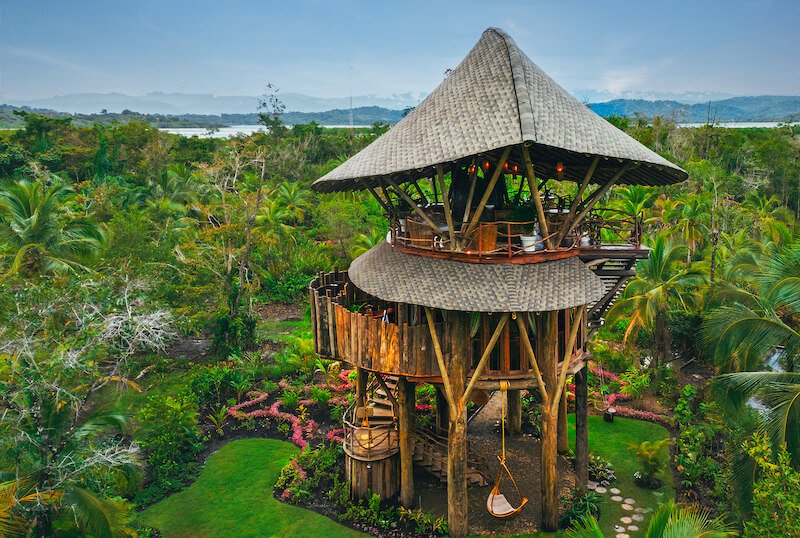 Best of all is its privacy and seclusion: you'll need to travel about 15 minutes on a boat from Bocas Town to reach the tiny, remote Frangipani island where the hotel is located.
Nayara is a luxury, all-inclusive, adults-only resort with two five-star restaurants that are sure to blow your mind. 
"Staff is very kind and treat the guests by name. The hotel is very beautiful, pleasant, comfortable and clean. Food is out of this world. On top of that, Bocas Bali made my birthday very special and unforgettable!" – Isabela

Read more reviews here!
Some of the villas even include a private pool or a boat to use during the day!
The rooms also have air conditioning –- a rare sight in this remote area, even in nicer Panama bungalow resorts!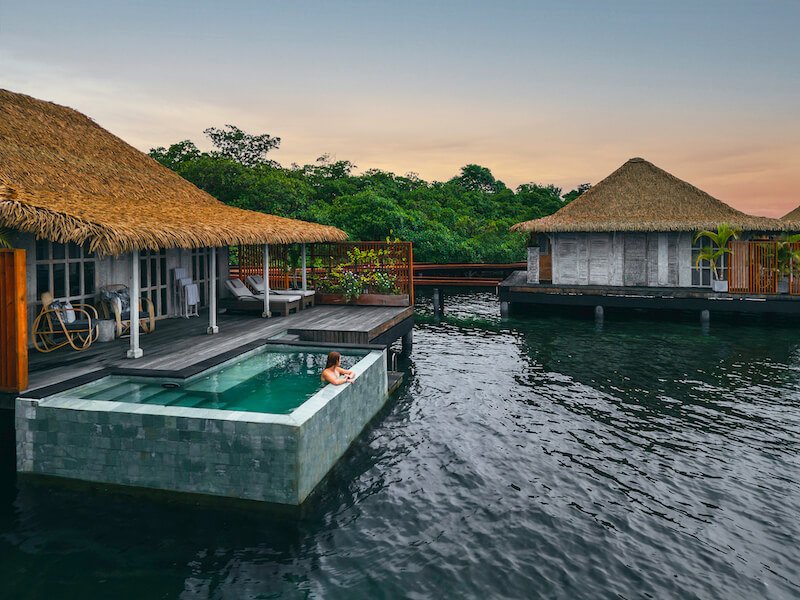 There's no shortage of on-site amenities, either. You can bliss out during a massage treatment in the on-site spa or work up a sweat in the fitness center.
The architecture of Naraya is uniquely thrilling, with treehouses as another accommodation option, and the world's only 'floating beach' created on stilts above the water.
The usual activities for the area of paddleboarding, kayaking, snorkeling, and more are included with your stay, and the staff can help you with organizing other excursions.
One special offering is a day trip to Oreba Chocolate Farm, where the Ngäbe people cultivate some of the world's best cacao and turn it into chocolate.
On this outing, you can hike through the jungle, watch the traditional chocolate-making process (and sample the results, naturally), and enjoy a local meal.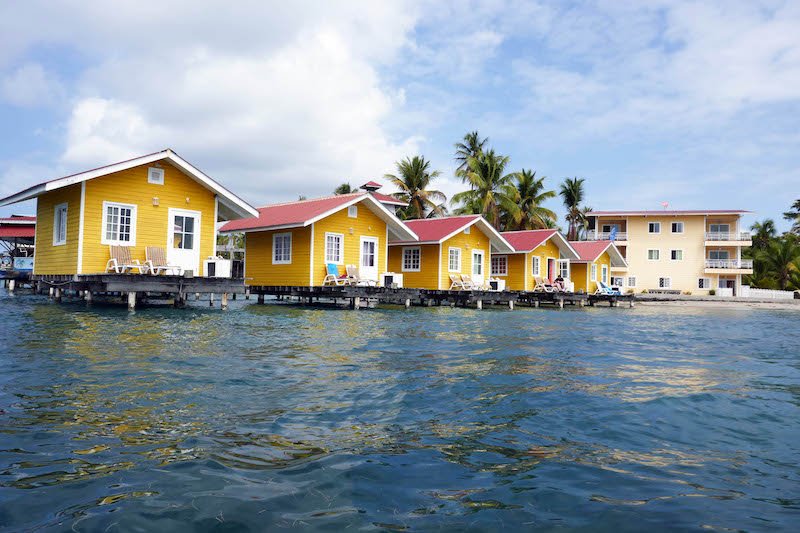 🌟 Rating: 9.5/10 from 250+ reviews | 💸 Budget: $$ | Book Now
The styling of these brightly painted wooden houses situated over the sea (and centered around a lighthouse, after which the hotel is named) might remind you of Cape Cod.
That said, at El Faro de Colibri, the brilliant blue waters behind you will alleviate any doubt you're on the Caribbean coast!
The rustic cabins are sure to make you feel at home, no matter how far you've flown to be here.
"Position over the sea was lovely. The views again lovely. Short ferry boat trip to Bocas Town. The lady who manages the property is very friendly." – Martin

Read more reviews here!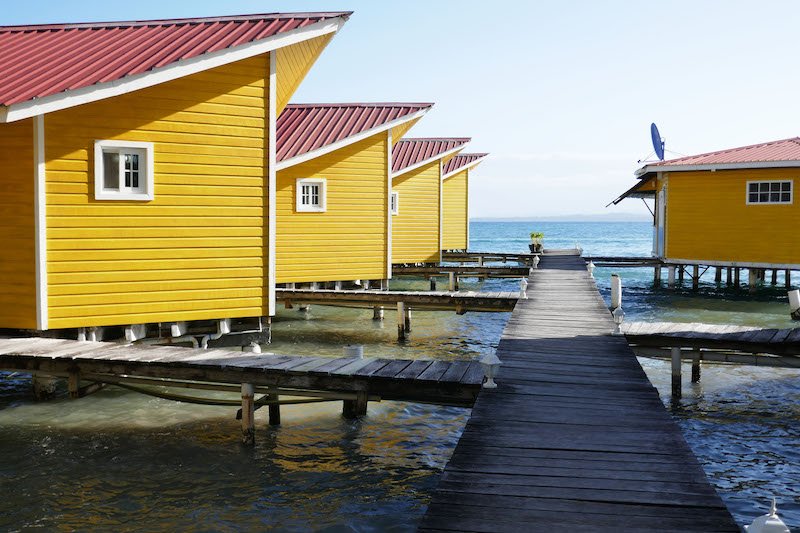 El Faro has just five bungalows available, giving it a private, intimate atmosphere.
And that homey feel is amplified by the tasty home cooked buffet breakfast guests rave about, as well as the friendliness of the owner and staff.
Situated on Isla Carnero, El Faro de Colibri is convenient because you can walk to different restaurants and beaches on the shore.
And if you want to venture into the popular Bocas Town yourself? It's only a 3 minute boat ride away.
You can fill your days with traditional water activities, such as kayaking or snorkeling. Or if you're feeling really adventurous – give wind surfing a try!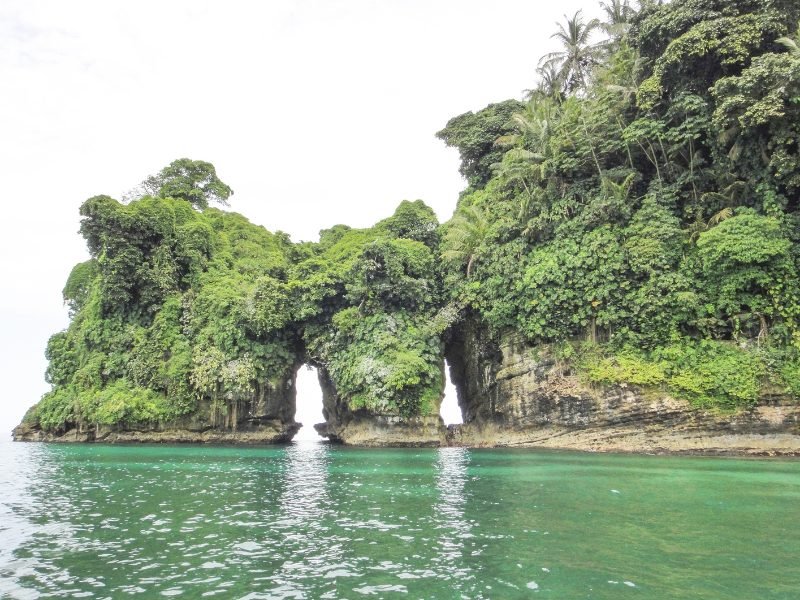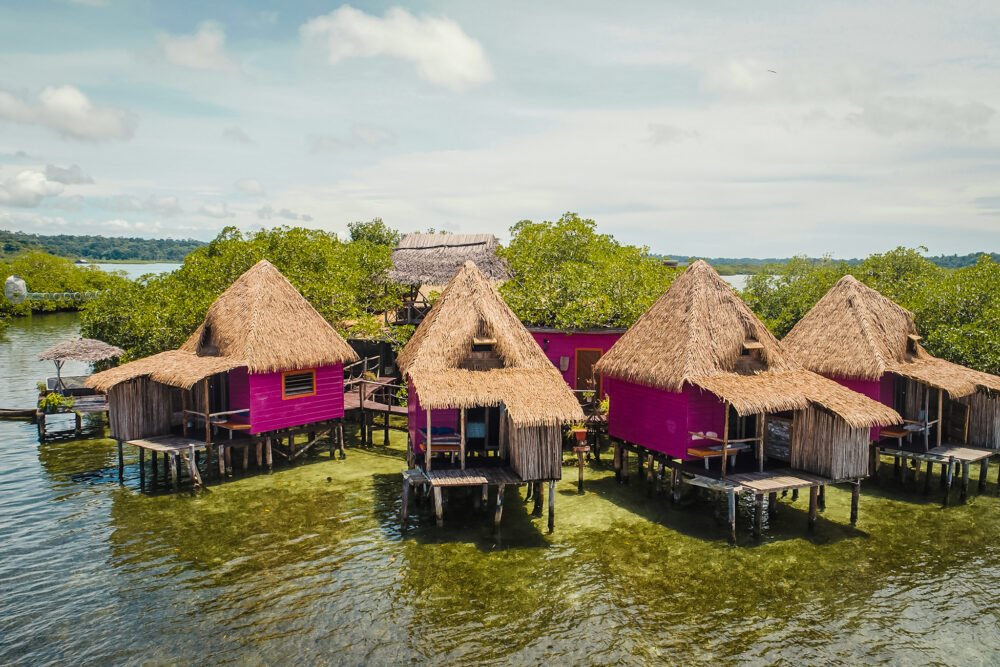 🌟 Rating: 9.6/10 from 15+ reviews | 💸 Budget: $$ | Book Now
Unique Features:
🏖️ Private island for ultra seclusion and luxury
🌴 Eco jungle surroundings for total nature immersion
🐒 Monkey sanctuary for rehabilitating wildlife
🤫 Only for those aged 12+ for peace and quiet

➤ Check rates and availability at Urraca here!
If you're looking for a special getaway off the beaten track, Urraca Private Island Resort could be the option for you!
Keep in mind that it's a 35 minute boat trip from Isla Colón, so you probably won't be going to Bocas Town or other tourist hotspots frequently.
But in return, you'll receive an immersive nature experience unlike other areas of Bocas del Toro.
This 'island' has no real walkable landmass; instead you'll be nested off of a grove of mangrove trees in your own private oasis – does it get any more magical than that?
The sea is crystal-clear and calm here, perfect for swimming, snorkeling, and kayaking.
Tip: If you choose to plan your trip around the time of the full moon, the water lights up with bioluminescence in an otherworldly, beautiful way!
The goal of Urraca is to get you out into nature – but in a sustainable way.
The 'island' puts its money where its mouth is when it comes to being eco-friendly, providing a sanctuary for rescued monkeys and taking care of the coral reefs that surround the hotel.
Urraca partners with the Monkey Life Foundation helps provide veterinary care and rehabilitation to those animals that need it, so you'll know your primate neighbors are healthy (though don't trust them not to steal your food!).
"What a paradise! Urraca is everything you'd want in a tropical eco lodge. The food is amazing, the water surrounding the island is calm and clear, and Francine (the owner) is lovely. We enjoyed kayaking around the island and of course the monkeys." – Kathryn

Read more reviews here!
Being truly "eco-friendly" goes beyond environmentalism and animal welfare – it also includes working with the Indigenous communities who live, breathe, and know the region.
Urraca works with the Indigenous community of the Ngabe people to include them in tourism, different from the many Bocas hotels run by expats.
You can meet the staff of local Ngabe people and learn a little more about their culture, and dine on fresh seafood caught by Ngabe fishermen as well.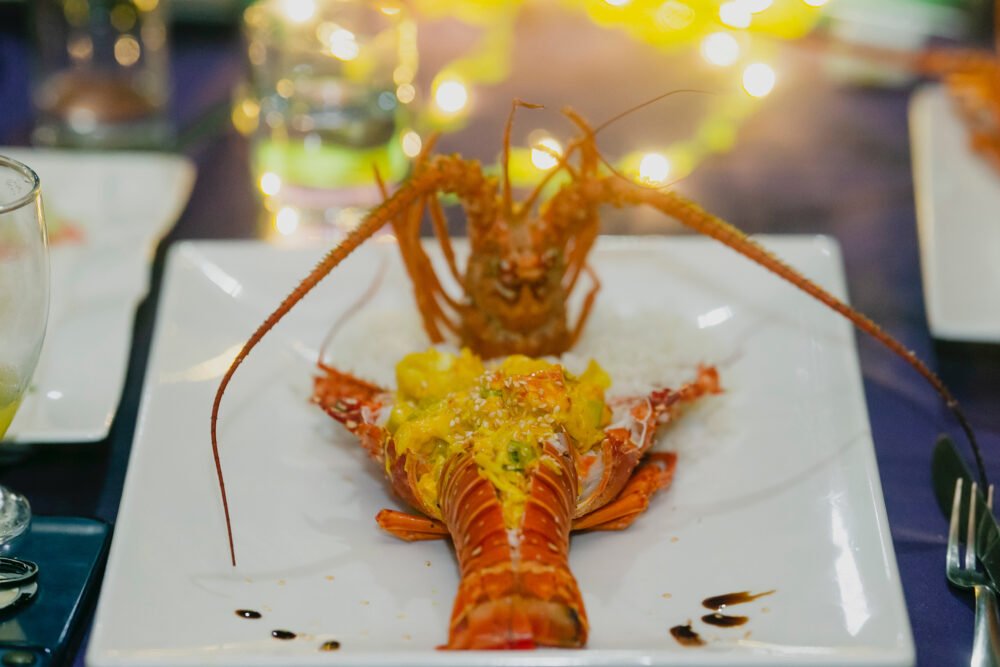 Need to unwind? There is a space to do yoga or read in the sun, and a retreat space perfect for larger groups.
The vibe here is small and intimate: there are ten bungalows here, as well as a special honeymoon suite.
You can enjoy a complimentary breakfast on your terrace while watching the sunrise.
There are lunch and dinner options at the on-site restaurant if you so choose (and you probably will, given that getting into town can be such a pain – luckily, the food is great!).
To maintain a quiet and peaceful atmosphere, note that Urraca is only for guests aged 12 and older, so families with younger children should look elsewhere.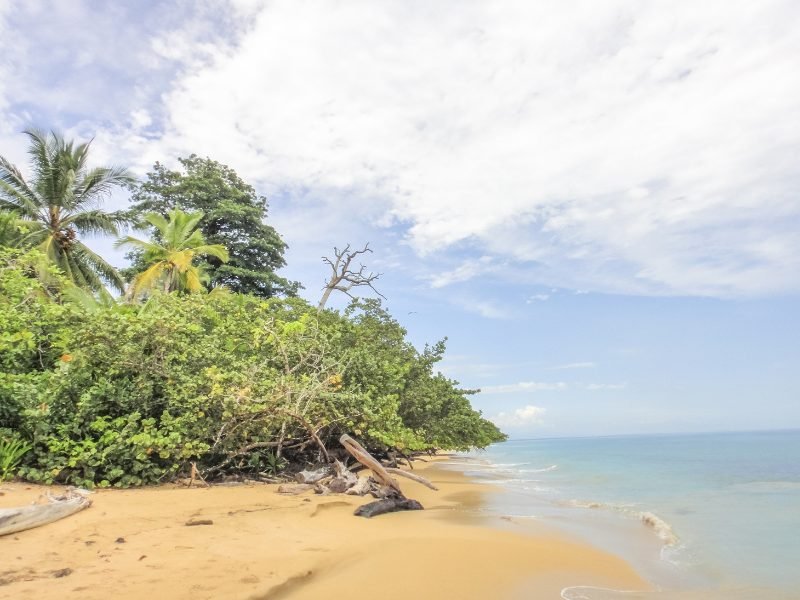 🌟 Rating: 8.1/10 from 80+ reviews | 💸 Budget: $ | Book Now
The wooden decks and hammocks of Aqui Hoy Cabanas are perfect for enjoying any kind of waterfront vacation
The property is pretty new, but already guests are really enjoying their experience, with a mountain of positive reviews.
The four cabanas are situated off of Isla Solarte, so they sit in front of a peaceful lagoon with stunning ocean views.
"Wow! Absolutely Wow! Gorgeous views of the sea from a beach front balcony. Wonderful service. Best check in ever. Very welcoming. Stunning sunset. Quiet and peaceful! Highly recommended!" – Lilia

Read more reviews here!
Jump off the dock and into the clear blue sea to swim, snorkel, kayak, and more!
You can also experience their world-class restaurant, offering meat, pescatarian, and vegetarian options.
Spend your days jet skiing or head over to Carneros Beach to lounge on the sand.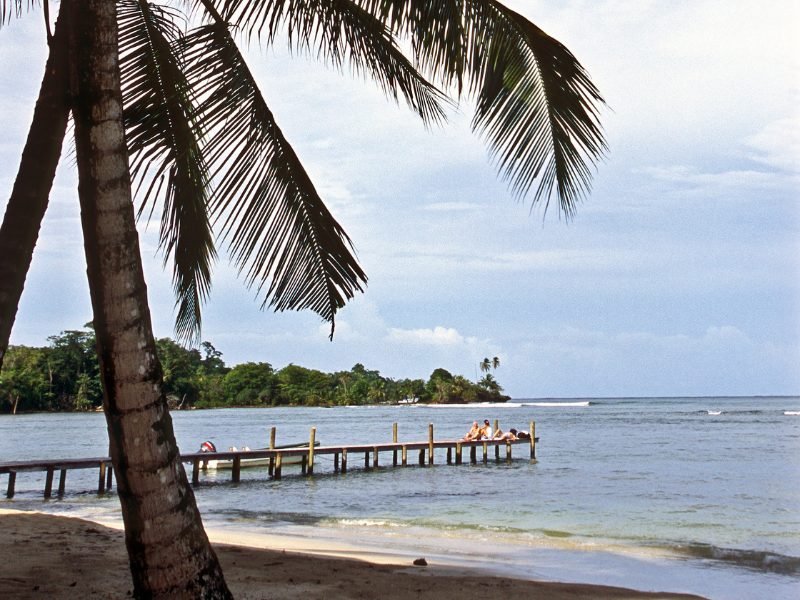 🌟 Rating: 9.0/10 from 190+ reviews | 💸 Budget: $ | Book Now
Unique Features:

💻
Great WiFi for the area
🏝️ Remote from Bocas Town
💸 Affordable bungalows and rooms
Check rates and availability at El Clandestino here!
El Clandestino is run by a super friendly owner, Sebastian, who is accommodating to your needs (and bonus, he's also a great cook!).
Tucked away off Isla Cristobal, you can get to Bocas Town or Almirante in 30 minutes – far enough that you feel removed from it all, but close enough that you can get to town if you have a little island fever!
The WiFi speed is one of the best in the area – so if you need to get a little work done in between all the fun, this is a great option for remote workers and digital nomads!
There are mostly normal rooms, but there are also two overwater bungalows that are offered at a great price.
They are rustic, but for this price, you truly can't complain!
"Beautiful remote setting. Owner and staff are very friendly and welcoming. Free water was a plus. Free use of snorkelling gear, kayak and paddle boards was a brilliant extra. Food was excellent and drinks were reasonable priced. Would highly recommend for a tranquil few days." – Leah

Read more reviews here!
El Clandestino is family friendly, and accepts guests of all ages. They also take care of some local friendly dogs who live on the property, ready to welcome you home after your day out.
The rooms are basic but clean, providing you with everything you need for a good price.
When you're in such a beautiful place, you won't want to miss out on evenings spent watching the sunset, playing board games, and catching up over some good food and drinks.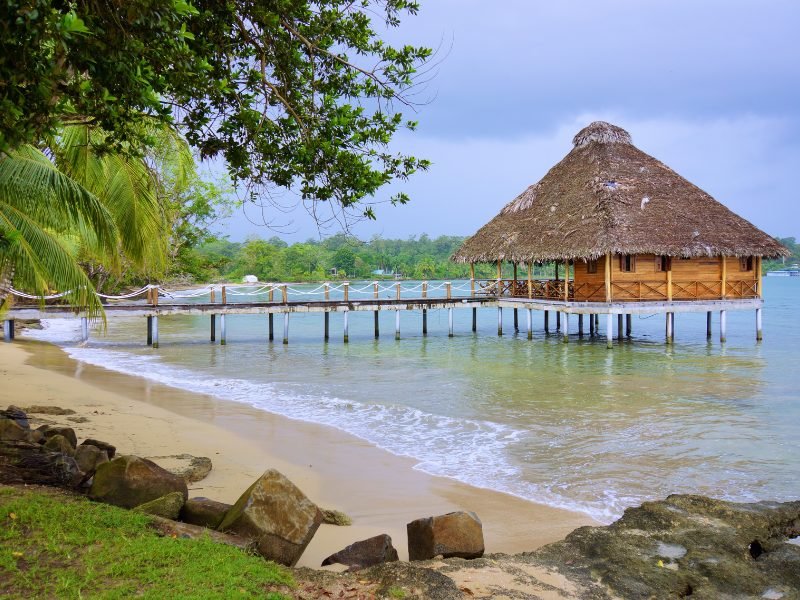 🌟 Rating: 7.4/10 from 25+ reviews | 💸 Budget: $$$ | Book Now
This casual, funky choice is sure to bring a smile to you and your family's face!
Kids (and hey, adults too) will love the waterslide into the sea!
Located on a marina in Carenero Island, you can enjoy casual comfort, and also some extra amenities like a 24 hour gym, spa, restaurant, and air conditioning to help you cool off on those hot Panamanian days.
"Would absolutely recommend Cosmic Crab for your stay in Bocas del Toro! Opening up our door in the morning directly to the ocean was amazing, and the breakfast each morning was sooo delicious. The owners are always available on property and are super helpful in booking tours, making local recommendations, and making sure your stay is comfortable." – Brianna

Read more reviews here!
It's still central and well-connected (about a two minute boat ride to the main island) but allows you to enjoy quiet nights that you wouldn't have in Bocas Town.
There's still some liveliness and fun though, since every weekend Cosmic Crab brings in local live music performers!
🌟 Rating: 8.2/10 from 65+ reviews | 💸 Budget: $$ | Book Here
Azul gives you options: choose from overwater bungalows or villas on the beach, and if you want to stay more central, they have a hotel in town as well.
That said, we love the overwater cabins for a truly unique Panama experience (at a price that's hard to beat elsewhere in the world).
The glass floor panels allow you to watch the colorful marine life from your room, and there is a two bedroom bungalow option if you're traveling in a group.
"We absolutely loved our stay here. The staff was amazing and made sure we got the full experience that we wanted, including taking us out on a snorkel and private island tour. The accommodations are truly beautiful and the water is perfect to swim or relax all day. The only thing to note is there are no nearby restaurants so all of your meals will be at the hotel, but the food there was great so we had no issue with that. " – Riley

Read more reviews here!
There is air conditioning available, but it's in the nighttime only (since you hopefully will be out and about enjoying the beautiful area during the day).
Rooftop yoga is a huge hit with travelers, as well as the fun tiki bar to sip on something fruity and delicious!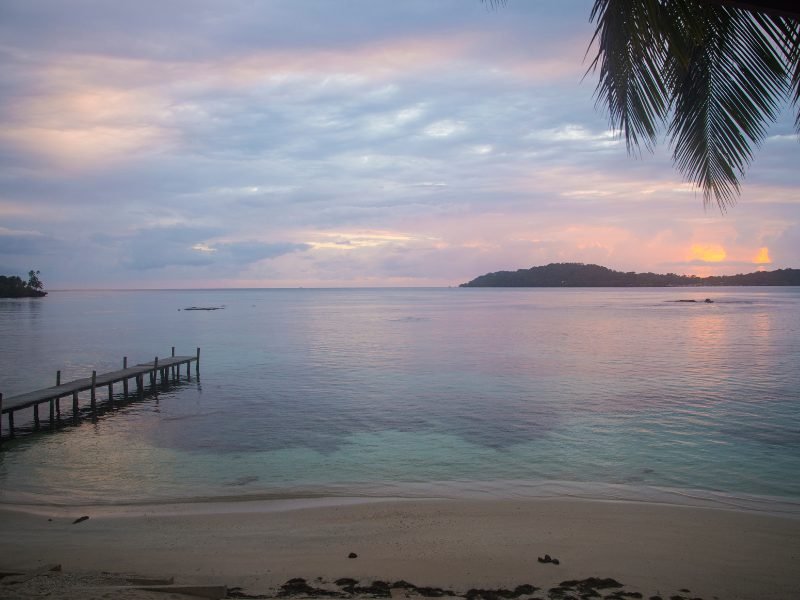 12. Viceroy Bocas del Toro
🌟 Rating: Not Yet Available | 💸 Budget: $$$$ | Not Yet Available
Unique Features:
🍴
8 high-end restaurants for endless choice
🧖‍♀️
Huge resort with ultimate selection of wellness facilities
🌳
Surrounded by the San Pond San wetlands
Be one of the first to experience the luxurious Viceroy resort – it opens in 2024!
The beautiful resort-in-the-making will feature everything you could want, spanning eight high-end restaurants, 42 overwater villas, and a massive 457 acres of grounds.
The focus on wellness and relaxation amenities is huge here: you can enjoy a spa, meditation rooms, on-site gym, and so much more.
You'll be in experienced hands, even with the grand opening pending – this is Viceroy's 12th project around the globe, with lovely hotels and resorts in San Francisco, Portugal, and St. Lucia, just to name a few.
The grounds are surrounded by natural wildlife in the San Pond Sak wetlands, which you can explore solo or with a guide through a hiking or cycling expedition.
Alternately, you can stay closer to home and enjoy one of the many swimming pools on the property.
If you choose to stay in one of the pool villas, you'll have your own private plunge pool out front!
If you fall in love, you can even purchase one of the villas to own yourself, and come back to paradise whenever you wish.
Protect your travel investment!

Travel insurance coverage helps you recoup your losses in case of emergency, accident, illness, or theft.

I rely on SafetyWing for coverage when it comes to trip interruptions and cancellations as well as accidents and medical emergencies.

It offers great rates starting around $12/week with clear, easy-to-read coverage.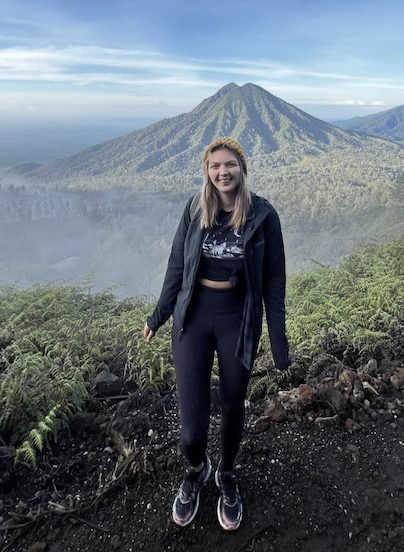 Meg is a writer and editor from San Francisco, California, with a passion for travel and adventure. She worked for several years as an TESOL-certified English teacher in Barcelona, Spain and in Southeast Asia. Currently based in Bali, she enjoys hiking, seeing live music, and curling up with a good book.