Porto is a beautiful city well worth several days exploring, but it's equally viable as a base to use for Portugal day trips.
Because it's located in the far north of the country, the options for day trips from Porto are vastly different than the options for Lisbon.
From the wine region of the Douro Valley where Portugal's best wines are made to the peaceful towns of Northern Portugal's Minho region to the pilgrimage city of Fátima, there are countless places to visit using Porto as a base.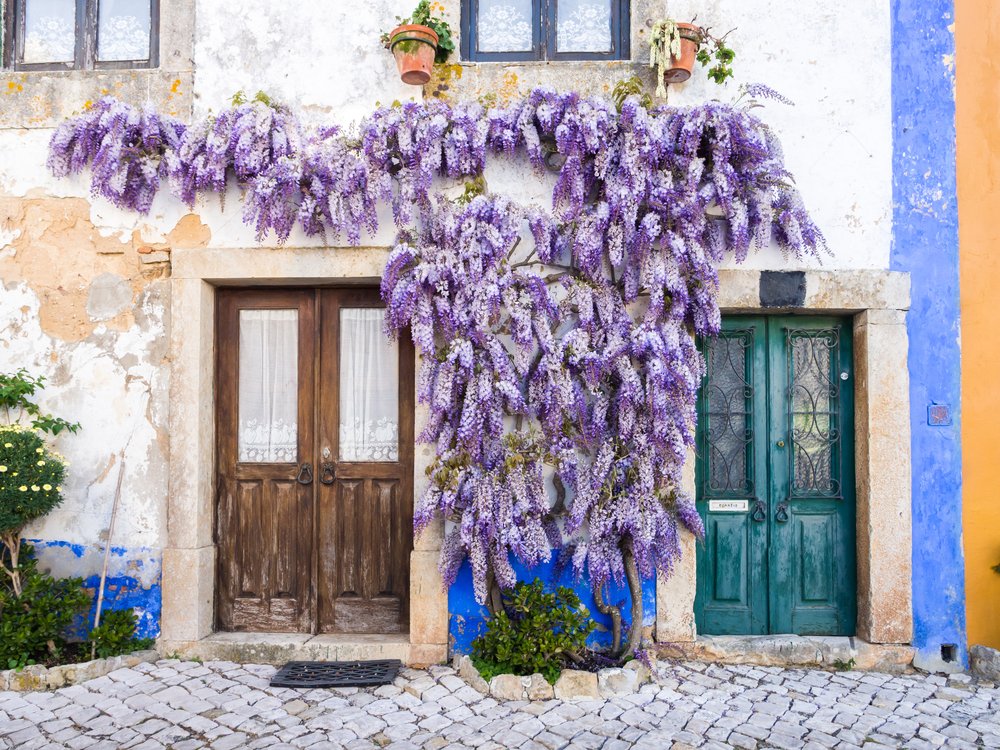 Note: This post contains affiliate links, which means I may receive a small commission if you purchase something through one of these links. Thank you for supporting the free content on this site! For more information on affiliate links and cookies, see my disclosure page for more details.
Whether you're basing yourself in Porto and traveling around by tour or rental car or even RVing through Portugal, these places near Porto are worth your visit.
Here are some of the best Porto day trips you can take!
Getting Around Portugal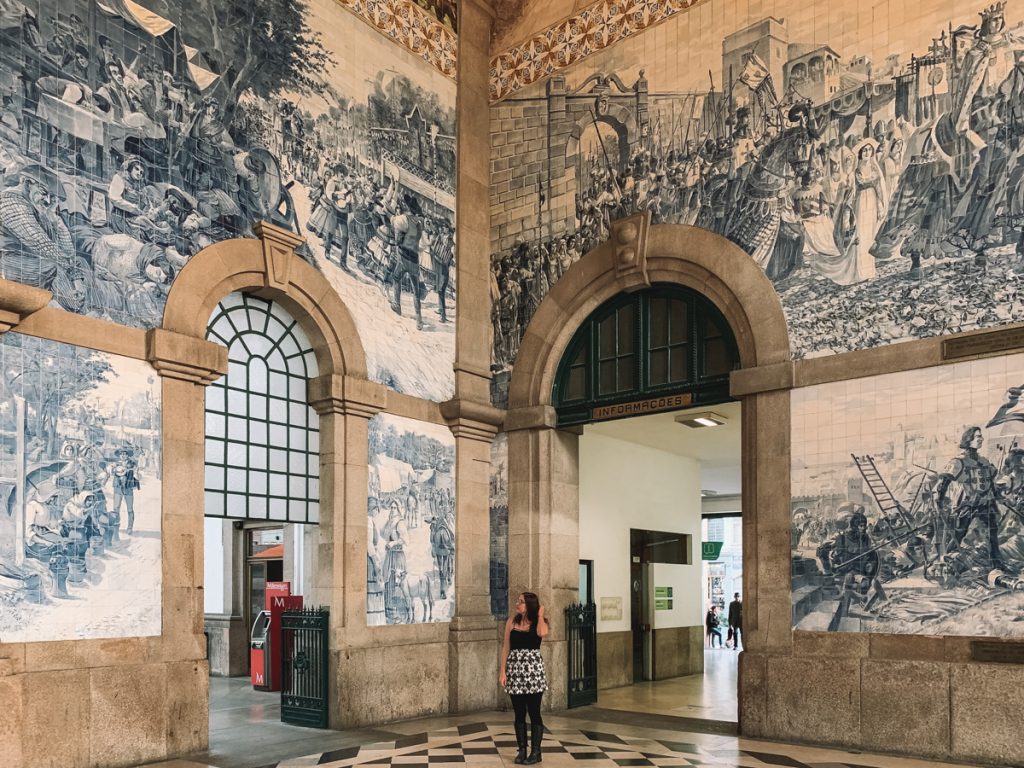 Getting around Portugal using Porto as your day trip base is quite easy, since the trains are well-connected to the entire country.
For some destinations, it may make more sense to take a guided tour, like for wine tasting in the Douro Valley (no need for a designated driver!) or to nature destinations like Arouca and Peneda-Gerês.
Otherwise, it can also be helpful to rent a car and explore these Porto day trips in that way!
Car rental in Portugal is cheap, easy, and you can often string together several destinations in one day.
I use Discover Cars to find the best price for my rentals, since it compares 500 different agencies (including smaller, local ones) to find the best rental price.
They also have great deals on full coverage insurance (just around $7 a day vs. typically a lot more at the rental counter!).
Check rental car prices in Porto here!
Best Day Trips from Porto
Douro Valley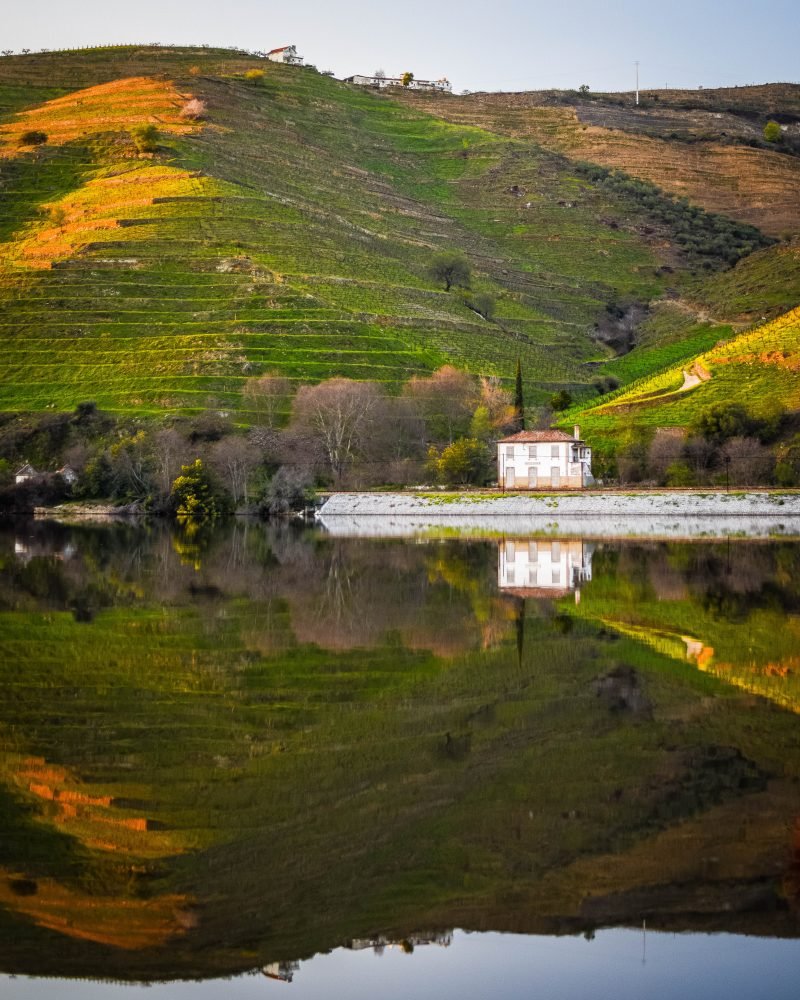 If you love wine (or if you just love checking off UNESCO World Heritage Sites), then a visit to northern Portugal's Douro Valley is an absolute must.
Connected by a river, there are multiple ways to visit Douro from Porto.
The most delightful might just be to take a cruise up the river, watching the beautiful scenery unfold as you go,
This spectacular wine region is home to Portugal's most famous wine – port!
While you can certainly tipple port to your heart's content in Porto, in the Douro Valley you can visit the individual quintas (porthouses) where it is produced.
Besides visiting as many quintas as you can fit into your day, leave plenty of time to appreciate the views here!
There are many lookout points to stop at. If you're interested in the history of Port production, you can also visit the Douro Museum.
How to Get There
The best way is to rent a car and drive, as its a truly breathtaking scenic route high in the hills above the valley.
The drive is a little under four hours, so if you get up early you'll have plenty of time to hit a few quintas before you return to Porto at night.
Just make sure to plan who will be driving so you don't overindulge while here!
Another option is to take a scenic train ride from Porto, leaving from the city's famous Sao Bento station.
The train goes right along the river, and it takes less than three hours each way.
This is a great option for solo travelers and groups who are all keen to taste as much as possible.
If you do choose to go by train, I would suggest having a tour guide meet you in Douro so that you can easily get between the quintas.
This is because public transportation is not available to many of the places you will want to visit.
Perhaps the best way to visit is on a guided tour of the Douro Valley, as it makes visiting the quintas quite simple.
Plus, it means no one has to worry about being the designated driver — score!
⭐ Tour Recommendation: Full Day Douro Wine Tour, Lunch, + Boat Cruise ⭐
(4.8/5 stars with 1,250+ reviews)

This full-day tour is inclusive of hotel-pick up & drop-off, transfers between Porto and Douro Valley, an olive oil tasting, visits to two wineries (with 8+ wine tastings), a traditional Portuguese lunch, and a one-hour Douro River cruise.

➤ Check tour availability and prices here
Pinhão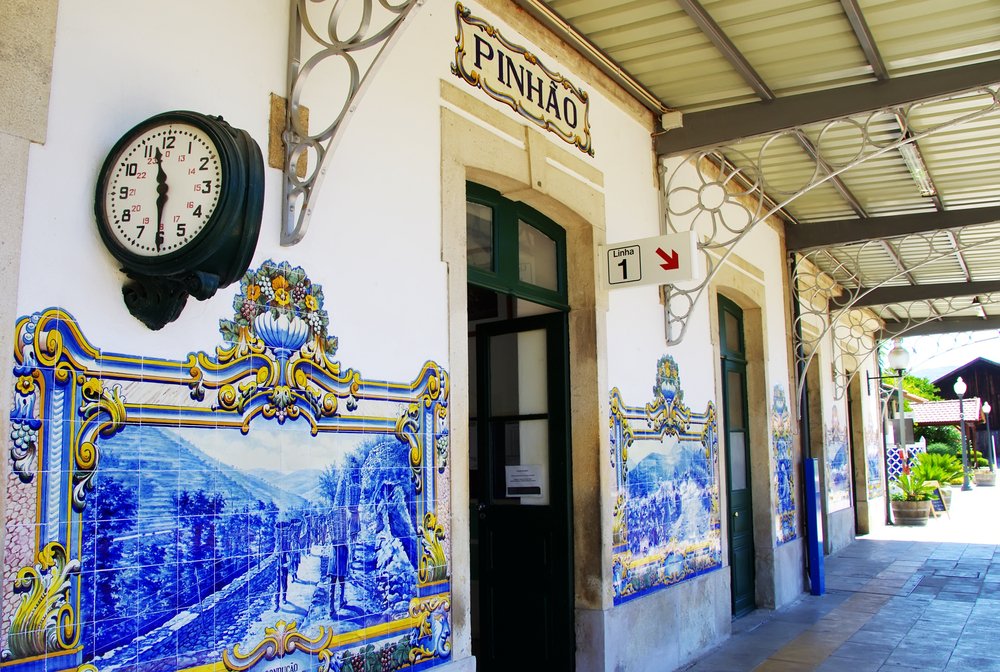 Editor's Choice
While part of the Douro Valley, Pinhão is definitely worthy of a day trip from Porto all on its own if you want to do a more self-guided tour — without a rental car.
Easily connected by train — and what a gorgeous train station it is, with some of Portugal's finest azulejos! — Pinhão is an utter charmer.
This small, traditional Portuguese village nestled among terraced vineyards is like stepping back in time.
A highlight of a Pinhão day trip is taking a leisurely boat ride along the Douro River, admiring the vineyards carved into the hillsides on each side, and the way the sunlight is changed by how deep the valley is.
The coolest way to take a boat ride is in a traditional rabelo, the local boat of the Douro region.
It was originally purposed to transport wine but they now also double as a tourist attraction! You can book a 2-hour rabelo cruise here.
Of course, no visit to Pinhão is complete without visiting a quinta or two! Port, with its velvety structure and sweet-but-complex taste, is the name of the game here.
But other local wines are also worth a try — and go well with the rich, local Northern Portuguese cuisine!
Quinta do Bomfim is busiest and most famous quinta, so you'll want to make a reservation — you can book a spot for your winery visit here.
How to Get There
Train is the name of the game here — the roads of the Douro Valley are quite windy, so if you can skip them for a leisurely train ride, why wouldn't you?
There are several daily trains from Porto São Bento, taking about 2 hours and costing between €12 and €20.
Matosinhos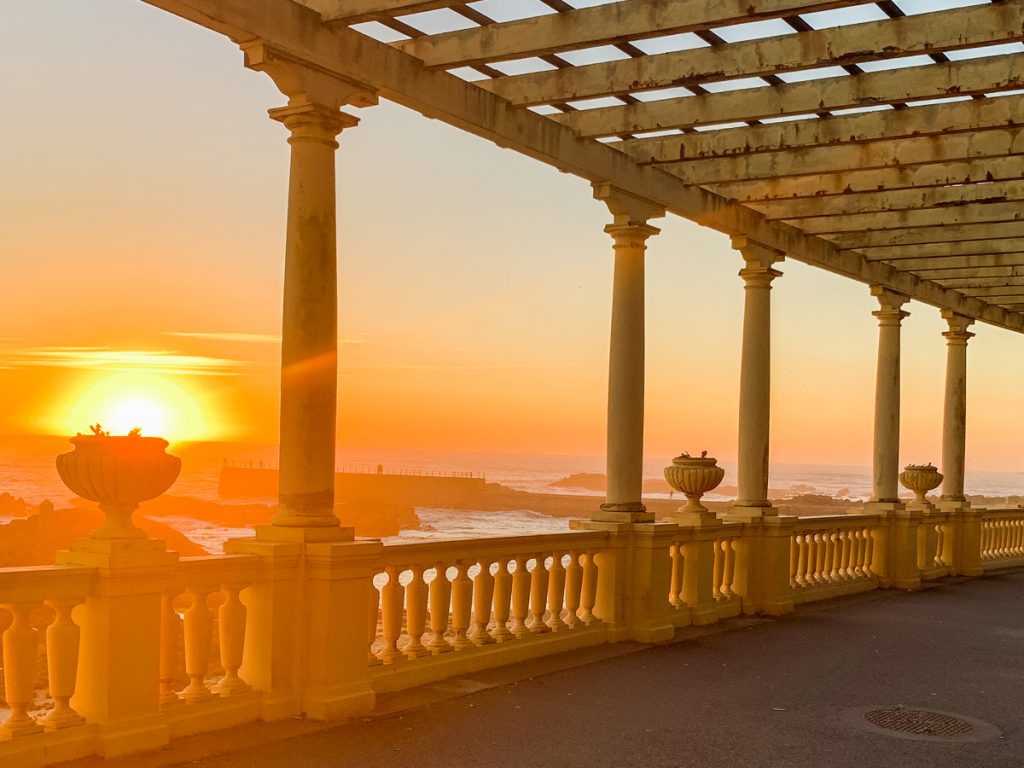 In terms of time spent in transit, the coastal town of Matosinhos doesn't seem like a day trip at all.
Still, this small beach town is separate from Porto and offers a striking contrast from Porto just 20 to 30 minutes outside the city center.
Here, you can admire the sweeping Atlantic coastline, with intrepid surfers dotting the frigid waters and (saner) people enjoying the golden sand.
Of course, you're in a coastal town, so you've got to try the local seafood. Portugal does seafood well already, but in Matosinhos, it's next level!
Besides enjoying the beach, you can enjoy the Pergola do Foz promenade, admire the beautiful beachside chapel and the Farol de Leça, or explore the Matosinhos Fish Market for a sense of the local life.
How to Get There
This is the only day trip from Porto on this list that you can get to by metro! Line A (the purple one) will bring you Matosinhos in about 20 minutes.
There are also buses from Porto city center, which take about 30 minutes depending on traffic conditions.
Guimarães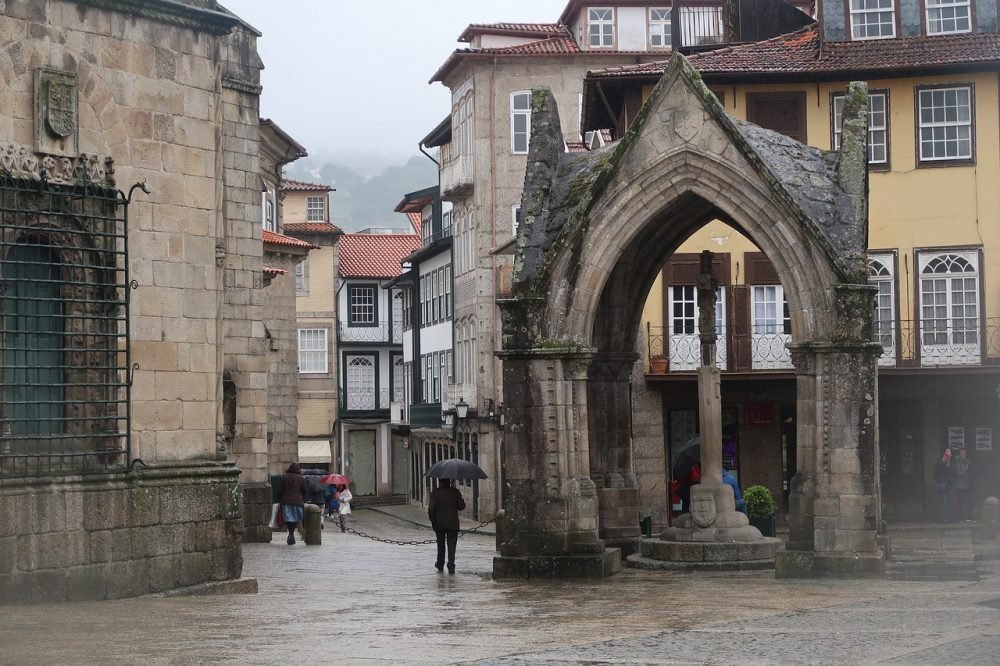 Guimarães the birthplace of Portugal is a charming and well-preserved UNESCO listed medieval town.
It's called the birthplace of Portugal as nearby is the site of the Battle of São Mamede, from which Portugal was founded.
Also, the first-ever King of Portugal, Afonso Henriques was born in the town!
Today, apart from visiting some of the key buildings, you can wander through well preserved medieval streets and browse some of the charming artisan shops.
Spend some time on the main squares, Largo da Oliveira and Santiago, where you'll find plenty of cafes to enjoy a coffee or glass of wine.
Make sure you do visit the hilltop Guimarães Castle, the birthplace of Afonso Henriques.
Built during the 10th century, it was restored in the 20th century and the grounds and part of the castle are now open to the public.
And don't miss exploring the splendid Dukes of Bragança Palace!
Originally built in 1420 by Afonso, Duke of Bragança, it was modified in the 16th century before being abandoned.
It wasn't until the 1930s that renovation started and controversially, the restored Palace now replicates a 17th century French chateau.
It's still worth a visit though, particular for its museum showcasing period furniture, tapestries, and weapons.
If you have time, then take the cable car to the Monte da Penha, the highest point in Guimarães to enjoy spectacular views across the city as far as the sea on a clear day.
Do also visit the stunning Pousada Mosteiro de Guimarães, which like many of the pousadas, was once a Monastery.
In the grand dining hall, you can feast on traditional Northern Portuguese dishes like caldo verde or black pork (porco preto).
You'll feel as if you've taken a step back in time when you visit Guimarães.
How to Get There
From Porto, it's an easy train journey. The local service takes around an hour and a half while a direct train will take just over an hour.
Better yet, take a guided tour that combines Guimarães and Braga (next on the list) to make the most of your time and see two iconic sites in one easy day trip from Porto.
⭐ Recommended Day Trip: Guimarães and Braga Full-Day Tour ⭐
(4.9/5 stars, 240+ reviews)

This full-day tour is inclusive of hotel pick-up & drop off, transfers to Guimarães and Braga, fast-track entry tickets, and a full Portuguese lunch. You'll also get to experience guided tours of Braga Cathedral, Guimarães Castle, and the Ducal Palace.

➤ Check tour availability and prices here
Braga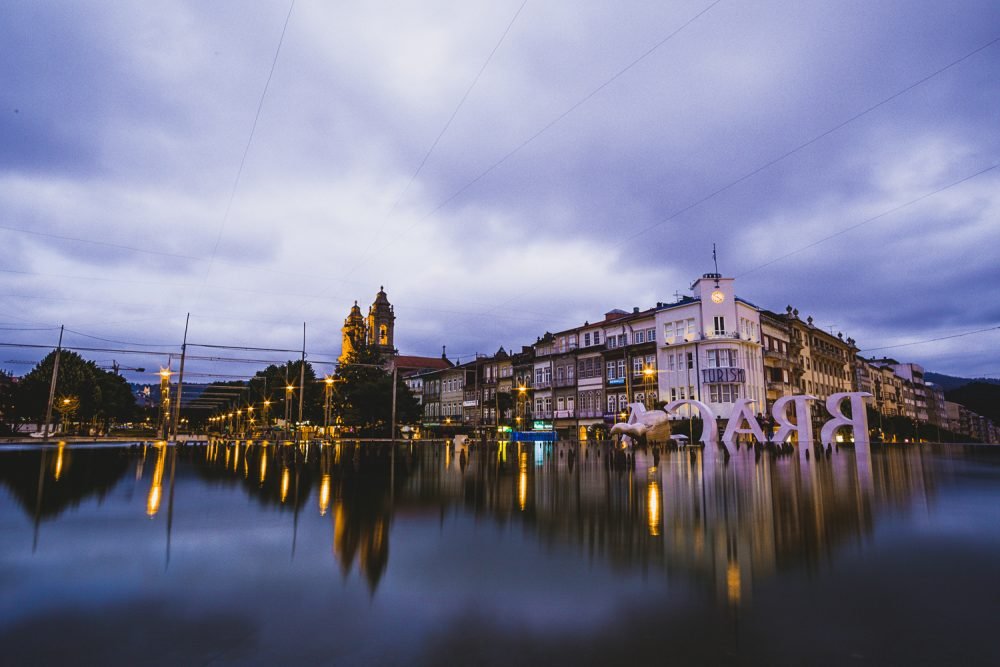 Braga is a compact town that's full of life, so it makes a great day trip from Porto.
The center is packed with cute cafés that serve a mix of traditional dishes from Northern Portugal and fusion creations, so make sure you arrive hungry!
For a traditional dinner that won't disappoint, Cozinha da Sé is one of the best restaurants in town and popular with both locals and tourists alike.
Don't miss Braga's many churches and cathedrals, all of which offer an insight into Portuguese architecture.
A one-day pass for the hop-on/hop-off bus costs less than $12 USD.
It will be a worthy investment if you want to head out to the Bom Jesus de Monte historic funicular and take in the city from above!
How to Get There
Braga is just a 45-minute drive from Porto, which means it's a perfect stopping point if you're planning a road trip from Porto.
If you don't have your own wheels, there is an hourly bus that costs 7-9 euros per person or an hourly train that costs 8-10 euros.
You can also take a guided tour that includes Guimarães (above) and Braga — read more below.
⭐ Recommended Day Trip: Guimarães and Braga Full-Day Tour ⭐
(4.9/5 stars, 240+ reviews)

This full-day tour is inclusive of hotel pick-up & drop off, transfers to Guimarães and Braga, fast-track entry tickets, and a full Portuguese lunch. You'll also get to experience guided tours of Braga Cathedral, Guimarães Castle, and the Ducal Palace.

➤ Check tour availability and prices here
Aveiro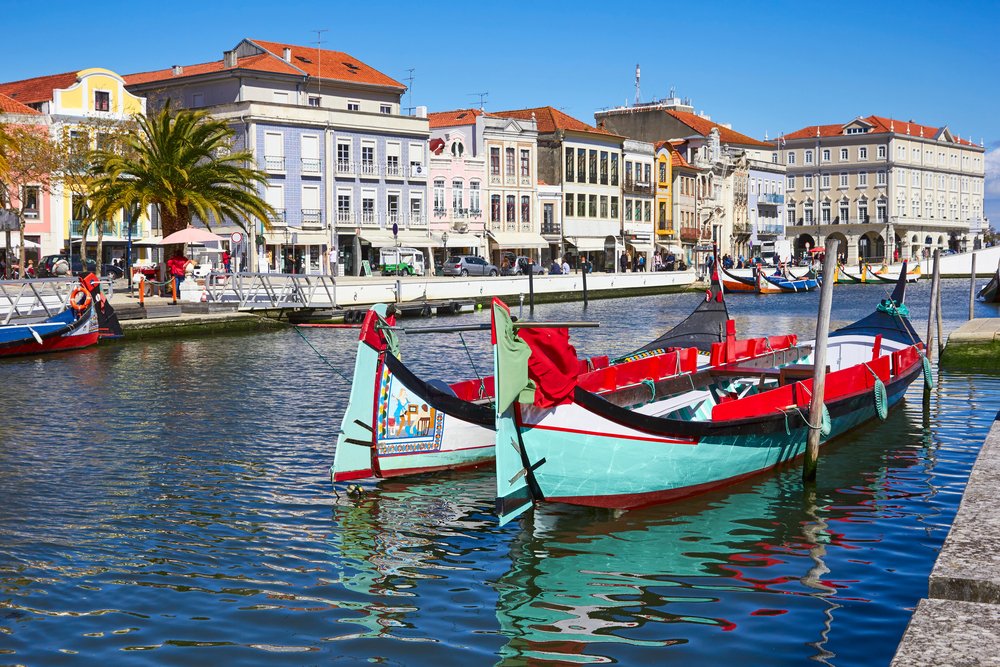 Editor's Choice
Nicknamed the "Venice of Portugal," Aveiro charms day trippers with its enchanting canals and colorful boats, as well as its architecture with its vibrant façades and old-world charm.
Be sure to wander along the canal and admire the traditional moliceiro boats, adorned with intricate hand-painted motifs — often with quite a naughty theme!
You can take a peaceful boat ride through the canals in one of these traditional boats, which function much like a Venetian gondola.
Other things you can do include admiring the Art Nouveau architecture and the 15th century Gothic Aveiro Cathedral, with its intricate stained glass.
Be sure to try the local pastries! The favorite Aveiro treat are "ovos moles," sweet egg yolks wrapped in delicate casings.
For a nature escape from the city, the lagoon of Ria de Aveiro is nearby, as is the famous Praia de Costa Nova (which is the next spot on this Porto day trips list!)
How to Get There
There are frequent trains between the two main stations of Porto, both São Bento and Campanhã, and Aveiro.
The journey takes approximately 1 hour via the fast train (Alfa Pendular) or longer via the cheaper regional train.
There are also buses, but these take longer and are less comfortable.
You can also rent a car and drive, as it only takes about an hour to get there, depending on traffic.
Praia da Costa Nova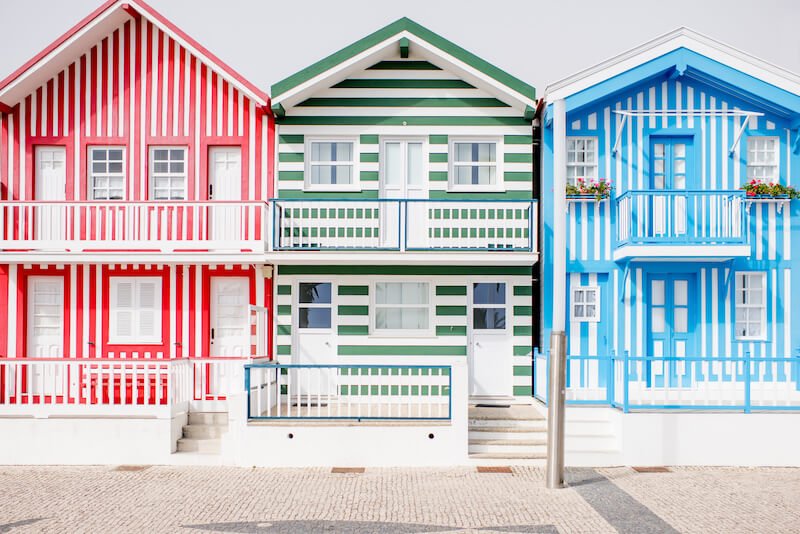 Editor's Choice
One of the best Porto day trips to take in summer is a visit to Praia de Costa Nova: this beautiful beach and its candy-colored striped mini beach houses is something you've likely seen on Instagram!
This charming seaside destination, located just a short distance from Porto, offers a captivating blend of coastal beauty and whimsical architecture.
Arriving at Praia da Costa Nova, you'll be greeted by a striking display of vibrant striped houses (called palheiros) that line the shore, emblematic of the beach.
Their playful bright striped paint job, combined with their pint-sized charm, makes this a favorite photo spot in Portugal.
Photographers also shouldn't miss the picturesque Farol de Aveiro at the north end of the beach.
That part of the beach is called Praia da Barra (though the beaches stretch together along the shore and there is no physical demarkation between the two).
Stroll along the wide sandy beach, or lay a towel down and enjoy some sunbathing — though remember, occasionally the Atlantic winds can be quite strong!
How to Get There
To visit Praia da Costa Nova from Porto, take the train to Aveiro from either Porto's São Bento or Campanhã train stations.
Once in Aveiro, local buses or taxis can transport you to Praia da Costa Nova, about 10 kilometers away.
Santiago de Compostela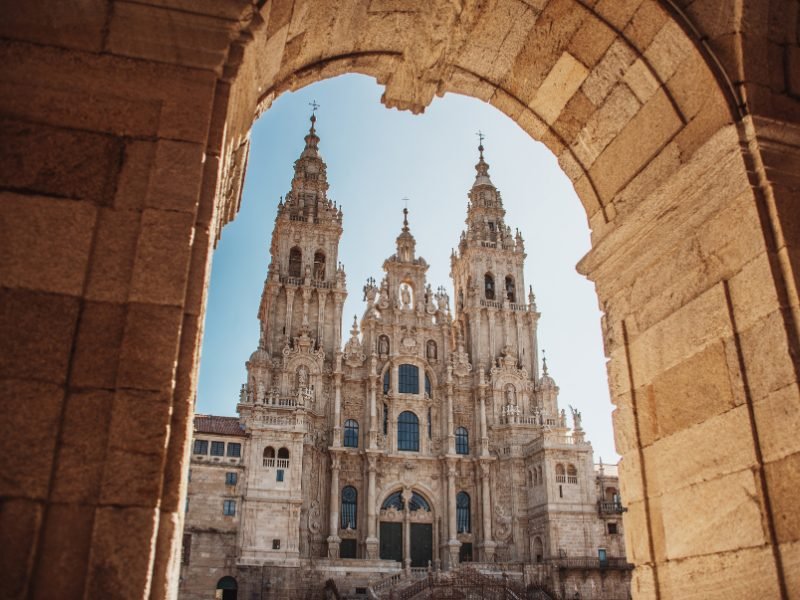 Editor's Choice
The end of the road for many a pilgrim walking the Camino de Santiago, Santiago de Compostela in Spain has many charms.
Of course, the main draw of the city is the Santiago de Compostela Cathedral.
And of course it is: it's the final destination for tired, dedicated hikers coming to the end of their Camino, a pilgrimage that can often take several weeks.
While the Cathedral is notable for the excitement that pilgrims feel when finally reaching their destination, it's worthy of a visit even on a day trip from Porto.
It has a beautiful Romanesque exterior with striking Gothic elements inside. It also has the tomb of St. James, Spain's patron saint.
Besides the cathedral, you should spend some time people-watching in the Praza do Obradoiro right in front of the cathedral.
You'll also find some other beautiful architecture here like the Palacio de Raxoi and the Colegio de San Jerónimo.
Keeping with the religious theme, there's also a stunning Baroque monastery in the heart of the city, the Monastery of San Martín Pinario.
While its exterior facade is stunning, inside is very interesting as well, with museums and art to spend time admiring.
Finally, wander around the Mercado de Abastos where you can pick up some local food and try some Galician cuisine (the food of this particular region of Spain).
How to Get There
You can get from Porto to Santiago de Compostela via public transit (bus or train), rental car, or guided tour.
The bus takes about 4 hours, and prices vary depending on company. The train is faster, via the Spanish national train service called Renfe. This only takes about 3 hours, and prices depend on what class you choose.
If you choose to drive, expect it to take about 2.5 hours without traffic; you'll cover about 220 kilometers and cross a border in that time.
The easiest way is to take a guided tour — I'll suggest one below.
⭐ Recommended Day Tour: Full Day Santiago de Compostela Tour ⭐
(4.7/5 stars, 250+ reviews)

This tour is inclusive of transfers between Porto and Santiago de Compostela (pick-up/drop-off optional), as well as a guide, all the monument entry fees included on the tour, and a lunch. You'll get to explore Santiago de Compostela and attend mass there, and also visit the city and ancient walls of Valença do Minho in Northern Portugal.

➤ Check tour availability and prices here
Fátima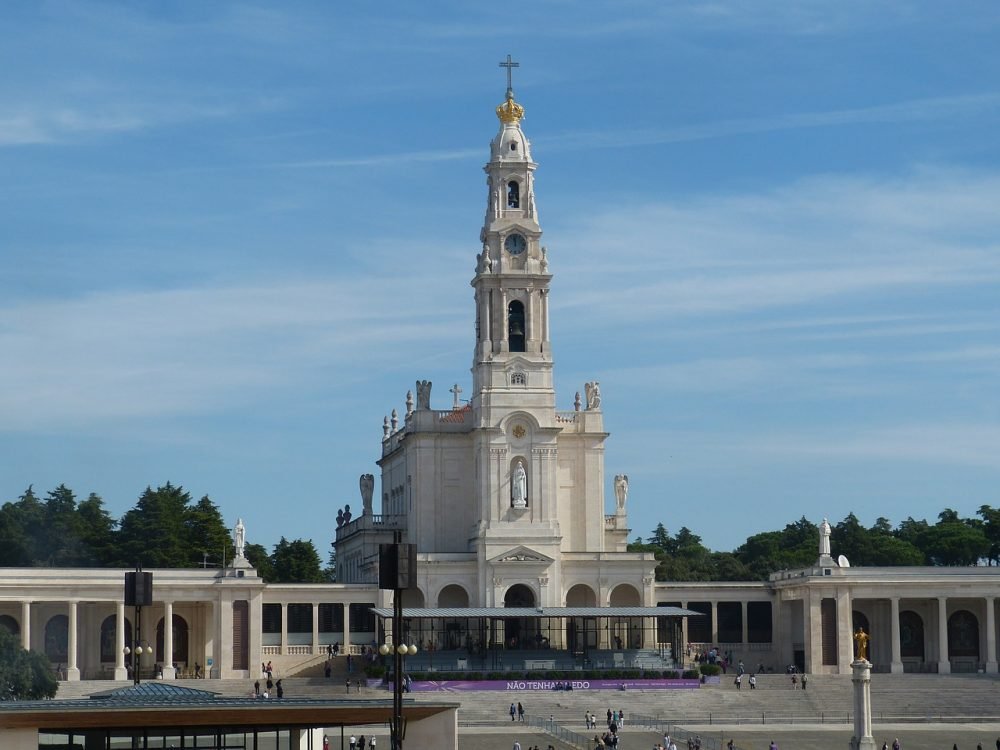 While the question of Porto vs. Lisbon is a tough one, Porto is incredible.
But I also believe that Fátima is that rare place that promises to make you slow down.
It's one destination that definitely deserves to be seen on a day trip from Porto!
Fátima is actually one of the great pilgrimage sites in Europe.
Barely a few hours from Porto, the place is revered as the place where three little shepherd children saw a vision of Mother Mary in 1917.
Ever since, believers have flocked to this place to seek blessings. Simply arriving in Fátima is a lifetime ambition for many Catholics!
The Basilica de Nossa Senhora de Rosario is where you need to first go to pay respects to the grave of two of the shepherd children. It is also the place where they first glimpsed Mother Mary.
A large modern crucifix on the other side signals the entry to the Basilica of the Holy Trinity, a more recent basilica with facilities where you can attend readings as per your schedule.
Take your time to visit the rest of the complex that makes up the Sanctuary of Fatima.
The scale of this sanctuary is something to behold as you find people of all ages praying fervently.
Many of them will walk with single-minded passion on their knees, others will offer large-sized candles while there are readings from the Bible in different languages almost on the hour under a small sheltered space.
Being in Fátima and spending time there is one of the best ways to get an alternate perspective of what Portugal is all about.
How to Get There
The best way to get here is by bus companies (Rede Expressos is recommended) for about 20 euros each way.
It takes a little over two hours to cover the 195-kilometer distance between the two cities.
Alternately, try trains that take about three hours each way between Porto and Fátima.
You can also do a guided day trip that combines Fátima and Coimbra.
Leiria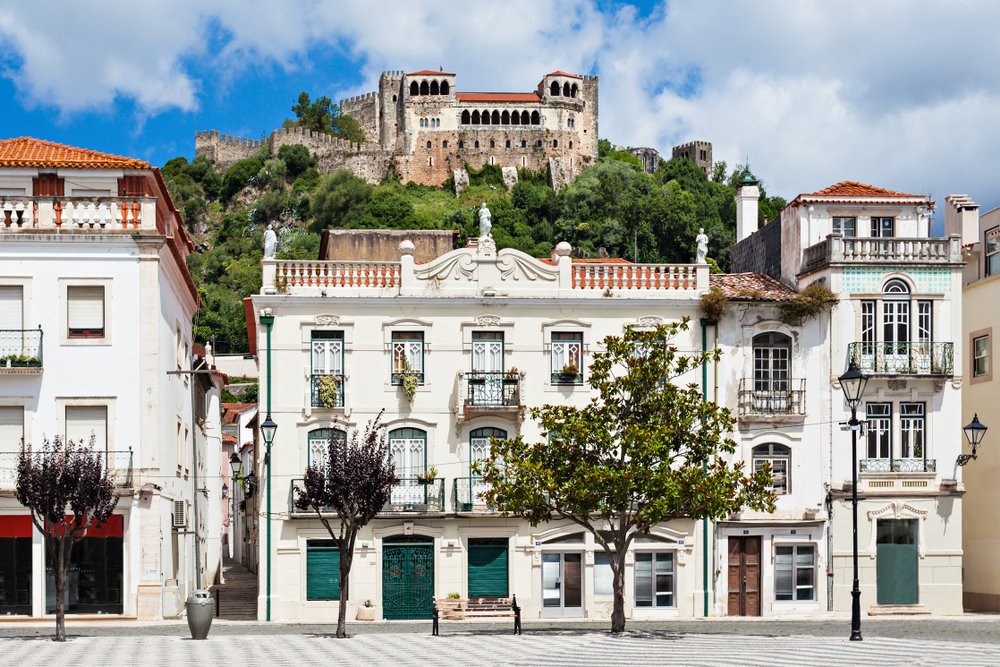 Editor's Choice
The Central Portugal town of Leiria is a great, offbeat day trip from Porto — you won't find many crowds here.
This town has the beautiful Leiria Castle perched like a crown atop the hill, overlooking the whole city — and impressively visible from the town, too.
The castle is well-preserved and worth a visit — you can explore its walls, towers, and courtyards for a mere €2.10!
The architecture in town is quite beautiful as well, with the Manueline-style Leiria Cathedral at its heart, and lively squares like Praça Rodrigues Lobo inviting you for a coffee and a pastry.
If you've rented a car and drove, you can also visit Leiria Pine Forest for a breath of fresh, Christmas-scented air!
How to Get There
Taking a train is the most convenient (and scenic!) way to reach Leiria from Porto.
You'll find several trains leaving from Porto's São Bento or Campanhã train stations, which take about 1.5-2 hours to reach Leiria, depending on the train.
If you're already renting a car, this is a great stop — it's about 1.5 hours from Porto and a 130 km drive.
Arouca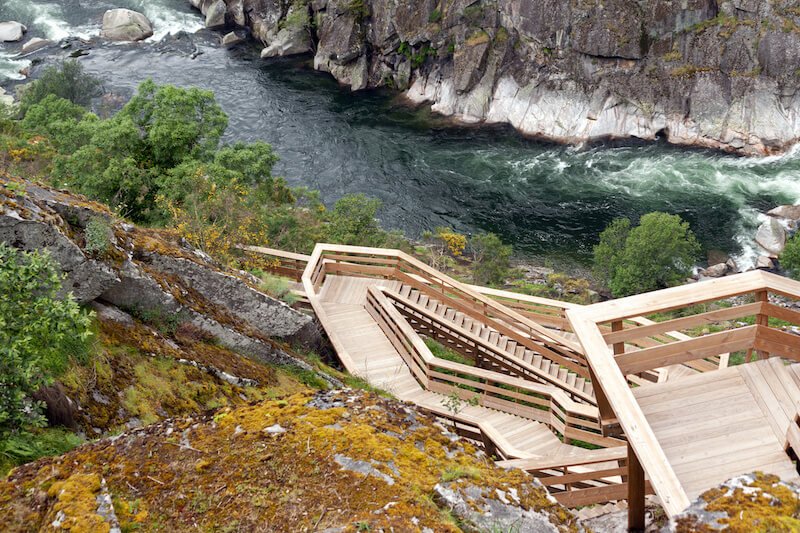 Editor's Choice
Want to escape into nature on your day trip from Porto?
Start in Areinho to take the Paiva Walkways, 300 steps that bring you a height of nearly 200 meters / 700 feet above the Paiva River.
From there, you'll reach the 516 Arouca Bridge, the longest pedestrian suspension bridge in the world.
After crossing, continuing on hiking alongside the spectacular Paiva River, which is home to several waterfalls like the Aguieira Waterfall for one.
Take a break at the river beach, Vau Beach, and then finish up in Espiunca where you'll be picked up and brought for a delicious lunch.
How to Get There
Since this tour starts in one spot and ends in another, we highly recommend taking a guided tour so that you don't have to backtrack with all that hiking… otherwise, it's a really difficult day tour from Porto.
Take a guided tour like the one we recommend below.
Amarante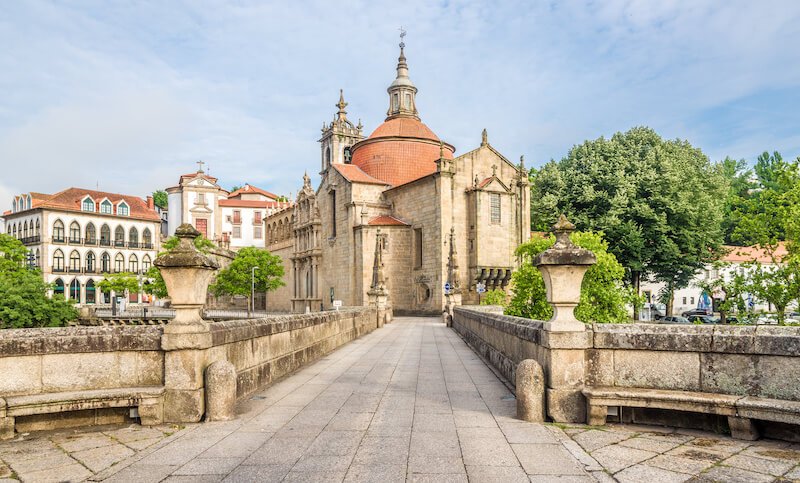 Situated along the banks of the Tâmega River, Amarante is a stunner with cobbled street, azueljo-covered churches, and natural beauty all around you.
Cross the famous Ponte de São Gonçalo, an iconic bridge with its stone construction and beautiful arches.
It spans the Tâmega river and leads you into the heart of the town, where you'll find the Largo de São Gonçalo, a peaceful square in the town center.
Don't miss São Gonçalo Church, with its striking Baroque façade and intricate azulejo tilework, a photographer's delight.
Sweet tooths, don't forget to try their local sweet: the "papos de anjo." These golden-hued egg-based pastries are a favorite — try it alongside Port for extra indulgence.
How to Get There
To reach Amarante from Porto by train, you can take the Linha do Douro train, which takes approximately 1 hour and offers stunning views along the way!
You can also rent a car and drive and visit more towns in the area.
Viana do Castelo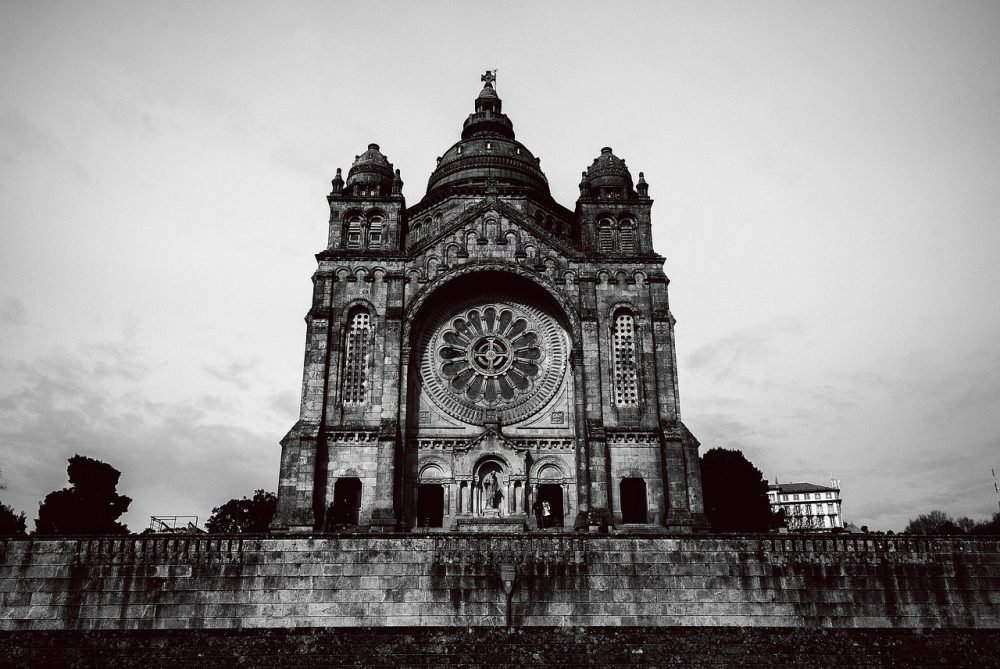 Northern Portugal is like a world of its own.
It has a distinctively unique culture from the rest of Portugal – from the unique Northern Portugal wedding, traditional dress, to the dances and music.
It is believed that the traditional Portuguese fado music originated here in Northern Portugal's Minho region.
One of the best places to experience Northern Portugal is the relatively unknown town of Viana do Castelo.
Viana's old town is centered around Praça da Republica. You can find the charm of the city's architectural treasures, as well as finding some great restaurants, cafés, and shops.
From the town center, you can hop onto the Funicular de Santa Luzia.
This incline railway will take you to the top of Monte de Santa Luzia, where you can find the magnificent landmark of Viana do Castelo: Sanctuario de Santa Luzia.
Food-wise, head to A Moda Antiga or Taberna do Valentim for their traditional Caldo Verde – kale and potato soup of the Minho Province.
Don't miss the Pescada a Vianense – a delicacy of cod or other fish – baked in a mixture of potatoes, garlic, onion, and lemon juice.
How to Get There
The town of Viana do Castelo is well connected from Porto, either by an hour bus ride or train ride.
It costs less than 10 euros to travel to Viana do Castelo from Porto.
You can also go on a guided day trip if you prefer some context and convenience.
⭐ Suggested Day Trip: Private Day Tour of Minho Region ⭐
(New – Be the first to review!)

This private tour includes visits to three key places in the Minho region. It visits Viana do Castelo but also Ponte de Lima and Valença, other key places in Northern Portugal. It includes pick-up/drop-off and a guide, but you're on your own for entrance fees and lunch.

➤ Check tour availability and prices here
Peneda-Gerês National Park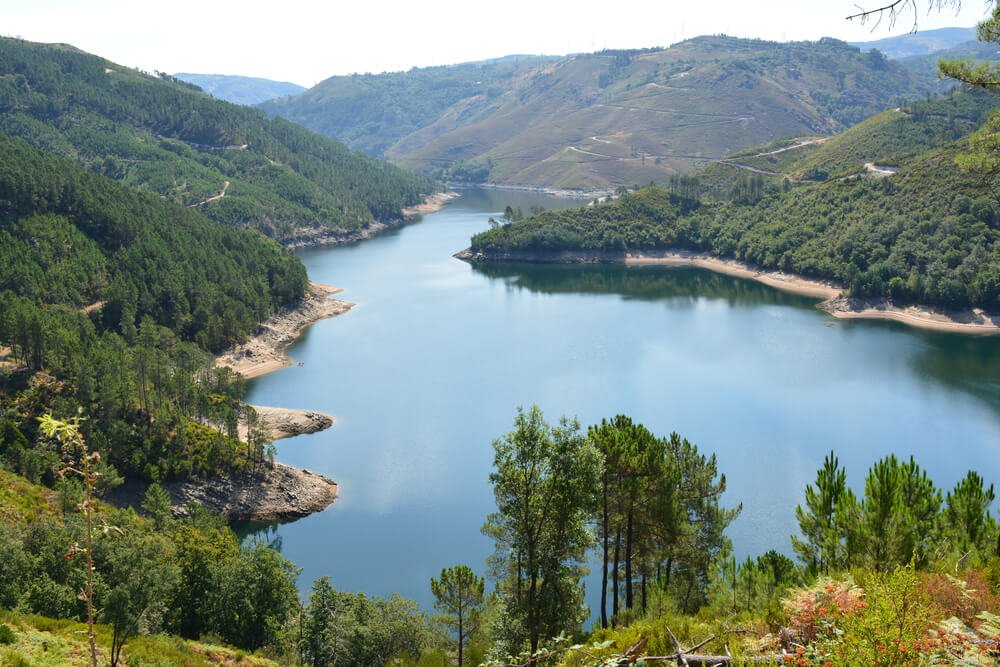 Editor's Choice
Tucked quietly away in northern Portugal, Peneda-Gerês National Park is all about awe-inspiring views and peaceful hikes.
With mountains in the distance and meadows and forests at your feet, you'll feel a far cry from the hustle and bustle of Porto.
You may even see a wild horse grazing freely!
There are dozens of hiking trails you can take, from easy walks to tougher climbs.
There are several waterfalls and lakes worth seeing in this national park: the Arado Waterfalla and the Tahiti Waterfall (also known as Cascata de Fecha de Barjas) are two favorites.
There's also the serene Caniçada Reservoir which is a lovely place to spend some time.
How to Get There
Public transportation to and around Peneda-Gerês is limited, so this is a place best visited with a rental car or a guided tour.
This full-day guided tour is a fun option as you explore the park via 4×4!
Coimbra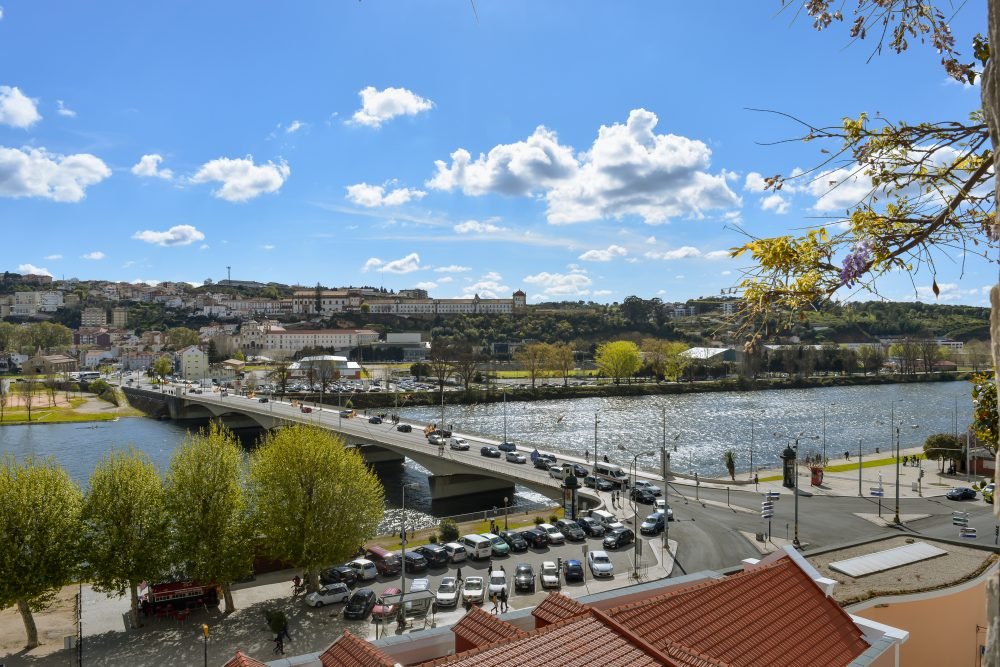 One of the things that makes Coimbra a great day trip is that it's easily reachable from Porto using public transportation in about an hour.
Even though there's plenty to see in Coimbra (which means that one day is not necessarily enough to see everything), the reality is that the city is quite compact, so it's easy to explore the main sights in just a few hours.
While there, don't miss the Old Town area, the University of Coimbra (especially the stunning Joanina Library), and the Botanical Garden, a place for tranquility and relaxation.
The beautiful riverfront is a great location for a leisurely walk, and a lot less crowded than Porto's famous Ribeira.
How to Get There
You can either take a train (the fastest ones take around an hour), or the bus (runs almost every hour, and takes about an hour and a half).
You can also do a guided day trip that combines Fátima and Coimbra!
Tomar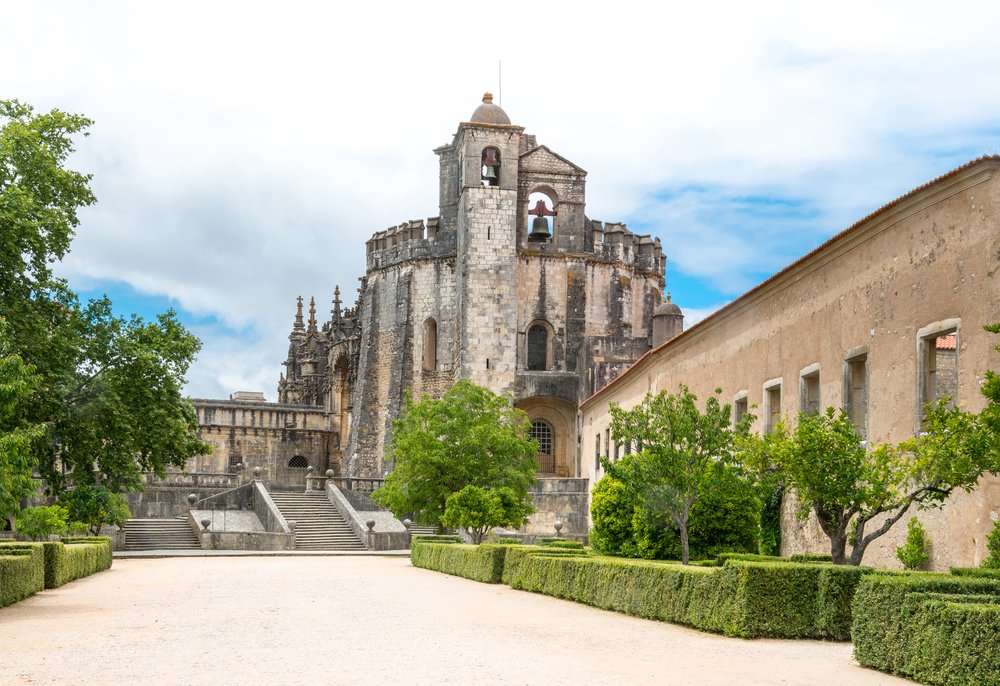 Editor's Choice
As you arrive in Tomar, you'll be transported back in time to the medieval era — when the Knights Templar once roamed these lands (and leaving behind many cool architectural sites behind!).
The two must-see places and they together form a UNESCO World Heritage Site: the Convent of Christ and the nearby Castle of Tomar.
The convent's exquisite medieval cloisters and stunning Manueline architectural elements are breathtaking.
Meanwhile, the 12th century castle (which is remarkably great shape!) is fun to explore, plus it has some incredible panoramic views of Tomar!
Back in town, don't miss people-watching in Praça da República, a charming square and visiting the charming Igreja de São João Baptista
Taking a leisurely stroll along the river or through the picturesque Park Mouchão is also highly recommended!
How To Get There
There are no direct trains to Tomar, but it's still not too difficult to get there by public transit.
Just take a train from São Bento or Campanhã to Entroncamento, then connect to Tomar (which takes about 20 minutes).
Nazaré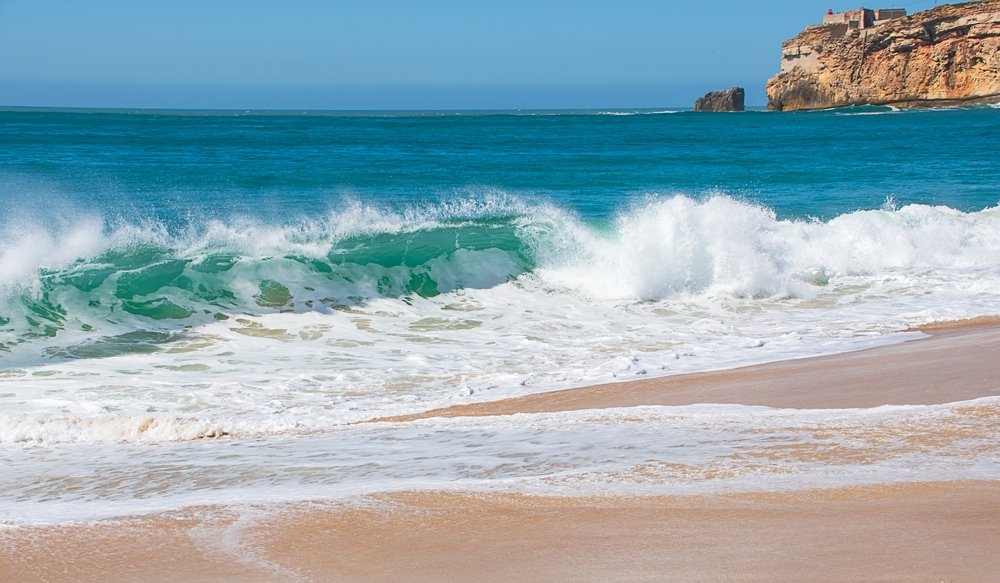 Editor's Choice
Known for its colossal waves and the crazy surfers that defy death to barrel down them, Nazaré is worth a visit for reasons other than its surf!
Of course, you ought to admire its epic Praia do Norte so you can see firsthand the sheer power of the waves that draw surfers from around the globe.
The harbor area of Nazaré is also rather cute, with its colorful fishing boats (bateiras) and local fishermen going about their daily business.
One of the coolest parts of Nazaré is the Sitio area, which is connected to the lower town by a funicular — the ride up has breathtaking coastal views!
There, you'll find Sitio Square, home to the picturesque Chapel of Nossa Senhora da Nazaré, with gorgeous tilework in the traditional azulejo style.
Also in Sitio, you'll find the the Forte de São Miguel Arcanjo, a 17th-century fortress once used as a defense against pirate attacks.
Now, it's home to a small museum, and you can walk around its historic walls and admire the views.
How To Get There
By train, you can head to Porto's São Bento or Campanhã train stations and take a train to Coimbra, transferring at the Coimbra-B station where you can catch a connecting train to Nazaré.
Expect the train journey to take approximately 2.5 to 3 hours, depending on the schedule and connection length.
There are also three Flixbus routes in either direction daily (book tickets in advance), which takes about 3 hours each way.
As of June 2023, morning departures from Porto are at 7:45 AM and 10:40 AM, and afternoon return trips are at 4 PM and 7:50 PM.
Driving is also a possibility — it'll take about 3 hours to cover the 235 km between Porto and Nazaré.
Vigo & Cies Islands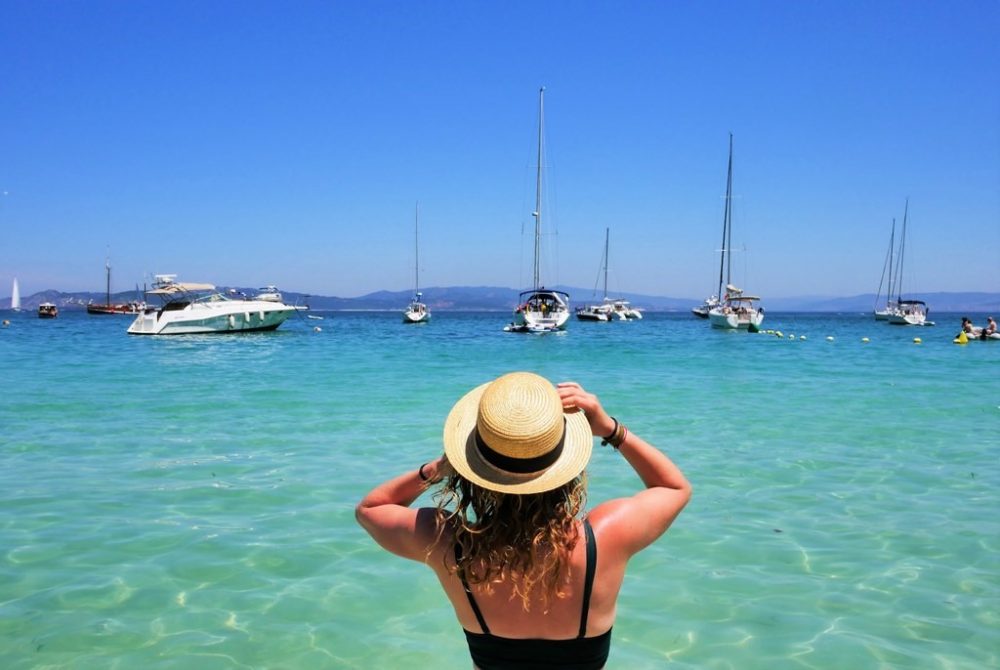 One of the old continent's main perks is how easy it is to country hop your way around it. You can visit Spain on a day trip from Porto!
There is a myriad of interesting and fun things to do in Vigo for you to choose from.
From flying over the city's estuary to capture some memorable and Instagram-worthy moments to going for some tapas in the old town or simply enjoying one of the nearby city beaches; this city's appeals are many.
If I had to pick one, though, that'd be a visit to Cies Islands – part of the Maritime-Terrestrial National Park of the Atlantic Islands of Galicia.
Already showcased in the early 2000s as a true paradise by the British media; during summer there's basically no better plan to spend a sunny day in the South of Galicia.
You'll be back in Porto sun-tanned and happy, promised!
How to Get There
Despite being two different countries, it's easy to visit Vigo on a day trip.
Taking advantage of the many – and usually pretty cheap – transport options between them, it is possible to jump from Porto to Vigo in less than three hours.
In fact, a 7€ bus or 12€ train ride will take you from Porto's city center to Vigo.
Protect your travel investment!

Travel insurance coverage helps you recoup your losses in case of emergency, accident, illness, or theft.

I rely on SafetyWing for coverage when it comes to trip interruptions and cancellations as well as accidents and medical emergencies.

It offers great rates starting around $12/week with clear, easy-to-read coverage.
Allison Green is a former educator turned travel blogger. She holds a Masters in Teaching and a B.A. in English and Creative Writing. Her blog posts merge her educational background and her experience traveling to 60+ countries to encourage thoughtful travel experiences that both educate and entertain. She has been a speaker at the World Travel Writers Conference and her writing, photography, and podcasting work has appeared in National Geographic, CNN Arabic, CBC Canada, and Forbes, amongst others. Now based in the San Francisco Bay Area where she grew up, she has also lived in Prague, Sofia, and New York City.